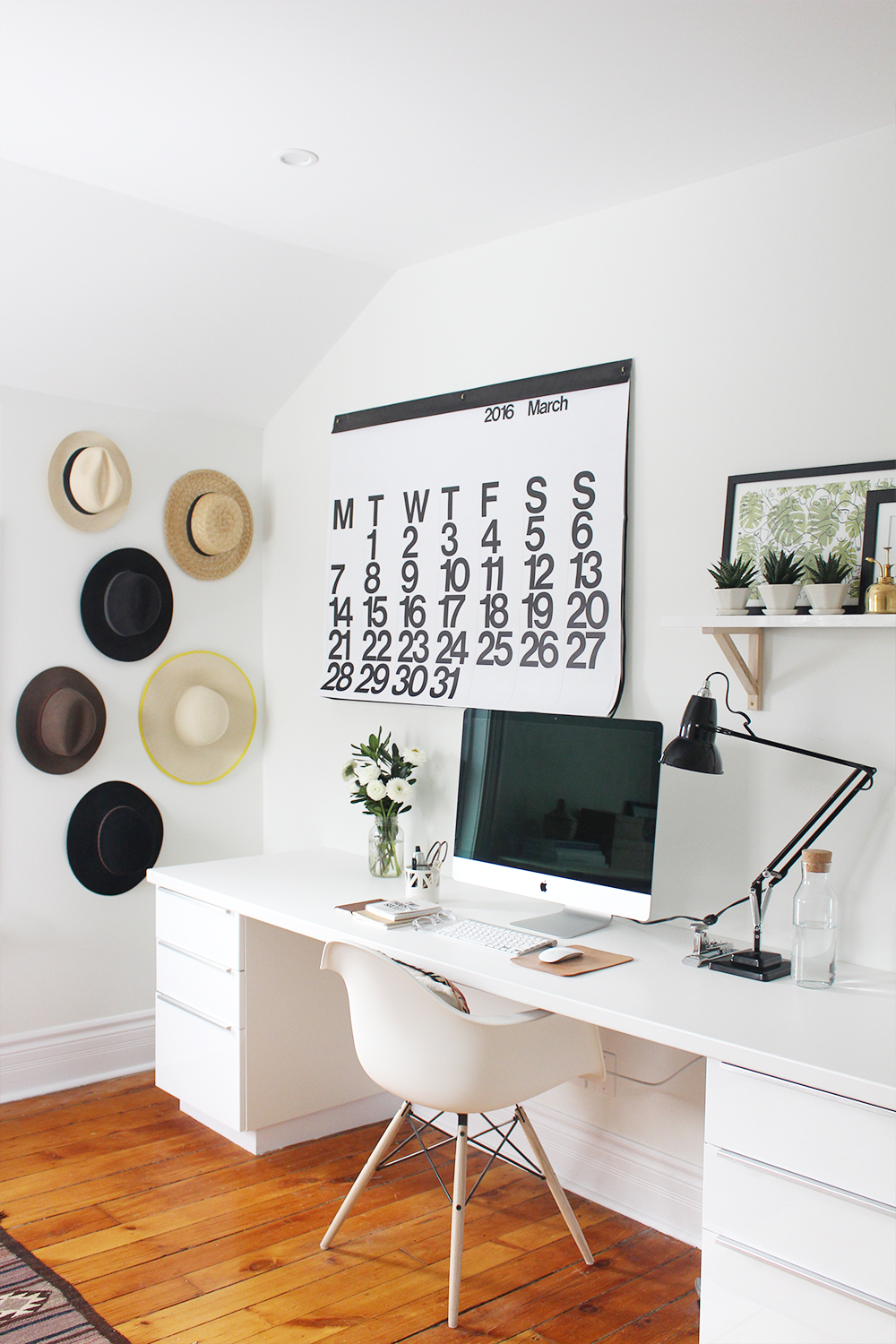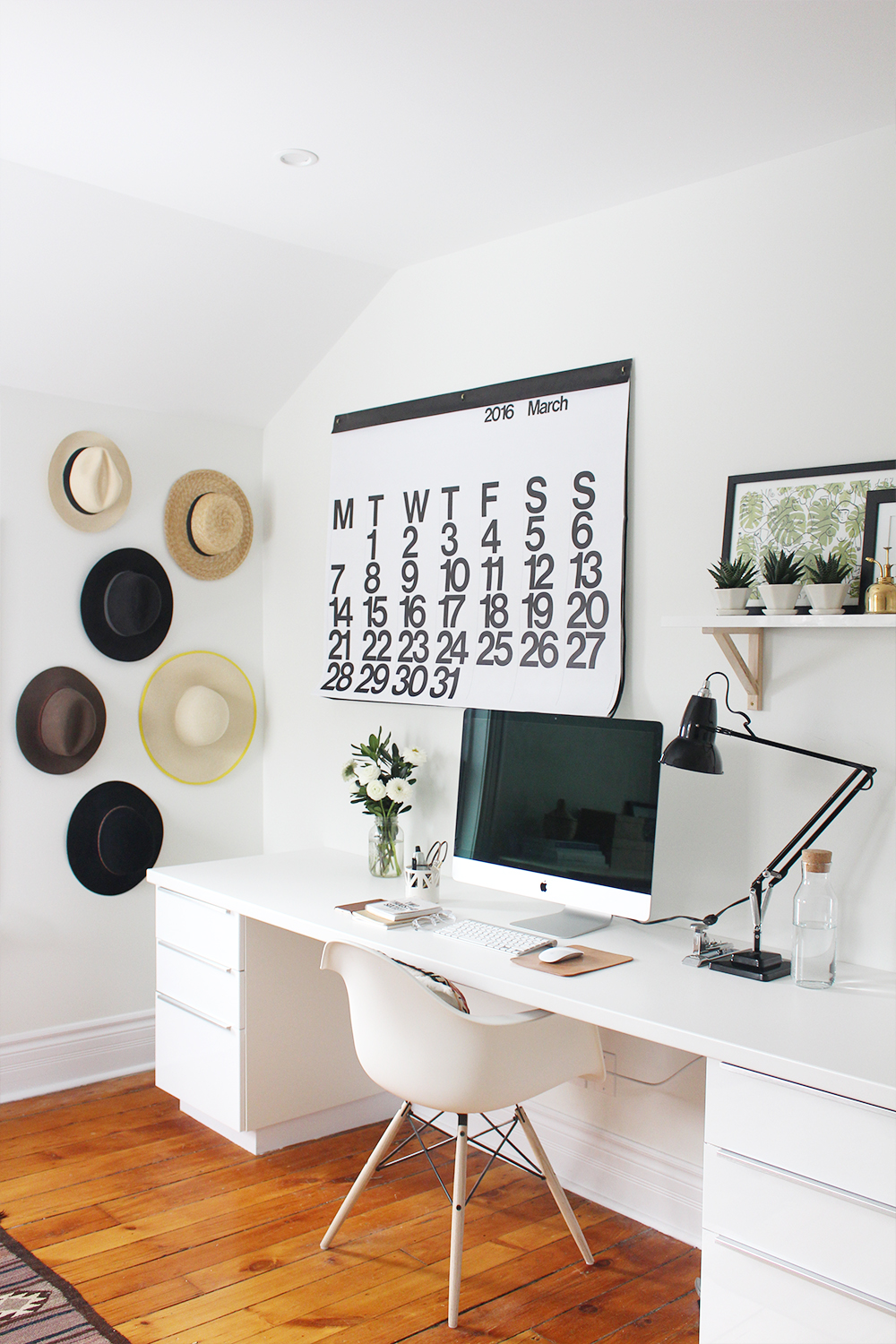 Welcome to my home office! I'm so happy to finally be sharing this room reveal with you. It's been a really long time in the making but putting the final touches on the room just couldn't be rushed.
If I've learned anything from our home renovations, it's that nothing happens quickly. No matter how menial or seemingly simple the task, it's just not. But perseverance pays off and this bright, happy little space is the result of many long days, lots of late nights, devotion to painstaking details, truck loads of debris, several cans of paint and more IKEA cabinet hacking than any sane person would recommend. But Dave is an absolute hero, his hard work totally paid off and I couldn't be happier to spend my days (and most of my nights) in this serene spot.
I'll start by sharing a few grisly before photos so you can get a sense of where we started. Then I'll quickly list out all the updates we made and then it's time for the good stuff, a 360 photo tour of the space and how each little nook and cranny has a special purpose.
---
BEFORE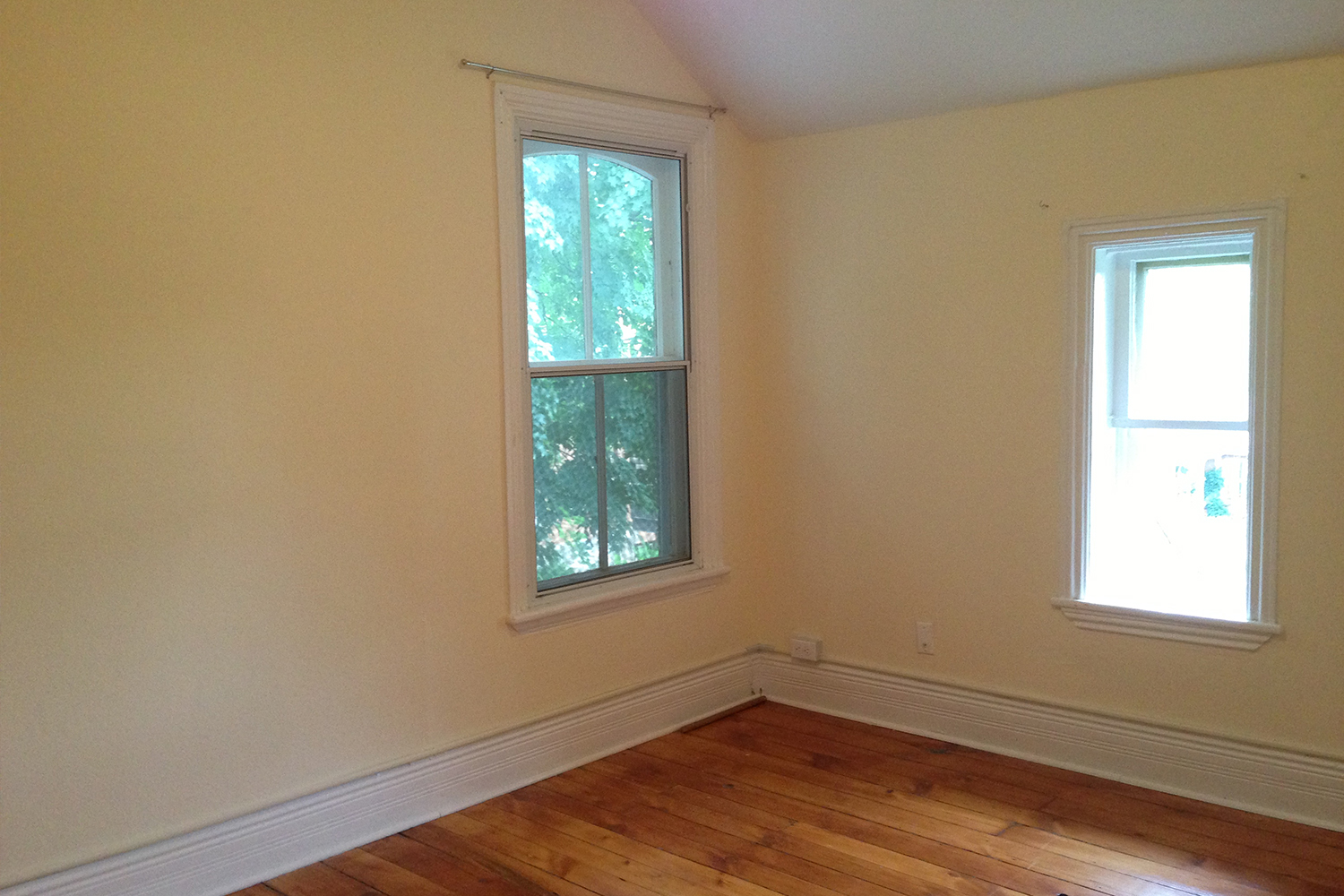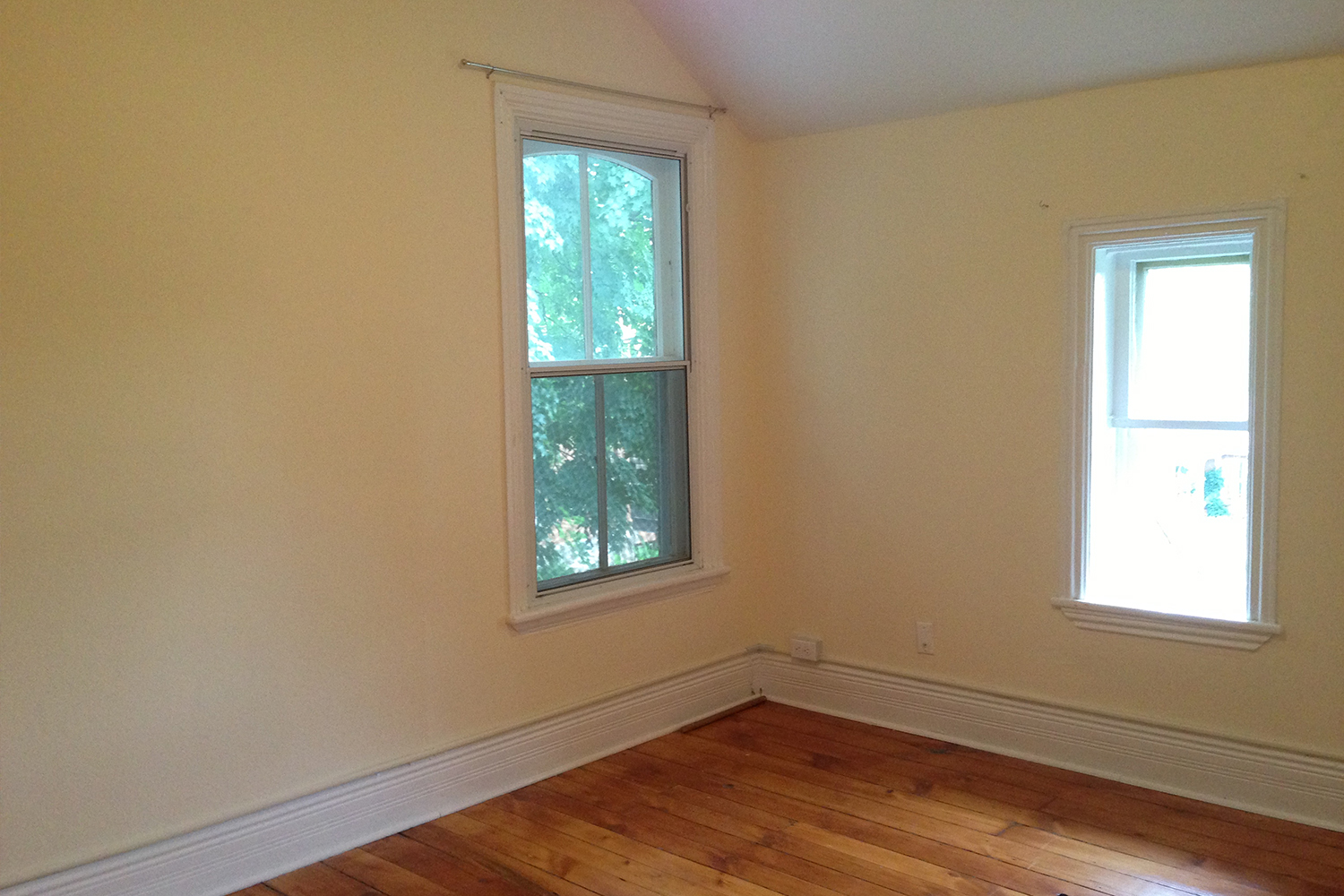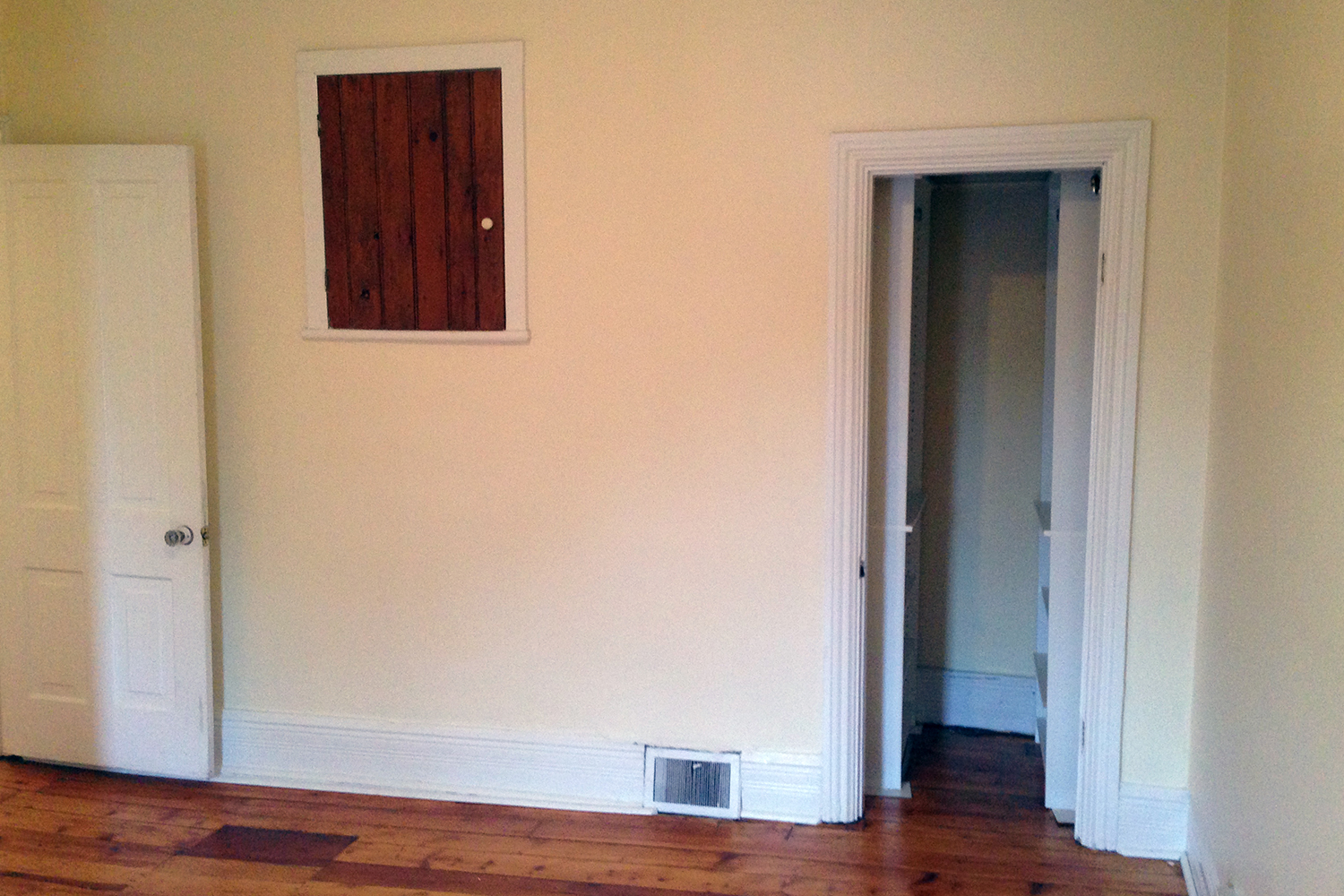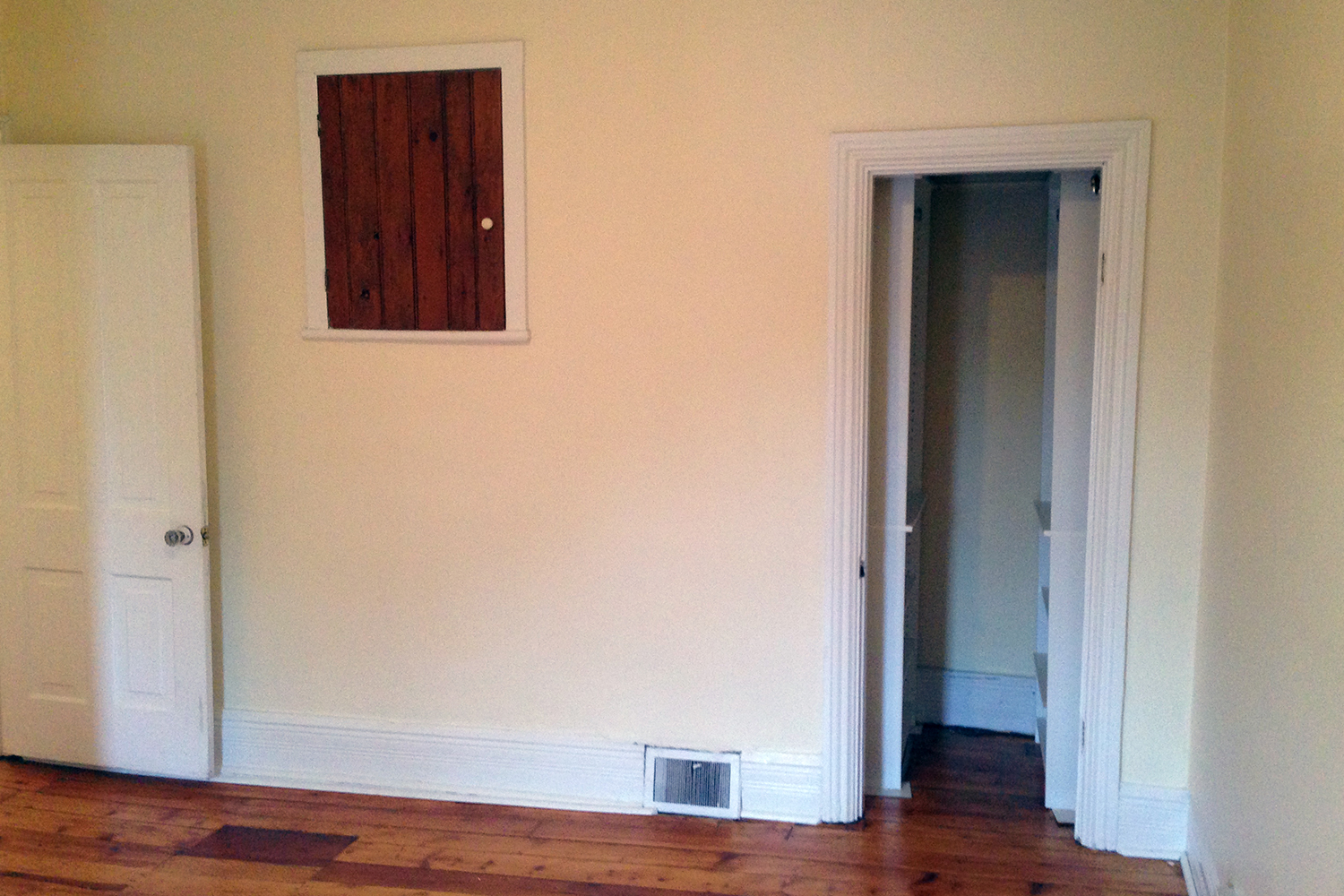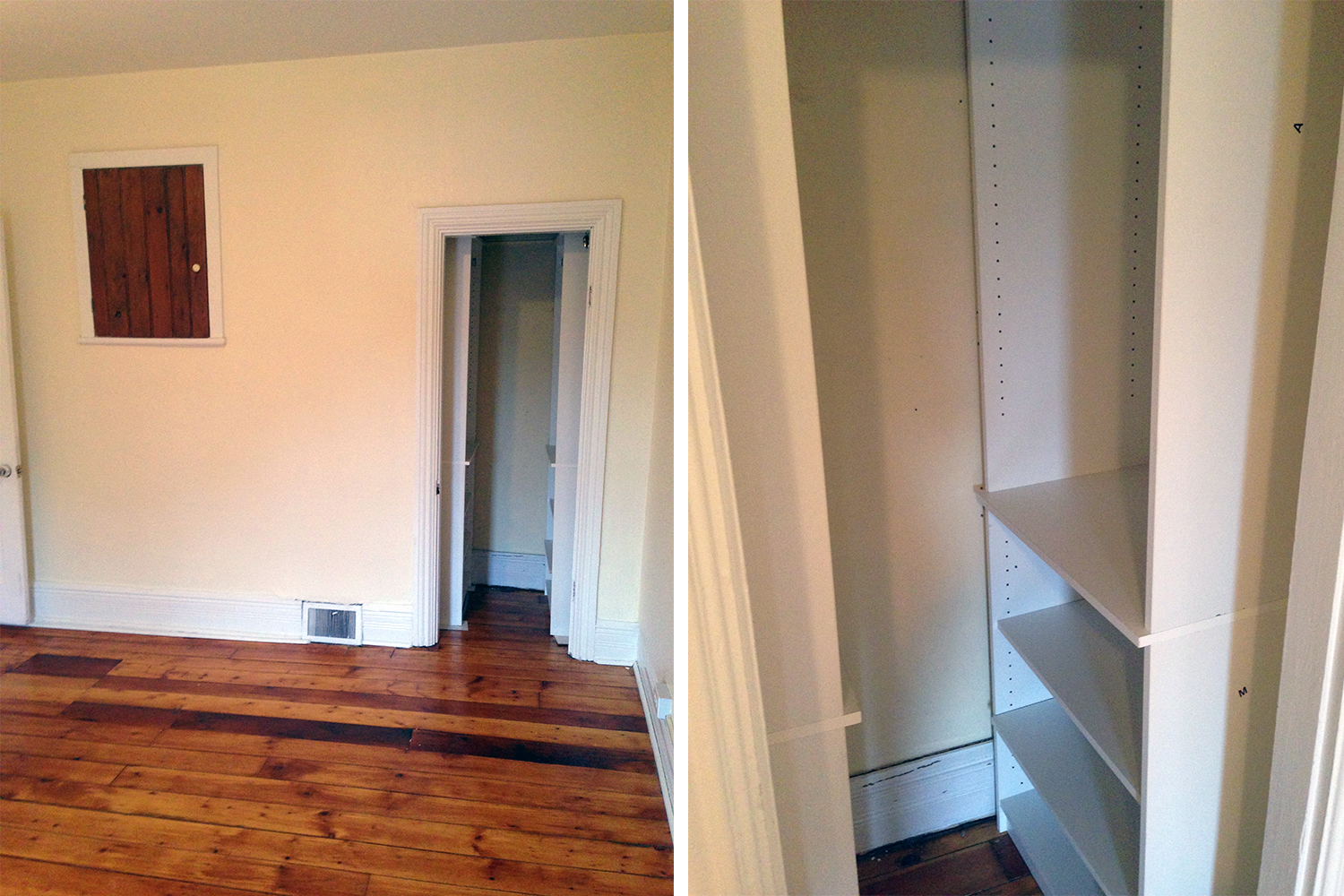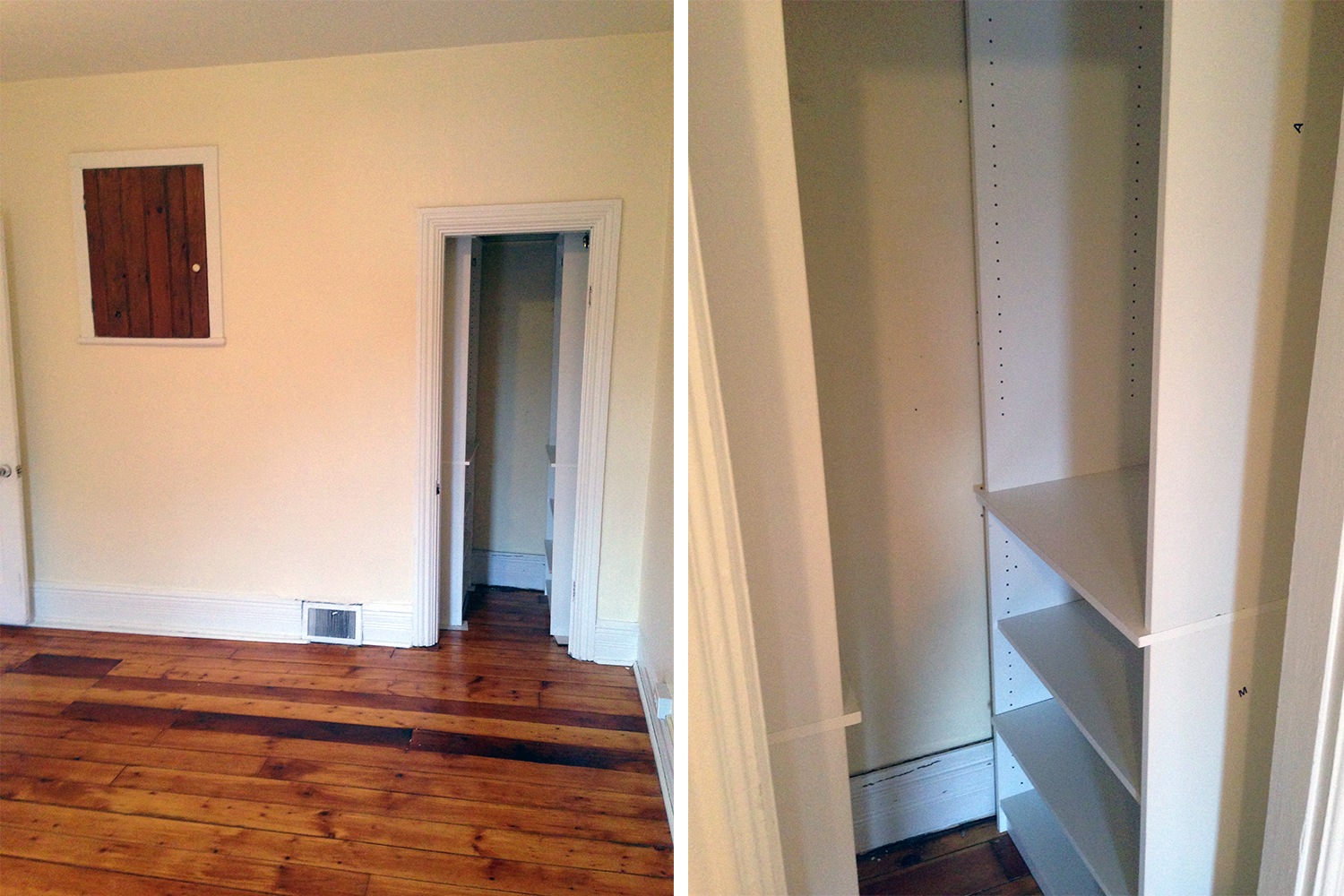 ---
UPDATES
Replaced all the wall-mounted electrical, with interior wiring and brought it up to code.
Ripped out the plaster and lath walls, insulated and put up new drywall.
Replaced the windows and trim (Dave made custom sills for the windows).
Reconfigured the doorway to line up with the largest interior wall.
Replaced the door and all base boards.
Ripped out the dysfunctional wardrobe cupboards and opened up the storage area where the weird little brown door was (we called that the murder closet and it was lined with stained 60 yr old wallpaper, so creepy!).
Custom fit 3 IKEA Pax wardrobes into the far wall for useful storage.
Painted the ceiling and walls a fresh bright white.
Installed custom cut IKEA kitchen lower cabinets as built-in desk storage.
Installed a white countertop for a sturdy functional desktop.
Created a hat wall to store and display my collection.
Hung a Stendig Calendar as functional art and a simple shelf to house prints and plants.
Added a second desk as a prop styling, craft and sewing station.
Layered vintage killim rugs and a sheepskin to warm up the space.
Added a classic Herman Miller chair and Anglepoise lamp to finish off the workspace.
---
AFTER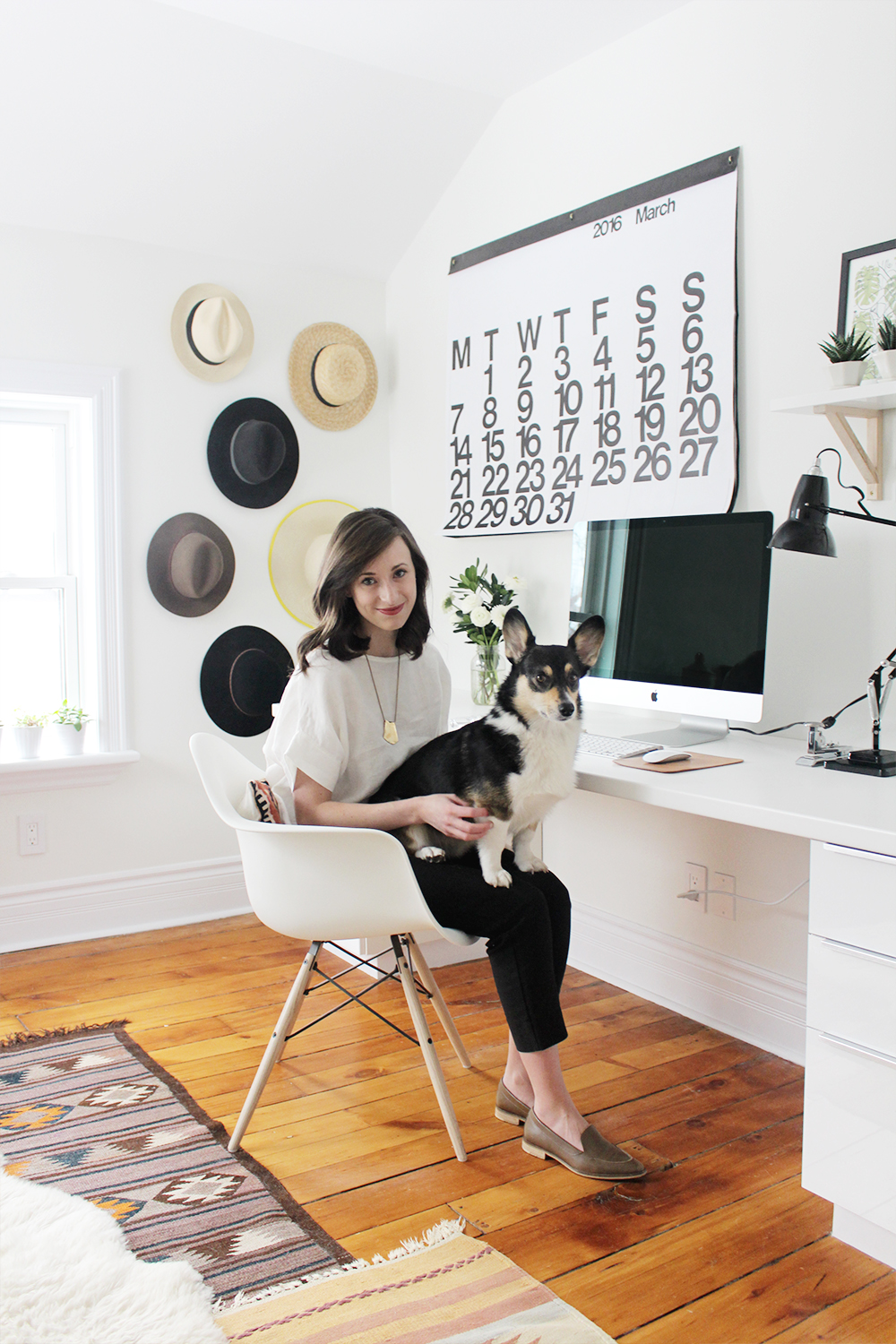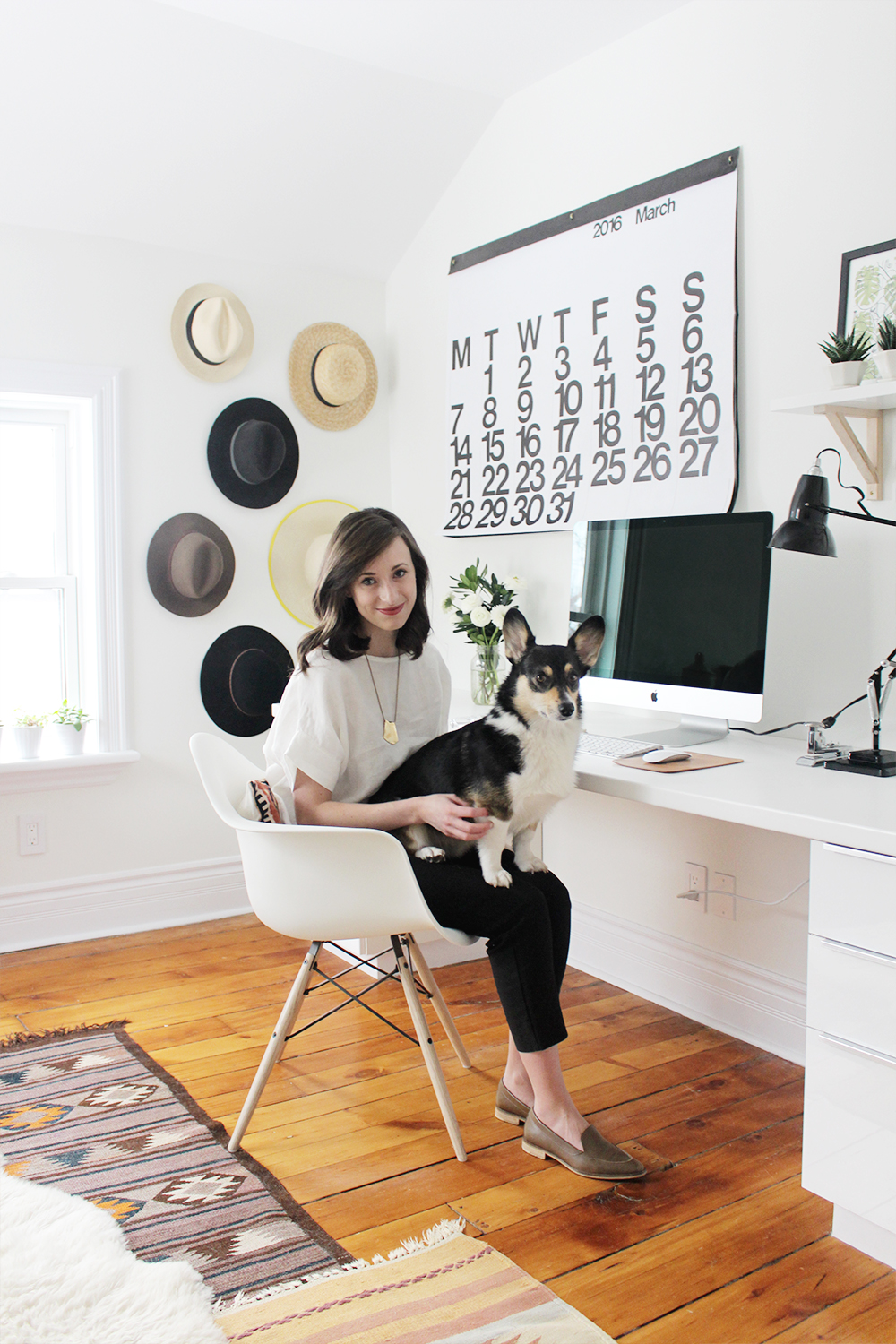 Ta-da! The finished office! I'm so proud of what Dave was able to make of this wonky little spare bedroom. He transformed it into a beautiful, functional home office that I feel extremely lucky to work in every day. As someone who's been working from home for about 6 years now, I can say it's worth every penny and extra bit of effort to have a space that's bright, fresh and a true pleasure to work in. It makes the late nights, long hours and stressful deadlines that much easier to bear.
Now I'll walk you through the space starting with the entrance and going clockwise around to finish at the desk area. It's a not a big room but it's my little creative haven.
---
DOORWAY
It's been a while since we finished the bare bones of this room reno and until I was writing this post I forgot a few things ever even happened. Like the fact that Dave actually demolished the previous doorway, which was an awkward, useless little tunnel into the room and reframed the entrance so the door would run flush to the main wall where my desk sits. This helped make the landing at the top of the stairs (just outside the door) much more open and bright. Now the space behind the door is where I keep my seamless paper rolls and matte boards for flatlays.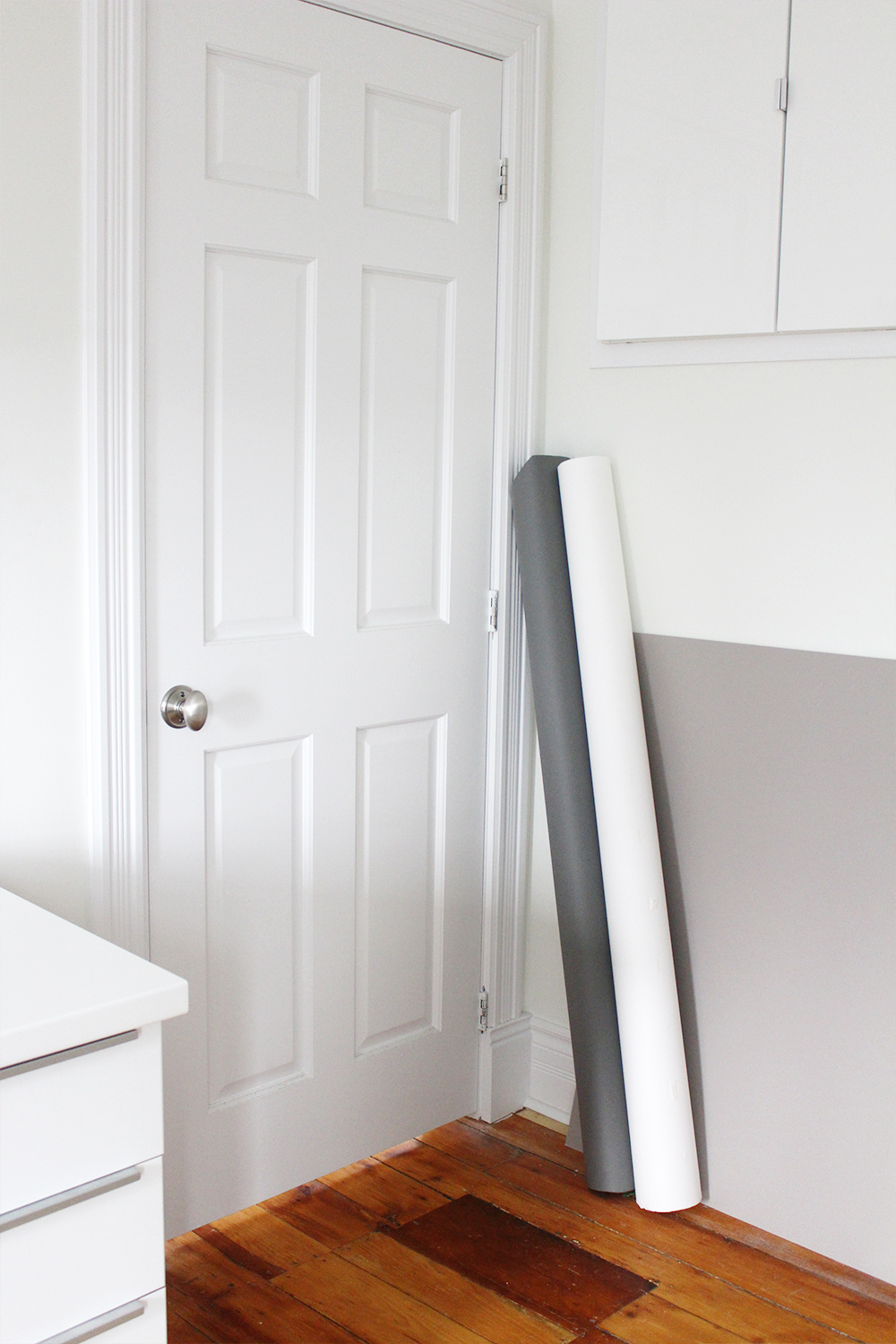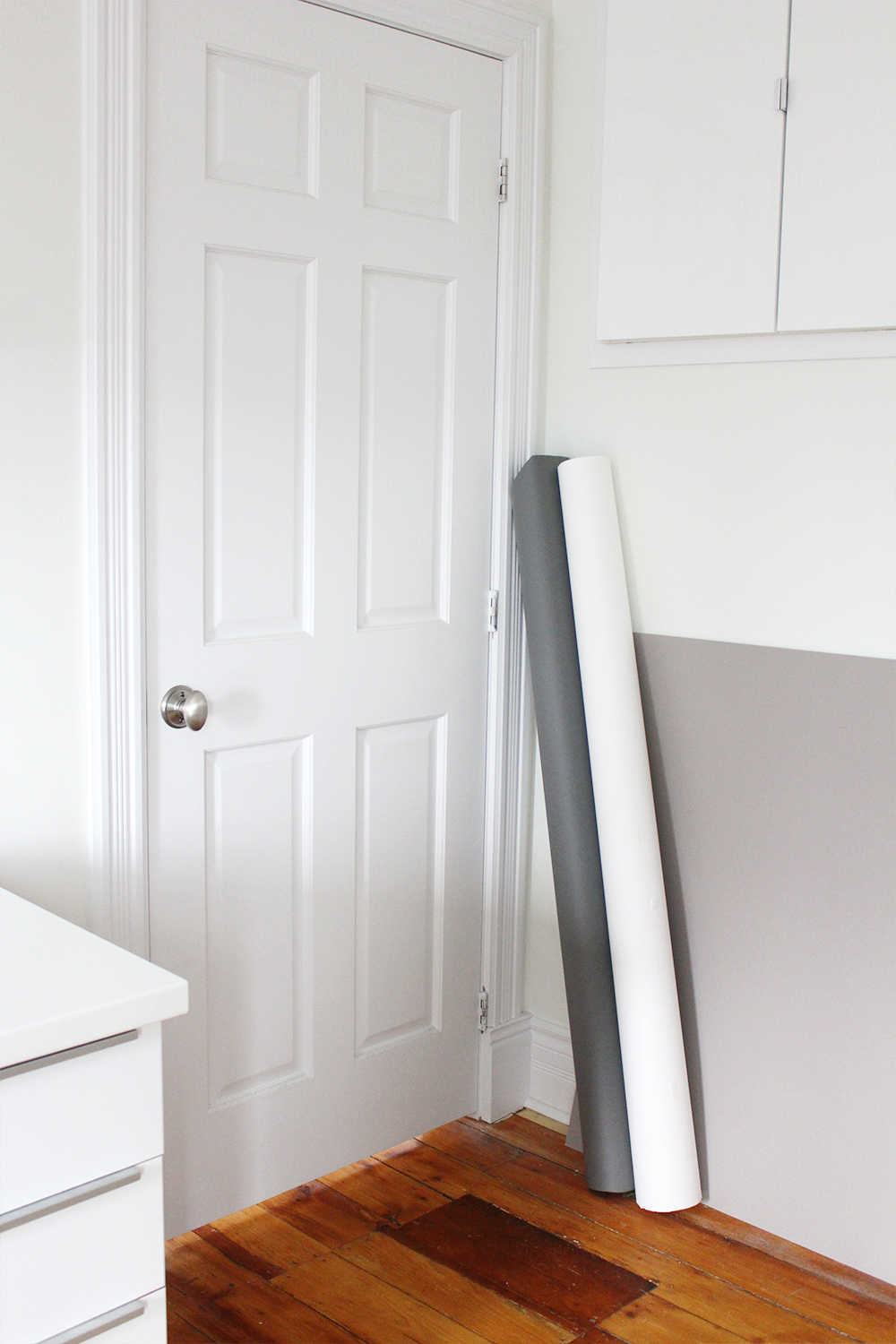 STORAGE
In general, houses built before the 1900s had little to no storage included. Closets were not a thing (armoires though, all the rage) and neither were 90 degree angles, at least, they weren't a priority! So we had to brute force our way into opening up what tiny storage space there was and figure out the best way to make it useful and elegant. Because a stairway runs behind the wall where the closets are we could only have upper shelving for most of the wall. We did manage to make a couple cabinets and a large wardrobe fit and it's made all the difference. I'm able to keep my books, craft supplies, camera, props and extra bedding in these uppers and all my sweaters, pants, accessories and shoes in the larger closet beside.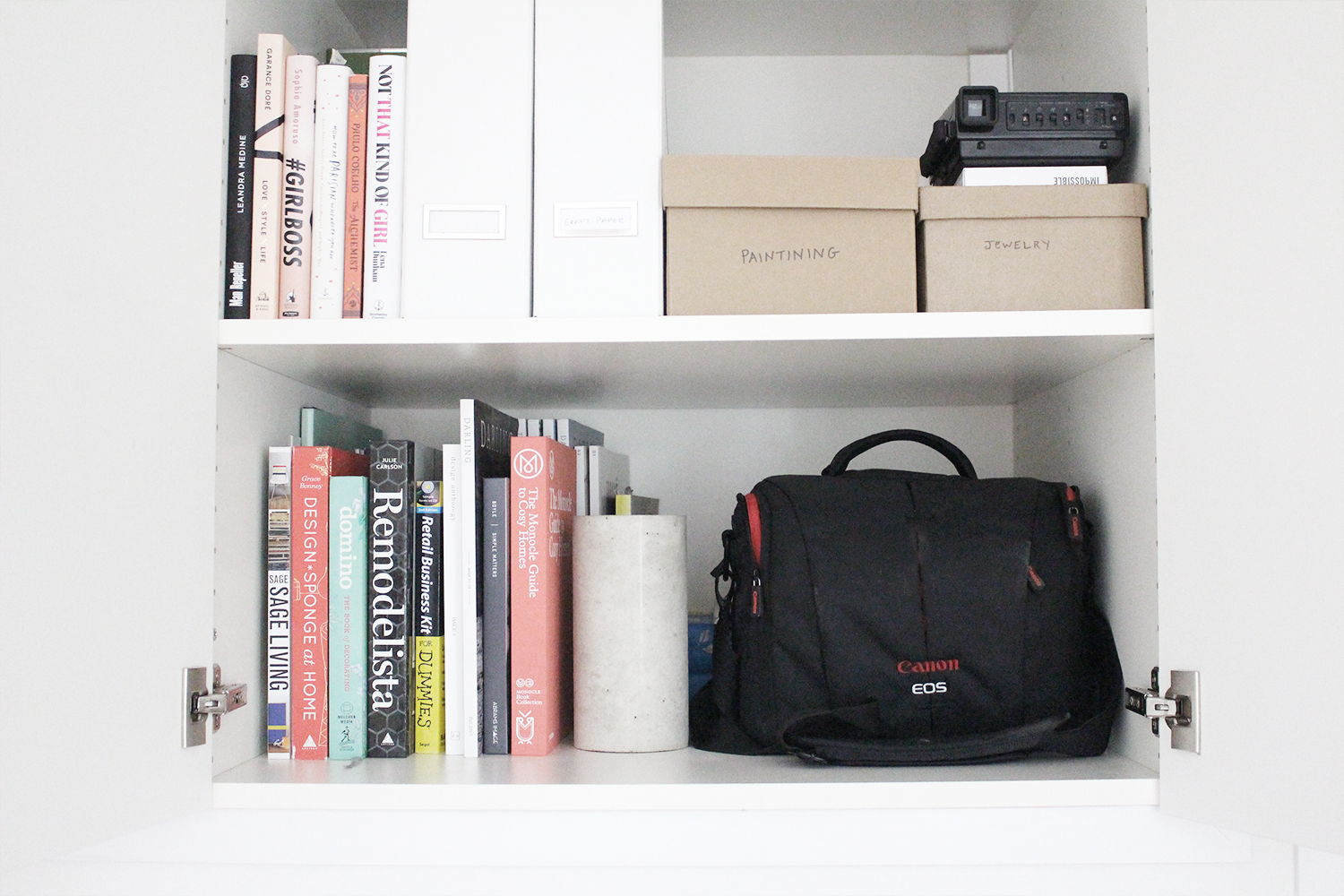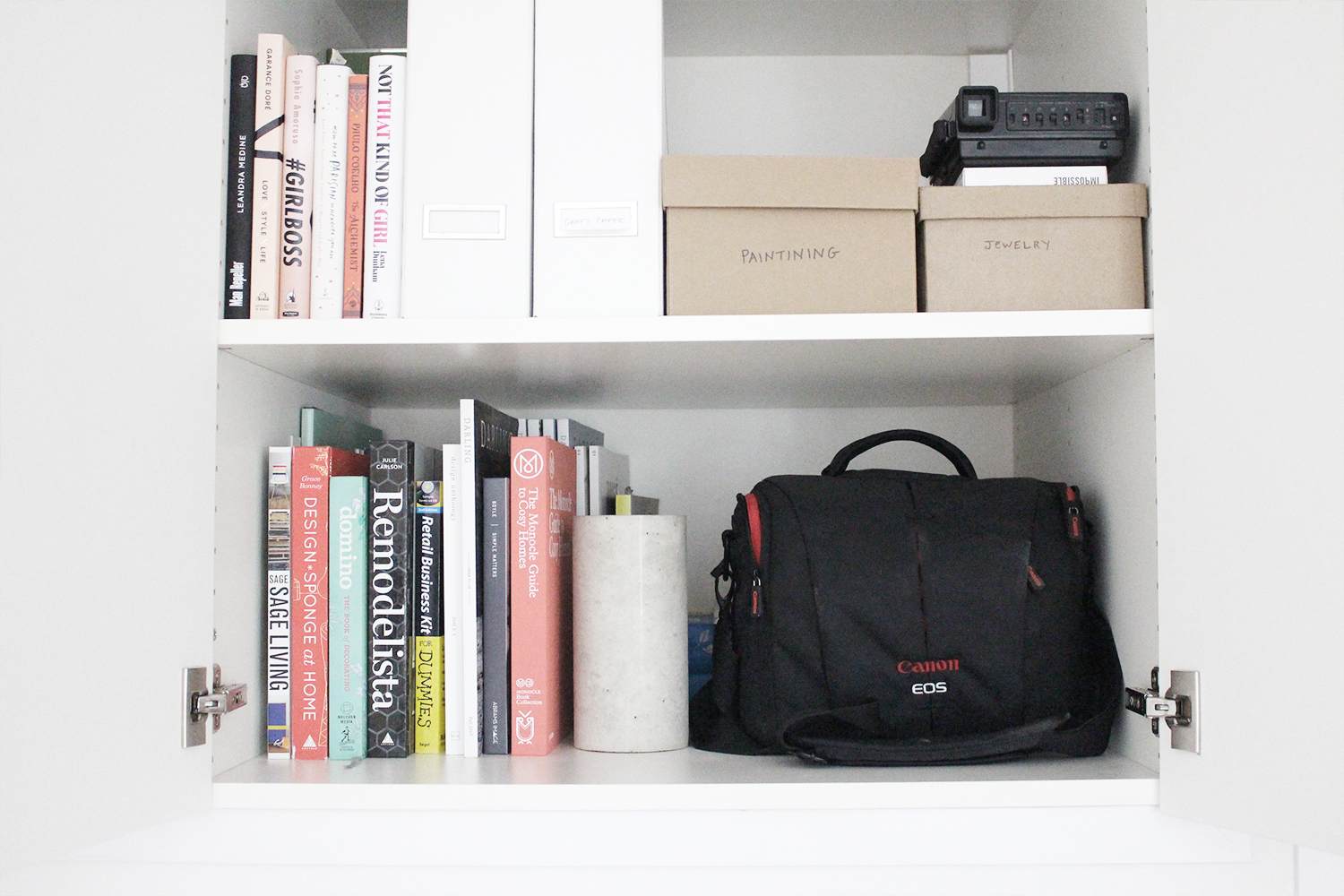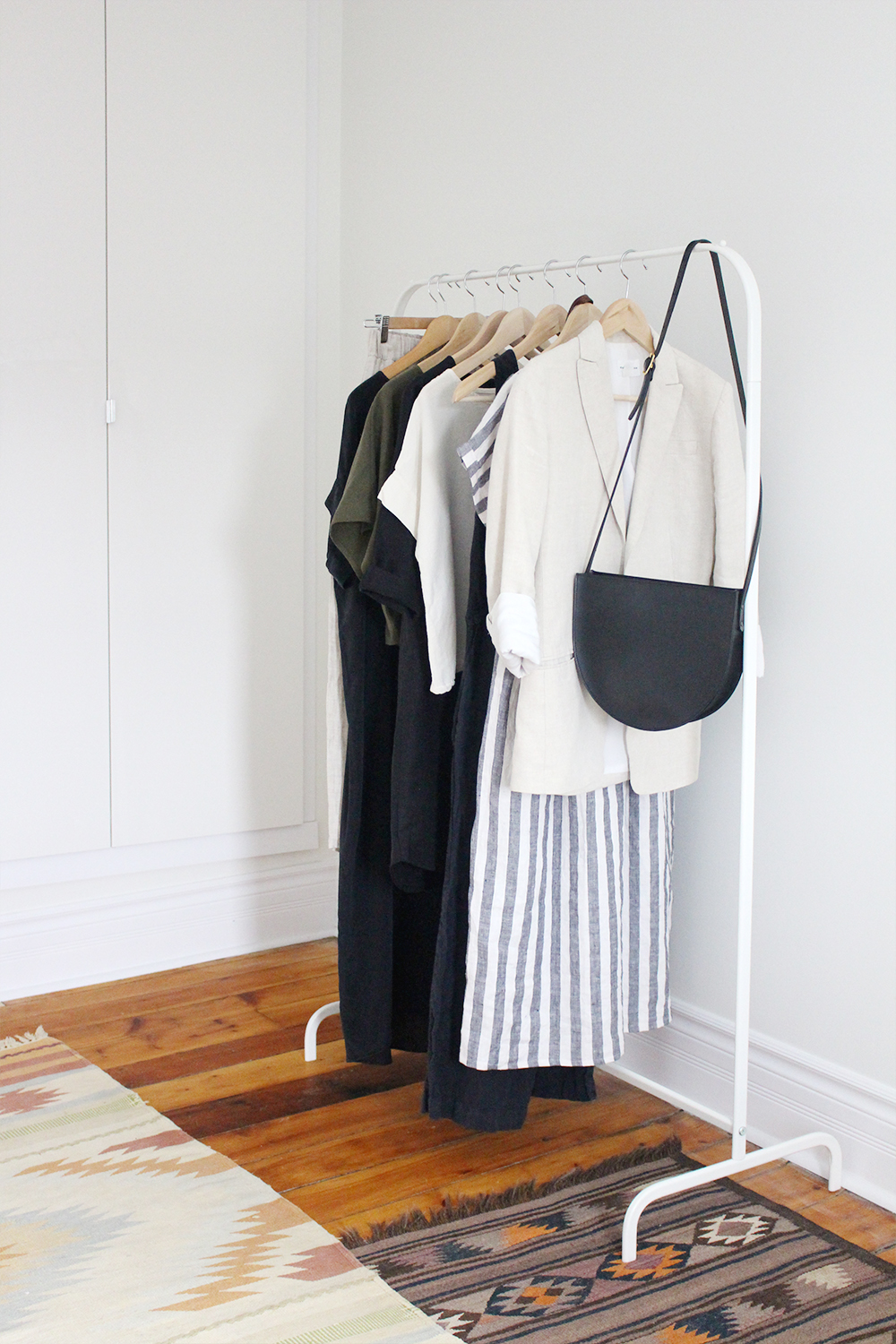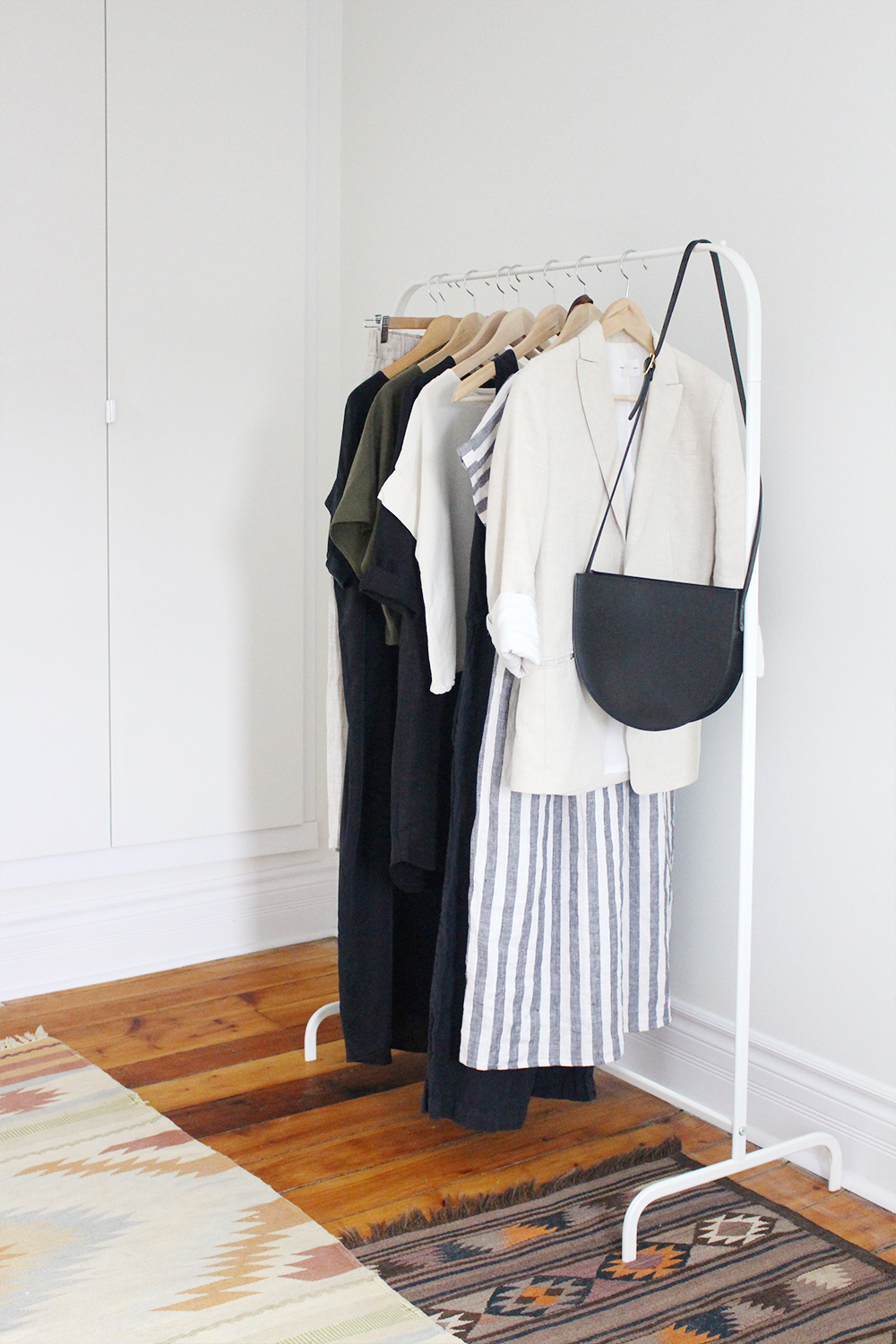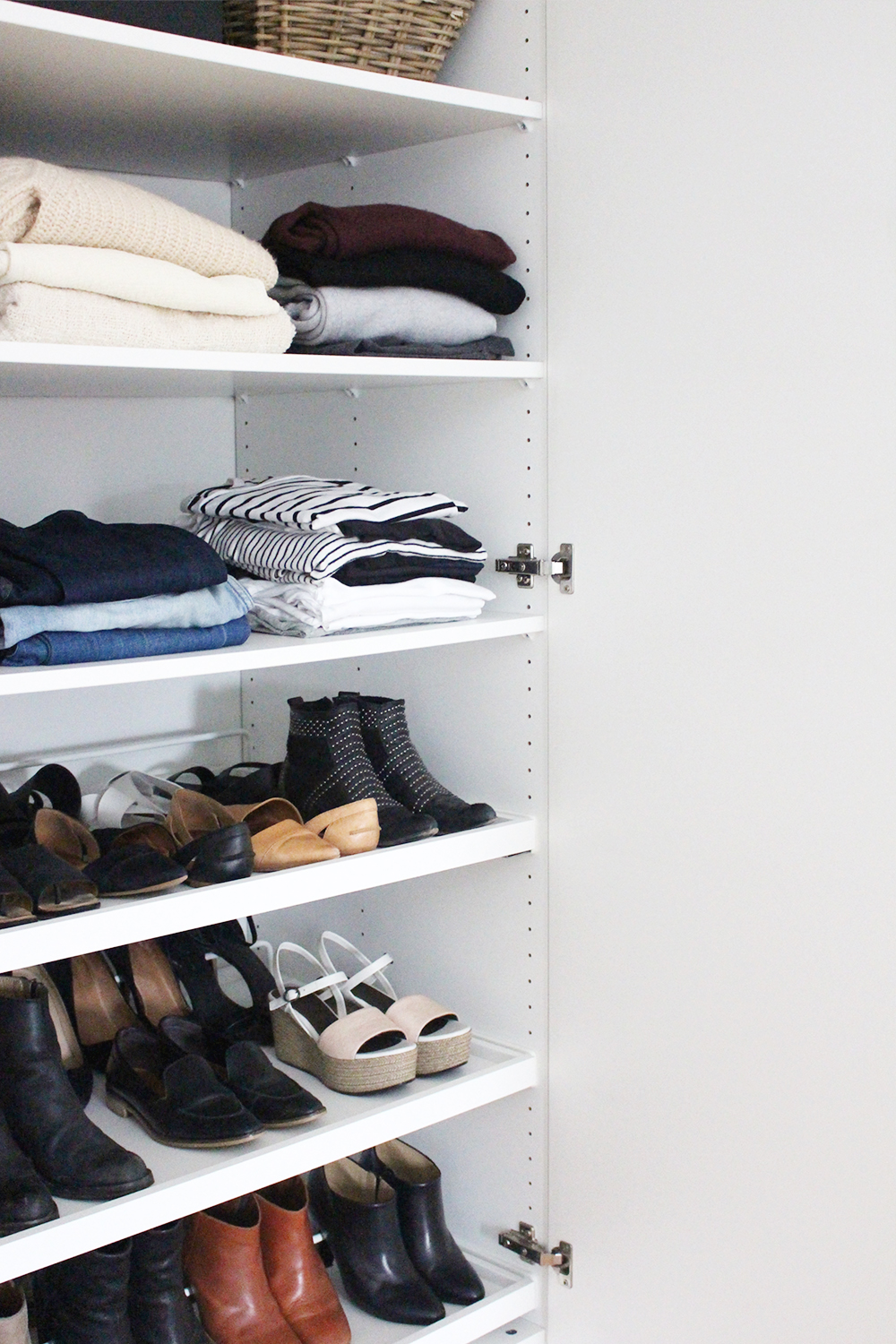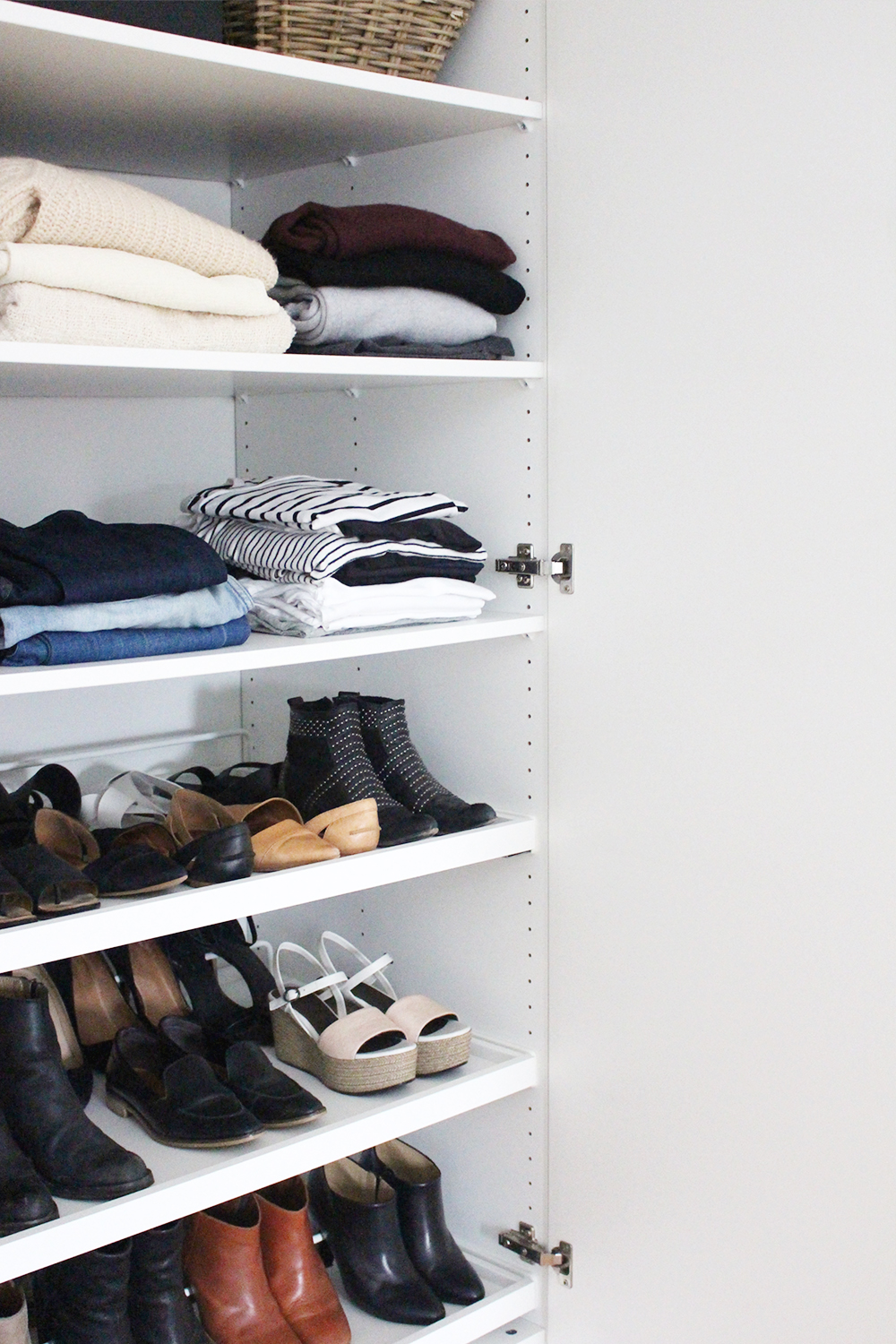 PHOTO WALL
I get asked a lot about where and how I take my outfit photos in the studio and it's really nothing fancy! I position the tripod in the doorway, roll out a piece of seamless paper on the floor (where the carpets are below), stand where the clothes rack is and snap away! I'm lucky that the space is nice and bright so I can get away with natural light for all my photography.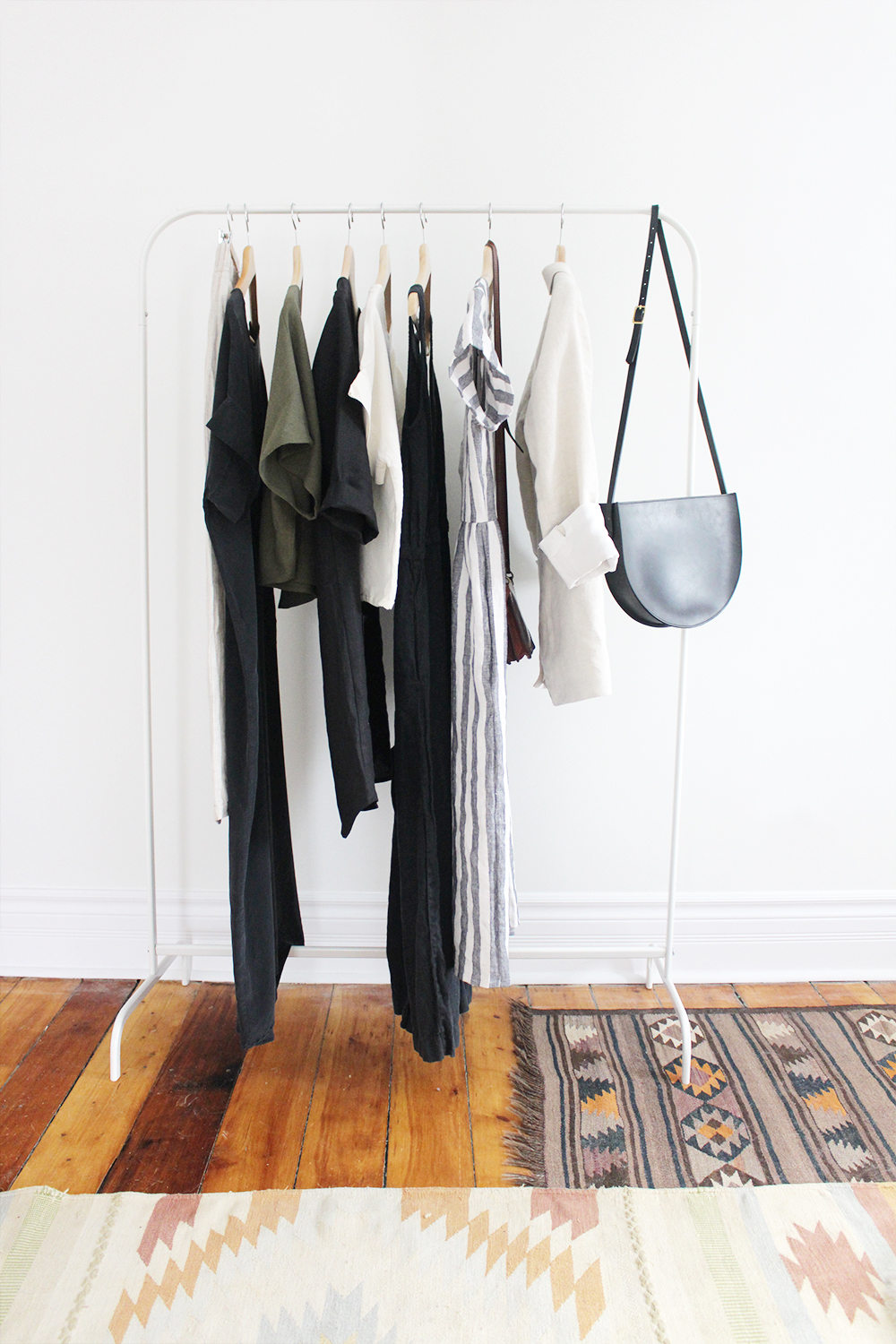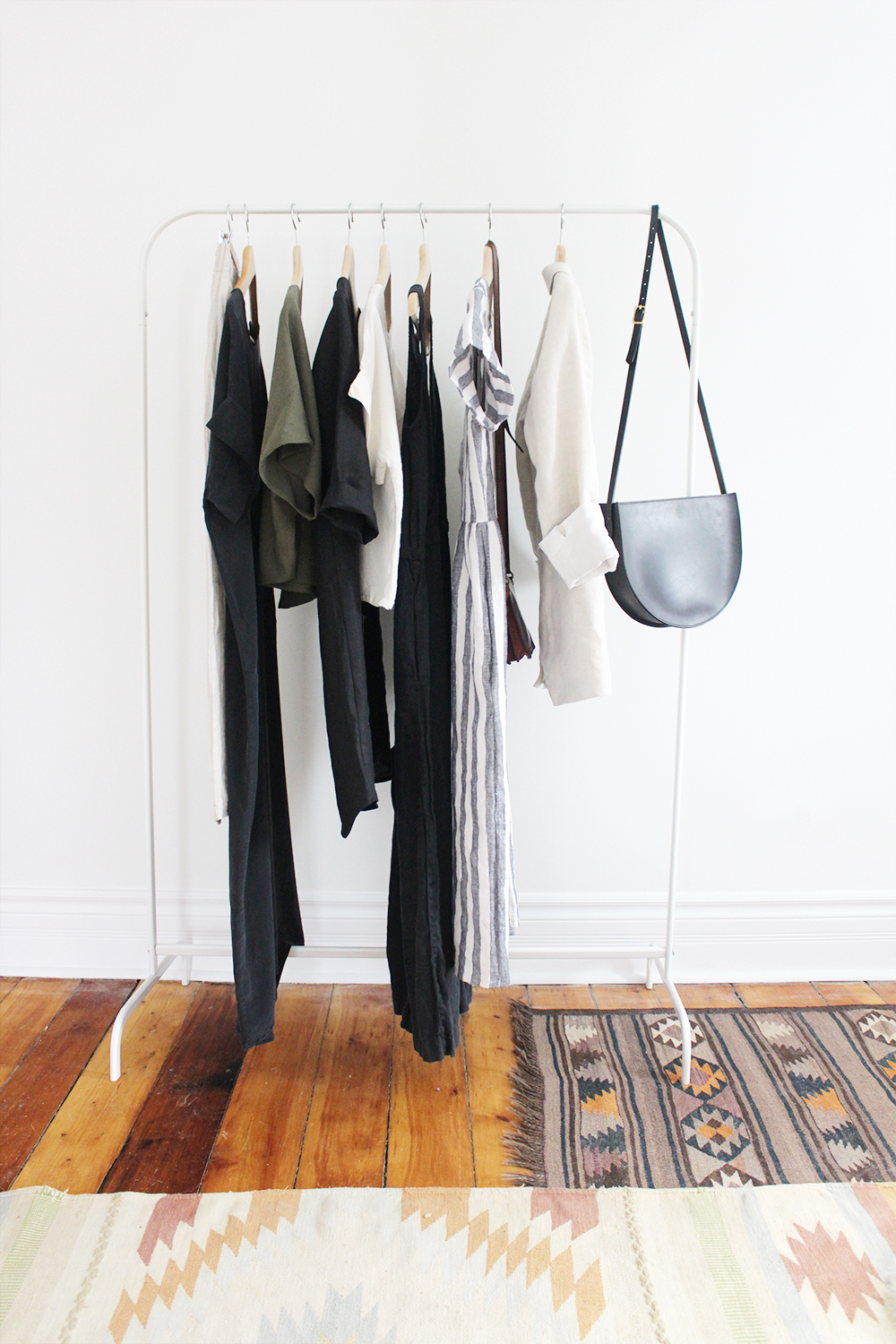 STYLING + SEWING STATION
I really didn't want to fill up too much of the space in this room but after about 8 months of working in it I found it would be really helpful to have an additional desk space in the corner. One I could use for prop styling, good portrait lighting and eventually a sewing station. I've yet to get started with a proper sewing project but there a few ideas in the works! Right now this spot is looking pretty with lots of plants, books, candles and a few boxes of sewing supplies all organized.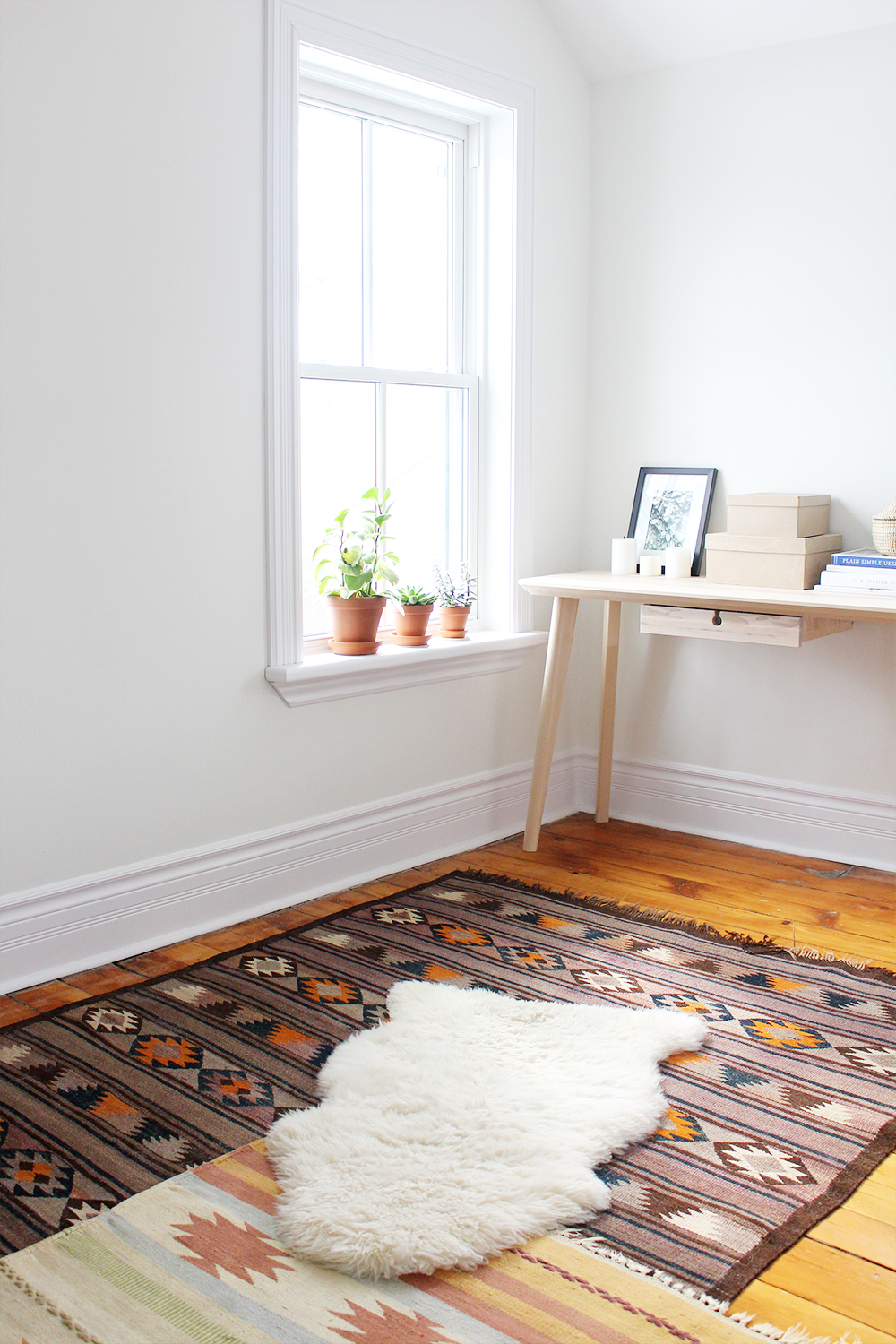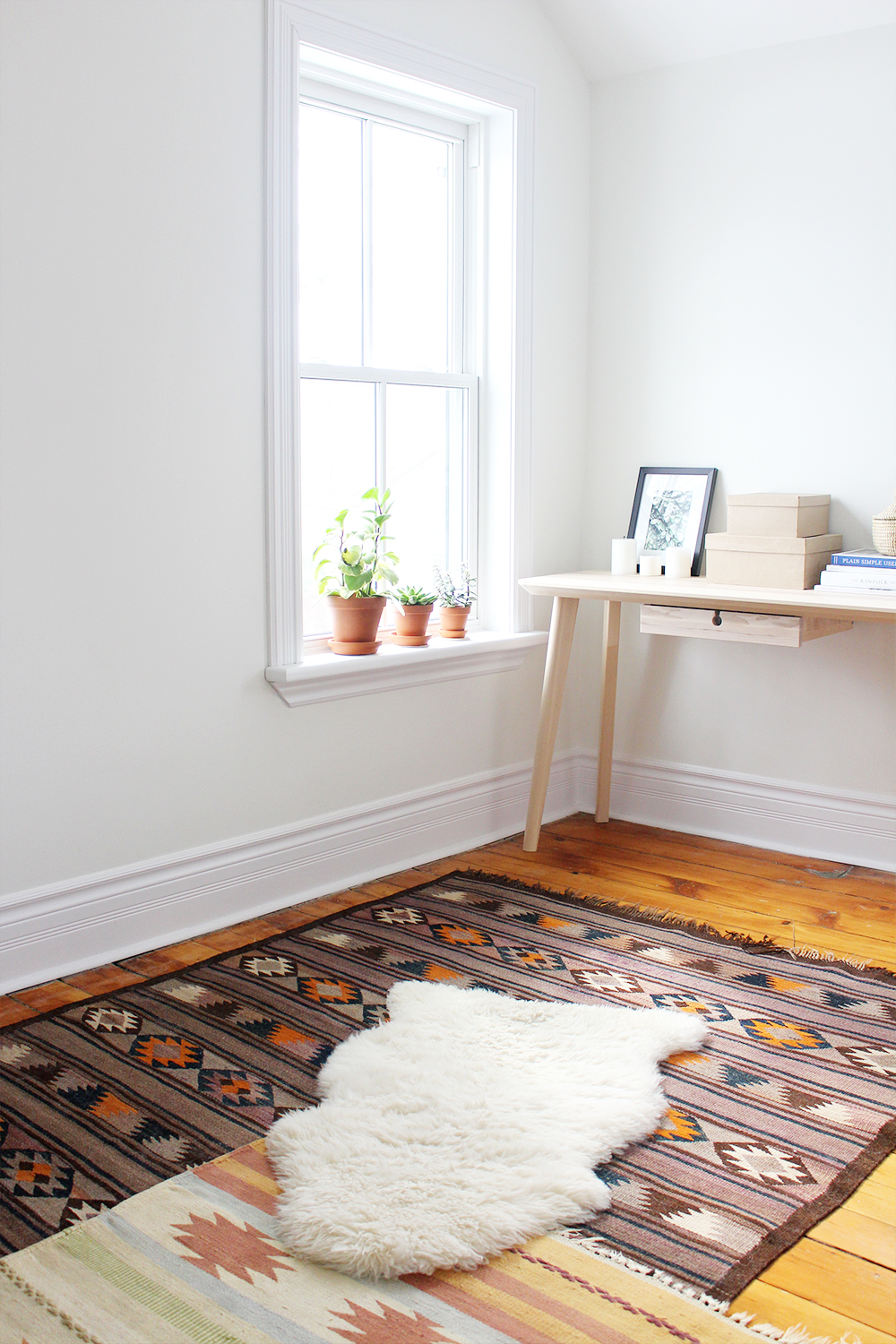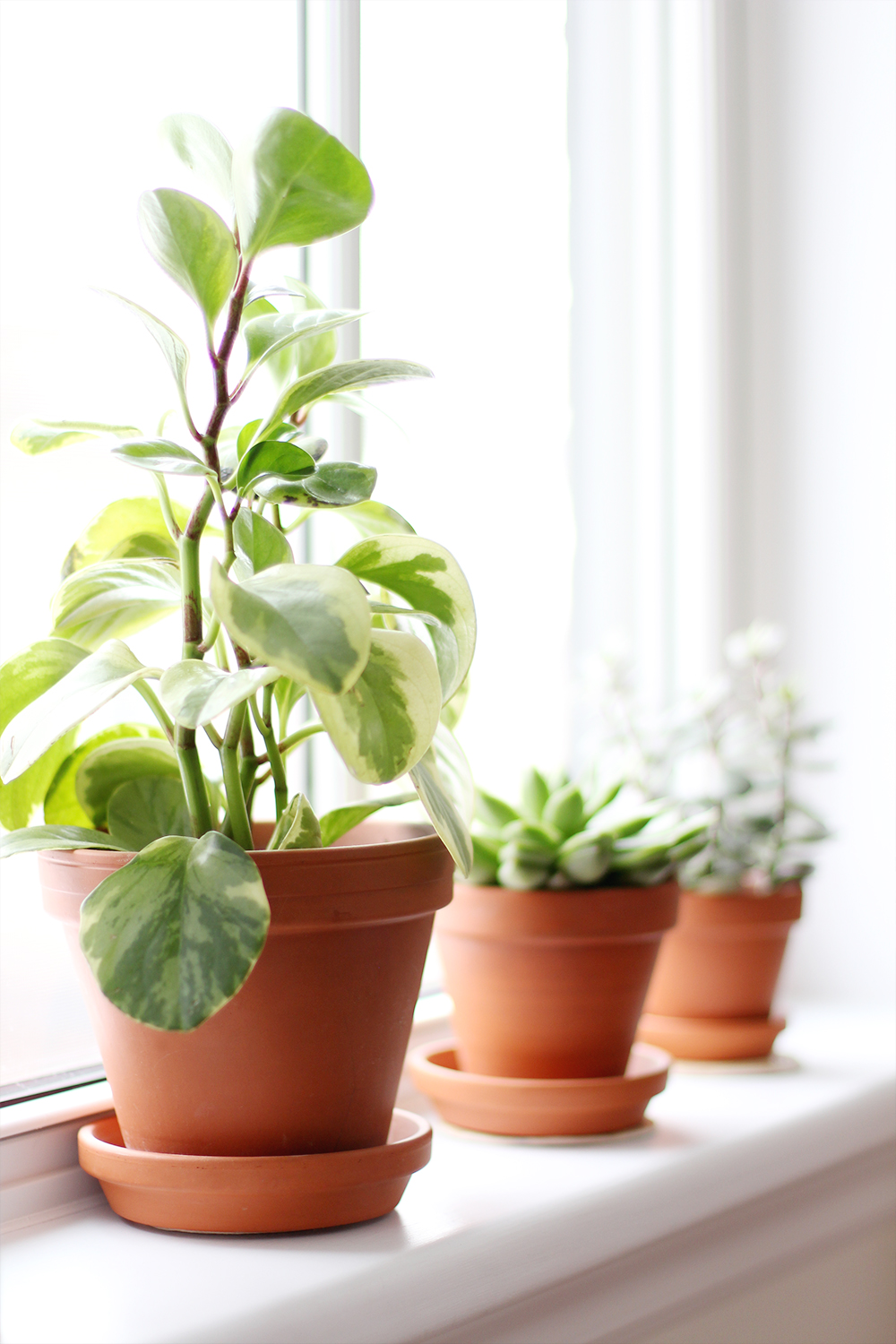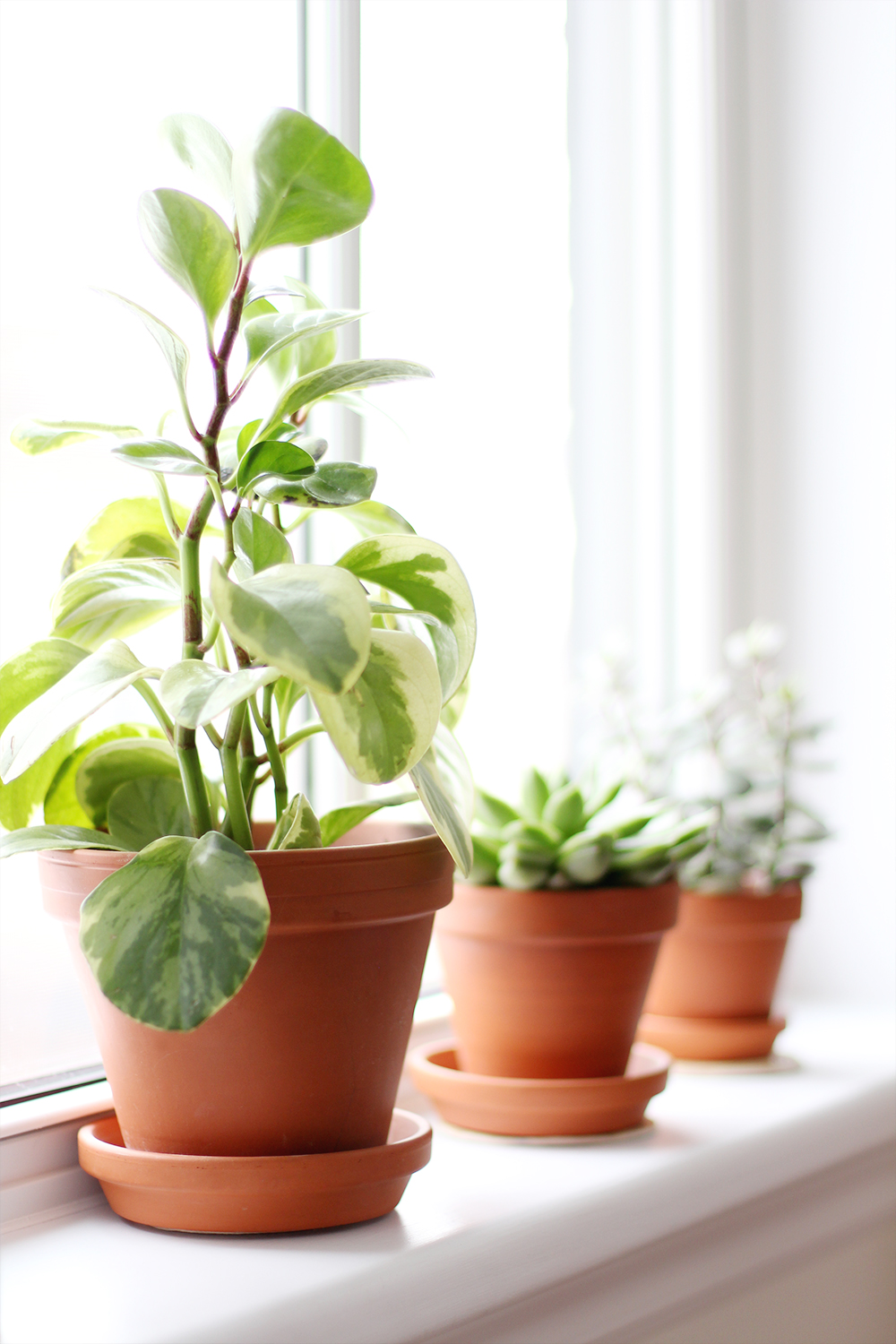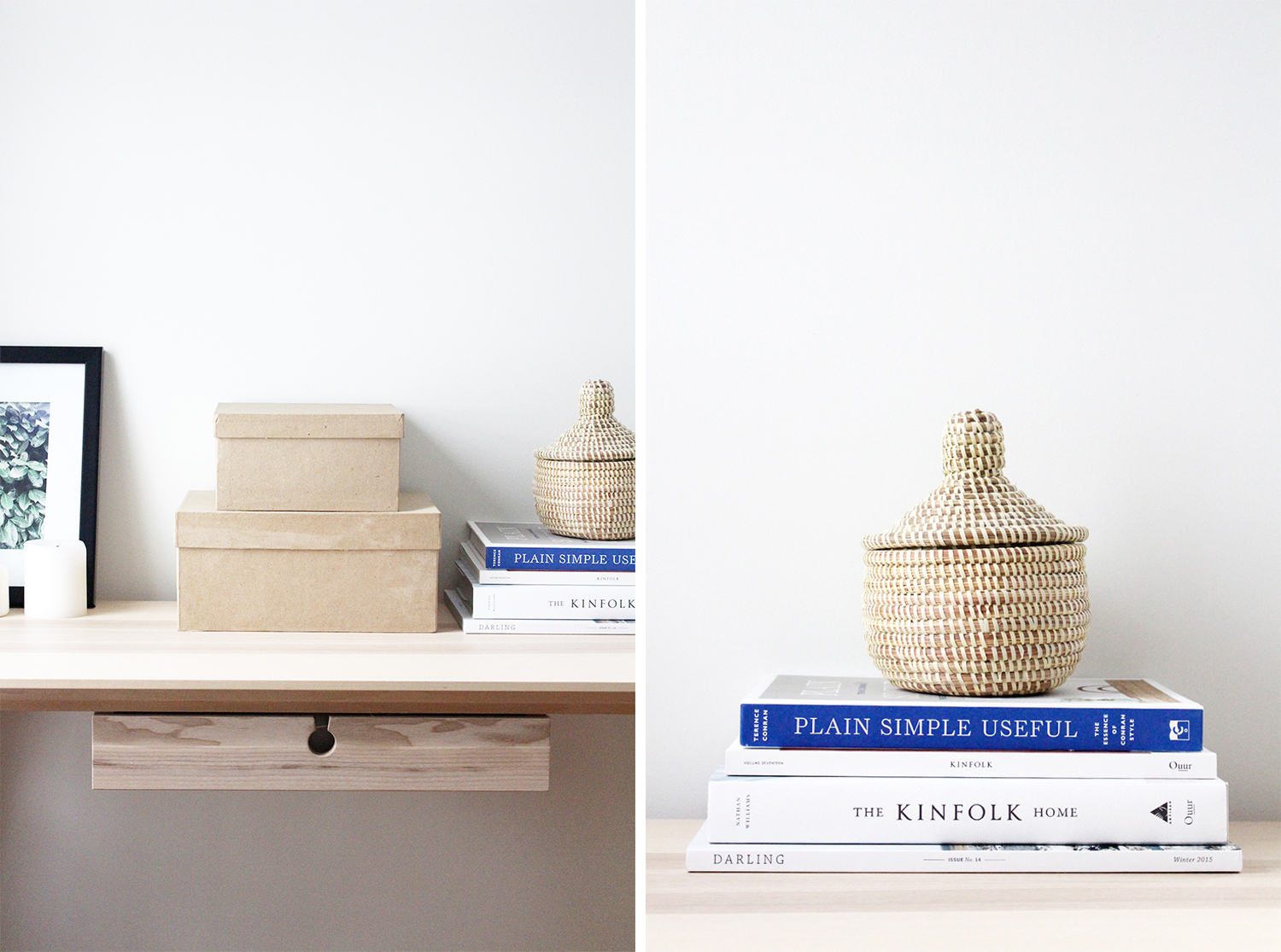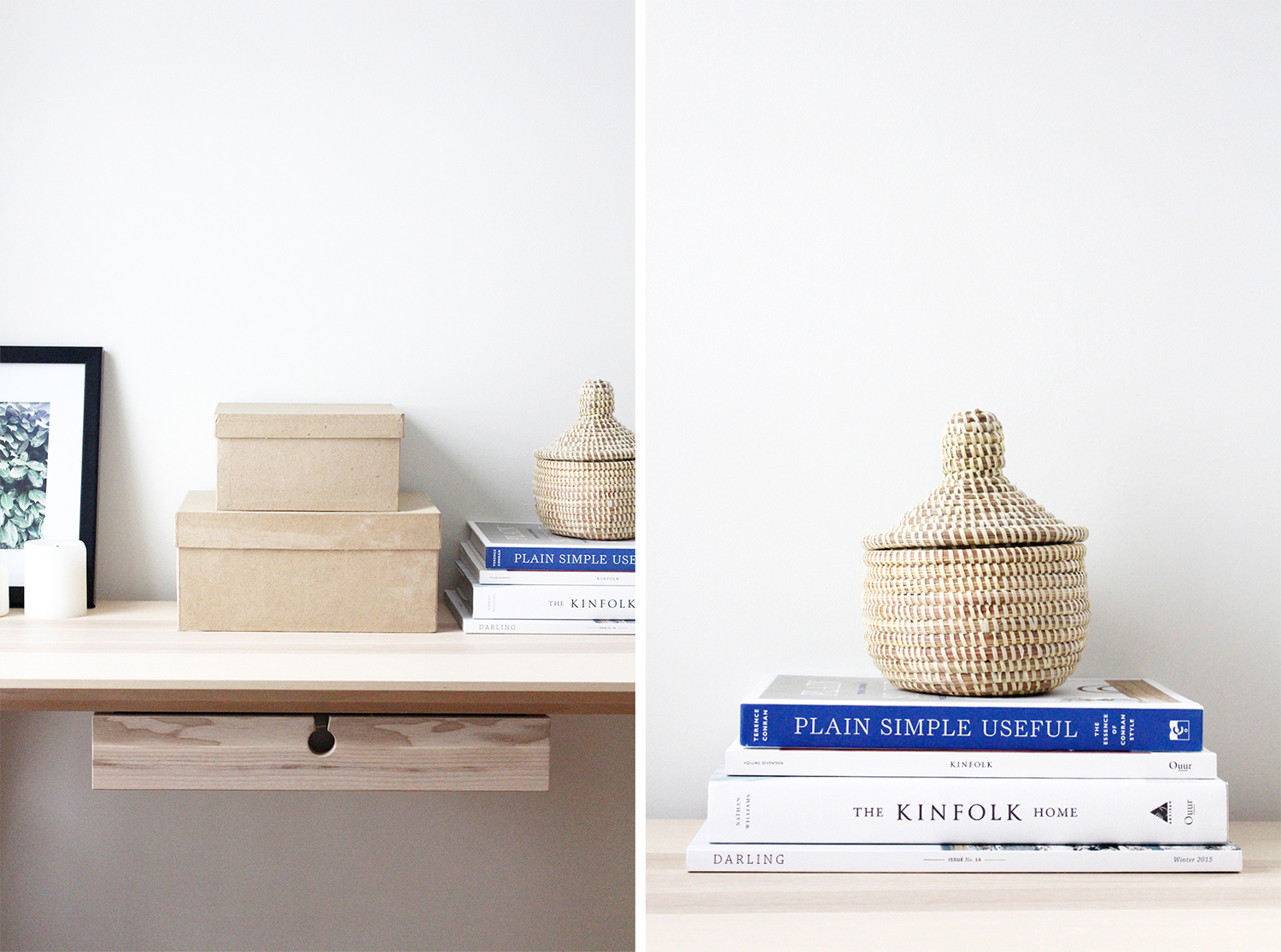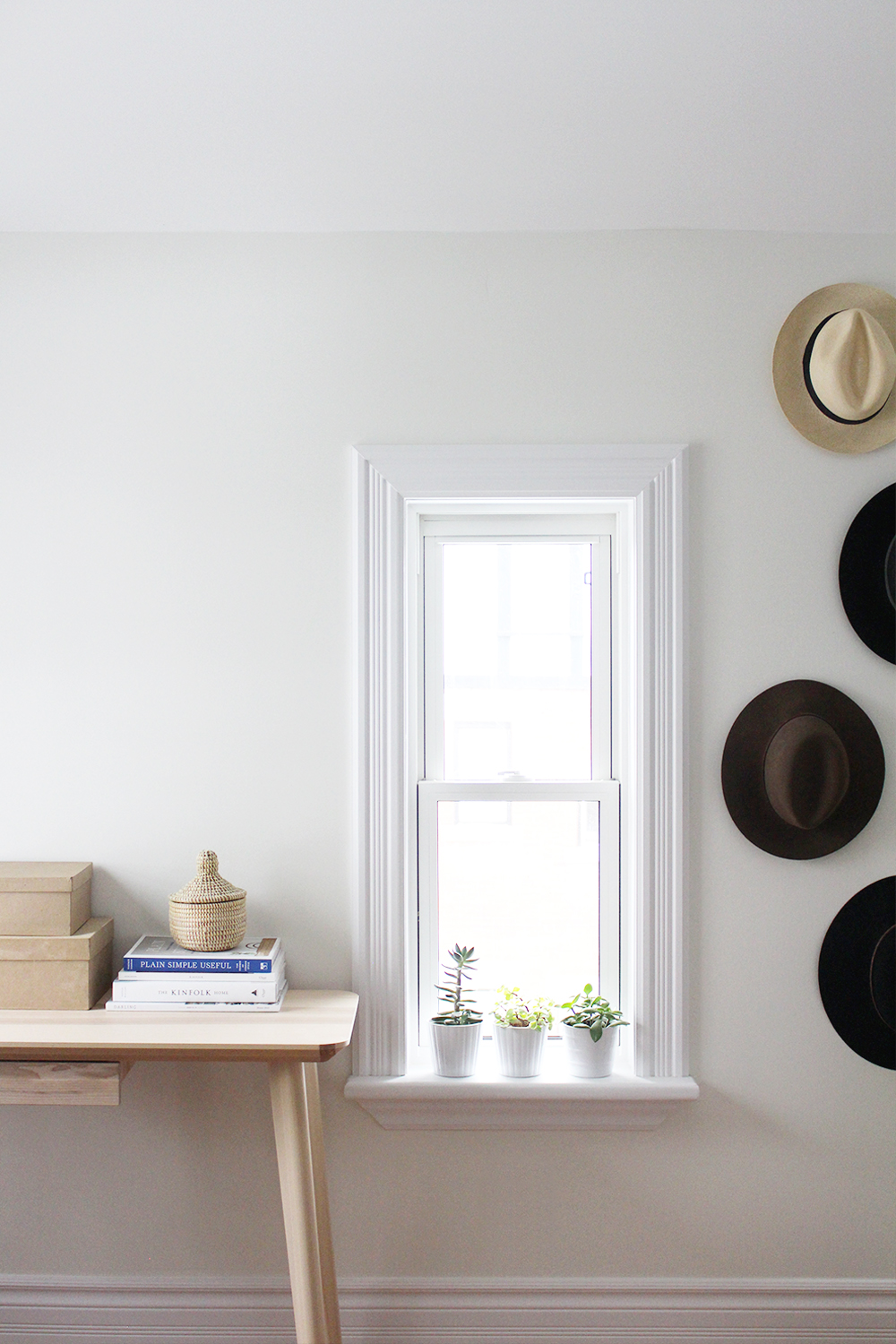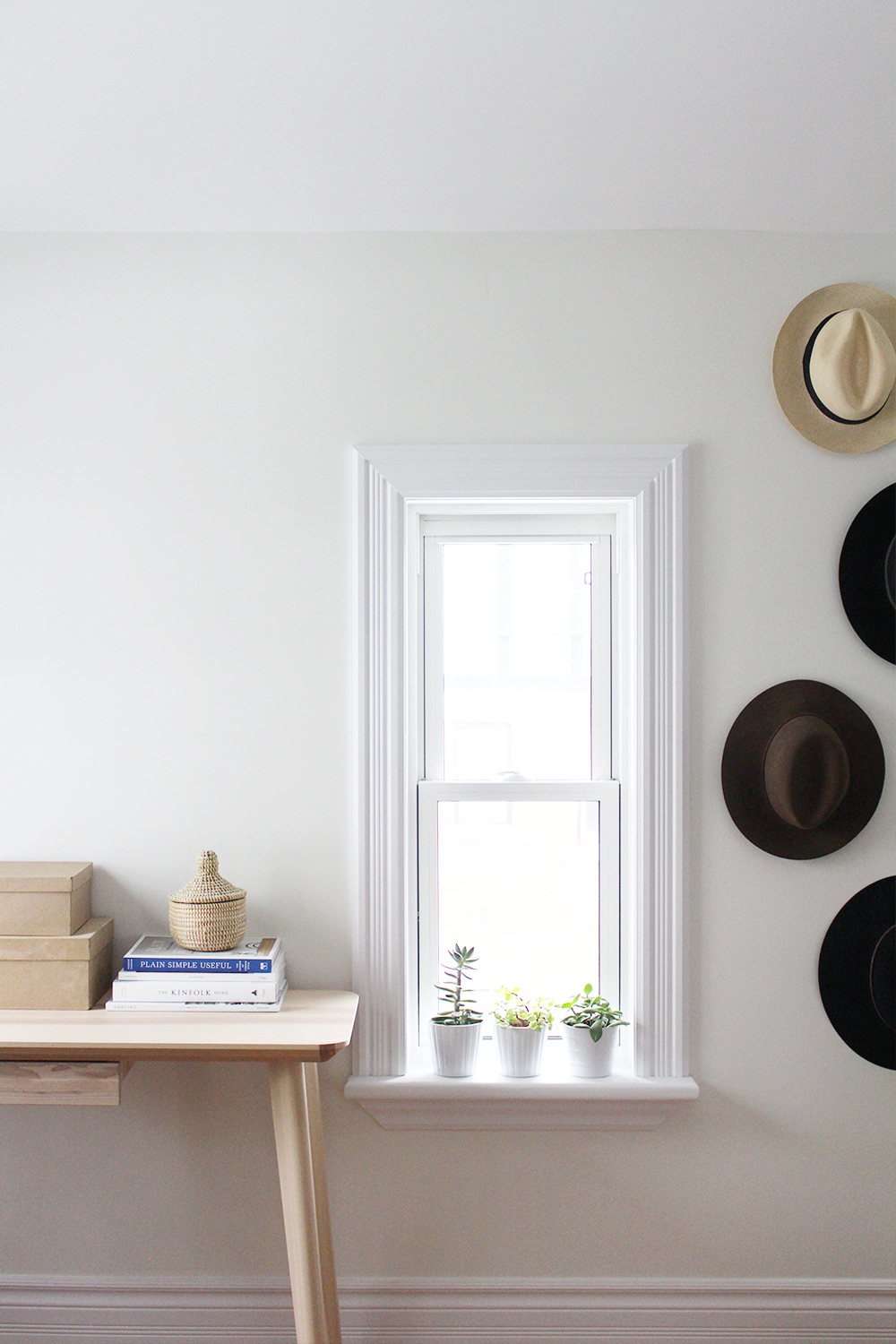 DESK
Now it's time to dig into the best part of the room which is my desk area! I agonized over ways to style this space for way too long and frankly, I have to blame Pinterest for my inability to make a decision. There are so many pin-perfect workspaces out there that I was almost paralyzed by all the design inspiration. In the end I just decided to forget about every one else and focus on adding elements that were practical, fresh and simple. The first element was my hat wall, which I am still obsessed with. Next came the Stendig calendar which I'd been hoping to get for ages. Then finally I found some art that I loved, the perfect vessels for my green buddies and a minimal shelf to hold them all on. The space finally feels complete but not crowded or cluttered.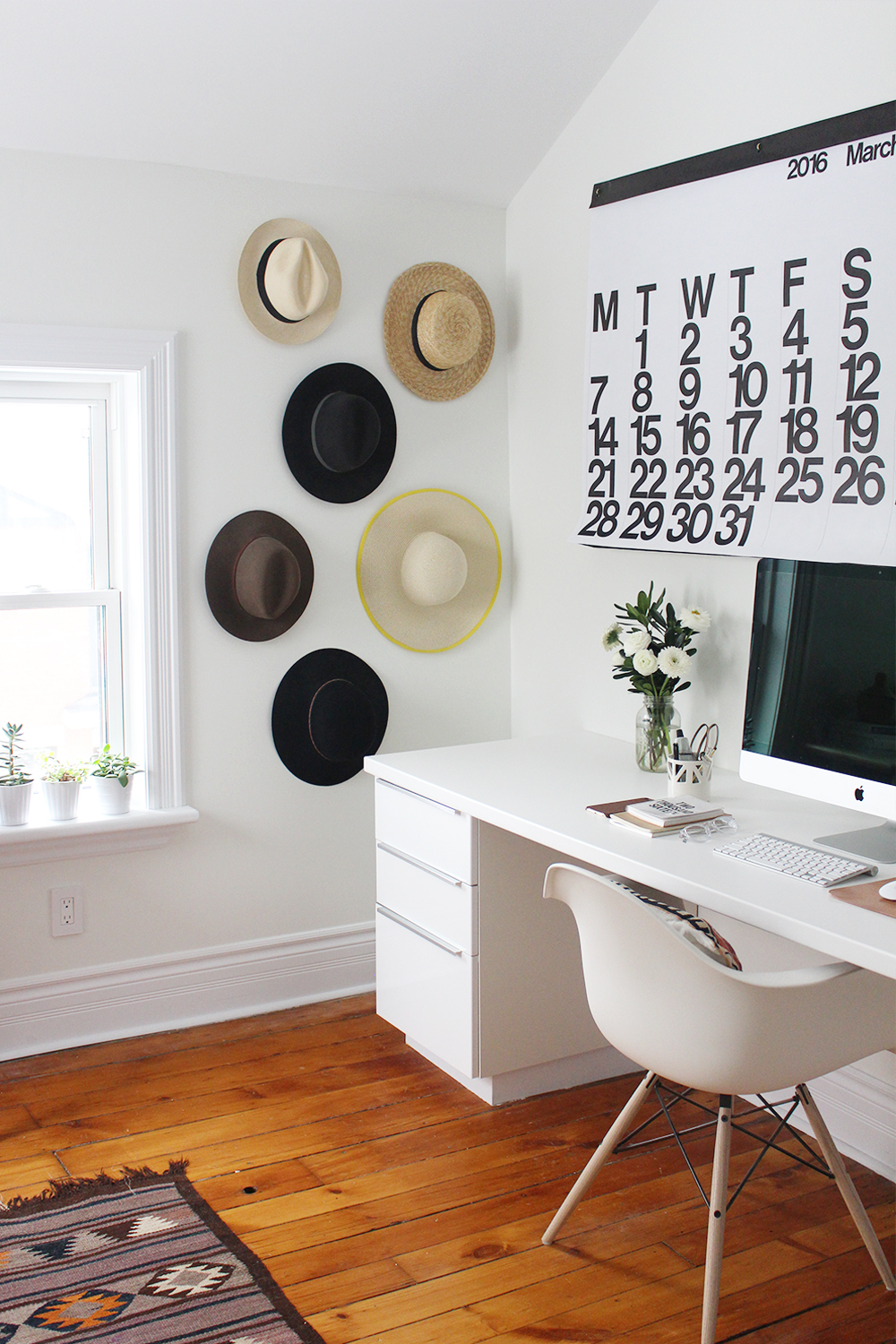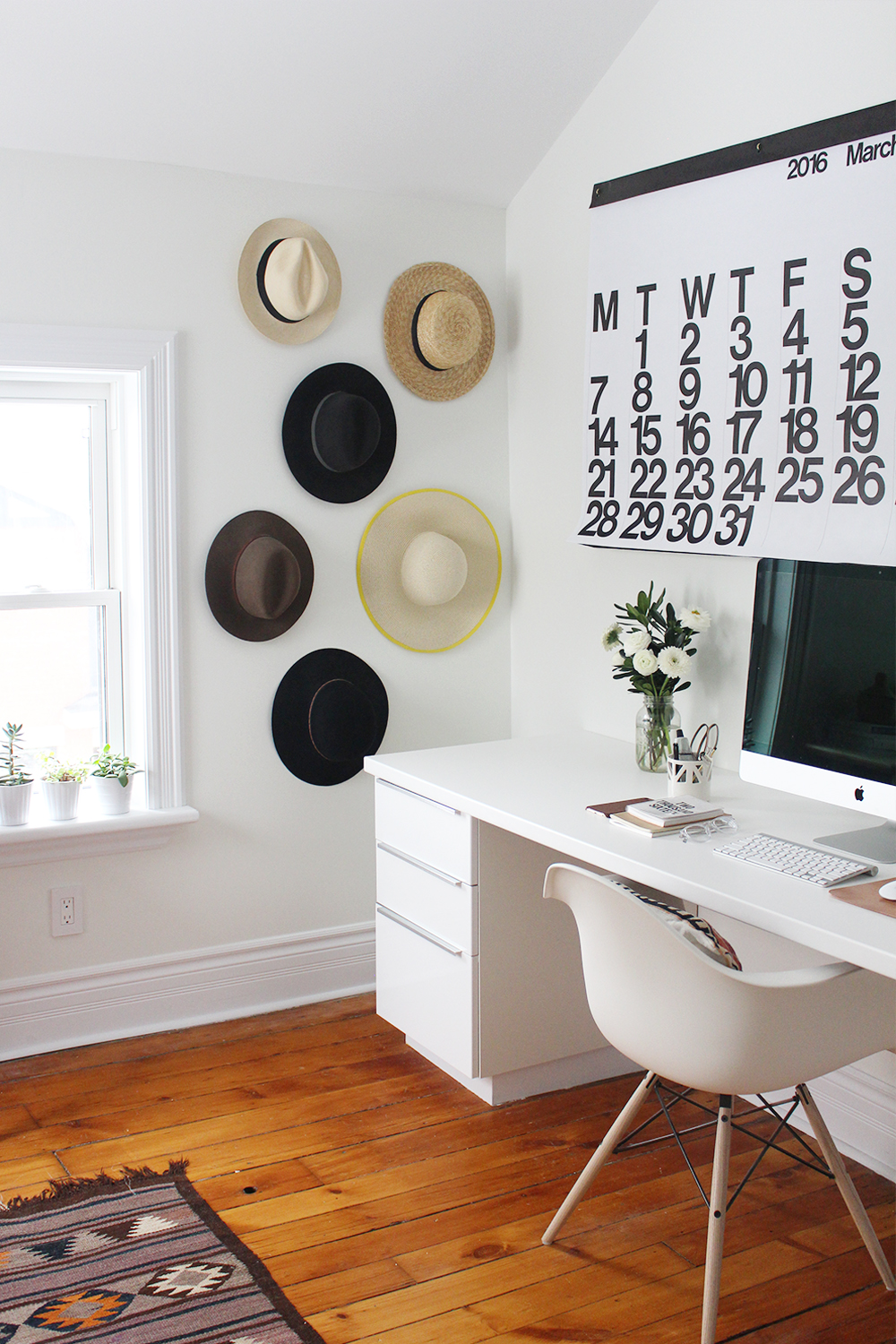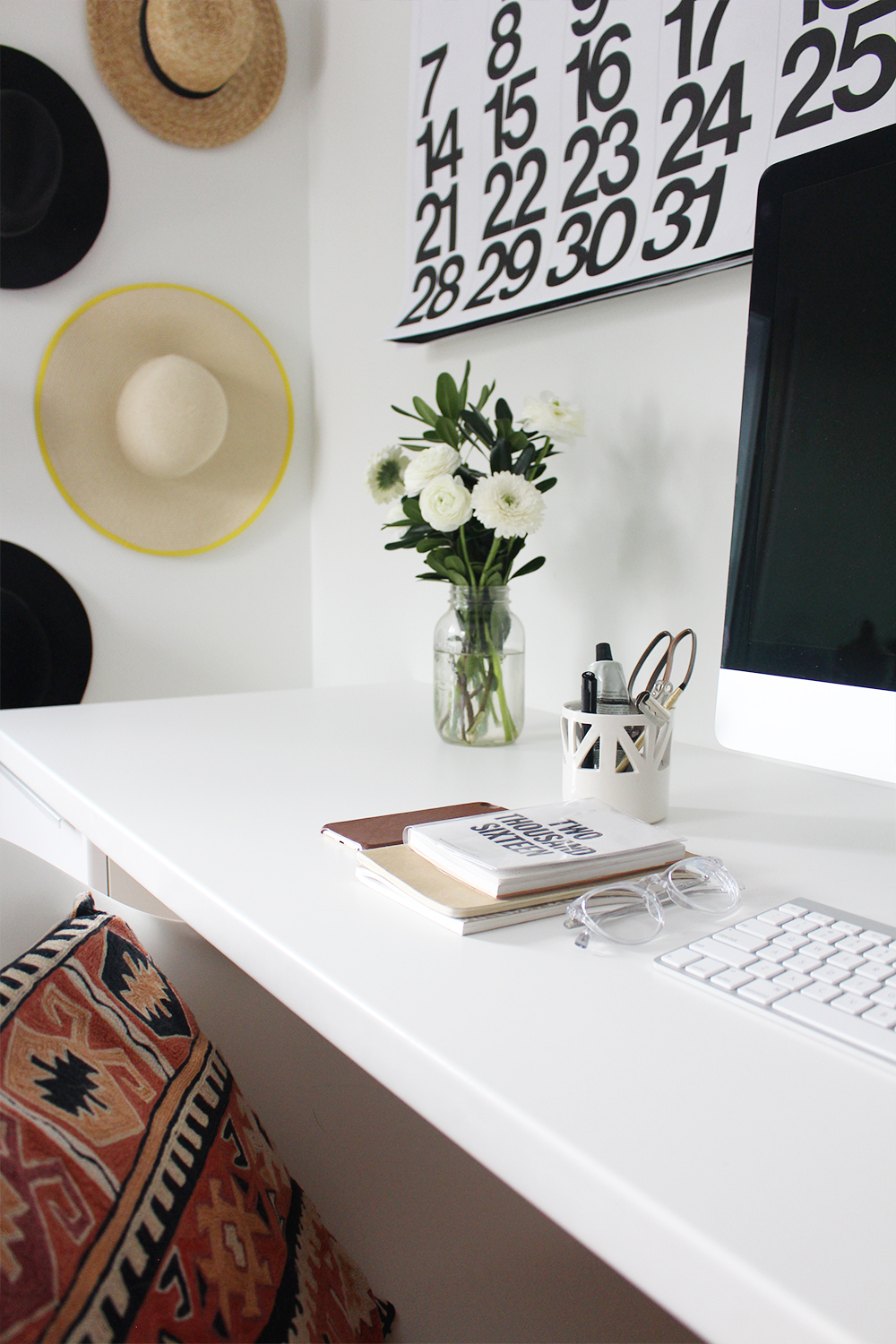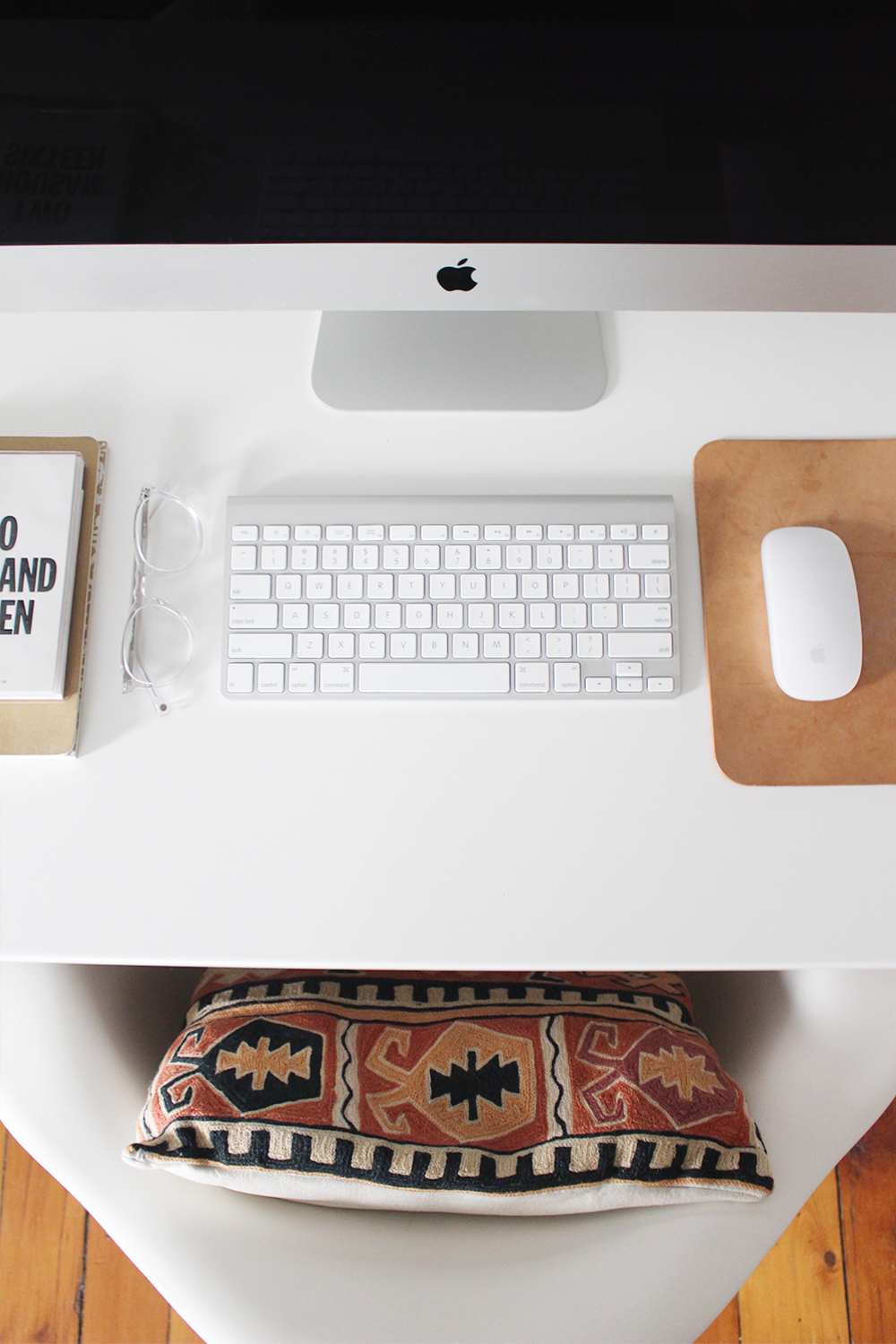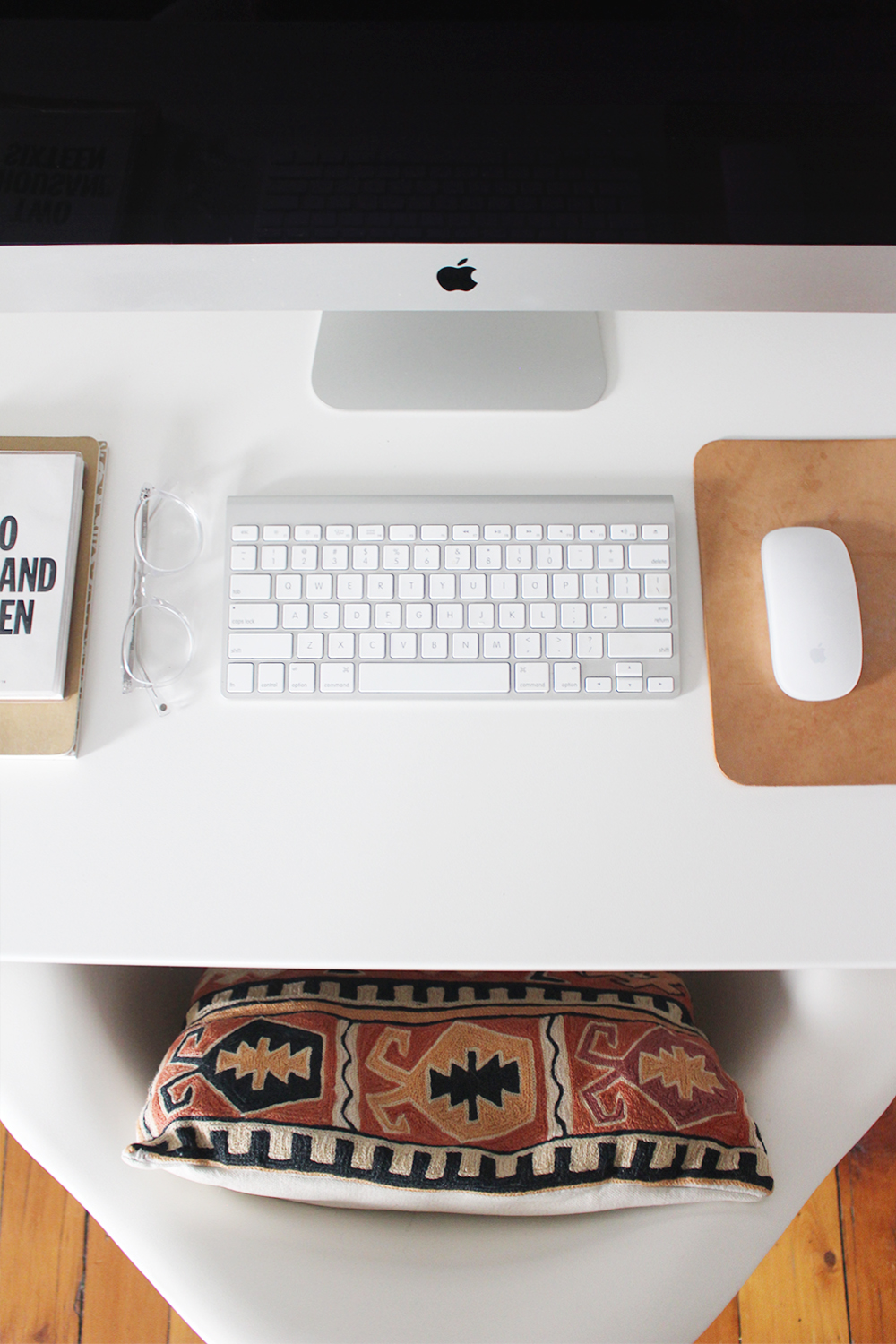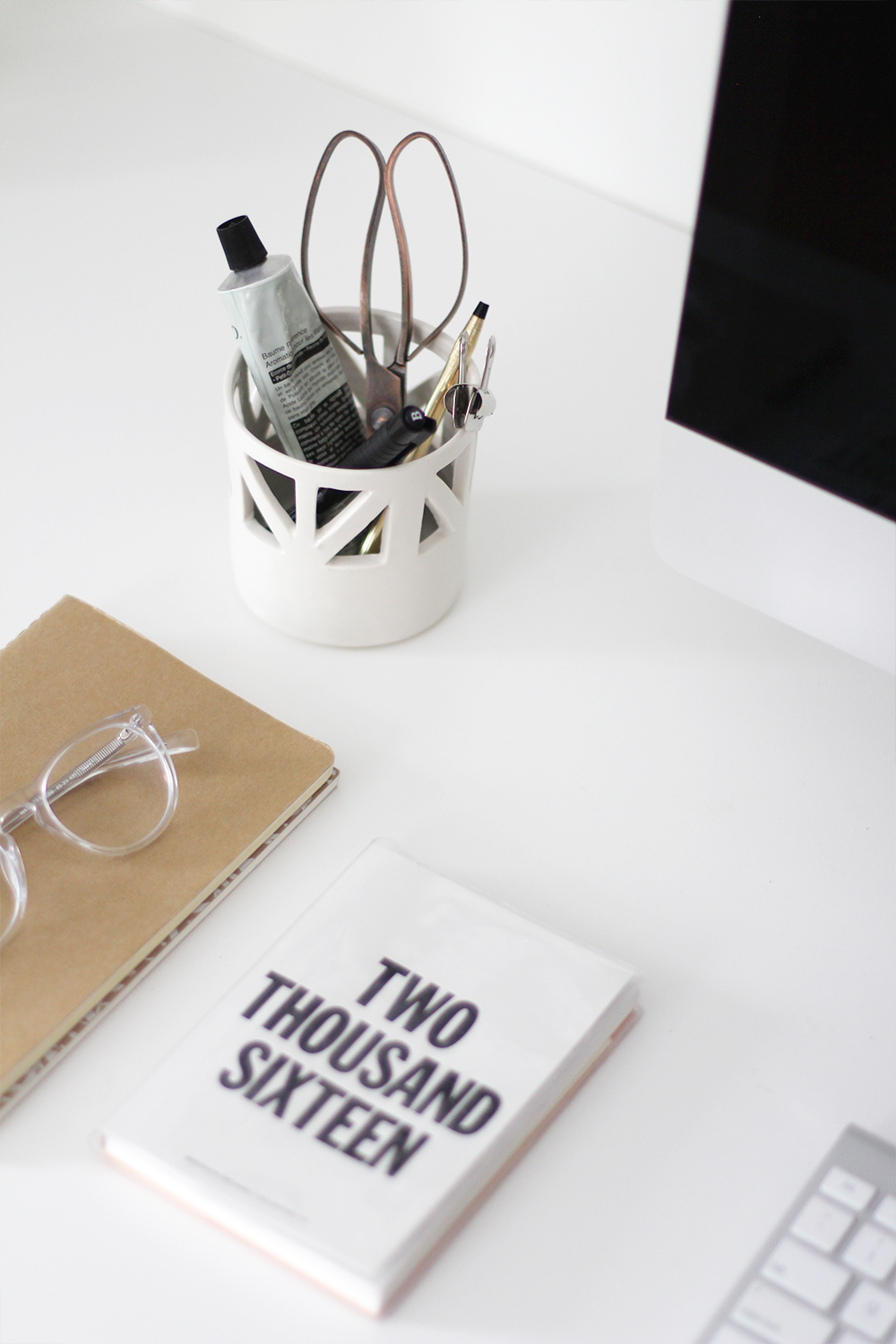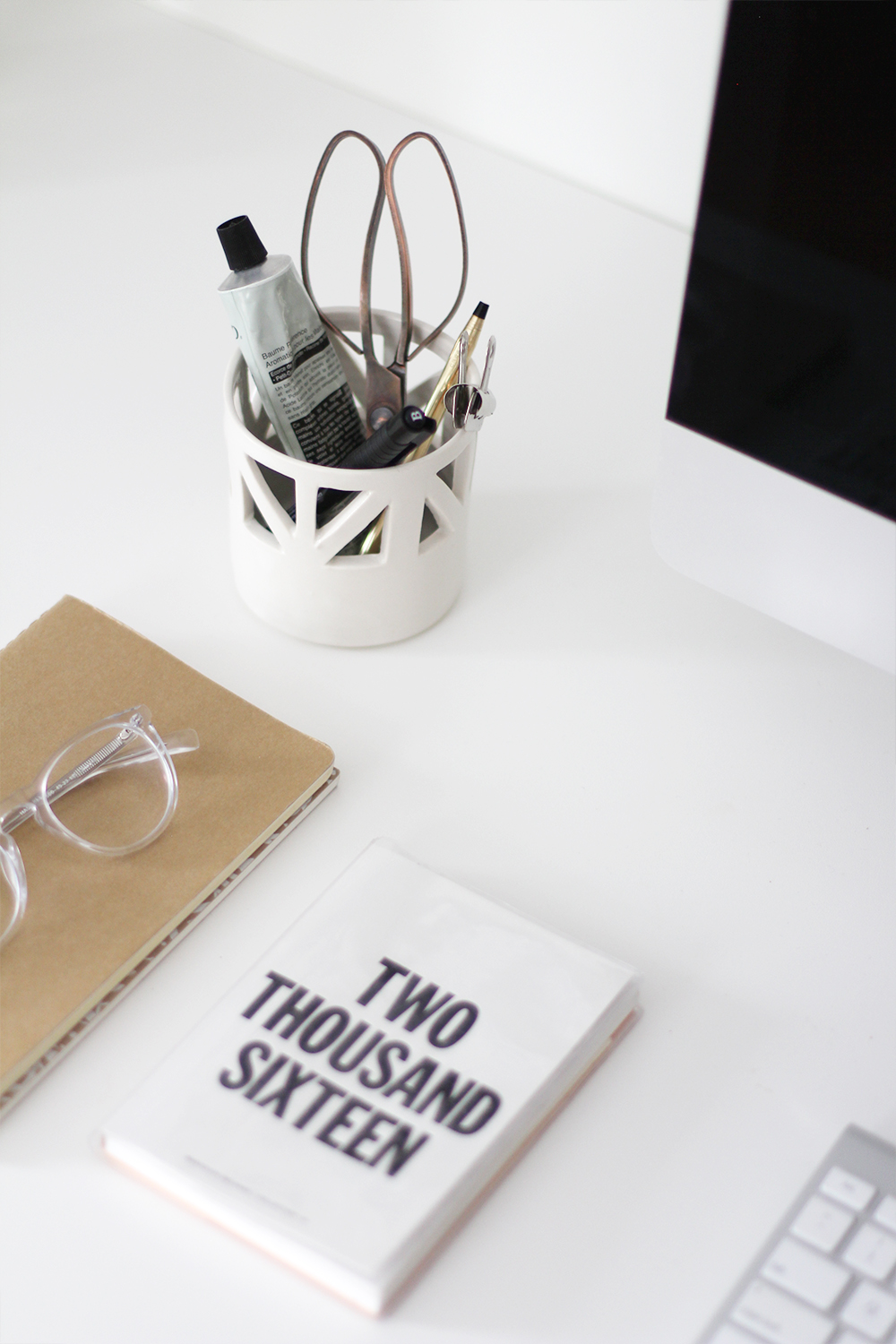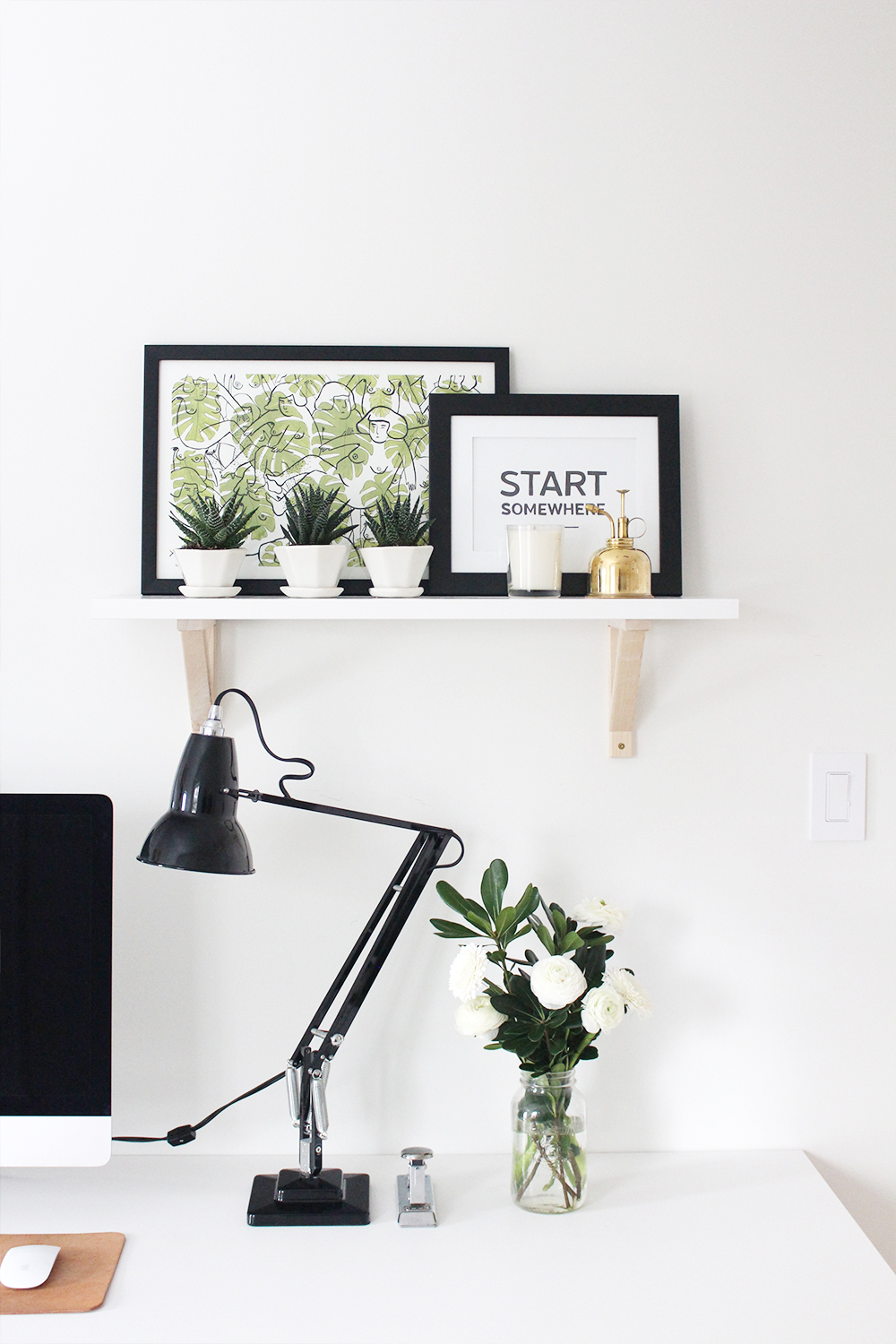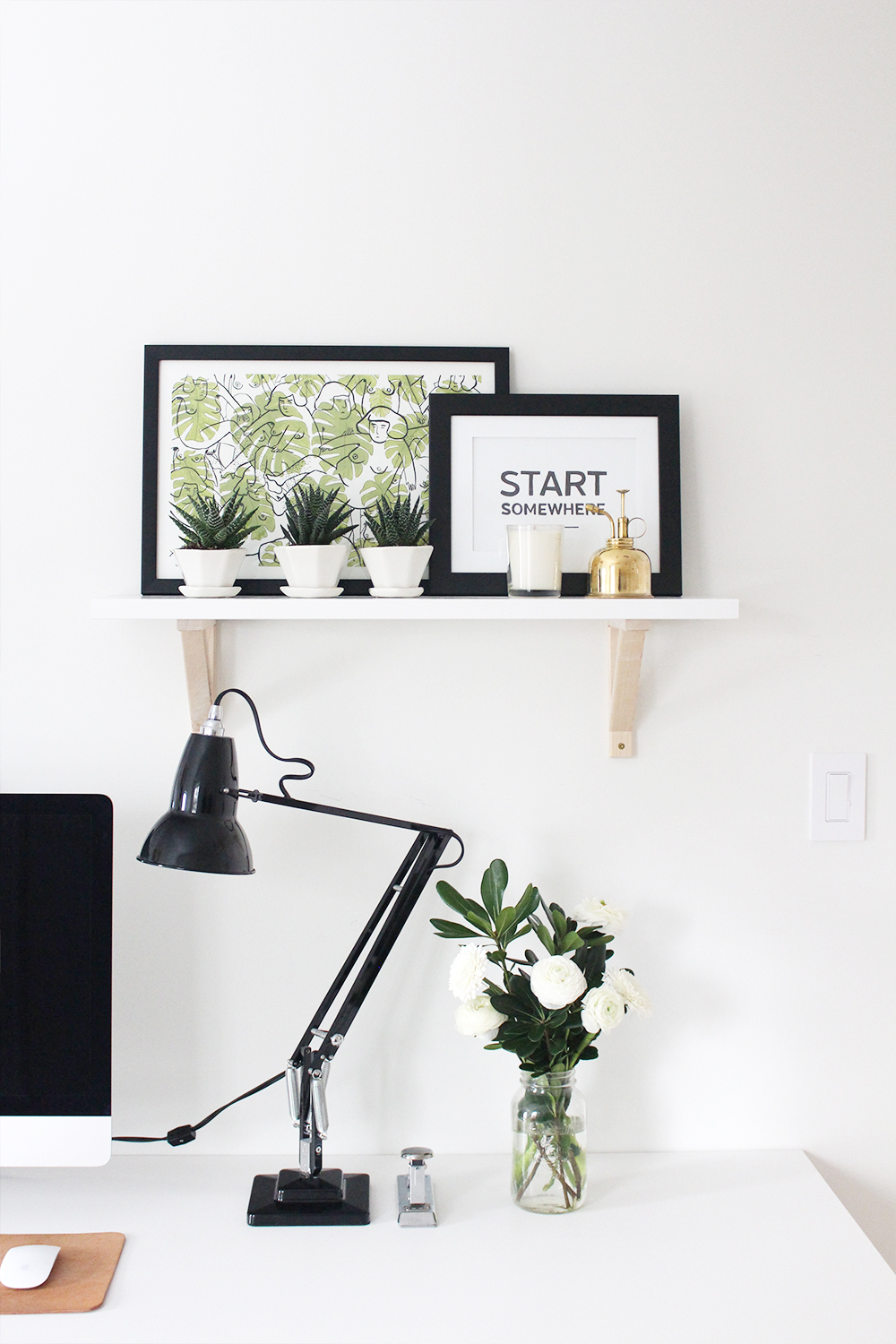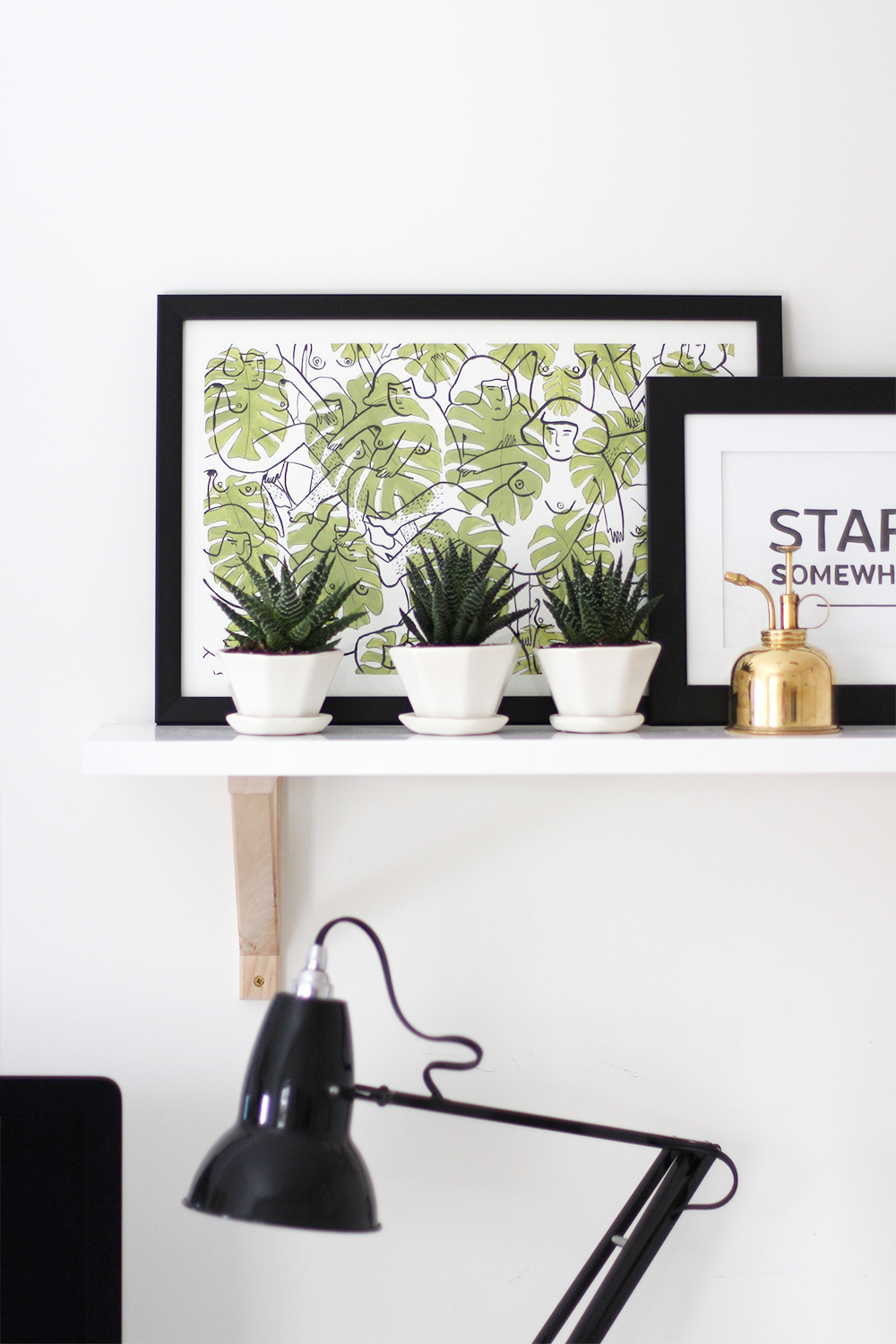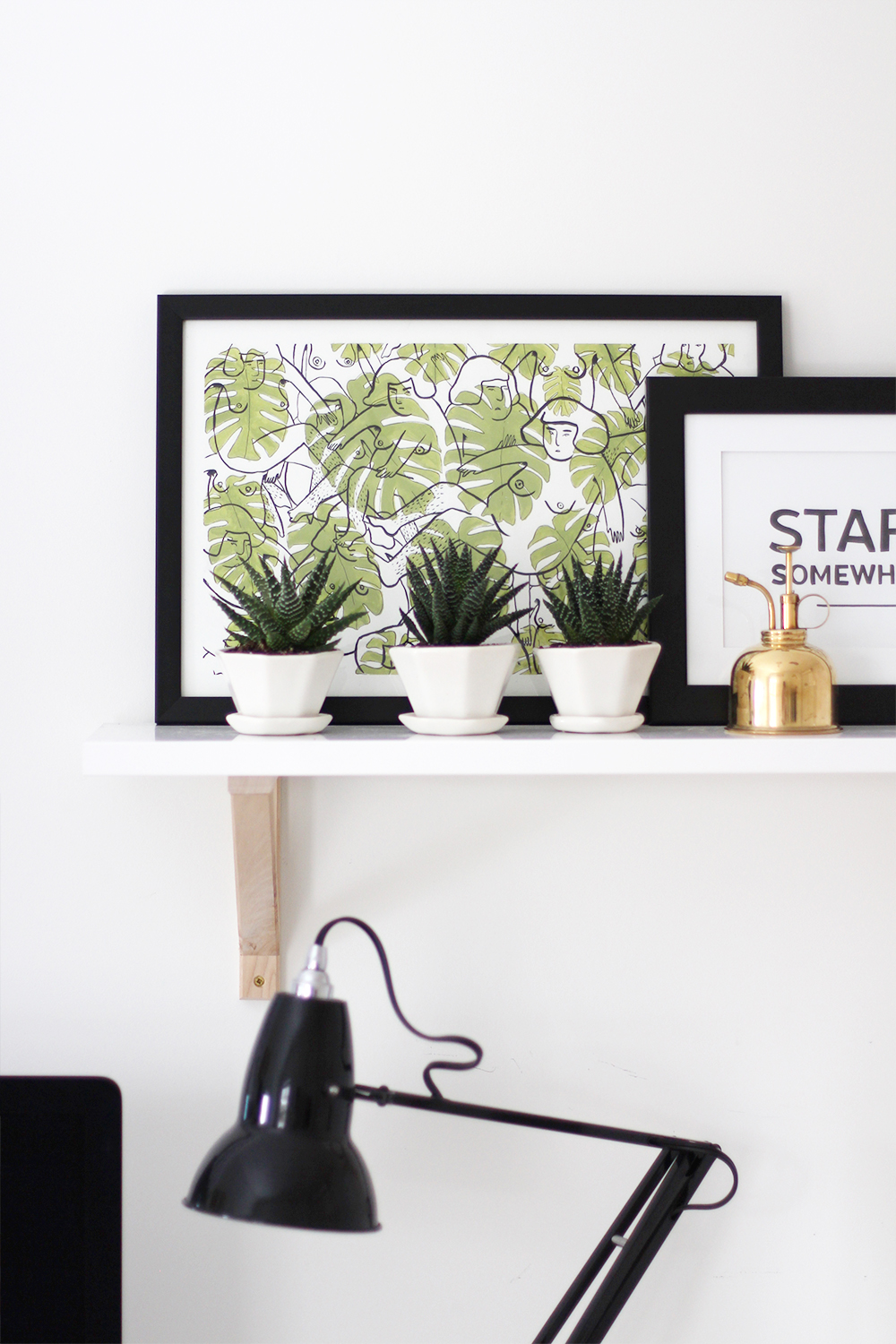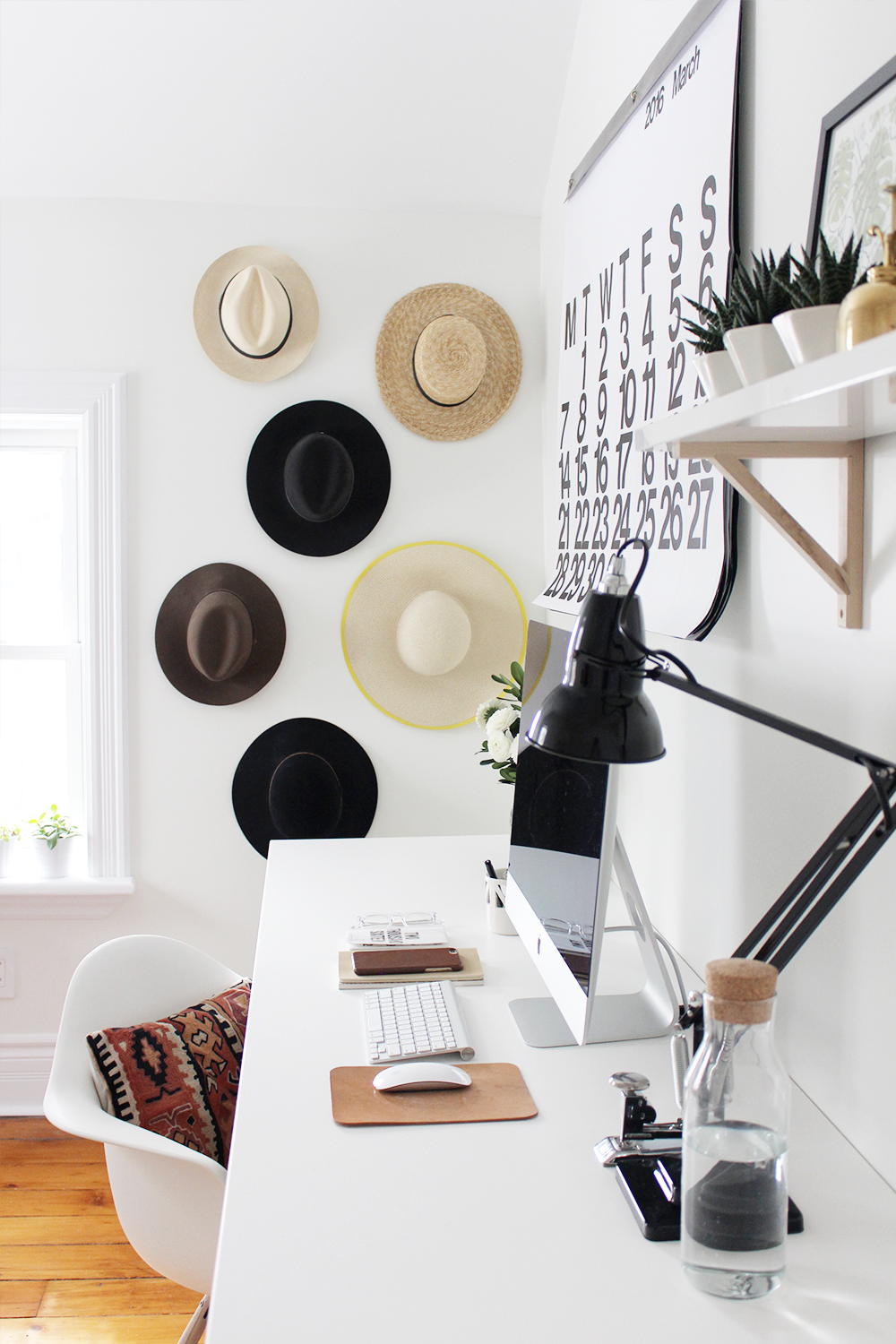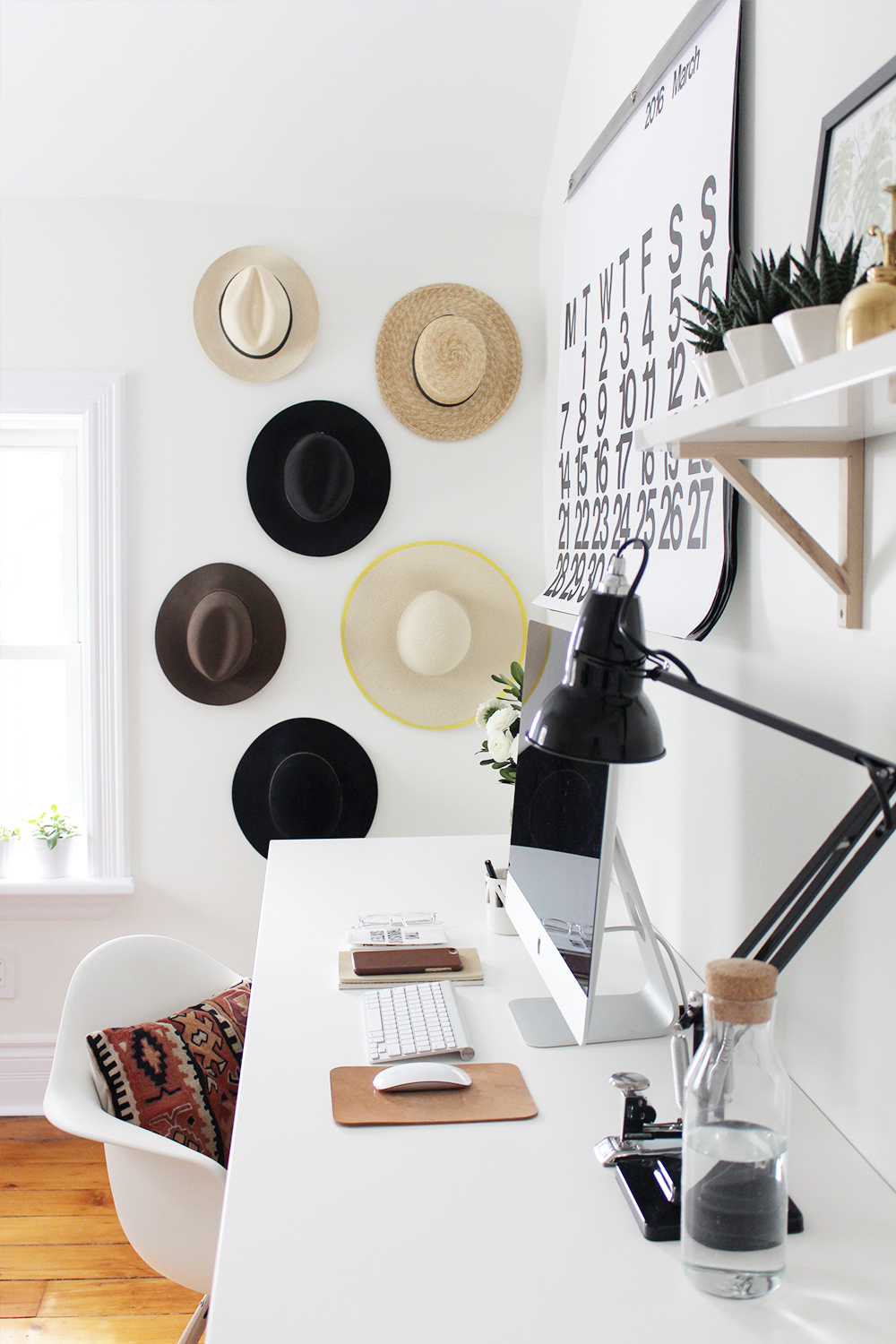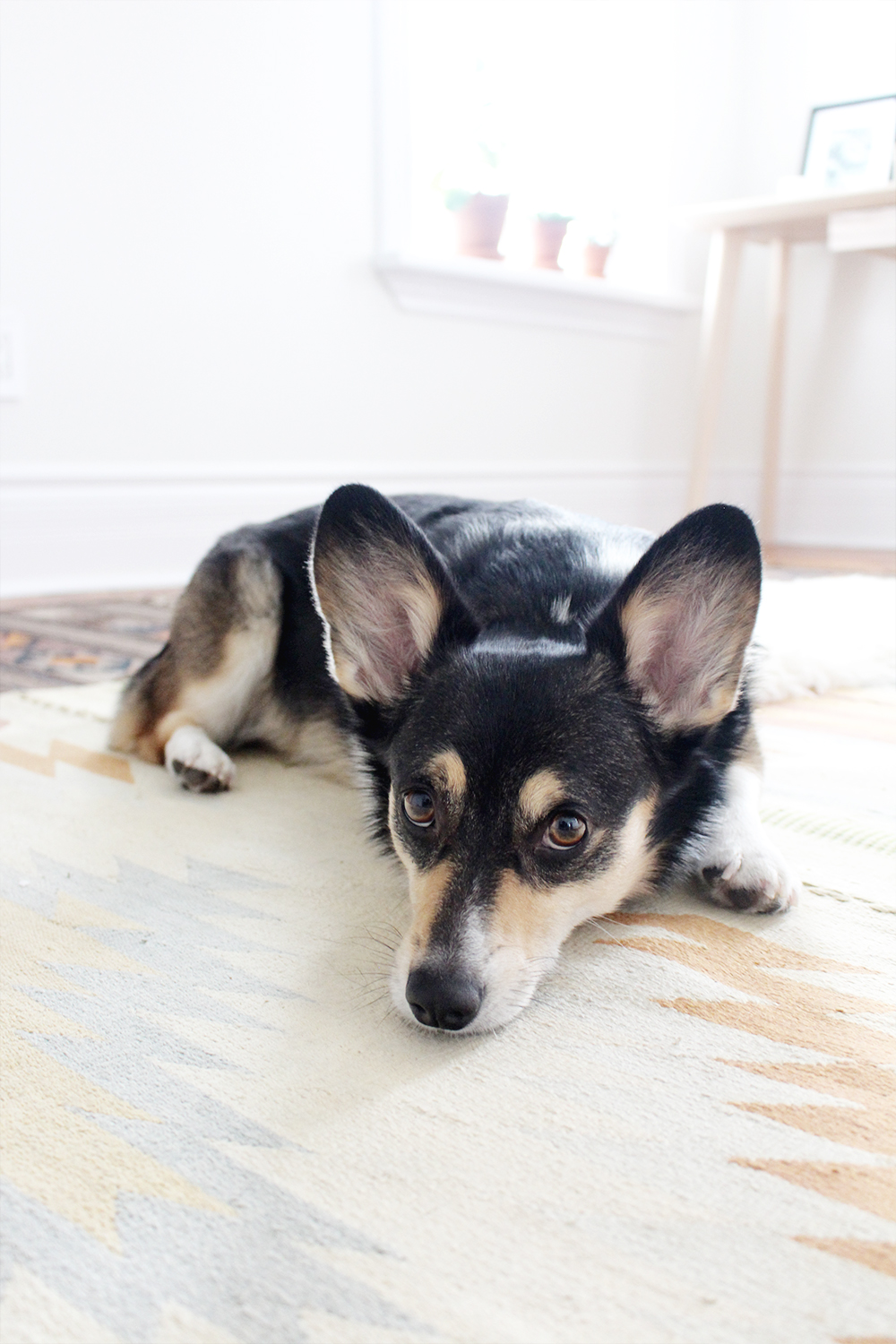 Then of course there's my furry office manager who mostly just sleeps on the job and announces deliveries but he's the cutest company so we keep him around.
---
SOURCES
Desks, Closets, Countertop, Base Cabinets and Wall Shelf all IKEA
Chair Herman Miller
Pillow Vintage
Mouse Pad Etsy
Carafe IKEA
Lamp Anglepoise
Stapler Schoolhouse
Agenda Marjolein Delhaas
Notepads Moleskin
Pencil Caddy Convivial Production
Glasses Warby Parker
Rugs Vintage
Clothes Rack IKEA
Calendar Stendig (avail. on eBAY)
Plant Vessels Convivial Production
Brass Spritzer Mür Lifestyle
Monstera Ladies Artwork by Yvonne Weiss
Copper Scissors Mjolk
Hand Cream Aesop
Small Woven Basket Mür Lifestyle
---
Thanks for checking out my office renovation! What do you think? Do you have any workspace or desktop must-haves for where you spend your 9-5?