Today we're talking a bit about how a creative passion can lead to a small business and how the two intersect, specifically when it comes to personal style and free product. It's a lengthy fella, so grab a coffee and a comfy seat for this one.
Truthfully, when I started getting into fashion blogs, about 6 years ago now, I just took for granted that these women must all be independently wealthy (or have rich spouses). I hadn't yet clued in to the fact that for the most part the products and in many ways the lifestyle they were promoting was given, if not also paid for by the brands behind them. I didn't even know what 'c/o' meant (it means courtesy of or provided by) and it wasn't until advertising and endorsement disclosure laws were enforced that I became more aware of the realities of blogging as a business.
Now, I still work full-time in addition to creating for Style Bee, so I'm not yet relying on my blog for full financial support. This puts me in a unique position as I work towards a goal of blogging full-time one day. As such I'm trying to be thoughtful and seek out ways in which I can differentiate myself and make Style Bee a space for great style, that is both inspiring and honest.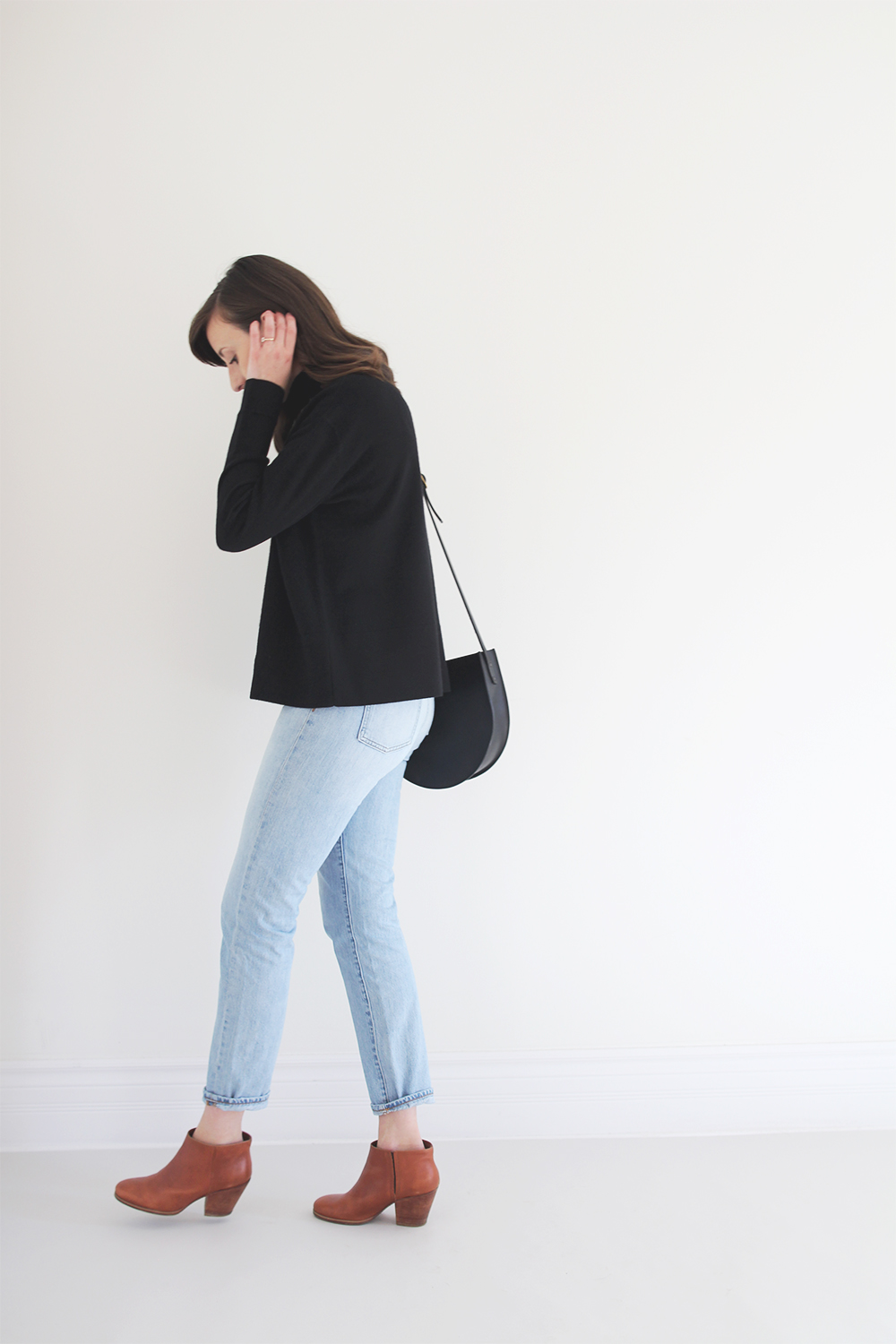 ---
It's not uncommon nowadays to see popular blogs (and even new ones) posting paid features back to back to back (I know, I'm guilty of this myself!) and Instagram seems to have taken things to a whole other level. Fashion blogs/influencers are pretty notorious but I've seen this taking hold of many food, decor and lifestyle blogs too. Naturally, it makes us as readers and followers wonder, 'What do they really believe?'. Of course, there are lots of authentic partnerships that make total sense and I love to see that, but all too often it's some random, unrelated product that sticks out like a sore thumb or simply one sponsorship after the next indefinitely. I don't know about you but I find myself wondering, was the paycheck really worth diluting your creative integrity? I don't know, I'm asking! Plus, I get it, a gal's gotta eat! 
Now, I'll gladly say that I'm not opposed to free product, sponsored posts or brand partnerships, in moderation. I can also totally see the value in it from a brand's perspective. They get to have a 'real' person promote their product, to a highly targeted audience, in a fairly measurable way, for costs that ring in far less than conventional marketing budgets. In fact, in today's post I'm wearing a sweater that was sent to me by Everlane, a brand I occasionally receive gifted items from and who I've been a long time supporter of.
That said, since taking some time off from collaborations, I've had a chance to regain perspective on my relationship with brands and more importantly my responsibilities as an 'influencer' (not my favourite term!) in this ever evolving day and age of multi-media marketing. Since this is not a topic addressed very often by bloggers themselves, I figured I might as well take a stab at demystifying it a little and share some candid thoughts on how it's affected me and my little blog Style Bee.
Which brings me to some initial thoughts on the following: 
4 ways in which my style and blog have benefitted from 'gifted goods'.
4 ways in which 'gifted goods' have had a not so positive influence on my style and blog.
What I'm beginning to see as the best path forward.
So let's discuss! 
---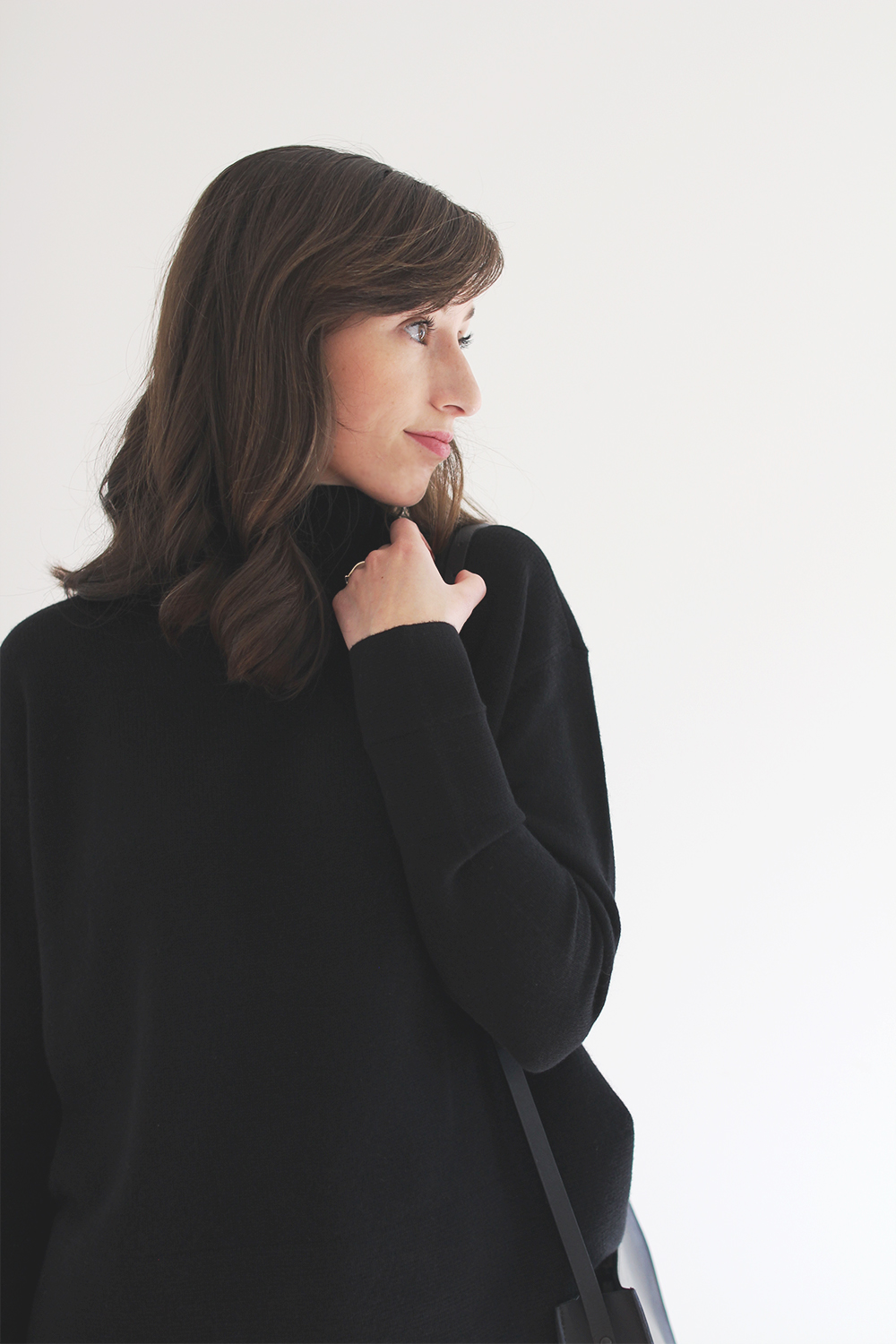 ---
4 ways in which my style and blog have benefitted from free product.
---
1 | PERSONAL STYLE EXPLORATION
Gifted products, whether it's clothing, accessories, beauty products or something else have been a significant avenue for me to explore my personal style. There are many items I may never have purchased or even thought to add to my life that have made significant and positive influences on my style and helped me arrive at my current a point of closet contentment. If you've been reading Style Bee for long, you probably know that 'contentment' is an underlying theme throughout all I do here.
I've been able to test out both new and trusted brands, styles, fabrics, a few trends and a lot of other 'fashion' elements that have not only been quite useful, but a ton of fun to experiment with. This has also given me the chance to be a guinea pig of sorts for my audience to show how things fit and share why I chose them.
I can say definitively that without many of my brand collabs, my personal style would be neither as refined or as unique as I feel it is now. But there's a flipside to that, which I'll elaborate on later.
2 | VALIDATION
I think this is both a) an internal and b) an external factor for sure.
A) Meaning that having certain brands interested in working with me has reaffirmed that the work I put into Style Bee (which is a lot) has not gone unnoticed and that it is of a certain caliber worth investing in. When popular brands have shown interest in me it's like a little pat on the back that says keep up the great work, which is in it's own way, highly motivating.
B) I can't tell you how many times I've been asked 'What brands have you worked with?' at social gatherings and even though I hate the question, it's nice to be able to spout out a few names that get a positive response. It's also great to receive congratulations or such sentiments from friends and readers after announcing a new partnership etc. But this external validation factor is one I'm beginning to rely less and less on.
3 | CREATIVE COLLABORATION
There are A LOT of incredible designers, craftspeople and brands out there and getting the word out is no easy task. This blog has afforded me the opportunity to work with and give exposure to some very worthy creative spirits that might have otherwise been unable to reach potentially loyal customers in this unique and authentic way.
Through these partnerships, whether it is simply gifted goods, a collaborative product launch or a paid sponsorship I've made very meaningful connections with many women running small business, who I truly admire and feel honoured to support and work with. In all honesty, this is one element of the blog that I've begun to miss a bit more than I expected during the last month or so.
Circling back to how free product has been a plus in this context, the fact of the matter is that I wouldn't be able to personally buy all the items I've had the pleasure of styling and sharing. Nor would I be able to support every responsible brand or small business I've been able to through this blog. Many of the pieces I've acquired through collabs have become personal favourites that I use repeatedly, so I don't believe it's false advertising or that the integrity of the product has been compromised, in fact I feel the opposite! I do think the frequency at which these items are added to my life needs to be monitored and made as deliberately and thoughtfully as possible.
4 | FINANCIALLY
This one is plain and simple. Collaborations, free product and paid features have had a positive fiscal influence on my blog. They've not only inspired a lot of content but allowed me to invest in Style Bee in many ways such as a better blog design and user experience (new look coming in 2017!), new camera equipment, software, professional photography and products that I'm excited to share. I think this is also where the line becomes a little blurry in that I need an income to create the content I want to but in turn, that income comes at the cost of creating content not just for me, but for brands. This is a line I'm working towards defining more and more.
---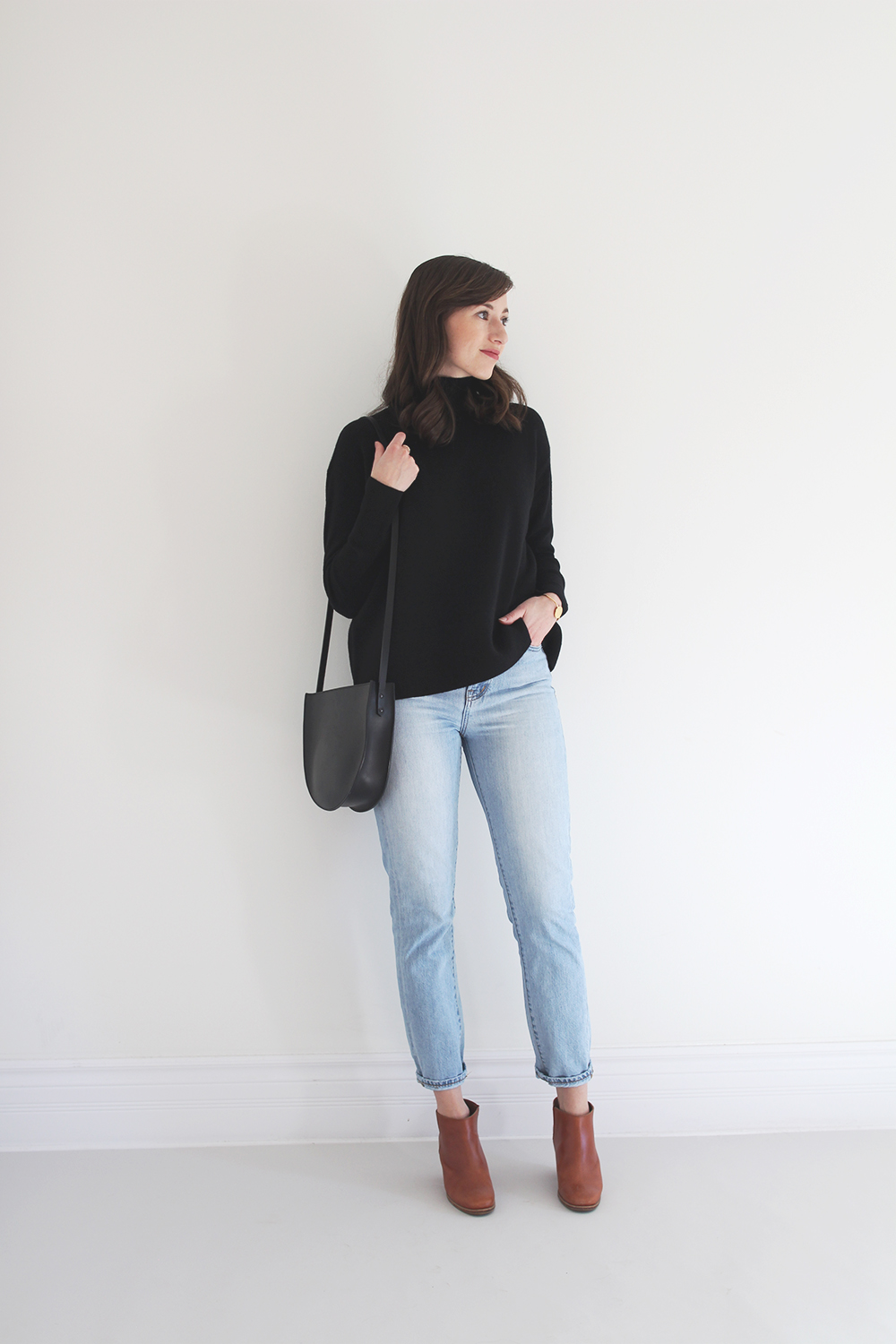 ---
4 ways in which free product has had a not so positive influence on my style and blog.
---
Maybe this is a given but I'd like to preface the following with the fact that I feel very fortunate to have had opportunities to work with so many great brands and designers. The point here is not at all about undermining the trust and confidence they've put in my work nor is it meant to seem as though I take any of it for granted. So not the case. I just feel that it's important to acknowledge some of the often unspoken growing pains, if you will, of building a style blog into a business. A few of which are:
1 | DILUTION 
Free product, no matter how responsibly made, beautifully designed or sought after it may be, still has a mildly diluting effect on my personal style and blog content. Certainly not in all cases but in the grand scheme of things it has led to some concessions. I think it has had a particularly palpable impact on me because I truly believe in this whole lean closet idea. If I was OK with having tons of stuff and multiples of everything then it probably wouldn't feel like such a compromise. But because I want less, and believe that it's the best course for style satisfaction I have occasionally accepted product in place of the item I'd otherwise really want or feel truly fits my personal style 100%.
2 | SKEPTICISM
Readers don't always know what to believe. I hate the idea of someone looking at my blog and thinking, 'Oh she only said that because she was paid to.' or 'She'd never actually buy that.' because I honestly strive to never feature products I don't believe in. But I know I think it ALL THE TIME when I'm scrolling through instagram or perusing my occasional blog haunts and even though the content may look awesome, I somehow feel emptier after consuming it.
Alternatively, blogs like UnFancy, Reading My Tea Leaves, Wit & Delight and Good Bones leave me feeling refreshed and inspired to pursue my own creative endeavors, not to try living up to fabricated ideas of what my life should look like. That's what I want Style Bee to leave people feeling too.
3 | LESS TIME FOR PERSONAL CONTENT
I strive to do an exceptionally good job on every project and honestly, if I hear anything less than, 'That was the best blog collaboration experience we've ever had!' I feel like I've fallen short. I pour my all into my partnerships and do my best to ensure the content they've paid for (in one way or another) is going to deliver. Churning out too many collaborations at a time takes a lot out of me, creatively and physically (remember this all happens on nights and weekends), which has left me, on more than a few occasions, too drained to muster the inspiration and drive to create my own personal content. Perhaps this is the story of anyone trying to forge their own path!
4 | PRESSURE TO POST FOR COMMISSION
It's certainly no secret that a major avenue of income, for fashion bloggers particularly, is affiliate commission. For example, in today's post I can make a small percentage of commission on the sales of all the products I'm wearing. The more readers I have, the more people will shop, the more money I stand to make. I absolutely think that bloggers are entitled to a sales commission on the products they feature. It takes a TON of time to build up a readership that will even translate to any sales at all not to mention the work and effort that goes into every post. So to me, if the product is something I truly believe in, then it's entirely justified. Emphasis on IF.
Where it gets a bit tricky is when I'm feeling like I need to include something just to earn commission or if I'm reluctant to buy it because I can't make commission on it. For example, it's basically impossible to make commission on anything vintage!
To balance that out I like to include product options when I can, especially if something is no longer available (vintage) and I make a point to only link to responsibly made goods (unless the product is old and still available, ie: these jeans). So at least that's a way in which I feel I've added value to a post, through affiliate links, so everyone wins.
---

---
The Best Path Forward
---
With all those things considered, I'm currently evaluating the way I want my blog business to look and how I can best marry the creative passion with the professional elements. I definitely don't have all the answers, nor do I think I ever will but regaining this perspective has been a very worthwhile exercise. So here's a few things I'll have in mind, moving forward:
1 | POST FROM THE HEART 
I know this one is obvious (and super cheesy) but it's all too easy to get caught up in the snowball effect of running a blog as a business. You can lose sight of what you started the whole thing for especially when the opportunities are rolling in and you're just trying to keep up!
So whenever I'm brainstorming new posts (sponsored or not) I'm going to do my best to ask myself, 'Why does this matter to me?' because if I have a valid reason, there is a good chance someone else will appreciate it too.
2 | FEWER COLLABS/GIFTED ITEMS IN MORE MEANINGFUL WAYS
I have every intention of continuing to collaborate with select designers that I love and who resonate with my Lean Closet Mission and mindset. Many of you have mentioned how you've discovered some of your favourite brands through Style Bee and I love to hear that!
It always so rewarding to know that a post has resonated with someone, whether it's a personal one or a sponsored one. With this in mind I'll be limiting my collabs to only a couple a month in 2017. This will hopefully leave me more time/energy for Closet Mission and personal style posts, which are my favourite to develop.
3 | CONTINUED FULL DISCLOSURE
I always make a note when a post has been sponsored and will continue to do so. Some blogs make a big deal about it up front but I don't like that, so I'll just continue to note whether it's sponsored or not at the end of each post.
4 | GUT CHECK
I learned this one from Caroline Joy Rector, of UnFancy, and it's become my go-to method for deciding if something feels right, whether it's a collab, an outfit or just an idea. It's hard to do but by momentarily ignoring the dollar signs or the prestige of an offer and trusting my intuition I can make a very quick decision about whether something is the best fit and not just a good fit or a cool opportunity. It isn't always easy and I'm sure a misstep or a few are bound to occur but trusting my gut has rarely failed me before.
---

---
So that's my take on gifted goods/collabs/partnerships and how they've impacted my personal style, blog and lean closet living. Maybe I'm reading into things way too much or maybe I should just shut up and be thankful anyone even wants to work with me, but my gut tells me there is something bigger in the works here. Perhaps the industry is shifting, or maybe it's just my point of view that's changing.
I'd love to know your take on this topic:
– What do you think when you see that a post (on a blog or social media) has been sponsored?
– Is this type of 'influencer marketing' sustainable or fleeting?
– Does it propagate the mindset that overconsumption is OK?
– Are you more or less likely to buy something that an influencer was given for free?
Feel free to chime in below with your thoughts if you care to!
---
Cashmere Square Turtleneck – c/o Everlane ($155 USD) – I'm wearing a size M but I would recommend you take your normal size as it is a bit oversize by design. Lighter weight option here ($88 USD) and here ($140).
Perfect Summer Jean – Madewell ($115 USD) – Almost identical but made responsibly in the USA here ($210 USD) and here ($258 USD has knee rips). Wearing a 25 instead of my usual 26 in Madewell denim.
Mars Boots – Rachel Comey ($426 USD)- Responsibly made in Peru. Take your normal size. Very similar made responsibly for less by Fortress  of Inca ($240 USD).
Eloise Bag – The Stowe ($375 USD) – Handmade in Montreal! Personal favourite.
---
---
This post is not sponsored but contains affiliate links. When you shop via the links above I may make a small commission from a sale. Thanks for supporting the brands that support Style Bee! All opinions are always my own.