Once a year High Park is graced with a majestic scene as the cherry blossoms bloom. Torontonians and tourists alike flock to glimpse the trees in their fleeting glory. Truth be told, I've lived in Toronto for 8 years and had yet to see them. A friend, who is also a very talented photographer, and I were tossing out ideas for a collaboration and she mentioned the cherry blossoms being in season. "Enough said," I said! After choosing a lovely look, we were blossom bound one early morning to try and beat the crowds (which we were not entirely successful in doing).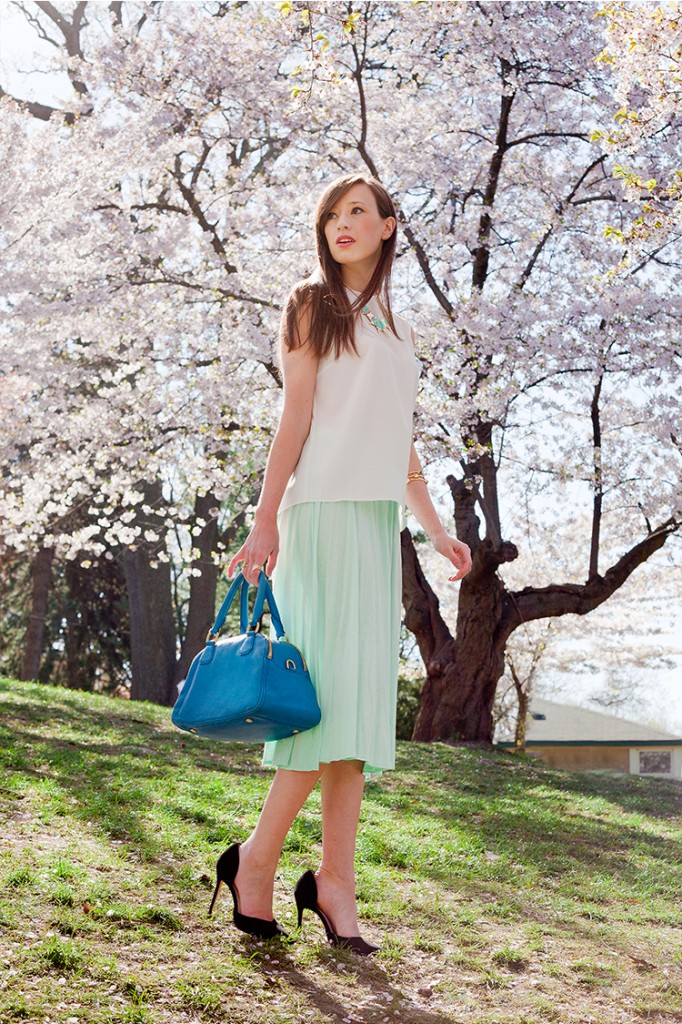 Cherry blossoms are so elegant and ladylike, I felt this was a great opportunity to feature the seasons midi skirt trend. This Tibi pleated jersey one suited the delicate scene beautifully. My favourite white top right now was the perfect addition with a petal-esque crossover back. I like to add a pop of colour, which a cobalt blue bag will always do. I recently picked up this statement necklace from Nasty Gal and it seemed to add just enough edge to the whole look. Then I played up the gleaming sun with some gold bangles. Obviously it didn't take much else for me to get caught up in the drama! Oh my!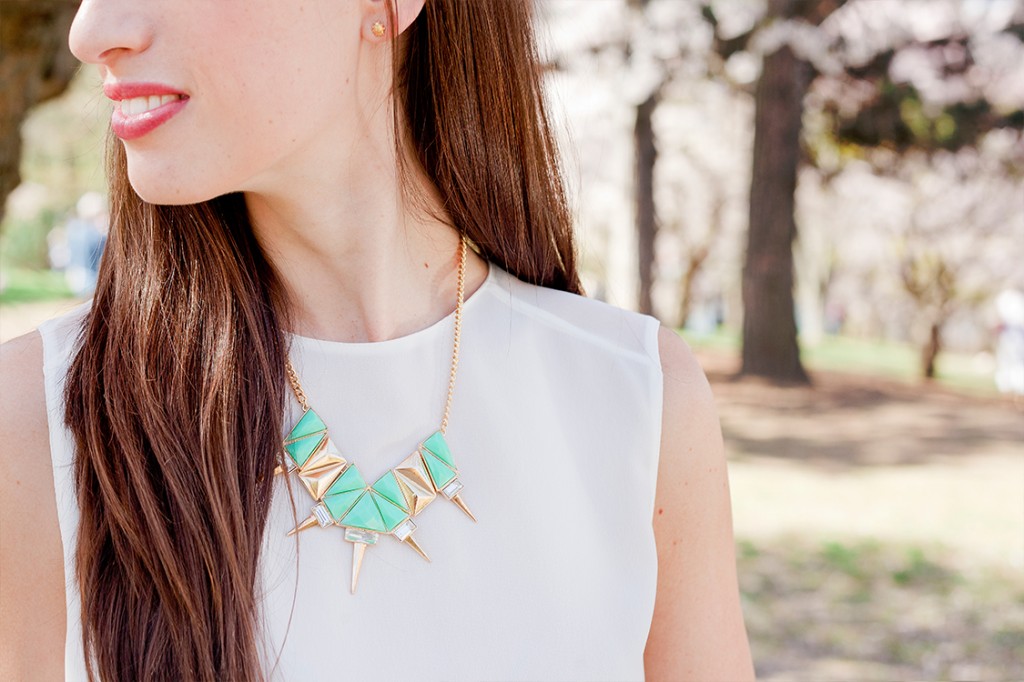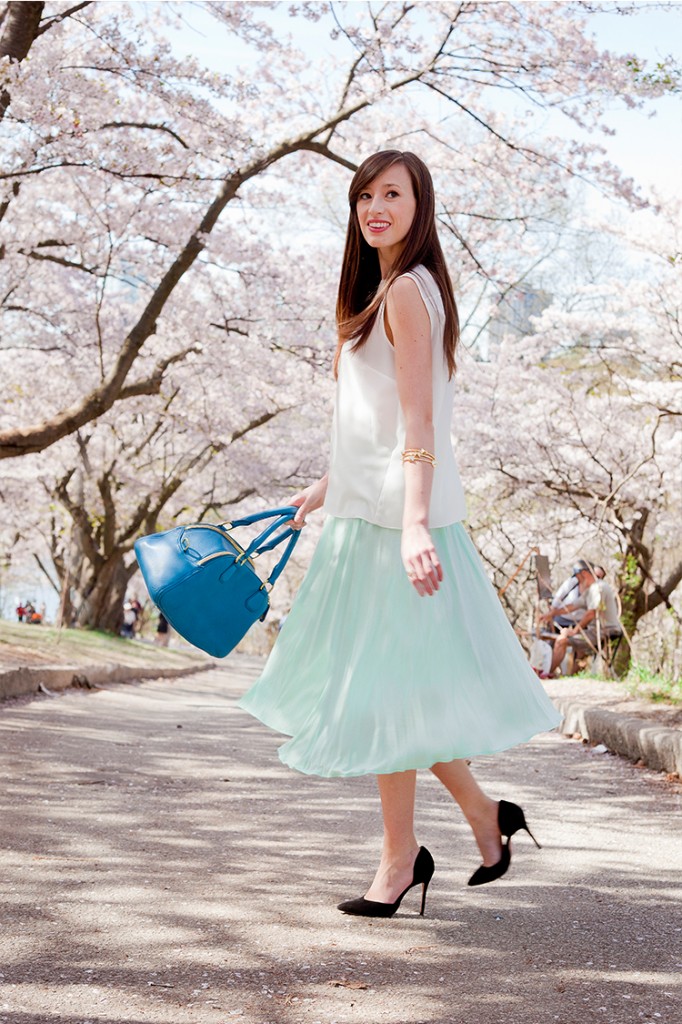 Twirl? Well don't mind if I do! Jersey is the most delightful fabric. However, similar to a ditzy friend it has a tendency to be, shall we say, slightly transparent at times and in the wrong situation a bit clingy. Regardless, I love it in any length from midi to maxi, the more jersey in one place the better!
My J.Crew Bennial has never looked better and it's on it's 3rd season with me. My trick to making my bags last is to spray them with leather (or suede) protector and store them in a soft cover in a position that won't crease them. This blue dude has it's own hook!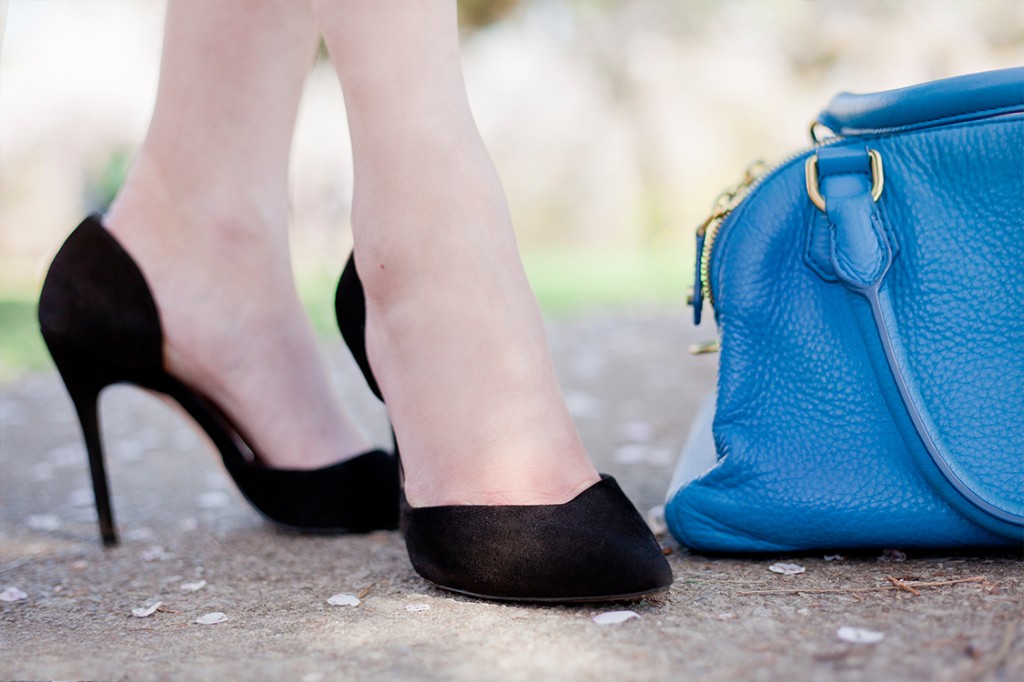 These Zara heels can do no wrong, well, they weren't exactly designed for grass so I may have aerated the soil slightly. But on pavement, these babes are unstoppable.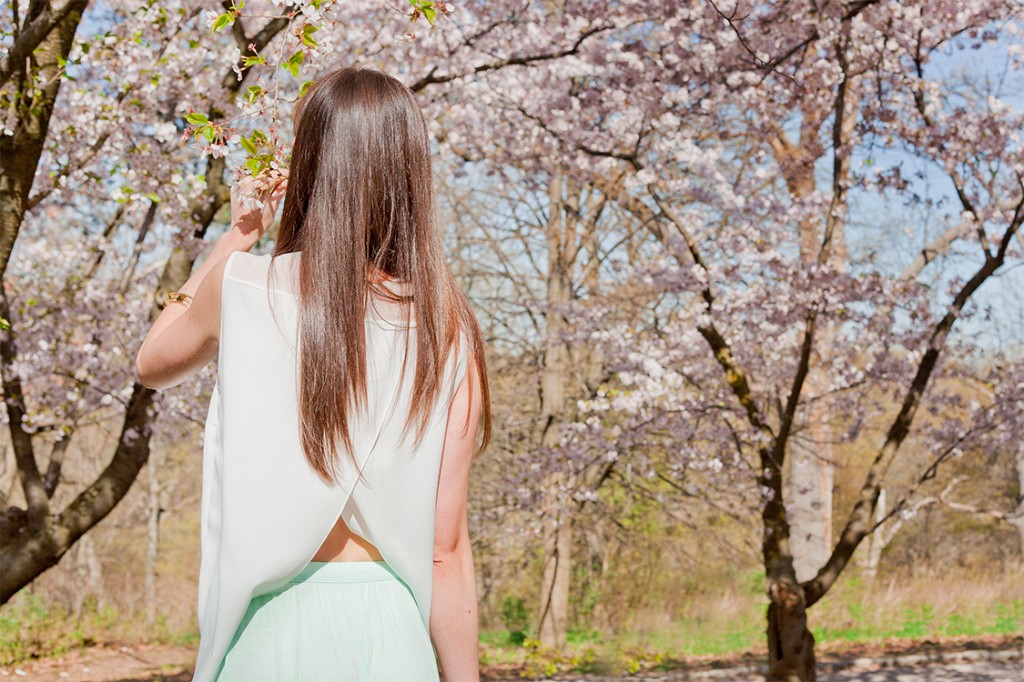 Aside from the easy fit, sheer shoulders and general greatness of this Zara top, my favourite feature is the parted back. It adds a little surprise without revealing too much. Thanks for indulging me with all the photos, Agata made it too hard to choose!
1. Zara Top 2. Tibi Midi Skirt, similar, similar 3. Nasty Gal Necklace 4. JCrew Purse (colour n/a) 5. Noir Bangles 6. Gorjana Rings, similar 7. Zara Heels
Photography by the insanely talented and gorgeous Agata Piskunowicz. See more of her work here.