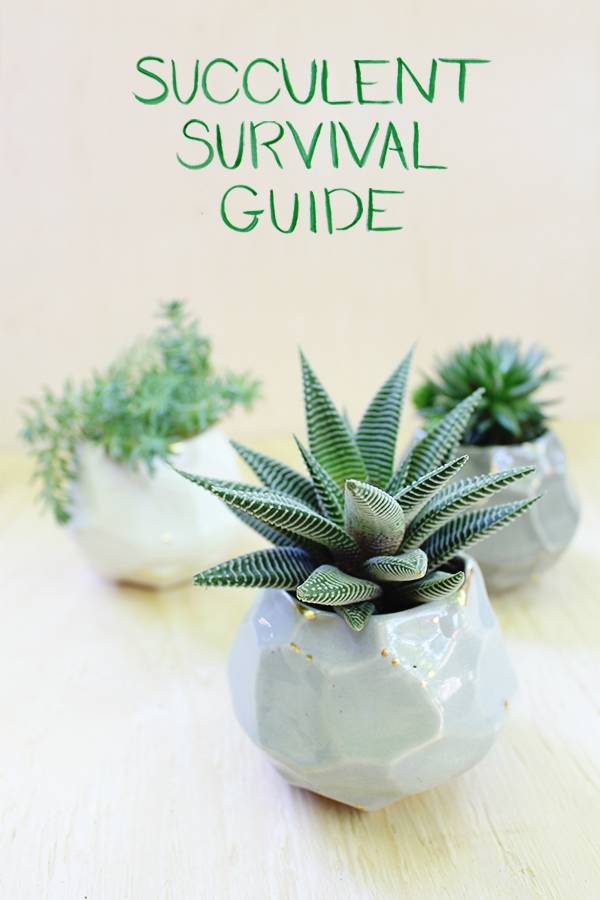 Maybe it's my age, maybe it's the season but I've felt my nurturing instincts take a significant turn this year. To satisfy them I'm looking for happy little low investment projects. It seems like everywhere I turn, which is usually to instagram or pinterest, everyone is on the succulent train and loving it. So I decided to give them a try. But before I took responsibility for these chubby green lives I wanted to learn more about what to do once I brought them home and most importantly how to help them survive. I had so much fun learning about the process I decided to put together a little Succulent Survival Guide for you! So here goes.
Step 1 – Gather your materials – Plant(s) // Fresh Soil (preferably an organic mix with some sand for good drainage)  // Vessel(s) //  Pebbles (Optional – to add to soil for even better drainage or on top to cover the dirt, gives a more polished desert look.)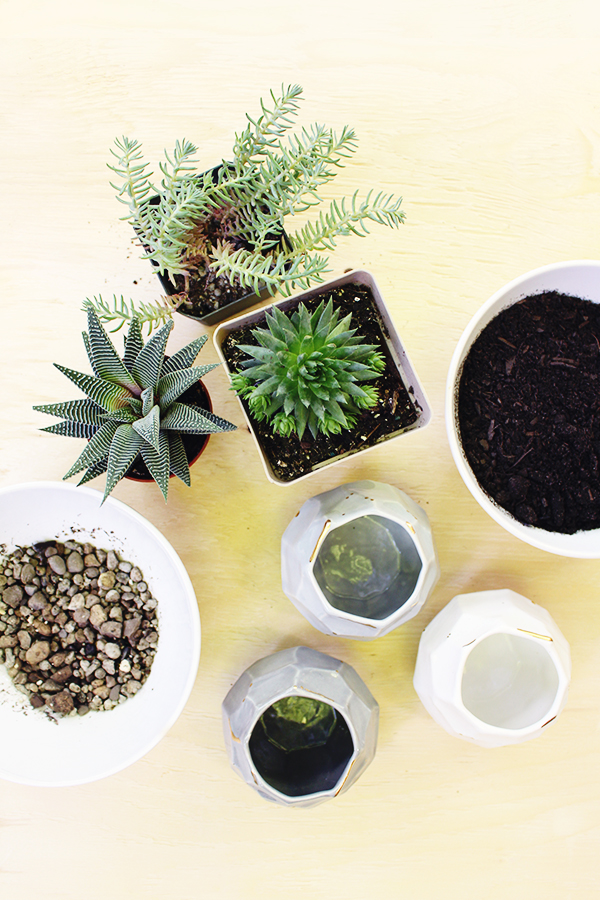 Step 2 – If potting a few plants decide which pots you'd like which plants to go in. Give the pots a rinse too to get rid of any residue or dirt. It's like you're moving your plants into a new apartment, it's got to be clean!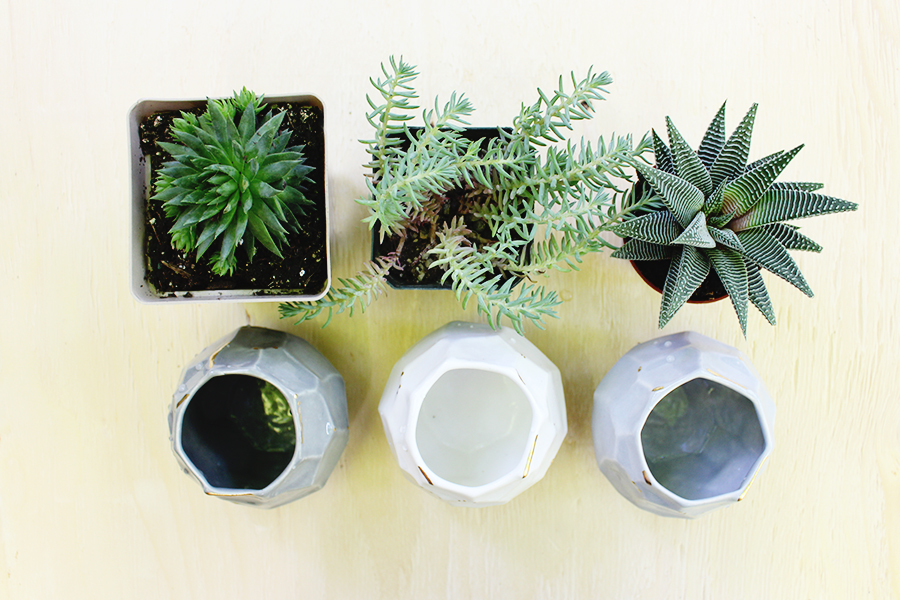 Step 3 – Remove the plants from their temporary homes and bush off the excess soil. You'll notice (if you bought different ones) they each have very different root systems so keep that in mind when mixing soil.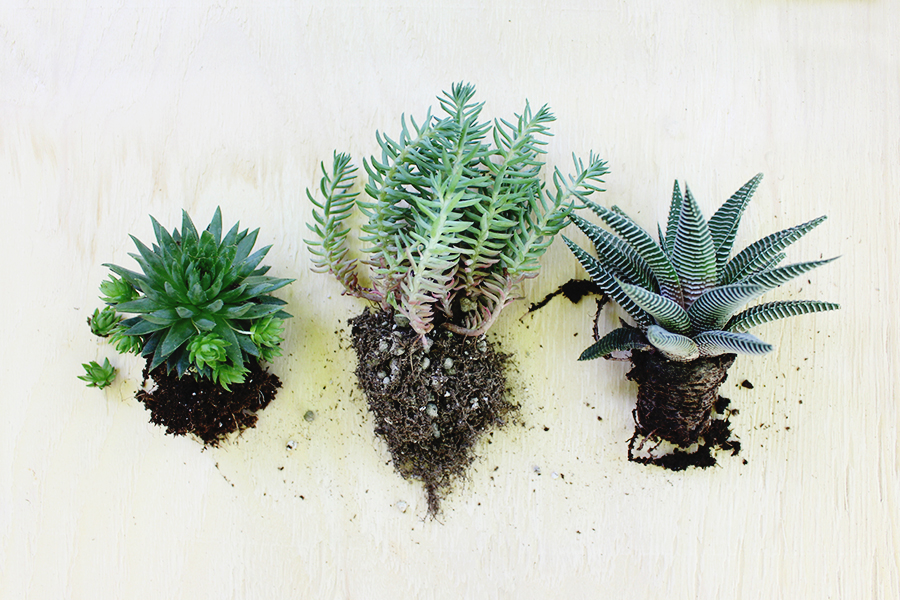 Step 4 – Fill each freshly cleaned vessel about half way with soil. More if the roots are shallow like the one on the far left above.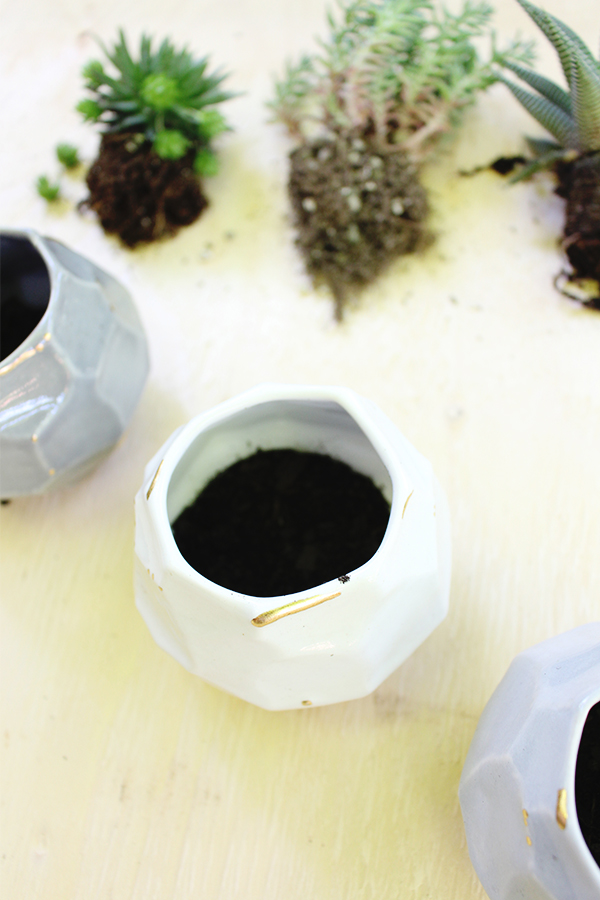 Step 5 – Put your little friends in their new homes and fill in the excess area with soil so they're secure but not too packed in. Then take a moment to admire your new friend.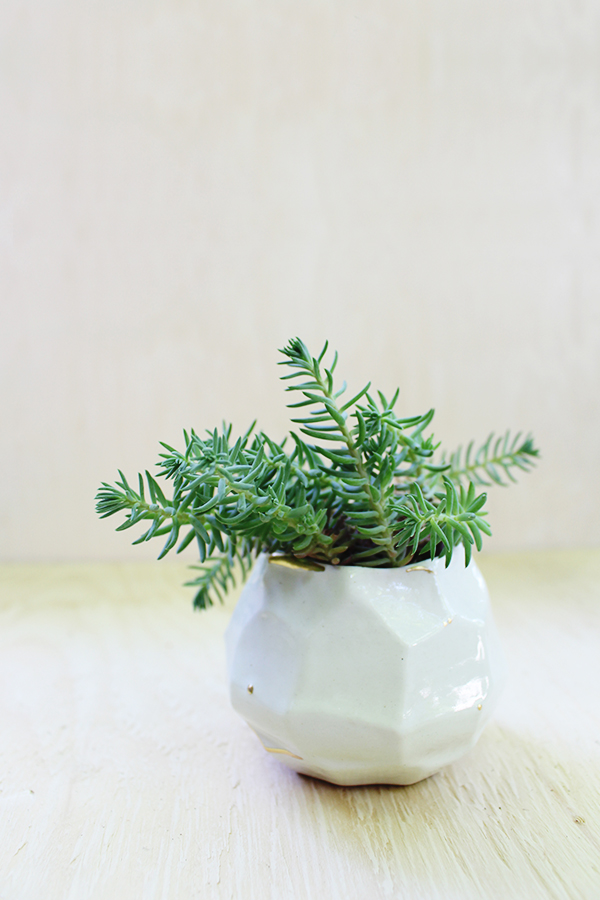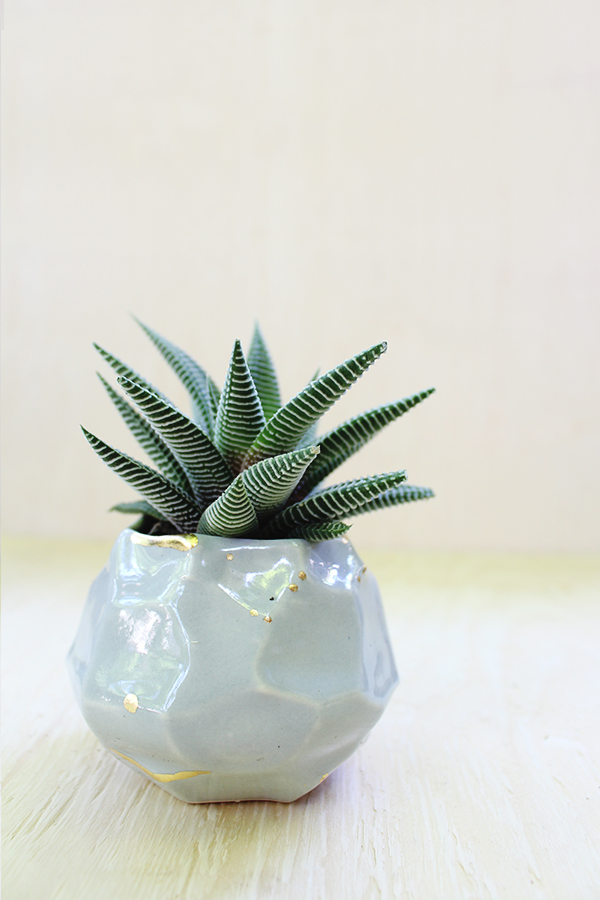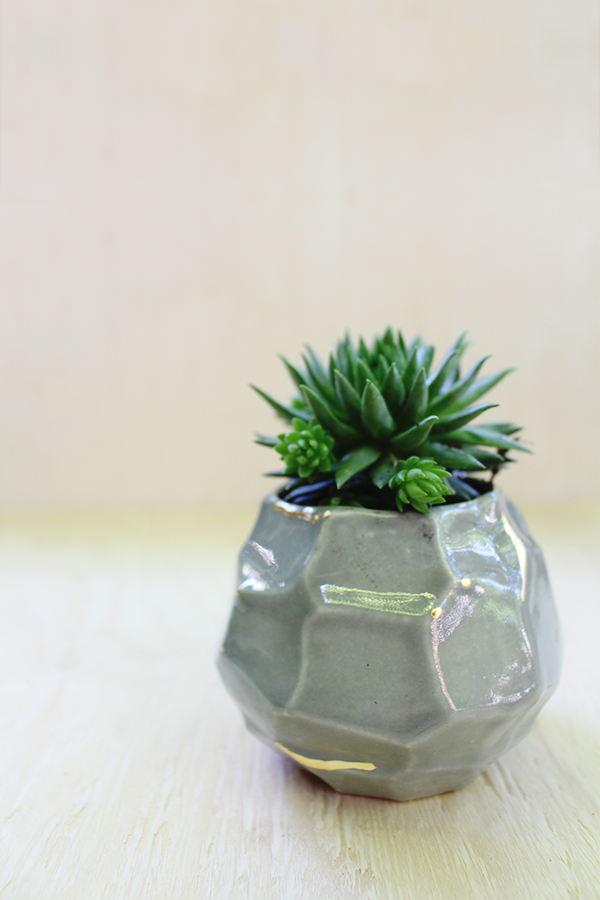 Step 6 – They're probably thirsty from the relocation and chances are they arrived pretty dried out too. Now it's time for their first drink in your care. Ideally you'll get the water right to the base of the plant which can be tricky. I couldn't find a needle nose watering can so I improvised with a Ziploc bag and scissors. See below and download my Succulent Survival Guide for watering details. Make a note of when they were first watered and don't even think about watering them again for at least a week.
Final Step – Pick a spot with lots of sunlight, 6 hours a day is ideal,  for them to hang out and thrive. Stand proud! You're officially a succulent baby mama!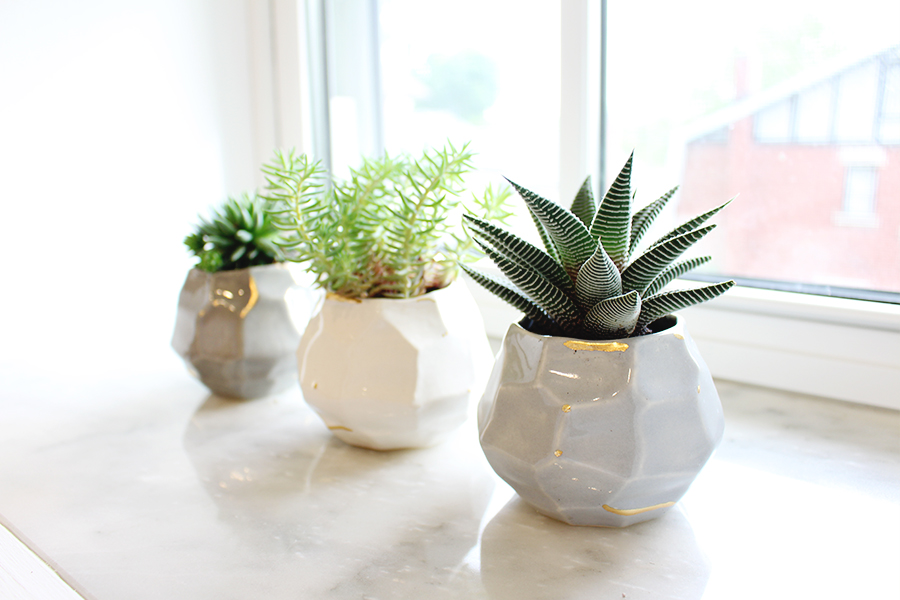 Download my Succulent Survival Guide and keep all these steps and watering tips handy! Click the image below to download.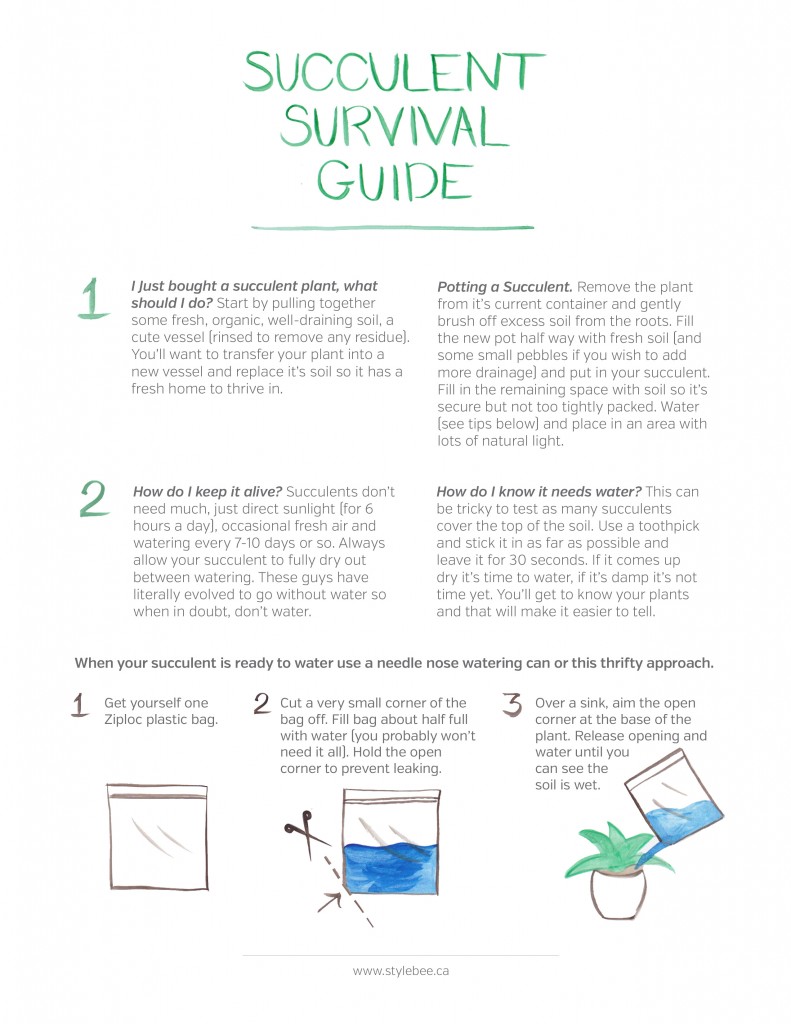 These lovely vessels are by The Object Enthusiast, available here.
References – Succulents & Sunshine, Cactus & Succulent Society, Planting a Succulent