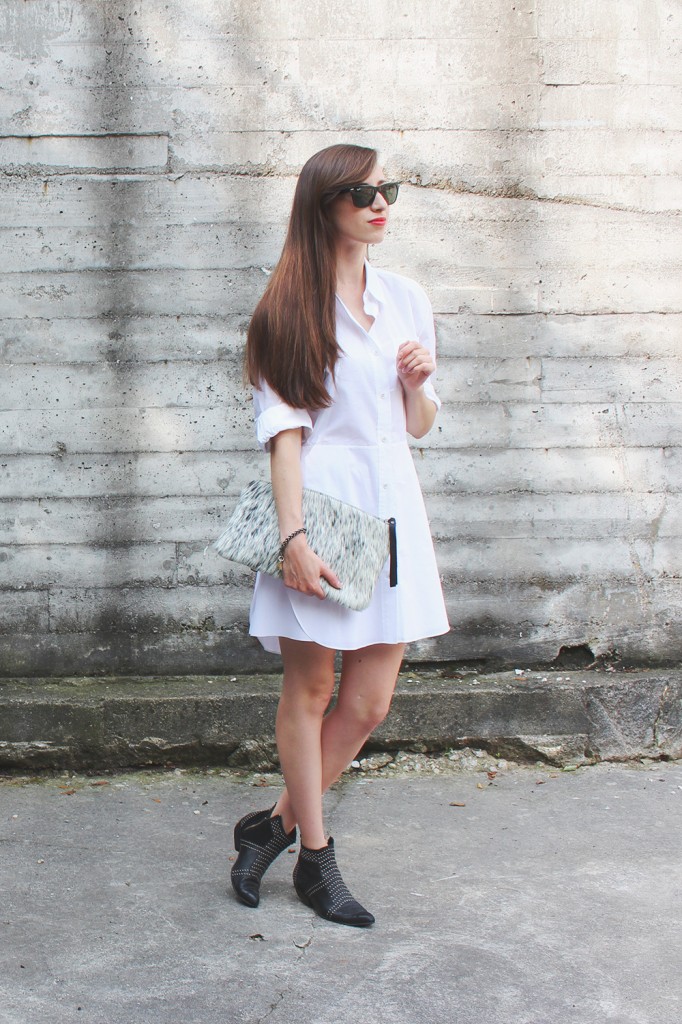 I have a set of little round scars above my left knee. Though they're quite small, they're part of a much larger experience I had growing up. It was a difficult one to go through but I know I would not be who I am today without it.
When I was about 8 years old I began taking horseback riding lessons. Grooming, jumping, grazing, petting, loving all things ponies and horses was my world.
It was my first week of summer camp and I had just won first place in a walk/trot competition, which is pretty much the most beginner level there is but it might as well have been a Grand Prix because I was on cloud nine and my darling pony Twinkie was just as proud. Feeling our oats, as it were, a few of my new friends and I decided to take our little rides out to the field for a walk.
It was a breezy July day and when a fluttering flag caught little Twinkie's eye she spooked and bolted. My friend's ponies joined the flight and suddenly we were stampeding uncontrollably. I was too inexperienced to know what to do and when Twinkie bucked, I flew off.
I hit the ground hard and tumbled to a stop.
The brim of my helmet had snapped clean off and my left leg, having taken the brunt of the fall, was broken. I called for help but Twinkie and my friends were long gone, most likely expecting me to stumble in behind them.
Time is hard to judge when you're in distress so I still don't know how long I was alone in the field. A woman driving by saw me and pulled over to help. She was an off duty nurse and called an ambulance. Some time after that the paramedics arrived and I was taken to the nearest hospital.
X-rays confirmed I had a severely broken femur. Recovery meant the following:
2.5 weeks in traction, which is when weights and pins (ah, yes those scars) are used to help align your bones so they can grow straight and heal properly.
12 weeks in a body cast (from my toes to the top of my ribs)
6 months in physiotherapy
and 1 year with a walker, crutches and a cane
I grew up a lot in that time. The initial prognosis was that I would never walk without a limp. I refused to believe that and worked very hard to prove my doctor wrong. Currently, I do not have a limp, woohoo!!
You'd think after that I'd never want to set foot in a stable again. Not so, in fact, my main motivator during rehabilitation was the thought of being able to ride. Once I was walking I begged and pleaded and finally my Mum gave in but only on the condition that it would be as safe as possible. She found a wonderful stable and riding coach and I got back on the horse, well, pony. From that point on I rode 5 days a week until I went to university and while I fell off many more times, I also picked up a few more first place ribbons. It was an all out passion that kept me focused, taught me about hard work and sacrifice and is easily the most memorable and rewarding experience of my youth.
I remember that day and the months that followed like a vivid bad dream but it taught me how strong I am and what I can endure. It showed me what incredible parents I have and I got a taste of true passion and what it feels like to have an undeniable draw to something.
I never blamed Twinkie for ditching me in the field that day. In fact all I can recall is fear of her running towards the road. Turns out she just ran toward the hay barn. Ponies are passionate about things too!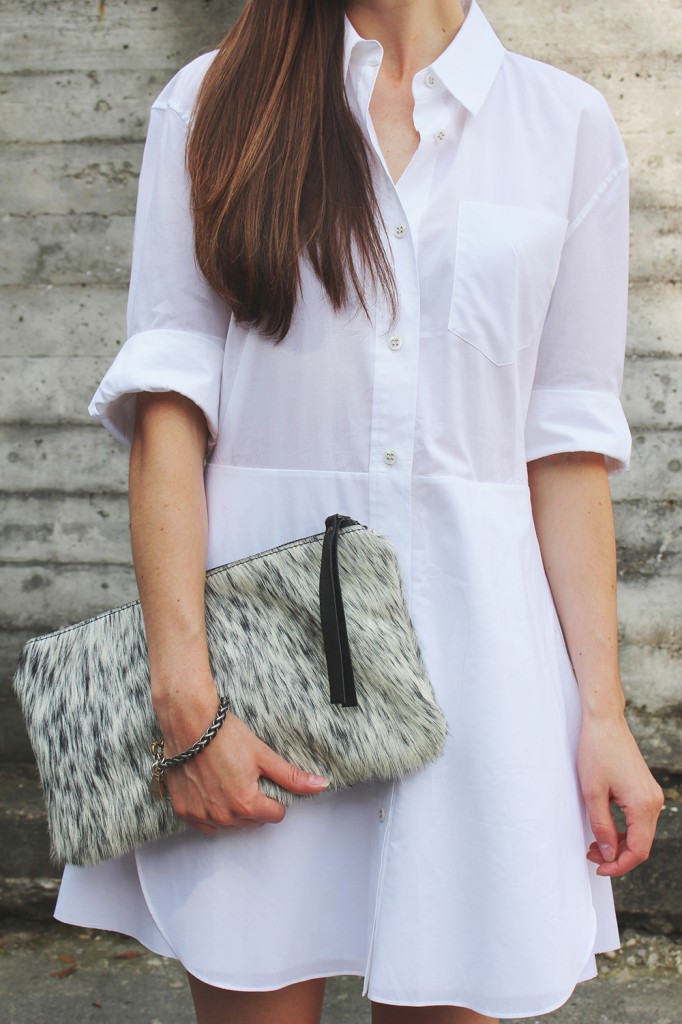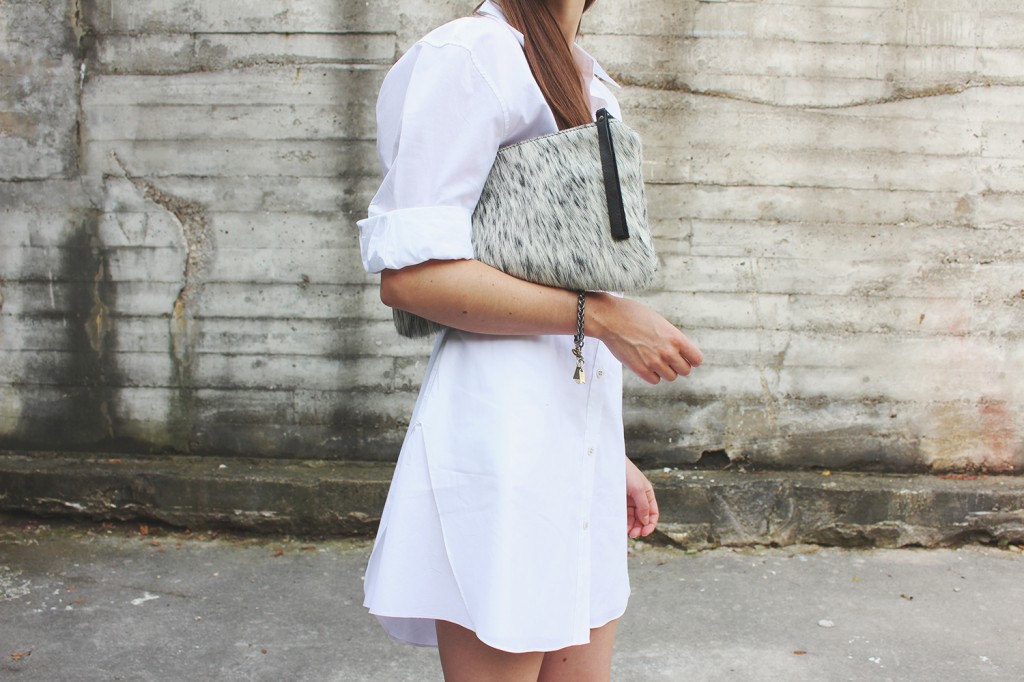 Other than horses fashion has always been an undeniable passion of mine and just like a fateful experience can make you stronger a fabulous dress can do the same. I've dreamed of a crisp white shirt dress for years and when I spotted this Acne Studios version all bets were off. Oversized sleeves, overlapping asymmetrical hemlines and the ultra smooth, extra white cotton poplin are all details that really make this dress empowering. With some badass accessories and red lipstick I suddenly feel like my sexiest, strongest self. I'm totally ready for whatever the world throws at me. As long as it's not red wine or chocolate!!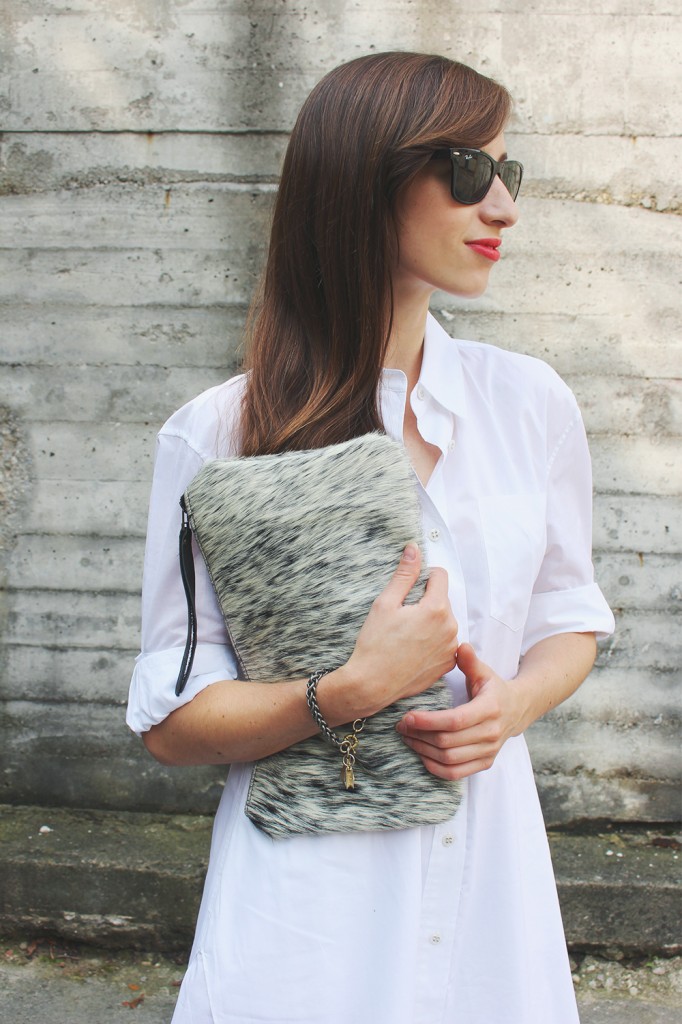 I'll close the writing portion of this post by confessing my total obsession with Primecut Bags. I discovered the brand via Instagram and the Salt & Pepper clutch was on my wishlist for months. All Primecut bags, clutches, wallets and accessories are handmade in Portland, Oregon and the beauty of the materials and impeccable craftsmanship is what makes them so unique. I am totally smitten with my clutch and wallet. My favourite thing about the hide is how it almost looks blurred, even in real life. It's safe to say I'll be bringing this baby on all my upcoming adventures! Check out all the fabulous (and really reasonable!) Primecut bags and accessories here.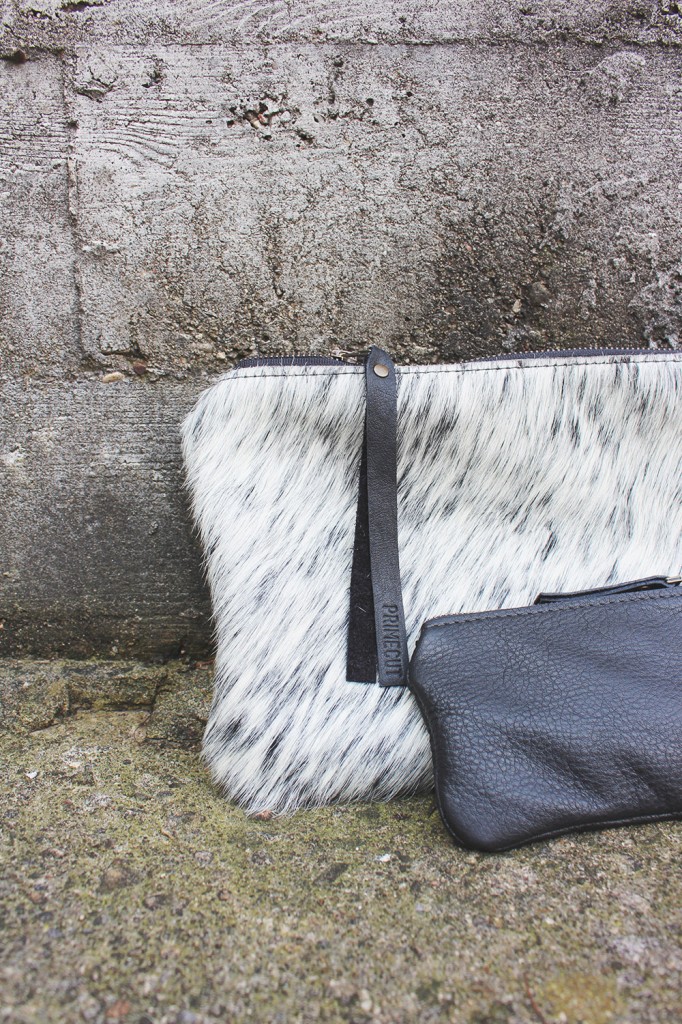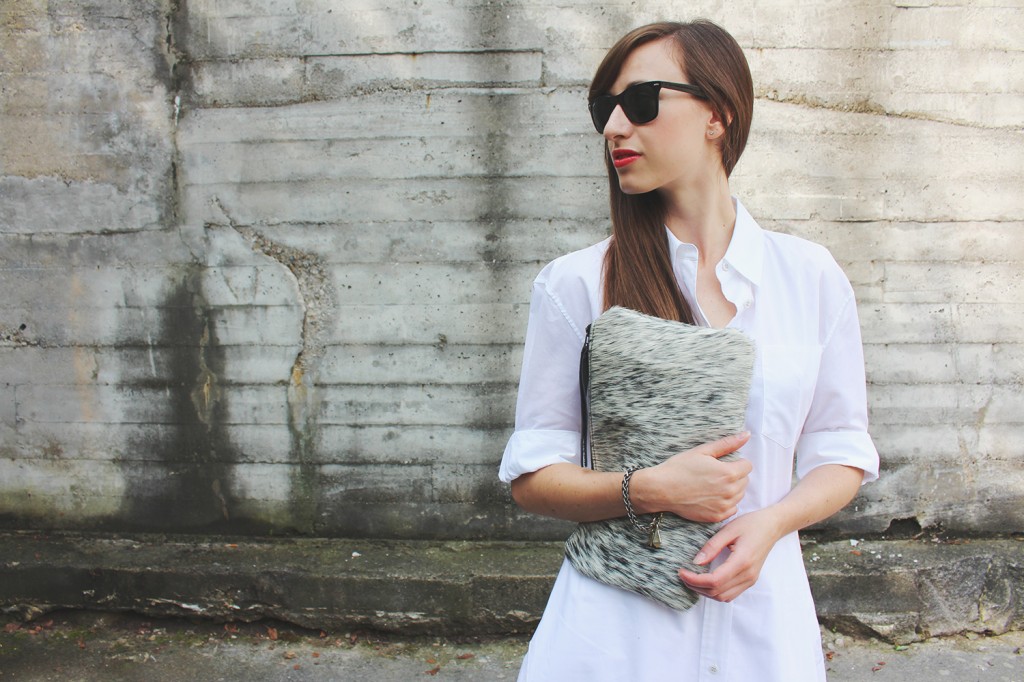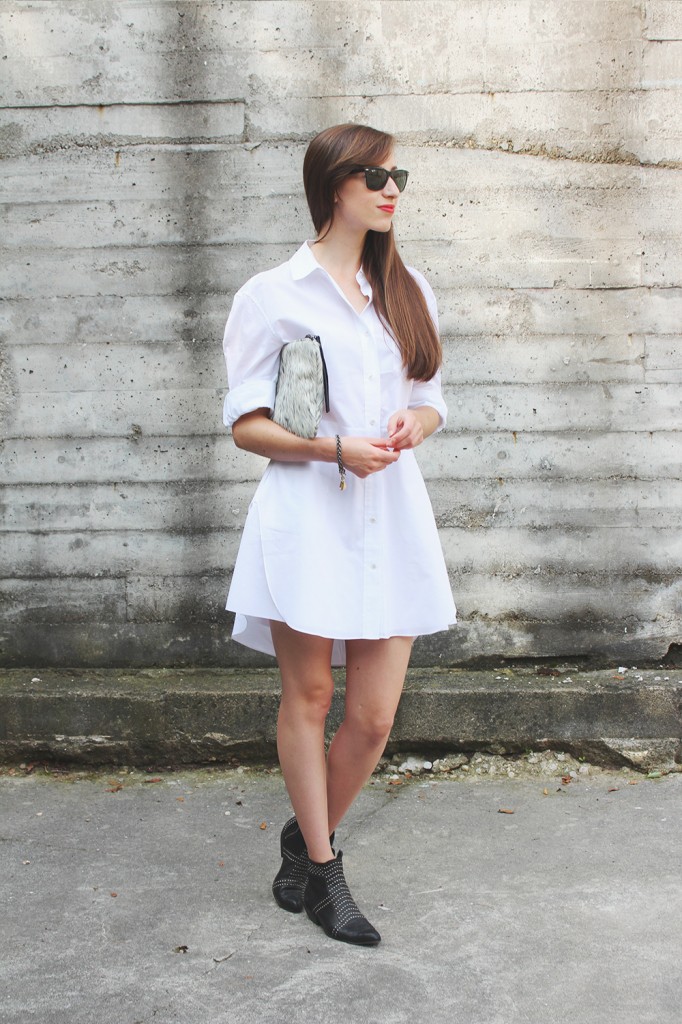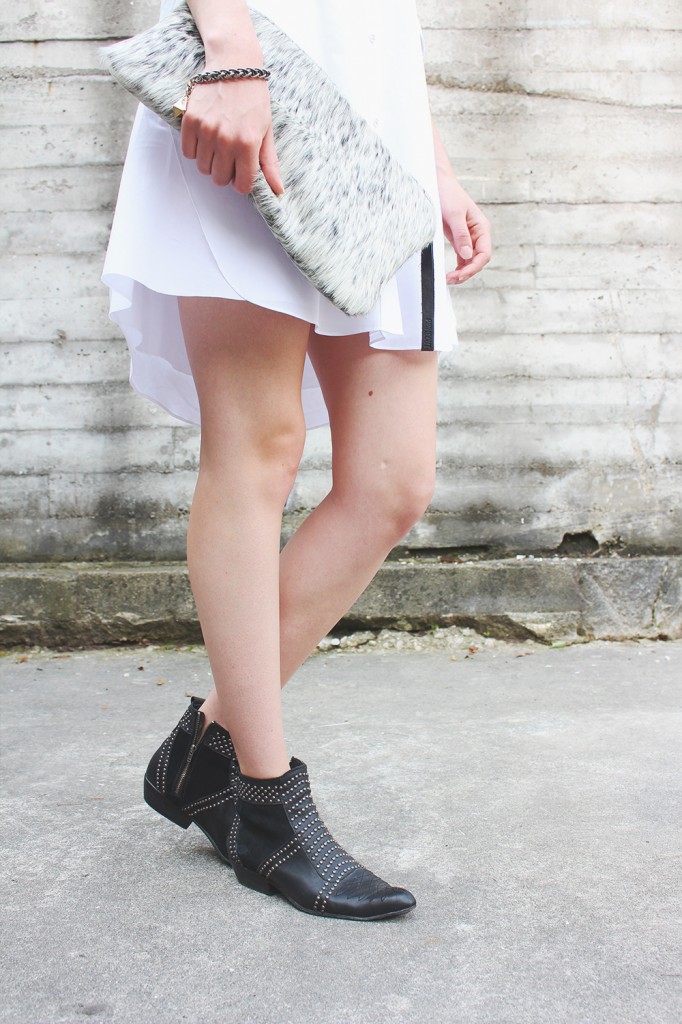 Thanks for reading my not so pleasant walk down memory lane. Writing this post wasn't easy but I felt it was an important one to share.
Dress Acne Studios // Boots Anine Bing // Bag Primecut // Bracelet Biko // Sunnies RayBan
Photos by my valiant prince Dave Ruhl.