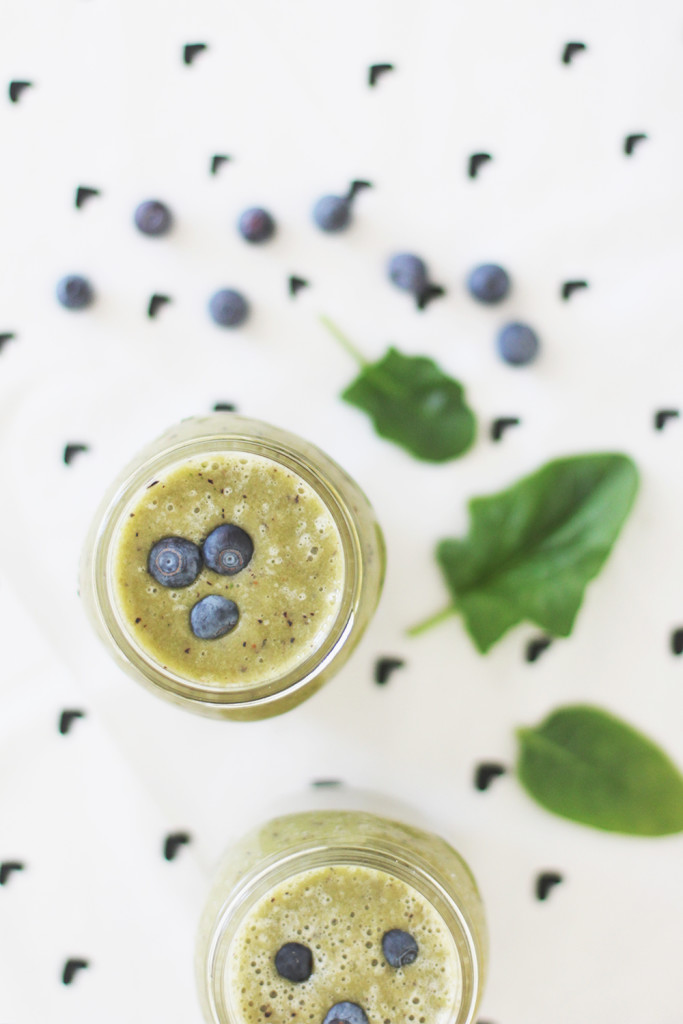 Waaaay back in the early days of Style Bee I posted recipes here and there and I've been eager to share some of my more recent favourites. So when the opportunity arose to collaborate with the lovely, local, home goods shop Lint + Honey I knew it was meant to be. Andrea, founder and Chief Lint Collector, and I immediately hit it off over talk of our furry pups and love of simple, purposeful design and products.
I go through waves of enthusiasm towards cooking. I'll be on a roll for a bit then all of a sudden I can't muster the strength to lift a frying pan and I'm content to eat take out for the foreseeable future. But really all it takes is a few fresh goodies, edible or not, for me to feel inspired in the kitchen again. Cue the super fun and totally functional Chefette series of tea towels, aprons and prints from Lint + Honey. Shown here is the mini hearts tea towel, not so coincidentally in context with my most loved healthy recipe of late.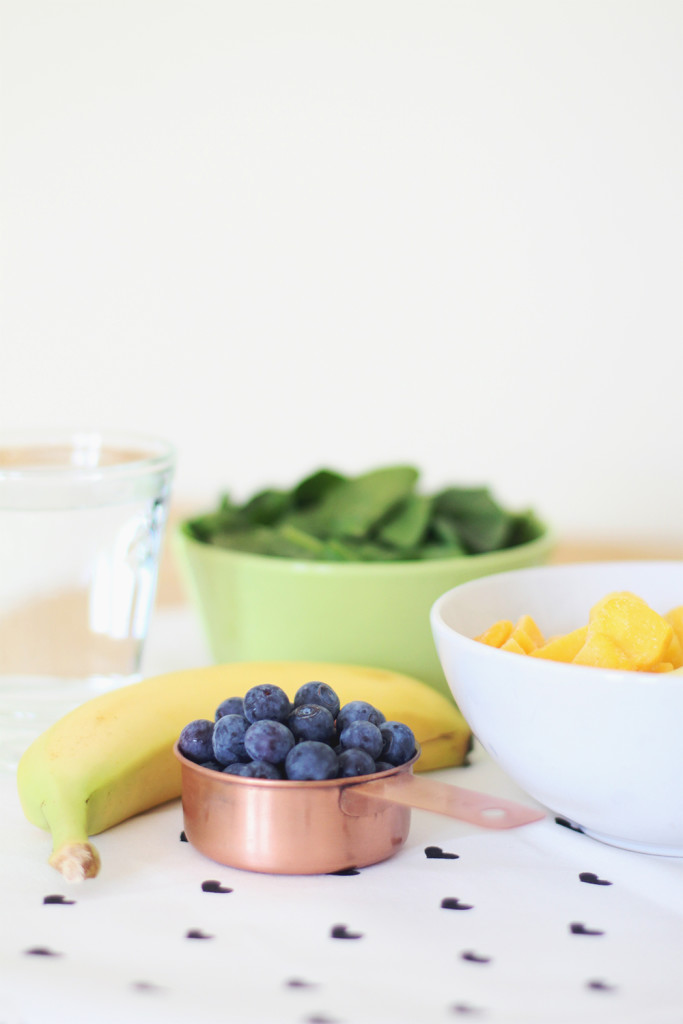 GREEN SMOOTHIE RECIPE
I cannot and will not, by any means, claim to be a health nut. While most people save the mac and cheese stash for empty fridge day, it's the the first thing I reach for. Butter croissants are my dream breakfast and when there's no dessert to be found after dinner I feel nothing short of miserable. I just want to make sure you know this recipe is from a place of deliciousness, not health. Okay?
Truth is though, this green smoothie is SUPER tasty! The fact it's good for you is purely a bonus. I discovered it while I was on a bit of a health kick, albeit short lived, and loved the refreshing and energy packed jolt it gave my morning routine. So now, when I've gotten my act together enough to grocery shop, it's my go-to breakfast treat.
To Make (serves 2):
2 cups spinach
1 cup water
1 cup frozen mango (use at least one frozen fruit otherwise your smoothie wont be cold enough)
1 cup pineapple chunks
1 banana
heaping 1/2 cup of blueberries (save a few to top the drink with)
blender
Start by gathering all your ingredients. Blend the spinach and water together in the blender until smooth. Then add the frozen mango and pineapple chunks and blend until smooth. Lastly, add the banana and blueberries and you guessed it, blend until smooth. Add a touch of water if needed. Pour into two large cups, top with a few blues and guzzle down the goodness!
To make this a touch heartier I add some greek yogurt or 1/2 an avocado sometimes too.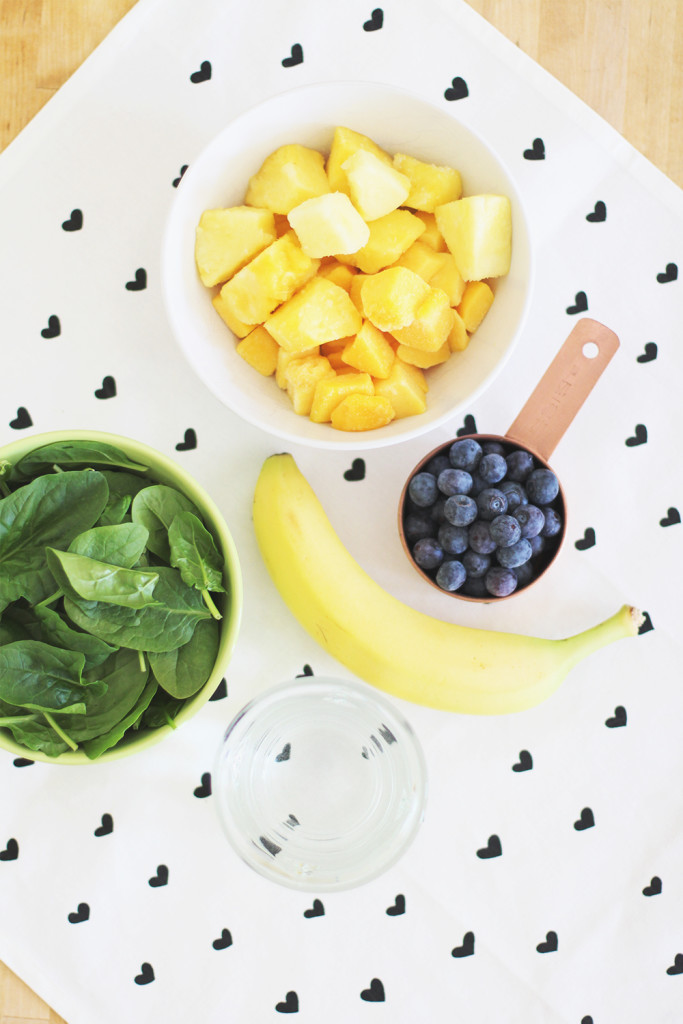 How great is this Lint + Honey apron? It's cute enough to wear right out the door! Not to mention being a total life saver too. There's nothing like being dressed and ready for the day when the blender goes rogue and spews green juice all over your shirt. I've worn aprons before but the adjustable neck strap, deep front pockets, adorable print and 100% cotton fabric put this one in it's own league.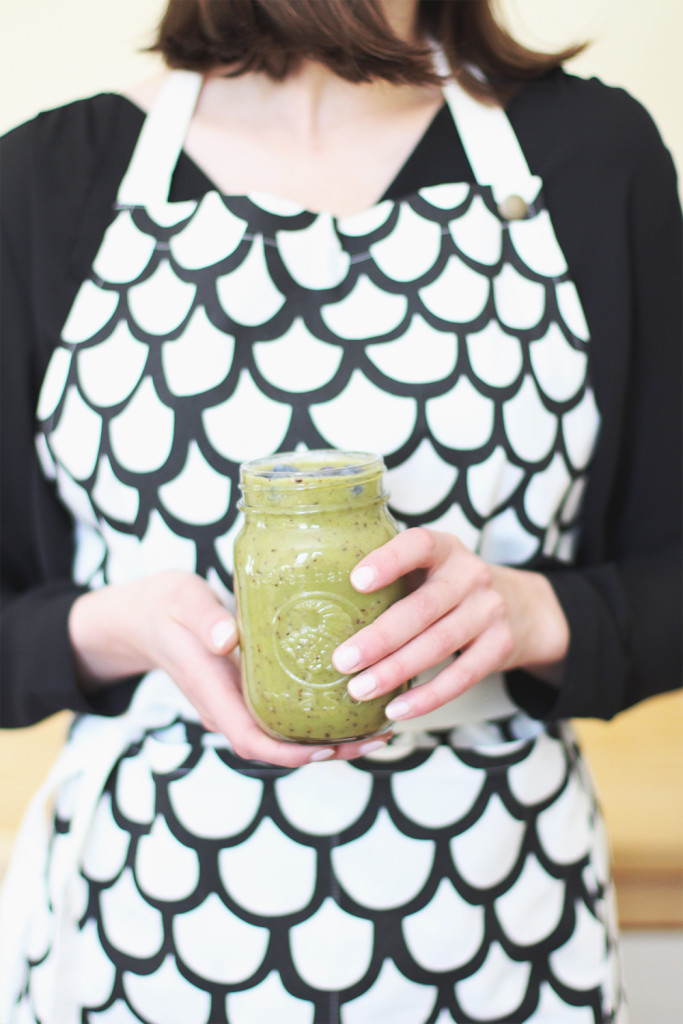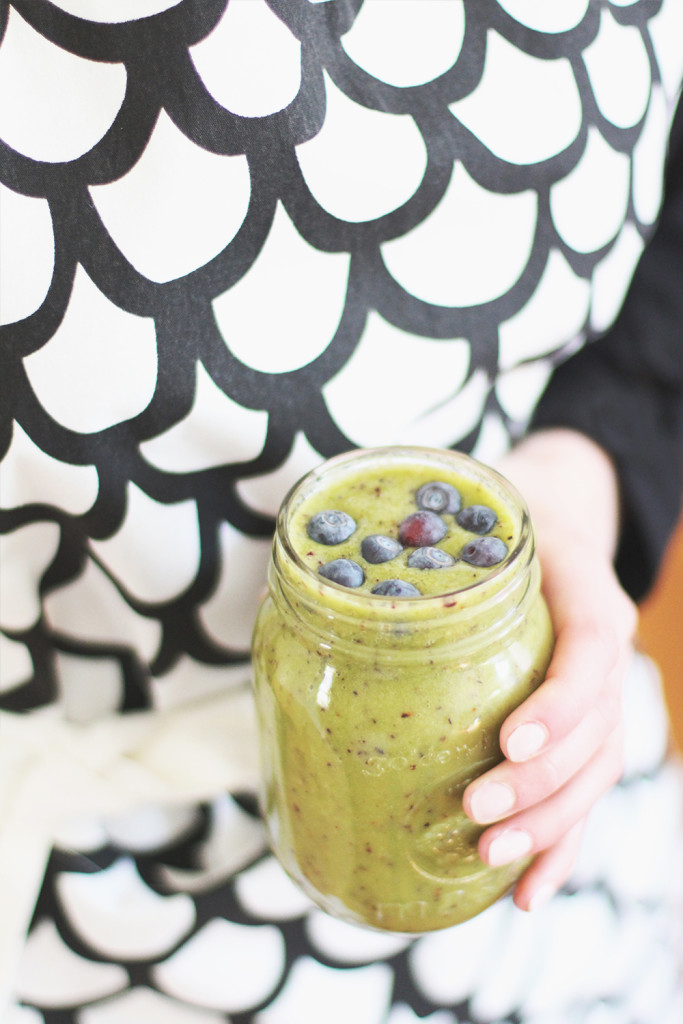 L+H Mini Hearts Tea Towel | L+H Scales Apron | Be sure to use the code 'STYLEBEE' for 15% off your order!
Save the Bees! In support of a cause close my own heart, Andrea will be donating $1 from the proceeds of all 'Bee' related goods in her shop (like this great print and these awesome pillows) to a Save the Bees fund.
---
Please note this post was sponsored by Lint + Honey but all opinions are 100% my own. 
Stay tuned for next week's recipe, a total show stopper of a cheese dip!