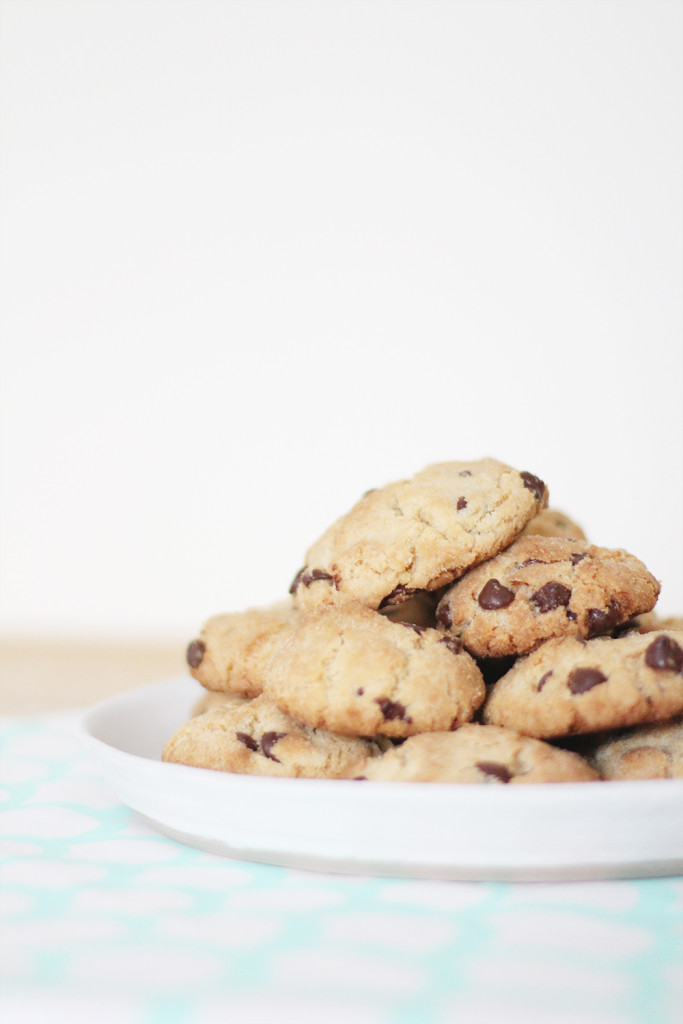 It's been over a month since I made these cookies, yet as I'm looking at the photos I can smell their fresh chocolatey goodness and alllmost taste them. Major cravings going on right now. To be honest, they were the first batch of organic cookies I've baked entirely from scratch and I wasn't sure how they'd turn out. Luckily I managed to prove my skeptic side wrong and they turned out great. I used a tried and true recipe from one of my favourite food blogs The Faux Martha, which had some pro pointers like grated butter, something I never would have thought of.
Everyone has their own preferences when it comes to a perfect chocolate chip cookie. Some like them dense and packed to the gills with chips, others prefer a thin, crisp approach and a good ol' chewy gooey rendition never did anyone wrong. While I'm opinionated on many topics, chocolate chip cookies are one that I just can't bring myself to take sides on. I love them all, each for their own qualities and differences. That's why this recipe is a great one for those of us who like a bit of crunch, a lot of chip and a little extra volume.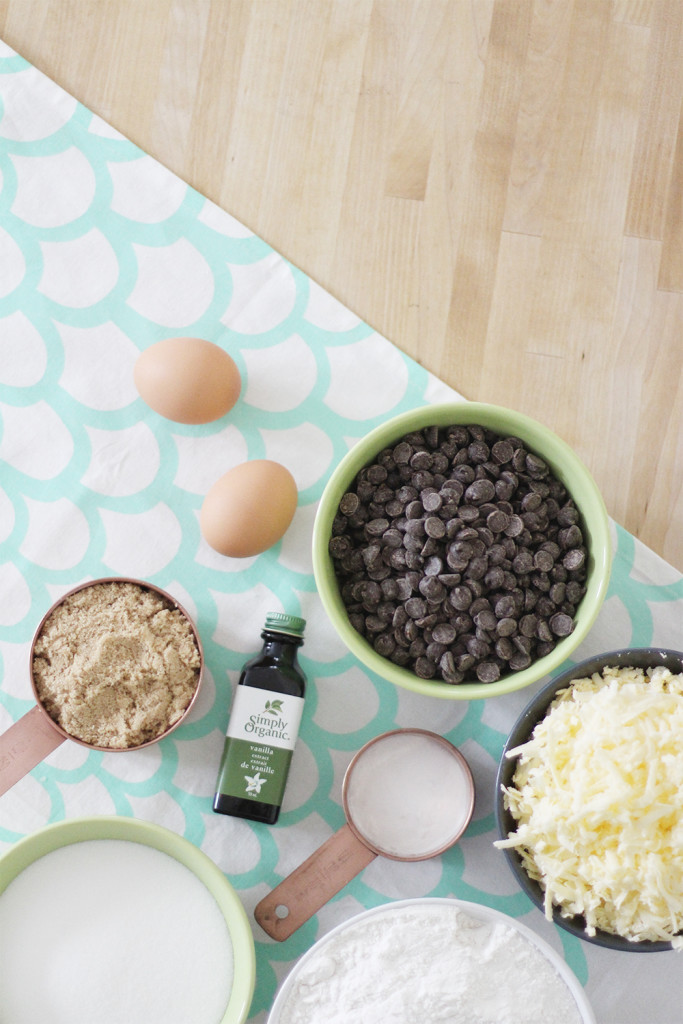 You will need*:
8 oz. (2 sticks) unsalted butter, chilled
1 1/4 c. granulated sugar
3/4 c. packed light brown sugar
2 large eggs
1 tsp. vanilla extract
3 c. AP flour
3/4 tsp. sea salt
1 1/4 tsp. baking powder
1/2 tsp. baking soda
12 ounces (2 c.) good quality semisweet chocolate chips
* Opt for all organic ingredients if that's what you're into.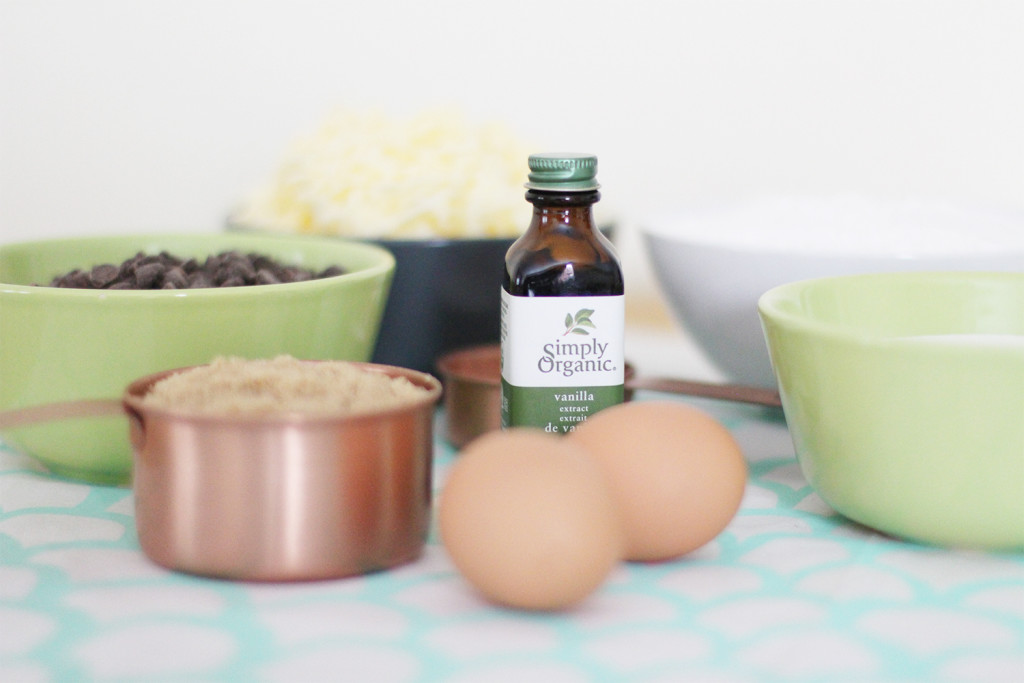 Directions (for a pictorial play by play see the original recipe here):
Using a grater, grate chilled butter into a large bowl. Make sure to scrape out butter left on grater. If butter is too warm, stick it in the freezer for 5 minutes.
Add sugars to the butter. Using a mixer, mix until just combined. Do not over beat.
Add vanilla and eggs, and mix until just combined. Again, do not over beat.
In a separate bowl, whisk together flour, salt, baking powder, and baking soda.
Add flour mixture to butter mixture, and mix until just combined. Dough will look crumbly. You are right on track.
Stir in chocolate chips.
With your hands, gather dough into a large ball, as you would if you were making a snow ball.
Roll dough into smaller snowballs and place on pan lined with parchment paper.
Preheat oven to 365°. Meanwhile, place cookies in the freezer for about 15 minutes.
Bake cookies for 18 minutes or until slightly browned around edges. Cookies will still be doughy in the middle.
Allow to cool completely before eating. The doughy centre will stiffen up a bit.
Feel like being the hero at Easter Dinner or just about any other occasion? Then bake these and bring them. Although, you may just find yourself on dessert duty for the unforeseeable future!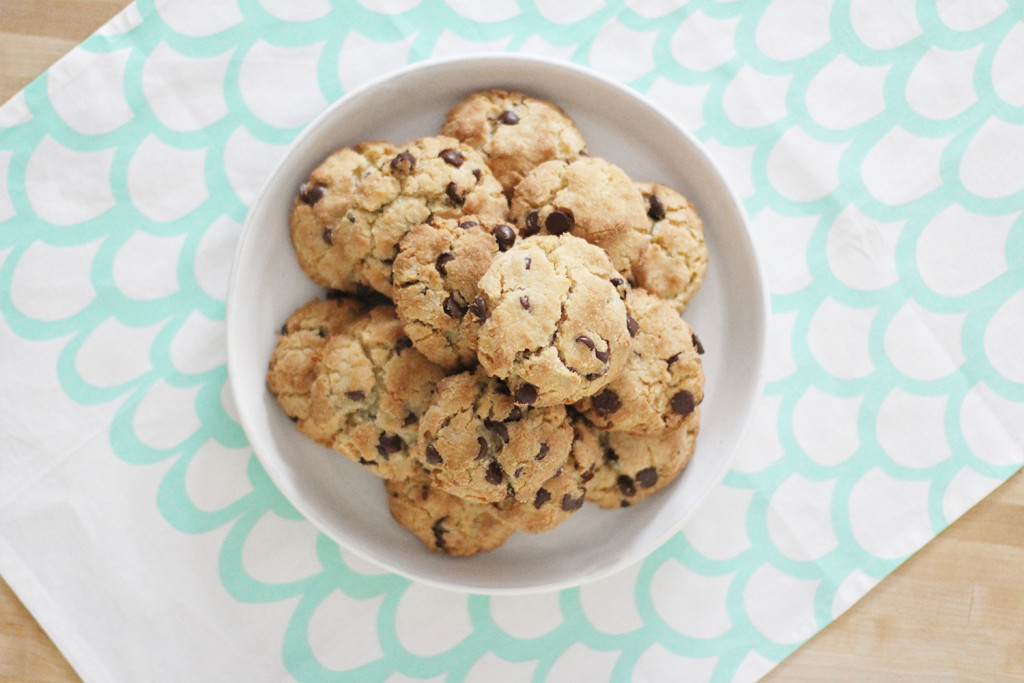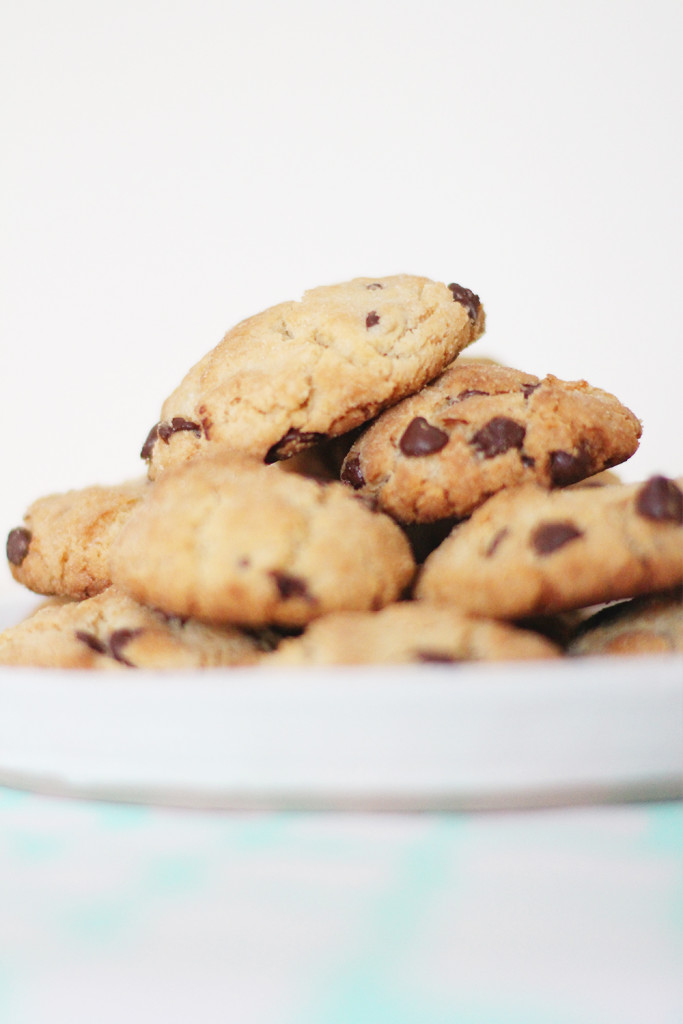 Lint + Honey – Scales Towel c/o – Be sure to use the code 'STYLEBEE' for 15% off your order! || Speck + Stone Plate
Save the Bees! In support of a cause close my own heart, Lint + Honey will be donating $1 from the proceeds of all 'Bee' related goods in her shop (like this great print and these awesome pillows) to a Save the Bees fund.