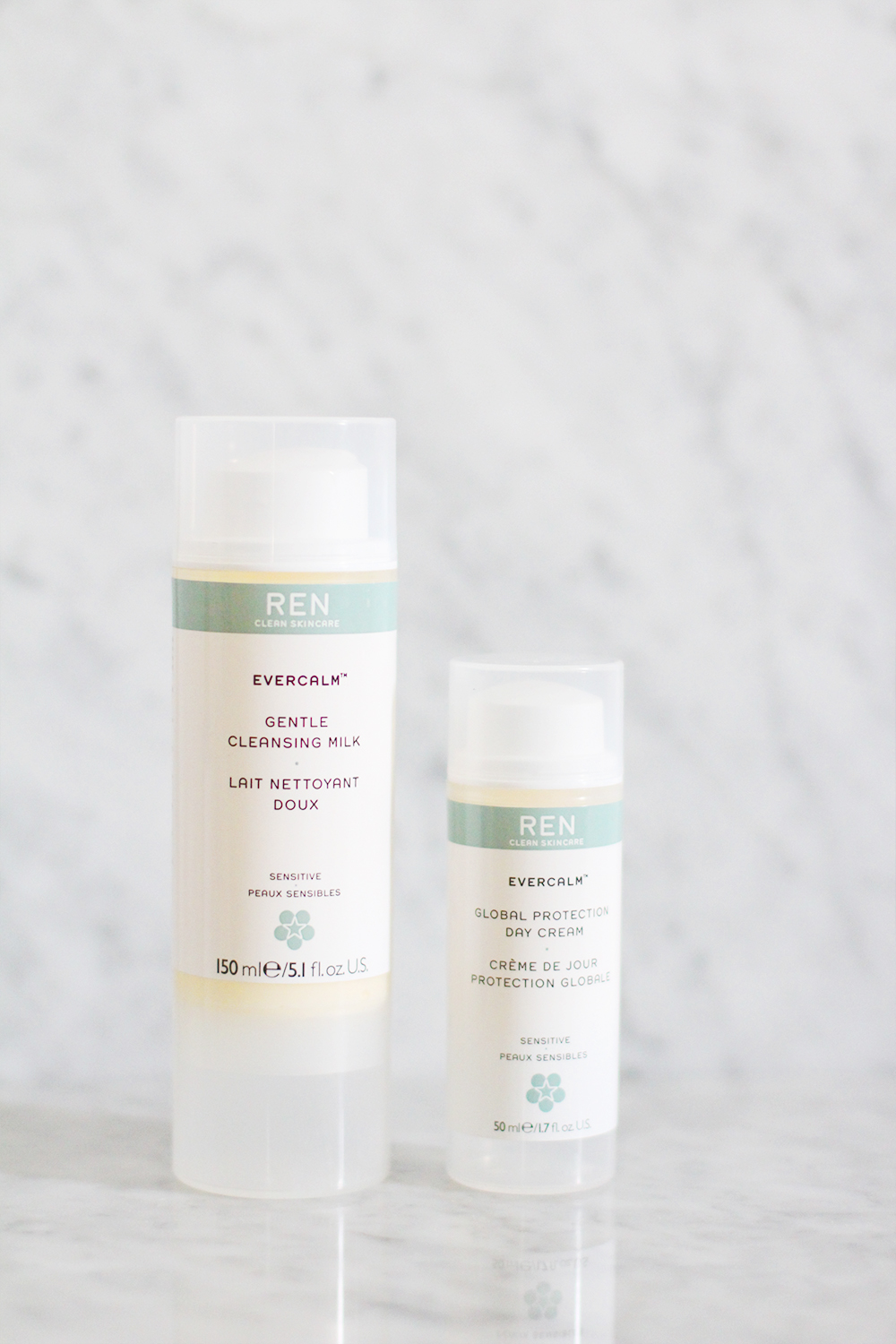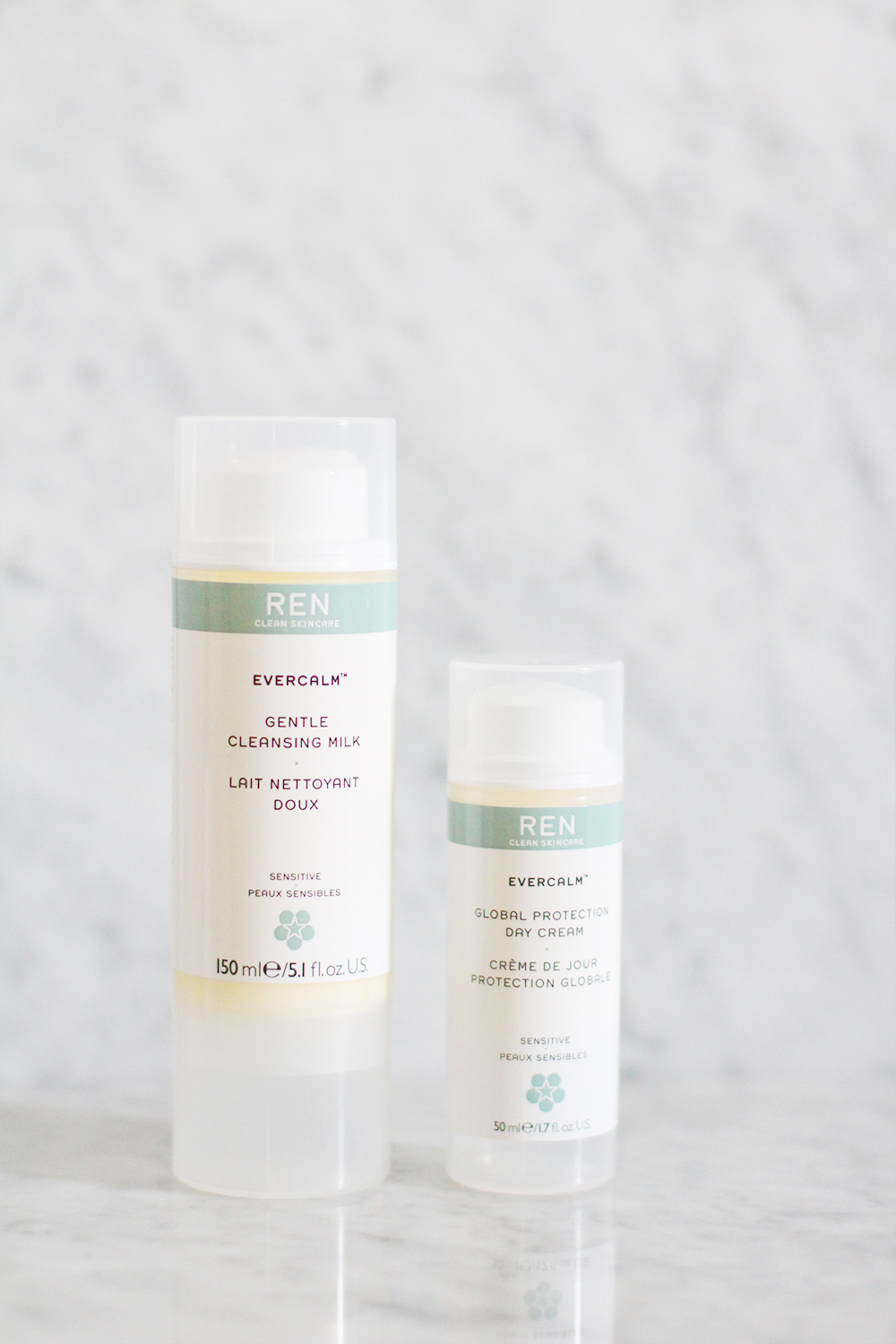 Well, Monday's back and so is the weekly routine! I've been planning to share my basic beauty and skincare routine for a long time now but until recently I really wasn't all that satisfied with it. I've since begun using a few key products that have totally changed how my skin feels and turned my typical procedure into a daily ritual.
SKINCARE
I have combination skin prone to both breakouts and dryness and this past winter was pretty ruthless. I've spent the last few months trying to get everything back under control and I'm glad to say it's finally working!
One of the main game changers has been the combination of REN's Evercalm cleansing milk and day cream. After reading the rave reviews and at the suggestion of Style Bee guest blogger Faith Pierce (post here) I decided to give REN a try. It did not disappoint! Both of the products I'm using feel amazing, smell amazing and are free of all parabens, sulfates and other unnatural synthetics. But most importantly they make my skin look and feel better than it has in a LONG time. The cleansing milk is super smooth and creamy but still leaves my face feeling very fresh and clean while the day cream feels rich but not too thick or gloppy. It absorbs very quick and leaves my skin feeling super smooth, almost as if I've used a primer. One thing I will say is that the cleansing milk is best used in combo with a make-up remover since it doesn't quite remove all my mascara (I use this one).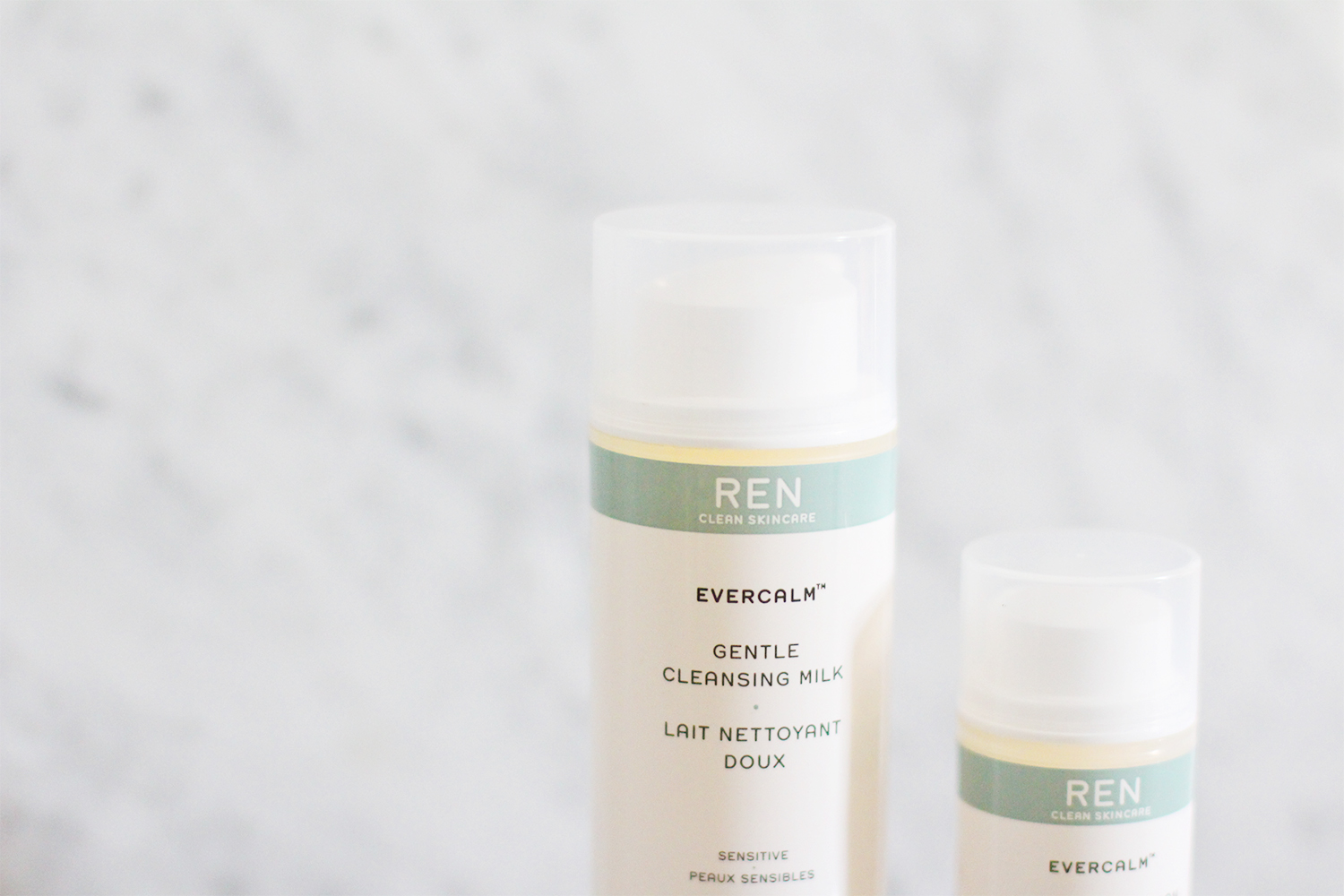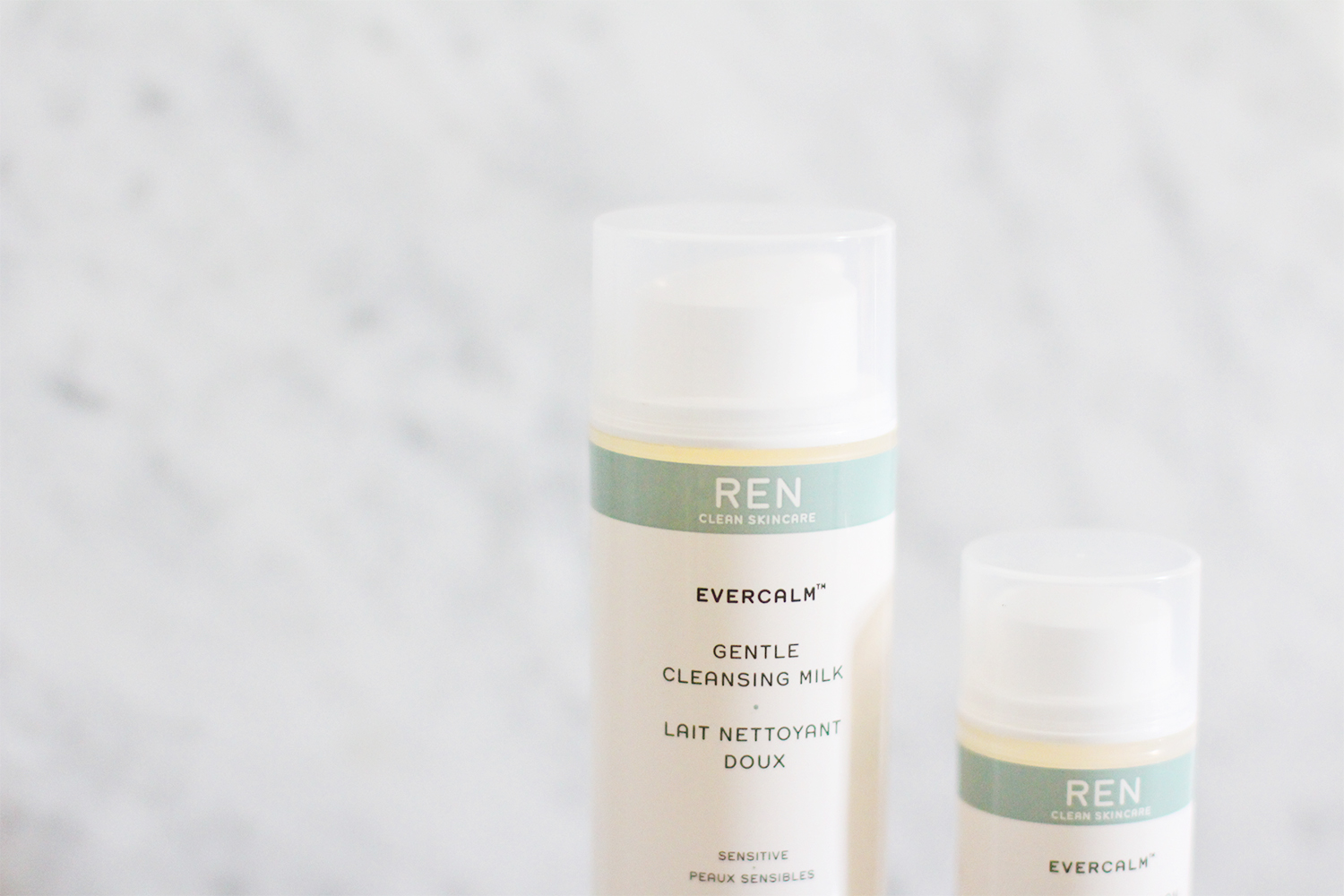 A couple other products I've discovered and love are by Province Apothecary a 100% natural and organic skincare line made right in Toronto. I love the refreshing scent and feeling of the Balancing Toner, which I spray directly on between the REN cleanser and moisturizer. I've also loved using the Regenerating + Stimulating Exfoliator which is a magical blend of lavender, green tea and other natural plant products. I use it about every other day in the shower and it really helps clear my pores and slough off dead cells.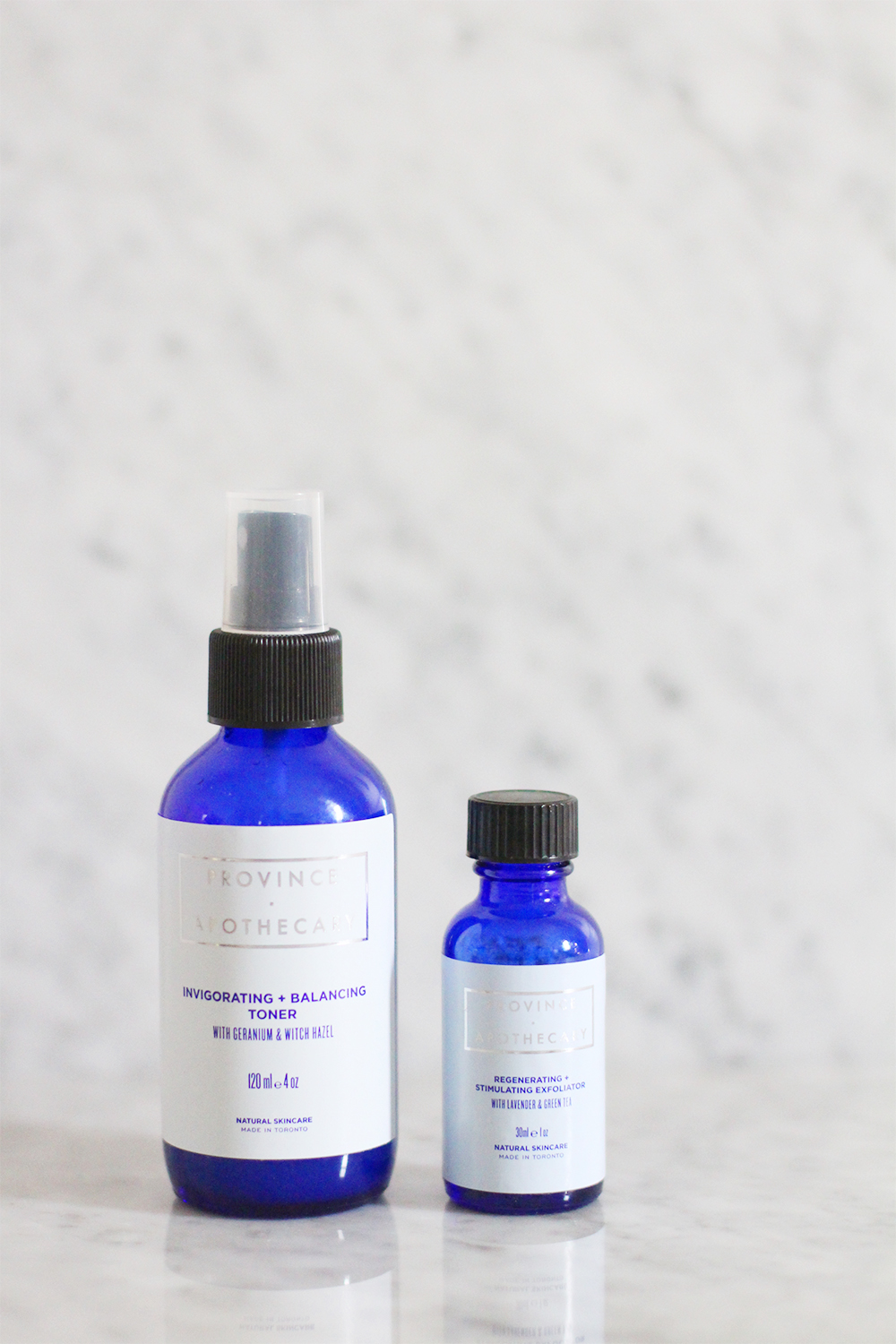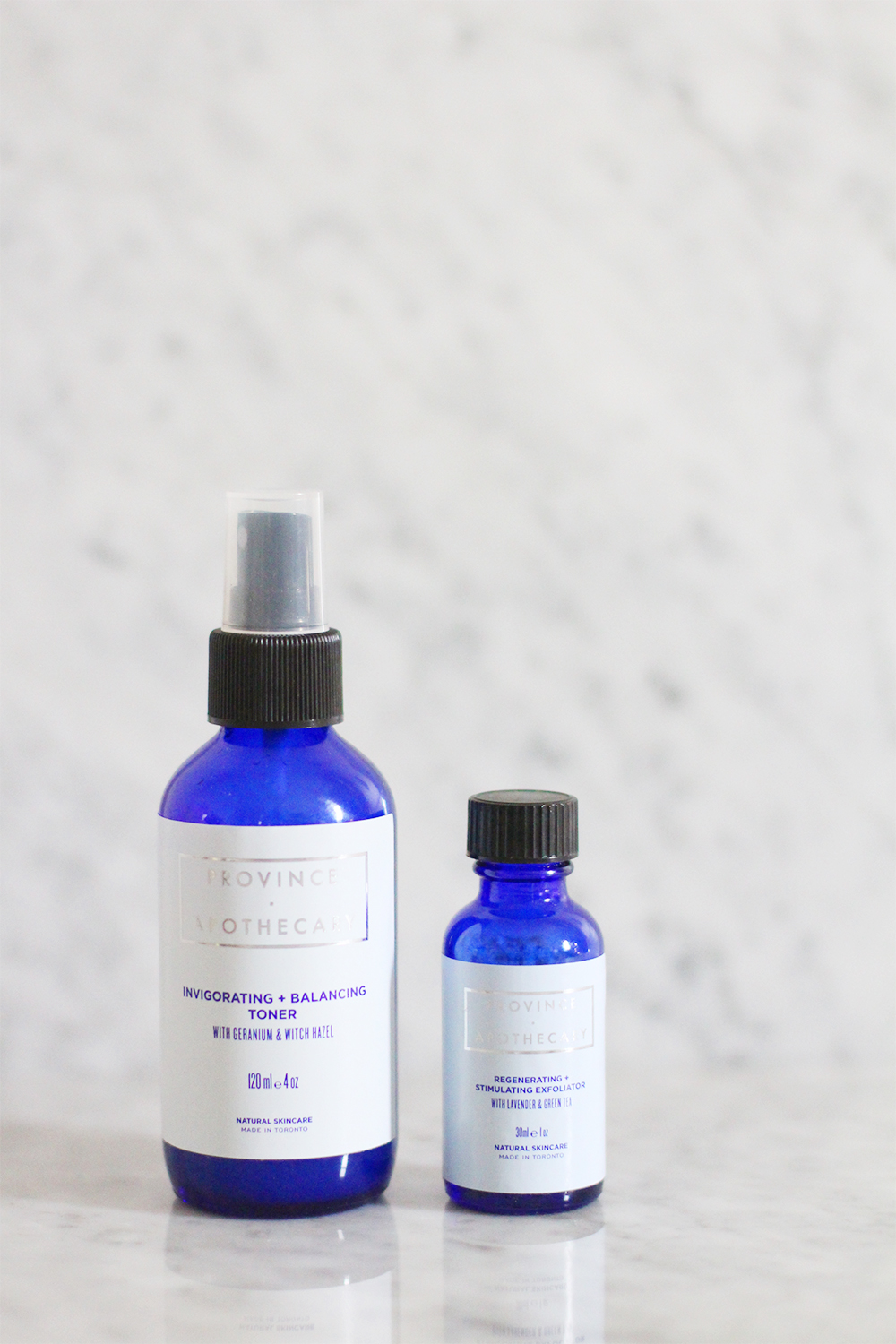 Not to go unnoticed is Province Apothecary's gorgeous branding and packaging. I honestly feel like I'm using a secret potion every time I tap a teaspoon of exfoliator into my palm. A little goes a long way too and this one small bottle has lasted a couple months and it's not even half way empty.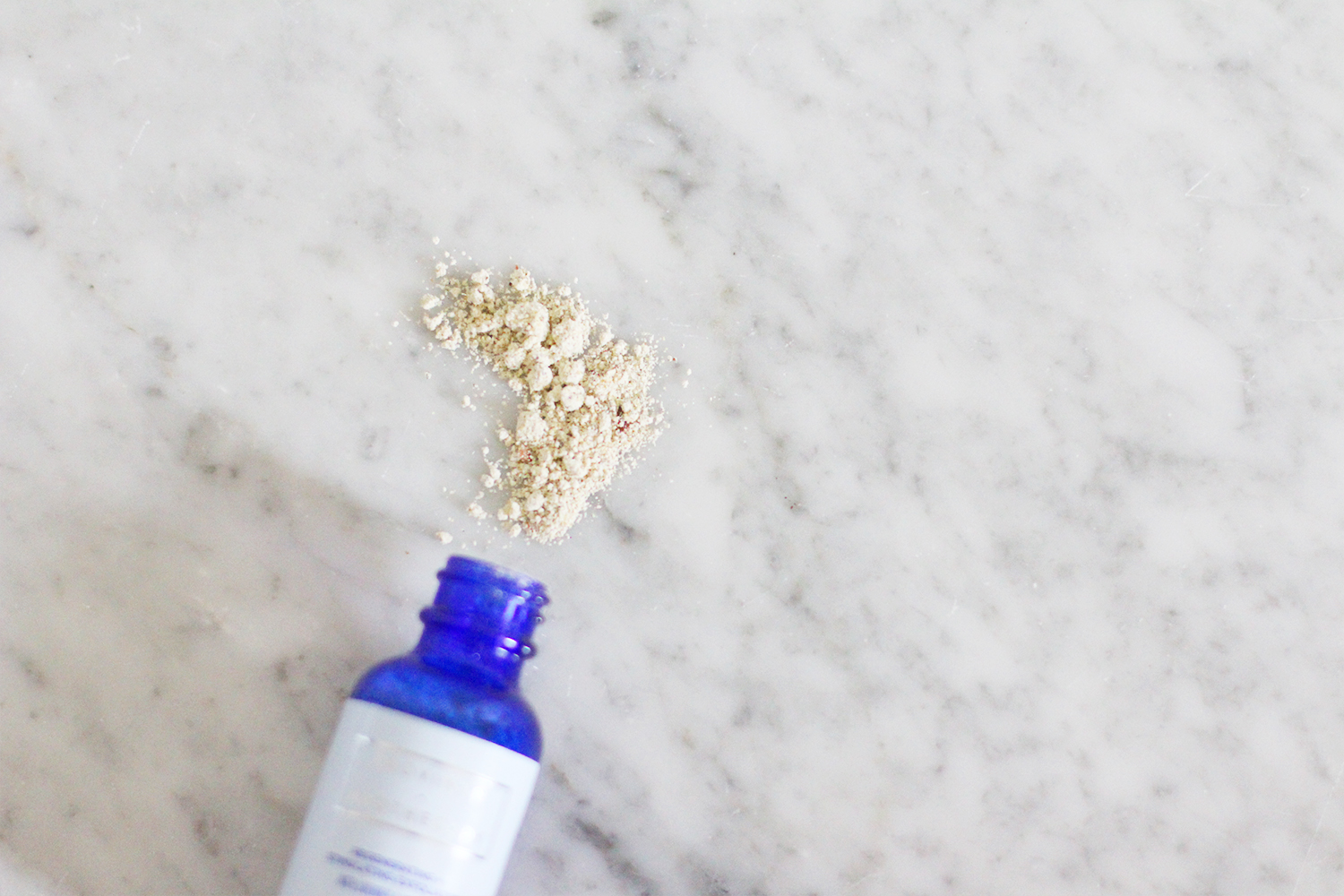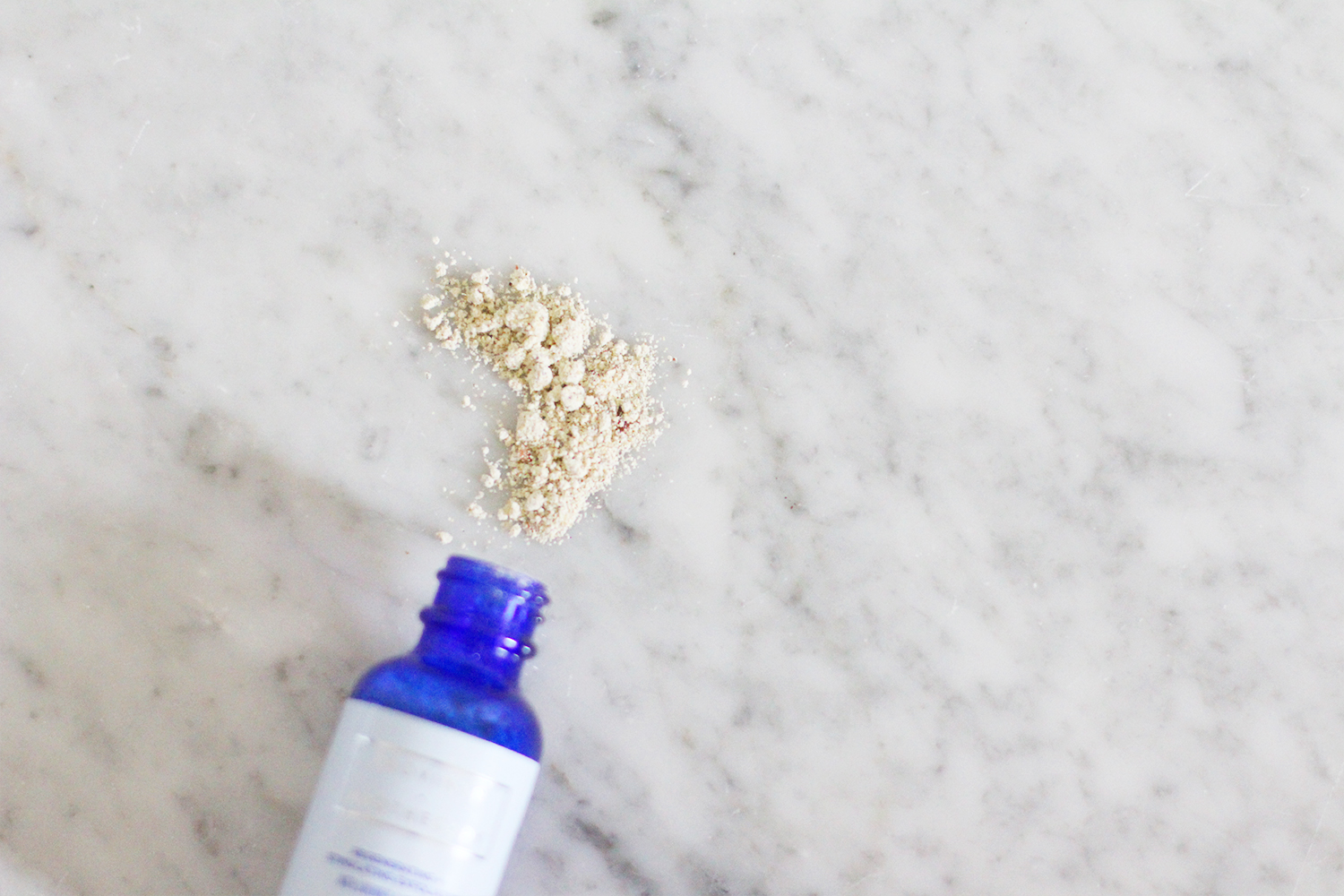 I attribute a lot of my new found skincare satisfaction to the incorporation of more regular and deliberate exfoliating practices. I never used to use masks or treatments on my skin but I've found that the Herbivore Botanicals Pink Clay Mask is a great addition to my weekly regimen. I usually use it once a week to give my skin and pores a thorough clean and scrub. It doesn't hurt that it came with the cutest little mixing pot and a brush that makes it a totally breeze to paint on.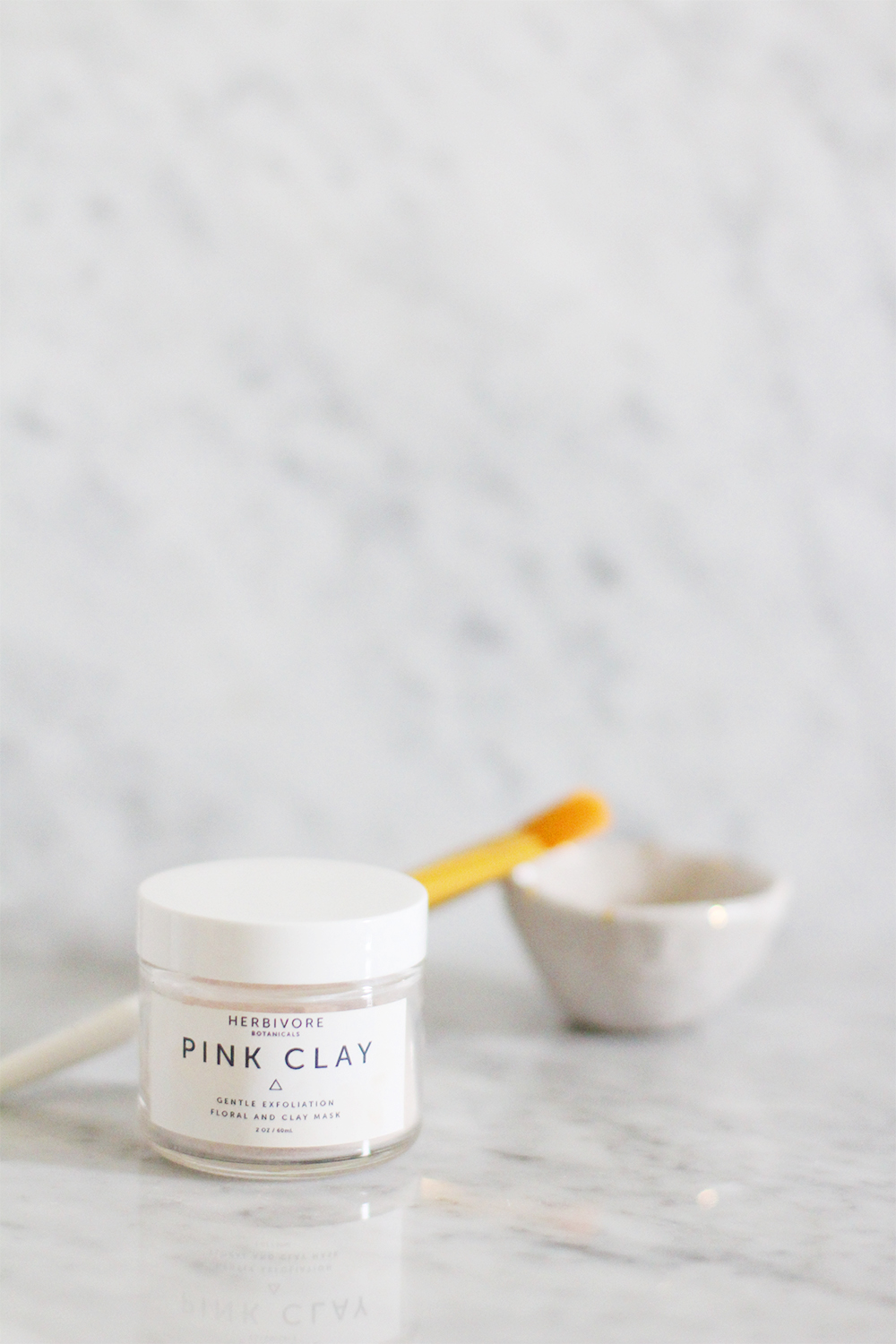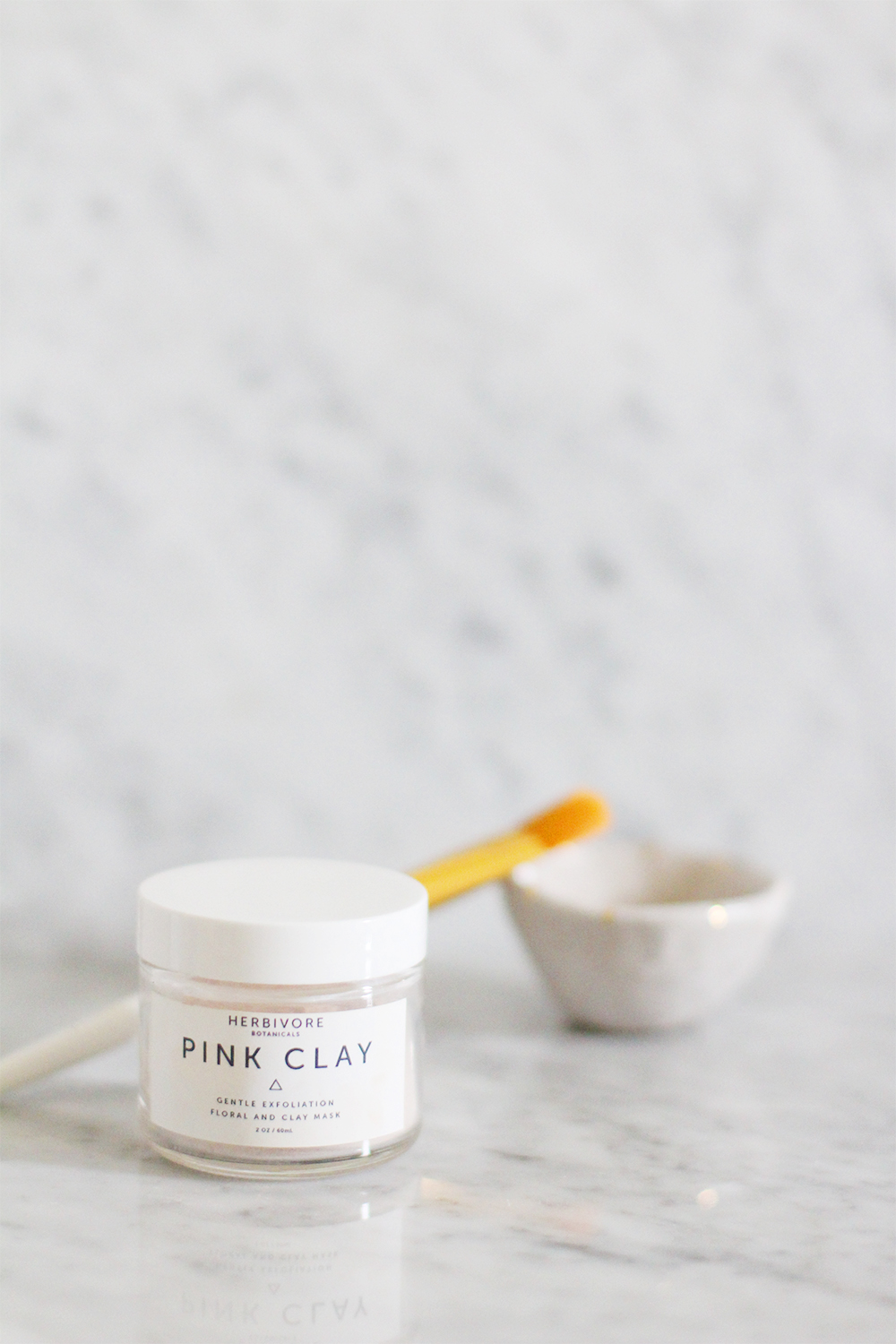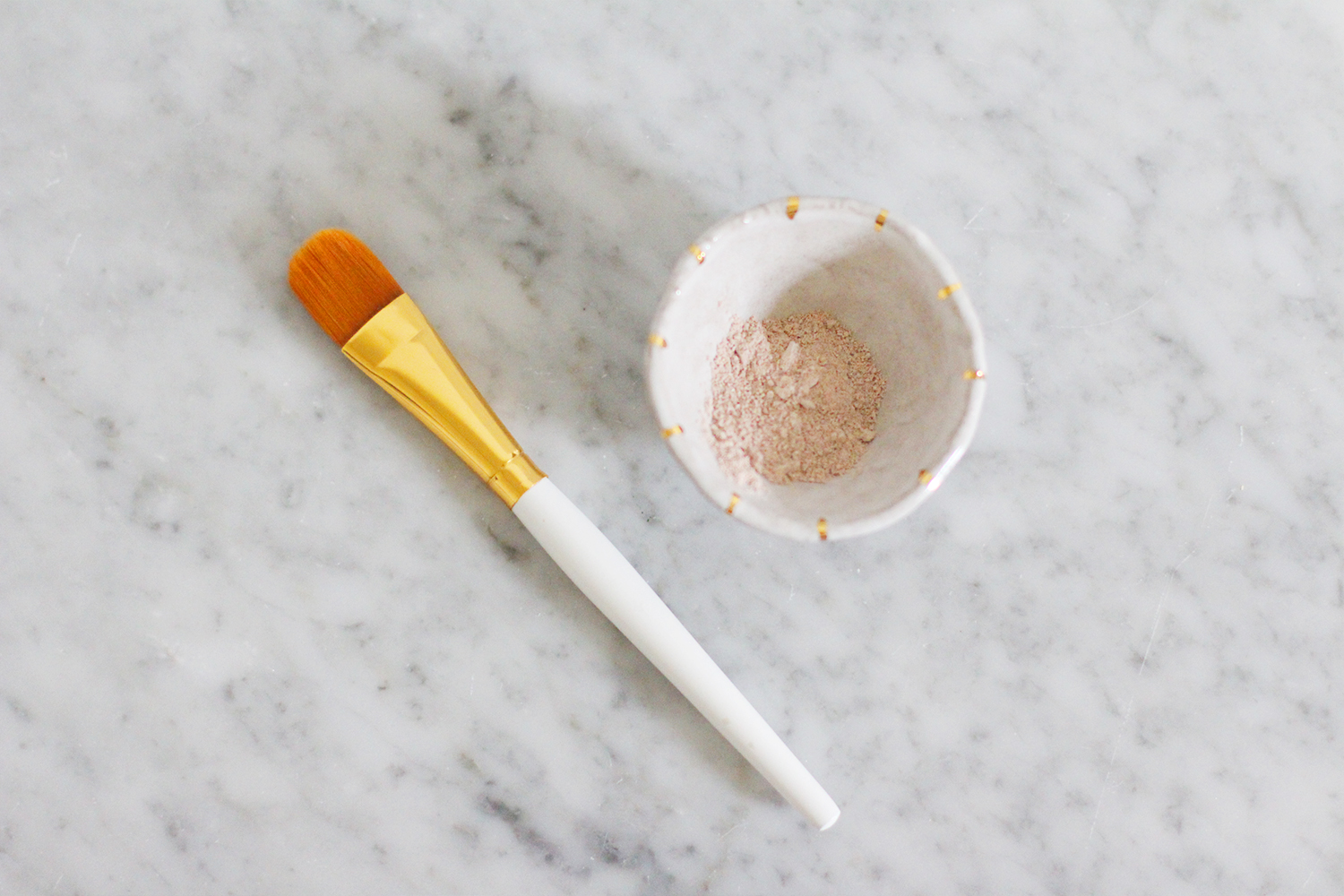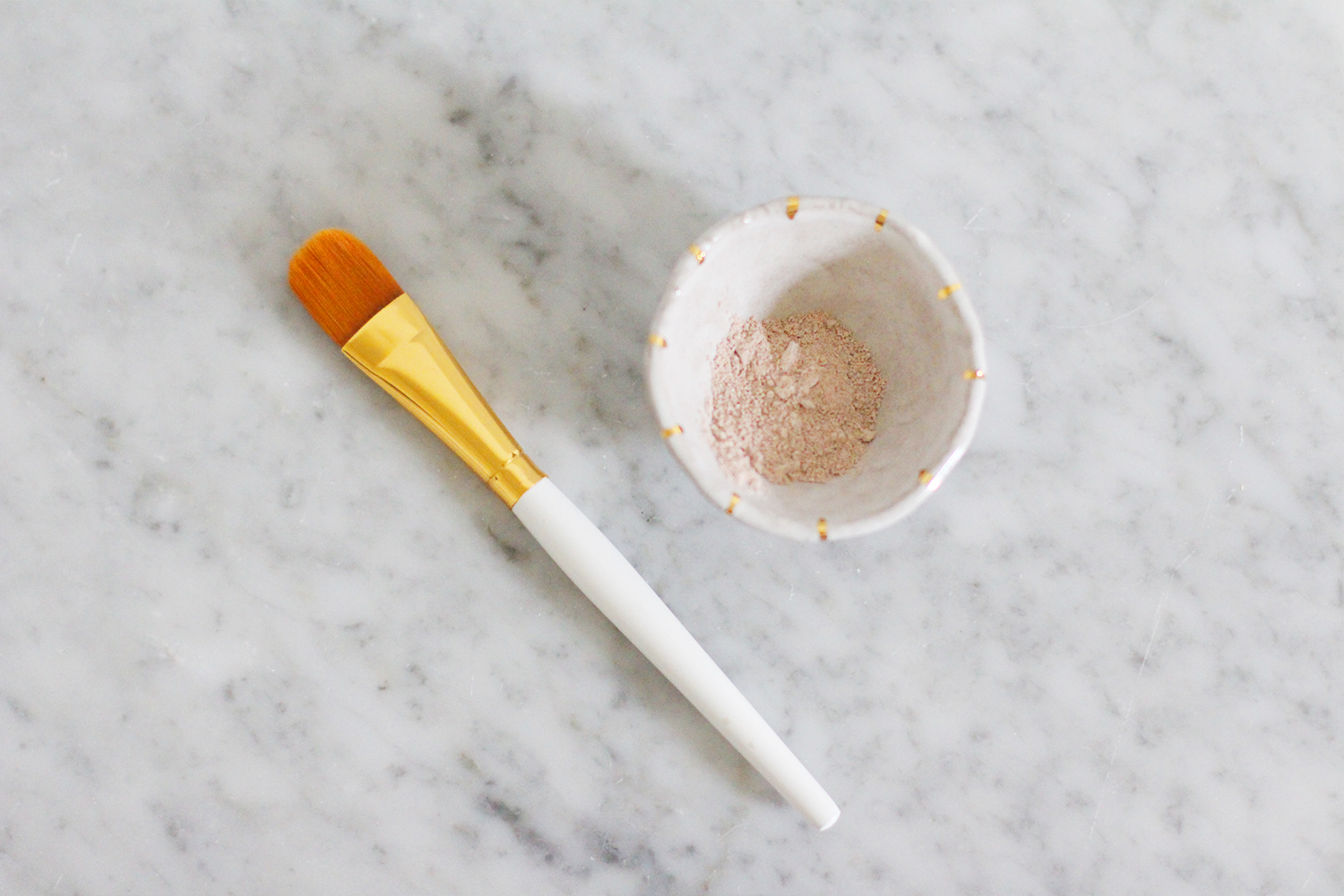 So that's my skincare routine. Certainly nothing elaborate or groundbreaking but mostly natural and totally satisfying, at least according to my skin right now. I don't currently use any anti-aging products but I'm on the lookout. For now, good sun protection and moisturizing will have to suffice.
---
BEAUTY
While I work from home most days I usually have at least a couple meetings and reasons to leave the house so I do a few quick touch ups before I head out the door. Most of all I aim to keep my makeup natural and unfussy.
It starts with Smashbox BB Cream which I like for it's skin tone smoothing abilities, built-in 35 SPF and lightweight, barely there look and feel. Then I'll lighten up my under eye circles with Clarins Instant Light perfector and use Clarins Instant Concealer if I have any persistent redness or problem areas. It's a super quick 3-step system that leaves my skin looking refreshed, illuminated and most importantly, natural.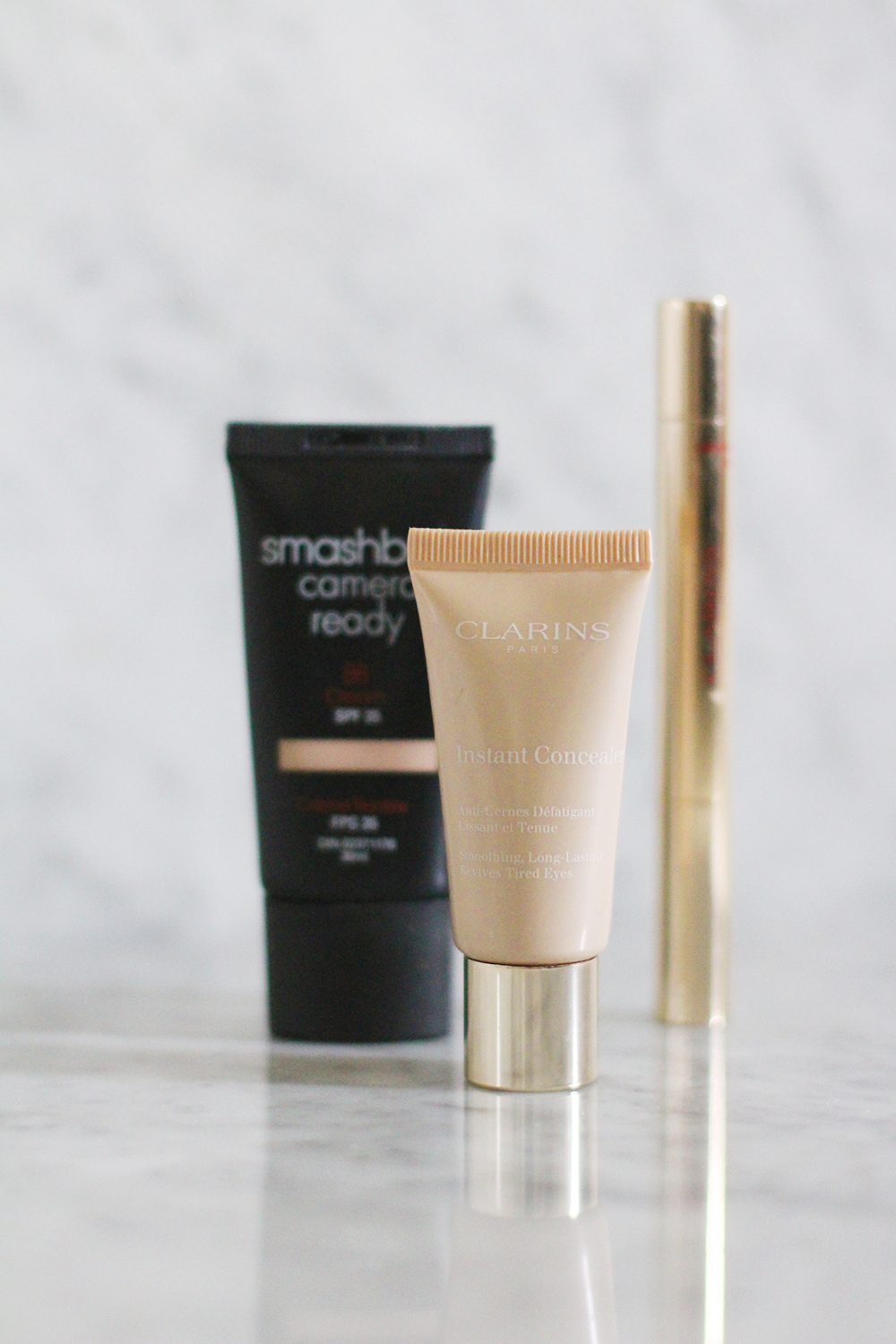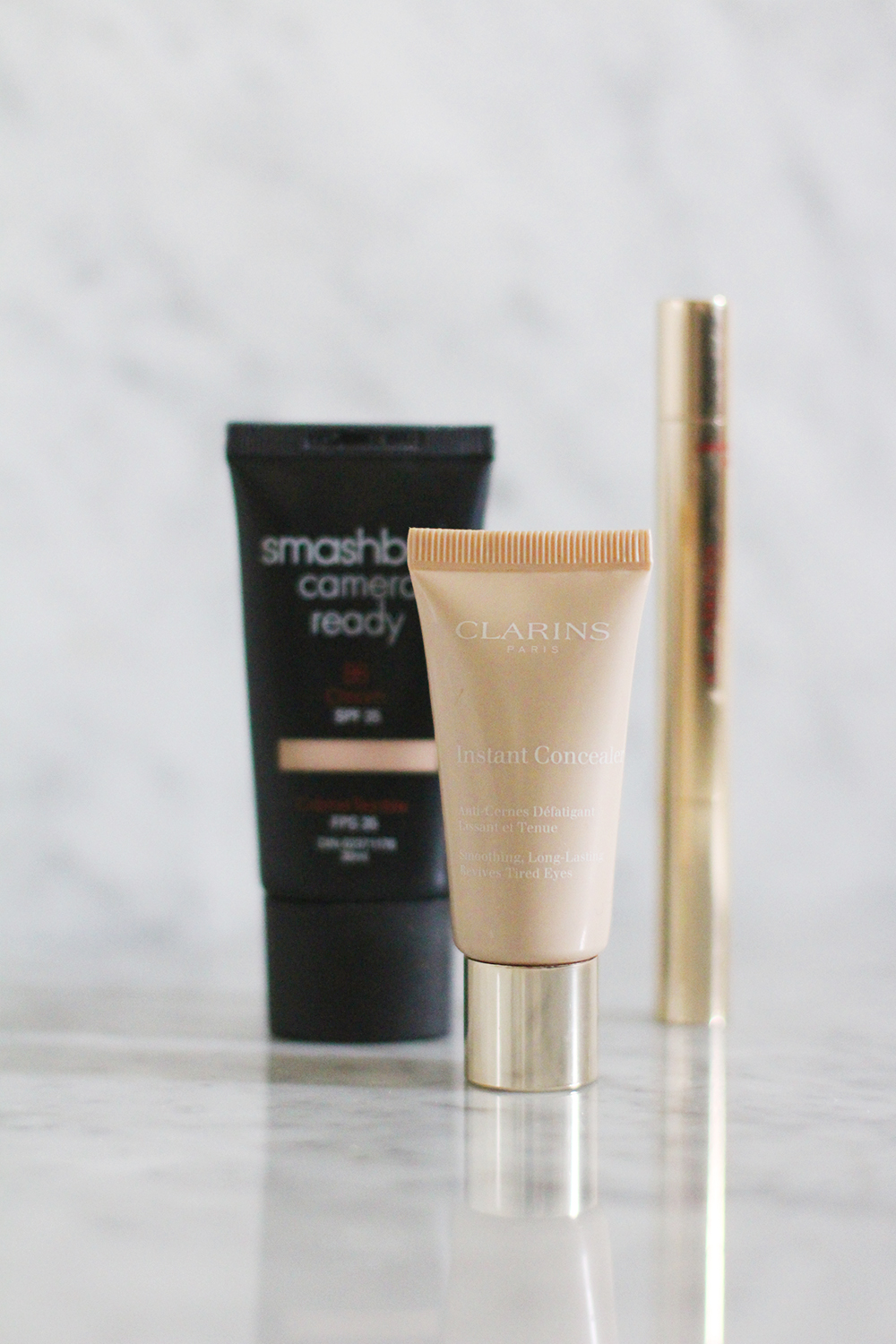 From there I turn to my minimal brush collection to add some life to my cheeks and eyes. I invested in good quality Clinique and Bobbi Brown brushes back in university and with regular cleaning they're practically like new. Definitely one of the most worthwhile (and only) beauty investments I've made. Shown: BB Face Blender Brush || BB Bronzer Brush || Clinique Powder Brush || Clinique Eye Shadow Brush || Clinique Eye Contour Brush || Quo Liner + Brow Brush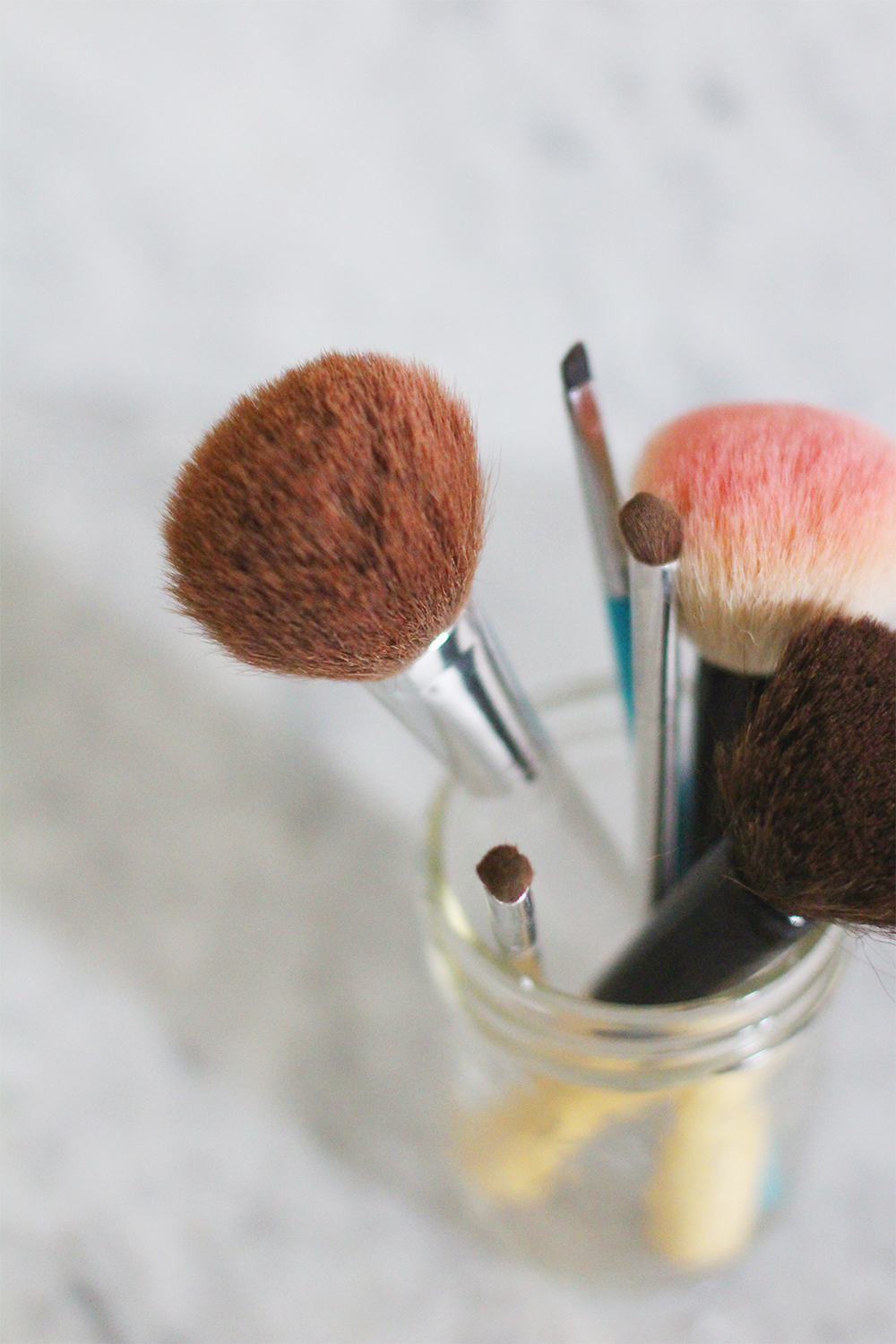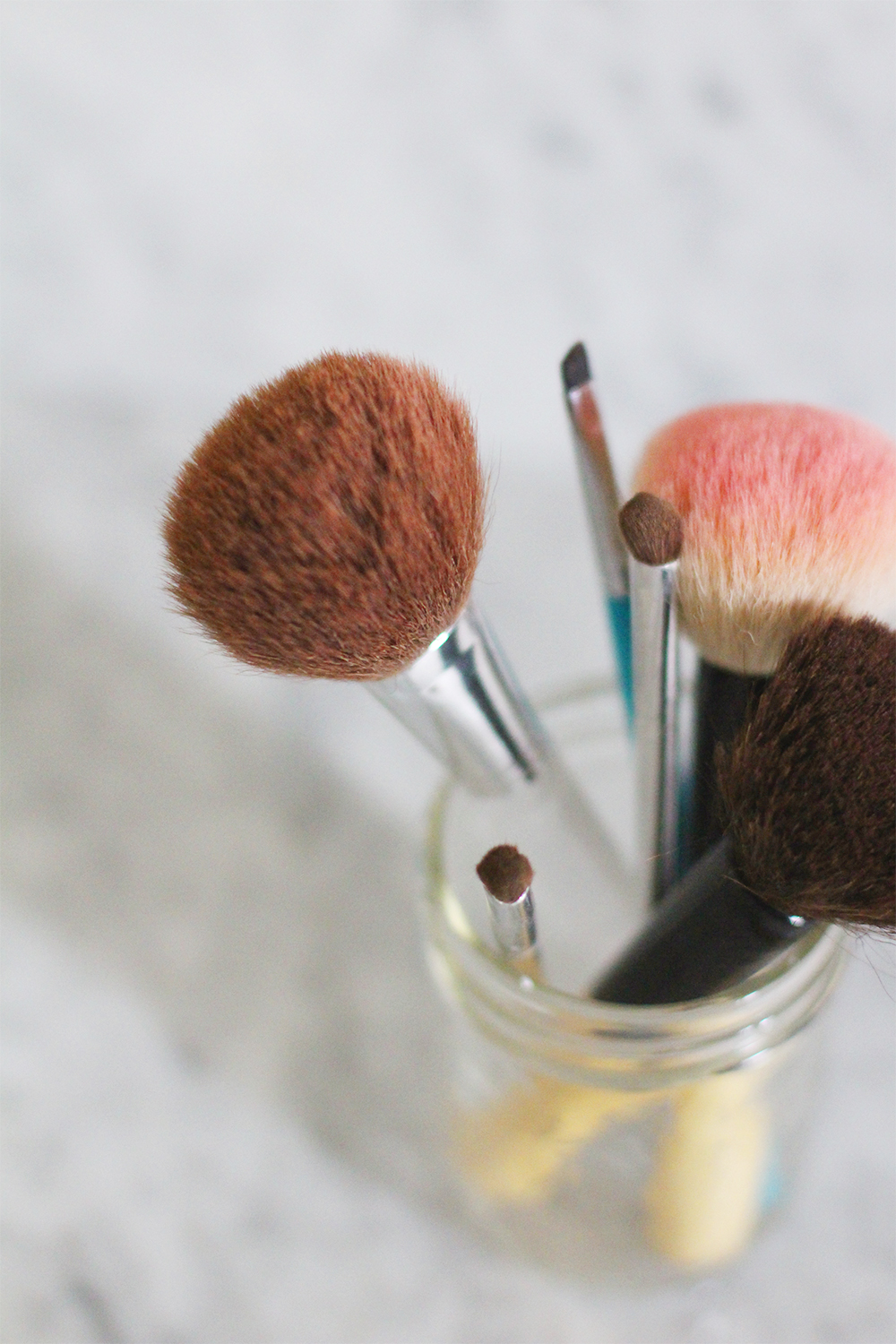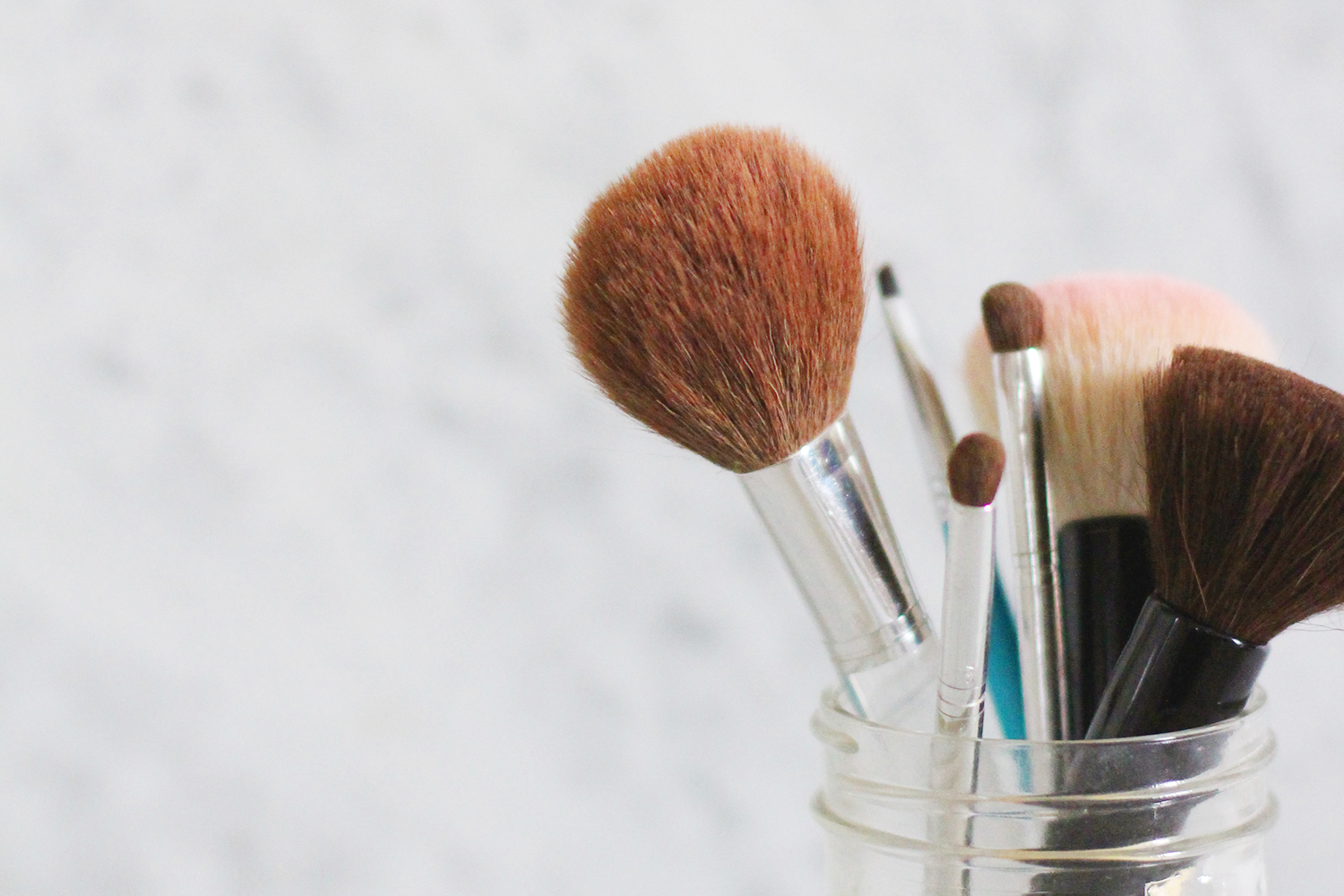 I use one shadow palette exclusively, the Urban Decay Naked Basics and one blush exclusively, NARS Orgasm. These two have been all over the place with me and have never let me down. The shadow palette is great for anything from a no make-up look to a dramatic cat eye to a sultry smokey eye. I'll never need anything else. NARS orgasm is a great colour for my slightly freckled and occasionally sallow complexion as it warms up my cheekbones and the slight shimmer gives a little glow.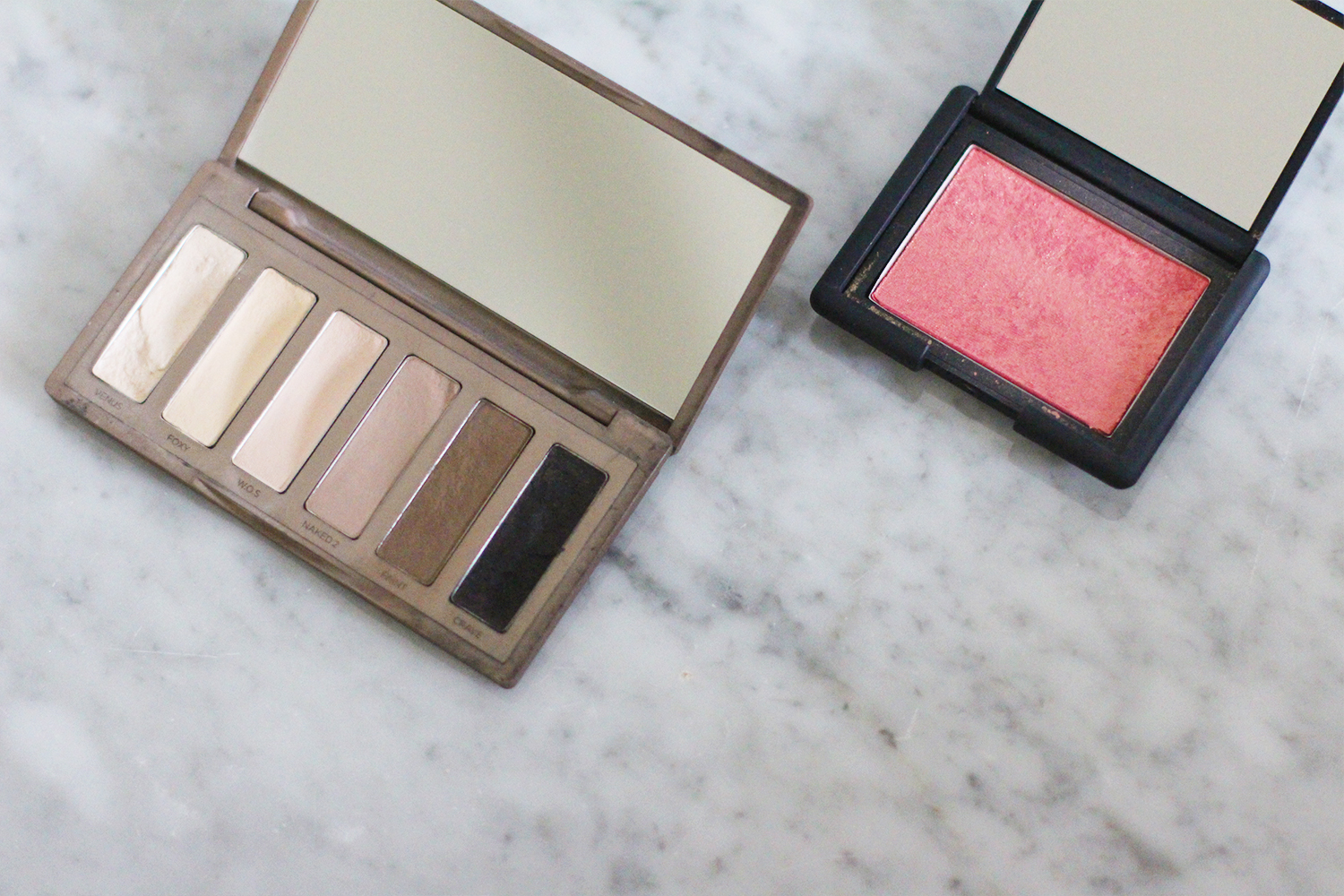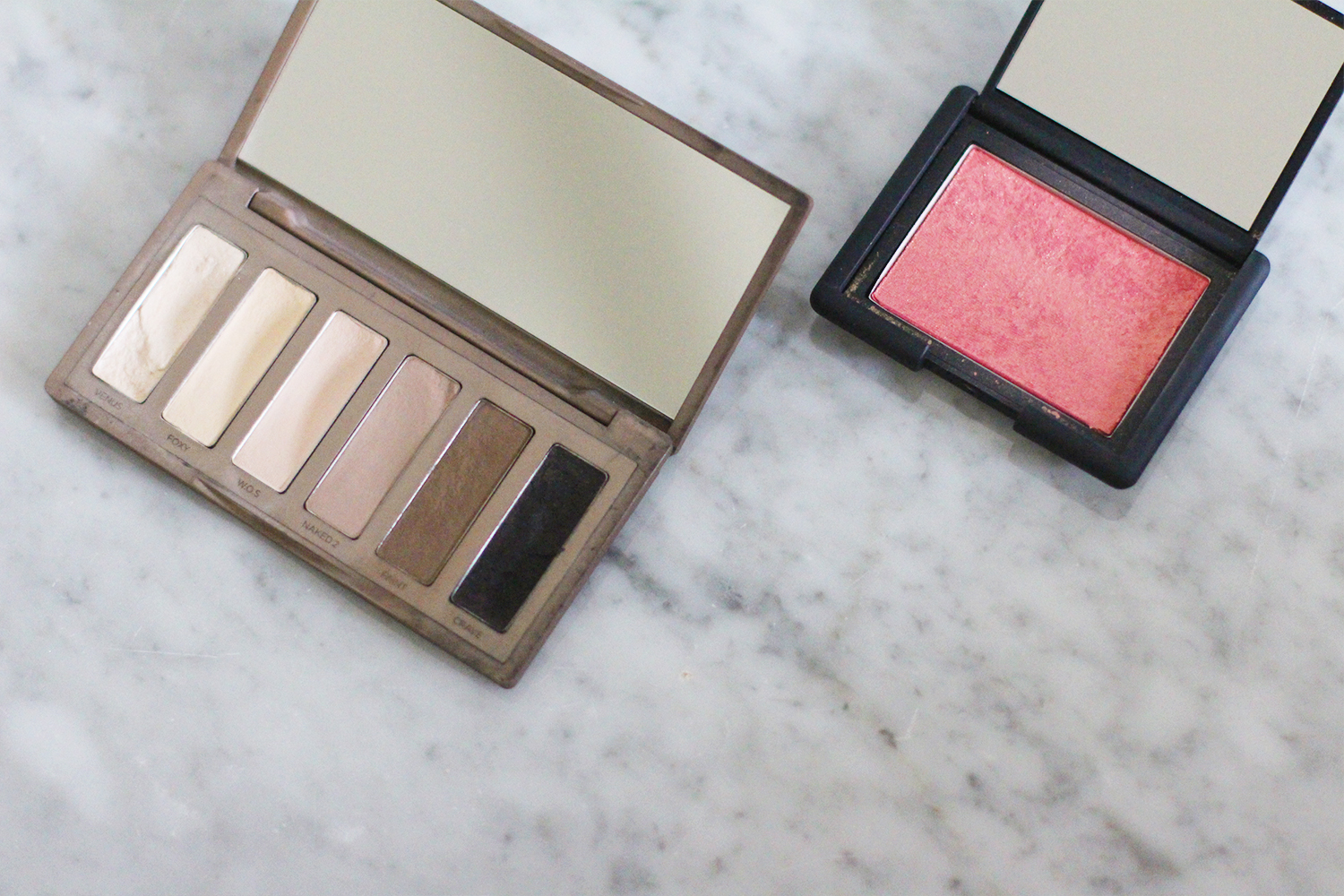 After eyes and cheeks it's time for the finishing touches. Anastasia Brow Wiz had been on my radar for a long time but I was reluctant to spend almost $30 on a brow pencil. I now look at it as easily the best $30 I've spent on an makeup, EVER! I love a strong brow but the drawn on look is scary and just plain weird. Cue the Brow Wiz. The tiny tip of the pencil let's you build up a natural brow shape and density, then the little brush helps smooth everything out. I can't recommend this product enough.
From there it's time for a few swipes of mascara, I've been using Lancome Hypnose forever and I will never stray. Then a few dabs of lip colour or balm. I wear Smashbox Be Legendary in Mandarin if I'm feeling colourful and always Roc Enydrial for balm. And with that I'm out the door!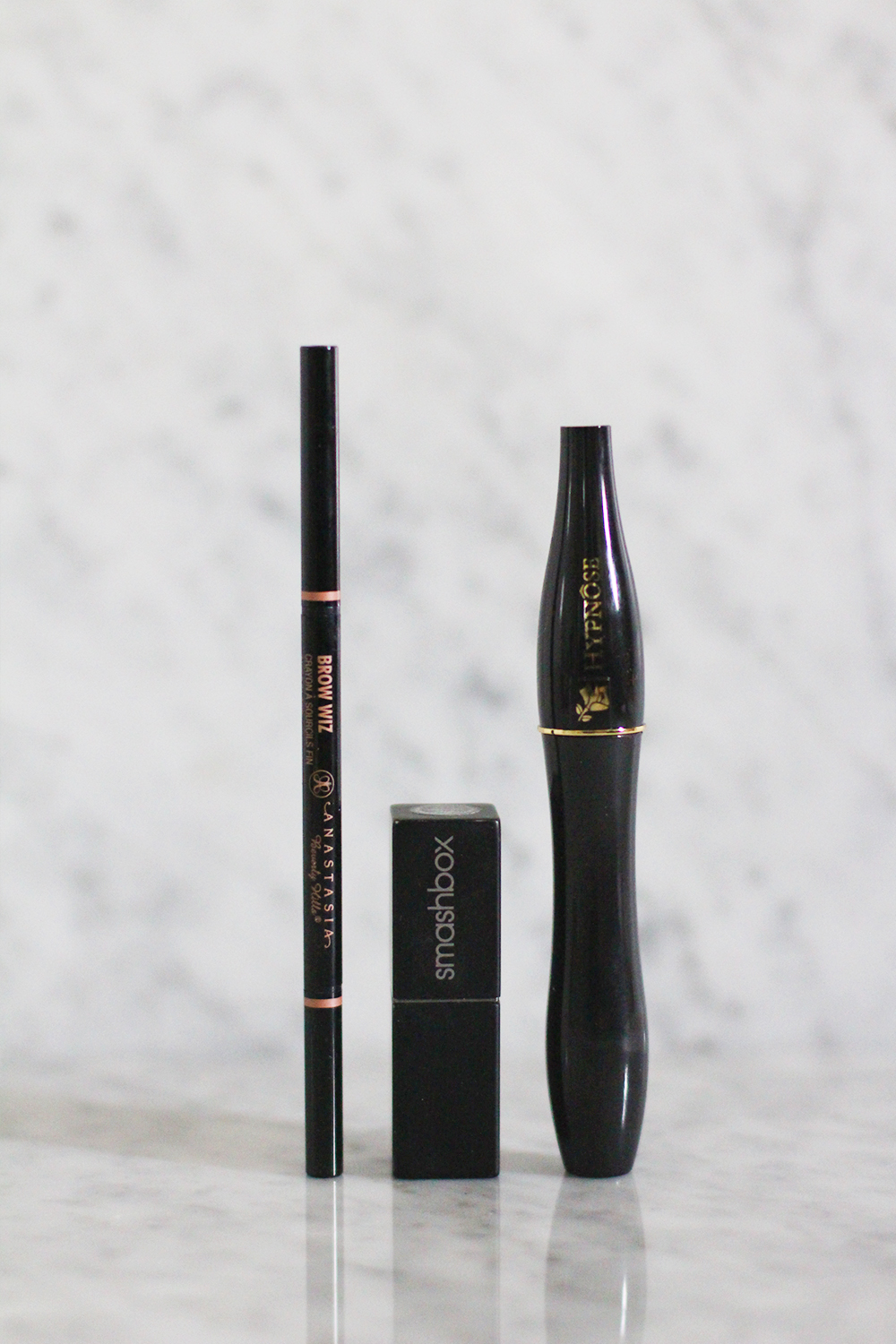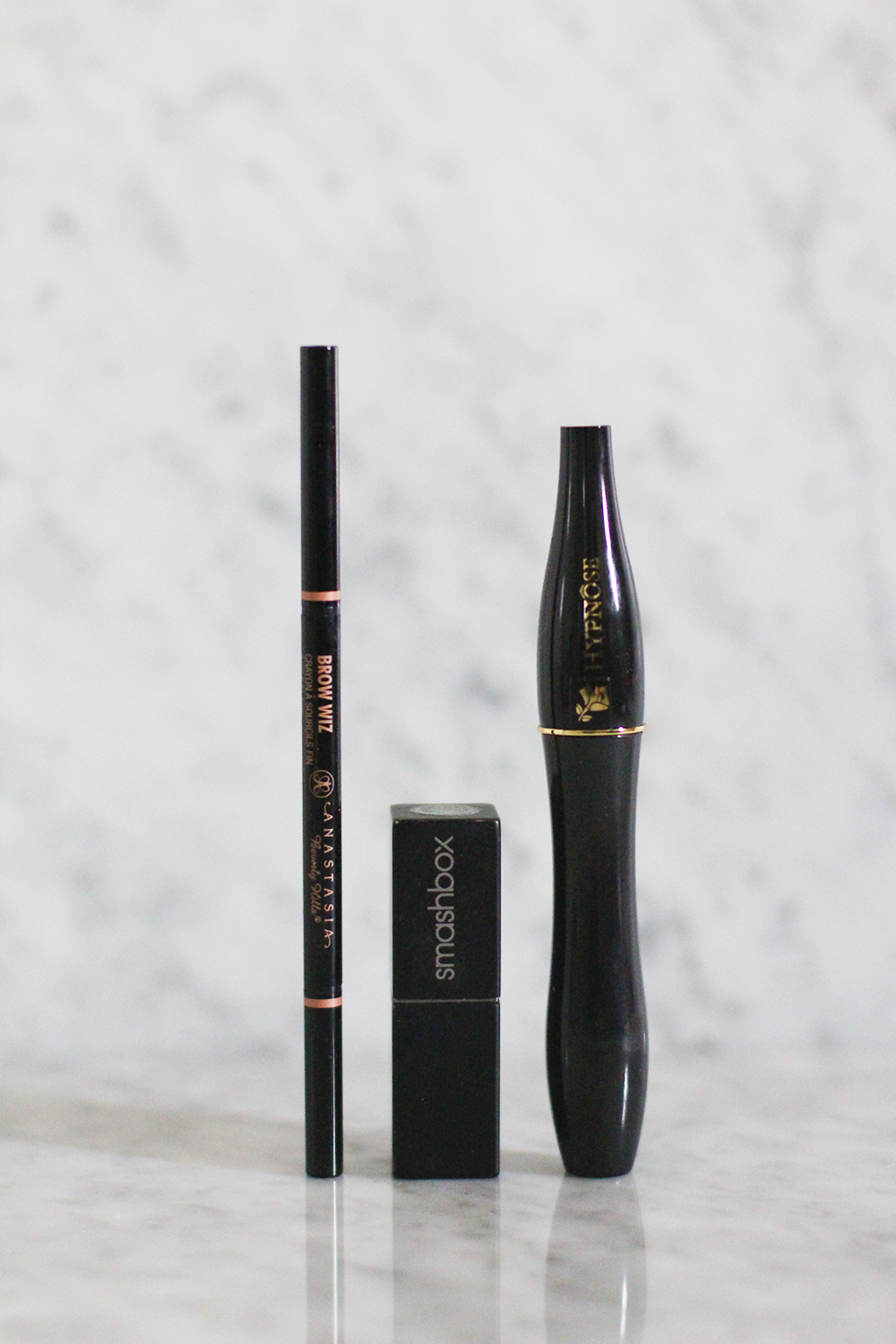 The time it takes from stumbling into the bathroom to walking out fresh faced is about 10 minutes (give or take a hairdo). Some days if I'm in a hurry I skip the eye shadow, blush and lip colour but clear skin, a defined brow and full lashes are a must for the most part.
So tell me, what's your daily beauty ritual? Do you use any of these products or have any great recommendations? Do tell! 
---

---