There's no denying it, Octobre est fini! With the clocks turned back and both Thanksgiving and Halloween now behind us, we're left staring down the barrel of the holiday season, which I'm pretty excited about this year! But before I start making lists and planning looks for holiday festivities I'll take a moment to regroup on what might have been my busiest October to date.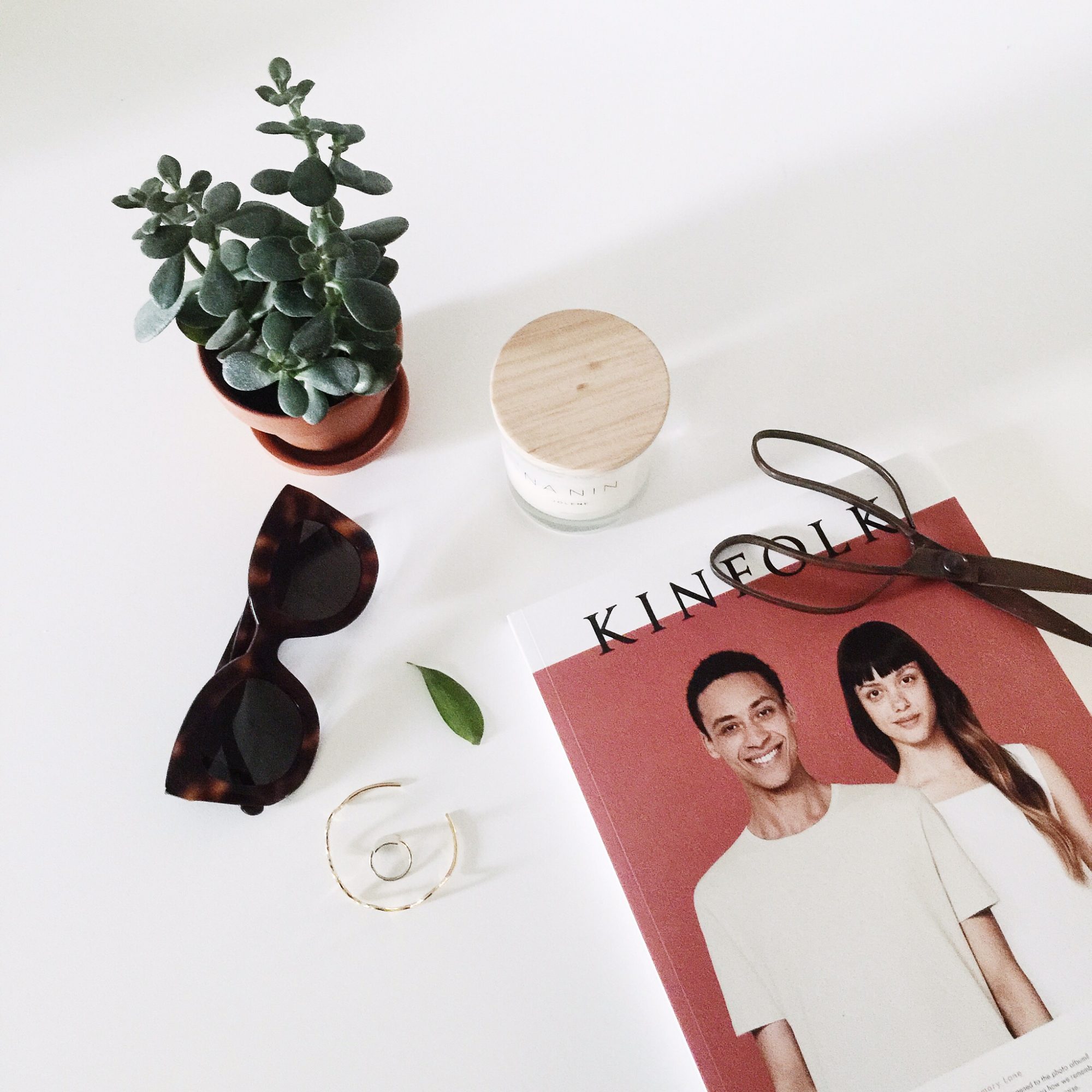 MONTREAL
The month started with a trip to the beautiful city of Montreal to celebrate my darling friend Cinthya's bachelorette. We had tons of good food, good wine, a relaxing day at the spa and hit up the salsa bar to finish out the weekend. I had a chance to catch up with an old friend from university (and meet her amazing pup Dax) and take the train for the first time in many years. All in all, one of my favourite weekends of the year for sure.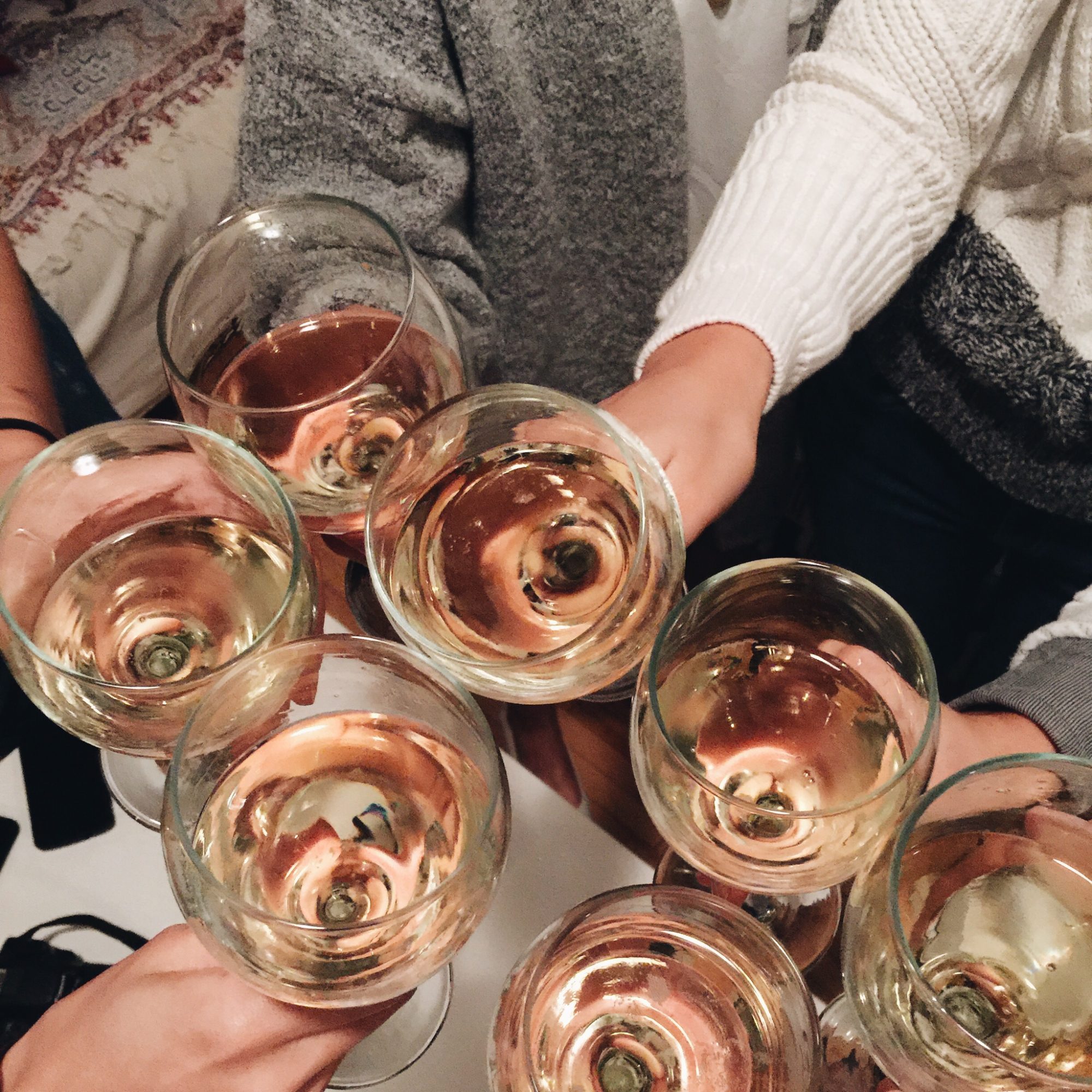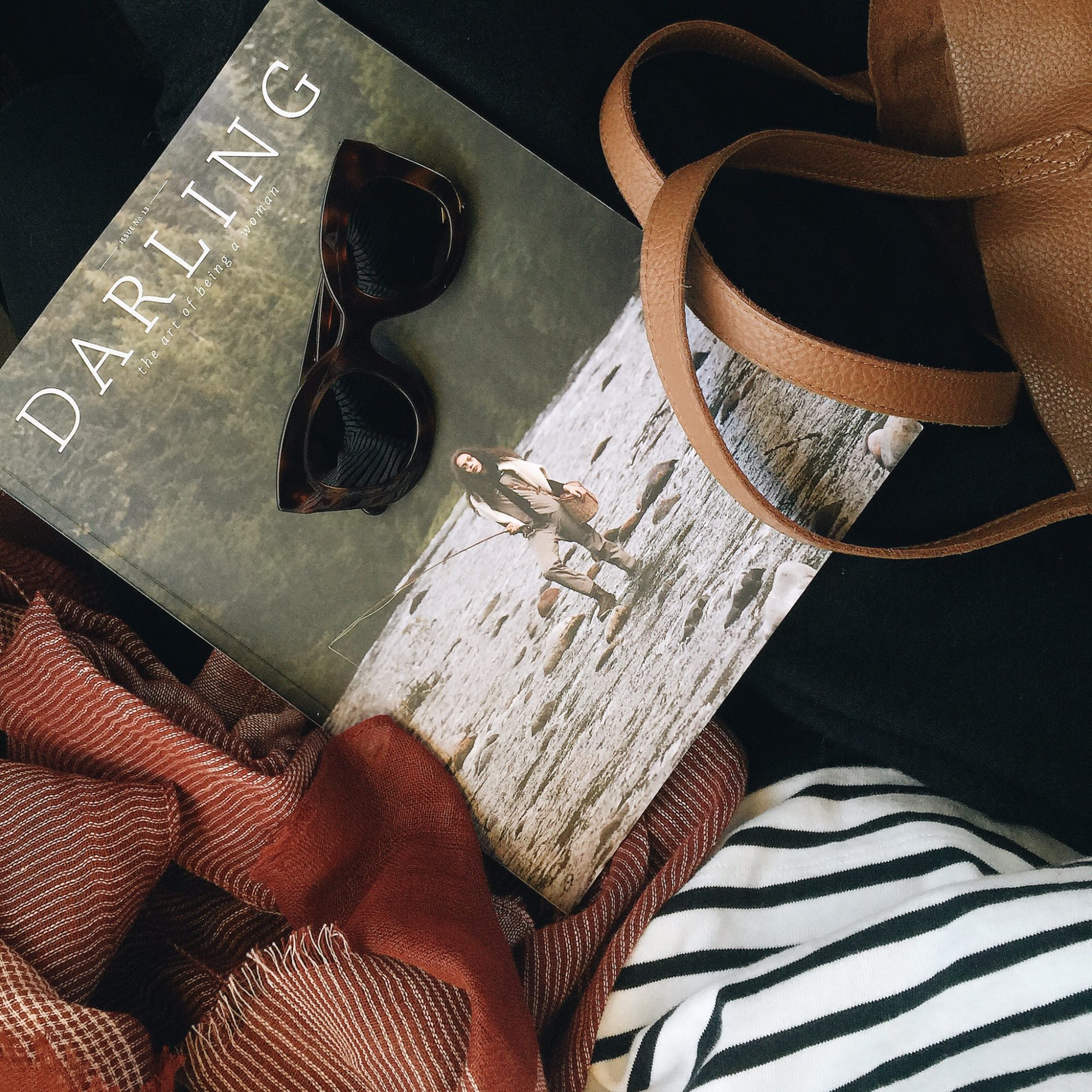 ---
BEE KEEPING
We spent a fair bit of time tending to our bees this month, sampling the honey they've made this year and making sure they're all set up for the winter ahead. Here is a look at our hive right now and some of the incredibly delicious honey they so perfectly produced and capped for us over the summer. We suffered a few stings while extracting it (many of which could have been avoided were we not so cavalier) and I can literally say I've had a bee in my bonnet, hair, shoes and shirt. Gah! Totally worth it though, that honey is liquid gold!
The bees will slow down their production a lot over the next little while and we'll be wrapping up the hive to give it it's best shot at surviving the long winter months ahead. Hopefully they'll make it and we can carry on with this hive next spring.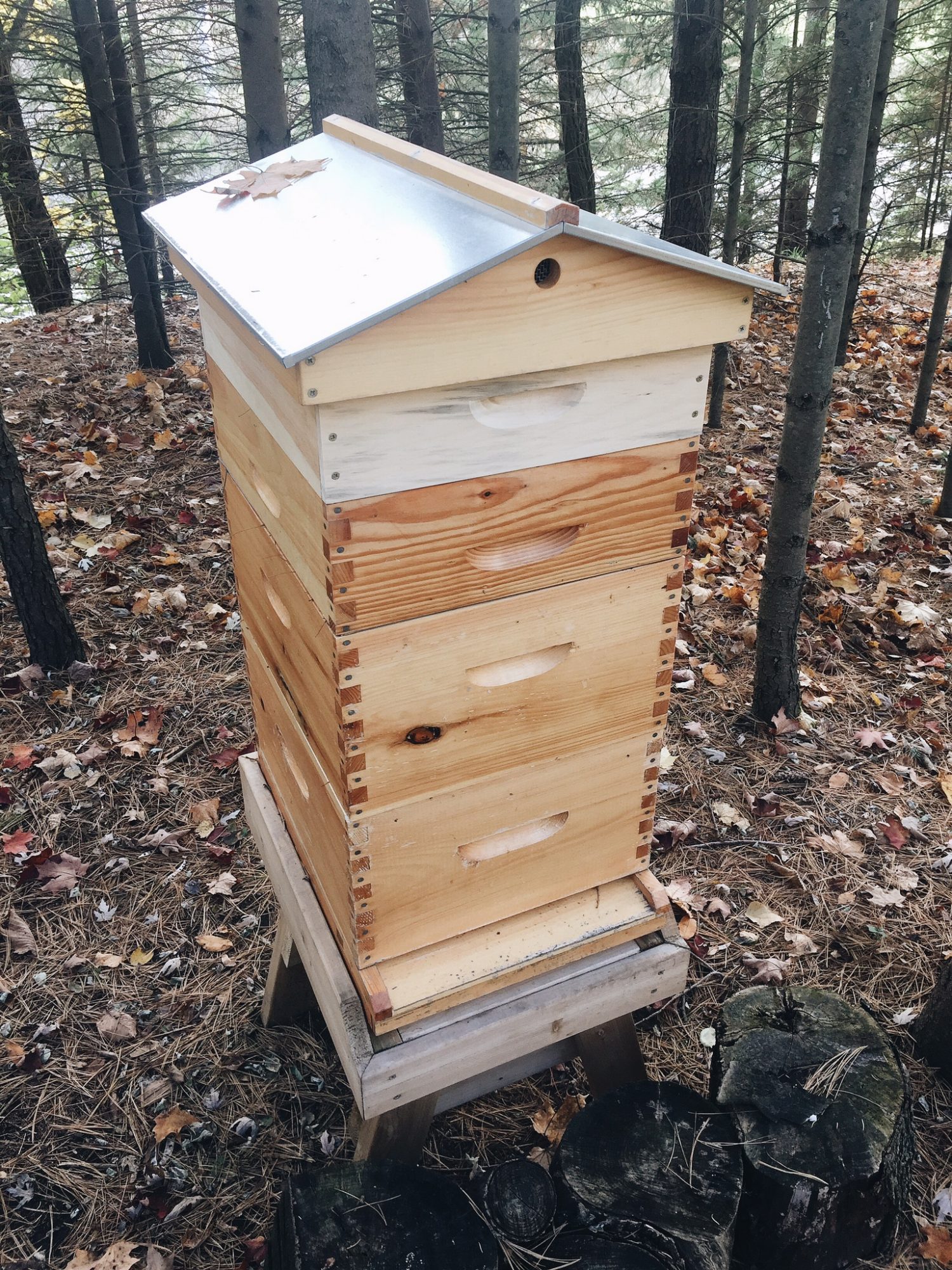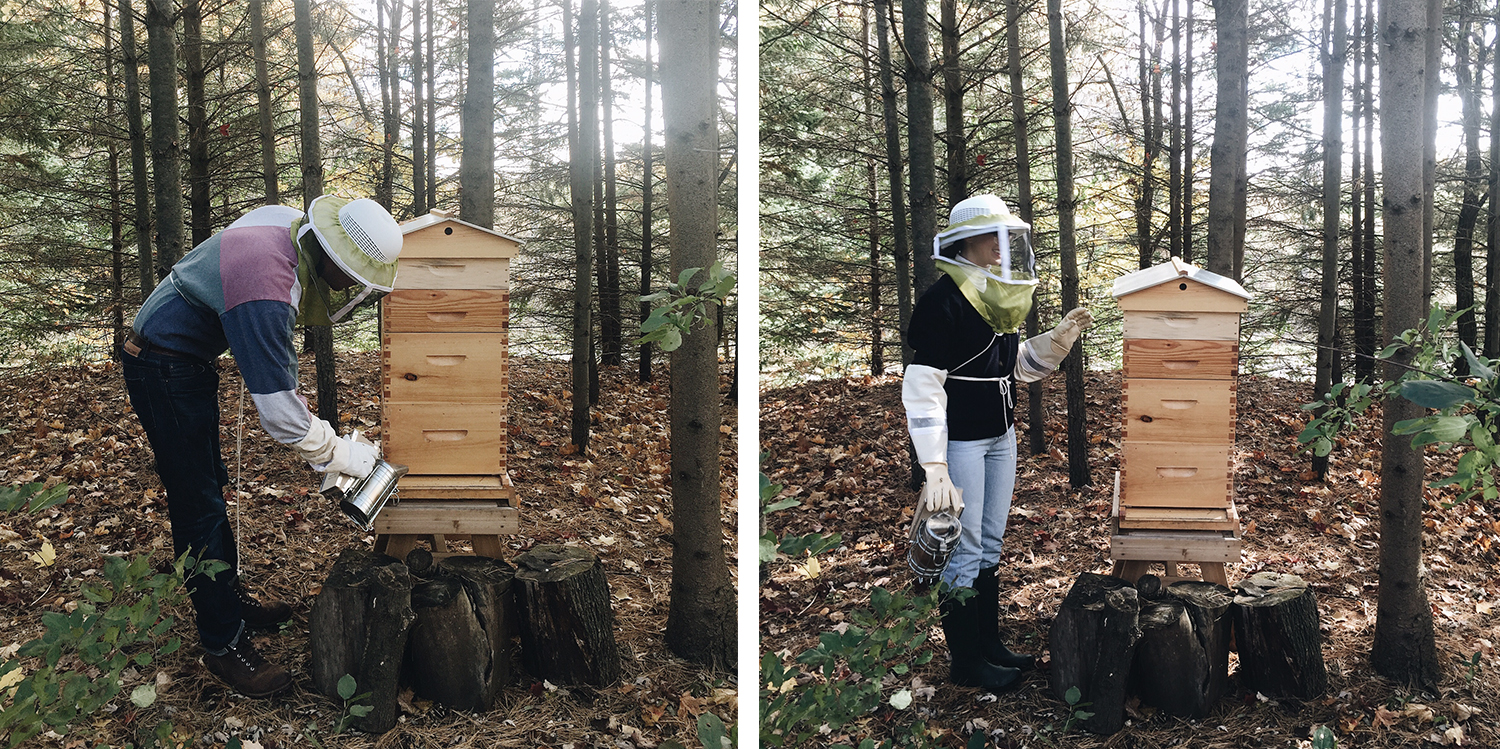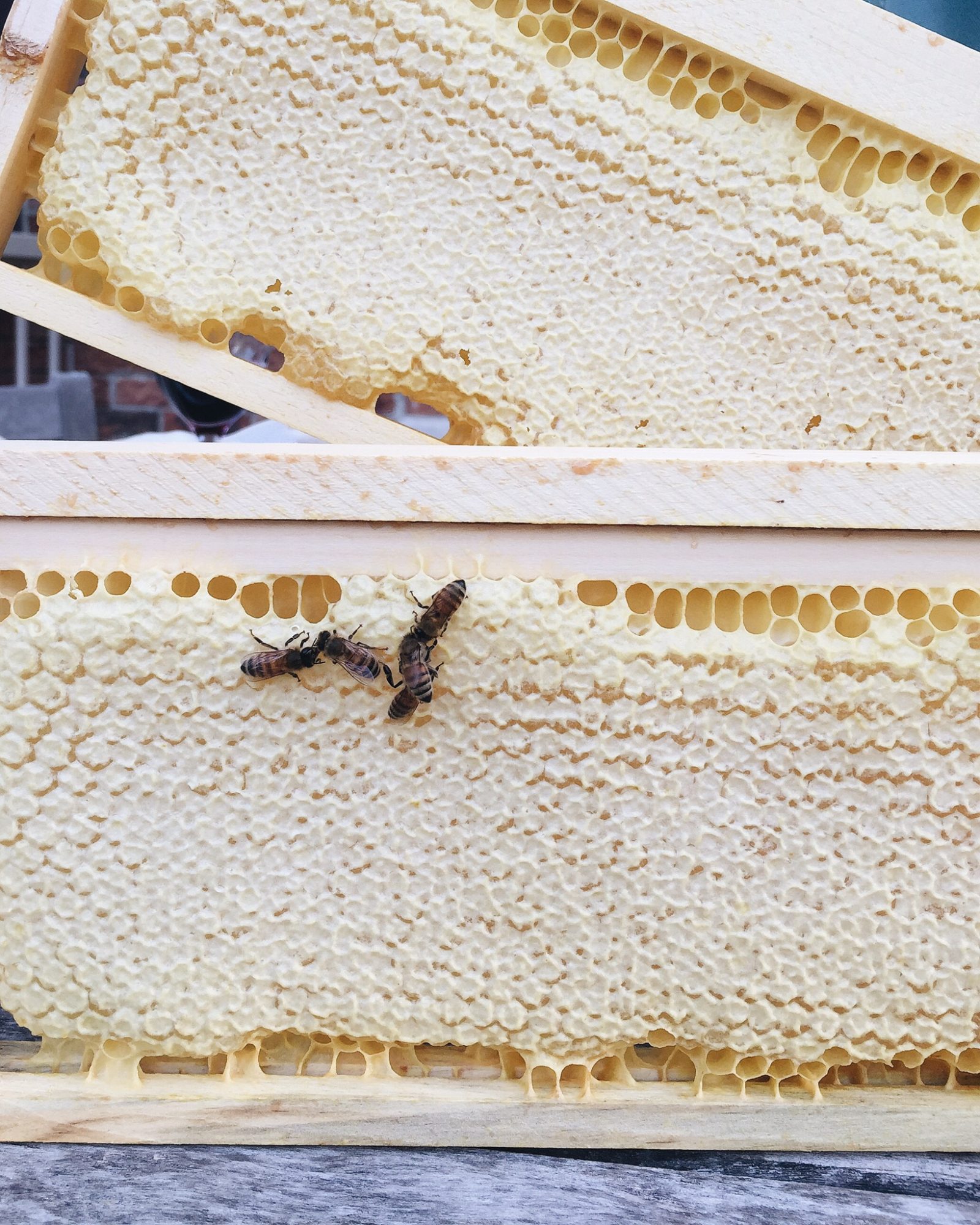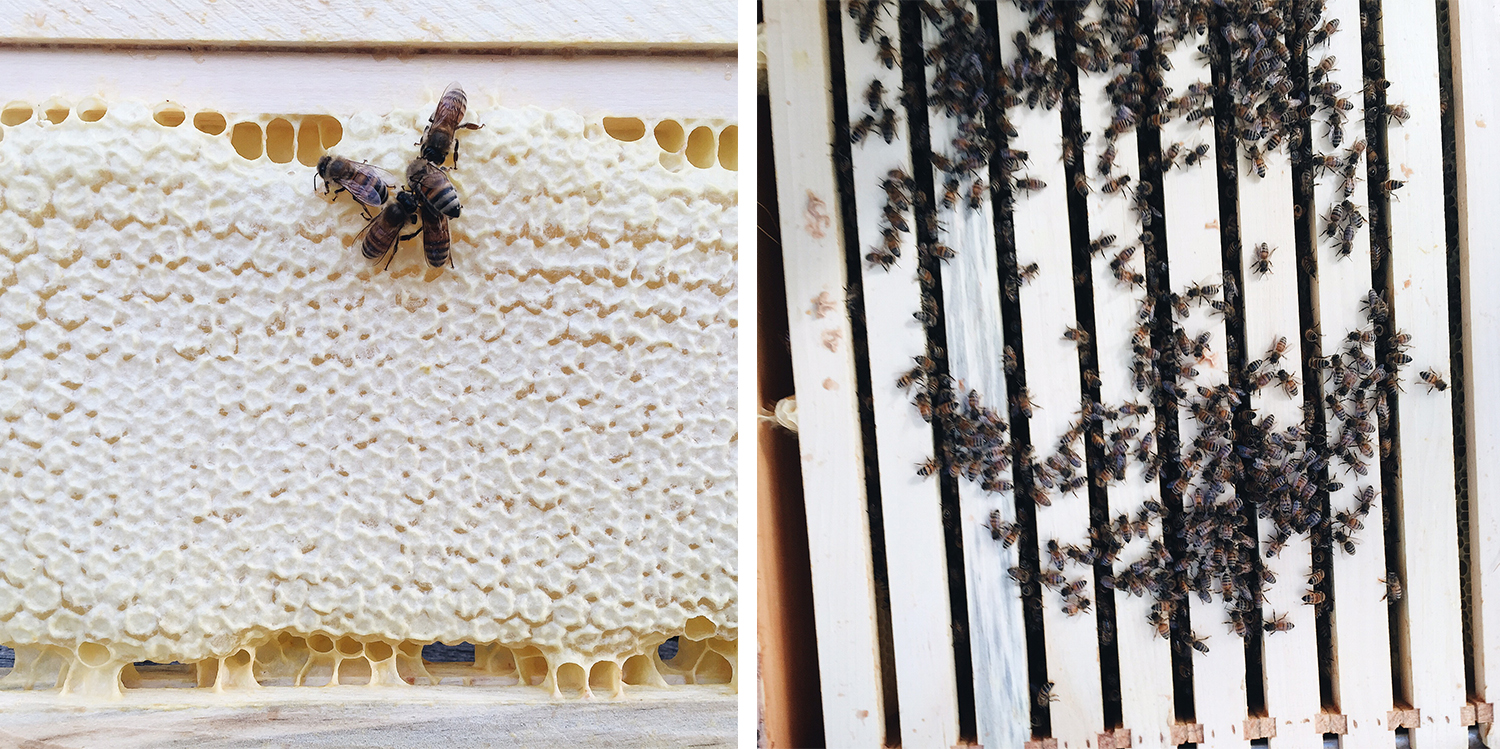 ---
90 YEARS YOUNG
My wonderful Grandmother, Sylvia Vosburgh, turned 90 this month and we had a big celebration with all her closest friends and family. She's one of my favourite people on the planet and has always been a gracious, generous and just downright classy lady. I feel very lucky to have her in my life and it was such a pleasure to see how much she is loved by everyone in her community. I've always admired her ability to take everything in stride and I'm pretty sure she inspired my love for fabulous coats! Love you Grammie! xo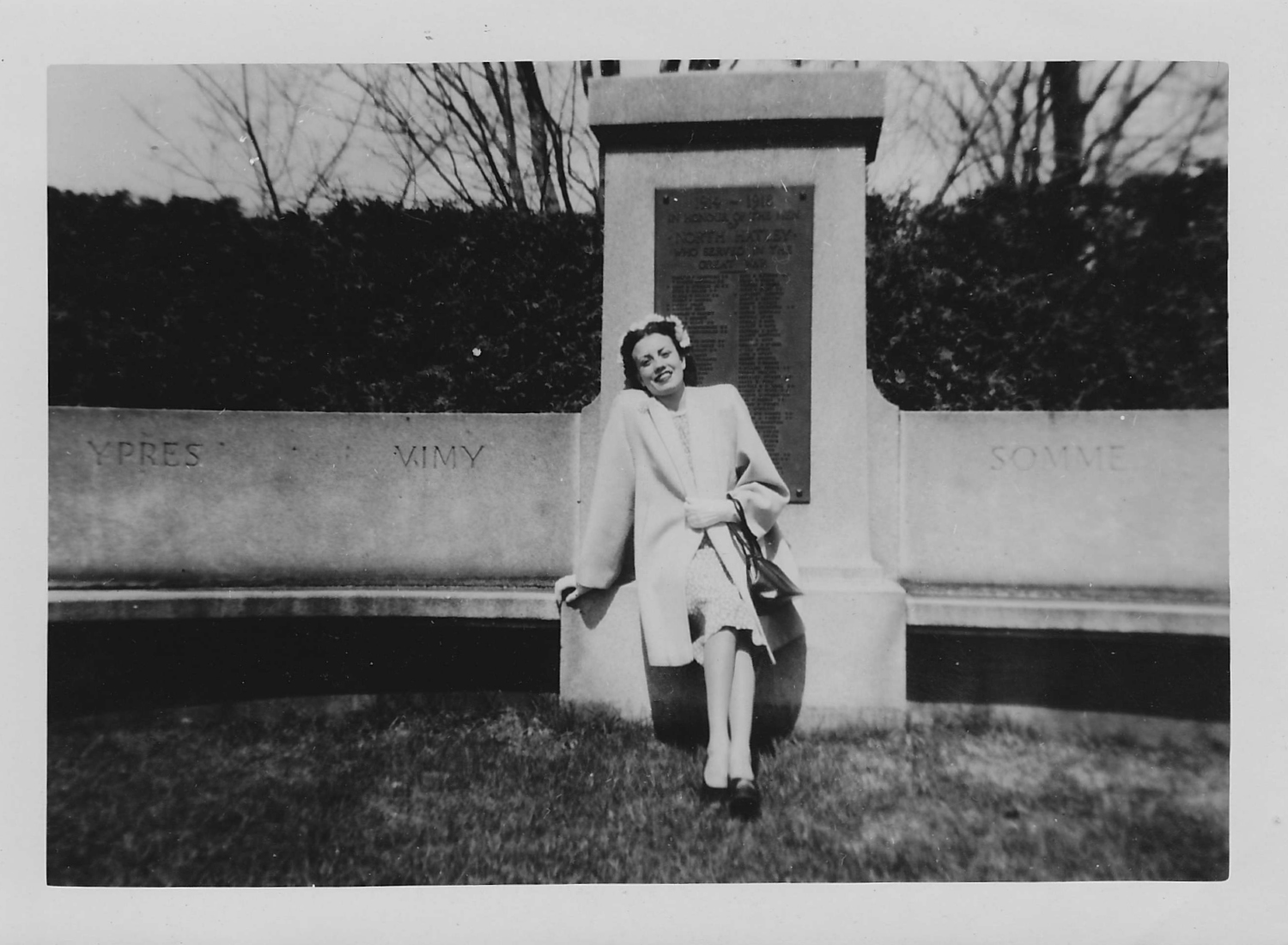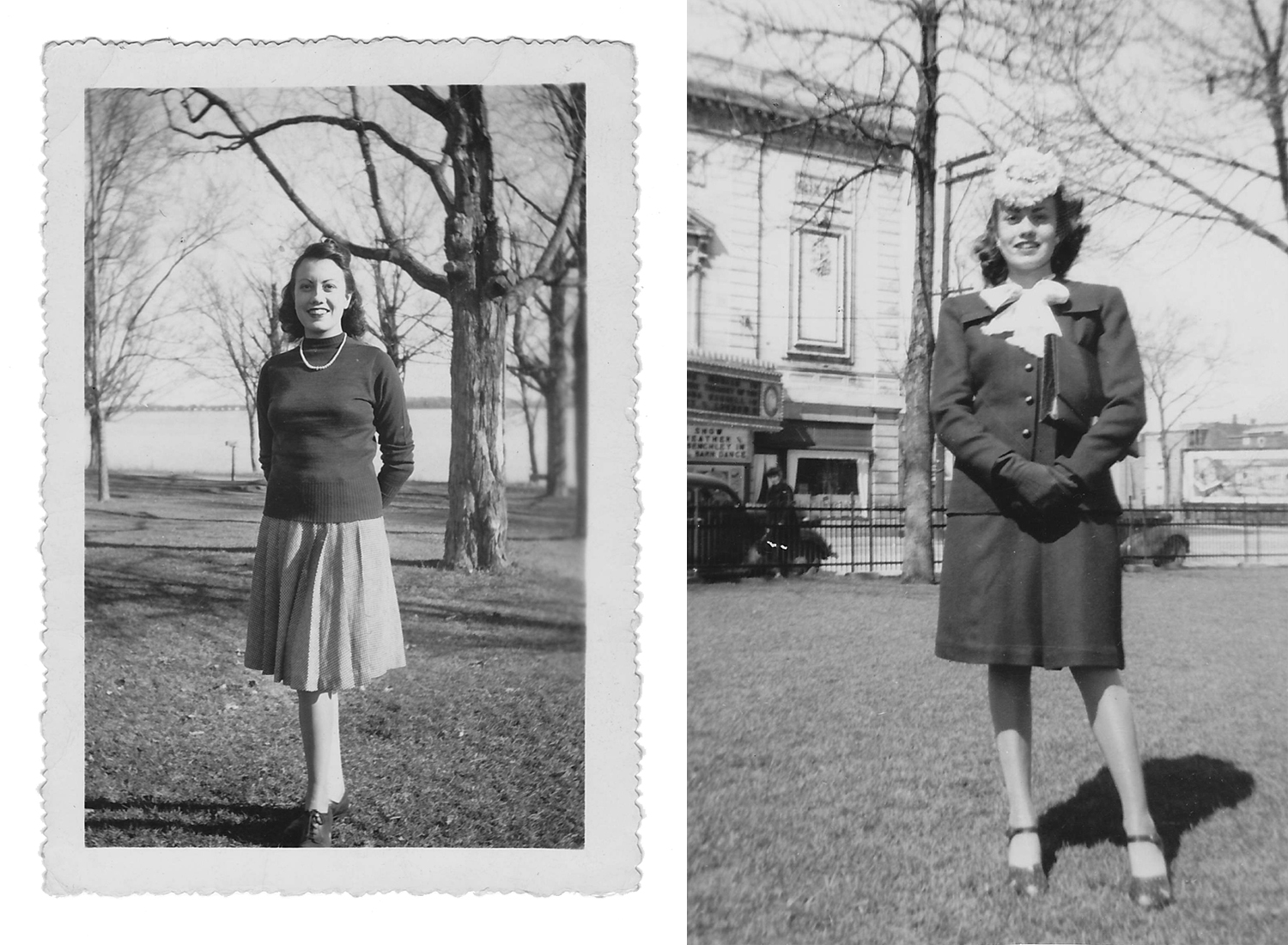 ---
ALL NATURAL
I've decided to officially pursue a skincare and beauty regimen that is 100% natural. I've started getting my feet wet with a couple beauty products but thanks to some awesome tips from my Instagram friends I've got a whole slew of other ones to try. I'm totally in love with both Dove and Oxblood nail colours by RGB (they go on so nicely and dry to a perfect pearl sheen) and equally into my new lip conditioner and ultra lightweight tinted moisturizer by Ilia. I've also been loving the Burt's Bee's lip crayon for great matte colour that doesn't dry out my lips. As I get a better sense of what's out there and what's working for me, I'll be sharing the products I love most here on the blog. Stay tuned!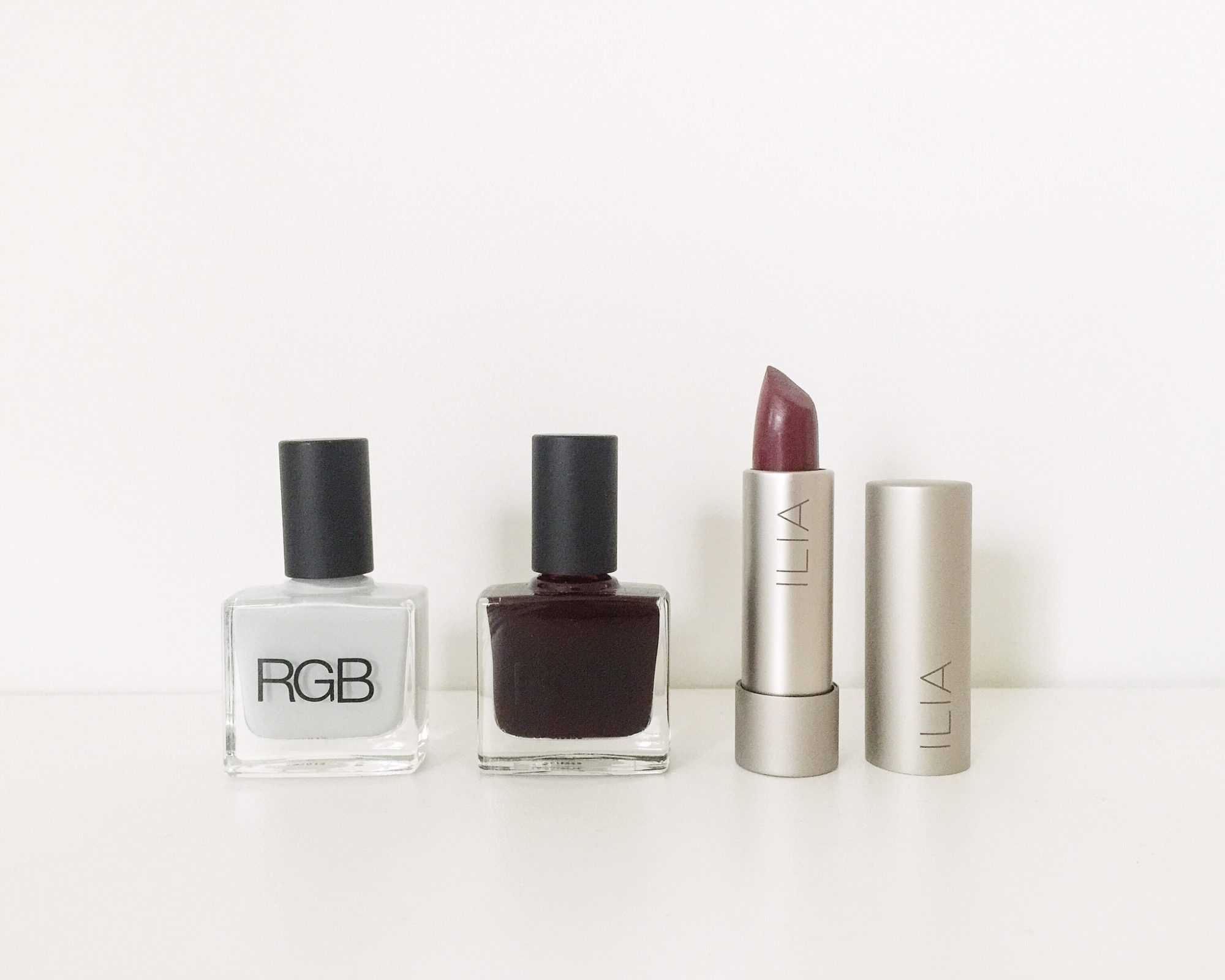 ---
STYLE
I can pretty much sum up my style this month in two words, stripes and sweaters. It's not too far off last month's summary and I'm ok with it. I've also just added a page here on the blog where you can shop my Instagram outfits directly! See it here.
BTW, have you checked out Bare Knitwear yet? The collection is beautiful and everything is made from 100% alpaca fibres, so they feel as fabulous as they look. For all you early bird holiday shoppers there are some awesome gift options and you can take 20% off any order with the code 'STYLEBEE' until Nov. 6 (at midnight PST). I've been living in my Mitch hat since it arrived!
---
FALL FOUNDATION SO FAR
I can't quite believe how fast this Fall Foundation series has flown by. We're already 2/3 through all 12 looks. I will say there are still some awesome ones left but here's what I've put together so far. Be sure to stay tuned for a giveaway of one of my favourite items from the collection!

---
DOBBY
Our little bear LOVES Fall. His dense coat is perfect for this cooler weather, which means he can walk farther, fetch for longer and sleep harder than ever. He's our little prince and never fails to do at least one hilarious thing a day. Today he got a bath and ran around the house with hysterical excitement when it was over feeling so proud of himself for enduring such hardship. He was also super puffy and looked like a little show corgi. Safe to say my lint roller will be getting a lot of use this week.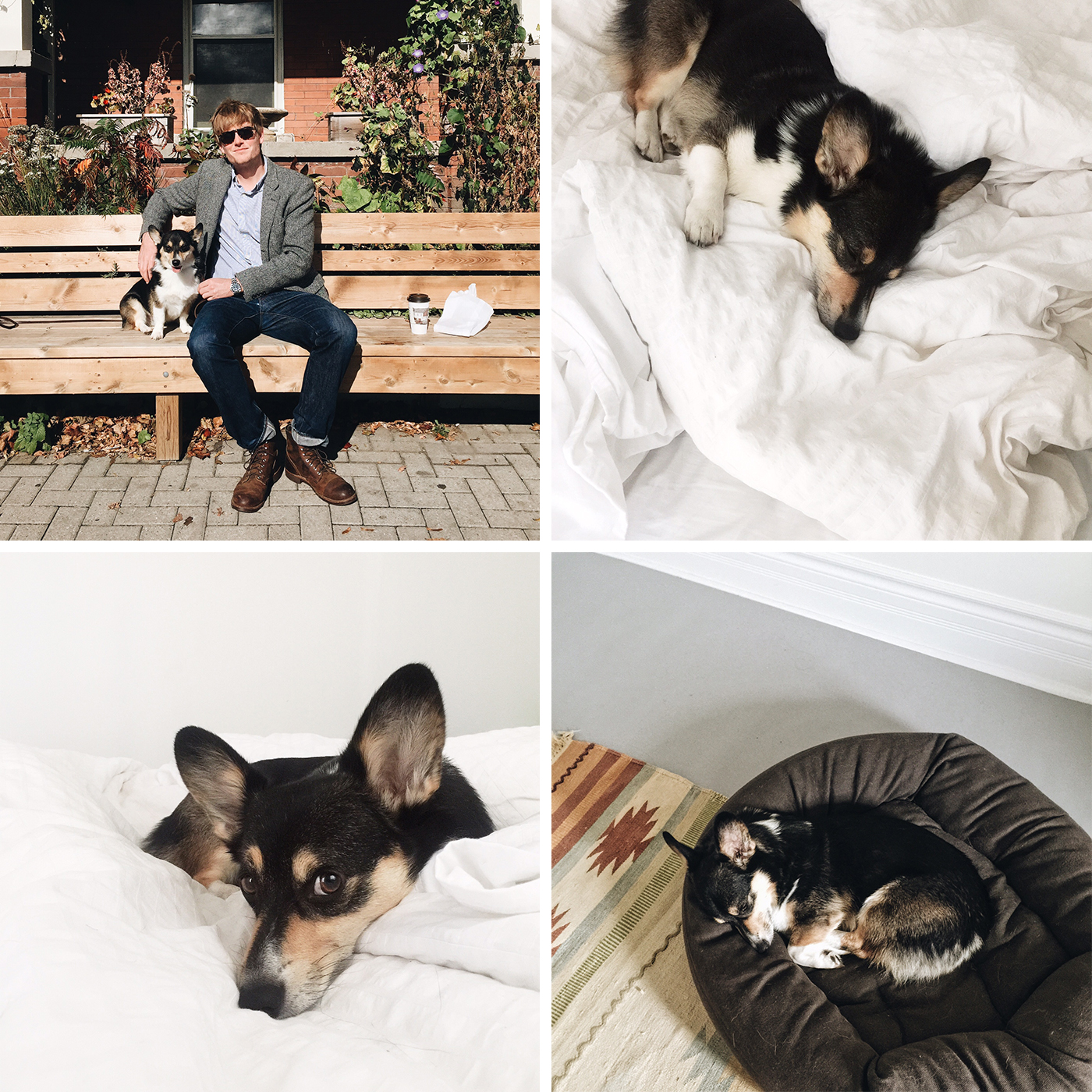 ---
BEST OFS
Instagram has been hopping this month and here are the two most like photos from my feed (@leevosburgh).
#1 – Style Bee Today Flatlay – Posted on Sunday, October 25th, 2015 at 3:30 pm. Hearted 1,437  times.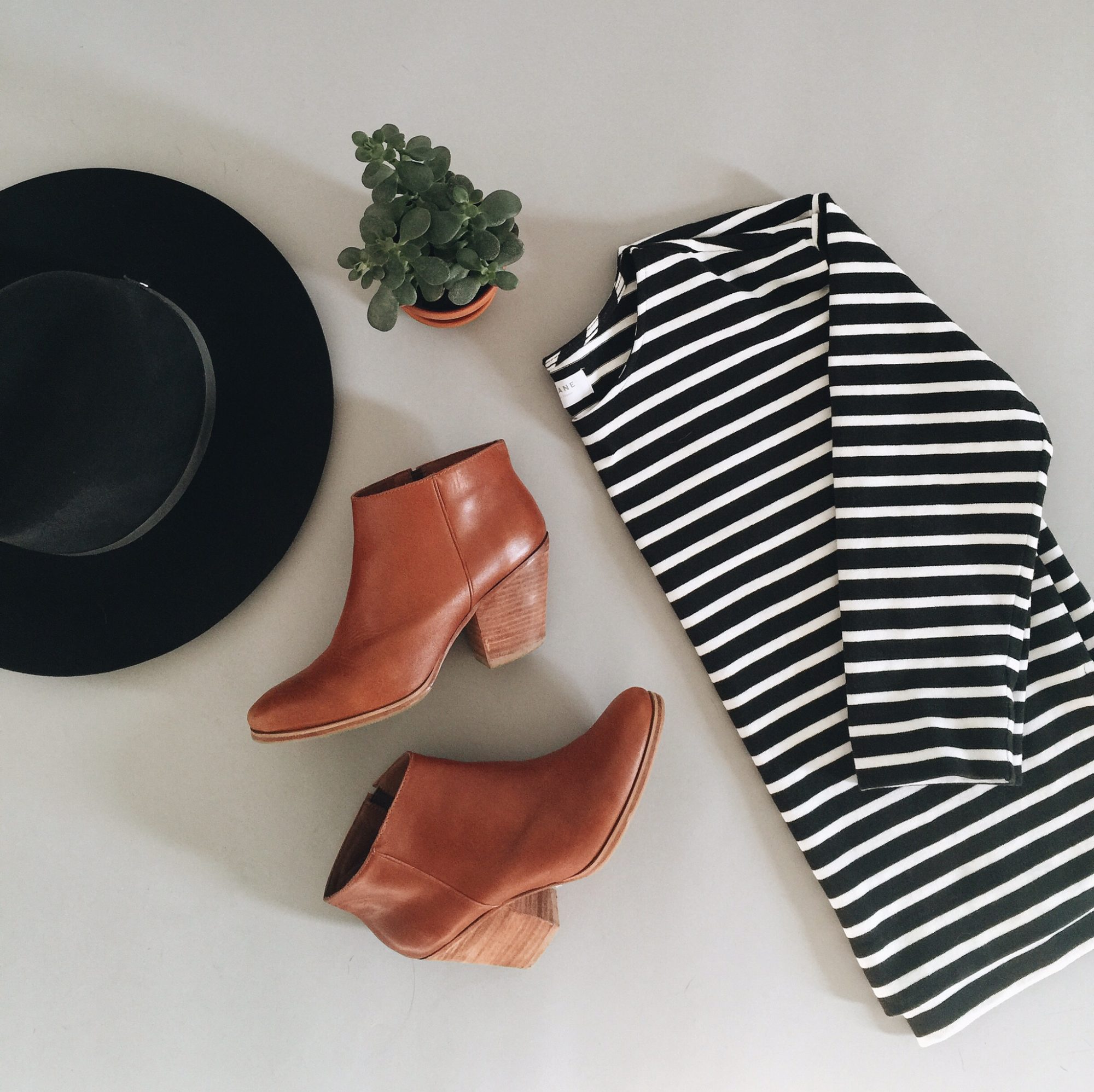 #2 – Dobby As Decor Inspo – Posted on Friday, October 9th, 2015 at 4:00 pm. Hearted 1,067  times.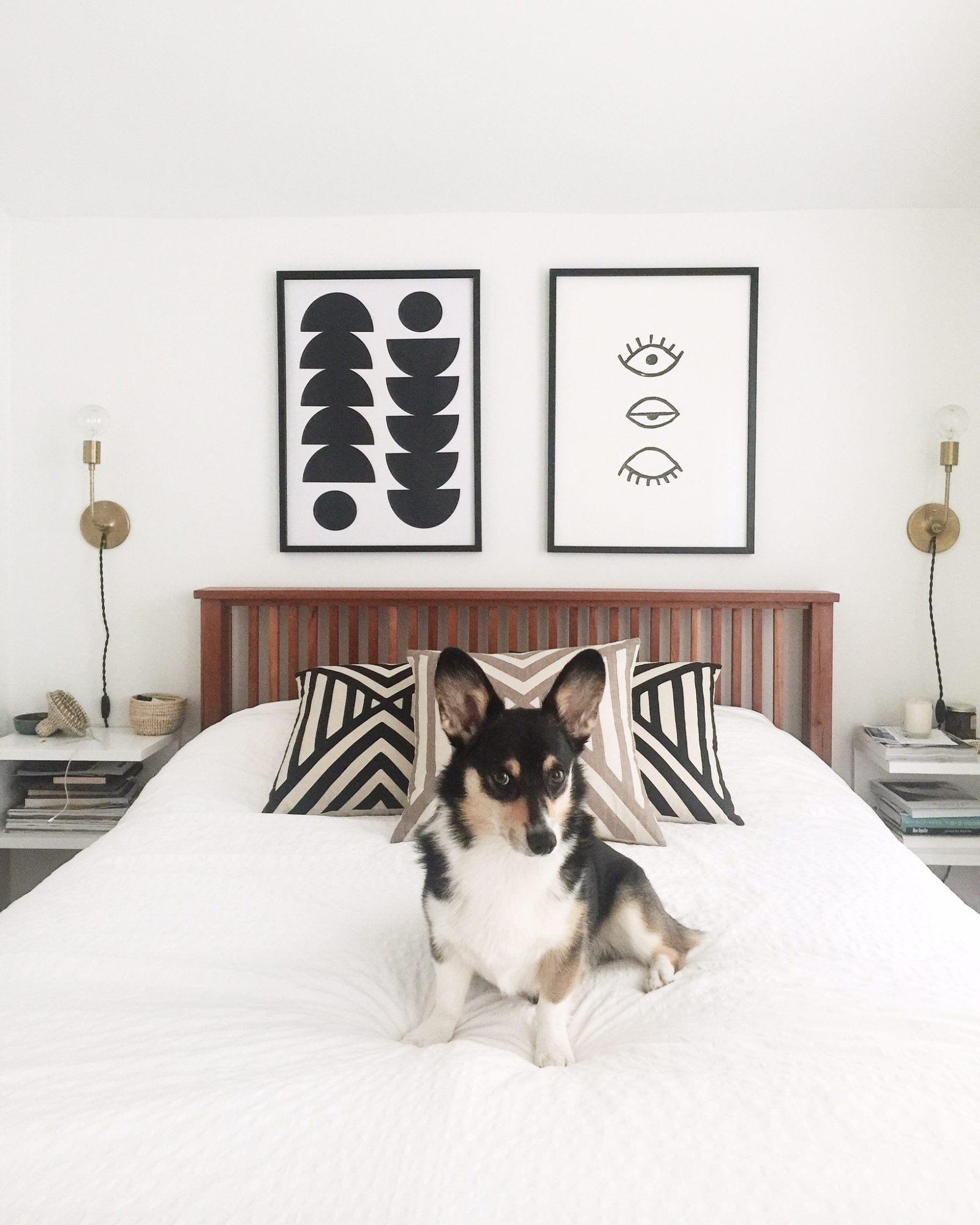 ---
I just want to say a proper, 'Thank You' for visiting Style Bee this month! October was one of the best months in my little blog's history and I really appreciate you taking time from your busy lives to stop by. A particularly big hug goes out to all of you who have shared Style Bee with friends, family, coworkers and even your own blog readers. You're helping me realize that goals I once thought were impossible might not be so crazy after all. YOU ROCK! xo