I can't quite believe it but this crazy year is about to come to an end! Feeling nostalgic, I thought it would be fun to pick my 15 favourite looks from 2015 and line them up together.
I found it pretty tough to decide on my top picks, which must be a good sign. It's pretty funny how similar the first look is to the last one and I swear I didn't plan it! I think it's mostly an indication that my personal style has remained consistent. So let's take a look shall we? I'm also sharing a fun fact about each one!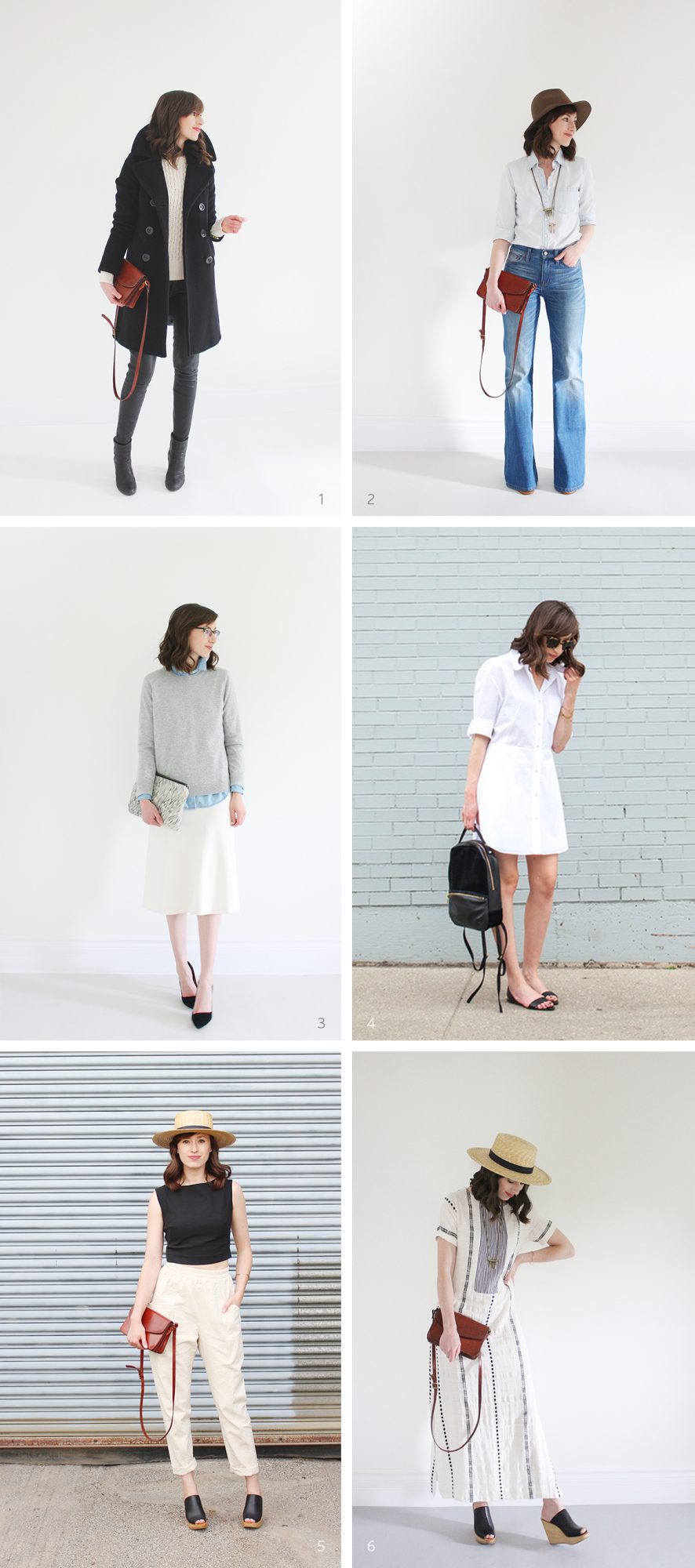 1 – My Mum bought me this coat on a trip we took to Chicago in 2008. It's been relined three times and I still love it. That collar really makes the coat! Similar option here.
2 – This chambray shirt has a hole under one armpit but it's the softest thing ever. I bought it on a road trip with Dave and a friend at a J.Crew Factory in 2010. Similar here.
3 – I never actually wore this outfit in real life, but I still love it. That cashmere sweater is at the dry cleaner and I miss it terribly!
4 – This was one of my favourite collabs from the year. Opelle bags are amazing! Also, this white dress remains one of the most asked about items on my blog (currently on major sale here).
5 – This outfit was a pivotal one for me. It was a risk but it worked out and I feel as though it shifted my personal style to a look that was more my own and less of a replica of other influences. I get comments and emails about the Clyde pant all the time. I like a loose fit (similar to the model) and wear a 4.
6 – I was really worried that this dress would be see-through but luckily it's not at all.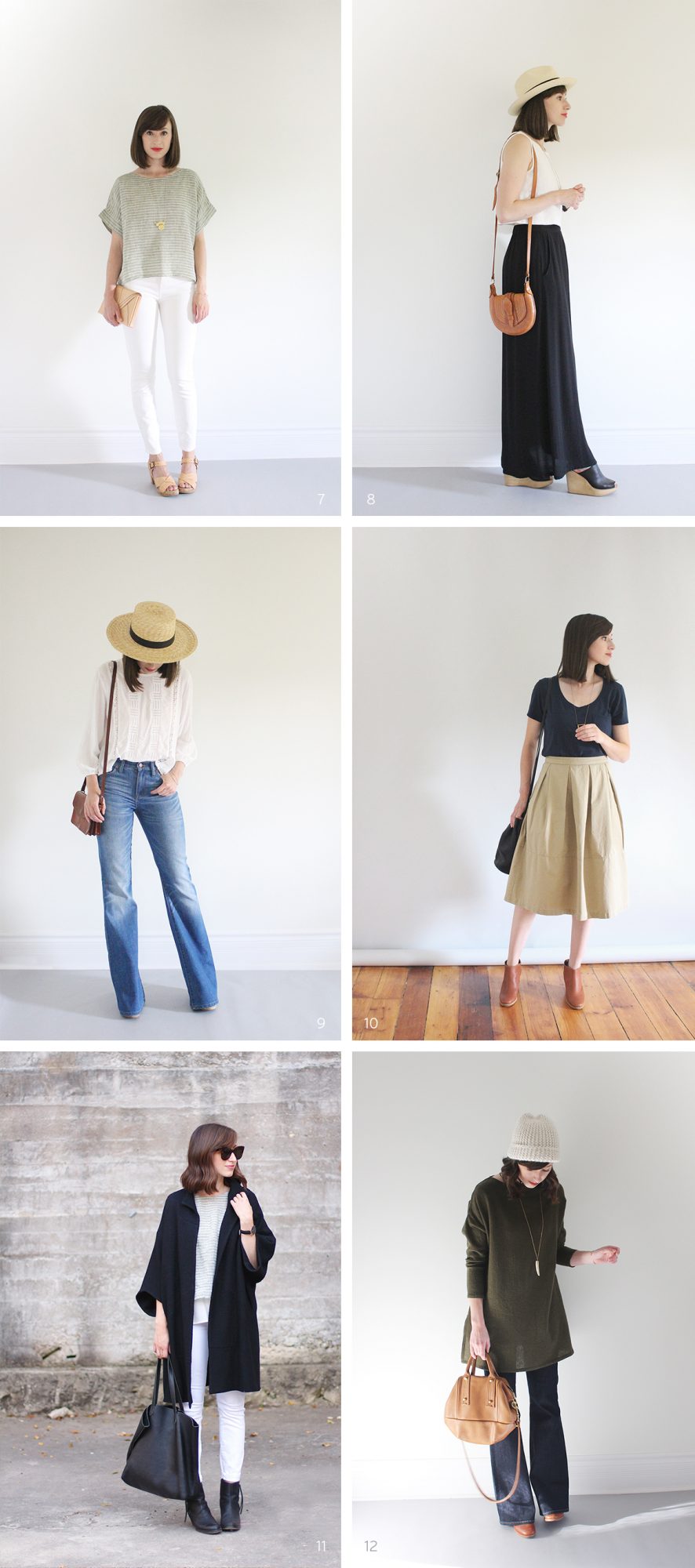 7 – This was one of the only photos I have ever posted in which I'm looking directly at the camera.
8 – This crop top was my first Elizabeth Suzann purchase ever. Slippery slope folks!
9 – These flares over platforms is my favourite way to give the illusion of super long legs and an instant ten pound weight loss trick.
10 – I just love the colours in this look with the warm floor boards and grey backdrop. I was inspired by something I saw in a Steven Alan newsletter.
11 – This coat is my favourite thing ever. Still not sure why I haven't bought the camel version.
12 – I've worn this outfit in real life over 10 times. In fact, I'm wearing it now!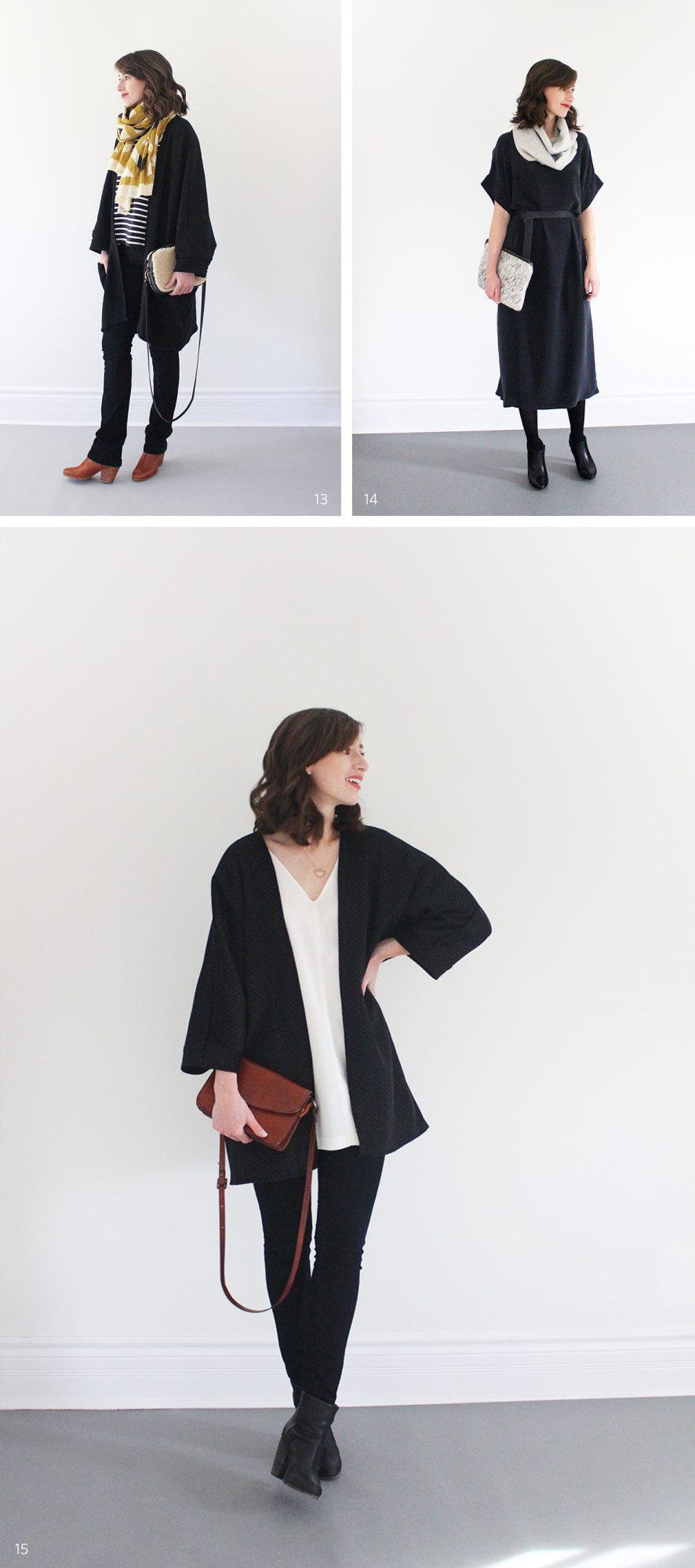 13 – It took 6 sheets of lint roll to get the corgi fur off this outfit before I could shoot. Note to self: save dog cuddles for post shoot, always!
14 – It's quite possible that the next time I wear this dress I'll be in Costa Rica (woo!). I also wish I didn't wear tights for the post.
15 – I don't usually like showing my teeth in photos. Not sure why since I actually like my teeth, but regardless this one snuck onto the blog!
There you have it folks, my 15 favourites of 2015! Check out the outfits page for an easy to scroll library of over 75 looks that hit the blog this year. Do you have a fave? I'd love to know!
---