I know, I know, basically every style blogger ever, has done a 'what's in my bag' post of some sort. Yet, I find myself clicking on them time and again. It's the voyeur in me I suppose and there is something very personal and intriguing about the contents of a woman's purse. So I decided to create some pretty flats and pull together the things I've had with me lately. An organized bag makes the day so much better doesn't it?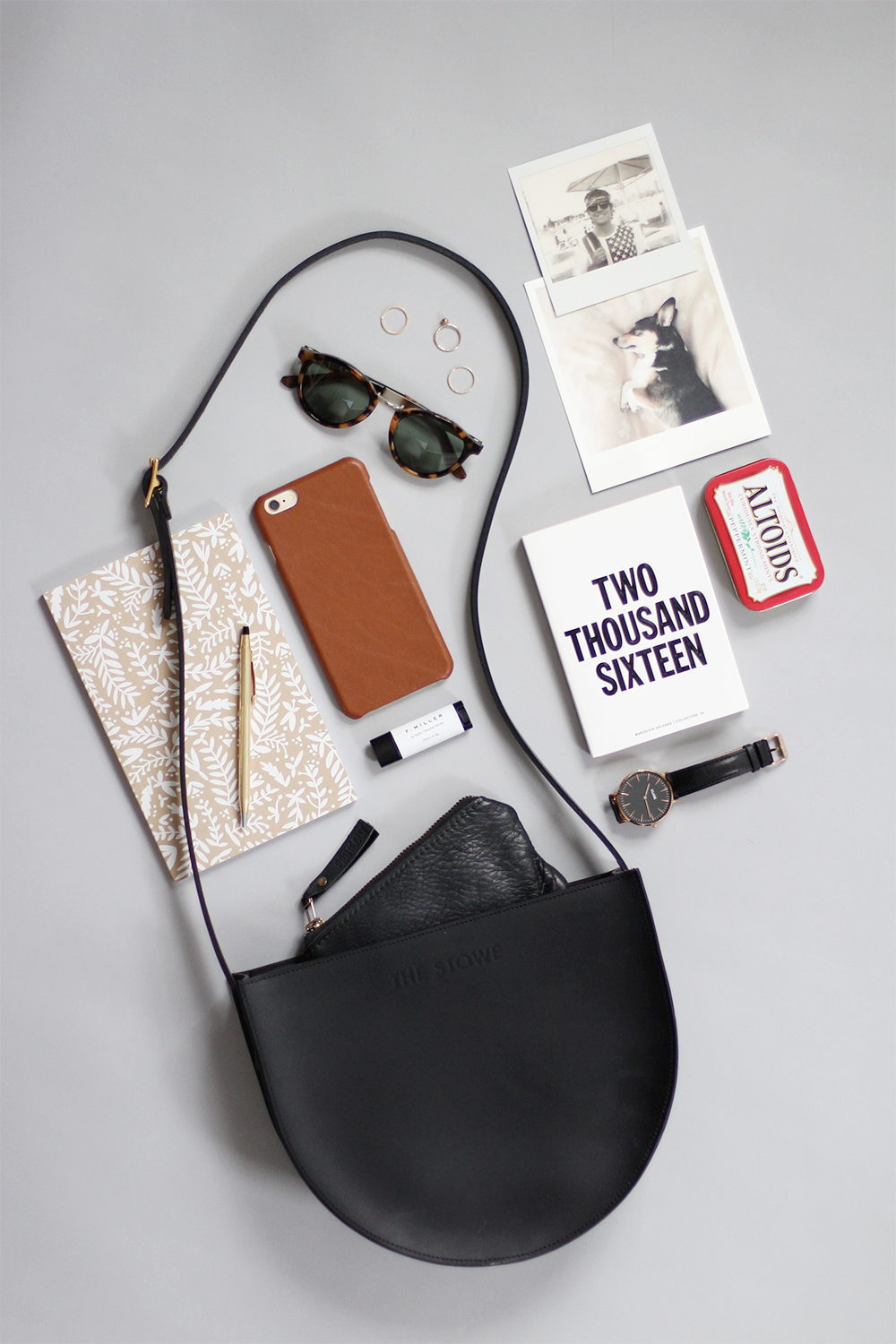 1. The Stowe Eloise Bag – I lusted after this bag all last year and finally pulled the trigger as a Christmas treat to myself. So far it's surpassed all expectations! The leather is beautiful and feels amazing, the shape is contemporary and really comfortable to walk with (either on shoulder or cross-body). Plus, it's made in Montreal, woot!
2. Primecut Wallet – I've been using this little fella for ages (years!) and it's great. I run a lean ship with coins and cash so it's mostly just cards and a slew of coffee club cards for every cafe in town. (Even though I usually just drive-thru Tim's)
3. Worthwhile Paper Notebook – I just love Worthwhile Paper goods and this notebook is a pleasure to use. It's currently home to all my blogging plans and big ideas.
4. Cross Pen – My Mum has used a gold Cross Pen for as long as I can remember. It's also the only thing she can actually find in her purse. She gave me my very own and I haven't used anything else since!
5. F. Miller Lip Balm – One of my favourite finds from last year. This lip balm works amazing, it's made in Toronto, all natural and look at that packaging! Win, win, win, win 🙂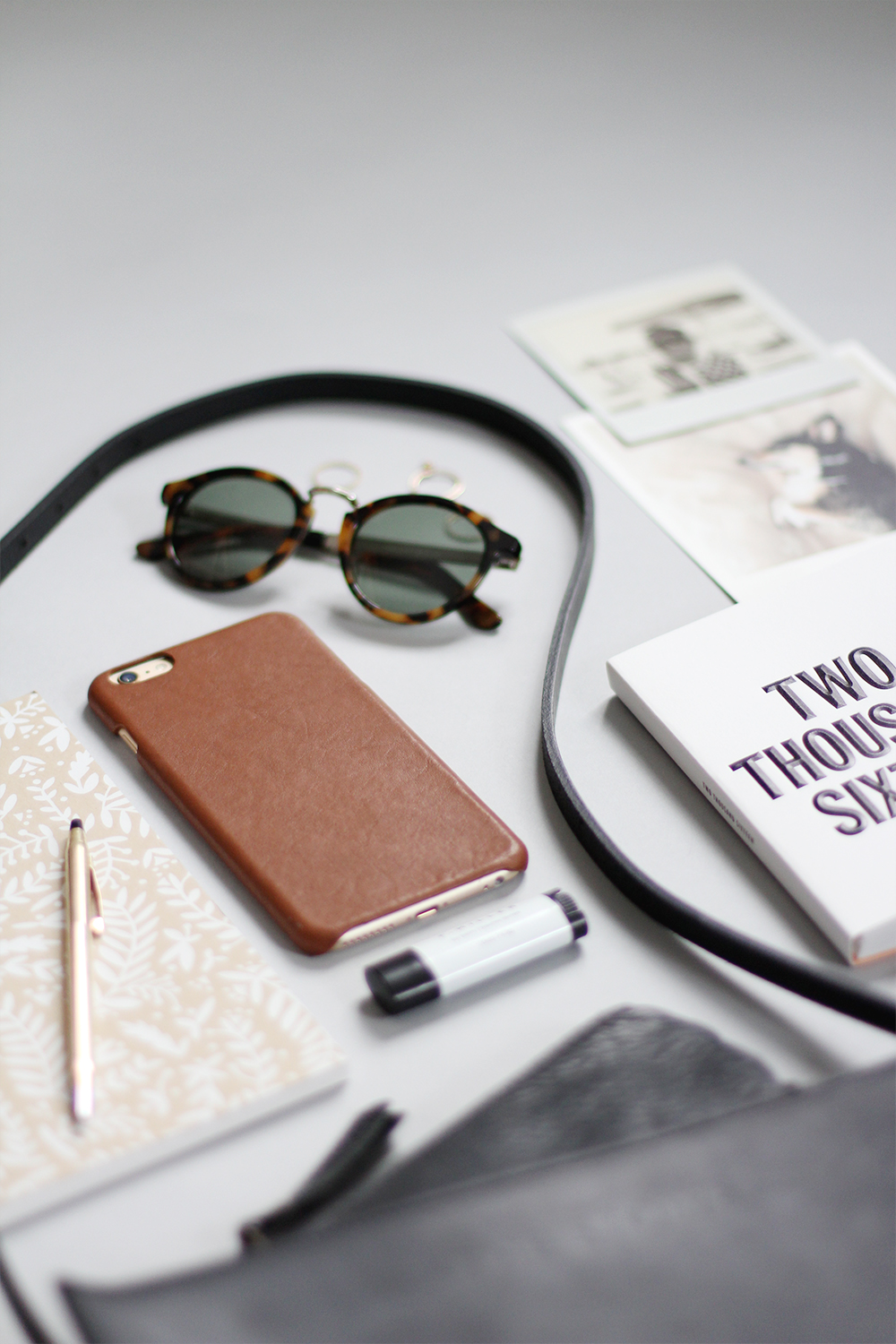 6. The Case Factory iPhone Case – I'm a bit obsessed with the phone case that The Case Factory sent me to try out. The case is a beautiful cognac Italian leather that's super slim but still protects my phone quite well. I have my phone in hand way too much but I love that it keeps it looking really chic and leaves the buttons accessible. See all the beautiful handmade cases here.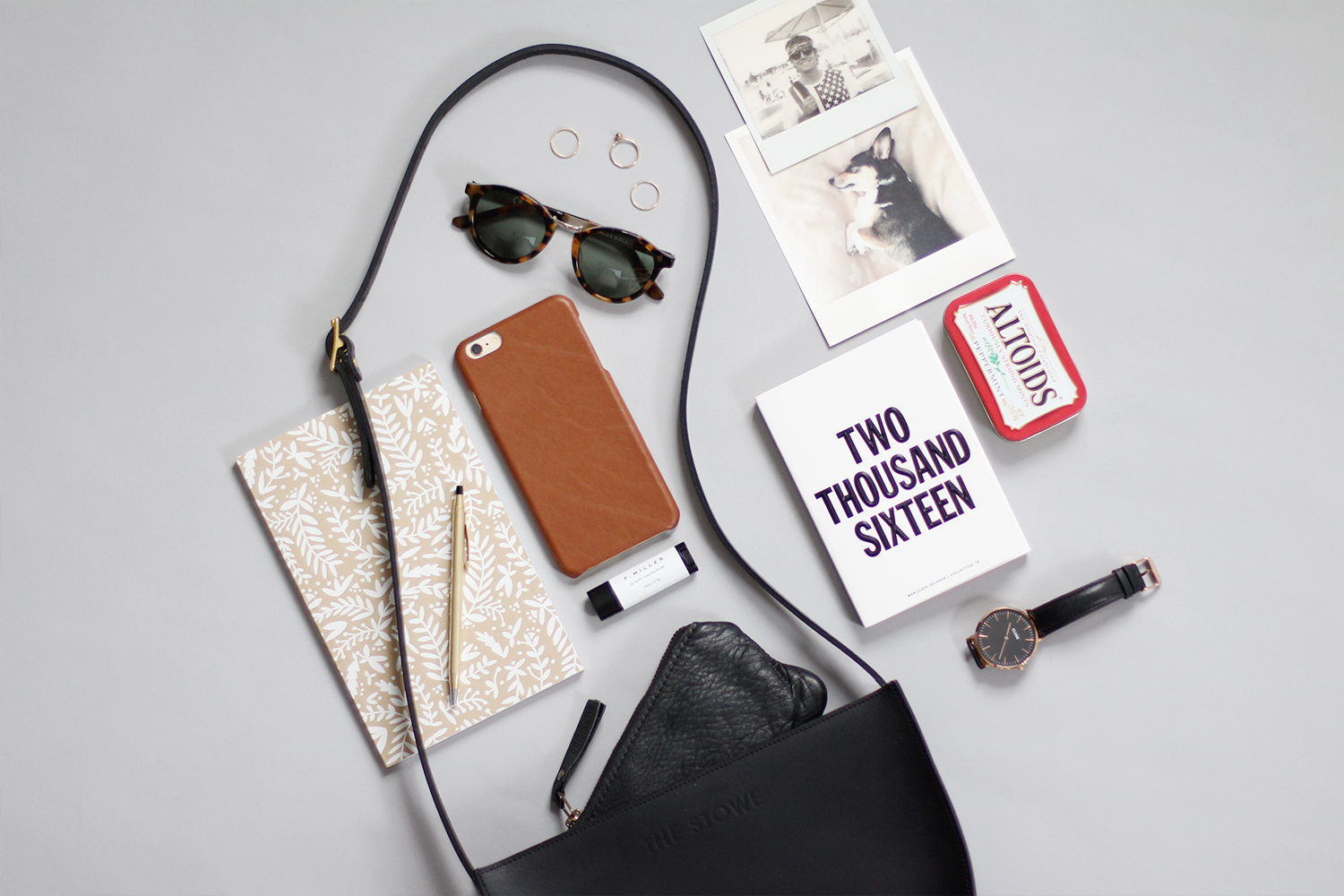 7. Madewell Sunglasses – These might be the most comfortable sunnies I've ever worn. I love the vintage vibe of the metal bridge and arms. Perfect for the sunny snowy days we're having.
8. Everli Rings – I just love my little stacking rings from Everli. They're the perfect final touch for any look.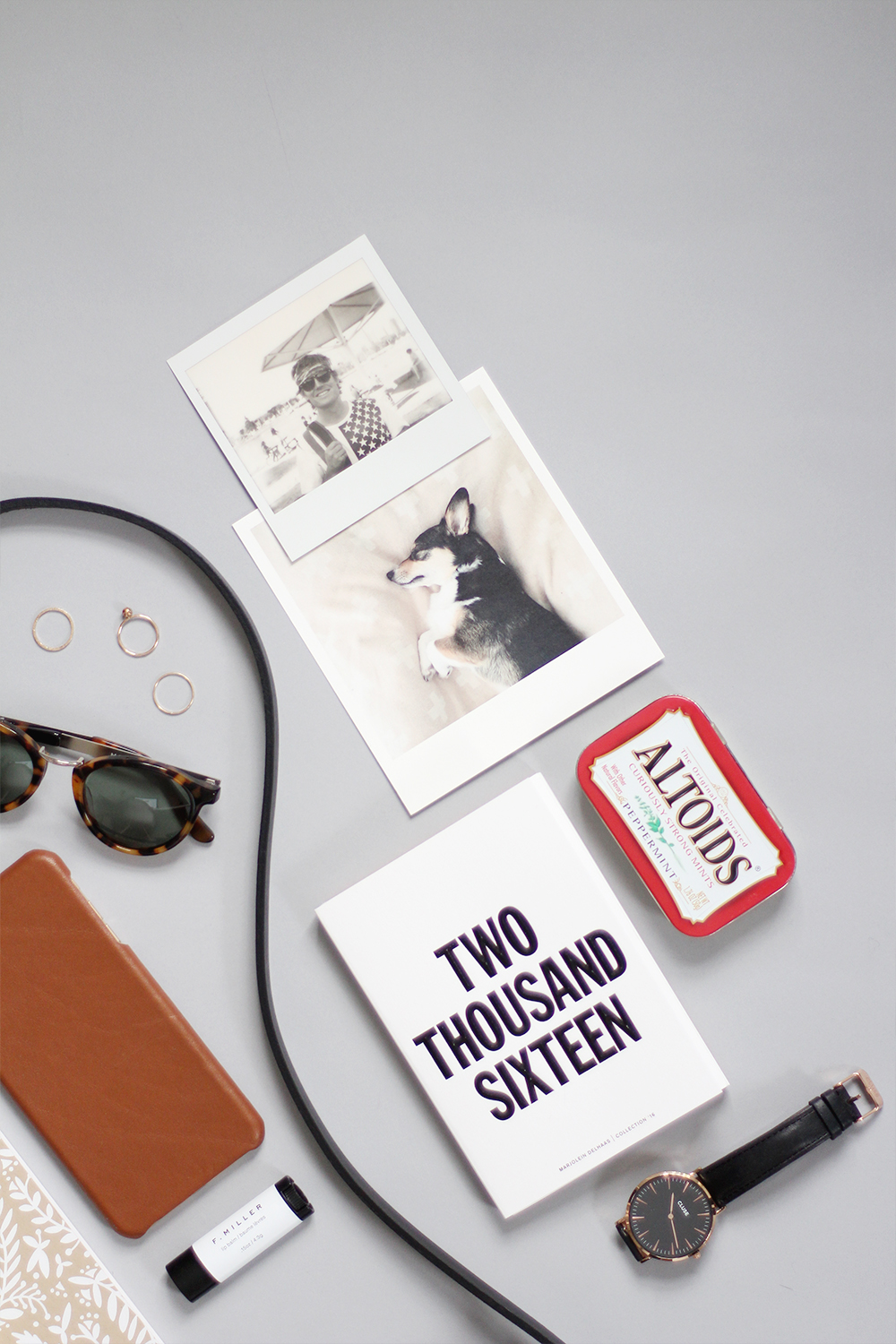 9. Majolein Delhaas 2016 Planner – I searched everywhere for the right 2016 planner and finally came across this super functional but really good looking one by graphic designer, Marjolein Delhaas. So often I find planners are either too complicated or too sparse and most of the covers are too much for me (why all the marble and gaudy graphics?). But this one, I love! The type on the cover is embossed for a tactile treat. While it's petite, especially compared to the monster I used last year, it's keeping me concise and organized. I bought the plastic cover as well to keep it looking good all year.
10. CLUSE Watch – Somehow wearing a watch just makes me feel more put together. Whether I'm headed to a meeting or just running errands it's always the last thing I put on in the morning and the last thing I take off before bed. I also love this one.
11. Altoids – These were in my Christmas stocking this year and I've become addicted. Plus, talk about a perfect, timeless tin!
12. Pictures of My Loves – Honestly, I don't always keep these in my purse because I don't want them to get damaged, but I keep them in the top drawer of my office desk so they're almost always with me anyway. Artifact Uprising makes some great prints.
Full disclosure: I opted not to include the tampons, hair elastics and gas station receipts that also make their way into the mix but in reality they're probably the most consistent contents of my bag.
---
So that's what's in my bag these days! How about you, anything you can't leave home without? 
---

---