On Friday February 6th we packed up our carry-ons and headed south to Costa Rica to celebrate a wedding and spend 6 days in the beautiful town of Manual Antonio with over 20 of our good friends, in one of the most stunning villas in Central America. Needless to say it was a fabulous trip, which we were very fortunate to have been able to go on and I took a ridiculous amount of photos. So let's dig in!
---
THE ROAD TO MANUEL ANTONIO
The trip began with a shuttle bus picking up our sizeable crew at the airport and hauling our Canadian butts to the south western coastal town of Manuel Antonio about 2.5 hours away. Along the way we stopped to check out a heard of enormous crocodiles, sip on the freshest piña coladas and take in the fact that Costa Rica looks glorious from every angle.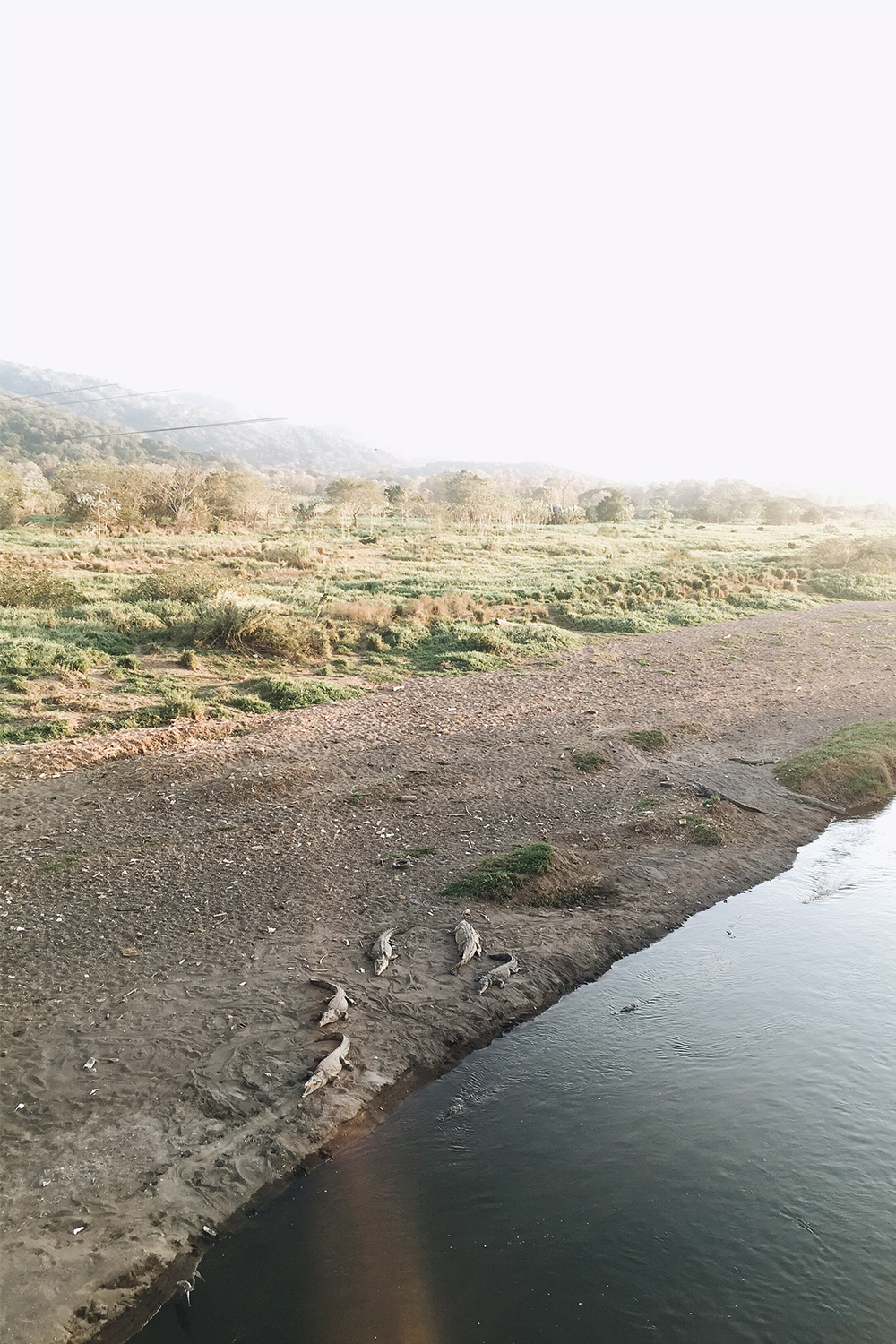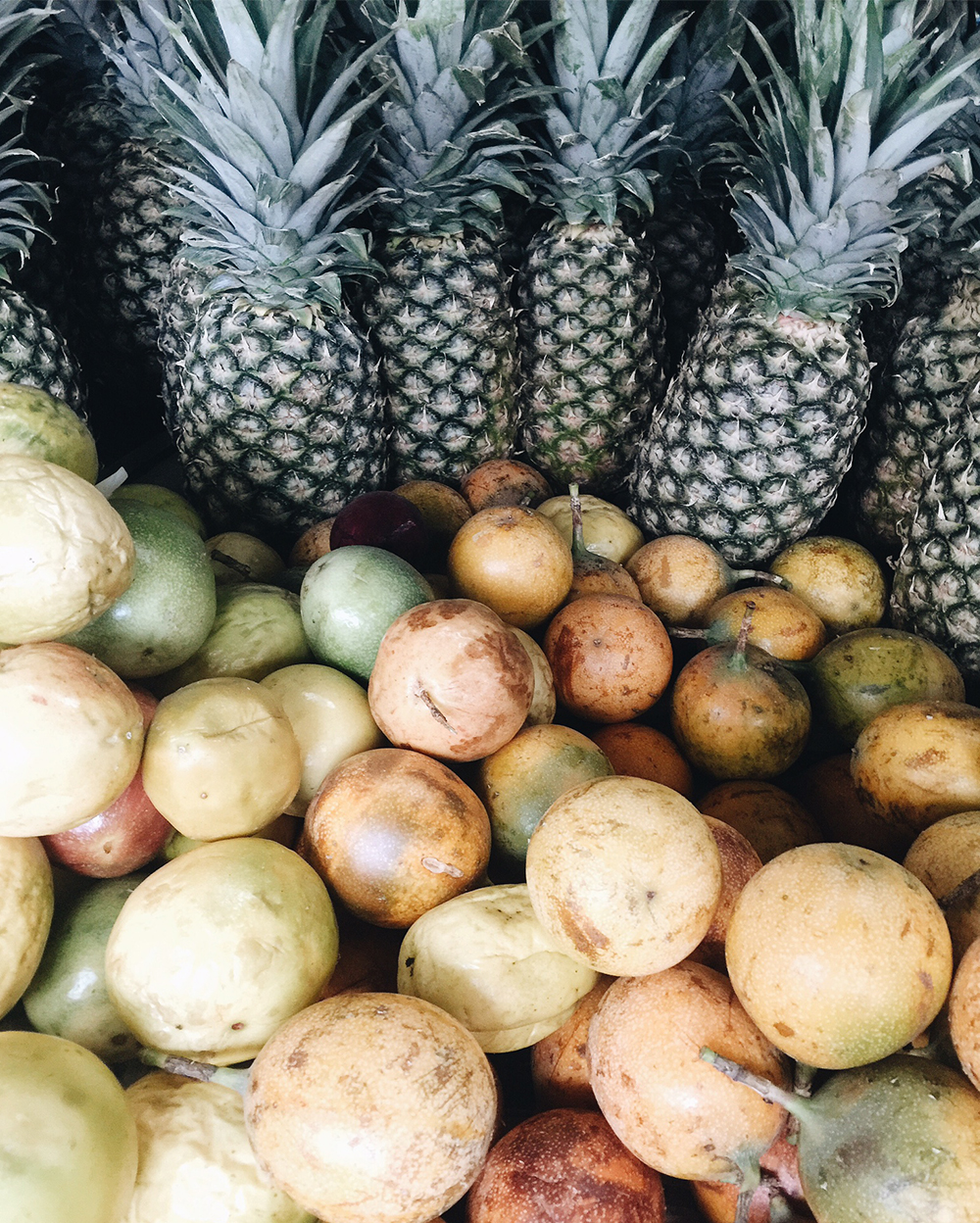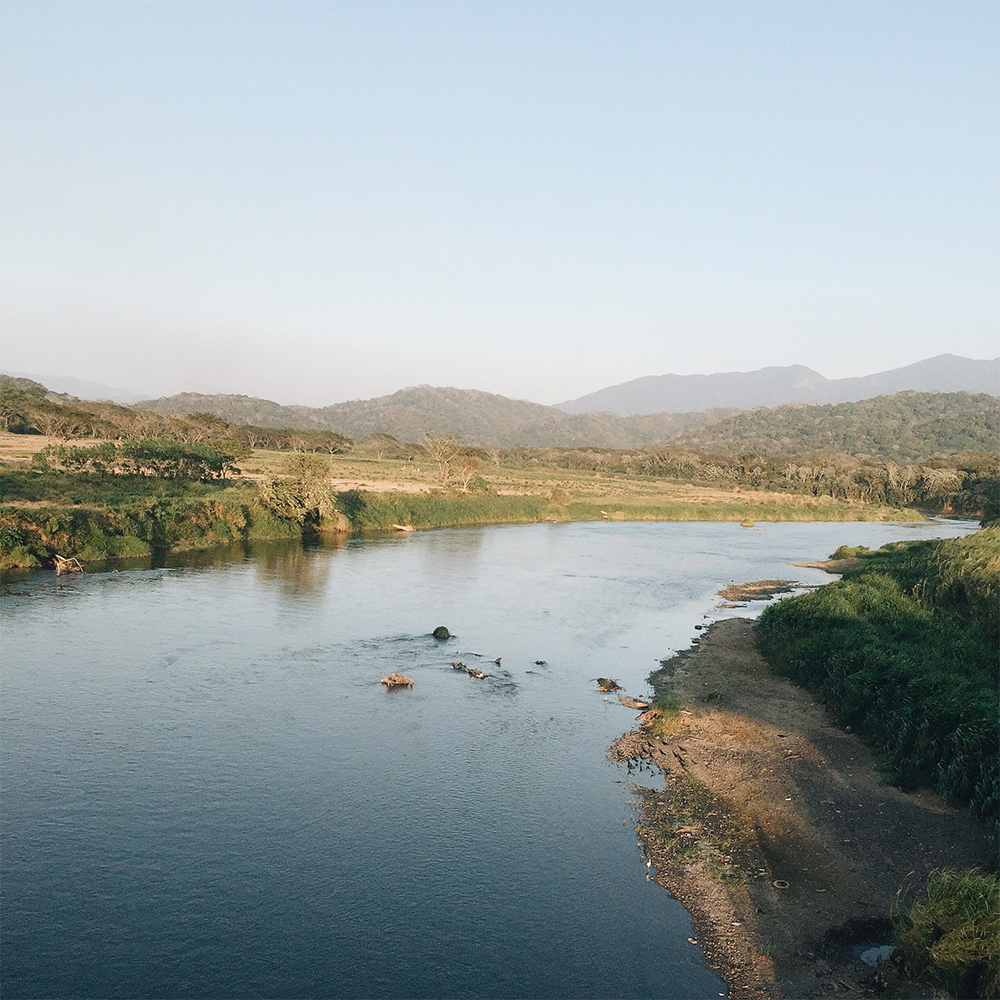 ---
THE VILLA
Then we arrived at our little (or enormous rather) slice of paradise for the week, Villa Punto De Vista. The stunning residence was built by a Californian architect and no expense was spared. It is 5 floors of incredible rooms, views and amenities, including a rooftop hot tub that overlooks the entire region. Infinity pool, hammocks, games rooms, a media centre, private chef, perfect weather and monkey visits are pretty much fail safe ingredients for the best group vacation ever. Add some Flor de Caña and countless cans of Imperial beer and we were totally set.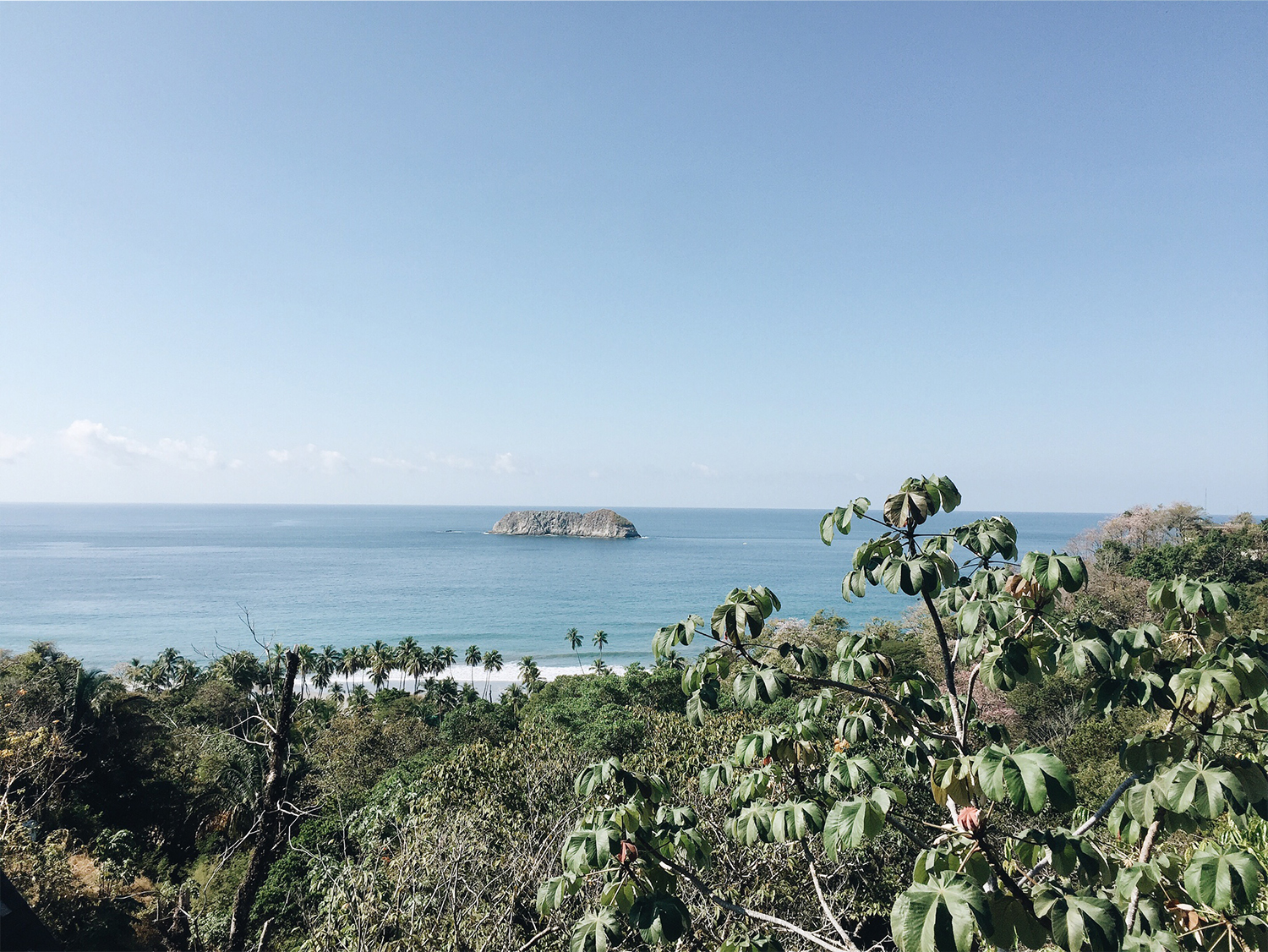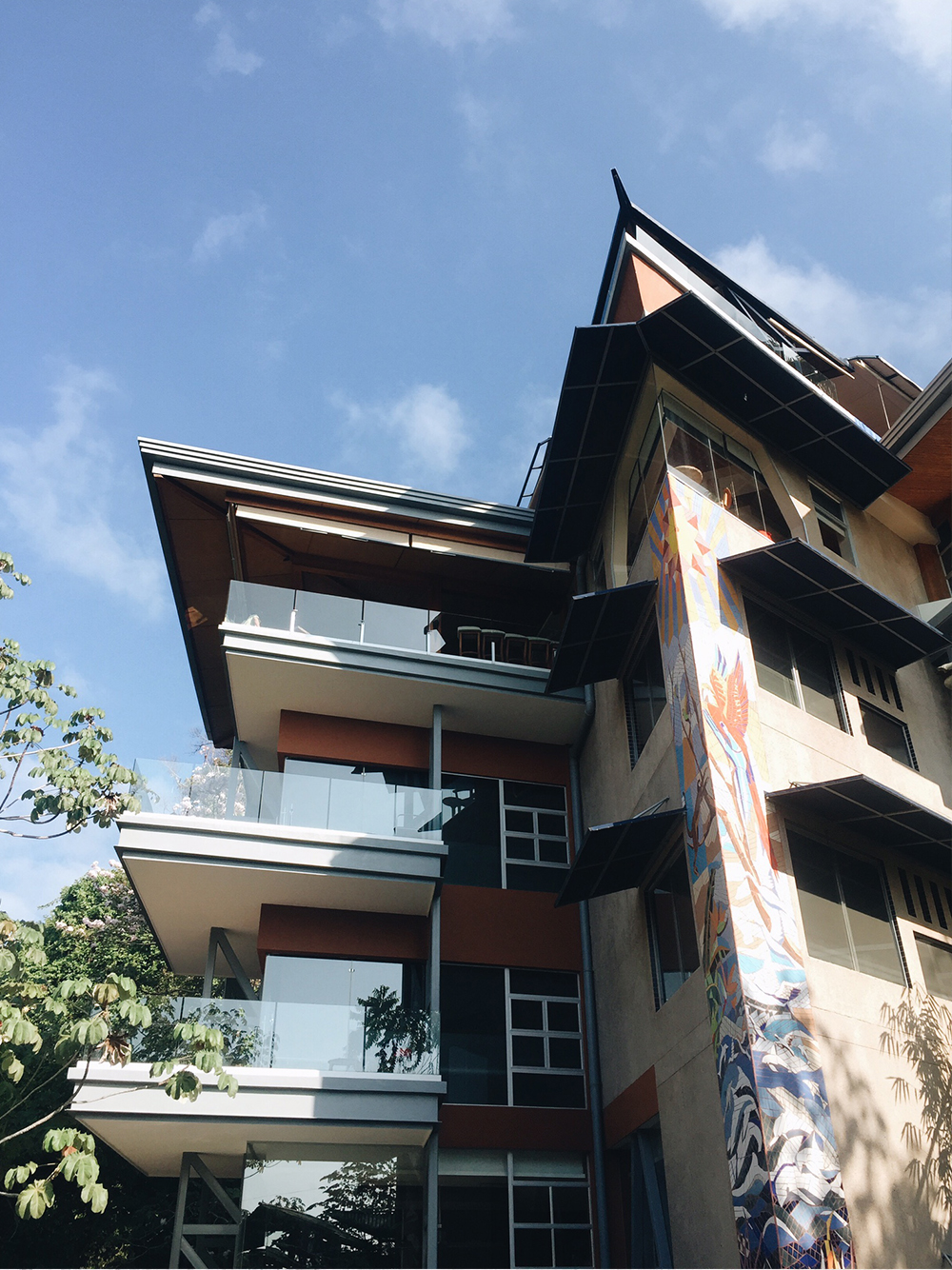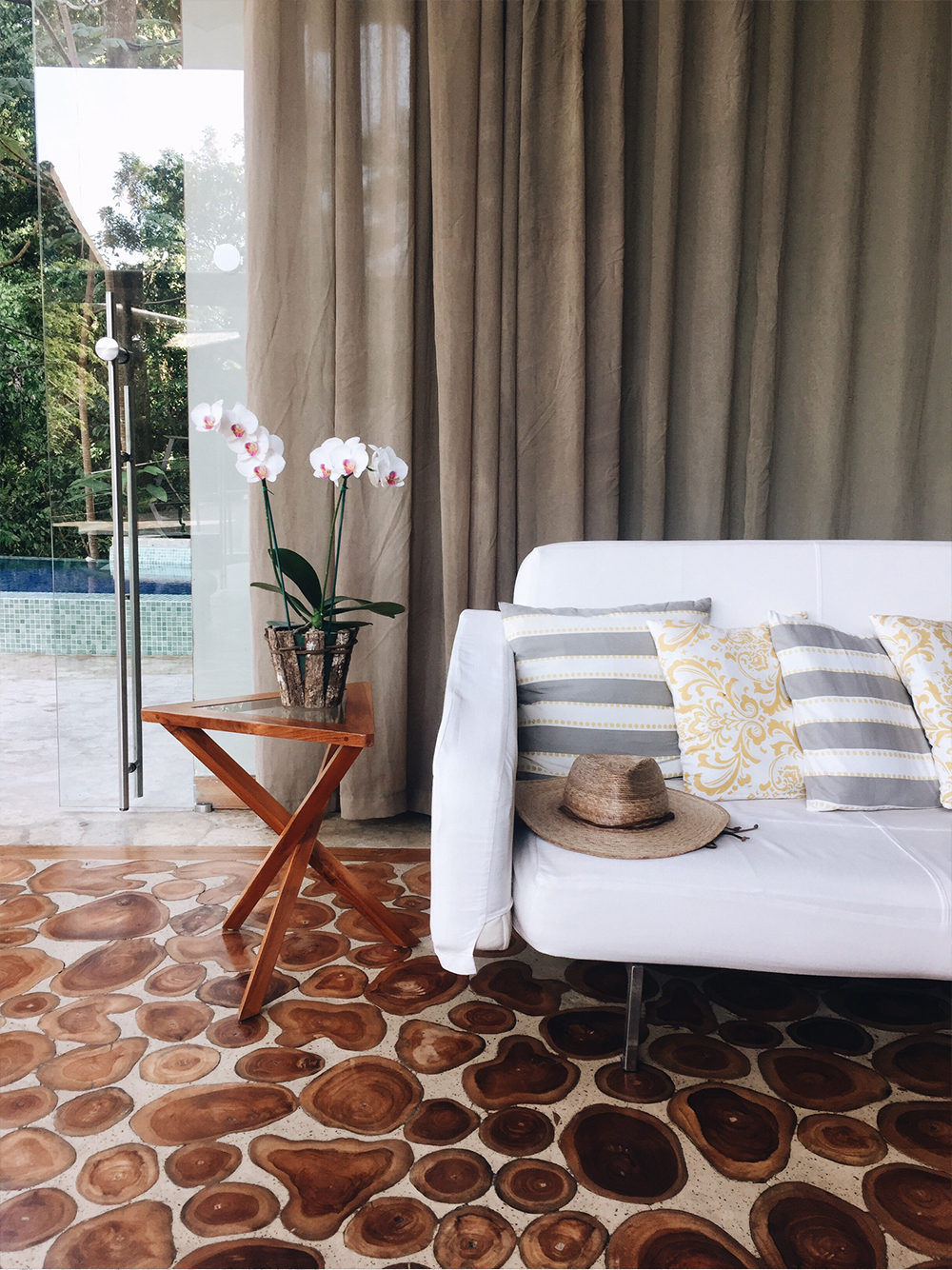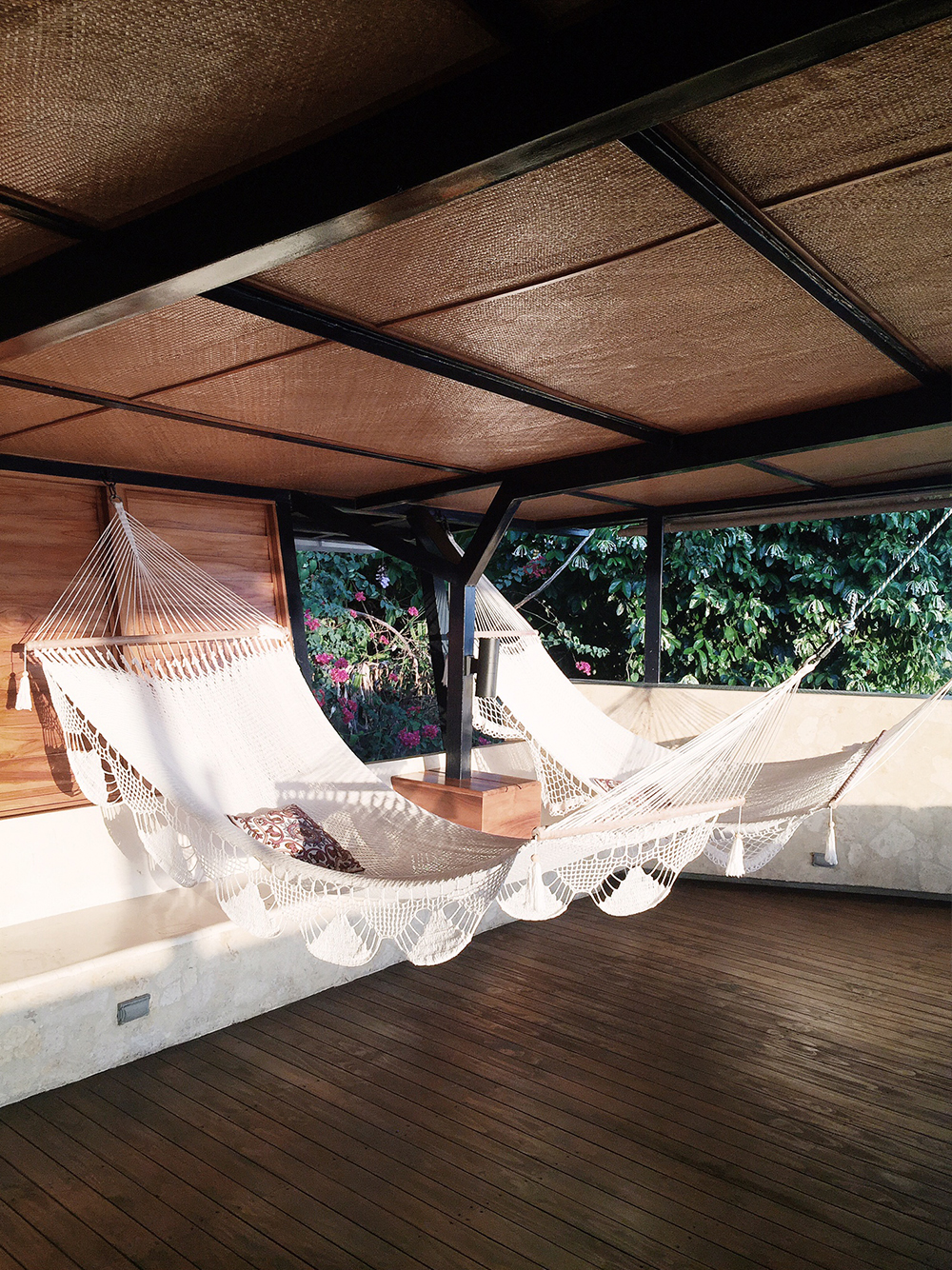 ---
THE COTTAGE
Of course no epic villa is complete without an auxiliary guest house, right? By the luck of the draw (and special request), Dave and I got to stay on the main floor of the beautiful cottage, which overlooked the lush, forested hillside leading down to the beach and we loved it! There were monkeys, birds and iguanas all around and we woke up to the beautiful bright sunlight every morning. We had a perfect little balcony where we sat to watch the sun go down and tried to make out constellations in the sparkly night sky.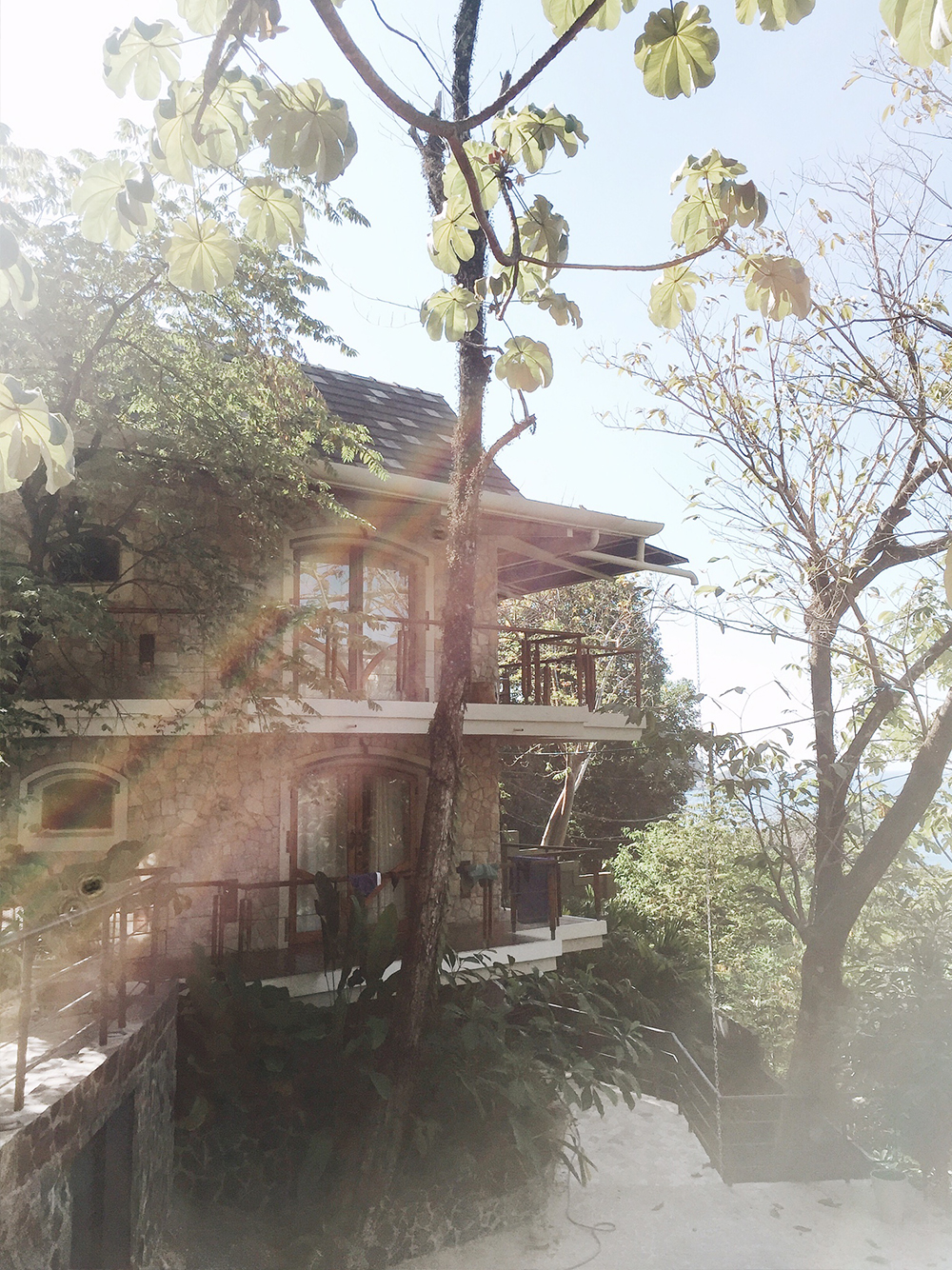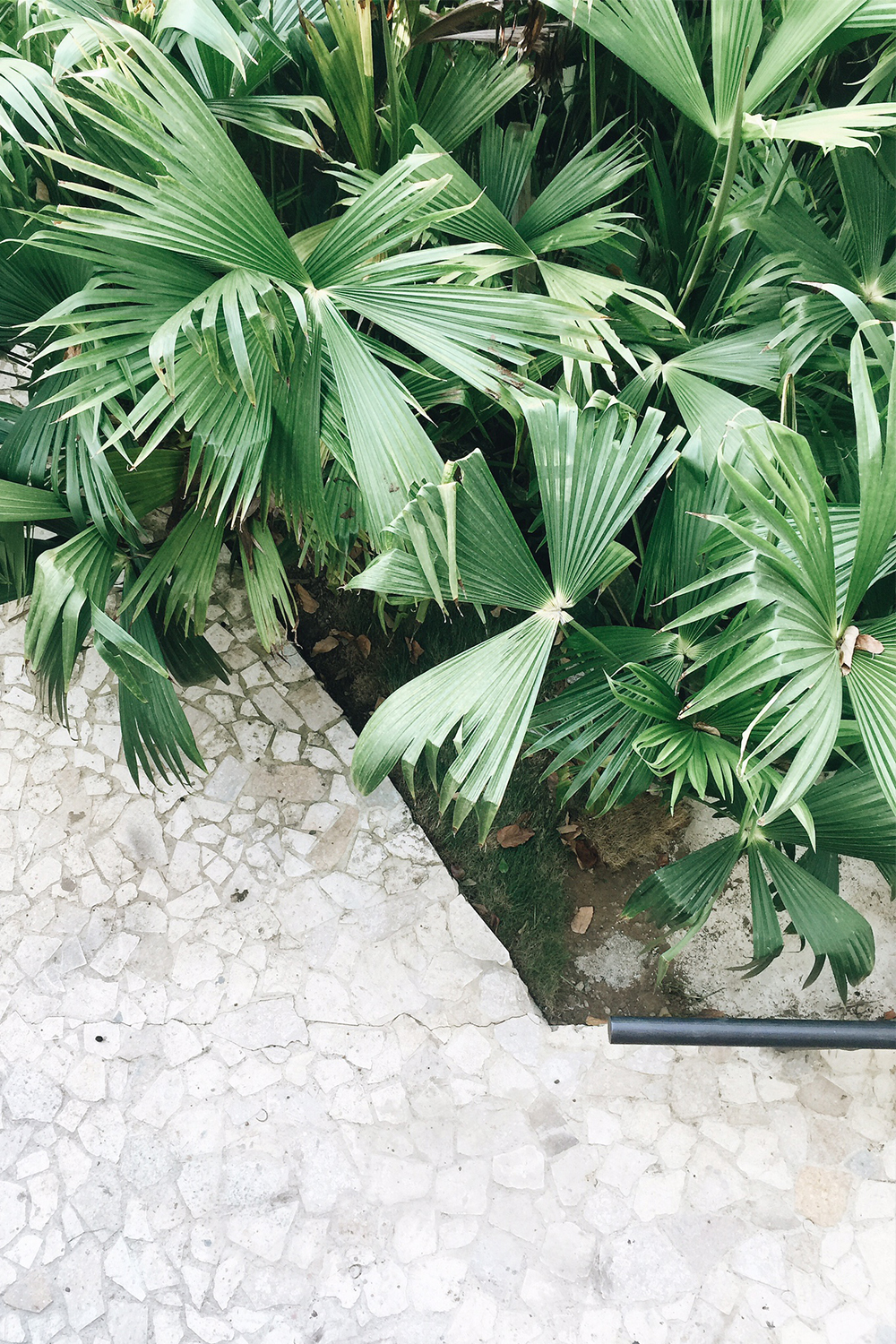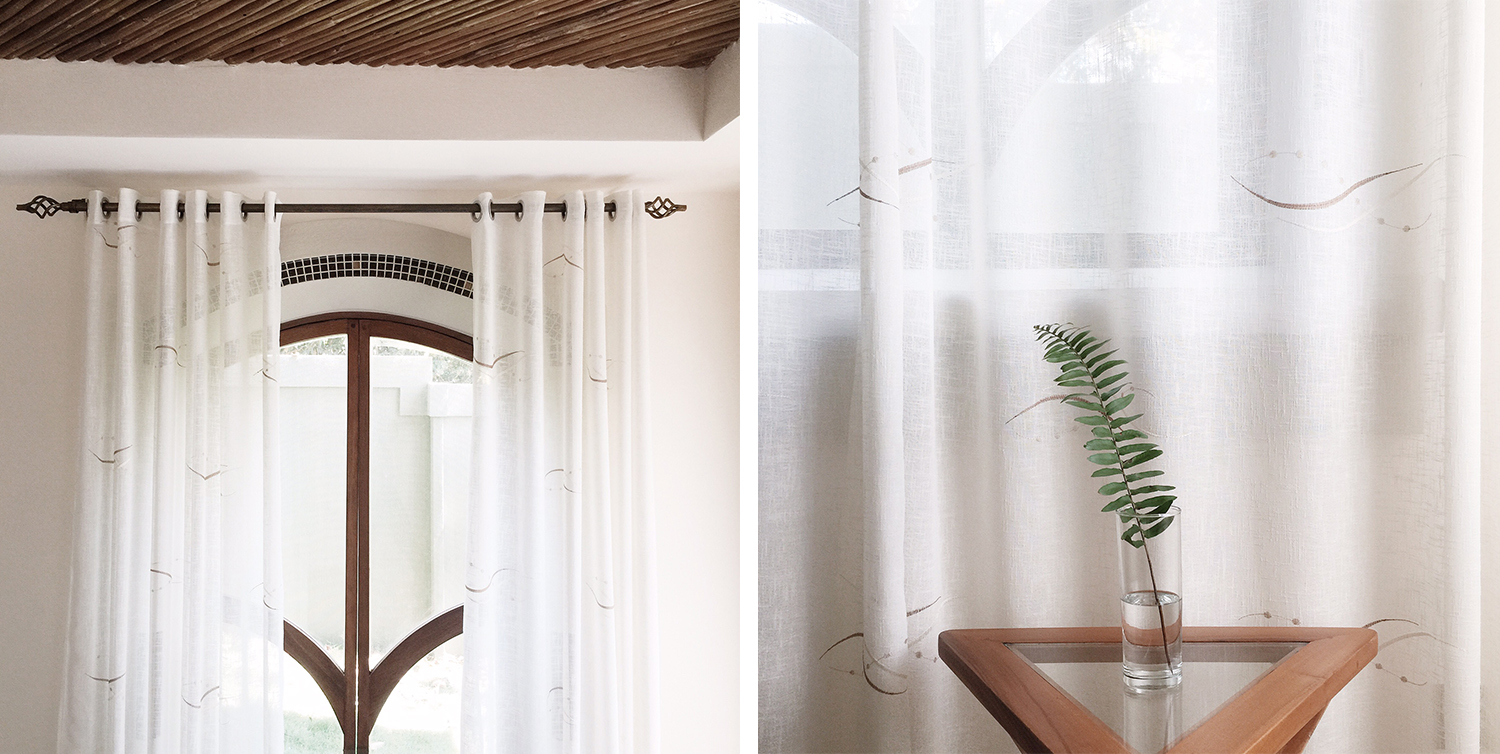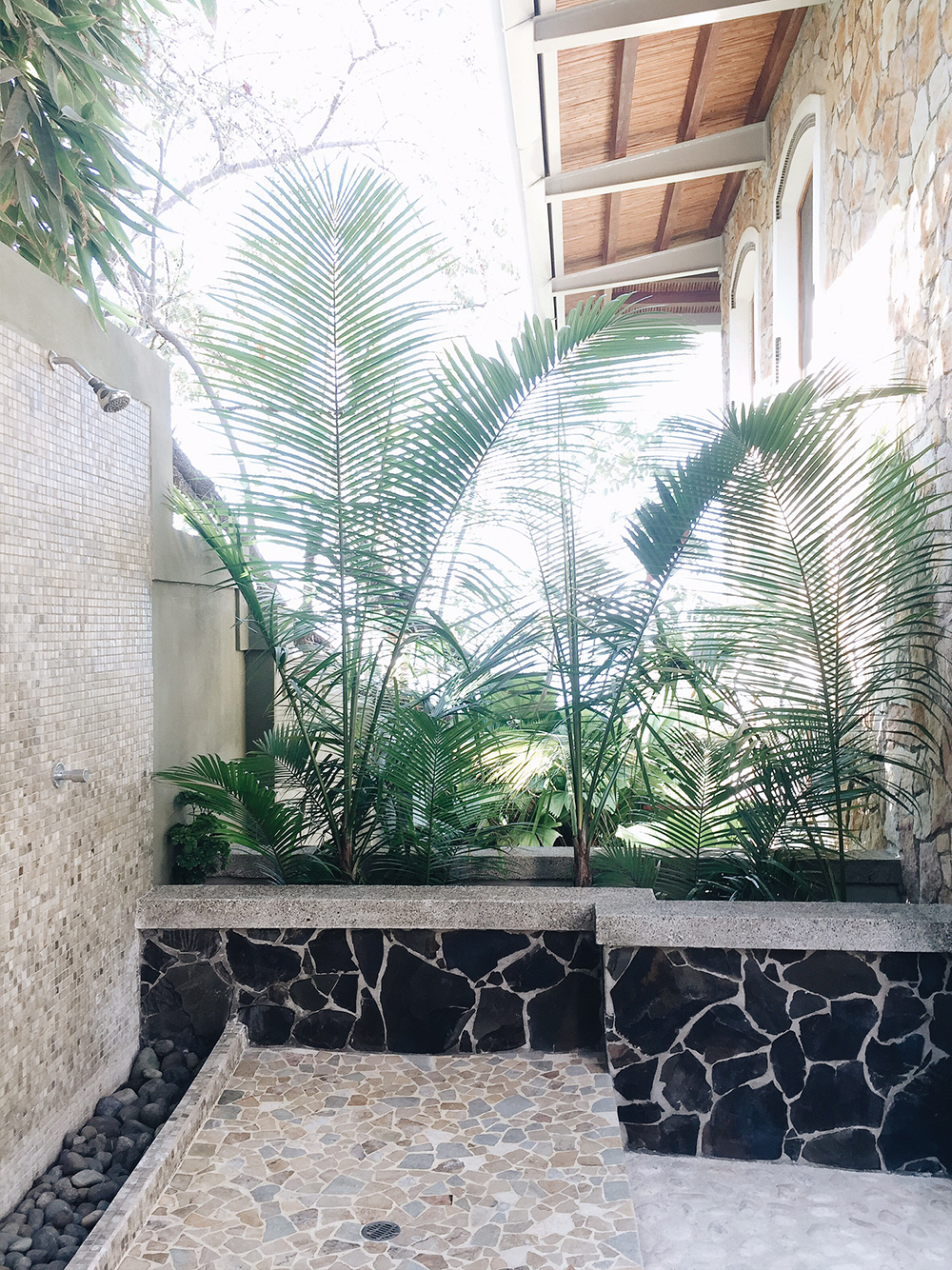 ---
THE POOL
Aside from the dining room, the pool was probably the most enjoyed space in the whole villa. It was absolutely perfect for floating around with a drink in hand and chatting with good friends for hours on end. It was under just enough tree cover that you could hide from the harsh sun, while still enjoying it's warmth. I swear Dave spent at least 1/4 of every day in that pool!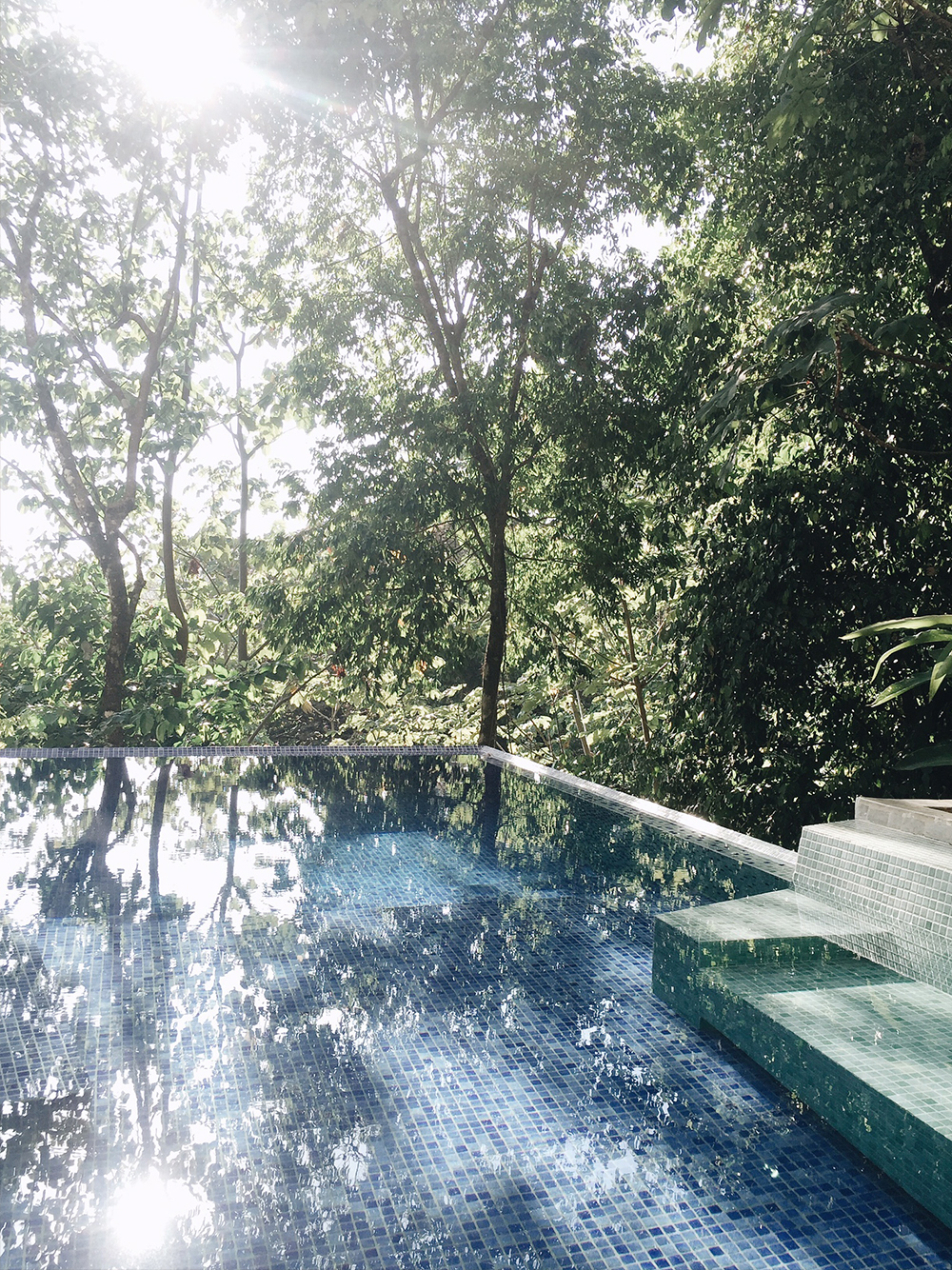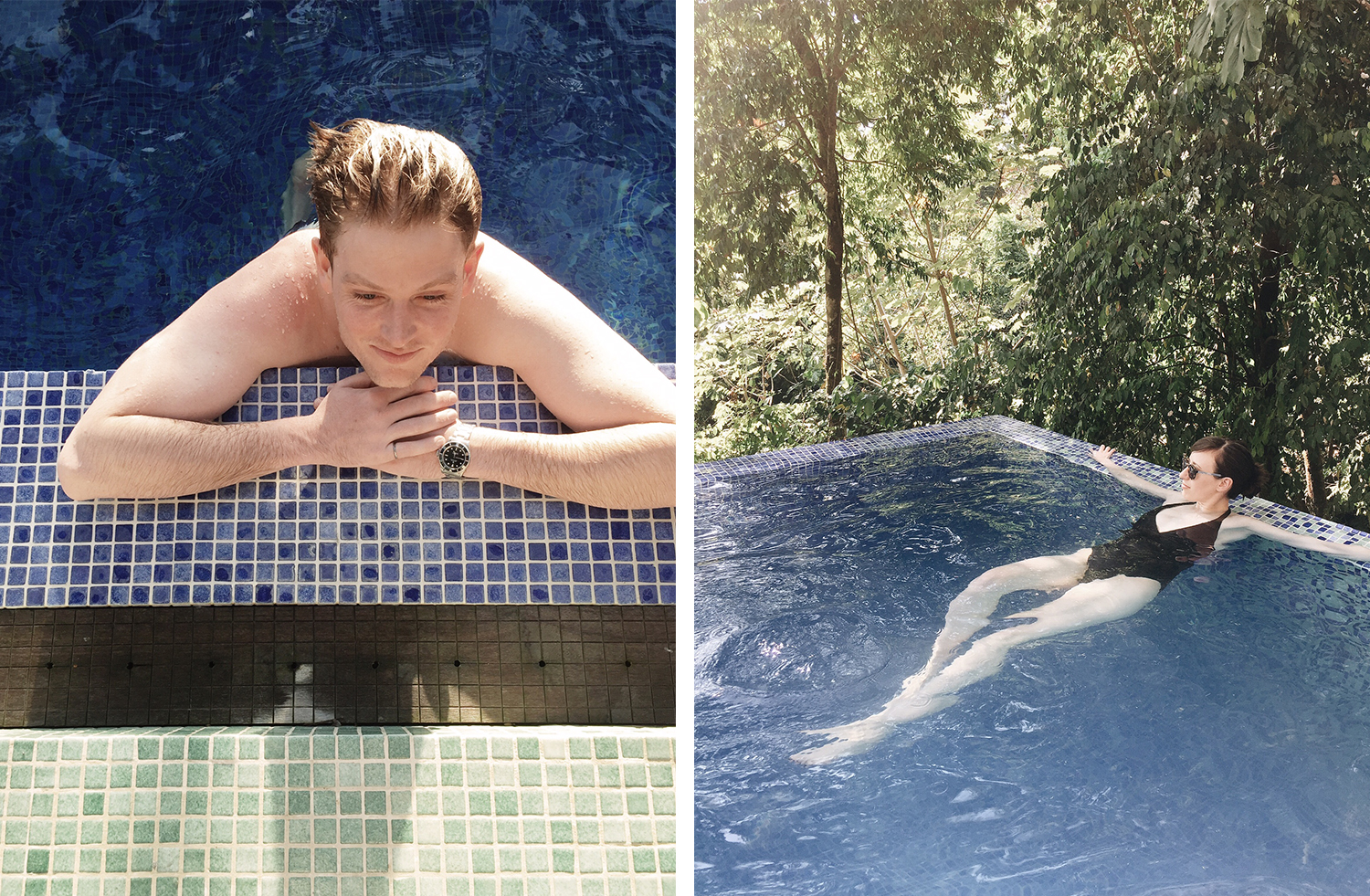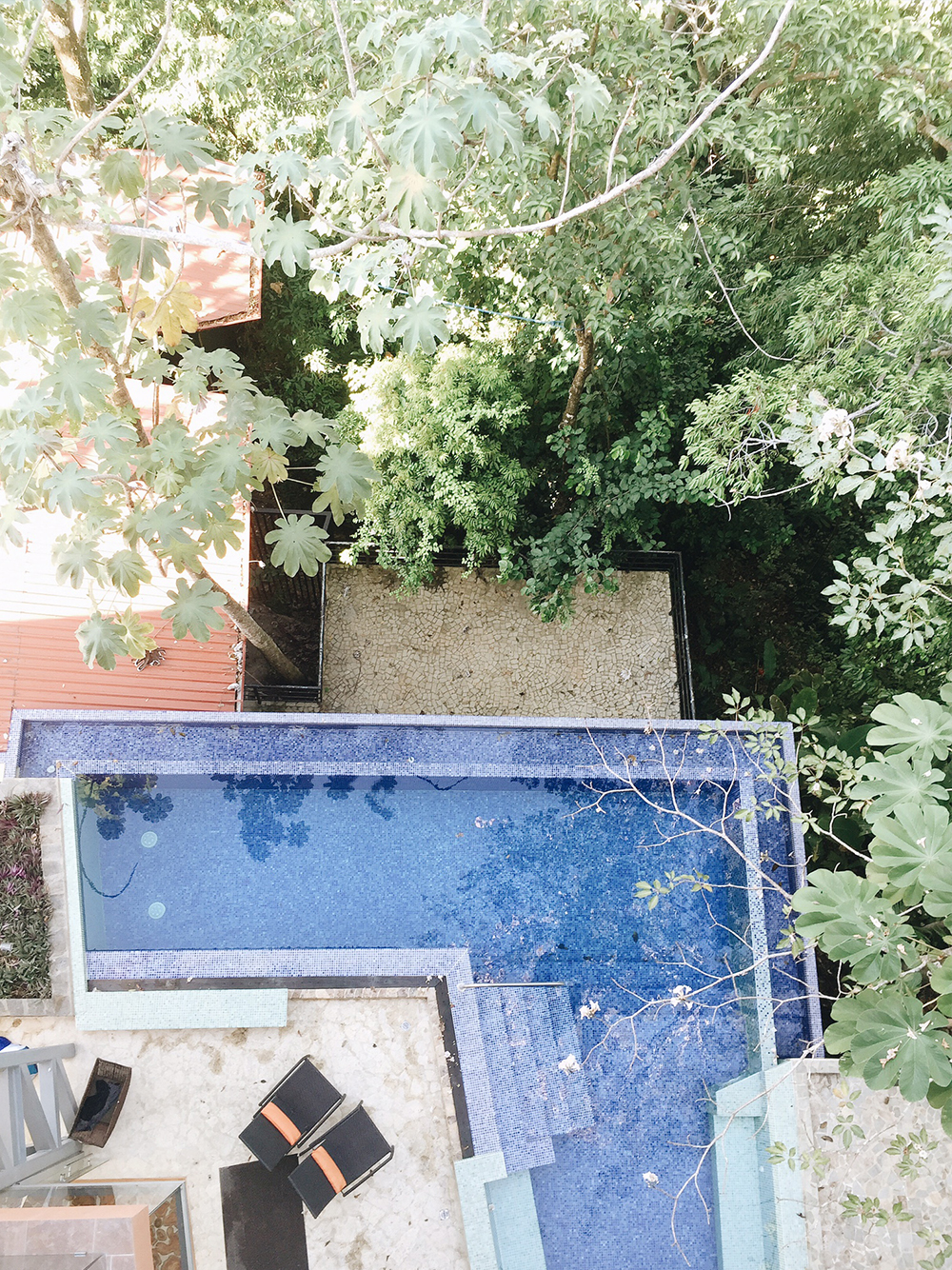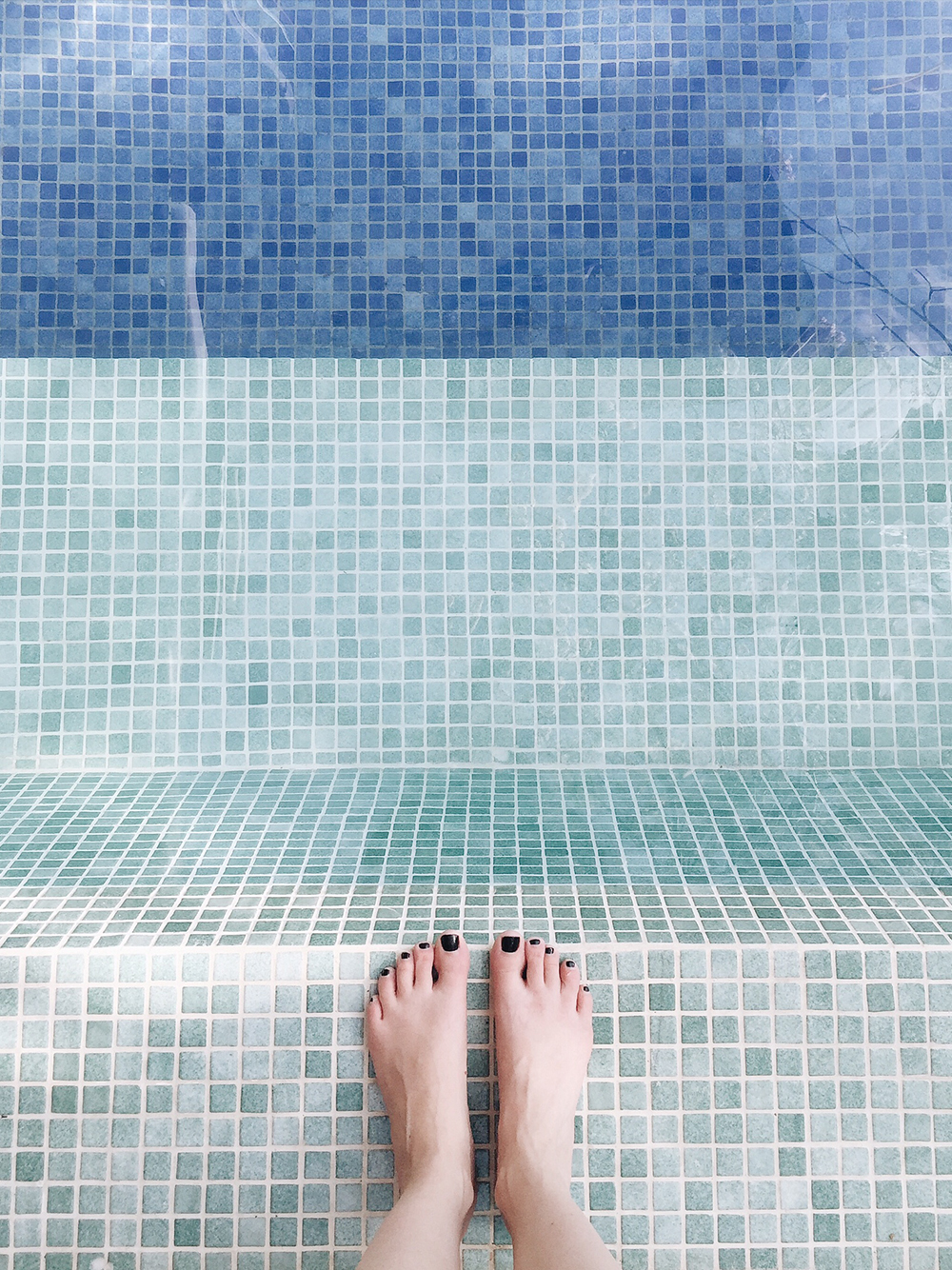 ---
THE WEDDING
The main reason we were in Costa Rica to begin with was to celebrate the wedding of our dear friends Bill and Cinthya. They were married on the beach, by Dave's brother Mike and it was an absolutely beautiful ceremony. Unfortunately, I felt like death during the day, thanks to my weak travelling immune system, but I managed to grab a couple photos during the afternoon and rally for a HUGE night of dancing and celebration. The bride looked breathtakingly gorgeous and the whole day was the very best example of a perfect destination wedding.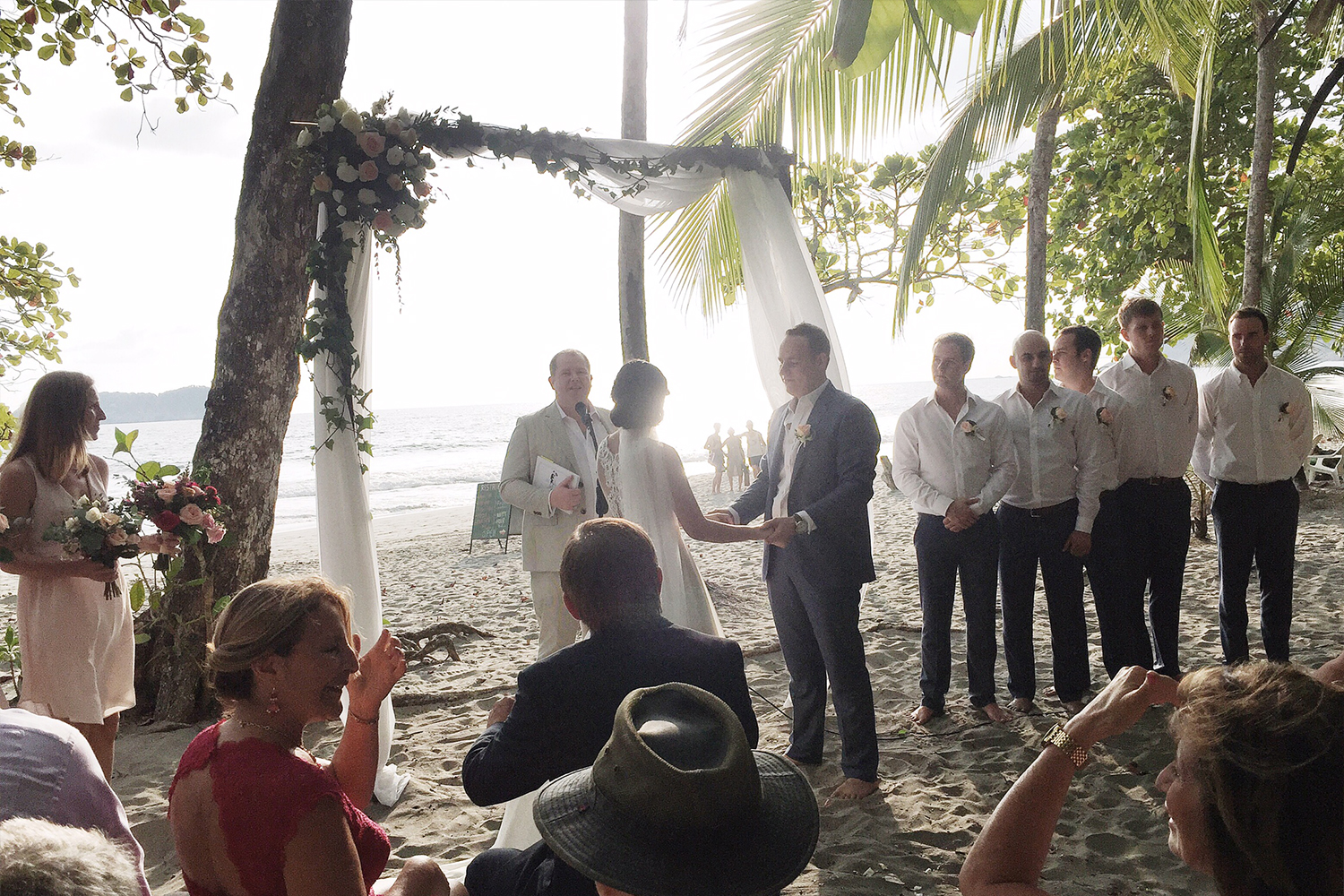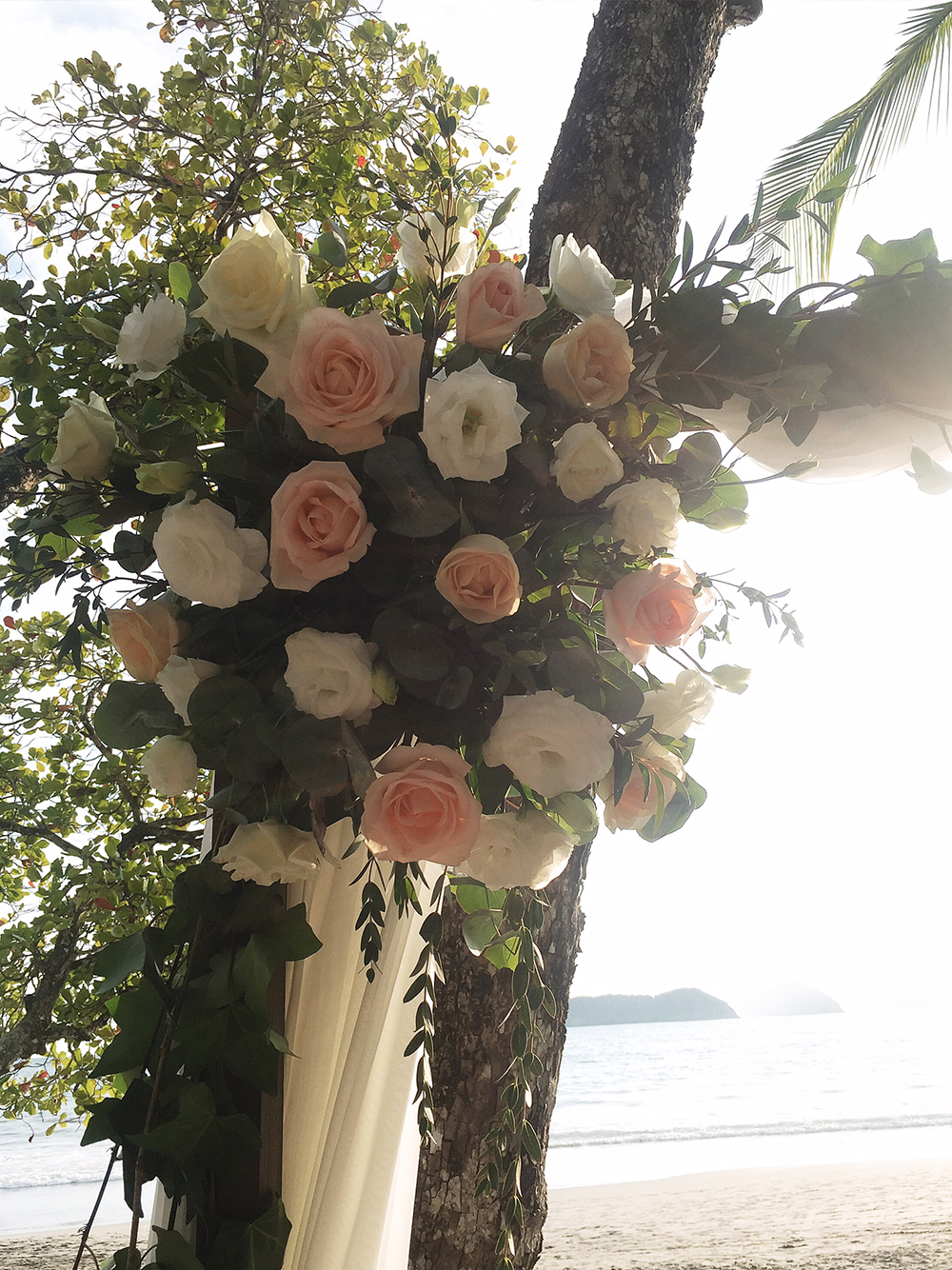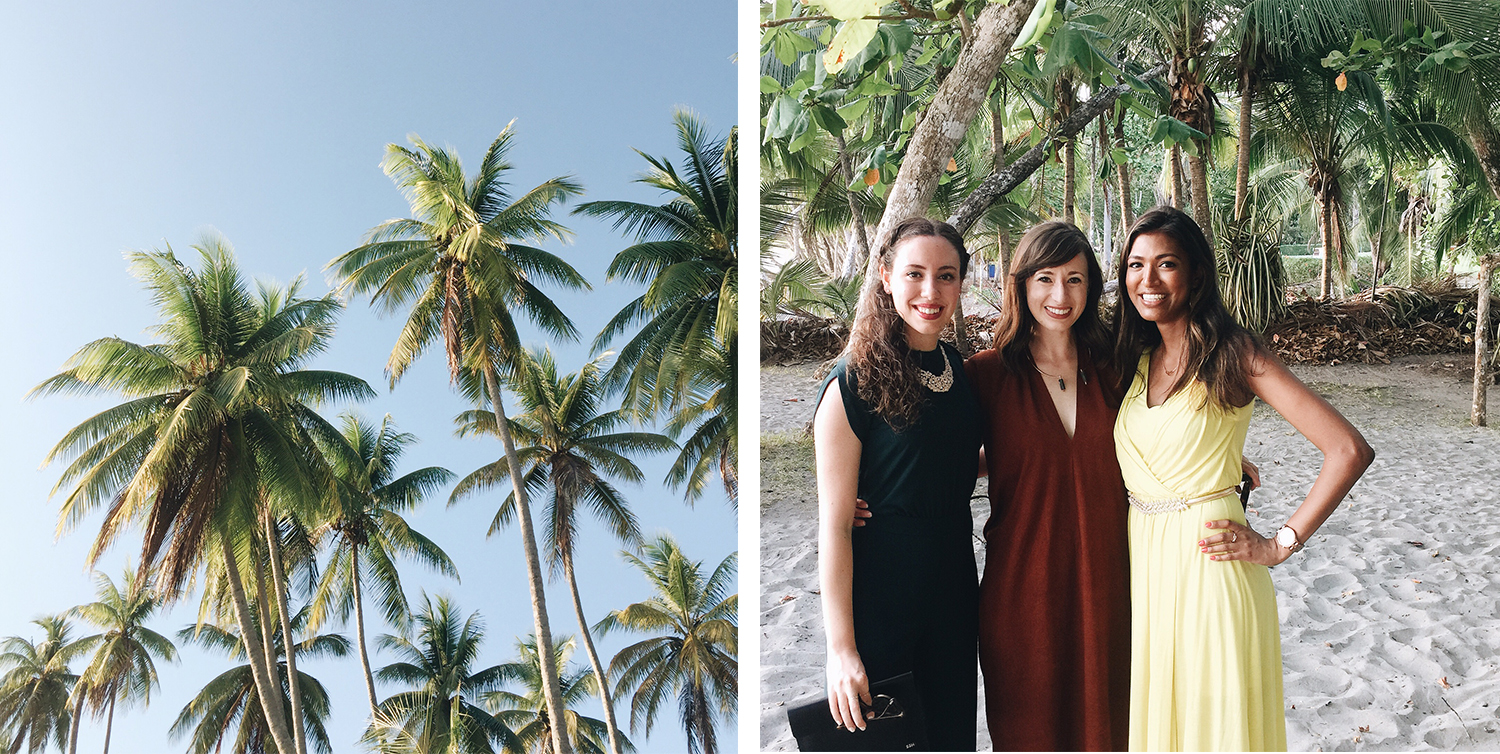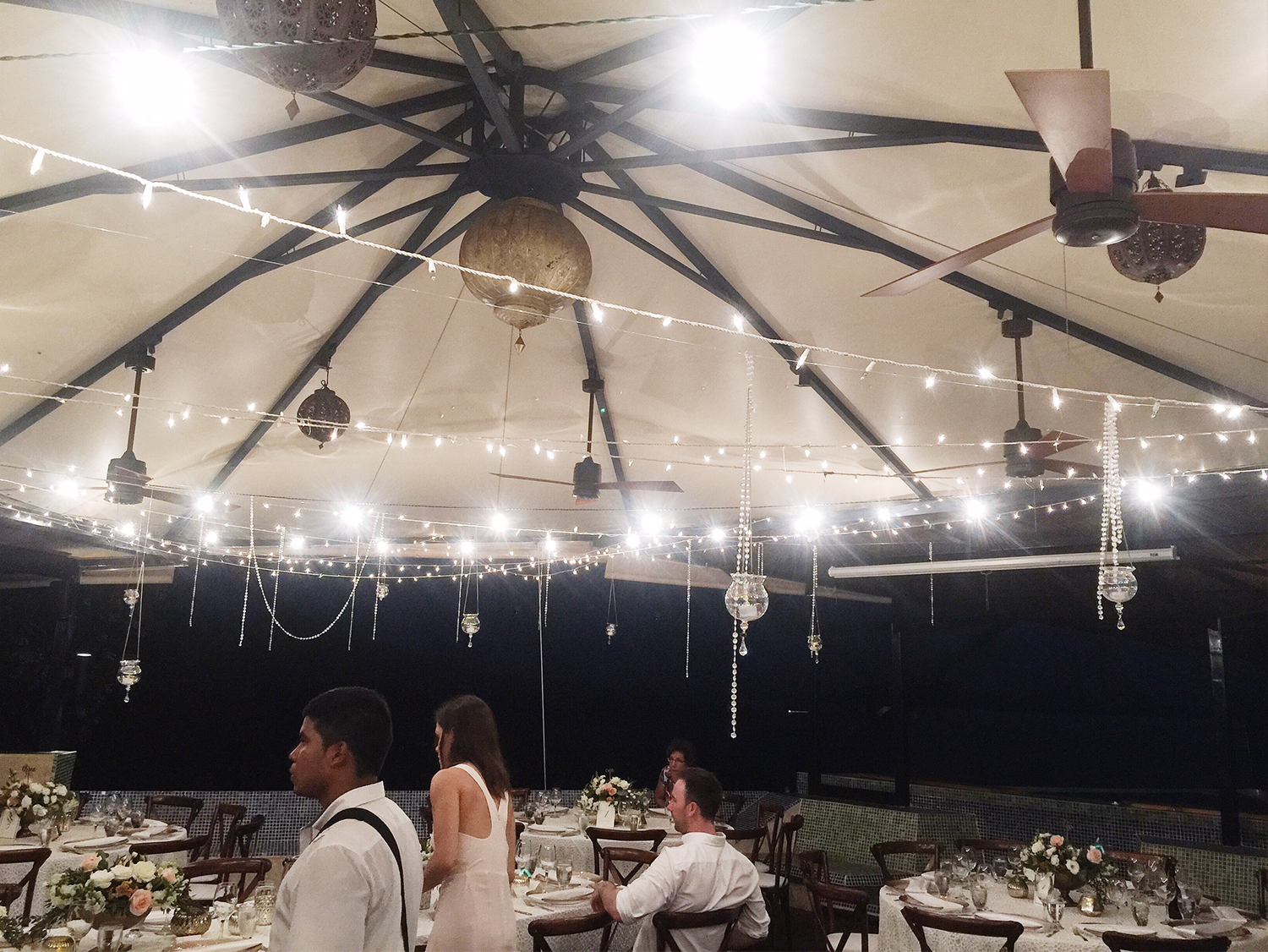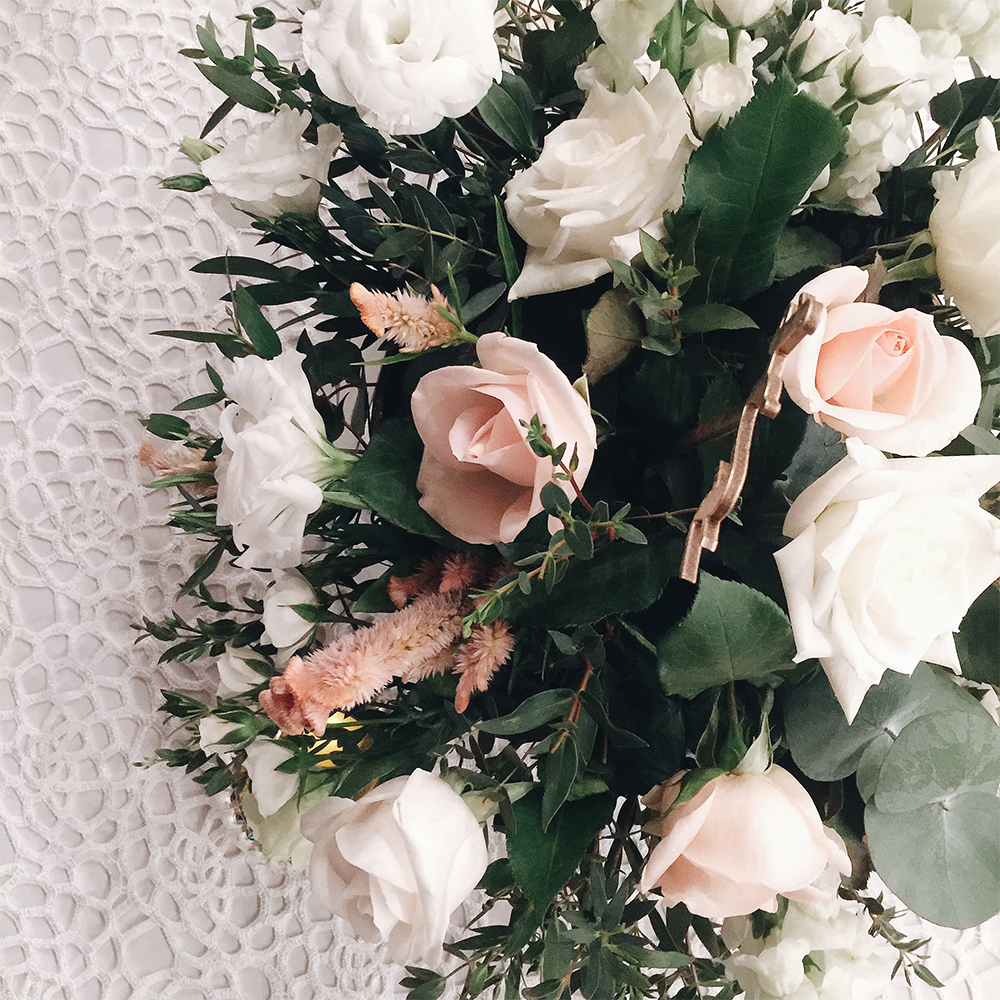 ---
FOOD
Just thinking about all the amazing food we had during our trip makes my mouth water. Every morning, after awaking lazily to the morning sun, we would slowly make our way to the 4th floor of the villa to have breakfast around a huge group table. The spread was incredible. Huge platters of fresh fruit, hot coffee from Costa Rican beans, scrambled eggs, legendary pancakes, cheesy tortillas, rice, beans, sausages and bacon. Not to mention all the carafes of fresh fruit smoothies you could dream of. We were SO spoiled, I know. Afternoons involved fresh guacamole and nachos. Dinner was a whole other situation that usually involved three courses of fresh local fare and at least a couple glasses of wine. It was glorious!!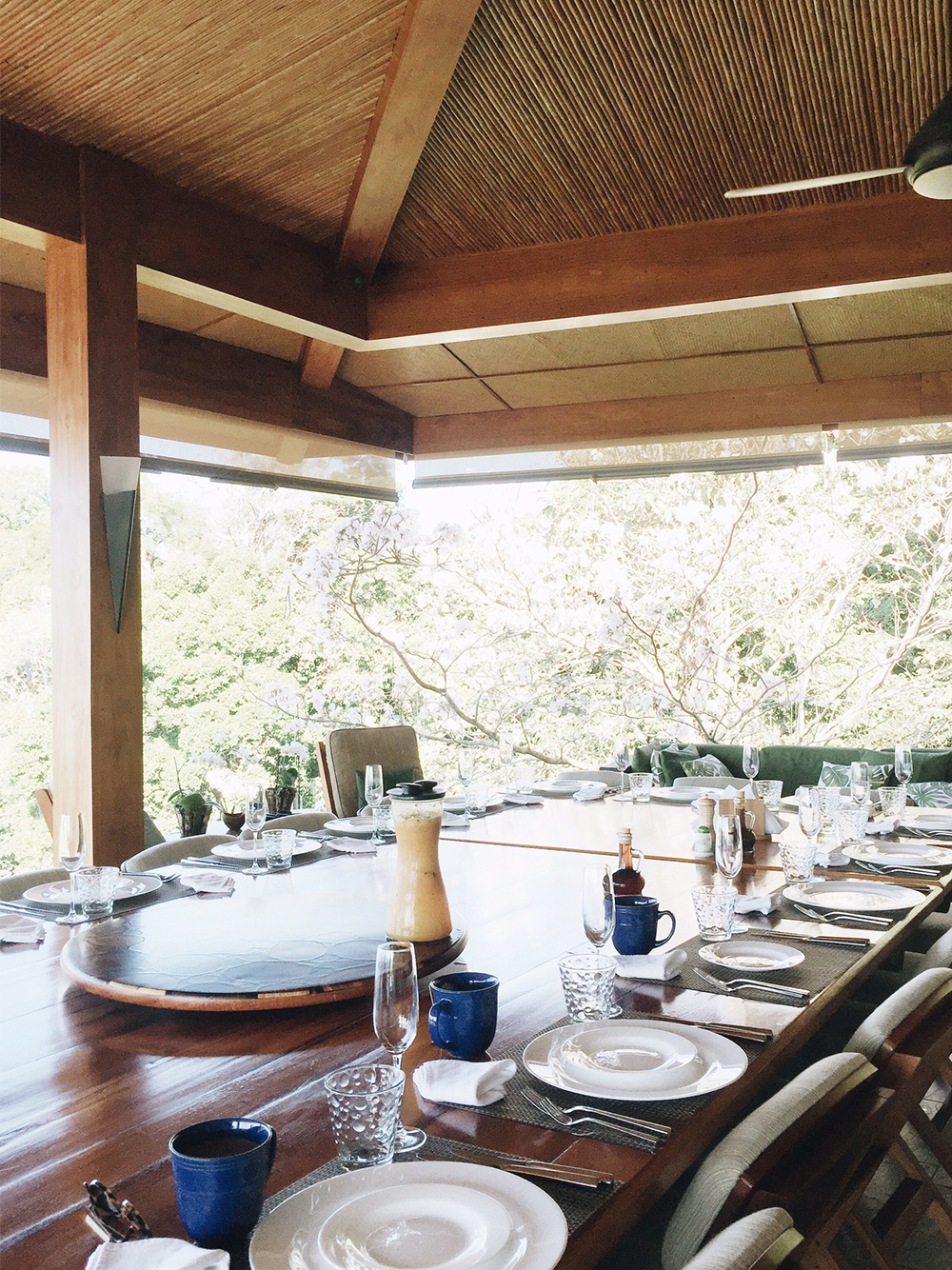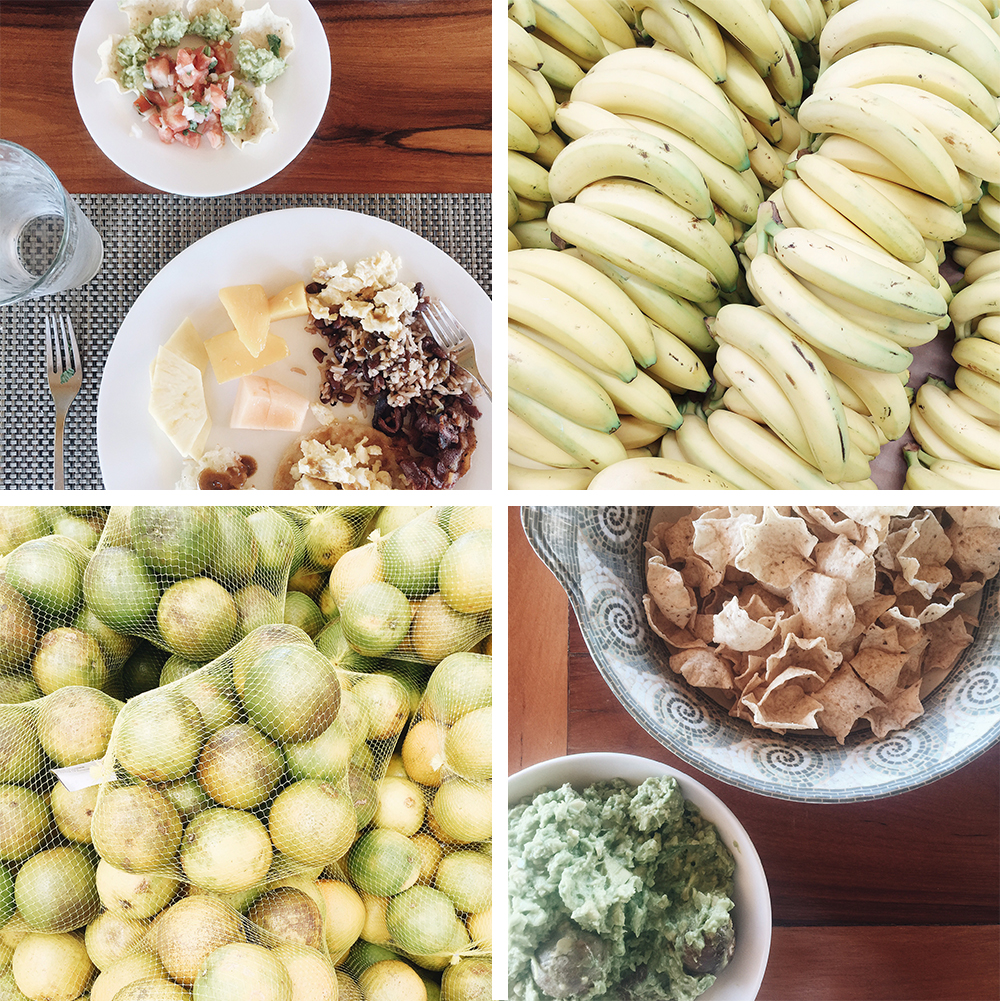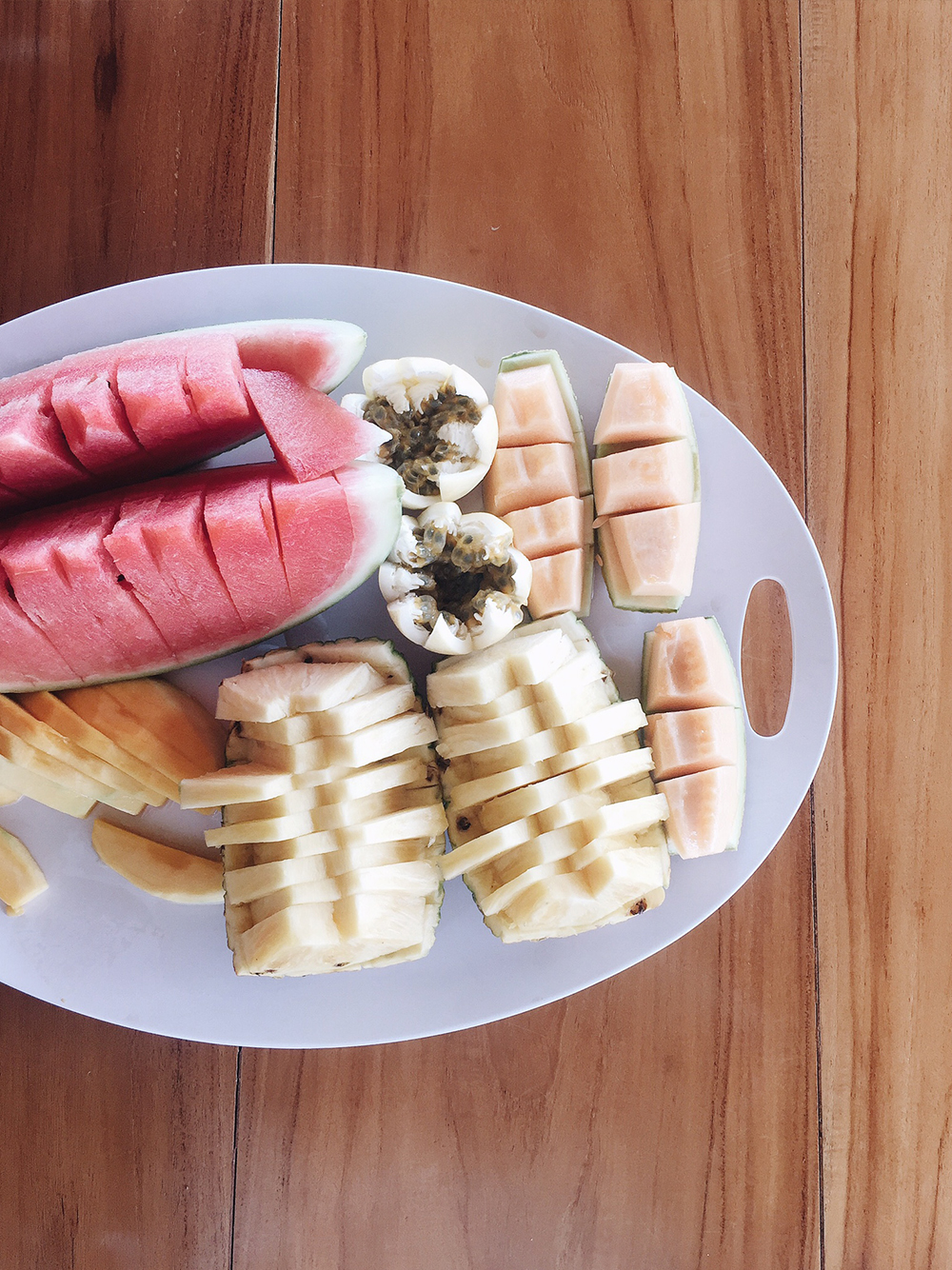 ---
BOAT DAY
Once everyone had a chance to regroup after the wedding we all hopped aboard a two-story catamaran for a day at sea. We set out to see some dolphins (which we did from afar), snorkel and leap off the top story of the boat like crazy people. It was such a blast! I still can't believe how amazing the water felt and how warm it was. Everywhere we went it was like jumping into a heated, albeit salty, pool. Just bliss!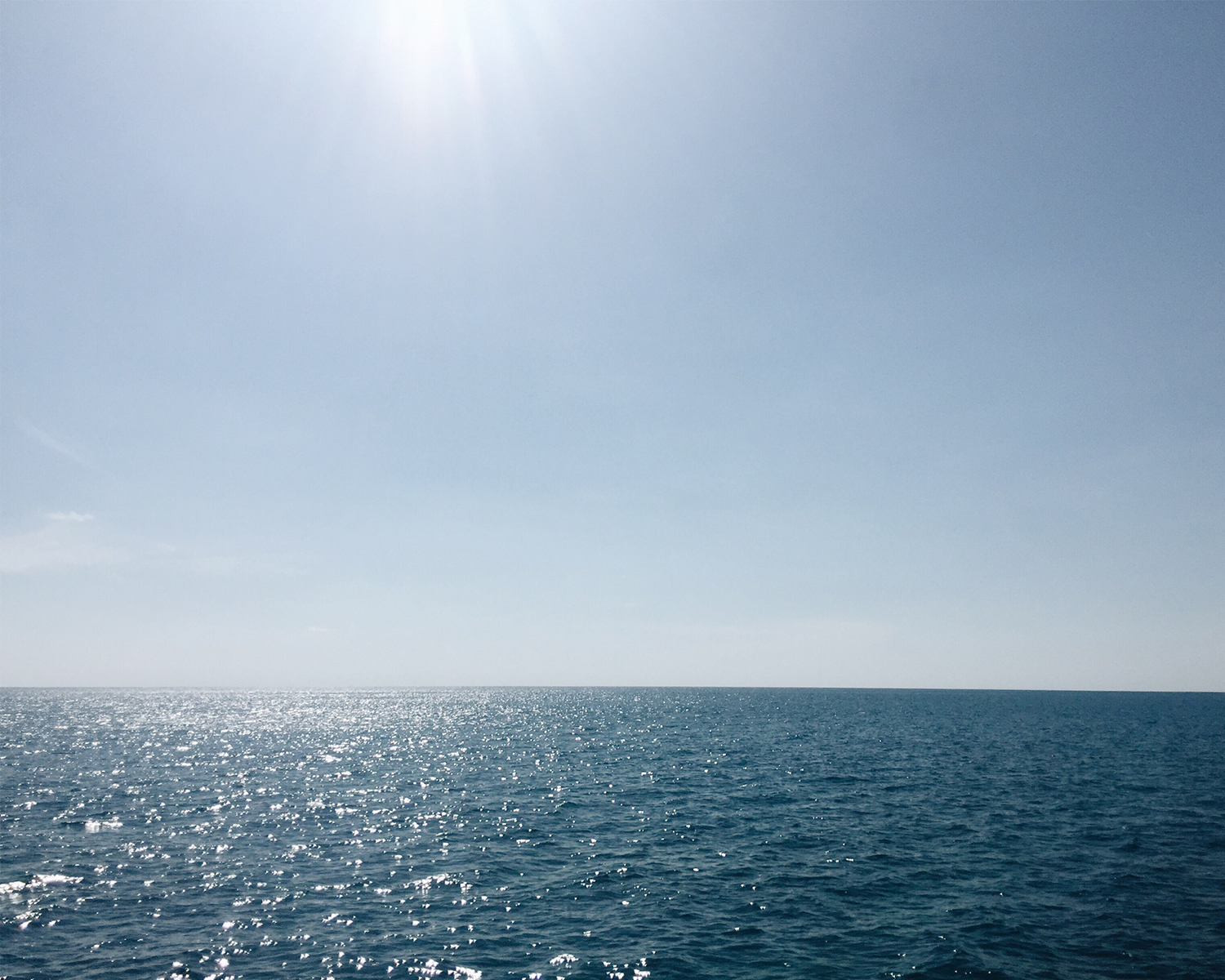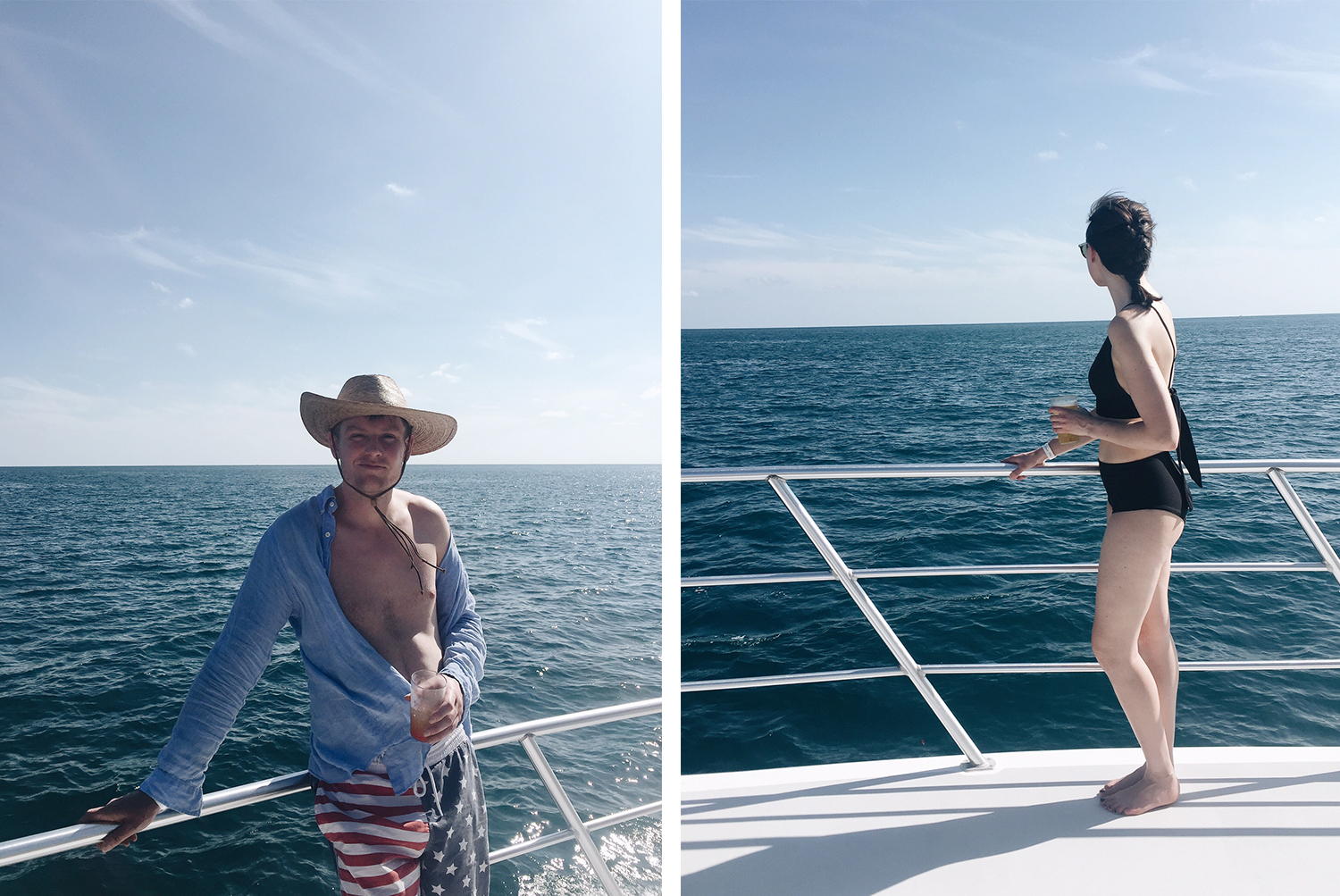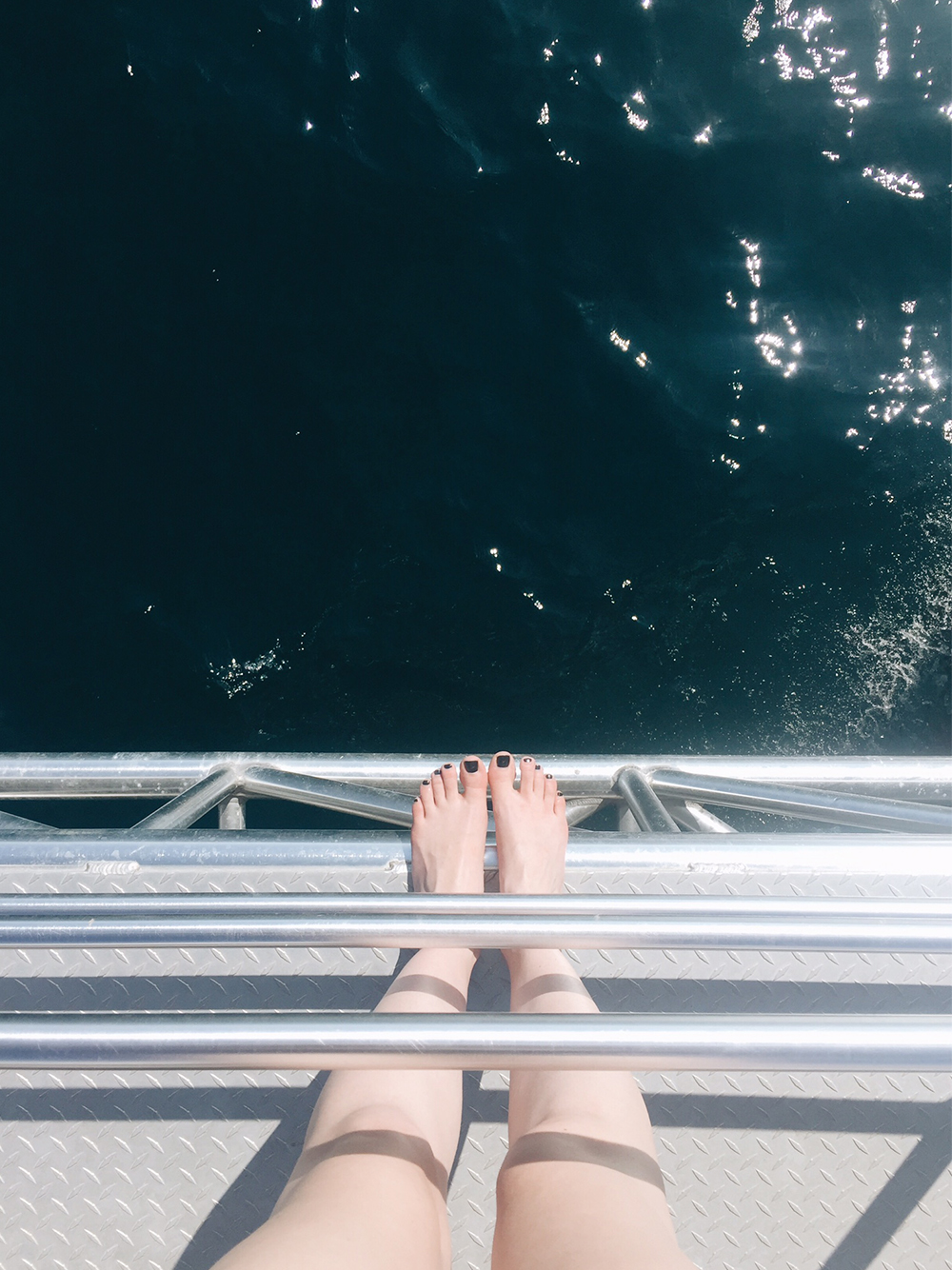 ---
MONKEYS
Now if you've spent much time on this blog, you'll be well aware that I love animals (corgi's particularly) so it will come as no surprise that monkey's were at the top of my list of things to see on the trip. The first day we saw some squirrel monkeys (little red guys) cruising along the monkey rope highway on the property so we knew they were in the area. But a few days went by with no sightings so we thought maybe we'd been as close as we were going to get. That is, until the last day when all the squirrel monkeys decided to visit and even a couple capuchin (white-faced) fellas stopped by. Needless to say this visit was a cherry on top of this fabulous trip.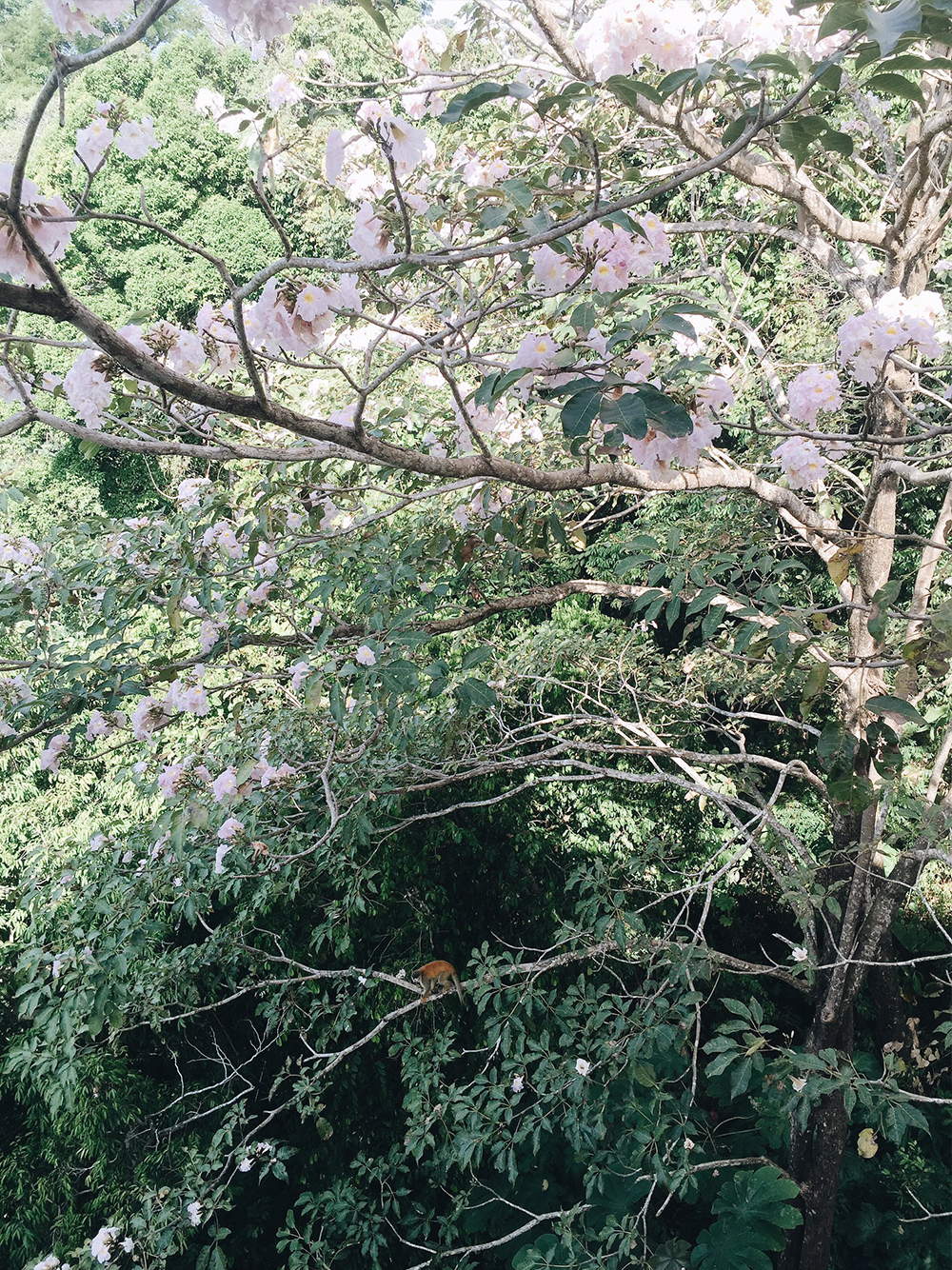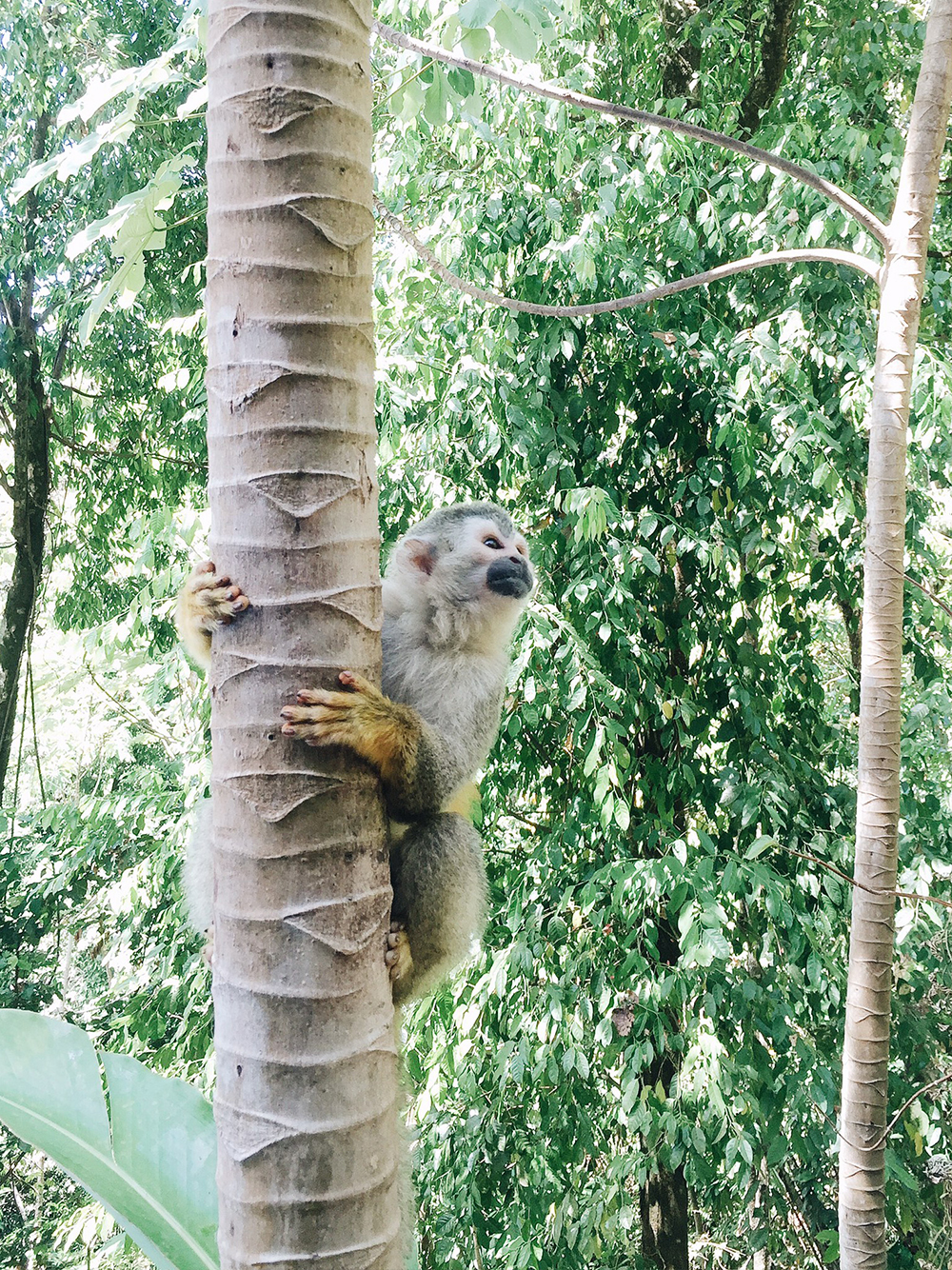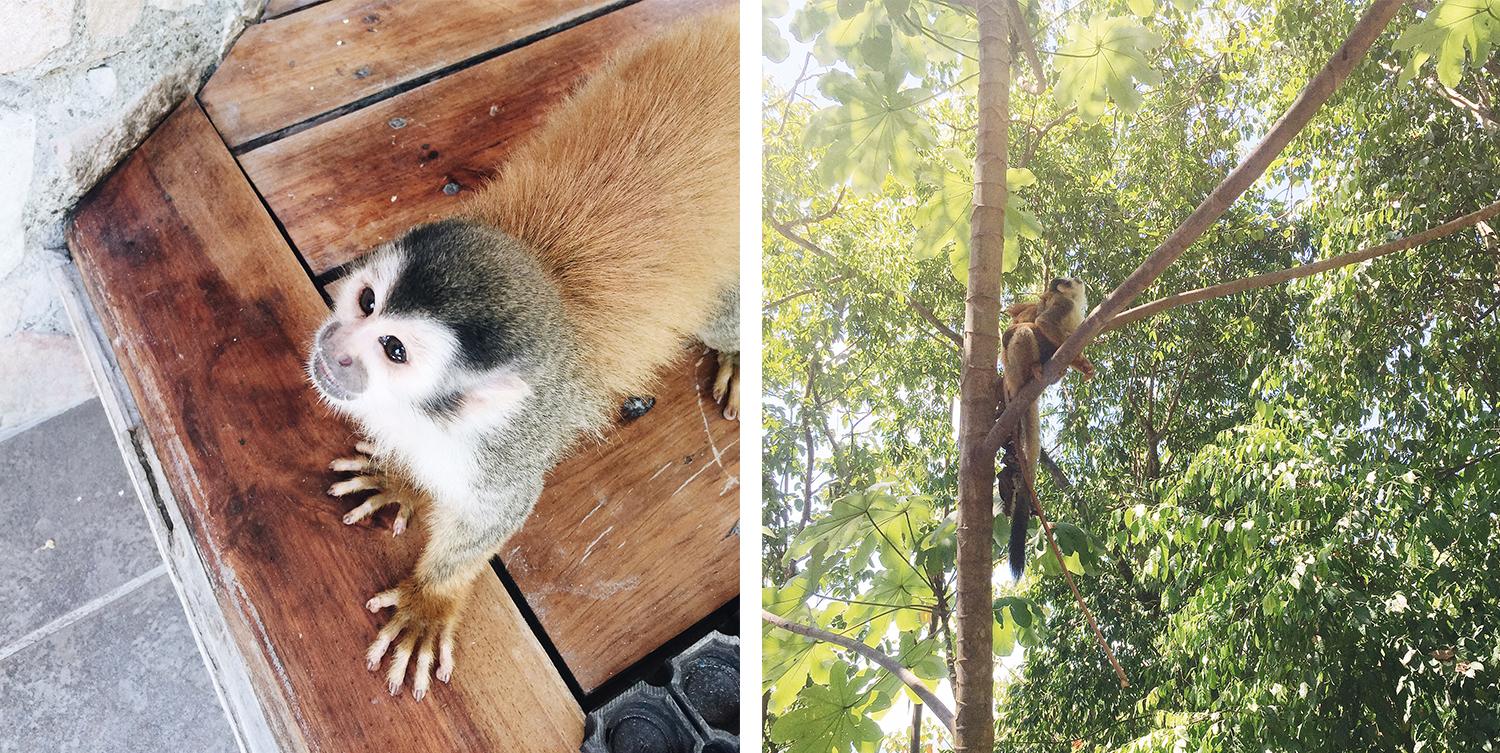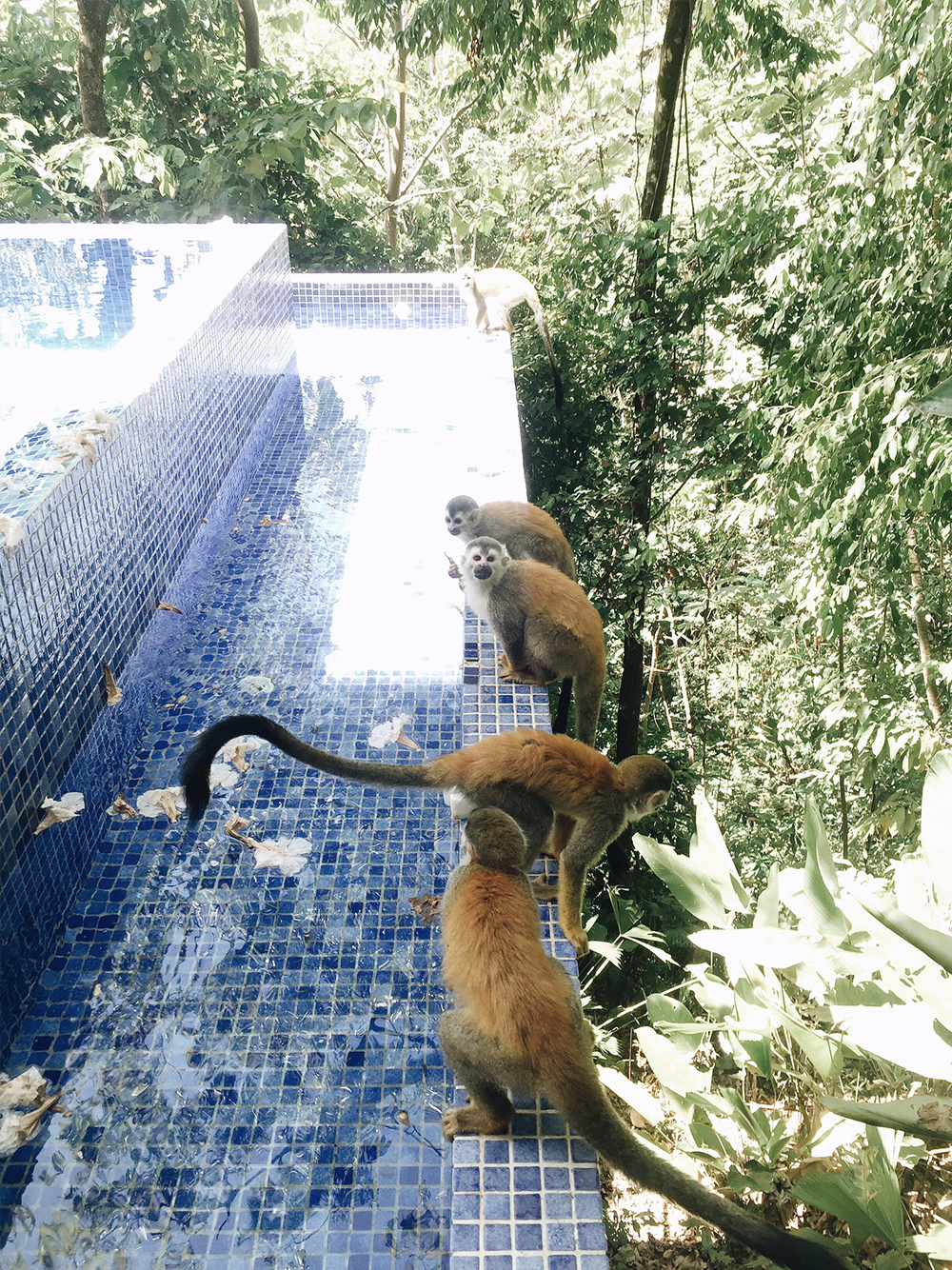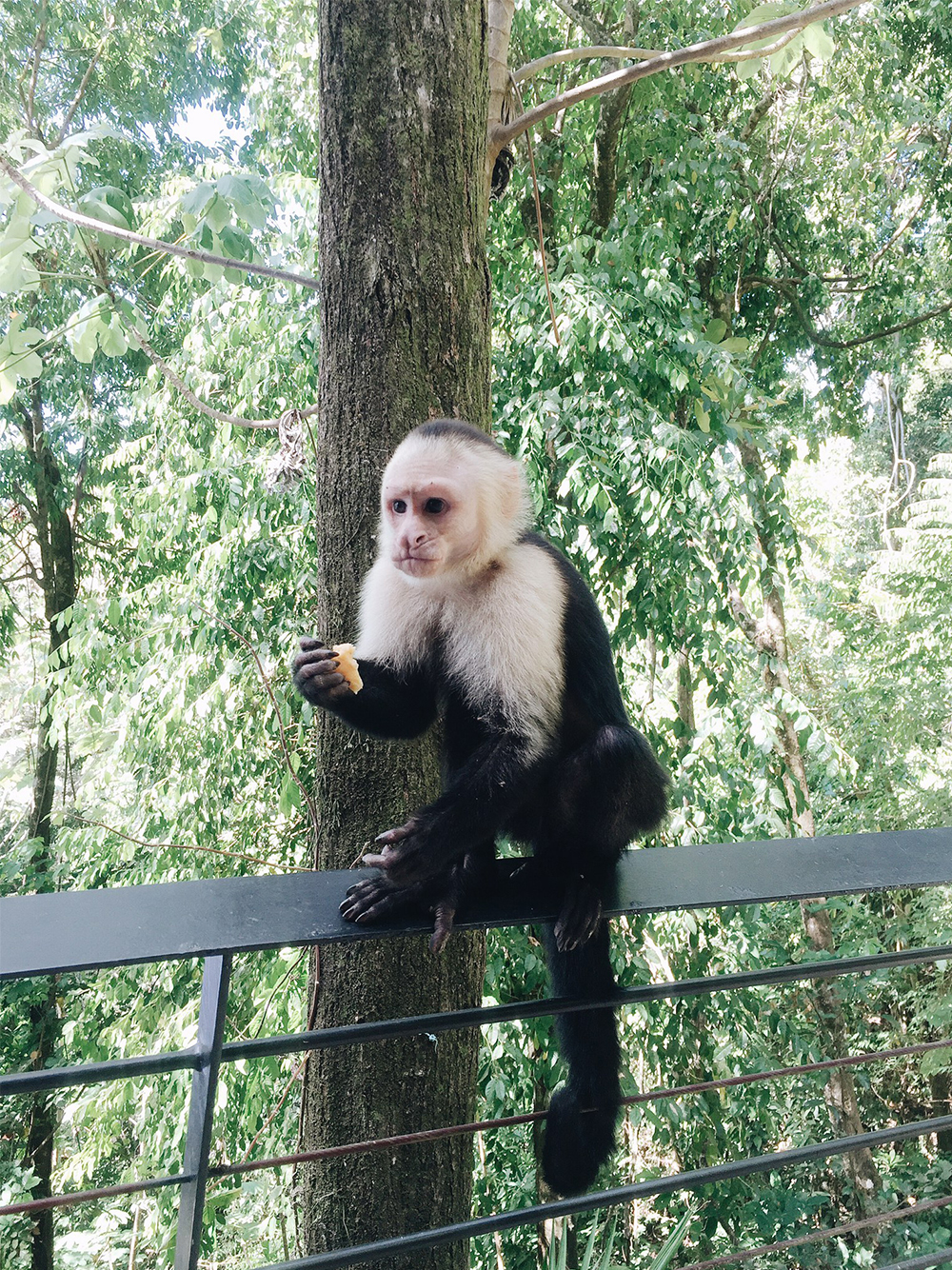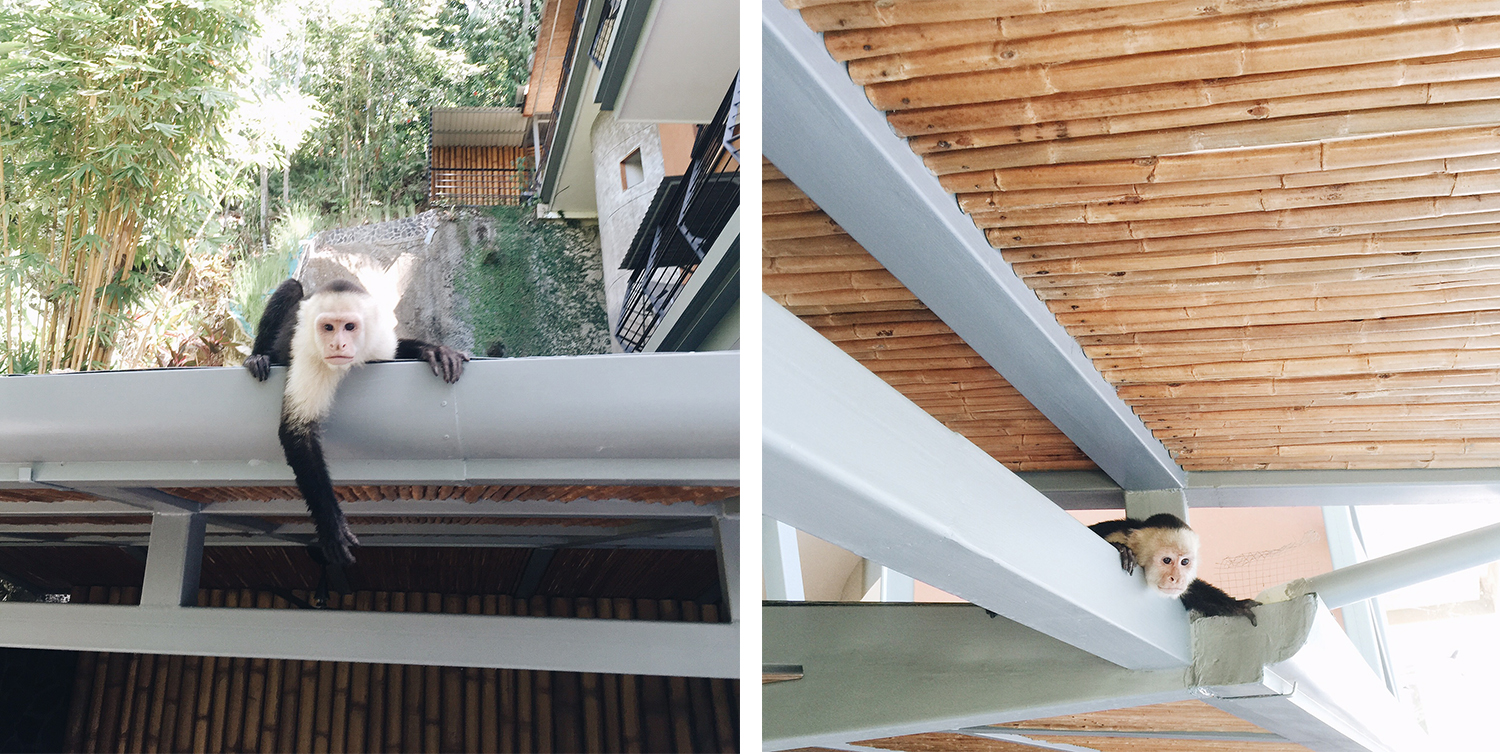 ---
THE BEACH
We were very lucky to have a stunning beach just down from our villa that was lined with perfect palm trees and barely a cloud in the sly. Dave grabbed a surf board and headed for the bigger waves, while I stuck to the smaller ones, which still took me out more than once! We made friends with local pups, ate pico de gallo and sipped cervezas while the sun set on a couple nights and it was absolute paradise.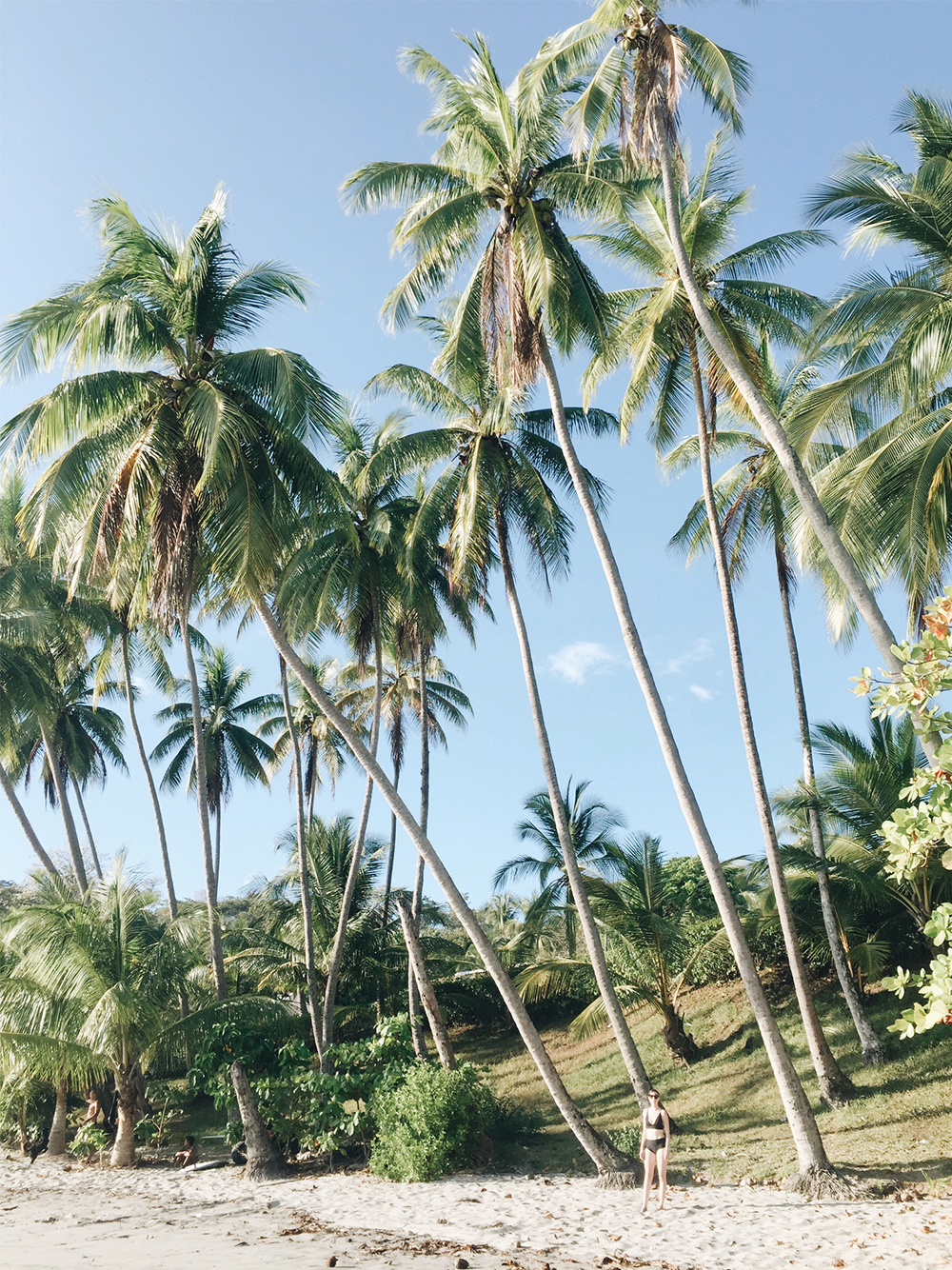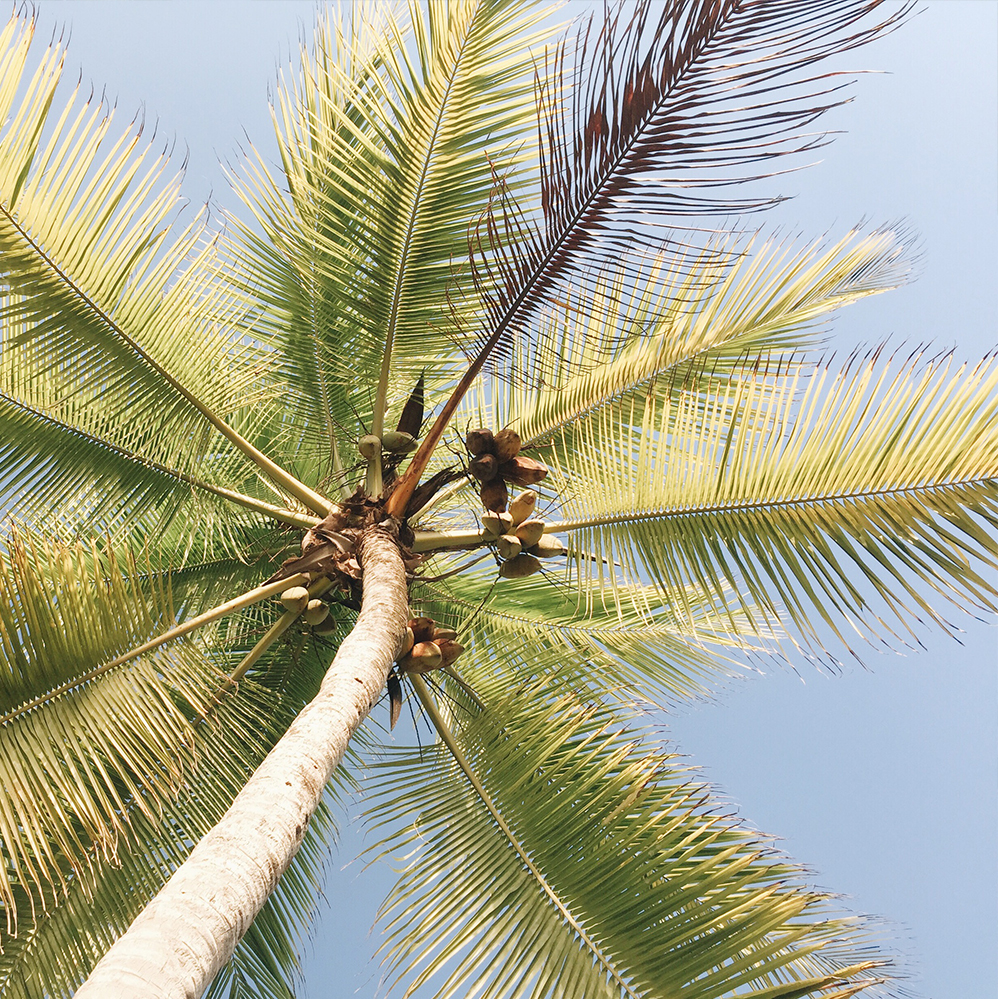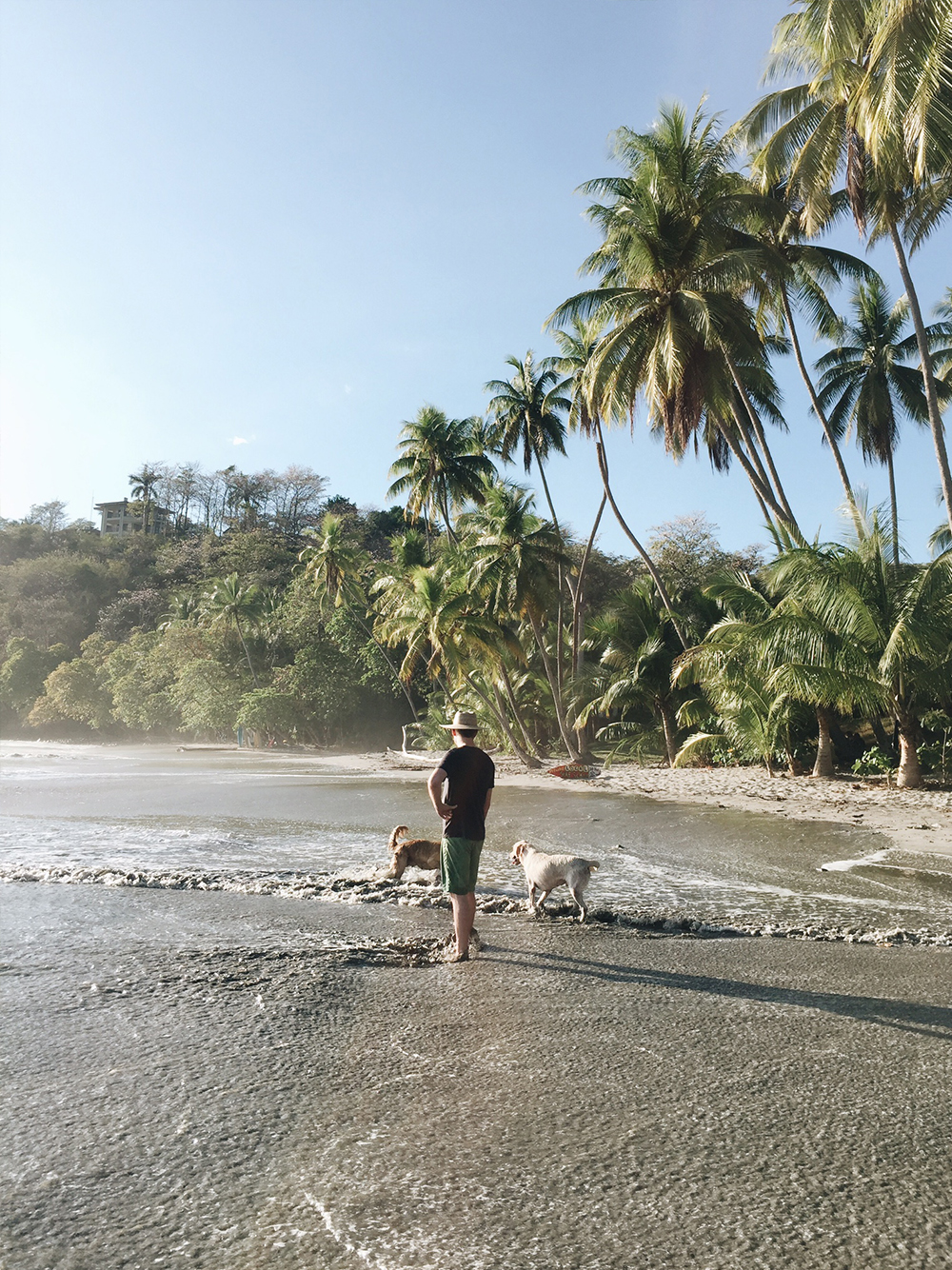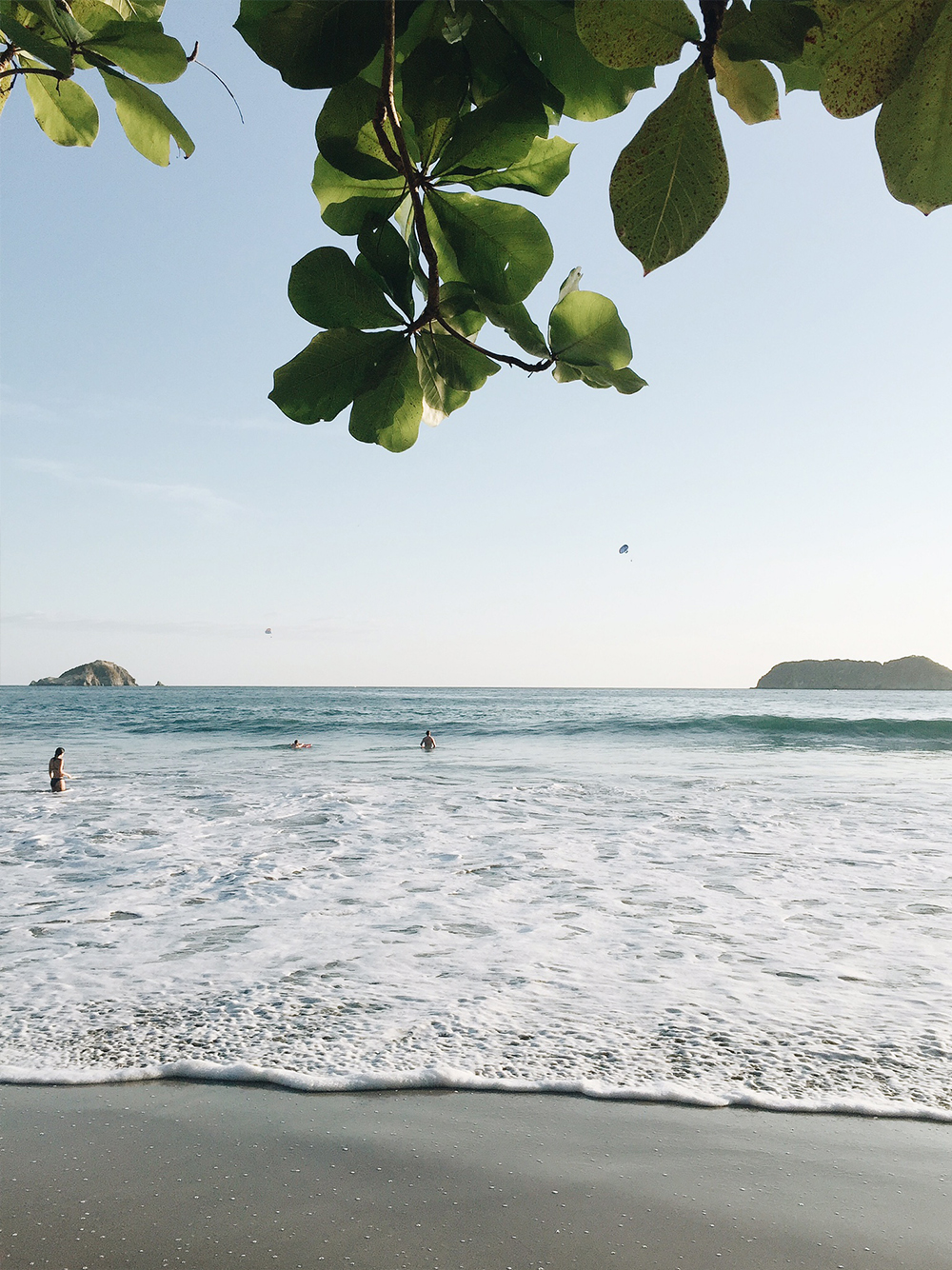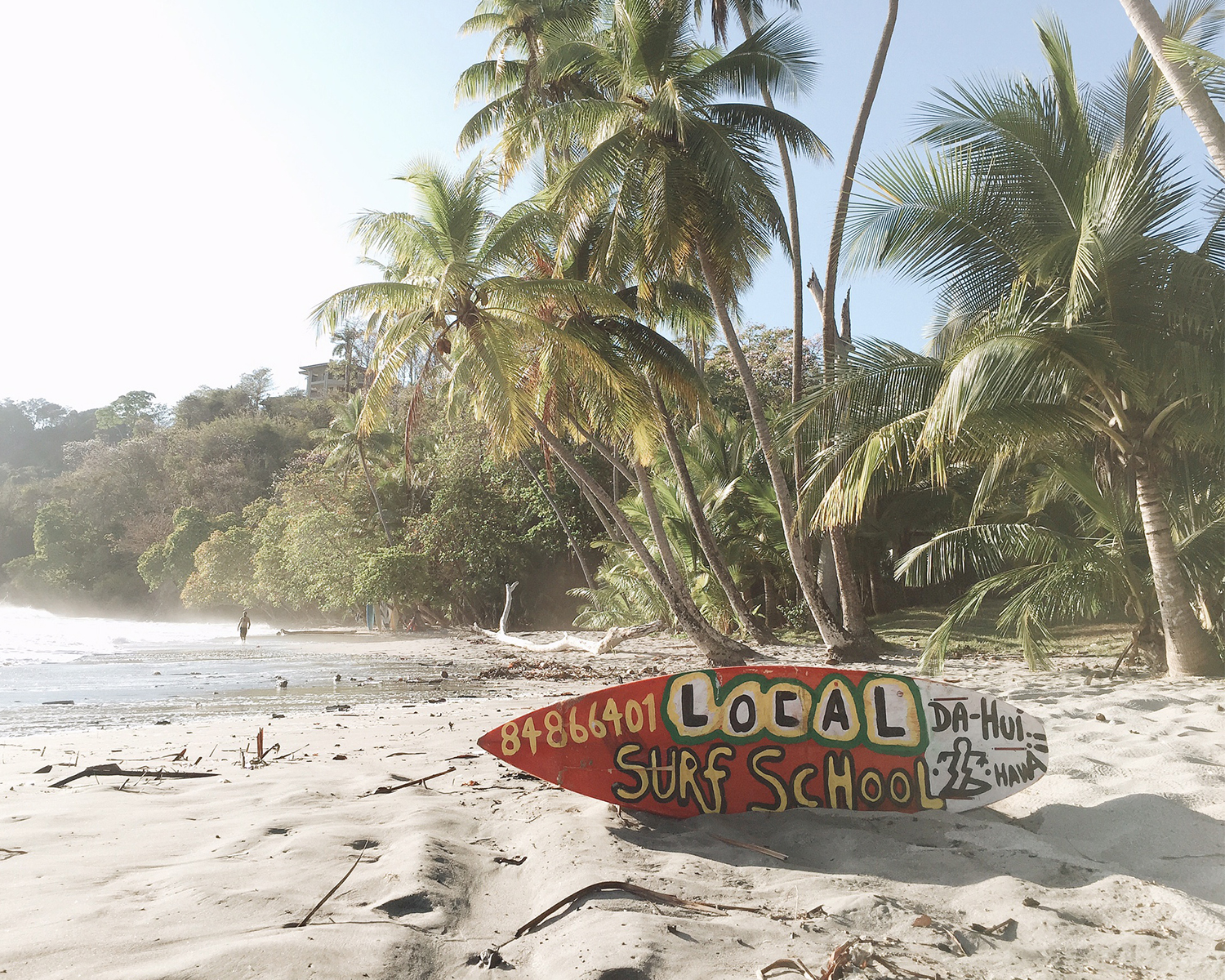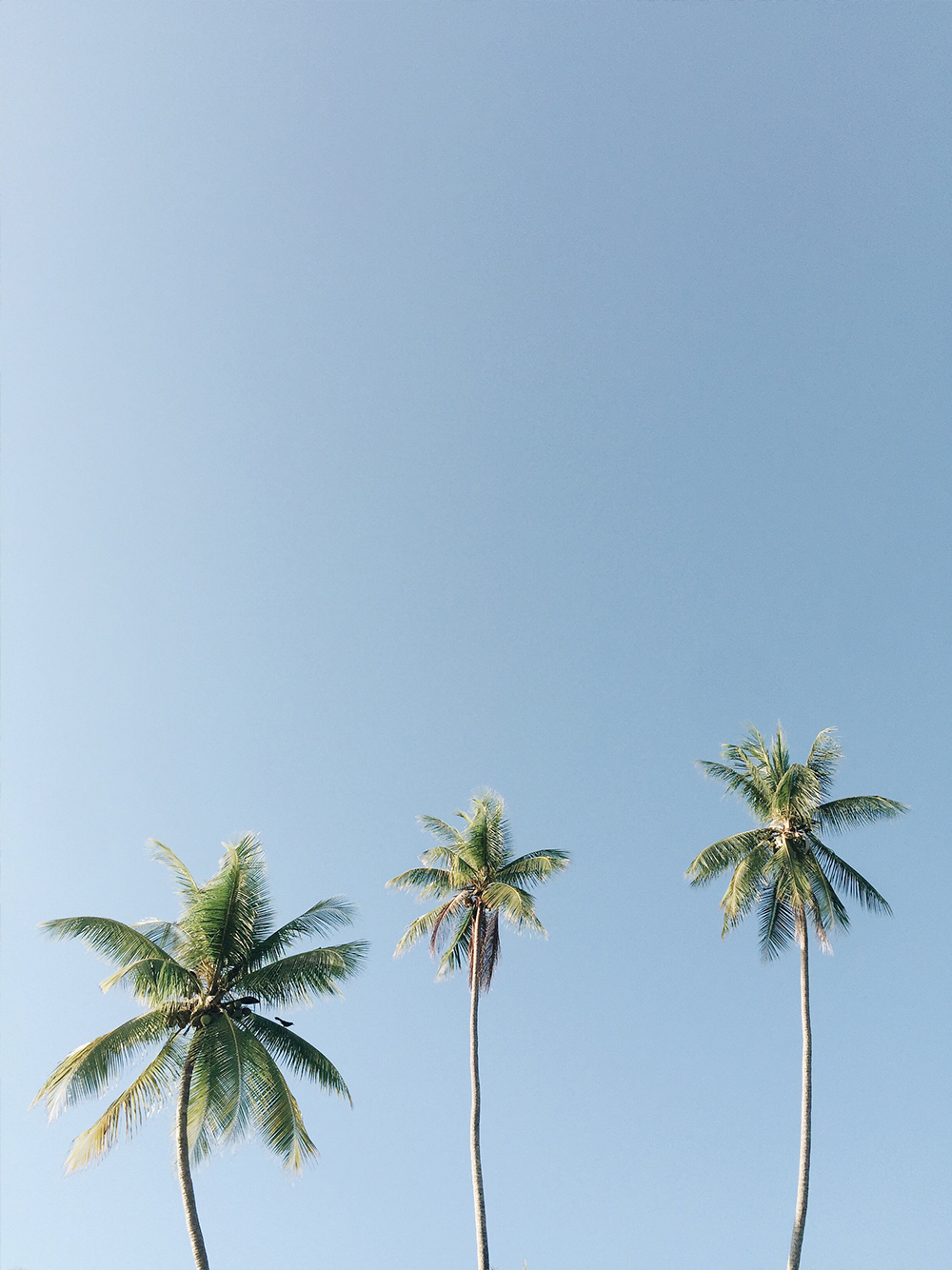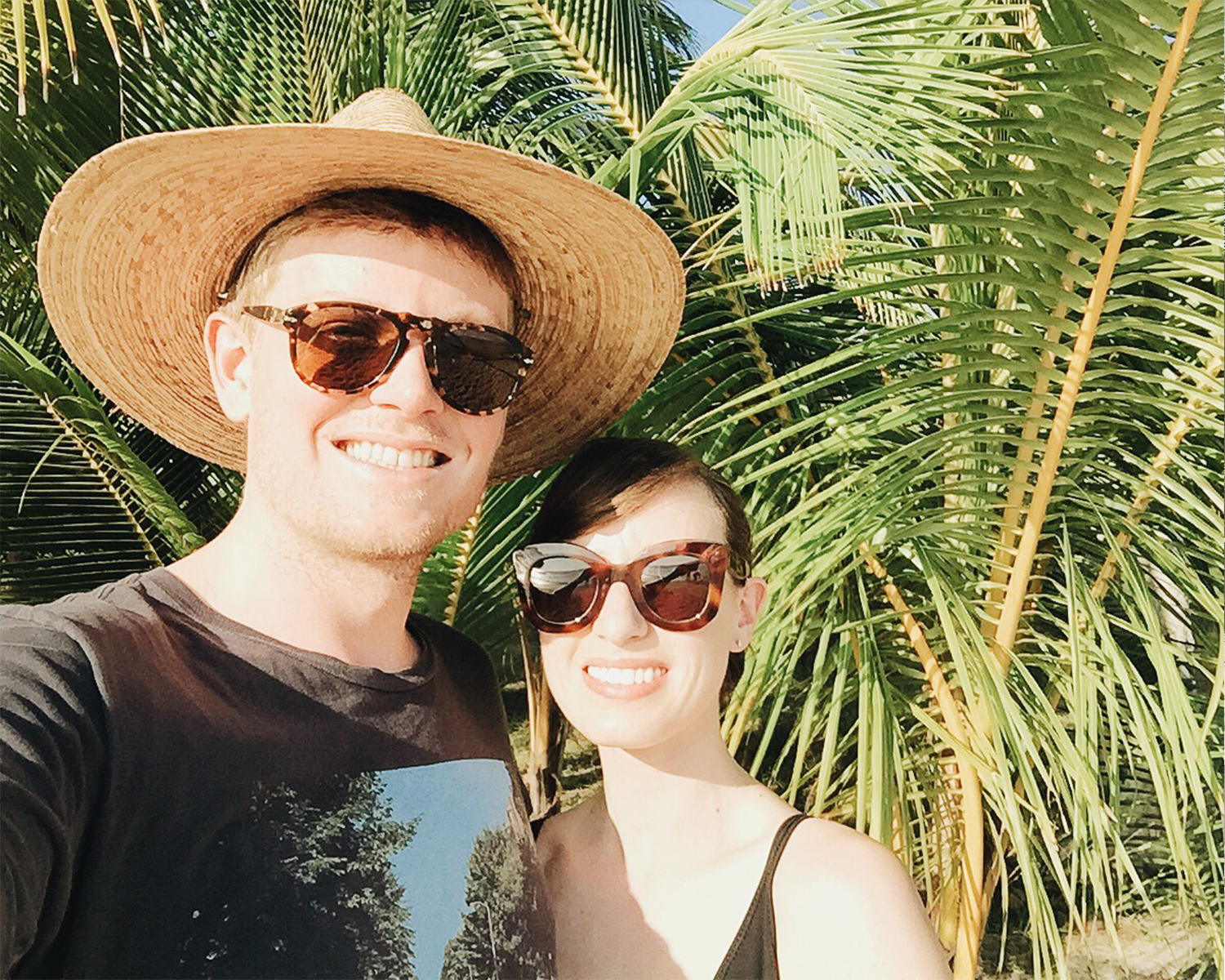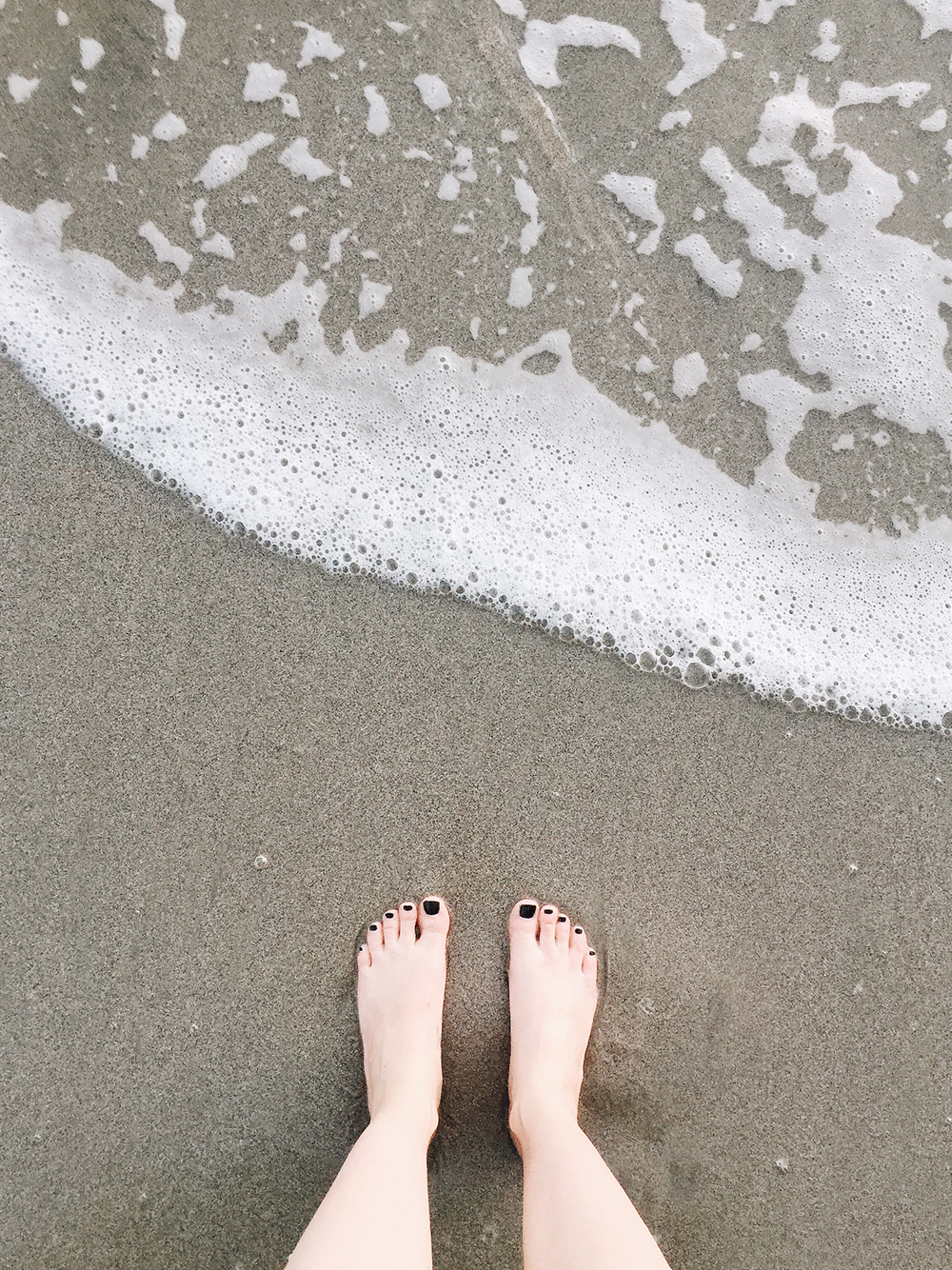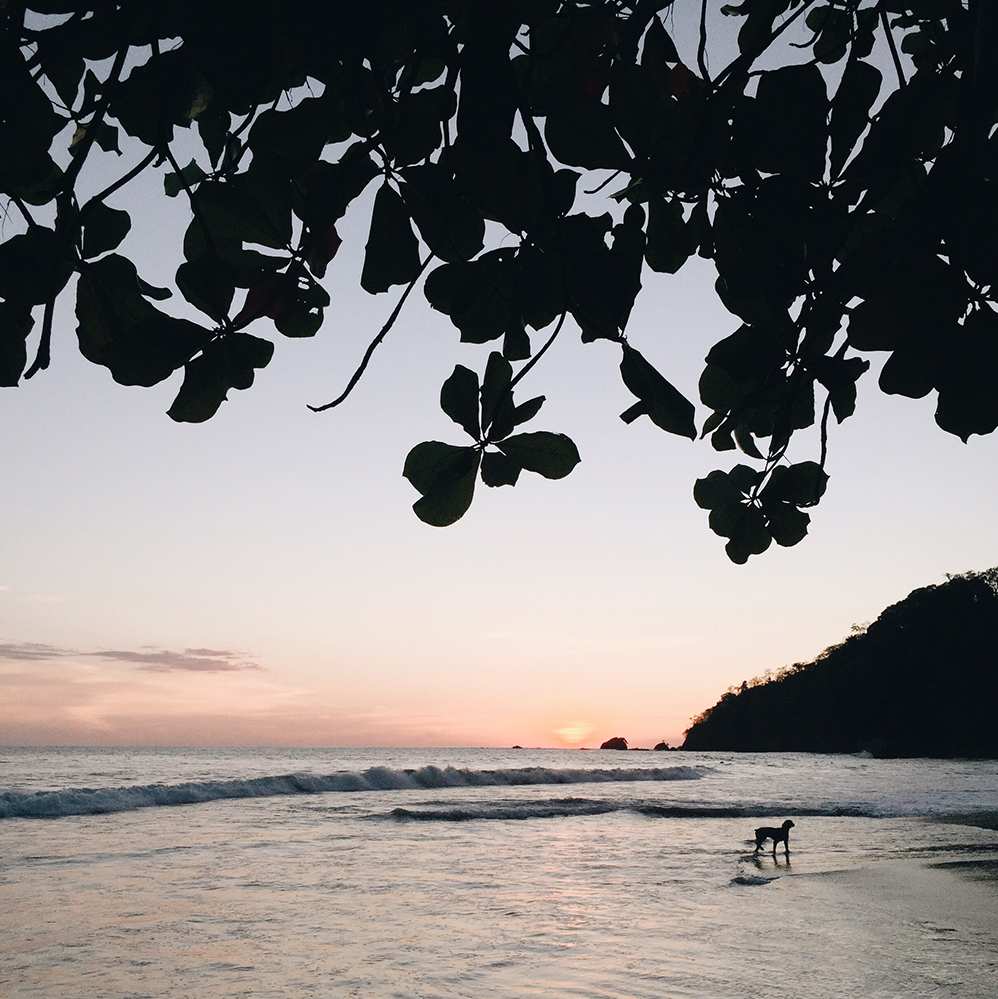 ---
TEXTURE
Natural textures, patterns and shapes are my biggest source of inspiration for photography and the variety we saw in Costa Rica absolutely blew my mind. The sheer size and expanse of the greenery was incredible and around every turn there was a new type of leaf or plant that I'd never seen before. Here are a few of my favourite tropical textures.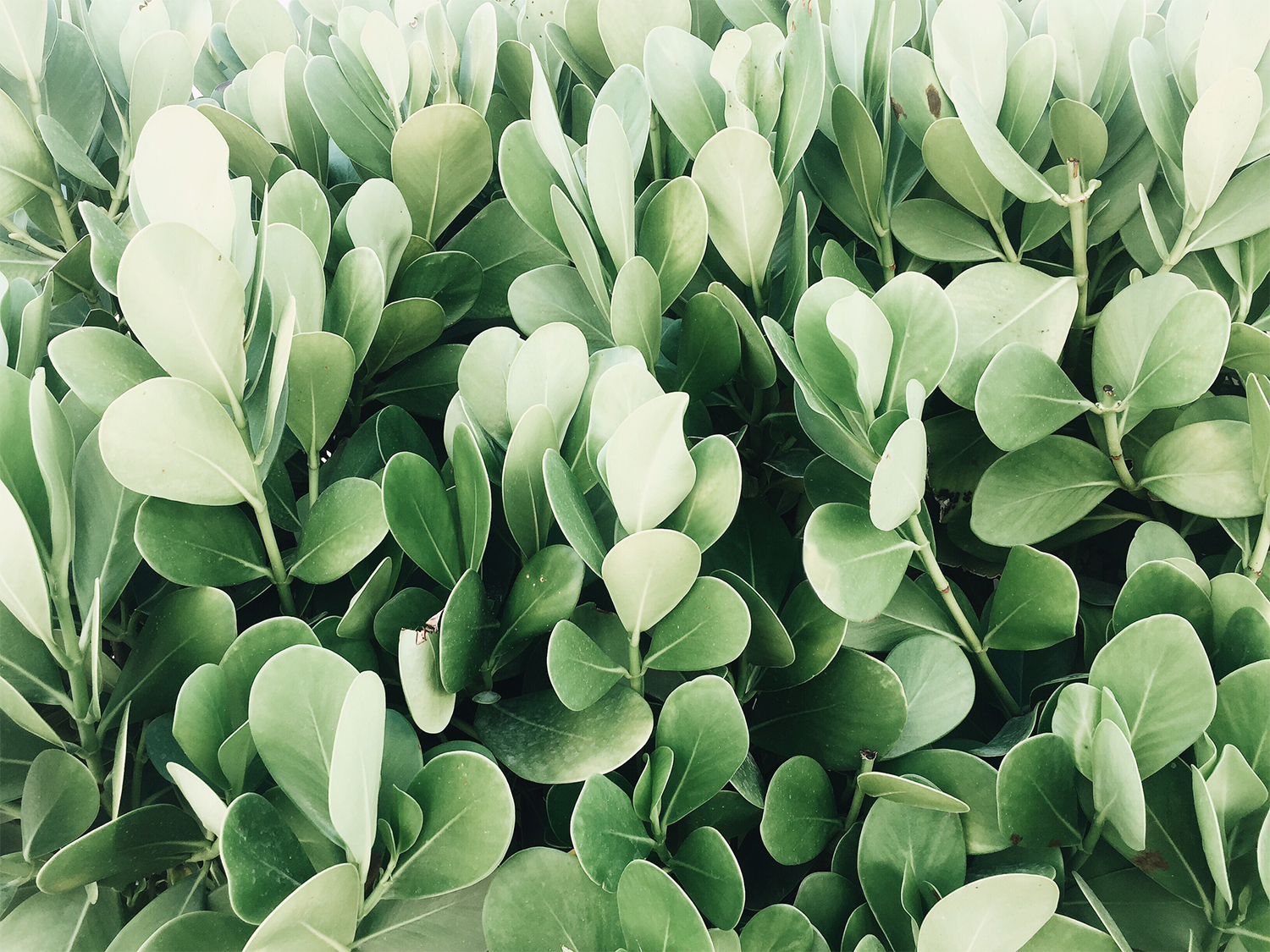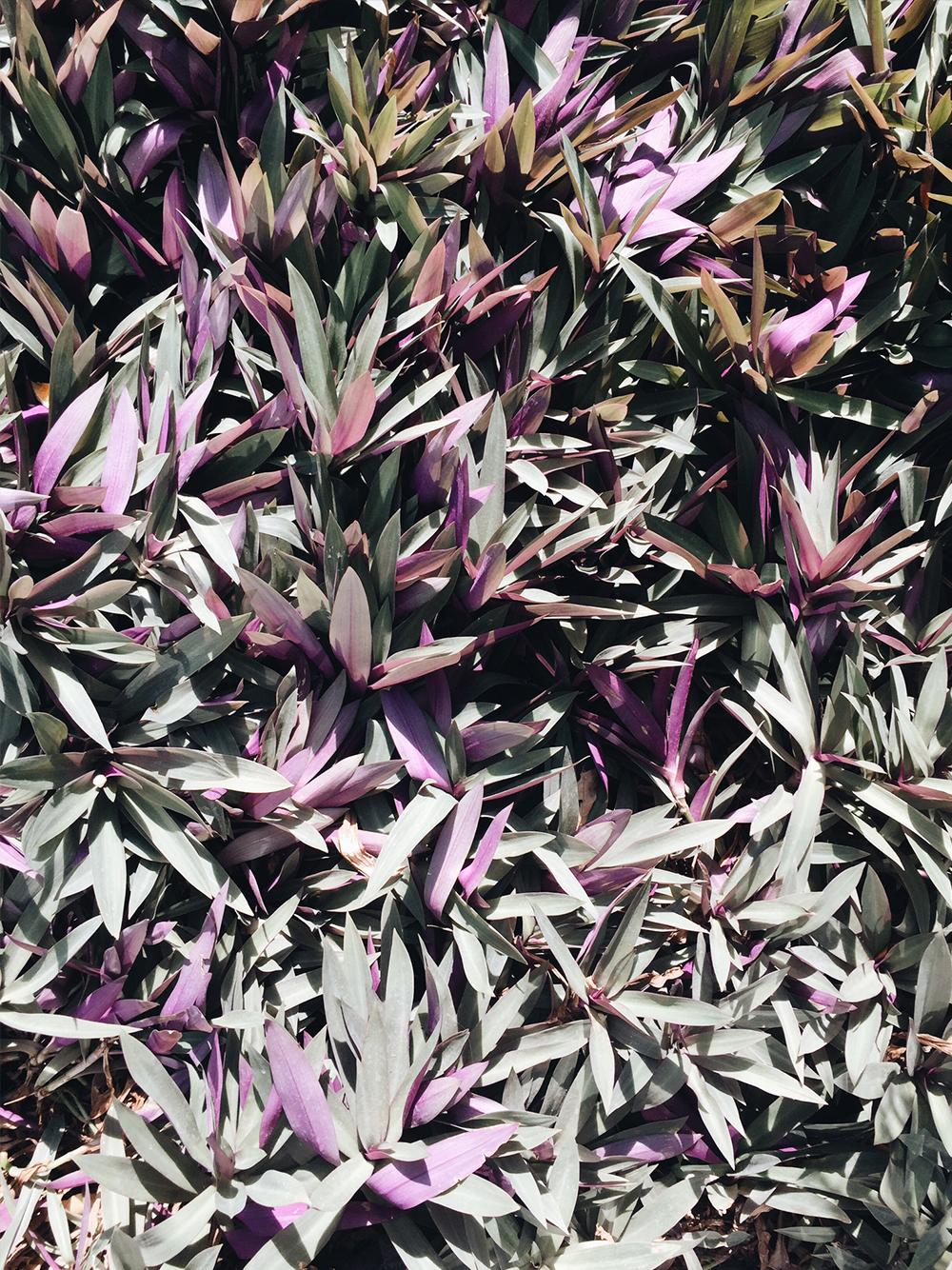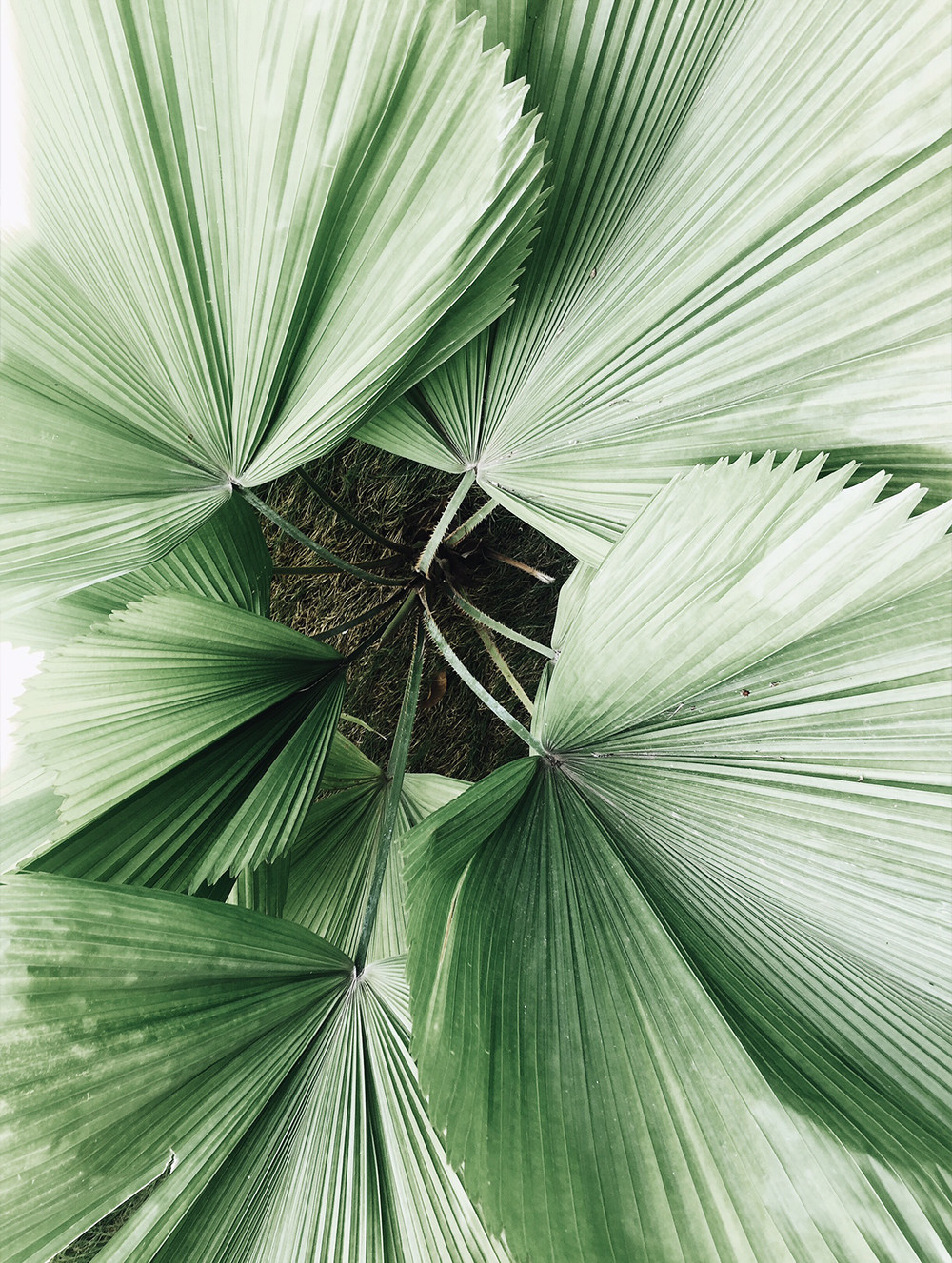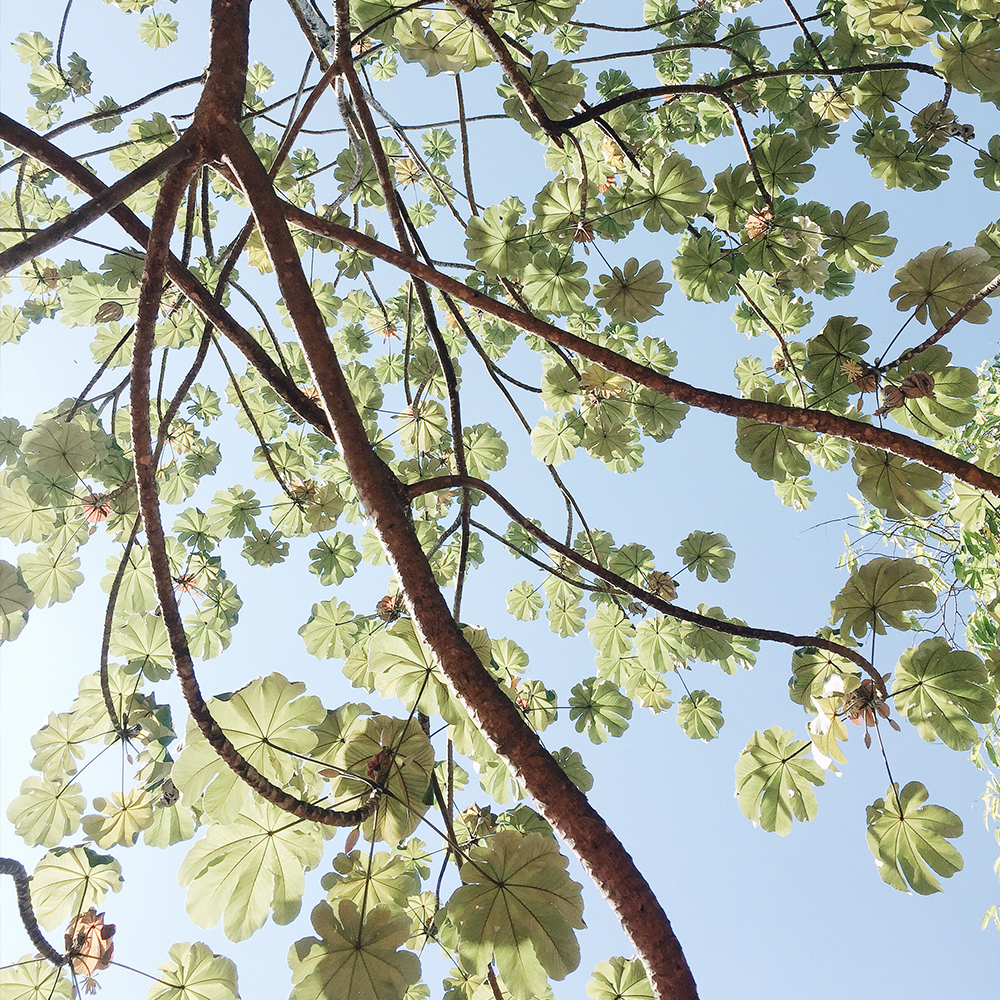 ---
STYLE
Of course, for me, planning outfits for the trip was almost as much fun as actually going! I managed to stick to my usual carry-on bag (the Everlane weekender) and ended up having way more options than I needed. Next week I'll be sharing a full recounting of every outfit and everything I packed (similar to my 9 days 1 carry-on post from last summer), so stay tuned! For now, here's a look at a few of my favourite outfits.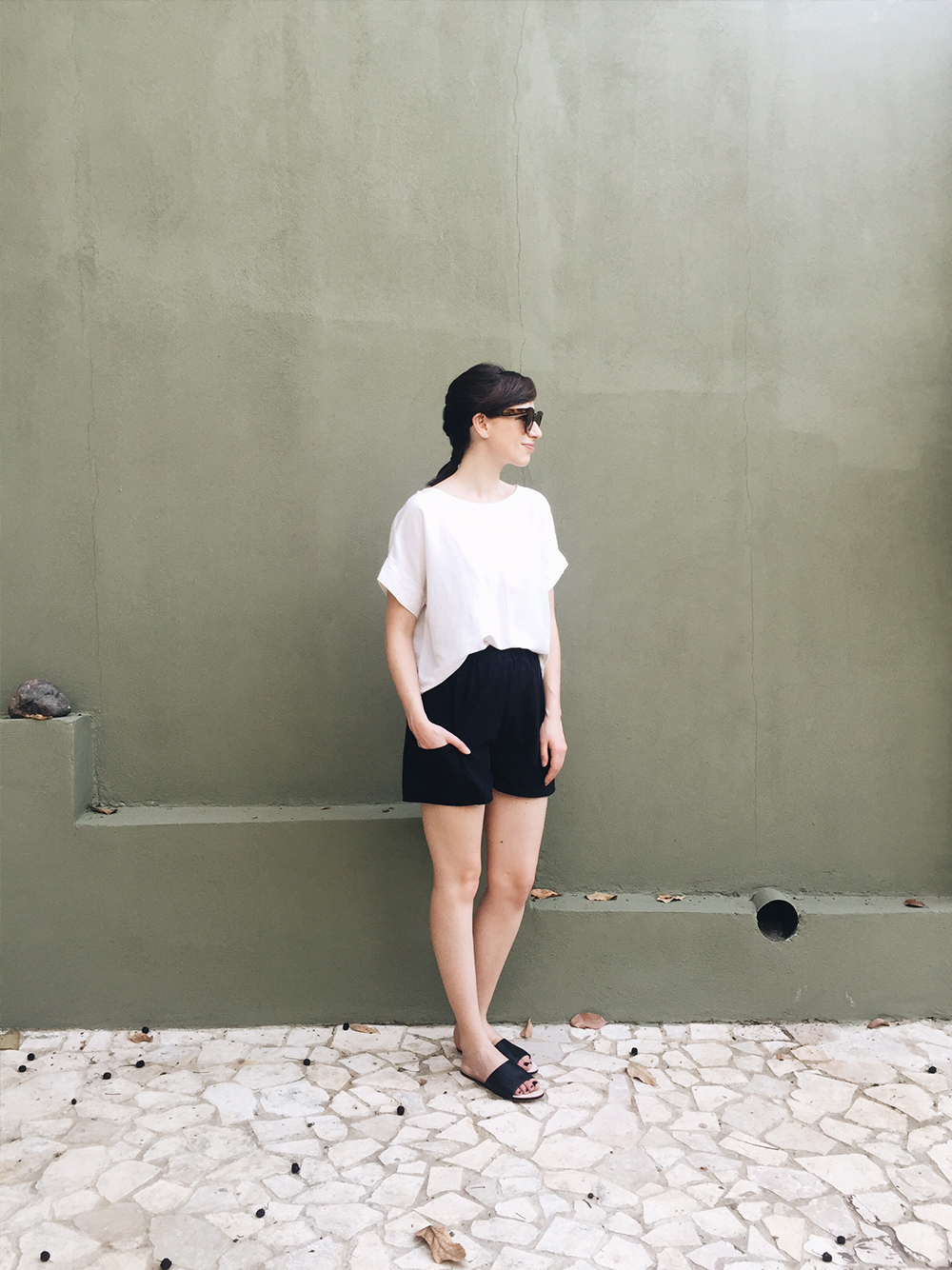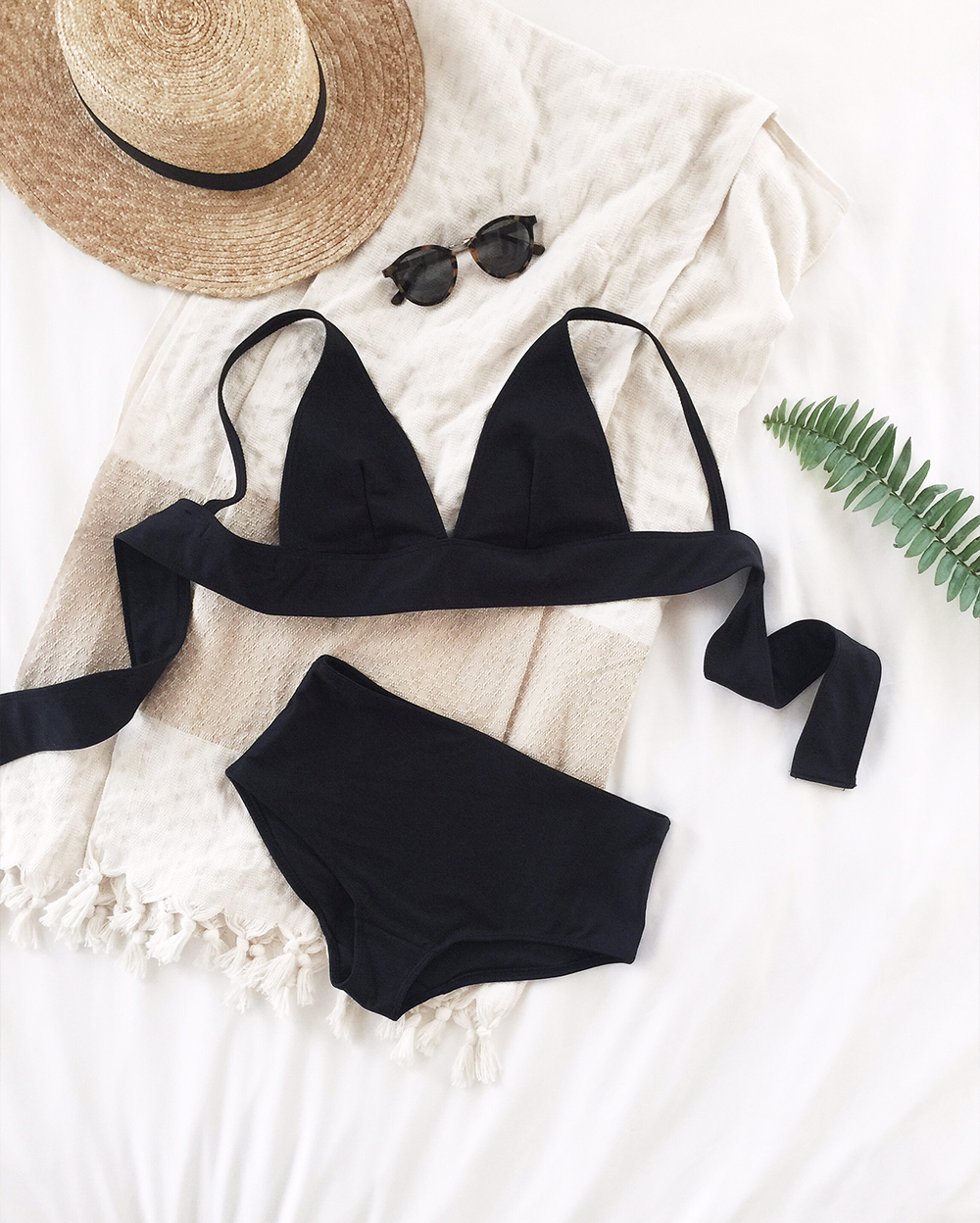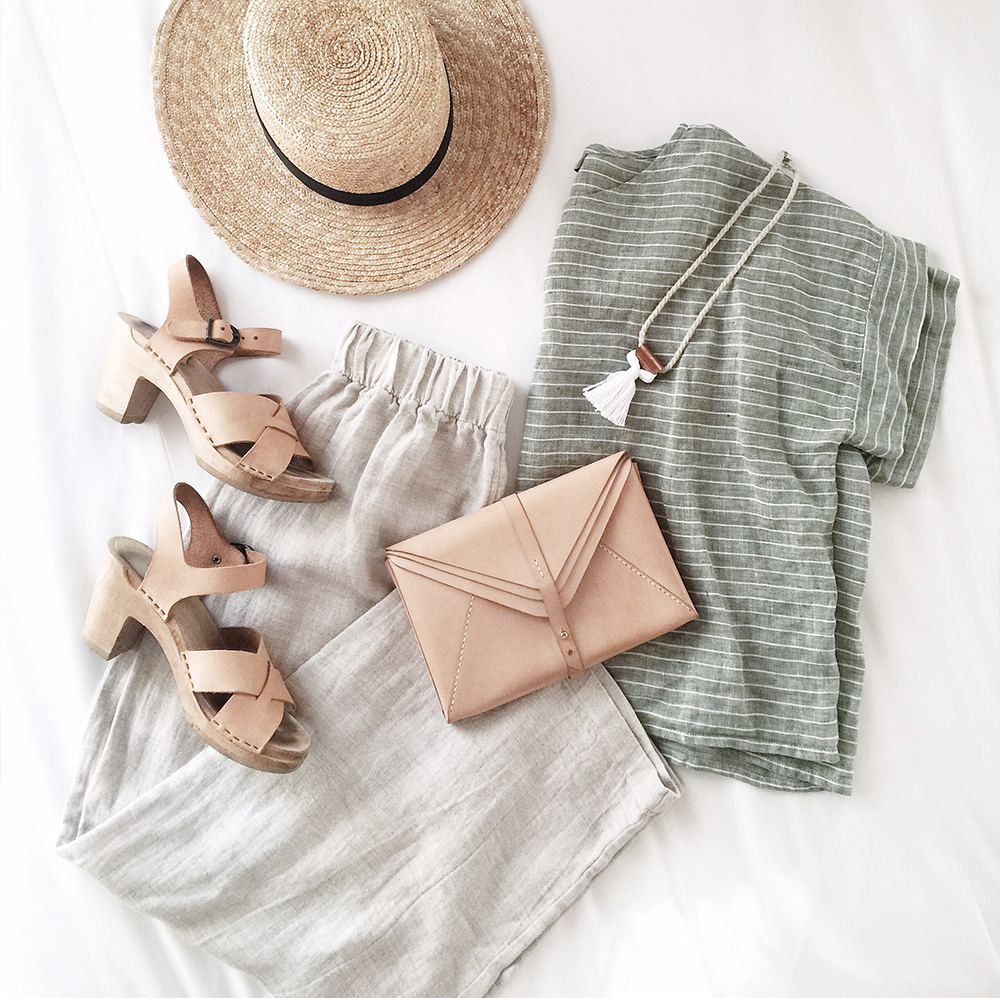 ---
You made it! Thanks for indulging me and reading (or just scrolling through) this epic post, I really tried to edit but there were just too many good things about this adventure. If you're looking for a sunny destination definitely consider Costa Rica. The country is stunning, the weather is perfect (just avoid the rainy season) and the people are amazing. We had the best time with so many good friends, got some much needed rest and returned home invigorated and inspired for the year ahead.
---
All photos taken with an iPhone 6+ and edited with VSCO.