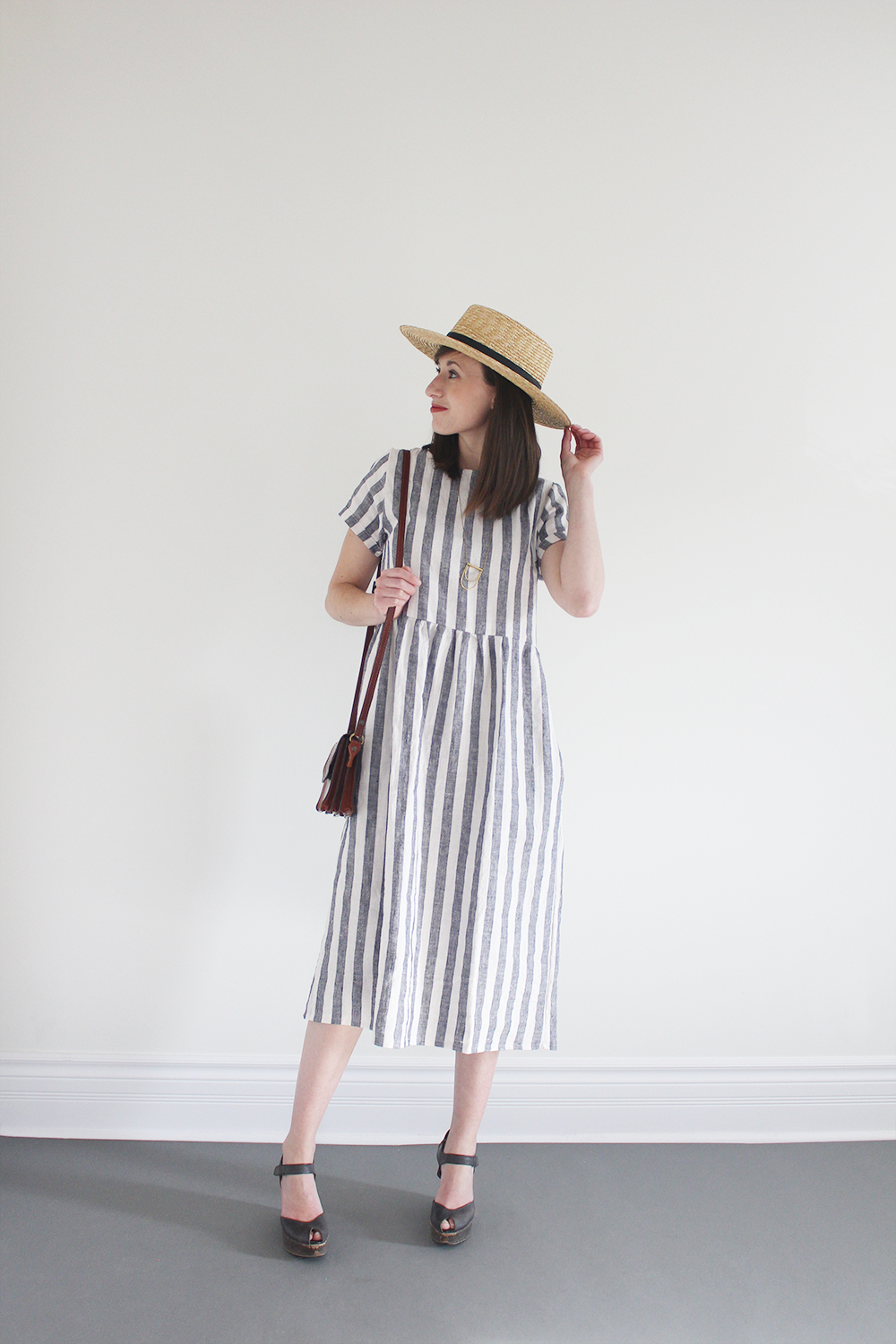 We had some true spring weather here in Ontario this weekend and it was such a treat to actually feel the sun and leave the house without 100 layers on. As soon as the weather even hints at being dress friendly I get overly excited, especially when I have two of the loveliest ones just waiting on hangers, begging to be worn! Which brings me to the next instalment of Behind the Design.
Today I'm very pleased to be sharing the beautiful work of Pyne & Smith Clothiers. During one of my trips down the rabbit hole on Instagram, I stumbled on this amazing collection of simple, elegant and functional dresses in the prettiest patterns and fabrics. I was all heart eyes and praise hands emojis to say the least. I immediately reached out to Joanna McCartney, founder and maker behind the California based line of hand-made dresses and after an email intro our collaboration started coming to life. One thing that always makes me so happy is connecting with new designers who are also really lovely people, working hard, perfecting their craft and producing beautiful, wearable works of art, which was my immediate impression of Joanna.
For today's collaboration, I've styled my two favourite dresses from the Spring collection into two looks each. I thought it would be fun to share how I plan to wear them sooner while it's still cool and later when the days are toasty warm. Then I asked Joanna a few questions about how she found her way into dress making, why she has such affection for natural fibres and what lies ahead for the future of Pyne & Smith Clothiers. Enjoy an inspiring Q&A and definitely be sure to check out the full Spring collection!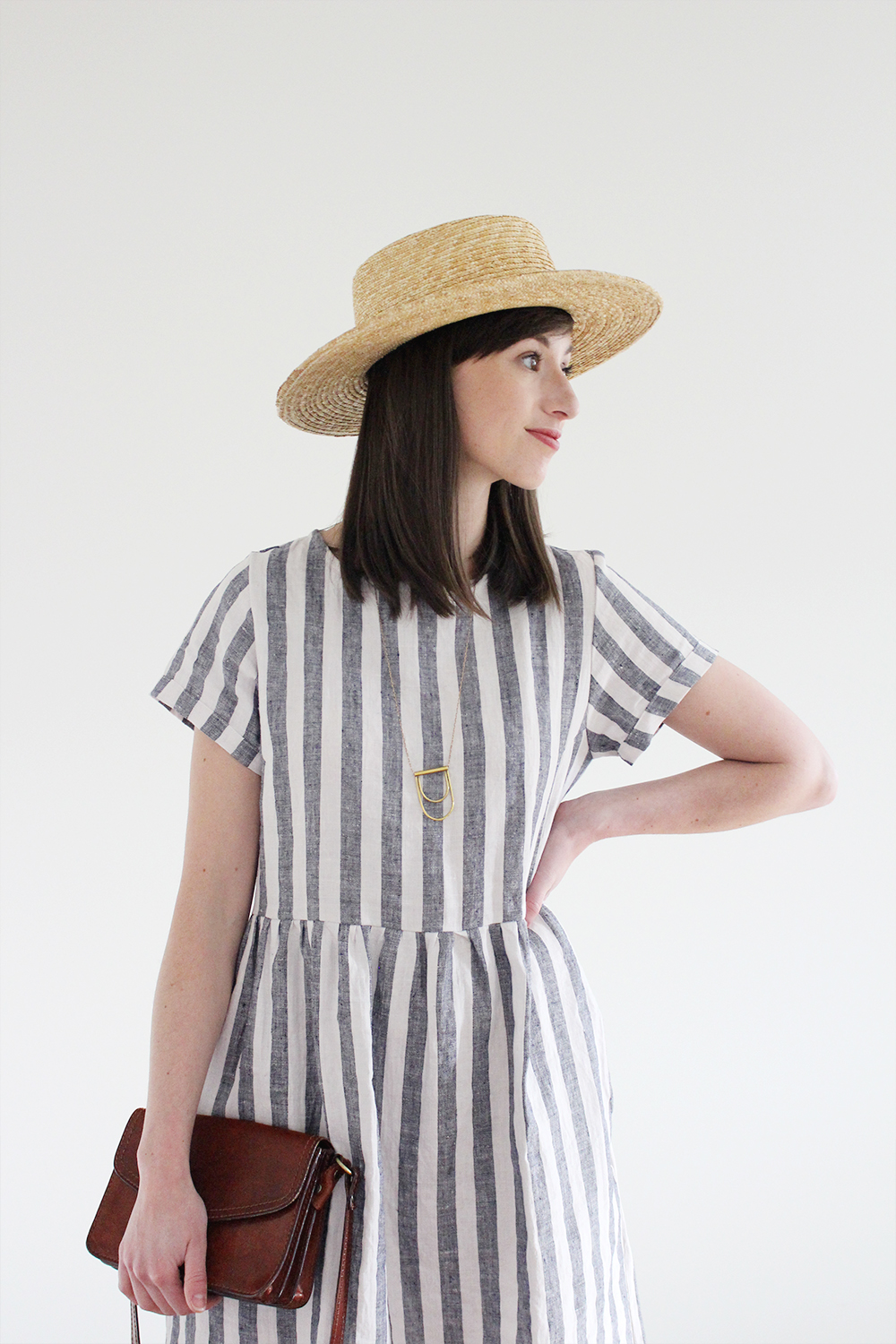 1 | "Dressmaker" is an uncommon job title these days. How did you come to be so passionate about the art of dressmaking? 
It's pretty random, but one day, I read a magazine with an article about a dressmaker and I just knew, without a doubt, that was what I wanted to do.
I had no prior knowledge or training, so it was a bit of a learning curve. I set out to learn everything I could about dressmaking. Dresses, to me, are so feminine, yet I wanted a functional dress I could wear everyday, a dress you wear around the house, or to walk the dog, an everyday dress. The type of dress your kids will have memories of you wearing as they grow up.
Around the same time, my husband was reading a book called 'The Unknown Craftsmen' by Yanagi Sōetsu, which is about craftsmen, makers and artists who have, throughout history, perfected utilitarian objects to be equally functional and beautiful and timeless in design. Through handmade crafting, every detail, including the imperfections of all handmade objects, beauty became an inherent part of the object. Naturally instead of deliberately. With human hands instead of machines. I found this so meaningful, so it became important to me that this was part of my dressmaking equation.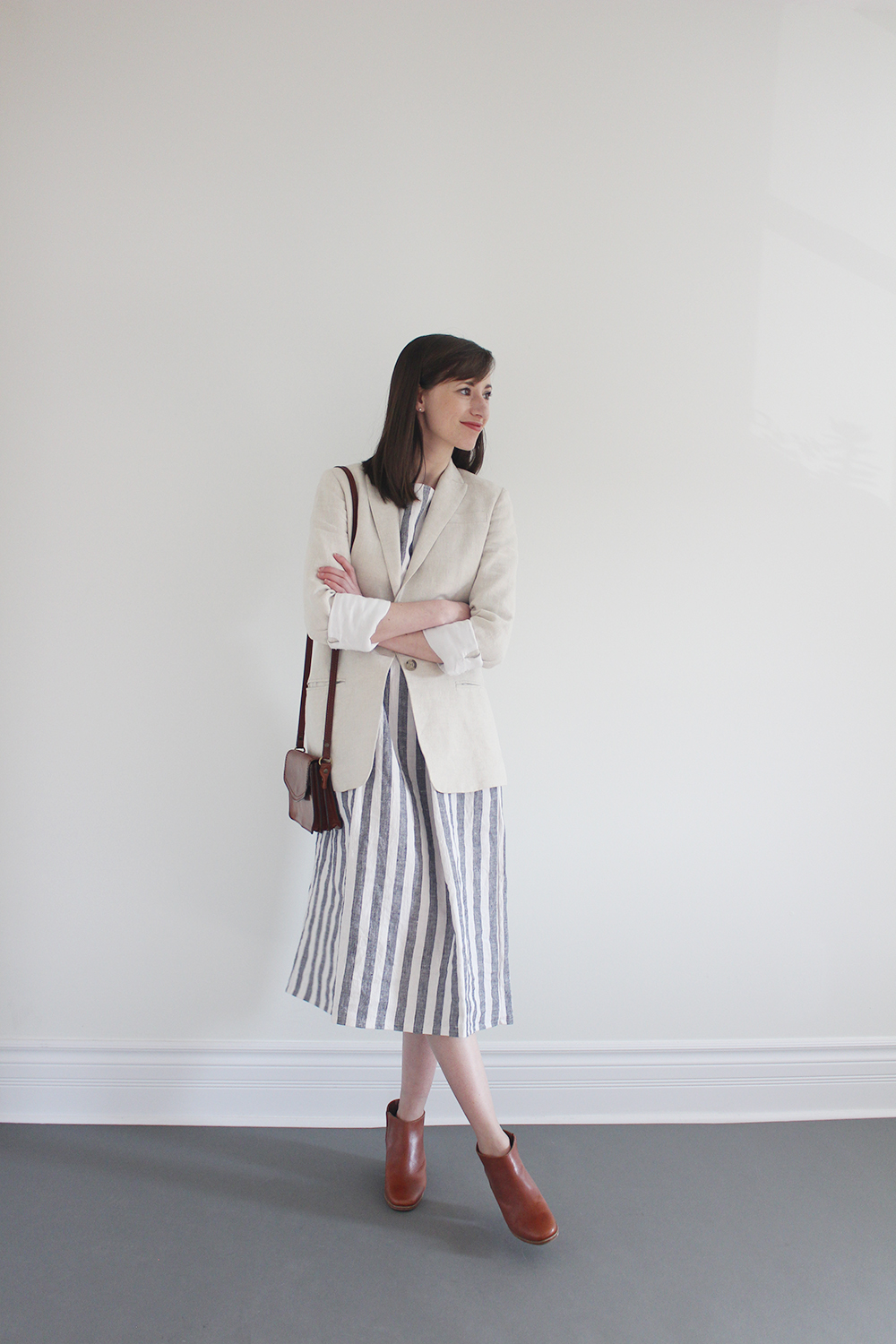 2 | I love the effortless, timeless quality of the Day Dress. What's your favourite thing about this signature style? 
The button up day dress is my favourite style, it's such a classic, simple dress, and I love that it works with sandals to wear around the house or dressed up with heels on a date night.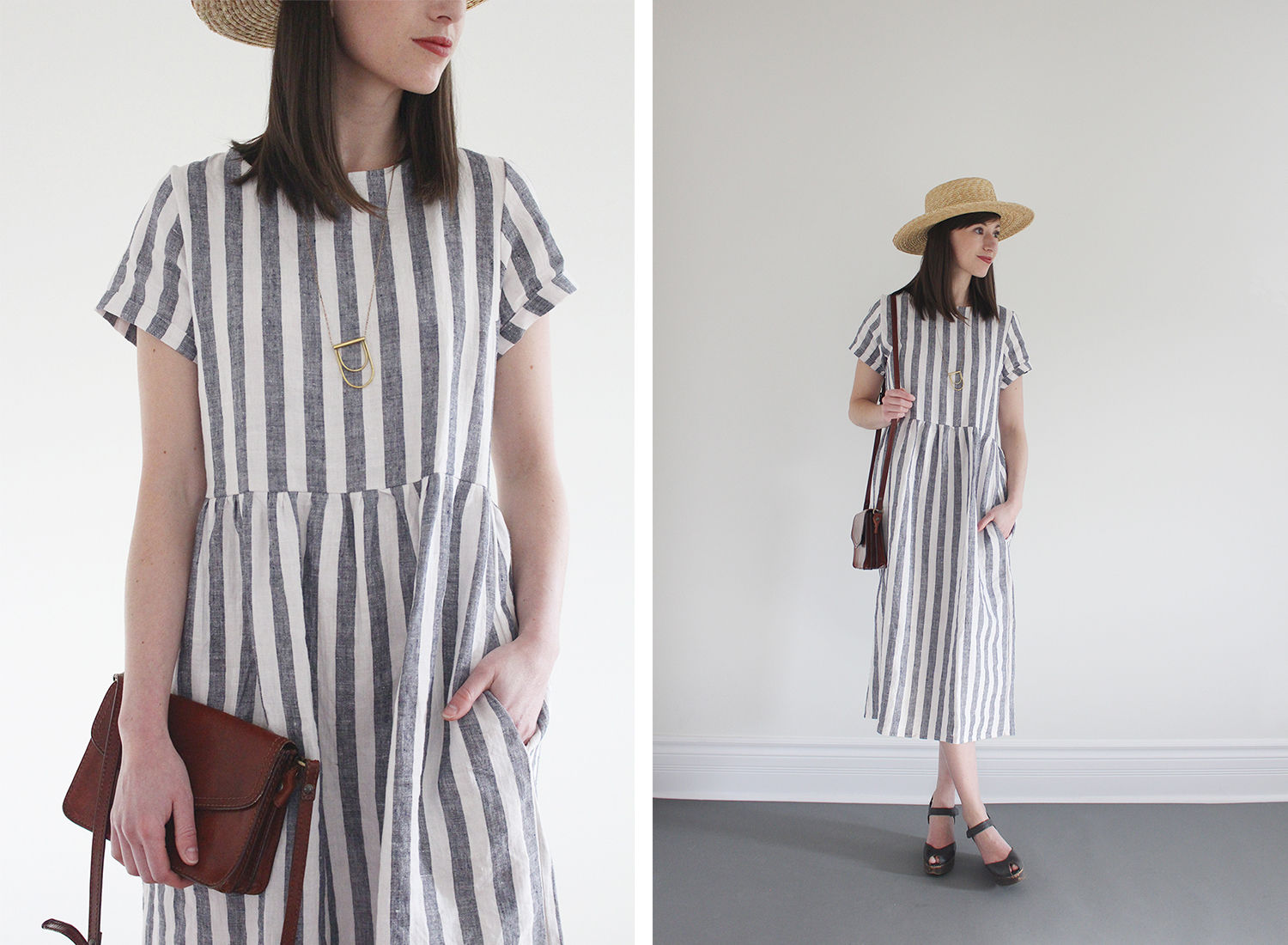 3 | Your dresses are made predominantly from an assortment of beautiful linens. What prompted your love for this natural fibre?
Linen is such an amazing fabric! I came across it after a particularly hot summer, and have never looked back. I started researching it and it has so many unique properties – it's cooling in the heat, but keeps you warm in the cold, it's naturally non-allergic, which makes the best fabric for sensitive skin. It's also anti-static and stain resistant. Further, linen is a very hard wearing fabric that doesn't stain easily and improves and softens with age.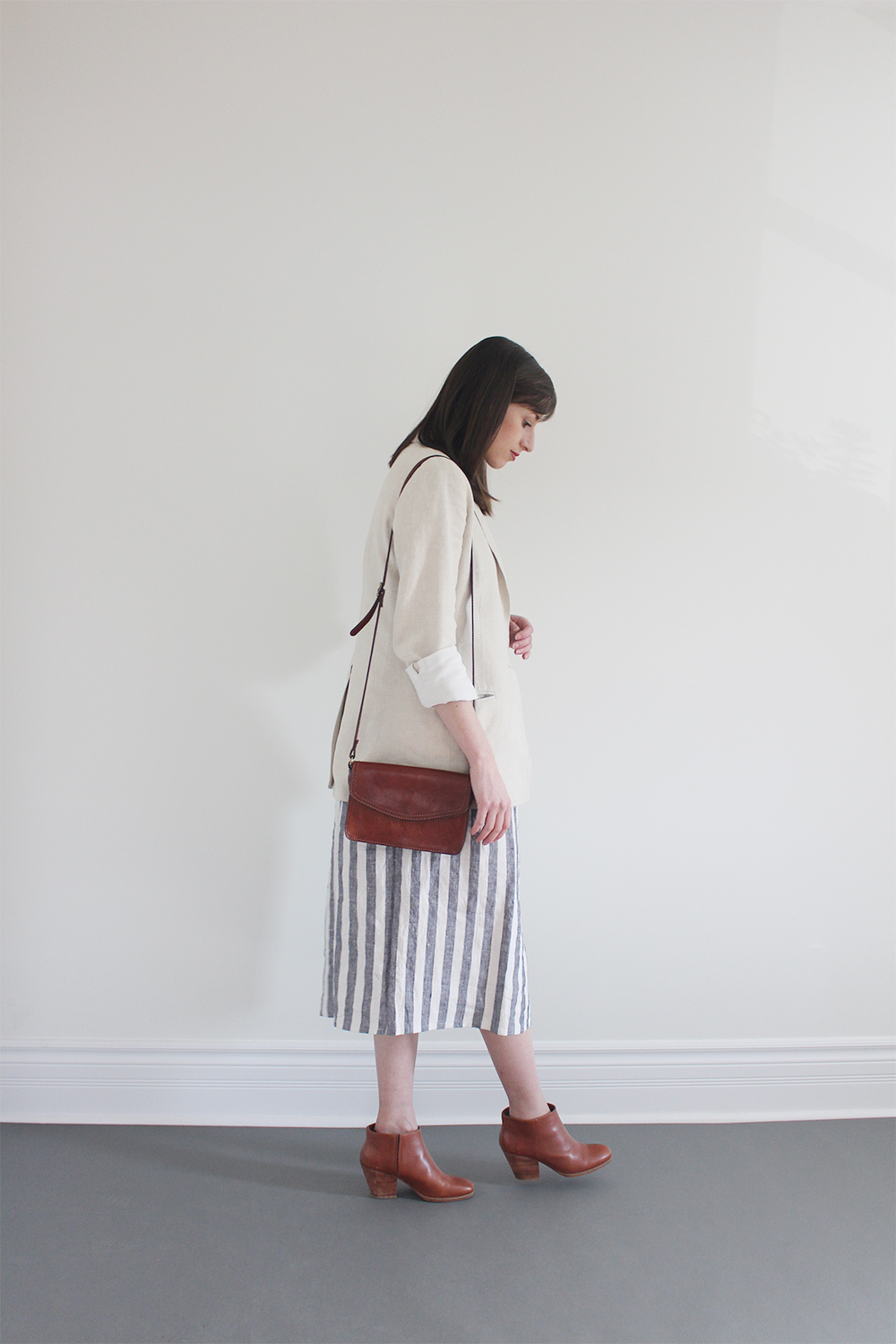 ---
Look 1 – Wide Stripe Linen Day Dress Pyne & Smith | Hat n/a Janessa Leone (similar here and here) | Wedges n/a (love this pair) | Boots Rachel Comey | Another Feather Necklace | Linen Blazer n/a (similar here and here) | Bag Vintage (similar here and here)
---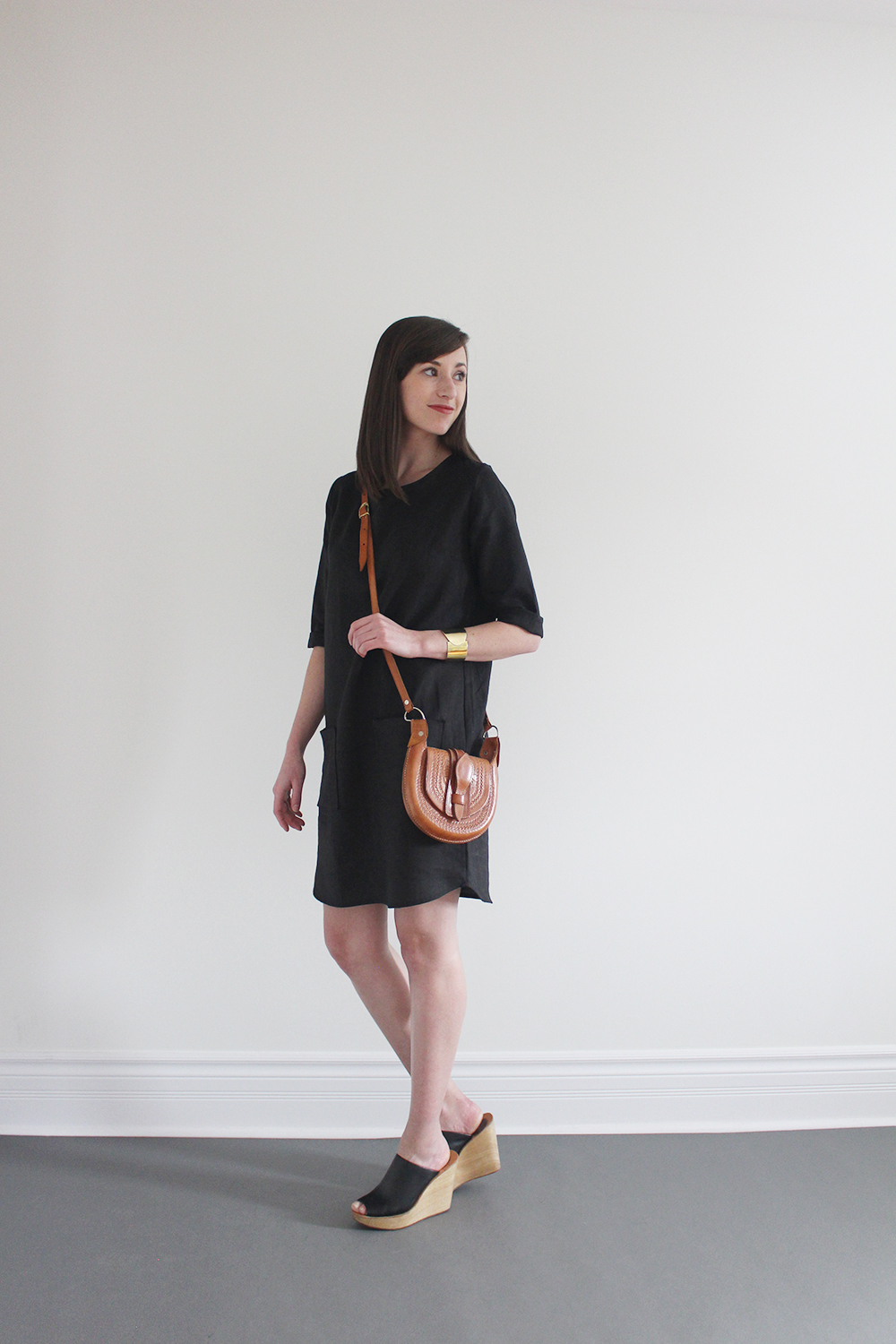 4 | Each one of your dresses has it's own distinct personality. Do you ever have a muse or a person in mind when creating them?
My biggest inspiration is day to day life – so if it's seeing a beautiful pair of well worn leather shoes, or the colors on a favorite tea cup, or a little girl playing at the beach in a simple dress, I find it all inspiring.
Also, good fictional mysteries motivate me, with strong female characters. I always picture a female sleuth type, wearing a Pyne & Smith day dress, tromping the moors of england, solving crimes!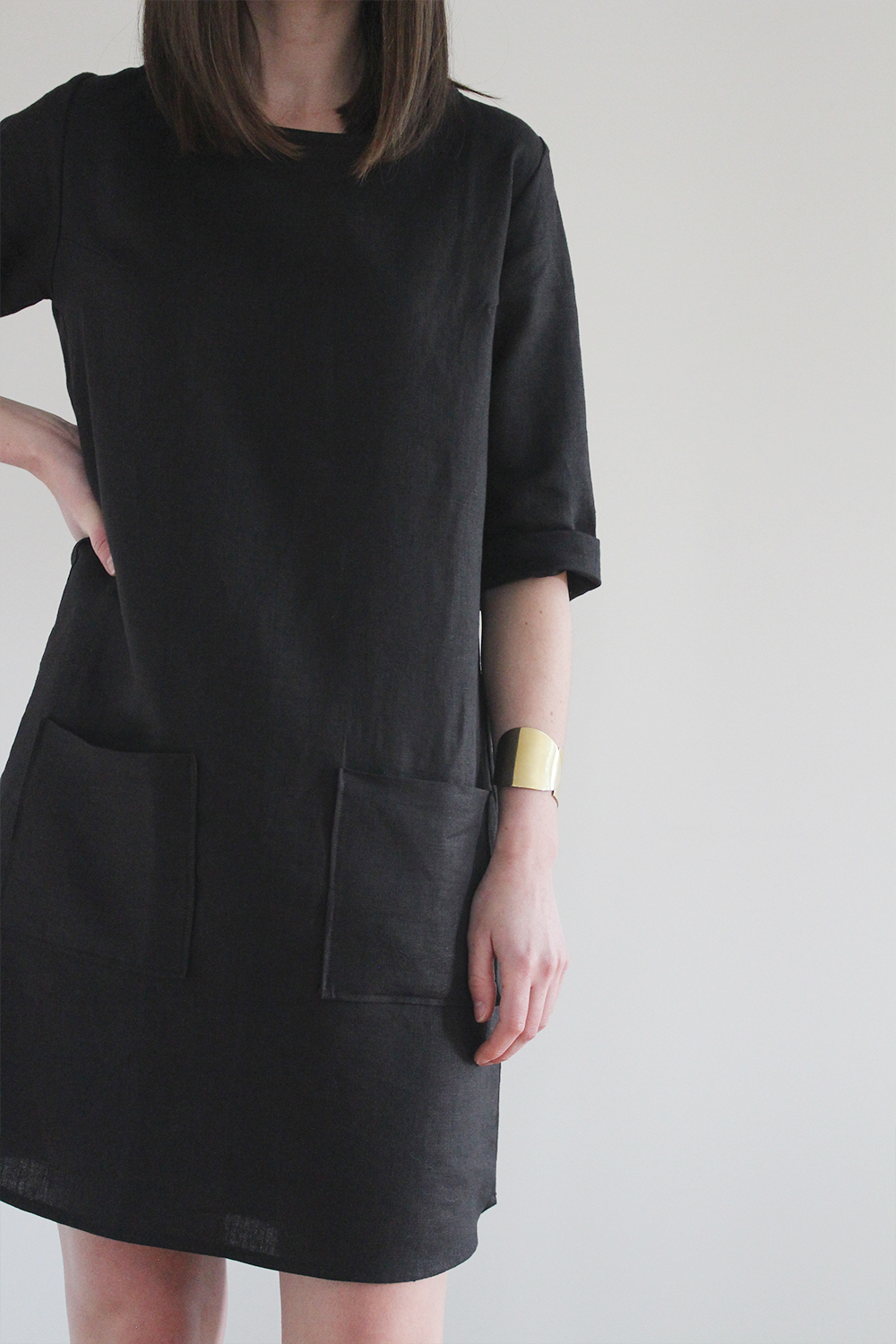 5 | The response to your Spring collection has been incredible! What are your plans for the future of Pyne + Smith as your customer base expands?
I plan to perfect my line of wool dresses, which is something I briefly experimented last year and was overwhelmed at their popularity, using USA milled wool. I will continue to source unique linens, plus I'd like to develop a small line of little girls dresses. I also have plans to design a line of exclusive Pyne & Smith linen fabrics, which I'm incredibly excited about.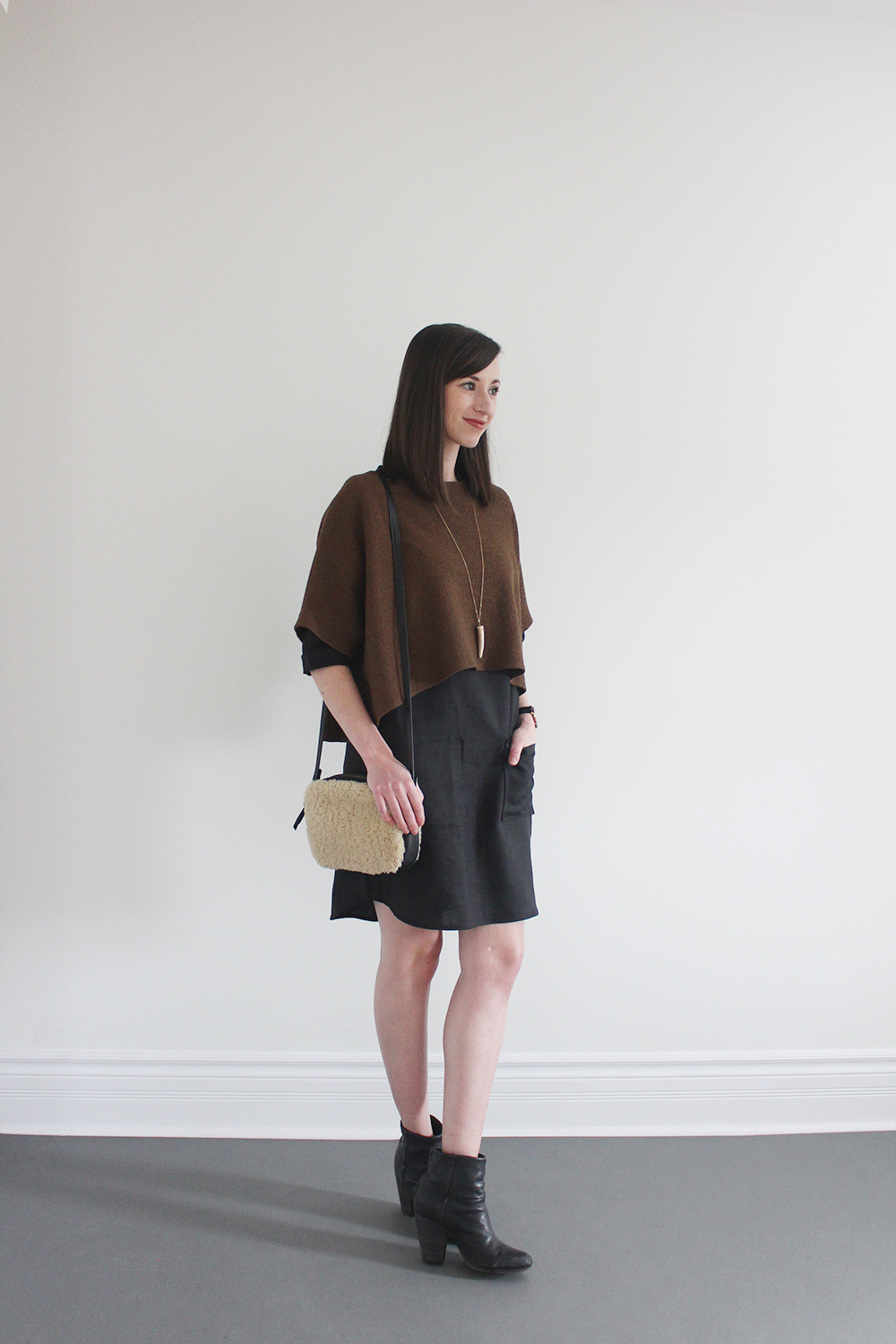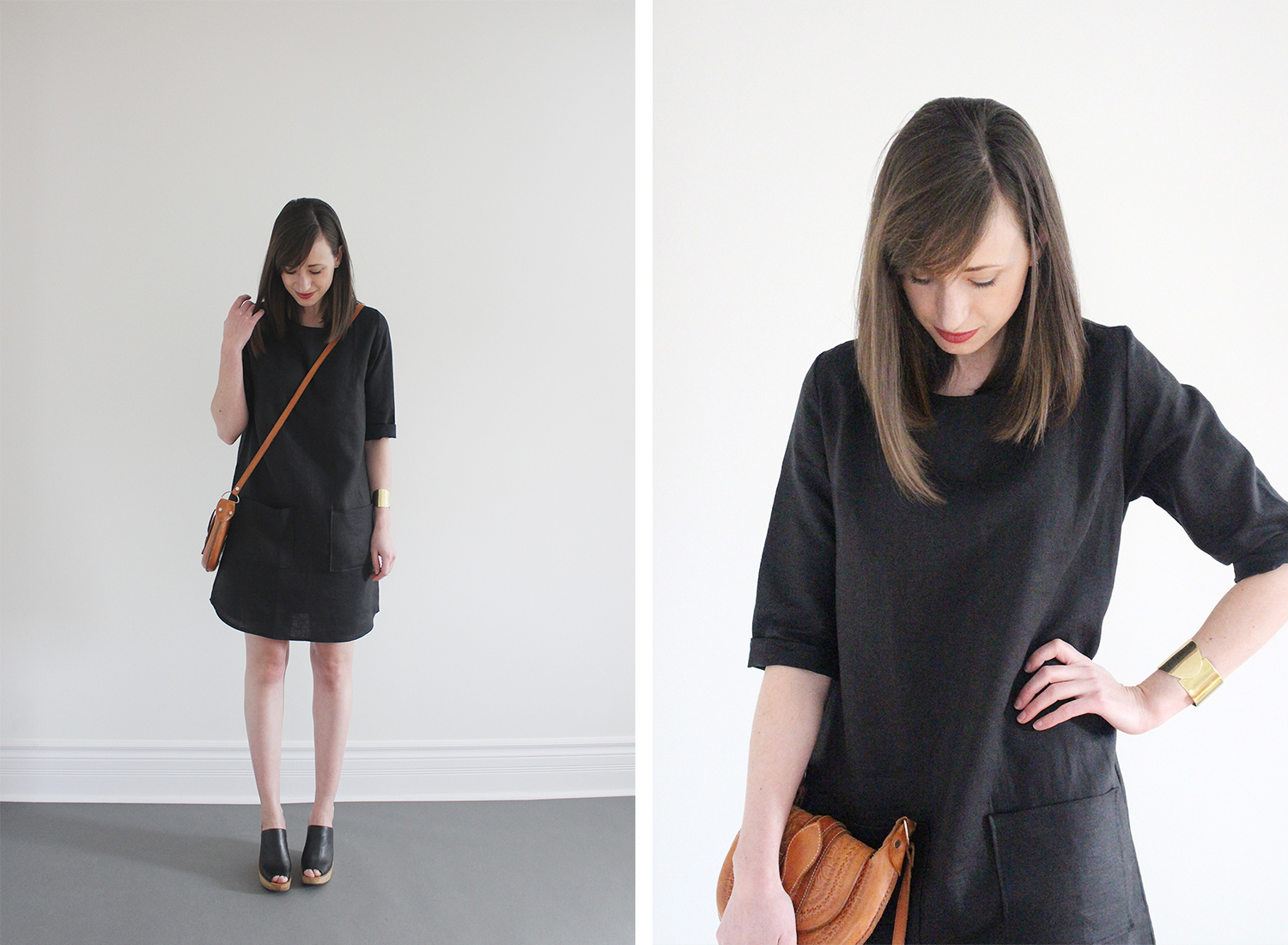 6 | What are you wearing, listening to and watching most these days?
Wearing – depending on the weather…if I can wear bare feet and a dress, I'm happy! If not, I love my AG jeans, superga's, and a linen t-shirt.
Listening to – depends on my mood, if I'm working and need a push, Mark Ronson, but if I'm mellow, Andrew Bird or Beck.
Watching – I don't watch too much TV, I'd rather read, but I love a good movie – Cold Comfort Farm with Kate Beckinsale is my all time, favourite feel good movie, I also love the Kill Bill movies, or for inspiration, any Wes Anderson movie!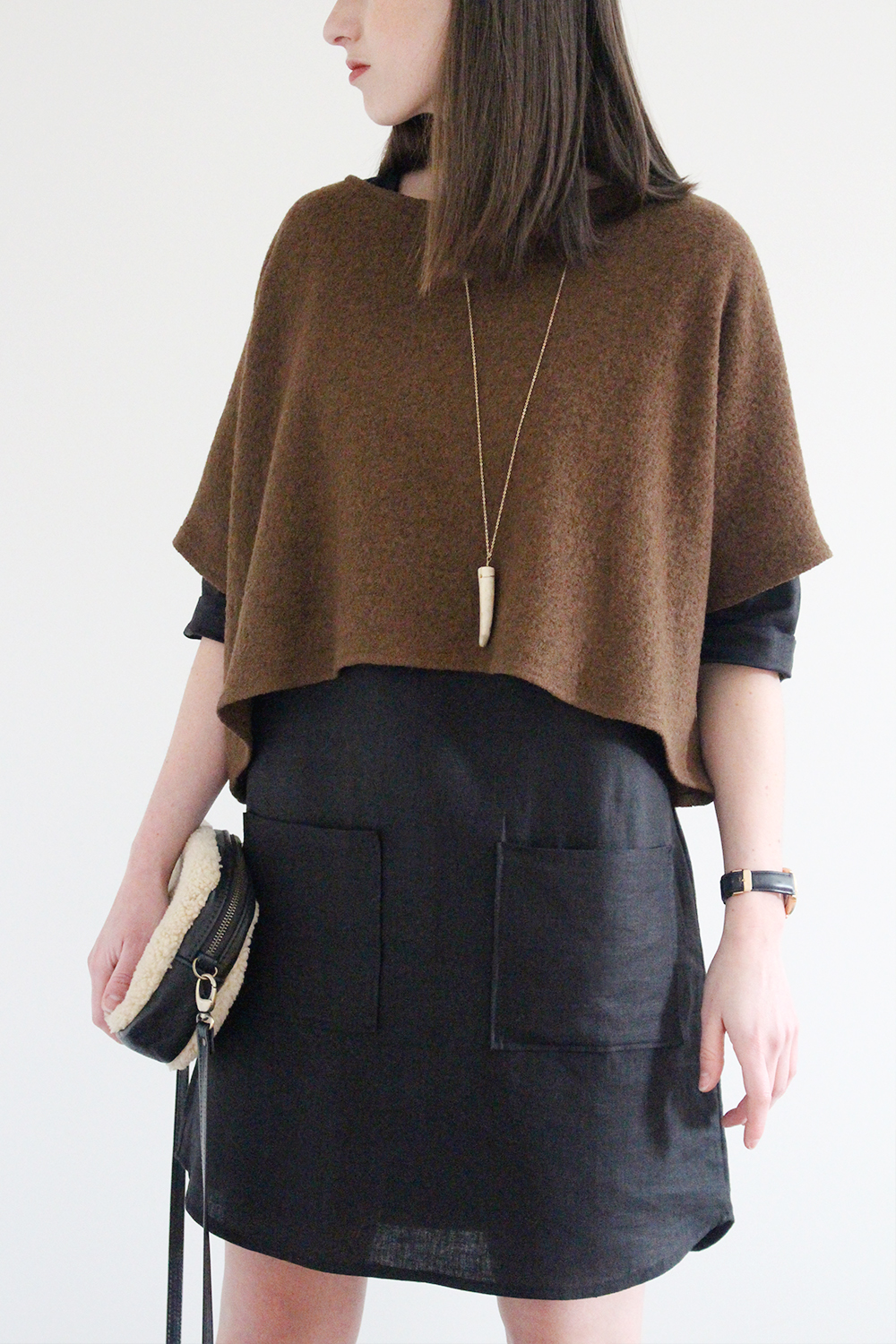 ---
Look 2 – Black Linen Shift Dress Pyne & Smith | Cuff Stvdio Brooklyn | Lynn Cropped Sweater n/a Elizabeth Suzann (similar) | Shearling Bag n/a Primecut (love this one)|  Watch CLUSE | Saddle Bag Vintage | Antler Necklace Fierce Deer | Wedges n/a Rachel Comey (similar) | Boots Rag & Bone 
---
Thanks so much to Pyne & Smith for partnering on this post! As always, all opinions are my own. Thanks for supporting the brands that support Style Bee.