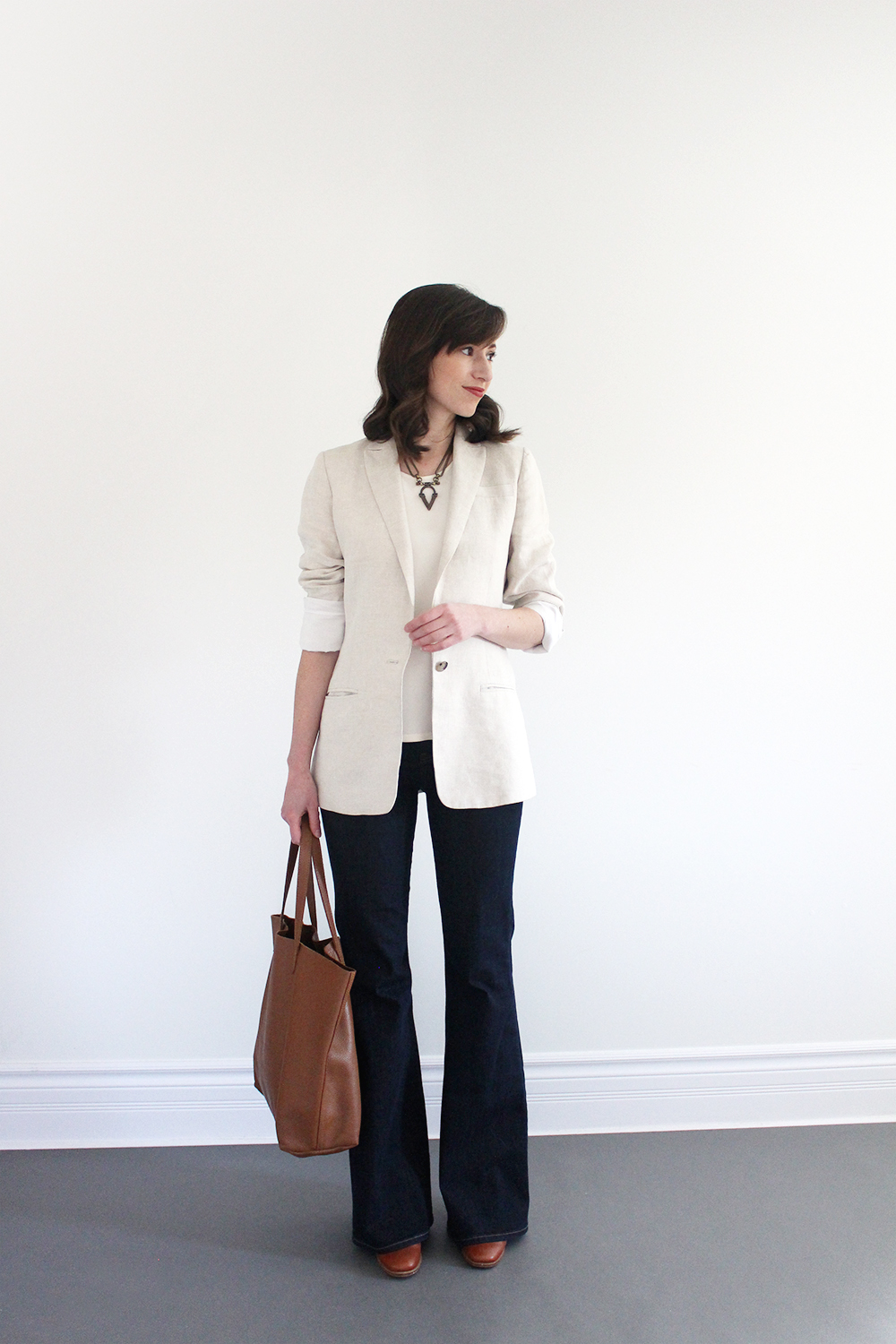 So yesterday was the first day of Spring, wait, what!? How did that happen! I feel like I've been playing a constant game of catch up with projects, emails, shoots and planning since the start of the year. Not the best feeling that's for sure, but I'll take it over twiddling my thumbs any day. Luckily, I finally had a chance to take a breath this weekend and decided to make the most of it. I spent Saturday running errands, doing laundry, tidying up (although you wouldn't know it now) and thinking about how to maintain my creative drive here on the blog. As much as I love collaborating with amazing designers and featuring brands that are doing awesome things, I can get caught up in fulfilling agreements and trying to ensure that everyone is happy with the results they're getting and the content I'm producing. Sometimes though, I need to remember why this blog started in the first place.
So this weekend I made time to shoot an outfit that I've been loving lately, just for the sake of it, which is what I started this blog for in the beginning. Reworking my clothes into different outfits is a weirdly holistic exercise for me. It's basically just the adult form of playing dress-up. Make believe aside, I decided to pull together a few of the older items in my closet, like this silk tee and linen blazer, both of which I've had for over 3 years and pair them with a few faves I've had for a couple seasons now like these flares, boots and tote bag. Basically, I just love all these pieces and how versatile they've been for me. Plus this warm neutral colour palette feels both fresh and familiar. This look works for so many occasions too, like client meetings, running errands, grabbing lunch with a friend or even a casual option for Easter Weekend.
It was really refreshing to return the basics, in more ways than one and it actually prompted my decision to hold off on any additional brand partnerships during April so I can conduct another fun 10 x 10 challenge (see the first one here) and continue to explore some different aspects of my closet mission. Fear not though, I've still got a few really exciting projects cooking up at the moment and I can't wait to share them with you!
With that, I wish you a wonderful week and if you're feeling overwhelmed try to take some time to remember what fulfills your creative instincts. They're too important to ignore!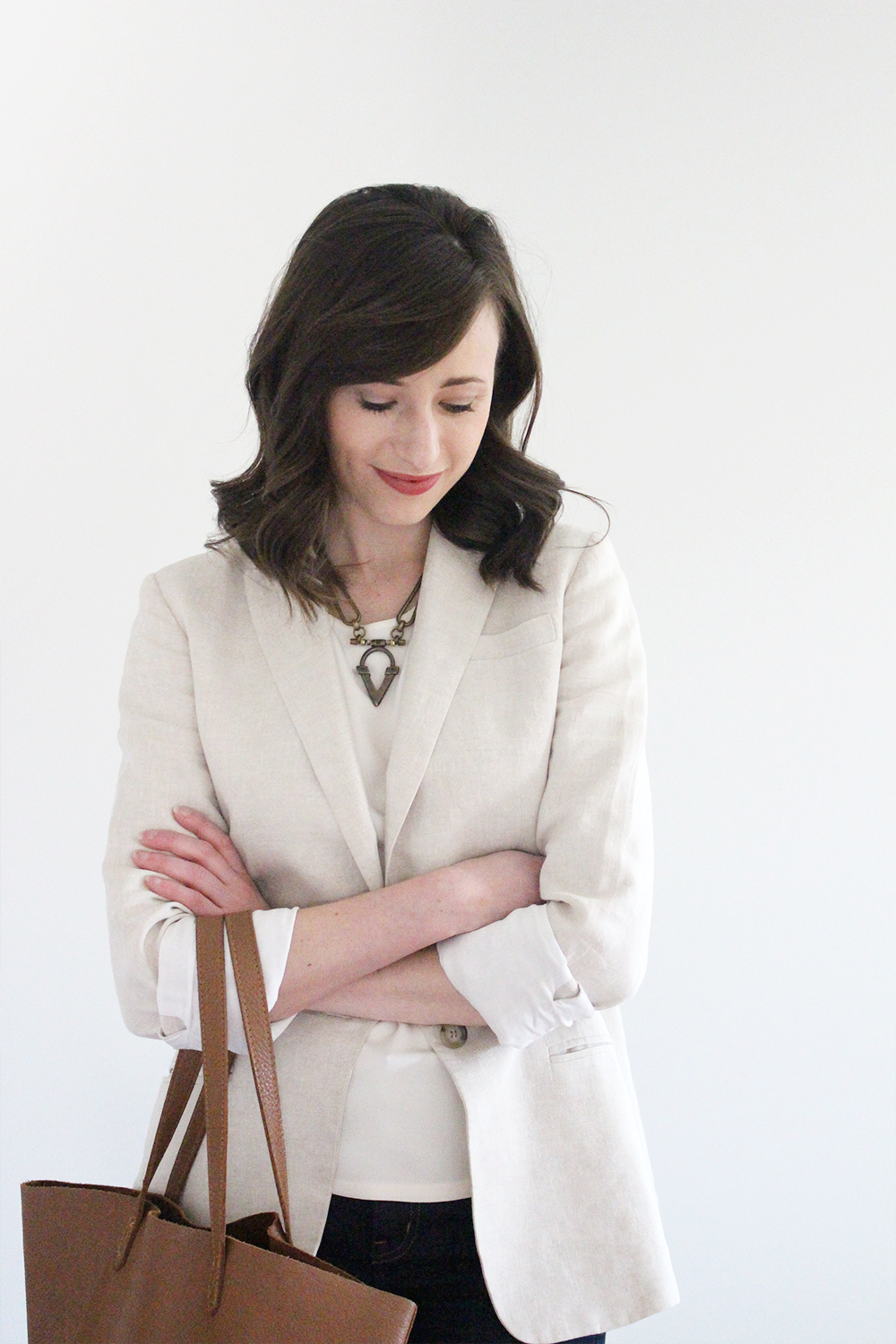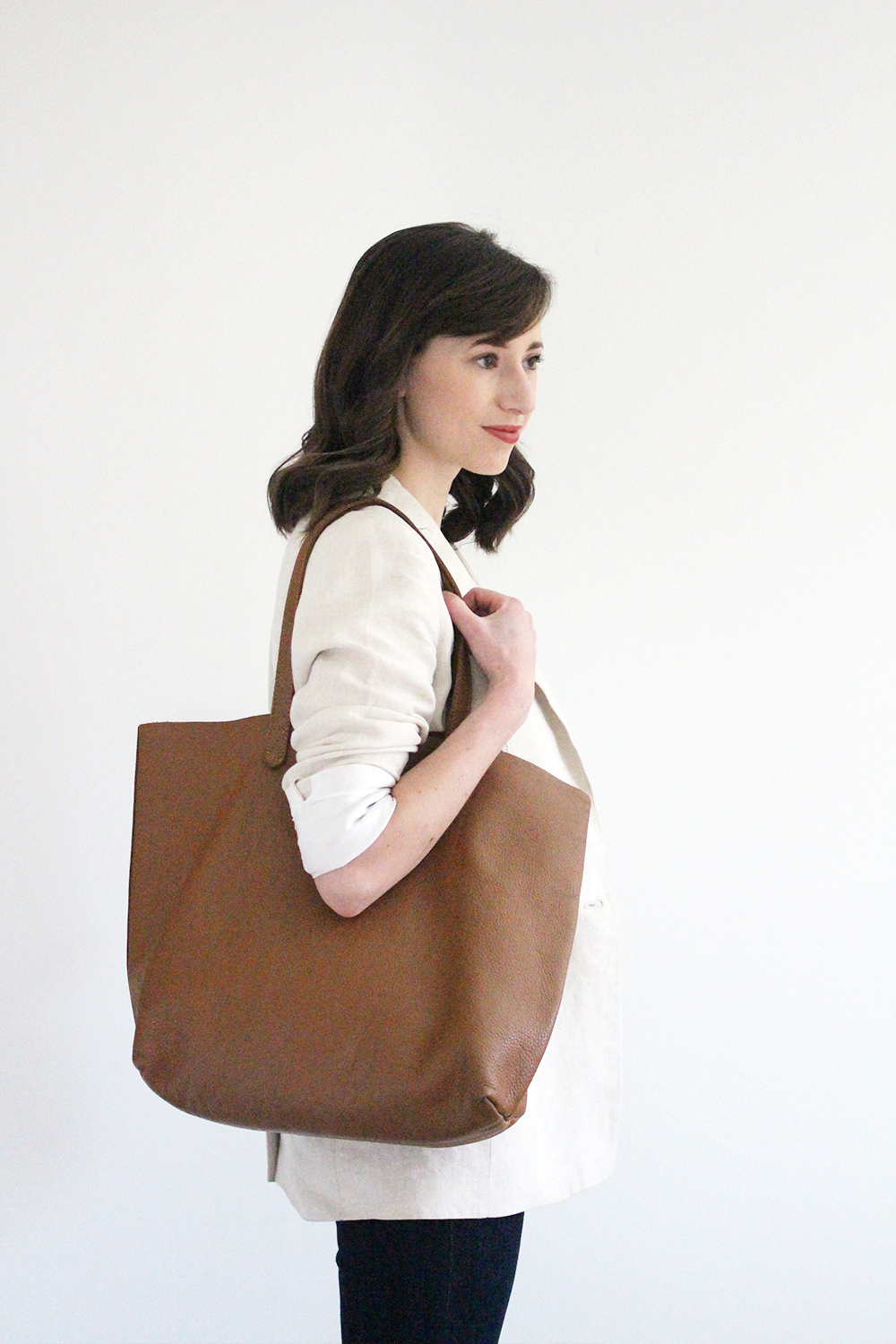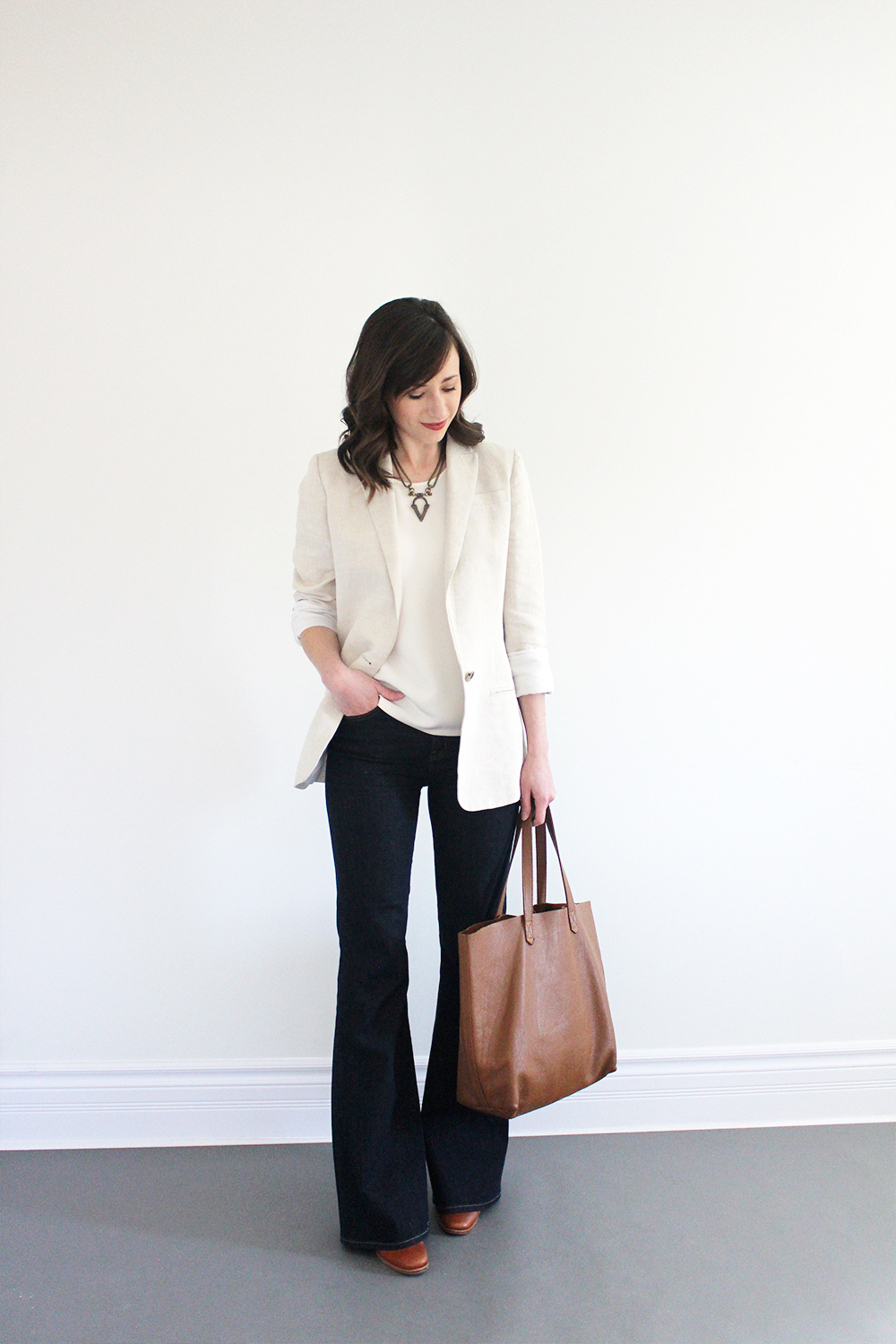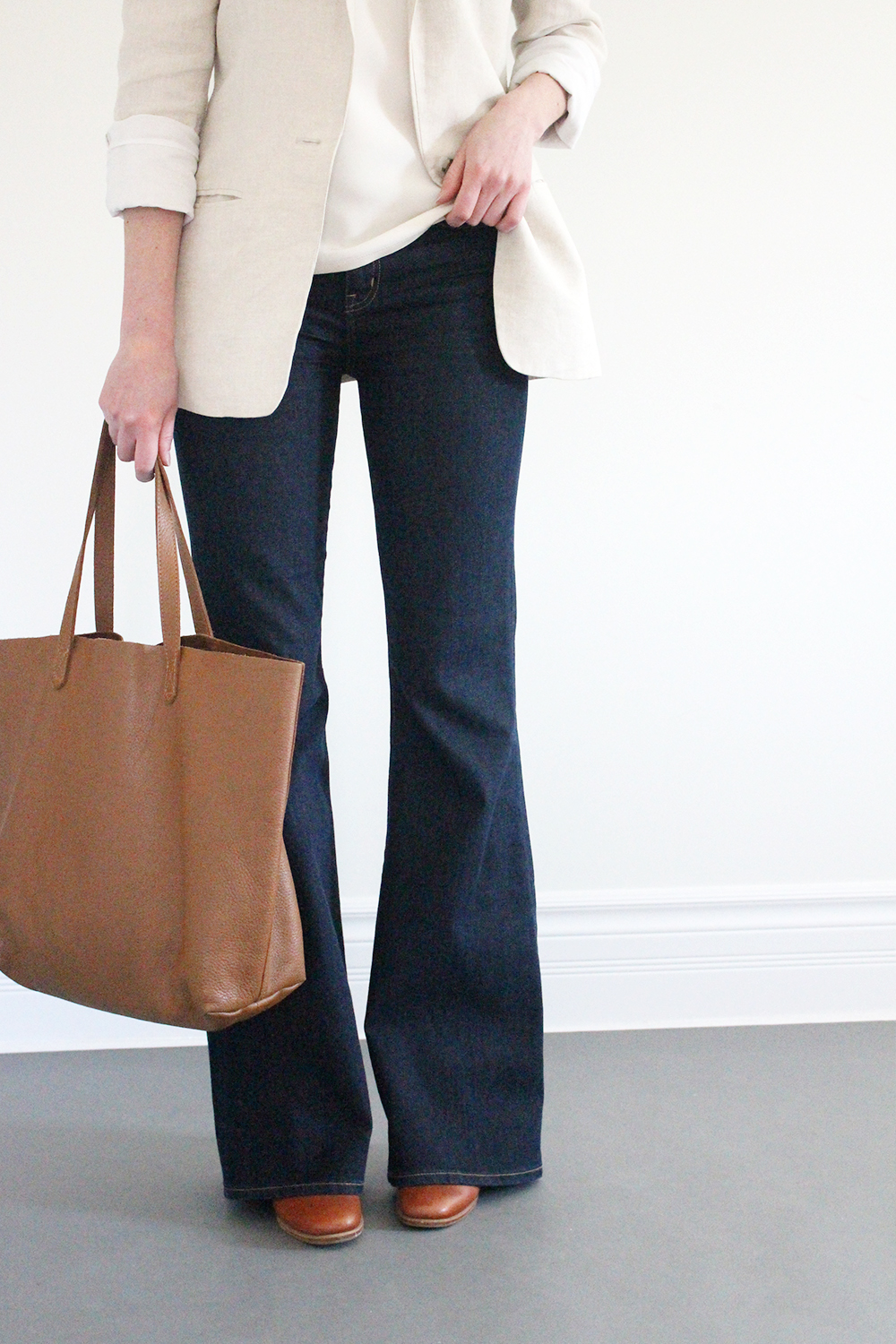 ---
1 | Linen Blazer n/a Club Monaco | This one is amazing, so is this one and I'm a bit in love with this HDH one from the bridal collection.
2 | Silk Tee n/a J.Crew | SO tempted to get this one in every colour and this one is ridiculously chic in raw silk.
3 | Flares n/a Madewell (light wash option) | These* are almost identical and these* are a great option if you like less flare. If I was braver I'd buy these*! *all US made
4 | Ankle Boots by Rachel Comey | I really can't say enough good things about my Mars boots but I also love the mule version and this gorgeous spring colour.
5 | Camel Tote by Cuyana | This tote has been such a loyal companion for a couple years now. I even gave one to my Mum for Christmas this year. Love the stone colour, the fog gray and this light feminine ecru is beautiful for spring.
6 | Simple Statement Necklace by BIKO | Biko is one of my favourite Canadian based and made accessory brands and their Spring collection just launched! This necklace has been on my wish list forever too.
---

---