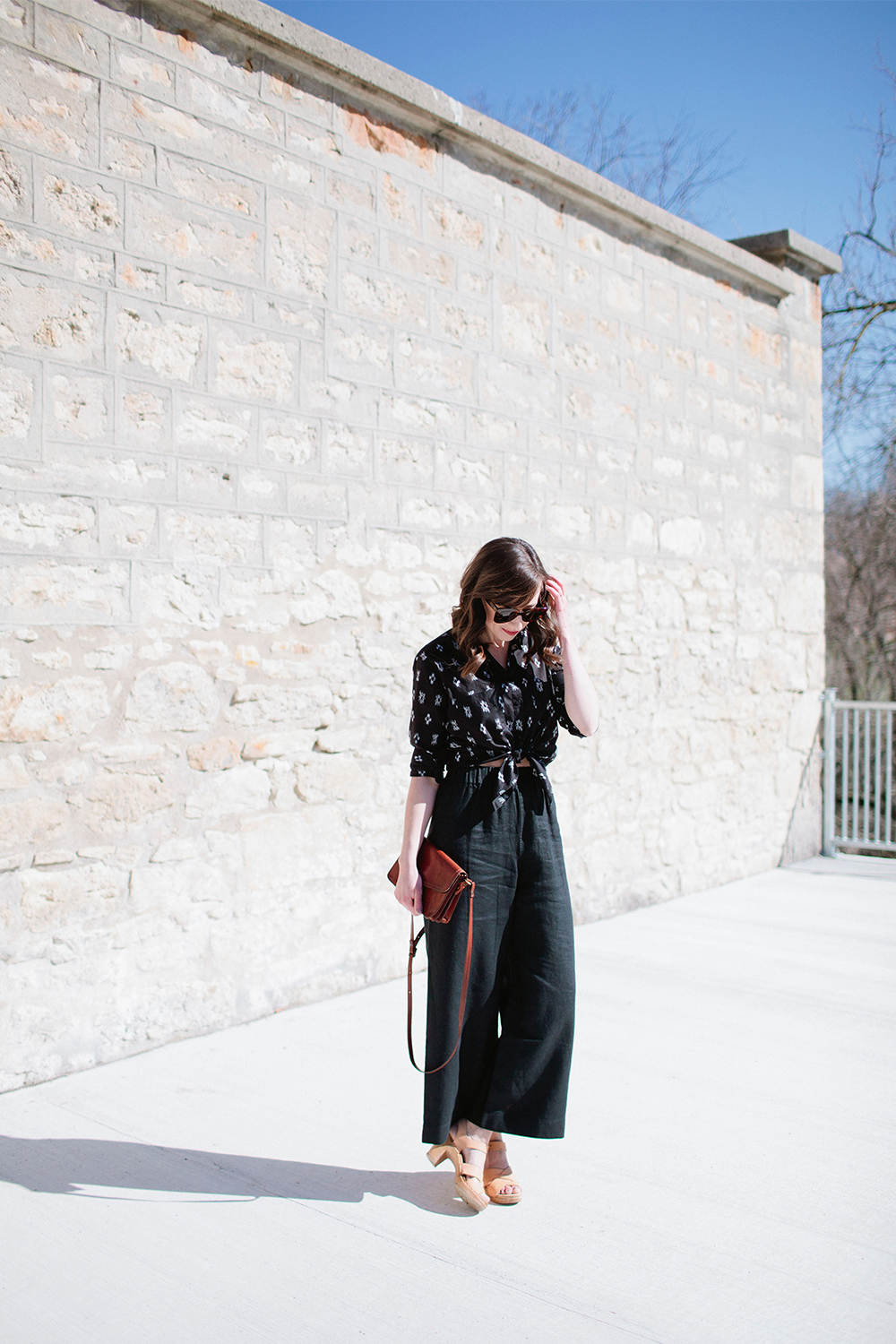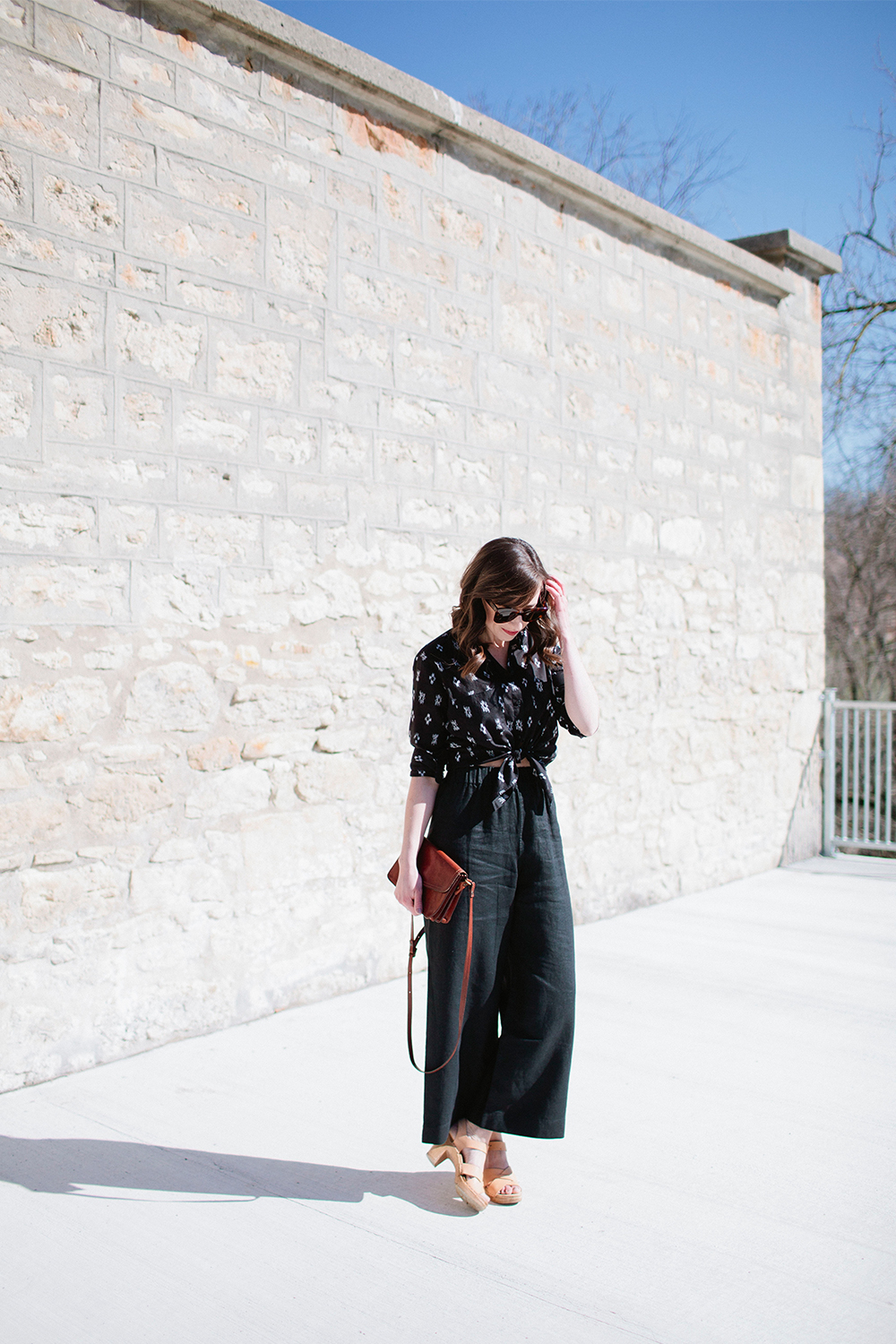 This was one of the last outfits I put together during the planning stages of this series. I'd been struggling with how to wear this button down in a way that wasn't totally predictable and hadn't even meant to pair it with these pants but once I saw how it was working I loved it! That's one of the best results from these little closet challenges though, you end up loving combinations you would have otherwise never thought of.
Now, I know black isn't most people's first choice for warmer weather but I personally love wearing black, all year round, and believe it should never be off limits. In the Spring and Summer I especially love it in easy fabrics like silk, lightweight cotton and linen, oh linen! Between you and me, I'll never have enough of that textile in my life! I find that a simple pattern adds some life to to a dark outfit and soft, warm tones like a nude shoes and a wine coloured bag soften the whole vibe right up.
Every time I look at this outfit I can't help but dream of being on holiday, looking out over stunning vistas, sipping a cold drink while discussing where to go for our next meal. That's pretty much total bliss to me.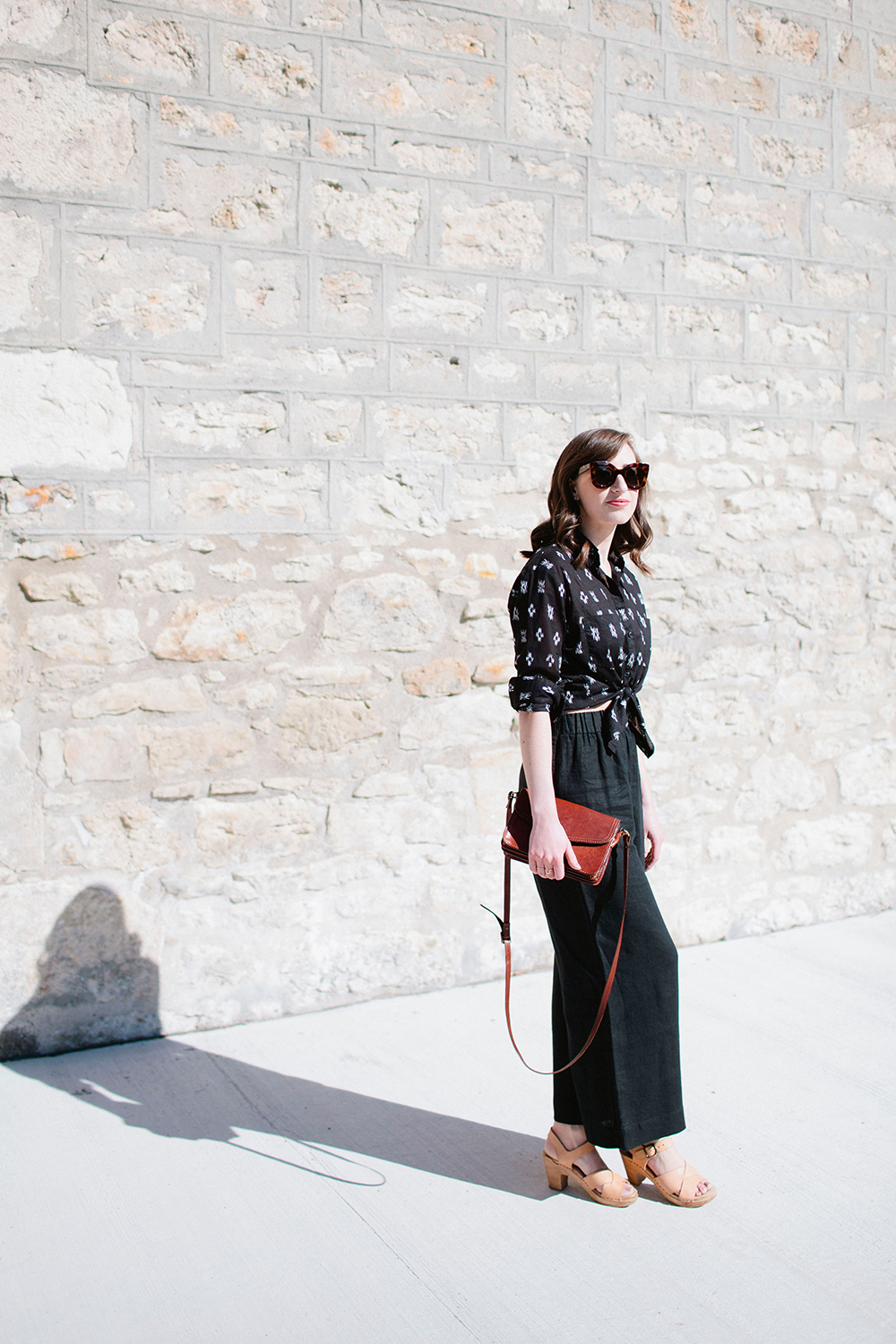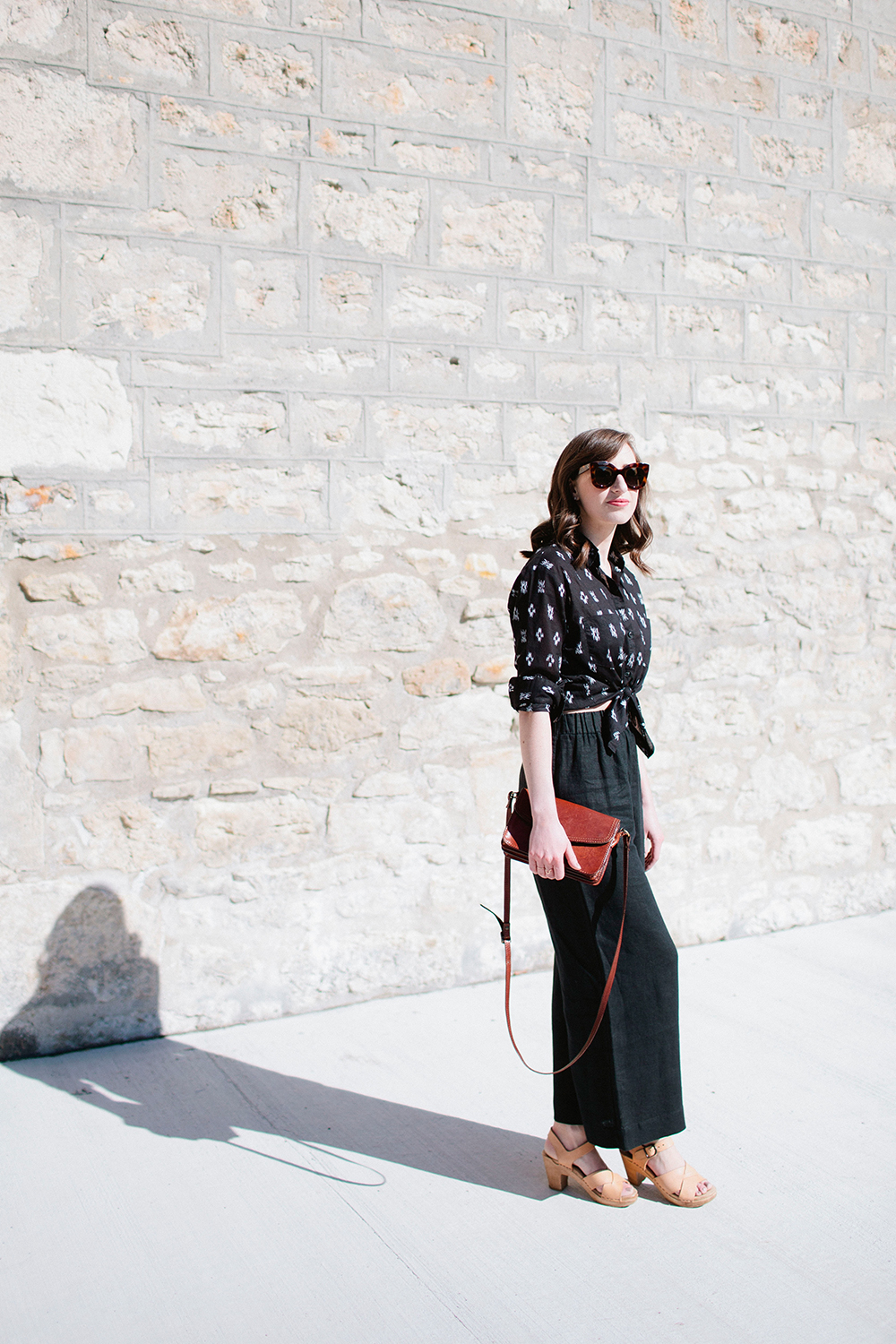 This button-down shirt is an old favourite of mine from Madewell and it's been a real closet workhorse for me. It has a nice oversize fit for wearing loose with skinny jeans but is also super light-weight cotton and perfect for tucking in or layering under sweaters. Ikat also happens to be one of very few patterns I like to wear and this one is particularly subdued, which is perfect. This piece also serves as a reminder that even though I'm working towards an ethical closet the most responsible thing to do is wear the clothes I have and love as much as I can before I add more. This is currently my favourite way to wear it too. Tied up to accentuate the waist with the sleeves pushed up and the collar open. Just about as relaxed as a button-down shirt can get!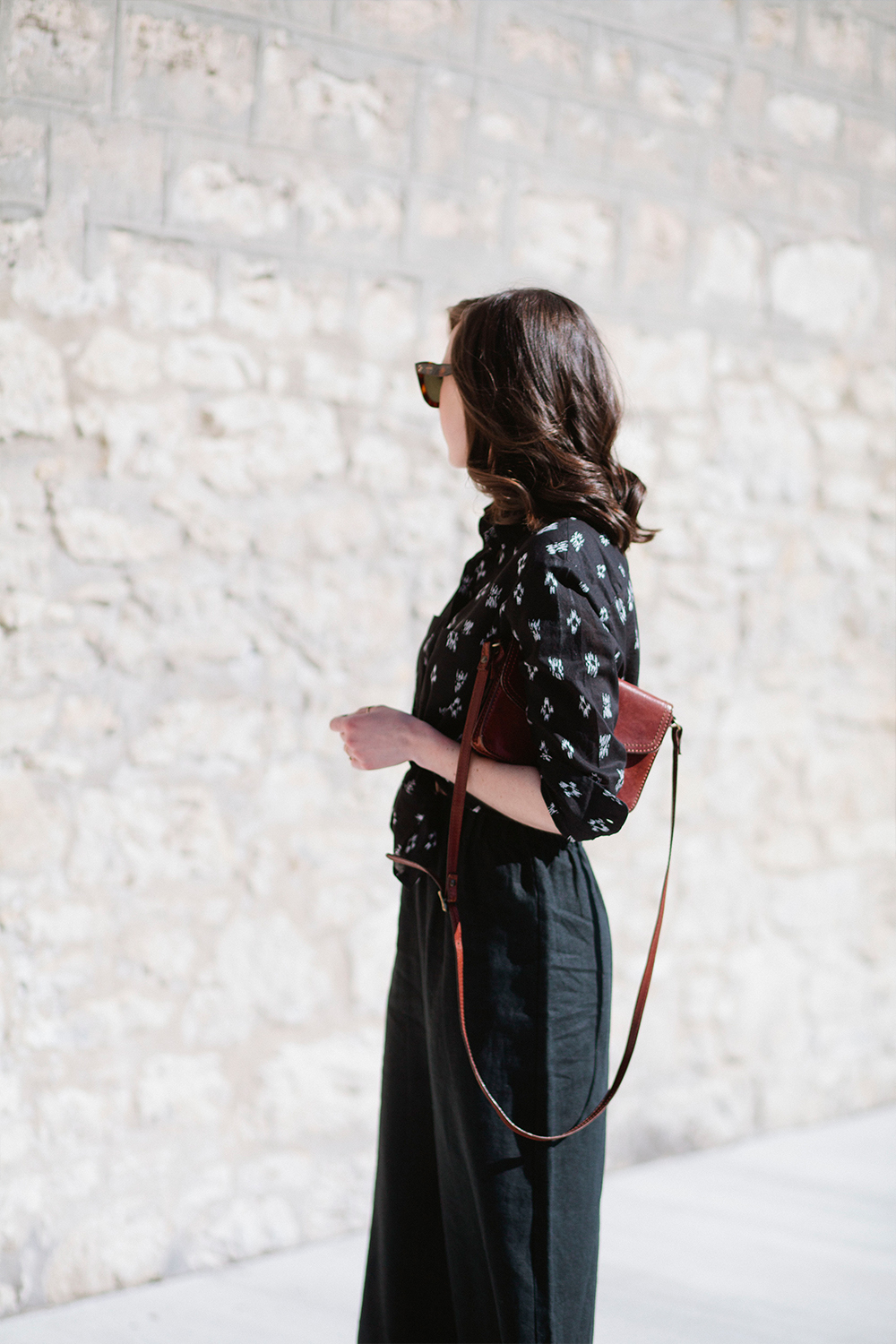 Now, let's get serious about these pants. If you only buy one pair this whole season, I implore you to let it be the Florence Pant by Elizabeth Suzann. These are my second pair (I have the flax linen too) and I'm pretty sure there are no comfier/more flattering/fun-to-wear pants on the market. Well certainly not any that you can wear out in public and still feel chic as hell in. I'm literally wearing them as I type this sentence. They're the kind of pants you want to wear day and night and straight to bed. Yet, they're super flattering with their waist defining magic and leg lengthening mind tricks. The new heavier linen gives them an incredible weight and drape too. So basically, if you think you need these pants, you're right!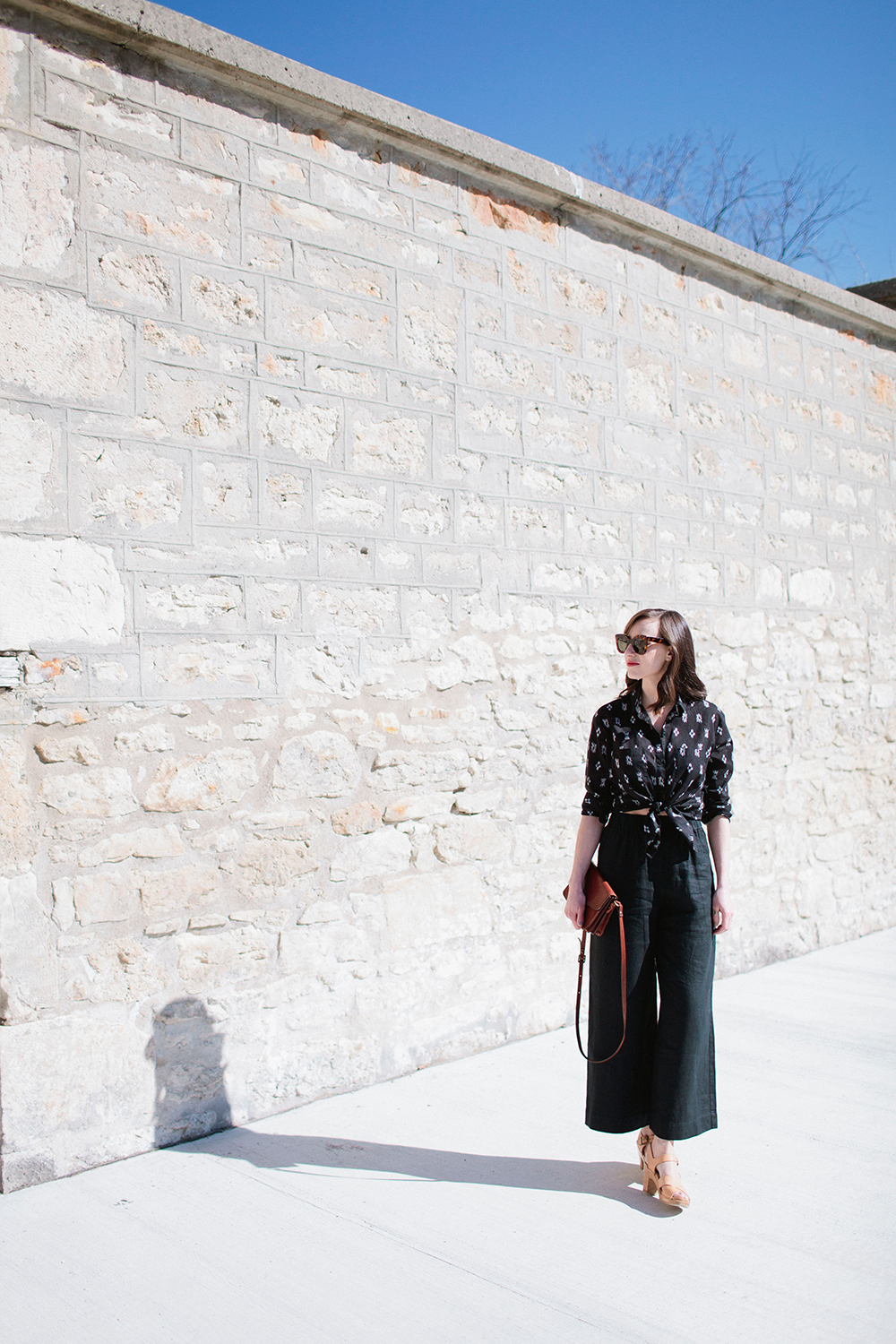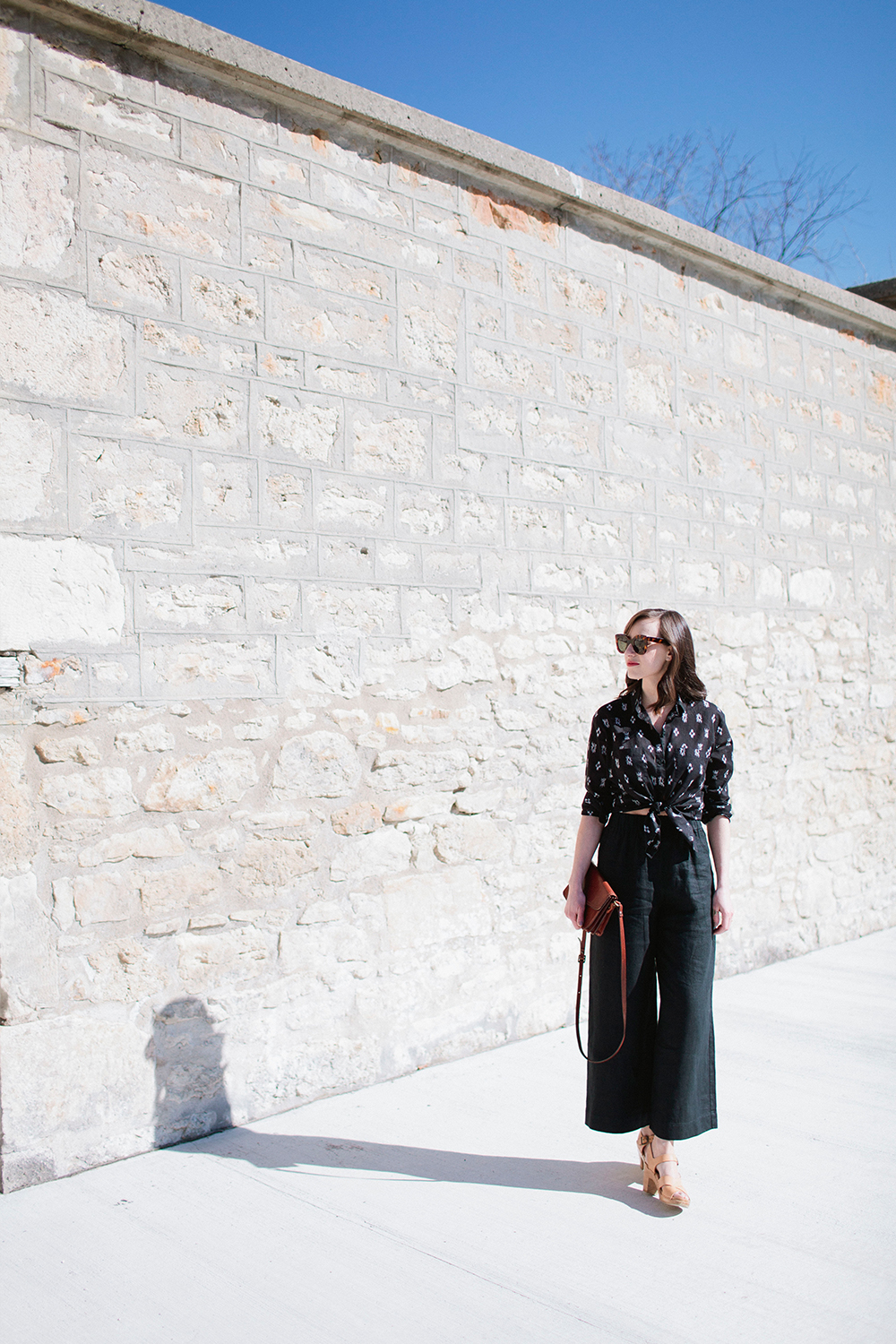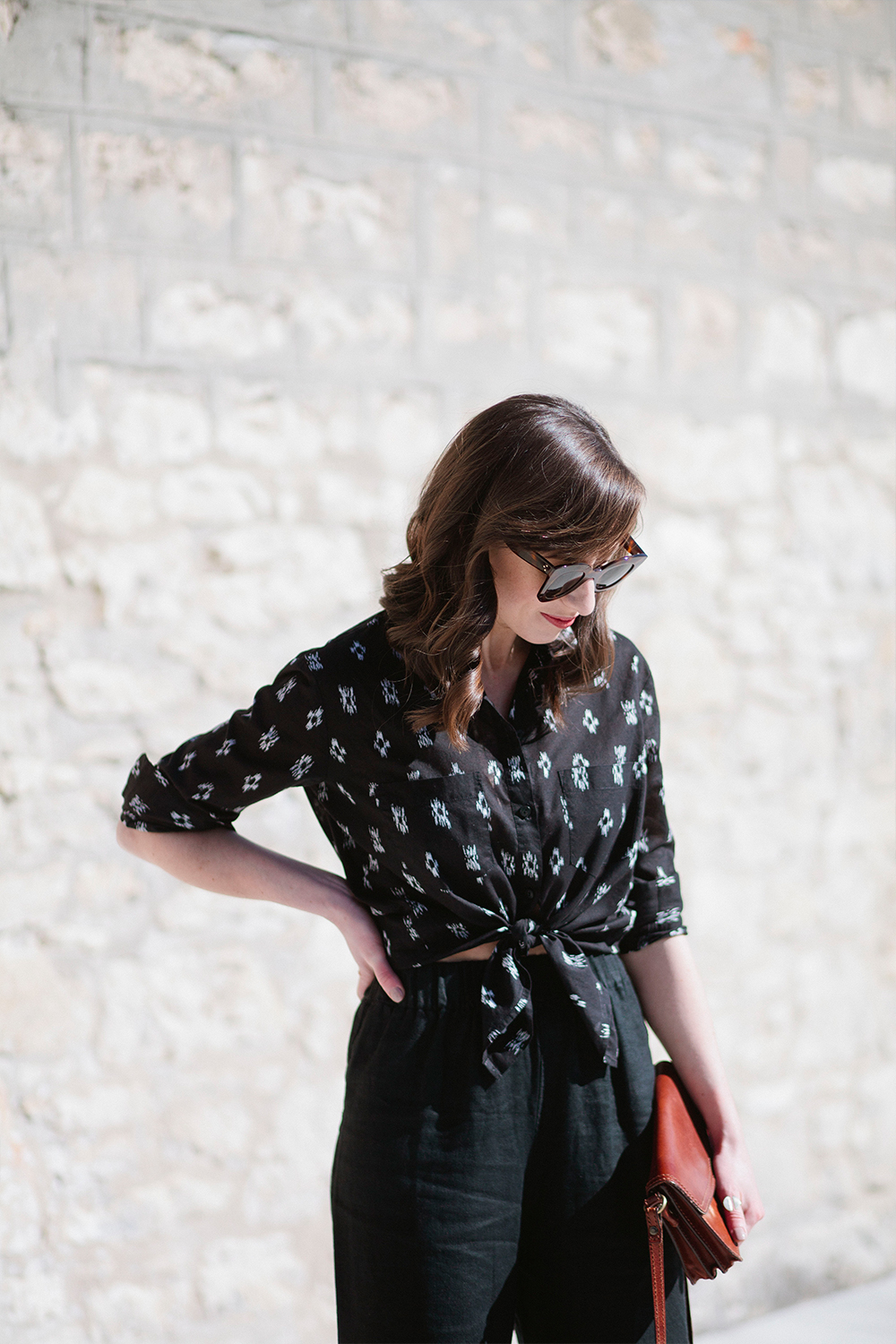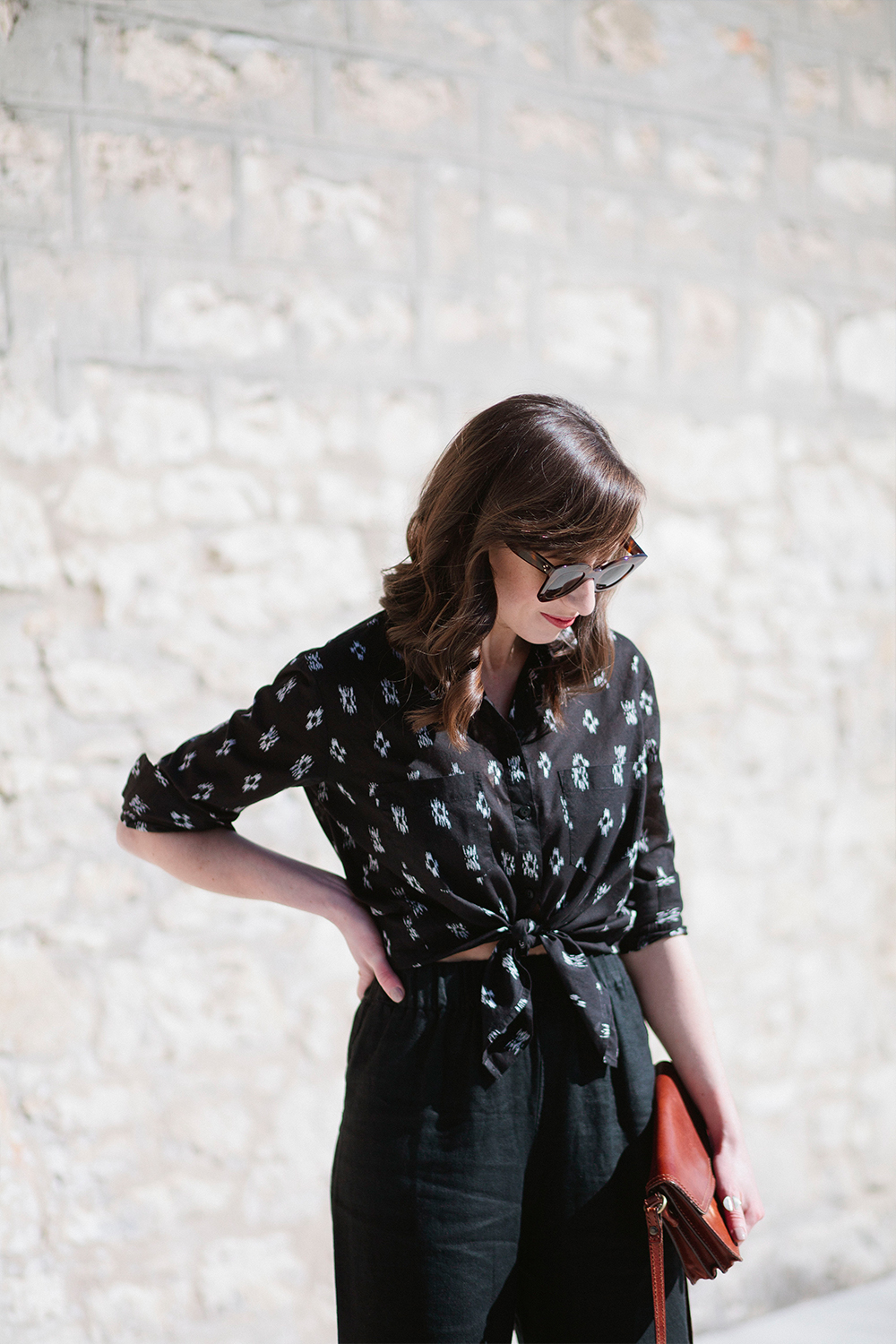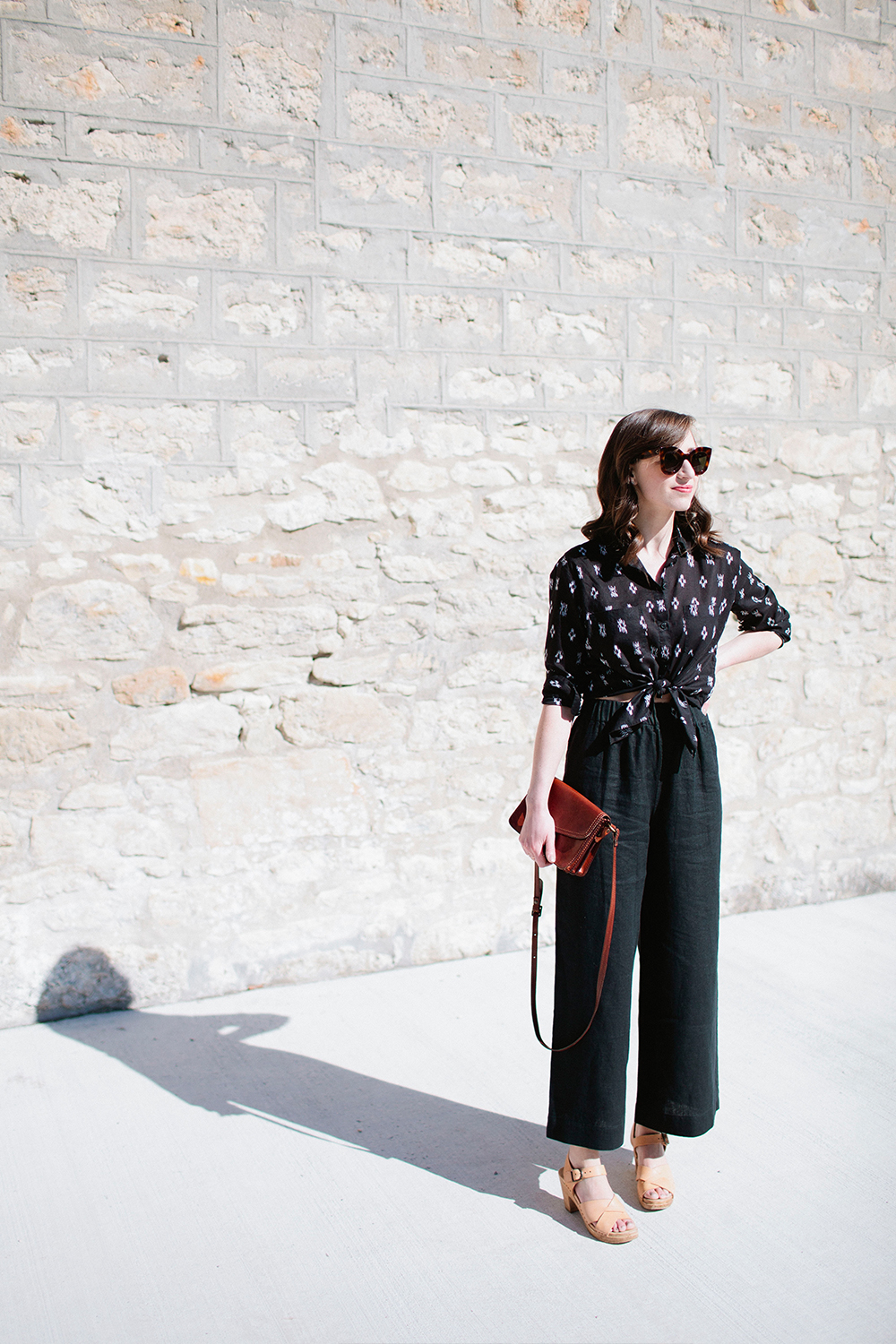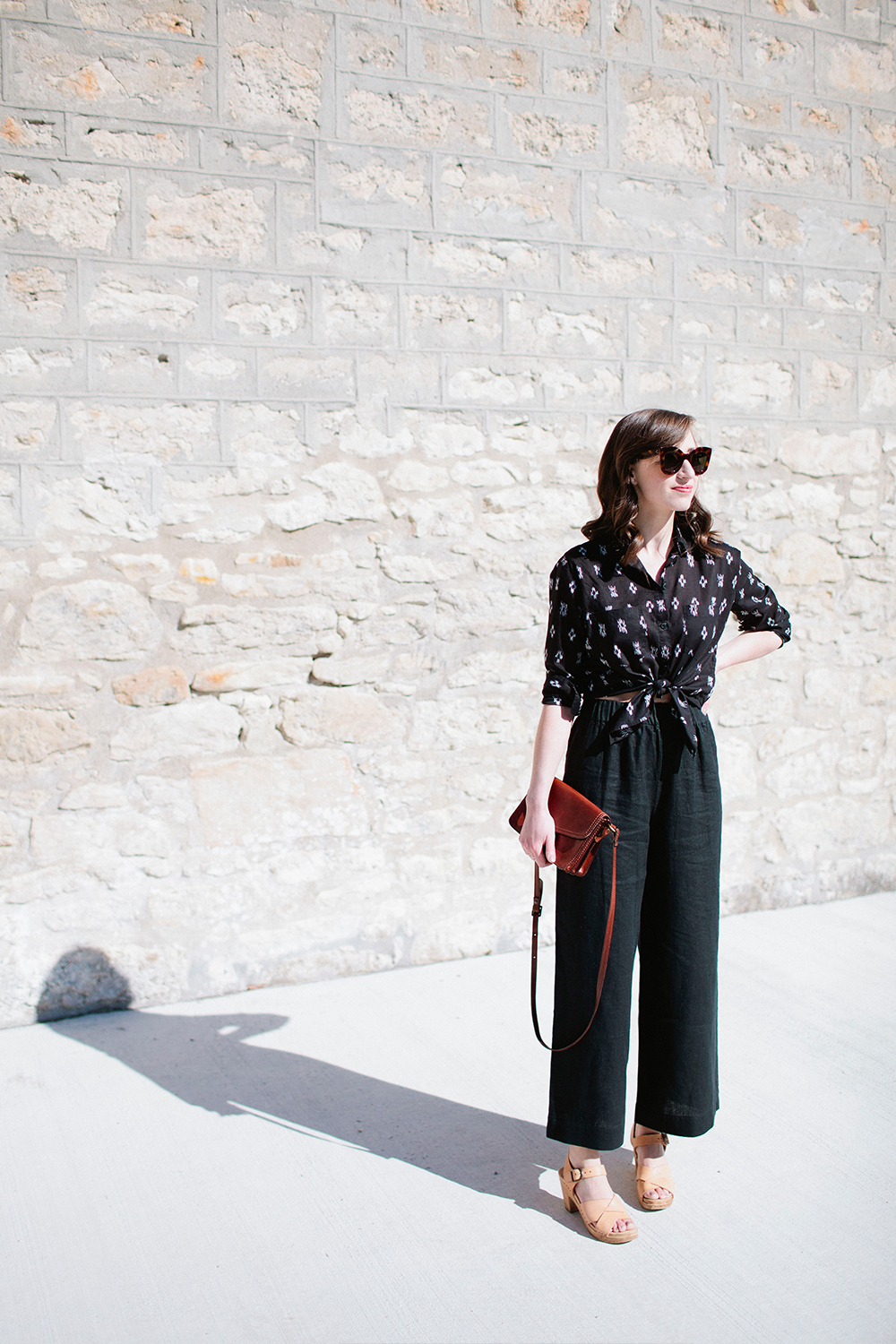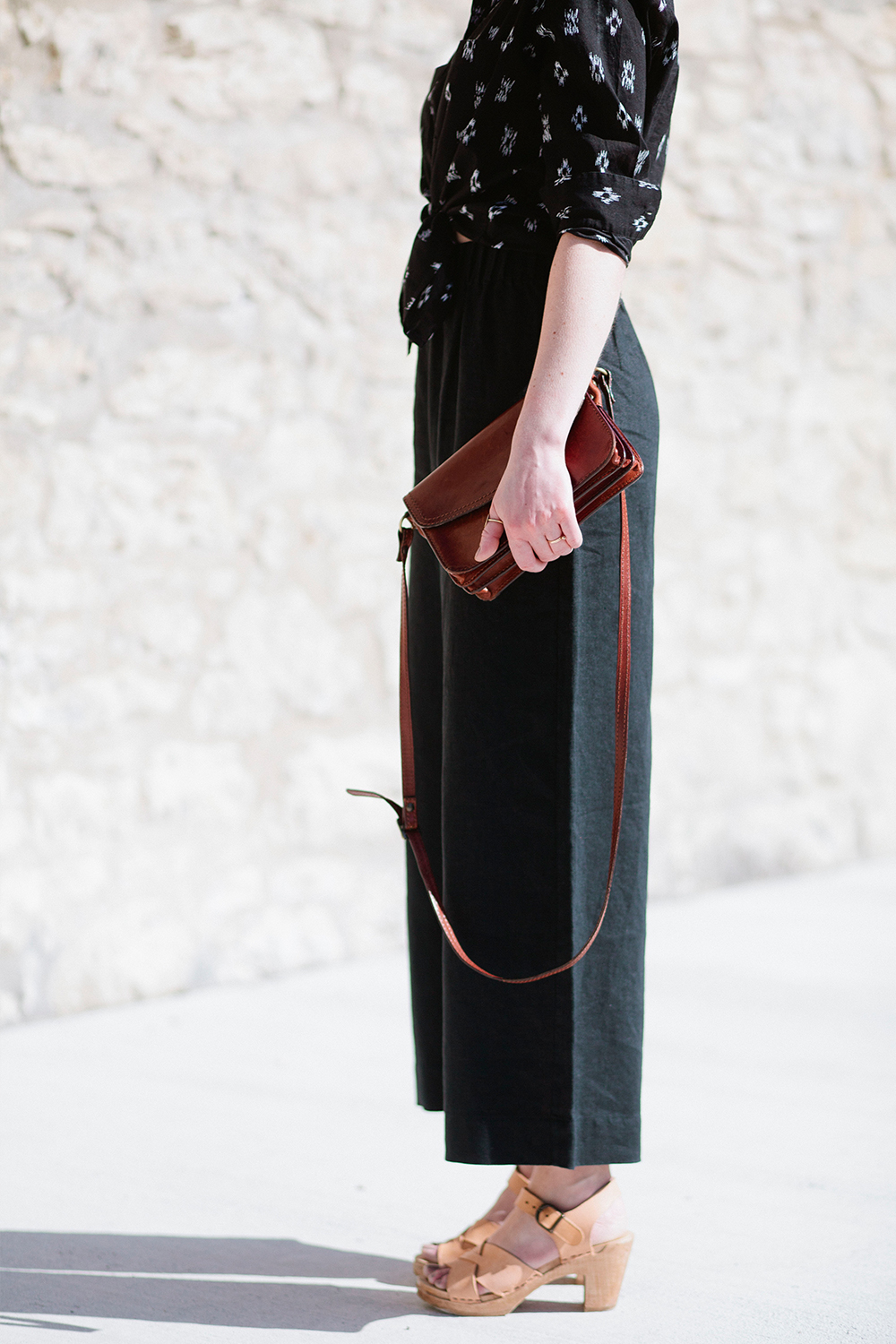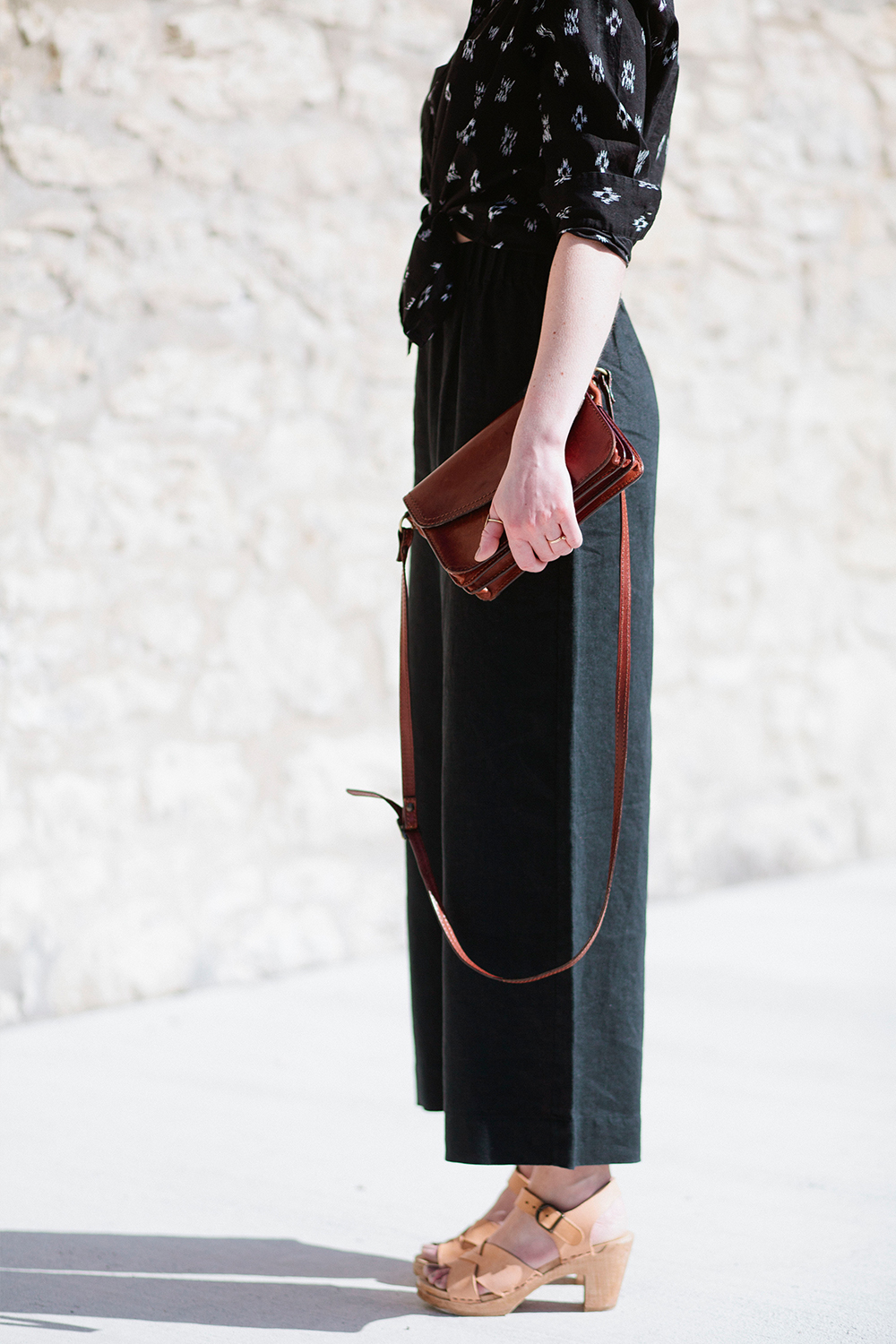 So tell me, what are your thoughts on wearing black during the Spring/Summer season? Oh you bet or oh hell no?
---
Button Down old Madewell (similar) | Florence Pant c/o Elizabeth Suzann | Clogs n/a No.6 (very similar) | Sunglasses Celine | Bag Vintage (similar here and here)
---

---
Photography by Jacklyn Barber.