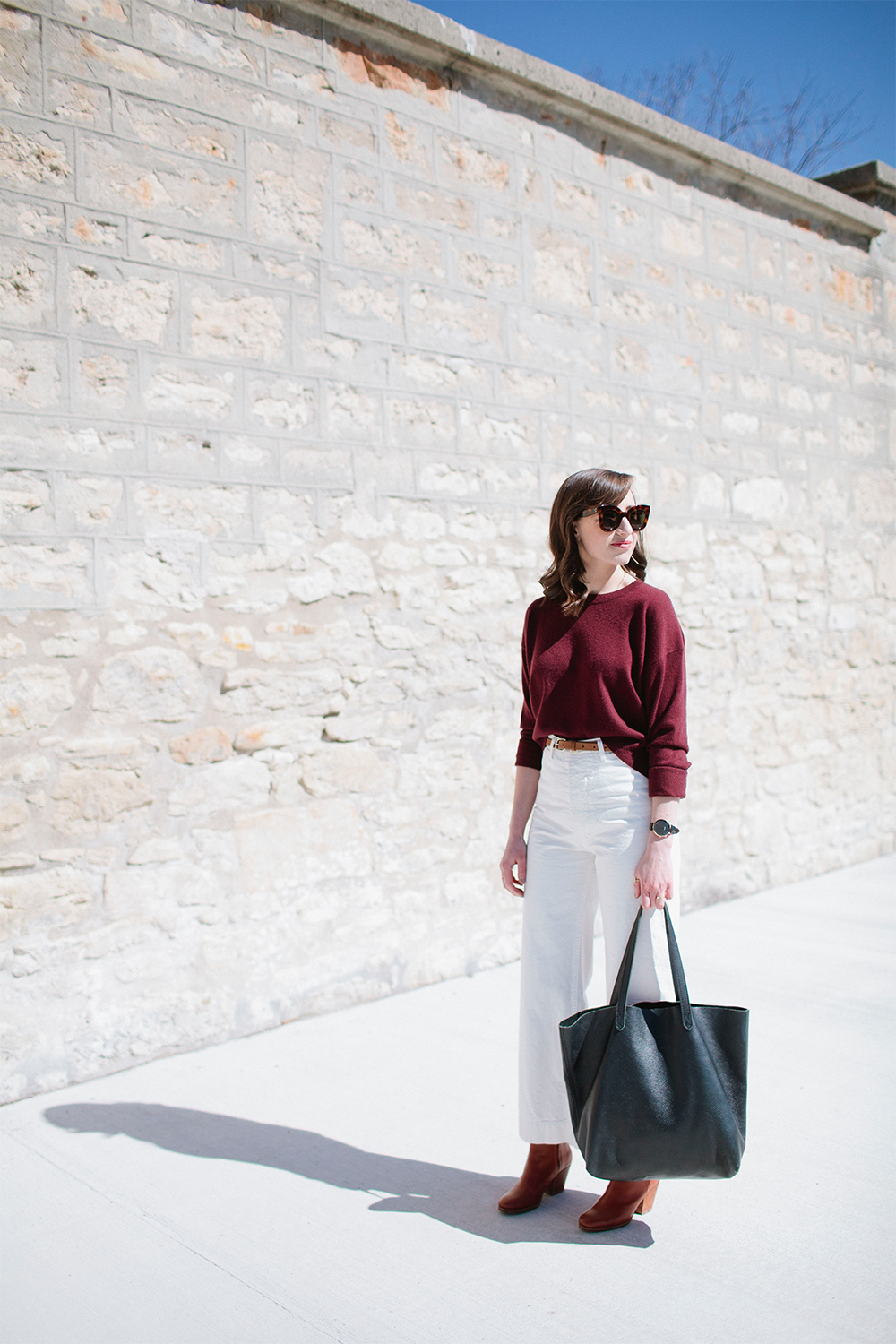 Welcome to a rare weekend post here on the blog! I usually give myself weekends off but there are just too many good things in the pipeline to slow down. So here's a look at outfit #5 from the 10 x 10 Challenge I'm doing right now.
I love finding ways to mix items from Fall/Winter into my Spring/Summer closet such as this cashmere sweater from Everlane. To date Everlane's cashmere has definitely been my favourite (I have experience with J.Crew and Uniqlo cashmere too but they pill much faster). I frequently get questions about how to care for cashmere and while I'm working on a comprehensive closet care post I'll quickly share a few of my top tips:
Wear it again and again. I'm not afraid to wear cashmere items up to as many as 10 times before dry cleaning. I love a freshly cleaned sweater but find the fibres start to get worn faster when they've been cleaned too often. No doubt the harsh chemicals in dry cleaning take their toll.
Keep all sweaters neatly folded (or rolled) on a flat shelf, never hung on hangers. Watch that they don't get shoved into corners as this causes creasing.
Gently use a lint roller only when absolutely necessary. Sticky rollers pull at the fibres and can cause fraying that leads to pilling and other visible signs of wear.
My favourite way to freshen cashmere without dry cleaning is to hang it by an open window. Nothing like a cool breeze to breath some freshness into your favourite sweaters.
Accept the patina. Try as I might eventually my sweaters start to show signs of use but that's just how it goes. Like leather goods or any natural material cashmere will start to show it's age but I love that about it.
Do you have any cashmere care tips you'd be willing to share? Do tell!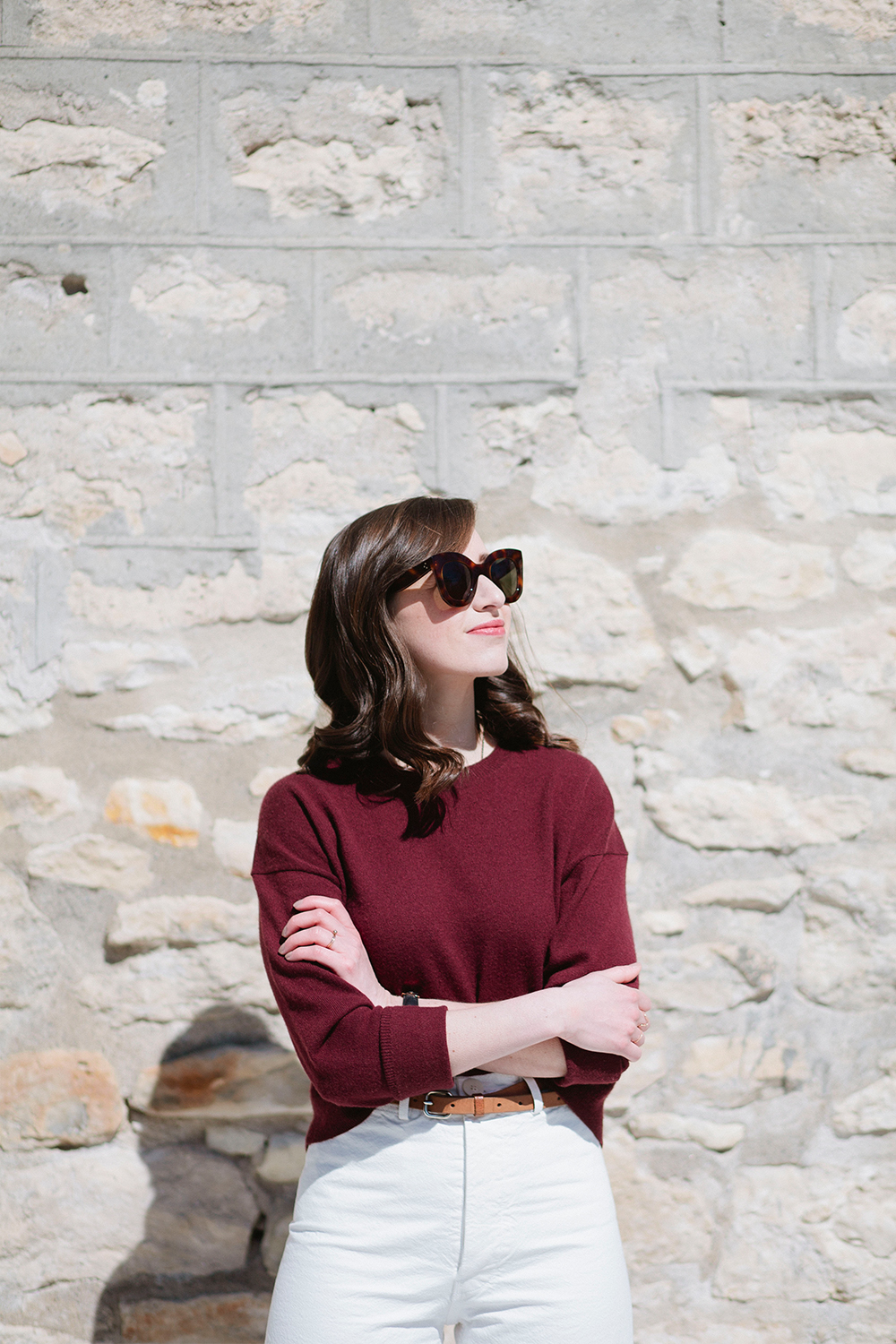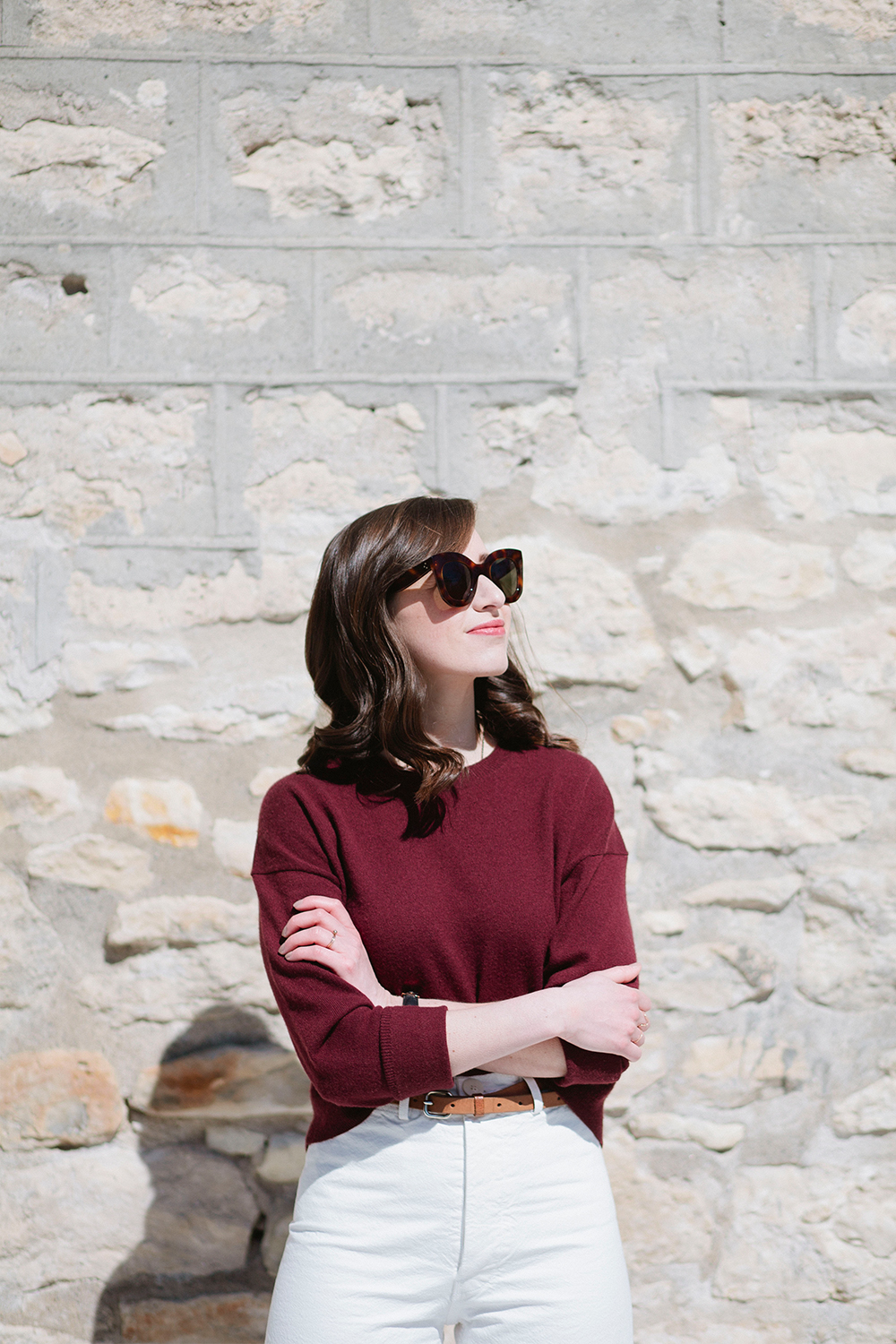 On a more serious note, this week has been an important one in the world of responsible fashion. Fashion Revolution is an organization that was created in response to the Rana Plaza complex collapse in Dhaka, Bangladesh on April 24th 2013, when 1,134 people were killed and over 2,500 were injured. This incident brought to light (or rather to the western world's attention) the terrible conditions that multitudes of garment workers around the world are forced to endure. Now, 3 years later #FashionRev is making international waves by asking companies to take ownership for their manufacturing process and appreciate the people making their clothes.
You've likely seen some photos of people wearing their clothes inside out with the hashtag #WhoMadeMyClothes, through which customers are asking brands to be transparent about the production of their products. There are so many good things about this campaign but the aspect of the movement that has resonated most with me is the response of the makers, factory workers and farmers that have been responding through their own tag #IMadeYourClothes. It's amazing to discover people doing incredible work all over the world!
I typically steer clear of participating in social media protests but I've donated to the cause wanted to share a few resources about this important and inspiring movement for anyone who's interested:
What is Fashion Revolution Week & Why Should You Care? – Comprehensive post by Shannon Whitehead, Founder of Factory 45
Every minute 1,400 t-shirts are discarded in Hong Kong alone. Yikes! – Article by Shuk-Wah Chung for Green Peace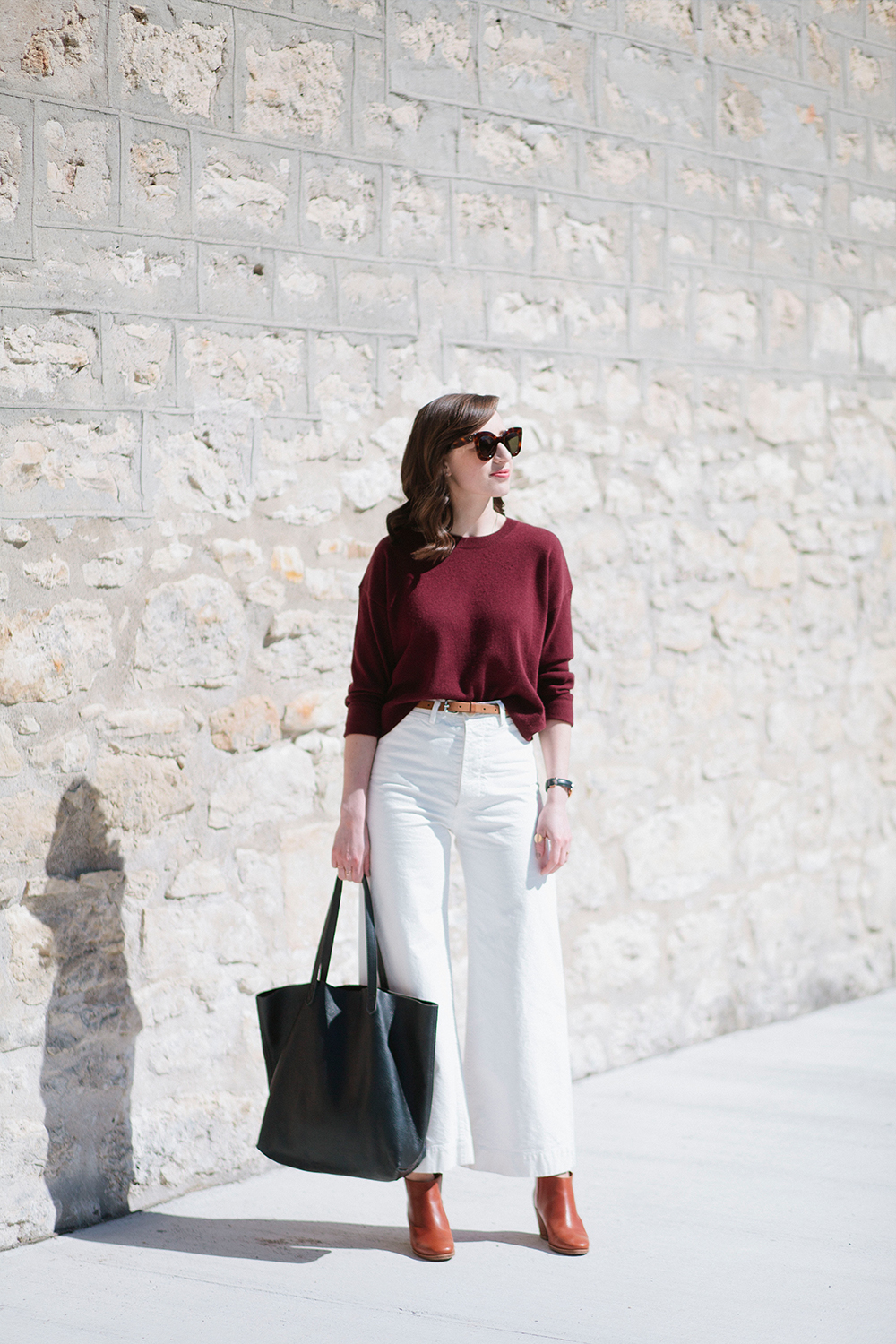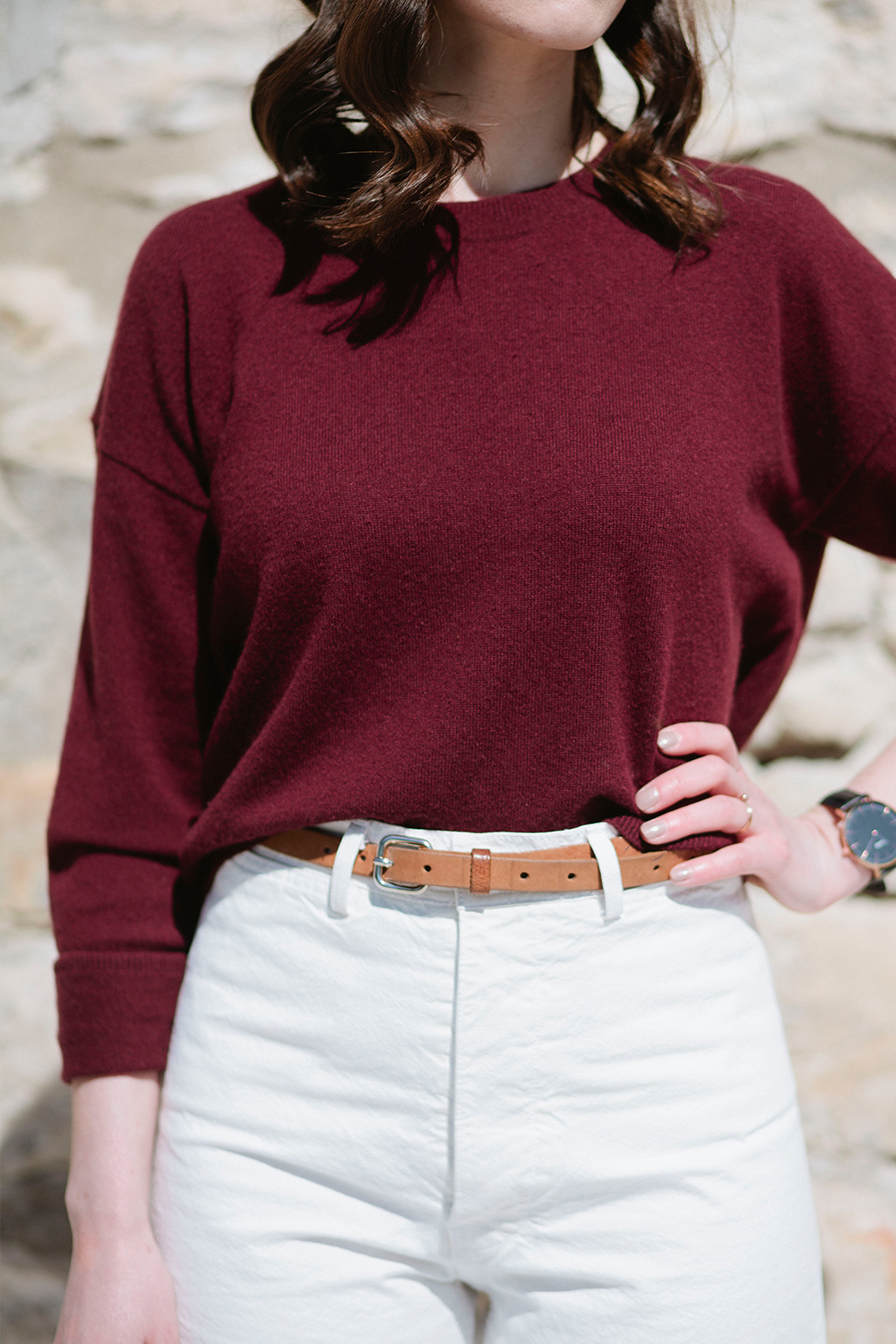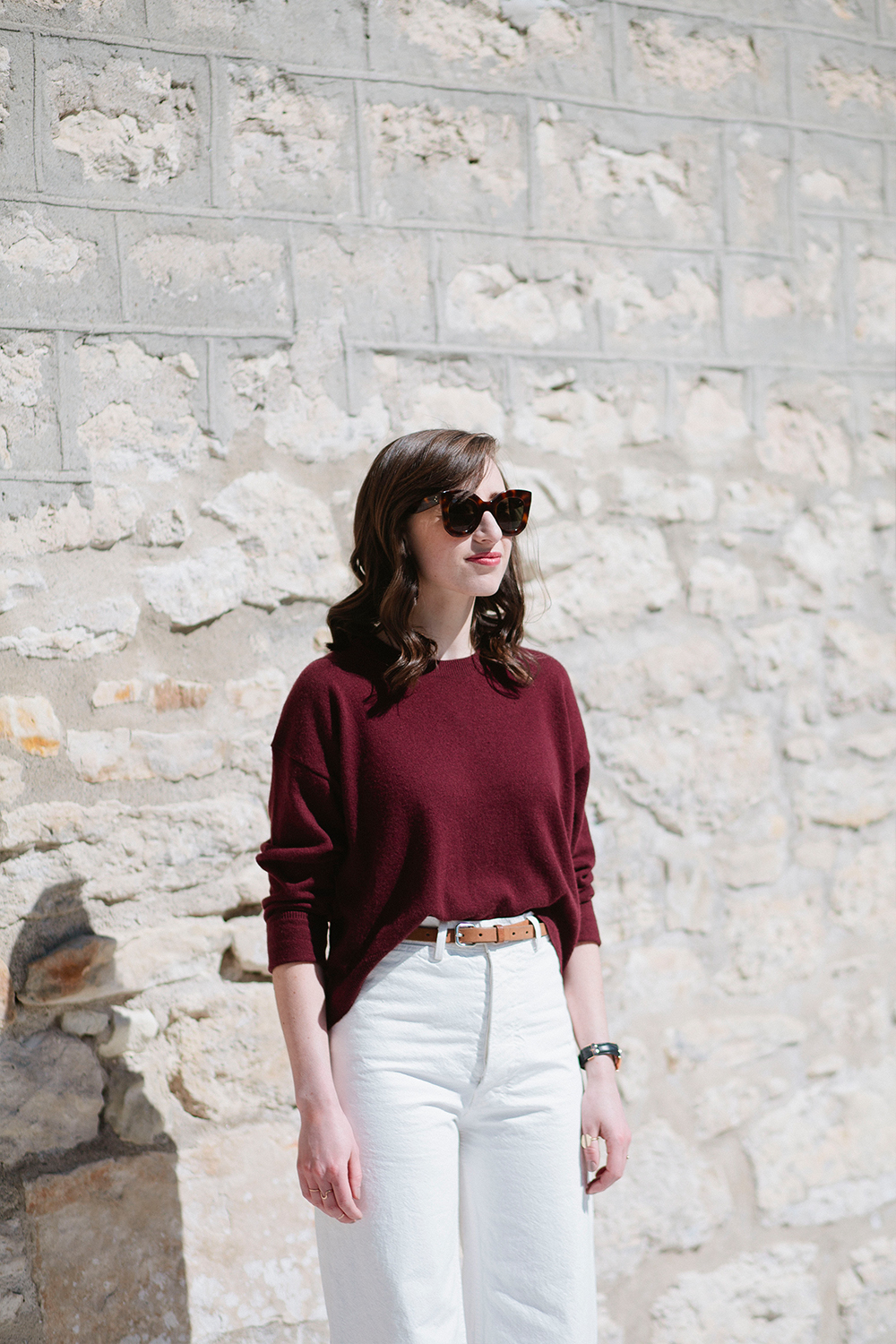 That's it for today folks but I hope your weekend is off to a great start. Feel free to pop by tomorrow for Look #6!
---
Cropped Cashmere Sweater Everlane | Belt (old) H&M | Sailor Pants Jesse Kamm | Tote Cuyana | Sunglasses Celine c/o Smart Buy Glasses | Mars Boots Rachel Comey | Split Ring c/o Claus | Stacked Rings c/o Everli | Watch c/o Cluse
---

---
Photography by Jacklyn Barber.