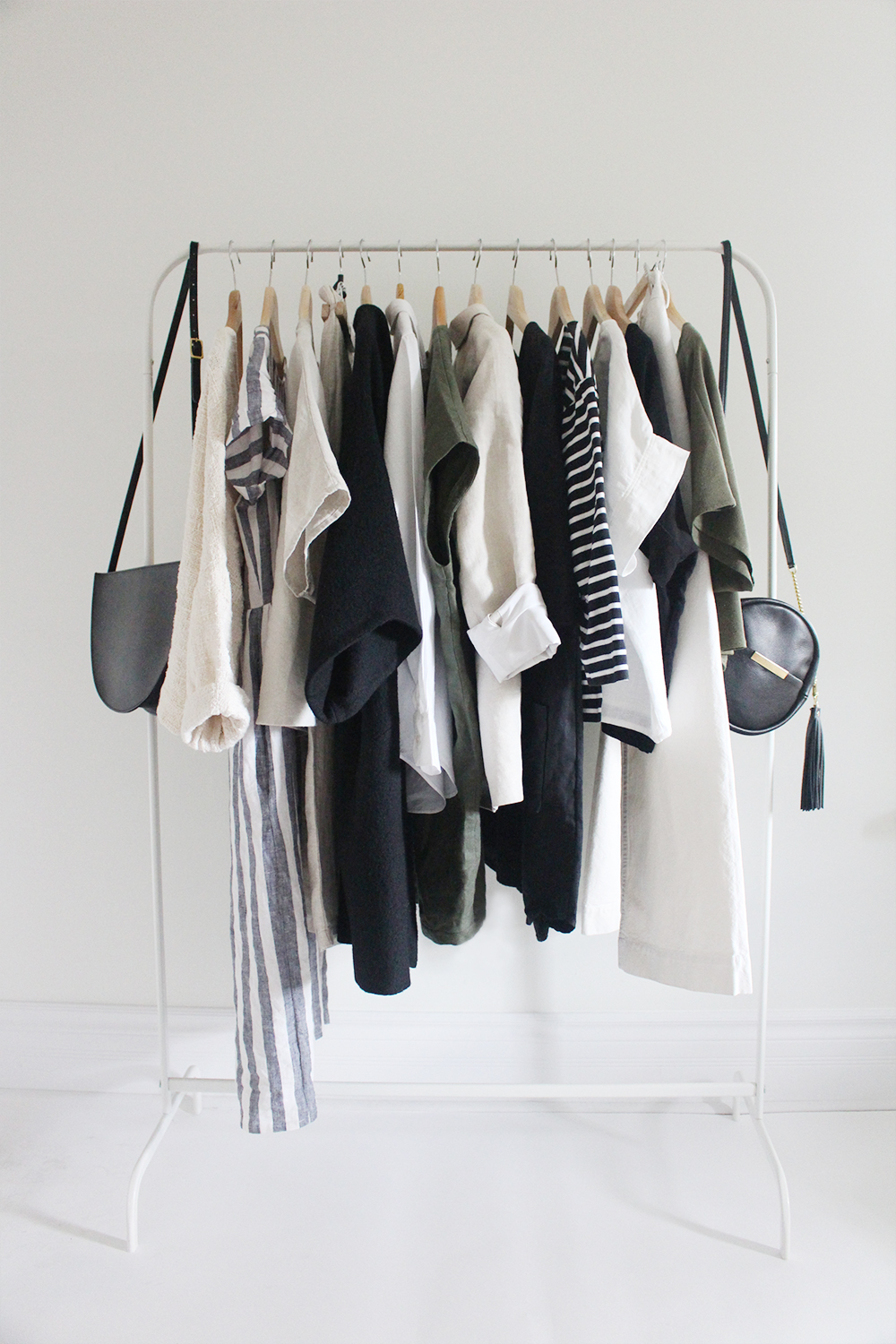 CLOSET MISSION CHECK-IN
It's been far too long since I checked in and took stock of how things are going with this year's closet mission and honestly I've been meaning to regroup for weeks, but time has been slipping away on me this year. I've had a few emails asking about some of the topics I promised I'd touch on earlier in the year and while I feel bad that I haven't delivered yet, I know that I can't always force these closet mission posts. That said, they're always on the back of my mine and I want to get back into the habit of writing more informative, from the heart style blog posts. So with that in mind here's what's on the agenda for today's Closet Mission Check-In:
Regroup – I'll just take a sec to reflect on the goals I set out for at the start of the year and assess where I'm at.
Tally Up – I'm sharing all the pieces I have personally purchased this year. The truth might surprise you.
Lean Closet vs. Style Blogging – Finding a balance between the two and some changes I'm putting in place.
The Closet Mission Pipeline – Lots to look forward to!
---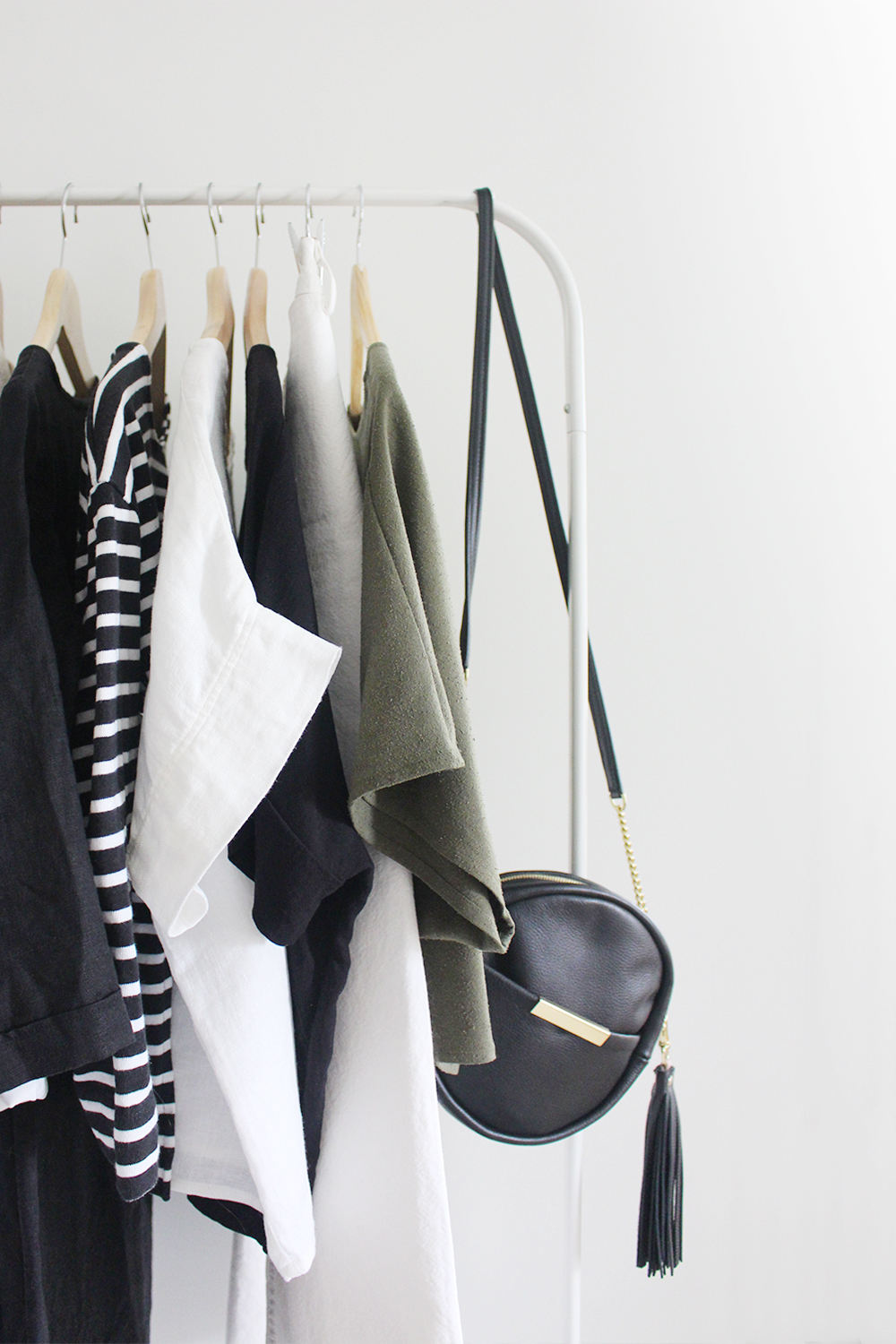 REGROUP
This has definitely been a busy year for both the blog and myself. I'm not sure if I make it clear enough sometimes but I don't blog for a living. I work full-time for my family's advertising and design agency, which is a highly demanding job in itself. Style Bee is my side project and I've been working late nights and literally every single weekend to grow it into something more. It's getting there, but it still has a ways to go and I have a lot of big ideas for it that I hope to see through in time. But, I wanted to set the record straight, in case anyone was under the impression I blog for a living. I make a point of keeping my day job and my side job separate because our clients are high-profile pharmaceutical brands and entirely unrelated to anything I'm getting up to on here. I'm also very lucky that my family is so supportive of all my creative endeavours.
Trying to juggle essentially two full-time jobs is not easy. It's totally exhausting sometimes and there are moments when I just want to curl up under the covers with my pup and throw my phone in the toilet. But those times are very rare compared to the times when I'm feeling excited, inspired and invigorated by what I get to call my life right now. It's really pretty rad. So honestly no complaints here, just need a few more hours in the day please!
Learning to say 'no', or at least 'not right now', has been hard for me but I'm getting better at it. I've genuinely relished every opportunity I've had to collaborate with so many amazing brands and designers this year and I'm still pinching myself about a few of them. I do, however, think I've lost my way slightly when it comes to this whole Closet Mission. Or, rather, I've let some things get in the way after starting the year with these 5 goals in mind:
Reduce.
Create.
Connect.
Empower.
Live better with less.
The assessment as of today is:
Reduce. I did manage to reduce my closet to 50 pieces, but it's grown a lot since then and I need to clean things up soon. I have been really good (at least for me) about shopping this year. It's been easily my leanest spending year to date.
Create. I have yet to sew a single thing. This is frustrating but I also know my sewing machine isn't going anywhere. I did create a super special signature bag with one of my favourite brands though, so there's that!
Connect. I've connected with so many fantastic creatives, from other bloggers, to independent brands to readers alike and that makes me feel amazing. The #StyleBee10x10 was a really great way to bring lean closet enthusiasts together and I am so excited to grow that connection and the challenge itself. Summer 10 x 10 is a go!
Empower. I've been eager to create a simple, useful tool kit for anyone interested in embarking on their own closet mission and while it's in my head, it's yet to take proper form. At the same time I've had some really wonderful feedback from people who've been inspired to shop responsibly, embrace their personal style and reduce their closet which has been such an encouragement for me.
Live better with less. I'm really working on this aspect of the mission. I want to get rid of a lot of our household junk that's been lurking in the shadows during our renos. Having a working kitchen has made a huge difference in how much we eat out and how much healthier we eat as well. Spending less and eating better is a top priority right now and our epic veggie garden should help!
Shop Responsibly. This goal was added on later but it's probably one of the most important one to me personally. I've remained 99% true to my pledge to shop responsibly, with the exception of buying some mass produced, made in China gym shoes. I still feel weird about it and slightly tempted to return them but I badly needed to equip myself with the tools to do some good for my body (aka work out). That said, I'd be glad to know if there are any ethically made proper 'running' shoes! My brief search led me down a few rabbit holes to nowhere.
So that's the regroup! Even if you're not into missions or goal setting I think it's important to stop for a moment and think about the course you're on and what needs to change to ensure you're heading in the best direction.
---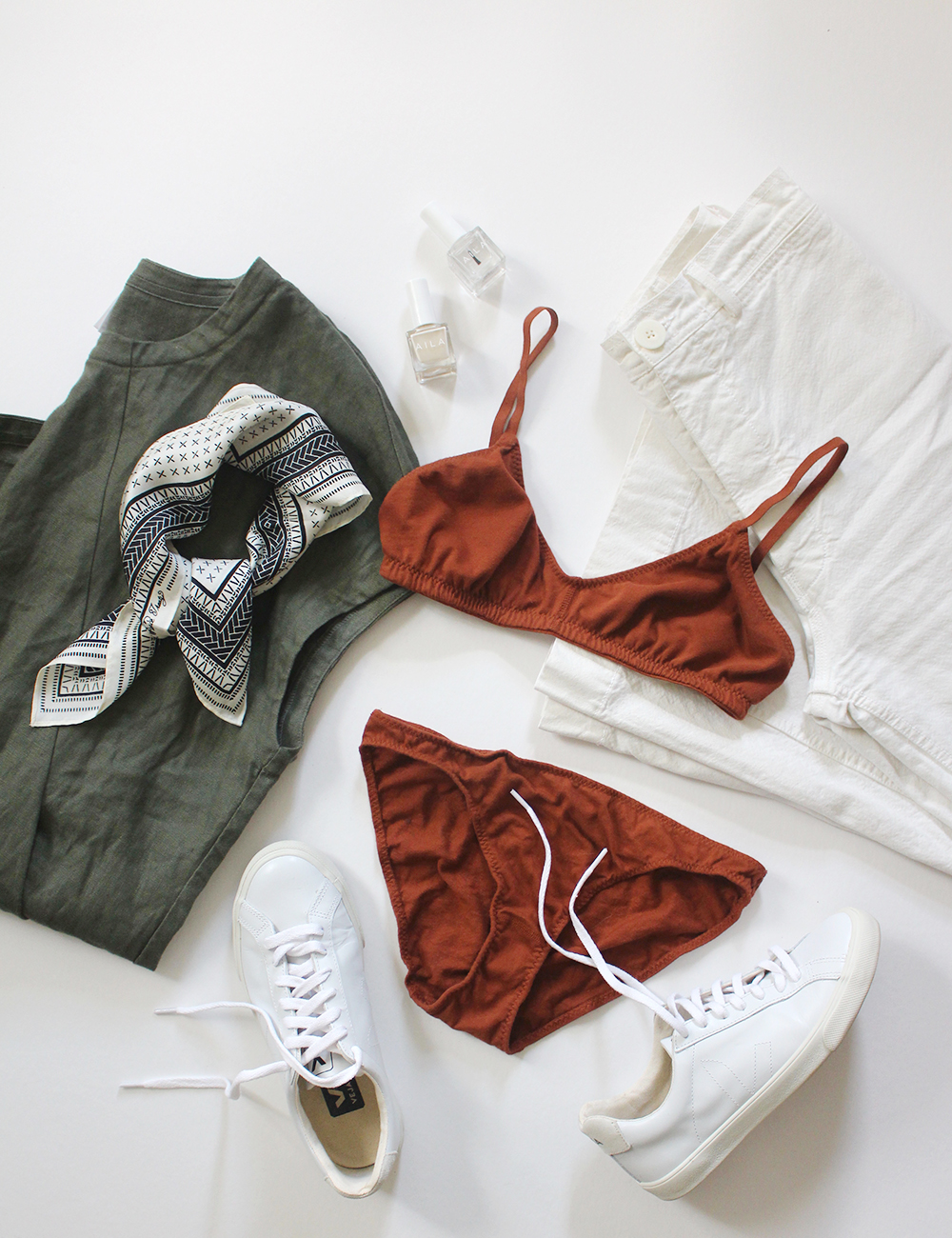 TIME TO TALLY UP
It's funny, I've had quite a few DM's on Instagram this year asking how I can 'afford my wardrobe'. While at first the question struck me as intrusive I came around to it and decided to share a bit more about how much I've actually spent on clothes this year. Fashion bloggers can be pretty cryptic about what they buy and what they've been 'gifted' and while I make a point of announcing every sponsored post it can still be surprising to see what I've actually bought myself. I'm not even in the style blogging big leagues, I decline easily 80% of the 'gifting' offers that hit my inbox and yet I still end up with a few boxes at the door each week. My dog even knows the sound of the post man's van!
Here's the thing though, the novelty of 'free' or 'gifted' stuff has worn off on me, which I'm sure sounds super bratty. At this point though I really can't be enticed to add anything to my closet or home unless it's been made beautifully, with integrity and aligns perfectly with my style and values. If all those boxes are checked, then I consider a collaboration. If not, a post wouldn't be doing the brand or my blog the justice deserved. This year I've been lucky (and I've worked my butt off) to have the opportunity to partner with my favourite brands like Elizabeth Suzann, Everlane, Opelle, Garmentory and a wide range of smaller independent makers and shops. They've all been very generous and this has definitely helped me save some money that I would have otherwise spent on the products I featured.
At the same time my blog has begun to make a small income and my mandate is to only use money that the blog has generated on new closet items and of course to reinvest into the blog itself. I don't spend money from my 9-5 salary as that goes towards my expenses, savings or, mostly, our home renovations. I also try not to focus my purchases on items that can earn me commission but instead to stay true to my style and the pieces I am genuinely excited to wear and share. So with that pre-amble, here are the pieces I've bought out of pocket during 2016 (and a couple that are on their way).
---
WHAT I'VE BOUGHT THIS YEAR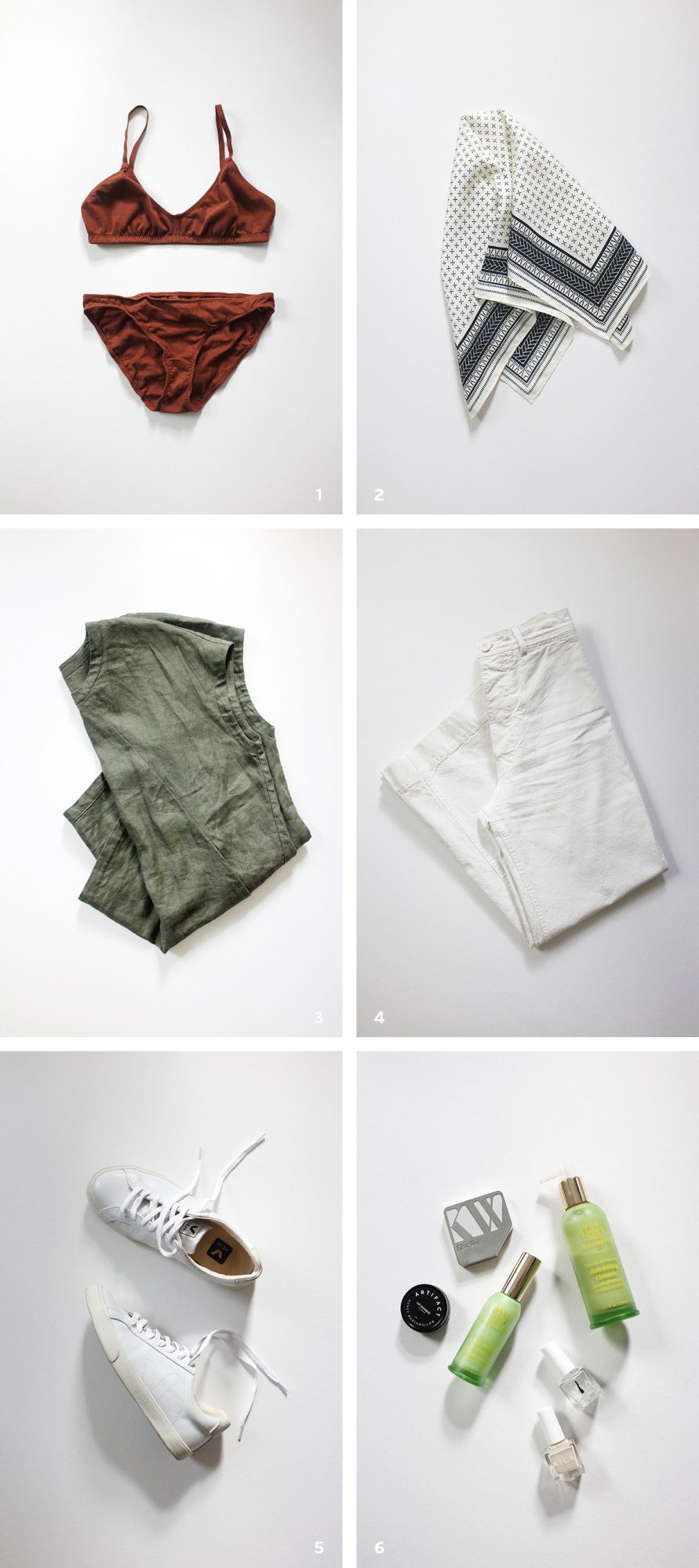 1 | Pansy Co Underwear Set currently $48 + $39 for both (purchased on sale). This is my absolute favourite bra and I love the undies for bed but prefer thongs for day to day. I definitely plan to add more of this brand to my closet.
2 | A Peace Treaty Silk Scarf currently $88 (purchased at full price). I love this little bandana and it has already seen lots of outfits. It's so soft and lightweight that I forget I have it on.
3 | Hoi Bo Linen Tunic currently $228 (CAD). Easily one of my favourite additions in years. I wear it all the time over skinny jeans and get so many compliments on the colour.
4 | Jesse Kamm Sailor Pant currently $395. Definitely my biggest purchase and trendiest one too. I'd been lusting over these pants for months and months so when I had the cash I went for it. ZERO regrets, these pants are amazing!
5 | Veja Esplar Extra White Sneakers currently $120. After years of searching for the right all white sneaker these babies are finally mine. Made ethically in Brazil using eco-leather, wild rubber and organic cotton. They've yet to appear in a post but all in good time!
6 | Skincare Products: A) Kjaer Weiss Foundation $93 (CAD) | B) Artifact Lip Masque $21 (CAD) | C) Tata Harper Cleanser + Moisturizer | D) AILA Nail Polish + Top Coat. These items have all become integral to my skincare and beauty routine. I've also purchased a few other skincare items that didn't work great for me in the end so I left them out.
On it's way:
7 | First Rite Split Skirt in Rust $216 (CAD) (purchased with store credit)
8 | BRYR Miranda Peep Toe Clogs $256 (birthday gift from family)
GRAND TOTAL: Approximately $1500 USD
Over 5 months this works out to about $300 USD a month, so notsuper crazy, especially compared to my atrocious spending habits of just 2 years ago. I didn't include a few necessity items in the tally like workout gear (I bought running shoes, leggings and a sports bra) or hair care products and toiletries but you get the general idea of what I'm up to.
---

---
So I guess the answer to 'How do you afford your closet?' is I work for it, save for it and blog for it!
---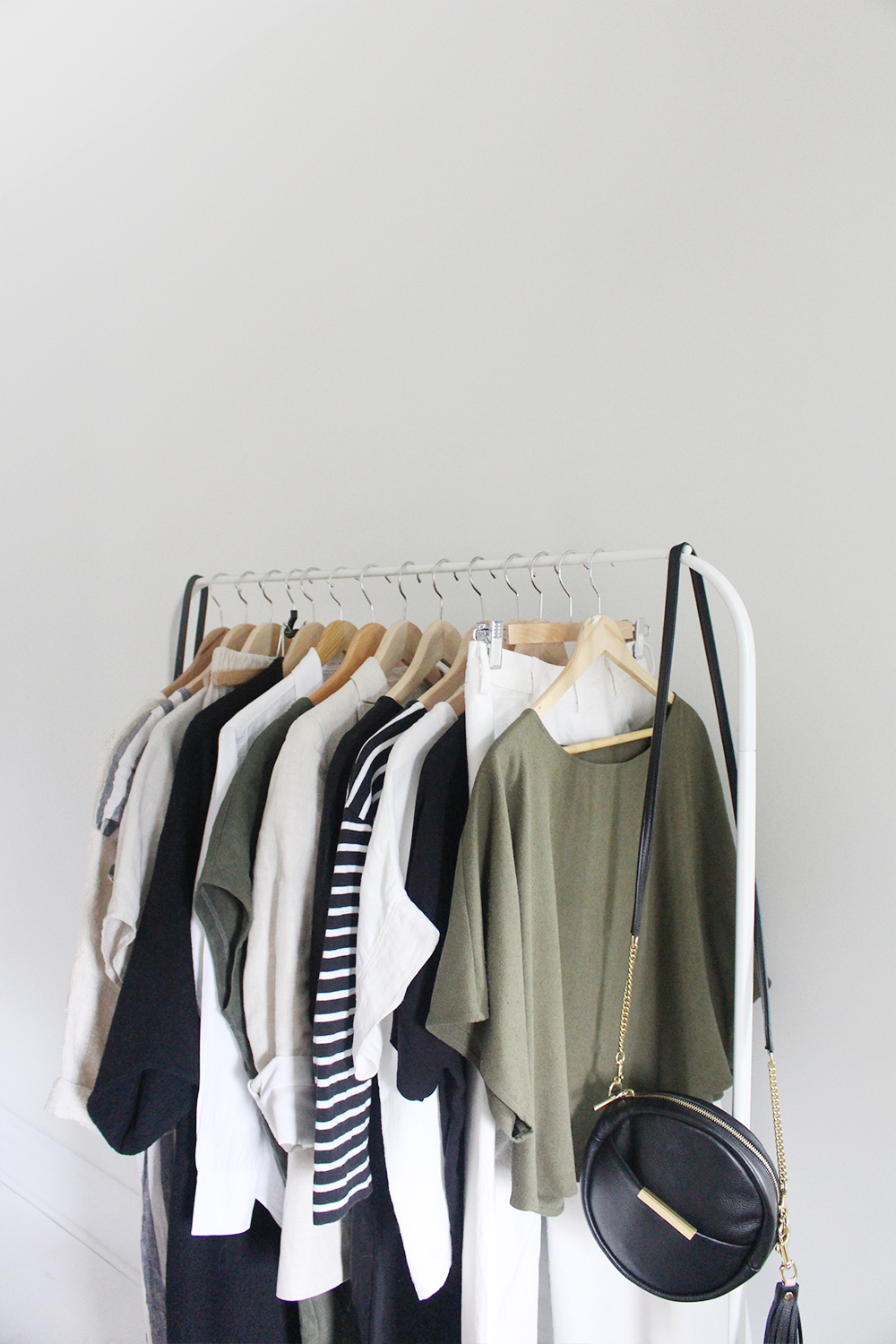 LEAN CLOSET vs. STYLE BLOGGING
It doesn't take long to figure out that these two things are not conducive to one another. I'm still trying to figure out a balance and be able to provide original, engaging content while maintaining a bonafide lean closet. I know a few other bloggers mentioned this struggle during the 10 x 10 Challenge so it's good to know I'm not the only one. My decision to shop responsibly, shop small and support slow fashion has been one of the best one's I've made for both myself personally but also for this blog. It's opened up so many doors but it also feels like it's opened the floodgates and I'm having to duck for cover. There is so much to learn and seek and explore in this ever-changing and quickly-growing industry and I while don't want to miss out or get left behind I have to take it all in stride and slowly digest my discoveries.
So my plan going forward is this:
Repeat Pieces More. Even with the 10 x 10 Challenge the most I styled an item was 3 times. That's barely even scratching the surface of what a closet hero should be capable of!
Be (even more) Selective. I'm already very careful about who I partner with and what brands get featured on Style Bee but I've been feeling like every post is sponsored lately, which detracts from the true voice behind the blog. Going forward I will be even more selective about my post partnerships and the pieces I add to my closet. I never EVER want there to be any question as to the authenticity of my opinions or content.
Quality Over Quantity. I work hard on ever post that gets published and while I'd love to be publishing new content daily, I just can't keep up. To avoid watering down the quality of my posts I need to stick to my guns and just post fewer, better ones. This means there will probably be a max of 3 posts a week for the foreseeable future.
Frequent Editing. I'll be culling my closet regularly (every 3 months) to keep my number hovering around the 50 piece mark. If you're interested in shopping the pieces I let go, you're in luck as I'm currently investigating the best e-commerce solution for that. Stay tuned!
---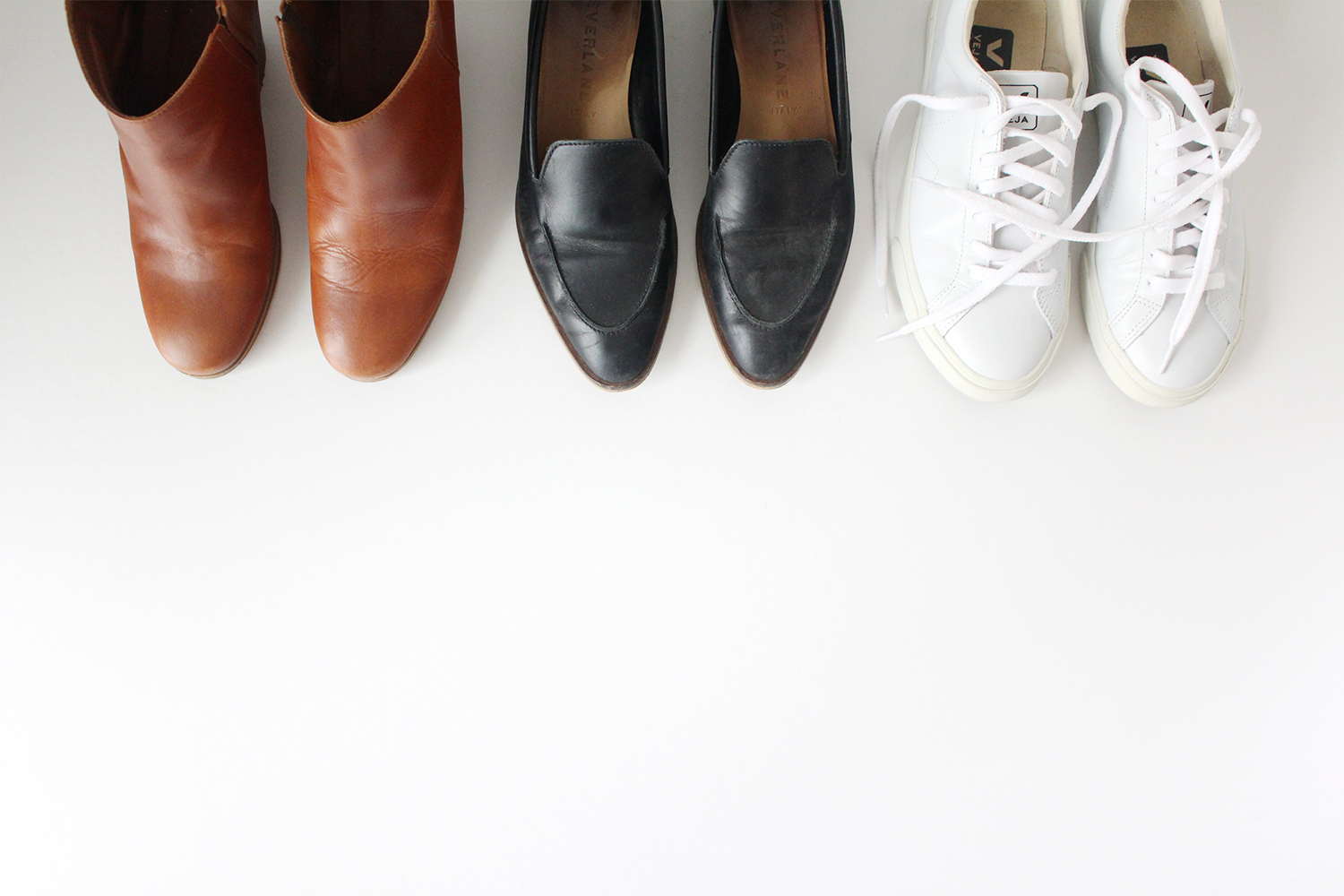 THE CLOSET MISSION PIPELINE
These Closet Mission posts are monsters, as you've probably come to realize by this point, which I think is partly due to their infrequency. So, I'm making a plan to have a Closet Mission post every week starting in June! I've got a few topics in the cue already but totally open to your suggestions! Here's what I'm working on:
Define Your Personal Style – There are a lot of thoughts floating around on this topic but I know it can be done simply and effectively in just a few steps.
Anatomy of a Style Bee Outfit – I'll be breaking down how I put together looks and the importance of understanding the silhouettes that work best for your style and body.
Making the Switch to Responsible Style – Where to begin, how to do it on a budget and my suggestions for the best brands and pieces to start with.
Style Blogging Basics – How to get started, find your focus and build great content, even if your not dating a photographer.
---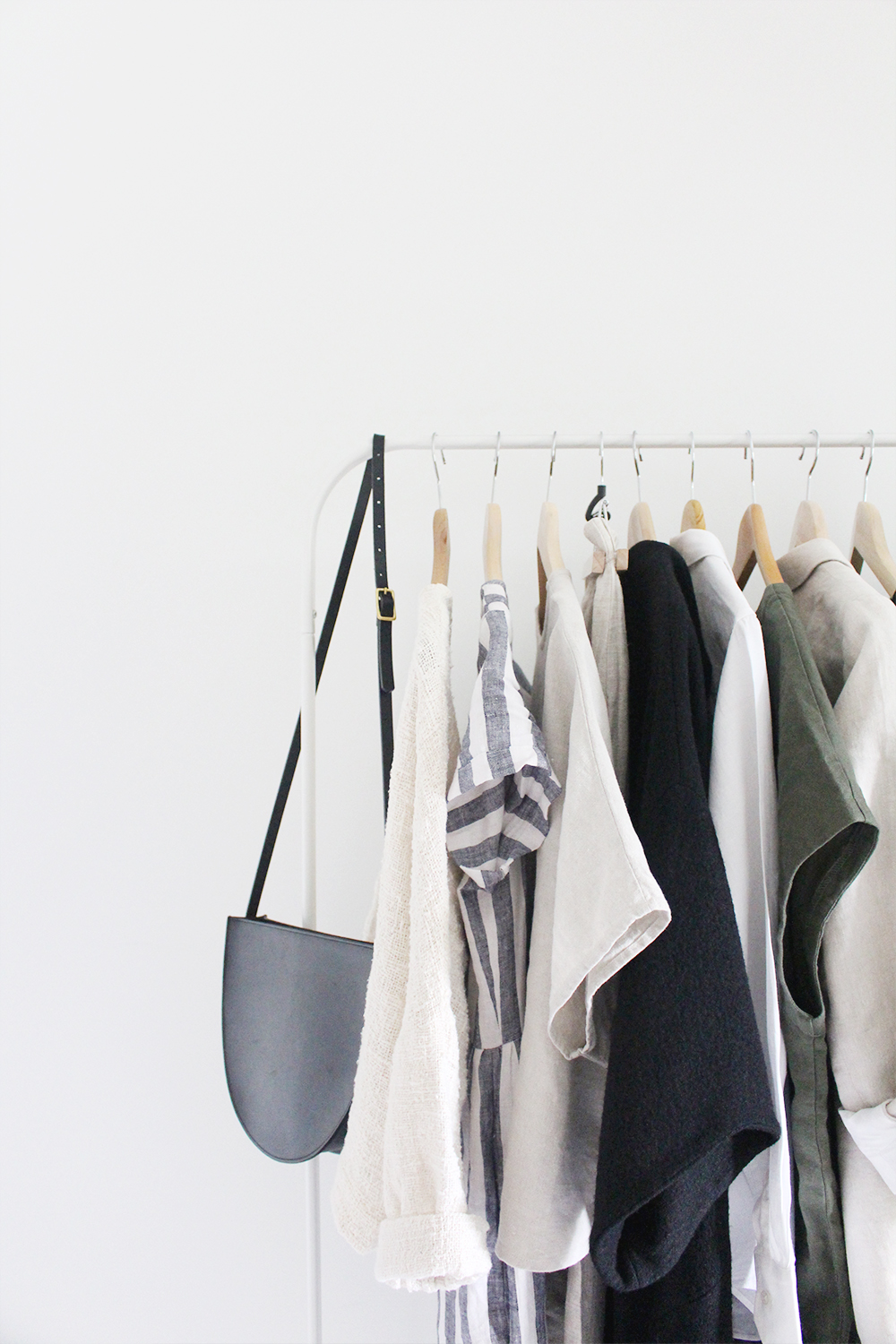 ---
That my friends, concludes this check-in. Thanks for making it this far! I'd love to know what you're interested in reading about when it comes to this blog and closet mission. Please let me know in the comments. 
---
I'll leave you with a few of my most worn and loved items at the moment.
---

---
Accessories | Delos Necklace | Plate Necklace (old) Circle Necklace c/o Young Frankk | Necklace (old) Biko (similar) | Watch c/o CLUSE | Wave Cuff (old) Circle Cuff  c/o Young Frankk | Split Ring c/o CLAUS | Stacking Rings c/o Everli | Shape Cuff c/o Stvdio Brooklyn
---

---
Shoes | Mars Boots | Black Loafers | White Sneakers
---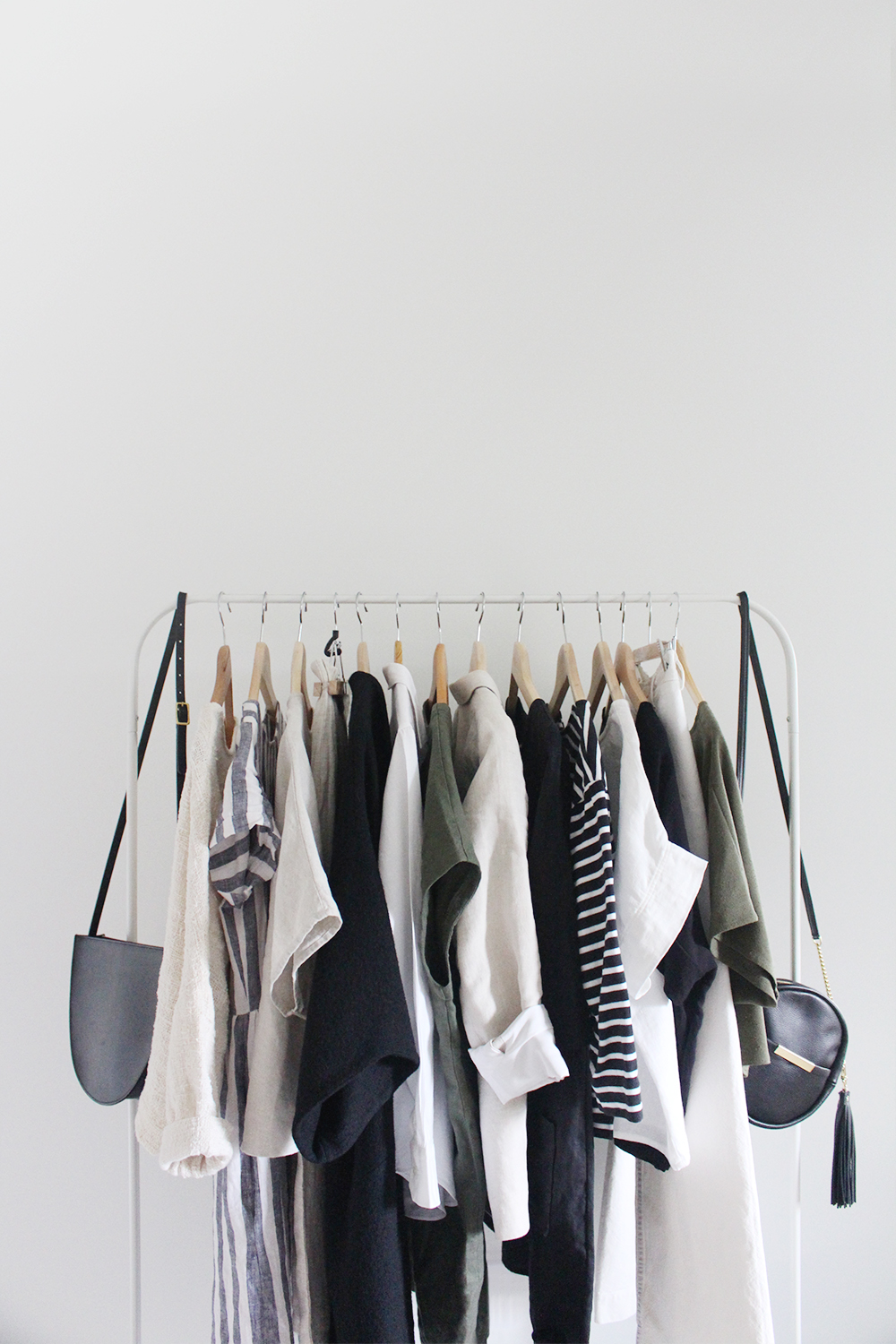 ---
Hanger Items | Eloise Bag | T Sweater | Striped Linen Dress c/o Pyne + Smith | Linn Tee c/o Elizabeth Suzann | Florence Pant | Cocoon Coat (old) | Linen Shirt s/o (similar) c/o Everlane | Linen Tunic | Linen Blazer (old) (similar) | Black Linen Dress c/o Pyne & Smith | Striped Tee | Georgia Tee | Box Top c/o Only Child | Sailor Pant | Blank Canvas Tee (olive s/o black version) c/o Jamie + The Jones | Opelle x Style Bee Bag (still a few left!)
---