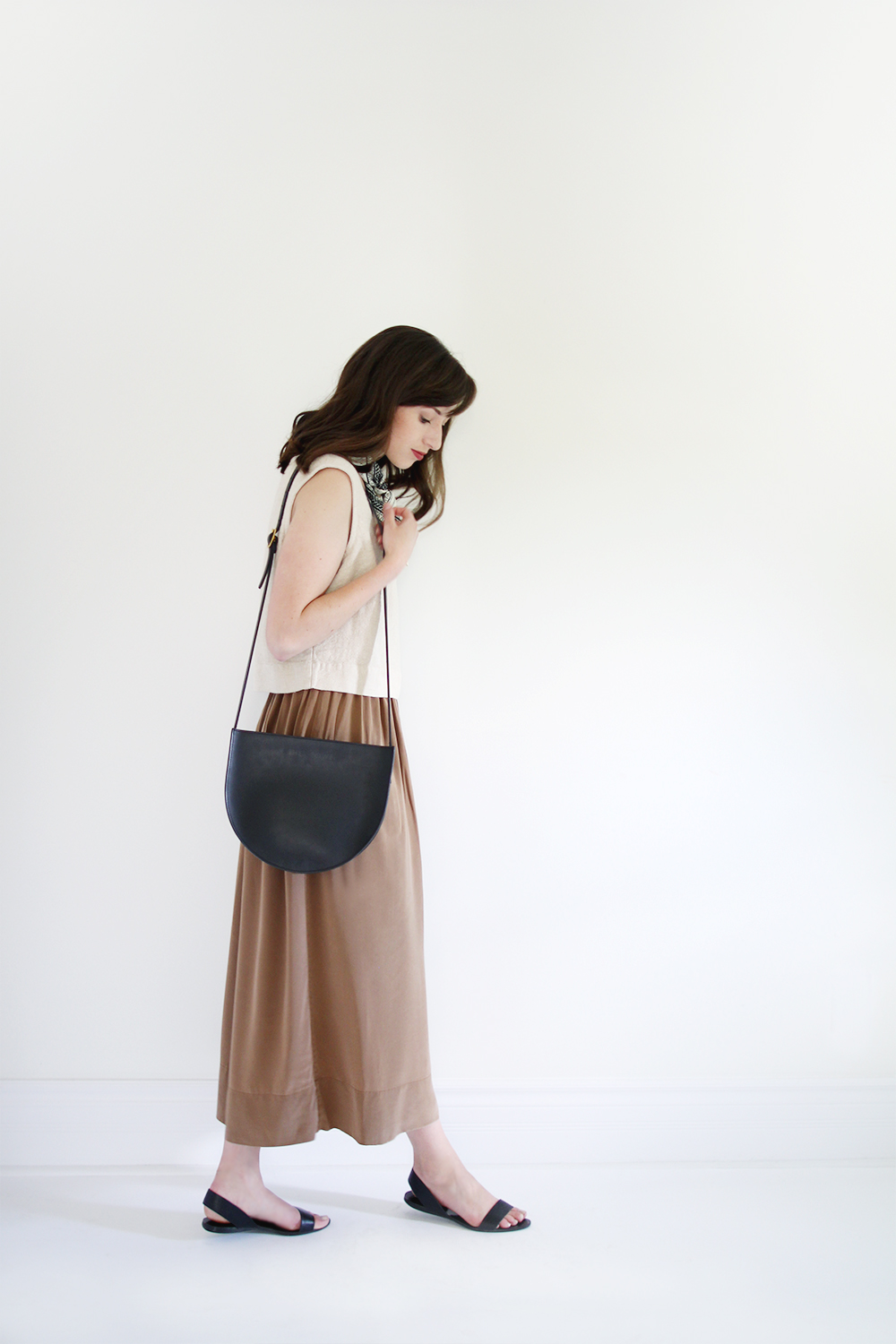 There is something very comforting about earthy neutrals and wearing them always helps me feel at ease. I'm all for a crisp white or a rich black when the mood strikes but time and again I find myself reaching for a softer palette, especially in fabrics as sumptuous as hemp twill and buttery crepe silk. With a few sharp, minimal accessories like a geometric bag, sleek sandals and a spunky scarf I find the look stays contemporary and fresh.
Elizabeth Suzann's SS16 Collection is brimming with soft textures, natural fibres and delicious organic hues, all of which make my heart sing a wholesome little love song. Liz and her incredible team work some major sartorial magic with every collection they produce and I was beyond thrilled (like I literally screamed out loud) when given the opportunity to work with them and style some pieces this year. To say this brand has transformed my approach to both personal style and shopping is an understatement. I could have easily found cause to add one of everything to my wardrobe but, you know, lean closet mission and all, so I exercised as much restraint as I could (for now!) and went for the two pieces that tugged hardest at my heart strings, the Bel Skirt and the Petra Crop. More on both items below.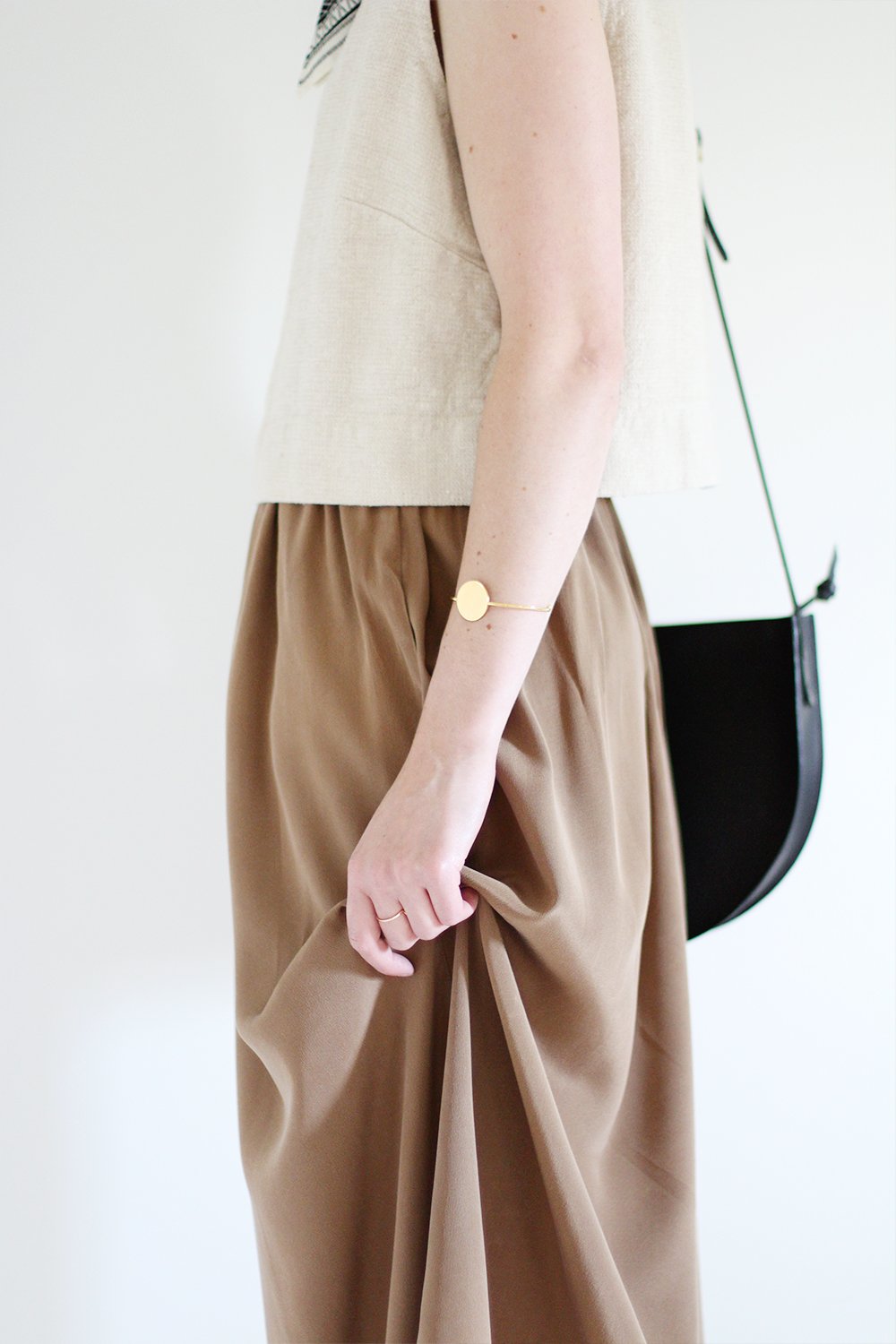 I fell deeply in love with this Moss Crepe Silk when the Signature Collection relaunched but it wasn't until I saw it in Bel Skirt form that I knew we were meant to be together. It definitely doesn't get much more earthy than a soft, muted caramel and I'm entirely okay with that. I adore it paired with this flax crop top but it's also striking with a black tee or white button down. I was a little worried that the fabric might be too precious but this silk is dense, luxurious and hearty. It also has less sheen than I anticipated which was a pleasant surprise. I washed and ironed it before I shot this post (something I've been making a habit of) and it came out like new.
Details like a 2″ thick waist band makes it very comfortable to wear and the deep hem is my favourite element. It hangs lightly off the body, moves elegantly and feels like a cool breeze so it's perfect for the hot summer days ahead. That said, I won't hesitate to pair it with a big cashmere sweater and a pair of ankle boots in the Fall.
Note: Wet marks will show, but dry/fade fast. Just be aware of where you sit!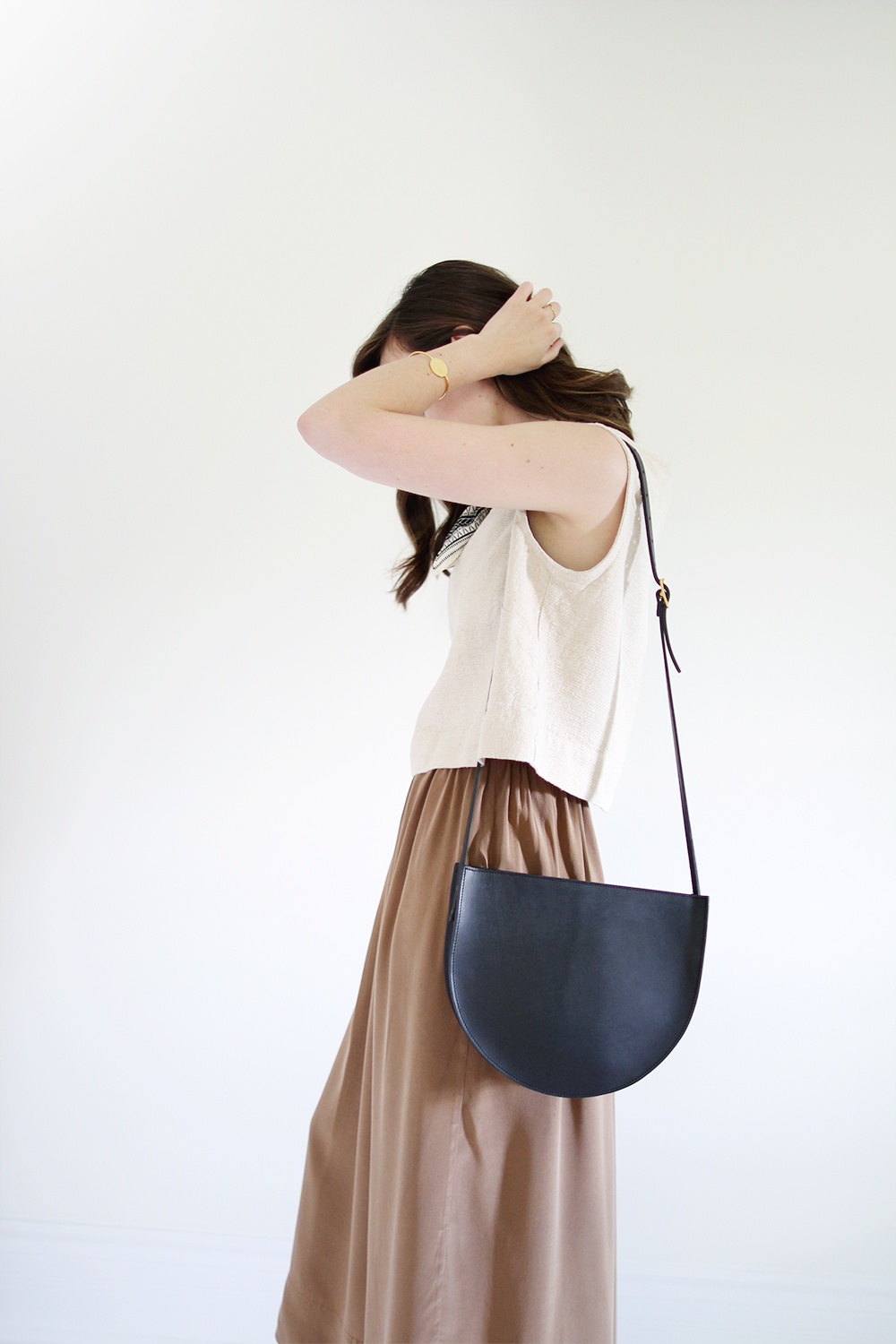 The Petra Crop is a reincarnation of the Lee Crop from several seasons ago (seen here). That original crop happens to be my favourite Summer top to-date and one of the first pieces that steered me towards my current responsible shopping tendencies. When I saw the Petra Crop in Hemp Twill I did a little happy dance in my head and knew I'd be adding this beauty to my collection.
The Petra Crop has a little extra length than her predecessor, which is perfect for us slightly less daring crop top lovers, and a wide hem that gives it structure. I particularly love how this top is cut to harness a boxiness that creates an elegant line at the natural waist. The armholes are flattering and totally bra strap friendly, YAY!
The true texture and quality of the hemp twill fabric is hard to capture on camera but once you see it in person it's impossible not to love. It's one that you can tell will only improve with age and serves as a perfect reminder to choose natural, high-quality fibres when you're shopping for a lean and sustainable closet.
Fit Note: I'm wearing a size S and like the extra room but an XS would probably fit a bit slimmer to my frame. I just didn't want to feel confined in the bust (I wear a 32 C for reference).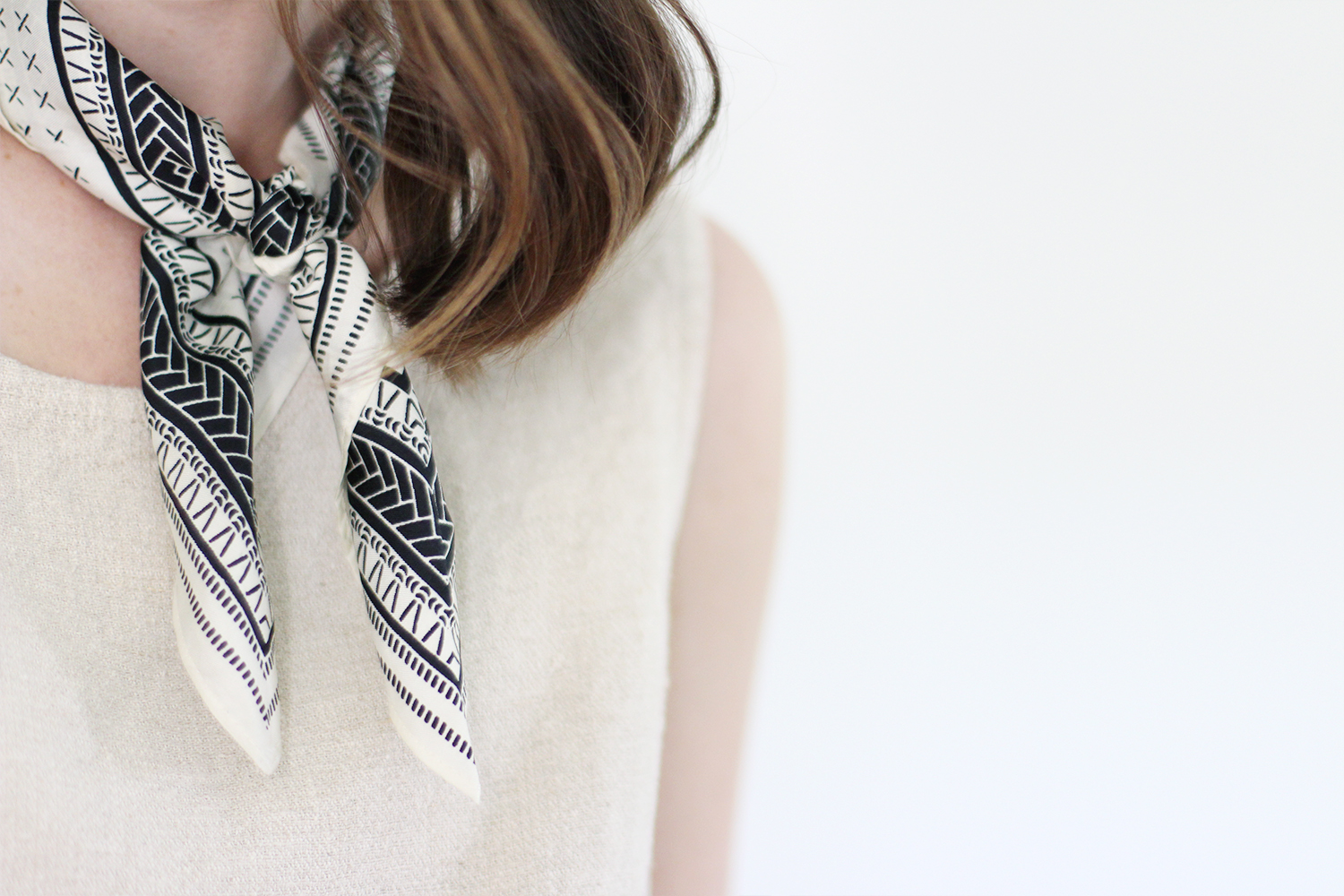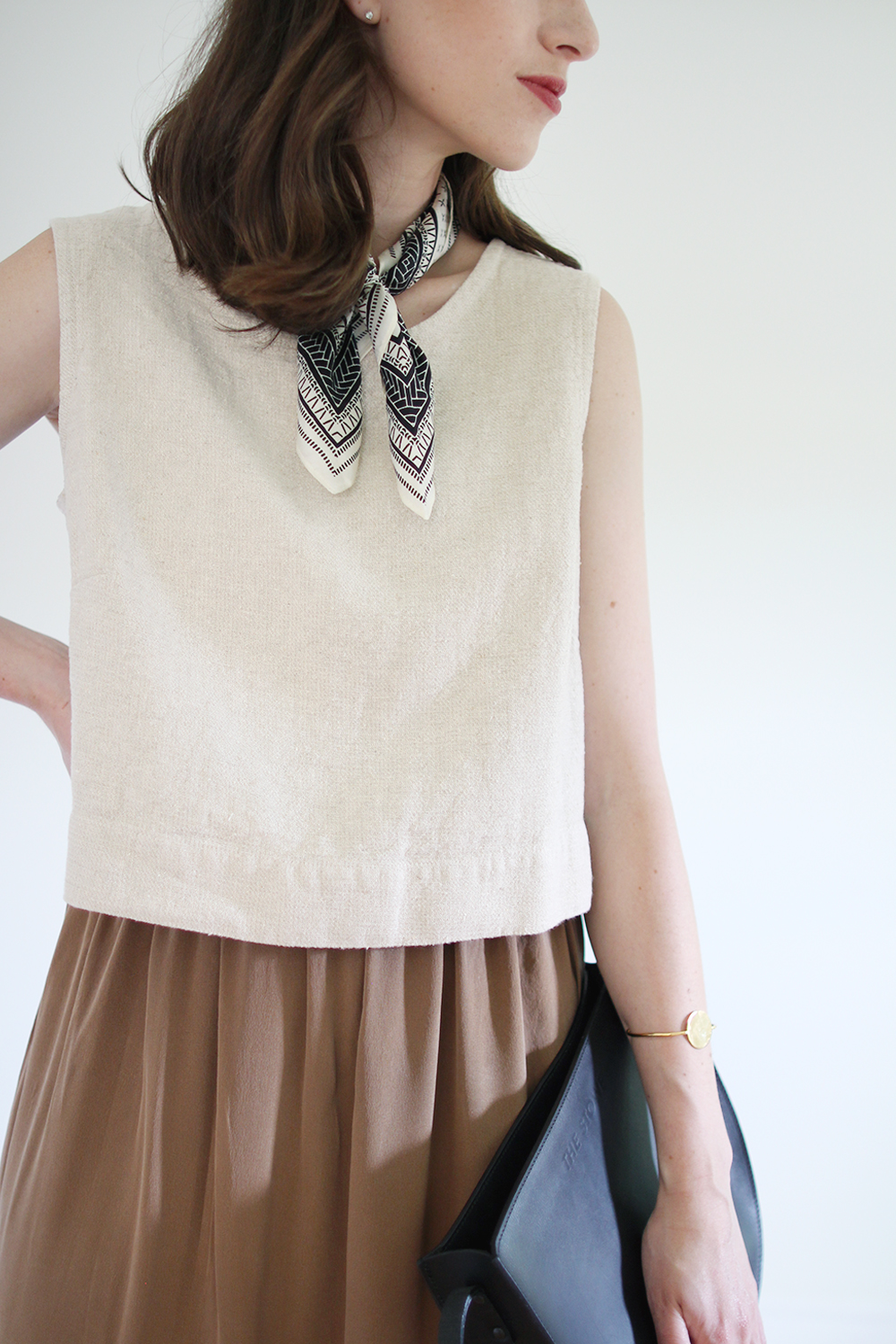 Although it's not from Elizabeth Suzann this little scarf might be my favourite accessory of the season and it's back in stock! It's made of 100% silk and feels so soft and weightless that I literally forget I'm wearing it. Finding one in a slinky fabric is key so it rolls up and knots beautifully. I love the way it adds a little wink to an otherwise simple look. It's also available in white + blue and a fiery red that I'd love to pair with a white linen shirt and cutoffs.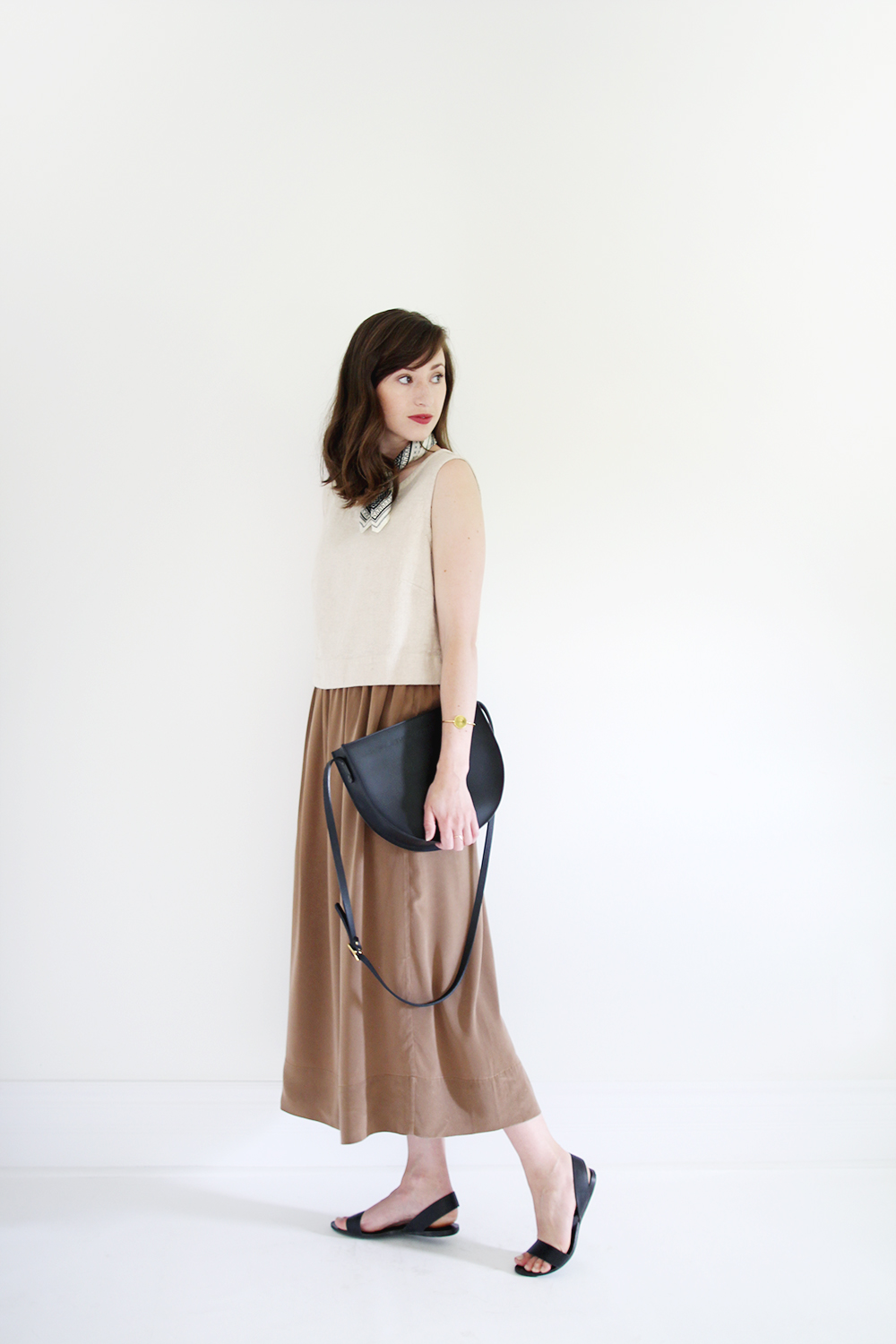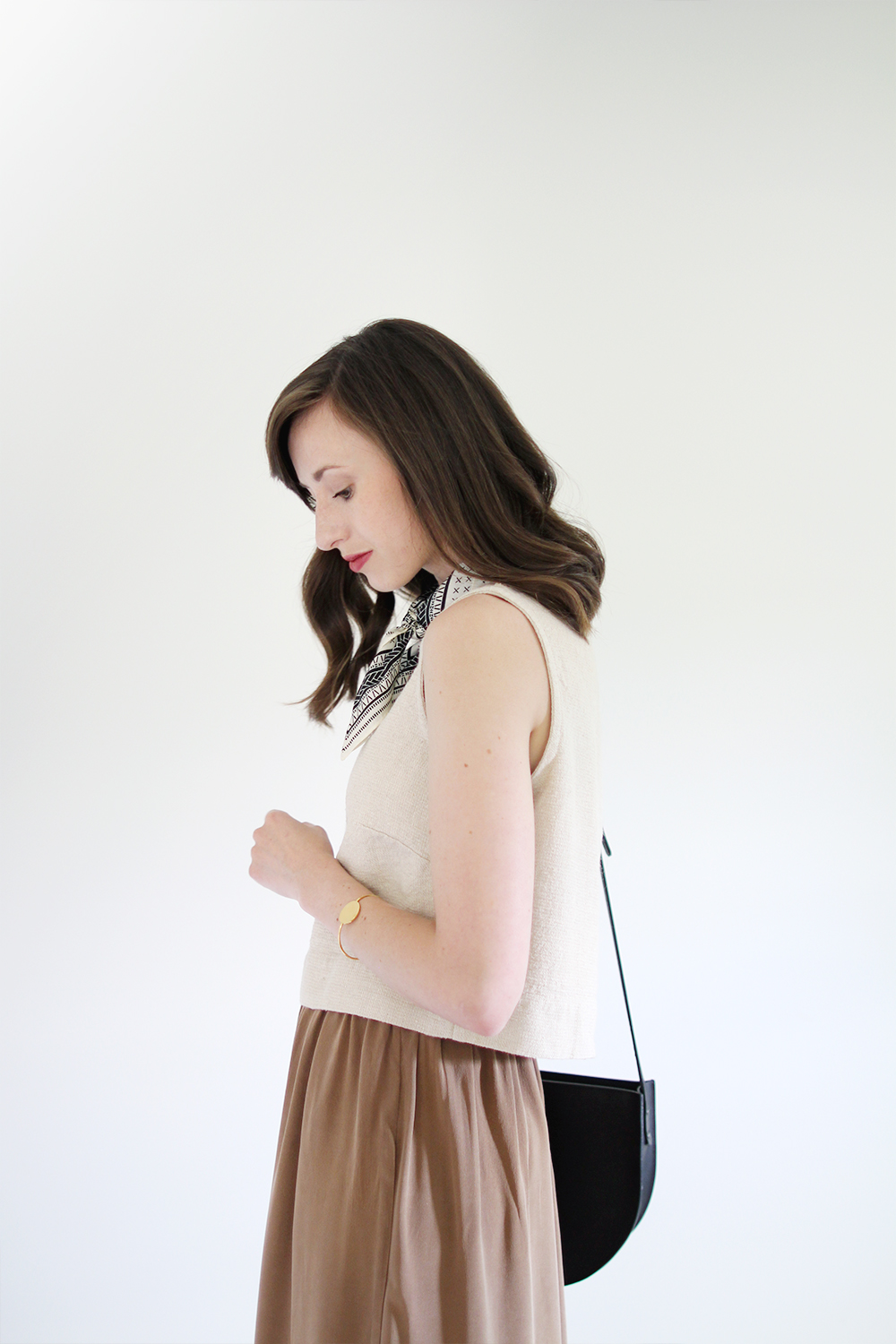 Discovering a designer who's work resonates really well with your personal tastes and values is a key step in developing a personal style, something I'll be delving into more soon. Elizabeth Suzann showed me that I can wear clothes that are extremely comfortable, timelessly elegant, responsibly made and feel more like myself than ever. While each piece I've bought has been a carefully measured investment, the dividends start paying immediately in confidence and contentment.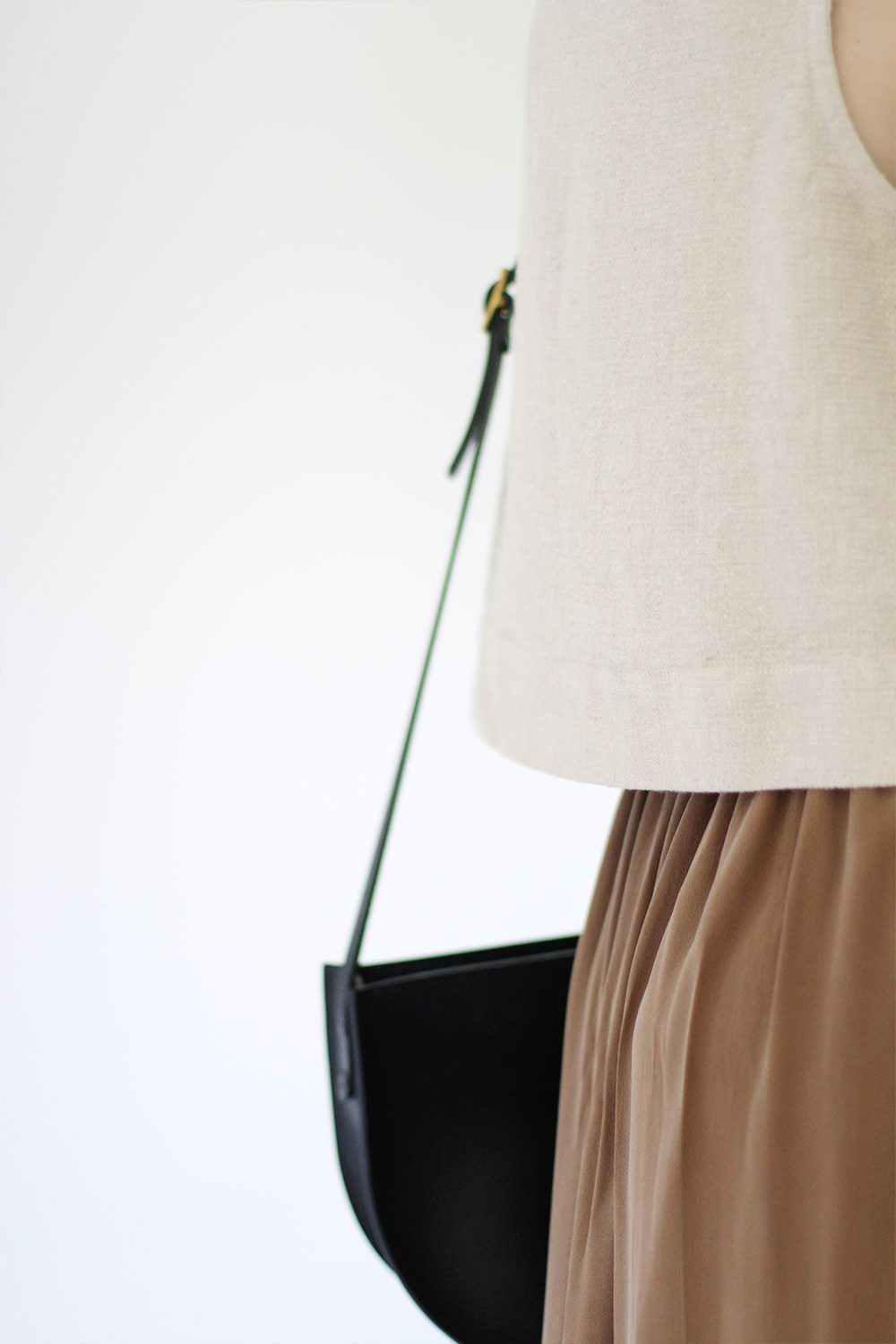 I know many of you are Elizabeth Suzann fans too! Have you picked up any pieces from the Signature or SS16 collections? Do tell! 
---
Bandana A Peace Treaty | Petra Crop (size S) c/o Elizabeth Suzann | Bel Skirt is Moss (size S) c/o Elizabeth Suzann | Eloise Bag The Stowe | Circle Cuff c/o Young Frankk | Sandals old Zara (minimal options here and here made responsibly)
---

---
Thanks to Elizabeth Suzann for sponsoring this post! As always, all opinions are my own. Thank you for supporting the brands that support Style Bee.