Well friends, it's a happy Friday indeed! Why so happy? Well, other than being Friday, today marks the start of one of the biggest sale events of the year, the Nordstrom Anniversary Sale. 'Another sale, so what?' you say, and I get where you're coming from, but this sale isn't like other sales where the season's least loved items get marked down enough to make them appealing. No sir! The Nordstrom Anniversary Sale includes lots of the latest Pre-Fall picks and newest AW16 collections currently flooding the store at unbeatable discounts starting today through August 7th.
You probably already know that I'm an advocate for shopping less and shopping responsibly, from designers and brands who are making extremely high-quality goods, ethical manufacturing and environmental sustainability a priority. The good news is that Nordstrom carries a few of these great brands! The bad news is that is takes a sh*tload of time to sift through the clutter to find the gems amongst the madness. But as it turns out I've gotten pretty good at sleuthing and have compiled my favourite chic and timeless pieces that are made responsibly, at least as far as I can tell, from some of these brands! So here are 27 of my top sale picks!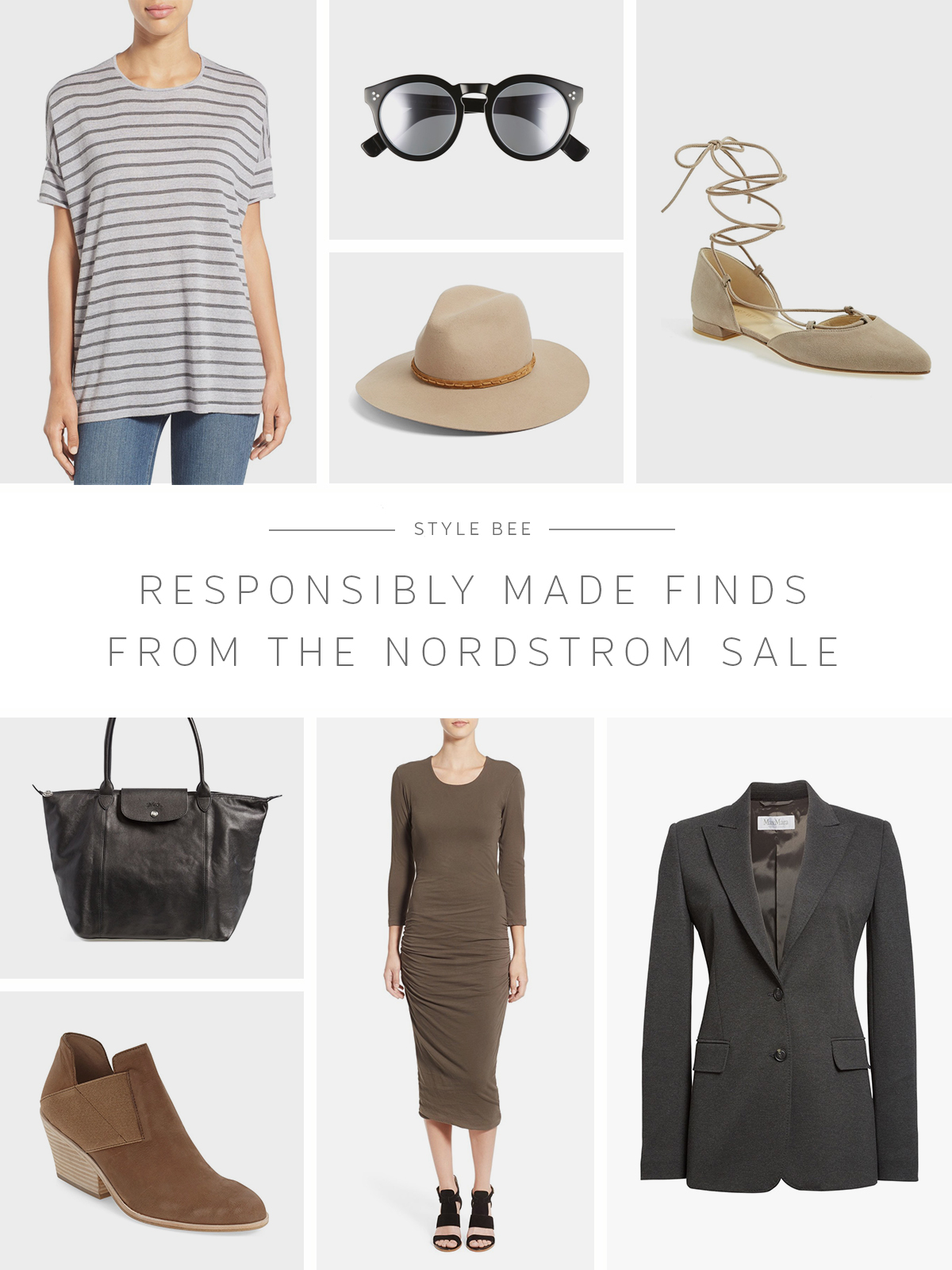 I should note that I haven't purchased or owned clothing from every single one of the brands noted, but I have not included one single item that I wouldn't love to add if my bank account would allow. I should also note that all links included throughout today's post are affiliate links, which means if you click it, then buy something, I will make a small percent of commission on the sale. This is a main source of income for my blog and I really appreciate that so many of you come here to discover great brands and worthwhile closet additions. I don't take that lightly and do not include affiliate links that I don't believe are of value to us both. But enough fine print! Let's get our shop on! PS. The images below are linked so simply click to see the product page in full. 
---
---
1 | PAIGE Bootcut Dark Wash Denim – If you're not ready to commit to full on flares. These are a great option. I've only heard positive things about PAIGE denim and they're made in the USA! Currently $129.90 from $199.
2 | VINCE Suede Boot – Vince is one of those brands that I SO wish would be more upfront about their manufacturing and sourcing. I LOVE the Vince aesthetic but it's tough to say where and how they were made. However, their shoes (such as these boots) are often made in Italy which I count as responsible (just barely for now at least). Currently $249.90 from $395.
3 | EILEEN FISHER Turtleneck – You'll have to forgive me but there is a lot of Eileen Fisher on this list. I'm just a little obsessed right now. This turtleneck is so 90's but I love it. Tucked into high rise flares with boots and a wide brimmed hat is how I'd wear it. Also in black and white. Currently $64.90 from $98.
4 | EF PUMPS – I've pretty much said sayonara to all my stilettos at this point and these are making me think I can have it all. Chic pointed toe, a few extra inches and total comfort. Don't mind if I do! Also in gray suede. Currently $139.90 from $210.
5 | CURRENT/ELLIOTT Military Jacket – A classic casual closet staple, this one is going to be gone fast. Made in the USA. Currently $198.90 from $298. 
6 | JAMES PERSE Cutout Midi Dress – I love the look of this chic, sultry column dress. While it's body-con it's still got lots of coverage and the ruching hits at just the right spot. Also in black. Made in the USA. Currently $156.90 from $235.
7 | EF Notch Collar Topper – This beauty needs no justification. It's just the perfect top layer for when the temps get finicky. Also available in red. Currently $262.90 from $438.
8 | EF Jersey Crop Pants – If I didn't already have too many pairs of wide leg pants I'd be all over these. They look so comfy and yet still entirely office appropriate. Currently $91.90 from $138.
9 | AQUATALIA Waterproof Bootie – This brand is new to me but I was intrigued by the term 'waterproof' rarely do you see that in the same description as suede, and hand-crafted in Italy so definitely worth a look if you need a beautiful and practical pair of boots for the Fall. Also in black and taupe. Currently $299.90 from $450.
---

---
---
10 | EF Suede Pull-On Boot – Yes, I am a total sucker for suede. My current pair of suede booties are on their last legs so I've got a keen eye out for a potential replacement. These are definitely on the list! Also in black. Currently $166.90 from $250.
11 | EF Simple Shift Dress – I love this easy shift dress because it's the perfect layering piece. I also love the subtle detail in the centre and drop-waist seams. It adds a bit of interest without any distractions. Also in black and charcoal. Currently $238.90 from $358.
12 | EF Stripe Merino Tee – Stripes, oversize, merino wool, need I go on? This one is currently in my cart. Currently $158.90 from $238.
13 | ILLESTEVA Leonard II 50 mm Sunglasses – These are a cult favourite as far as classic sunnies go. I was shocked that they made it into the sale! Don't miss out because they will be snatched up fast! Made in Italy or France. 5 colours options. Currently $173.90 from $290.
14 | MAX MARA Stretch Jersey Blazer – So yes, this is the most expensive item on the list BUT it's also arguably the most impeccably chic piece in the entire sale. I WANT. Made in Italy. Currently $599.90 from $995.
15 | RAG & BONE Wide Brim Fedora – One of my all-time favourite hats is from Rag & Bone and I'm loving this updated option. Also available in Navy. Made in the USA. Currently $129.90 from $195.
16 | EF Merino Sweater – This is the kind of sweater you wear 1000 times over the Fall and Winter months. It feels amazing, goes with everything and layers like a dream. Also in sage. Currently $178.90 from $268.
17 | STUART WEITZMAN Wrap Lace Flat – These were all over Europe (esp. Paris) during my trip and made me wonder if it wasn't too late to get on board. Turns out it's not! Also in black and poppy. Made in Spain. Currently $249.90 from $398.
18 | AG High Rise Skinnies – I'm currently on the hunt for the perfect pair of high-rise black skinnies. These are looking mighty fine! Made in the USA. Currently $124.90 from $188.
---

---
---
19 | LONGCHAMP Leather Tote – I'll admit there were very few options when it comes to responsibly made accessories in this sale. But this tote is a true classic and totally timeless. If you're a Longchamp fan this is the one to nab! Made in France. Also in black and blue. Currently $134.90 from $530.
20 | EF Long Cardi – It doesn't get much cozier or elegant than this beauty. I love how it's styled on the site but I could totally see it with white skinnies, wedges and a tank for the late summer days. Currently $225.90 from $338.
21 | TOMS Grey Suede Bootie – I stumbled on these by chance and love the combo of the warm sole with the cool suede. TOMs gives a pair of shoes to someone in need for every pair sold. Currently $85.90 from $128.95.
22 | EF Window Pane Coat – Another gorgeous outer option for the Fall months. Eileen Fisher sweaters are really making me anxious for colder days! Currently $329.90 from $498.
23 | RAG & BONE Hat – I know, I'm totally cheating by including this one twice but the navy is JUST as lovely at the fawn colour so I couldn't help myself. Also a good hat is key for the AW season! Made in the USA. Currently $129.90 from $195.
24 | EF Pencil Skirt – Well, hello perfect pencil skirt! Currently $129.90 from $198.
25 | PEDRO GARCIA Suede Wedge – Another new to me brand that caught my eye thanks to these epic suede stunners. If you're not ready to say goodbye to summer these are the perfect way to hang on a little longer! Made in Spain. Currently $314.90 from $535.
26 | MAX MARA Jersey Trouser – The perfect pant to match the perfect blazer. Max Mara is one of only a few brands that makes me wish I made way more money. I've been dying for the classic camel wrap coat for years. Currently $359.90 from $595.
27 | STUART WEITZMAN Black Boot – The quintessential perfect little black boot to finish off the list! This boot will be gone in a flash! Also in taupe and currant. Made in Spain. Currently $349.90 from $595.
---

---
So there you have it my friends! 27 of the best responsibly made goods available in the Nordstrom Anniversary Sale. Any of these beauties catch your eye? Have a great weekend!
---
 Sale runs 7/22 through 8/7. This post is not sponsored and all opinions are my own.