Well, another month is fading out of sight and we're into the final glory days of Summer. AH! We spent July with our noses to the grindstone, working long days and most nights but we tried to make the most of our weekends with music festivals, camping trips and backyard BBQs, which were all exactly what the doctor ordered. Somehow July managed to be the most fleeting month yet and a lot of the things I had planned to tackle just didn't get crossed off the list. That said, here's a look at what I managed to capture in between conference calls, email replies and a seemingly endless (but exciting) to-do list.
---
STYLE
I'll admit I did a pretty terrible job capturing my style this month but these are a few snaps I managed to get. It's really just been about staying cool and comfortable. Lots of neutrals, as usual, with a few pops of earthy tones thrown in there. I am totally obsessed with skirts and vintage denim right now so I'm just riding that out! Don't hate me for saying this but I'm kind of looking forward to boot and sweater friendly temps! I know, be careful what you wish for!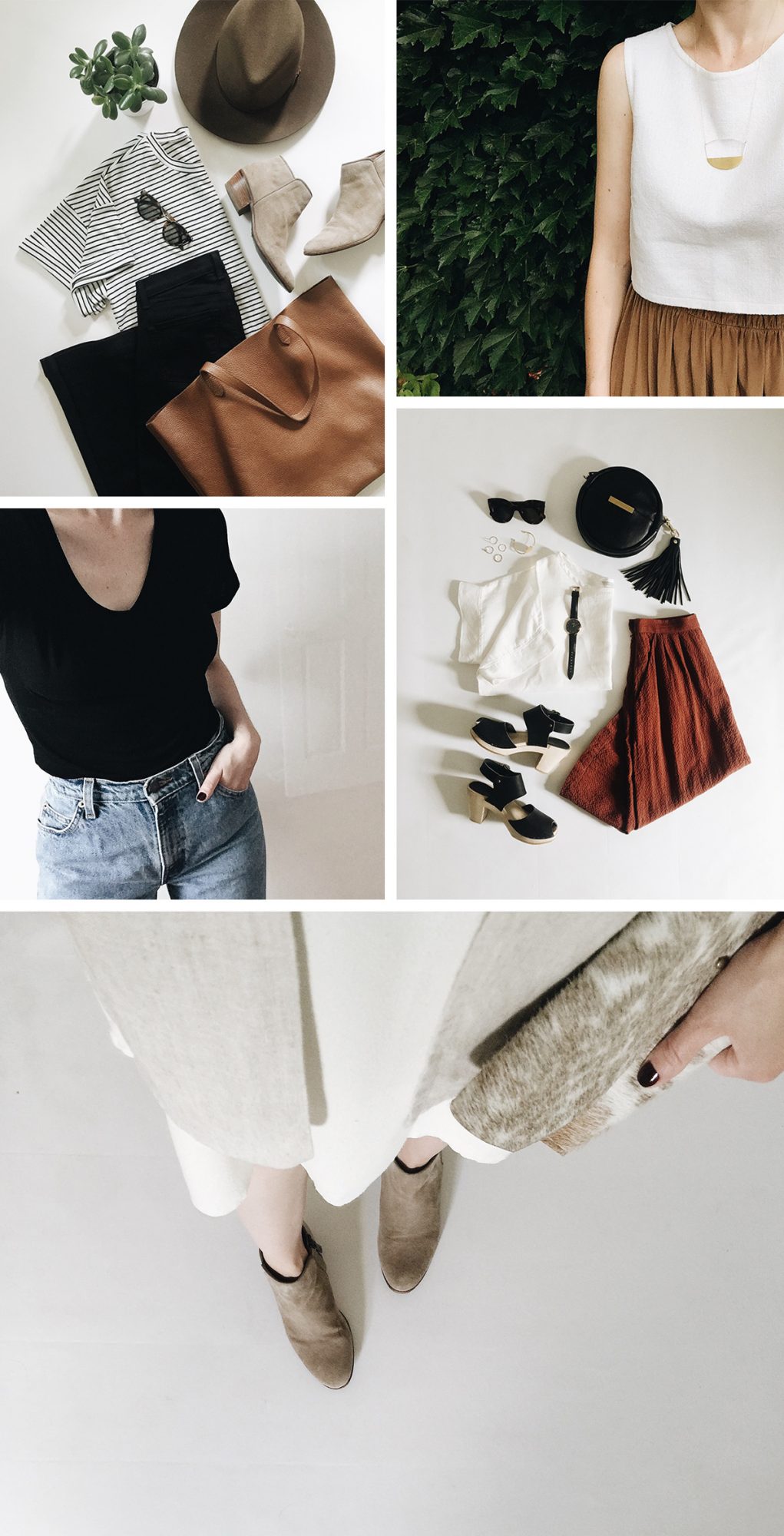 ---
HOME
July was insane for me at work so I spent most of my life inside the office but I got to sneak out for the odd evening in the yard with a cold drink and a good mag.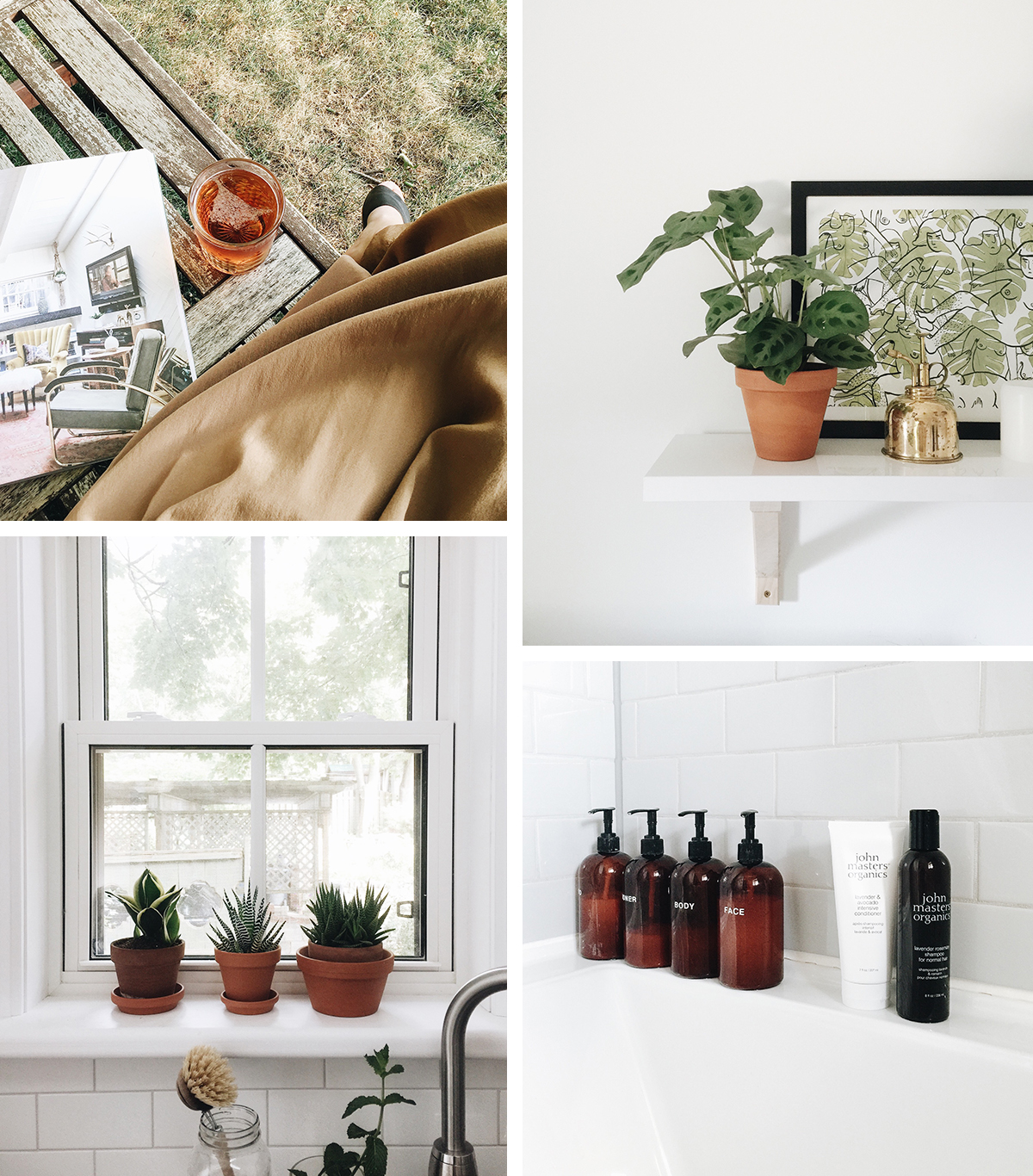 I also started using John Master's Organics for my hair, which was dry, flat and sad and it's been amazing! I highly recommend giving this line a try if your locks are in need of some nourishment. Plus the packaging is pretty enough that I didn't even need to hide it! Shampoo + Conditioner via Amazon.
---
PLANTS
Oh yep, still can't get enough green things in my life. A local flower shop had a beautiful hanging planter display that has me dreaming about finishing our deck and putting up an excessive living wall. My parents' have a gorgeous hydrangea crop which just hit it's yearly prime too.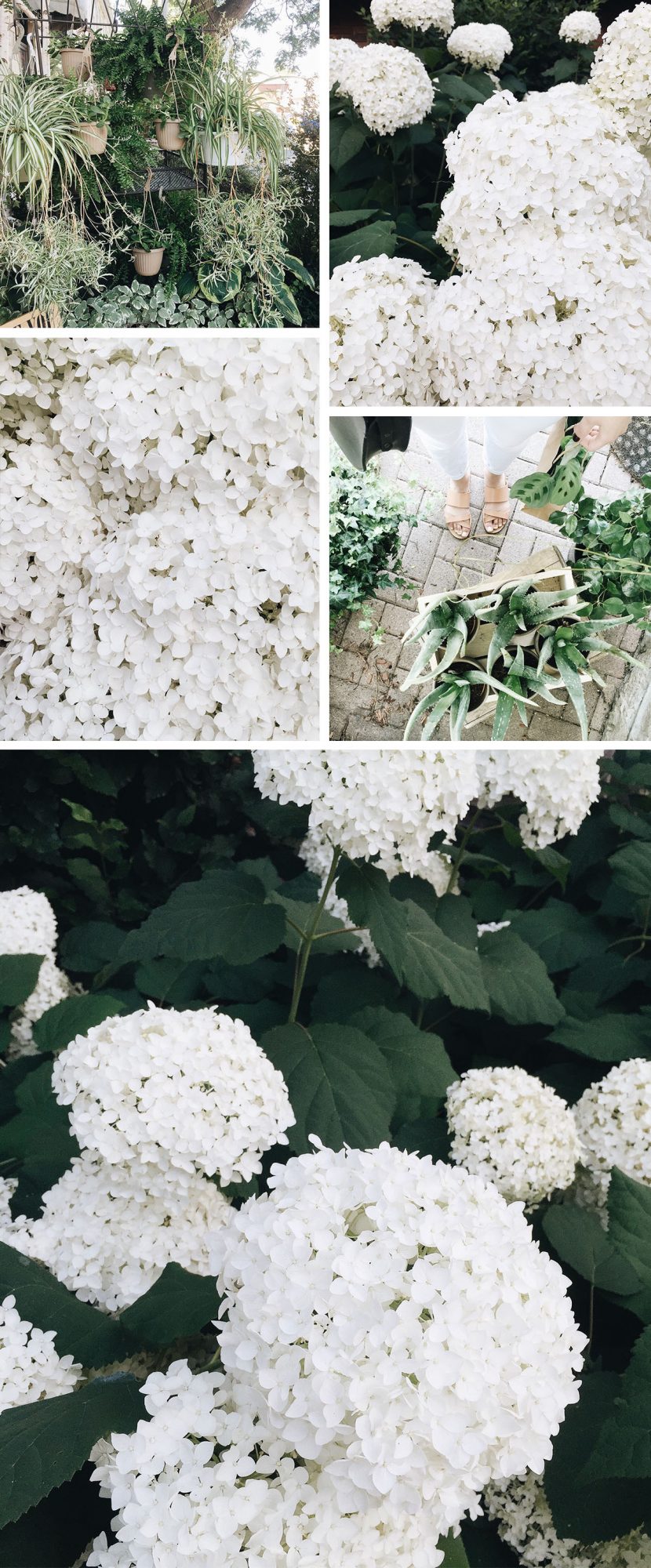 ---
DOBBY
Dobby has been as perfect as ever. He's still not a fan of other dogs (at least when on leash) and he doesn't trust strange men, ladies are cool though. He's a quirky, confident little fur bear and we cannot get enough of him. Seriously, our obsession is borderline concerning to anyone who doesn't love animals. Prepare for lots more of this face on Instagram stories!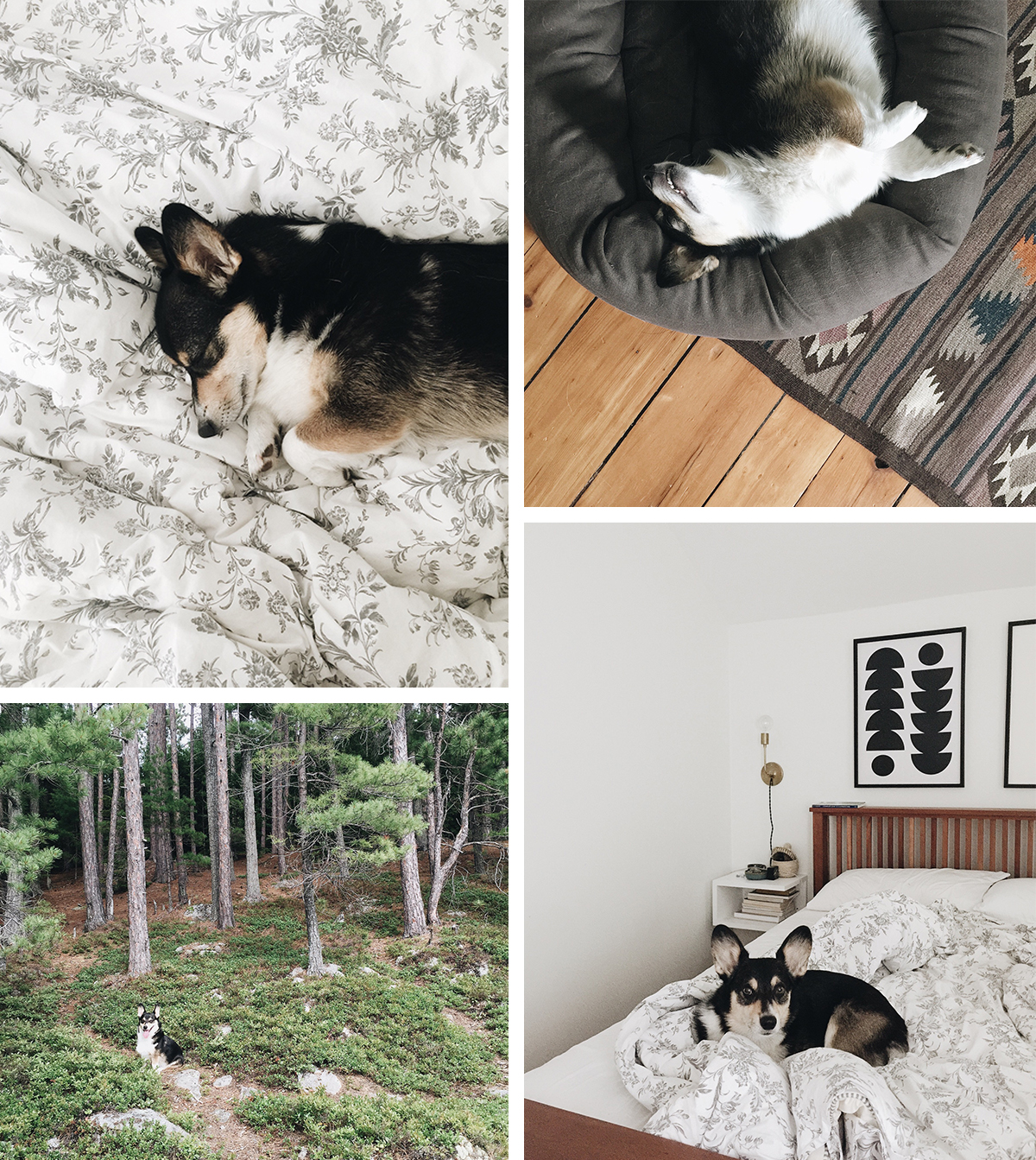 ---
ALGONQUIN
We spent the long weekend on an amazing adventure in Algonquin. I'll share all the details about the trip next week but it's safe to say it's one we'll never forget!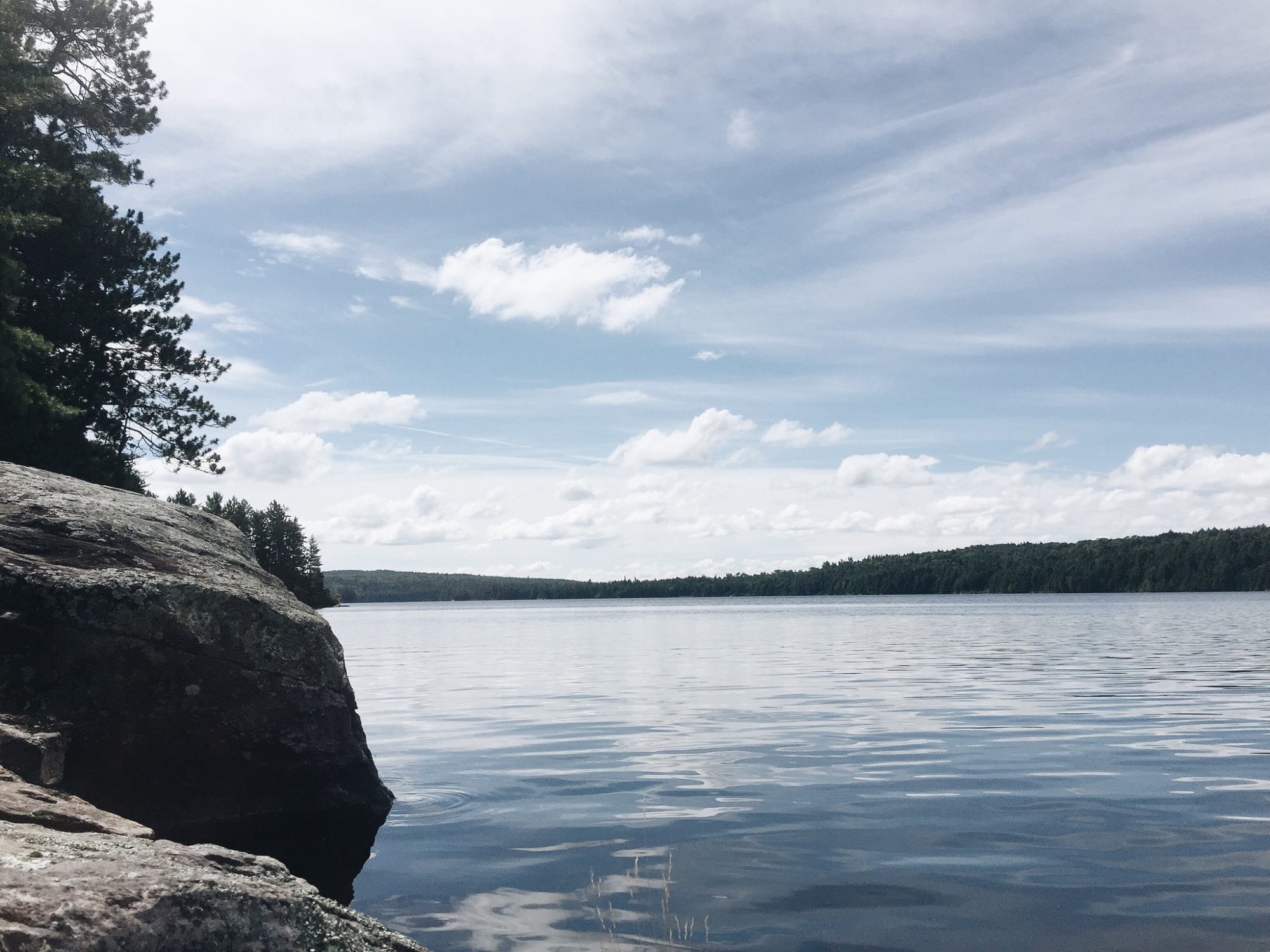 ---
Maybe you're sick of hearing about it, which I totally get but just in case you're not, the Nordstrom Anniversary Sale is over on Monday. This just means you've got to make your move soon if you've been eyeing some goodies. I've been browsing through the sale pretty much daily since it began and made note of a handful of great pieces still available in lots of sizes, all made responsibly. They're some great options for those of us who love simple, elegant pieces that can be worn many ways and stand the test of time. So here they are! Images are linked so simply click to view the product details in full. 
---
---
1 | Eileen Fisher Denim – These are a perfect relaxed fit Fall jean. I love the wash and the 2″ cuff. Made in USA. Currently $105.90 from $178.
2 | Eileen Fisher V-Neck – If I didn't already have too many boxy tees, I'd already have this one on it's way! also in black and red. Made in USA. Currently $91.90 from $138.
3 | Paul Green  Chelsea Boot – I don't know how I missed these! They're basically a pull-on version of the Acne Pistol boot, which is one of my all-time favourites. Also in cigar. Made in Austria. Currently $266.90 from $399.
4 | James Perse Henley Dress – The long-sleeved version has been a hot ticket item so I thought this was another great option. Also in black and a gorgeous eggplant. Made in USA. Currently $143.90 from $215.
5 | EF Long Sleeve Jersey Tee – I don't know about you but I basically live in long sleeve tee and turtlenecks all Fall and winter and this one just looks so freaking comfy! Also in blue, black and red. Made in USA. Currently $104.90 from $158.
6 | Missoni Scarf – A toasty, neutral scarf is my best friend in the colder temps and this one is a steal for such a timeless Missoni zigzag! Made in Italy. Currently $102.90 from $155.
---
---
7 | Karen Kane Faux Suede Jacket – The shape, colour and oh-so touchable texture of this jacket stopped me in my scrolling tracks. I love the slightly cropped length of the sleeves, perfect to let your long sleeves peek out at the bottom. Also in a softer mushroom/taupe. Made in USA. Currently $104.90 from $158.
8 | Munro Platform Sandal – These look like the type of heel that you could spend all day in and not regret your choice for a minute. I love them in all black but there are 4 other colour options! Made in USA. Currently $119.90 from $184.95
9 | Pendleton Blanket – So not a wearable item, necessarily, but a great find for those Netflix binging nights (and weekends) spent curled up on the couch with a glass of wine and a riveting show. Made in USA. Currently $69.90 from $109.
10 | BP Chambray Dress – I included this one because a) that fringe is rad, b) it's a steal and c) because it's a lot like a chambray shift I have and love. Made in USA. Currently $37.90 from $58.
11 | Lush Deep-V Tee – This is a great staple for any lean closet and this tee looks so drapey and relaxed, it's just begging for a pair of Levi's and sneakers. Also in white. Made in USA. Currently $15.90 from $24.
12 | Smartwool Socks – Putting on a pair of fresh socks is one life's little luxuries that will never get old for me. Smartwool is worth every bit of the hype it gets and I absolutely love the cozy look of these. Also in oatmeal and charcoal. Made in USA. Currently $10.90 from $16.95.
---
Thanks for tuning in! I've booked off the weekend to tuck myself away and work on the next Closet Mission post so stay tuned for that next week!