It's supposed to be unseasonably warm today so I wanted to take advantage and do at least one bare leg look before the season got serious and the temps drop. I also wanted to make sure I could stay cozy if need be so socks, sweaters and hats all came into play. Now let's explore said elements of this outfit!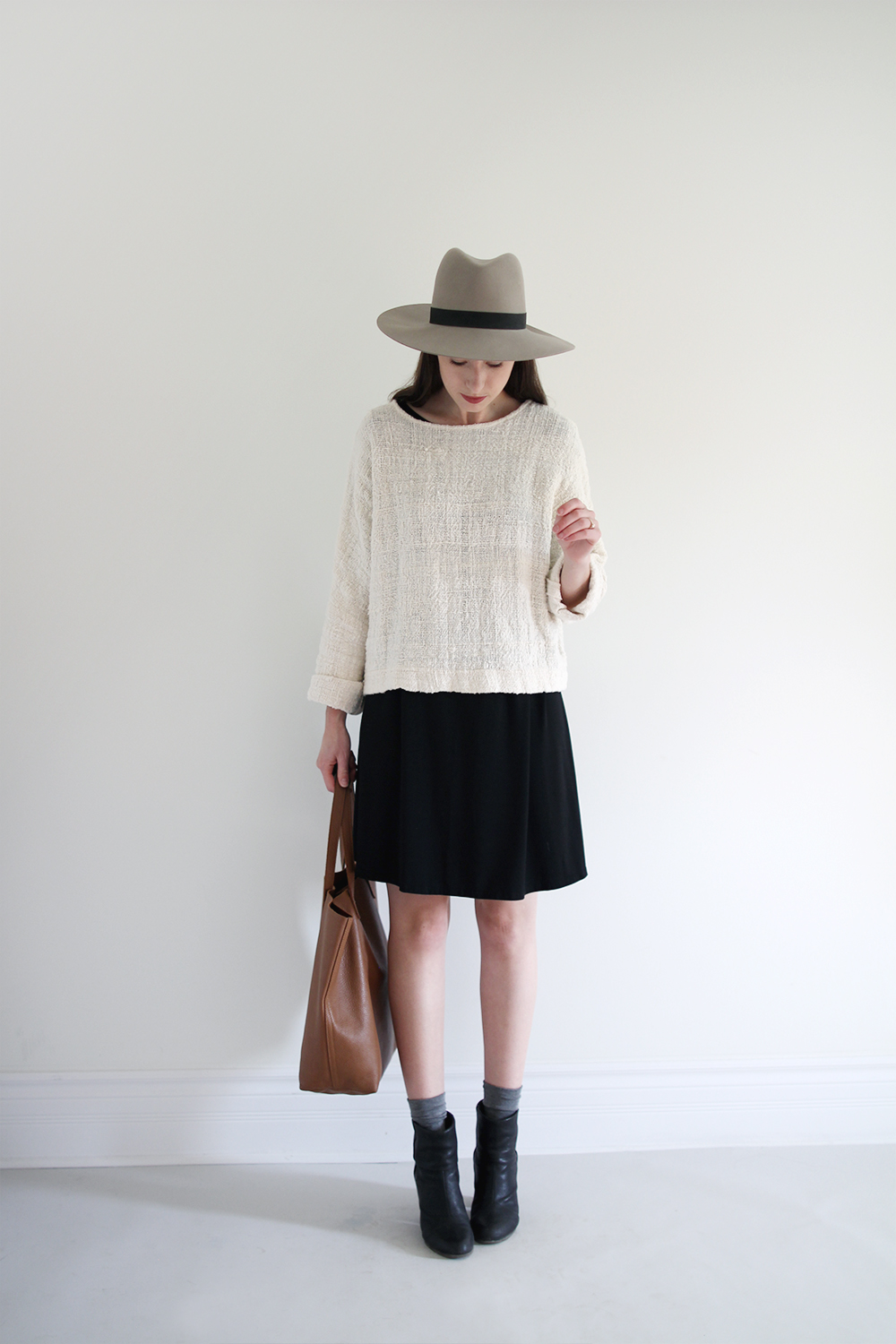 ---
INITIAL THOUGHTS
I've been seeing socks in shoes all over the place these days (exhibit A, B, C, D + E), which must be a residual styling trick stolen from the 90's trends that have been infiltrating fashion for several seasons now. At first I thought, 'Ew. Never.' then I thought, 'Hmm, okay maybe.' and finally I was like, 'I need to try this!'. I guess that's just the power of persistence, persuasion and Pinterest.
Regardless, experimentation is what this 10 x 10 Challenge is all about right? Trying things you might not otherwise bother with and discovering whether or not it works. So what's the verdict on this footwear situation?
Well, I definitely don't hate it (for reasons mentioned below) and actually think it's a really practical approach to dressing for fickle Fall weather that can be sunny one minute and chilly the next. Having cozy feet and ankles makes bare legs much more tolerable.
Otherwise, this look has me feeling totally relaxed. I'm loving all the earthy tones happening and the loose but manageable layering that's going on. It's rare to be SO very comfy and yet put together enough for a lunch meeting, coffee house chat or just about anything else an average day calls for.
If I'm being picky, the sweater hits a little low on my torso creating a visual line that I'm not in love with but both the dress and sweater have enough movement that in real life it really doesn't appear too boxy.
---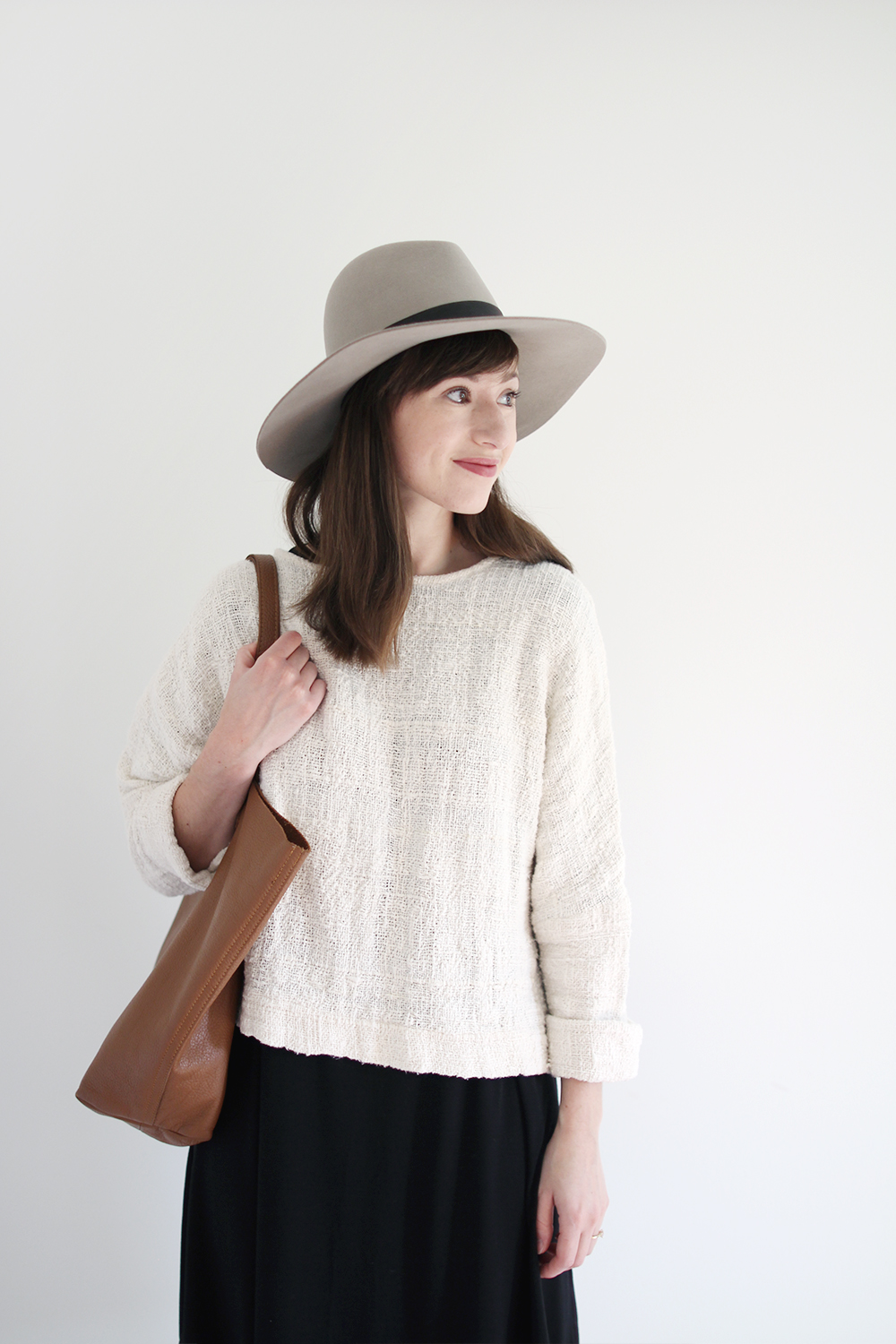 ---
ITEM #3 – THE SLOUCHY CREAM SWEATER
This is easily one of my favourite closet items to date. The T-Sweater by Jamie + The Jones was on my wishlist all throughout 2015 and during their 1 day 20% off sale last winter I pulled the trigger and have never looked back. I wash it every few wears or so, on delicate and tumble dry low in the dryer. It comes out perfectly fresh, slightly fluffed and with it's shape fully intact. It's ridiculously soft and magically both cool and cozy depending on what the temps are. Tragically they are currently sold out, BUT, I have it on good authority that they'll be back soon and better than ever.
If you can't bear to wait, or it's not quite your thing, here are a few other options I've come across that look amazing (and are of course, made responsibly).
1 | KENDRA CABLE-KNIT – Amour Vert – $228 USD | This is the most perfect cable-knit sweater I've encountered pretty much ever. It's a total timeless classic. Officially on my wishlist. Also comes in Navy and Burgundy.
2 | CHUNK KNIT CREW – Everlane – $85 USD | This is a beautiful, minimal option especially for anyone who can't do wool or animal fibres. It's 73% cotton and 27% nylon. I love the length and side slit-detail for perfect pocket access. Available in Black and White.
3 | QUILTED TOP – Black Crane – $164 USD | This is a cream version of a top I shared on Monday and I think I might love it just as much as the cement colour. With vintage jeans, black skinnies or even a pencil skirt this is a super chic dream! I really really love the sleeves.
4 | SADDLE SLEEVE ROLL NECK – MHL – $316 USD  (currently 25% off) | Hello ribbed, simplistic perfection. I would be all over this one with my vintage black jeans and flax duster vest. Mock-necks are really having their moment and I'm into it.
---

---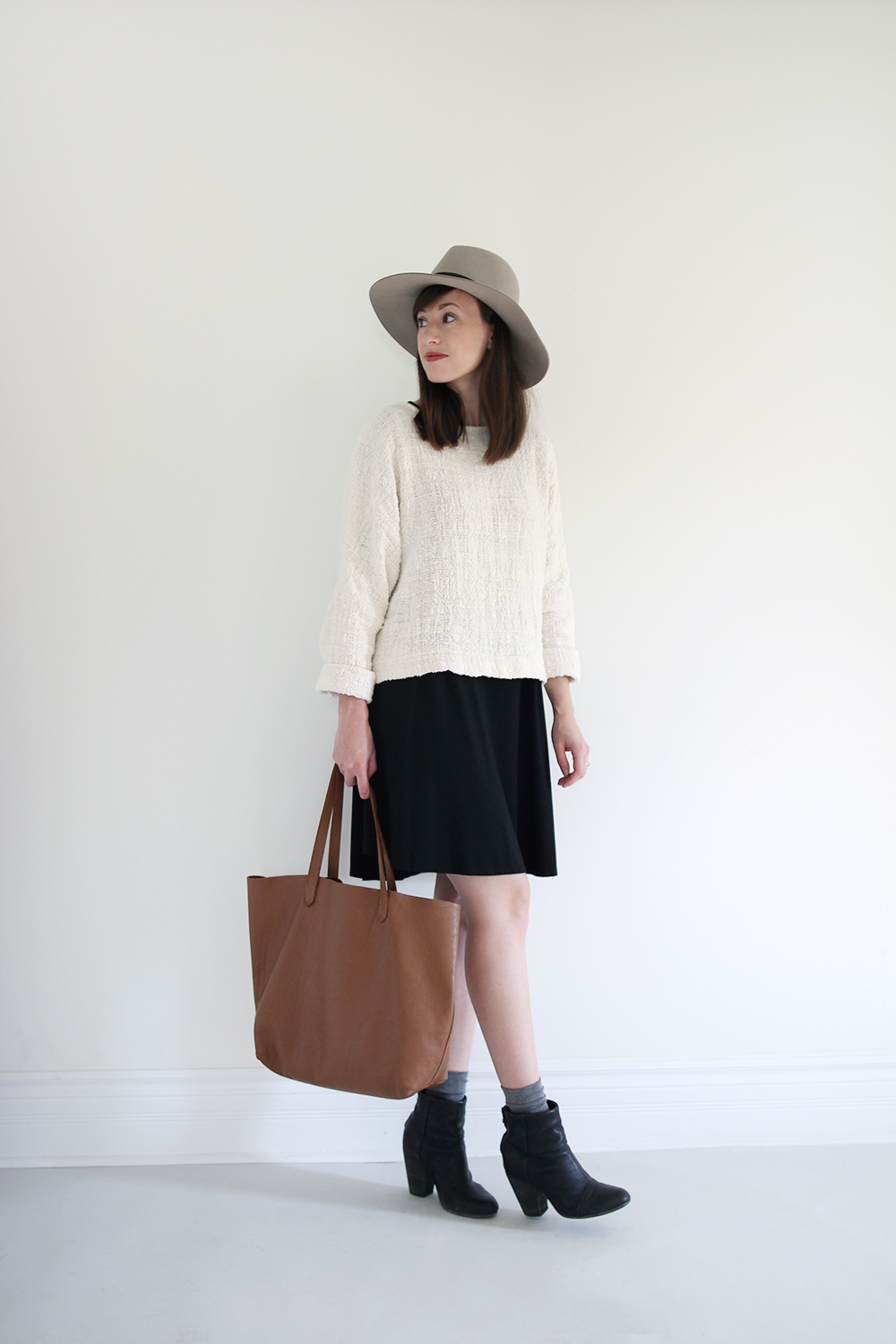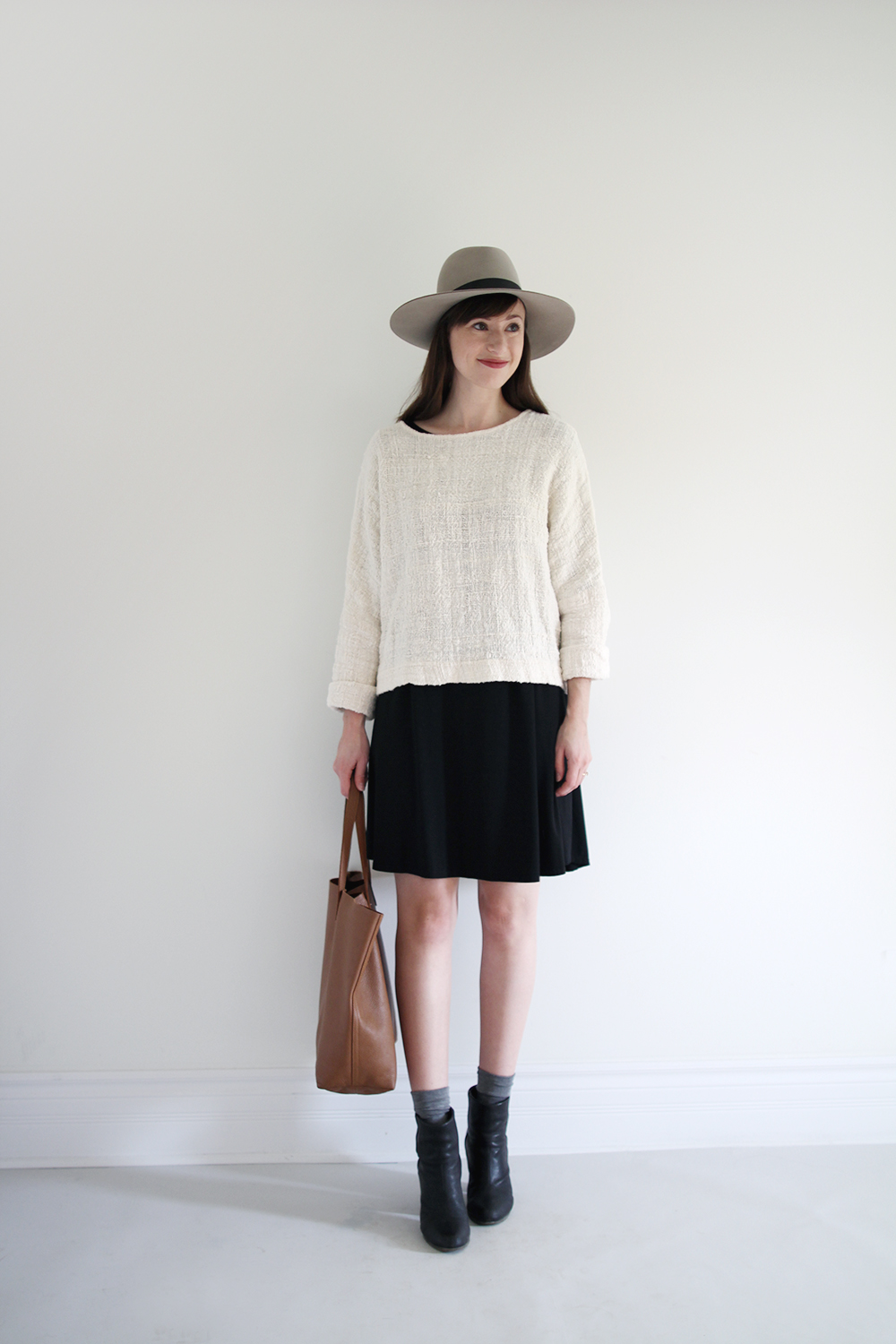 ---
STYLE + FIT DETAILS
1 | LIGHT + DARK | I usually opt for a loose top and a fitted bottom (or vice versa) but in this case I'm using light and dark tones to serve the same purpose. I like to draw the eye to my upper half and away from my hip/butt/thigh so a textural, cream coloured sweater does the just that, while a slinky black dress acts as a slimming skirt that visually lays low.
2 | GRADUAL TONES | I've worn these boots with bare legs and non-showing socks before but found the stark contrast of my paleness a little unflattering. By pulling a pair of grey socks up a couple inches above the top of the boot, they serve as a gradual in-between colour that literally tones down the contrast. I also tucked the top elastic ribbing under so that it wouldn't dig in. I'll go out on a limb and say that I think this trick is kind of brilliant, but maybe I'm way off!
3 | RULE OF THIRDS | I think I was drawn to a large tote for this look to balance out the bold blocks of cream and black. If you look at the last image in the post (2nd below) it's clear that the sweater, dress and tote all occupy equal outfit real-estate, which I do believe, helps to create a subliminal balance.
4 | TOPPER TO THE RESCUE | When I wear oversized layers like these, I sometimes feel I can get swallowed up. In such cases, I really like the way a wide brimmed hat evens out the proportions overall, especially when the look is otherwise super simple.
5 | REPETITION | This seems to be an ongoing theme in my style. In this instance it can be identified through the use of black. First, a black band on the hat, then the black bottom of the dress and finally a black boot. Each one is bordered by a softer neutral which keeps it from feeling too stark.
---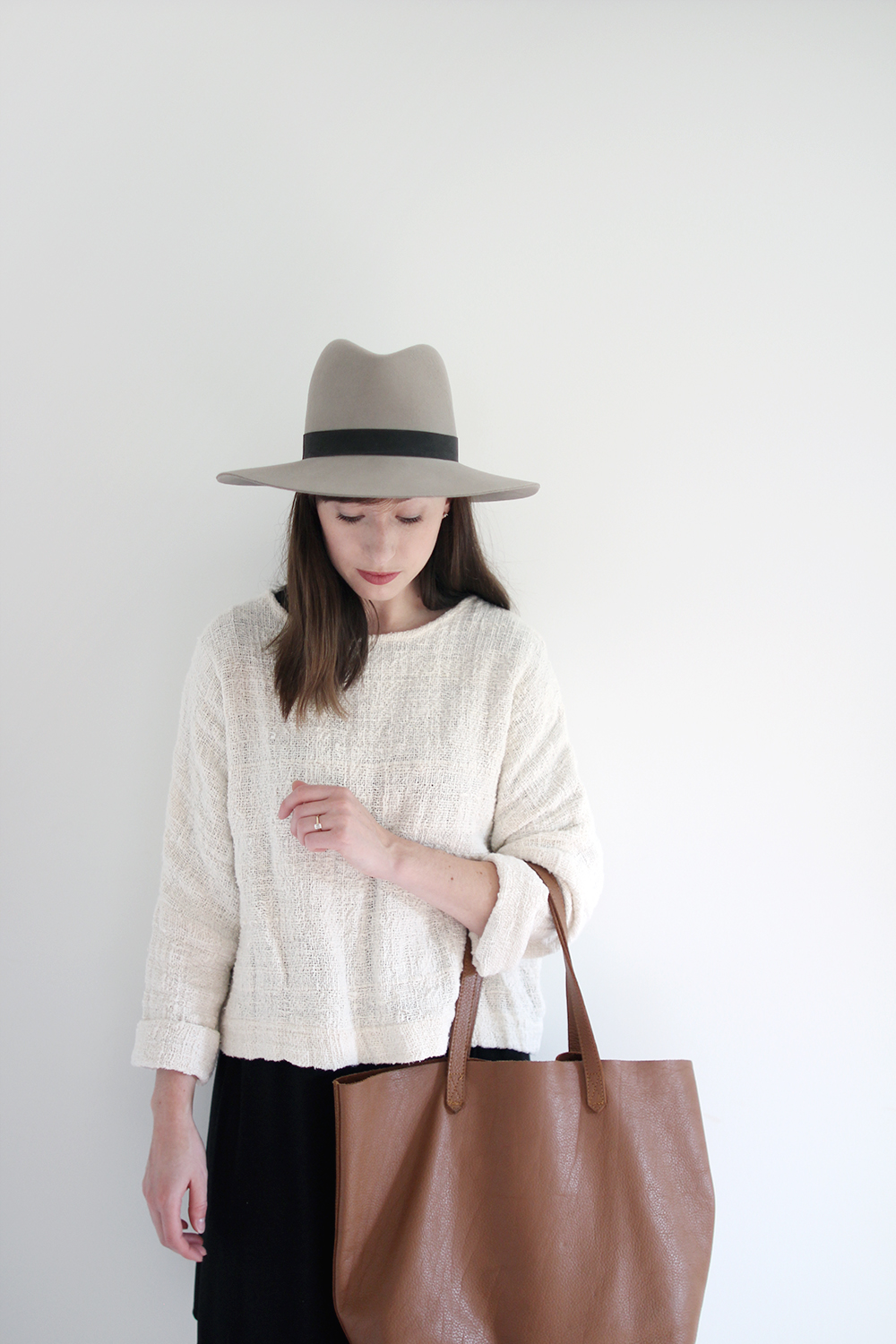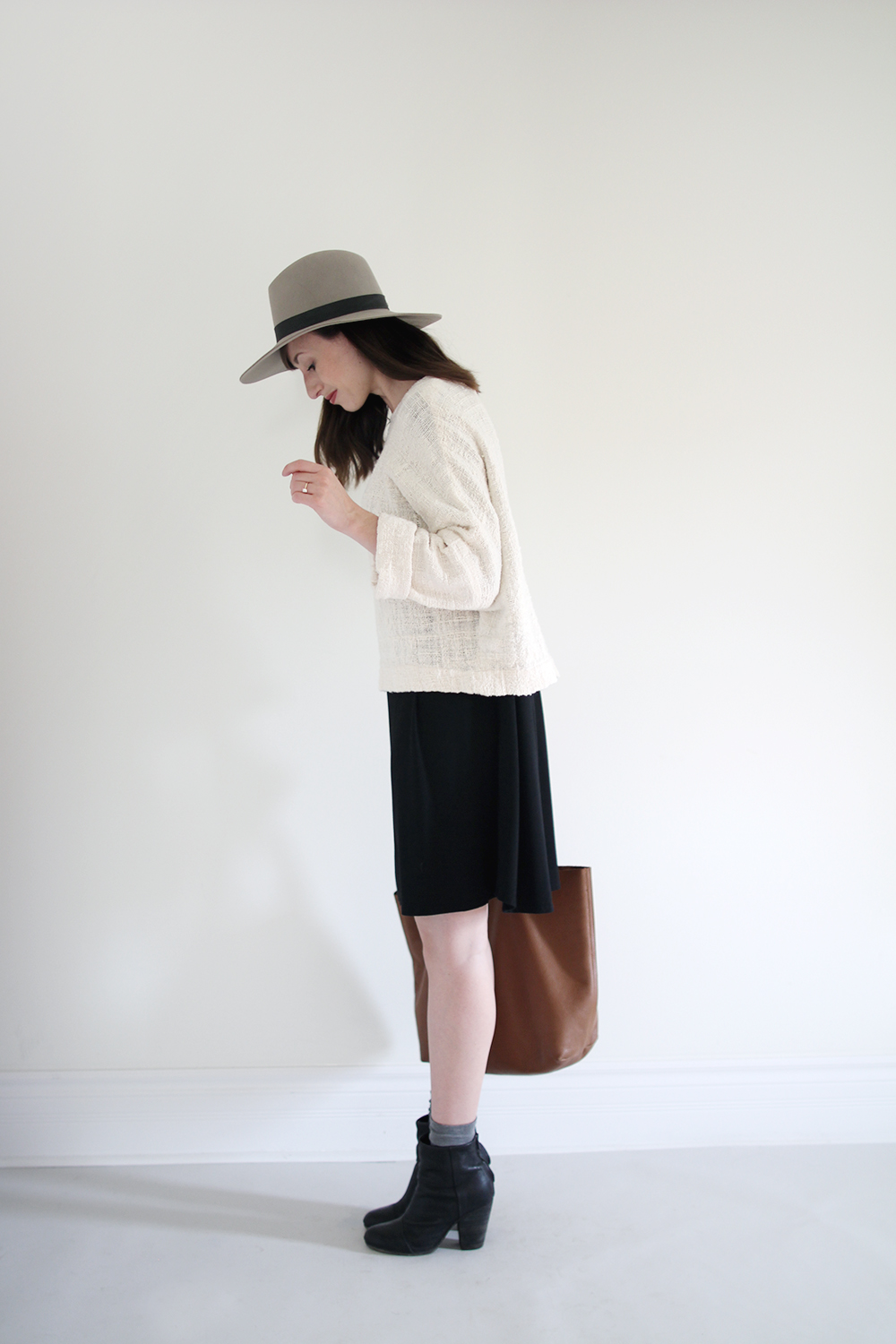 ---
I can't believe we're on our way to look #4 already! Thanks so much for your thoughts and insights so far. I'm so glad you guys are as interested in the details as I am!
---
T-Sweater currently n/a by Jamie + The Jones | Jersey Swing Dress c/o Sotela | Lotus Hat by Janessa Leone | Newbury Boots by Rag and Bone | Classic Tote by Cuyana 
---

---
This post is not sponsored but contains affiliate links. When you shop via the links above I may make a small commission from a sale. All opinions are my own. Thanks for supporting the brands that support Style Bee!