WOOHOO!! We made it! Day 10 is here at last and with it, Look #10. Feels great to have reached the end of this challenge and to have 10 outfits under my belt, pun intended! It's another gloomy, rainy one out here today and I'm spending this Friday as I spend most Fridays, hunkered down at my desk with two goals, 1) Check things off the to-do list and 2) Drink coffee to my heart's content. This cozy, layered look is definitely up for the task! So let's dig into one last look for the #stylebee10x10 challenge, shall we?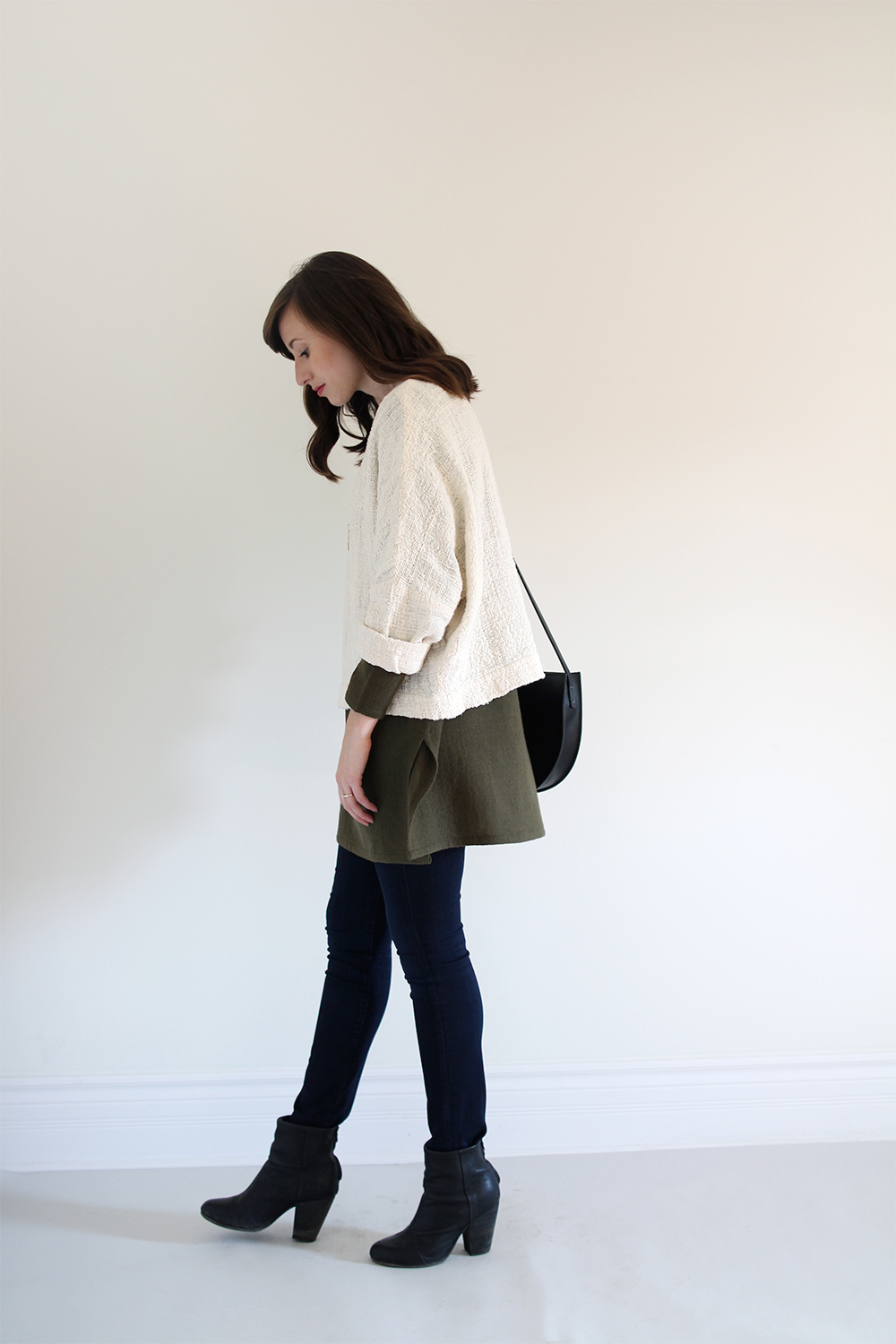 ---
INITIAL THOUGHTS
What's better than one beautiful oversize sweater? Well, two of course! I honestly wasn't sure if this outfit would be physically possible to create but once I got the T-Sweater successfully on over my wool tunic, sleeves rolled up and shoulders adjusted, it was too good not to follow-through on.
I knew my skinnies were the way to go on the bottom and while I could have happily opted for oxfords, I went for the warmer option with my leather boots.
I kept my accessories basic with my favourite black bag and a simple little necklace that adds just enough bling to polish things off.
I'm loving how this look came together and how it pushes my typical Fall uniform just a little farther than I would normally go but at the same time, it's probably a little more bulk than I'm likely to return to.
---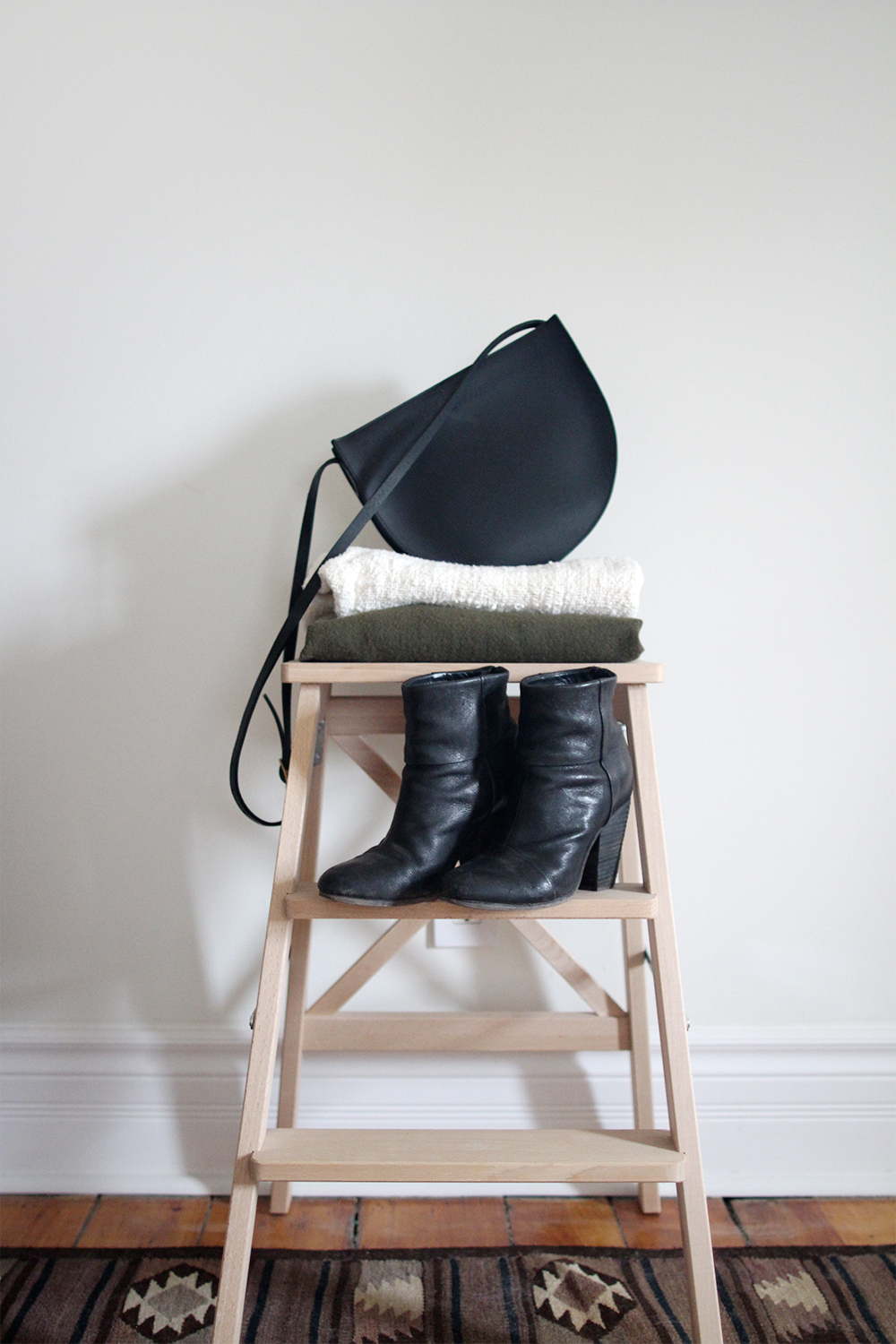 ---
ITEM #10 – BLACK BOOTS
Other than jeans and t-shirts, there is one item in my closet that I will probably never have enough of…Black Boots. What can I say, they're just the best!
There are A LOT of great black boot options available right now. It's kind of overwhelming actually. But I've basically made a list of all the ones I've got my eye on, because let's face it, there is pretty much always a pair on my wish list. The boots on this list are all very wearable (read: no super high heels), made of black leather, minimally designed and made responsibly (to the best of my knowledge).
1 | THE MARS BOOT | By Rachel Comey ($426 USD) | Handmade in Peru | This one is a cult favourite + a personal favourite. I have them in whiskey and wear them all the time. Honestly, this challenge it the longest we've been apart! They're a super simple, slip-on style with a sturdy heel and a very flattering cut. You can't go wrong with these IMHO. Need Supply has a great selection of colours and sizes right now but they're all available on the designer site too.
2 | THE HEEL BOOT or THE MODERN CHELSEA BOOT | Everlane ($235 USD each) | Made in Italy | Both of these styles have had my attention for a while now. Beautifully designed, well-made, fairly priced.
3 | THE MICAELA or THE ADRIANA COCO | Fortress of Inca ($245 and $240) | Handmade in Peru | I've yet to get my hands on a pair of shoes by this company but I've only heard really positive things about both the shoes and the brand itself. These both have a stacked, wooden (brown) sole and heel.
4 | ZIP ANKLE BOOT | Women by Common Projects ($524 USD) | Made in Italy | These are a true timeless classic. The shape is perfect, the heel is low and the ankle rise is a perfect height for tucking into pants.
6 | PISTOL BOOT | Acne Studios ($570 USD) | Made in Italy | These are another pair in my repertoire that I adore. They've seen a couple of winters now and still look great. They're very well made and comfortable to wear.
---

---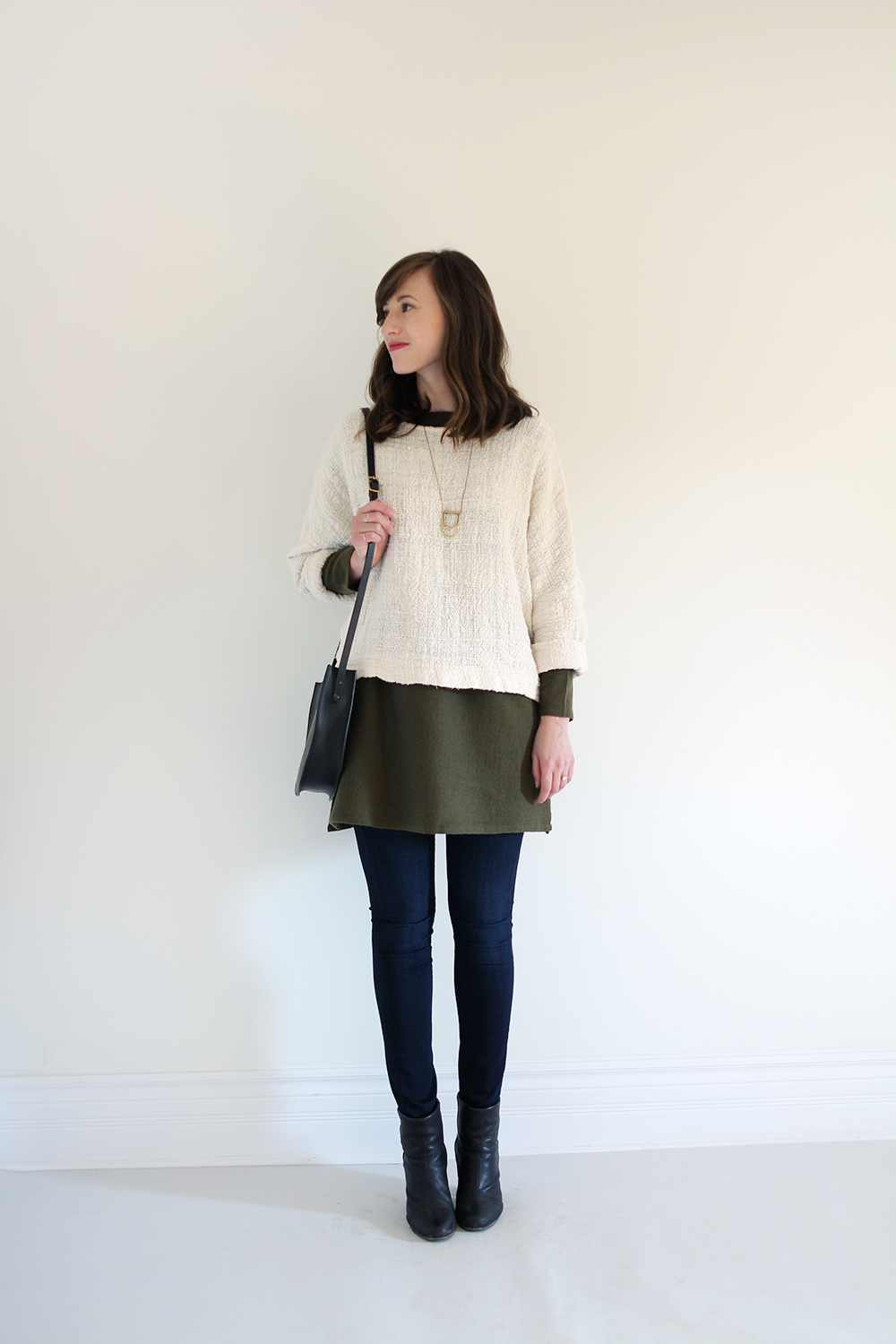 ---
STYLE + FIT DETAILS
1 | DOUBLE VOLUME | I wouldn't normally layer one big sweater over another in this way but I'm loving the result. I usually opt for a dark layer on top but this reversal is a welcome change. I think that having a darker colour block at my hip and upper thigh helps to make this approach more flattering than if it were light.
2 | TONE DOWN | By starting with the lightest colour at the top, then a mid-tone in the middle, a dark tone in the leg and black at the bottom, the colours in this look serve as a subtle gradient which gently leads the eye from top to bottom. This is something I'll be keeping in mind when creating other multi-layer looks.
3 | SHAPE SHIFT | I only have two accessories in this look and while they're both super simple, they have the same half circle shape. This subliminal repetition is one of my favourite tricks to inject continuity into a look without looking matchy matchy.
4 | COLOUR PEEK | I've really enjoyed playing with cuffs throughout this entire challenge. This is probably my favourite rendition because the sleeves of the olive tunic peek out from under the sweater perfectly. I like how the top neckline of the tunc also peeks out under the more open neckline of the cream sweater.
5 | EYE LINE | There are two distinct horizontal lines in this look. The first is the bottom of the sweater which alludes to my upper hip (creating a longer leg). The second is the bottom of the tunic which extends ever so slightly farther out to create an A-line shape. The juxtaposition of this line with the slim leg of the jeans is a flattering contrast and key to making this look wearable and not too bulky.
5 | LAYER LIKE A PRO | As far as I can tell, good layering execution involves the following three elements:
The top layer must be slightly larger in size than the base in order for them to fall nicely without any bunching and for comfort in the shoulders and chest.
Ideally, the bottom layer will be visible in at least two spots which could be out the bottom, at the cuffs or at the neckline. This creates visual continuity that makes the layering noticeable.
A longer base layer makes it extra easy and adds interest.
---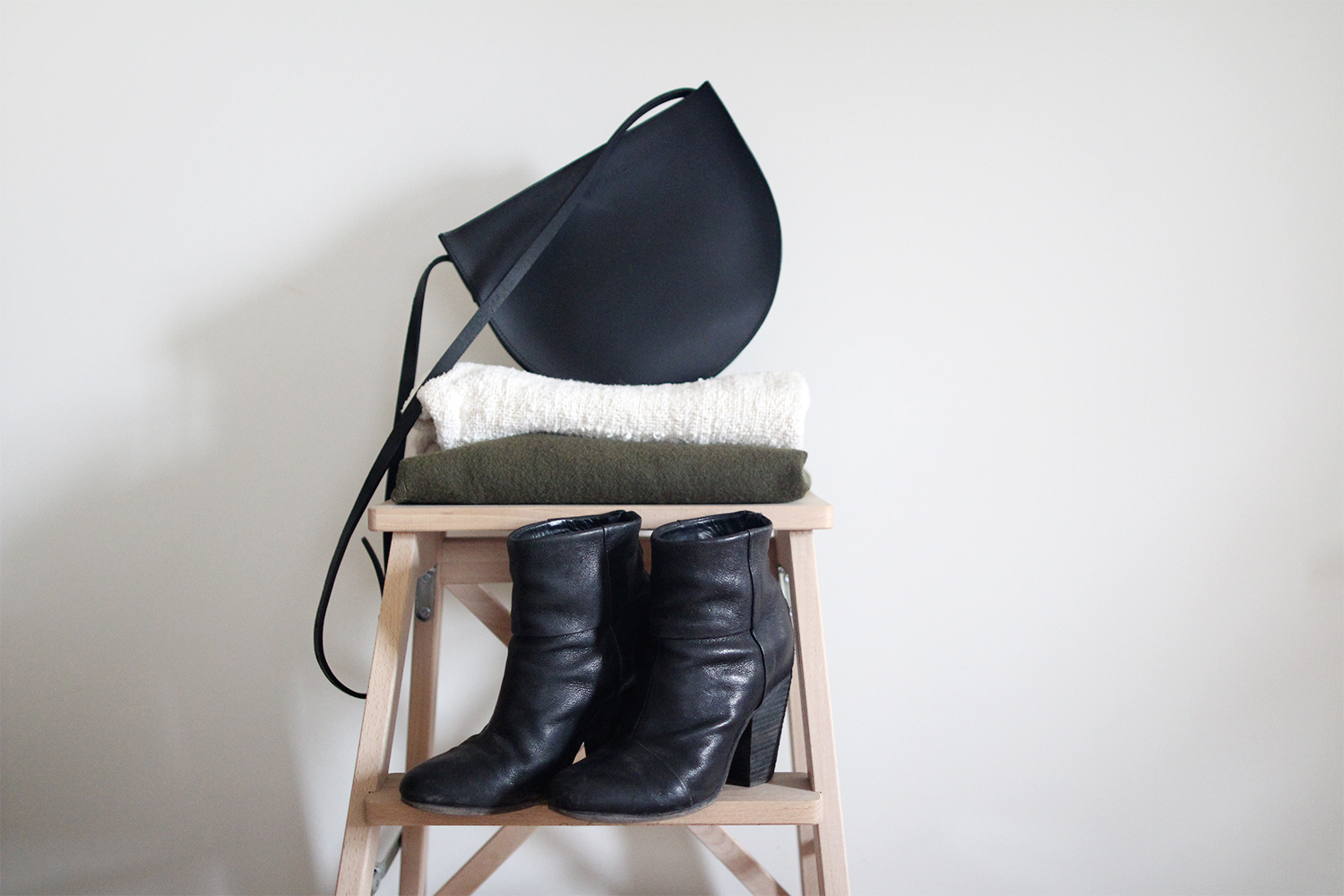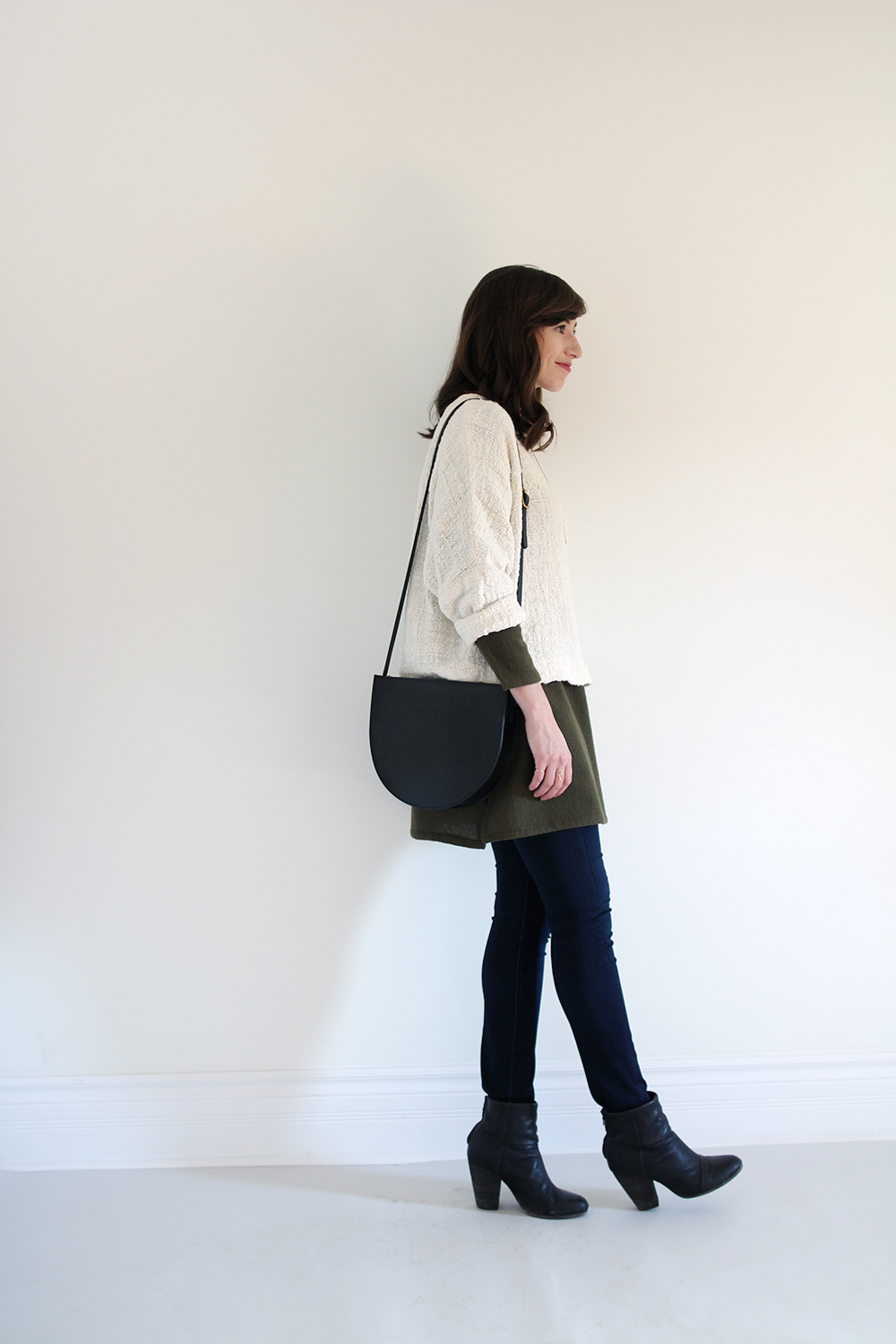 ---
Now I'll stop yapping and let you enjoy your hard earned Friday!
I hope you enjoyed this Fall 10×10 Challenge! I know it's been a lot more posts (and content) than usual so I appreciate you hanging in here with me. Now it's time for a relaxing weekend and some contemplation/reflection about this whole thing. Hope you have a great one!  
---
---

---
This post is not sponsored but contains affiliate links. When you shop via the links above I may make a small commission from a sale. All opinions are my own. Thanks for supporting the brands that support Style Bee!