Hope your weekend was good! It's time to take a look back at my latest 10×10 experience. Overall this was definitely the most successful one yet, at least in terms of comfort, wearability and both lifestyle and weather appropriateness. I'm coming away from the challenge feeling a number of things:
Creatively charged with a renewed appreciation for my entire closet.
A much clearer sense of what my style is, what it isn't and what I want it to be.
Even less pressure to keep up or shop.
Ready to begin slowly making some small but deliberate changes.
Rethinking my approach to blogging.
Now let's take a look back at the 10 Items I styled into 10 Looks, over 10 days.
---
10 ITEMS 
---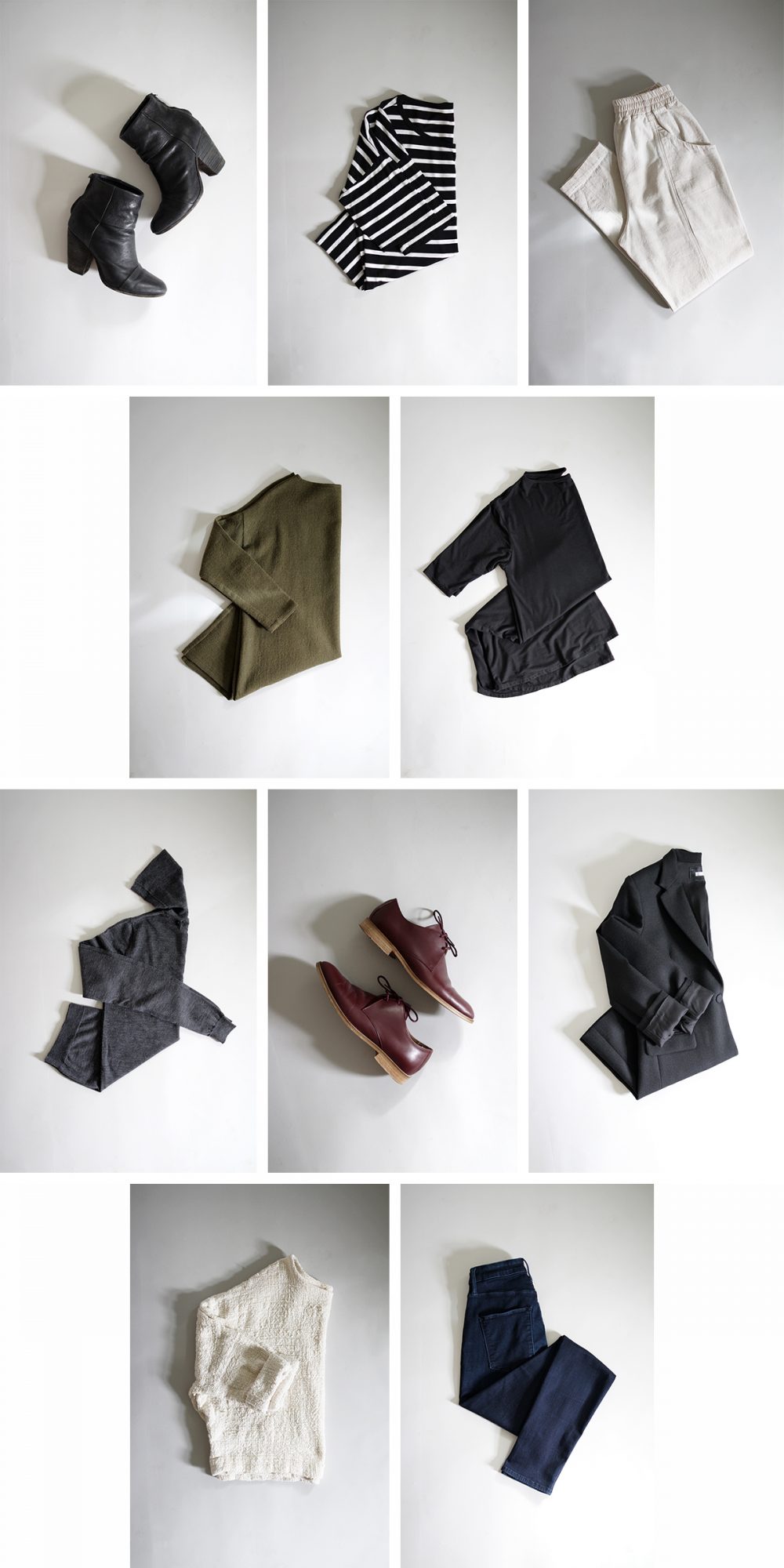 ---
10 OUTFITS
(SHOP ALL MY LOOKS AT THE END OF THE POST)
---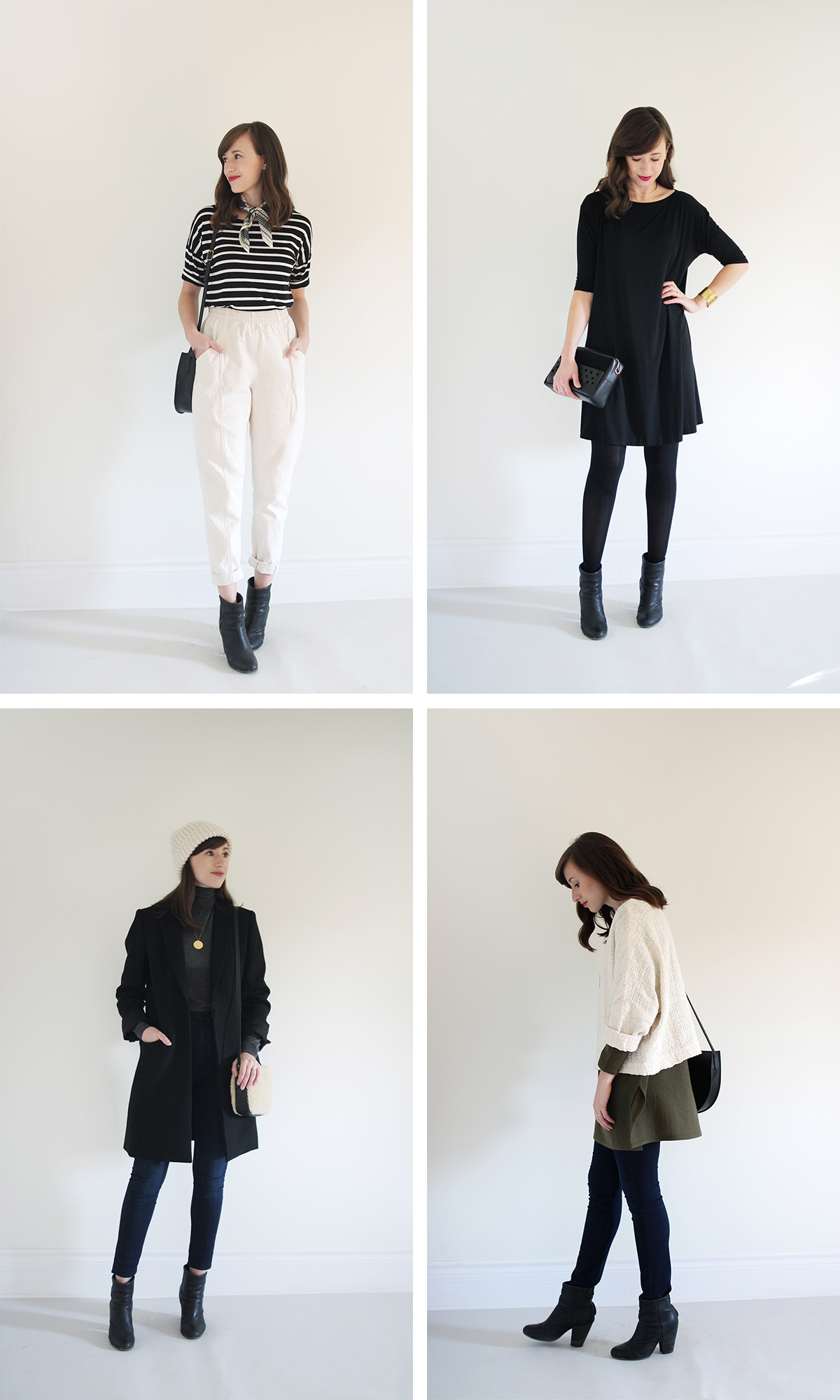 ---
PERSONAL STYLE FINDINGS
Throughout this challenge I tried to maintain a certain level of objectivism that would allow me to better evaluate my choices. To my surprise my findings weren't quite what I'd predicted. I think I expected to come away feeling content and reaffirmed in all my style decisions but instead I'm realizing I'm at a bit of an impasse when it comes to my closet and personal style. Which is not a bad thing! It's actually a good sign that I'm tuned in enough to realize before making any changes or additions.
Here's a look at the notes I made throughout the last 2 weeks.
When my hair is done in loose waves I feel 100x better in any outfit. Might seem obvious but it was a breakthrough for me!
My Newbury Boots are a bit too high for everyday wear. I switched to the flat oxfords most days, unless I was going out for a meeting or meal.
I realized I can feel tall, slim and elegant, while wearing flats!
By Tuesday of week 2 I was getting really antsy. I tried on a bunch of outfits from my closet to get a style fix and it helped!
In turn, the challenge helped me to realize how much more I appreciate the clothes I have. I really missed my Mars Boots, Kamm Pants, vintage jeans and cashmere sweaters.
It reaffirmed that the pieces I do have, can work harder.
Getting ready each day was SO easy.
I'm embracing colour more, but was reminded that neutrals are my true favourite.
FOMO – I felt like I missed opportunities to wear some favourite items (like my Georgia Midi, Duster Vest and a few others) during the warm start of October.
It can be hard not to let social media dictate the perceived success of an outfit. Just because everyone seems to like it, doesn't mean you have to.
No more buying pieces that add bulk to the hip area. Even if I can 'pull it off' I always feel more self-conscious than I would like.
I've been feeling a bit unsettled about my style lately. I'm torn between classic basics, and pieces that are unique and unexpected.
Now that the challenge is complete it's the perfect time to purge my closet while these findings are fresh in my mind.
When in doubt, simplify.
---
3 FAVOURITES
---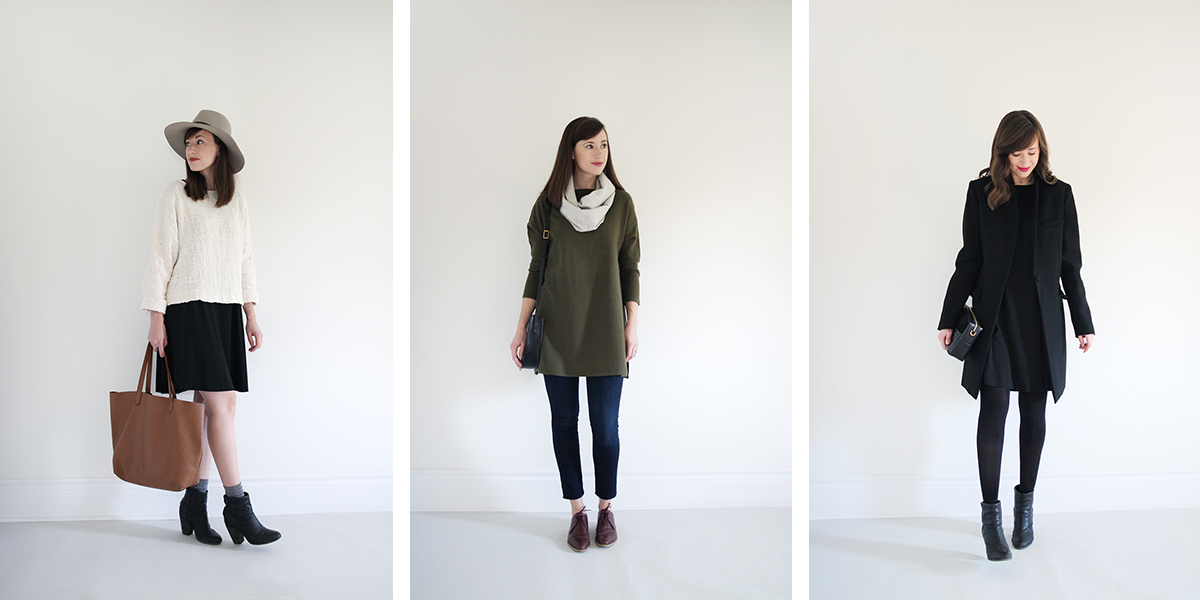 I quite liked these 3 looks because they felt like 'me' but pushed just a little further than I'd normally go. 
I tried something I was nervous about, the socks in boots trick, and loved the result.
I wore two colours at once and liked it! Plus, I found a new denim silhouette I'm smitten with, the ankle crop.
I rocked a bold lip colour and a sultry all black look that felt fabulous.
I didn't have any least favourites per se. Instead I've acknowledged that while I like all 10 looks, for the most part these outfits felt safe and this is not necessarily a bad thing at all! I'm choosing to treat it as more of a sign that I've become very comfortable in my style and now I'm ready to push it a bit further and take some (calculated) risks. That is, before 'comfortable' becomes 'bored'.
It was the moments when I tried something new or unexpected that worked, that had me feeling excited about my style again. 
---
QUICK Q&A
Were these outfits weather appropriate? YES! Although there were a couple super rainy days that required a raincoat and rain boots for dog walking.
What about laundry? I washed the Clyde Pants (after spilling coffee), the striped tee and the swing dress each once during the challenge. The sweaters I hung inside out and I steamed creases out of the wool tunic and merino turtleneck one time.
Did you cheat? A little bit. I wore a denim duster instead of my black coat on Saturday night for dinner with the fella and switched to my wool Clyde pants for a day when the cream pair was being washed/dried. I also had to throw on a cardigan in the office once or twice to stay cozy. Otherwise I was pretty darn good!
Did the challenge make you rethink any items? Yes, my cream Clyde Pants are currently on the chopping block. It doesn't mean I don't like them, instead I'm just trying to be mindful of similar items in my closet that could potentially work harder and take their place. For instance, I love wearing both my Kamm Pants and Florence Pants. I'm more comfortable in the wide leg, slim waist/hip silhouette.
I also found the boat neck on my striped shirt a bit annoying. It kept gaping and showing my bra strap and the material is so thin now that it wasn't warm enough for in the office. I might consider investing in a heavier option.
Favourite Items? I quite liked everything in the capsule but my Modern Oxfords found a new place in my heart and my Wool Tunic reminded me why it was such a hero last Fall/Winter.
Was it as hard as other times? Nope! I believe this challenge gets easier each time as you learn more about your style and how much you can do with your closet. In fact, I could have easily created 5 more looks, so I did! See them all below.
How was the 'Real Life' sharing via Insta Stories? I'm not going to lie, I definitely don't love making insta stories. I wanted to love it, everyone else seems to, but I just don't and they give me anxiety, at least when it comes to filming myself (and constantly making room on my phone). I feel like a total dink and I hate the low quality. I may try to practice more and will definitely share more Dobby stories because those I love.
PLEASE ASK ANY OTHER QUESTIONS IN THE COMMENTS! Just didn't want to drag it out here.
---
5 BONUS OUTFITS
---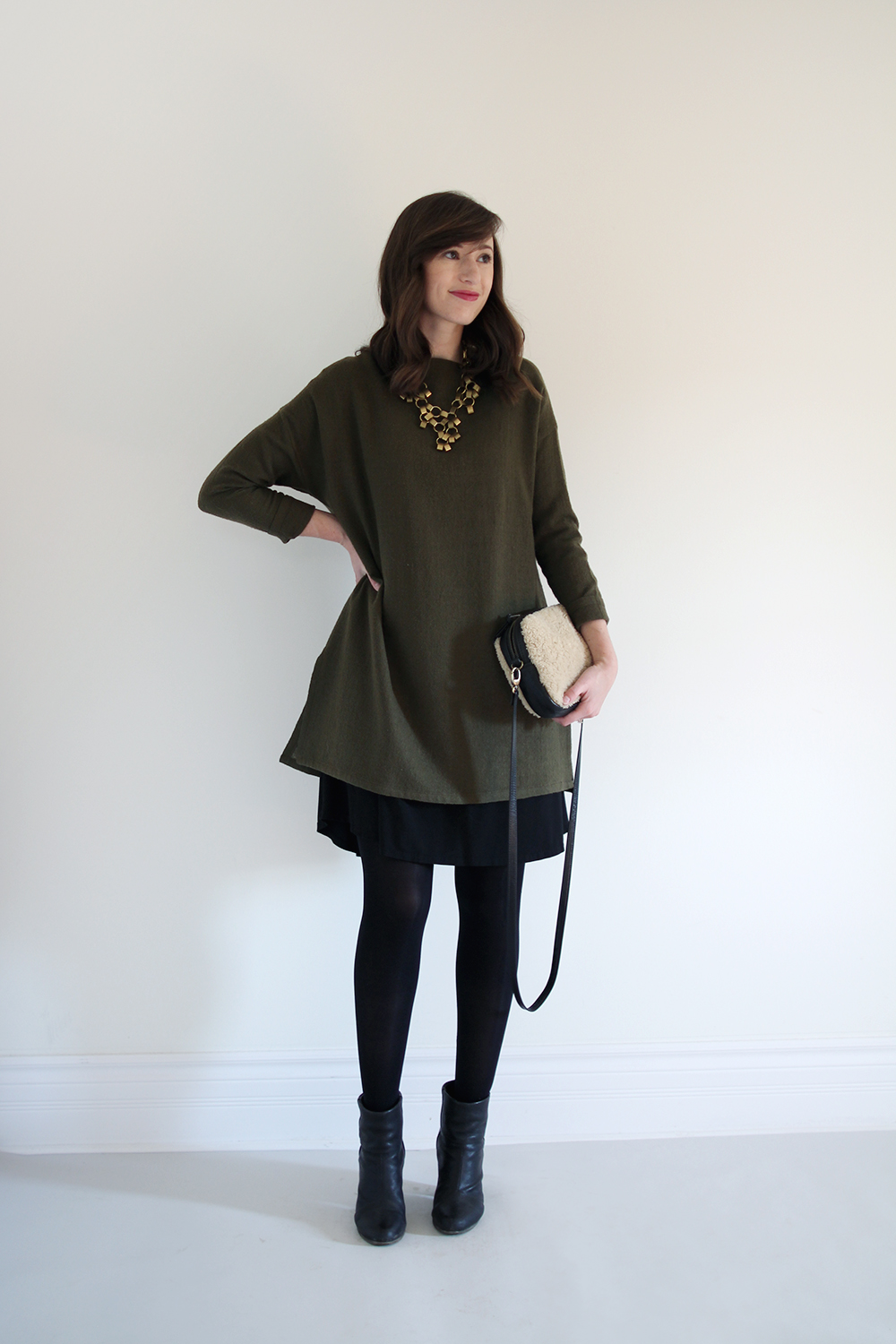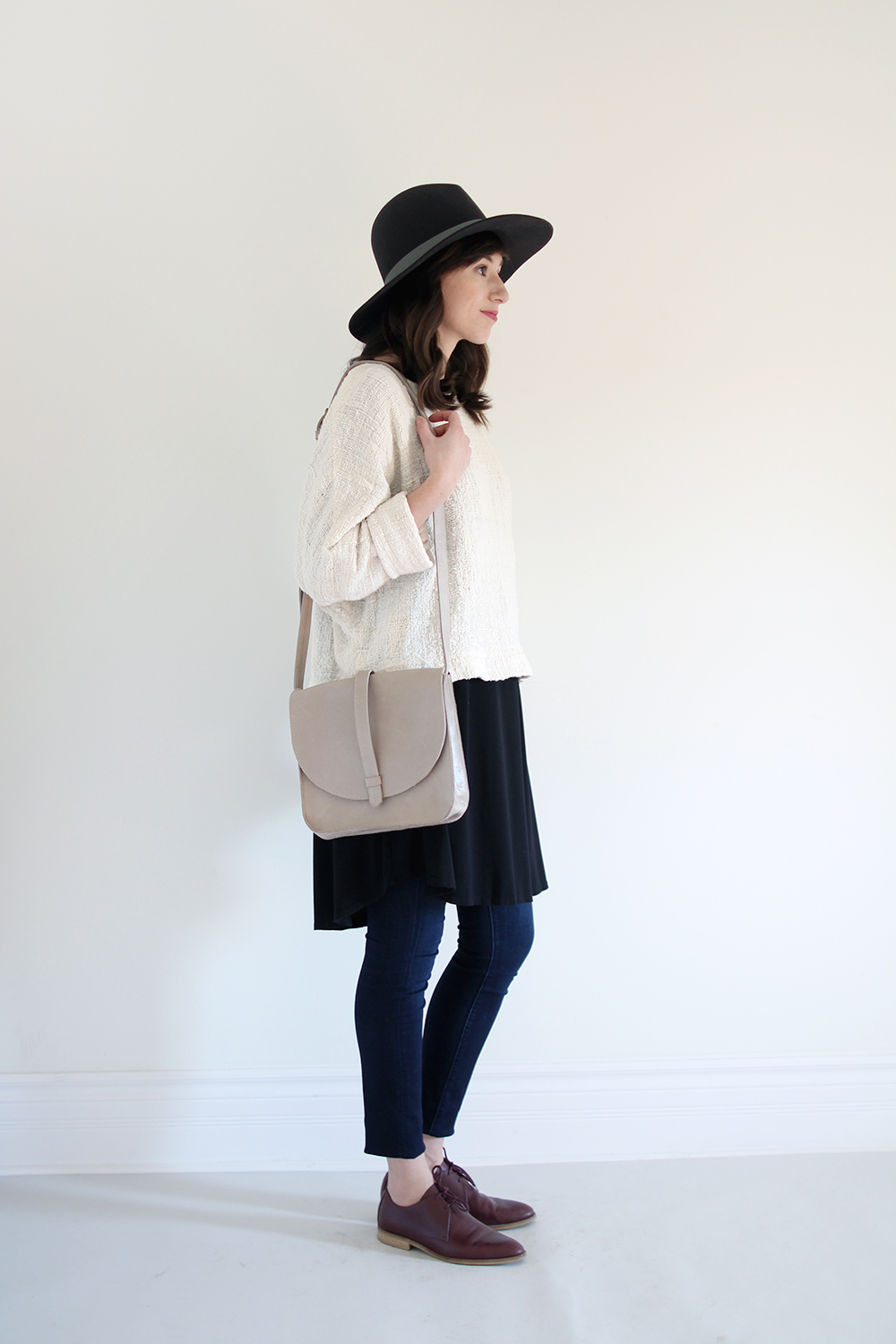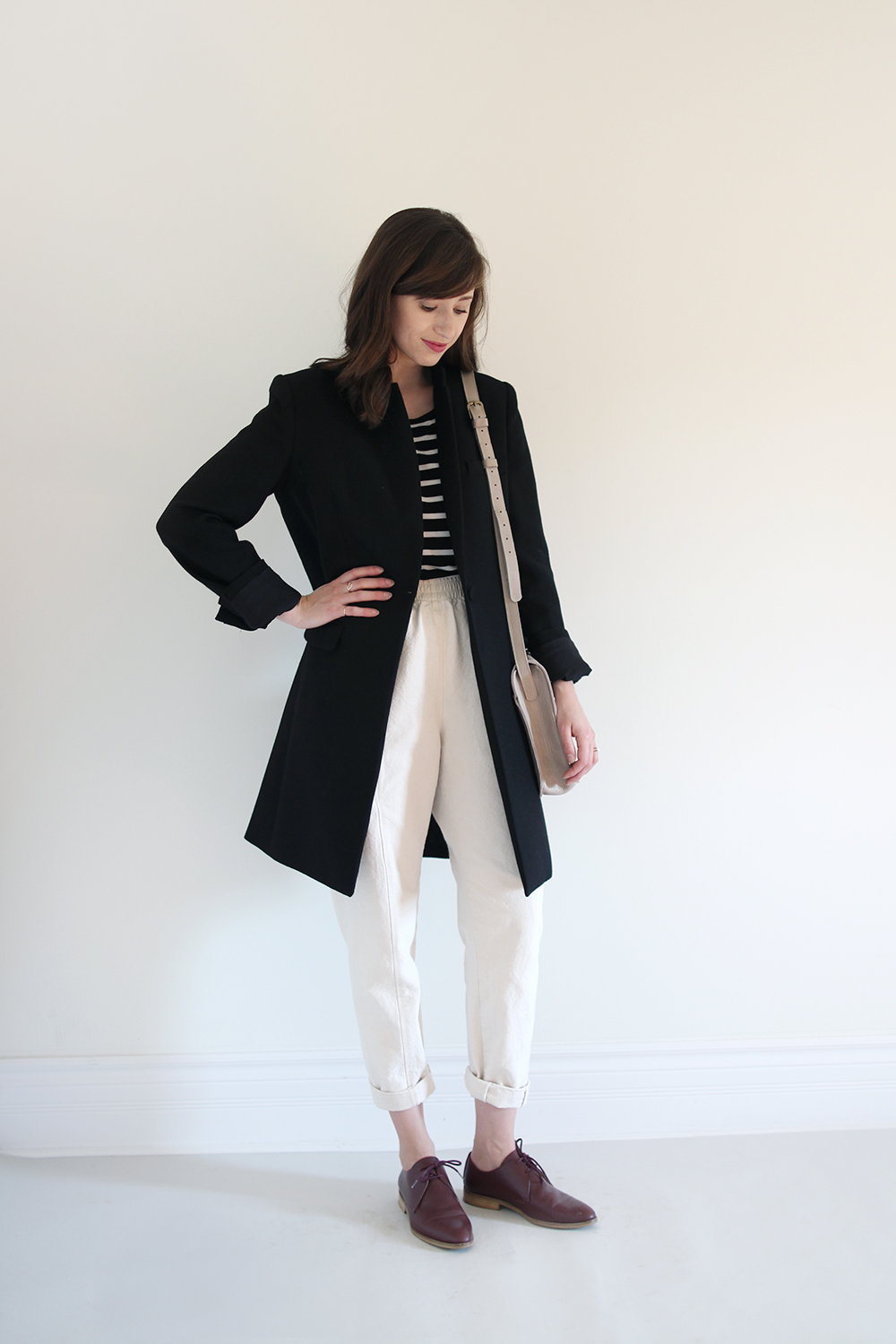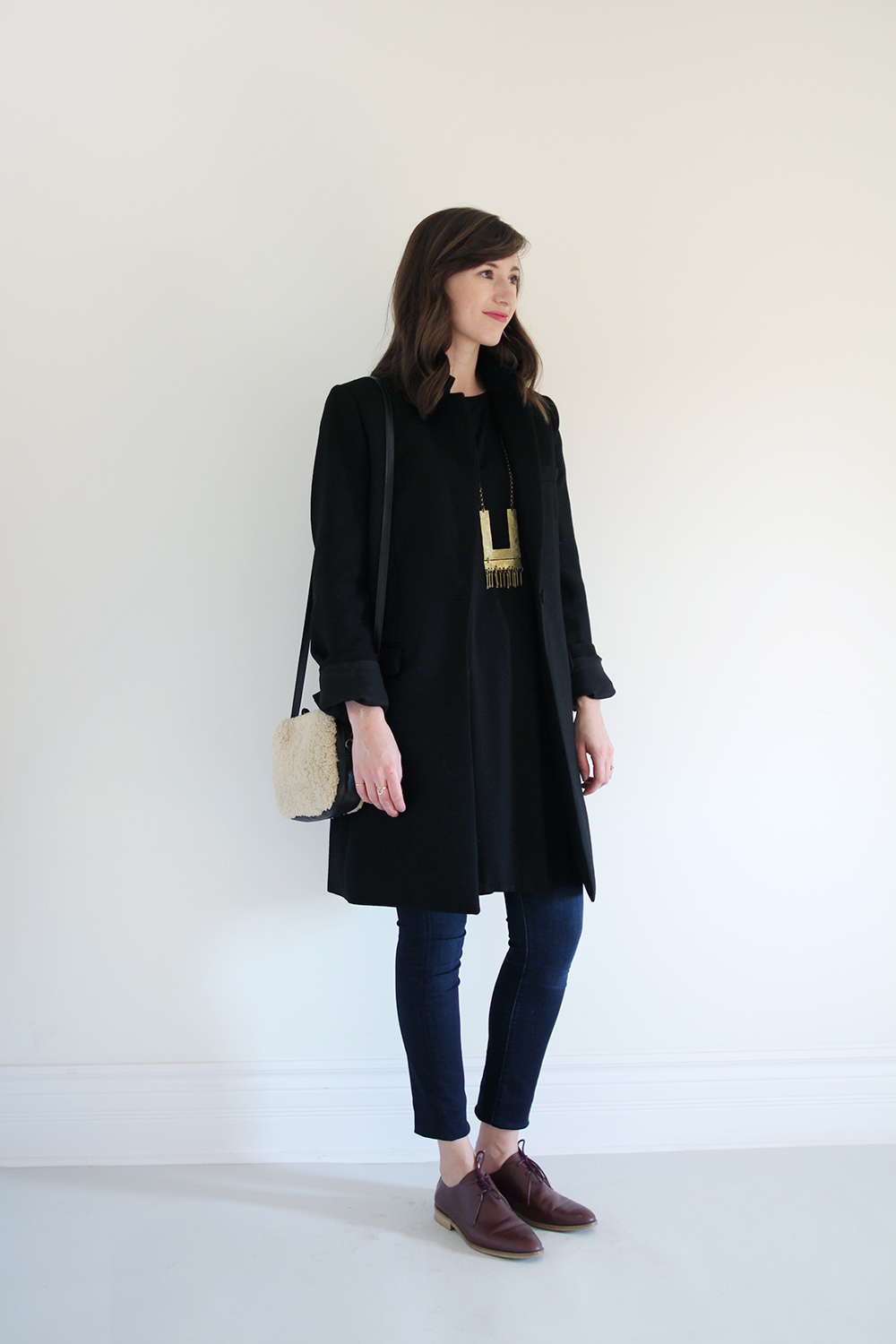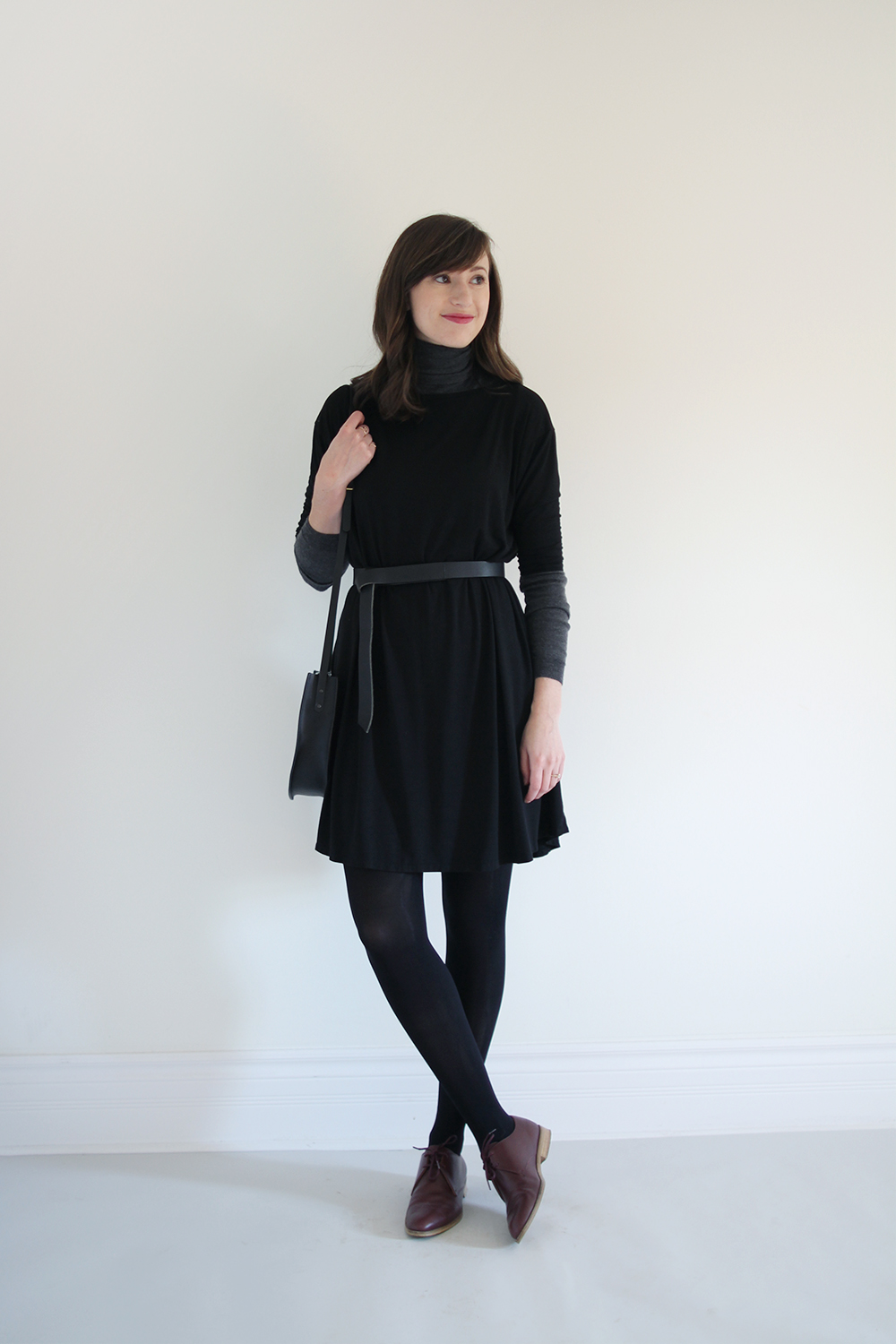 ---
#STYLEBEE10x10
---
Of course, I had lots of fun creating my own looks and playing with my personal style, but my favourite part of this challenge (by far!) was seeing the sense of community that came from it. I absolutely love reading everyone's insights and thoughts on different looks, especially the ones that surprised them or that they might not have tried were it not for the challenge. It was great to see so many connections being made and all the positive support being shown toward each other.
Fashion can be a particularly icy industry, especially on social media, and one where women are constantly comparing themselves to others, but this exercise felt like the opposite of that. It was inclusive, warm and encouraging, in ways that went way above and beyond my hopes or expectations when I started these challenges over a year and a half ago. I love that the various 10×10 feeds are bringing together women of all ages, with a wide range of different tastes and a broad spectrum of lifestyles. It's pretty freaking awesome!
Not to mention the incredible array of different outfits everyone came up with! Anytime I was feeling a little uninspired or unsure about how to go about putting a look together, I would peruse the feed and sure enough something would trigger an idea.
THANK YOU so much for joining in and sharing your outfits, ideas and positivity!
Overall it was a much needed reminder that the goal is not a bunch of perfect outfits but instead to have fun, get creative and learn something of value from our style choices. Here's a few selects from the #stylebee10x10 feed: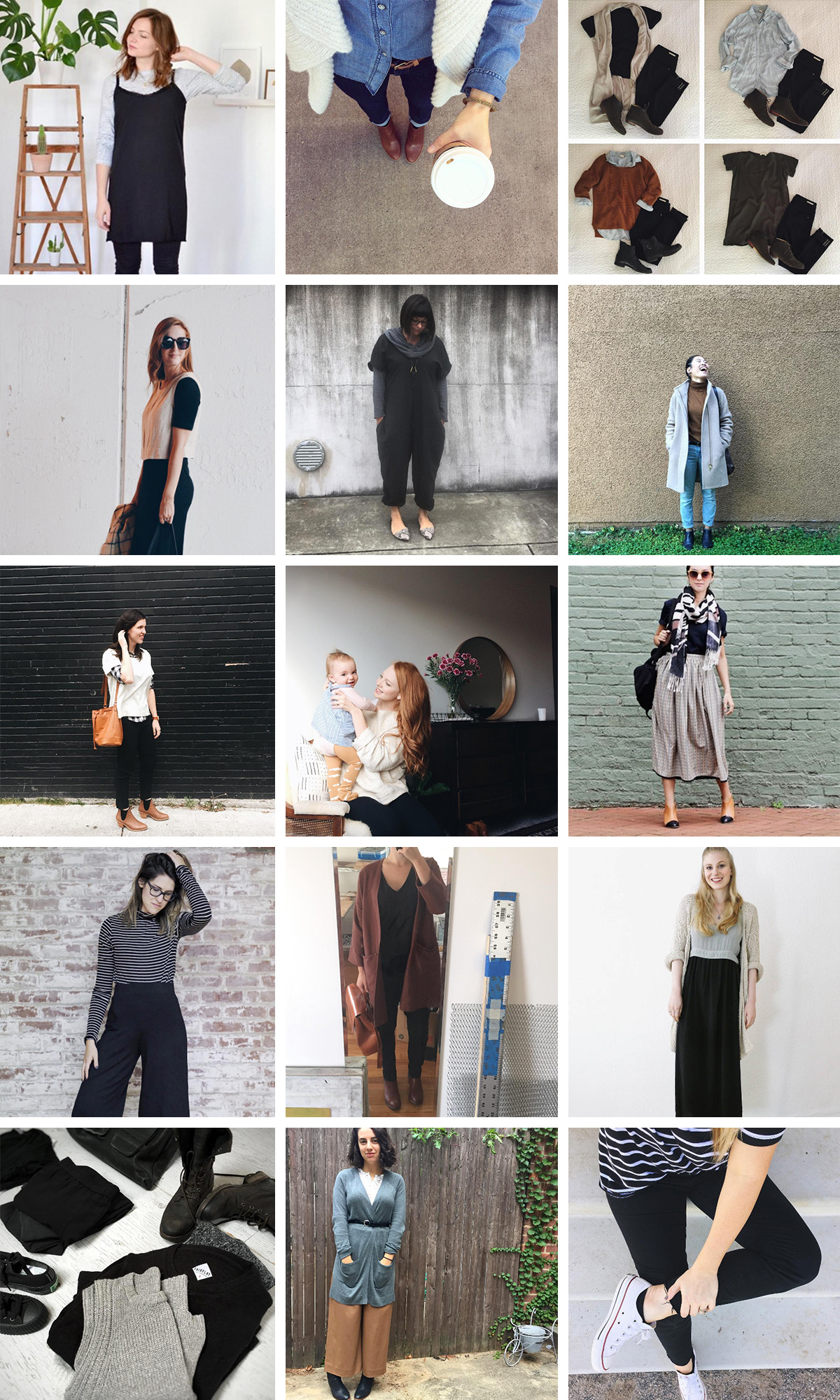 ---
1st Row – @atleastblog | @jodieeebeth | @stefaniemurrer
2nd Row – @simplylinkeddesigns | @brandikoz | @elim_chu
3rd Row – @thegarmentlife | @kellyamonson | @juliawhicker
4th Row – @saraweinreb | @eichubb | @verenaerin
5th Row – @alchemisteating | @goesbygrace | @theeffortlesscloset
---
GOING FORWARD
After previous 10 x 10 challenges I've typically made note of some key takeaways and styling tricks and then carried on full speed ahead. This time though, I'm paying closer attention to what my gut had to say about it and what you had to say about it. Which simply means:
1 | CANDID OPINIONS + STYLE DETAILS | I've noticed a lot of positive feedback around the more in-depth styling notes and candid thoughts on each outfit, which is awesome! This was a slightly new format for writing outfit posts (at least for me) but I've really enjoyed creating them and digging deeper into the looks. So I'll be continuing that style of outfit post going forward.
2 | REPEATED ITEMS | It's become very clear that a lot of you are interested in seeing items repeated and styled different ways, which I totally get. I'm still ironing out exactly how this will evolve but I'm thinking along the lines of featuring 1 core item a week, that I style into a few different looks.
3 | COLLABORATIONS | At the moment I've put a hard stop on any new partnerships and collaborations for a little while. It's been so refreshing to take the pressure off that aspect of blogging and I've been thinking a lot about how to proceed with brand sponsorships in the new year in a way that's genuine, meaningful and occasional. Until then I may feature the odd new item, but I will not have been paid to do so.
4 | THE NEXT 10 x 10 | The next remix, challenge, exercise or whatever you'd like to call it, is in the works! I'm teaming up with Caroline of Un-Fancy and we'll be sure to give you lots of notice!
Hope that sounds good! I'm always all ears when it comes to what you'd like to see on Style Bee so don't be shy about letting me know.
---
As always, thanks so much for taking the time in your busy lives to stop here. It is never taken for granted! 
---
SHOP MY 10 x 10 CLOSET
---

---