Well, it's been one serious shitstorm of a week already hasn't it? Ours actually started on Monday when Dave's truck was stolen right from our driveway. Yep, just gone. Beautiful, barely used Toyota Tacoma, just vanished, along with some prize tools Dave had stashed in the cab for work**. But that was a very personal disappointment whereas the US election results are affecting people on a global scale. I'm still in shock to be honest and almost felt an outfit post was inappropriate after such a harrowing event. But then I decided that it's now, more than ever, that we need to push ahead, continue to create and foster positivity and acceptance. Even if it's scary as hell out there and you just want to run and hide. I truly believe if we stay strong and pursue kindness and openness that good will come out of all this.
Now let's lighten the mood for a moment and take a look at a fun outfit and one US based designer that is a true inspiration to me.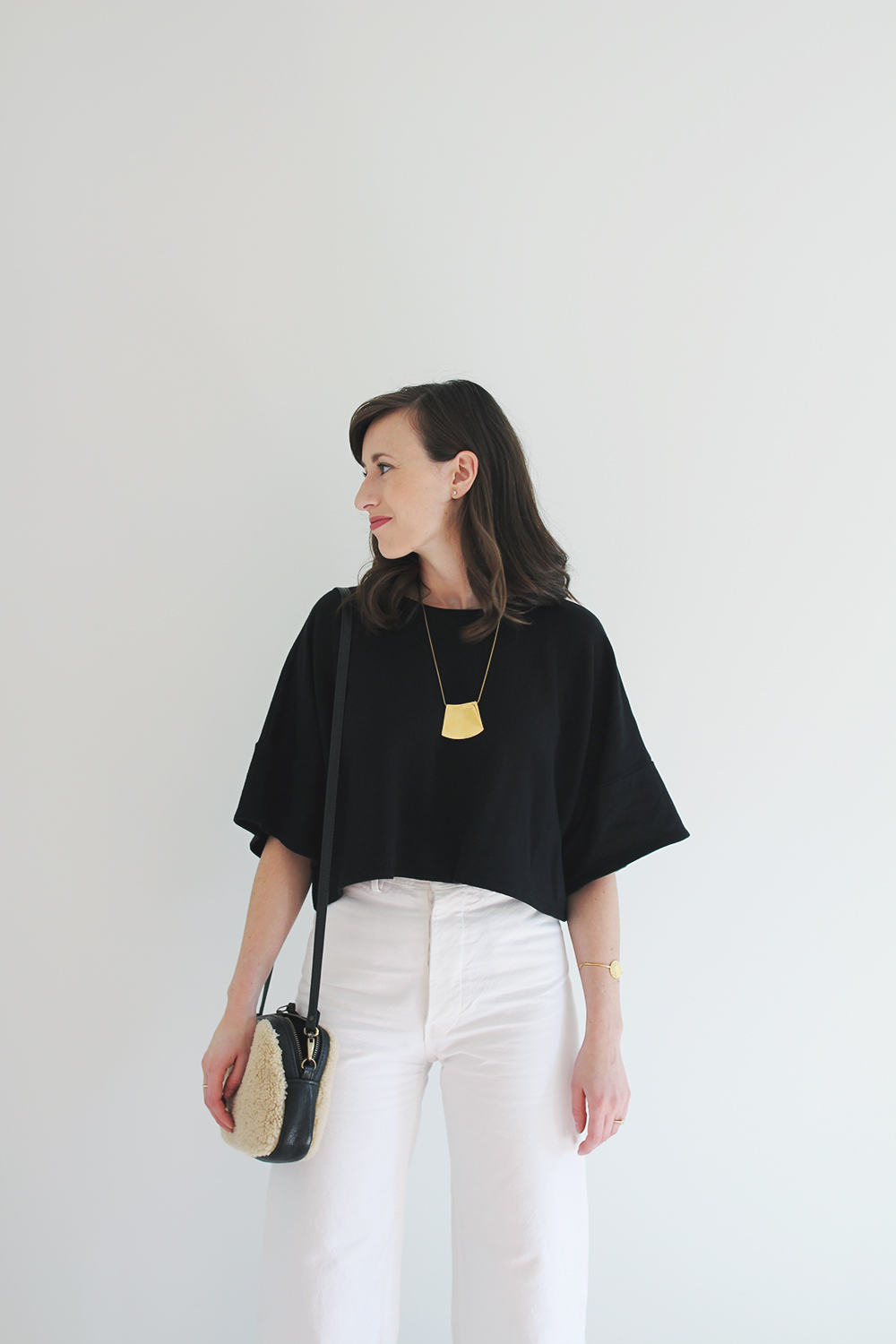 ---
THE SAILOR PANT by JESSE KAMM
It will probably come as no surprise that Jesse Kamm is both a life and a style icon of mine. She's a brilliant designer, extremely hard worker, savvy yet unconventional business woman and at the same time a devoted mom and caring wife who still manages to put her needs on the long list of priorities. Not to mention that fact she looks freaking fabulous doing it all. If the name Jesse Kamm is new to you, definitely check out this interview with A Piece Apart, this article by the New York Times (don't miss the video either) and this studio visit with Need Supply and I think you'll agree she's pretty darn legit. One of many things she's said that particularly resonated with me was this:
"I am constantly trimming the fat. If something is not essential, it goes. As makers, we do not have to say yes to every request. More is not better, more is just more."
So yeah, she's cool. But while I was immediately intrigued by these pants, it wasn't until I'd discovered that the JK brand had been going strong for over a decade, everything was made in LA and that the signature Kamm Sailor Pants had been made the entire time, that I was totally hooked. Like, GET ON MY BODY NOW, hooked. So I found a Canadian based shop that carries them, One of A Few (which might be the only one in Canada but don't quote me on that), found out when they'd be restocked and started saving. They're a non-trivial price (ringing in at about $500 CAD) which meant I couldn't buy much else all Spring but they were totally worth every penny. I love how they're striking yet super simple and the style is bold but timeless. Every time I wear them I feel like a modern Katherine Hepburn with a twist of Annie Hall and it's empowering as hell.
ON FIT | I'm wearing a size S but had to have the waist taken in a fair bit to fit snug (below you'll see a second dart was added at the back) and these were just washed before I shot this look so they're fitting quite slim. After a couple hours of wear they relax a bit and I like when they hang a touch looser over all. But you get the idea. I didn't get them hemmed but I'm about 5'7.5 and they hit right at my ankle (as you can see). I might end up hemming them for next spring though.
I really haven't seen the Sailor Pant look bad on anyone. I was worried I had too much junk in the trunk to rock them at first but I'm over that now and actually think they work wonders for an ample derriere (as noted below!). Of course they look great on shop models and Kamm herself (a former model) but I've seen them on lots of other women, of all different heights, who have curves and I must say I love them on everyone! Exhibits: A / B / C / D / E / F 
ON FABRIC | The 100% Fine Cotton Canvas that these are made from is seriously sturdy, which is why they last forever and hold their shape so well too. I always iron mine after they've air dried to get a crisp finish but then it lasts until the next wash. I try to spot clean as much as possible and have found the canvas quite forgiving when it comes to stains. I got some VERY bad dirt/grass stains on them this summer after a falling on our wet, patchy lawn and I was scared they were toast but a lot of persistent washing and potent stain removal lifted the stains and they're good as new (*phew!).
So that's my ode to the Kamm Pant and some extra info on these cult favourites. You can see how I've worn them many times before: HERE (with a denim duster) | HERE (with a black crop top) | HERE (belted with a cashmere sweater) | HERE (with the linen Linn Tee).
---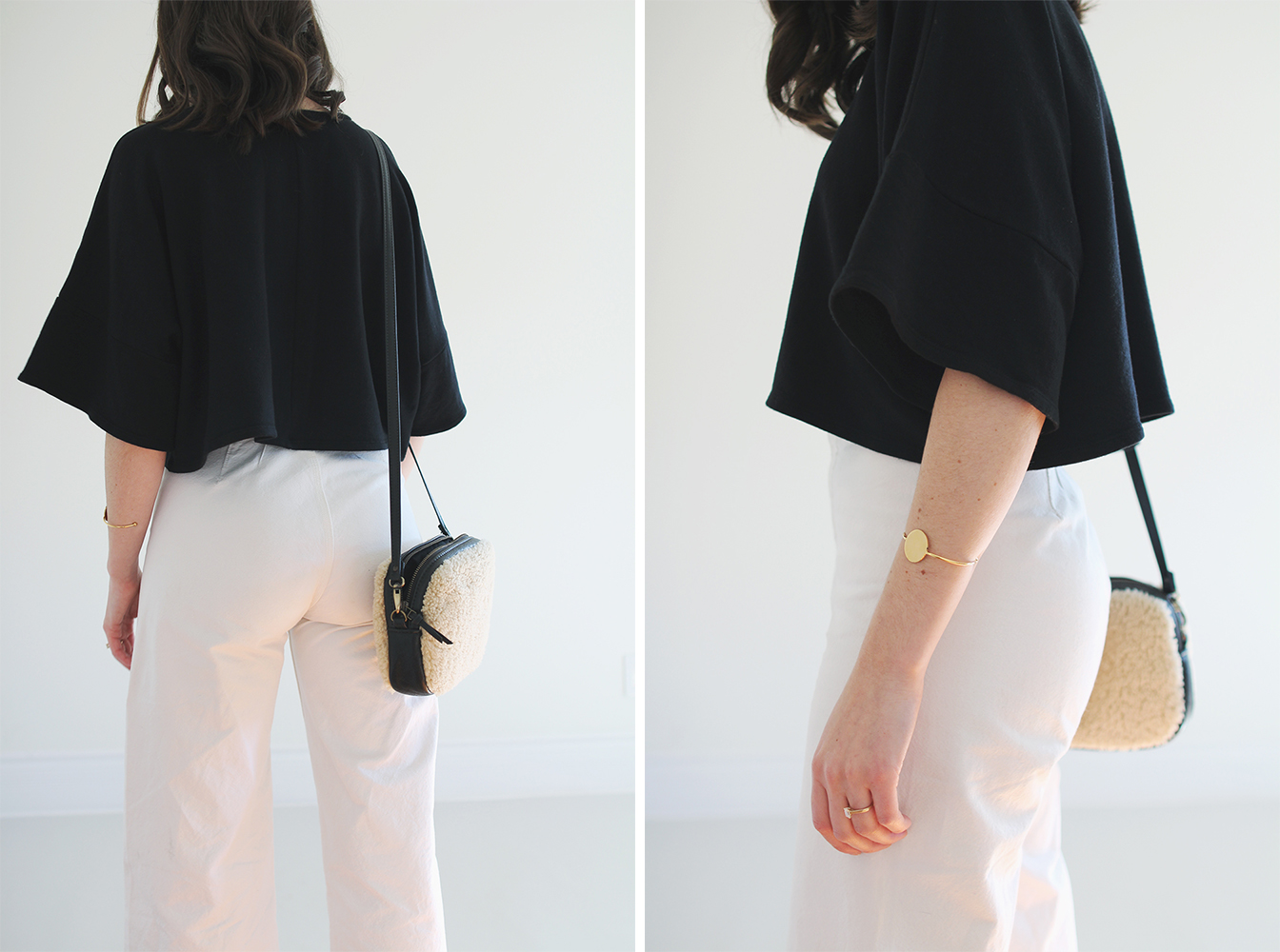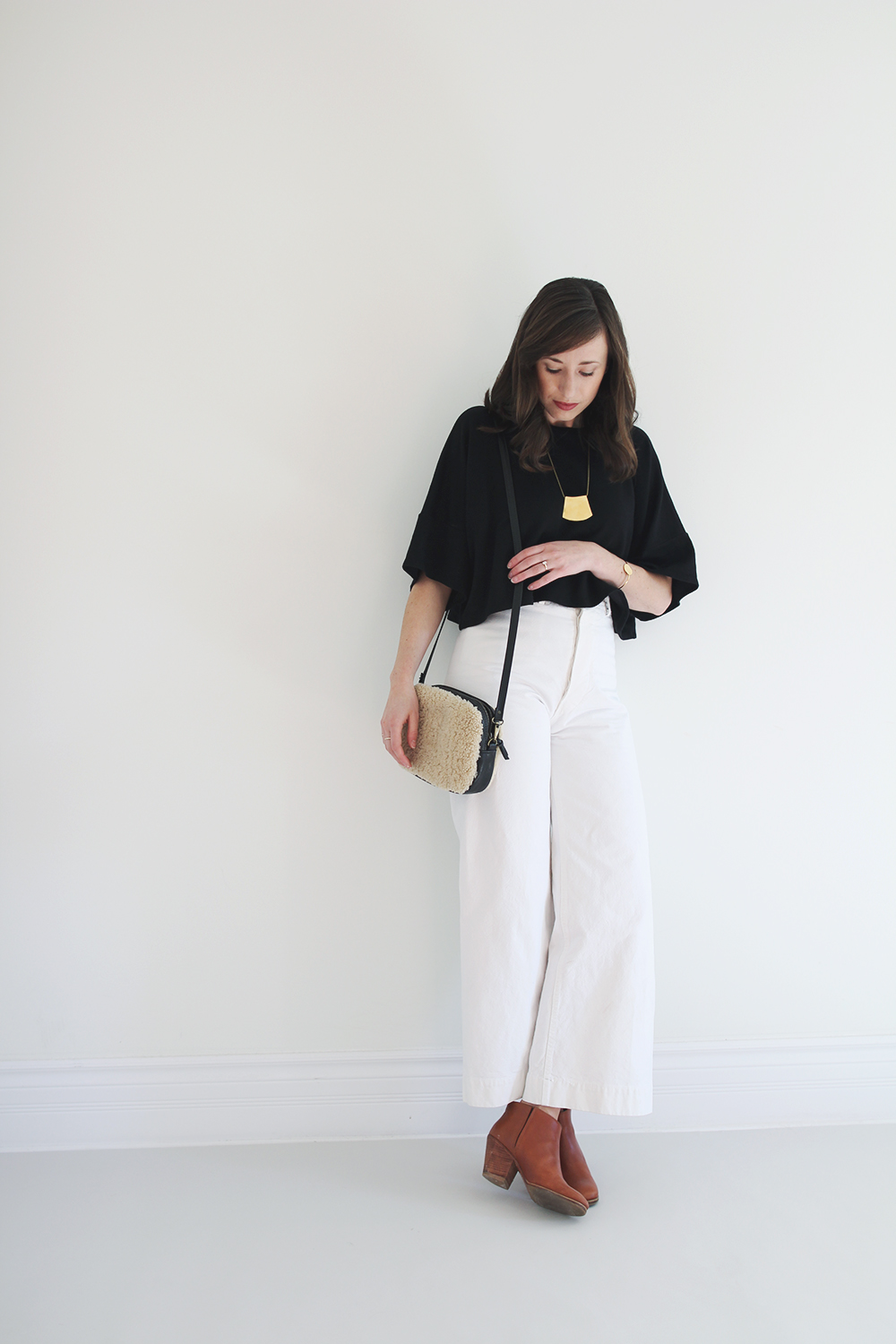 ---
You know how bloggers always say, 'I've been wearing this on repeat.' and then you never see the items again, well, I've actually been wearing this ensemble on repeat during these warm Fall weeks. I wore it to Thanksgiving Dinner with the fam, birthday dinners for friends, date nights with the man and just about every opportunity in between. The truth is that when I find a look that ticks all the right style boxes I run with it and right now, this one genuinely embodies my current style definition, which is Considered, Clean and Versatile. Each piece holds a special spot in my heart and closet and wearing them all together feels both comforting and empowering, the way any killer outfit should! 
---
STYLE + FIT DETAILS
1 | THE PALETTE | This is my favourite colour palette. I can't help but love a good ol' black and white base with hits of rich neutrals and gold accessories. I definitely feel my most at home in these colours.
2 | TEXTURE | This bag is my favourite for Fall and Winter because the nubbly hide adds such a cozy texture and tactile quality to any look without taking over. This bag was a Christmas gift from my fella a couple years back, which makes it extra special. It's also the perfect size for my phone, wallet and a couple essentials like keys, hand cream and lip balm but keeps everything compact. I have three Primecut bags and they're all favourites. Ps. Lizzie takes special orders so don't be shy!
3 | DOUBLE WIDE | I wouldn't normally think to pair a wide leg pant with a wide crop sweater but I love these two together. I think it works because the top is soft and swingy while the bottoms are more rigid and structured, which makes for a nice balance. This sweater is made from the softest thick jersey (exclusive to Corinne Collection) and seriously feels like a cozy dream. I love the way it ripples giving hits at the form underneath and how the bell sleeves flare out. This one is giving my Linn Tees some tough competition.
4 | BOLD GOLD | I made the decision a couple years ago that I was going to wear primarily gold jewelry. It was a small but significant step towards defining my style and I'm glad I made it. This small commitment has made a big difference in that I feel like any accessories I reach for are going to work together, which makes it even easier to finish off a look. I've since introduced touches of silver, typically in chains, but always pair it with a gold (or brass) pendant.
I've managed to acquire a lot of my favourite jewelry through collaborations and they've ended up being some of my most worthwhile partnerships because I wear the pieces again and again and again. This necklace and this cuff are two all-time favourites of mine, from Young Frankk. I'm also a huge fan of CLAUS, STVDIO, BIKO (made in Canada!) and Another Feather for minimal styles in statement making shapes and proportions (all handmade). Michelle Ross is another incredible Canadian designer who makes some seriously stunning show-stoppers (see our interview here).
5 | A COUPLE OF CROPS | This look has two key crops involved, the first being obviously the top and the second being the cropped pant length. I think they work really well in this look to keep my lower half long and lean. I really love a high rise paired with a cropped length for this effect specifically. It works on any height to create the illusion of a longer leg. I could totally see this look working whether you're 5'1 or 6'1. In fact, if you didn't know my height it would be very hard to guess.
---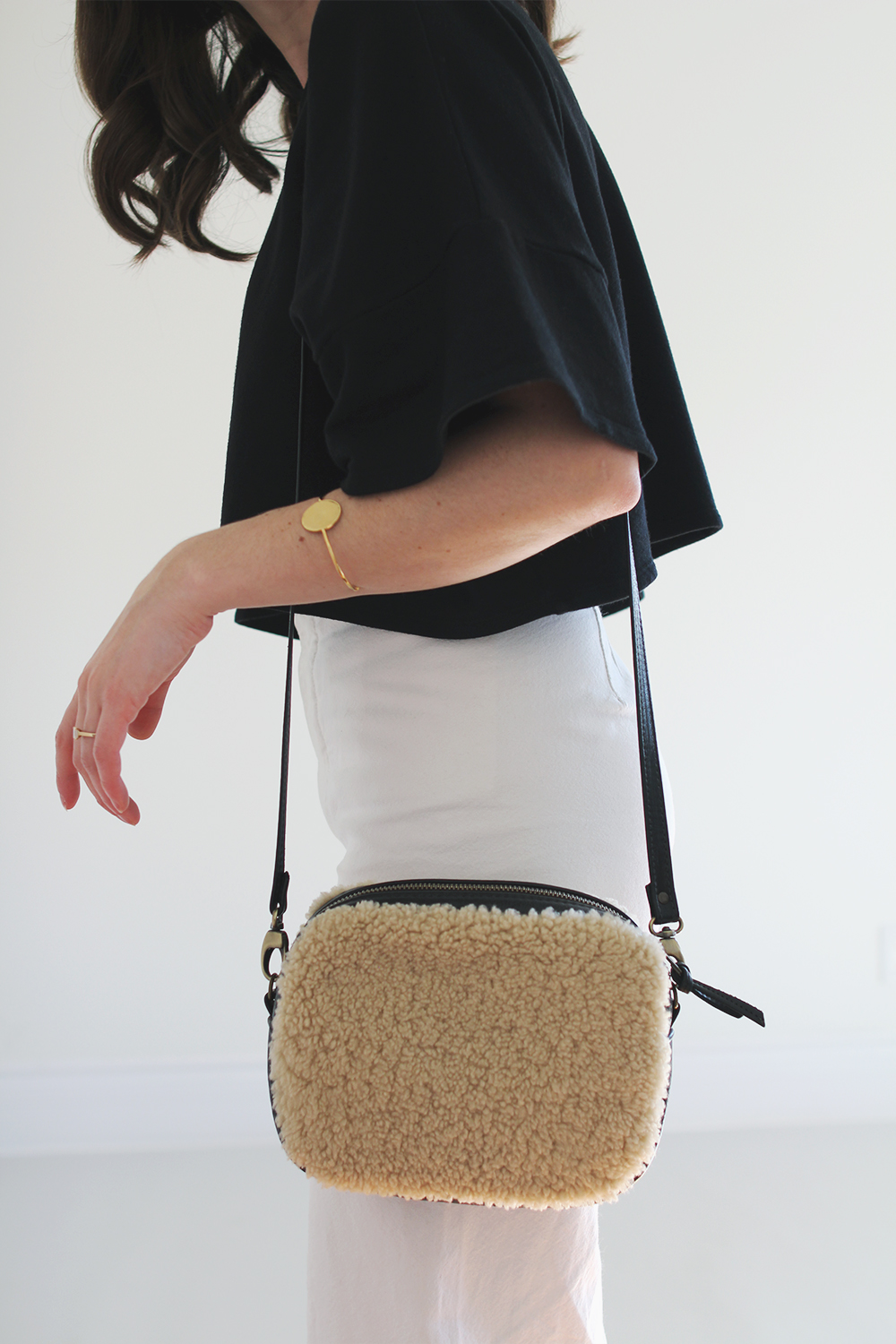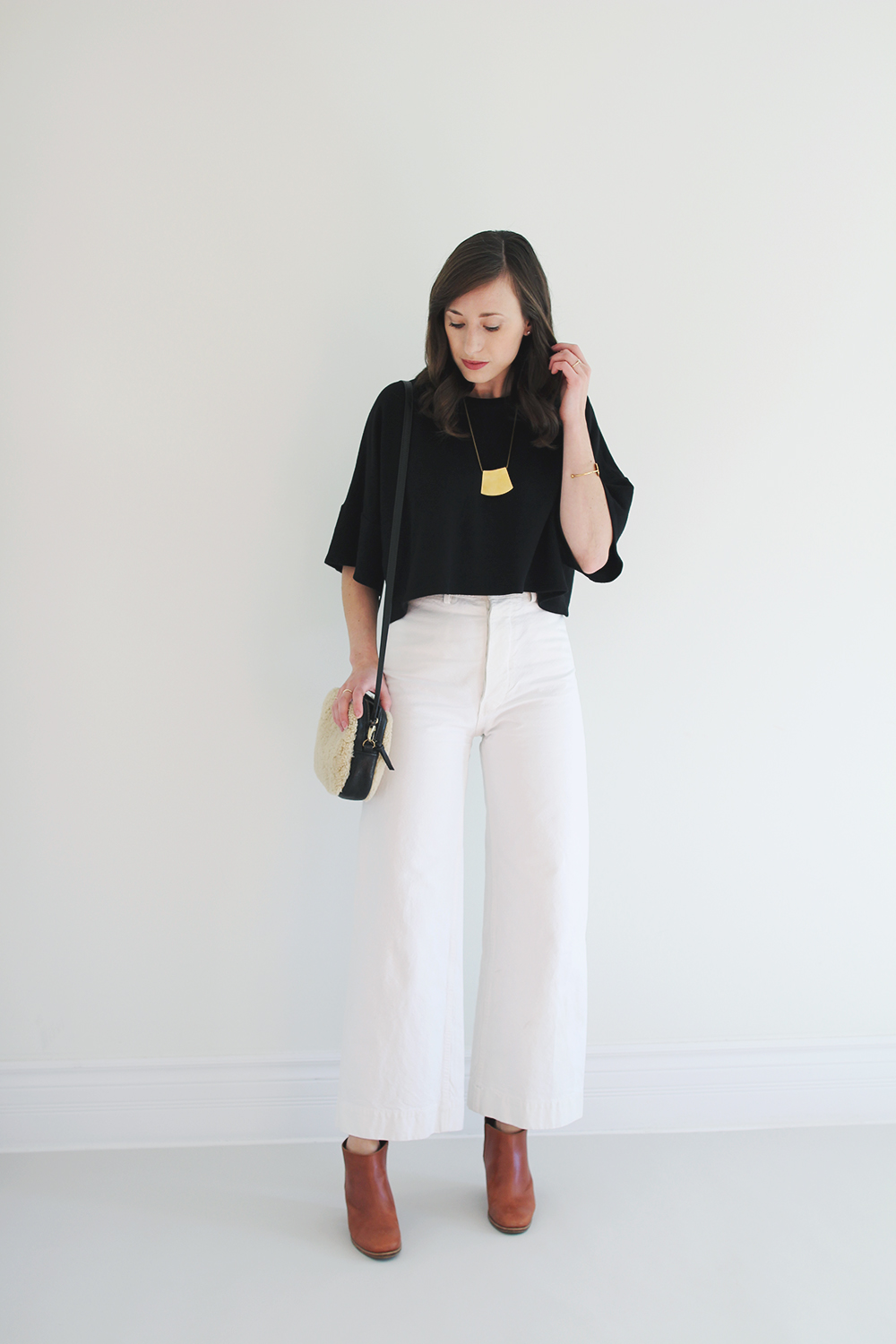 ---
So that's that! A look like this, that ticks all my style boxes, is one I'll be wearing for years to come!
Do you have any powerhouse items in your closet that give you an instant boost?

Do you have any style icons or designers that speak to your soul like Jesse Kamm does for me? I'd love to know!
---
---

---
This post is not sponsored but contains affiliate links. When you shop via the links above I may make a small commission from a sale. Thanks for supporting the brands that support Style Bee! All opinions are always my own.
---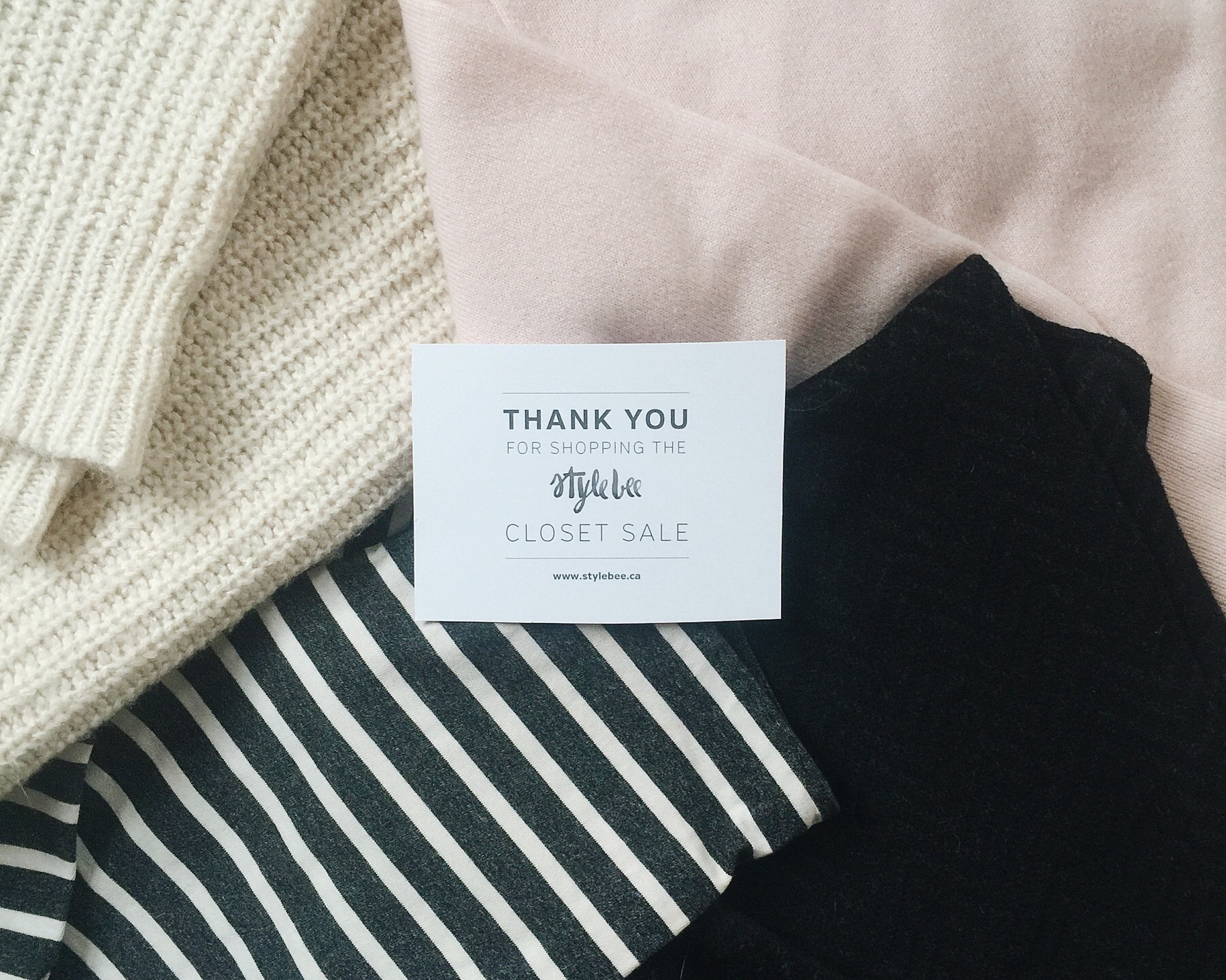 In case you missed it on Monday, the @stylebeecloset shop will be updated starting at 12 pm ET on Saturday November 12th (that's this weekend!). First come first serve! A full preview will be posted on the blog Saturday morning. There will be lots of sweaters, a few coats  and some awesome responsibly made gems up for grabs. Prices in CAD, free shipping in Canada, $20 to USA. Sorry no international shipping at this time. Additional details on Insta. 
---
**Guelph friends we'd very much appreciate if you would keep an eye out for a charcoal gray, two door, 2015 Toyota Tacoma with a black back rack attached to the cab. License is AJ31978. Email lee.vosburgh@gmail.com if you come across anything. Thanks so much!