The newsletters are zooming in, the discount codes are flying and the holiday sales hype is hurtling hard and fast towards its yearly peak and to be honest, it's a lot to take in. I haven't bought anything yet and I've been trying to keep my head on straight but it's easy to feel like your attention and your wallet are being pulled in every direction at once. Not fun, not enjoyable and not what the holidays should be about, right? So instead of freaking out, I'm pouring a glass of wine, sitting down with a piece of paper and a pen to get myself prepped for an easy shopping season that I can feel good, not frazzled, about. Sound like something you might be into? Great! Then today's post is for you as we'll be going over:
HOLIDAY SHOPPING PREP – Get your budget, shops and list all lined up so you can stick to your guns and grab some great gifts. Download the super simple worksheet!
10 RELIABLE GIFT IDEAS – I'm sharing my 10 favourite gifts to give that are easy to source responsibly online or locally for prices that won't break the bank but will definitely be a hit.
A FEW GEMS I'M HOPING TO CROSS OFF MY PERSONAL LIST
---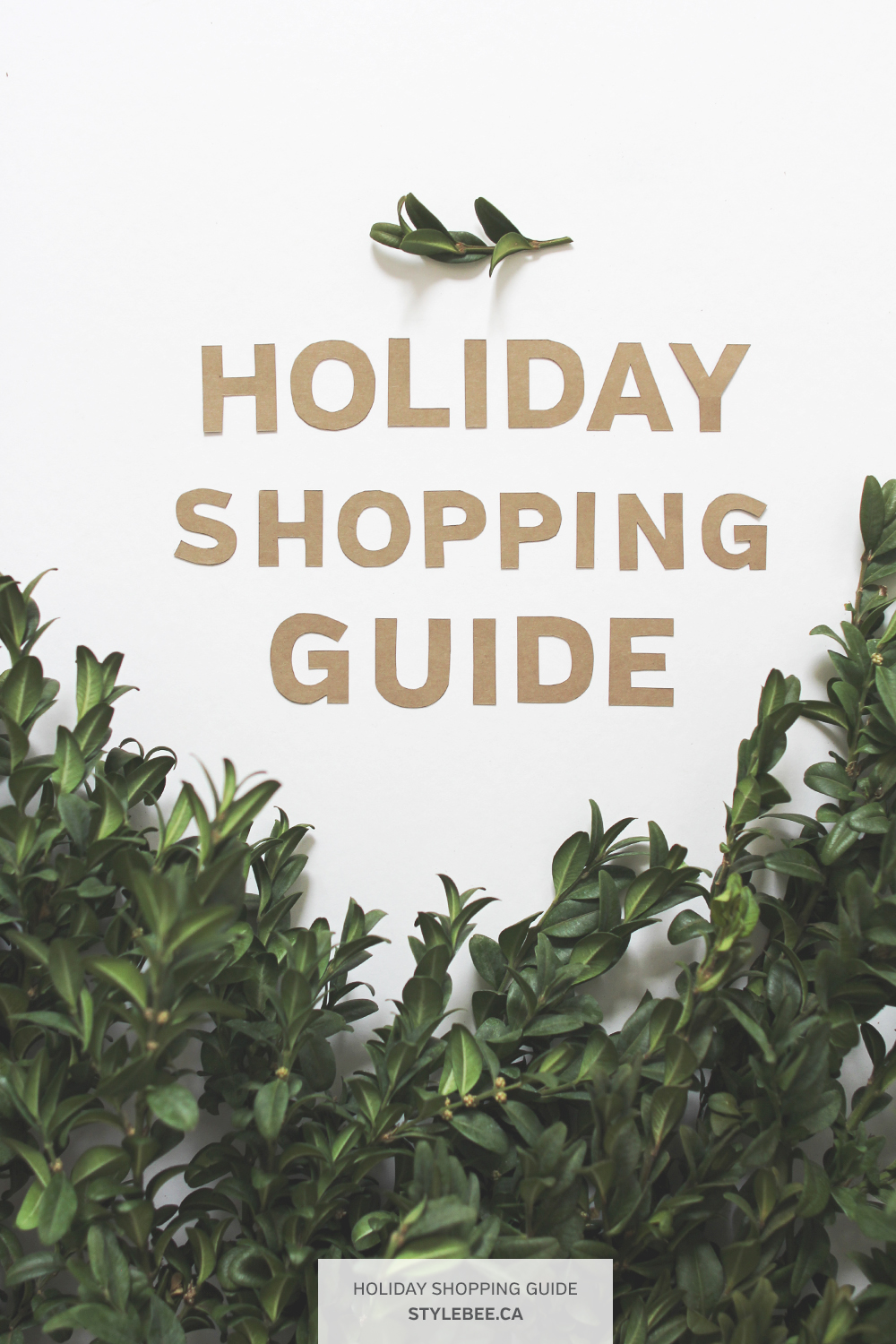 ---
HOLIDAY SHOPPING PREP
1 | TAKE A DEEP BREATH
Sure it's an exciting time of year with lots of fun events, activities and sales ahead but it's can be a hectic, often stressful time too. Start by taking a deep breath (or 10) to clear your brain of all the festive buzzings and to-dos. It's just shopping after all! Now get yourself a cup of tea (or better yet, a glass of wine), a quiet corner, a piece of paper and a pen to carry out steps 2-5 with.
2 | SET A BUDGET
I'm bad at doing this but once I force myself to do it I find I'm much better at sticking to it. Plus, I usually give myself a range so I don't feel too confined. Start by considering your holiday expenses such as: travel (flights/gas/transit/hotels), check your current credit card balance to see where you stand, try to recall what you spent last year and take it from there. I sometimes like to assign an average cost per person and then multiply that by the # of ppl on my list and adjust accordingly.
3 | JOT DOWN A FEW SHOPS YOU WANT TO TRY
It's easy to get overwhelmed with all the shopping options out there so make note a few places you've had success with before and start there. For me that's:
4 | MAKE A LIST
This is obvious but so many people ignore it and end up forgetting someone or over spending. Write down everyone you're thinking about shopping for. Hubby, Ma, Pa, In-Laws, Nephews, Nieces, Co-workers and Friends etc. Oh and don't forget yourself! Then add a gift idea for each of them and a price point. Use the HOLIDAY SHOPPING PREP worksheet that will help you keep everything together. Then all you need to do is STICK TO IT!
5 | BEWARE OF SALE GOGGLES
Making a thorough list and setting a budget are all well and good but the lure of a good Black Friday or Cyber Monday Sale is always super tempting and dangerous. FOMO takes over and it's so easy to convince yourself that you need something just because it's on sale. But if it's not already on your wishlist and/or you wouldn't buy it full-price then do you really love it? Most likely not! Skip it and move on. There will always be another, whatever it was, when the time is really right. I promise!
---
---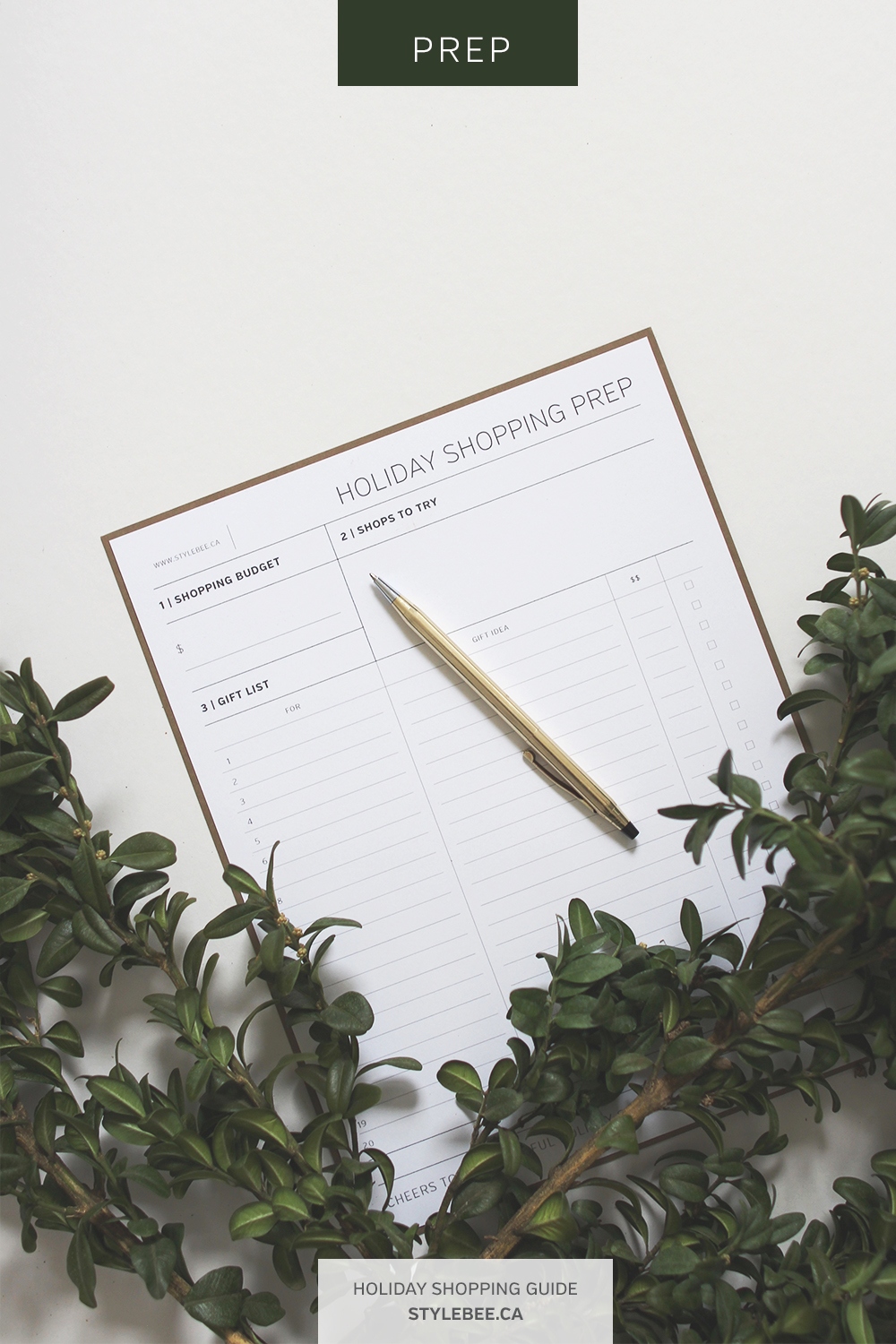 ---
10 RELIABLE GIFTS FOR ANYONE ON YOUR LIST
Now you've got a budget, you've made a list and you know where to try first but actually coming up with what to get everyone can be pretty tricky. As such, I've pulled together a list of 10 Go-To Gifts that I love to give (and get!) that are sure to trigger a few ideas for you too. I tend to steer clear of clothing, for fear of fit uncertainty and jewelry is a pretty personal choice so I save that for only my closest giftees.
All the gifts below are made responsibly, range in price from about $10 – $150 (average of about $45 USD) and are available online but these options are also easy to find locally at farmers markets, bookstores and gift shops. So definitely consider taking a morning to grab a peppermint latte and head out to shop small, if at all possible. I'll be checking off a few things this weekend for sure but I plan to do the bulk of my shopping at the ONE OF A KIND SHOW in December.
I pulled a range from all my go-to shopping haunts in both the US and Canada. Prices are in USD unless otherwise noted.
---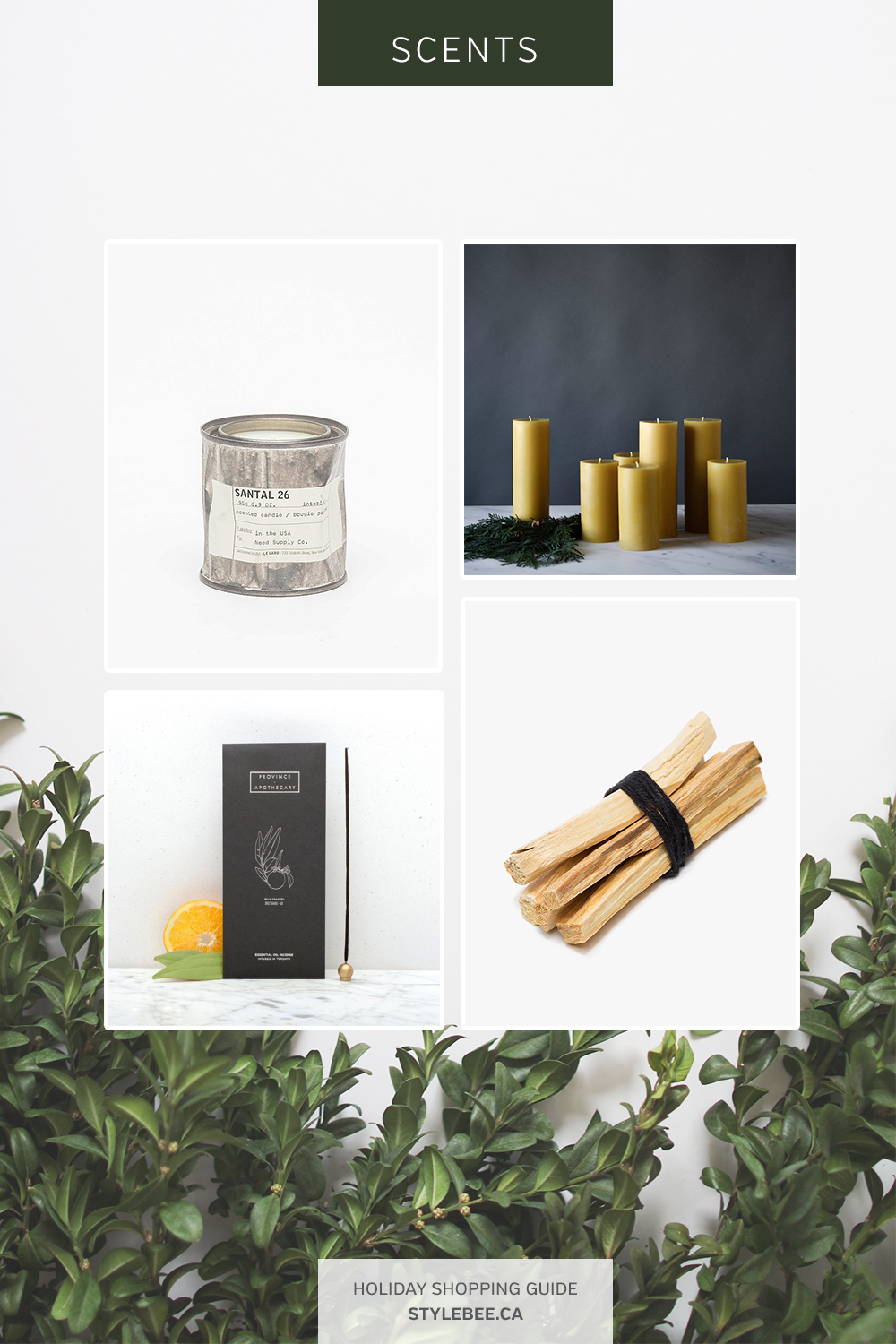 ---
1 | SCENTS
For me the holiday feeling is really inspired by the spicy smells of fresh cut wood, burning fires and made even more fabulous after a chilly walk in some fresh cold snow. I used to think candles and incense were the lamest gift ever but I'm actually totally addicted to them now that I know what's good for me. These make a great gift for literally any cool lady on your list!
1 SANTAL 26 (cult fave) $65 | 2 BEESWAX CANDLE (M.I.C) $28 CAD | 3 PALO SANTO BURNING STICKS $12 | 4 Province Apothecary INCENSE (M.I.C) $16 CAD
---

---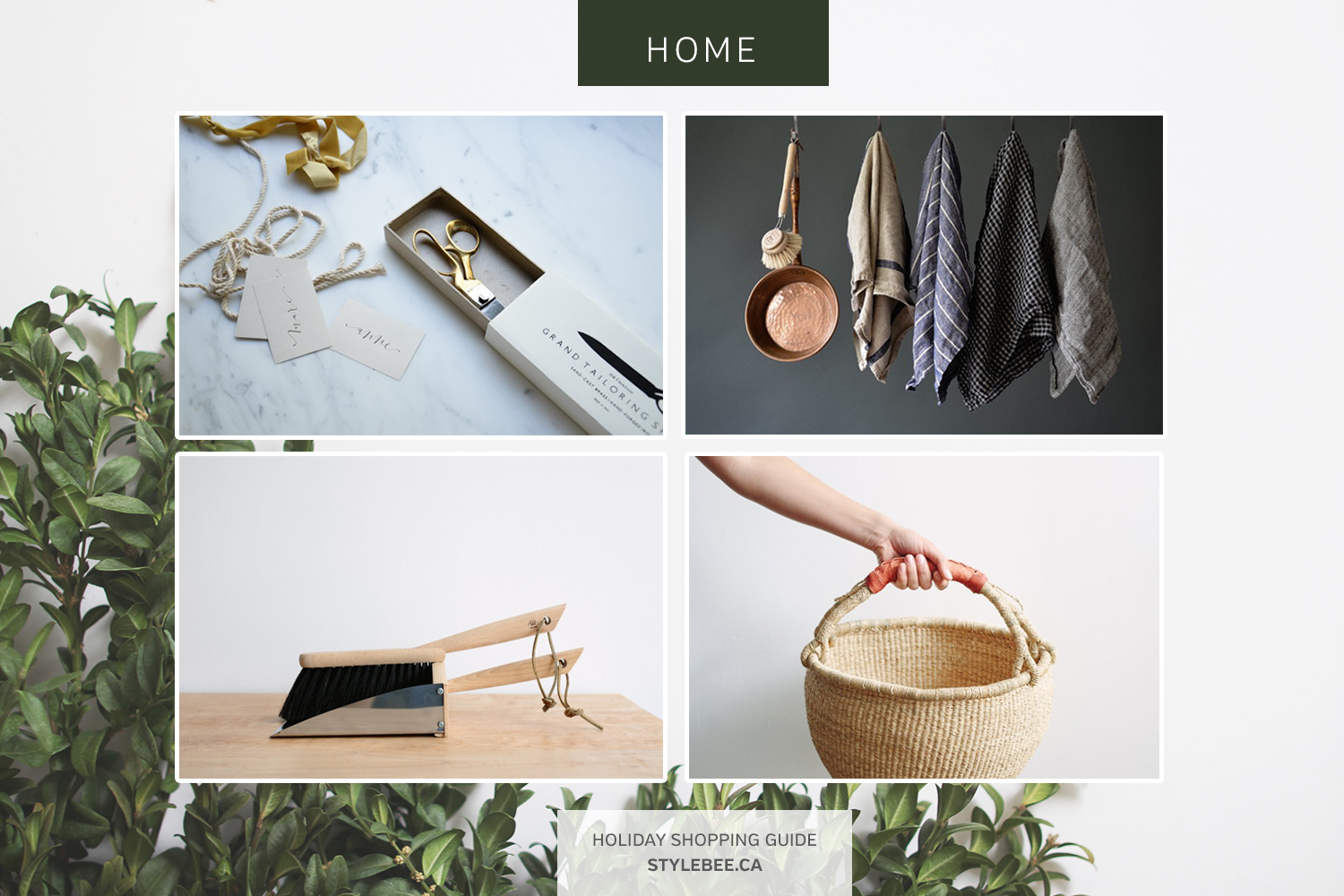 ---
2 | HOME
I love giving home goods to all the hosts and homebodies on my list. These options are from two of my all-time favourite shops in Canada, MUR Lifestyle and HOLD General. They have a gorgeous selection of really reasonable, beautifully designed, responsibly made homewares. The only trick will be to resist buying multiples for yourself (or maybe that's the best part!).
1 SCISSORS $40 CAD | 2 LINEN TOWELS $18 CAD | 3 BASKET $52 CAD| 4 BRUSH SET $85 CAD
---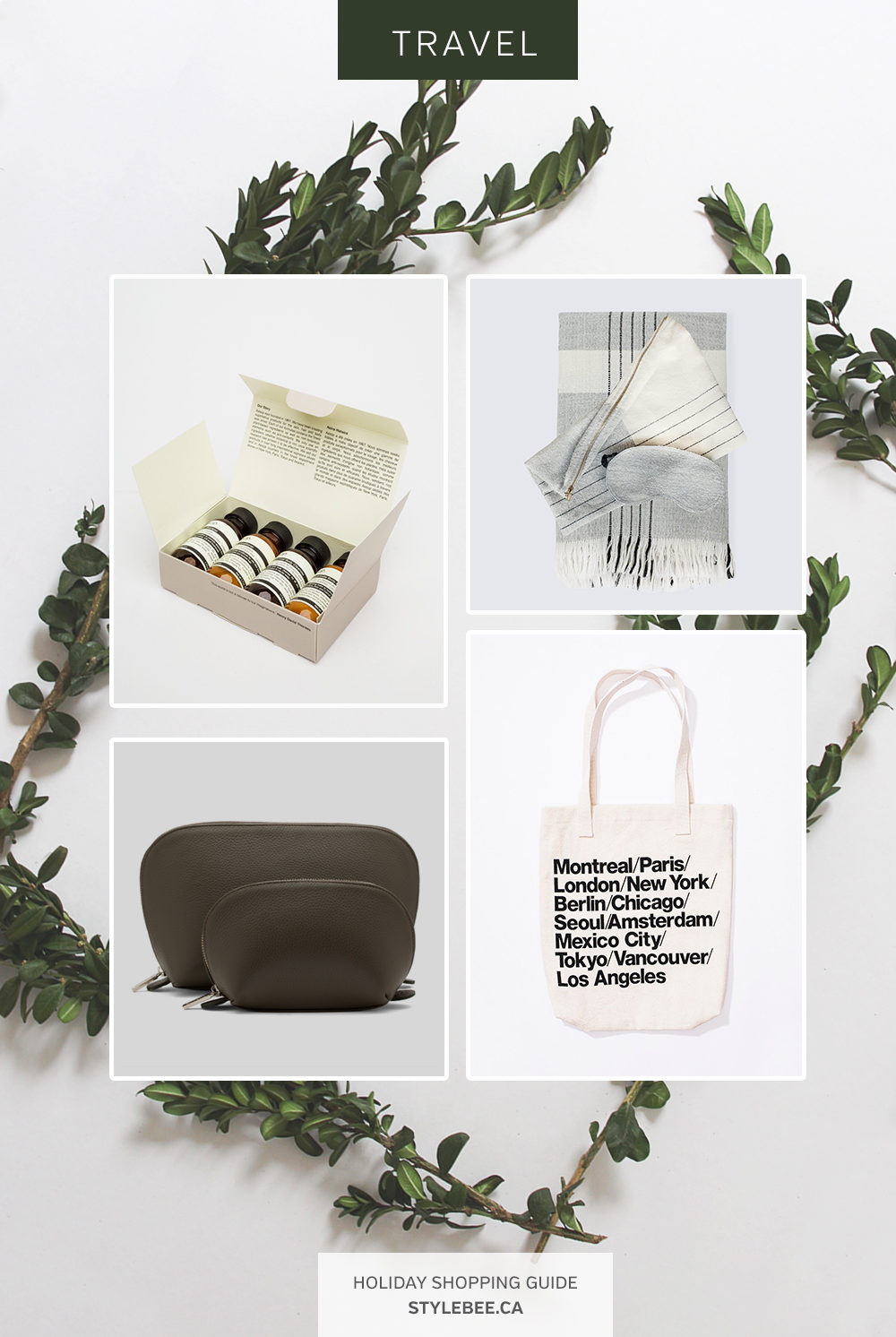 ---
3 | TRAVEL
We all have a couple jet setters on our list and even though I'm not a big fan of travel, these options definitely make it more appealing! I'm really tempted to just get that awesome tote and pretend I've been to all those places! PS. The Black version has different cities like Toronto on it!
1 JET SET $37| 2 TRAVEL SET $195 | 3 CITIES TOTE $24 | 4 TRAVEL CASE SET $110
---

---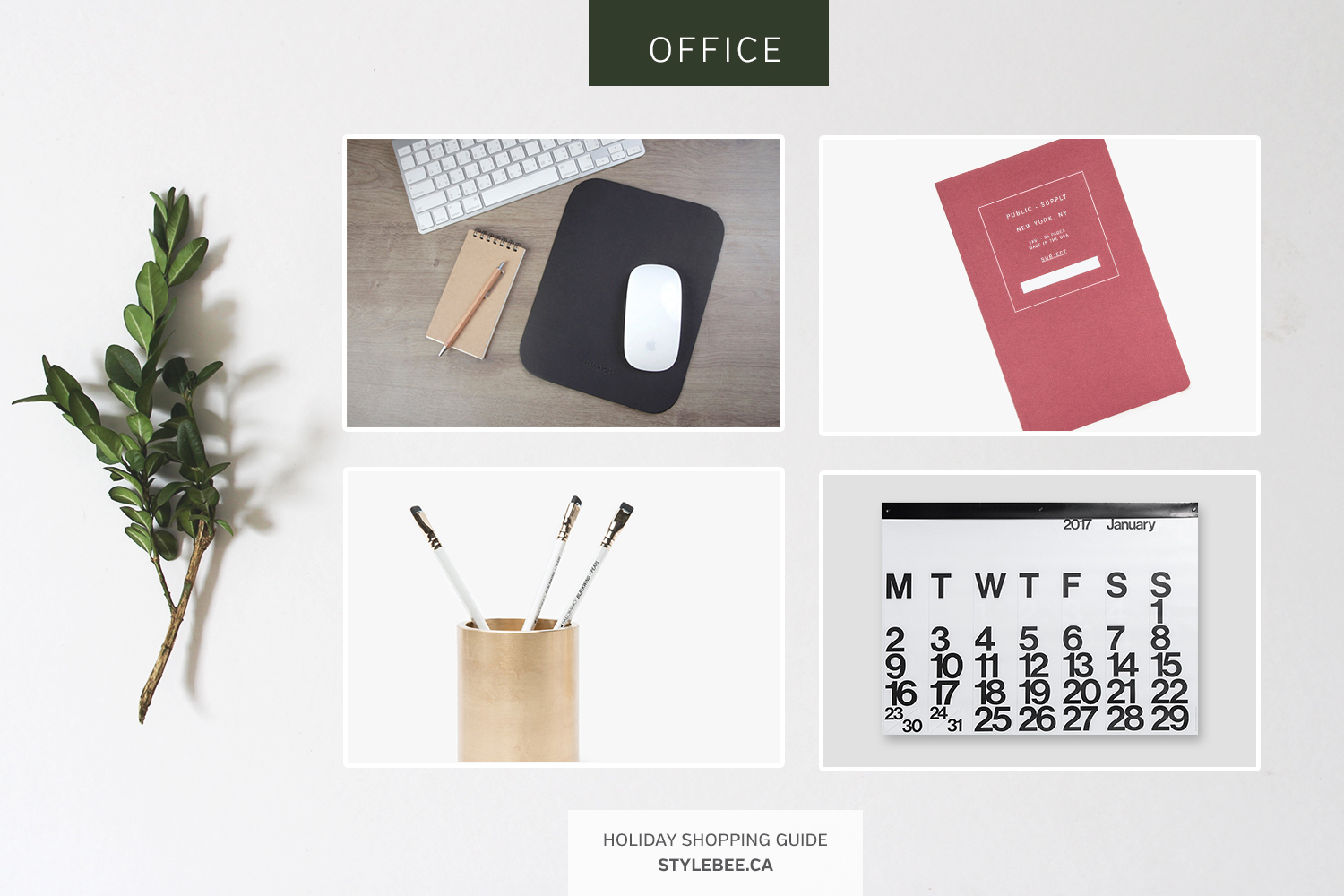 ---
4 | OFFICE
For the workaholic or just the career focused friend on your list it's fun to give them something they'll reach for everyday. I have a version of all these items and can't say I go a day without relying on one. Ps. The Stendig calendar is quite large and very popular so grab it while you can!
1 LEATHER MOUSEPAD $35 CAD | 2 NOTEBOOK $12 | 3 STENDIG CALENDAR $38 | 4 BRASS PEN HOLDER $95
---

---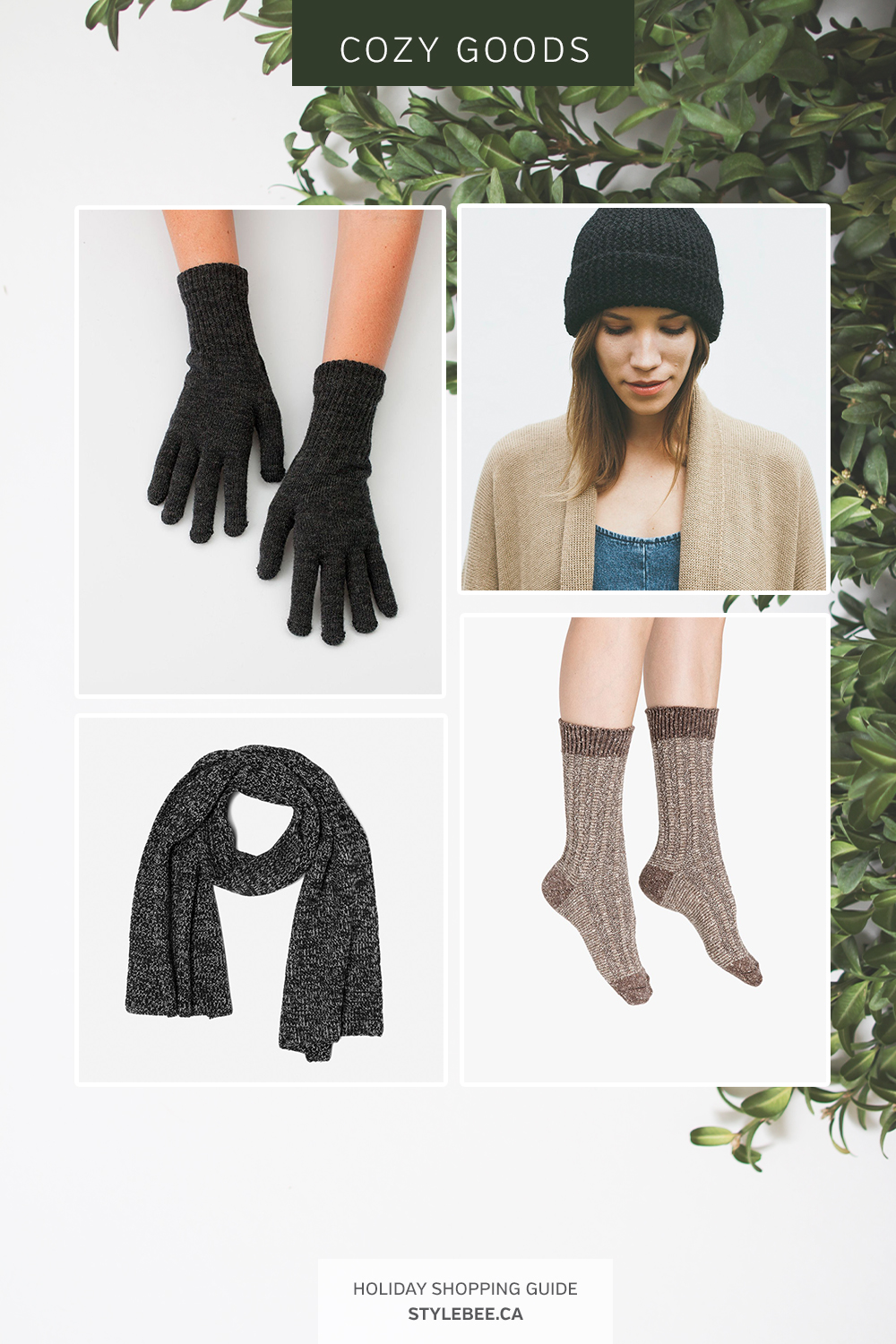 ---
5 | COZY GOODS
In Canada it's pretty rare to find a tree or stocking that doesn't have at least one of these items wrapped up and tucked under/in it. I will probably never have more gloves than I can loose and the same goes for socks and having a hat and scarf at arms reach is basically a necessity once November sneaks into sight. Give your cold weather pals some knitted goodness!
1 GLOVES $14 | 2 ALPACA BEANIE $89| 3 SOCKS $9 | 4 MARL SCARF $50
---

---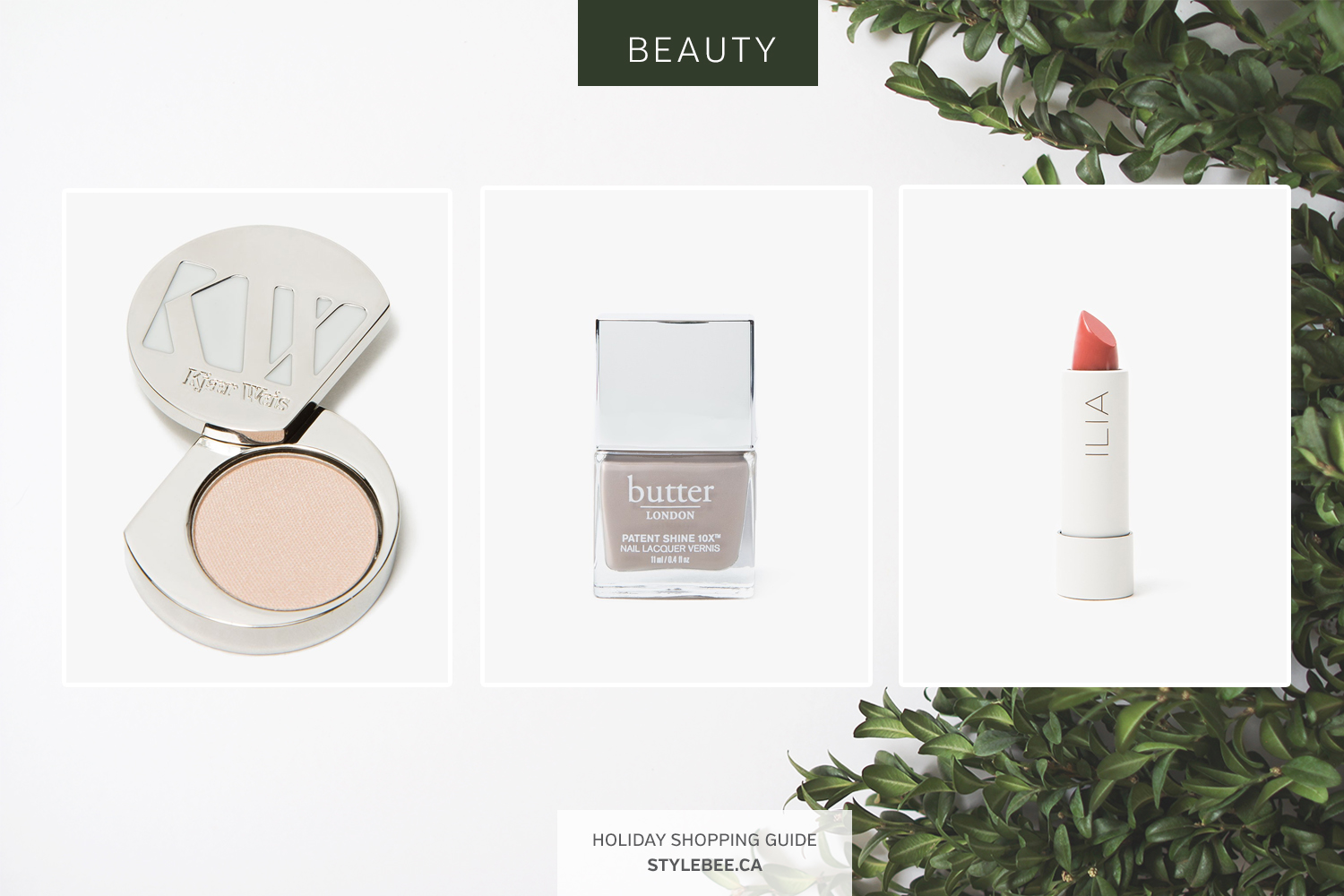 ---
6 | BEAUTY
I'm not a make-up or beauty junkie by a long shot but I know I always love to add a new palette, polish or pout to the collection! These brands are great for the chemical conscious lady on your list.
1 EYE SHADOW $45| 2 NAIL POLISH $18 | 3 LIP CONDITIONER $26
---

---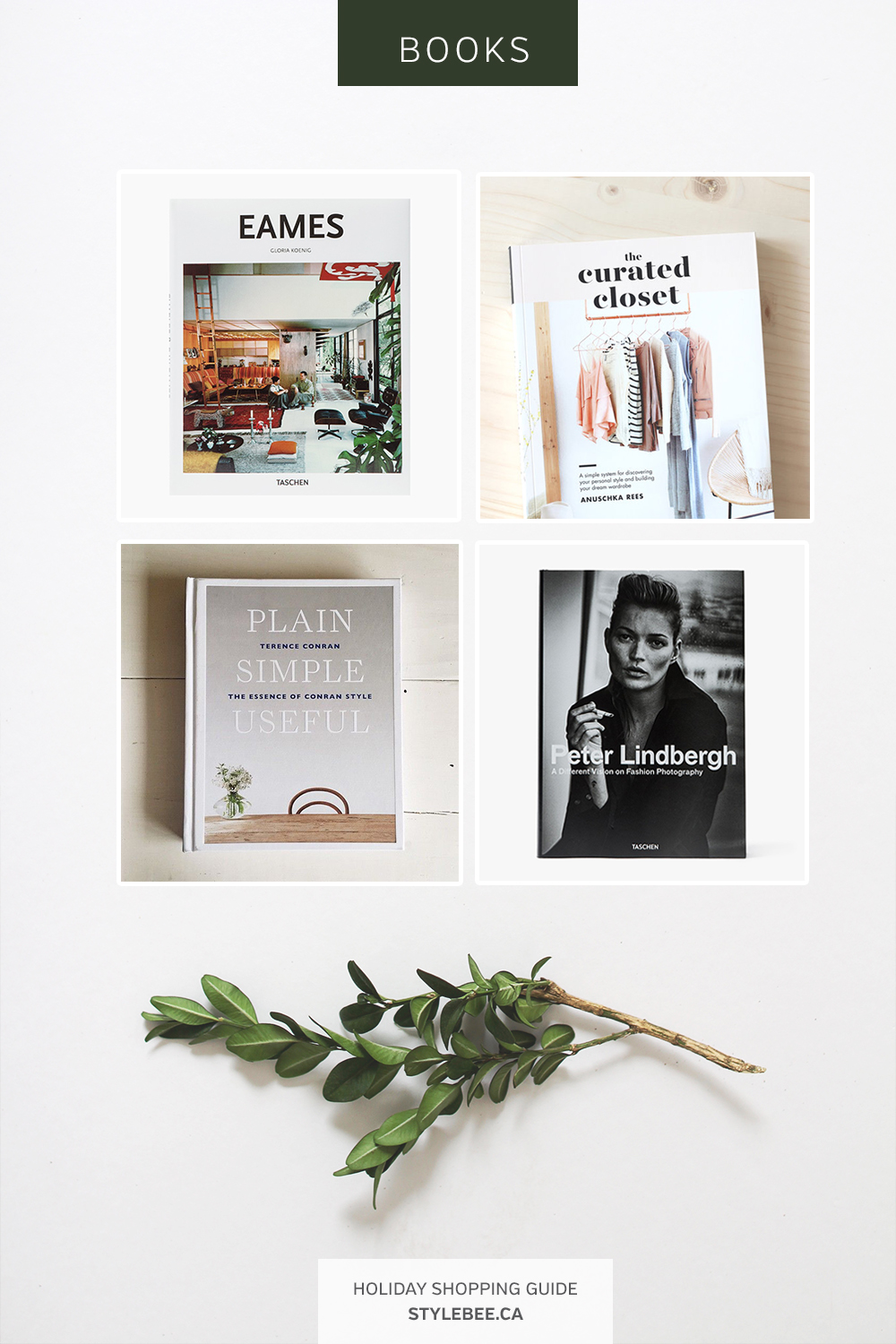 ---
7 | BOOKS
Another no-brainer gift idea, books. Whether you're shopping for the design guru, the fashion fiend, the minimalist or the artiste there is no shortage of options. Few things improve a Sunday morning like a coffee and a beautiful book.
1 EAMES $15 | 2 CURATED CLOSET $20 | 3 PETER LINDBERGH $70 | 4 PLAIN SIMPLE USEFUL $35
---

---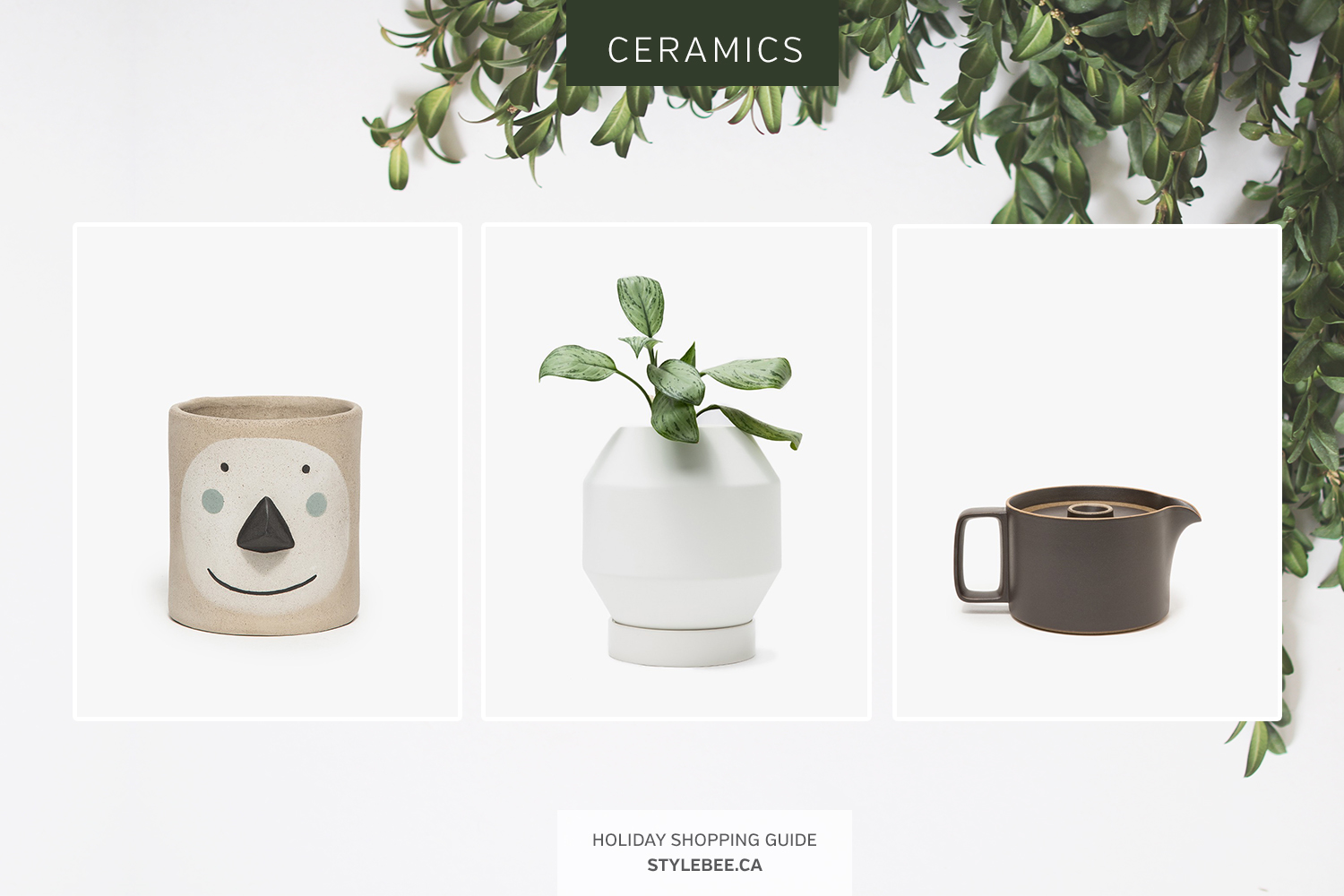 ---
8 | CERAMICS
I find ceramics are something I always seem to need at home, whether it's the right size planter, a pretty vase, a cute teapot or a proper mug. This category is vast and one of the best ones to shop small for. Hit up the flea or antique market too and I'm sure you'll find something spectacular for way less than you'll want the recipient to find out.
1 FACE PLANTER $65 | 2 MINIMAL WHITE VASE $55 | 3 TEAPOT $75
---

---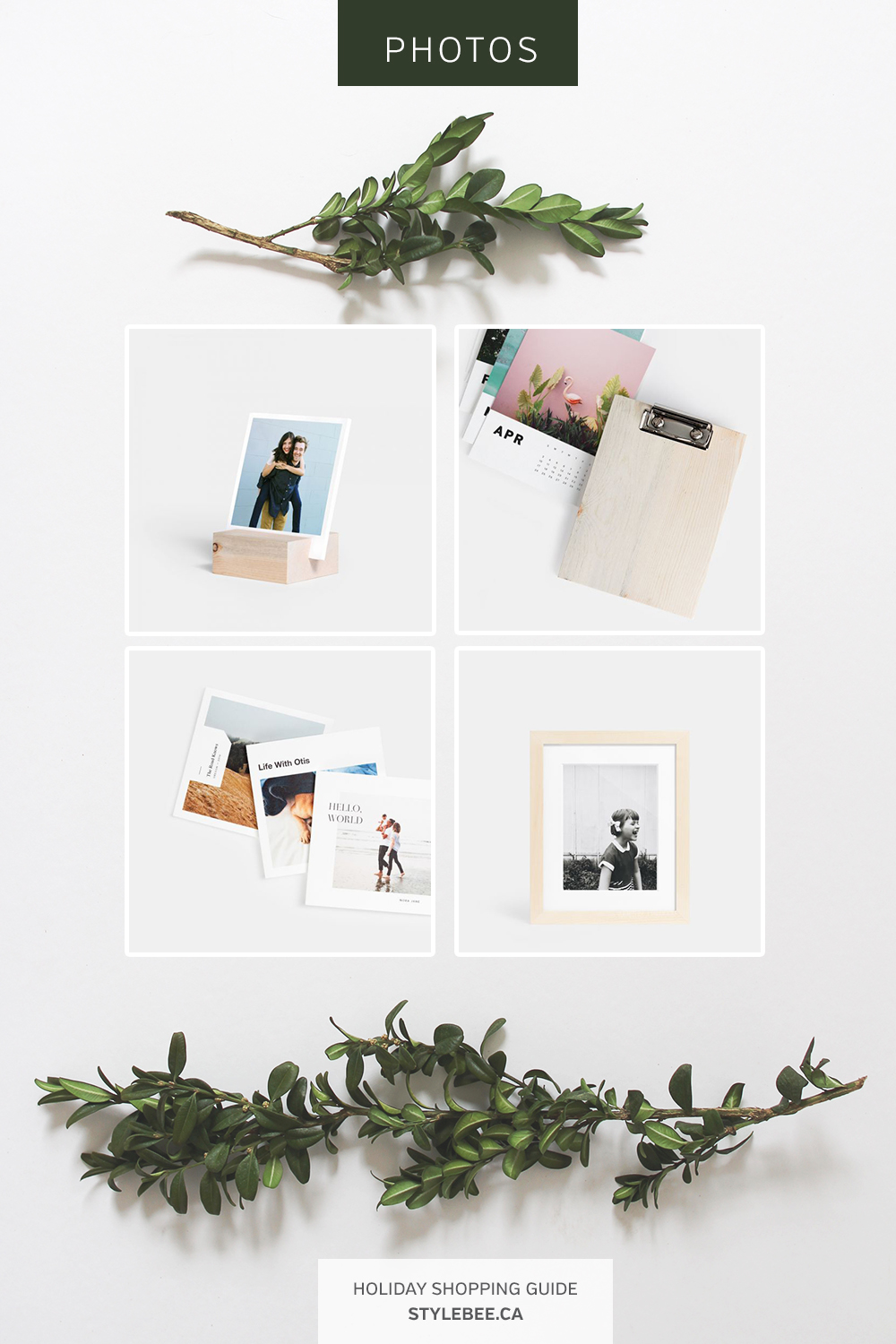 ---
9 | PHOTOS
This might be my favourite type of gift to give, photos. Whether it's a print set for their desk, a cool customized calendar, a photo-book or just a beautifully framed shot there's not a lot that can go wrong. Artifact Uprising is my personal favourite option for photo printed goods. They do a gorgeous job producing everything in the US, the design options are all lovely and elegant, they print on recycled stock and the cost is completely worth the exchange rate. I've created great gifts from all the options above and they were very well received.
1 SQUARE PRINTS $25 | 2 CALENDAR $30 | 3 PHOTOBOOK $18 | 4 INSTA PRINTS FRAMED $65
---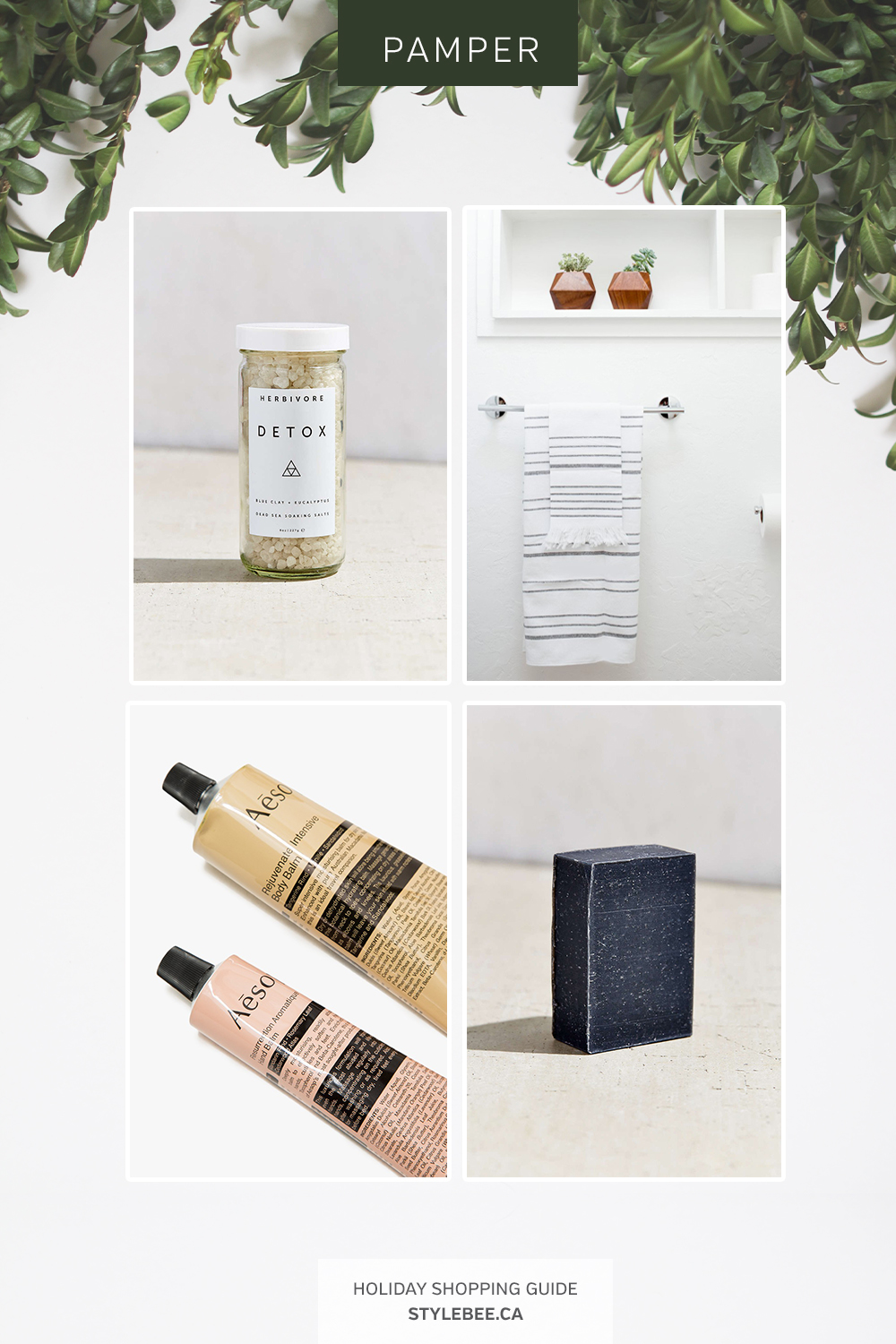 ---
10 | PAMPER
For the friend, office pal or family member that works their tail off and deserves a good pamper sesh, these are some great options. This is a perfect opportunity to pull together a little kit, pair it will a bottle of red or a loofa and give them no excuse but to take a night off.
1 BATH SOAK $18 | 2 PRETTY TOWELS $18 | 3 ANYTHING AESOP | 4 CHARCOAL SOAP BAR $12
---

---
DOWNLOAD THE HOLIDAY SHOPPING PREP SHEET
---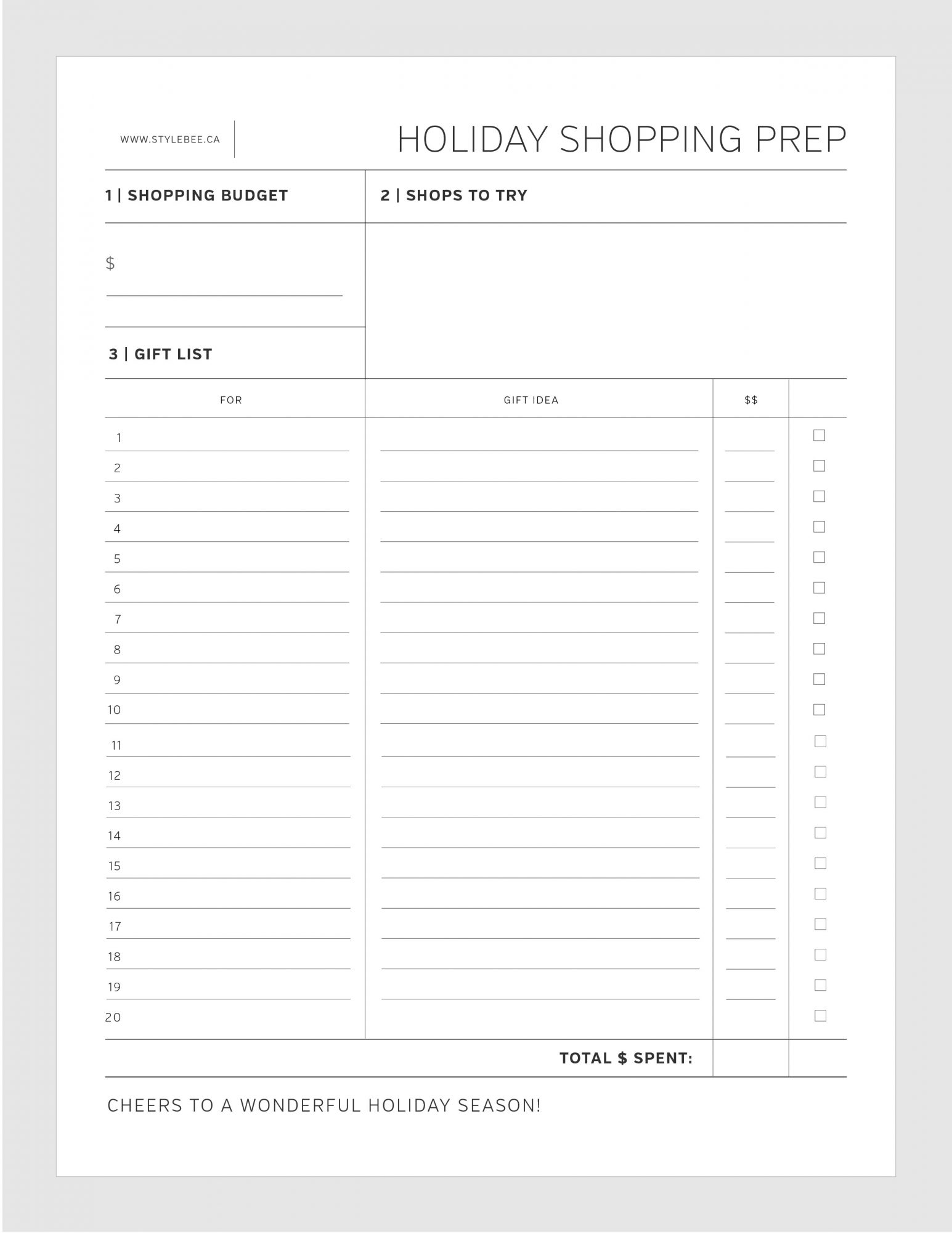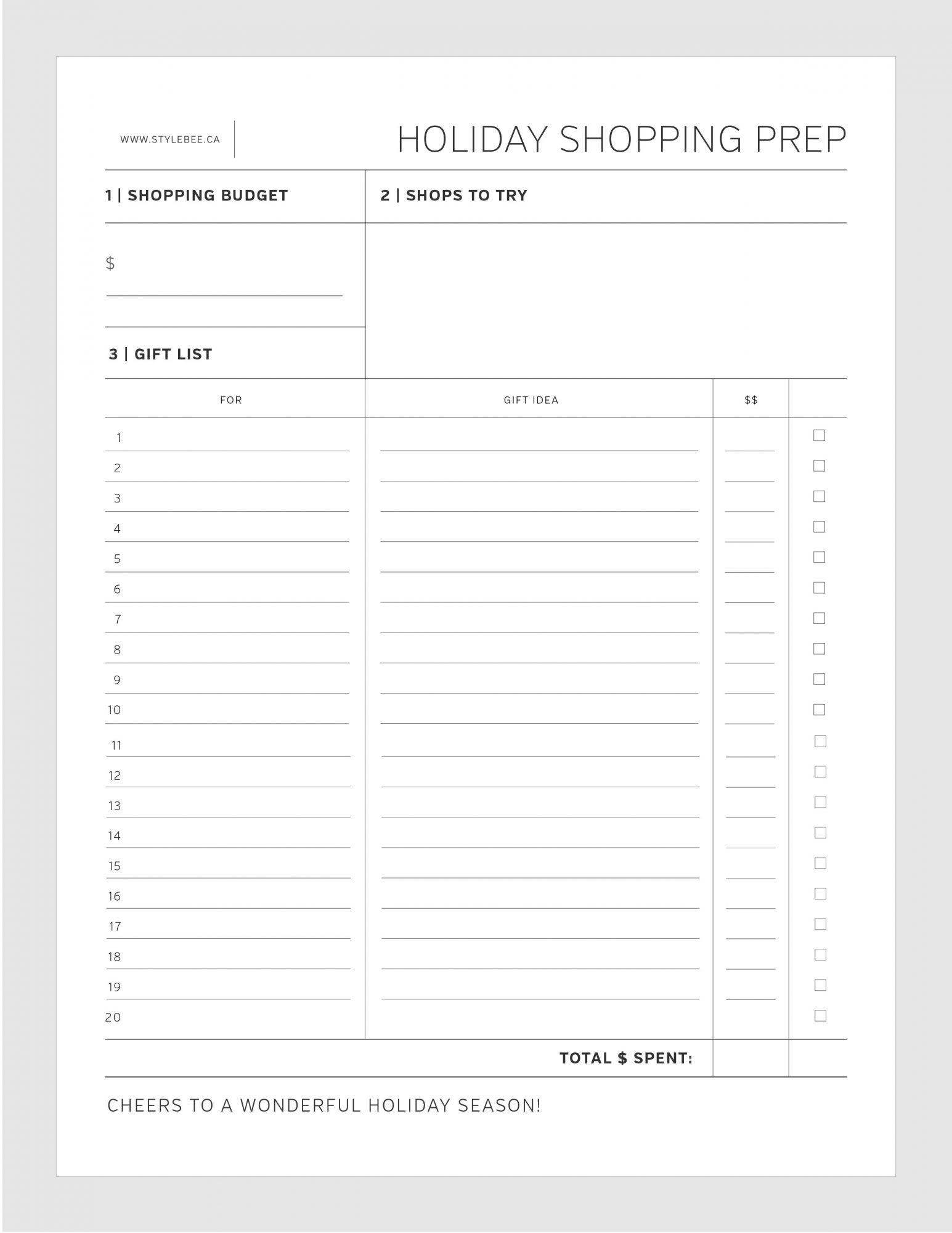 ---
WHAT AM I HOPING TO SNAG THIS WEEKEND?
---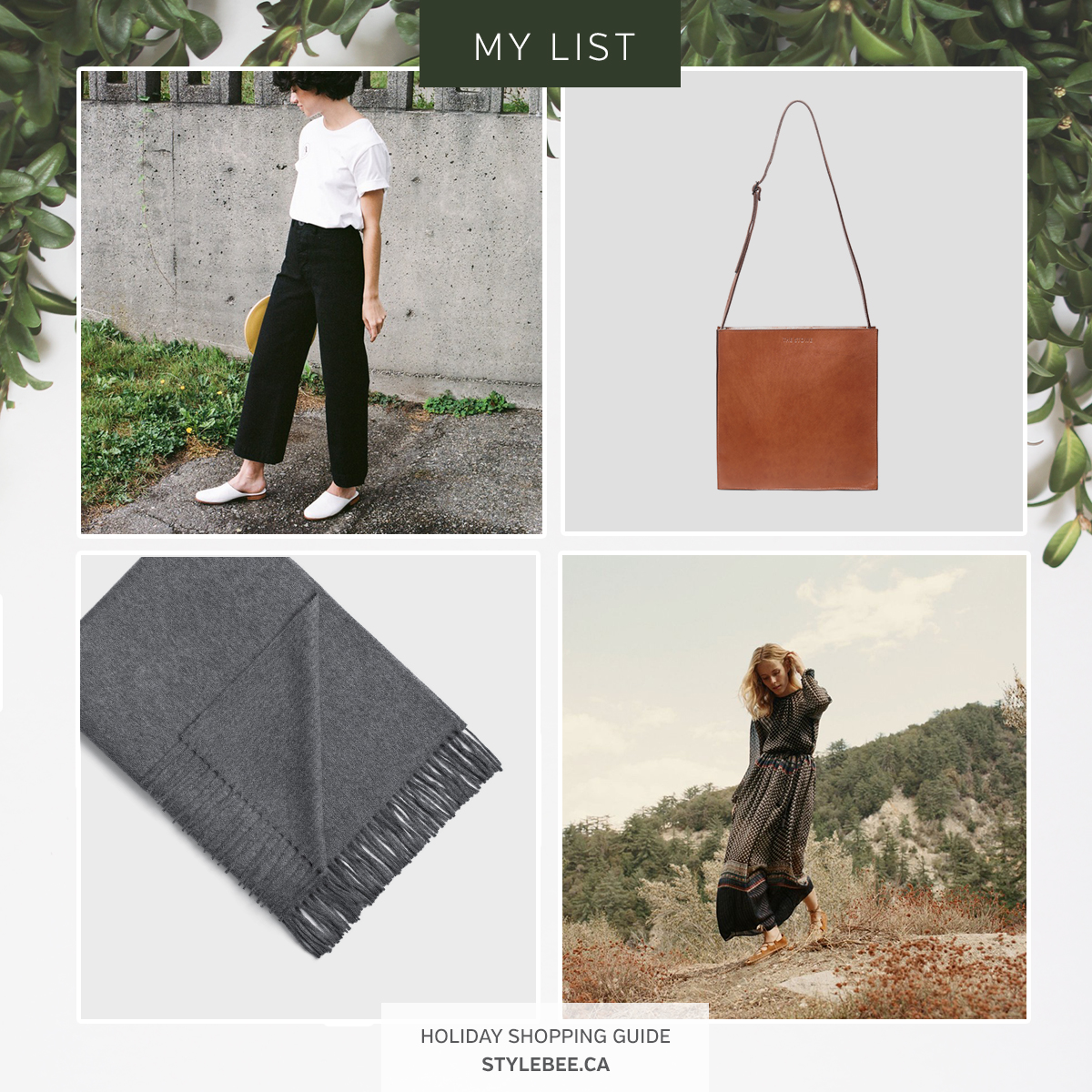 ---
Well since you asked 😉
I've been holding out for a second pair of Kamm Pants (in black) and I have it on good authority that One of A Few is offering 20% Off. So yeah, they're already in my cart. Use code GOODVIBES!
I've also been holding my breath for something pretty from DÔEN, I literally want all of the things, but this dress would make my New Years Eve 1000 times more chic (not to mention the multitude of other times I'll wear it).
I must also admit that my eyes have been stuck on the Canada Scarf by Acne Studios for months now and my heart beats faster when this bag by The Stowe comes into sight.
Of course, I won't be able to pull the trigger on them all so time will tell who comes home!
---
So tell me! What are a few things on your list?
I'd love to know what you're eying for both you and for your lucky giftees?
Where do you shop for the holidays?
Happy (responsible) shopping everyone!
---
This post is not sponsored but contains affiliate links. When you shop via the links above I may make a small commission from a sale. All opinions are my own. Thanks for supporting the brands that support Style Bee!