I hope everyone has had a good week! If not, well, at least it's Friday right? I had a pretty good one as it turns out. Work was under control, I got a few more things organized for the wedding (thanks for all your input!), went to a fun little event at Kennedy Park (a super cute Guelph boutique) featuring the amazing work of ATTIC (who designed my engagement ring), plus lots of the goodies and gifts I picked up on Black Friday have started to arrive. So certainly no complaints here!
Since we're on the topic of new goodies, you'll probably notice that most of this outfit is indeed new. I decided to strike while the sales were hot and treated myself to a couple of gems that I'd been coveting for a while.
So what do you say we take a closer look?
---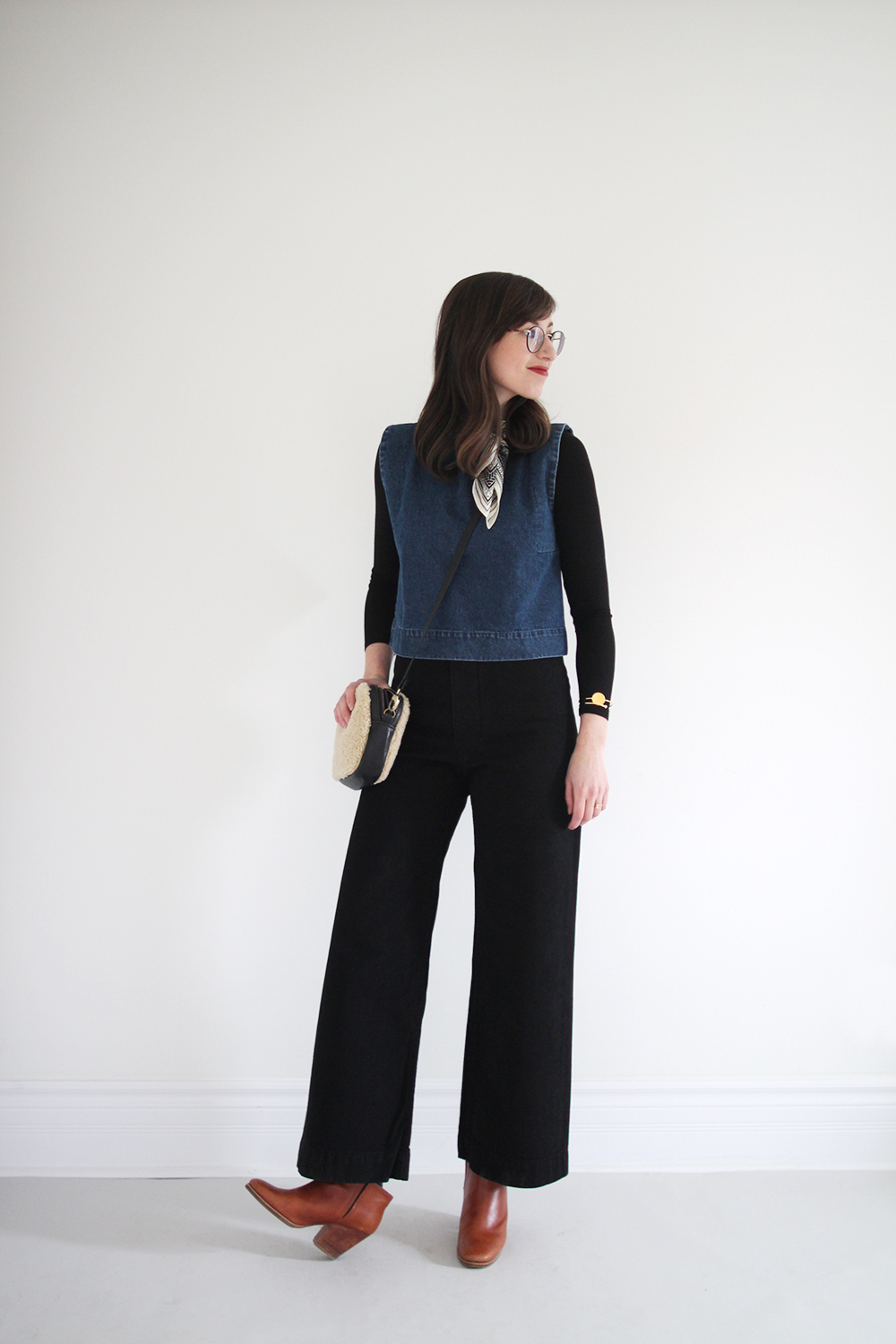 ---
INITIAL THOUGHTS
A little quirky, check. A lot of black, check. A few fun details, check. Finding my true style stride, double check!
Lately, a good indication of a great outfit, for me, is when I feel 90% at ease and 10% eccentric. I'm trying to keep that in mind when I get dressed these days and not shy away from details or shapes that might be a little unexpected or even odd. I'm also trying to trust my instincts a little more and not always search for reason or purpose in every aspect of an outfit. Sometimes a fun scarf is just that!
Sure this look isn't going to be for everyone, but that's ok. Personal style isn't about appealing to everyone it's about what makes you feel like your best self at that moment. Once you nail that down you'll care a whole lot less about what others think and that's when it starts getting really fun.
I'm realizing that this sense of style irreverence comes with age and exerience just as self-awareness and self-respect seem to as well. I just keep coming back to the original Style Bee mantra, 'The better we know ourselves, the better our choices will be.' and can see how applicable this is to so many facets of life.
Anyone else find that too?
---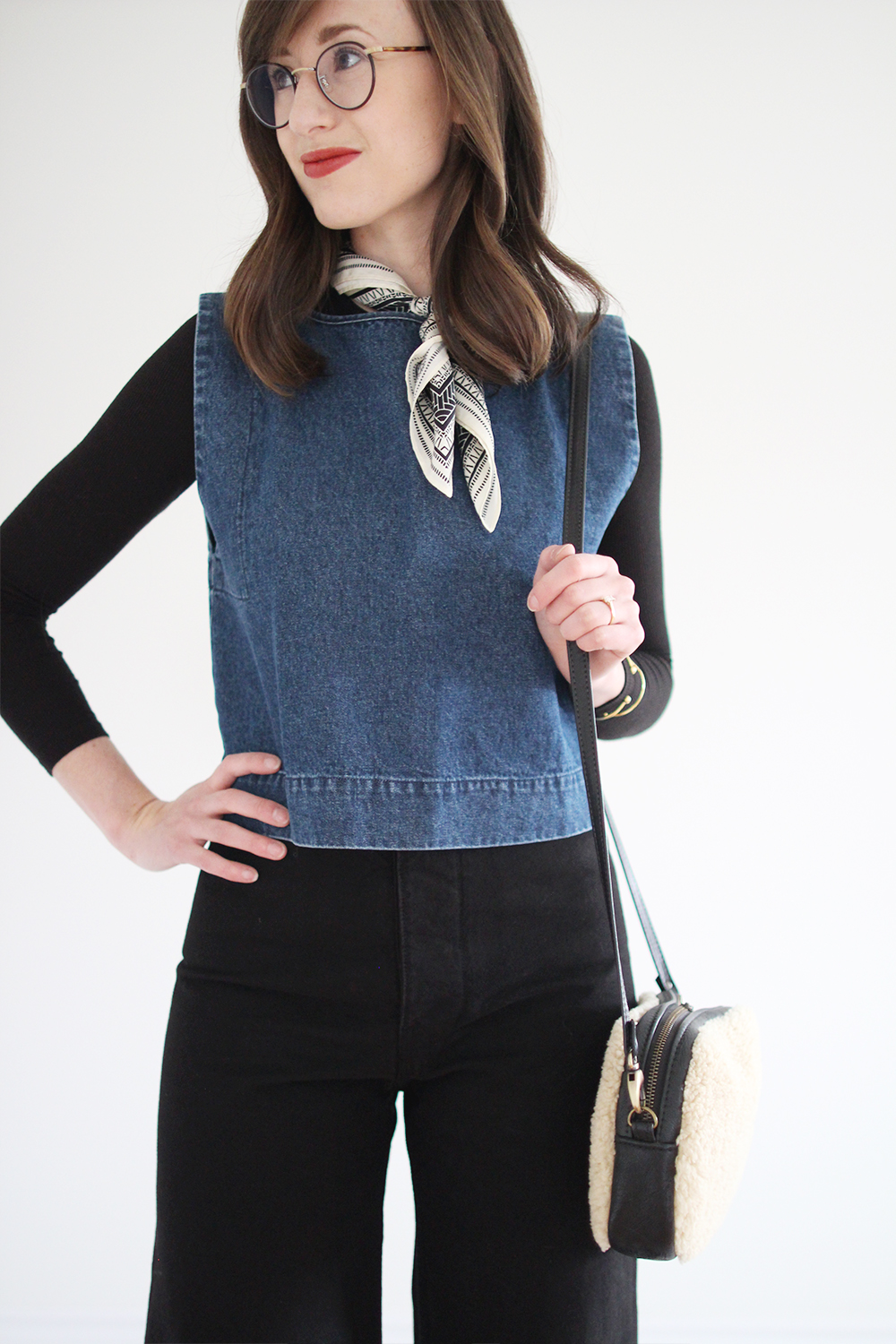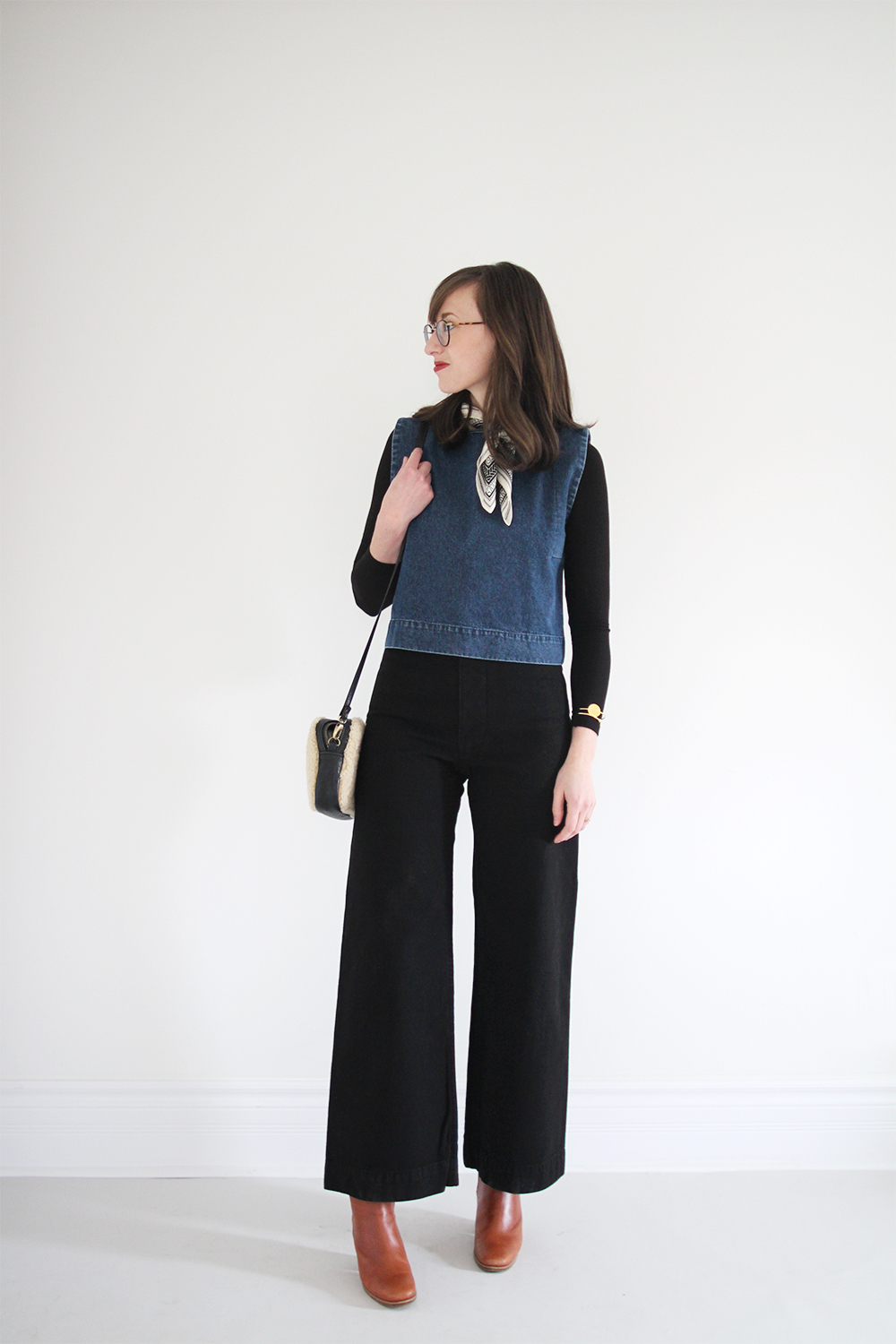 ---
STYLE + FIT DETAILS
So let's talk a bit about this outfit and a few of the elements that make it work.
| FIT FINESSE | At first glance you might say that this look is a bit on the boxy side. Wide-leg pants, loose fitting crop top, heavy-weight fabrics, you see what I mean. But then there a couple hits of very fitted elements too. The sleeves on this bodysuit are snug and the waist and hips on the pants are also quite slim fitting. I think the contrast of these elements ends up creating a very flattering result that's not overtly tight or loose and I'm liking the subtle balance that's been struck.
Takeaway: Oversize done thoughtfully, need not mean shapeless.
| PALETTE REPEAT | This is not the first, second, third or even fourth time I've worn this colour palette this season. It's safe to say it's my go-to at this point because I just keep ending up in it! It works like this:
A black base on top and bottom.
A layer of denim to add a cool, casual vibe.
Then adding a few hits of lighter neutrals (like my silk scarf, goatskin bag and brown boots) to soften the edges and keep it from feeling harsh.
If you haven't already, I urge you to give it a try! It's my failsafe Winter colour formula that you can see in action again here and here in recent posts and a light base version here.
Takeaway: Colour can be a uniform too. 
| CAREFUL QUIRK | I must apologize for the overuse of the word 'quirk' in today's post but this look seems to have a healthy dose of it. Maybe I'm still getting used to seeing myself in my new glasses (more on the four-eyed life another day) or it's the addition of the scarf but I'm loving the whimsical feel this outfit has in a way that's still elegant and unfussy.
I'm also totally obsessed with the cut of this crop top (a Black Friday steal) and how the shoulders sit up ever so slightly. The square tonal stitching around the arms is another contemporary touch I love.
Ilana Kohn is the queen of cool quirkiness (that's 4 if you're counting!) and I love how the designer employs unexpected shapes and silhouettes to make her pieces stand out with the subtle sophistication of clean lines and sharp fabric choices.
Takeaway: Simplicity can make just as much of an impact as colour, shape or pattern.
Continued below >
---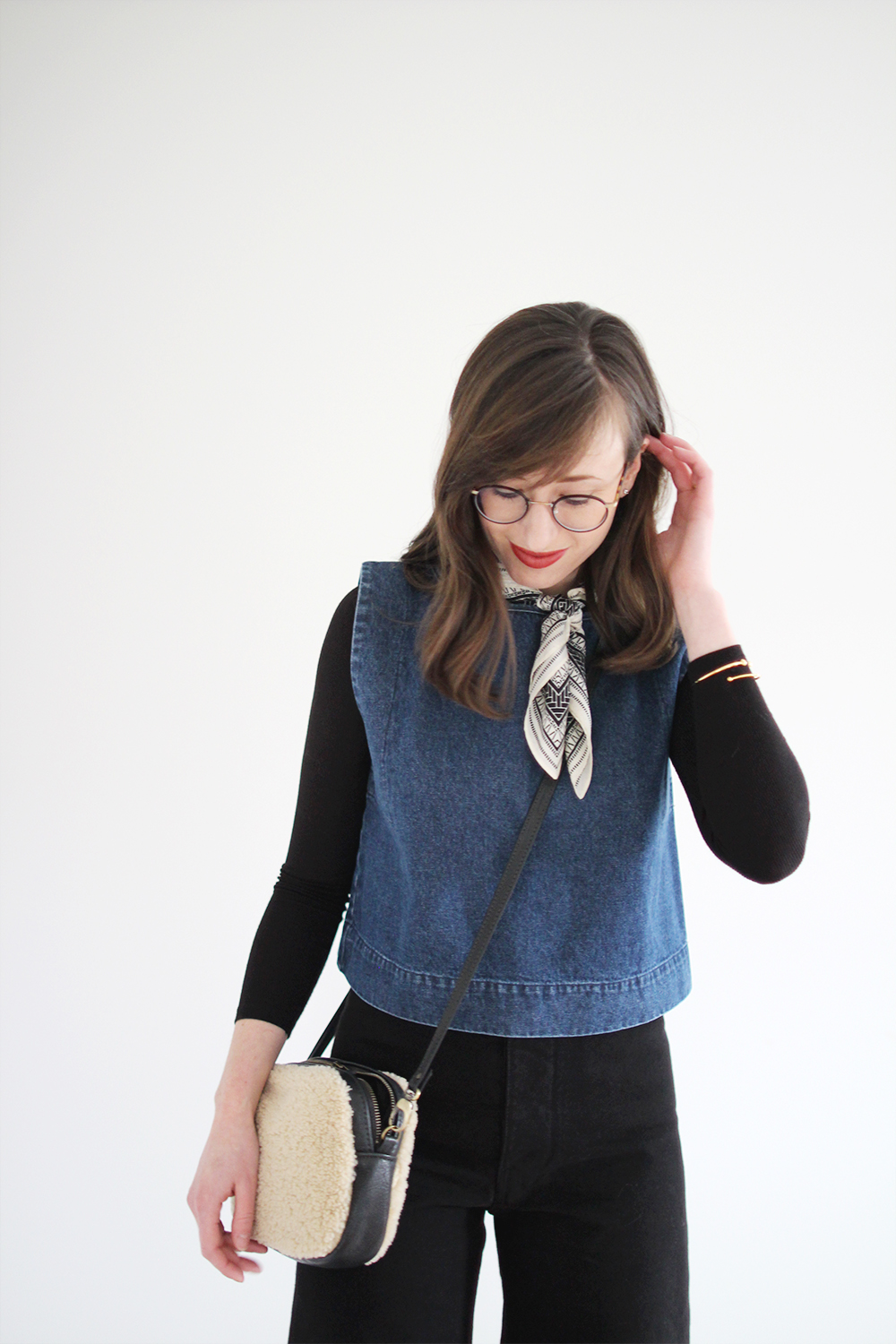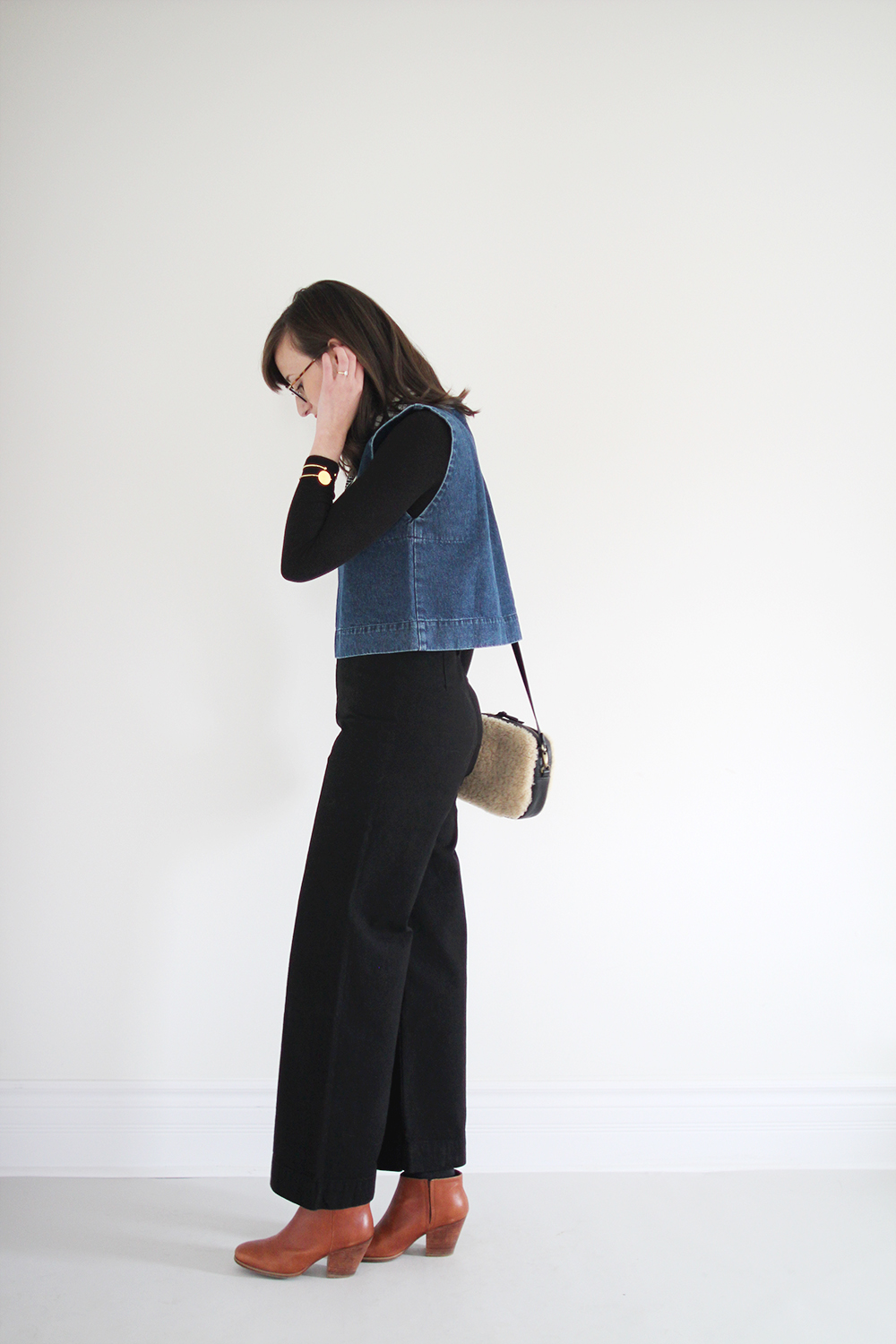 ---
STYLE + FIT DETAILS CONTINUED
| KAMM PANT 2.0 | As you probably know, I'm obsessed with Jesse Kamm and her cult favourite Sailor Pant. I have this same pair in salt white and I'd been pining for a black pair. When I found them at 30% OFF via Frances May on Black Friday (thanks to a great tip from a reader!) I jumped at the opportunity and nabbed them.
Now I didn't think it was possible but I love these even more than my first pair! I could be mistaken but I'm 99% sure they've changed the cotton canvas and the new one is SO GOOD. It's 100% fine cotton canvas now whereas before it was listed as 100% Japanese cotton canvas and if there's a difference I totally feel it. They're still that sturdy slightly stiff cotton we know and love but feel a lot softer and the fit has been adjusted ever so slightly too. I ordered the size 4 (equivalent to a S) and they fit allllmost perfect but I still need the waist taken in slightly.
If you've been considering a pair of Kamm Pants all I can tell you is that they just keep getting better!
| BODYSUIT CENTRAL | I've been very slowly building up my bodysuit collection and the more I wear them the more I wonder why I have any other type of fitted top. This one is from American Apparel but I made some significant alterations. I had my tailor sew up the open back and I sewed in a few clasps at the bottom so it's easy to get on a off. Now it's the perfect base layer!
I'm constantly on the lookout for good quality, thong back bodysuits that are bra friendly and made responsibly, which seems to be a seriously tall order but at least I've got one for now!
If you have a good bodysuit source, hook a sister up!
Last item of note: I forgot to grab a shot of this look with a coat on but I'd toss either my black overcoat or my black cocoon coat on before heading out the door in this one.
---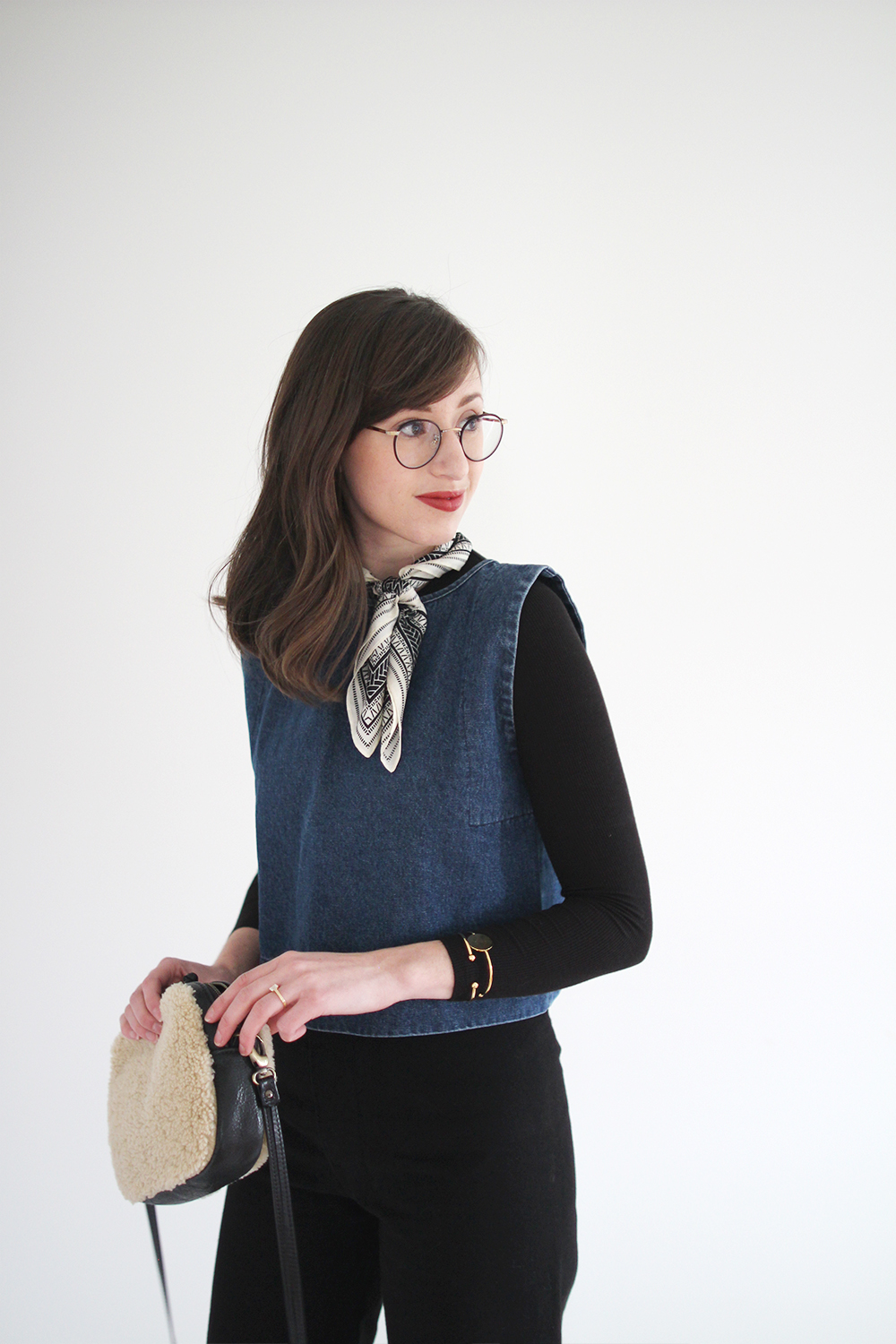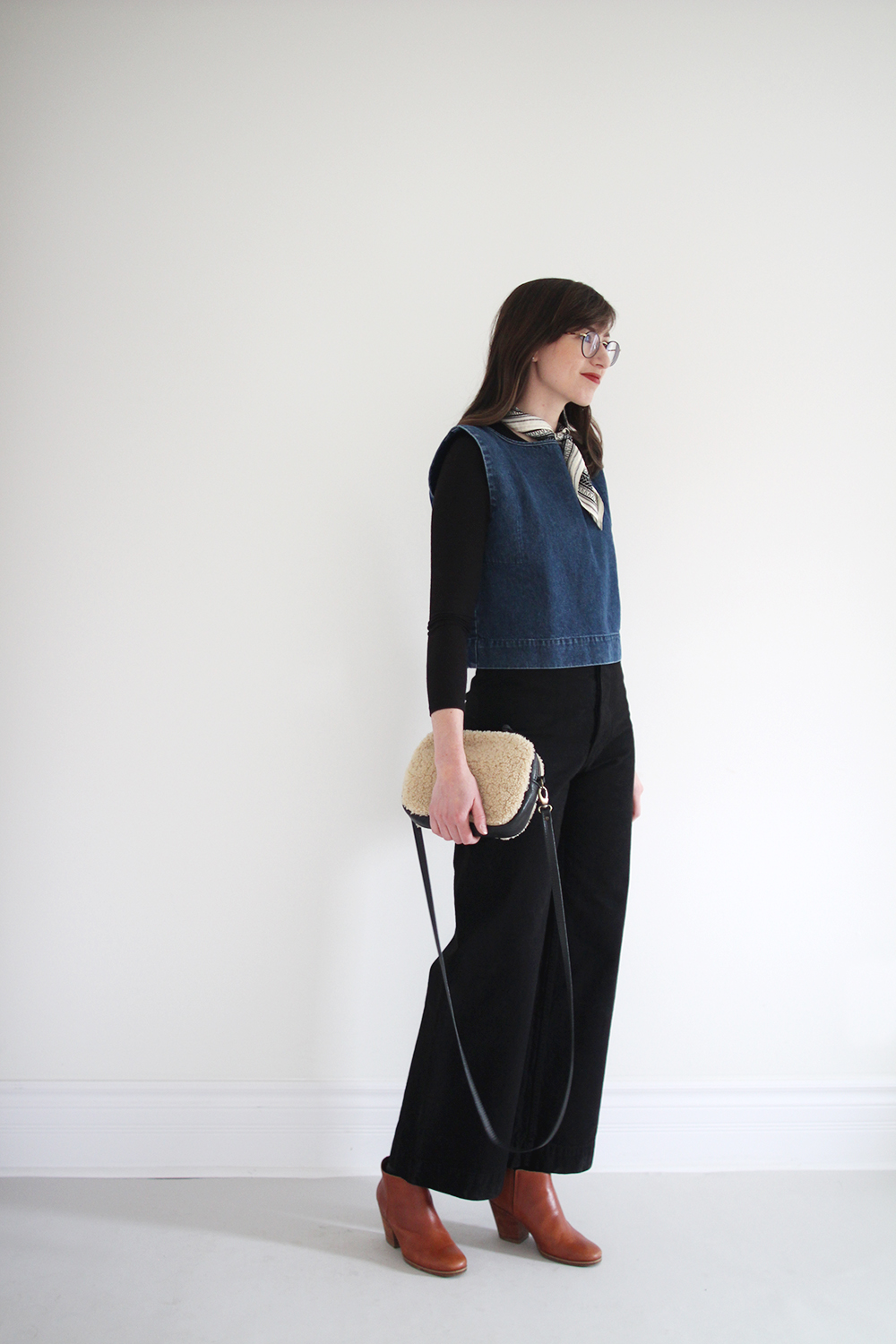 ---
Now I'll pass it back to you!
Have you noticed your style confidence improving with age?
Do you have any colour palettes you've been wearing a lot this season?
How do you like to balance your looks when there are oversize elements?
---

---
---
This post is not sponsored but contains affiliate links. When you shop via the links above I may make a small commission from a sale. Thanks for supporting the brands that support Style Bee! All opinions are always my own.