First of all, can I just say how thrilled we are that so many of you have decided to join Caroline, of UnFancy, and I for this #Winter10x10 Challenge! We're totally blown away by this community and it's been such a treat to see your outfits and read your thoughts on style so far. Keep up the great work!
If you didn't or couldn't join in this time that's totally okay! There will be more challenges in the future and you can always do one on your own time if that works better.
But right now it's outfit time! I must admit I really missed sharing looks during my two-week winter break. It's especially nice to be back with one that I've never worn before but that still feels so in line with my usual go-to style. So let's have a look shall we?
Similar to the last challenge I'll be breaking the outfits down the following way:
Initial Thoughts – My immediate reaction to the outfit, how I feel wearing it and what stands out (good or bad).
Style + Fit Details – A few unique elements that I considered when putting the look together.
Outside – I'll also be sharing a short note about what I'm adding to make the look cold weather ready!
---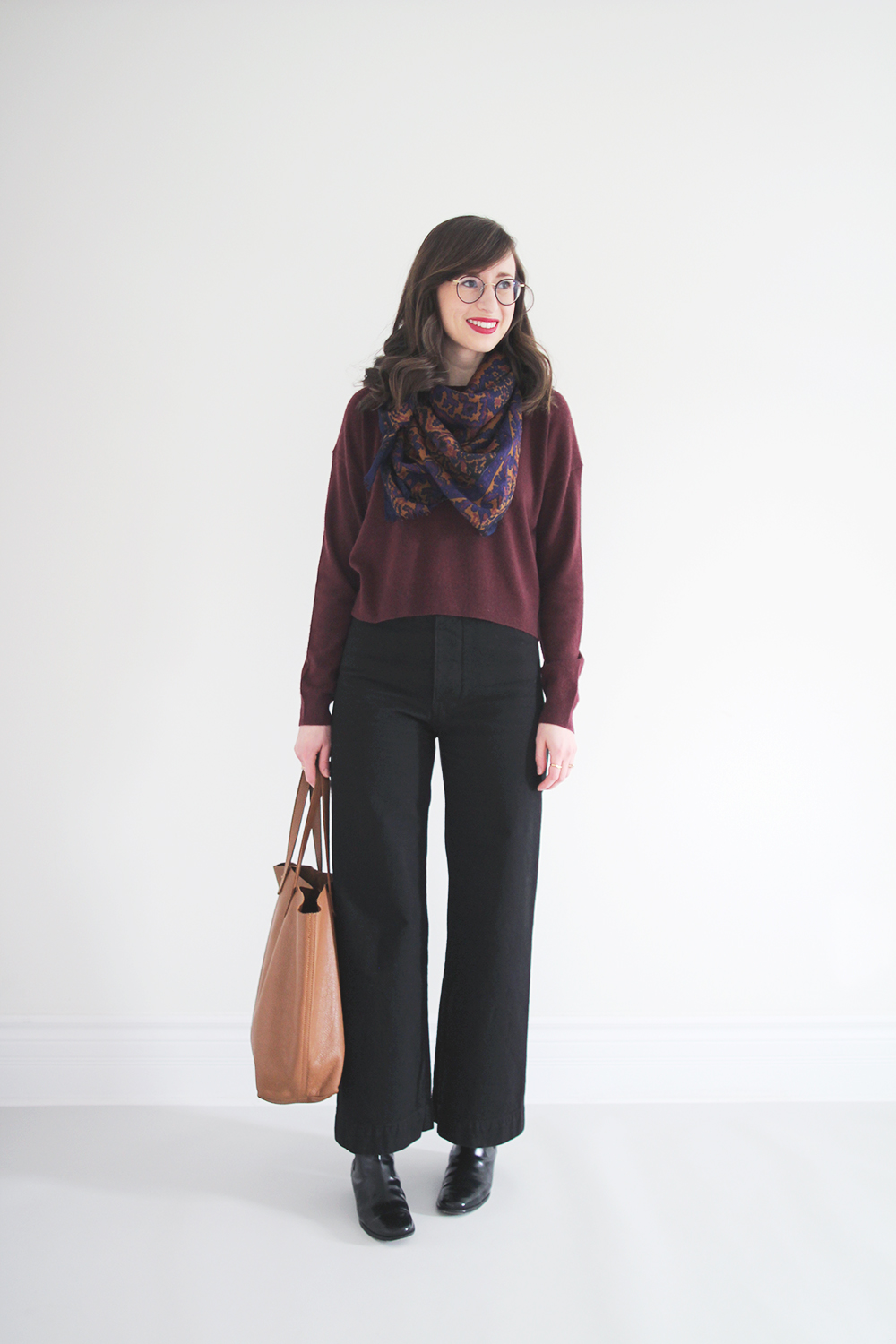 ---
INITIAL THOUGHTS
Right away I'm at ease in this one. Sure it's not breaking any style sound barriers but it's also not boring (at least not to me!). I'm comfy in flat boots, cozy in my cashmere sweater and feeling a little stylish in my wide-leg pants. It's still snowing out though so I'll need to switch to my Sperry's when I head outside.
I could wear this look for just about any occasion my usual week calls for. Coffee dates, client meetings, studio time and dinners with friends or family. It's dressy enough but not too corporate or formal feeling.
Now this is a lot of rich colour for me. The merlot sweater with the caramel bag and the mosaic scarf is more colour than I'd typically go for but I'm kind of into it for this time of year. I'm used to having some lighter neutrals in there to soften things a bit but it's good to push the limits with colour sometimes!
I do wonder how these pants are going to fit/feel after an entire day and if they'll stretch out much. I've worn them lots of times but not for 8 hours straight. I suppose I'll know by 5pm tonight!
These glasses are starting to become a key element in my personal style even though I've never identified as 'the girl with glasses'. I used to always feel like they were hiding my face or offsetting my style in a weird way. But with this pair I totally forget they're on and then I'm pleasantly surprised when reminded. So glad I saved up and invested in a high-quality, well-designed set of frames and lenses. Link below.
---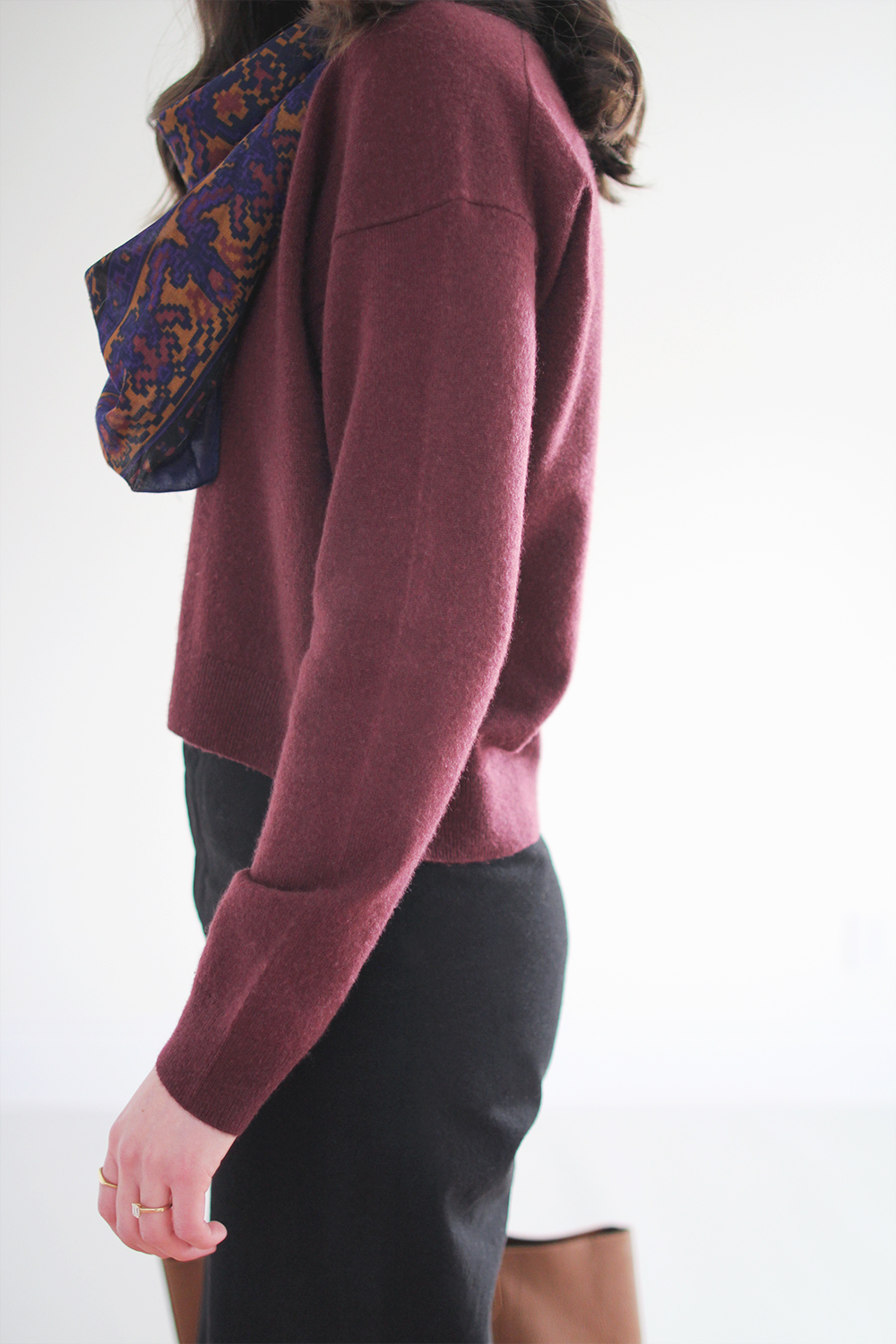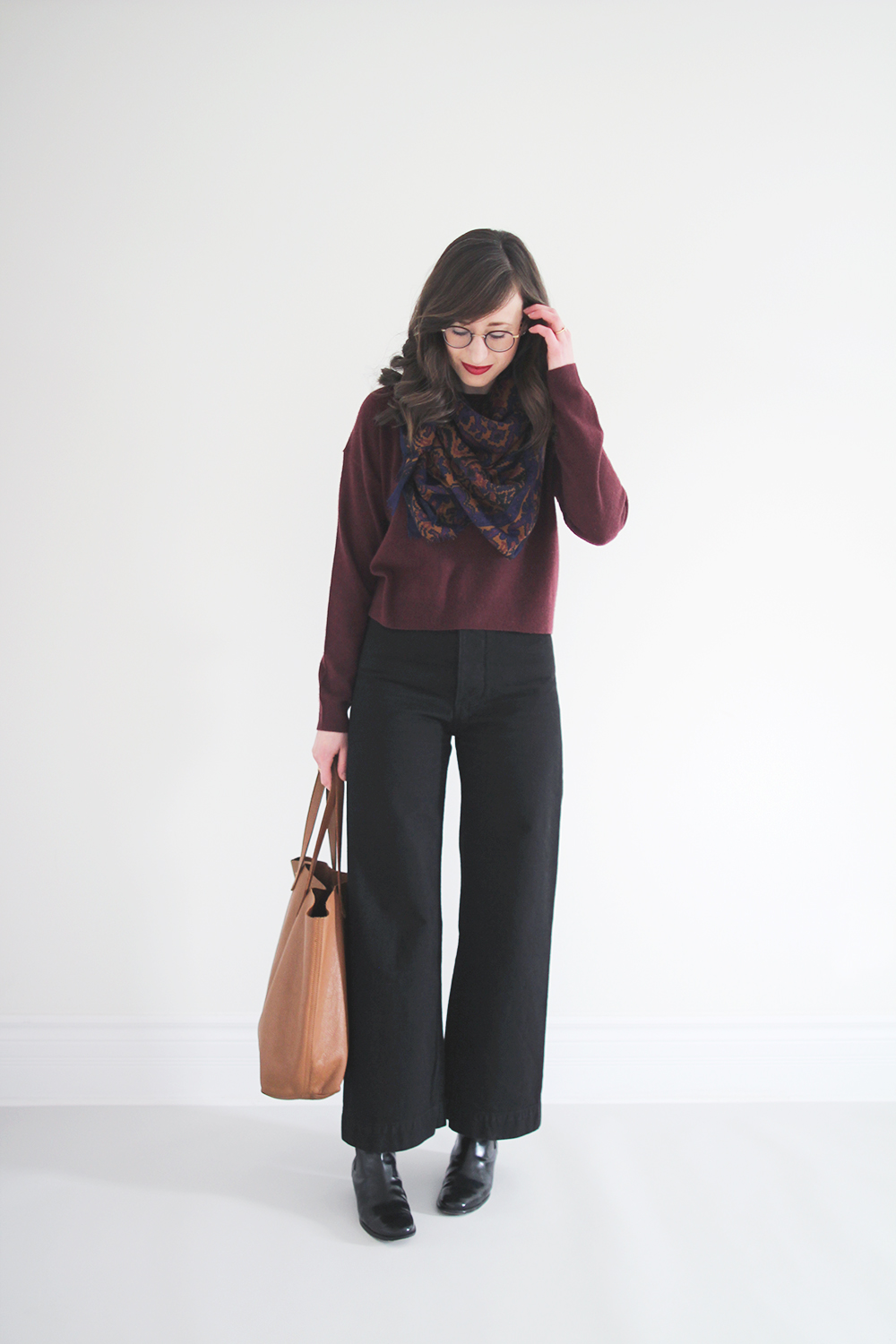 ---
STYLE + FIT DETAILS
1 | WINTER CROP | Even though it's really cold and snowy out I still think crop tops are a viable winter option. Now, hear me out! For instance, this cashmere crop sweater is one of my most worn winter items. Plus, as you may know, I'm not into revealing crop tops but more so their ability to create interesting shapes and give the illusion of longer legs, which this one is great for.
I've found that this combination of crop top length + waist height is just right for me this season (and all seasons actually). The high waist and wide leg create a long lower half and the bottom of the sweater hits just below my natural waist for a visually slimming effect that's not too drastic. I wear a bodysuit underneath (like this one) which adds warmth and extra insurance that no skin will be exposed.
Additionally, the cropped hem on these pants keeps them out of the snow and off the ground. This is a key factor in their being winter weather appropriate. I love my flares but they just get too salty and slushy this time of year!
Try thinking about the top and bottom combos you love. What is it about the way the two fit that works for you? Keep that in mind the next time you shop.
2 | BRIGHT LIP | I'm not big on experimenting with makeup trends but I've been loving a bold lip this season. In this instance I went for a warm berry hue and layered on a couple colours to get something similar to my sweater but a bit brighter so it would stand out. It's amazing how much energy you can inject to a look with something as simple and quick as a good lip colour. The Burt's Bees combo I used is linked below.
Would you consider trying a bold lip to freshen up your look this season?
3 | COLOUR COORDINATION | I love when the colours in a look integrate nicely without being overtly matchy. This scarf manages to have all three colours from this look mixed into a pattern of primarily blue and purple. It has caramel (like my tote), flecks of burgundy (like my sweater) and touches of black (like my pants). I added it for the pop of pattern without realizing it was such a cohesive way to finish the look.
Next time you're adding accessories think about the colours involved and how they can play on what you're already wearing.
4 | BIG BANDANA | Instead of the usual wrap around style I opted to tie this lightweight scarf like a bandana. I folded it in half, then point to point (not end to end), to create a triangle shape, then tied the longest edge around my neck. This creates a nice slouchy 'v' in the front and I love how it looks! It's easy to tuck into a coat and the back doesn't turn my hair into a knot-fest. WIN!
How do you tie your scarves to keep them from getting too bulky?
---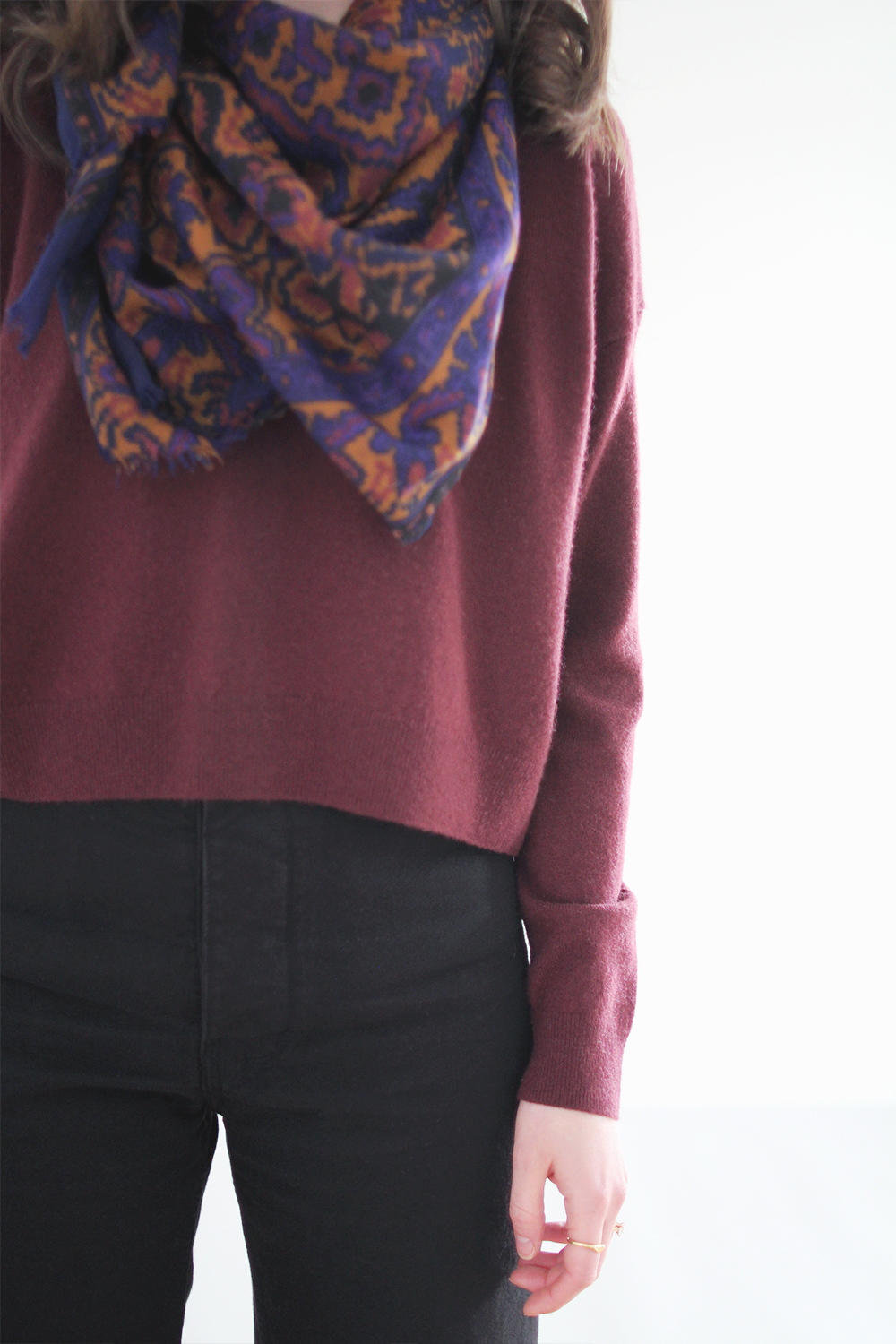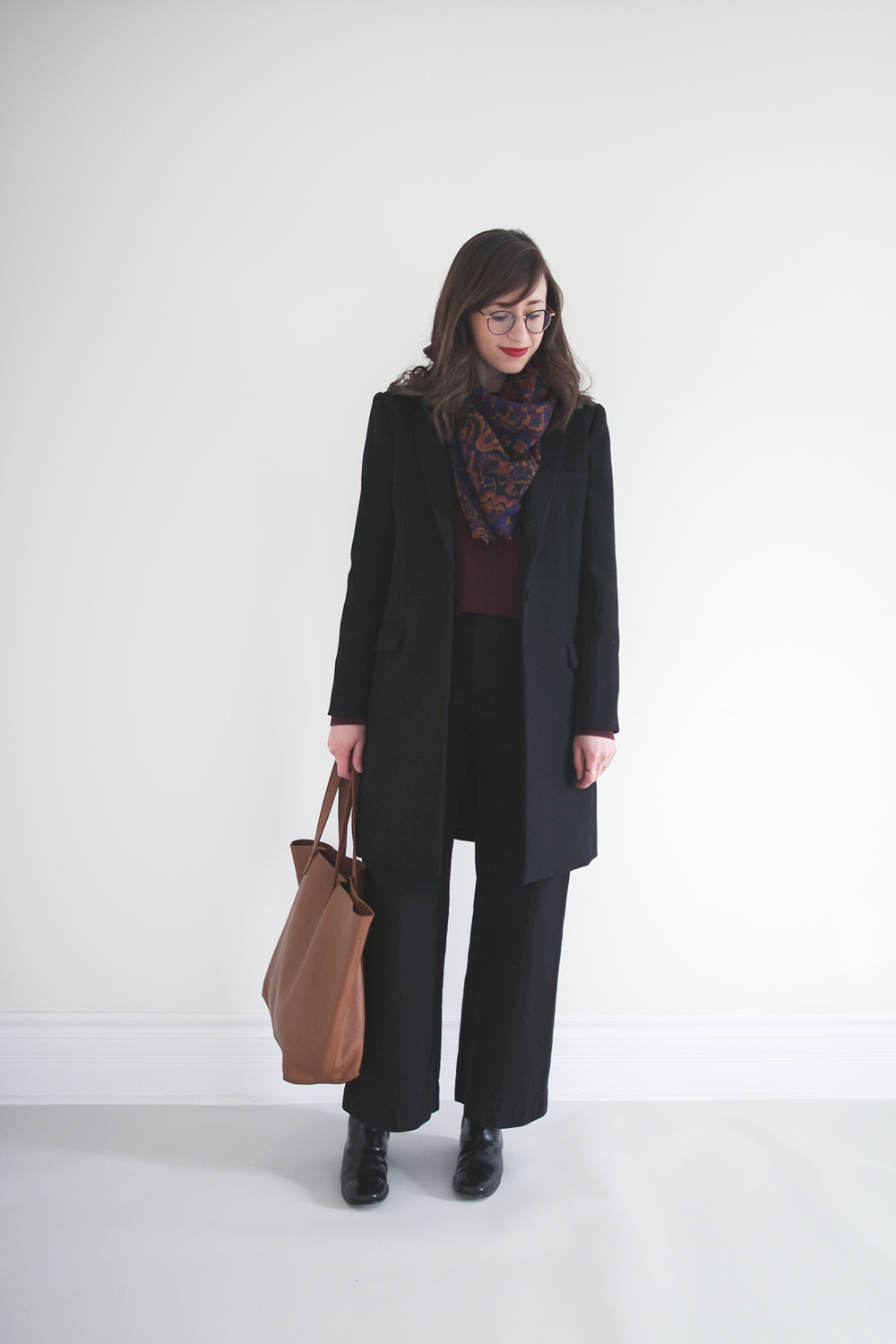 ---
OUTSIDE
To make this look winter weather ready I simply add my black wool coat, which you might recall from my FALL 10×10. It's been a staple for me this season and I love the sophistication it adds to any outfit.
If it's really frosty out I'll add a knitted toque and a pair of gloves.
I'll also be wearing a bodysuit (like this one) underneath for added insulation. I find a layer underneath helps my sweaters feel fresher for longer too!
These pants are easy to slip on over a pair of warm knee socks or even tights so my legs don't get too drafty!
---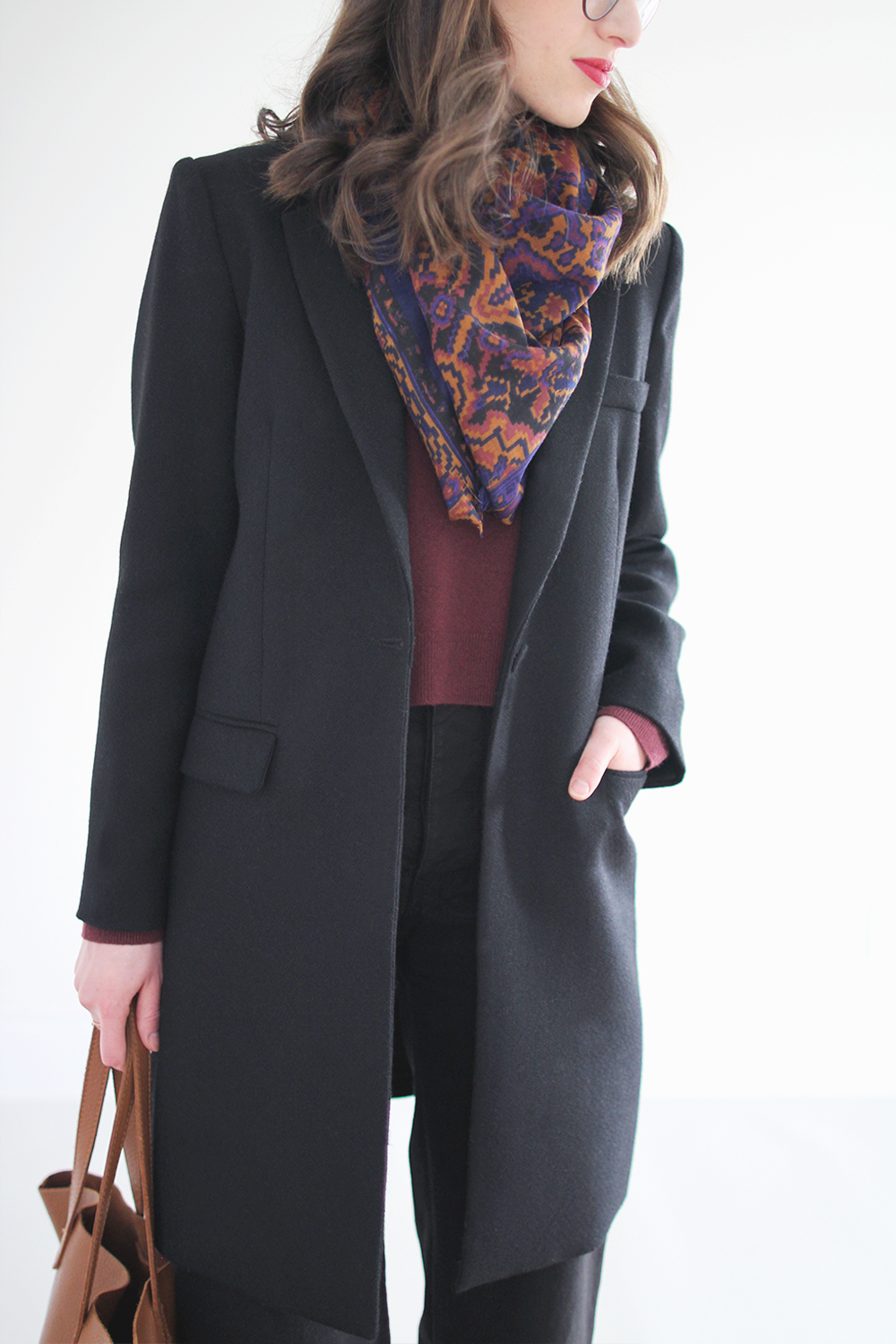 ---
So there we have Outfit #1!
Be sure to pop over to UnFancy for Caroline's first one too!
+ Keep sharing your looks with #Winter10x10 and if you have a sec, check Instagram Stories today for a real-life look at our outfits in action (@caroline_joy + @leevosburgh).
See you there!
---
---

---
This post is not sponsored but contains affiliate links. When you shop via the links above I may make a small commission from a sale. Thanks for supporting the brands that support Style Bee! All opinions are always my own.