The #winter10x10 challenge is on the move! I'm hosting this edition with my girl Caroline of Un-Fancy and today we've got Look #2 coming at you!
One thing I always forget about these challenges is how easy they make it to get ready in the morning. It's so nice not to have to use my precious (and highly limited) morning brainpower on outfit selections. I wore a uniform all throughout lower and high school and it's basically the same concept, except with clothes you actually want to wear.
Speaking of uniforms (like that subtle segue?), this outfit is essentially my winter uniform. Skinny jeans + Crew Neck + Coat or Sweater + Boots. I even shared a little 1 Formula – 3 Ways post on this very combination last Fall. But this is the first time I've worn this specific version, so let's have a look.
---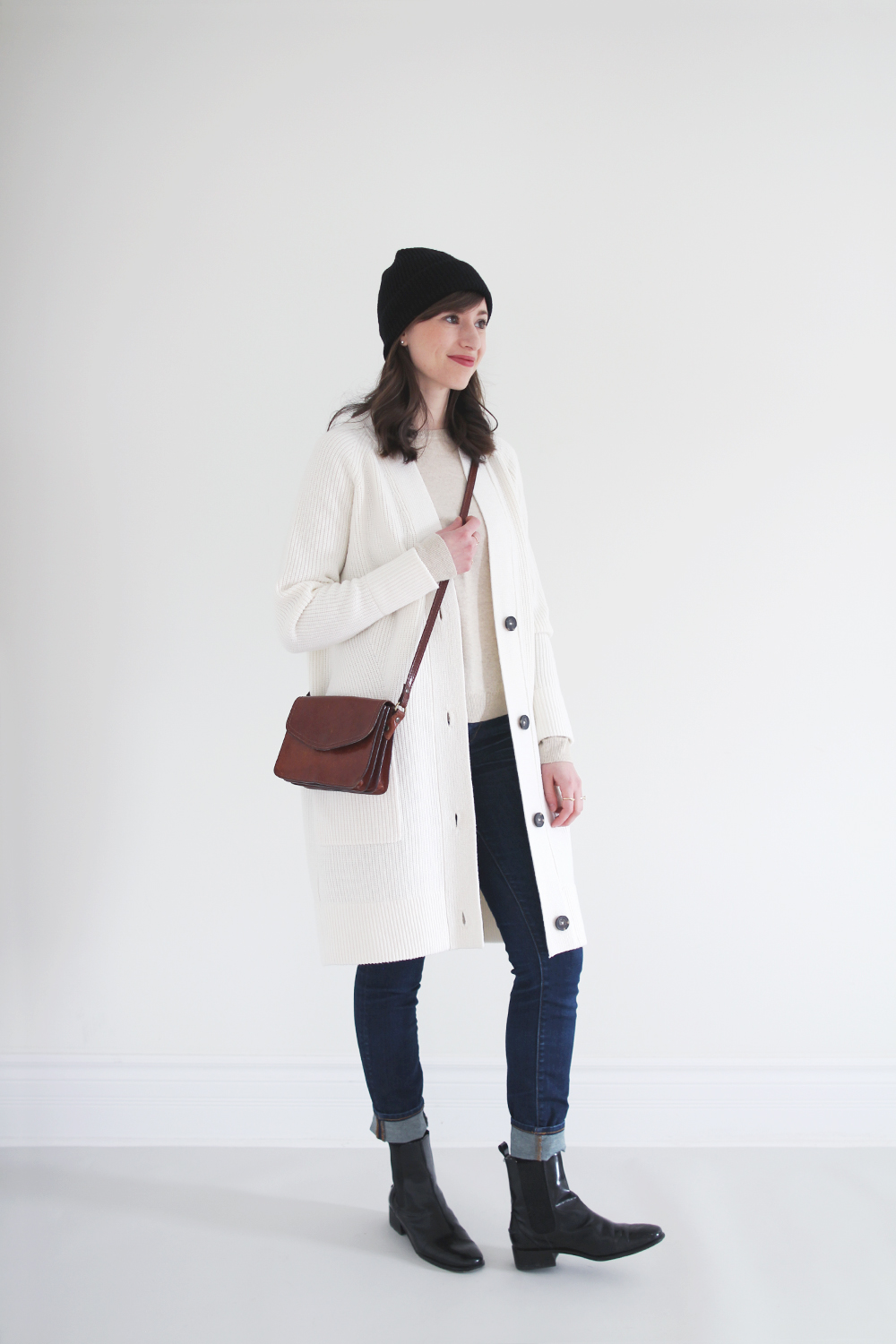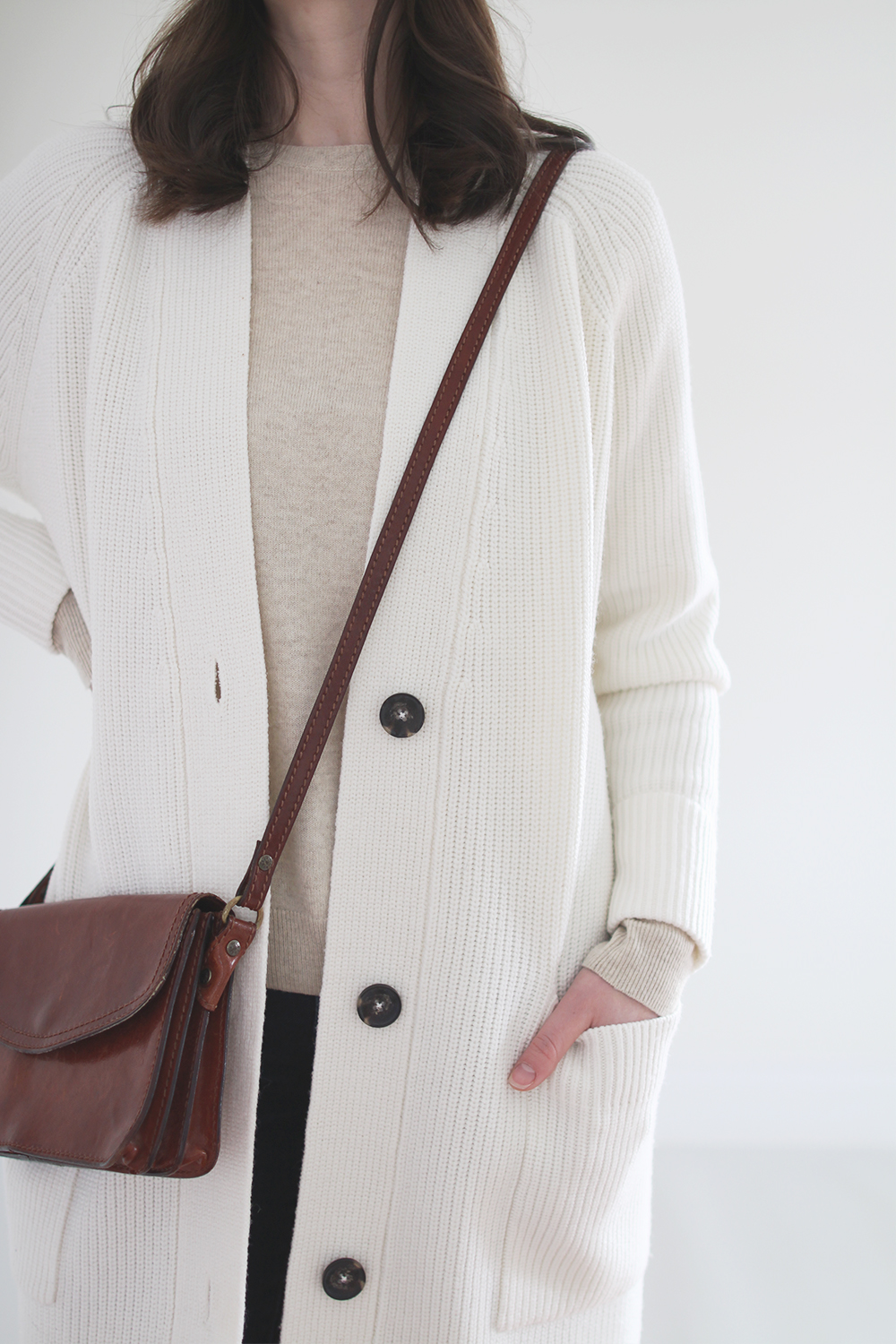 ---
INITIAL THOUGHTS
Remember yesterdays outfit, when I said it was a lot of rich colour and I was used to wearing lighter neutrals, well, this one is definitely making up for it. Mmmhmm, ivory merino and oatmeal cashmere. Such a treat! 
Today I'll be starting early at the gym and this will be the perfect number to tuck into after a hot shower. I've got a meeting at our place this afternoon and then it's back to my usual office grind. I might try to convince the fella to join me for dinner too.
This outfit is the definitely of toasty and I'm learning that they didn't call this a 'Sweater Coat' for no reason. If anything it might be on the side of too warm for indoor wear at least with a cashmere crew underneath. I could easily get away with a lighter base layer. In fact, I think I could probably pull this off as an outdoor look with the addition of a big scarf and some gloves today, will have to test that theory. It's all good though, since my house is old and gets pretty cold when I'm sitting at my desk all day.
Fun fact: I had this sweater in my cart for what felt like no less than 1 full year until I finally pulled the trigger on it before Christmas. I was worried the light colour would be trouble but so far it's been on a ski trip (and around a lot of kids) and on a cottage adventure and has performed perfectly. I was worried about the dark denim 'rub off' factor and while that did occur slightly it all came out when I had it dry cleaned (shan't be washing this one at home). So, good as new!
The colours in this look are definitely my kind of palette. Light neutrals, hits of black, a big dose of denim and a pop of rich brown. It feels sophisticated and inviting but still fresh and clean.
---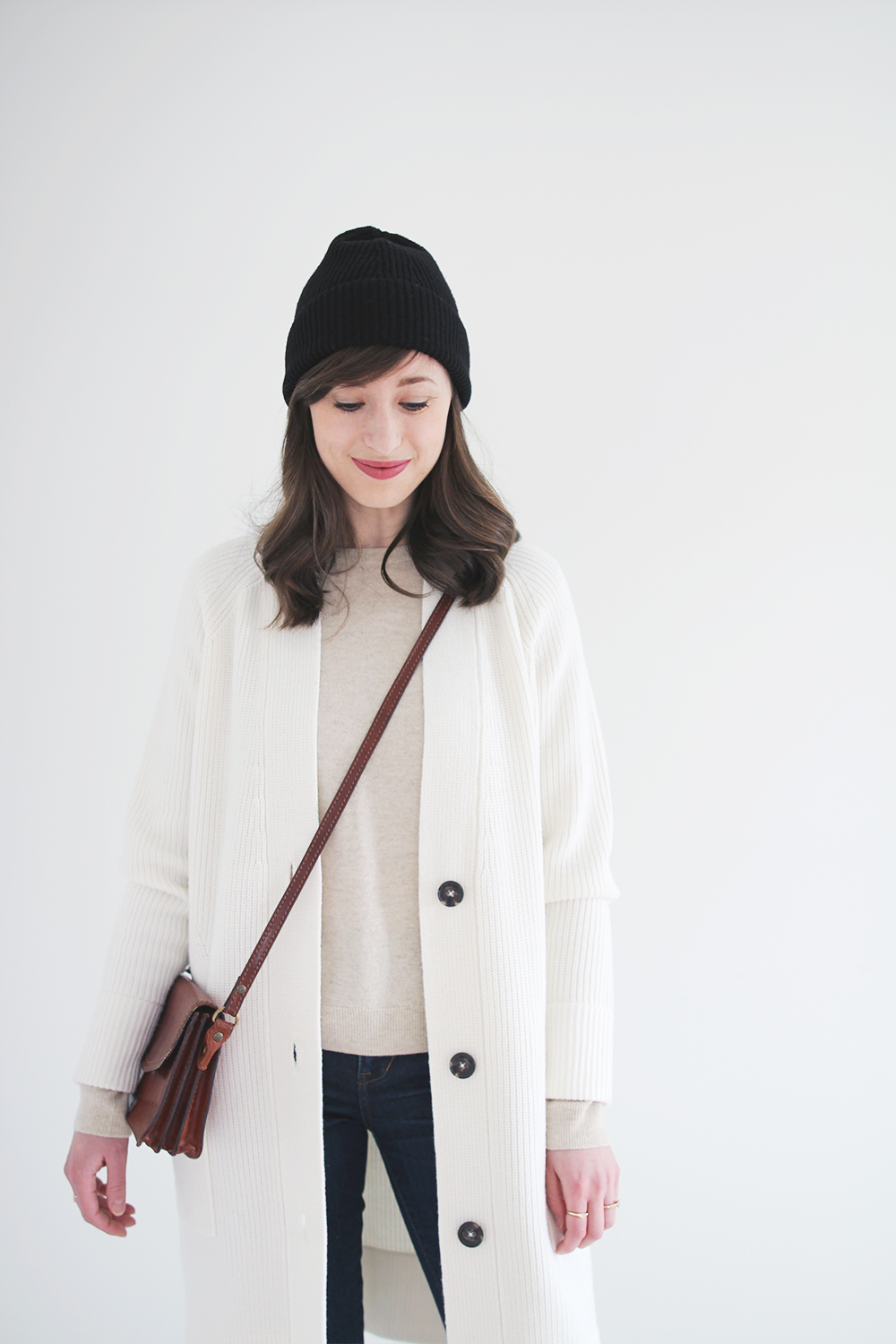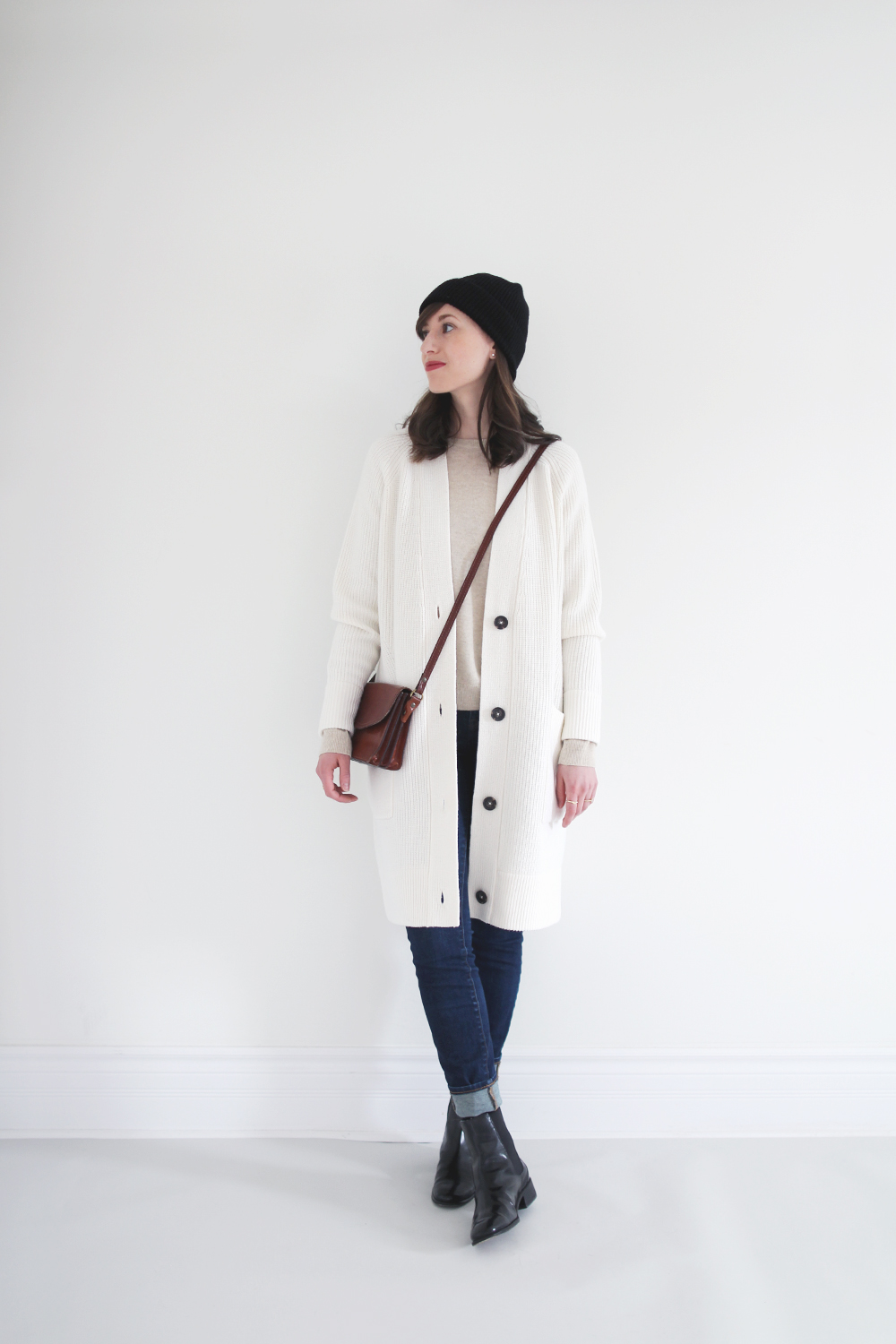 ---
STYLE + FIT DETAILS
1 | THE CUFF | We all know cuffs are styling 101 but it's a go-to trick for a reason! In this case I didn't roll my sleeves but instead pulled my base layer down and pushed my sweater sleeves up. This sweater coat has beautiful double knit cuffs that stay put, which is one detail I love about it. The upper sleeves are a bit more relaxed and I love the slouch effect that results from this trick.
As you can see I did cuff my skinnies so they hit right at the top of my boots. Normally, I'm lazy and just pull them over the top of the boot but a little effort goes a long way with this trick and I feel like the result is more 'put together'. Sometimes skinny jeans can be too snug at the ankle making them hard to fold without puckering but these are ok!
Next time you're layering a top and sweater, try the sleeve pull up method instead of rolling. The result is a bit more casual and less fussy. Just an idea! 
2 | UNTUCK | Normally I'm all about the front tuck or the full tuck but for this look I just left my base sweater loose. It feels relaxed and I don't have to think about it one bit. It's fitted enough that I don't feel sloppy plus, it won't get any creases so it'll be good to go for the next wear.
3 | BOOKENDS | My Mum once told me a styling trick that has stuck with me ever since. The tip was: If your hat and your shoes match the rest of your look will work just fine. They act like bookends to hold it all together. Now I don't know if this is fool proof but every time I've tried it, it's worked! This case seems to be a good example too!
Do you have any odd style tips that have stuck in your mind?
---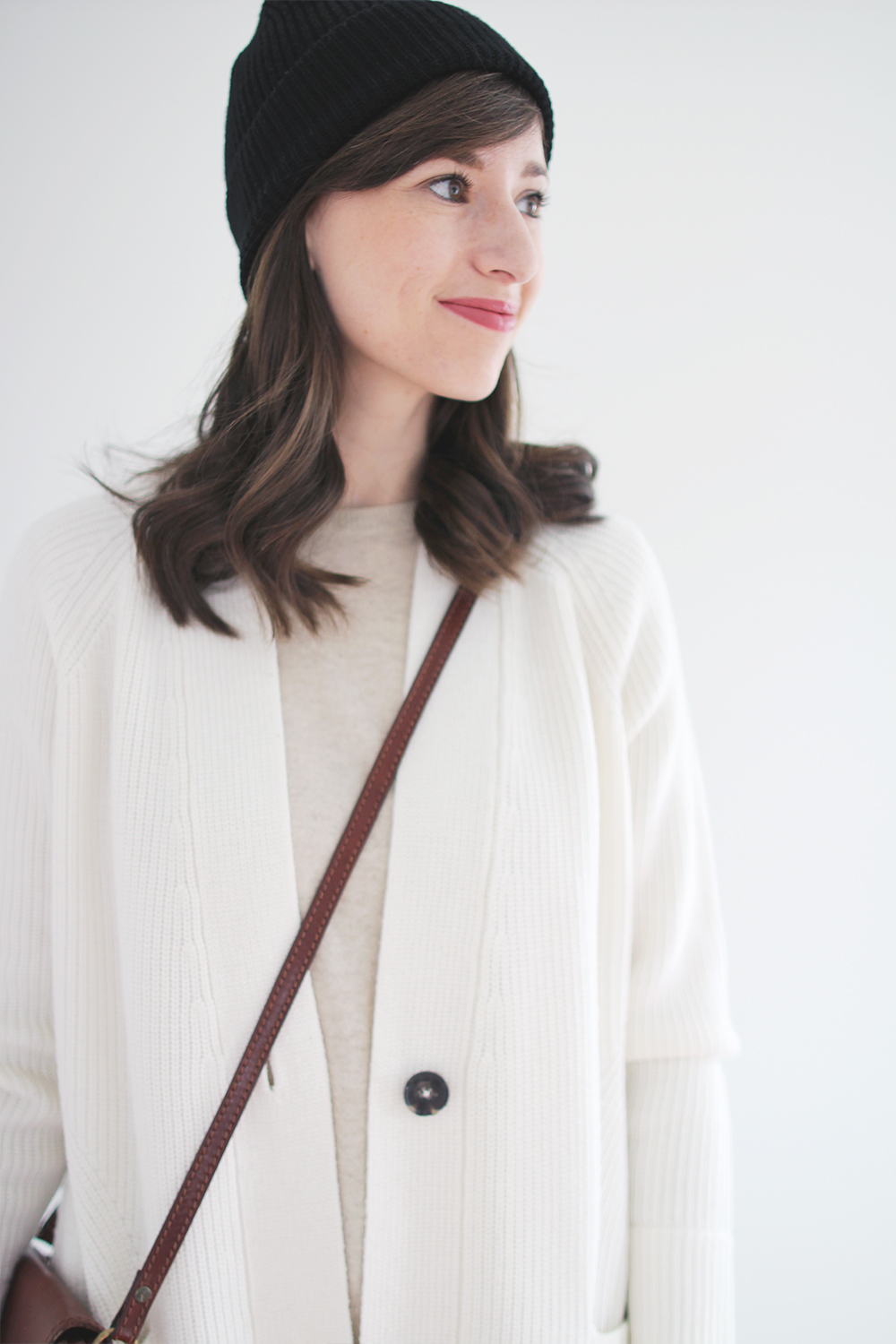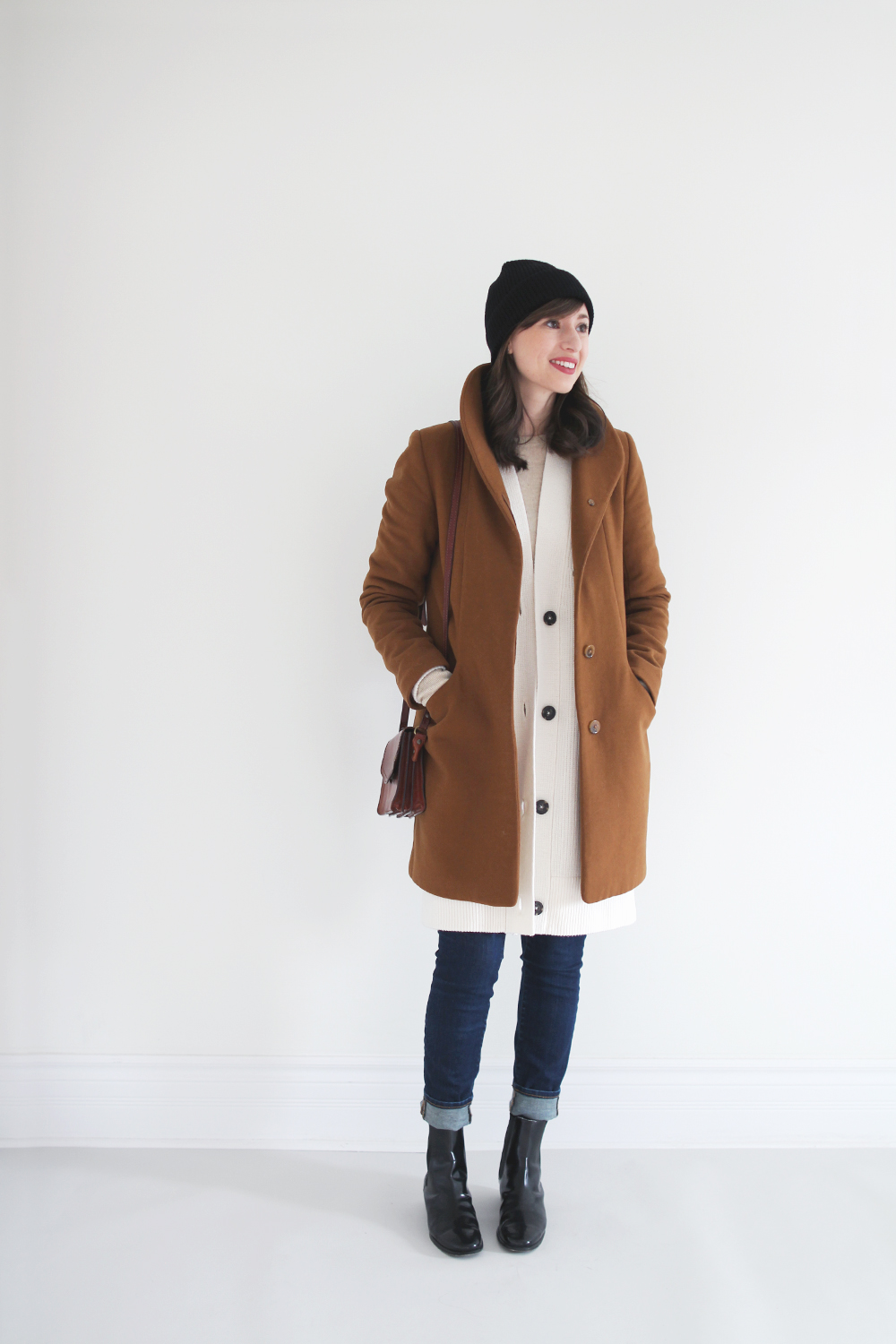 ---
OUTSIDE
Much to my surprise this coat actually fit over top my giant sweater quite easily! I was worried the sleeves would be too tight but it's not the case at all. WIN!
As I mentioned earlier, this sweater is very warm so unless it's zero degrees or cooler I could probably get away with just a chunky wool scarf and gloves, especially if I had a bodysuit on under my cashmere sweater. But if the temps do decide to plummet I'll have this coat on standby.
I'm loving the mix of colours here and how the bottom of the sweater peeks out under the coat. It's so nice when happy accidents like that happen!
---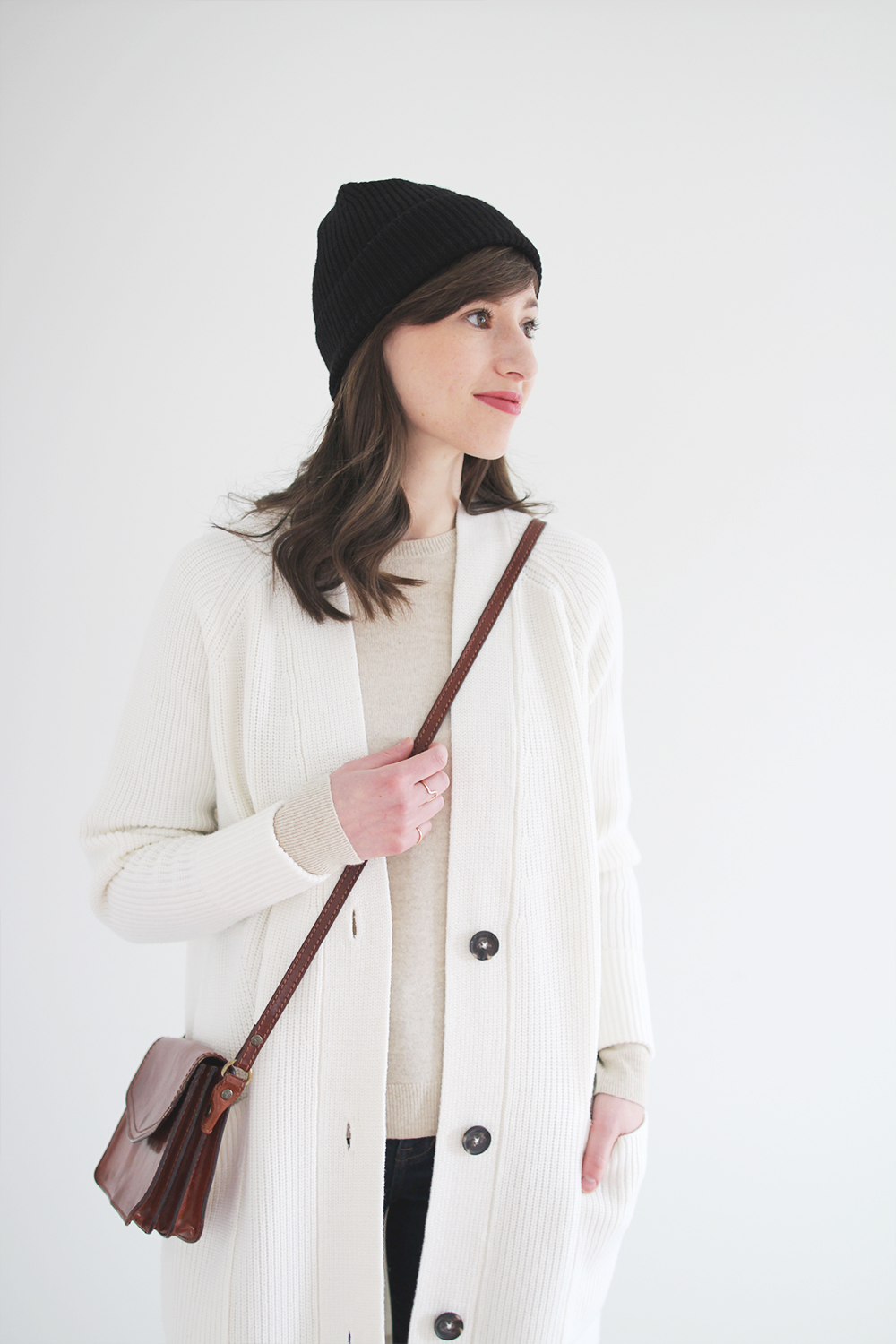 ---
SO THERE WE HAVE OUTFIT #2!
Be sure to pop over to Un-Fancy for Caroline's latest too!
+ Keep sharing your fabulous looks with #Winter10x10 and if you have a sec, check Instagram Stories today for a real-life look at our outfits in action (@caroline_joy + @leevosburgh).
See you there!
---
---
This post is not sponsored but contains affiliate links. When you shop via the links above I may make a small commission from a sale. Thanks for supporting Style Bee! All opinions are always my own.