Is it really Wednesday already? Time sure does fly when you're having fun and we certainly are with this #WINTER10x10 Challenge, even though things don't always go as planned. Yesterday, Caroline, of Un-Fancy and I both had some issues with our outfits, but we embraced the parts we didn't love and learned some things for next time.
I learned I don't love oversize cropped sweaters with skinny jeans while she learned she doesn't love so many dark pieces in one look. In Caroline's words, 'How Fascinating!'. It's not about a flop or a hit, it's about the learning process and the freedom to take risks and then assess the results. That's what this 10×10 Challenge is really all about. If every outfit felt perfect and chic, well, there wouldn't be much point in doing it!
If you're new to the 10×10 Challenge it's never too late to join in and you can learn everything you need to get started from this post and get lots of tips and info on this page as well. We'd love to have you!
Today I'm sharing Look #7 so let's not dilly dally and dive right in! 
---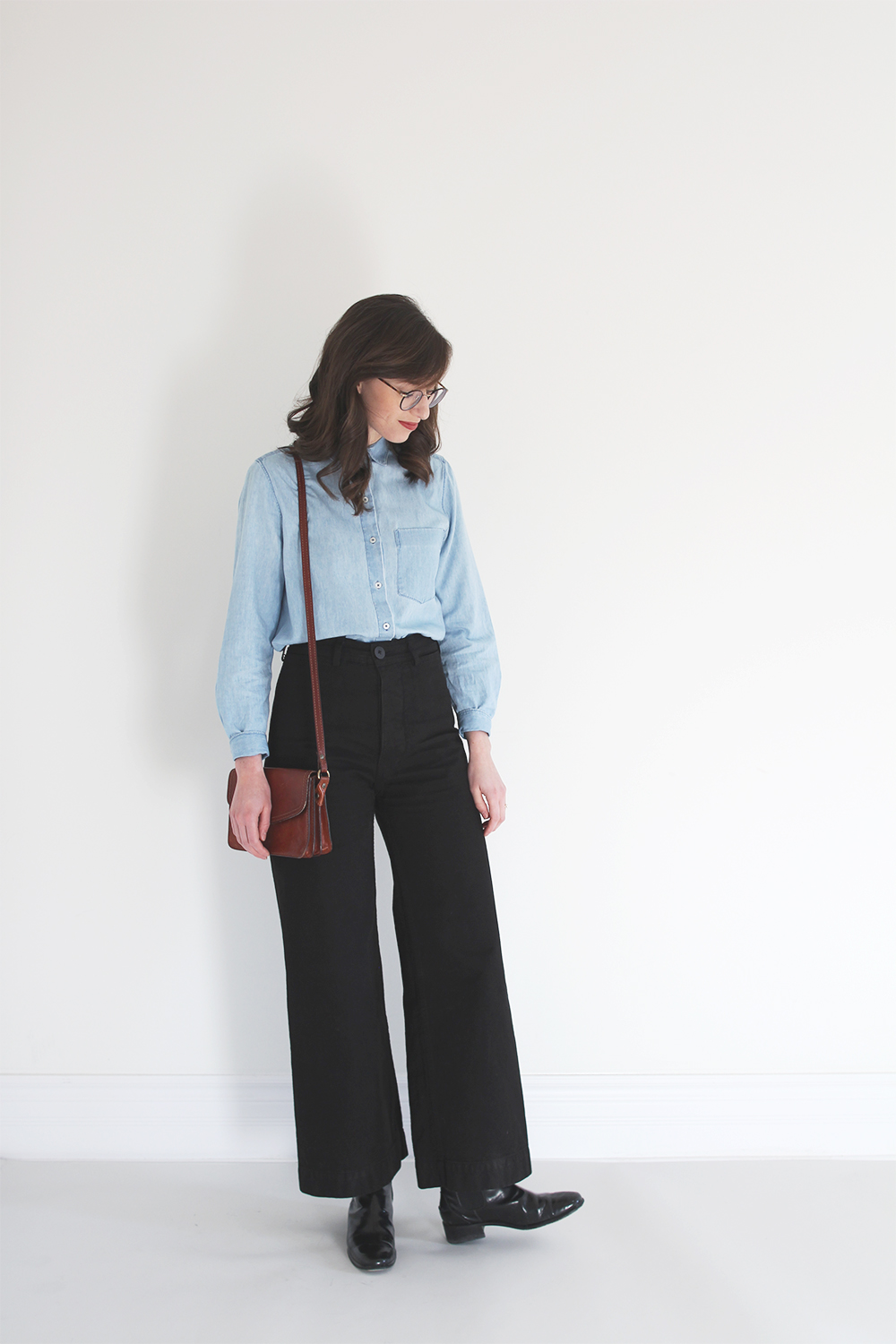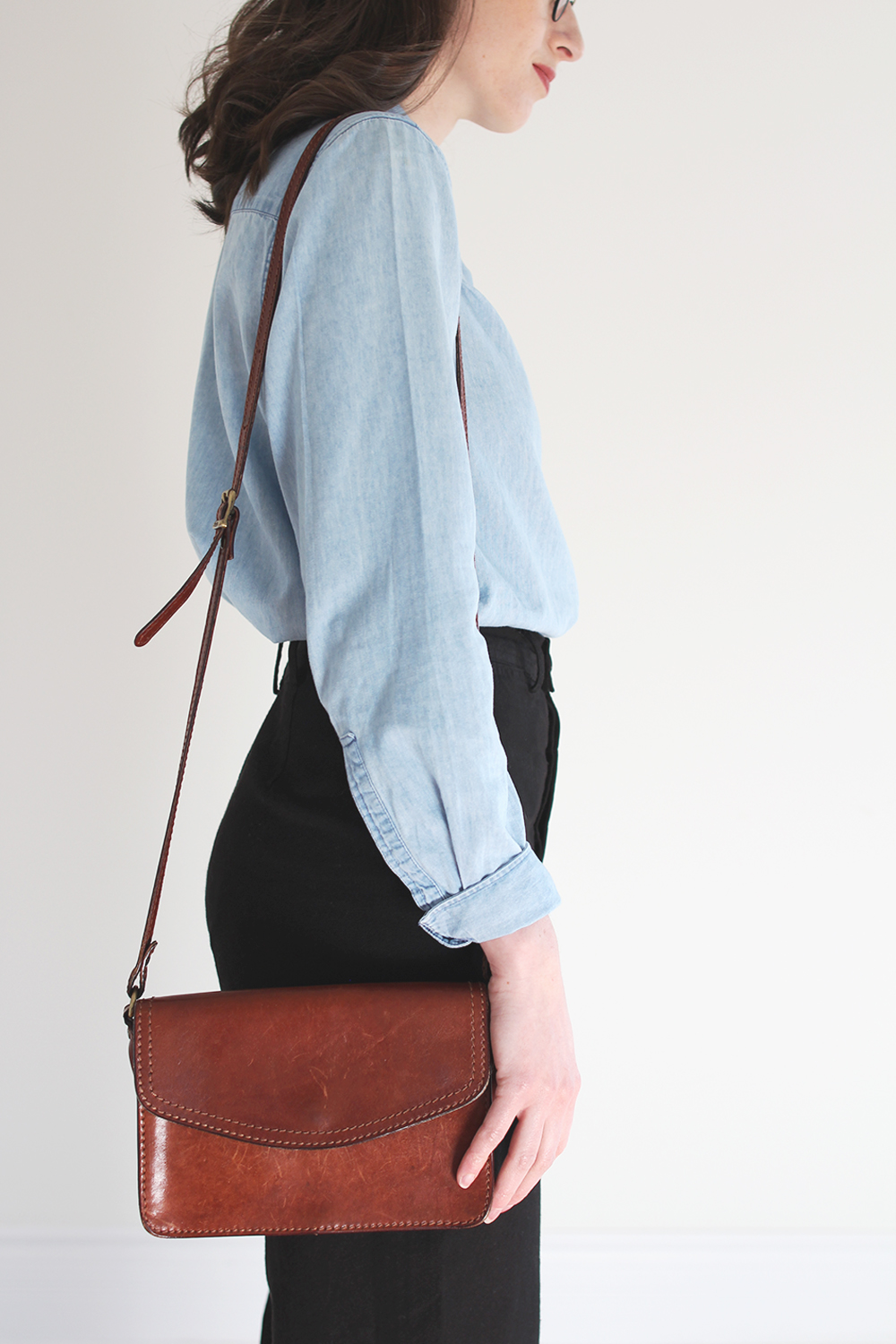 ---
INITIAL THOUGHTS
I am SO DOWN with this outfit. Now I'm just wondering how the heck have I never worn it before!? It's checking all my personal style boxes without hesitation. It's versatile, considered, clean and even has that little bit of distinctiveness I've been striving for. I feel put-together, totally myself and ready for anything the day throws my way. Man, is that ever a good feeling!
Truth be told, this shirt was collecting dust on the hanger before I shook it off for this challenge. But once again I'm reminded that the classics may go dormant but they never go out of style. It's been washed a zillion times and it's ridiculously soft which gives it the perfect drape when tucked into high-rise pants.
I'm really feeling the vintage vibes throughout this look too. The collared shirt, the wide-leg trouser, the black rimmed glasses and the little leather bag are each giving a nod to timeless design. I'd like to think I could have worn this 30 years ago and could still wear it 30 years from now and still feel the same about it. Okay, maybe that's a stretch but not impossible right!?
One of my main takeaways from this challenge so far is that sometimes simplicity is the statement. You don't need to fuss with layers, or strategize about accessories or even contemplate colours. Just trust your instincts, keep it clean and true simplicity says it all.
---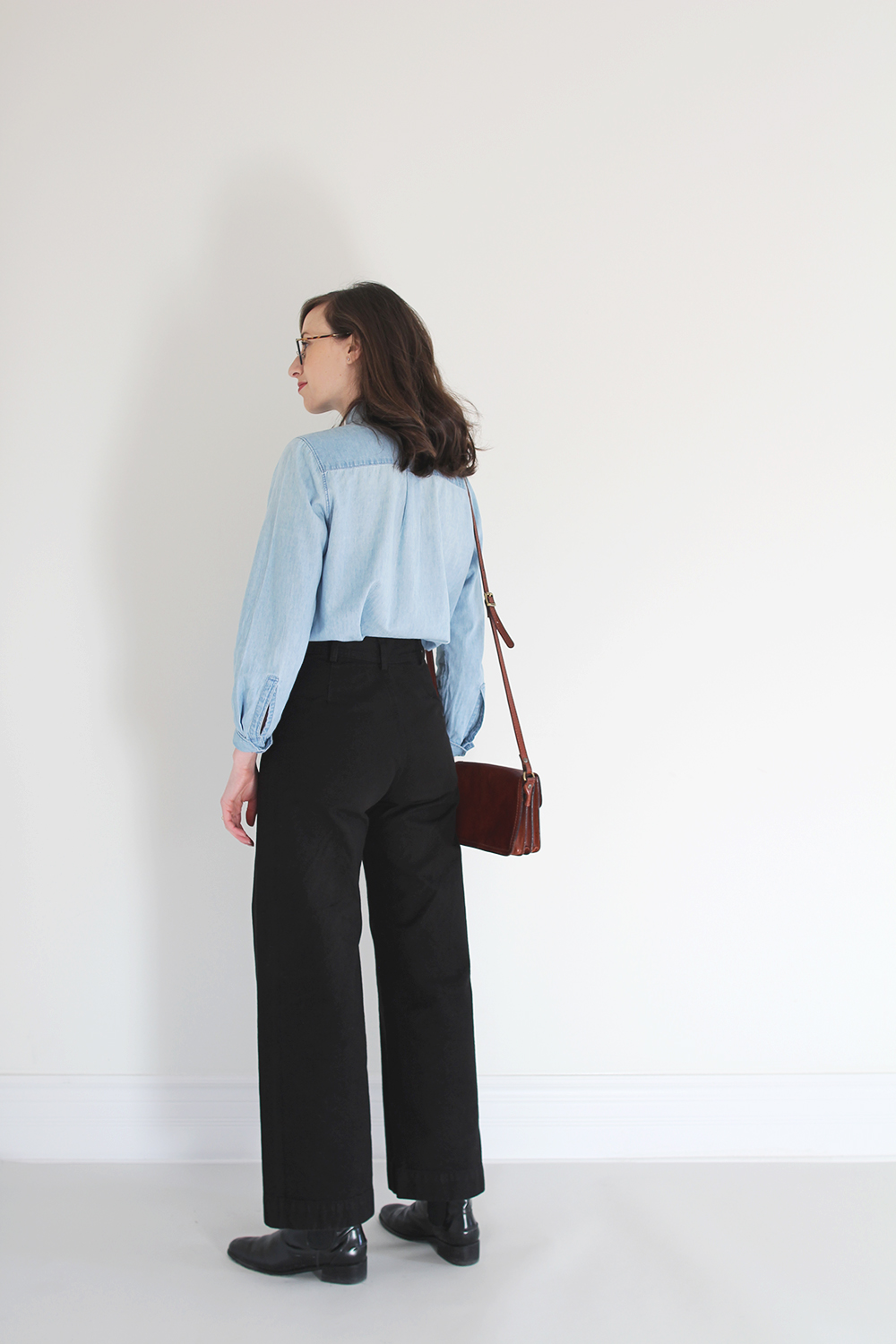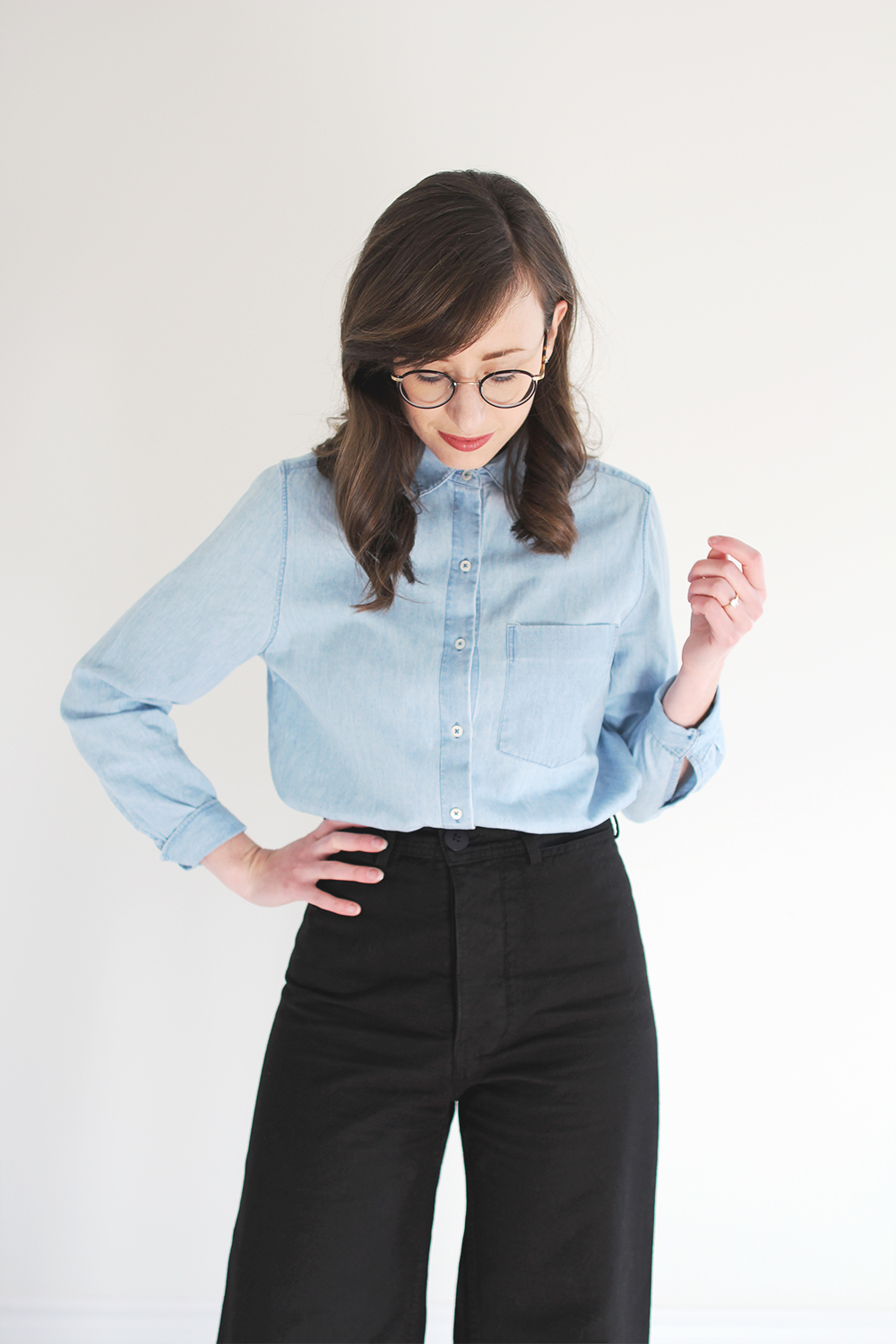 ---
STYLE + FIT DETAILS
1 | TINY POOF | When I accidentally cuffed one of these sleeves only part way I noticed that it created the illusion of a slight poof in the sleeve and I LOVED it! It doesn't actually make the sleeve billow out more than normal it just makes the wrist a bit narrower giving the appearance of a puffier sleeve. I also like that it's more snug on my arm so the cuff won't unroll as the day goes on. You bet I'll be keeping this trick up my sleeve! Sorry, had to. It might be hard to see in the photos but it's most apparent in the first one and the image below. 
Try giving your cuffs a short fold so the end comes just over the seam. It's an easy way to add some style without getting too many folds involved.
2 | TO THE TOP | I used to think that buttoning your blouse or shirt to the top was comically nerdy, but now it's my go-to move! I love the look of a fully buttoned top, especially when it's also tucked in. This trick instantly elevates any old button down. My high-school principal would be so proud of me now! Bonus: It's also a little bit cozier with the collar pulled tight. 
Next time you're trying to freshen up a button-down, try buttoning it all the way up and tucking it in. You'll get an immediate infusion of Keaton meets Hepburn (Katherine that is), which will totally revitalize your day. Promise! 
3 | BLACK + BLUE | This colour combo is seriously growing on me these days. It's feeling fresh and fun and it takes me out of my typical neutral zone without being too drastic. Now, I know this is 'chambray' so it's not technically 'blue' but just let me have this one okay?
Next time you're stumped for a colour combo try a light chambray and black or white. It's a failsafe combo that's always refreshing.
4 | GEEK CHIC | This outfit is just short a pocket protector and a pair of suspenders to be a true 'nerd' costume but I don't care one bit. I kind of love how it plays on that motif but employs some stylish elements (like a pair of semi-gloss boots and some sassy pants) to offset it just enough. It feels contemporary and stylish with a major nod to some timeless classics. Oh and there's totally a protractor in my purse!
Don't be afraid to start with of a look that's 'too much' of a certain theme. Go for it to begin with, then scale it back and switch things up just enough to feel modern and chic. 
---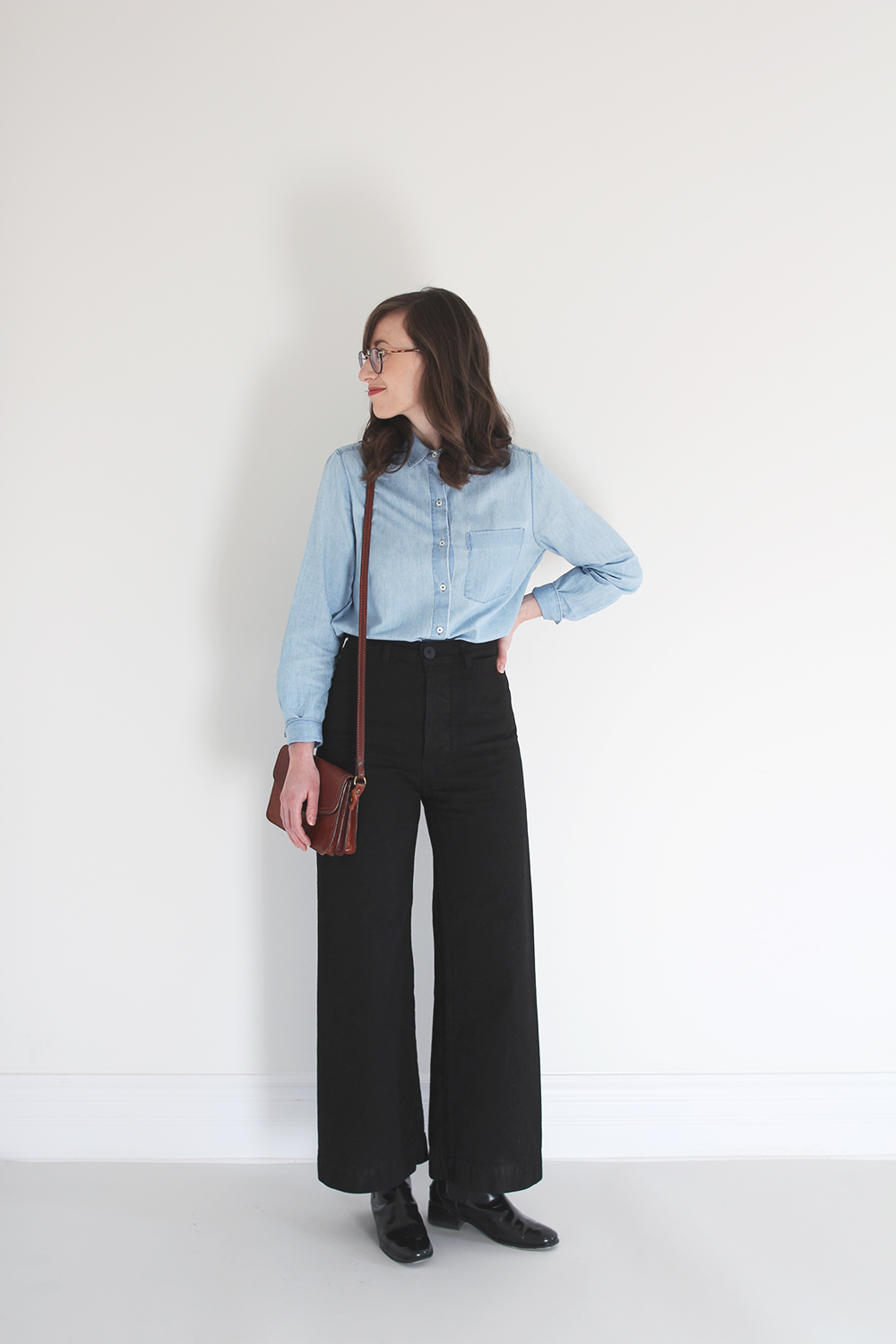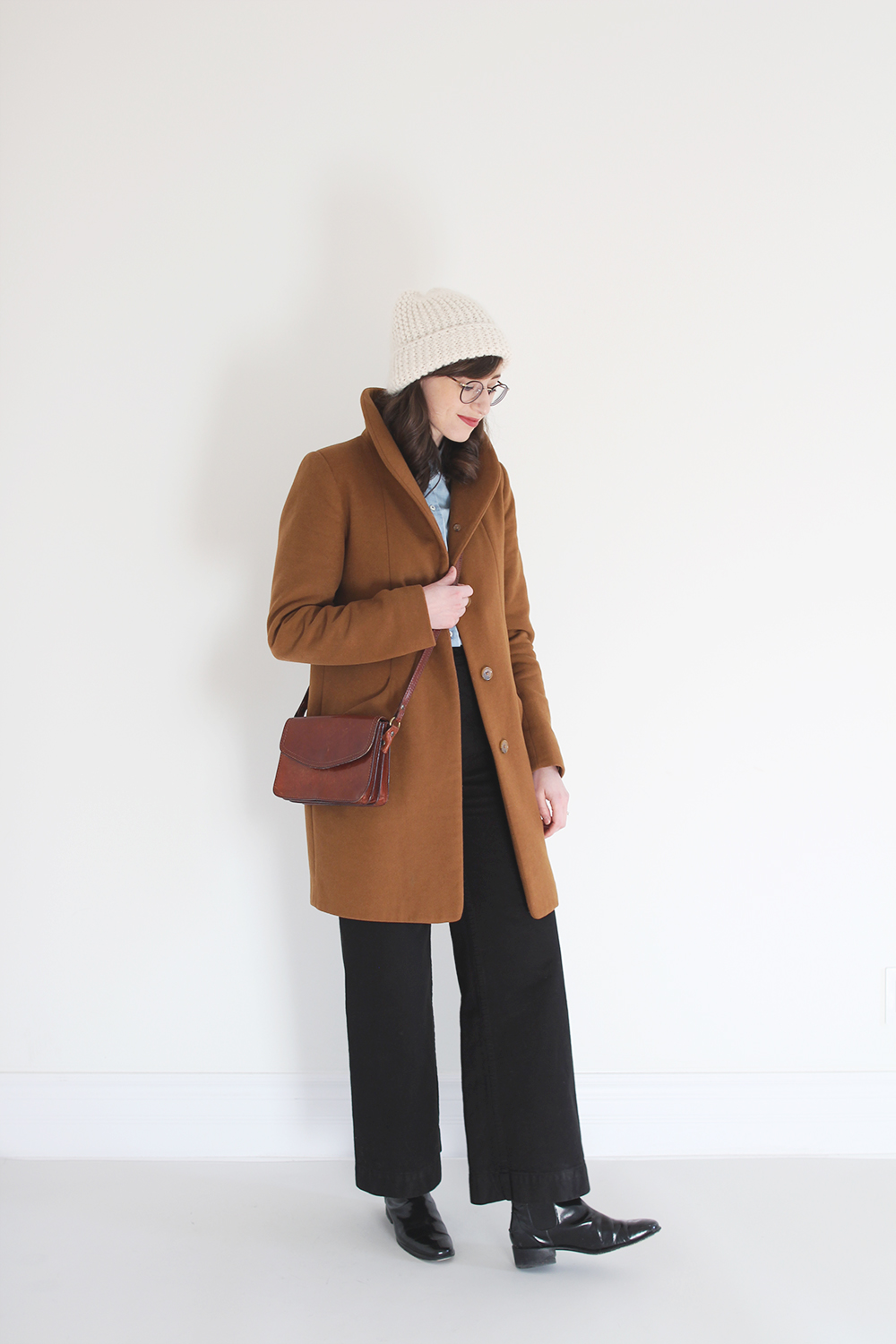 ---
OUTSIDE
It looks like some warm winds are rolling in for today and the rest of the week. HOORAY! After a crazy cold weekend and a freezing rain storm start to the week, no one is complaining about +4ºC and cloudy.
Warmer weather sure is easier to style for too! I'll simply be tossing on my alpaca wool knit beanie and my caramel coat for the day's activities. Those being a day in the office, some errands around town and a chill evening visit with my sister-in-law to get caught up on The Bachelor!
Is anyone else always highly entertained by what they choose to wear on that show? I know I'd stick out like a sore thumb in this outfit and to be totally honest that makes me pretty pleased!
---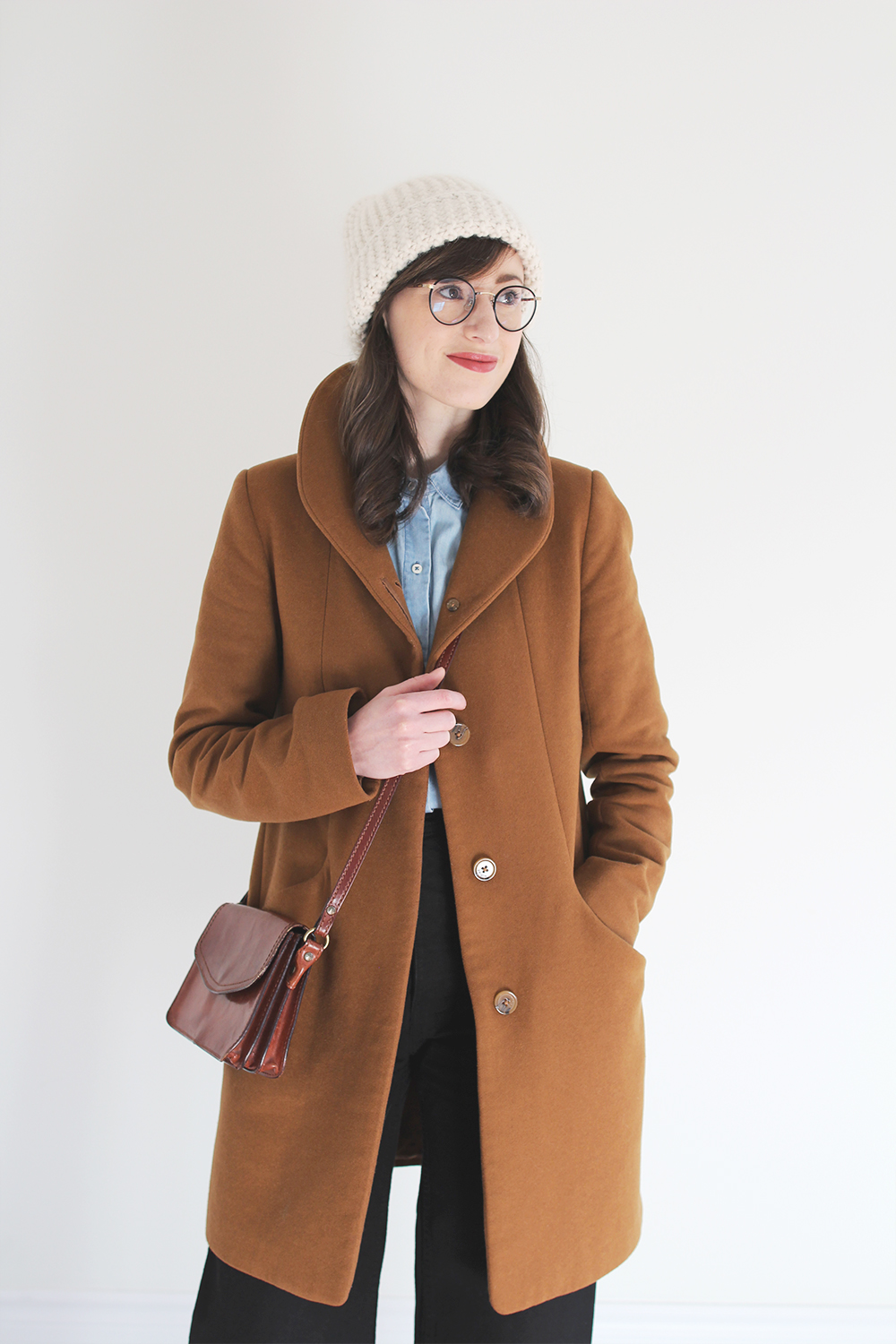 ---
SO THERE WE HAVE OUTFIT #7!
Be sure to pop over to UnFancy for Caroline's latest too!
+ Keep sharing your looks with #Winter10x10 and if you have a sec, check Instagram Stories today for a real-life look at our outfits in action (@caroline_joy + @leevosburgh).
SEE YOU THERE!
---
---

---
This post is not sponsored but contains affiliate links. When you shop via the links above I may make a small commission from a sale. Thanks for supporting Style Bee! All opinions are always my own.