Are you getting a bit of style cabin fever? Ready for full closet access again? Because I sure am! It's probably safe to say most of us are at the point in this challenge where we're getting antsy and really ready to get a few (ok A LOT) more wardrobe options back. But patience is a virtue (so I keep hearing) and perseverance is…well, it's just a good lesson to be learned. So here we are, my co-host Caroline of Un-Fancy and I, trudging through to the end of the #Winter10x10 Challenge!
But it's certainly not all bad! As many of you challengers have noted, one of the lesser known benefits of this exercise is how much you grow to appreciate the rest of your closet while you're doing it. Who needs to shop when you've got a beautiful wardrobe of items you can't wait to wear again? This is just one of so many great takeaways I've been seen popping up. Our little conscious closet community has been such a wonderful place to find inspiration, brilliant style insights and tune into some really interesting conversations surrounding self confidence, slow fashion and the not so insignificant ways that our outfit choices impact our everyday lives and mindset. Such good stuff!
Let's keep the ball rolling here though with Look #8. This one just might be a contender for favourite yet! 
---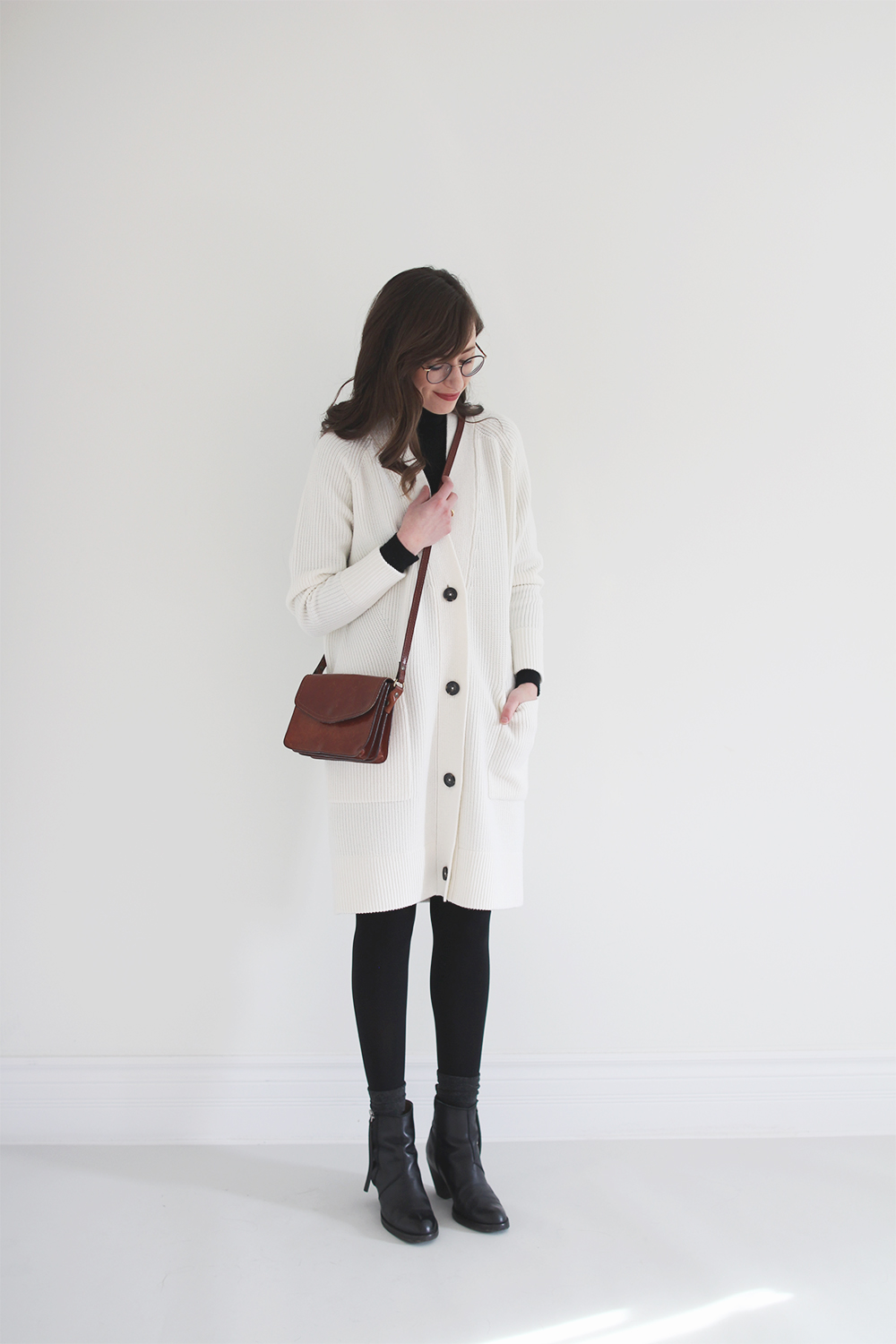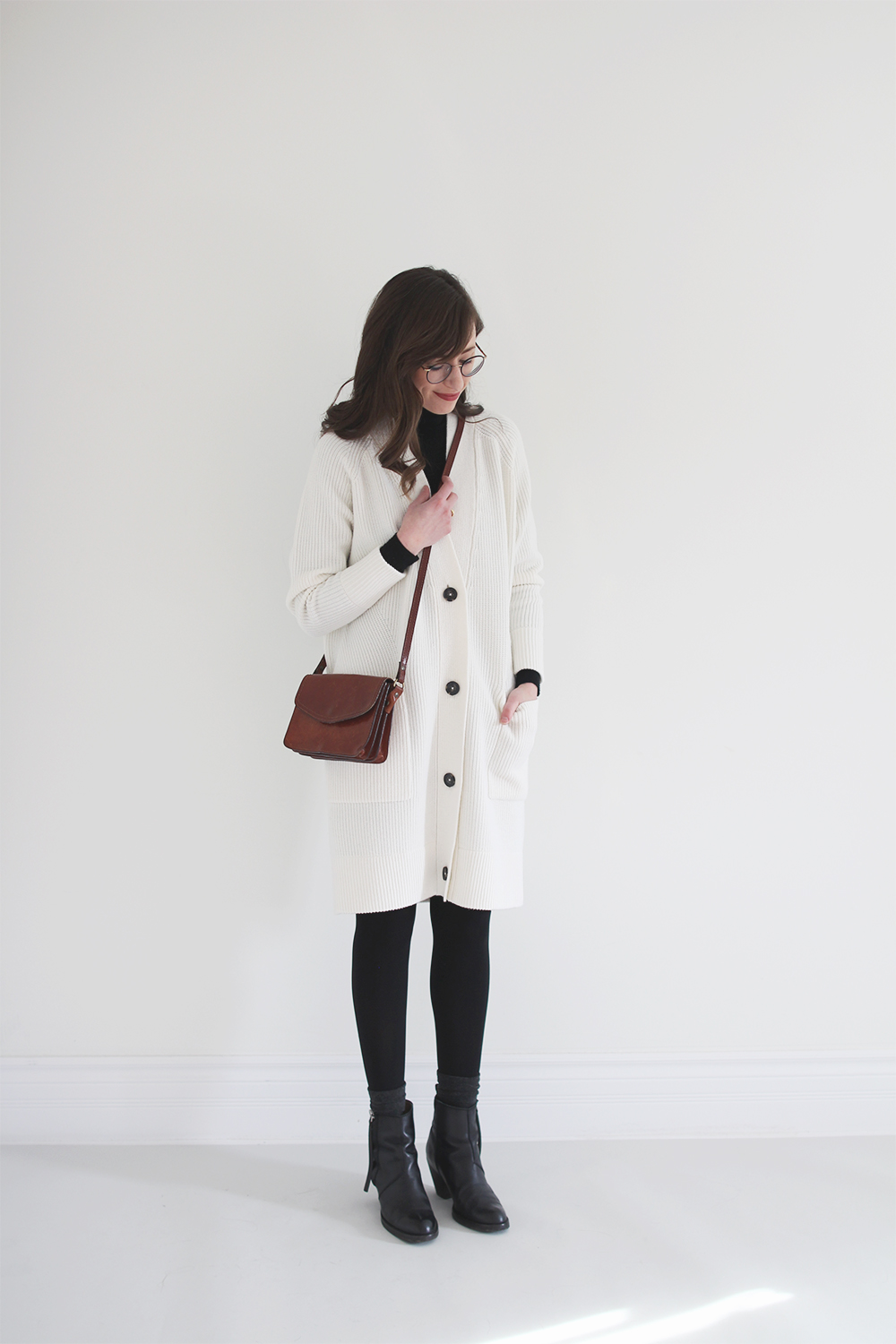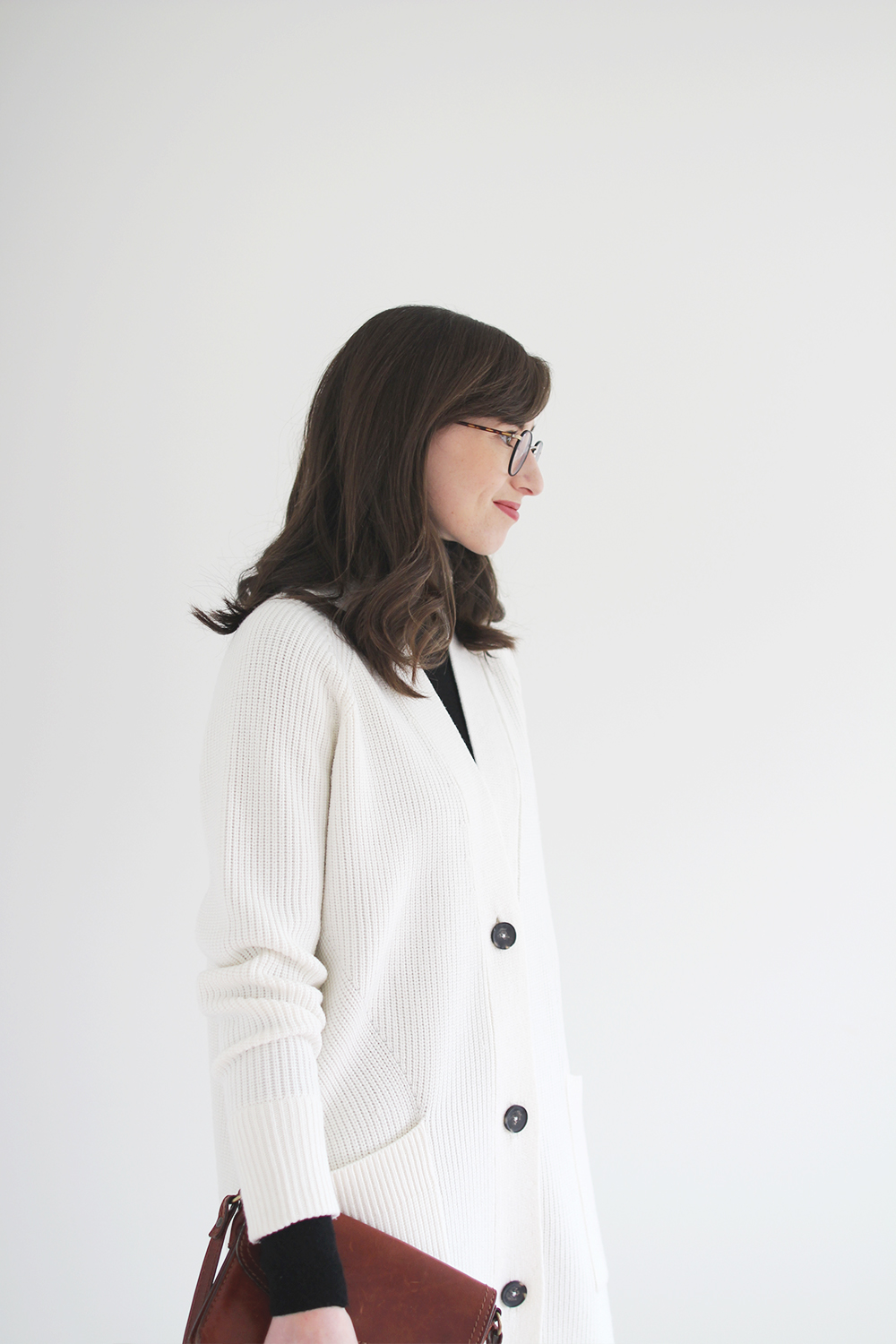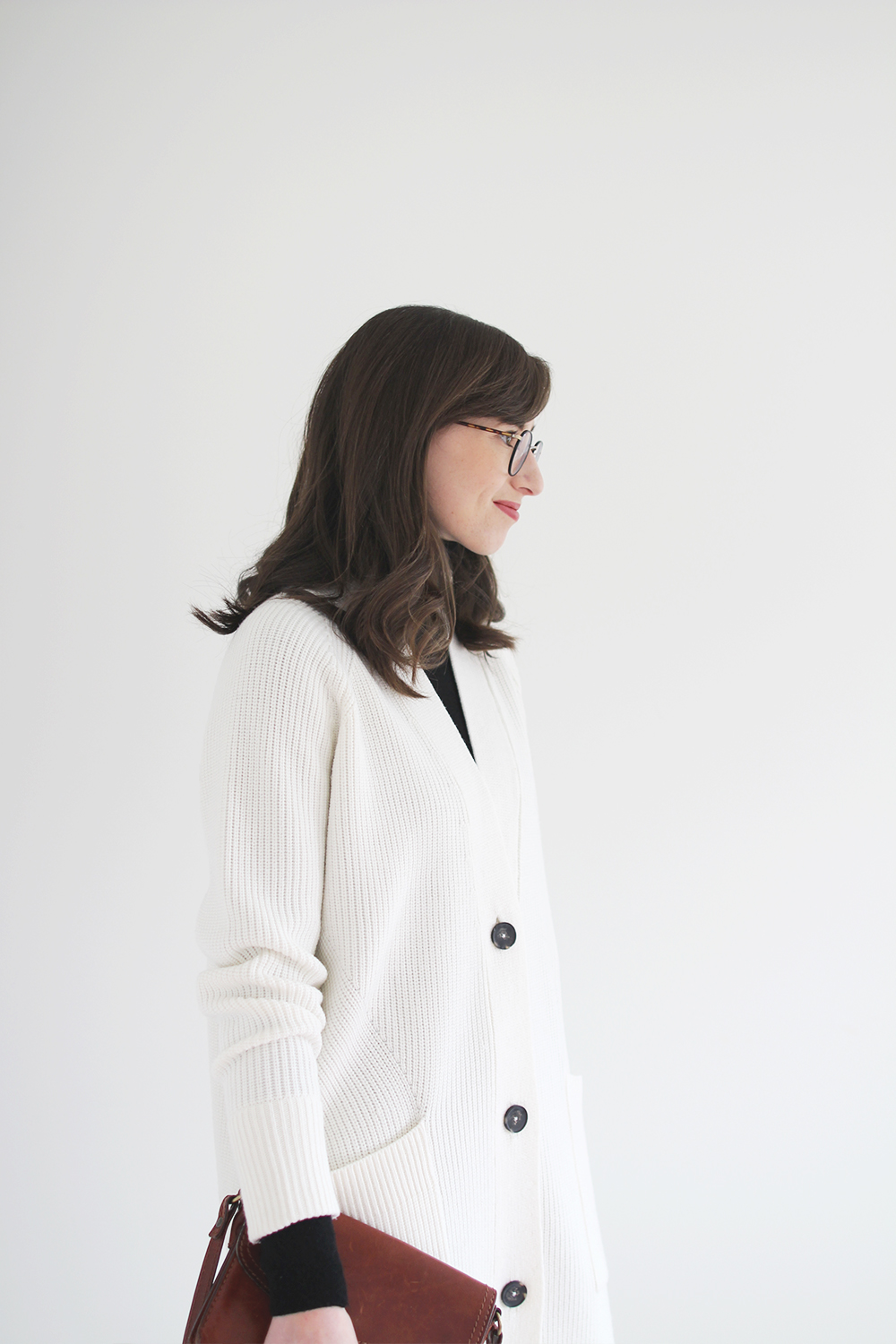 ---
INITIAL THOUGHTS
This cardigan/sweater/coat/dress, whatever you want to call it, has become a total closet hero for me. If you've been watching my Instagram Stories you'll have noticed that I sneak it into my outfit options whenever I can and it's taken some serious willpower to keep it out of every blogpost! But it's back and I love this look because this sweater really gets to be the star of the show.
What has this particular piece taught me? Well, for starters, that I was enduring senselessly cold days in the office before it rescued me. I've also learned that Ivory can totally work for a winter closet. The fit has got me thinking too. A relaxed but still slim sleeve, a long length and a closure option are key aspects to make a piece like this one functional. I love my kimono sleeves and open jackets, I really do, but when it gets properly cold they're just not the most practical.
I also know this piece has real staying power. For instance, when I was taking a 10×10 break over the weekend, I still wore this sweater both days. I just couldn't seem to let it go. Not quite the same case for any of my other items.
How do I feel about this outfit? I'll just say I'm just SO glad I figured out this look. It's so easy, super comfy and ridiculously cozy. I love the basic palette and the way all the pieces are working together.
The only thing is, it's actually too warm so I'd probably swap out the merino turtleneck for a jersey long sleeve or a bodysuit instead. Just so I don't overheat in my chair. Oh and that reminds me, I was worried the space between the buttons might gap when I sat down but there's plenty of give so no problemo! *Phew
This one is a major challenge win for me. I love a good sweater dress, but this cardigan rendition means I have so many other options too. This happy style moment is actually distracting me from missing the rest of my closet too.
---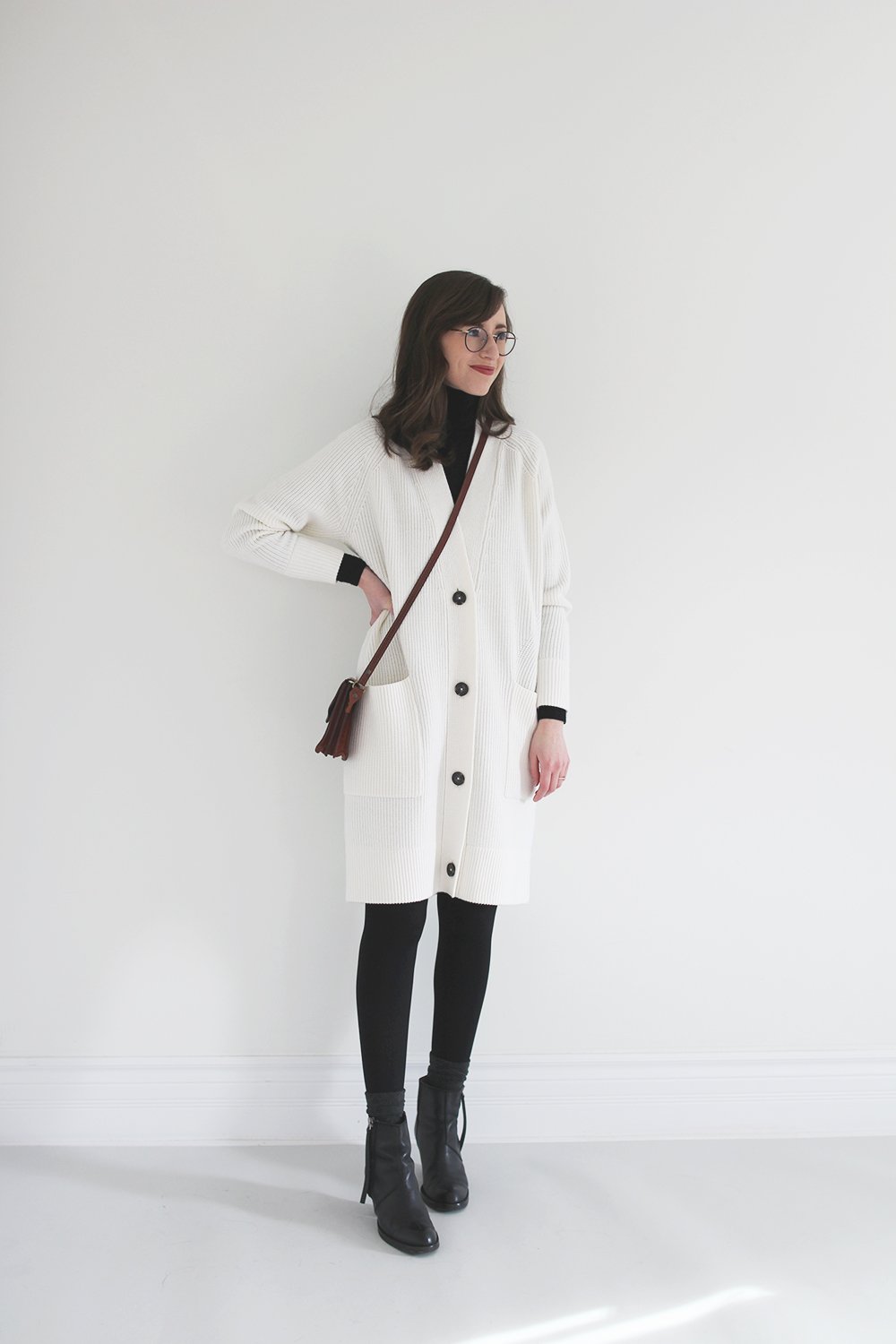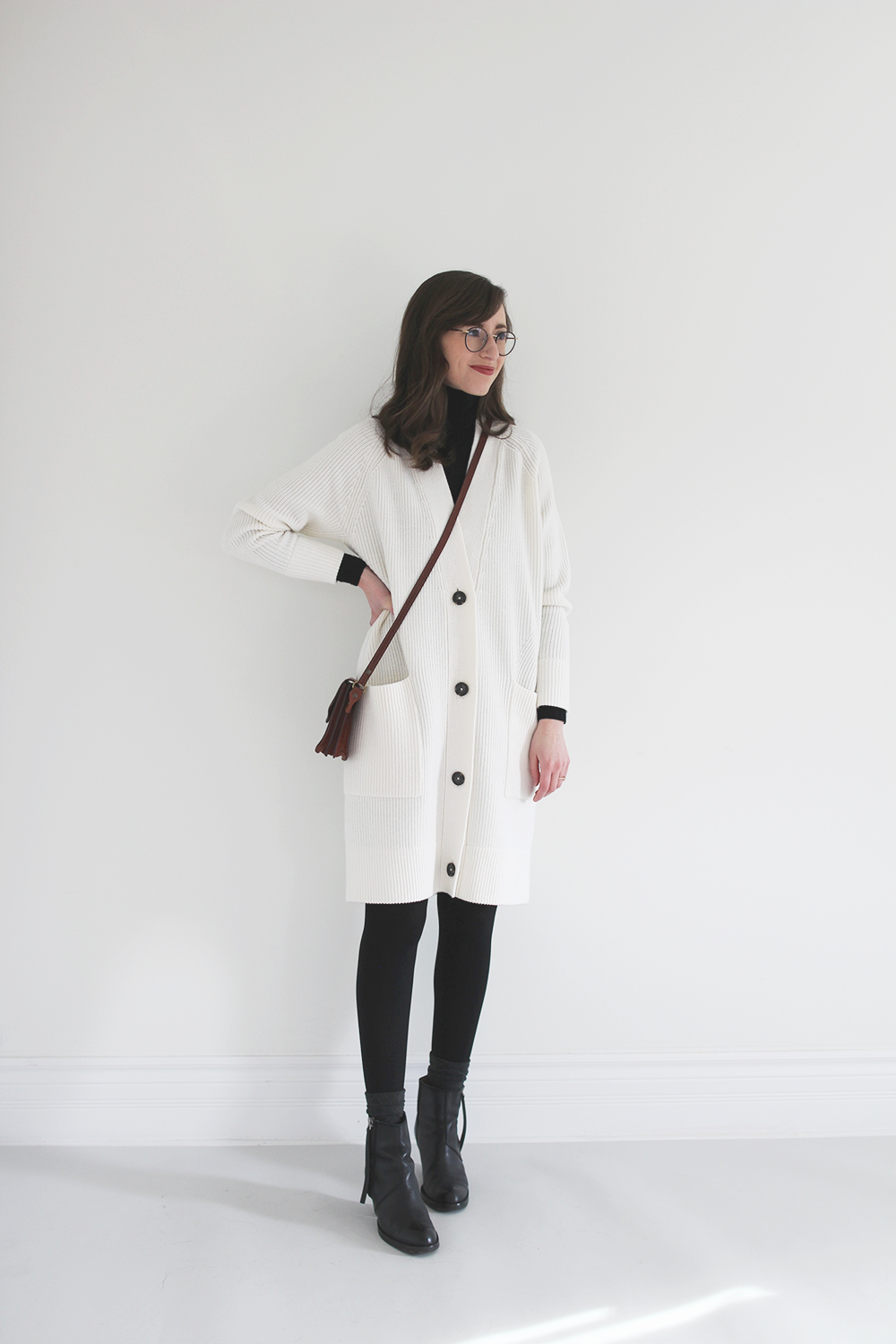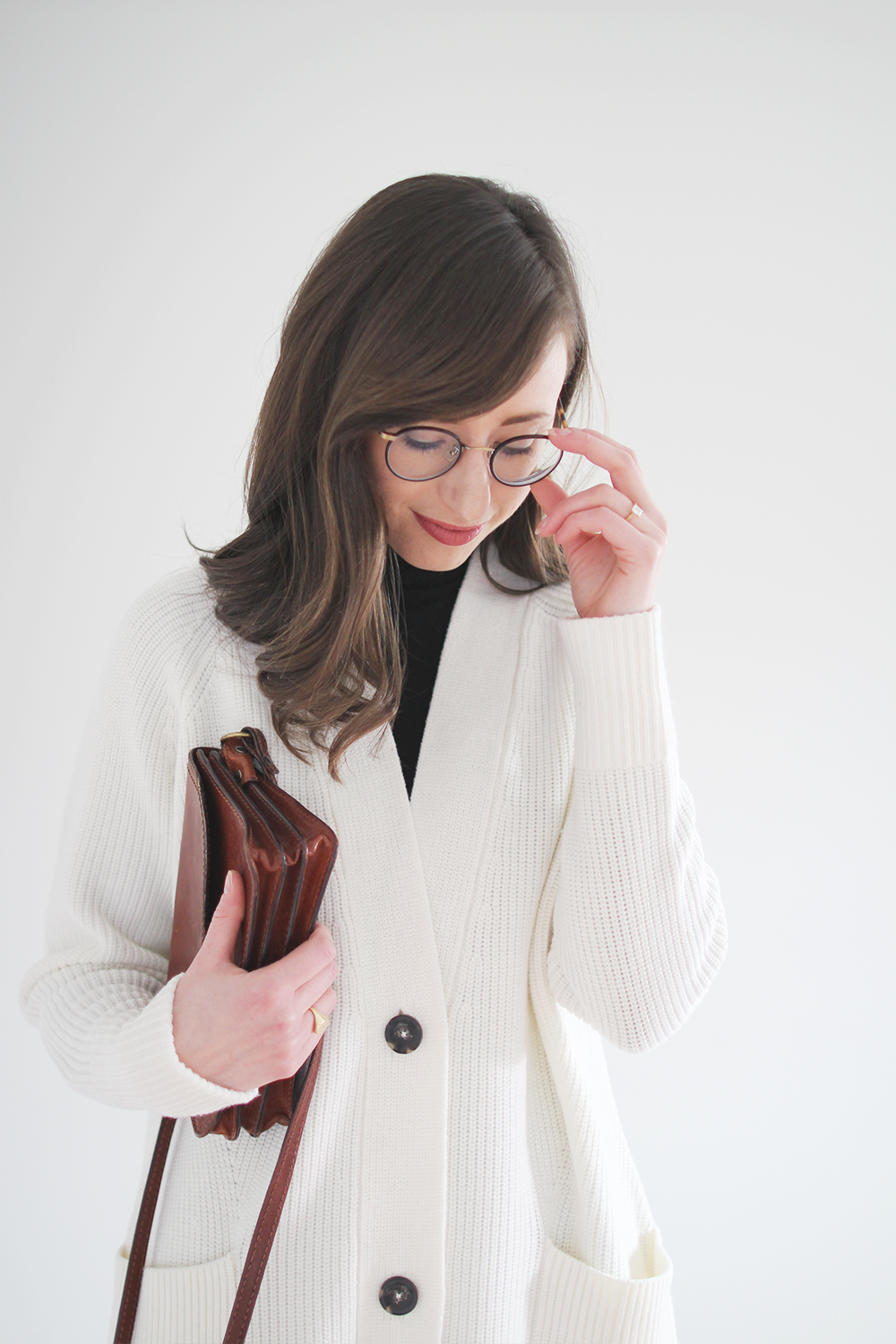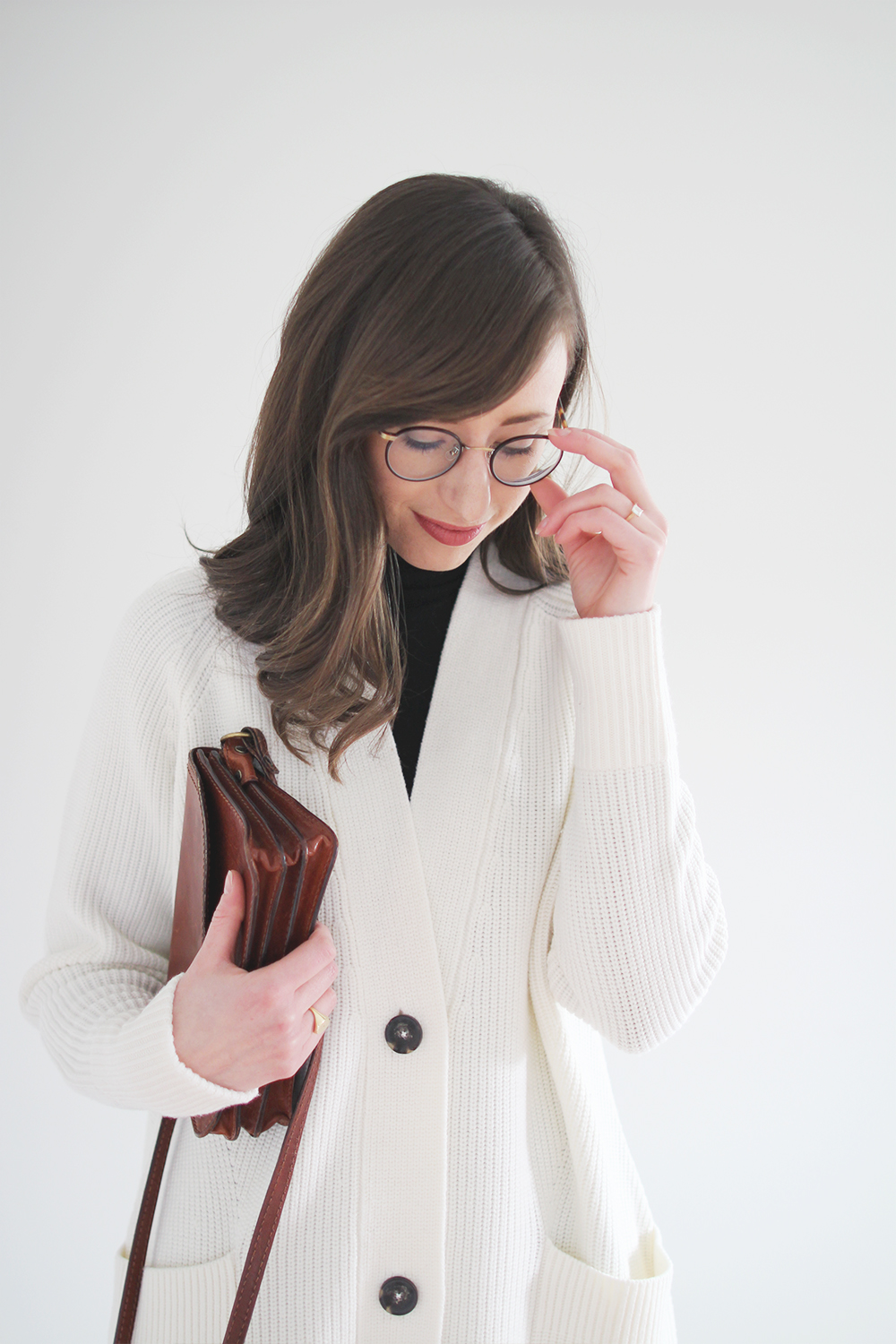 ---
STYLE + FIT DETAILS
1 | THE CARDIGAN DRESS | I actually came upon the idea of wearing this sweater as a dress by accident. I was looking in the mirror before shooting a story for Instagram and the front had sort of folded closed and a little light went on. Could it really be? A cardigan dress! Paired with a slim base of tights and a thin turtleneck it was the perfect top layer. It's made of a beautiful, thick merino wool so there's barely any show through and it's nice a long so there's no worries about things getting scandalous. I think an important factor is the fit though. It's fairly oversize so it moves well and doesn't cling which is key, otherwise it might feel a bit awkward or forced.
Any chance you've got a cardigan in your closet that might work for a trick like this? Try it out! 
2 | SOCK + BOOT | I first tried this visible socks in boots trick during my Fall 10×10 last year and loved the result. So I wanted to try it out this time and again I loved the result. It's an easy but impactful little styling trick that adds a subtle touch of extra dimension to the overall outfit. Plus my feet are uber cozy!
Try pulling the top of your socks up above the top of your ankle boots. It's an easy way to get a touch of casual coziness into a look without getting too involved with layers.
3 | SUPER OPAQUE TIGHTS | There may be varying opinions on this but 100 Den or higher is the only way to go when it comes to tights in Winter (at least for me). I really like the look of a true black opaque tight that doesn't let any skin show through. First of all they're warm, they stay a deep black even with washing (unlike most cotton leggings) and the look is clean and streamlined.
If you're in the market try this pair, which are 110 den. I just bought two bodysuits from the same company and they are awesome! 
4 | BLACK BASE | Starting with an all black base is not a new layering trick for me (I've used it before here, here and here on the blog) but it's becoming one I rely on a lot when getting ready in a rush. It makes layering so easy and the result is always simple, sophisticated and never too harsh, which a lot of black can often be.
Simply start with a pair of black pants (or tights or leggings), add a black top (bodysuit, turtleneck or tee) and then add your top layer that's a different colour to create some contrast. Et Voila! 
---

---
OUTSIDE
Really didn't overthink the outside version of this look. I just added my caramel wool coat and a cross-body bag. It's nice and mild out again today and we might actually see some sun! With that in mind I might get away with no coat and just toss on a beanie and a pair of gloves to walk Dobby, run errands and spend some time out and about. Otherwise I'll be plunked at my desk until it's time for hot yoga tonight. I'll try a few other 'Winter Ready' styling ideas on my insta stories today too!
---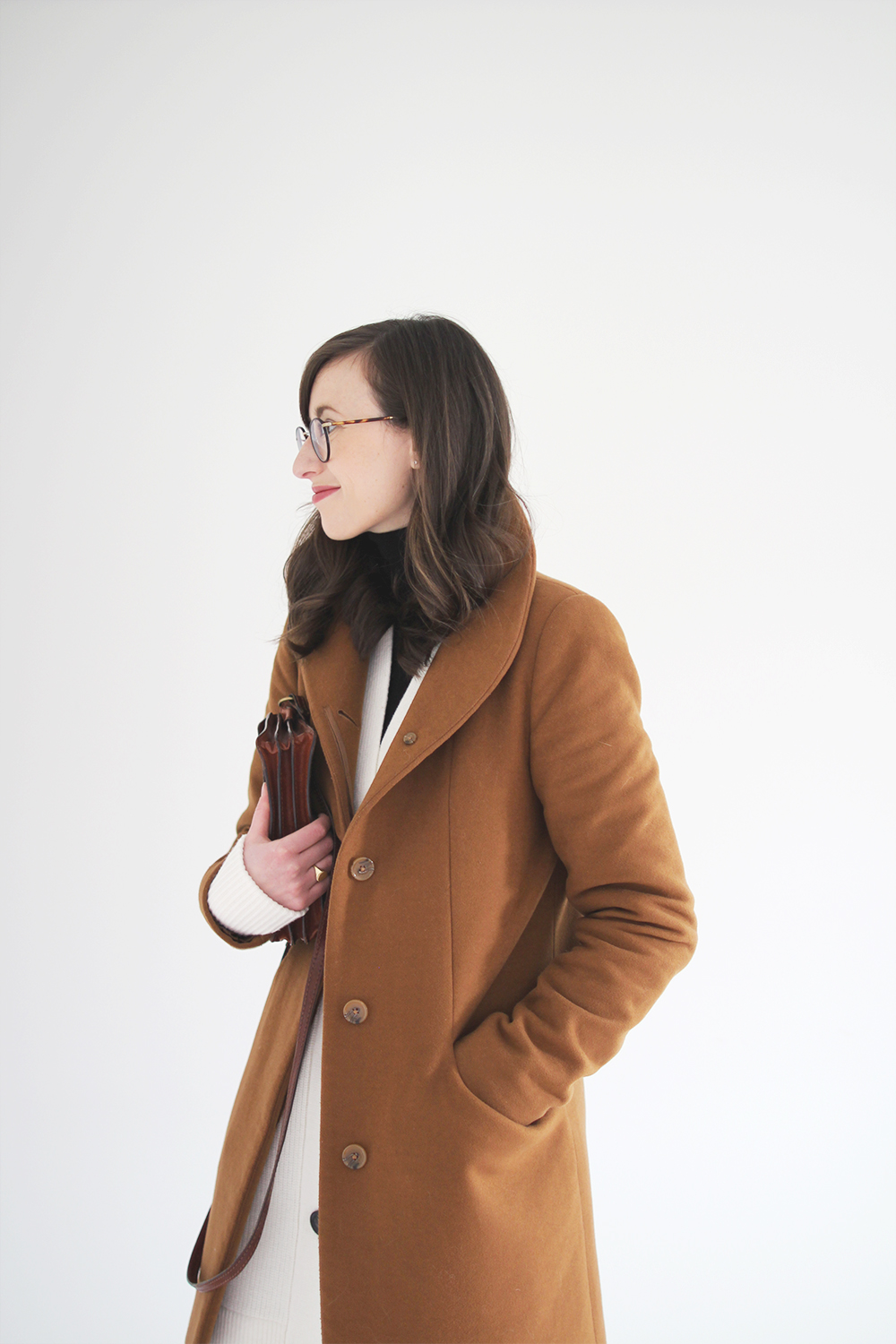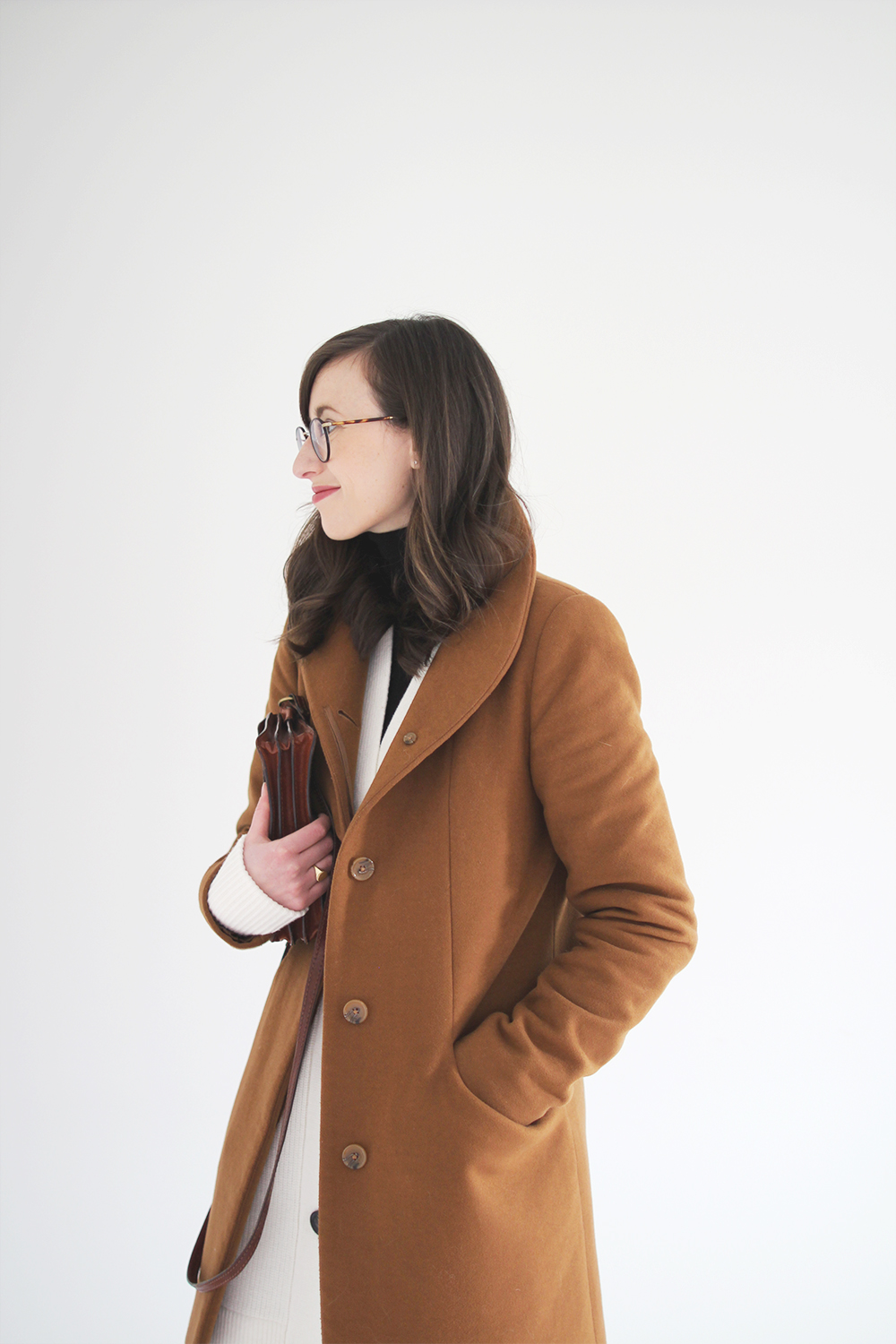 ---
SO THERE WE HAVE OUTFIT #8! JUST 2 MORE LEFT YOU GUYS! 
Be sure to pop over to UnFancy for Caroline's latest too!
+ Keep sharing your looks with #Winter10x10 and if you have a sec, check Instagram Stories today for a real-life look at our outfits in action (@caroline_joy + @leevosburgh).
SEE YOU THERE!
---
---
This post is not sponsored but contains affiliate links. When you shop via the links above I may make a small commission from a sale. Thanks for supporting Style Bee! All opinions are always my own.