It's time to recap the #Winter10x10 Challenge and see what we learned from styling 10 Items, into 10 Outfits, over 10 Days. Seems easy when you put it like that but, man, it was no small feat!
But first I must give a huge, mega, monster THANK YOU to my wonderful co-host Caroline of Un-Fancy! I'm so thrilled that this weird world of style blogging connected us and couldn't have asked for a better person to team up with. I learn something from this lady every day and I know the community we've built would not be where it is without her. Caroline's style is amazing, her positivity and kind spirit is infectious and if you haven't scoped her beautiful blog Un-Fancy yet, well, you're in for a serious treat!
Hosting this #Winter10x10 has been one of the most rewarding blogging experience I've had to date and that's certainly thanks to all of you! Whether you were one of the many daily contributors or you chimed in occasionally or just sat back and watched this time, your participation is very much appreciated and I hope you felt it was worthwhile and lots of fun!
Today's Recap will cover:
My 10 Items and 10 Outfits (for both inside and outside)
My Favourite Looks 
My Personal Style Findings + FAQs
10 Standout Insights From The 10×10 Community
20 Awesome #Winter10x10 Posts 
What's Next
Grab a coffee and settle in for this one, here we go! 
---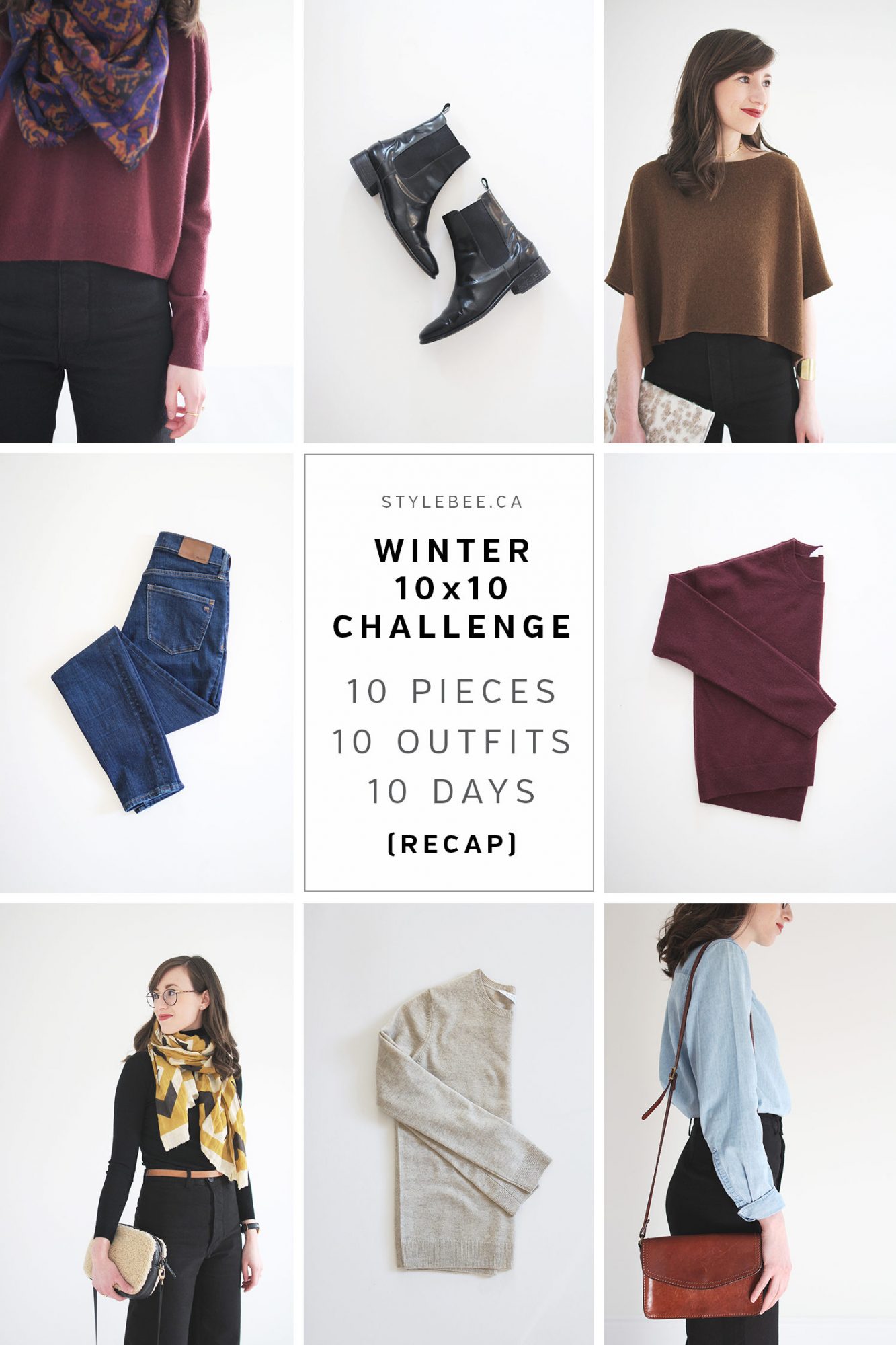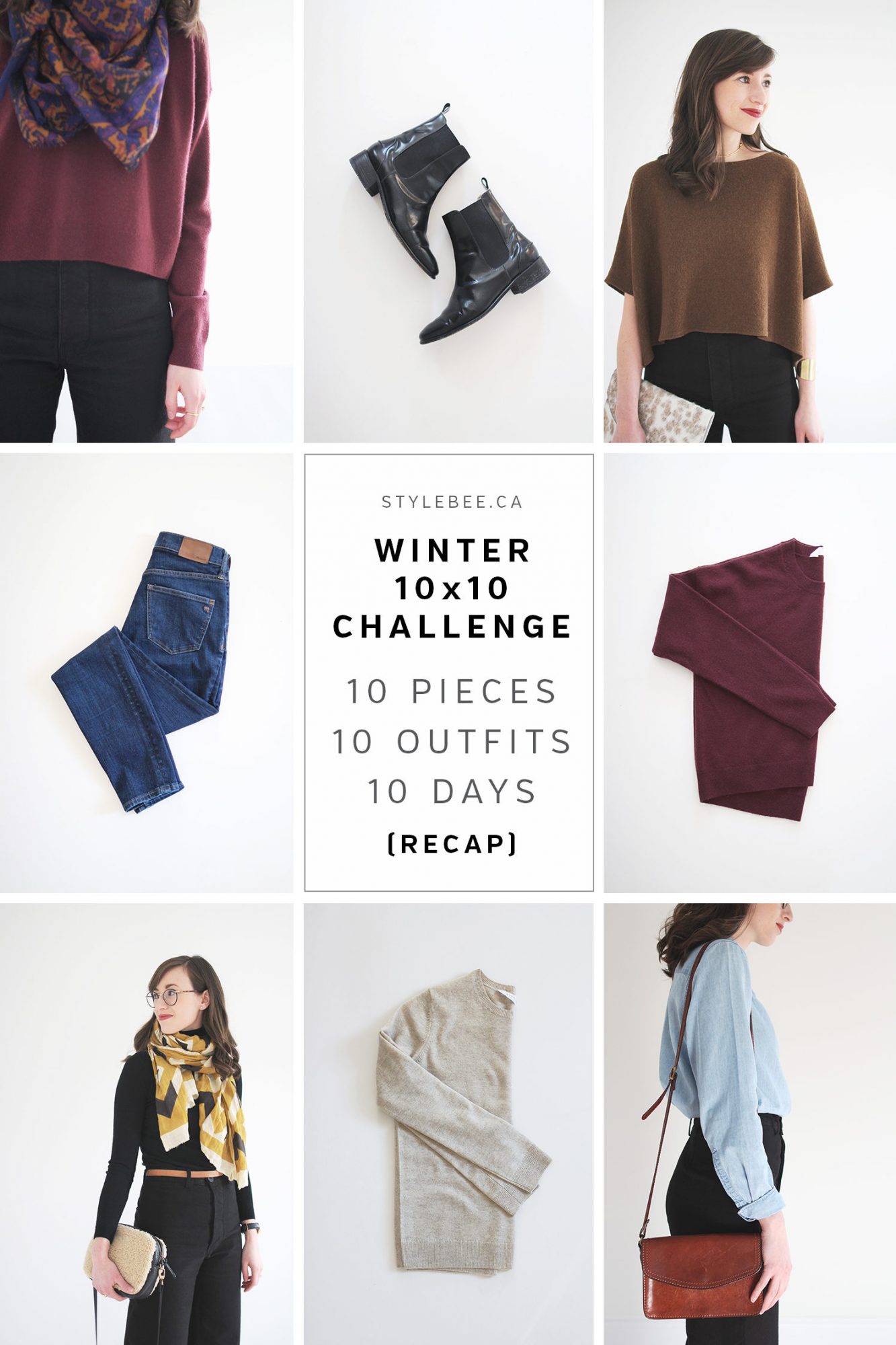 ---
10 ITEMS
These are the 10 items I chose to style into my 10 different looks.
I opted for a few items that I knew would be versatile, a few I wasn't sure about and a couple wildcards that would mix things up! 
---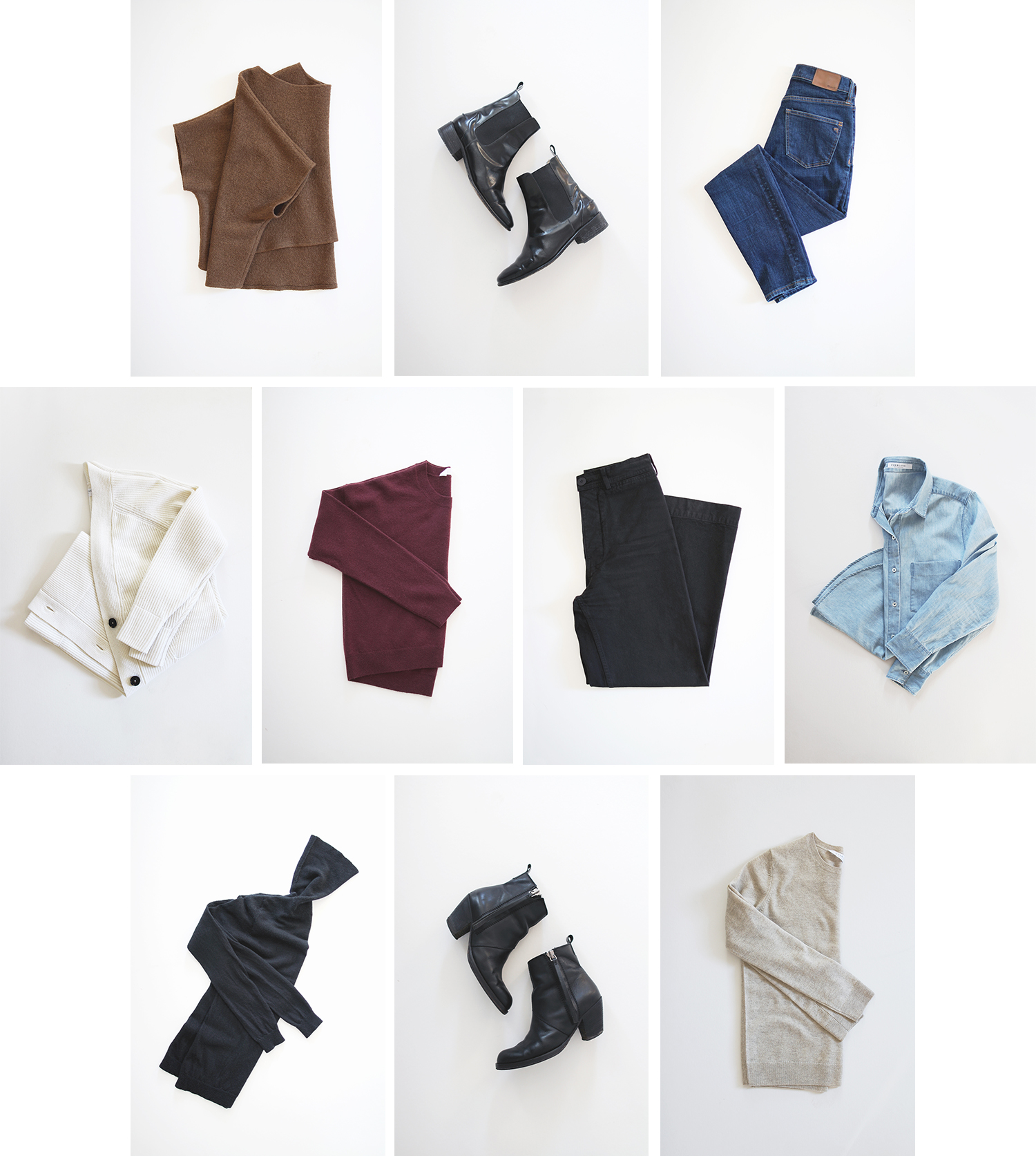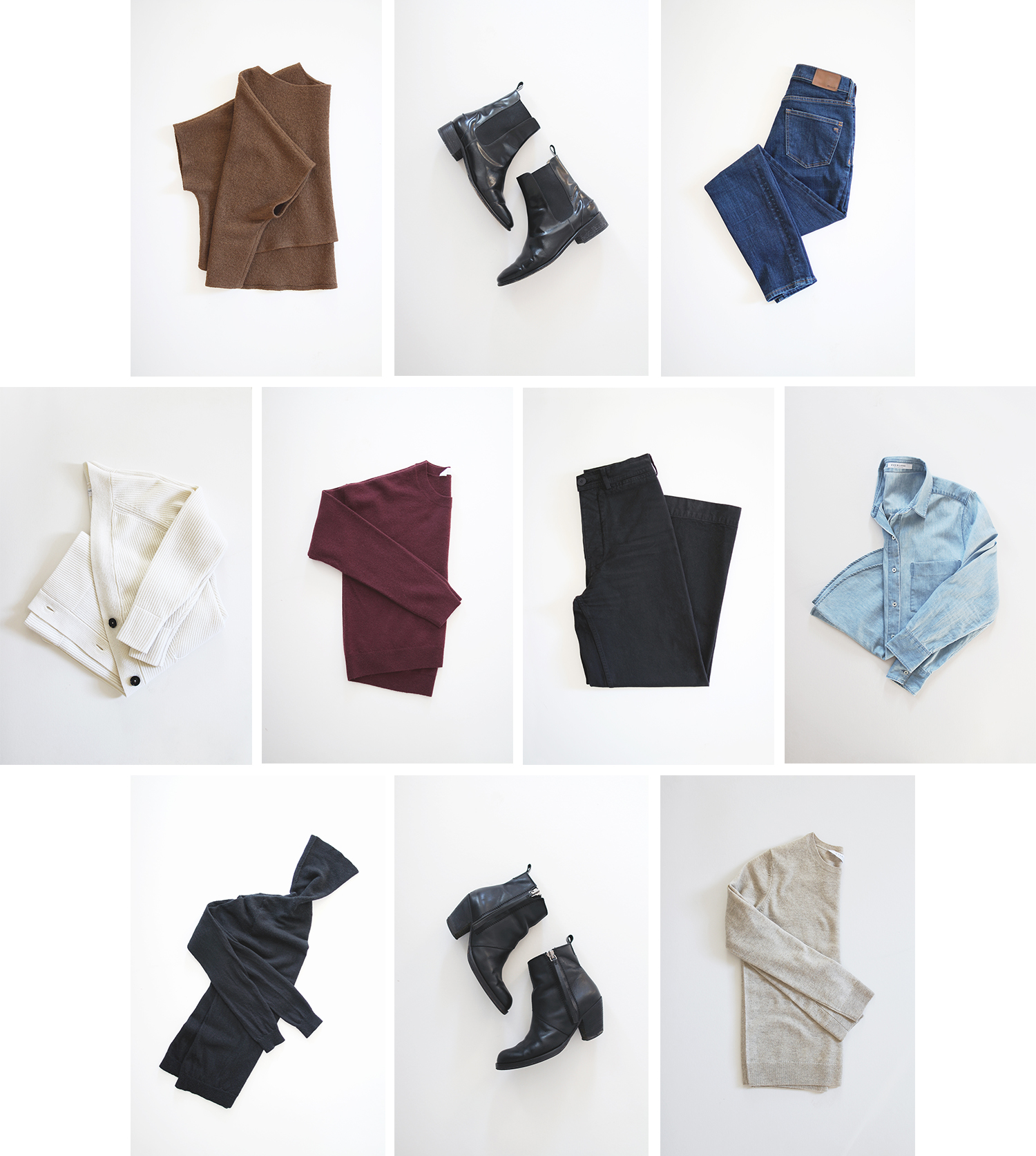 ---
LINN TEE (Similar here, here and here) | CHELSEA BOOTS | SKINNY JEANS | SWEATER COAT (Similar here and here in grey) | CROPPED CASHMERE (Similar here) | KAMM PANTS (lots of colour options) | CHAMBRAY SHIRT (Similar here) | MERINO FITTED TURTLENECK (Similar here) | PISTOL BOOTS | CASHMERE CREWNECK
---
10 LOOKS – INSIDE
These are the 10 looks I put together from those 10 items. These are intended for warmer climates or indoor wear.
---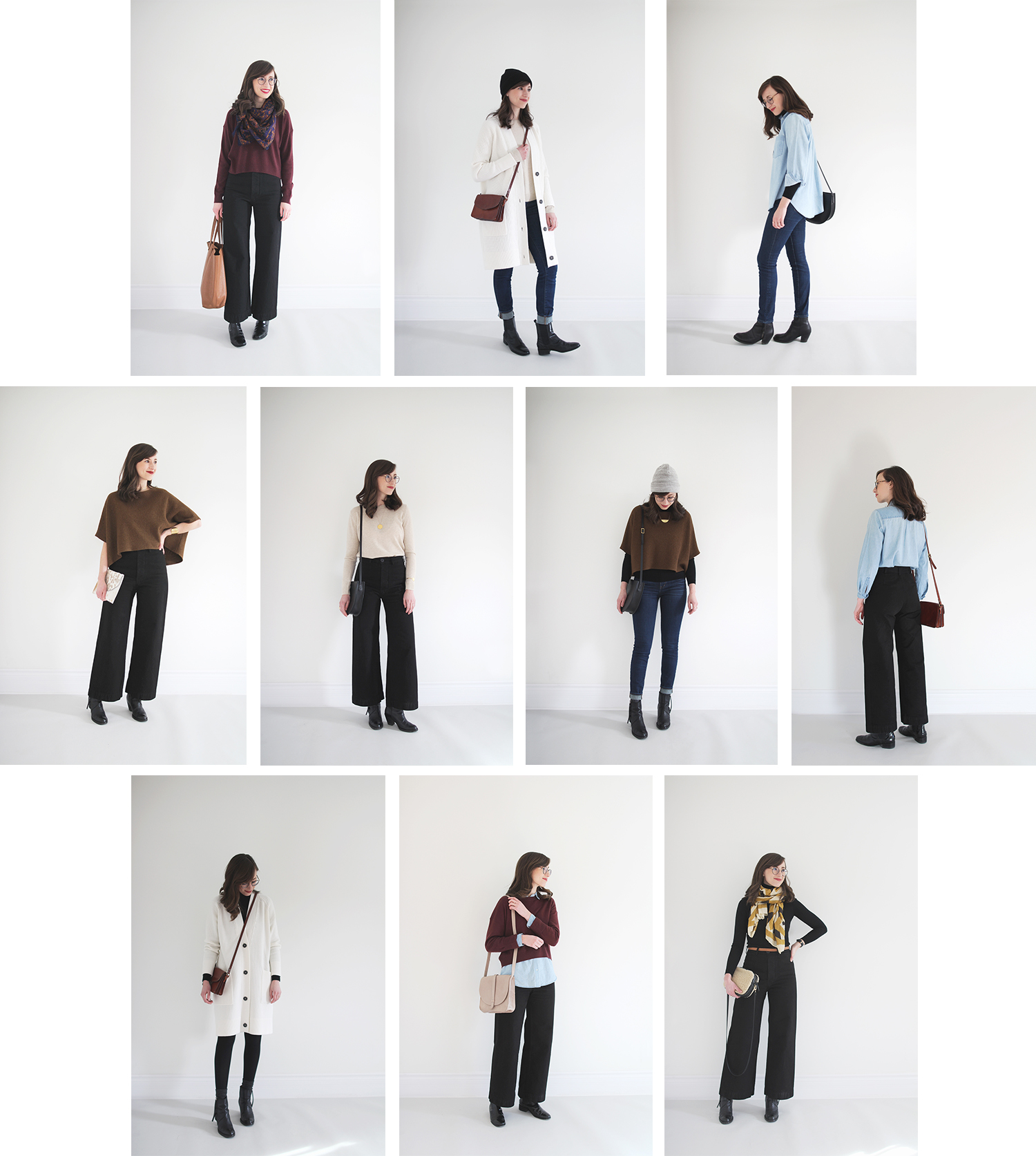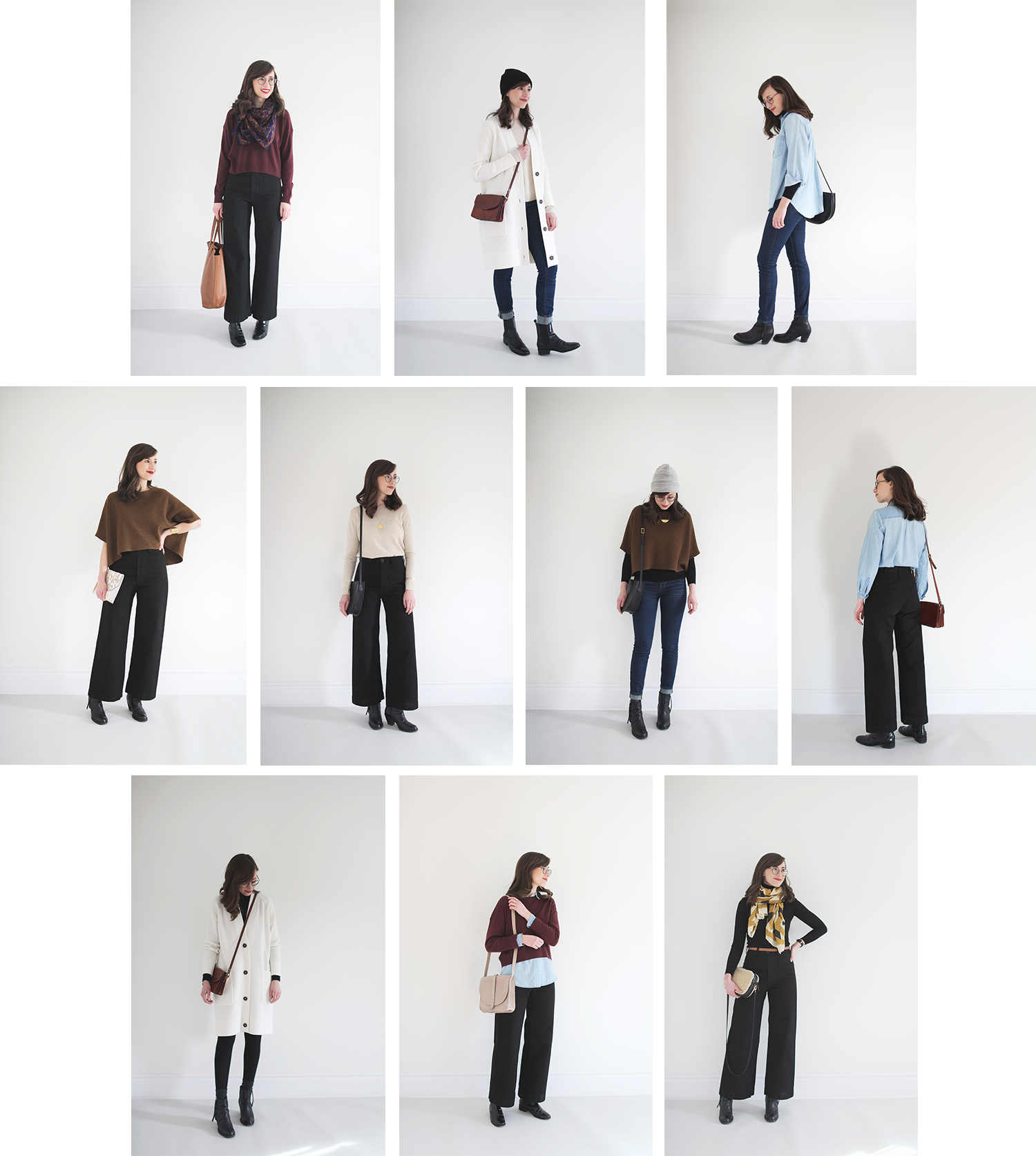 ---
10 LOOKS – OUTSIDE
These are the 10 looks I put together and intended for outdoor wear in a cold climate like Ontario.
Coats and accessories were not part of my 10 items but I wanted to create an outdoor version for each look.
---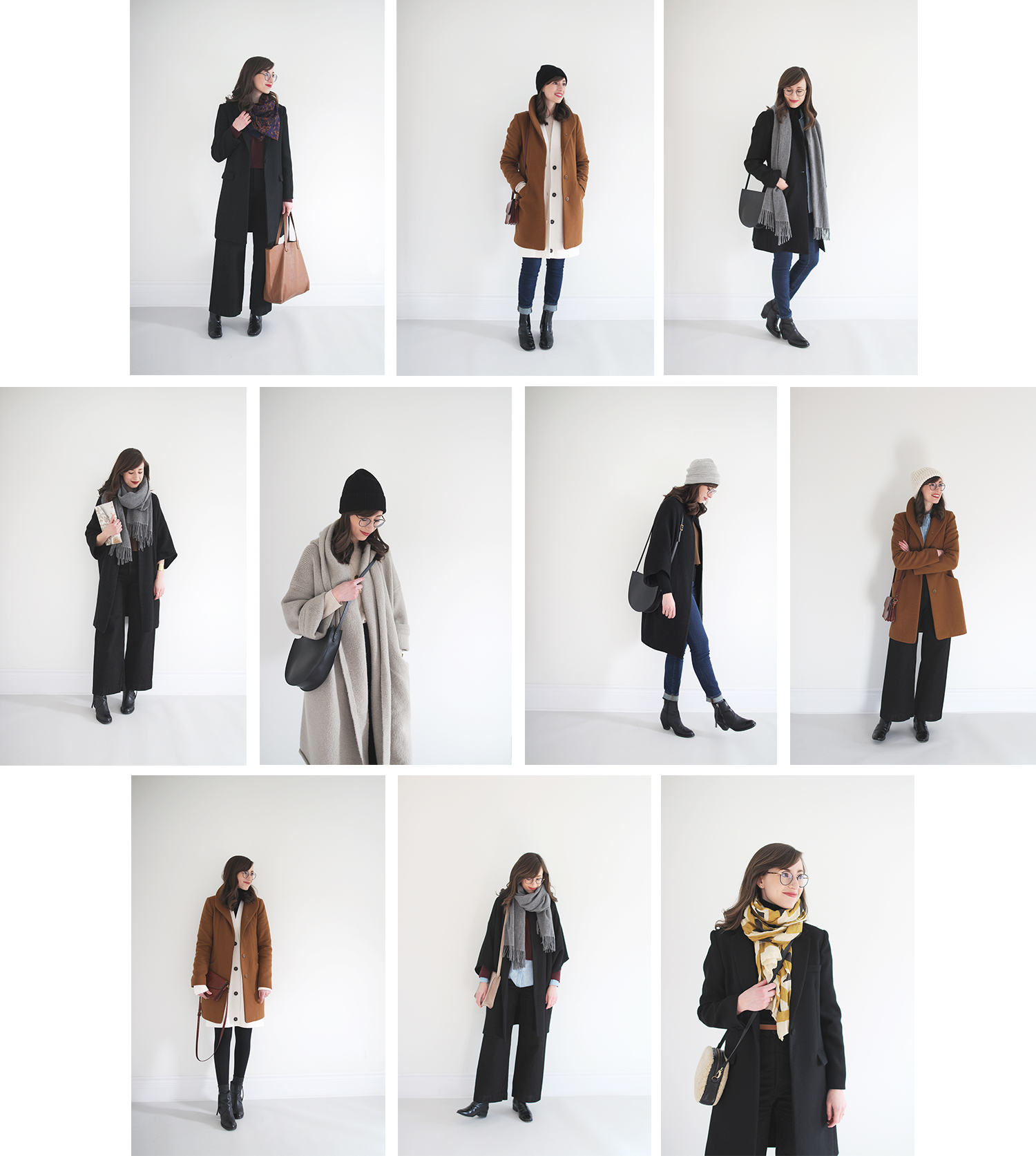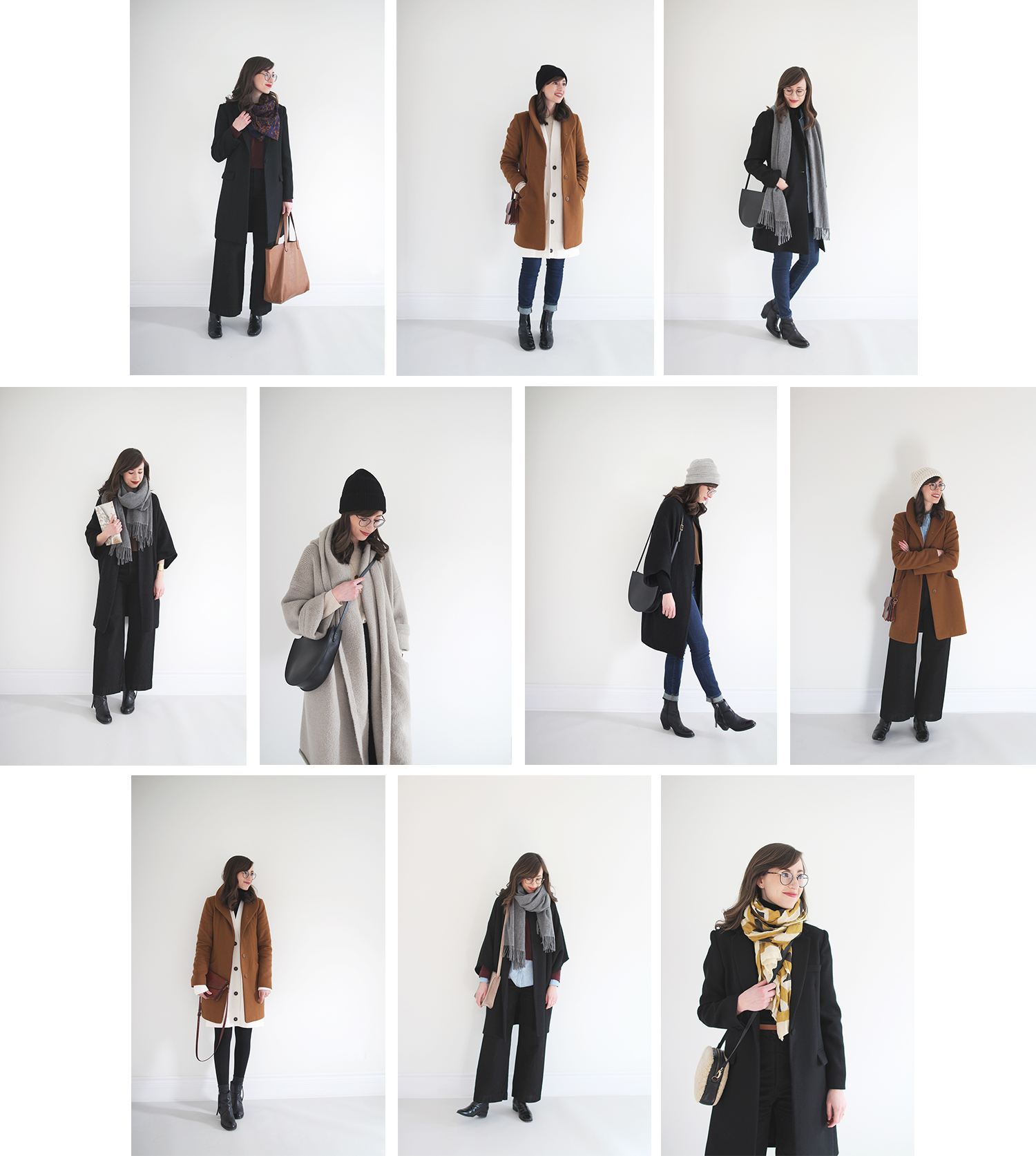 ---
 3 FAVOURITE OUTFITS
These three looks are my personal favourites from the challenge. Look #5 (left below) reminded me that simplicity can be the statement and that a paired down palette is always timeless and chic. Look #8 (middle below) was a fun spin on the typical sweater dress and confirmed that this ivory sweater/coat can be more than just a cardigan. Look #10 checks all my personal style boxes and just feels great to wear. Look#1 and Look #4 were very close contenders too.
My least favourites were Look #3 and Look #7. Not because I really disliked them but because they paled in comparison to the outfits I really enjoyed wearing. The proportions felt a bit wonky and I didn't feel they flattered my shape or answered my style profile as well as other looks either. No regrets of course, I'm still so glad I tried them all! 
---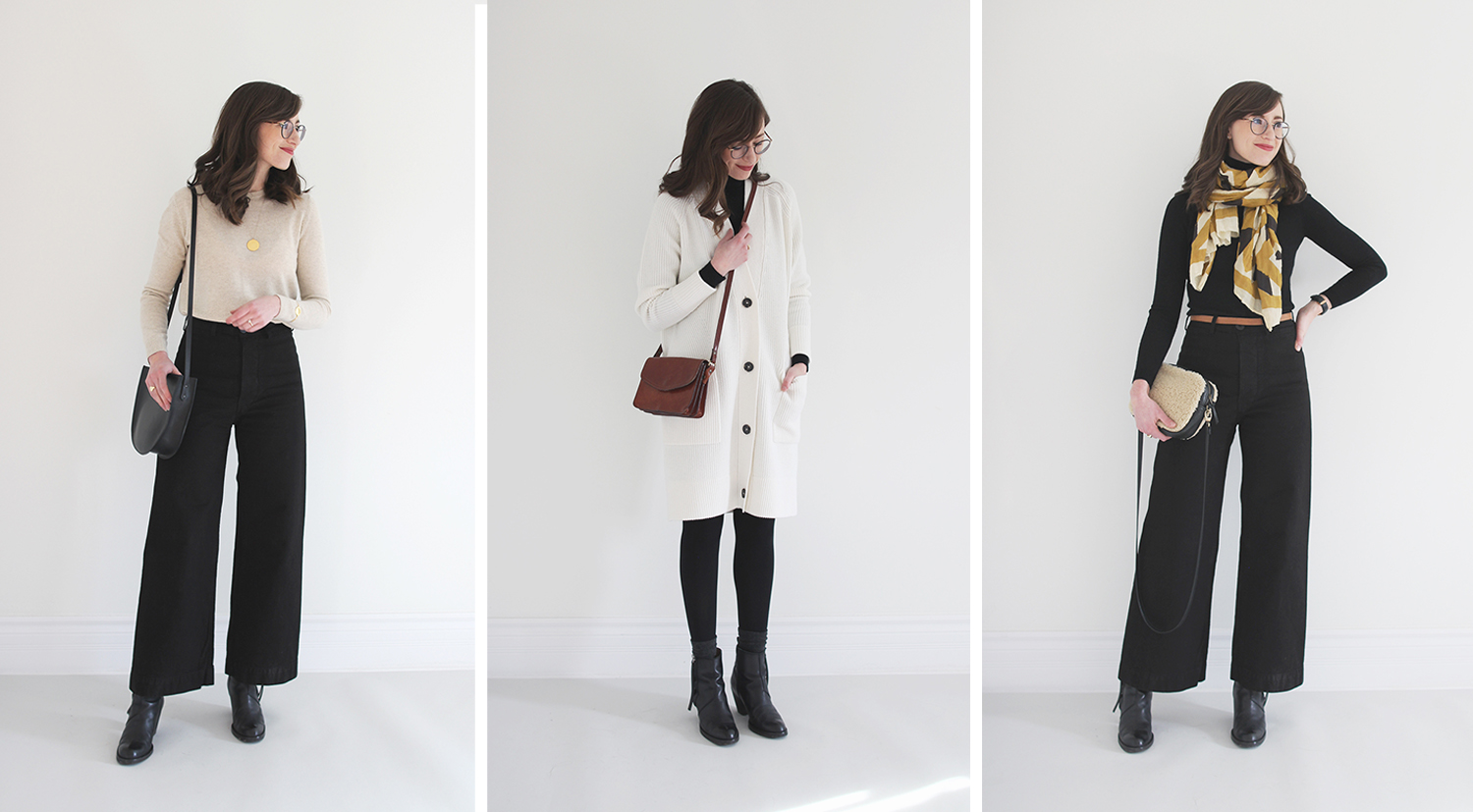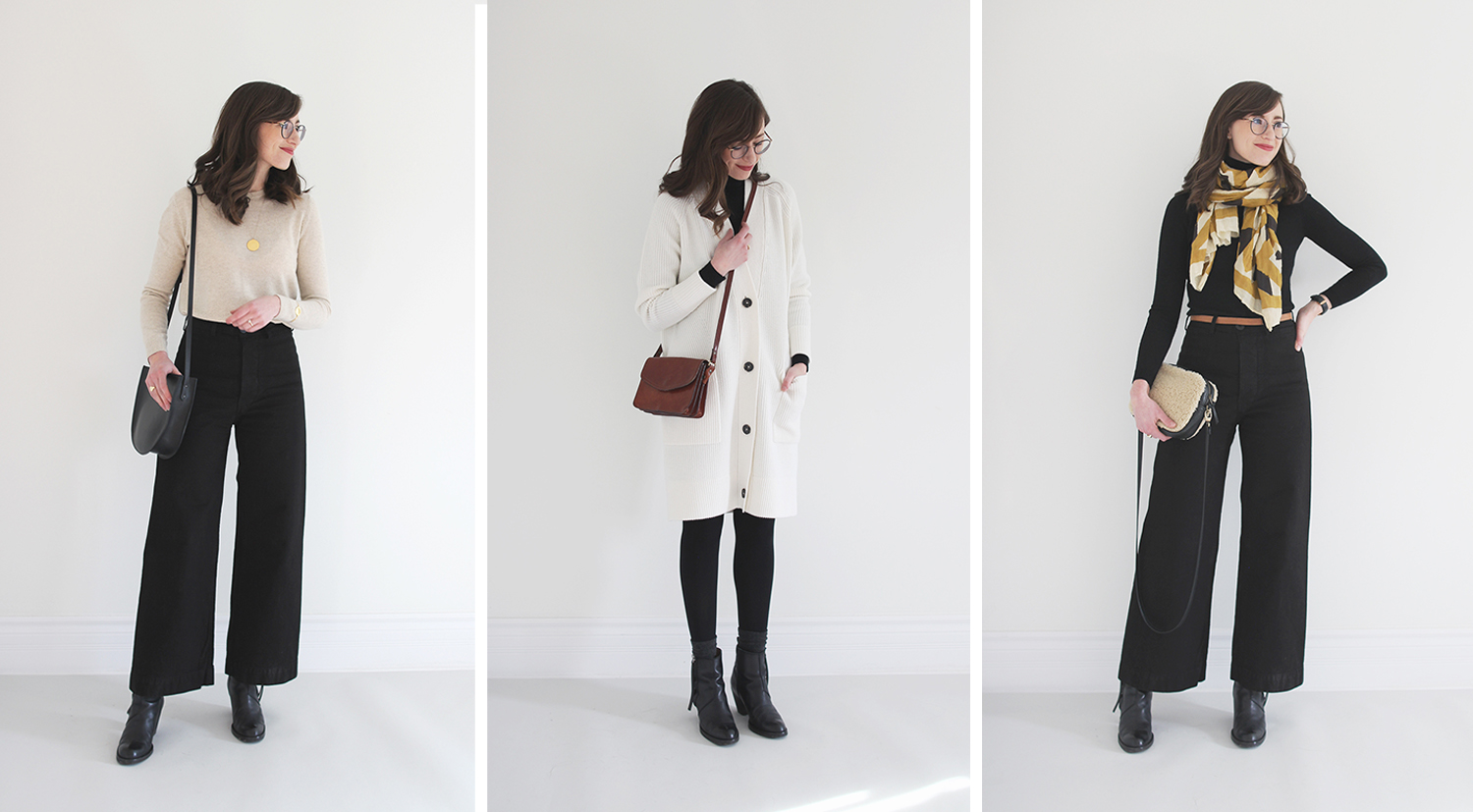 ---
PERSONAL STYLE FINDINGS
Throughout the challenge I made some notes on my 10×10 Challenge Worksheet and it was really interesting to go back and look through the findings last night. Some things were total surprises while other insights were a bit more expected. It was also really cool to see some of these conclusions crossover with the general consensus too. Always nice to know that others are feeling the same sometimes! So here's a quick run-down of my personal style findings.
---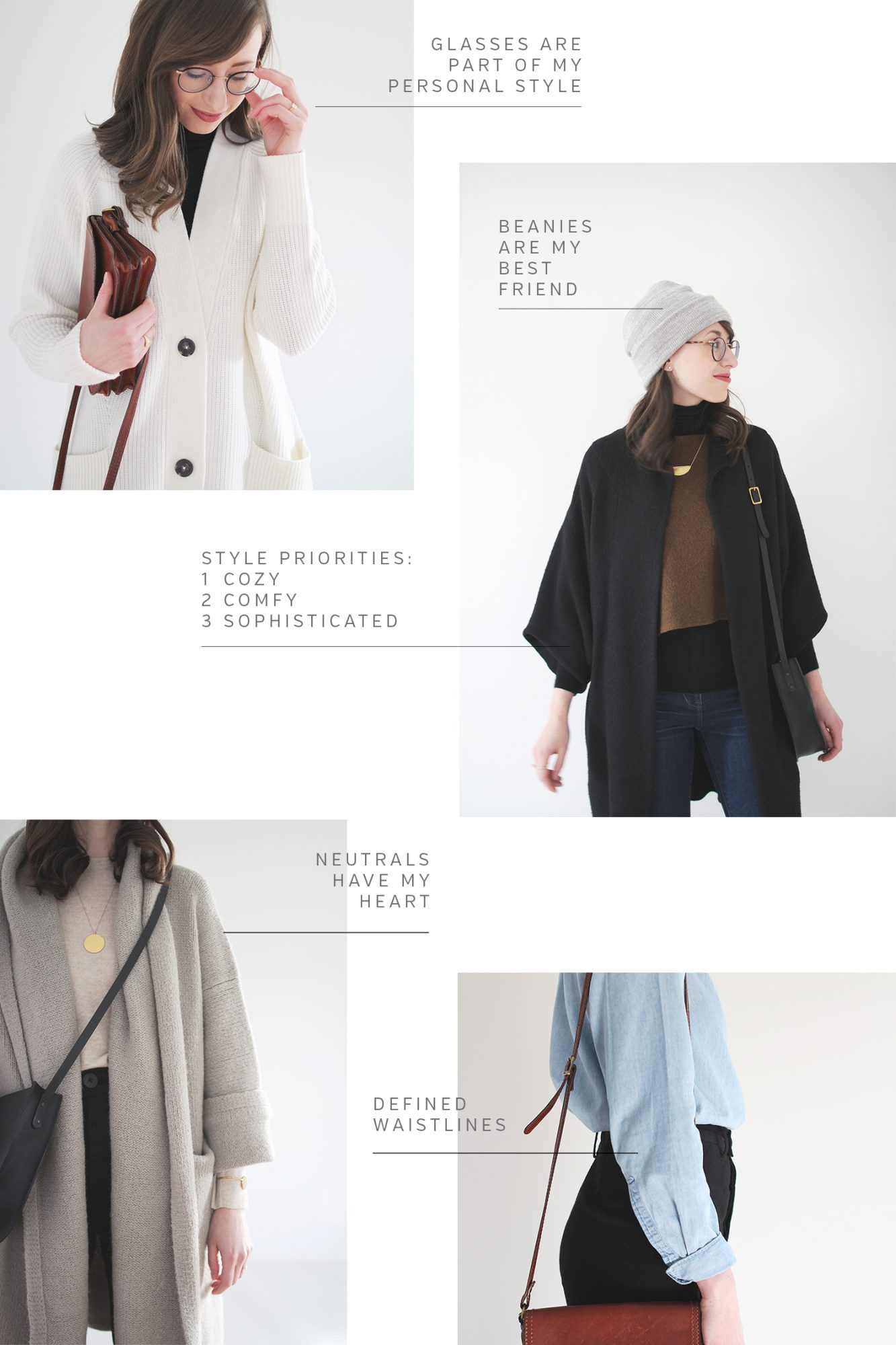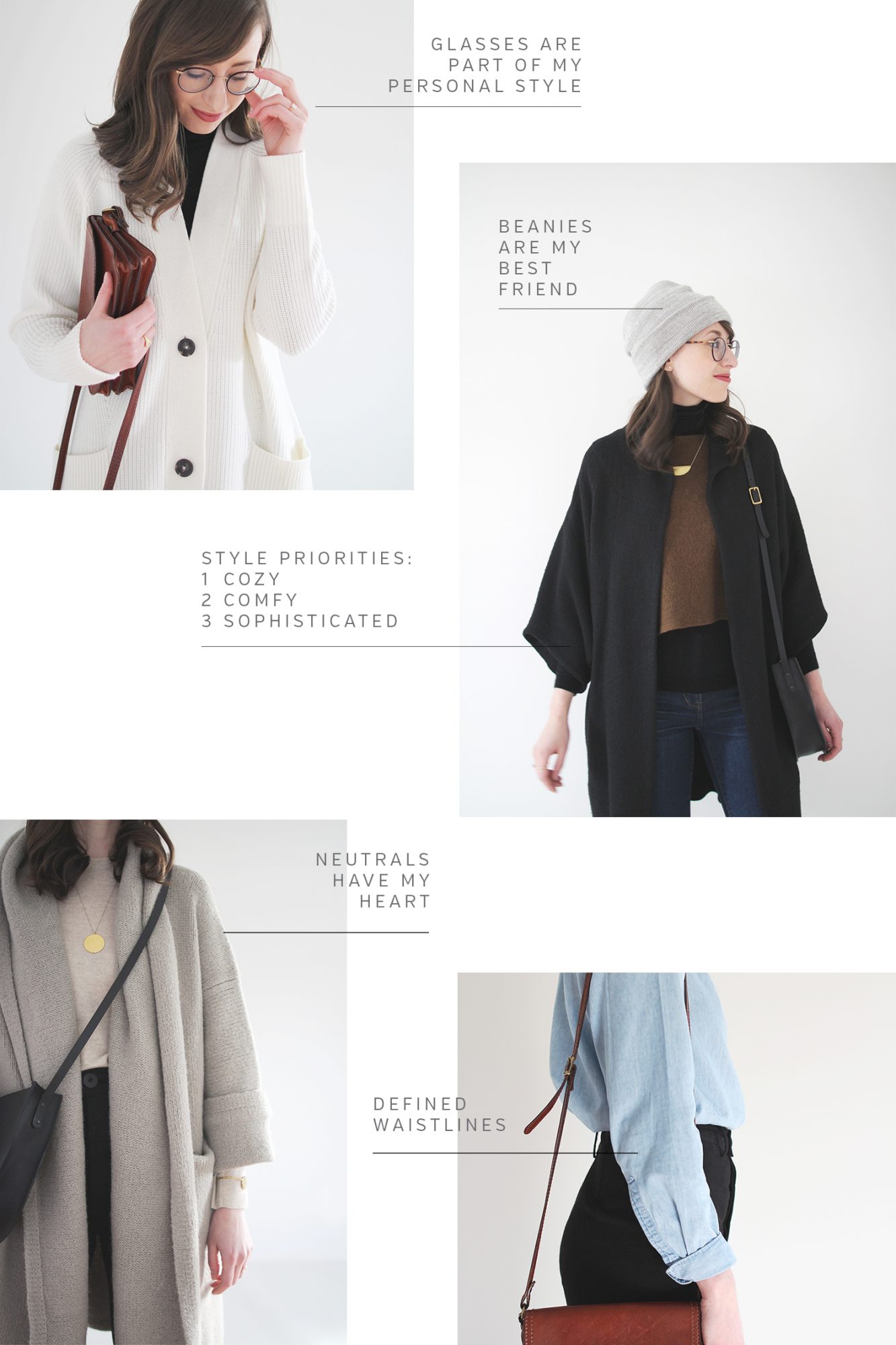 ---
1 | GLASSES ARE PART OF MY PERSONAL STYLE | I finally feel as though glasses are not something I have to exclude to feel stylish! I've worn glasses for 15 years and would always opt for contacts instead when I wanted to look presentable. It's such a relief to feel equally stylish while wearing them! This was a big surprise to me!
2 | BEANIES ARE MY BEST FRIEND | I wore a beanie outside almost every day throughout the challenge. I love that they work with my style really well and they're also totally functional. I didn't realize just how much I relied on them!
3 | MY STYLE PRIORITIES ARE AS FOLLOWS: 1. COZINESS 2. COMFORT 3. SOPHISTICATION | In order of importance. I used to put #3 first and it may have made for a cute look but it never made for a very wearable outfit.
4 | NEUTRALS HAVE MY HEART | I feel my best when wearing a neutral palette but it need not be boring! I still have an appreciation for colour but in moderation.
5 | DEFINED WAISTLINES | I quite like the silhouette that a high waist creates. I feel slim and feminine but not overly cinched. I owe this revelation in large part to my Kamm Pants. This idea had been lingering in the back of my mind for a while.
6 | NOT LOVING SKINNY JEANS RIGHT NOW | It's true. They're not my favourite right now. Maybe it's because I'm feeling self-conscious of my hips (which came up in the Fall 10×10 too) but I'm really feeling a wider leg or the relaxed leg of a vintage fit right now. No problem. I'll just put them on the sidelines for a bit.
---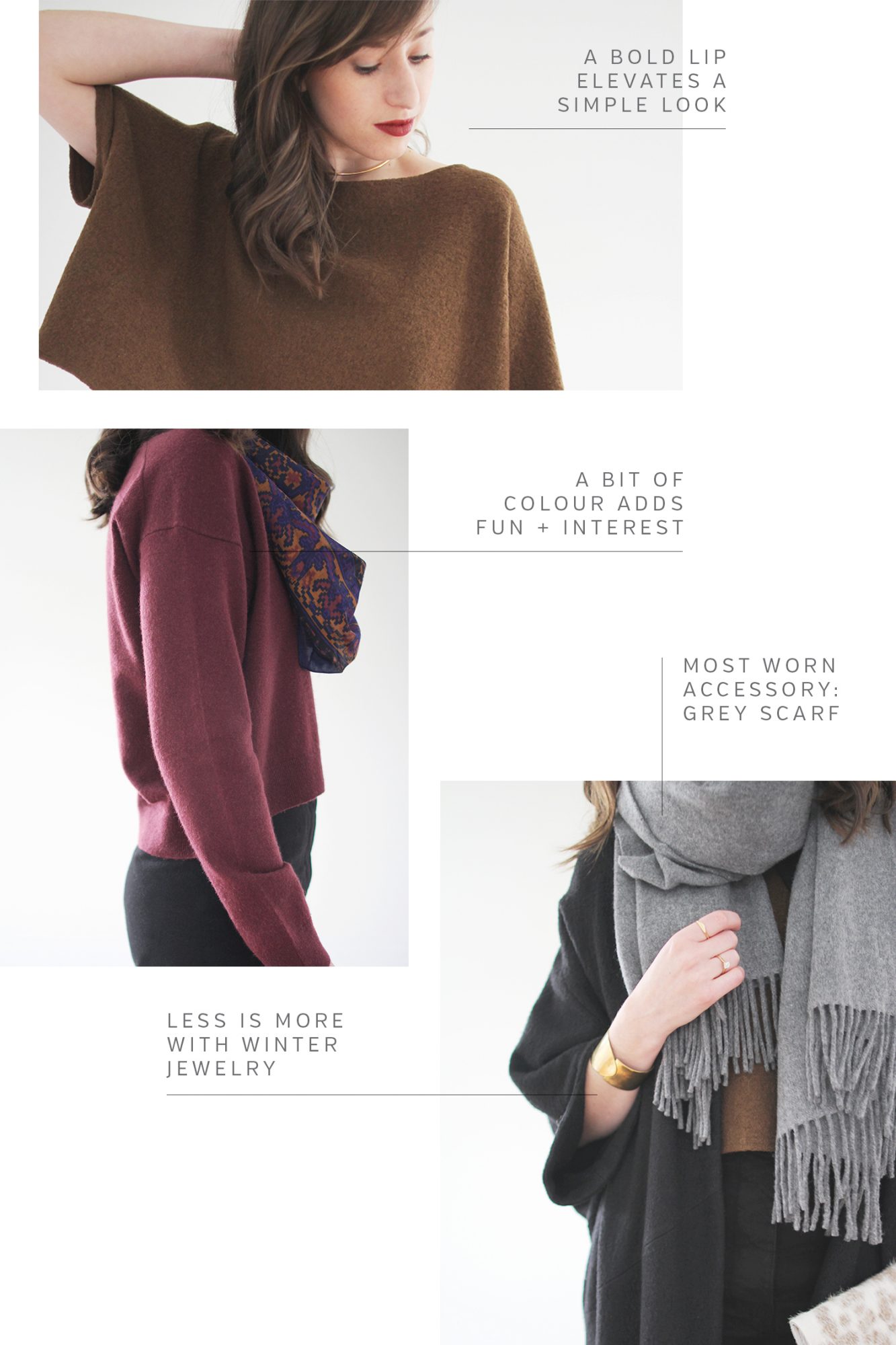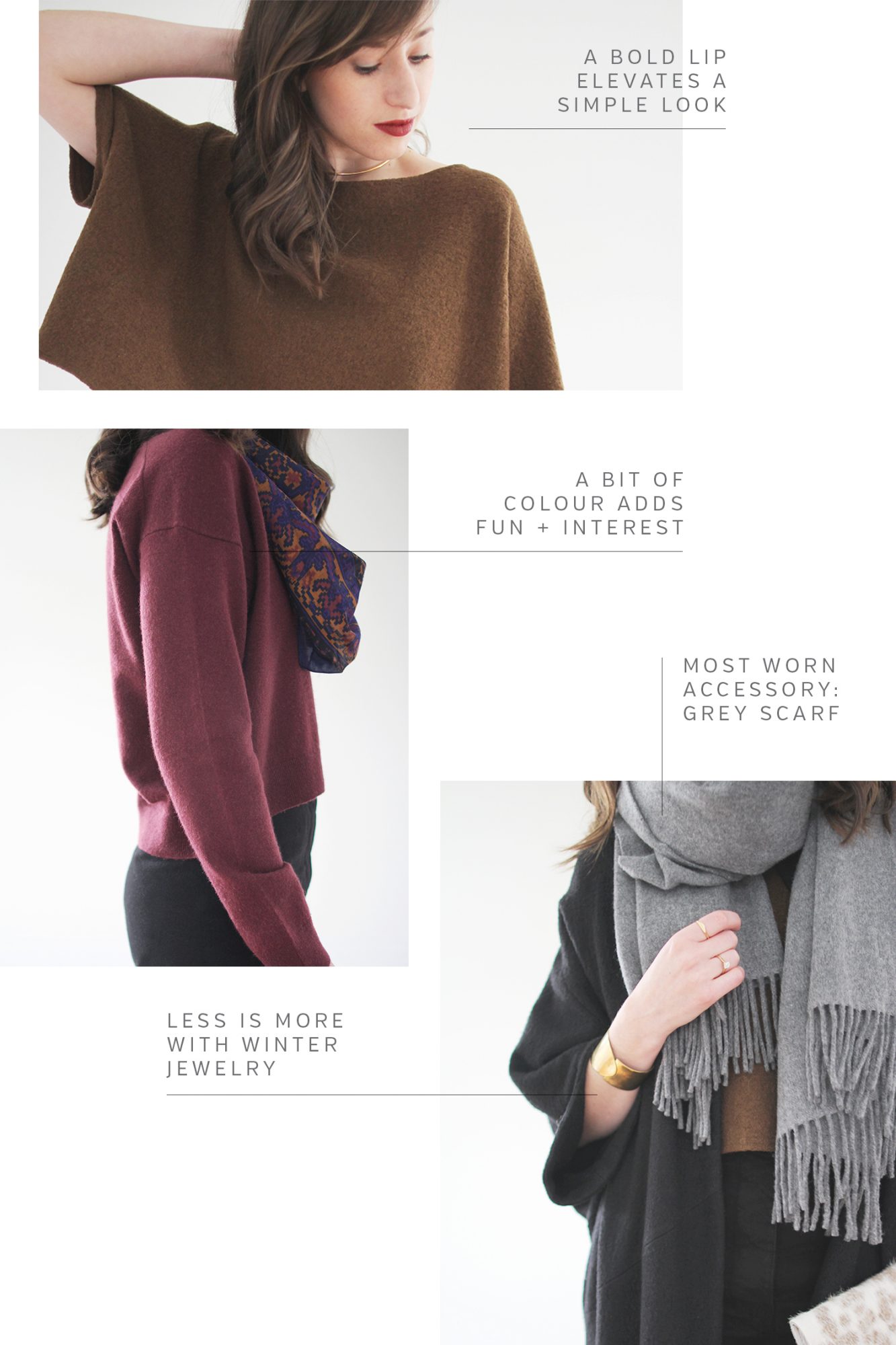 ---
7 | A BOLD LIP ELEVATES A SIMPLE LOOK | This we all sort of know already but I made a point to try a bold lip a few times this challenge and loved the result! Definitely something I'll keep up going forward.
8 | A BIT OF COLOUR CAN BE FUN | So yes, I love neutrals to death, but a bit of colour once in a while is good for the spirit! I'm keeping jewel tones in mind going forward for when neutrals are feeling a little dull.
9 | MY GREY SCARF IS A WORKHORSE | Much like beanies, I wore this grey scarf A TON throughout the challenge. It had been on my wish list forever and served as a good reminder to hold out and save up for the piece you really want instead of a substitute.
10 | LESS IS MORE WITH WINTER JEWELRY | So I really realized throughout this challenge that a few key pieces of jewelry are all I need during the winter. Simple statement pieces that go with everything get the most use for sure. Delicate items get lost under sweaters and too many rings get stuck in my gloves! Big earring are not super compatible with scarves either.
11 | BODYSUITS ARE LAYERING GOLD | Bodysuits have become a new Winter styling trick that I'm obsessed with. I don't have to fuss with tucking in shirts, my sweaters stay fresh for longer and I get a nice close-to-body base that keeps me extra cozy.
12 | KAMM PANTS ARE SUPER VERSATILE | I really wasn't sure how well my Kamm Pants would work out but they seem to go with everything! I was very happy with how well they served me.
OVERALL MY WINTER WARDROBE IS WORKING WELL | I'm so pleased that my Winter closet is finally feeling functional, stylish and versatile! I have a carefully considered wish list for next year, which I'll share soon, but otherwise I'm quite content
---
FAQs
---
Were these outfits weather appropriate? YEP! As you can see my outfits were designed to be worn in and out.

What about laundry? I did wash my Kamm pants, my Chambray Shirt and my Fitted Turtleneck once throughout the challenge. Otherwise everything stayed fresh and wearable.

Did you sub anything in or out? I needed to swap in my rain boots and rain coat a couple of times.

Did the challenge make you rethink any items? Just my skinny jeans.

Favourite Items? Kamm Pants and Ivory Sweater Coat.

Was it as hard as other times? Yes and no. The outfits came together easier but it was a lot of work coming up with 2 versions of every look and making sure I'd be warm enough.

How was the 'Real Life' sharing via Insta Stories? I LOVED IT! Last time I totally hated creating the stories. But this time I felt much better in front of the camera and having a purpose behind the videos (Style Notes, Style Switch Ups and Inside and Outside looks) made it feel a lot better. In fact, I enjoyed them so much and received such positive feedback that I plan to continue them with all outfit posts going forward.

FEEL FREE TO ASK ANY OTHER QUESTIONS IN THE COMMENTS! Just didn't want to drag it out here.
---
10 CRITICAL INSIGHTS FROM THE #WINTER10x10 FEED
You guys! This little 10 x 10 community we've been building makes me SO happy. It's filled with so much honesty, positivity, support, critical thinking and a conscious consumer mindset. Not to mention fabulous style!
It was such a treat to tune in every night to connect and see what you'd been up to. Seeing women from all around the world and all different walks of life sharing ideas, personal thoughts and words of encouragement was incredible. It's not easy to put yourself out there and even harder to be vulnerable but when you have a support system like ours it really makes a difference.
So THANK YOU for making this such an inclusive space for us to share our personal style journey together! The most exciting part is that I know it's just the beginning! 
I took some time to distill your findings and notes throughout the challenge and here are 10 Critical Insights I saw popping up on the #Winter10x10 Feed!
---
1 | FEWER CHOICES = LESS STRESS
This is one I see again and again with every challenge and it's wonderful! The less time we have to spend thinking about what to wear the sooner we can embrace our day and feel productive. I'm totally addicted to outfit planning now and it's something I'll definitely continue going forward. For me a great outfit is a huge motivator to start my day and helps me do so with a positive mindset.
2 | CREATIVITY LOVES CONSTRAINT 
I might need to get a tattoo if this phrase because it profoundly resonates with me. I loved reading how so many of you found it to be true and were able to see the benefits of experimentation within tight boundaries. I think almost everyone managed to discover at least one new look they love but would never have tried otherwise.
*Just kidding about the tattoo thing…I think!* 
3 | TAKING THE CHALLENGE WITH FRIENDS (OLD + NEW) MAKES IT MUCH MORE FUN AND HELPS WITH FOLLOW-THROUGH
We all connected through our love for thoughtful style and closet consciousness and it clearly made a huge difference for many of us. Having someone to encourage you, read your ideas and totally understand when things don't go as planned has such a positive impact on your day-to-day life. A healthy amount of accountability comes with it too and helps you stay on track!
4 | YOUR CLOSET IS WAY MORE VERSATILE THAN YOU THOUGHT
So many of you noted how surprised you were by what you could create within your 10 pieces. One note I saw on repeat was how many people realized that their favourite dress could be layered and styled to work in ways they never would have tried.
5 | FEELING PRESENTABLE AND COMFORTABLE IS A HUGE CONFIDENCE BOOSTER
So often we write-off getting dressed or caring about how you look as frivolous but it's really not. It's about giving yourself the respect you deserve to enter the world confident, prepared and capable. In the end it's better for those around too!
6 | WE REALLY DON'T NEED MORE OR AT LEAST NOT AS MUCH AS WE THOUGHT
Okay sure, we probably all need more than just 10 items to feel sartorially satisfied but the truth is we don't need A LOT more and we certainly don't need to be adding at the rate that many of us do (guilty party right here!). Our clothes can go longer between washes and if we care for them well they can last for much longer than if we treat them with a temporary mindset. We can create more satisfying outfits with fewer, well-chosen items than we can with tons of impulsively purchased pieces.
7 | WINTER STYLE AIN'T EASY + LAYERING IS KEY TO CONTENTMENT
Oh yep. This is definitely one that rings true to me. Winter style is hard but layers really help!
8 | CLOSET HEROES QUICKLY RISE TO THE TOP WHEN YOU HAVE LIMITED OPTIONS
I loved reading all of your notes on the items that stood out from the crowd. So often we want to wear something because we like the idea of it but it's got to be practical, versatile and presentable to really be a closet hero.
9 | ACCESSORIES CAN MAKE OR BREAK AN OUTFIT
I seem to be reminded of this fact with each and every challenge. It's all about those finishing touches. Whether you choose to keep it simple and sparse or liven things up with a pop of pattern, colour or texture. Try to make time for those final details!
10 | THE VAST MAJORITY OF US WERE REALLY READY FOR THE CHALLENGE TO END BUT OH SO GLAD WE DID IT!
It's true that the 10×10 Challenge is not for the faint of heart. It takes some real willpower and stamina to see it through. But that's part of what makes it so rewarding! Even if you only made it through a couple of days or you quit halfway there was still so much to be learned and at least one or two new outfits that were worth trying!
---
Here are just a few of the MANY posts from the #Winter10x10 feed that stopped me in my tracks. 20 seems like a ridiculously puny count compared to all the ones I would have loved to include but you'll just have to revisit the feed to scroll through all 2100+!
See below the image for account info.
---

---
---
WHAT'S NEXT
---
1 | A #SPRING10x10 CHALLENGE IS HAPPENING! | Caroline and I had so much fun hosting this 10×10 Challenge that we've decided to host another one together this Spring. I'm SO excited already and hope that you'll join us again or decide to take the challenge with us for the first time next season. We're still finalizing dates but we'll announce them as soon as they've been set. It's going to be a blast!
2 | PRE-CHALLENGE Q&A | Instead of a post challenge Q&A we've decided to host a LIVE Q&A before the next one. Then you can get all your challenge and style related queries in before it kicks off.
3 | UP NEXT ON STYLE BEE | I'll be kicking off my 2017 Closet Mission this Friday so please tune in if you're interested in some of the shopping and style goals I'll be working towards this year. Next week I'll be sharing a Winter Wardrobe Assessment and a new 1 Formula 3 Ways post (here's the first one). This year is going to be all about fine tuning my personal style, remixing my closet favourites and adopting a slower approach to all aspects of my life.
---
THANKS FOR READING FRIENDS! SEE YOU FRIDAY WITH MY 2017 CLOSET MISSION!
---
This post is not sponsored but contains affiliate links. When you shop via the links above I may make a small commission from a sale. Thanks for supporting Style Bee! All opinions are always my own.