Ready to start the week with a little outfit remixing? Great! Today, I've taken a stab at another 1 Formula – 3 Ways post because the first one went over well and I've found it to be a really useful exercise for remixing within my closet. Plus, it's fun and you get to see three new outfits!
The concept is super simple. I start by identifying a silhouette that I really like. In this case, that happens to be:
JACKET + CASHMERE CREWNECK + RELAXED FIT PANTS + ANKLE BOOTS
Then I try to see if I can create the same silhouette again, two different ways, using other items in my closet. The result is usually three outfits I really like each created with pieces that are totally interchangeable, which means I can easily build a whole bunch more. It's an easy way to pull together a full weeks' worth of outfits without having to think too hard about which pieces work together.
So let's take a look at the items I chose, the three looks I put together and a few styling tricks I used to make them work. 
---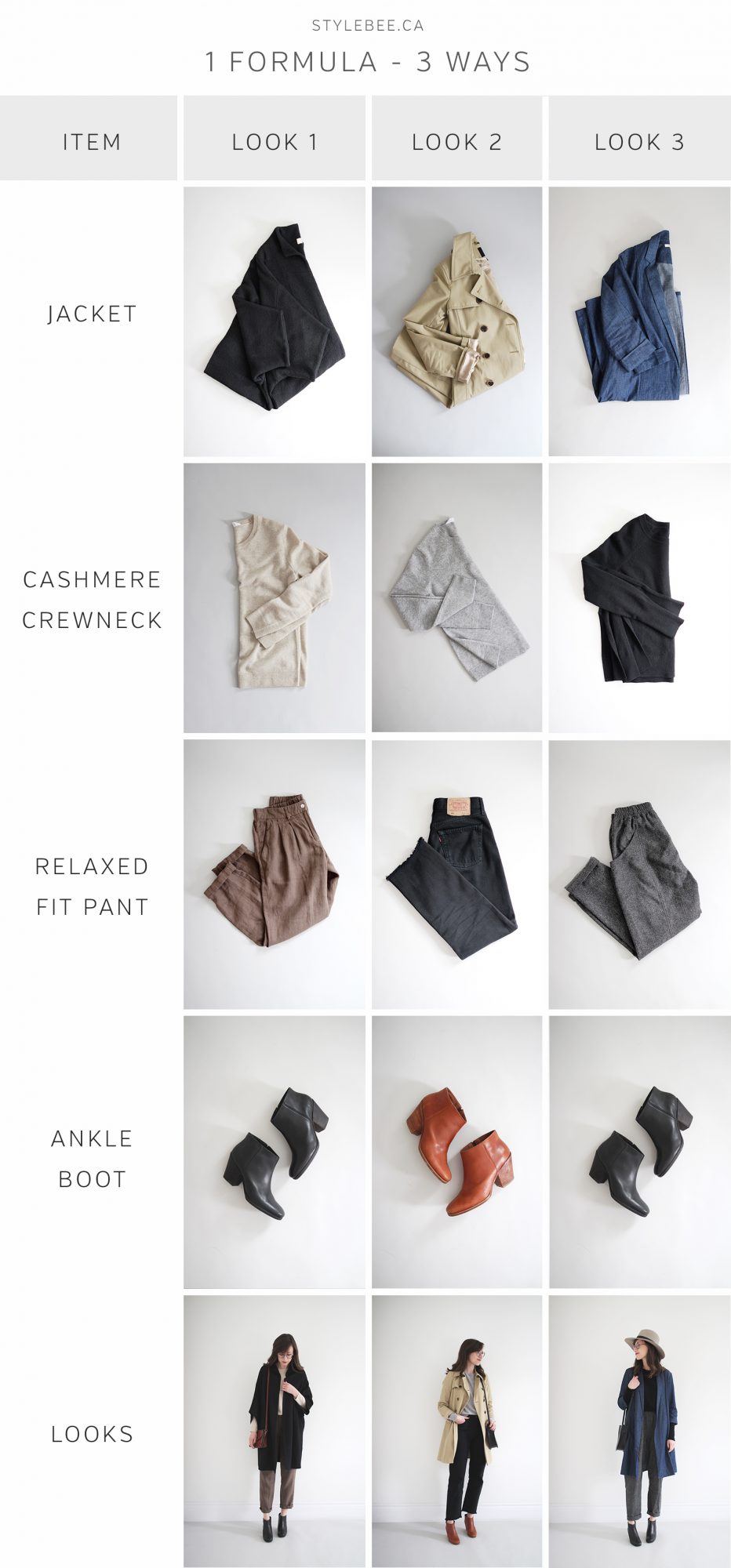 ---
PREFACE
I'll quickly note that these looks are not exactly weather appropriate for Ontario right now. BUT I'll be showing how I wear them both IN + OUT on my Instagram stories this week, so be sure to have a look if you're interested @leevosburgh.
Luckily, many of you aren't forced to endure a seemingly endless winter (#selfpitycentral), so consider this me living vicariously through you!
---
LOOK 1
---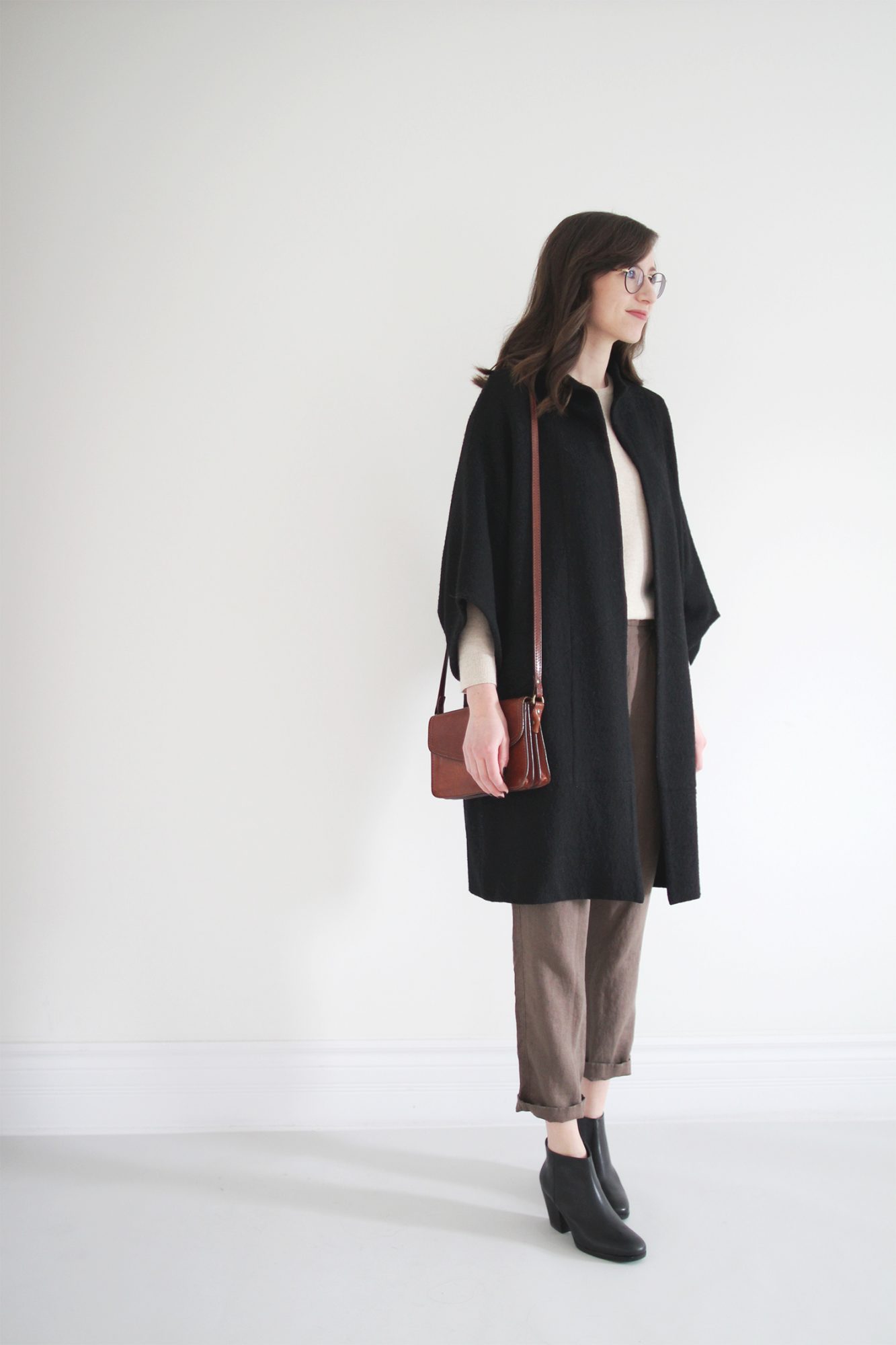 ---
| THOUGHTS |
So this colour palette has me ALL heart eyes right now. It's so earthy, comforting and natural. I love the mix of textures with boiled wool, cashmere, linen and leather all getting involved. This one sure feels like a modern-day nod to Katherine Hepburn's masculine meets feminine style genius.
I've been dying to wear these pants again ever since they went on the top shelf for winter. Tragically they're probably still a bit too light for our current temps but I might try them over tights with some socks and my Pistol boots.
| STYLE NOTES |
STATEMENT SHAPES | This is definitely a case of letting simplicity be the statement. The unique shape of the coat and style of the trouser add lots of interest and just a little hint of rich colour in the bag tops it off nicely.
TUCKS + CUFFS | I chose to front tuck my sweater (as I did in all three looks!) and a simple cuff roll gives the pants a styled feel rather than a straight trouser look. I also like the wink of casual class that a relaxed fit pant like this adds to any outfit.
NAIL ART | A black nail might seem harsh but when paired with these soft layers and colours it adds a bit of a sophisticated, contemporary edge. Sometimes all you need is a bold nail colour to tie it all together.
NEW BOOTS | I added another pair of Mars boots to my repertoire this Winter and my love for this cult favourite has been completely reinvigorated. There just isn't an outfit they don't make better (at least as far as I can tell)! The shape has been adjusted ever so slightly so the top hits a touch higher on the ankle and the opening runs slimmer, which I love. You can see the subtle difference in my original pair in Look 2.
---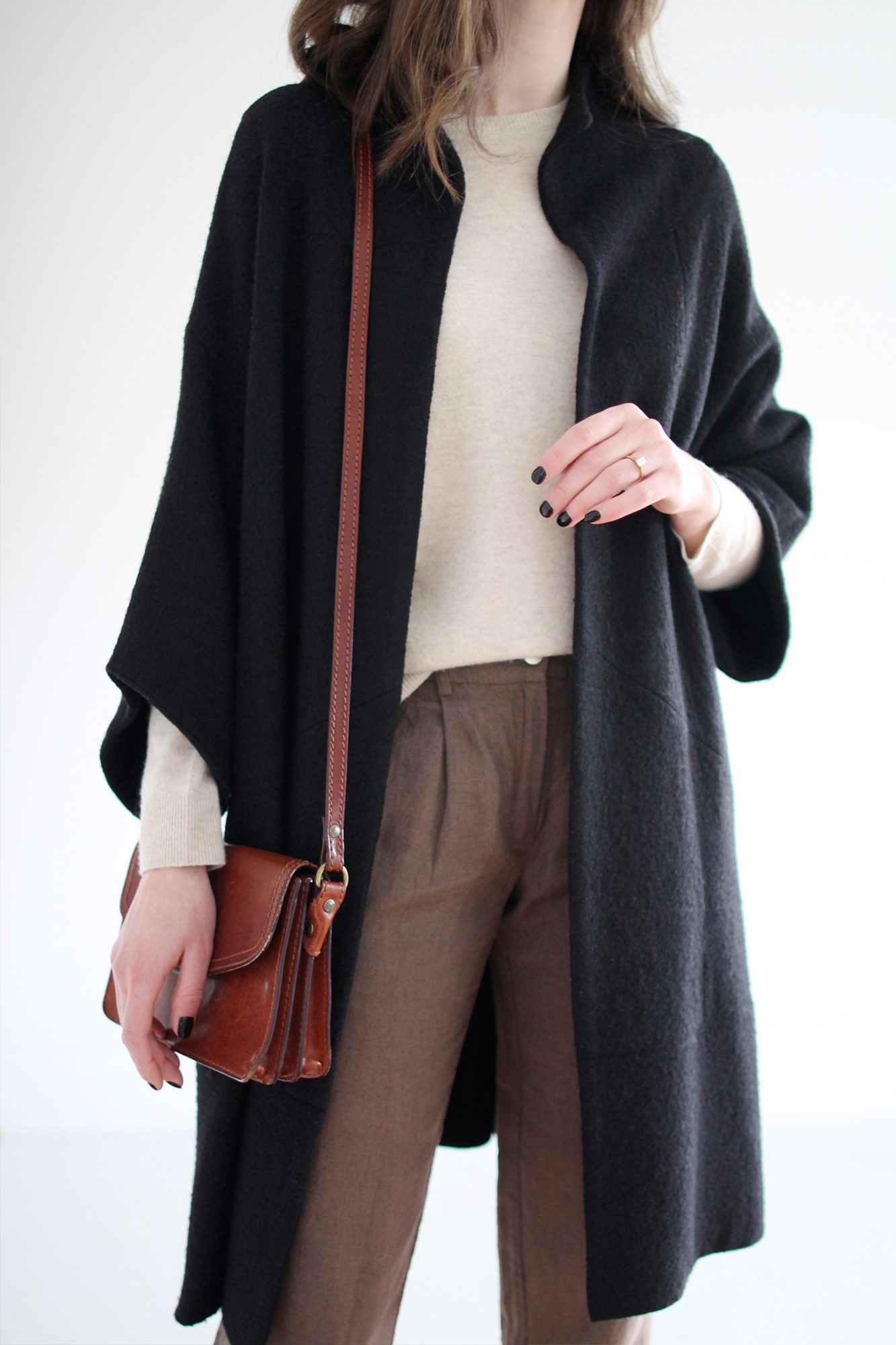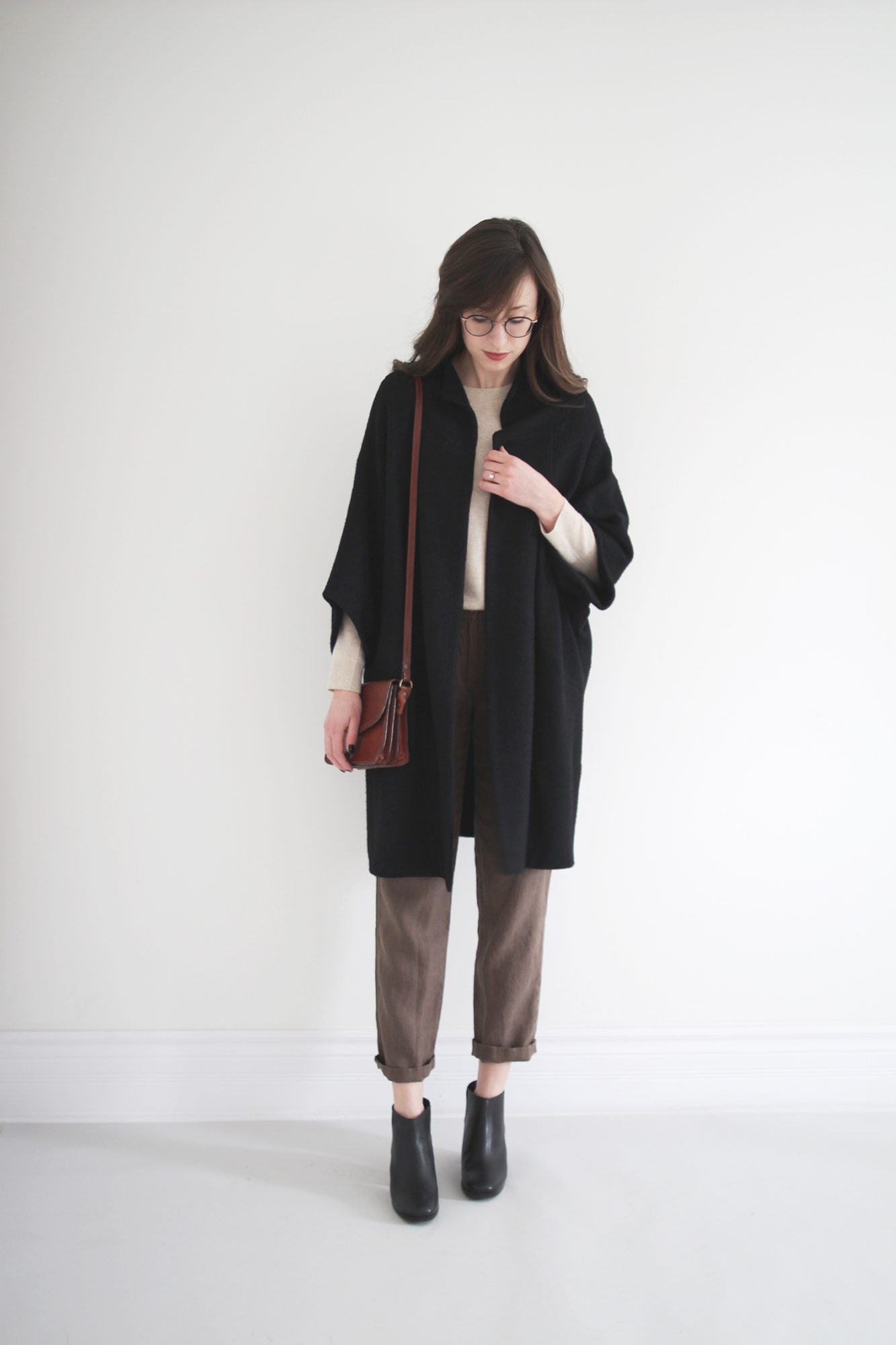 ---
SOURCES | COCOON COAT* (another option here) | OATMEAL CASHMERE CREW (Wearing size S)| LINEN TROUSER (Wearing size M, see them styled here too. ) | MARS BOOT (TTS but narrow) | VINTAGE BAG* | FRAMES
*Linked to similar
---

---
LOOK 2
---
---
| THOUGHTS |
I'm totally at ease in this outfit and I think that's because it's a classic look with a modern twist. I made a few adjustments to two items in this outfit and they're way better for it! See what those were below.
For colder days I'll simply add a pair of cozy socks, my pistol boots, a beanie and a wool coat. But you better believe this one will be on repeat as soon as the weather permits!
| STYLE NOTES |
UN-BELT | This trench comes with a long waist belt and two wrist belts that are common details in a traditional trench coat. When I first bought it a couple of years ago, I wanted those extras but as my style has moved more towards minimal I felt they were a bit too much. So I took them off! I couldn't believe what a difference that made and I'm so glad I didn't give up on this one.
SNIP SNIP | You might recall the first two times I shared these pants on the blog (here and here), they had very frayed edges along the hem. As much as I liked that look, I decided to give them a trim for now (one short tumble in the dryer and they'll start coming back). The edge is still raw for a relaxed vintage look but they're much cleaner looking now.
CUFFS | I rolled the cuffs so the inner silk lining of the trench shows and the bottom of my sleeves peek out (you know how much I love that trick!).
SHOT OF WHISKEY | Just like a literal shot of whiskey warms things up, the colour of these boots works the same magic for an outfit. The black pair would have been OK too but just not quite as dynamic.
---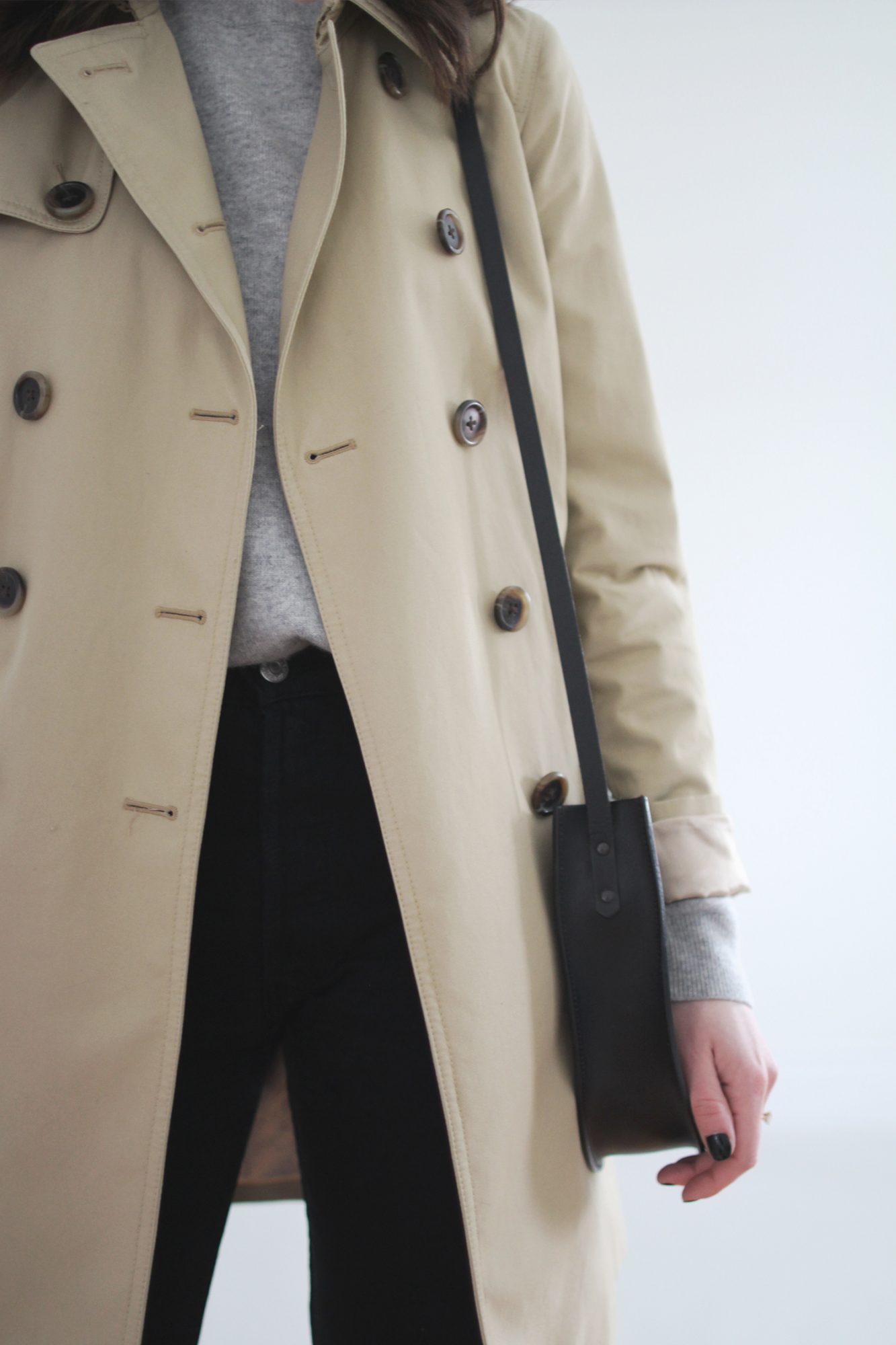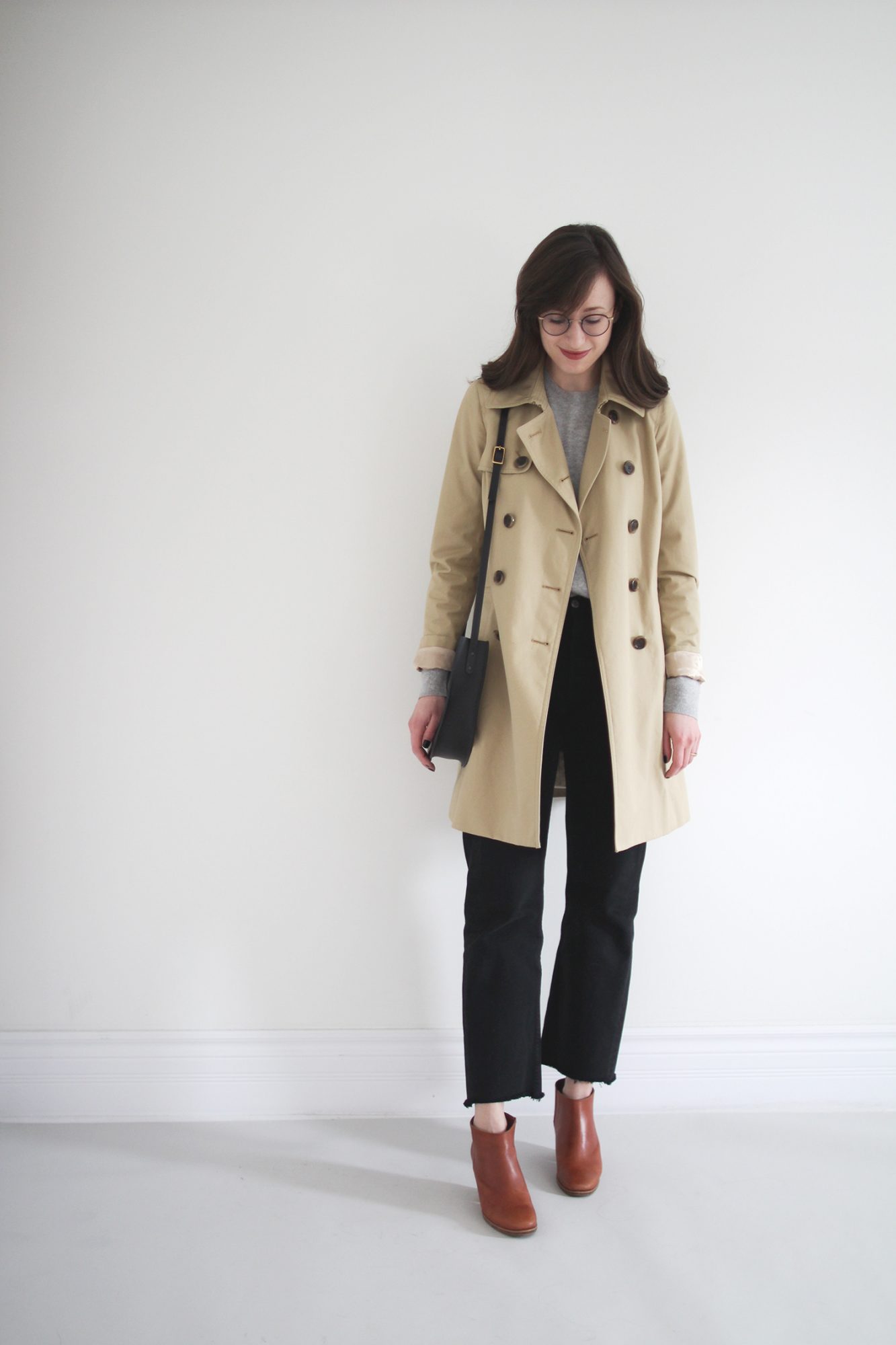 ---
SOURCES | TRENCH | GREY CASHMERE CREW | VINTAGE LEVI'S* | MARS BOOTS | BAG (ON SALE) | FRAMES
*Linked to similar
---

---
LOOK 3
---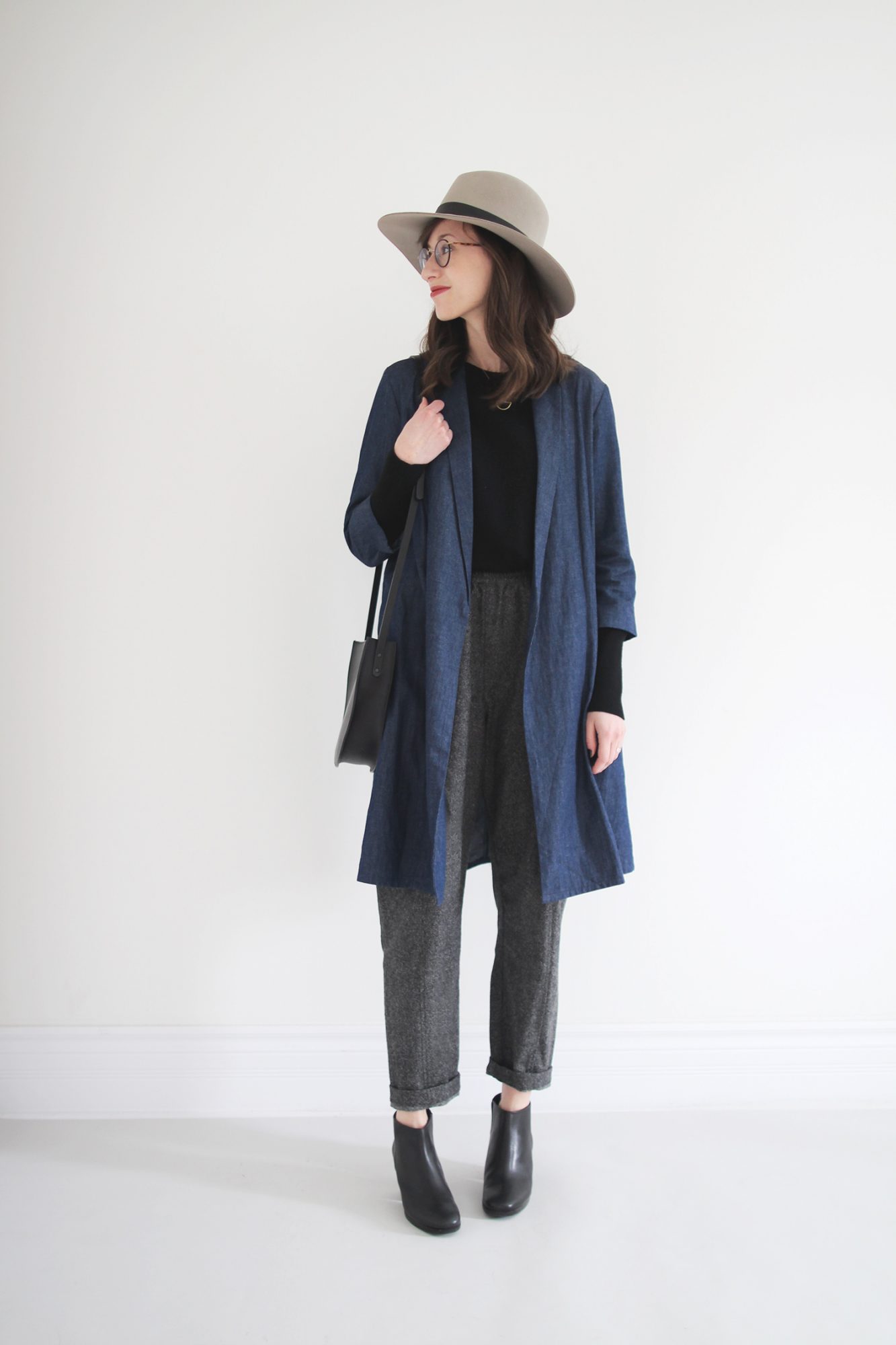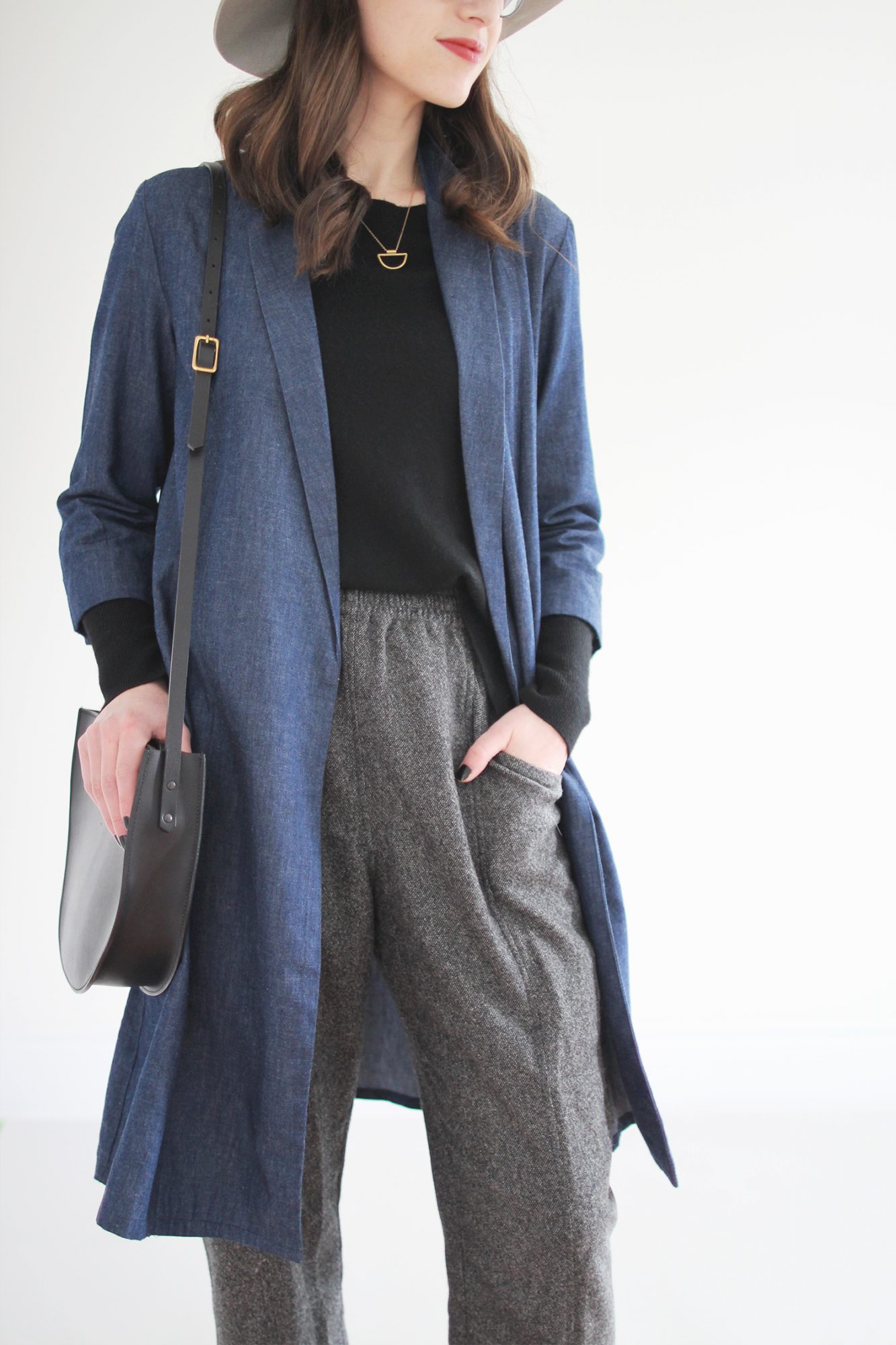 ---
| THOUGHTS |
Holy cozy central! I basically never want to take these wool pants or this cashmere crew off again until it's spring. This version of the Clyde Pant was cold weather genius and I really hope Elizabeth Suzann bring them back again one day.
When I head outside I'll add a pair of warm socks (or a pair of tights) and switch the denim duster for my black pea coat and a big grey scarf. Then I'm set for any work or casual meeting for sure!
| STYLE NOTES |
FUR PROOF | These pants are pretty much like wearing camo for life with two tri-coloured pets. It's awesome and I really need to remember to look for marled greys and flecked charcoal fabrics when I'm shopping for winter essentials. With all that static in the air, lint and fur is magnetically attracted to everything. But as far as I'm concerned, if you can't see it, it's not there 🙂
PROPER TOPPER | I could have opted for a wool beanie instead of this wide brim wool hat but it just feels so much more polished and sophisticated this way. It still adds a touch of warmth and helps give an otherwise relaxed and slouchy look a little bit of sharpness.
Additionally I was happy to see how well it worked with my new-ish frames. It doesn't feel like there's too much going on and sits very comfortably with the arms of my glasses. I honestly used to wear contacts every single time I wore a hat because the arms dug in otherwise. #foureyedproblems
CONTINUITY | You might remember a similar style note from this previous look but it's applicable here too. When you want to add an element of continuity in your accessories without overdoing it, try repeating shapes. For example in this look I've got a half circle necklace, half circle bag and the pockets on my pants are also a similar curved shape. It's something that no one would really notice but adds an element of 'put-togetherness' to a look.
BALANCING ACT | This look has a lot of black in it but it doesn't feel heavy. You can achieve this by repeating black in several areas of the look, but always bordered by another colour. So in this case, the pattern works like this: tan hat, black trim, tan brim, black bag, blue coat, black top, grey pants, black boots. Plus a black nail polish really takes it to the next level.
---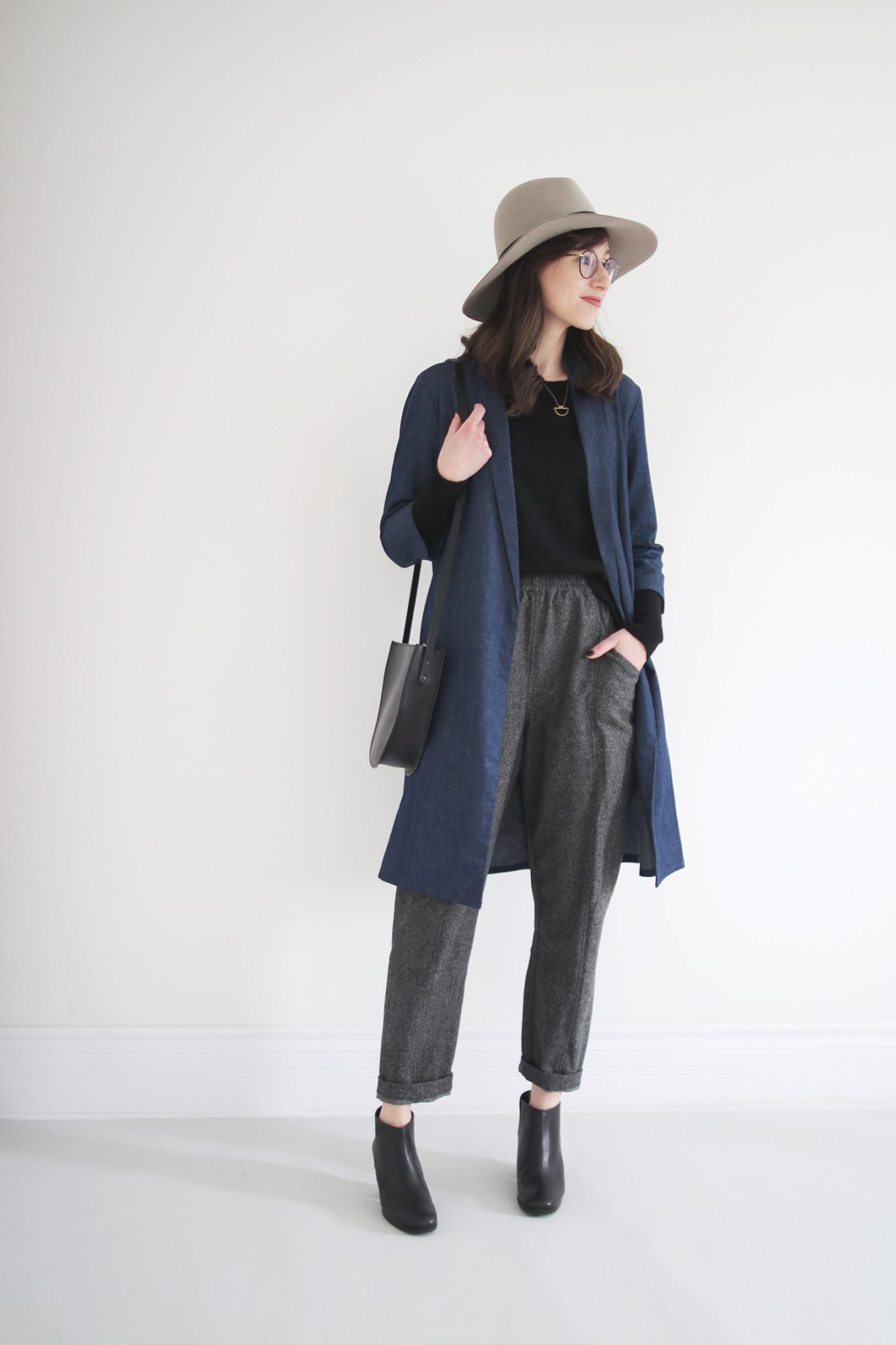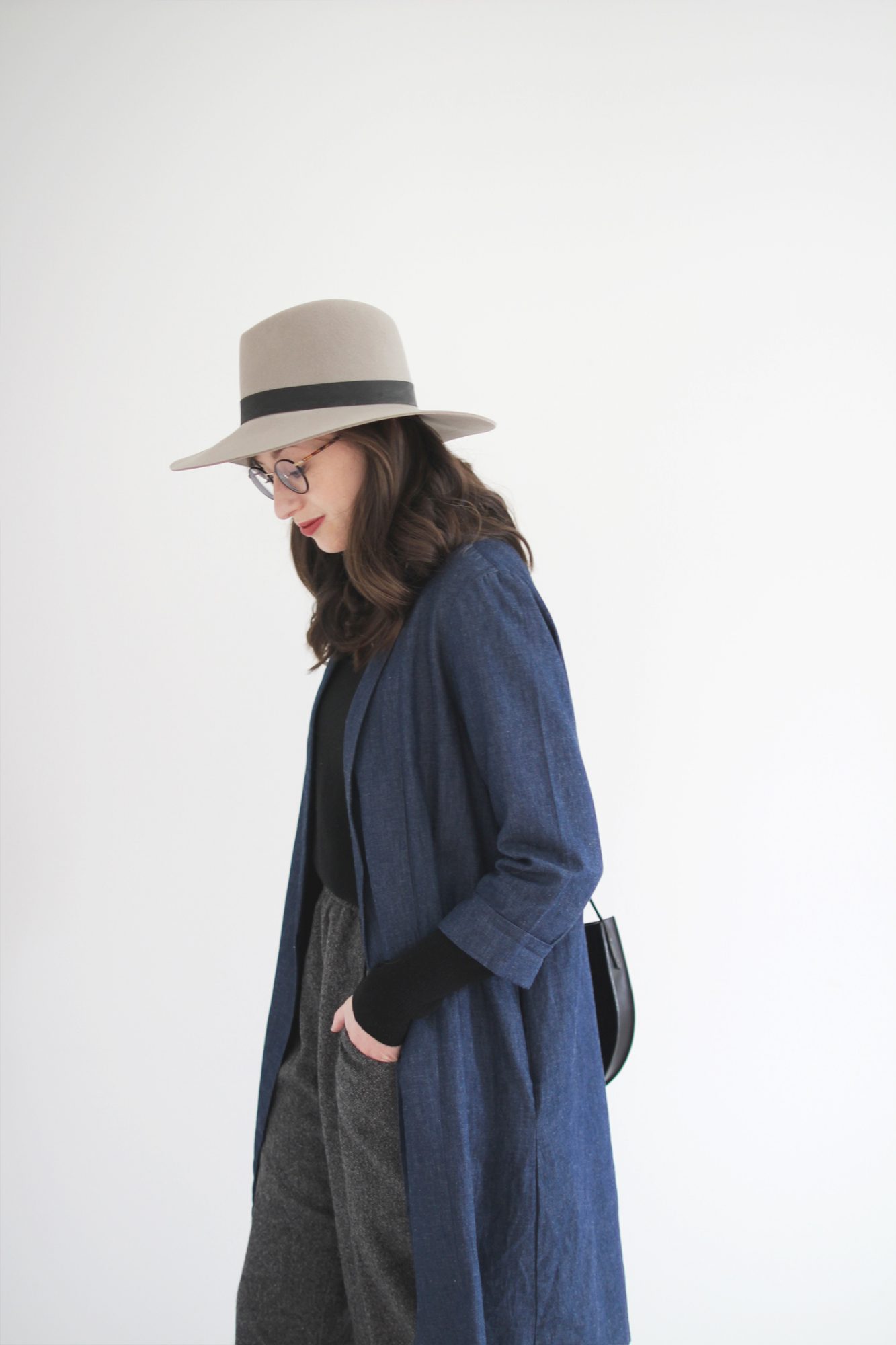 ---
SOURCES | DENIM DUSTER* | BLACK CASHMERE CREW* | WOOL TROUSER* | BAG (ON SALE) | HAT | MARS BOOT | FRAMES
---
*Linked to similar
---

---
NOW BACK TO YOU!
WOULD YOU GIVE THIS FORMULA TECHNIQUE A TRY?
If so, what would yours be composed of right now?
WHICH IS YOUR FAVOURITE LOOK FROM THIS SET?
---
See something you liked? You can shop it and support Style Bee by using the affiliate links provided. This post is not sponsored but when you shop via the links above I may make a small commission from a sale. Thanks for your support!