Today it's time to talk Winter Wardrobe Assessment! With Spring previews and sneak peeks everywhere it's easy to ignore the fact that we still have some time left with this season (no matter what a silly rodent has to say). So before we get ahead of ourselves it's important to embrace the now, so to speak, and make sure the closet we're working with is working for us.
I've been doing these 'assessments' informally for many seasons now and I always find Winter the hardest to face. Unlike Spring, Summer and Fall, Winter in Ontario is long, unpredictable and downright brutal at times. Having a functional closet that I also love wearing was a relatively foreign concept until I started paying more attention to my lifestyle and the items that really work for me. The good news is, it's really easy to do and will absolutely make a difference for both this Winter and next.
A Winter Wardrobe Assessment goes like this:
1 | TAKE STOCK
What do I wear and feel comfortable in most often? 
What has spent the most time on the shelf or hanger?
2 | ACKNOWLEDGE SUCCESSFUL LOOKS
What have been my favourite looks to wear?
Which outfits do I already plan to repeat this season and next year?
3 | MAKE A WISH LIST
While you're still living in the season make a note of some items you know would integrate well and enhance your closet. This way, when you're ready to shop for Winter again you won't be as blinded by the 'newness' of things and will shop for items that will really be of use.
To give you an example of how it all looks, I'm sharing my Winter Wardrobe Assessment below. So let's see!
---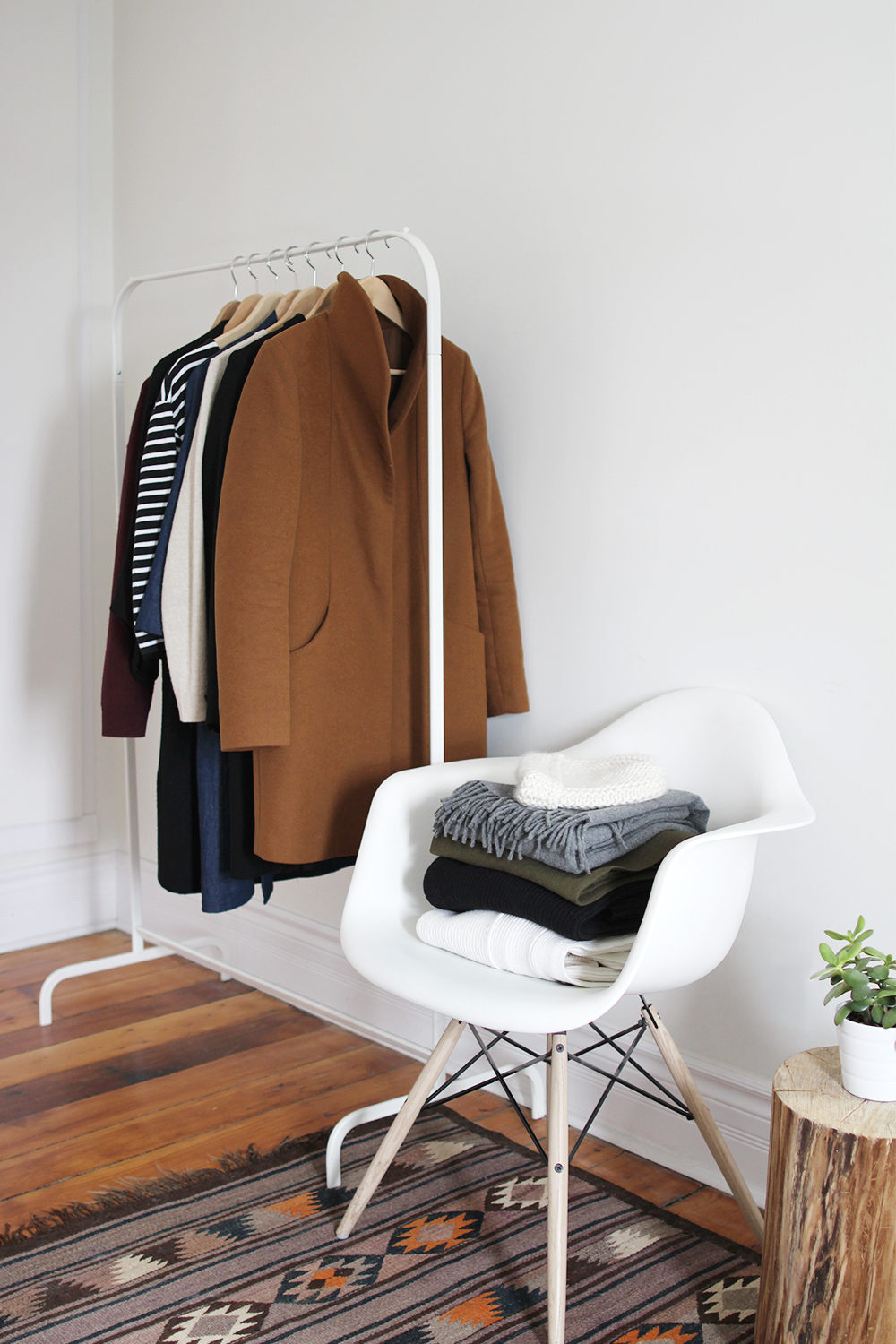 ---
1 | TAKE STOCK
I like to start my assessment with a general inventory of what I've been wearing most. To do this I simply pull out (or jot down) the pieces that immediately jump out in my mind as favourites. These are items I've worn at least 8+ times so far this season. This is usually a super quick step since they're either already on my clothes rack or on the edge of my closet shelves.
Then I take a moment to consider any surprises. This time around I was surprised by just how many items I really wear on a regular basis. This indicates that my closet is working well and that the items are versatile interchangeable and very wearable, HOORAY! Another reason why so many items have been used is because of our varied weather this year. For most of January it was very mild so I got to play with some lighter layers and didn't have to worry about super cold temps and snow the entire time.
Count them up. It's a good idea to count how many pieces you really wear often in a season. This is an indicator for how well your options are working and how lean a selection you might be able to get away with.
This Winter I have 31 Items in my regular use inventory. I didn't plan on having a specific number and I wasn't deliberately trying to include or exclude anything. I just made a list of all the pieces I've enjoyed wearing regularly over the last couple of months and that was the number! This includes accessories too but not loungewear, gym clothes or jewelry.
What items have stayed on the shelf? Now it's time to note the pieces you don't turn to often and acknowledge that there may be some redundancy or there just might be some pieces that don't fit your lifestyle all that well. That's okay! You don't necessarily have to get rid of them. Instead you might try wearing them to either reinvest or figure out why they weren't being used in the first place. It's all about learning what works and what doesn't, not about what stays or goes.
For me I was surprised to find that my sweater dresses (and dresses in general) haven't been worn much, my T-Sweater has barely been out and a couple of crew neck sweaters hadn't been getting a lot of outside time either. The reasons are as follows:
1 – My sweater dresses are dry clean only so I treat them a little like they're 'special occasion items', plus they collect fur easily and the turtleneck on them is very big so I get kind of hot. I might try wearing one to a family dinner this weekend to see how it goes.
As for dresses in general, well, they're not really applicable to my lifestyle during the Winter. I like to be warm and my activities a relatively casual, so I usually just style up a pair of pants with a cute top and some accessories. I'll have to keep an eye out at the weather warms up to see if I reach for dresses (like my Georgia Midi, Jersey Swing or Painter Dress) more often.
2 – My T-Sweater is great and I love it but unless I'm wearing a long sleeve tee underneath it's not warm enough and then the sleeves are so big I can't wear a coat. So perhaps it's not the best layering piece for the winter. I might try it again soon with my Capote Coat though!
3 – I've become quite fussy about the length of my sweaters. If they're too long to front tuck in a high-rise pant but not long enough to be a tunic I feel a little off so I don't wear them much. These might be an indicator of redundancy since I wear my cashmere crews from Everlane all the time. So perhaps I could let one or two of the bench warmers go.
Otherwise all my usual warm weather items from Spring and Summer are waiting patiently for their time to shine. Come on Spring!!!
---
HERE'S A FULL RUN-DOWN OF MY WINTER WARDROBE STAPLES
---

---
ROW 1-3 | COGNAC WOOL COAT // BLACK WOOL COAT* // PARKA // BLACK SWEATER CAPE* // OLIVE WOOL TUNIC* // IVORY CARDIGAN COAT* // CASHMERE CREW // LONG CHUNKY KNIT  CROPPED CASHMERE CREW*
ROW 4-6 | STRIPED 3/4 SLEEVE // BODYSUIT* // CHAMBRAY SHIRT* // KAMM PANTS // FITTED TURTLENECK // PONTE PANT // DENIM DUSTER* // CAPOTE COAT // COCOON COAT*
ROW 7-10 | MARS BOOT // CLYDE PANT* // BLACK SKINNY JEANS // VINTAGE LEVI'S* // CHELSEA BOOTS // CANADA WOOL SCARF // SPERRY SNOW BOOT* // BLACK BAG // PISTOL BOOT // BEANIE* // GLOVES* // HUNTER RAIN BOOT // BROWN BAG
---
---
2 | ACKNOWLEDGE SUCCESSFUL LOOKS
I always find it really helpful to make note of my favourite looks and silhouettes so I'm not so tempted to add things just because I can. If it makes sense, great, but when I know I have over a week's worth of great outfits I can't wait to wear again, it makes shopping for new things much less tempting!
Remember what your lifestyle really calls for. This was where things always used to go astray for me. I would have lots of cute fantasy Winter looks at the ready, but none of them were actually applicable to my real life so I'd end up in the same uninspired outfit all the time. Now that I've come to terms with what I really need and said goodbye to the impractical pieces, I get so much more use out of everything in my closet.
Here's a look at 8 silhouettes I've found really wearable this Winter season.
---

---
LOOK 1 – Cozy, simple, chic. I love this one so much. The Formula: A slim cashmere sweater tucked into my Kamm pants with knee socks, Pistol Boots, a beanie and my Capote coat.
LOOK 2 – This one proved that I don't need a parka to be super cozy. The Formula: A slim cashmere sweater over skinny jeans pants with faux fur-lined Chelsea Boots, a beanie, my sweater coat and a wool coat to top it off.
LOOK 3 – This one I discovered in 2015 and have been wearing it since. The Formula: A striped heavy-weight cotton top over skinny jeans with ankle boots, my sweater cape and a big scarf. I just swap the sweater cape for a wool coat when I go outside.
LOOK 4 – Another forever favourite that I love with flares but since the sidewalks have been salty I'll swap them for skinny jeans. The Formula: I add my cocoon coat to the tunic sweater, skinny jeans and ankle boots, plus with an alpaca knit beanie I feel both toasty and polished.
LOOK 5 – These wool clyde pants have been a game-changer for two winters now. They're like wearing sweater pants but they're super warm and totally presentable. The Formula: I love them over a fitted turtleneck with my denim duster and a wide brim hat. I'll sub in a wool coat and a beanie when it's blustery.
LOOK 6 – I really hope Everlane keeps making these cropped sweaters because they pair perfectly with high-rise pants and there is nothing better than a fuss free look that just works. The Formula: Cropped crew over a bodysuit with my Kamm Pants, knee socks and chelsea boots, topped with my black coat and a big scarf.
LOOK 7 – This one is my current go-to. The Formula: Fitted turtleneck, tucked into my Kamm Pants, a leather belt, cozy socks, pistol boots, floaty scarf and a black coat topper.
LOOK 8 – I love how this one came together. The palette is so simple and the result was a really functional but still standout look. The Formula: Slim turtleneck, tucked into thick black tights, under a buttoned up oversize cardigan (or a sweater dress like this), with socks pulled up and Pistol Boots.
---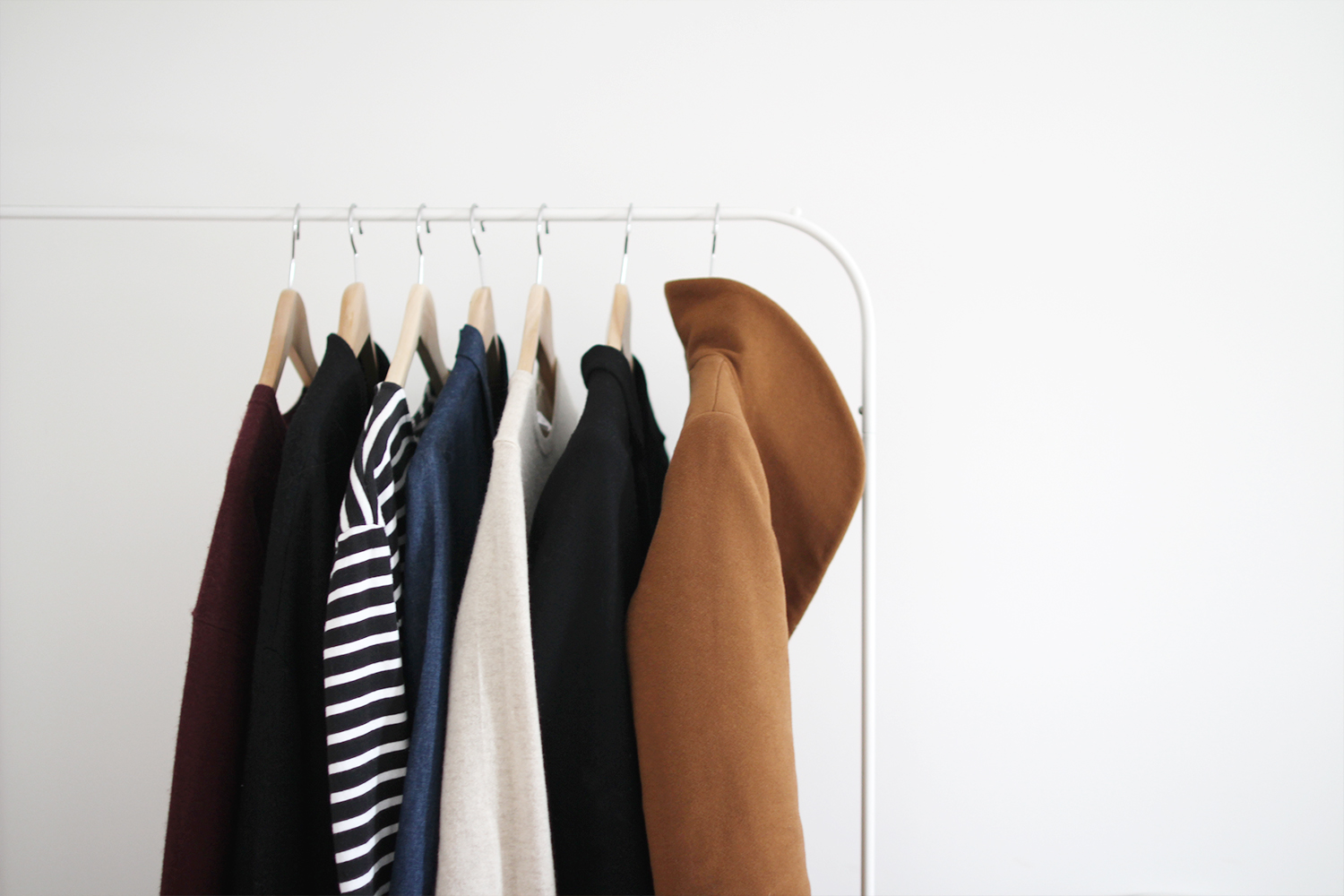 ---
3 | MAKE A WISH LIST
The last step in the process is to establish what you need to improve functionality within your wardrobe. I've said it a bunch and I'll say it again, I swear by my Wish Lists! Creating a short, well considered, practical wish list is probably the most integral step in maintaining a lean, functional closet. Learn a bit more about how to create a useful wish list here and see my previous ones from Spring, Fall (2016) and Winter (2015). 
I've mentioned a few times how I like to make them towards the end of a season when my options are fresh in my mind so that I can refer to it the next time I'm ready to shop for that weather. After doing just that, these are a few pieces I've got in mind to add for next Winter. I won't end up getting them all and I'll probably swap one or two out for something else but it's really helpful to have this list handy. Then when I'm tempted to buy something impractical for my winter life, I'll be reminded that it's probably not a great idea.
---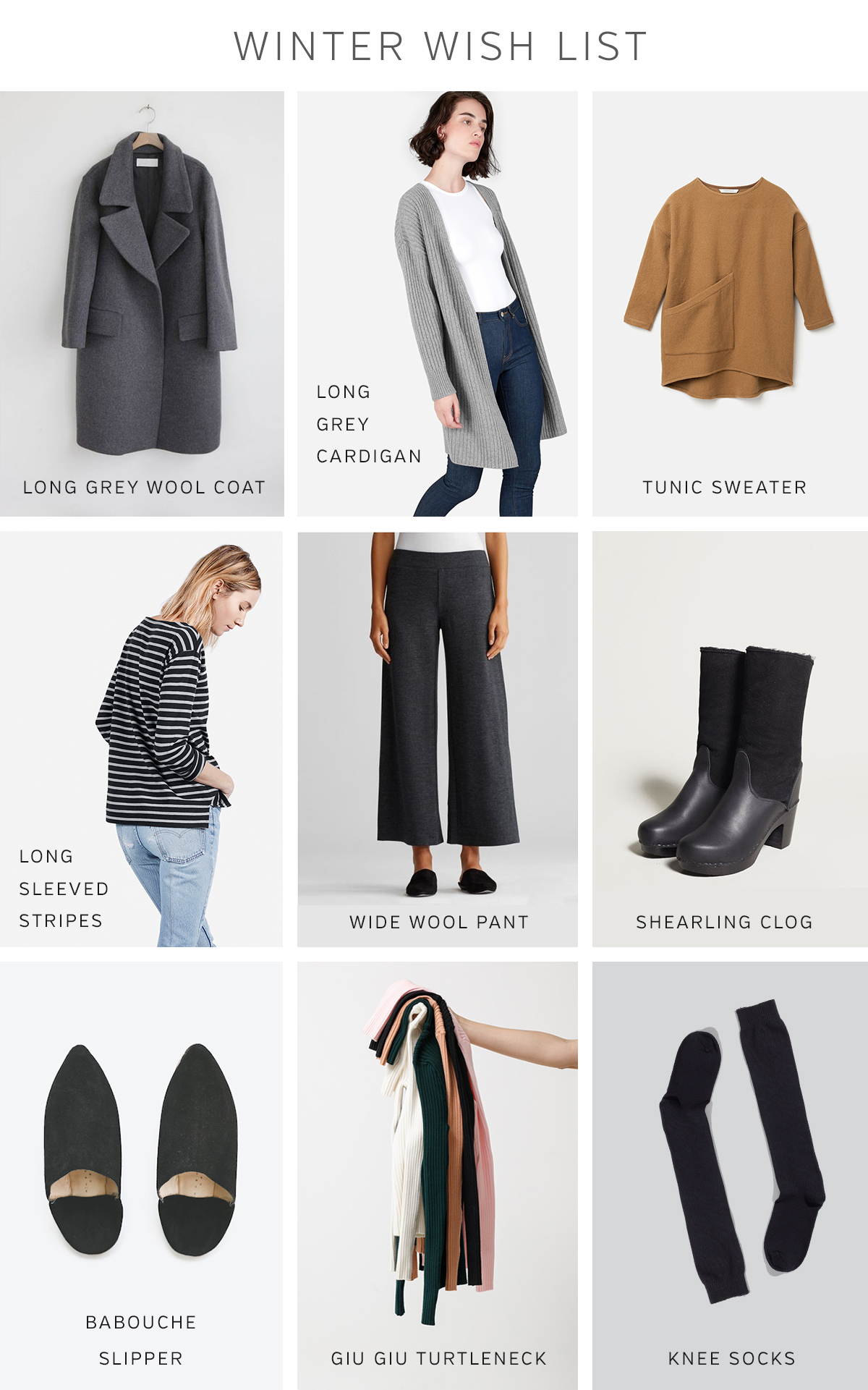 ---
LONG GREY WOOL COAT – I searched for a long, relaxed fit wool coat in marled grey or herringbone all season. I guess it wasn't meant to be but it's #1 on my list for next year! This one was very close to coming home with me but I lost my nerve at the last-minute!
LONG GREY CARDIGAN – My sweater cape is great but picks up fur and lint and my cardigan sweater coat is glorious but quite heavy unless I'm wearing a thin tee underneath. This would be the perfect in between that's cozy and over sized but not too cozy or oversized. Holy Goldilocks syndrome right here!  
TUNIC SWEATER – I love love love my Olive Tunic sweater from Elizabeth Suzann two Falls ago. I allllmost bought the Harper Sweater when it was available and now I'm kicking myself for missing my shot. Hopefully they'll be restocked in plenty of time for next year. I would love to be able to throw this on over a bodysuit or turtleneck with my black jeans or ponte pants and Pistol Boots for a cozy chic outfit.
LONG SLEEVED STRIPES – I would love to augment my stripe options with a long-sleeved version. I love the heavyweight cotton of the boxy striped tee so this variation would be a pretty sure hit. Bare wrists are just not conducive to staying toasty at my desk.
WIDE WOOL PANT – So this might be an odd wish list item but I found myself wishing I had a wool version of my Florence pants all winter!
SHEARLING CLOG BOOT – I've had my eye on these boots for a long time now and after hearing several rave reviews I think I might be ready to invest in a pair. They'd be great pulled on over skinny pants and sleek enough that they'd slip under my wider leg styles too.
BABOUCHE SLIPPER – Oddly enough a pair of slippers has escaped my clutches for a long time now. It would be nice to add something cute and cozy like these Babouche beauties.
GIU GIU TURTLENECK – These are basically the holy grail of fitted ribbed turtlenecks and I've got my heart set on adding one to my roster.
KNEE SOCKS – Not a particularly exciting addition to the list but my single pair of knee socks has been in ridiculously high demand. They've been my secret weapon for wearing wide-leg pants this winter!
---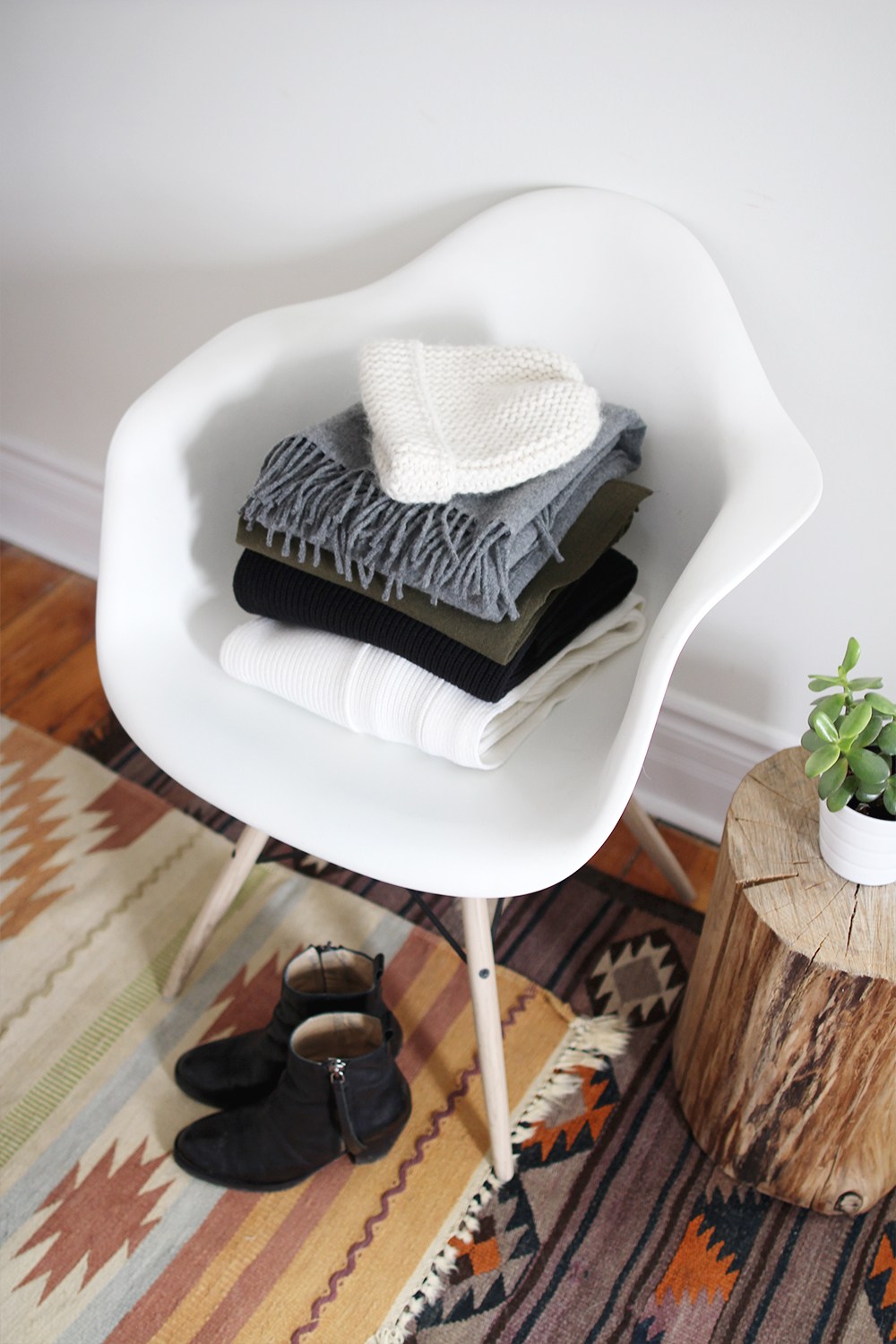 ---
So there you have my simple 3-Step Winter Wardrobe Assessment! This approach is applicable to any season and I plan to keep these up throughout the year. 
---
SO TELL ME!
What pieces have you been getting the most wear out of?
Are you surprised to see any items collecting dust?
What's on your Wish List for next year?
---
See something you liked? You can shop it and support Style Bee by using the affiliate links provided. This post is not sponsored but when you shop via the links above I may make a small commission from a sale. Thanks for your support!