How was everyone's weekend? Did you catch the Superbowl or a few episodes of the new Santa Clarita Diet? I happened to do a bit of both and I'll admit some down-time in front of the telly wasn't such a bad thing after a few back to back weeks of big projects and tight deadlines.
I also really enjoyed reading your thoughts on Friday's Winter Wardrobe Assessment and learning about how you're taking a thoughtful and intentional approach to shopping this year. So many great wish list items and ideas about adding slowly and deliberately while working with what you have in the mean time. You folks are such a grounded group of stylish, responsible shoppers and it makes me SO happy to know that we're on the same page!
Today I wanted to slow things down a little and share a simple look I recently put together, which turned out to be a new combination I love. It's basic but not boring and just the right mix of cozy and chic for a Monday of emails and prep for the week ahead. The funny thing is I've had almost all the components of this outfit for several years and yet I'd never thought to put them together until now, which just goes to show that you really can teach an old sweater new tricks!
---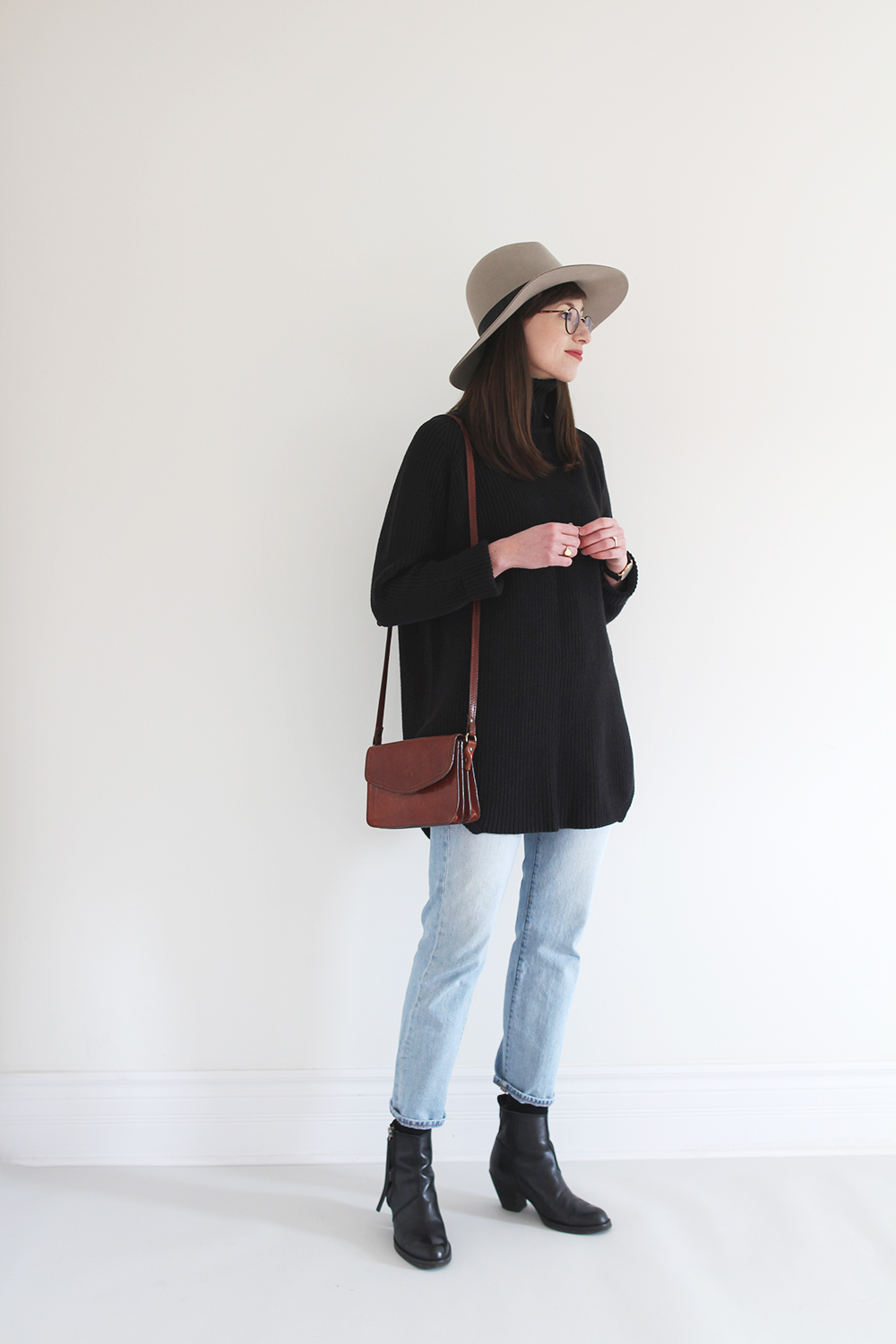 ---
INITIAL THOUGHTS
---
This outfit really feels like a North American take on Scandinavian style and I love it. It's minimal without being too sparse and it's relaxed without being dowdy. I like that it has a utilitarian edge, thanks to the tough boots, combined with a city vibe, thanks to the wide-brimmed hat. Really, it's just a super simple look with interesting proportions that keep it from feeling overly basic, thanks to the combination of an old tunic sweater and these classic jeans!
Fun Fact: Every item in this look has been a closet hero since it arrived. 
I bought this tunic sweater immediately after spotting it on Instagram a few years back (see how I styled it in 2014, the first time I alluded to my wish list making ways) and it's been a cold weather hero ever since. Considering how many times it's been worn and washed the colour has barely faded and it's pretty much as good as new. This is the Marine sweater by HOPE made of 100% cotton, which is no longer available but a similar version is and I've assembled a great selection of responsibly made tunic options below (many on sale!).
Despite being named the Perfect Summer Jean these jeans have been an all year round staple for me (and they're actually almost too hot for Ontario summers, go figure). I should mention that I bought these (and the sweater) before I was shopping responsibly and I actually have them in two sizes. Reason being that I bought my usual size (26, worn in this post) then wanted a slimmer fit and ordered a size down (25 shown here, the difference is in the waist/hip/butt). I'd intended to return the first pair but they ended up being too comfy to give up. So there you go!
I categorize these under 'vintage' in my closet because they have that timeless, classic, vintage fit and wash (aka the Mom Jean). In fact, I've been trying to find true vintage Levi's that fit like these for years now but I still haven't landed on a pair that hugs all the right places quite as well. I often get asked about these and for recommendations on other vintage fit styles so I've gathered a handful of the ones I think are great options below.
These boots are no strangers to the blog and I've truly been living in them all winter. I cannot recommend the Pistol Boot enough and even though the leather takes some working in, it's totally worth the effort. With occasional weather spraying and a yearly clean/condition/polish/buff I would go so far as to say they're better than new because now they fit like a glove! The combo of an easy zipper, with a comfy stacked/angled heel, a leather lining and rubber sole makes these a boot made for walking without a doubt. Suffice to say they're a cult favourite for good reason!
The bottom line is that I feel cozy, practical, put-together and 100% myself in this entire outfit. A couple hits of warm tones in my hat and bag soften the otherwise cool colour palette and my glasses and watch help give it a bit more character and individuality.
If you've got the ingredients to try this silhouette yourself, I would highly recommend you give it a go! 
---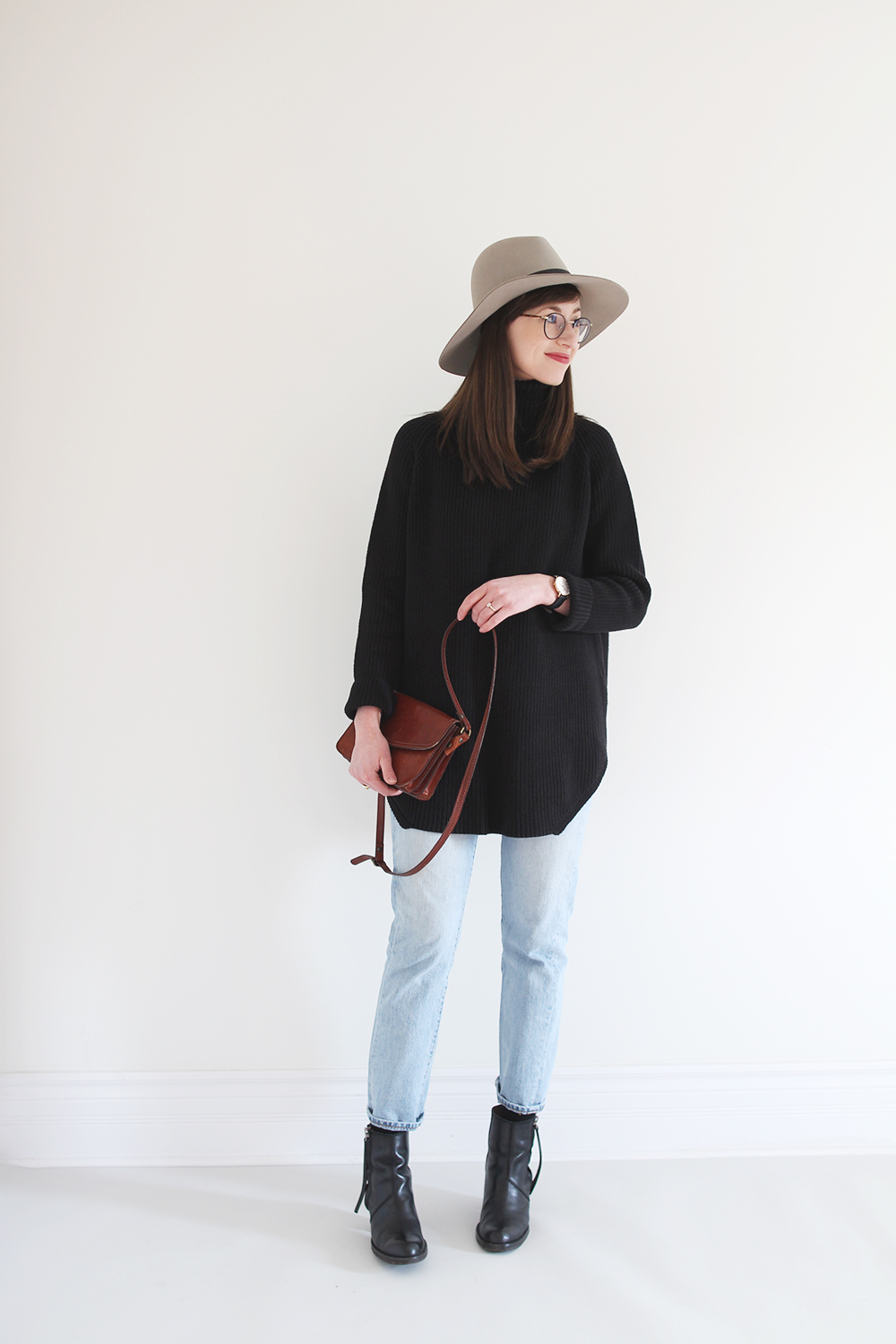 ---
STYLE + FIT NOTES
---
1 | RELAXED BUT NOT TOO RELAXED | I mentioned my Goldilocks tendency in my Winter Wardrobe Assessment and it definitely came into play with the selection of these jeans. I usually wear this sweater with skinnies but I'm on a relaxed fit kick lately and wanted to try something else. These jeans are the perfect in-between option because they're relaxed but not 'loose' and keep the proportions balanced.
Try pairing an oversized top with a relaxed bottom instead of something tight. The result is a chic, contemporary take on a classic combo. 
2 | BLACK ON BLACK | For the outdoors I opted to keep the palette lean and sharp with a black coat instead of introducing a new colour. This let's the hat, bag and blue denim play a more integral role in the overall look. Plus it's foolproof matching 101.
3 | ALL-SEASON LIGHT WASH | A lot of people would say these jeans are a summer only wash but I disagree. Paired with rich textures and lots of black they don't feel overly summery to me! More and more I find myself ignoring conventional 'fashion' rules and just rolling with whatever feels right and it's so much more fun that way!
Try giving a pair of 'Summer' pants or bottoms a try while there's a bit of Winter weather left. You might be surprised by their versatility!
4 | WINTER WEATHER TRICKS | So as usual what you see is not all you get with this outfit. I'm also wearing a long sleeve tee underneath and a pair of warm tall socks to stave off cold drafts!
5 | BABY CUFF | Sometimes all you need is a simple fold of the hem to hit the spot. I like when my boots hit just below the bottom of my pants and in this case just a little turn of the cuff was needed. Then there's no worrying about my jeans getting tucked in awkwardly or hitting at an odd spot.
---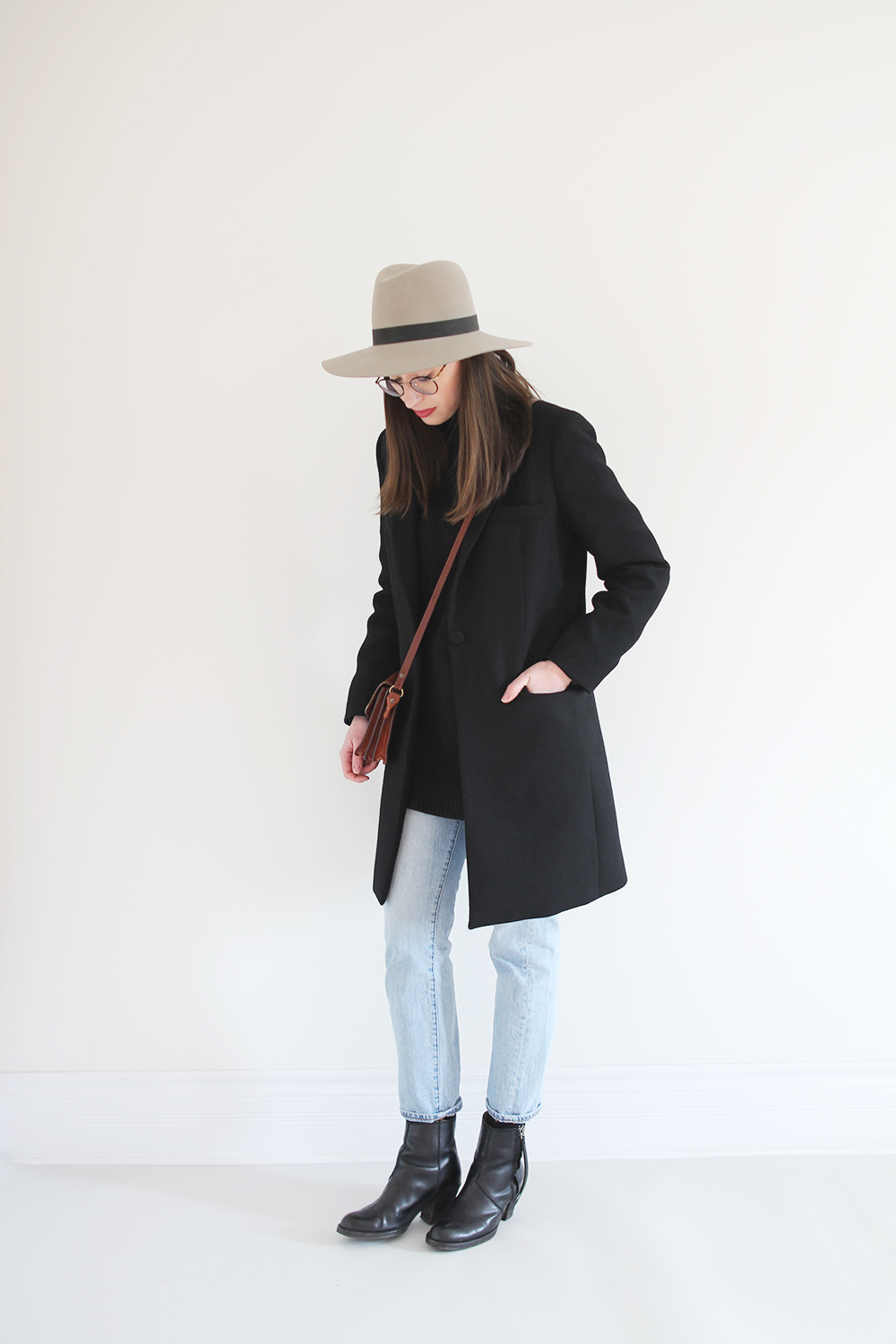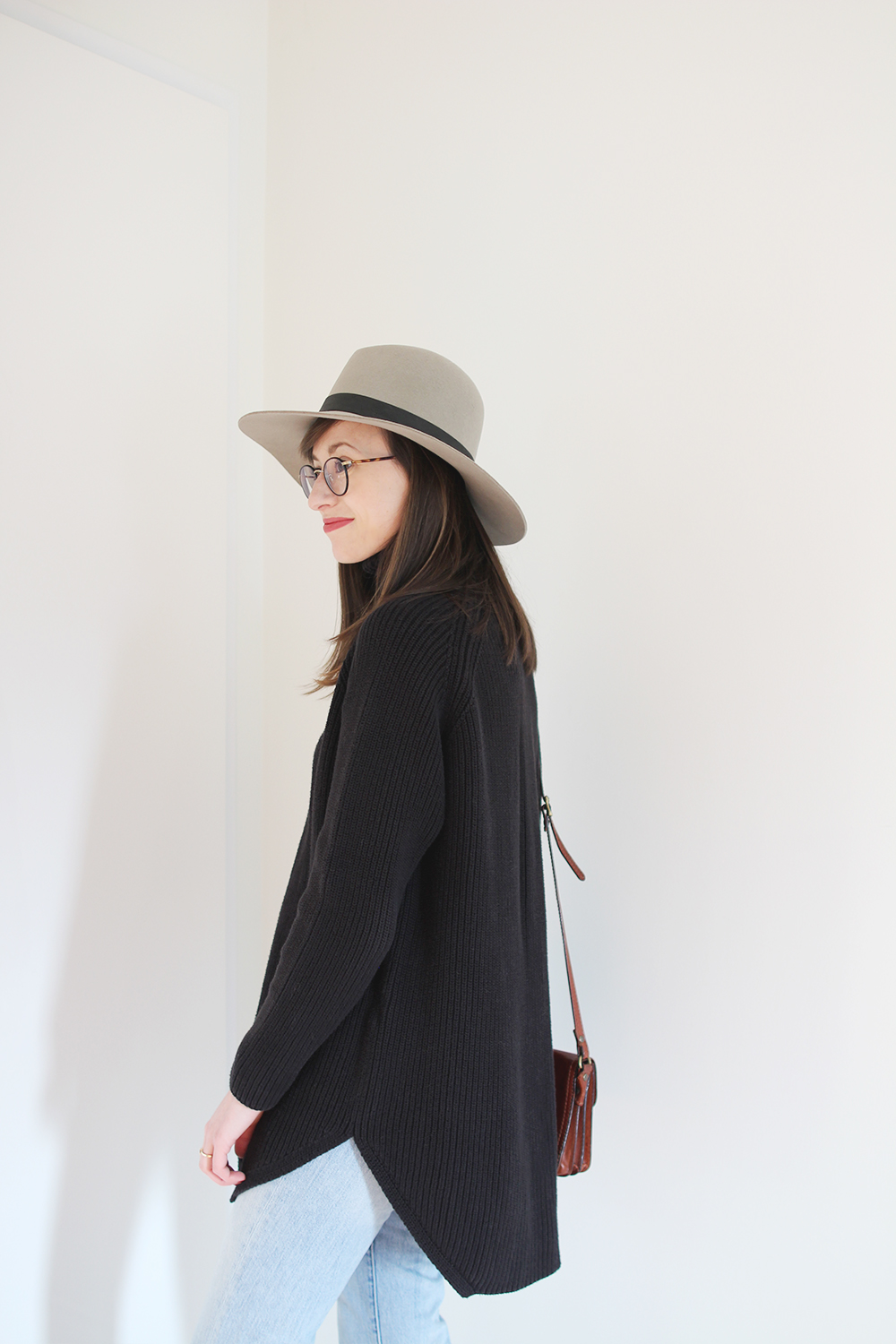 ---
Style goal for the week: Combine two closet heroes that you've never worn together and see how it goes!
---
MY LOOK: TUNIC SWEATER* by HOPE (Size 36) | MOM JEANS from Madewell | PISTOL BOOTS by ACNE STUDIOS | BAG* vintage | HAT by Janessa Leone | COAT* by Reformation | FRAMES by Garrett Leight | Watch c/o Daniel Wellington | Signet Ring c/o CLAUS
*Linked to similar option.
---

---
TUNIC SWEATER + CLASSIC JEANS
---
It can be tricky to find a great Tunic Sweater and the perfect Mom Jean fit. So in case you're in the market I did a bit of research and pulled together a good selection of responsibly made options** that I think are worth a look and are still available in several sizes, colours and price ranges.
As mentioned above, the sweater I'm wearing is by HOPE and while the exact version is no longer available you can still order a similar option in 3 different colours. However, for an acrylic/cotton (40%/60%) blend made in China the price is pretty steep so some of the options below might be a better long-term investment.
As mentioned above, the jeans I'm wearing are by Madewell and I love them so I don't feel bad featuring them even though the integrity of their production is unknown. If I was buying the same style now I would definitely try the Jamie by AGOLDE (exact same the fit but with a button fly and they're made in the USA out of organic and recycled cotton).
**with the exception of the Perfect Summer Jeans I'm wearing.
---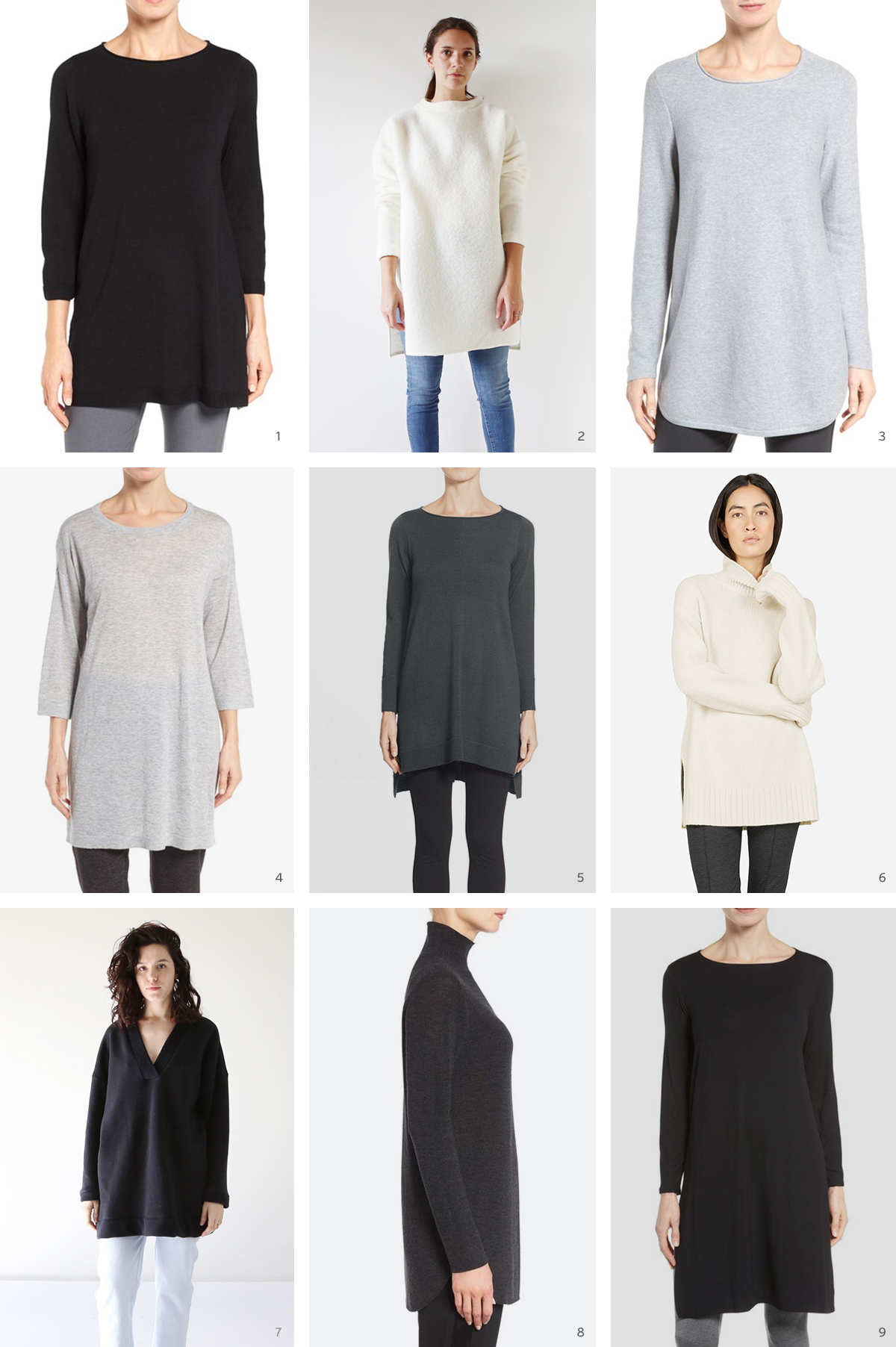 ---
1 | Merino Wool Jersey Tunic (3 colours $100 USD On Sale) | 2 | Long High Neck Sweater (3 colours $180 USD On Sale) | 3 | Organic Cotton Tunic (4 colours $250 USD) | 4 | Tencel Merino Wool Tunic (6 colours $228 USD) | 5 | Merino Jersey Tunic (3 colours $150 USD On Sale with excellent reviews) | 6 | Wool Cashmere Turtleneck (3 Colours $140 USD) | 7 | Pullover Sweater (4 Colours $158 USD On Sale) | 8 | Fine Rib Merino Turtleneck ($228 USD) | 9 | Lightweight Jersey Tunic ($178 USD) | BONUS | The Wrap Neck Tunic, a beautiful Made in Canada option! ($188 CAD)
---
CLASSIC VINTAGE FIT JEANS
---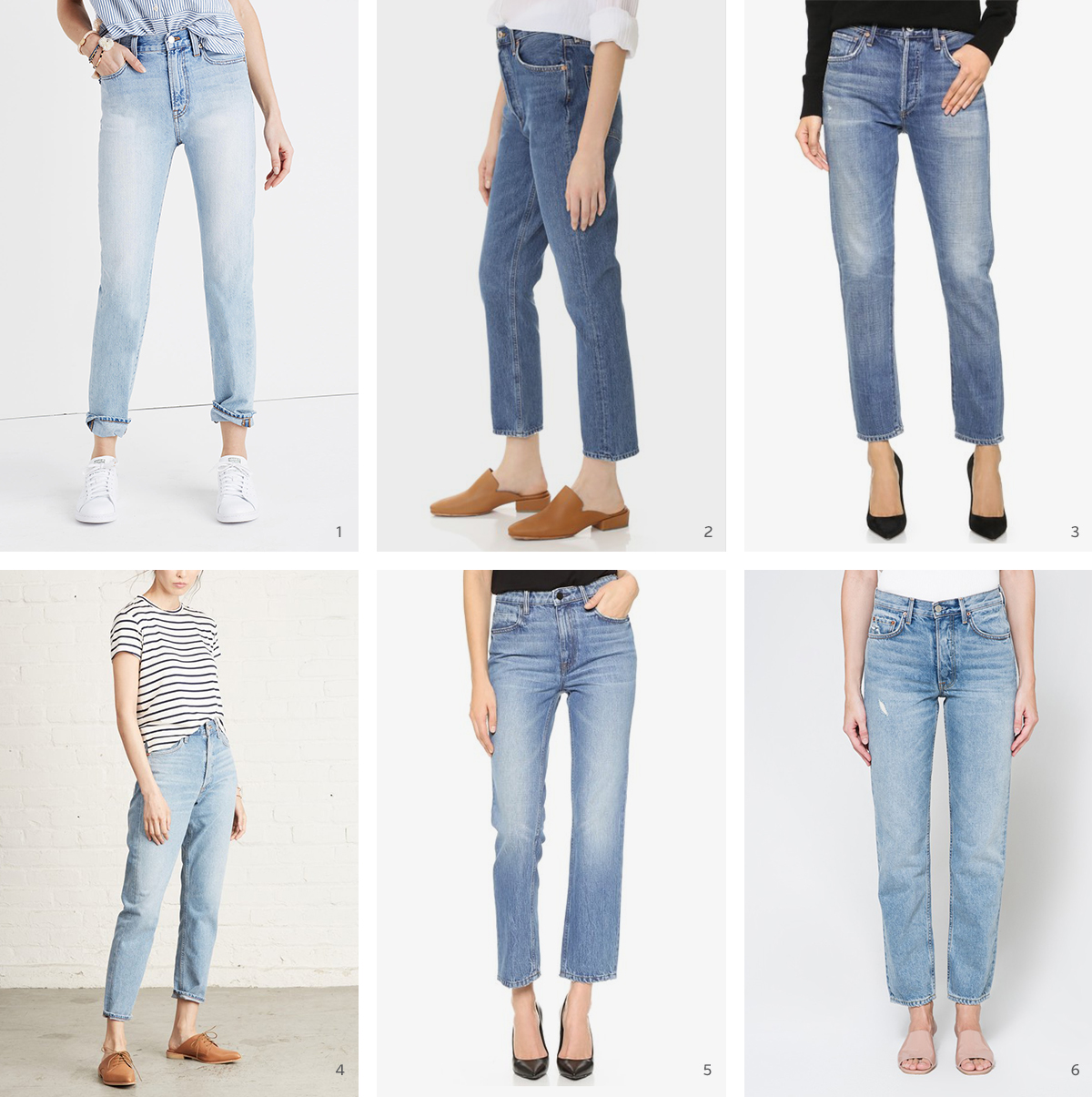 ---
1 | PERFECT SUMMER JEAN ($120 USD Imported) | 2 | Riley High Rise Straight Crop ($120 USD) | 3 | Liya High Rise Jeans ($206 USD) | 4 | Jamie High Rise Classic Jeans ($120 USD) | 5 | Cult Cropped Straight Leg ($205 USD) | 6 | Helena High Rise Straight Jean ($210 USD)
---
See something you liked? You can shop it and support Style Bee by using the affiliate links provided. This post is not sponsored but when you shop via the links above I may make a small commission from a sale. Thanks for your support!