Is it just me or are the winter blues hitting extra hard right now? I'm so ready to be done with this frosty season and to feel the heat of the sun again. This will be the first year in a long time that we don't have a warm getaway on the agenda either so the wait for warmth will be extra long. Dressing for freezing rain, snow and just plain old cold used to be exciting but I've got to admit it's become a bit of a drag! That said, there's no getting around it just yet so I'm trying to find a few ways to play with style and layers before the season gives up.
In my Winter Wardrobe Assessment I mentioned a few items that I had yet to get a lot of use out of and this T-Sweater was one of them. I love this sweater so much but it can be a little tricky to style in the winter as it's not super warm on its own and the sleeves are pretty much too wide for most coats. So I thought I'd give myself the challenge of creating a look centered around this piece that qualifies as warm, comfortable and sophisticated.
Let's see how I did! 
---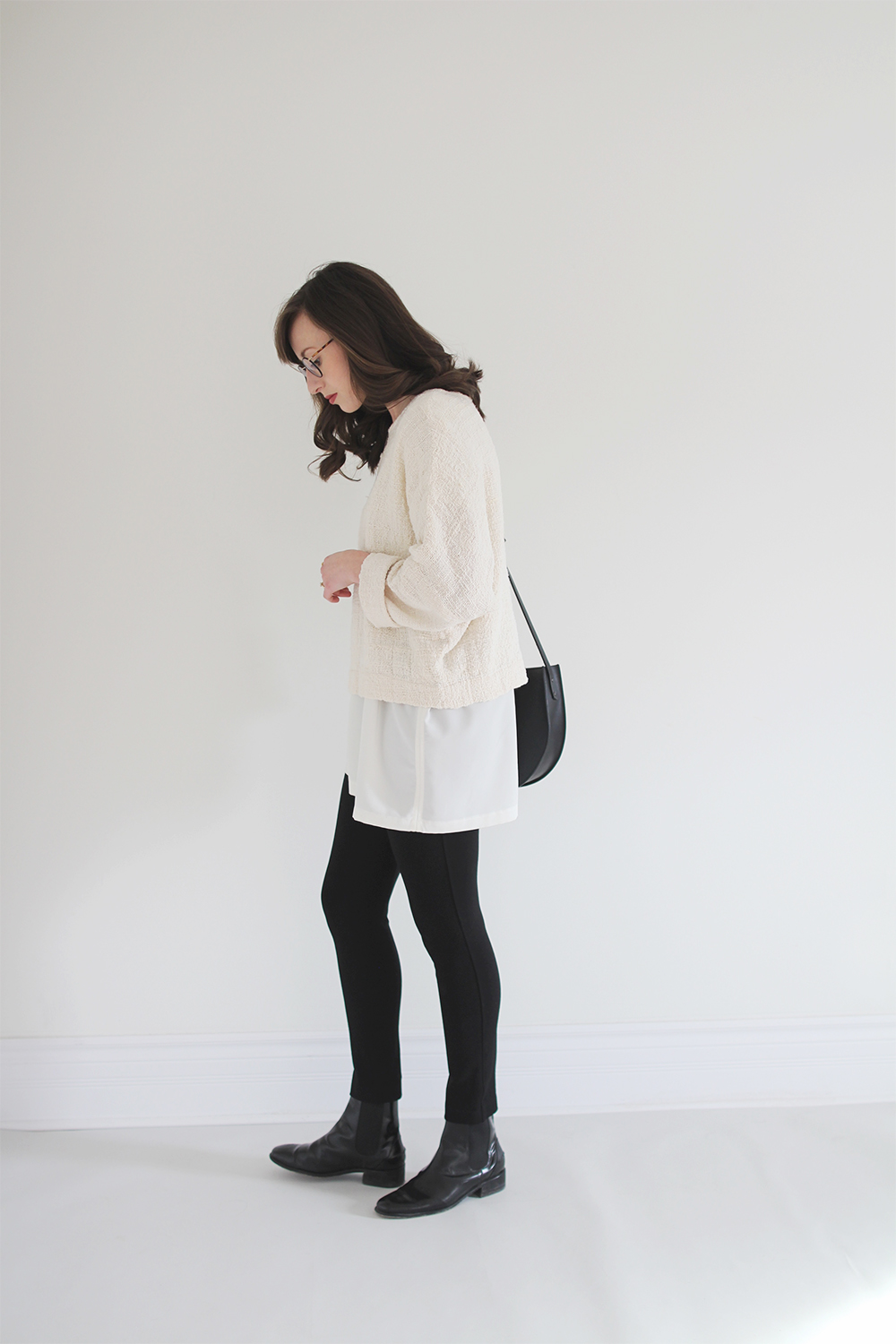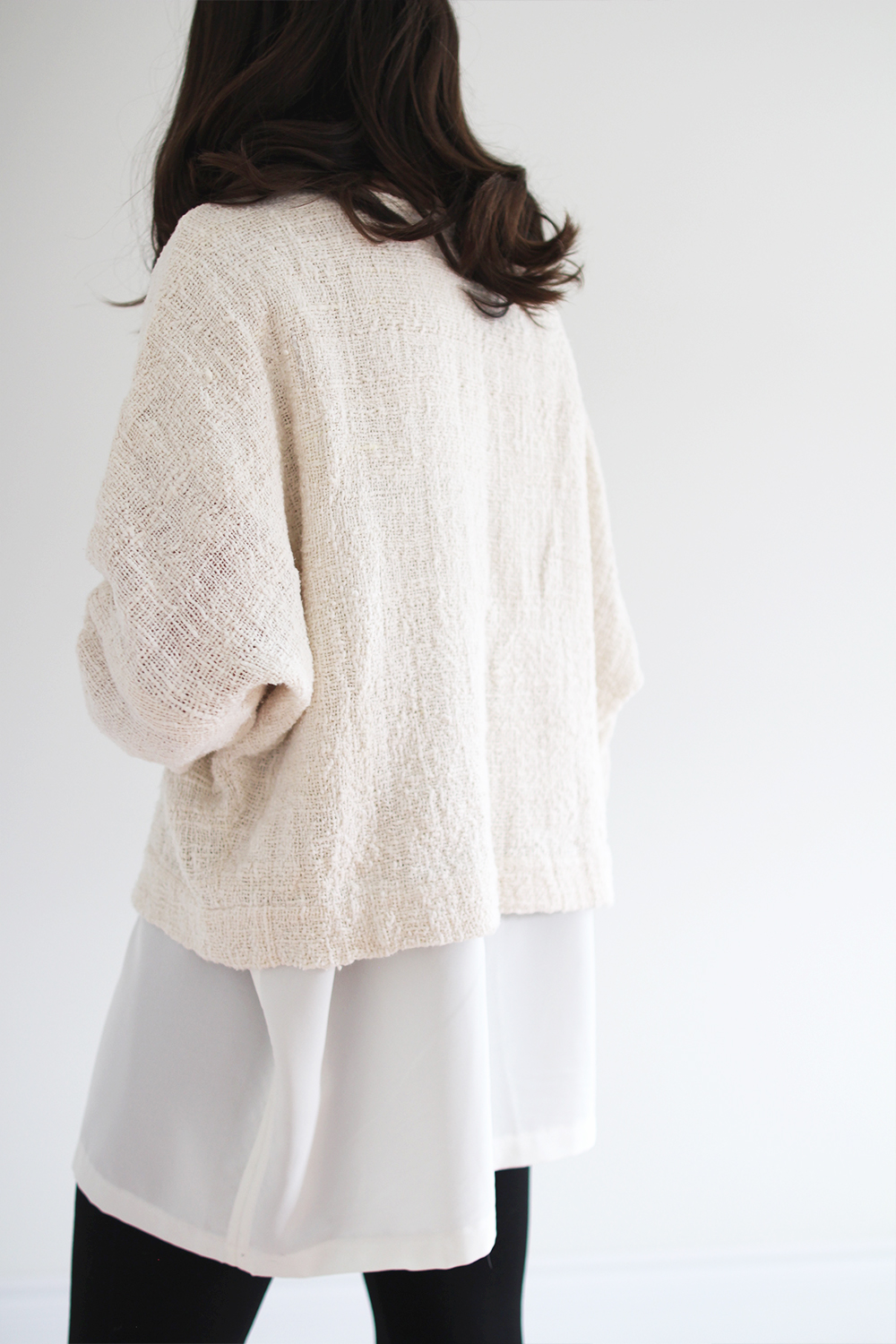 ---
INITIAL THOUGHTS
Hello dreamy layers! I am LOVING a floaty white tunic under this textural buttery knit. The off-white on white is a super comforting combo but it also feels fresh and light, which is something I need in my life at this time of year. Then once, my giant alpaca coat gets involved it's basically like wearing a cozy cloud.
This is one of my favourite Winter silhouettes too. Lots of volume on top that extends past the hips and a sleek, lean lower half. It's so simple and comfortable but a little unusual and contemporary, especially in this colour palette.
I've actually worn my Ponte Pants quite a bit this winter and they've been awesome. They hold their shape, wash up easy and since they're fairly dense they're almost as warm as my skinny jeans. I consider them an upgraded legging and not quite a proper pant, but that's just me. I love them under a tunic or with a fitted turtleneck and a long cardigan.
I'm also glad I finally tossed my giant Capote Coat over the T-Sweater because it works perfectly (no sleeve or shoulder bunching, YES!) and makes for a totally toasty outdoor look. Definitely one of those, 'Why didn't I think of this sooner.' moments.
Usually I would pair this look with a heeled boot to offset the volume with height but my Chelsea boots were right there and I liked the idea of adding a little polish, which the semi-gloss leather always does. So I just didn't over think it!
All-in-all I think this look is a keeper! For something that's essentially a giant top and leggings, I'd say it could be considered pretty darn chic.
---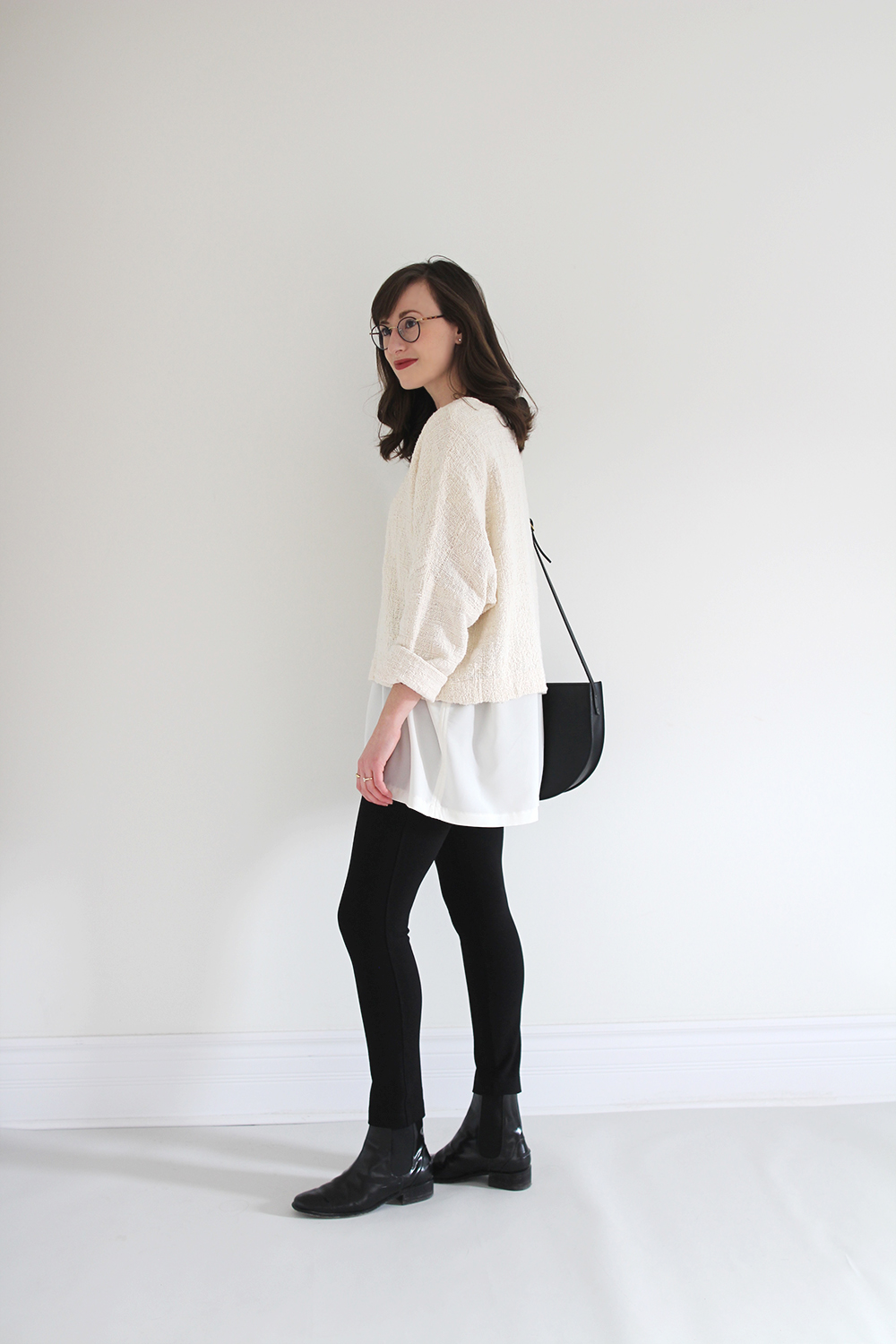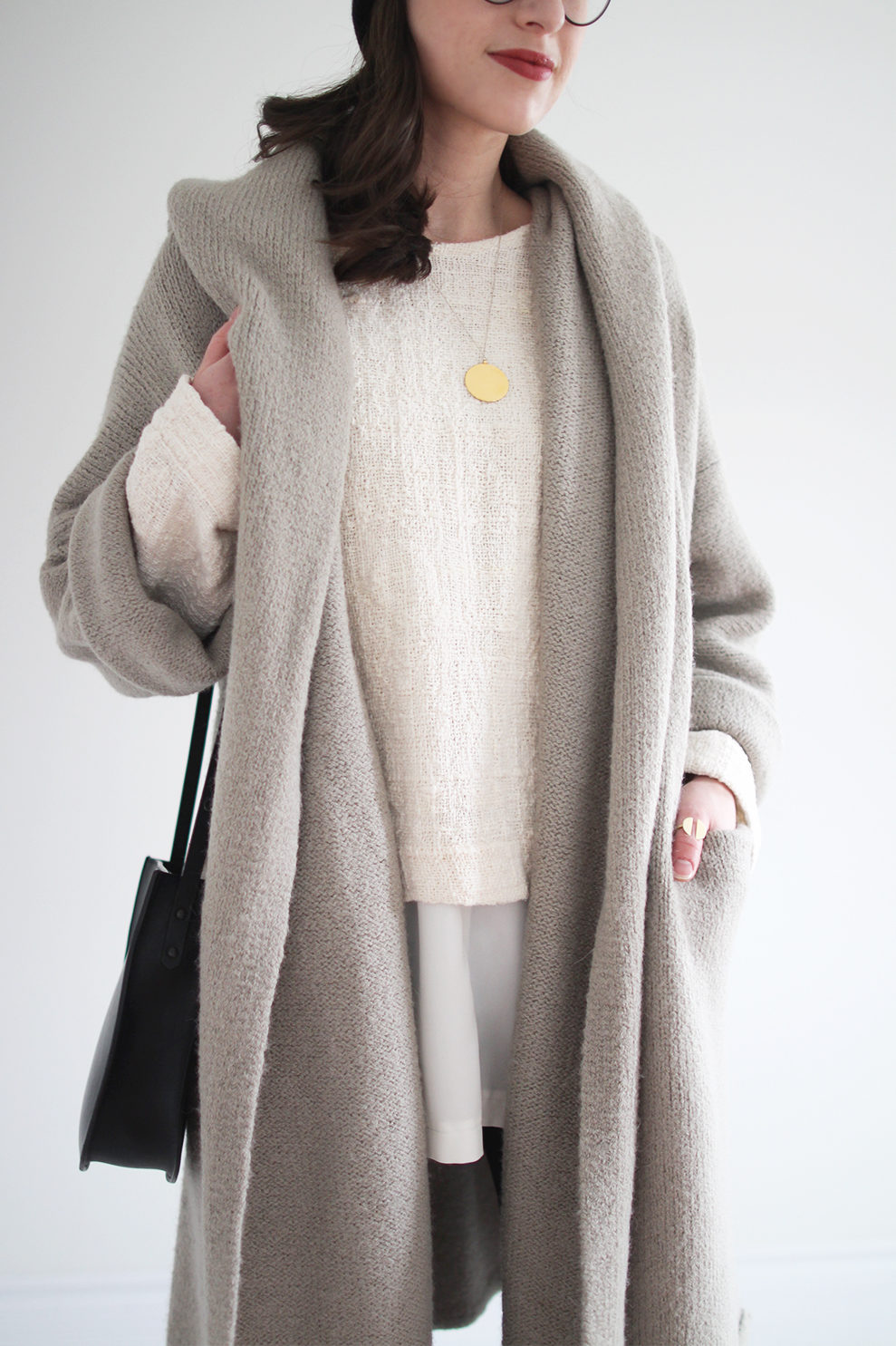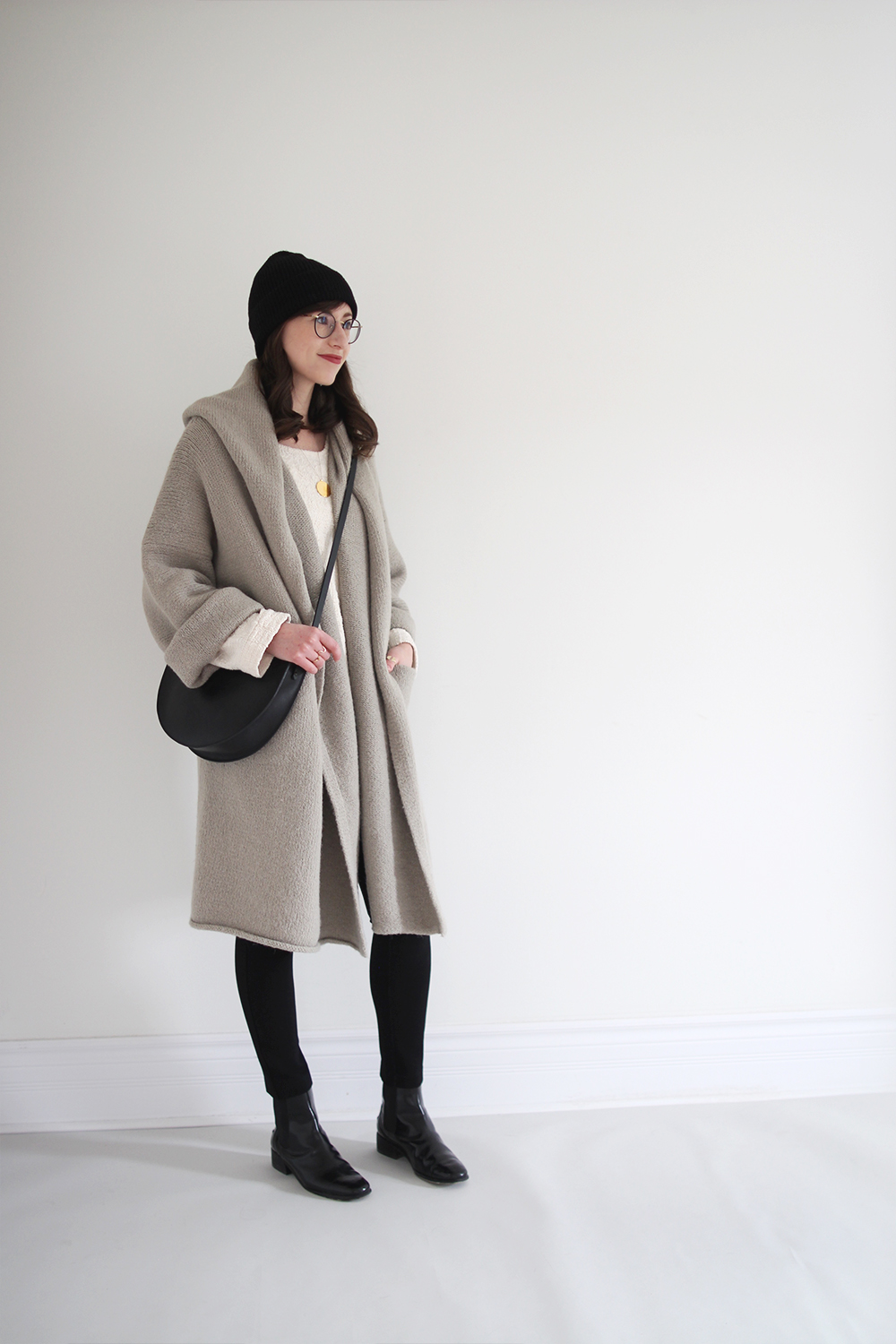 ---
STYLE + FIT DETAILS
1 | THE MORE THE MERRIER | When it comes to layers that is. In this look I'm actually wearing a total of 6 layers. I've got this bra on, which is super soft with ample coverage, topped with this fitted tank, my pants, my tunic, then the T-Sweater and finally my Capote Coat. I tucked the tank into my Ponte Pants (the waistband is ideal for tucking) so it stays smooth and then the tunic is slinky (but not clingy), the T-Sweater just glides on top and the coat stay in place thanks to texture on texture. Of course, I didn't consider all those things when I was getting ready but it's good to acknowledge what's helping to make this work when a similar look might not be as comfortable.
When you're working with lots of layers, go for a fitted base and try to incorporate a layer that's made of a slinky material to avoid bunching and discomfort. 
2 | TONE ON TONE CONTRAST | My favourite element of the T-Sweater is it's hand spun, nubbly cotton texture and I love the contrast it has against the super smooth silk blend tunic. Similarly the Ponte Pants are a luxurious deep dense black which contrasts beautifully with the semi-gloss leather on my Chelsea boots. This trick is oh so subtle but highly impactful once you think about it!
Try creating contrast in a monochrome look by mixing different textures.
3 | LONG + SHORT OF IT | I'm no stranger to this layering approach, that being a long base with a wide cropped top. I've tried it many times on the blog before (most notably here, here, here and here) and every time I'm reminded that I need not be shy about layering voluminous tops. This variation actually feels the least daring and that's ok. The key to a successful bold layering endeavour (at least I think) is to choose a bottom layer that's a little slinkier, narrower and much longer than the top one. In this case the tunic is perhaps a touch too wide, so it has to fold over itself but because it's a floaty fabric it still works.
Try going bold with added volume on top sometime. You might be surprised by how much you like it!
4 | CEMENT | Why is the colour of this coat so hard to come by? I love it because it takes on a different tone with everything it's paired with. In this case it feels more like a warm neutral but when it's on over jeans it almost looks like a cool grey. It's also impervious to lint and pet hair. If any designers are reading this, more cement please! 
Try to identify a colour in your closet that is unique and adaptable and wear it with pieces you may not otherwise pair it with.
---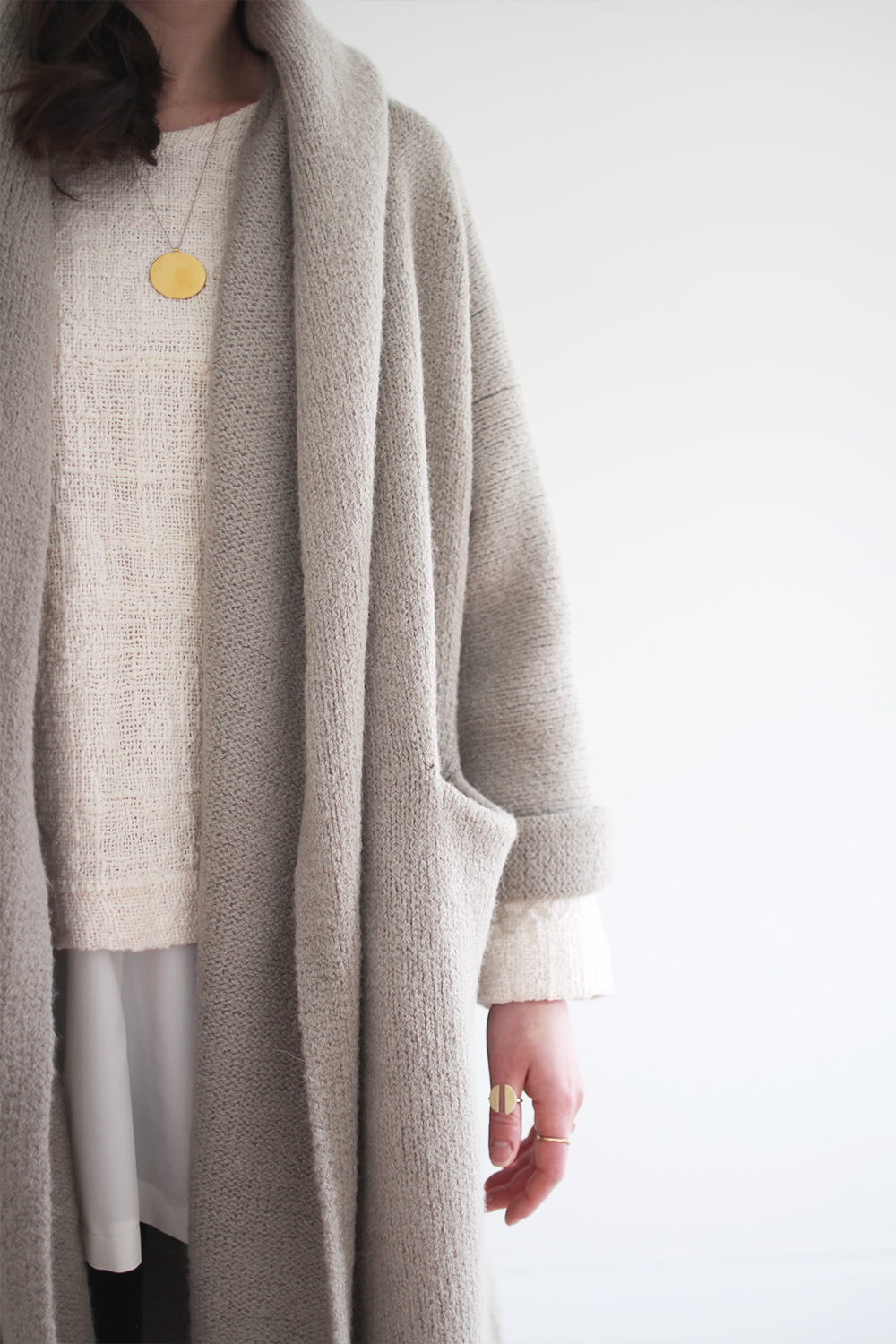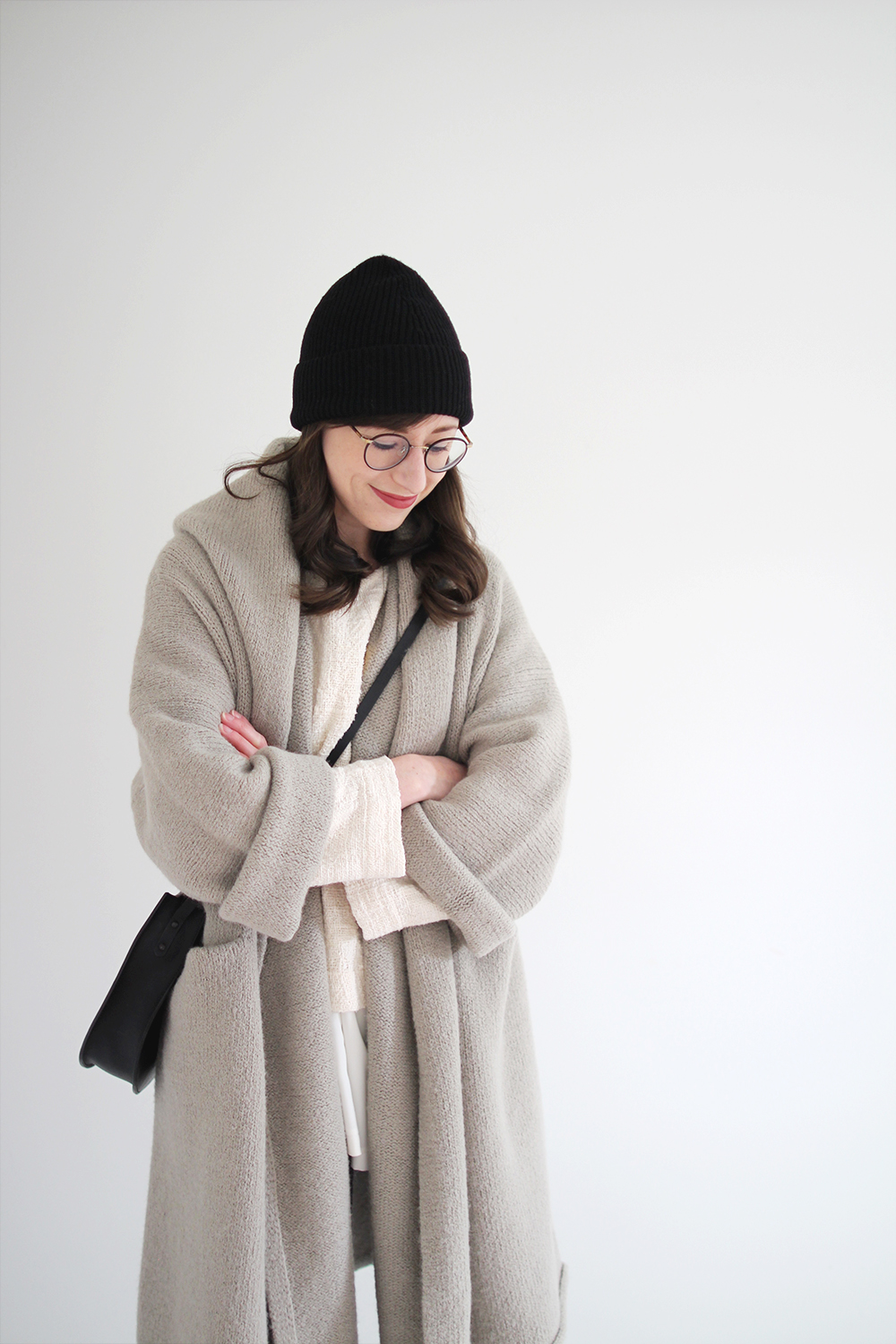 ---
So I must admit that this outfit was pretty fun to discover! Are there any pieces left in your winter closet that could use a little experimentation?
---
| 1 | T-Sweater by Jamie + the Jones (wearing S/M) | See below for similar options. | 2 | Tunic c/o Only Child  (linked to similar in light grey) | 3 | Ponte Pant c/o BRASS (wearing XS) | 4 | Thora Boots by Rachel Comey | 5 | Capote Coat by Lauren Manoogian | 6 | Eloise Bag by The Stowe | 7 | Hat by Everlane s/o (Linked to similar)
---

---

---
See something you liked? You can shop it and support Style Bee by using the affiliate links provided. This post is not sponsored but when you shop via the links above I may make a small commission from a sale. Thanks for your support!