Happy Friday! It's been another busy week of juggling my job, life, blog and all the other stuff in between so I'm very glad to see the weekend approaching. I'm also excited to end the week with a post I've been wanting to share for ages, all about rainwear and some of the super stylish, responsibly made options I've come across over the last little while.
Until last summer I hadn't had a raincoat since I was in high school but a trip to Amsterdam changed that in a hurry. Similarly, until a few weeks ago I'd been using a busted umbrella with a broken extender (it never closed) and a few spokes that had poked through the fabric, making it both a weapon and a hazard. Needless to say, it was not ideal, and simply a miracle that no one lost an eye.
But since I've started approaching different areas of my closet with more intention (ergo my loungewear capsule) I've found it just takes a little extra thought and a couple of careful additions to make everything work better. Once I had a proper raincoat I suddenly no longer dreaded the rain (as much), a functional and well designed umbrella has totally changed my dog walking life and once I discovered some minimal chic rain boots I no longer felt like I had to plan my outfit around rubber boots!
These findings all bring me to today's post, where I'll be sharing the following:
Rainwear Look 1 – Trench + Ankle Boots
Canadian Made Umbrellas
Rainwear Look 2 – Raincoat + Tall Boots
Where To Shop Responsible Rainwear
---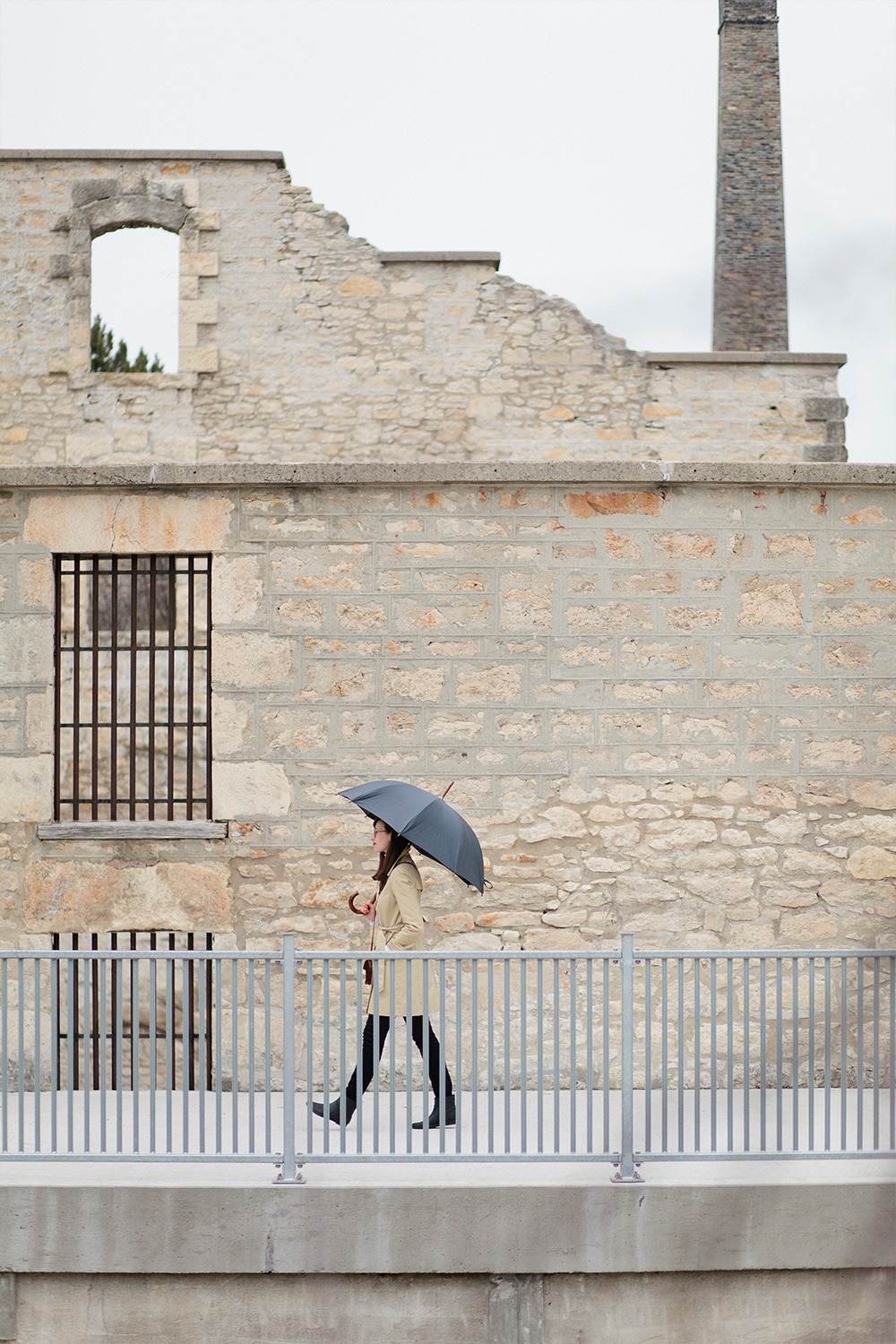 ---
LOOK 1
---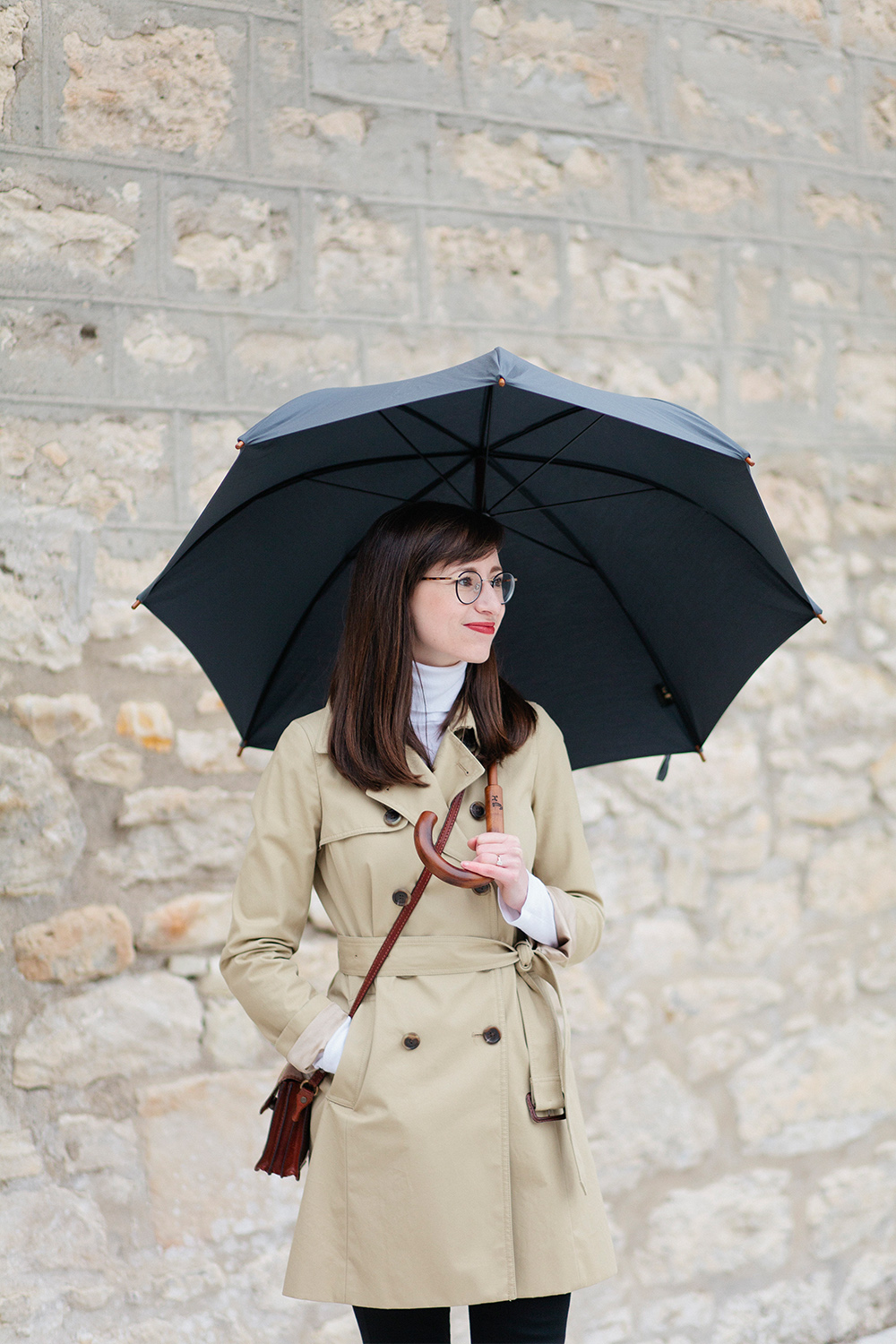 ---
I feel like I should be strolling around London or Glasgow or touring the Welsh countryside in this one and I love it. To me it's a perfect blend of minimal chic meets practical. This beautiful umbrella is a new addition and has made me pretty much fearless about facing the rain in clothes I like. That's because it's wide enough that no part of my outfit gets dripped on (except my toes) but not so wide that I feel like I belong on a golf course. My other umbrellas have always been too small so my bags would get wet! Lots more on what makes this one extra special below.
Now the J.Crew Icon Trench coat is a true classic and honestly it's been a workhorse in my closet for many years now. I've never even had to spot clean or dry clean it! Sure it might be a little preppy for my style now but it's still a forever favourite in the most quintessential trench cut and colour. The only thing not to love is that J.Crew's production specs are hazy and it's made in China so you can't count on responsible practices. I bought it before I went down the responsible shopping road so those things didn't stop me then the way they would now.
If you're interested in a classic trench here's a few things to look for:
DOUBLE BREASTED – This is not only a visual cue to the classic design but adds warmth and an added wind barrier.
REMOVABLE BELT – This makes it easy to style different ways and wash as needed.
A NEUTRAL COLOUR – Opt for a neutral colour that will hide dirt and spots easily plus it'll go with everything in your closet!
SILKY LINING – My favourite feature about this coat is its silky liner which makes putting it on over long sleeves a pleasure instead of a chore.
STAND COLLAR – I'm always popping the collar up on this one when the wind picks up and I didn't think to bring a scarf. You definitely want that option!
POCKETS – So key for those windy walks to the store or from the car to the office or a restaurant!
I've shared 6 classic and responsibly made trench options below!
Feel free to share your tips for a good trench coat too! 
---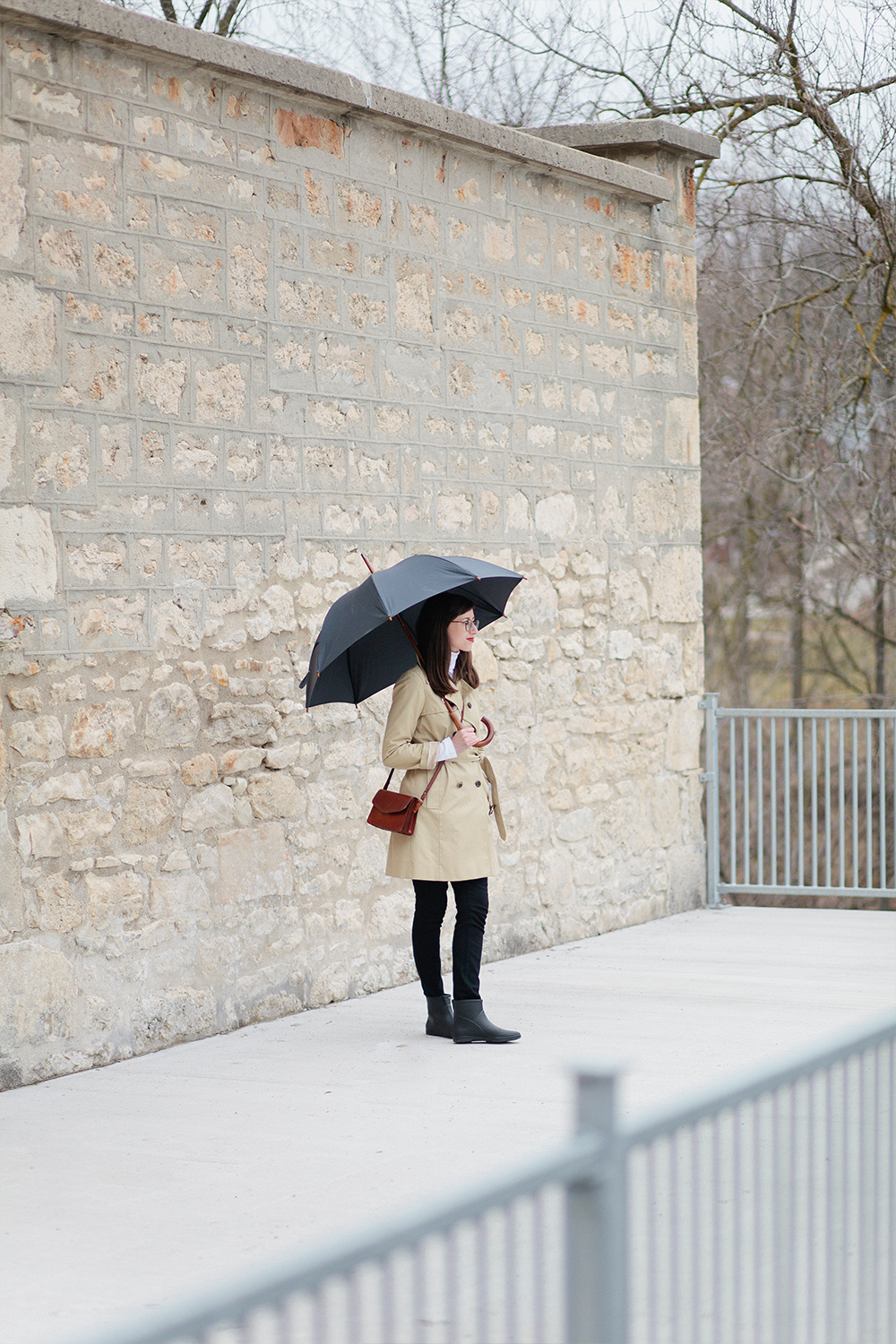 ---
Aren't these little rubber ankle boots just the loveliest rainy day footwear…ever? Well, I sure think so. I'd been coveting a pair of Alice + Whittles Rain Boots for a while and finally decided to take the plunge with a 10% discount code (applicable on all first orders) and free shipping and returns certainly sweetened the deal. As soon as they arrived and I opened the box I knew they'd been just what I was hoping for.
I love the shape of these because they're sleek and minimal but still easy to slip into and quite comfortable for lots of walking. The grooved sole helps them grip wet ground and the removable rubber insoles makes them easy to air out after a long damp day. Since I wear wide leg pants so often these are great because they don't require tucking and fussing the way a taller boot does. I just slip them on and out I go!
Size Note: These run narrow around the toe and mid-foot and I found I'm in between sizes in these. The US7 (my usual) was a touch too snug for me (with medium weight socks on) but the US8 was a little too loose. I opted for the looser fit and added a slim insole and now they're perfect! If you take a half-size or have wide feet or a high arch, size up!
More on what makes Alice + Whittles a sustainable/responsible brand below. 
---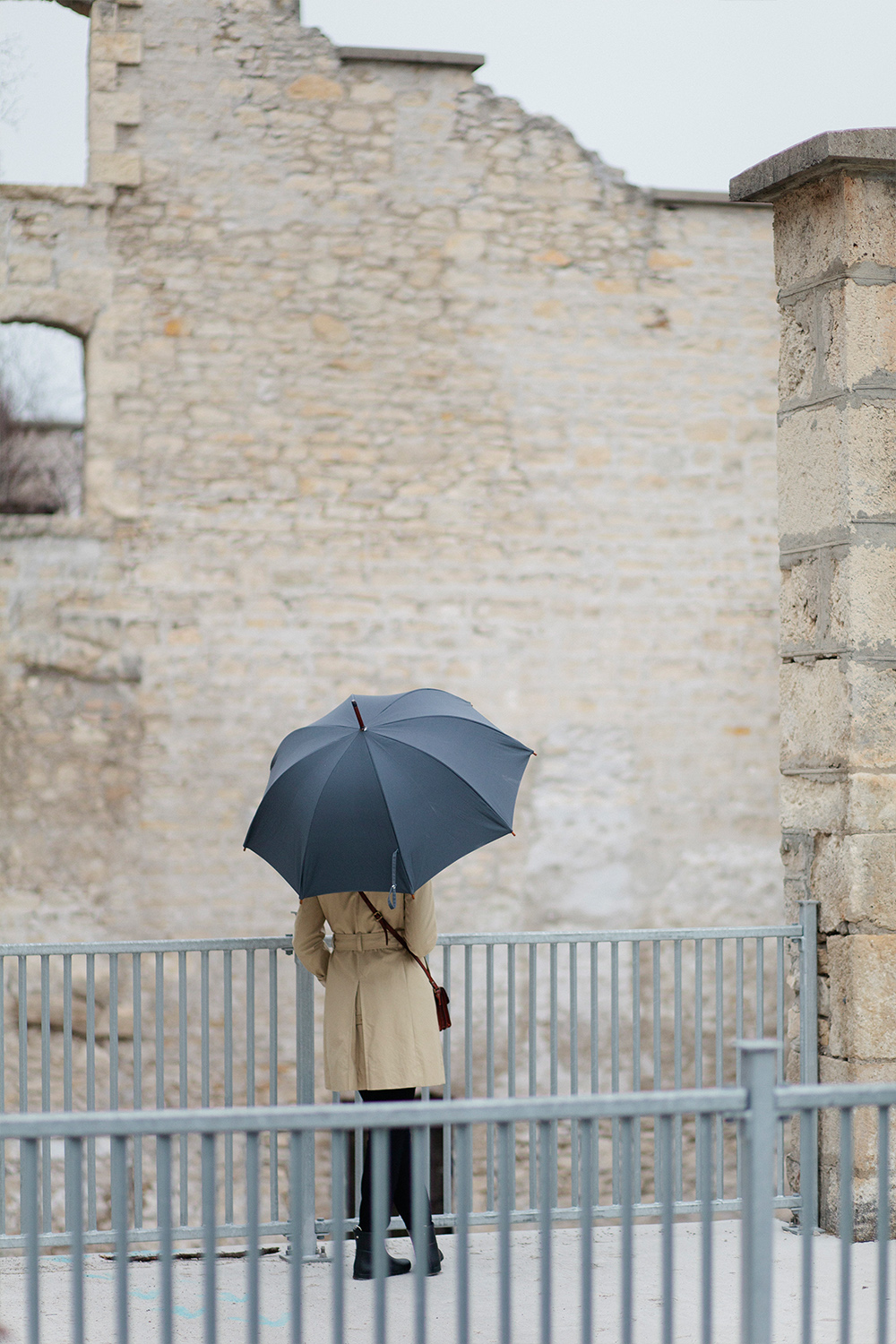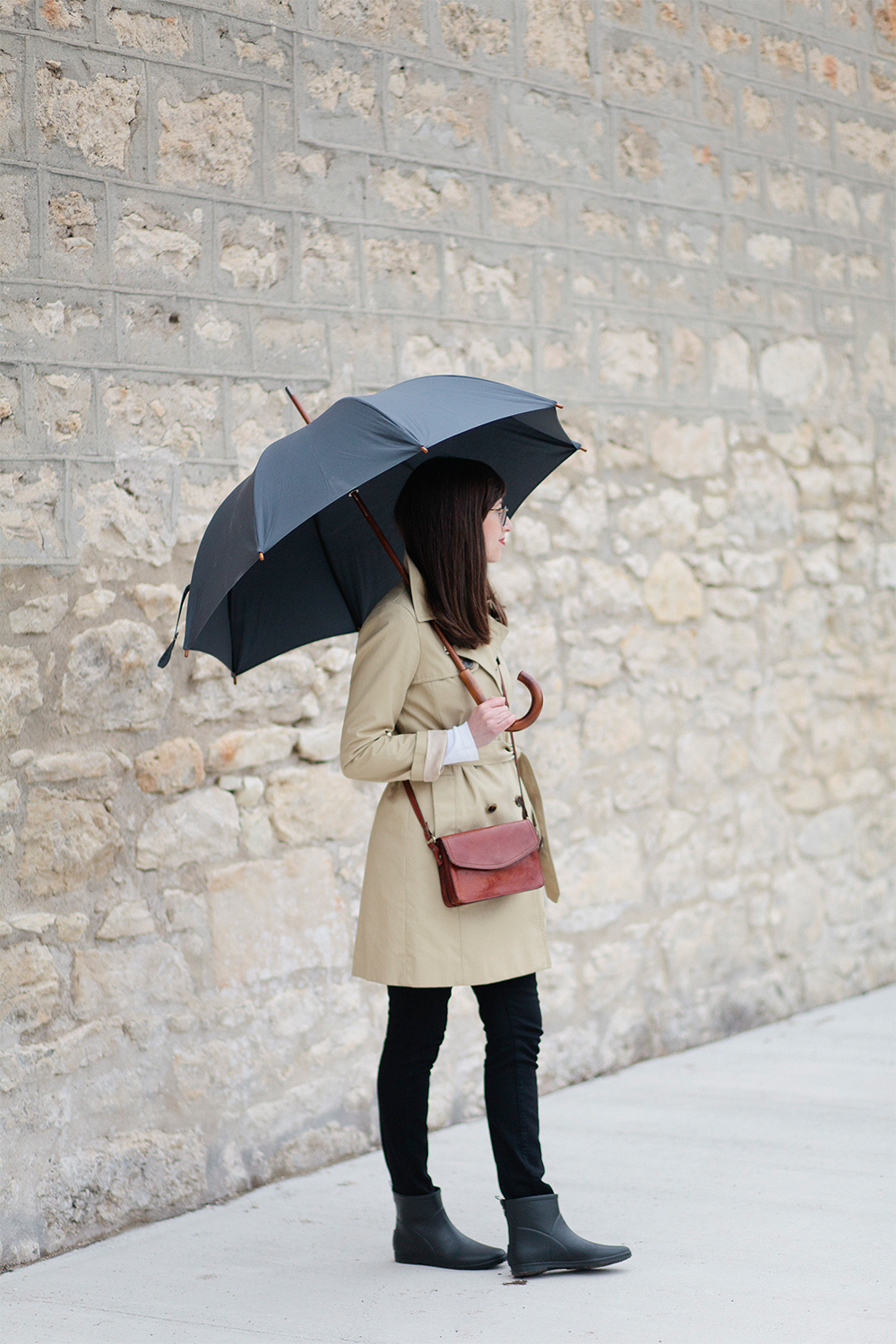 ---
Umbrella c/o MUR Lifestyle ($70 CAD Made in Canada) | Icon Trench by J.Crew | Turtleneck Splendid (made in USA) | Jeans PAIGE (made in USA) | Minimalist Ankle Boot by Alice + Whittles (made responsibly in Sri Lanka) More below.
---

---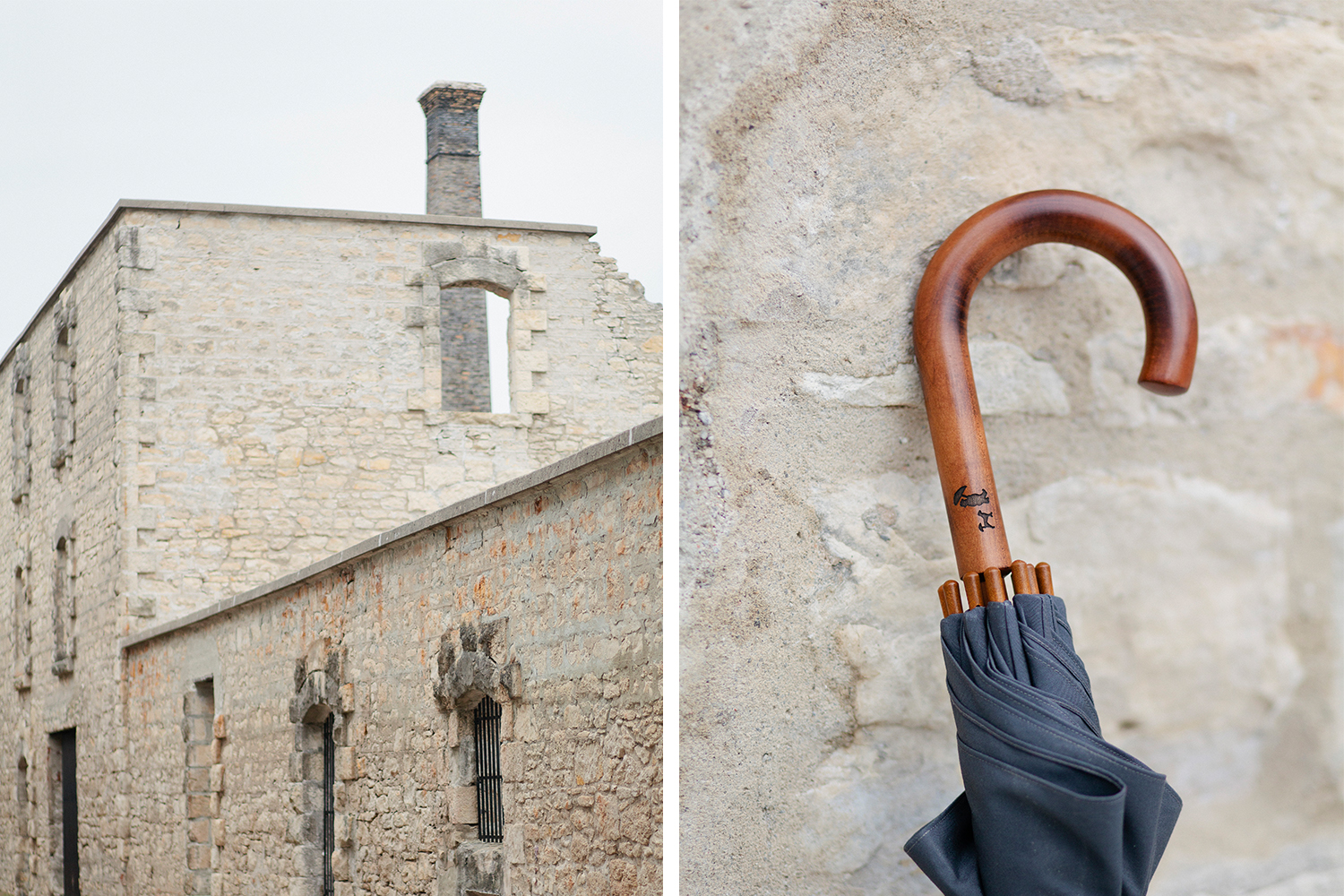 ---
CANADIAN MADE UMBRELLAS
---
Leave it to the brilliant curators at my favourite shop MÜR Lifestyle to source the most quintessential umbrella there is. As soon as I saw that they were carrying these beauties by The Umbrella Shop I was hightailing it over to their online store. But if you're inclined to ask, it's an umbrella, what's the big deal? Well, I hear you and this is the big deal.
These beauties are made by the only umbrella manufacturer left in Canada which was founded in 1935 and is currently operated by the third generation craftspeople carrying on their grandparents tradition. So that's pretty neat! Each one is created in Vancouver, Canada, where they're certainly no strangers to rainy days. These umbrellas are made using a poly cotton fabric, a wooden frame and steel ribs for ultimate durability. Originally designed in the 1970s, this classic umbrella style has stood the test of time.
At $70 CAD they're an investment but they're truly made to last. It's the perfect large size to cover you as you walk but lightweight and super easy to wield and operate. Just holding it you can tell it's been constructed very well. Some owners have reported carrying these umbrellas for more than 20 years! Safe to say these are no fair weather fashion accessory.
MÜR Lifestyle generously included mine with my last order of home goods but I really don't know what I'd do without it now! They come in the loveliest neutrals: Black, Grey (shown), White and Navy.
---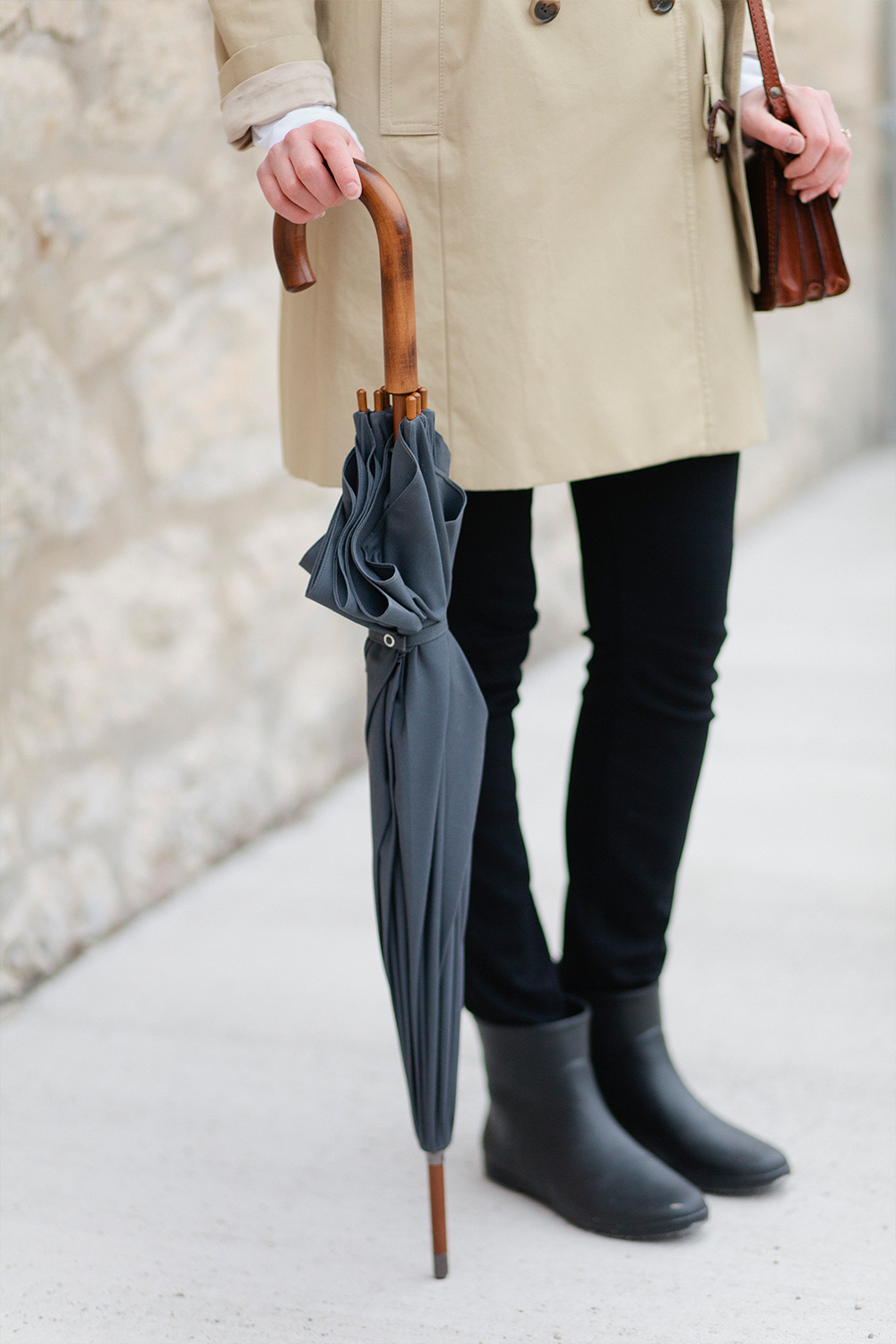 ---
LOOK 2
---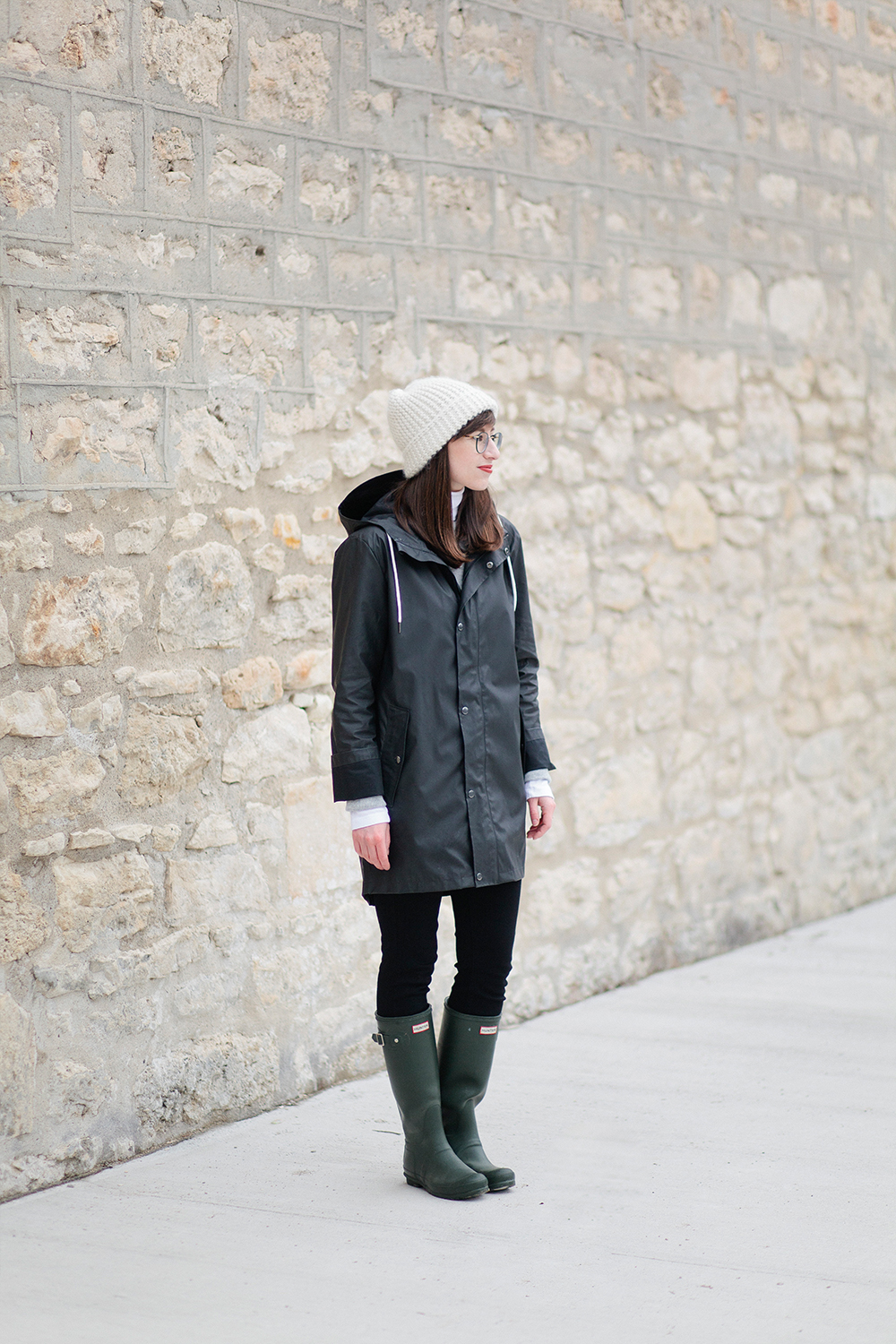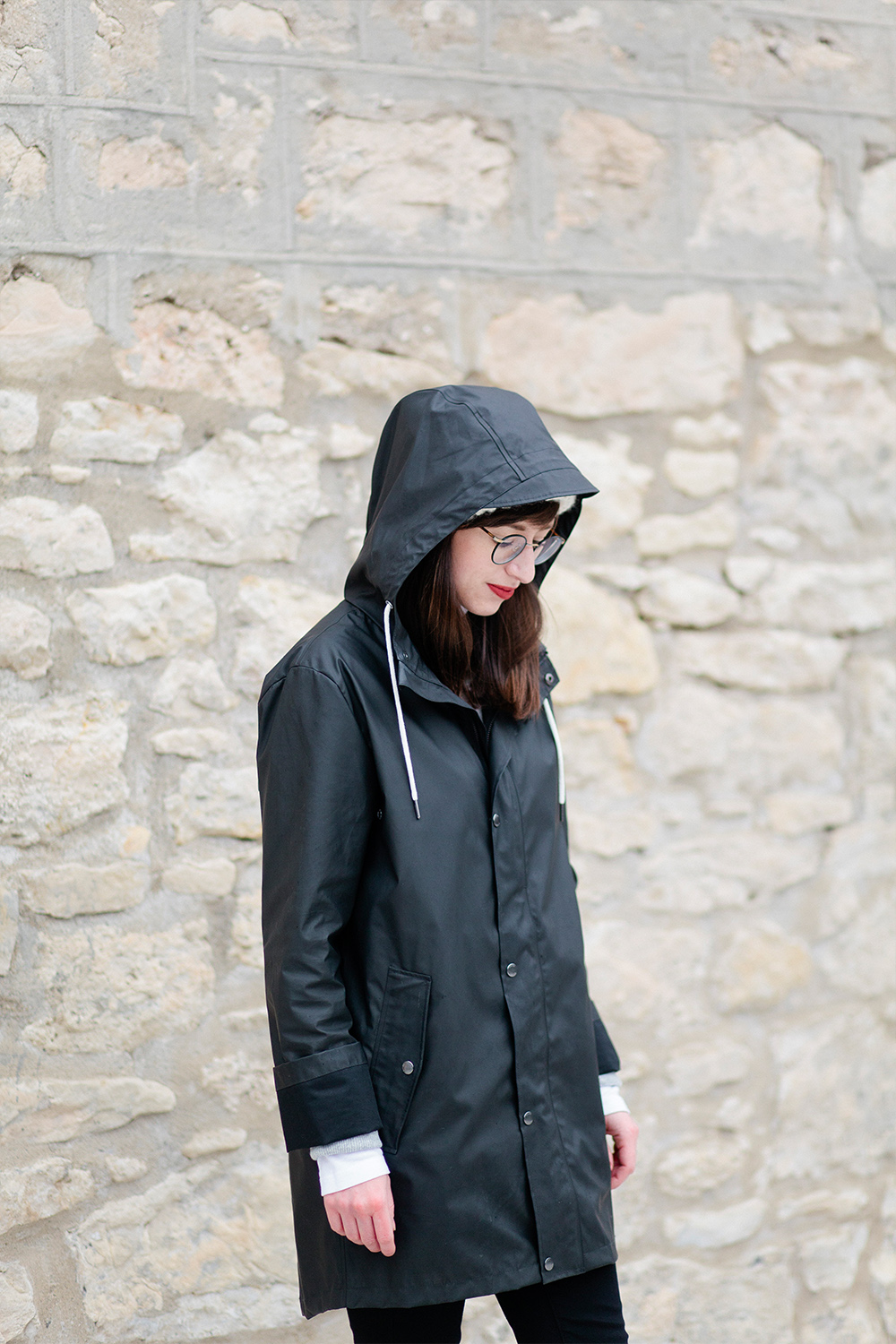 ---
I love this look for a gloomy grey day where it's threatening to rain but not teeming. I'd wear this for any number of activities but walking Dobby is the first that comes to mind. We live near lots of paths and a river so we both end up getting pretty mucky during the Spring thaw. It's way more fun to be in the rain when you're dressed for it too.
I don't know much about this particular raincoat and whether it's made responsibly but it was a necessary impulse buy during a rainy day in Amsterdam and it's totally changed my rain game ever since. It might be one of the most practical things I own!
A FEW THINGS TO LOOK FOR IN A GOOD RAIN COAT:
WATERPROOF MATERIAL – This is a given but it should be highly water-resistant like a poly blend, nylon or waxed cotton. Many have a PVC coating making them entirely waterproof.
HOOD – Preferably with a peak to keep rain off your nose and a drawstring in case it gets windy.
POCKETS – So you can tuck your hands in when it's really coming down.
LENGTH – This is one instance where you definitely want your coat to cover your butt and then some. This will help keep your seat dry and your pants clean.
LINING – This one doesn't have a lining and I wish it did since the material is not something you want against your skin. Luckily for the most part I'm wearing long sleeves anyway.
ARMPIT VENTS – Wearing a rubber or plastic outer layer is not exactly breathable so having a couple vents will help to regulate your temperature better.
I've shared 6 stylish and responsibly made rain coat options below!
Feel free to share your tips for a good rain coat too! 
---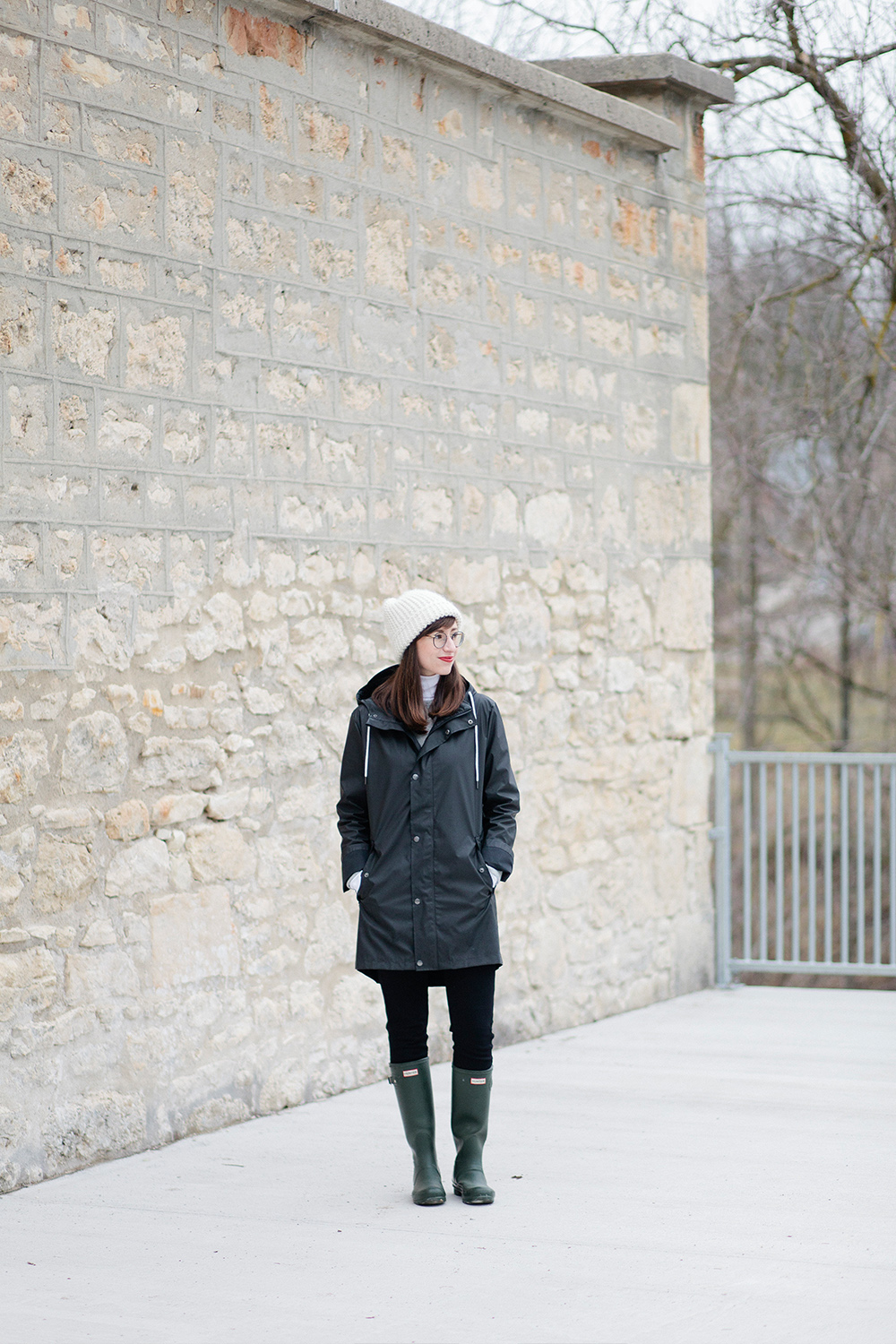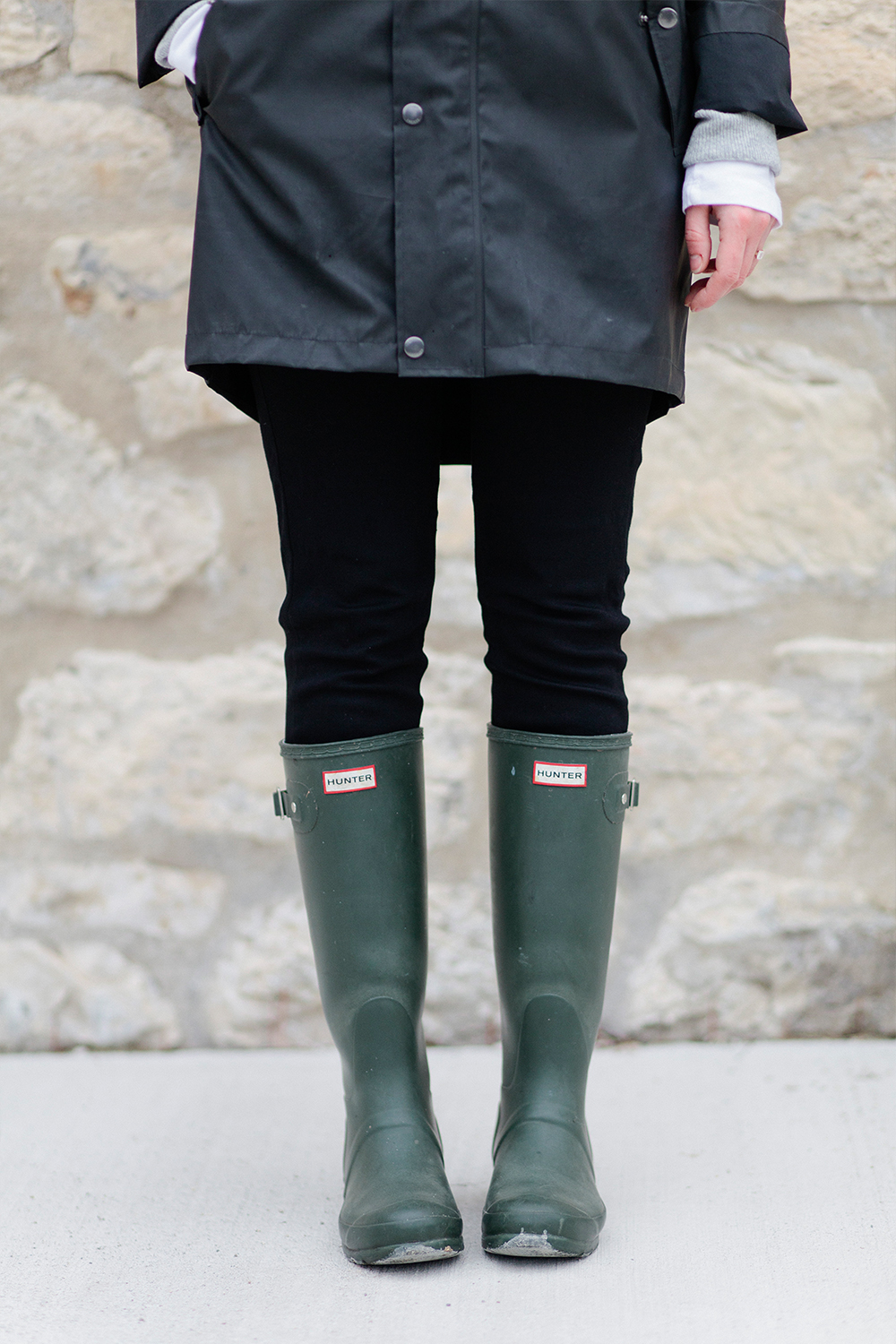 ---
These HUNTERS (black and green) were my first rainwear investment about 5+ years ago and they've been wonderful. If and when these every give out (sadly I'm starting to see a crack or two) I'll definitely consider replacing them as HUNTER seems to have the right attitude about responsible production and ethical sourcing, at least according to their website. If you know more I'd be happy to learn about it!
That said I've shared two rain boot brands below that are definitely responsible and designing gorgeous options!
---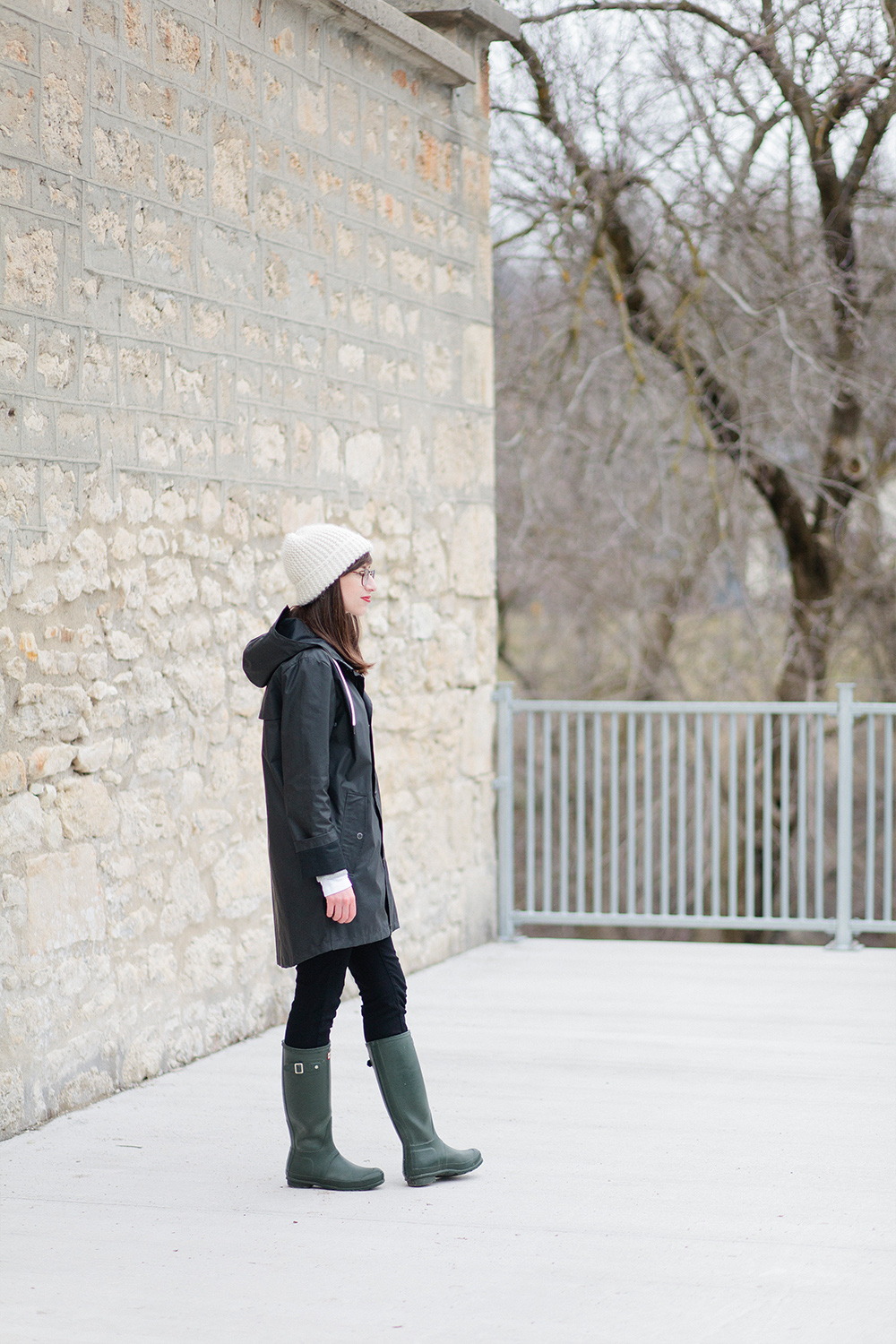 ---
BEANIE c/o Bare Knitwear (ethically made in Peru)| Raincoat SAMSOE + SAMSOE (imported) | Turtleneck Splendid (made in USA) | Jeans PAIGE (made in USA) | Rain Boots HUNTER (imported)
---

---
SHOP RESPONSIBLY MADE TRENCHES
---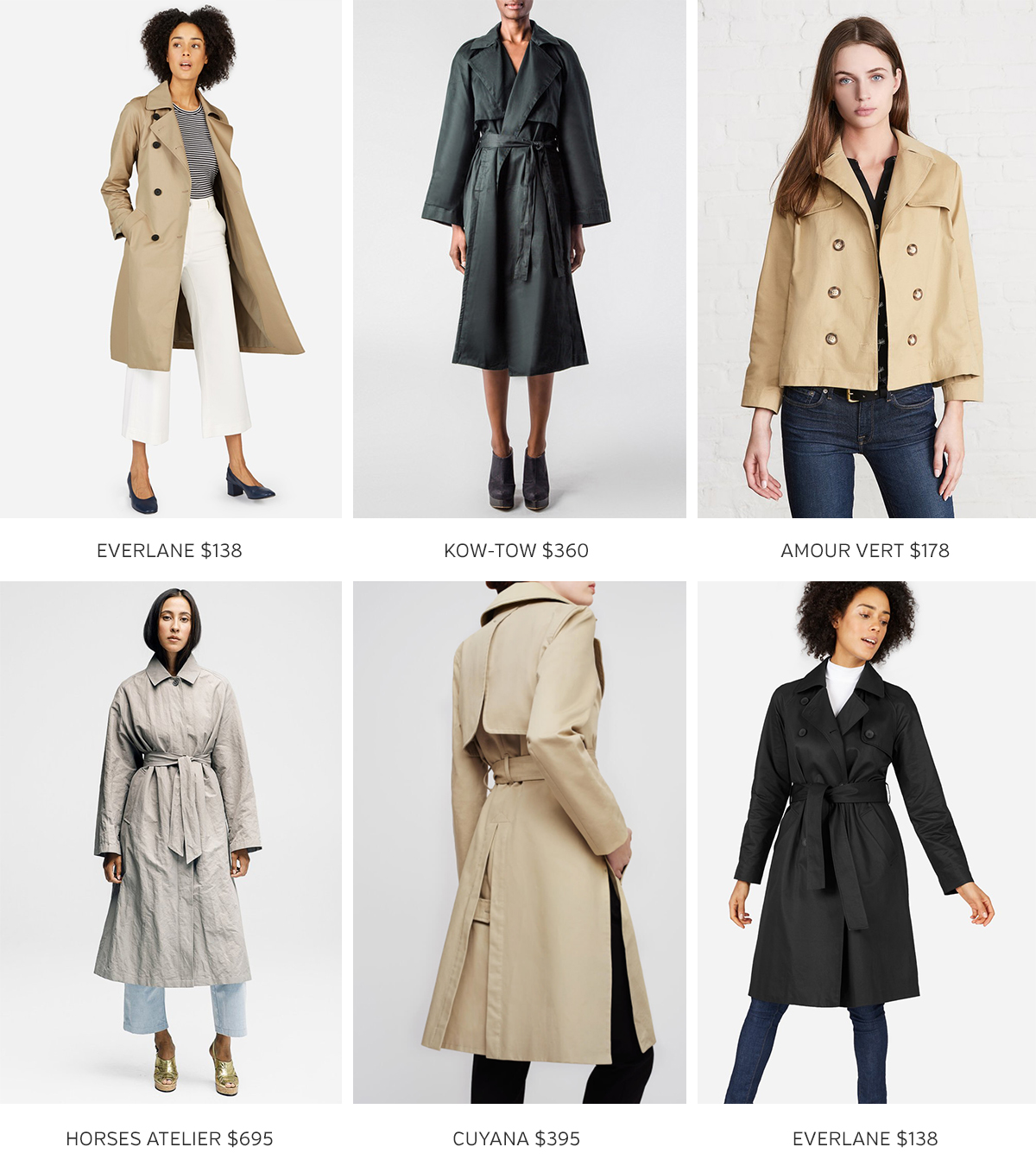 ---
EVERLANE (Ethically made in China) | KOW-TOW (Fair-trade certified and made in India) Get $20 off when you sign up here. Cream colour on sale.| AMOUR VERT (Responsibly Made in USA) | HORSES ATELIER (Made in Toronto) | CUYANA (Made in Italy) | EVERLANE (Ethically made in China)
---
SHOP RESPONSIBLY MADE RAIN COATS
---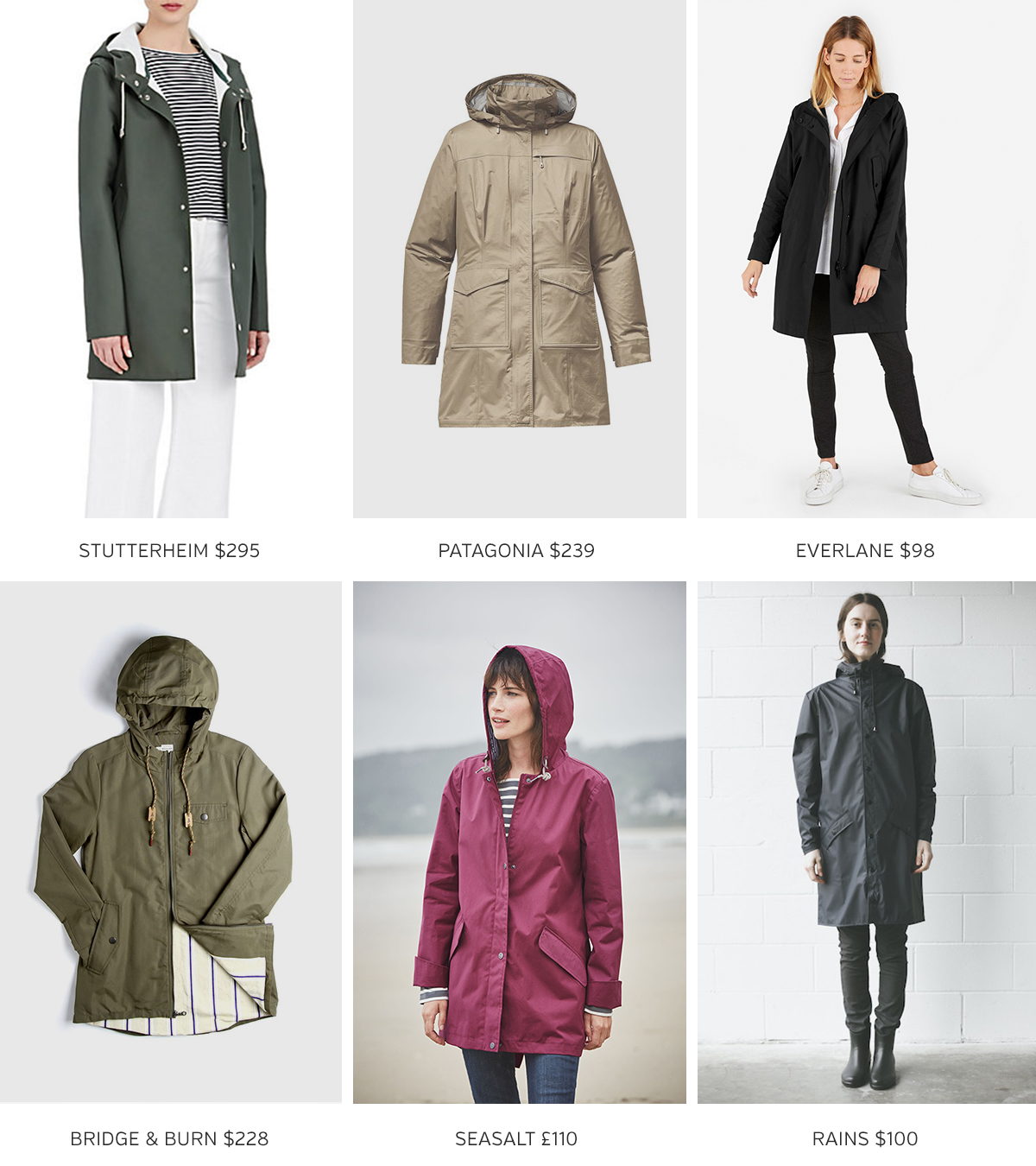 ---
STUTTERHEIM (Responsibly made in Poland) *More colors I'm saving up for one of these! | PATAGONIA (Sustainably made in China) *More colors | EVERLANE (Ethically made in China) *More colors | BRIDGE & BURN (Made in the USA) Also in Grey | SEASALT (Made ethically, sustainably in China) *More colors | RAINS Get $20 off when you sign up here. (Responsibly Made in China, more here)
---
SHOP RESPONSIBLY MADE RAIN BOOTS
---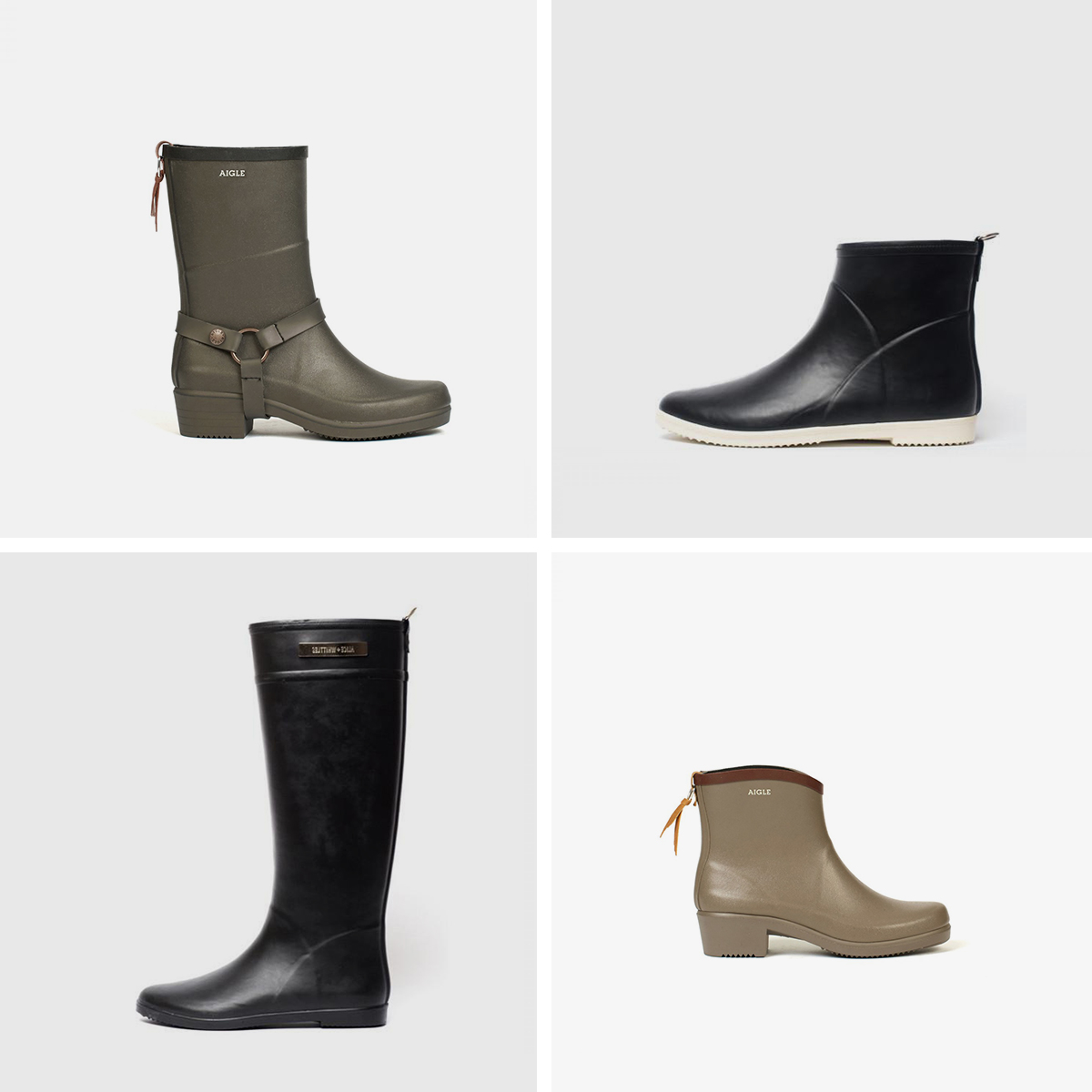 ---
Miss Julie Boot by AIGLE (72 €) | Minimalist Ankle Boot by Alice + Whittles  ($160 USD) | Classic Black Riding Boot by Alice + Whittles ($205 USD) | Miss Juliette Boot by AIGLE (76 €)
---
There are two rain boots brands on my radar right now and both offer a gorgeous selection of minimal styles (although AIGLE has literally any rain boot style you could imagine). Here's a bit more about each one:
AIGLE SAYS
A rubber master since 1853, AIGLE makes the majority of their boots by hand in France. Strengthened by this legacy, AIGLE boots, shoes and clothing combine authenticity, style and function. High quality and attention to detail are at the heart of the design of the collections to guarantee you a fair and sustainable product.
AIGLE uses unique French expertise, passed down from generation to generation for 160 years in their Châtellerault workshops. It takes two years for a rubber master to master the 60 steps of making 0ne AIGLE boot. The tightness of each boot is individually controlled along as is the waterproof testing. 200 master rubber craftsmen hand make almost, 4000 pairs of boots a day.
ALICE + WHITTLES SAYS
Going as far back as the raw materials, we are bringing the skills of local small-scale producers/artisans from around the world together to create pieces with a history.
We build long-term partnerships with our producers and are deeply engaged in the value chain; taking into consideration fair pay, working conditions, advance payments, improving the relative position of women and other disadvantaged groups and continued improvement in environmental standards while making beautiful products that our customers want and love.
Oh and BTW they offer free shipping and returns to the US & Canada!
Check out this charming interview with the co-founders too!
---
READER RECOMMENDATIONS
---
---
Photography by Jacklyn Barber
---
Thanks for making it to end of this mega post! I hope it leads to some good rainwear options for you. Feel free to share any of your own favourites below too!
I'm taking a short March Break vacation from the blog next week but I'll be back on March 20th with a full week of Loungewear Capsule posts! So excited to share what I've been cooking up!
---
See something you liked? You can shop and support Style Bee by using the affiliate links provided. This post is not sponsored but when you shop via the links above I may make a small commission from a sale. Thanks for your support!