I've always avoided sharing my relaxed, after hours outfits on the blog because I felt like I should be sharing more inspiring, exciting or stylish looks. Even right up until last week I wasn't sure I was ready to follow through but now that I've put a whole bunch of these loungewear looks out, I'm so happy I did. If you're just tuning in, check out LOOKS 1 + 2 and LOOKS 3 + 4 for some easy, comfy outfit inspo so far!
The question of what we should wear or should share on social media is ever-present whether you're a blogger or not but the more I ignore those expectations (often self-imposed) the more I enjoy what I'm doing. That's not to say I don't put plenty of consideration into everything I post but the more I can embrace what feels genuine and honest, the more fun it is.
So thanks for keeping it casual with me this week! We've still got a couple of outfits left tomorrow (one of which is my favourite) and here's a couple new ones to help give you some ideas on how to keep it crazy comfy and still a little chic!
---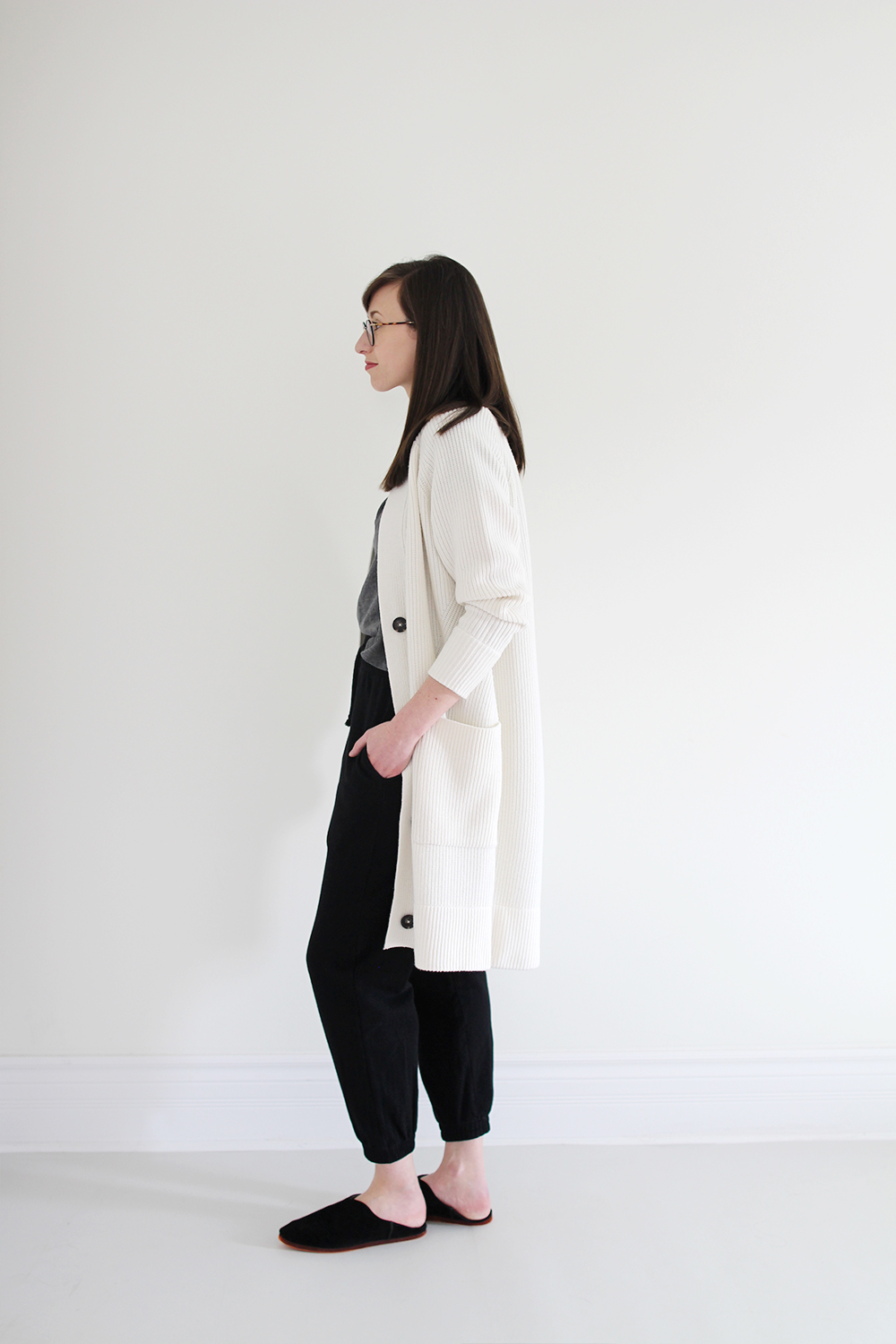 ---
LOOK 5
---
I don't know about you, but I sometimes find it hard not to 'save' the pieces I love for a more 'special' occasion. This ivory sweater coat for instance, is one of those items that I kept wanting to wear all the time but felt I should save for when I was going out or doing something more worthy of its use. But then I started wearing it around the house more and more and I suddenly realized it was serving a much greater purpose by being worn often than it ever would by being kept pristine and folded on a closet shelf. So I moved it into my loungewear section officially, and since then it has been earning its keep WAY more.
So if you've got an item or two that you wish you had more justification to wear, well, now you do! Just wear it because you love it and enjoy the heck out of it! No need for an official reason.
These sweatpants were the first true investment I made into my Loungewear Capsule and they really triggered my interest in revamping this section of my closet. They've been a weekly staple ever since they arrived and I've yet to find a better top to pair them with than the box-cut tee from Everlane. It's cropped length tucks in perfectly to the thick, comfy waistband and I always feel instantly chill once they're on. I plan to wear both until they practically disintegrate one day!
TO GO OUT: I've never worn these sweatpants out of the house but I think they'd look great with my Veja sneakers and everything else could stay as is. Alternatively I could switch the sweater for my leather jacket and zip on my Pistol boots. Once it's warmer I'd swap the sweater for a denim jacket and the slippers for a sleek pair of slides or Birks.
---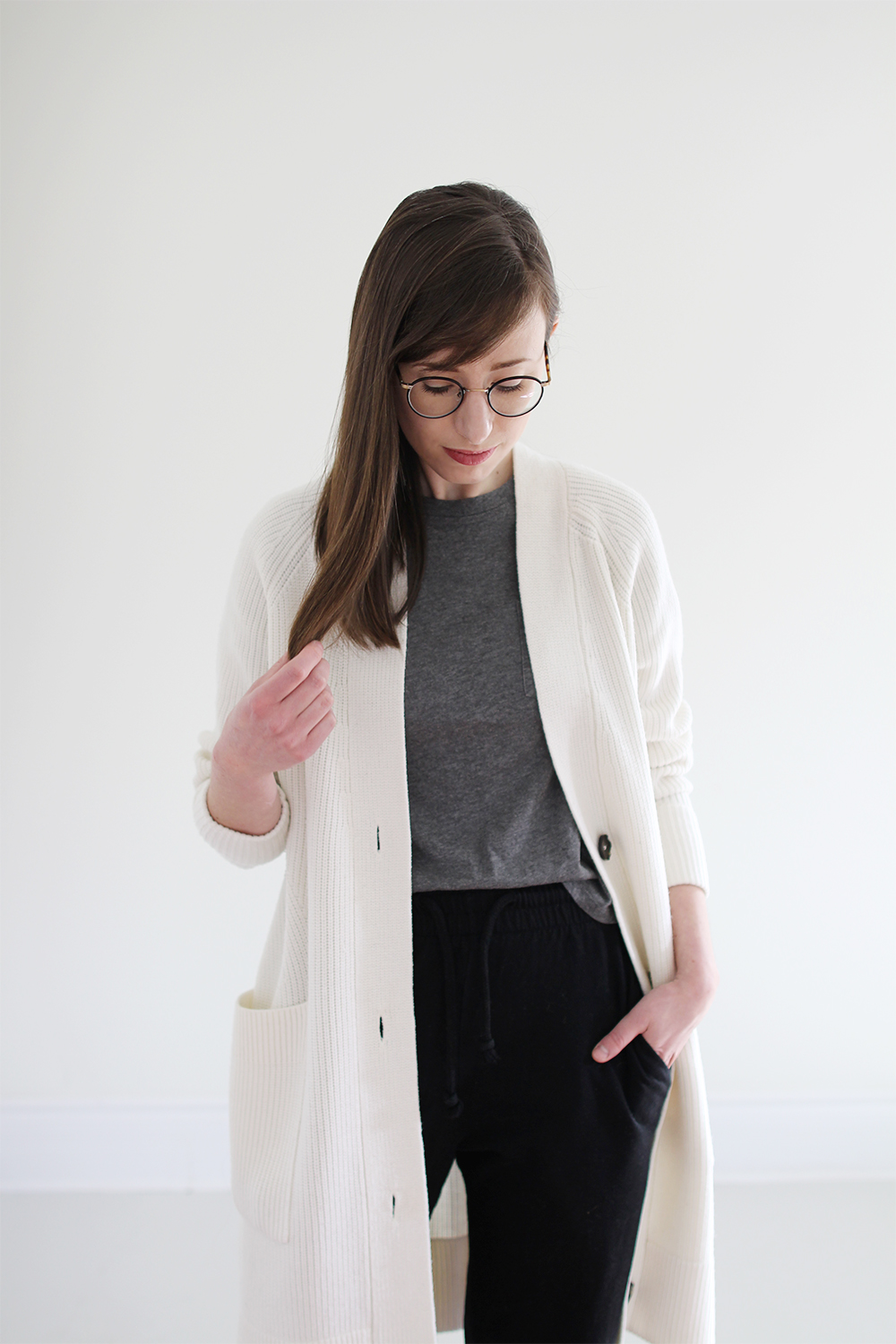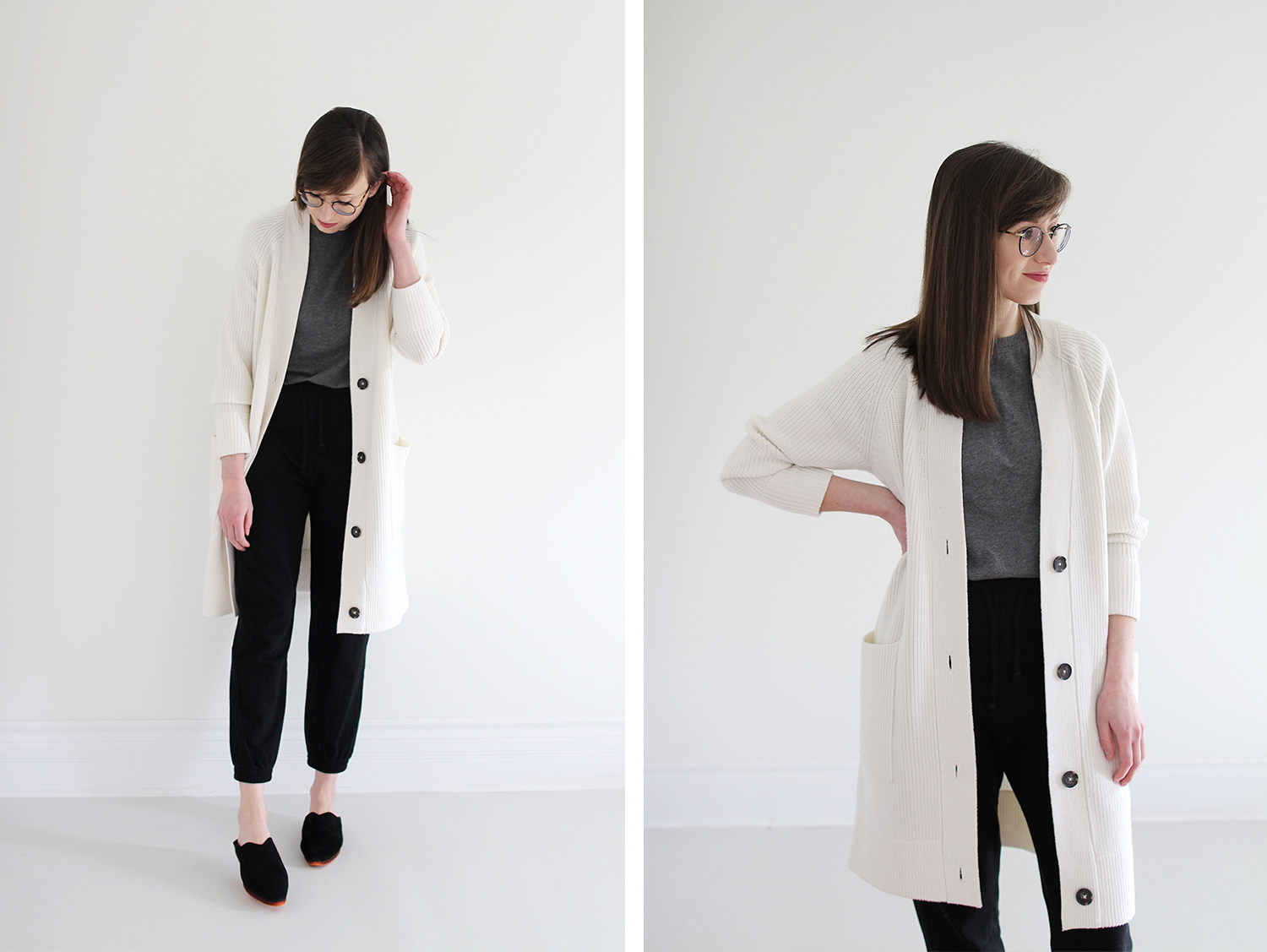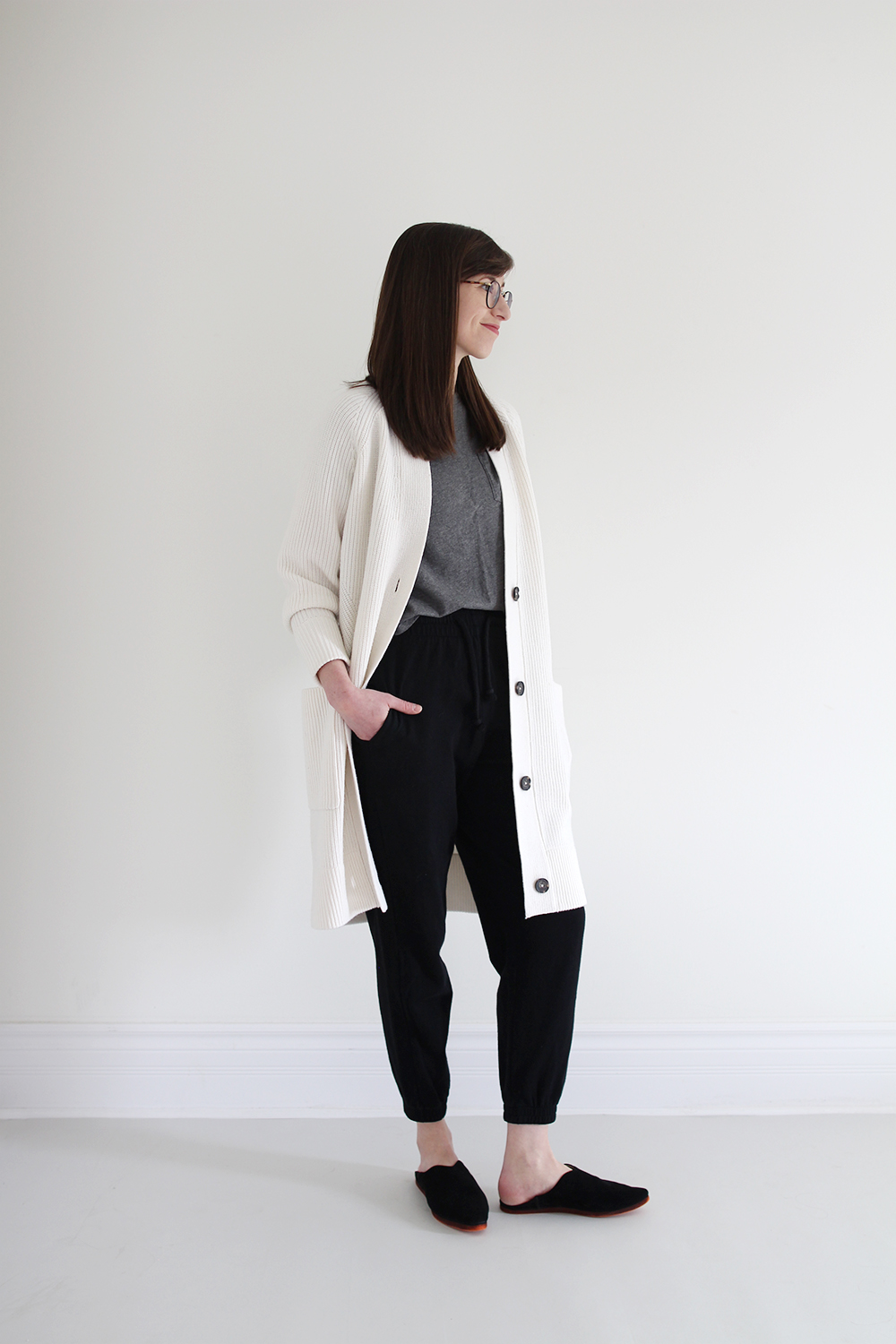 ---
---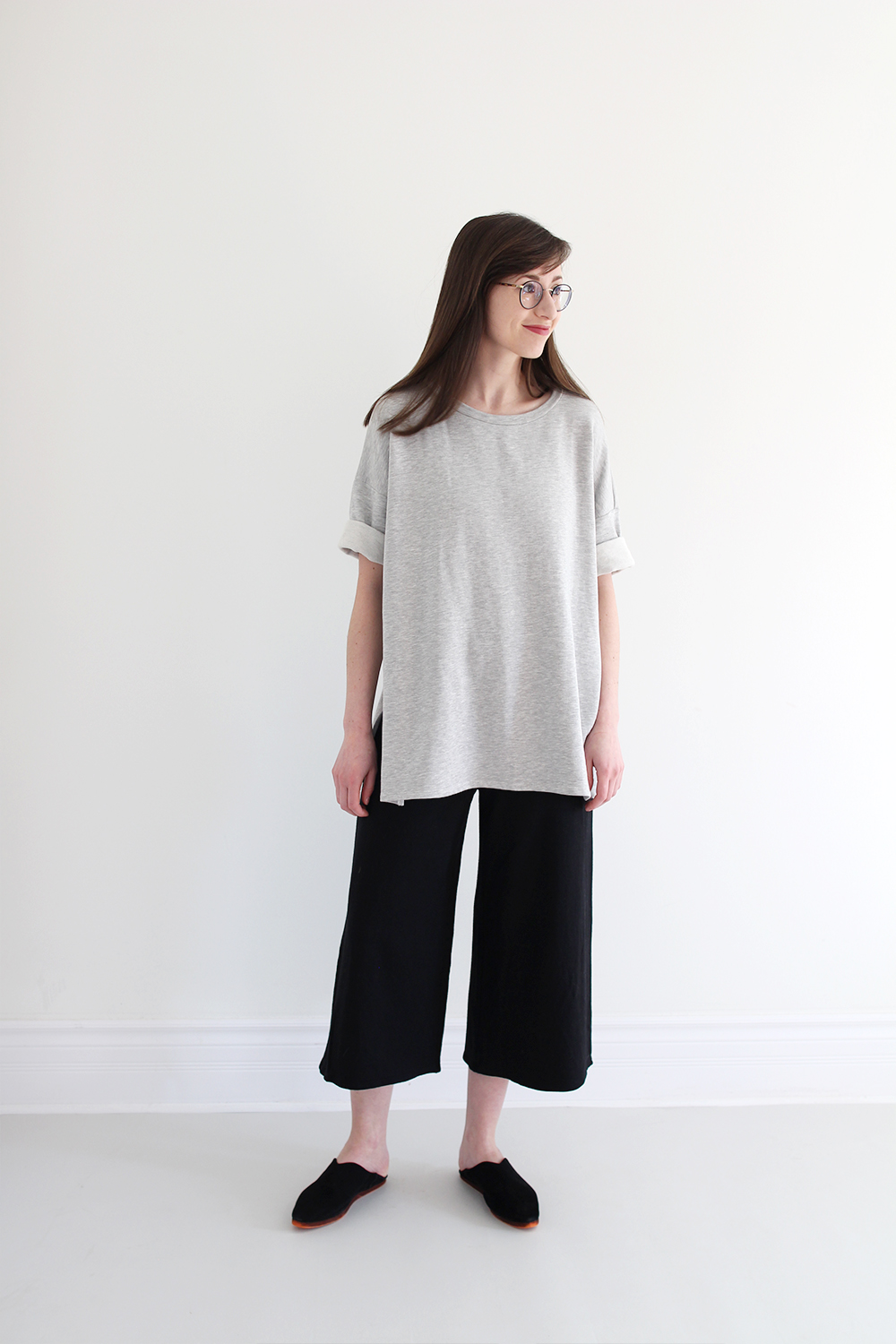 ---
LOOK 6
---
It doesn't get much simpler than this three-piece outfit. Yet, it's not boring or predictable thanks to the unique shapes of the items involved. It wasn't my first instinct to pair a boxy, tunic style top with a wide leg pant but I love them together and I might even try applying this to my day wear sometime! These slippers are great with everything thanks to their minimalist shape and luxe black suede.
I can't say enough about the fabulous French terry fabric CORINNE uses, it's just such a pleasure to wear! It honestly feels like a dream against the skin and while it's super soft and cozy it's still light and doesn't feel the least bit bulky.
These pants have been in my comfy closet for a long time now and even after many washes they're still the same shape they started as and just as rich black. I love the contemporary feel they have, especially when paired with this tunic sweatshirt. I gave it a tiny bit of extra attention by rolling the sleeves a few times for a shorter length and I love the effect just that small adjustment has on the look overall.
TO GO OUT: I would simply swap my slippers for sneakers, add my denim duster and grab a scarf! 
---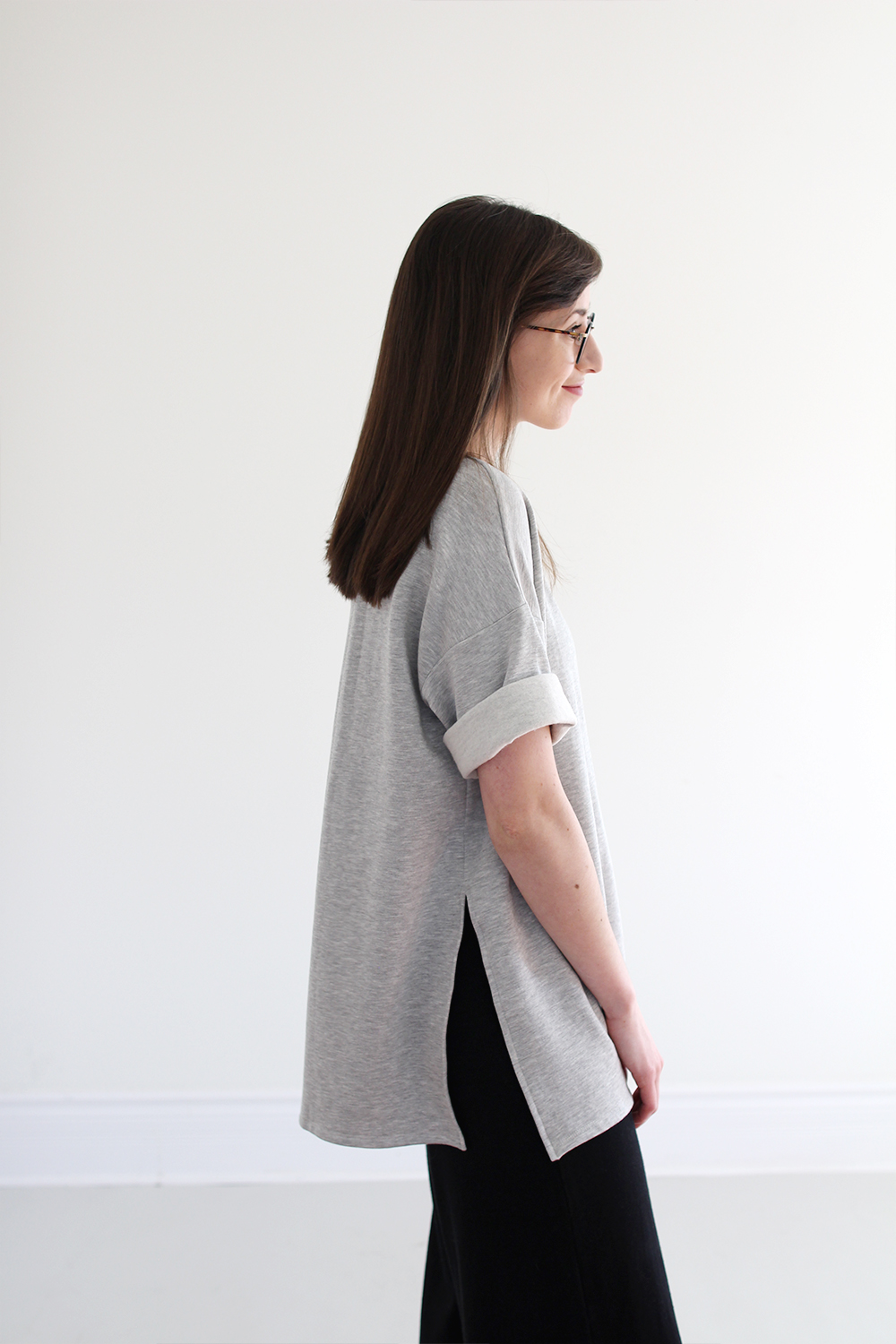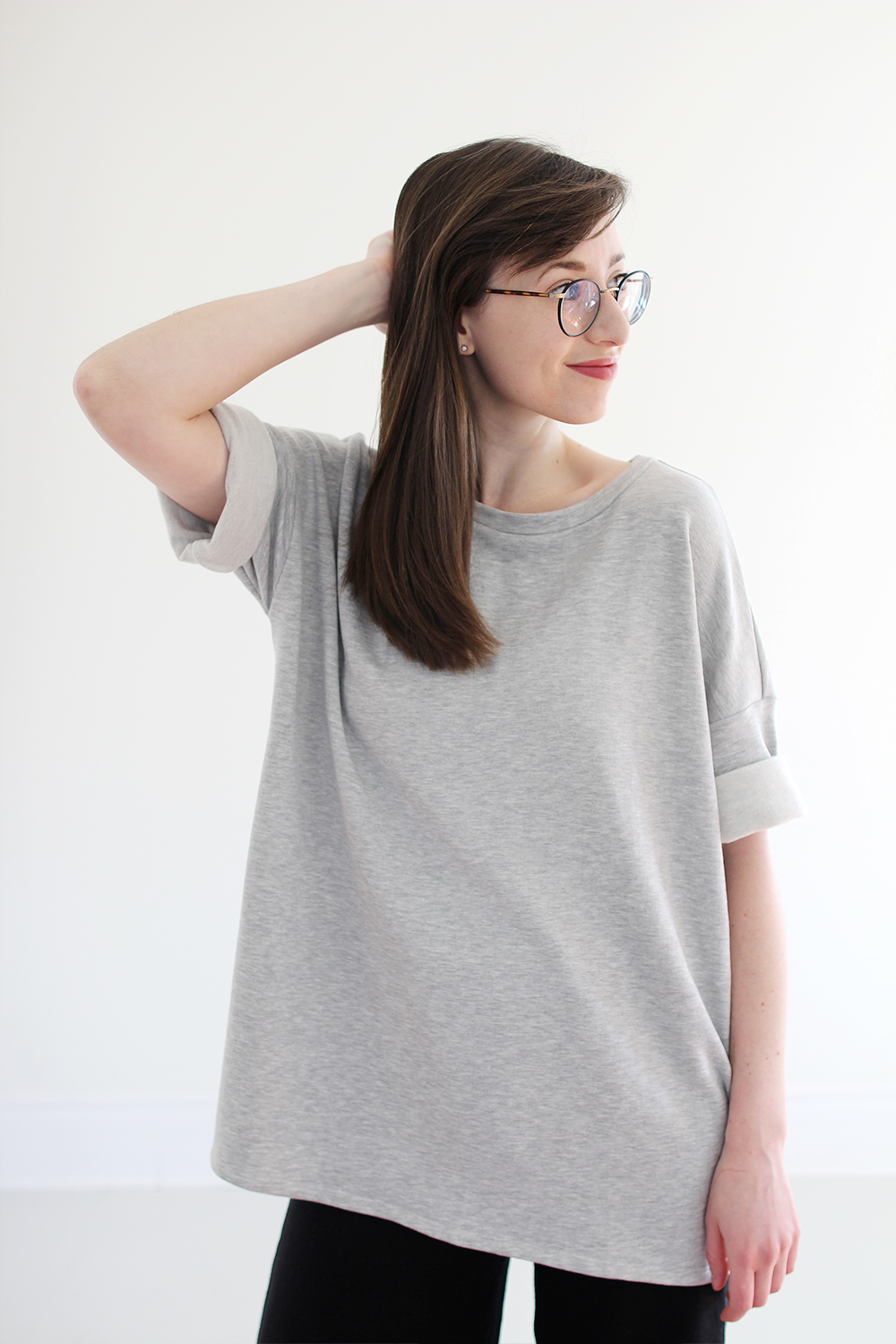 ---
---
I hope these loungewear looks have been spurring some ideas for your own after hours closet! I've been having a great time sharing them here and on my Instagram Stories. Tune in this afternoon for a new set of videos!
HAVE YOU GOT ANY FAVOURITE LOUNGEWEAR LOOKS OF YOUR OWN?
---
See something you liked? You can shop it and support Style Bee by using the affiliate links provided. This post is not sponsored but when you shop via the links above I may make a small commission from a sale. Thanks for your support!