Okay folks, Look 3 is coming at you! But first, let me ask how the #Spring10x10 Challenge is going for you? If you're participating for the first time, have you found it harder or easier than you expected? If this isn't your first 10×10 rodeo, what's different about this time for you? I'd love to hear your take on it so far!
For me it's been great so far but getting knocked out with a sinus cold hasn't led to the most motivated mindset. So I've been keeping it simple and trying not to overdo it. During a quick chat with my co-host Caroline of UnFancy yesterday and we both agreed that the collective energy surrounding the challenge is what's been the most motivating element for us. Putting together different looks and playing with styling is great anytime, but when you're doing it along side lots of other style savvy people it's definitely way more fun. So thanks for all the positive vibes my fashionable friends!
There are still lots of people joining in and it's definitely not too late, so if you're interested please feel free to join us! You can get all the info here and tons of inspo here.
Now onto outfit numéro trois! 
---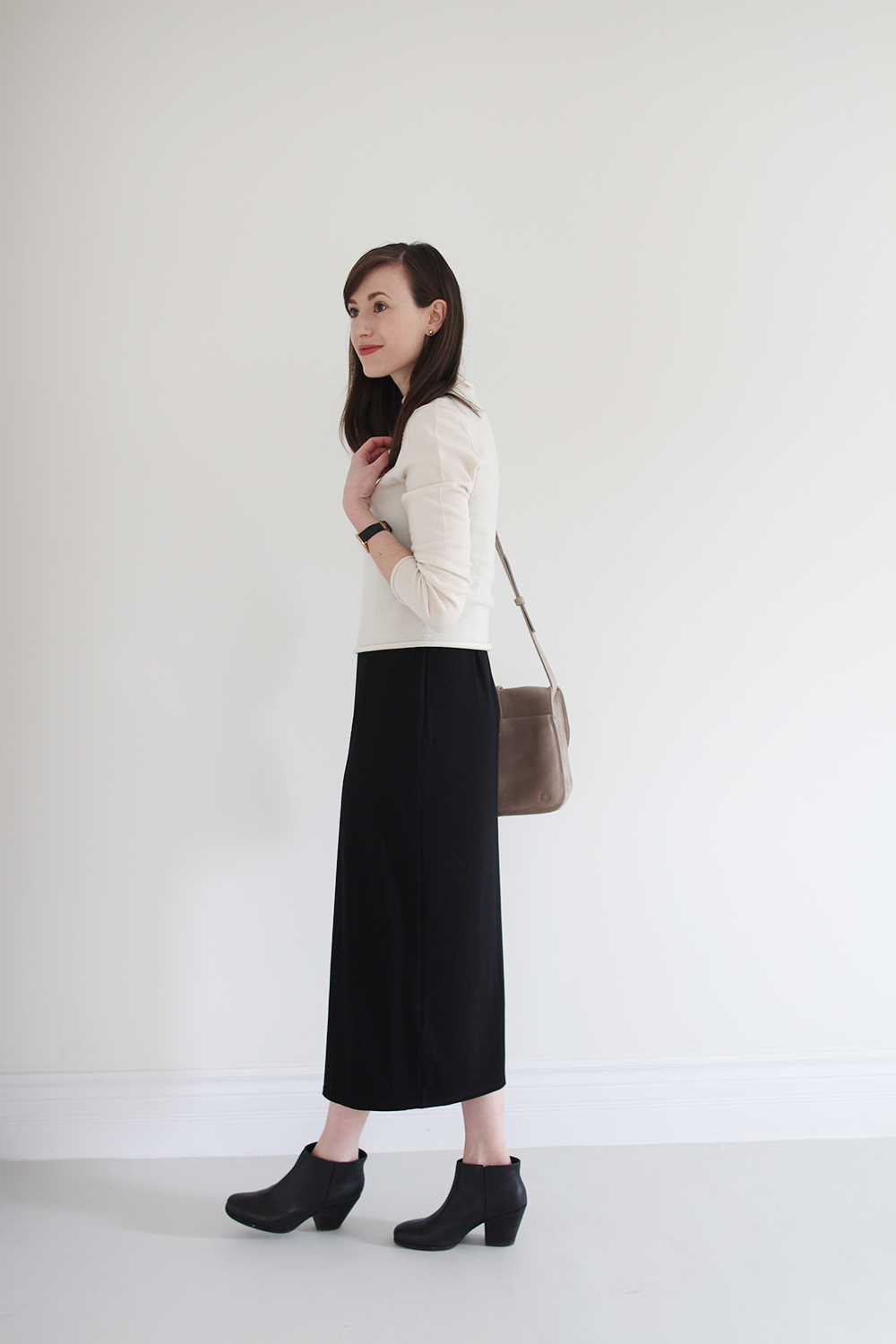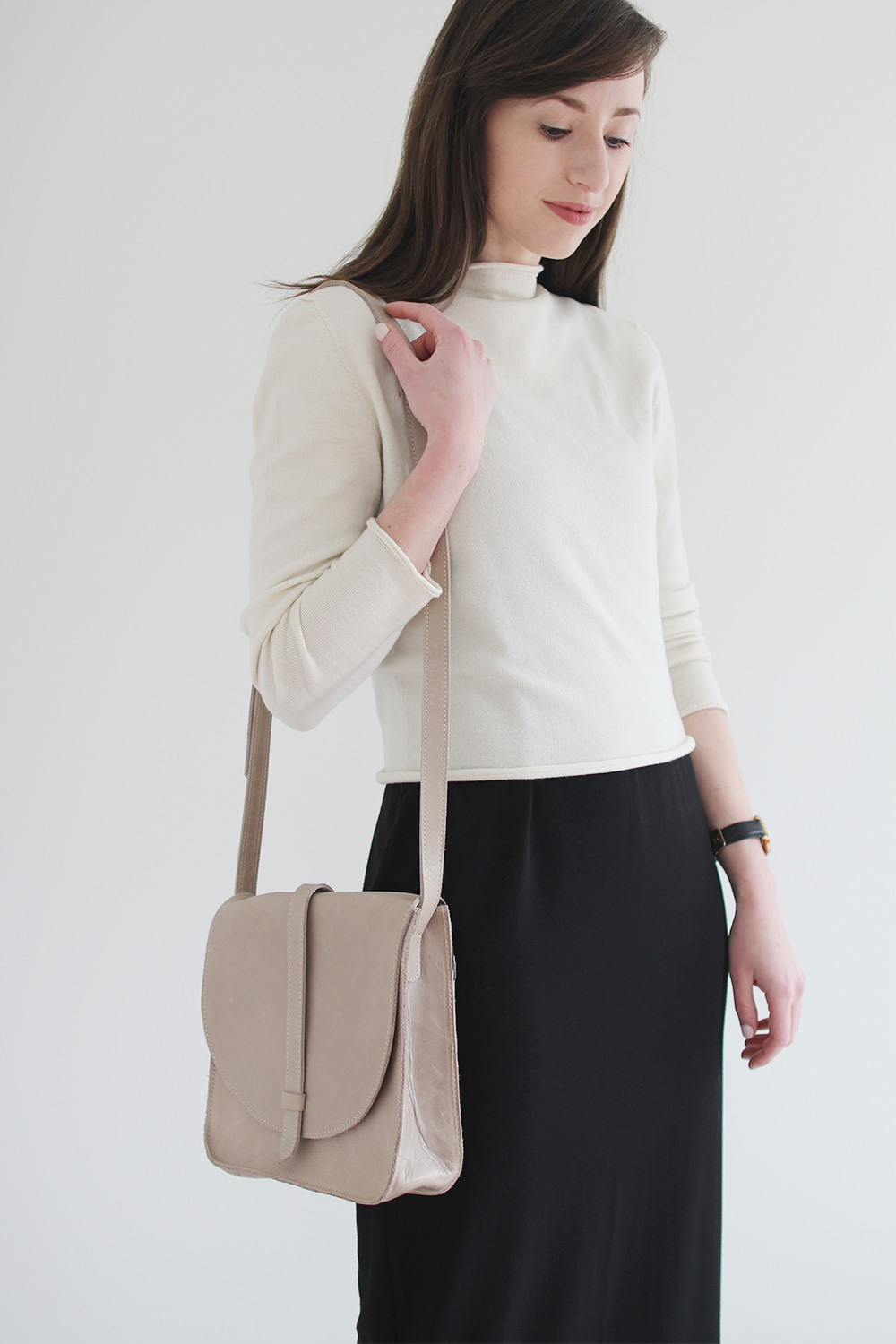 ---
INITIAL THOUGHTS
---
This look is a lot more figure skimming than I usually go for but I'm into it! It feels modern, minimal and elegant and because the fabrics feel so nice on, very comfortable too.
I'm starting to question my decision to include all creamy coloured shirts now that I'm on day three of light on top, dark on the bottom but that's okay. It's a uniform of sorts I suppose. Plus, it'll make access to my dark options all the better when it's over.
That said, I have been really enjoying how clean and pared down the looks have been. Maybe that's just because I was lazy about accessorizing but I'm into this super simple theme lately.
This colour palette is another favourite of mine. Cream, black and slate is so easy and timeless. Plus, with a major hit of clay from my new duster, well then it's just next level (see today's outside look).
I've worn this tank dress many times with either a Linn Tee or a duster over top and I love it. This was the first time I tried a more fitted option on top and I dare say it's working great too. The sweater is just relaxed enough that it glides over the dress without creating too many crinkles or creases.
Today's Agenda: Today is a busy one with conference calls, meetings, errands and some deadlines all on the docket. It's chillier out today than it has been for a few days so it seemed like a good time to pull out this sweater and my boots. I'll be zipping around town, in and out of the car so this is definitely practical and put-together enough to fit the bill! 
---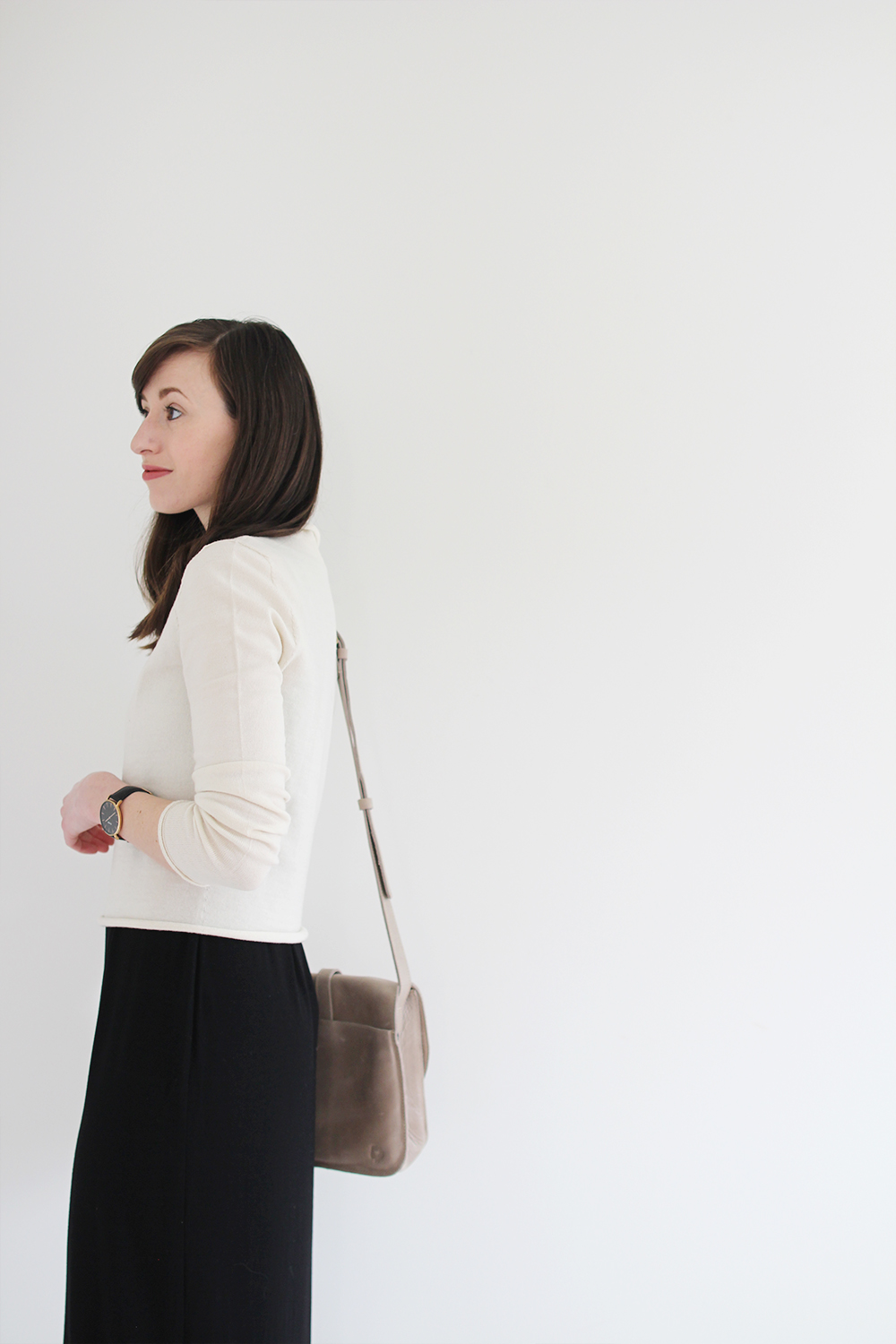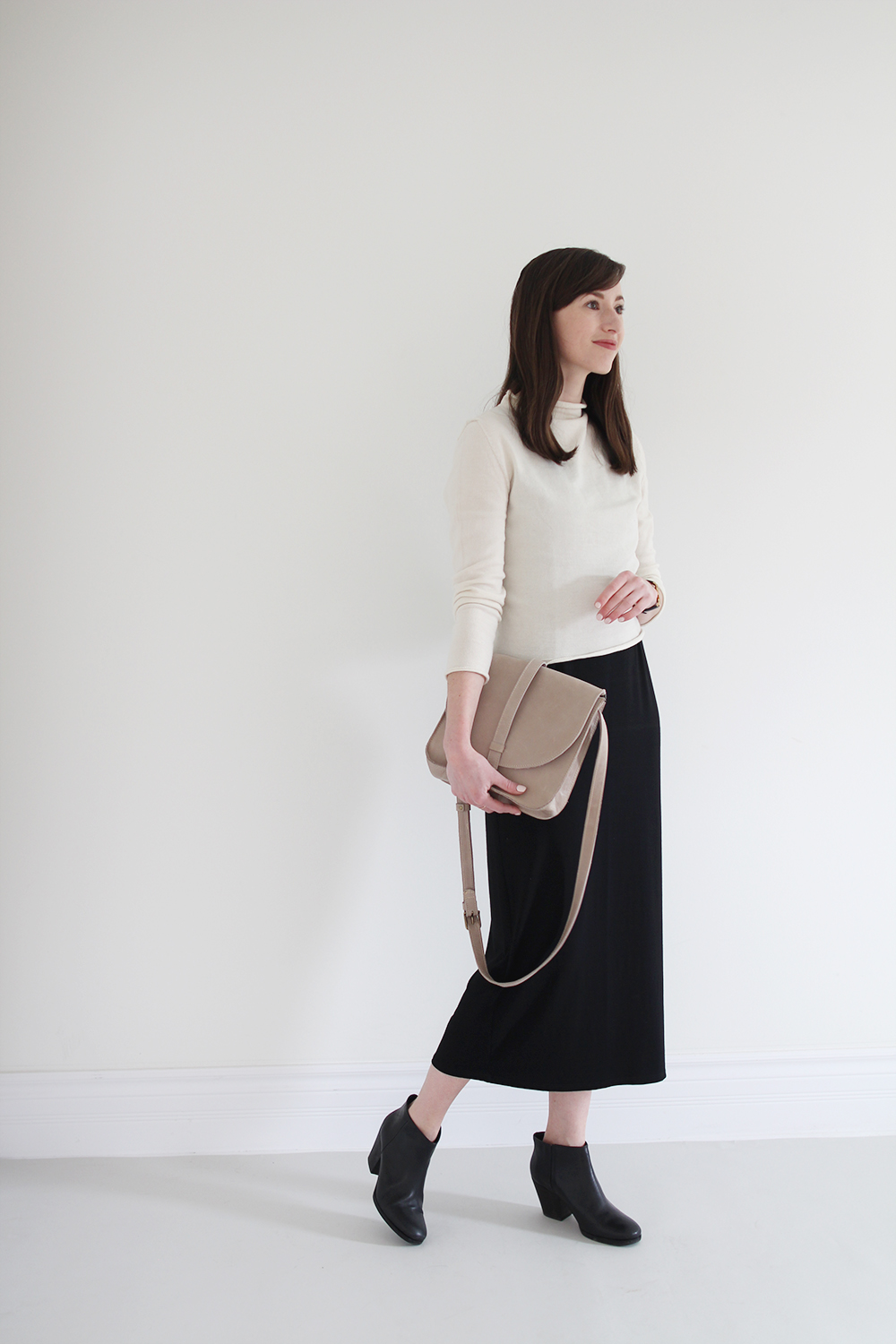 ---
STYLING DETAILS
---
1 | TAKE IT EASY | Whenever I'm trying a new combination or a new look for the first time I do my best to keep it simple. That way I can really assess if the items in it are working for me without getting distracted by extra elements like accessories or additional layers.
Next time you're trying a new silhouette or combination keep the outfit super clean and forego any extras like jewelry or scarves, at least at first. That way you can really tell if it's going to be a keeper without distractions.
2 | MOCK NECK CONVERT | So I might just be a mock-neck convert. My first experience was with this one over the winter and it became my go-to light-weight knit. I've been a turtleneck lover for years but I've got to admit, the shorter neck is more comfortable and yet still adds that additional warmth. It also lends itself to more transitional weather making it a multi-seasonal option.
If you've been reluctant to try a turtleneck for concern about tight things on your neck and overheating, definitely consider a mock-neck next time you're shopping for cold weather items. 
3 | OFF WHITE | I love a good crisp white but somehow off-white, like this ivory, feels more relaxed and elegant in this context. Personally I think a pure white in this sweater would feel too stark. But the off-white is softer and feels more natural against the black.
Consider giving ivory, cream, ecru and other more natural whites a chance this spring and see how it feels! 
4 | MID-TONE | I'm loving the palette of this look and I think it came together so well in thanks to the slate grey bag. It offsets the stark contrast of the sweater and dress in subtle way. Definitely going to keep this trick in mind for future looks.
Relax a contrasting look by adding an accessory that falls mid spectrum on the colour scale. This literally tones down the stark contrast and helps it feel less severe. 
5 | SKIMMING VS SWIMMING | As you know I like oversize pieces. But I'm also a fan of balance and fitted elements. This look is unique for me as there is nothing oversize, nor is there anything particularly tight-fitting. The dress and sweater simply skim my figure rather than clinging to it. It's a little out of my comfort zone but it's a nice change to wear something that neither hides or hugs my figure.
If you're looking to try a new fit I'd say try something that's figure skimming and see how that feels. It's flattering and sophisticated and can still be super comfortable and contemporary. 
---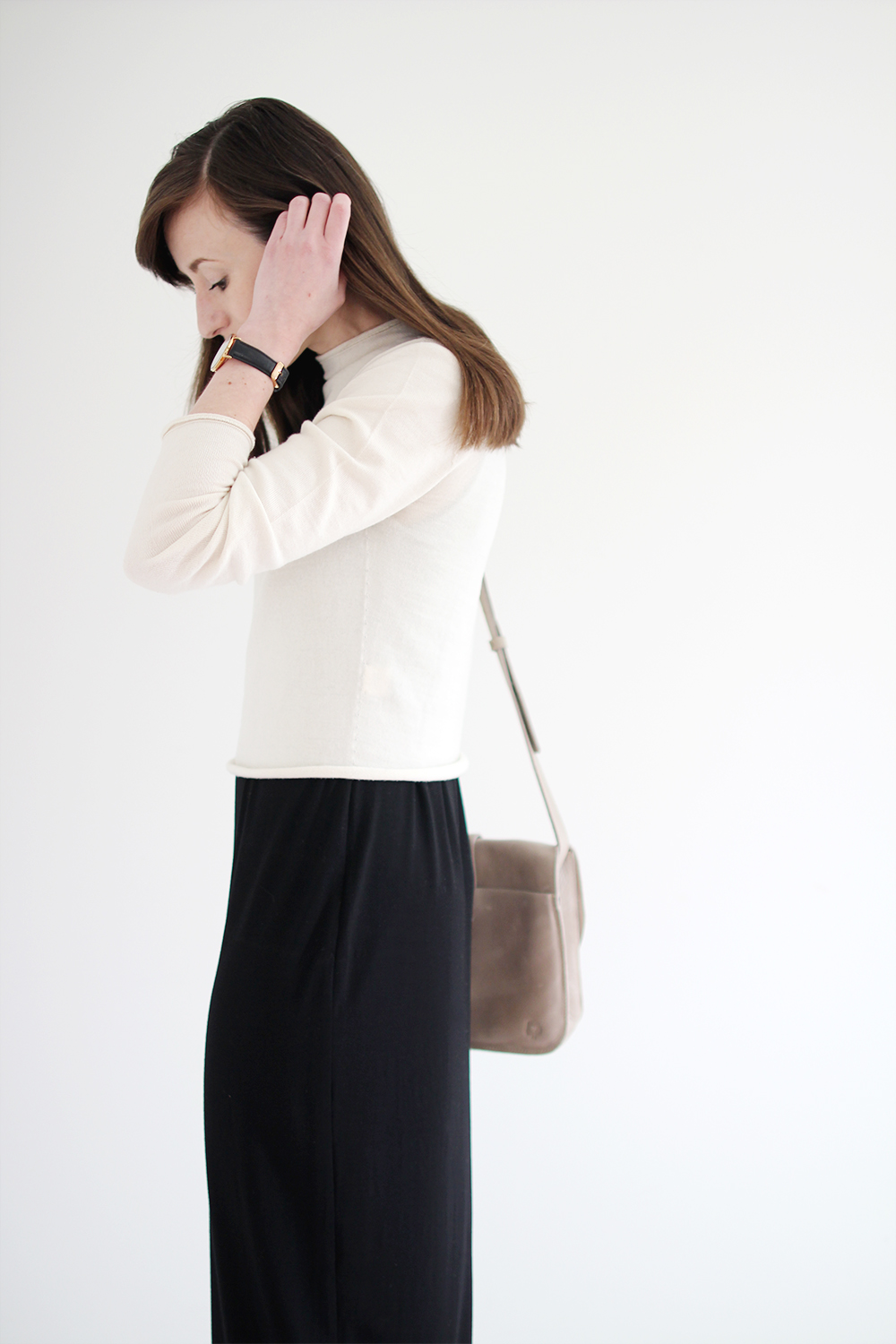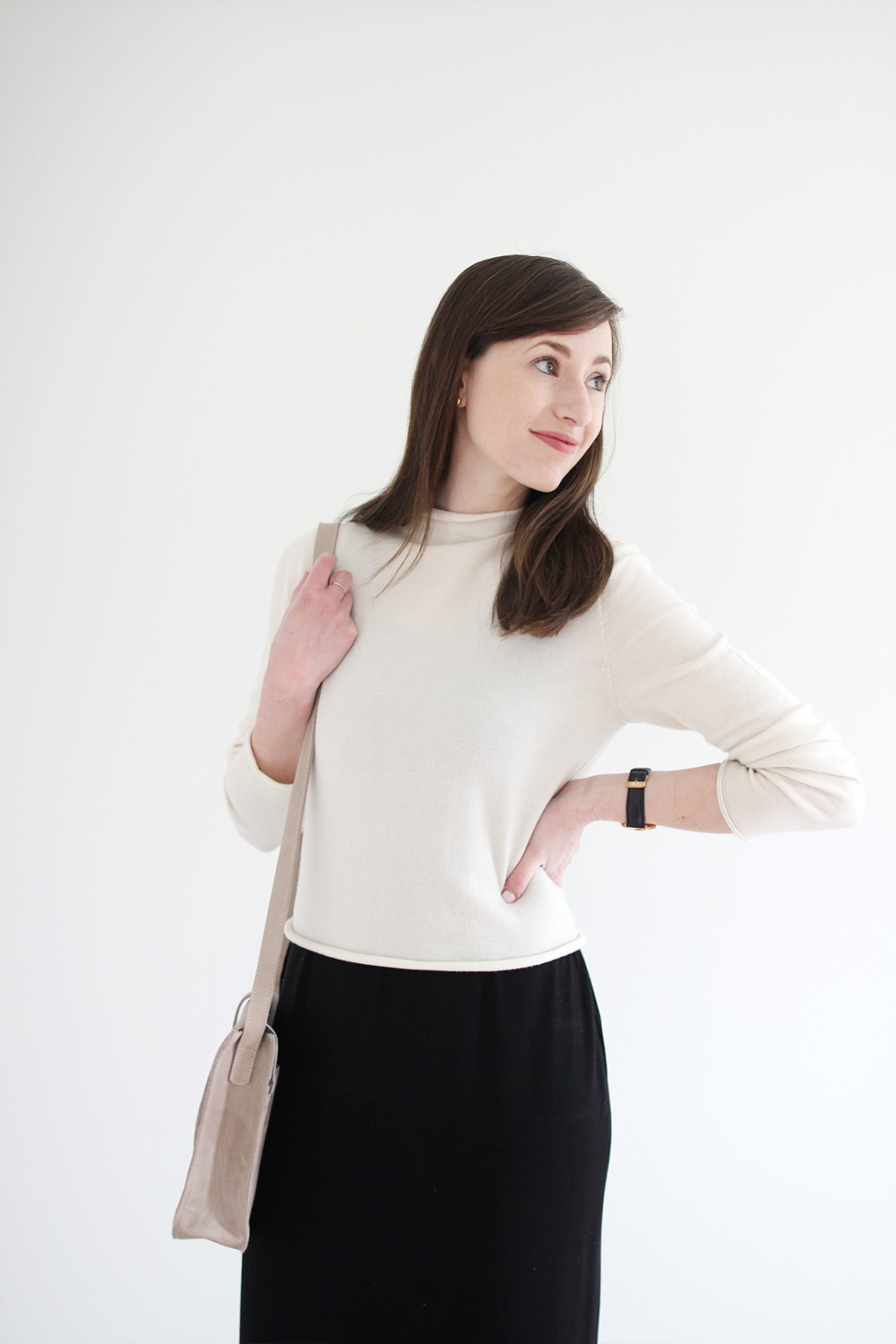 ---
TODAY'S ITEM SPOTLIGHT – RHODES SWEATER
---
So I'll admit I didn't plan this out super well, because I featured a top by Elizabeth Suzann yesterday and now here's another one. But what can ya do! This look just shows it off really well so it made the most sense to address it now.
I bought my Rhodes Sweater during the most recent re-stock, after having missed out on it twice. I almost held off, with it being Spring and all, but I'm so glad I went for it because it's actually been the perfect knit for this time of year. So here's a few things to note in case you're interested in nabbing one next time.
FIT | I'm wearing a Size S and it's just right. Not too tight, not too relaxed. I'm 5'7, 125 lbs and my measurements are 32/26/37 for reference.
FABRIC | This wool is easily the softest 100% wool item I've ever worn. Zero itching or irritation whatsoever. It totally trumps cashmere, merino and alpaca in my opinion. It's got a really nice amount of stretch to it too which makes it extra comfortable and helps maintain a clean fit.
WARMTH | For how soft and lightweight it is, this sweater is super cozy. Cozy is actually the best way to describe it because it's not overly warm but instead it just maintains a very even temperature. In the winter months I'll need to wear it over a body-suit or fitted base to stay properly toasty.
MOCK-NECK | So as I mentioned above I'm very into the mock-neck style now and this one is also great. It really is very flattering and elegant on the neck. The only thing I struggled with was how it fits under collared coats. It's quite an open neck so some more fitted collars fight with it a little but any relaxed fit collar slips over top just fine.
SHAPE | I LOVE the slightly cropped length on this one. It's perfect for wearing with all my high waist pants and also tucks in really nicely too. The rolled finish sleeves and hem is such a lovely and unique touch that gives it just a little extra interest. The sleeves are long and come right down to my wrists but can easily be pushed up and stay put!
SHEER FACTOR | For an ivory/cream, lightweight top, this sweater is surprisingly opaque. In these photos I have it on over a black tank dress and you can only barely see the outline. I will wear it with a nude bra when I wear it on its own but was very pleased with the lack of transparency.
WASHABILITY | So this one is hand wash only and I haven't washed it yet. Sorry if that's gross but I haven't worn it much, other than scheming up outfit ideas. Elizabeth Suzann sent a cute little sample SOAK soap which is a great product for delicate items. I'll see how the washing goes but it seems simple enough: Hand wash in cool water with a mild wool detergent. Submerge in cool water, gently squeeze and release fabric to fully wet. Let soak, remove from water, and press with a dry towel. Stretch garment out to original shape, leave flat to dry. Press with steam once dry.
The Rhodes immediately became one of my all-time favourite sweaters and I'm definitely planning to nab the charcoal colour next time around. Let me know if you have any other questions! 
---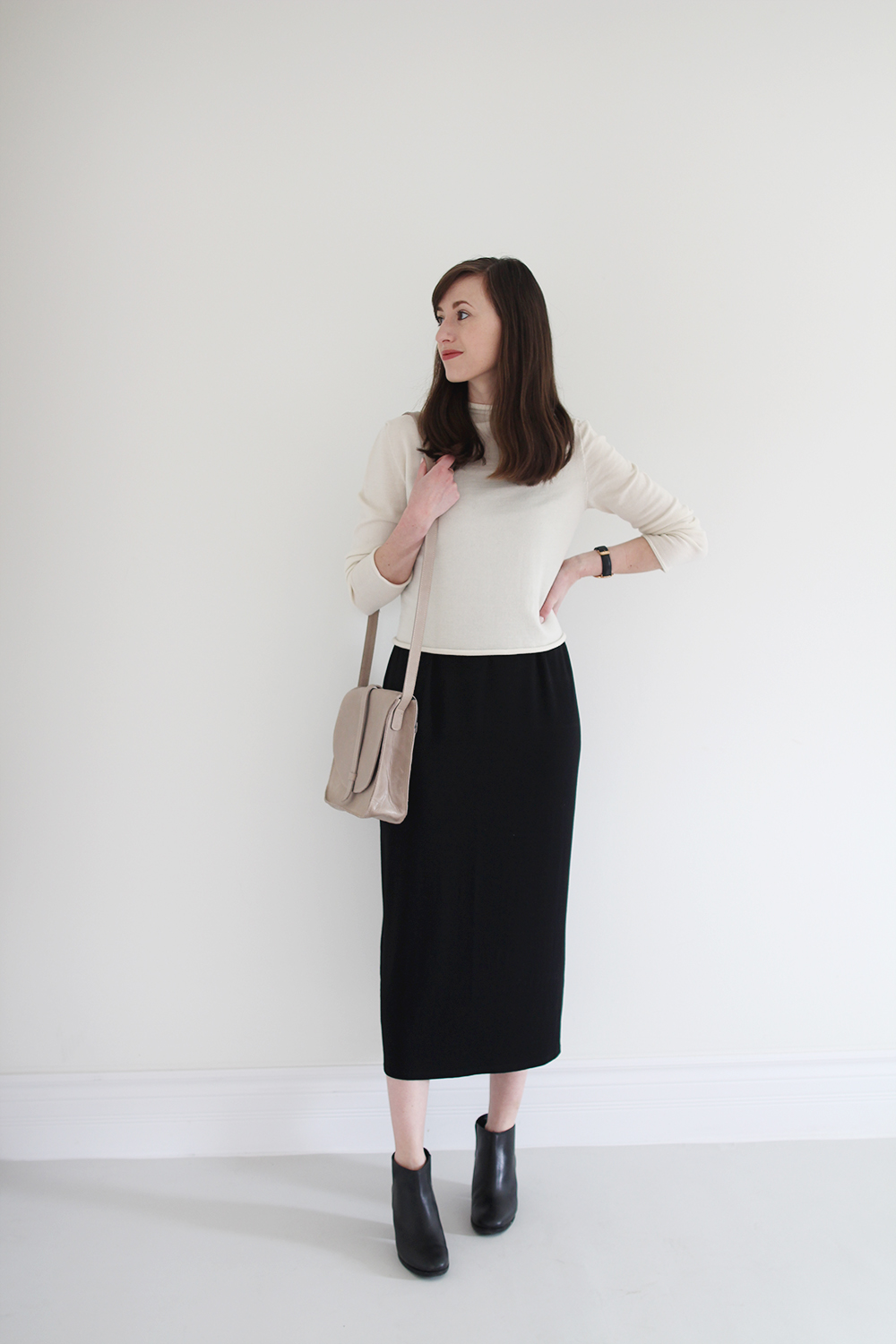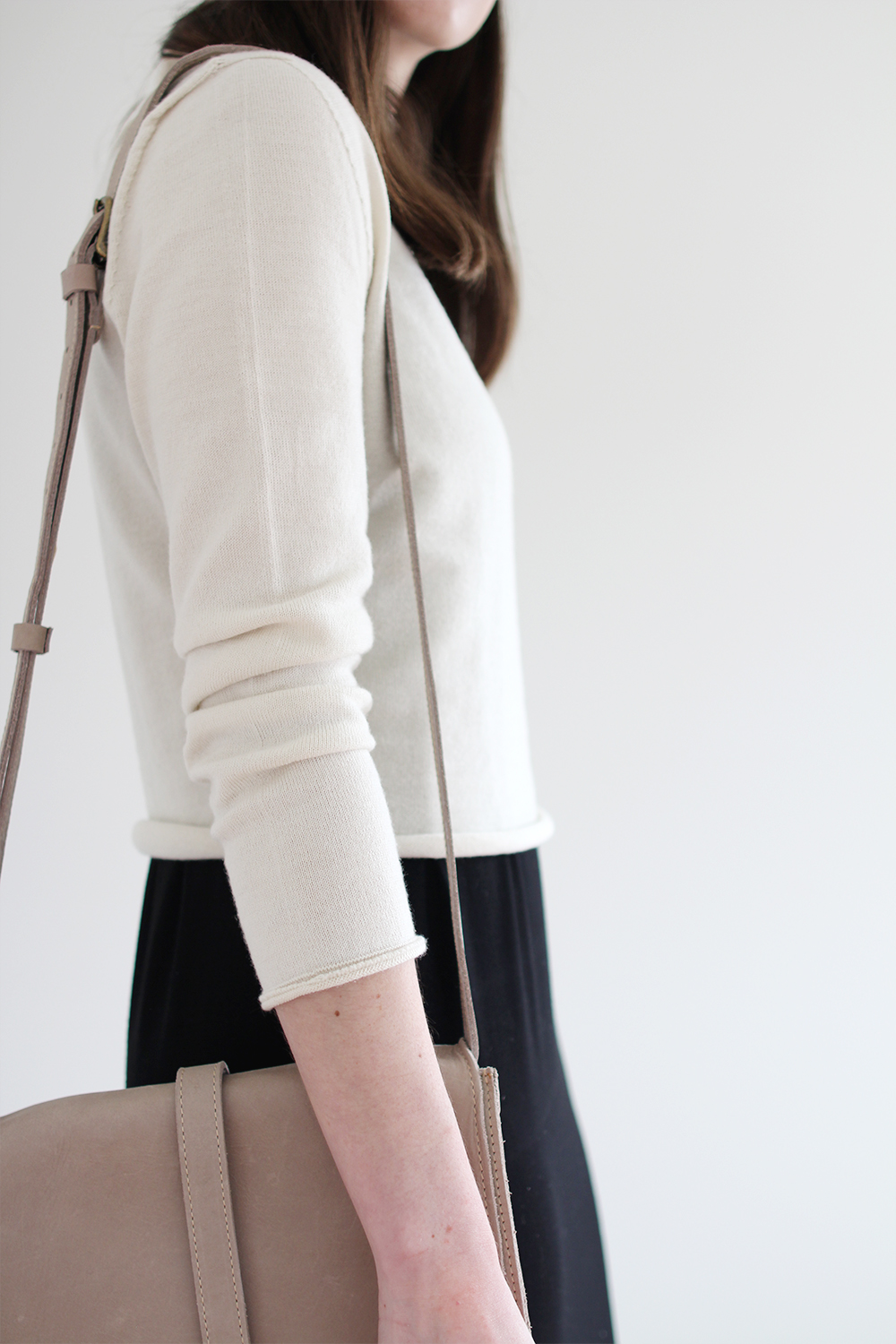 ---
COAT ADDITION
---
I'll admit, this outside look is my favourite one in a long time. You might recall this duster beauty from my Spring Wish List and all I can say it's everything I dreamed it would be and more. ESBY Apparel generously sent one my way afterwards and I've been wearing it every chance I get. I can't tell you how nice it is to have some great Spring outerwear options. I feel a bit spoiled but I intend to make them all work for their spot in my closet. This one is particularly special because of the fabulous shape, delicious clay colour and glorious heavyweight linen it's made of. It's an absolute dream to wear! The single button is perfect to nip it shut from the wind and the pockets are oh so handy for dog treats, cell phones and just about anything else I need to tuck away during the day. Safe to say this fella makes these colder Spring days way easier to endure.
---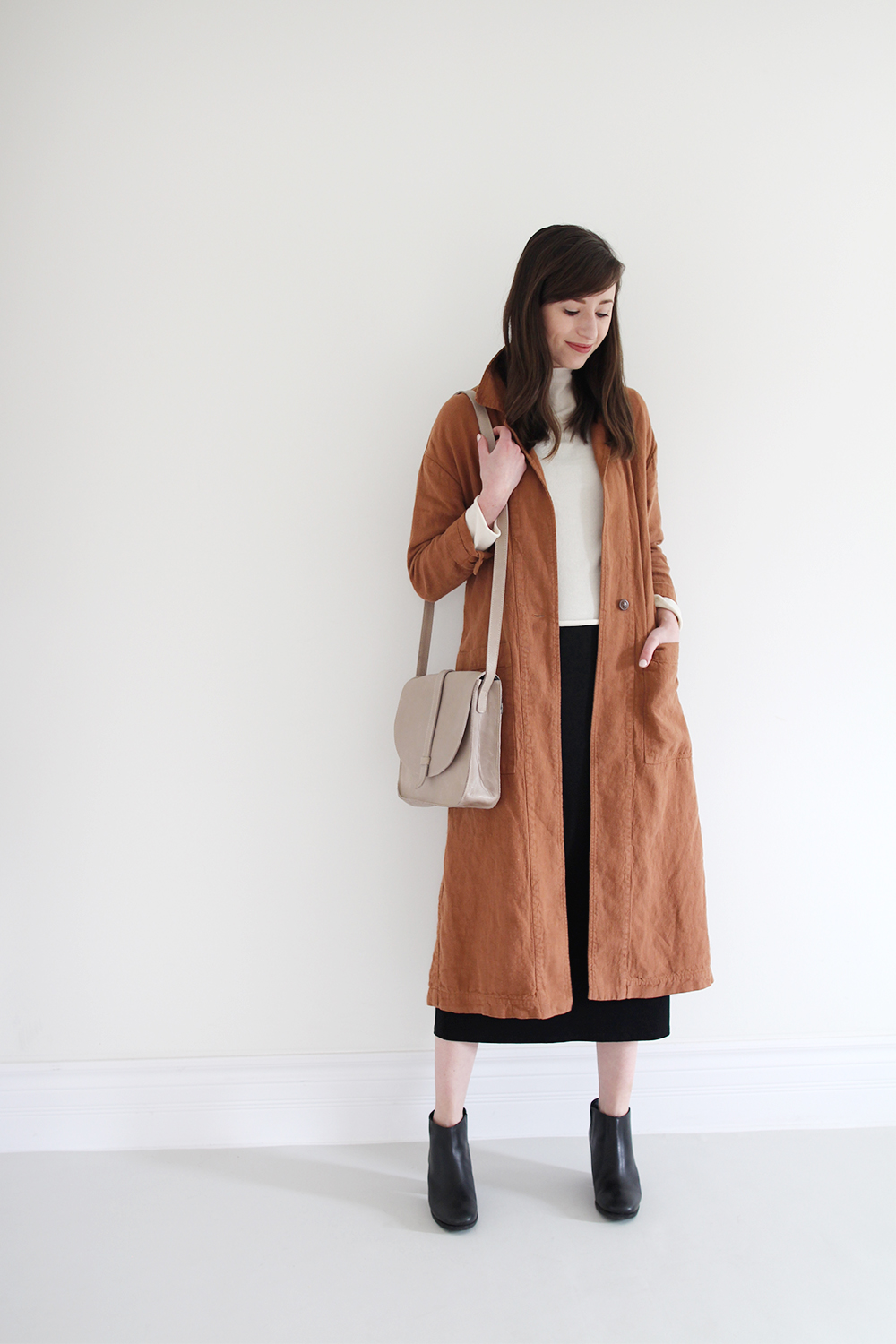 ---
1 | RHODES SWEATER | Elizabeth Suzann (new, sold out) | Made responsibly in USA | Similar option by Everlane ($120 USD)
2 | JERSEY TANK DRESS | c/o Eileen Fisher (4 months old) | $278 CAD | Made responsibly in USA |
3 | MARS BOOT | Rachel Comey (6 months old) | $426 USD | Made in Peru
4 | TIRHAS SADDLE BAG | c/o FASHIONABLE | $148 USD | Made responsibly in Ethiopia and Mexico
5 | BARONNE DUSTER | c/o ESBY | $368 USD | Made responsibly in USA | Receive $20 Off when you sign up here. | Wearing an XS.
6 | WATCH | c/o Daniel Wellington | $199 USD | Imported.
---
OK FOLKS, THREE LOOKS DOWN AND GOING STRONG! 
Tune into my Instagram Stories (@leevosburgh) later today for a look at this one in action. Be sure to see what Caroline is up to over on her blog and Instagram too!
See you on the #Spring10x10 hashtag and tomorrow with Look #4!
---
This post is not sponsored but contains affiliate links. When you shop via the links above I may make a small commission from a sale. Thanks for supporting Style Bee! All opinions are always my own.