Happy Friday everyone but also, how the heck did we hit the halfway mark so fast!? I feel like this #Spring10x10 Challenge is flying by MUCH faster than any time I've done it before. But I guess that's how it goes when you're having fun! My co-host Caroline of UnFancy and I have indeed been having a blast and we hope you have too!
Can I just say that you've been absolutely crushing this 10 x 10 Challenge and I'm so impressed with all the amazing looks and clever insights that are making their way into the feed. It's just incredible! I know I'm going to have one hell of a time picking favourites for my wrap up post. But that's still a while away and I've no doubt there's a lot more great style to come! There are still lots of people joining in and it's definitely not too late, so if you're interested please feel free to join us! You can get all the info here and tons of inspo here.
Truthfully, this week has been a whirlwind and I'm looking forward to some downtime this weekend with a big family brunch tomorrow and some quality time with my fella and our fur babes. What's on your weekend agenda? Are you getting away for a few days or catching up with friends and family? Whatever is in store I hope it's a good one!
Without further adieu let's take a peek at today's easy end of week look!
---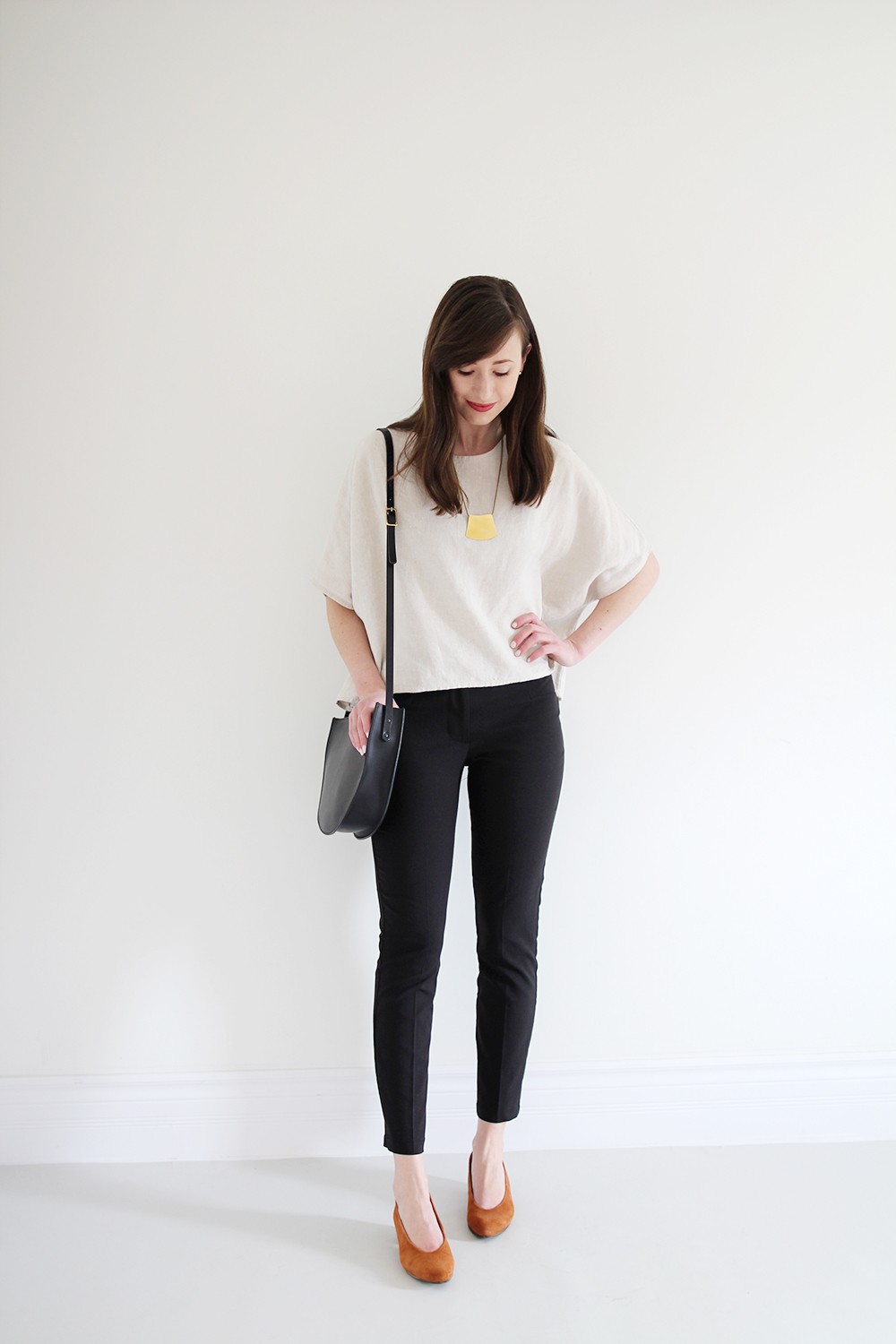 ---
INITIAL THOUGHTS
---
I'm so into this easy-chic look for a busy Friday (I know it's supposed to be a holiday but no rest for the wicked or me!). It's so comfortable but still totally presentable at the same time, which is basically my goal with every outfit.
I'm revisiting this silhouette after taking a break for a while and I really like this rendition. Light on top, dark on bottom, loose on top, slim on bottom is definitely a good formula. Mentally noted!
Can we just admit that these shoes make the look too? Just as they've been doing all challenge long. I'm chatting with the brand (Montreal based L'Intervalle) on Monday and can't wait to get all the scoop on their philosophy and process. So stay tuned for more on these in an Item Spotlight next week.
Today's Agenda: After a major set back of a morning, aka being your own tech support department, I'm playing catch up on emails, planning next week's looks and trying to regroup and get my life organized before the weekend. It's also gorgeous out today so long walks with the pup are a top priority! This look will fit the bill perfectly!
---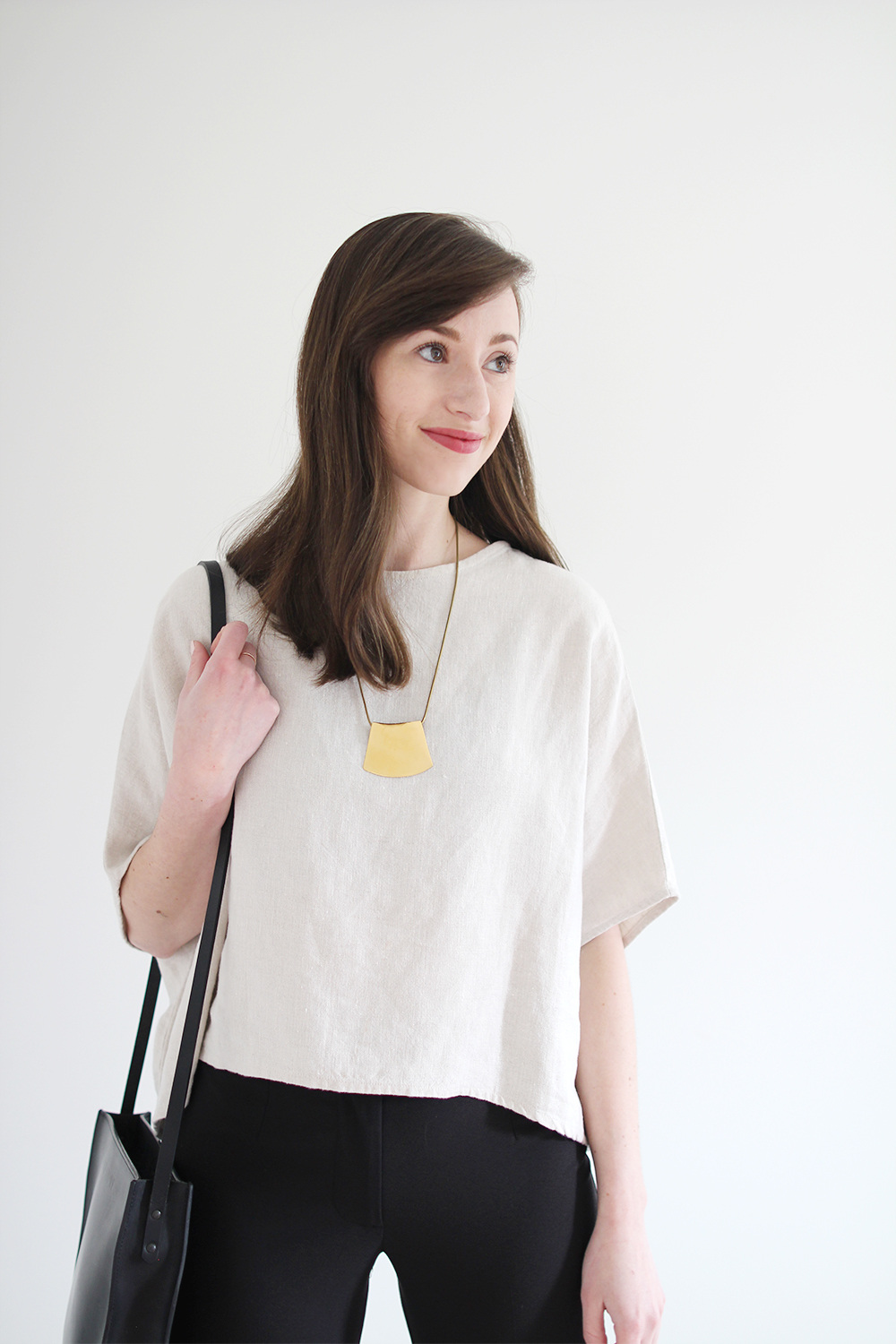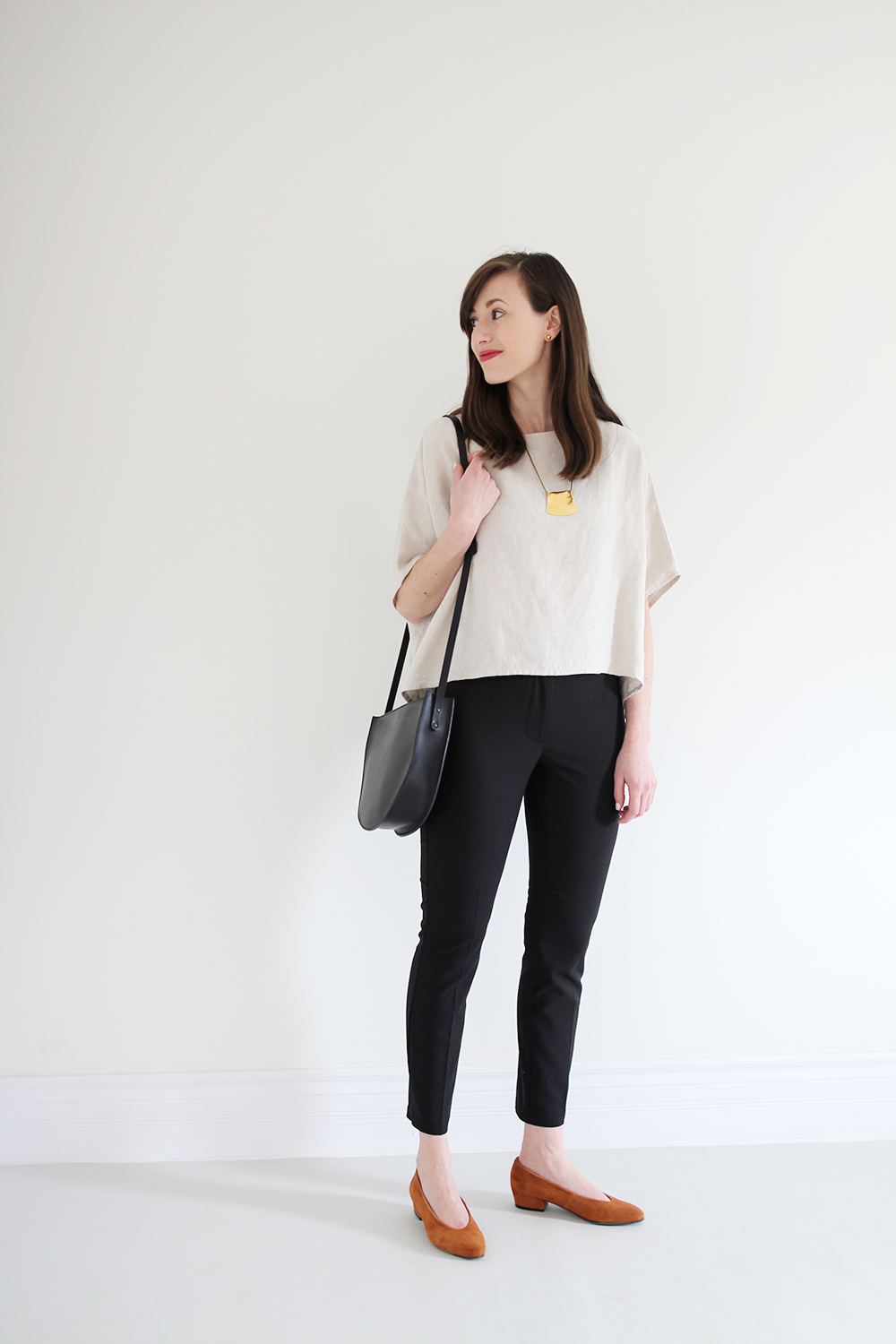 ---
STYLING DETAILS
---
1 | SHAPE REPEAT | I love noticing little details after the fact that make a look feel polished and planned, even if no one else would ever really pick up on it. For instance this necklace has a very similar shape to my top and the two combined make for a super subtle repetition that I love. I always opt to pair these two pieces and I think that must be why.
Trust your instincts when you're adding accessories. There's usually a good reason why you're drawn to certain ones for certain clothes!
2 | POP OF COGNAC | It's no secret that love this colour palette so much. Neutrals, black and a pop of right brown tone just feels so right. This shoes add a particularly potent punch thanks to their cute shape and unique heel. A black flat would just fall flat but these inject the outfit with life and interest.
Never underestimate the power of a good shoe choice. The right pair can make or break a look. Next time you're going neutral with your clothes try adding a bold colour via your shoes to instantly upgrade the look. 
3 | WIDE AND SLIM | This silhouette is an easy go-to option. Slim on the bottom, relaxed on top. It creates a nice balance and it's a super easy uniform to repeat. Personally I love a slim dark bottom with a volume in a light colour on top for the most flattering result. It's pretty likely that this one will never leave my outfit repertoire.
Try pairing a loose, wide top in a light colour, with a slim dark pant for a fail-safe, relaxed chic look every time.
4 |  SIMPLE STATEMENT | To me this outfit is a perfect example of how simplicity can make the best statement. Every piece in this look is very simple on its own but when combined it creates a totally sophisticated and contemporary look. The cut of the top is special, while the fit of the pants is a fresh classic. The shoes are a simple suede flat in a unique shape with that perfect block heel, the shape of the bag is unexpected and the necklace is just enough make the whole thing seem thought-out. So even though it's a combination of understated elements, the result is far from boring. At least to me!
Try combining your favourite minimal pieces with unique fits or shapes for an effortless statement look.
---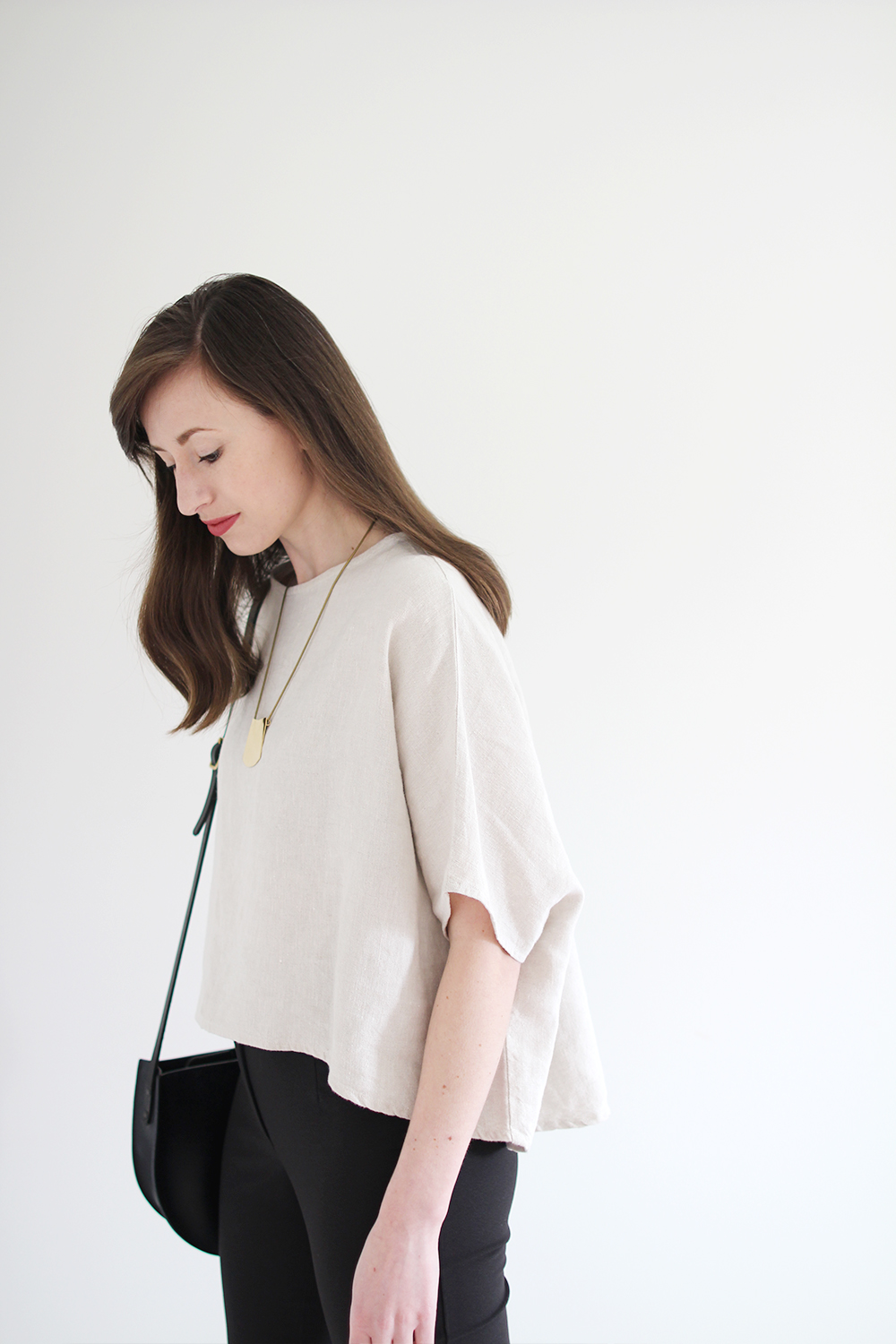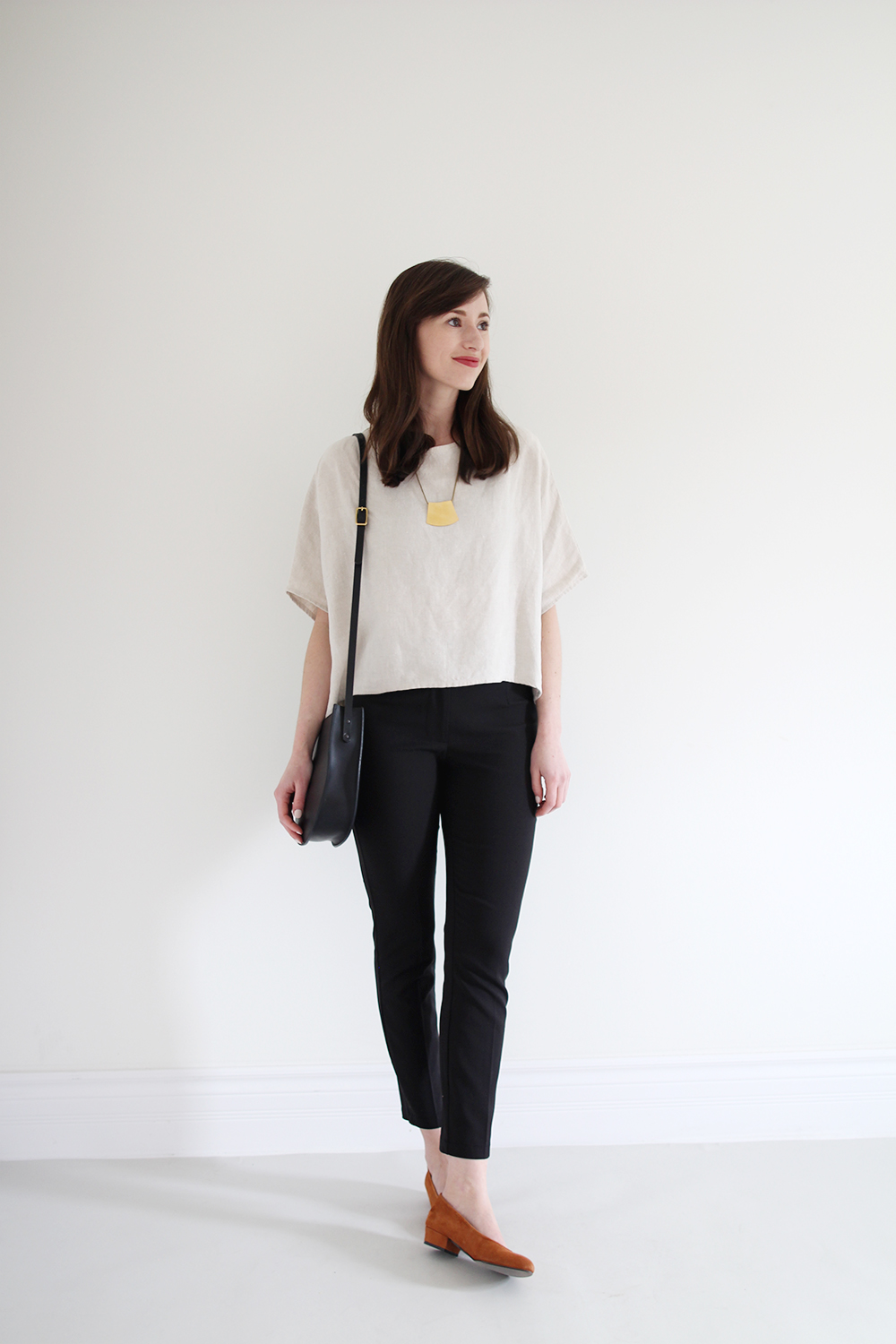 ---
TODAY'S ITEM SPOTLIGHT – THE BELIEF PANT
---
Today's item spotlight has been much-anticipated, which is awesome! Thanks for your interest in my opinion on the Belief Pant by the responsibly made Canadian brand Nicole Bridger! I'm really excited to share my thoughts on these because I think they're a fabulous pant with so much versatility. Since I don't have many 'corporate' workwear options these fill a unique role in my closet, in that they're great for meetings with our more professional clients but can also be dressed down and worn as a more casual-chic option, as I've shown with today's look.
So here's my two-cents and some facts on the Belief Pant so far:
SIZE: I'm wearing a size 4 and they fit perfectly out of the box . I'm 5'7, 125 lbs and my measurements are 32/26/37 for reference. I'll let you know if these stretch out much after a full day of wear. Since I'm writing this before I've had the chance to wear them thoroughly I can't say yet.
**UPDATE** The Belief Pant does relax throughout the day. Not enough to size down but enough that you'll likely want to wash them before the next wear so they return to their original fit (which they do!). The waist does not stretch out as it is elastic. 
PRICE: $194 CAD
RISE + INSEAM: The rise on these is 10″ which hits right at about belly button level on me and the inseam is 28″ which hits about 1.5 inches above my ankle for a perfect 'cigarette' silhouette.
KEY FEATURES: These pants feel really great on and that's mainly thanks to the high-rise fit, wide waist-band and the addition of elastic along the back, which helps them stay fitted all day and adjust to you rather than the other way around. The elastic is not obvious as it's covered with the same material as the pants so it looks very clean and professional.
These also have a double button at the waist, one of which is concealed on the interior and this gives a little extra reinforcement in that area. The zipper fly is super slim and concealed so it lays very flat.
The front and back darts provide a contour fit through the hips and butt while maintaining a smooth fit.
They have a 1 inch hem and a front crease which is elongating and flattering. There is also a faux back pocket slit on the right seat, which I feel is perhaps an element I'd forego but it has no impact on fit.
FABRIC: These are a Tencel/Modal blend which is a rich matte black. It's not thick but it feels very nice on and really does flatter the butt, hip and leg but creating a smooth look.
You'll find there are some creases that develop in the front after sitting for a while, but they're very minor and not particularly noticeable.
The fabric is awesome but if you tuck a shirt in you'll likely see some outline. Not because of transparency but because of the thickness of the material. Silk is probably your best bet or a light cotton.
WASHABILITY: Machine wash cold and hang dry. So super easy to care for.
MADE RESPONSIBLY: The fabric for these pants was made in China and they were sewn in Vancouver. The pants are made from an exclusively Tencel and Modal blend specifically for Nicole Bridger. The fibres come from selectively harvested trees and are processed in a way that is less harmful to our planet. Manufacturers use low impact dyes and are also Blue Sign Certified which means they follow a standard for water use and waste water management. There is a bit of spandex into the fabric which helps the garment recover better as you wear it and ultimately last longer. The pants were then sewn in a factory in Vancouver.
HOW DO THEY COMPARE TO CECILIA: Since I know you'll ask, let's discuss. First of all, these pants are quite comparable in fit, quality, value and wearability so either one is a good option.
The Cecilia Pant by Elizabeth Suzann is my favourite black slim pant ever and they still are. I chose these for the challenge because they have a longer inseam and I've been trying to get new Cecilias with a longer leg and tighter fit (but they're not available currently but will be back in stock eventually, or so I'm told), so these fit the bill.
The Cecilia Pant is made of a thicker material (Cotton 97%/Spandex 3%) and the top 4 inches on the waist is reinforced with a second layer so it's extremely slimming and comfortable. They have a single zipper at the back and no other hardware. They have a 2 in hem and the fabric is damn near uncreasable so they're amazing for travel and lots of wear. They come in many sizes and lengths so you can get a very specific fit. I have an old pair in a small, regular inseam which you can see on here. They do stretch out slightly with prolonged wear but generally maintain their fit well. If ordering again I would likely go for a 2/Tall.
I've also linked to similar pants by Eileen Fisher in the links below and I have this pair (from the System) and they're great but not quite as structured as the Belief Pant.
---
If you're looking for a great black pant to wear for work, travel or just for everyday life, I'd definitely give the Belief Pant a closer look! Especially if you're in need of something soon and would like to support a Canadian brand (and skip the exchange/customs fee!).
Just FYI: I don't earn commission on this item and Nicole Bridger did not sponsor this review. 
---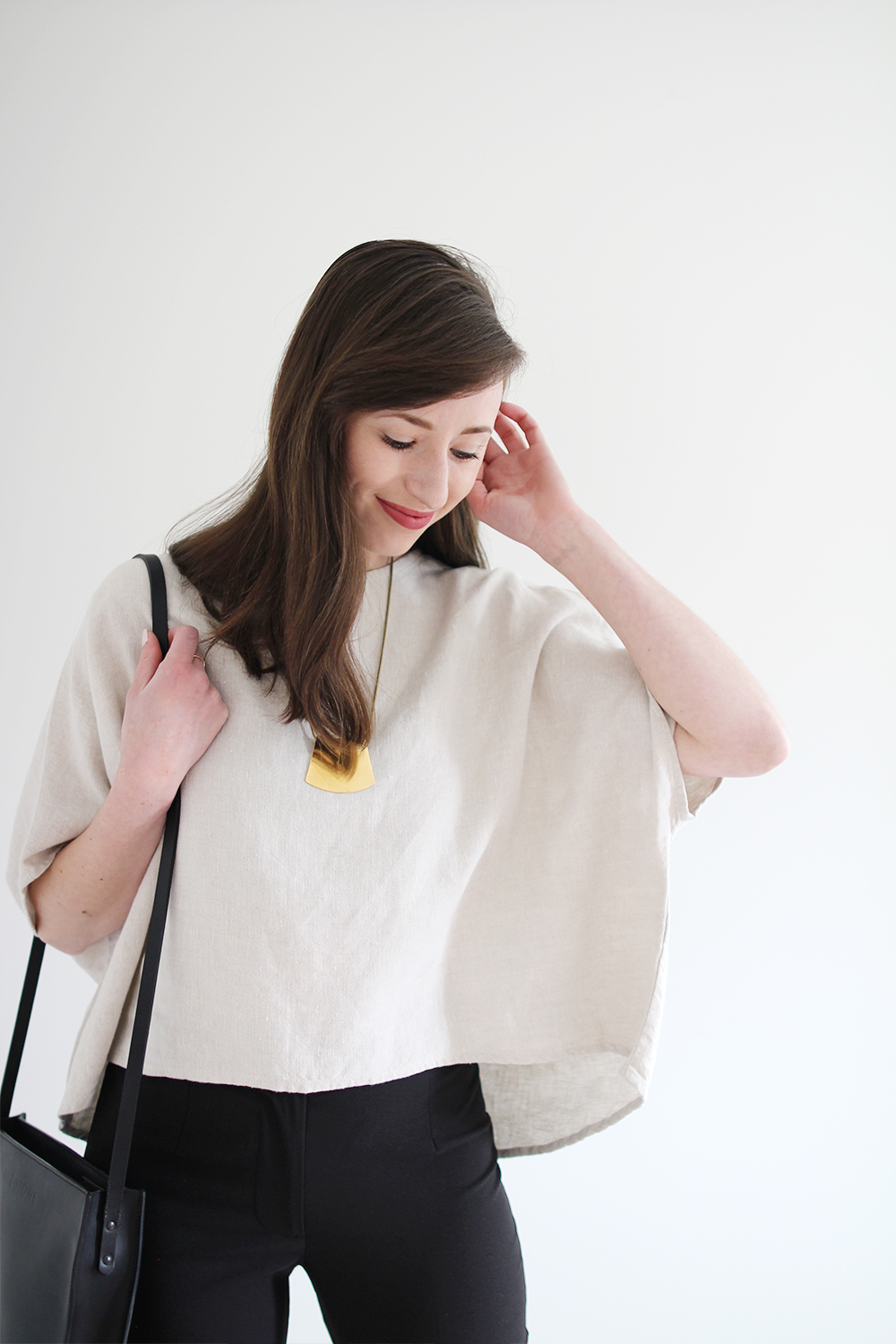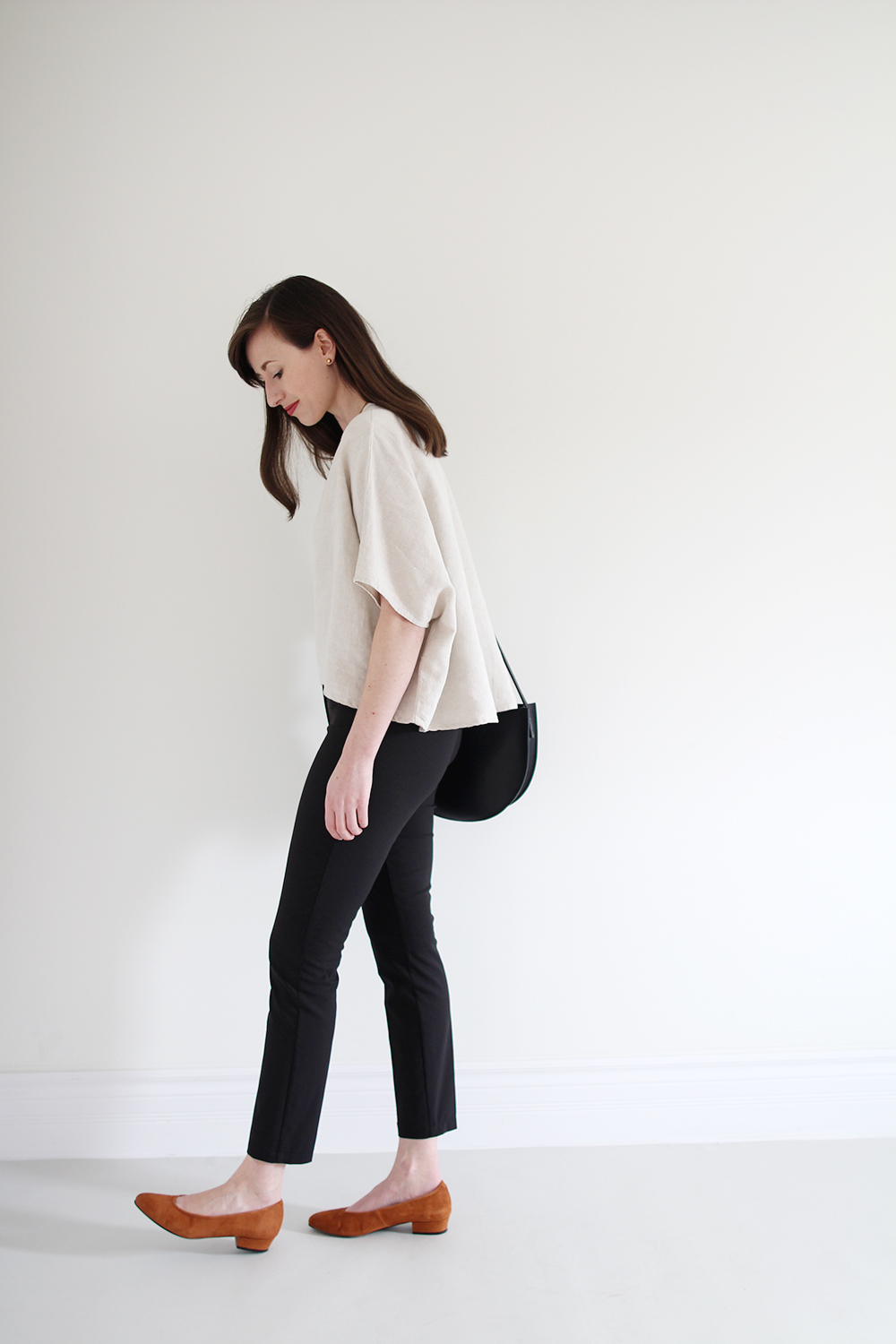 ---
COAT ADDITION
---
Not much to say about this outdoor option except this coat has yet to meet an outfit it didn't improve. I wish it was still available but it looks like there might be some special options coming with the Elizabeth Suzann Warm Weather collection, for which I am freaking pumped!
---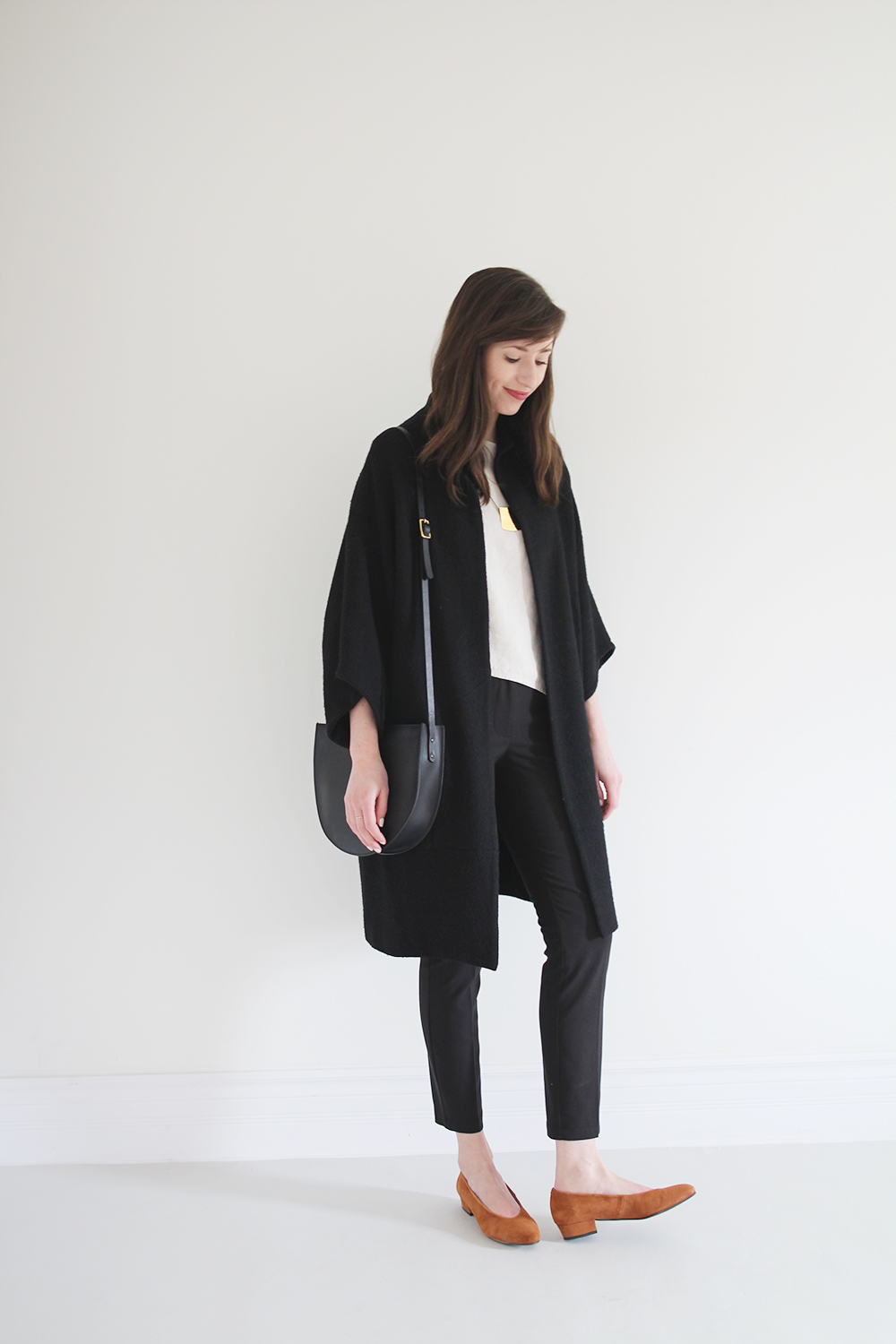 ---
1 | LINN TEE | c/o Elizabeth Suzann (1 yr old) | $145 USD  | Made responsibly in USA | Similar by Eileen Fisher on sale.
2 | SLIM BLACK PANT | c/o Nicole Bridger (new) | $194 CAD | Made responsibly in Canada of Blue Sign Certified fabric. | Also available in Slate. | Similar by Eileen Fisher here (for $247 CAD) and here ($233 CAD) be sure to size down in both.
3 | COGNAC SUEDE FLATS | L'Intervalle (2 months old) | $138 CAD | Made in Spain | Similar pair by Stuart Weitzman ($365 USD) and in Blush by Coclico ($295 USD) |
4 | ELOISE BAG | The Stowe | $378 USD | Made in Montreal | Receive $20 Off when you sign up here. 
5 | COCOON COAT | old Elizabeth Suzann (n/a) | Made responsibly in USA
6 | STATEMENT NECKLACE | old Young Frankk (n/a) | Made responsibly in USA
---
OK FOLKS, WE'RE HALFWAY THROUGH!
Tune into my Instagram Stories (@leevosburgh) later today for a look at this one in action. Be sure to see what Caroline is up to over on her blog and Instagram too!
See you on the #Spring10x10 hashtag and on Monday with Look #6!
---
HAVE A WONDERFUL LONG WEEKEND!
---
This post is not sponsored but contains affiliate links. When you shop via the links above I may make a small commission from a sale. Thanks for supporting Style Bee! All opinions are always my own.