Oh hey there Friday, aren't you looking mighty fine! I hope you've all had a great week and your weekend plans are shaping up nicely. Mine will involve some sleeping in, brunch making, wedding invite prep and lots of blogging goodness. No complaints over here! But before we go our separate ways for a bit I'm excited to share a fun project I did with ETSY Canada, which was to put together a Mother's Day Gift Guide featuring all Canadian shops. As you know I don't take on too many partnerships but this was a wonderful opportunity to spend some time exploring all the awesome Canadian shops on ETSY and cherry picking some of the best items to give your favourite ladies (or yourself!) this upcoming Mother's Day (Sunday May 14th).
I've been a long time customer and fan of ETSY and over the years I've found some lovely handmade jewellery, accessories, clothing, home goods, vintage treasures and some great office supplies too. In fact, my first major purse investment was from OPELLE Creative when they only sold via ETSY. That one takes me back!
Now as you've probably already noticed, ETSY is an insanely vast marketplace that can be a bit overwhelming to explore. So to save you some time I've managed to sift through lots of great options and pulled out some serious gems to shop from now or keep in mind for later. My goal for this partnership was to curate not only a great gift guide, but an excellent reference for great Canadian ETSY shops. The best part is that while you might find the perfect gift, you'll also support a small business and skilled craftsmen and women at the same time!
So let's take a look at some of the best gifts and goods I came across!
---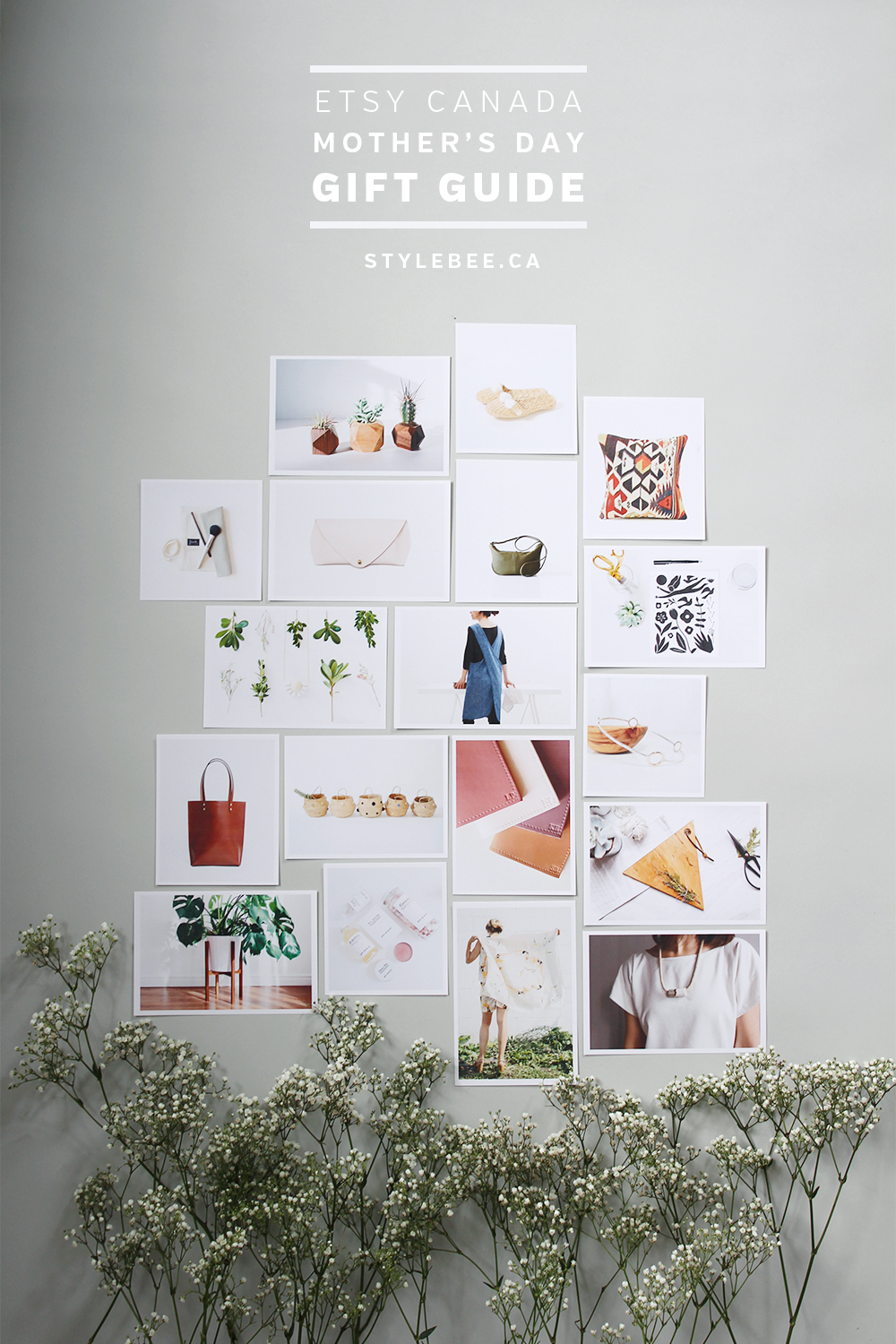 ---
HOST + HOME GOODS
---
---
CLICK THE IMAGE TO SHOP
---
---
1 | GEO WOOD SUCCULENT PLANTERS | Hook & Stem Co. | $56.28 CAD | Ok, so these may or may not be on their way to me at this very moment (spoiler alert: they will be!). These are the loveliest little planters and perfect for a little window ledge, desktop, side table or just about anywhere else you want something alive and adorable to look at. This shop has a great selection of beautifully designed and made wood products.
2 | CROSS BACK APRON | Made by Objective | $95 CAD | I can really stand behind this suggestion because I happen to have one of my very own! I received this apron as a gift and have literally worn it every day since. To say it's saved a few outfits from splashes during meal prep is a vast understatement. It's such a clever design (no waist ties to crumple clothes) and the big front pocket is ultra handy. It's made of 100% Linen and comes in indigo, grey and oatmeal. Honestly, it's cute enough to wear out!
3 | WOVEN BASKETS | Folk Fortune | $85 CAD | So these are pretty much the cutest baskets I've come across on ETSY. I love the shape and even though pom poms aren't normally my thing, in this context they're pretty fun! I love the white or black option and would totally use is for the beach or even in the living room or bedroom to house extra blankets or pillows. Heck, you could put a big plant inside and use it as a cute planter! The possibilities with this are vast and it really would be fun to give a pom pom lover.
4 | KILIM PILLOW | n/a Linked to similar by The Wanderly | $50 CAD | My love for kilim textiles knows no bounds so it's safe to say I was stoked to discover lots of options on Etsy. I can totally see a couple of these working on an outdoor patio or as a pop of interest in an otherwise simple living room or bedroom. Love the pastel options currently at this shop.
5 | TRIANGLE CUTTING BOARD | Hook & Stem Co. | $56.28 CAD | I know cutting boards aren't exactly the most original gift but you know, I never regret receiving one and I certainly never seem to have more than I can make use of! I love the triangle shape of this one and the clever leather loop to hang it from. Give this beauty with a jar of locally made preserves and some great cheese and you'll be a guaranteed hit.
6 | FOLK ART PRINT | Helsinki Mon Amour | $25 CAD | I don't know what it is about this print but I was struck by it's woodcut styling and the earthy, natural subject matter drew me in. The artist Myriam Van Neste, has a great eye and her shop is full of both monochrome and colour abstract designs. Great for an office, guest room, kids room or cottage!
7 | PLANTER STAND | Hook & Stem Co. | $56.28 CAD | This one is on the list because, well, I really want it! It's the perfect minimal, elegant plant stand to plunk any planter into. This one is at the top of my radar for when we finally put the finishing touches on the dining room. Plus if you know anyone with a plant obsession this stand with a new green friend would surely be a hit!
---
FOR THE TRAVELER
---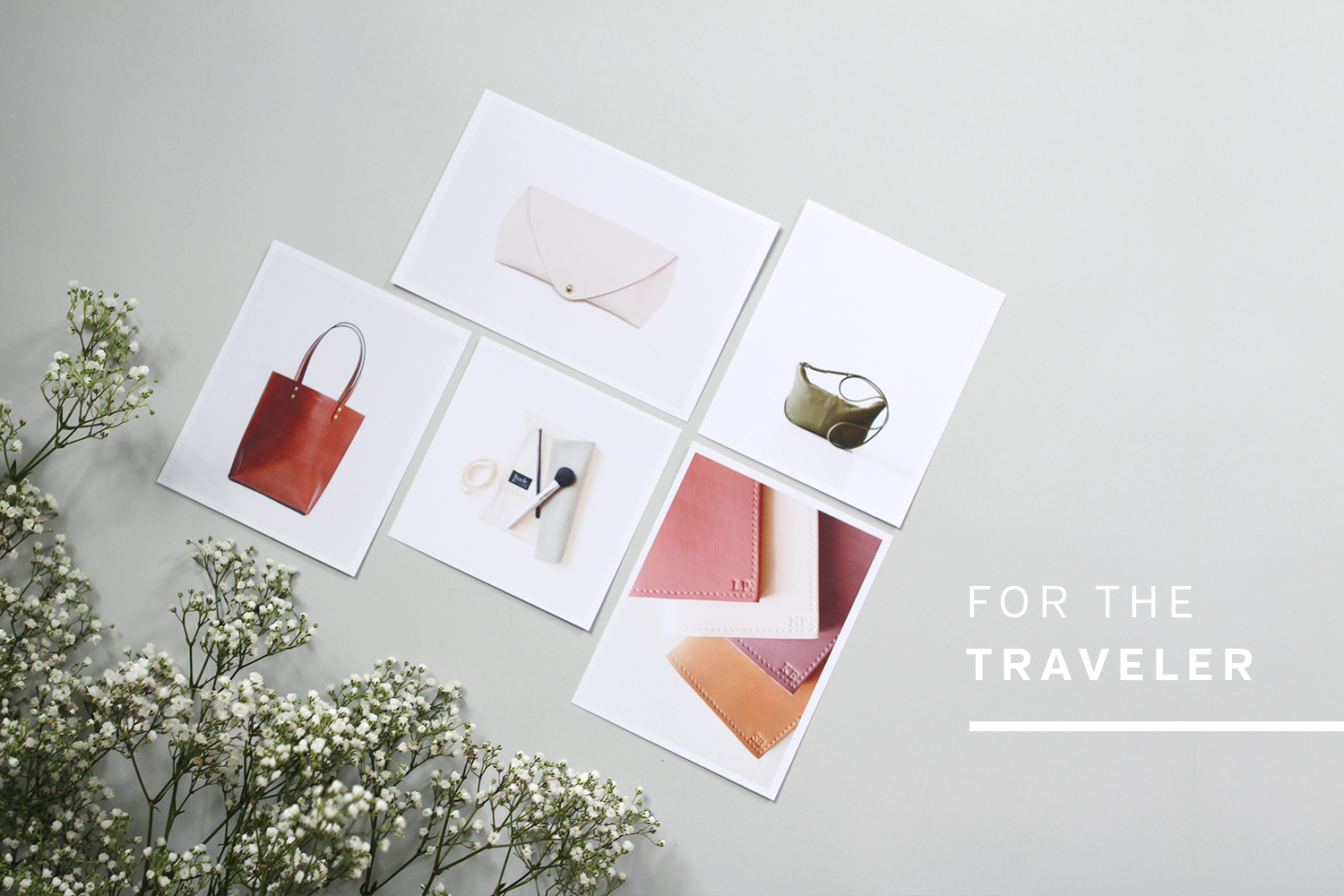 ---
CLICK THE IMAGE TO SHOP
---
---
1 | GLASSES CASE | Fitzy Design | $63.33 CAD | I don't know about your Mum but mine is always losing place of her glasses. Most of the time they end up shimmying to the bottom of her giant purse and escaping capture for far too long. This cute little case would be the perfect way to keep tabs on the sneaky specs and make them easier to grab when needed. I've also seen them in person at the OOAK Show and they're beautifully made.
2 | MINI ROBERTA SLING BAG | Opelle Creative | $275 CAD | So this might be the cutest little sling bag I've seen in a while! It's the perfect mini bag for ladies who like to run a lean ship all-day and remain hands free. It comes in a few cute colours and I can definitely attest to the fact that Opelle Creative bags are impeccably crafted. This might need to be a treat yo-self snag too.
3 | STRUCTURED TOTE | Apogee Goods | $299 CAD | As for those who prefer to keep a few essentials on hand this beauty made of English Bridle Leather (read: insanely durable + gorgeous patina) might be the best bet. I love the shape of this bag and the ultra minimal detailing. It's the type of bag you grab everyday and wear for many many years. This shop also has a great selection of belts and wallets.
4 | BRUSH ROLL | The Made and Found | $75 CAD | I've been on the lookout for one of these handy little things for ages and I really like the looks of this one. It's great for travelling or storing your brushes if you're short on counter space. If you've zipped your brushes into your dopp kit zipper as many times as I have, you'll appreciate the functionality of this one! Pair this brush roll with a cute matching toiletry bag and you or your giftee will be all set for your next adventure!
5 | INITIALED PASSPORT HOLDER | Amarin Collection | $25 + $4 CAD | This is a great gift for any ladies you know who've got a trip planned. I love the simple design and subtle but special detail of the hand embossed initials. They come with lots of different interior patterns too!
---
PRETTY GOODIES
---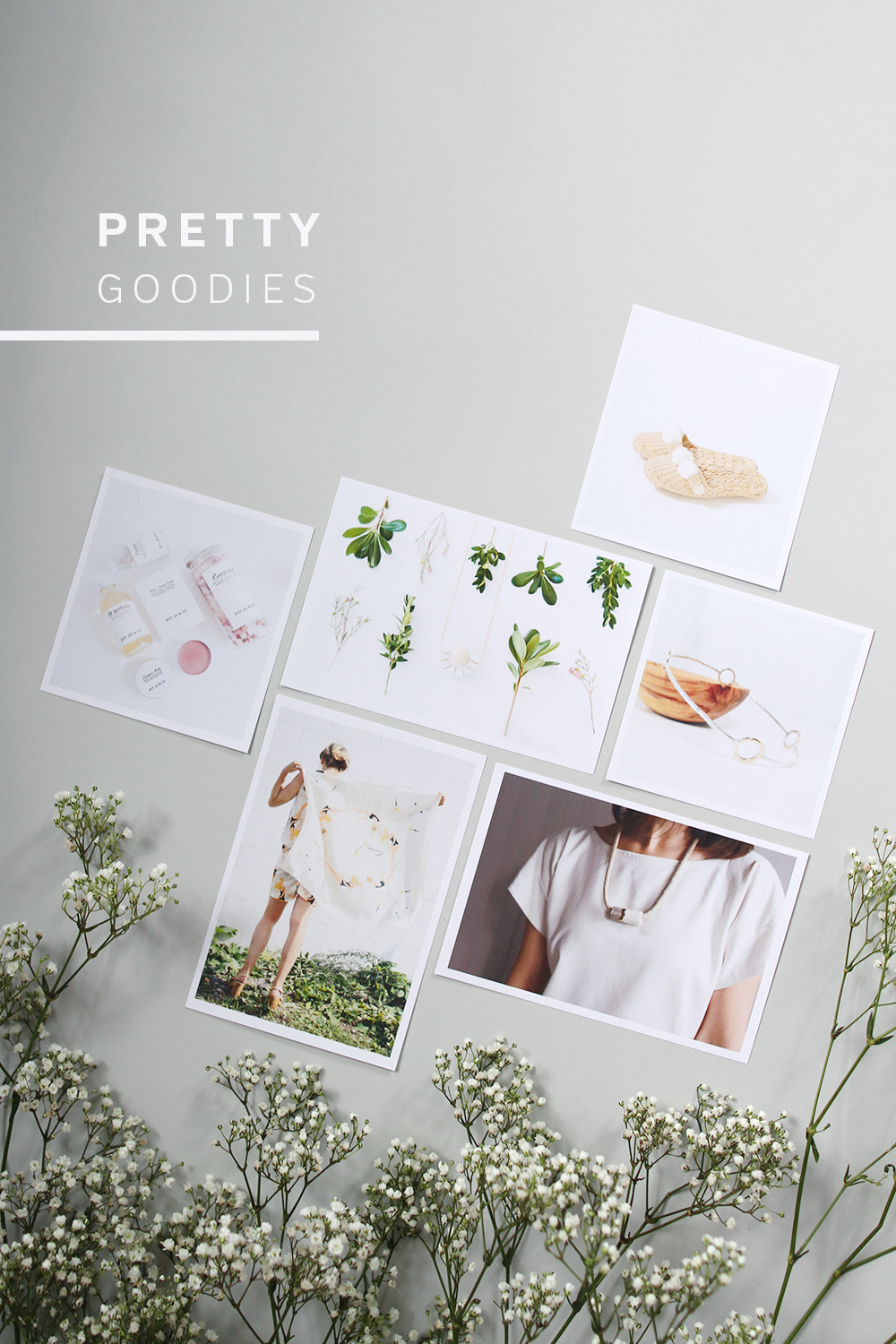 ---
CLICK THE IMAGE TO SHOP
---
---
1 | SPA KIT | Evy Jo & Co | $98 CAD | One of my favourite gifts to give (and get) is a spa kit because it's something I know many Mum's would rarely think to buy herself. Plus once you have one it's the perfect excuse to take a little time for yourself and pamper up! All the skincare products from this line look amazing and I've got my own eyes locked on the Match Body Scrub!
2 | POM POM SLIPPER | Folk Fortune | $60 CAD | I was so excited to stumble on this shop because they carry tons of beautiful handwoven goods, including some seriously cute slippers! These are the perfect gift for a Mum or friend headed on vacation or to the cottage this summer. White, Black and Grey are my faves but this pair in particular is also calling my name for the warmer days ahead.
3 | MINIMAL DOT BANGLE BRACELET | Cri Jewelry | $75 CAD | I won't lie, it was hard to find Canadian Makers offering minimal, elegant jewelry but I immediately loved this simple bangle made of hammered sterling silver and 12 kt gold fill. This one would be a great gift since it will pair nicely with both silver and gold. From this seller I also loved this small circle ring which would make for a cute set!
4 | PLANET SUNSHINE NECKLACE | Ampris Loves | $42.22 CAD | The name of this piece intrigued me to begin with but then on closer inspection I thought the design was really lovely and the perfect simple statement to where with a t-shirt and cutoffs this summer.
5 | CERAMIC + ROPE NECKLACE | Korinne Vader | $45 CAD | I've been a fan of Korinne's work on Instagram for a long time so I immediately knew I'd have to include her in this gift guide. I really like this tri-tone bead and rope necklace (avail. in black and blue) but I'm also smitten with her Ceramic Bib Statement necklace and all her clothes are lovely too! Definitely one to watch out for!
6 | SWIMMERS SILK SCARF | Noemiah | $72 CAD | How cute is this little swimmers print? I love the subtle summery palette and the illustration style on this one. I can see this worn as a nice light accent over a linen set or as a little apron style belt over a slip dress with sandals and a floppy hat. It's also available in a peach and as super cute an a-line dress. This seller has some lovely necklaces and clothing like this cute knot top and fabulous wrap jumpsuit!
---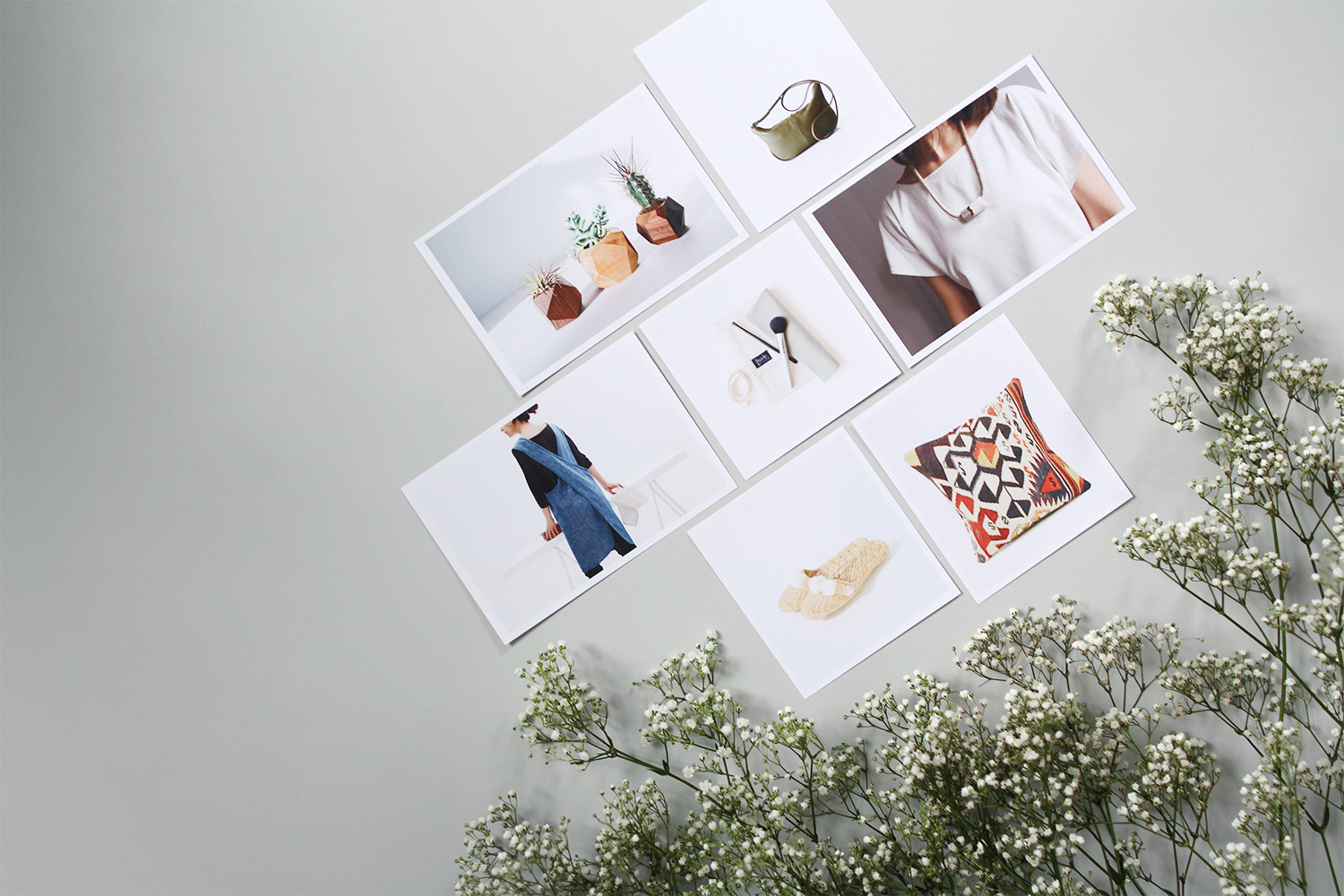 ---
MORE SHOPS WORTH A LOOK
---
BOOKHOU – Beautiful screen printed bags and accessories.
MIND THE MINIMAL – Cutest concrete planters and minimal chic chachkies.
MUD AND STONE – Elegant, hand thrown ceramic mugs, tumblers and other pottery sets.
POPPERMOST PRINTS – Fabulous minimal renditions of classics and cult favourite films, music and stars.
EVE SAND – Lovely abstract prints and sets.
CAMP SKINCARE – 100% Natural skincare line handmade in Toronto.
LA TISSERANDE MTL – Beautiful hand knit beanies for men and women.
JENNY RIJKE – Gorgeous blue and white ceramics in contemporary shapes.
PEPIN MONTREAL – Beautifully branded and packaged all natural, unisex skincare line. Love their Olive Oil Soap!
If you've got a favourite Canadian Etsy shop please let me know and I'll take a look! I'll keep adding my favourites to this list so check back for updates. 
---
NEED MORE IDEAS? NO PROB! ETSY HAS CURATED A MOTHER'S DAY GIFT GUIDE FOR YOU TOO! SO GIVE THAT A LOOK FOR MORE GREAT FINDS.
---
Thanks for perusing this little list! I hope it points you towards some good finds. Got any favourite items? 
I'm looking forward to Monday's Closet Mission Check-In and some fun outfits next week! 
Wishing you all a wonderful weekend! 
---
This post contains affiliate links and was created in partnership with ETSY. Compensation was received in exchange for the feature and content development. Style Bee is committed to collaborating with responsible and socially conscious companies and makers. Thanks for supporting this space and the brands that help make it possible.