I hope you've been having a great week! I don't know about you but by Thursday of any busy week I'm really ready to reach for my coziest, comfiest pieces. So with that in mind today, I'll be sharing two looks that are keeping me super comfy but still totally ready for real-life!
After I shared my Loungewear Capsule Part 2 I received quite a few messages asking about whether or not I wear some of the pieces from the capsule out of the house. The answer is yes of course! Sometimes I'll be in my loungewear favourites at home and I need to run out for something or it's the weekend and I feel like being super comfy and just adding a nice pair of pants or a cute top and jacket to make the look more presentable. While I do try to keep my capsule relegated to the house (it just keeps things more organized and compartmentalized in my head) there are definitely a couple of items that sneak their way out the door with me now and then.
To demonstrate how that can be done I chose two of my loungewear favourites to style up and 'go out'. The City Sweater by Corinne was probably the best top addition I've made to my comfy capsule and I find myself reaching for it at least a couple of times a week. The Lela Trouser is another favourite by Corinne and for obvious reasons one of my go-to silhouettes to wear.
So let's see how those two pieces easily translate from at-home chic to city ready. 
---
LOOK #1
---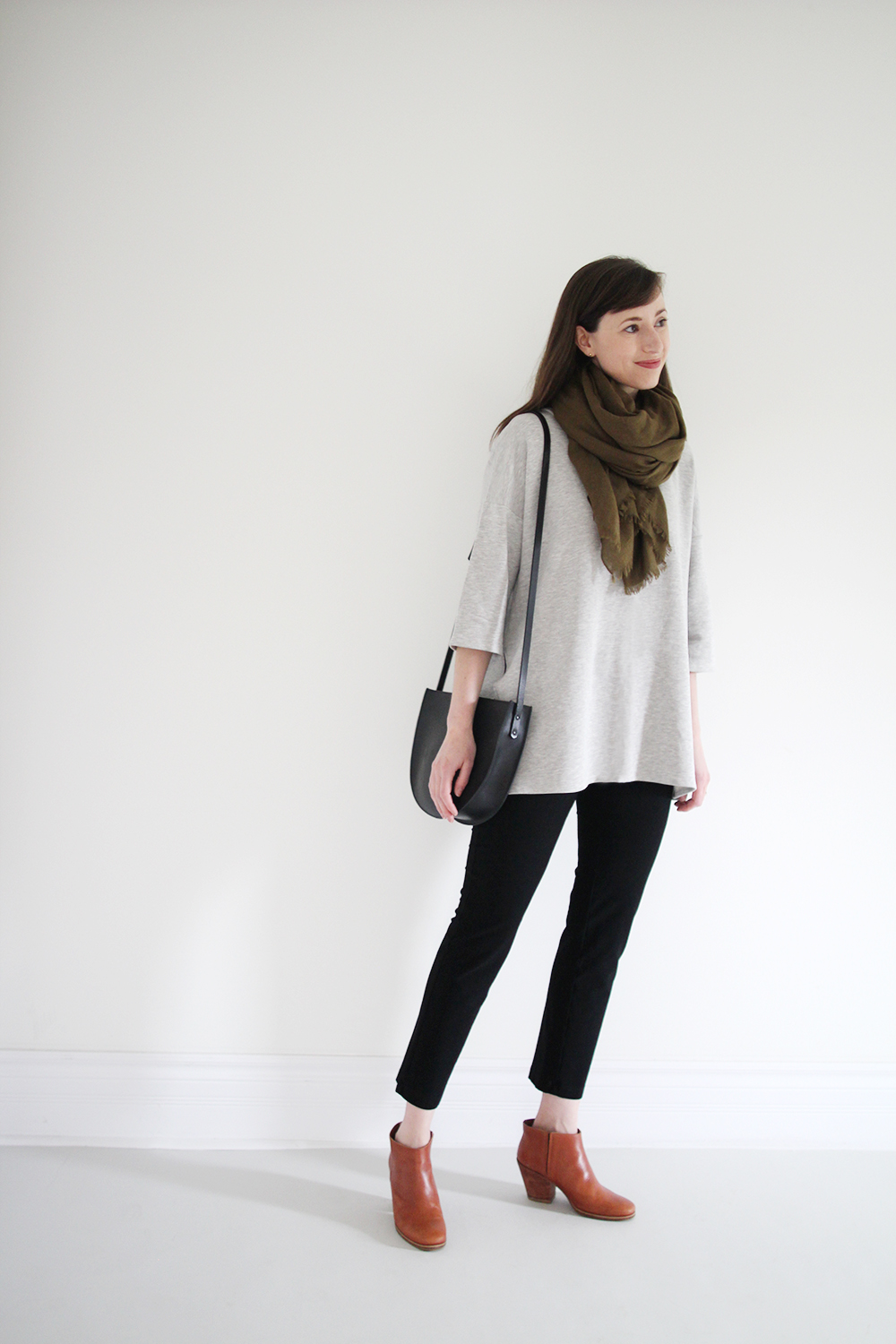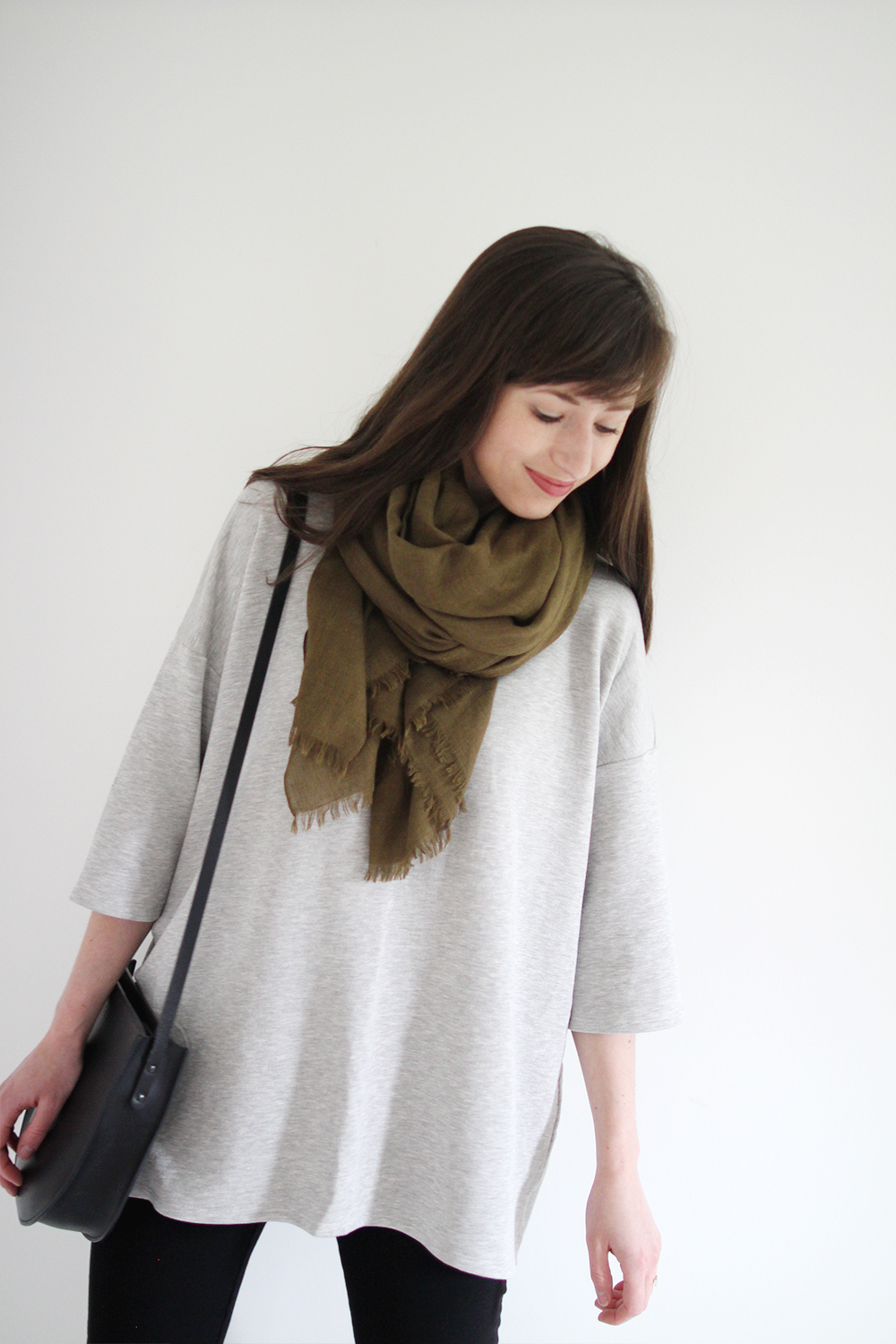 ---
THOUGHTS ON LOOK #1
---
This look is a great option for running errands to get ready for a dinner party or just getting the usual run-around finished up for the week. It might not be my most sartorially inspired outfit but it's simple, effortless and totally presentable for a day zipping around town or a weekend trek to coffee or brunch with the fella.
This look is perfect for a sunny day with temps around 15° C or so. Any cooler and I'd top it off with my vintage houndstooth coat (seen here) or a coat like the Ida (clyde) Trench.
I'm really liking how the slightly contemporary shapes are working together in this one. An oversize sweater always pairs perfectly with a slim black pant and I love how the sleeves and cropped leg falls away from the body ever so slightly but in a flattering way.
This neutral palette with pops of earthy tones is a new-ish one for me since I don't often wear grey. I wasn't sure if the olive scarf would pair well with a heathered grey but I kind of love the combo. Especially with a few key black elements and the whiskey boots getting involved.
These pants are the System Slim Pant from Eileen Fisher and I really like the cropped length and the stretch viscose material they're made of. I could have gone with a tighter fit through the hip and thigh so consider sizing down 2 sizes on these.
Fun Fact: I was wearing this very outfit while I typed up this post last night!
---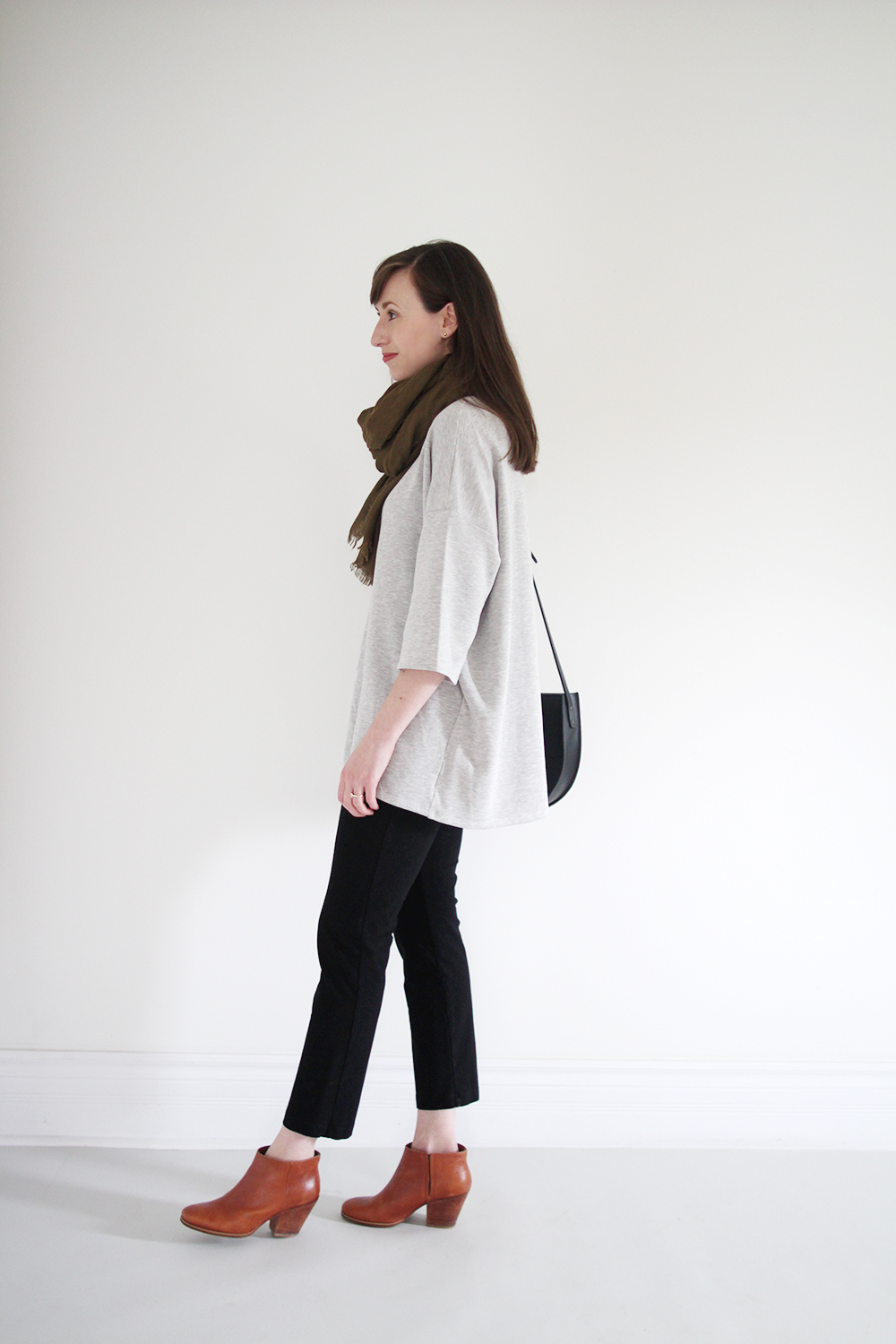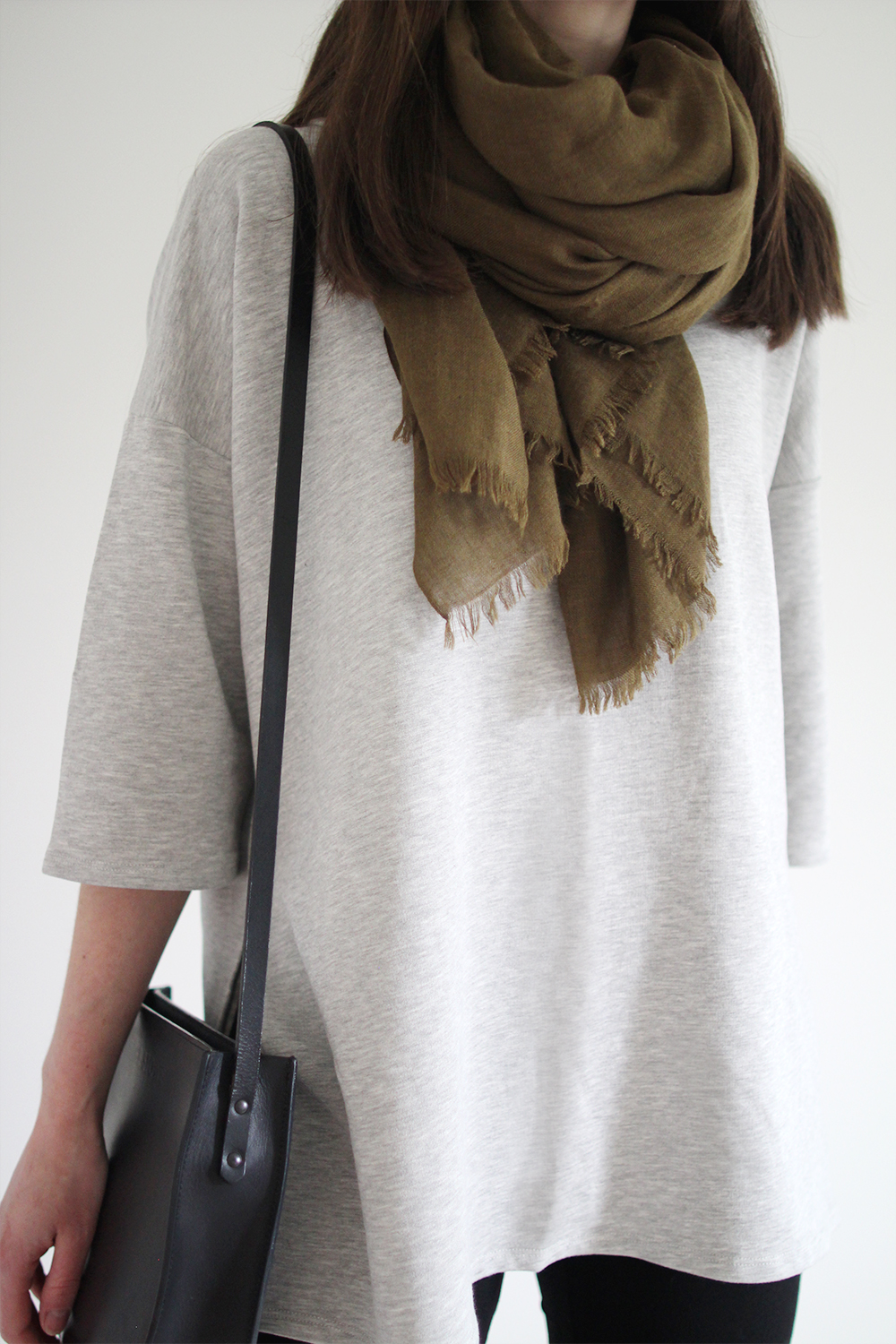 ---
STYLE + FIT DETAILS
---
1 | UNCUFF | I consciously opted to leave my sleeves uncuffed in this instance because they land at a flattering spot on the arm and the way they create a mini a-line shape is clean and elegant. I felt a cuff might add a relaxed feel to the look which is what I was trying to steer clear of.
If you're trying to 'up-style' a casual item look for elements like sleeves and hems and consider what treatment gives them the 'cleanest' appearance. 
2 | TUNIC + SKINNIES | A tunic length top and a skinny black pant is one of my favourite silhouettes. It's got a contemporary vibe to it and I always feel good in something like this. My preference is always a tunic that's made of a fabric with structure but lots of movement so it drapes nicely but doesn't cling or end up looking overtly boxy.
When you're shopping for a tunic opt for a length that will hit at your mid thigh or slightly higher. Meaning, below the butt but more than 10 inches above the knee. This way it won't shorten you too much visually or look like a dress.
3 | CROP CROP | I love how the cropped sleeves and cropped inseam on these pants are creating continuity within this look and an almost imperceptible way. As I mentioned above, both fall slightly away from the body and have a clean straight edge. If both hugged the frame they might not look as elegant together. You may notice I did the same thing with Look #2.
Look for small details that help pull an outfit together and create subtle repetition like a cropped length sleeve and pant. It will help a simple look feel more sophisticated and spring-like.
4 | COLOUR QUANDARY | The colour palette in this look was a happy accident for me because I just grabbed my softest big scarf (a recent b-day gift), my black bag and whatever boots were nearby but I ended up really liking how it works together. After inspecting it more I think it's working thanks to the fact the accent colours are from the same tonal family. In fact, that same theory applies well to Look #2 as well!
When you're not sure about whether a certain accent colour works with a base, try adding another element in a colour from the same tonal family. For instance, earthy tones like my olive scarf and whiskey boots or muted pastels like my rose tee and soft stone flats in the look below. 
---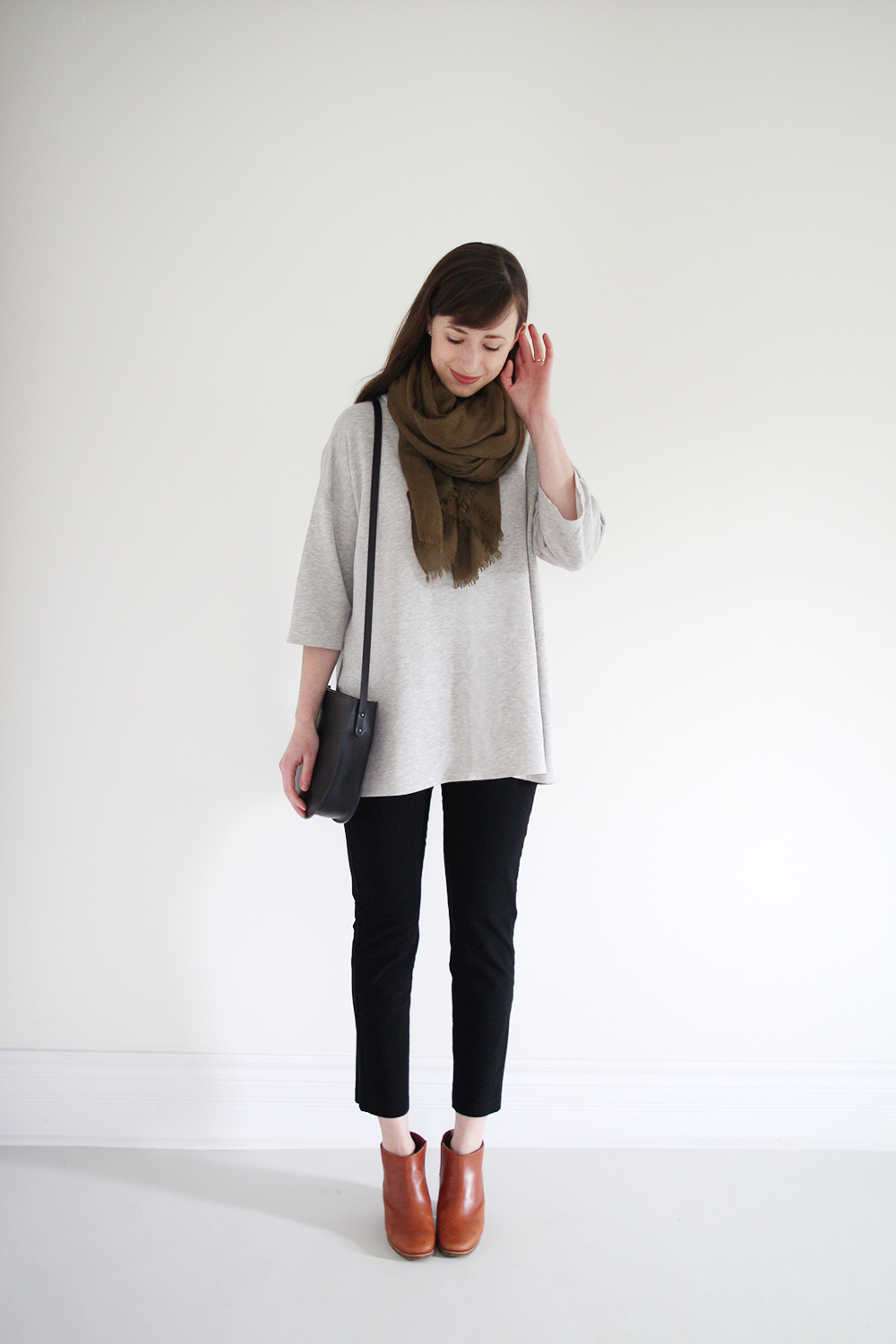 ---
1 | CITY SWEATER | c/o Corinne Collection | Made Responsibly in LA | $110 USD | Wearing Size S | Similar options also available in a lightweight viscose Black and Tencel Olive (both made in USA + on sale)
2 | SLIM PANT | c/o Eileen Fisher | Made Responsibly in NYC | $240 CAD | Wearing a size XS | Also comes in white and bone. 
3 | MARS BOOT | Rachel Comey | Made in Peru | $426 USD | Fit is TTS
4 | SCARF | Purchased locally at Blush Shop | Similar made responsibly in tons of colours here.
5 | ELOISE BAG | The Stowe | Made in Canada | $387 USD
---
LOOK #2
---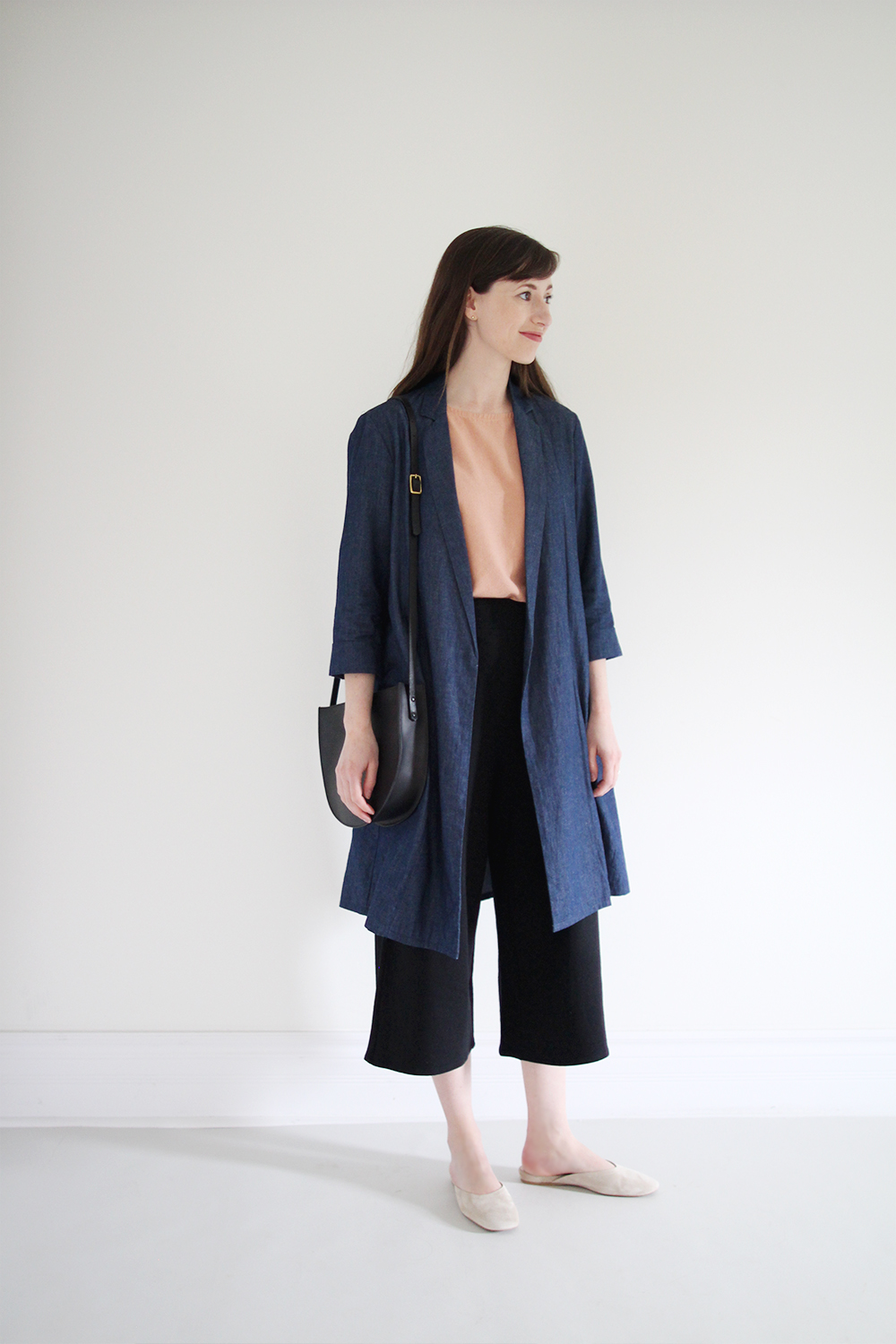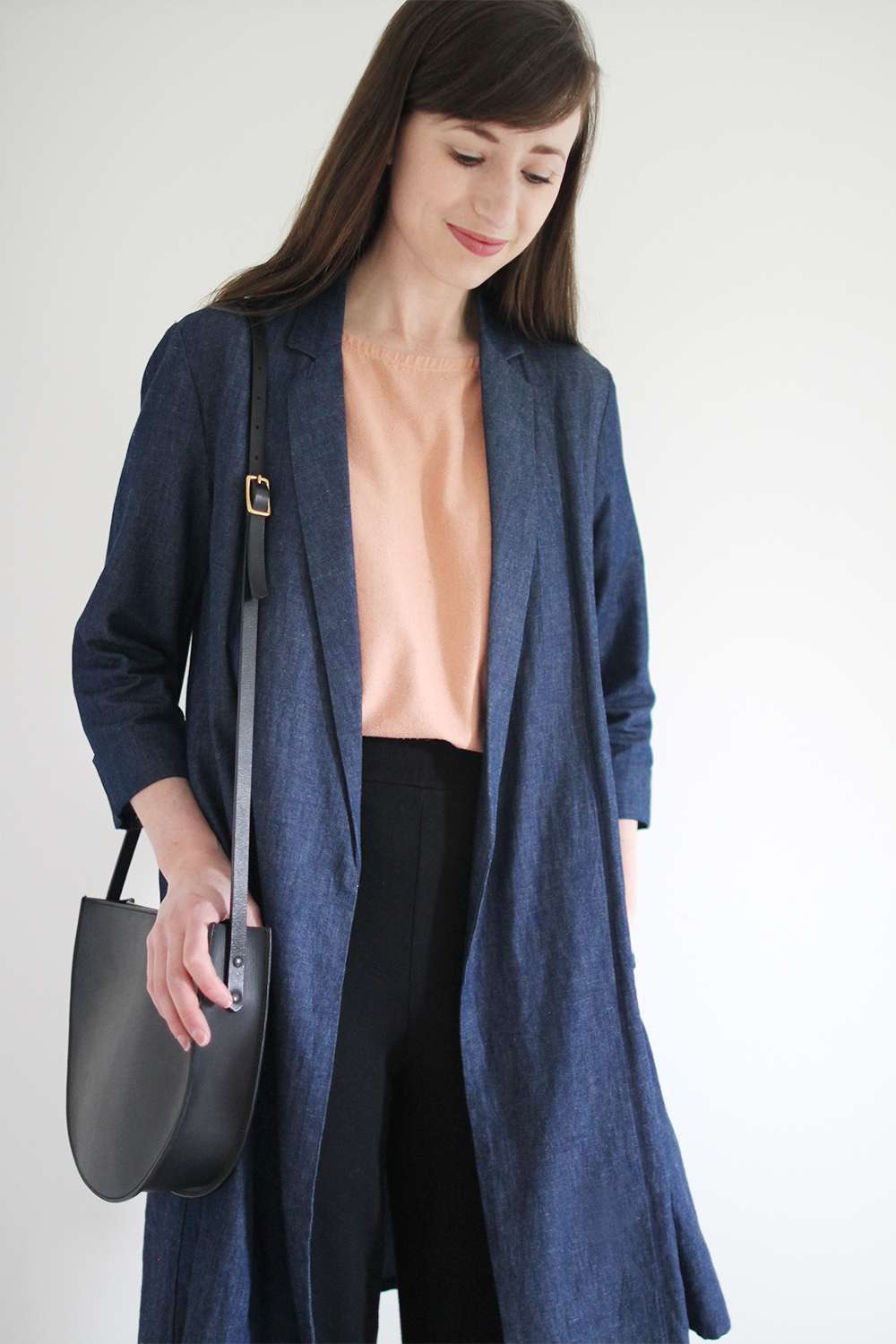 ---
THOUGHTS ON LOOK #2
---
Here's a slightly more refined look for perhaps an impromptu coffee date, dinner out, a weekend visit to the market or your favourite brunch spot. This look really works for just about any casual task at hand.
I'd say this one could work for most weather between about 13ºC (sunny with a scarf) to 19ºC (you might not want the coat). Just be sure to switch out the suede flats if there's rain in the forecast.
Every time I see this rose/peach/nude/pale-pink tee on in photos I'm surprised by how much I like the colour. Of course, I love it on the hanger and in person but I'm still getting used to seeing it on me since it's not one I've ever tried before. To toughen it up I like to pair it with dark pants and denim blues (as is evident here too) but it really is a great colour for versatility and to inject some femininity into my closet without being overly girly. It's also a beautiful raw silk fabric that drapes effortlessly and lends itself to front tucks especially well!
I'm really comfortable in this outfit, even more so than in the first one because it feels somehow more put together and polished. I think that has to do with the wide pant leg and the long duster, which are both definitely my go-to shapes. This is a new-ish colour palette for me but I'm loving the spring-y feel it has thanks to the soft stoney grey flats and the pastel top.
---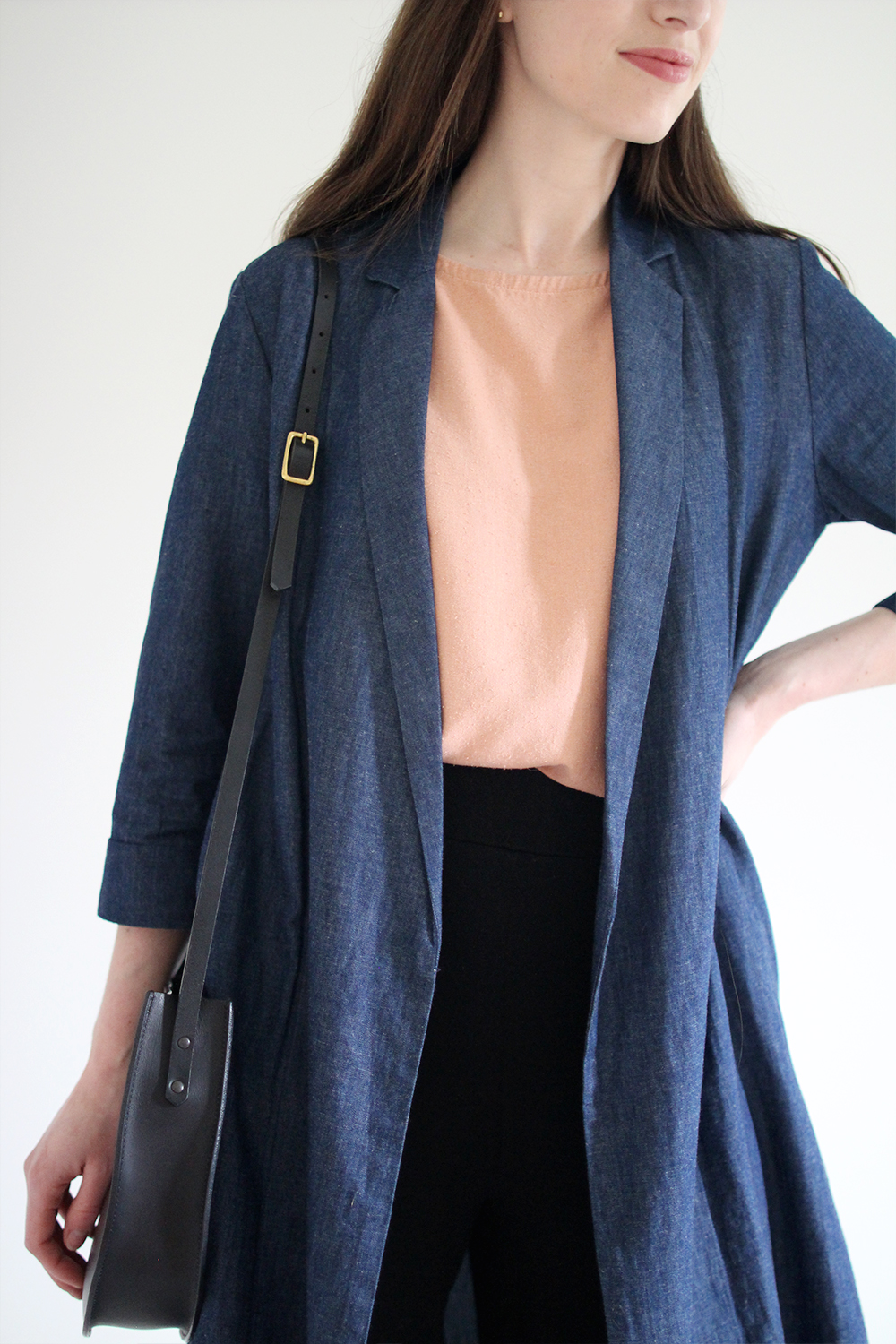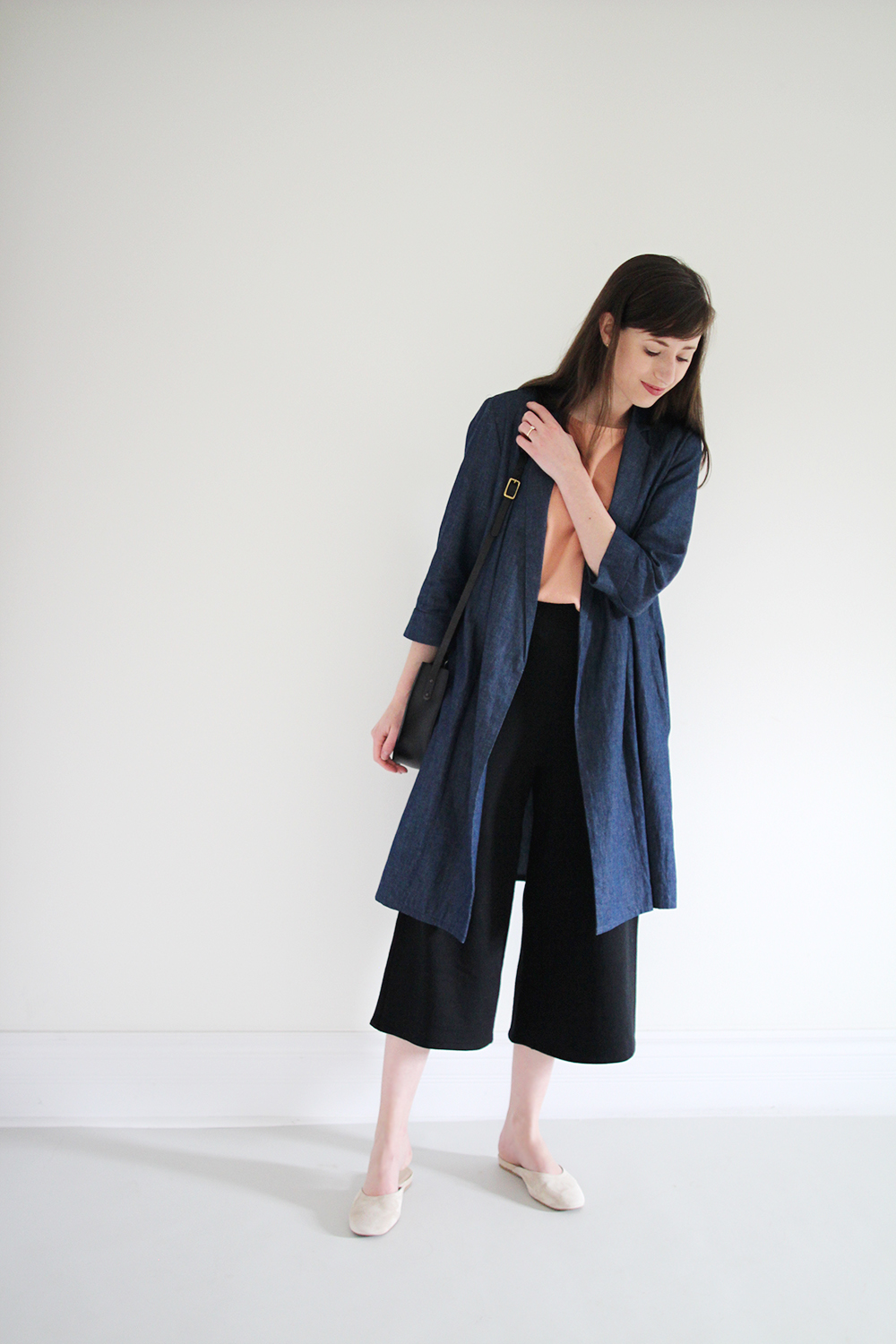 ---
STYLE + FIT DETAILS
---
1 | LONG COAT | I first tried this look with a shorter coat and it just felt a little off. Something about the long, duster length adds sophistication and elegance to the base in a really easy-going way. It also helps to balance out the wide-cropped pant.
Next time you're wondering which coat to add to a simple look, try something with length and soft structure like a duster coat or trench. 
2 | TWO SOFTIES | This palette is working in a similar way to Look #1 in that it's using two shades from the same tonal story. In this case it has a couple of muted pastels which are seen in the rose tee and stoney suede flats. These work together to make the black pants and dark blue duster feel less intense.
Next time you're trying a soft tone with a rich black or blue try adding another soft tone through your accessories or shoes to relax the whole look even more. 
3 | LAZY FRONT TUCK | Yeah, yeah, I know, I'm a broken record on this tip but hey, it hasn't failed me yet! When I first put this look together the tee was untucked and it just didn't look nearly as clean and polished as it does when tucked. In this case I purposely tucked it sort of lazily and on an angle so it doesn't look too forced.
Add a bit of polish to any look by tucking your top into your waistband. Tuck it more on one side than the other for a very nonchalant look.
4 | TWO TIERED A-LINE | I mentioned that Look #1 is employing a subtle a-line element in the way the sleeves and pants fall away from the body and this look is doing the same in a more obvious way. The wide leg pant falls dramatically away from the leg and the duster coat creates an added top tier falling in the same 'A' shape. This is a super subtle nod to traditional feminine shapes but in a chic, contemporary way.
Don't be afraid to layer bold shapes over one another for a tiered approach. This instantly adds some drama and helps make a simple look more special. 
---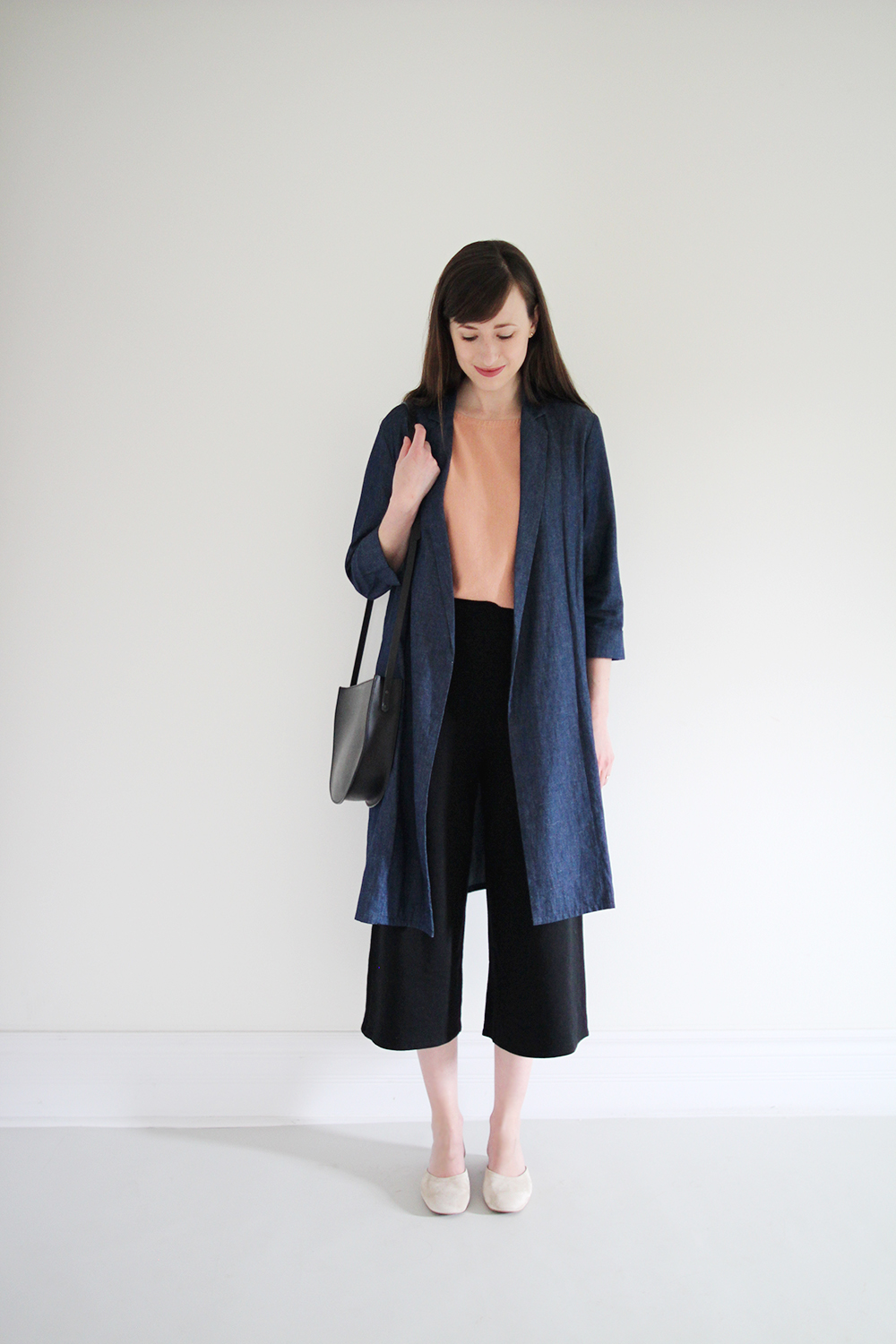 ---
1 | DENIM DUSTER | old Ali Golden | Linked to very similar option by Eileen Fisher and a Canadian made option is available here.
2 | KRISSY TEE | c/o Two Fold Clothing (currently s/o) | Wearing a Size S | Similar available by Jaime + The Jones ($188 USD) and a cotton version from Everlane ($88 USD)
3 | CULOTTES | c/o Corinne linked to new version | $122 USD | Made Responsibly in LA | Wearing a Size S | Similar in a cotton/viscose with pockets here (on sale) and a Canadian made option available here.
4 | DAY MULES | c/o Everlane | Natural suede is almost sold out but still many sizes in Black and Navy. | $120 | Made in Italy | Runs TTS
5 | ELOISE BAG | The Stowe | Made in Canada | $387 USD
---
HOW DO YOU TRANSITION YOUR COMFY FAVES FOR THE OUTSIDE WORLD?
WOULD EITHER OF THESE LOOKS WORK FOR A LOUNGEWEAR ITEM IN YOUR CLOSET?
---
I've had to postpone this week's 1 Item – 3 Ways post because work + life are a little busy right now. But next week is all about responsible formal wear so I promise it'll be worth the wait! 
As always, thanks for tuning in!
---
This post is not sponsored but contains affiliate links. When you shop via the links above I may make a small commission from a sale. This income helps limit the amount of sponsored content that appears on Style Bee. Thanks a lot for your support!