Happy Friday everyone! Ready for some style experiment fun? Excellent, me too!
I got a bit ahead of myself on Wednesday when I said we were halfway through the year, cuz, NOPE! We've still got (almost) a whole month before that deadline arrives and it's going to be the perfect opportunity to try out a little style experiment I've had on my mind. During the month of June I've decided to take a break from shopping and to choose 30 items from my closet to make 30 different outfits. It just felt like the right time to slow down, enjoy this wonderful season and reinvest in my existing closet.
Sounds kinda fun right? Well, it's definitely shaping up to be and I've even got a couple of my favourite lean closet blogging buds joining me! Be sure to check out Andrea of Seasons + Salt and Paige of Style This Life to see what items they're using and all the looks they put together throughout the month.
So let's dig into today's post, which will cover:
The Basic Guidelines for the #June30x30
My 30 Items
How Style Bee Posts will work throughout the month of June.
---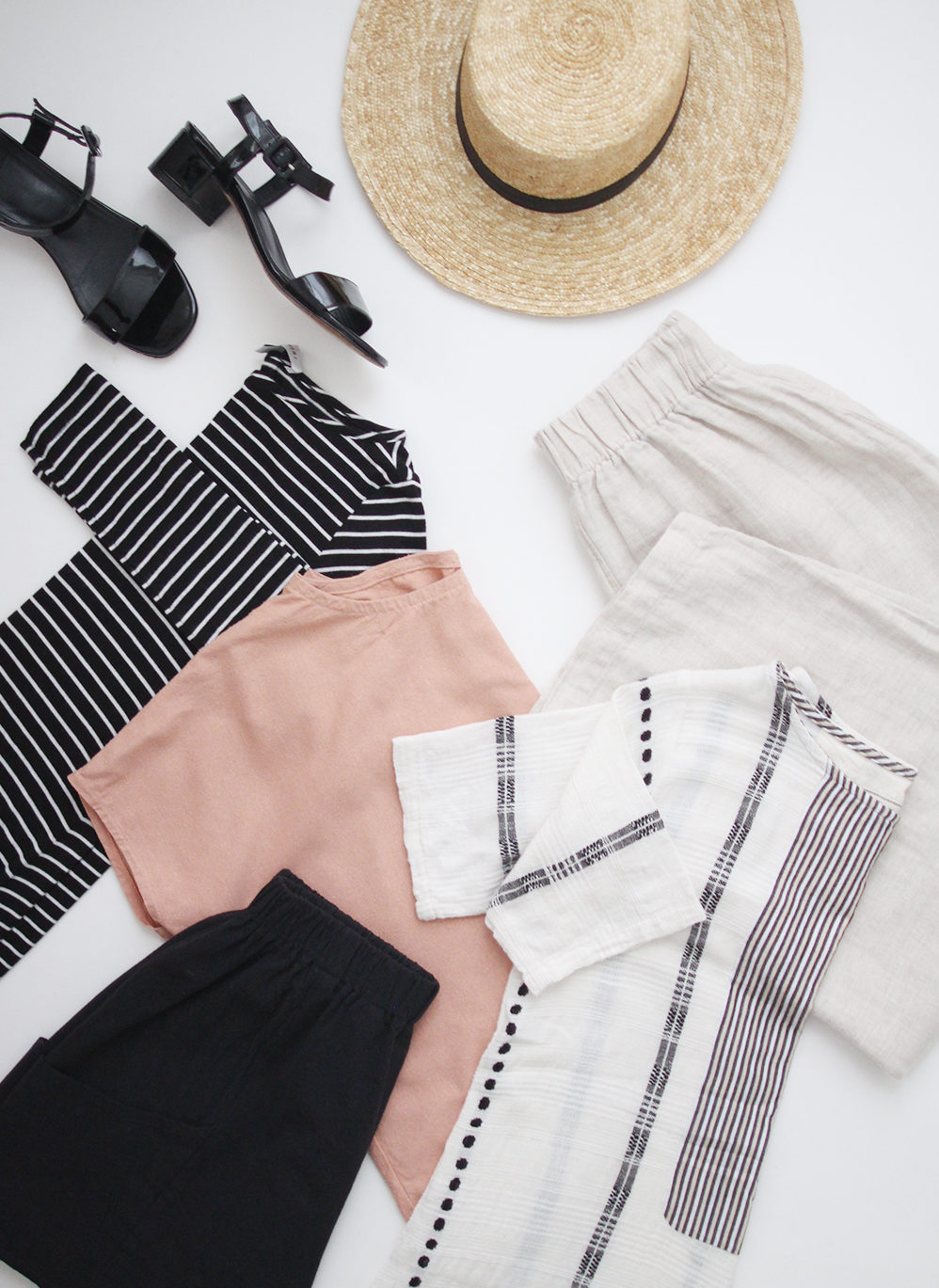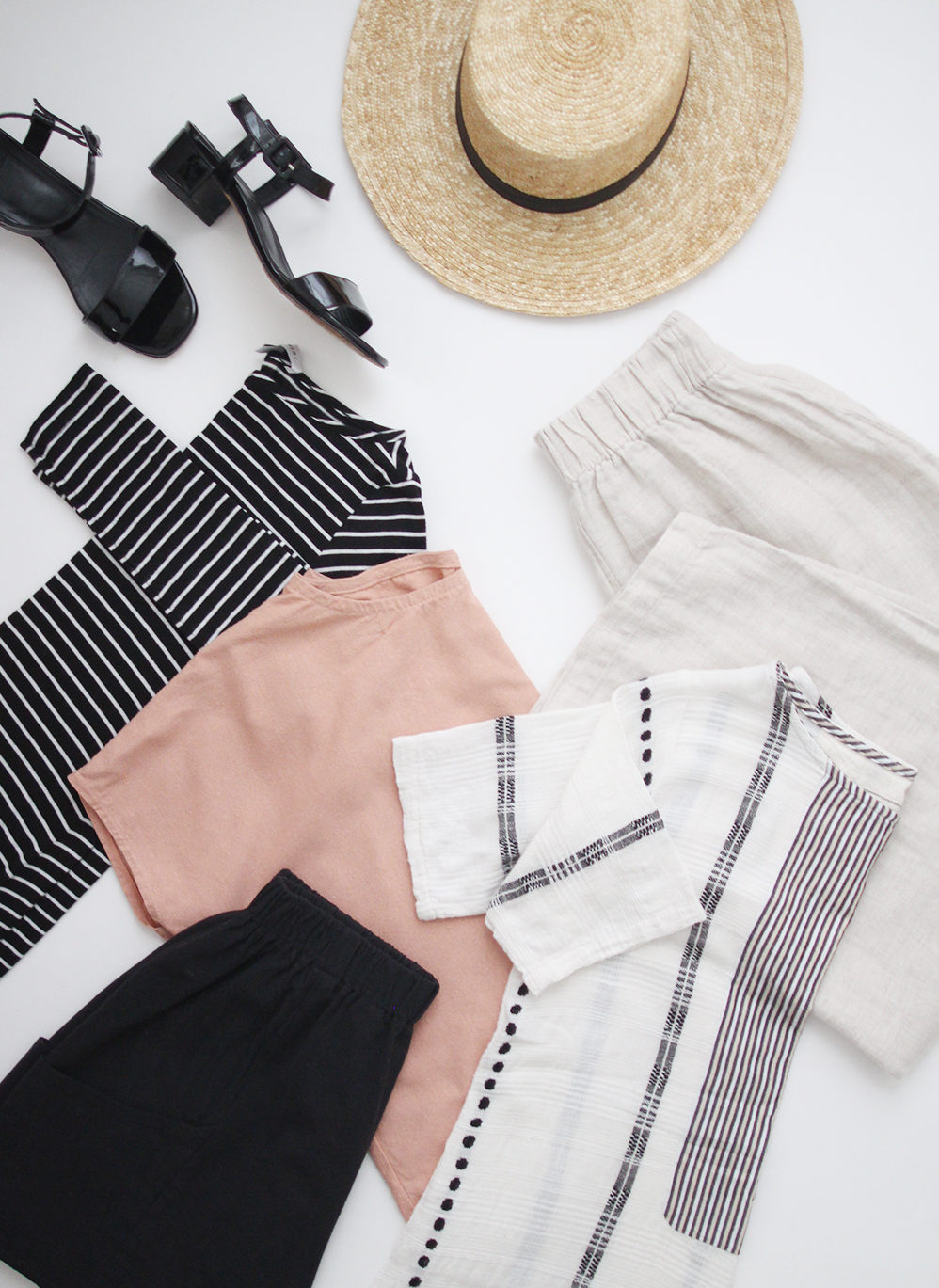 ---
HOW TO PARTICIPATE IN THE #JUNE30x30
---
So the good news is that it's super easy to join in this little style experiment. There are definitely no hard and fast rules and it's pretty similar to the 10×10 Challenge (Summer session will be happening in July BTW!) but with 30 pieces over 30 days instead.
STEP 1 : Choose 30 items from your closet to wear for the next 30 days.
I included coats, tops, pants, dresses, shoes and skirts.
I didn't include accessories, loungewear, rainwear or activewear.
Be sure to check the forecast for you get too committed to certain items.
You can certainly choose less than 30 if you want to make it harder.
If you change your mind on an item feel free to swap it out!
STEP 2 : Grab photos of the different looks you create. 
STEP 3 : Share them on Instagram (if you want!) with the hashtag #June30x30. 
STEP 4 : Do your best not to shop throughout the month of June! 
I won't be buying any new clothes or accessories and I'll be holding off on any impulse buys for our home.
Of course if you desperately need something you can add it.
The goal for this exercise is much like that of the 10×10 Challenge which is to focus on what's already in front of you and experiment with your personal style. It's meant to be low-key and lots of fun, not restrictive or stressful in any way.
It's a great learning opportunity, even if you simply isolate your favourite 30 pieces right now and try on some different looks at home. Just make sure you note your faves for the next time you're wondering what to wear!
---
MY 30 ITEMS
---
To be honest, I found it WAY harder to pick 30 items for 30 days than I've ever found choosing 10 items for 10 days with the 10×10 Challenge. But that's because it's a longer time period, the weather is less predictable and well, it means waving goodbye to much of my beloved closet for a whole month! But once I checked the weather and started breaking it down into categories it felt a little easier.
Weather in Guelph: Around 16 – 25°C with a mix of super sunny days and a few rainy ones. That said, June can be very hit or miss so I made sure to include lots of layering options.
Activities: June is going to involve a lot of long studio days so I went for all my favourite comfy options. We've also got lots of fun social events lined up so I've included pieces I can dress up to go out in too.
Categories: I chose the following number of items from each category:
Jackets: 3
Pants: 7
Tops: 13 (Seems like a lot but two are bodysuits for layering.) 
Dresses/Skirts: 3
Shoes: 4 (Seems pretty low so we'll see how it goes!)
So here's a look at those pieces!
---

---
ROW 1 : CLAY DUSTER*| GREEN DUSTER* (other colours available) | LINEN BLAZER
ROW 2 : SILK PANT | FLAX PANT | KAMM PANT*
ROW 3 : BLACK SHORT | BLACK LINEN PANT | CLASSIC JEANS
ROW 4 : WHITE SKINNIES | PINK TEE** | BLACK TOP
ROW 5 : OLIVE CROP | COTTON TEE | GRAPHIC BOX TOP*
ROW 6 : SILK TUNIC | DENIM CROP* | STRIPED LONG-SLEEVE
ROW 7 : JERSEY CROP | GEORGIA TEE** | GEORGIA TEE STRIPED
ROW 8 : WHITE BODYSUIT | BLACK BODYSUIT* | SILK SKIRT*
ROW 9 : MAXI DRESS | LINEN DRESS (Save 20% with 'STYLEBEE20')| BLOCK HEEL SANDAL**
ROW 10 : DAY MULE | BLACK POINTED MULE (Save 10% with 'STYLEBEE10') | BLACK SLIDE SANDAL*
*Save $20 off your first order from Garmentory! 
**Linked to Similar
---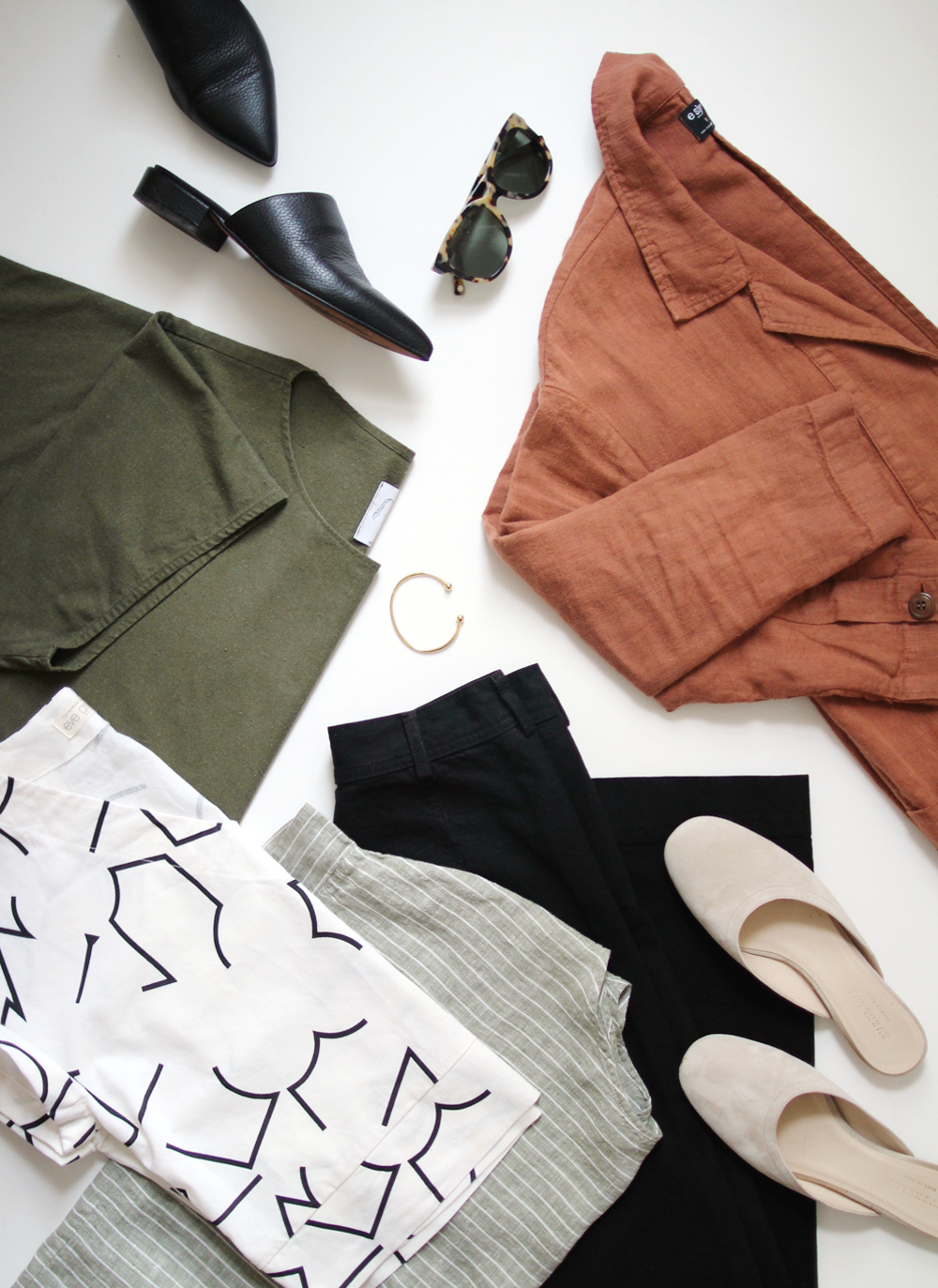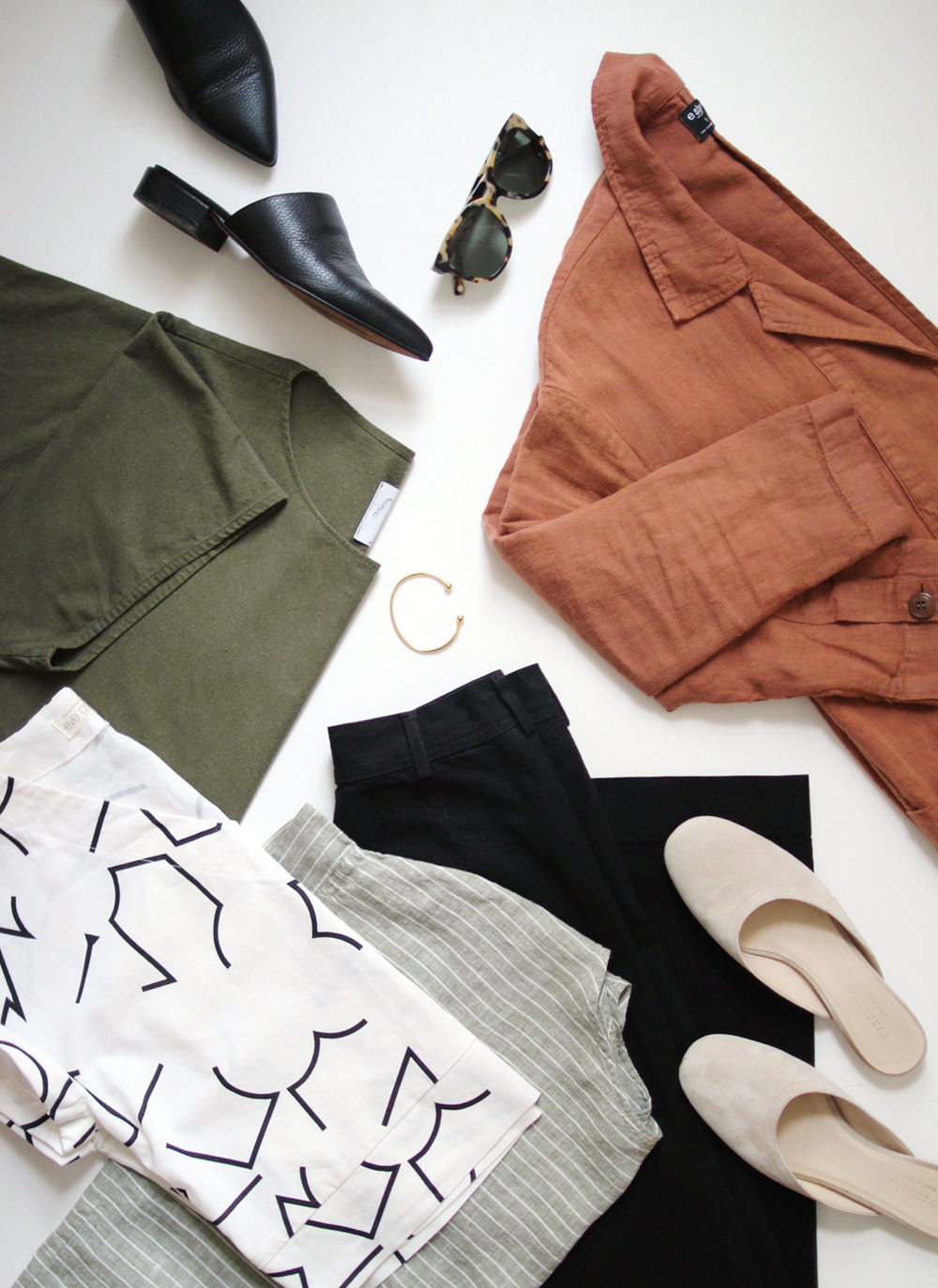 ---
THIS MONTH ON STYLE BEE
---
As you can probably tell by the late arrival of this post, I'm a bit behind at the moment so I'll be using this challenge as a way to slow down, regroup and catch my breath a bit when it comes to the blog. Work has been a doozy lately and honestly, I just want to give myself a little freedom to enjoy the month of June!
So what this means is:
I'll be cutting back to two posts a week for the month of June.
Mondays will be a compilation of 4 outfits from the #June30x30. (ie: This monday will be looks from June 1st-4th)
Fridays will be a compilation of 3 outfits from the #June30x30. (ie: This monday will be looks from June 5th-7th)
I'll be keeping the outfit posts more brief than usual but I'll be sure to include key style tips as always.
Basically, it comes down to more outfits, fewer posts so I hope that sounds ok!
---
SO WHAT DO YOU THINK? 
CARE TO JOIN US FOR A MONTH OF NO SHOPPING AND USING ONLY 30 ITEMS?
WE'D LOVE TO HAVE YOU!
---
This post is not sponsored but contains affiliate links. When you shop via the links above I may make a small commission from a sale. This income helps limit the amount of sponsored content that appears on Style Bee. Thanks a lot for your support!