Well friends, we've made it to the end of the #JUNE30x30 challenge. YAY! I'm definitely relieved to be done but I had such a good experience with this challenge. Honestly, I could have kept going for another few weeks but alas, it's time to switch things up and move onto the next one!
Before that though, I have to send out a huge THANK YOU to my co-hosts Andrea (Seasons + Salt) and Paige (Style This Life) for taking this challenge with me and embracing it head on. They both did such an impeccable job keeping every look both stylish and true to real life, which as we know, is no easy feat!
So I dare say it's time we shut this challenge down properly with some final looks, recaps, findings and a few other fun things. With that in mind, today's post includes:
Looks 26-30 and some style tips.
A recap of all 30 pieces.
A roundup of all 30 looks.
Some FAQs that I made up but thought you'd want to know.
My top findings from the challenge.
3 style shout outs from the #JUNE30x30 Feed.
---
LOOK 26 – MONDAY JUNE 26
---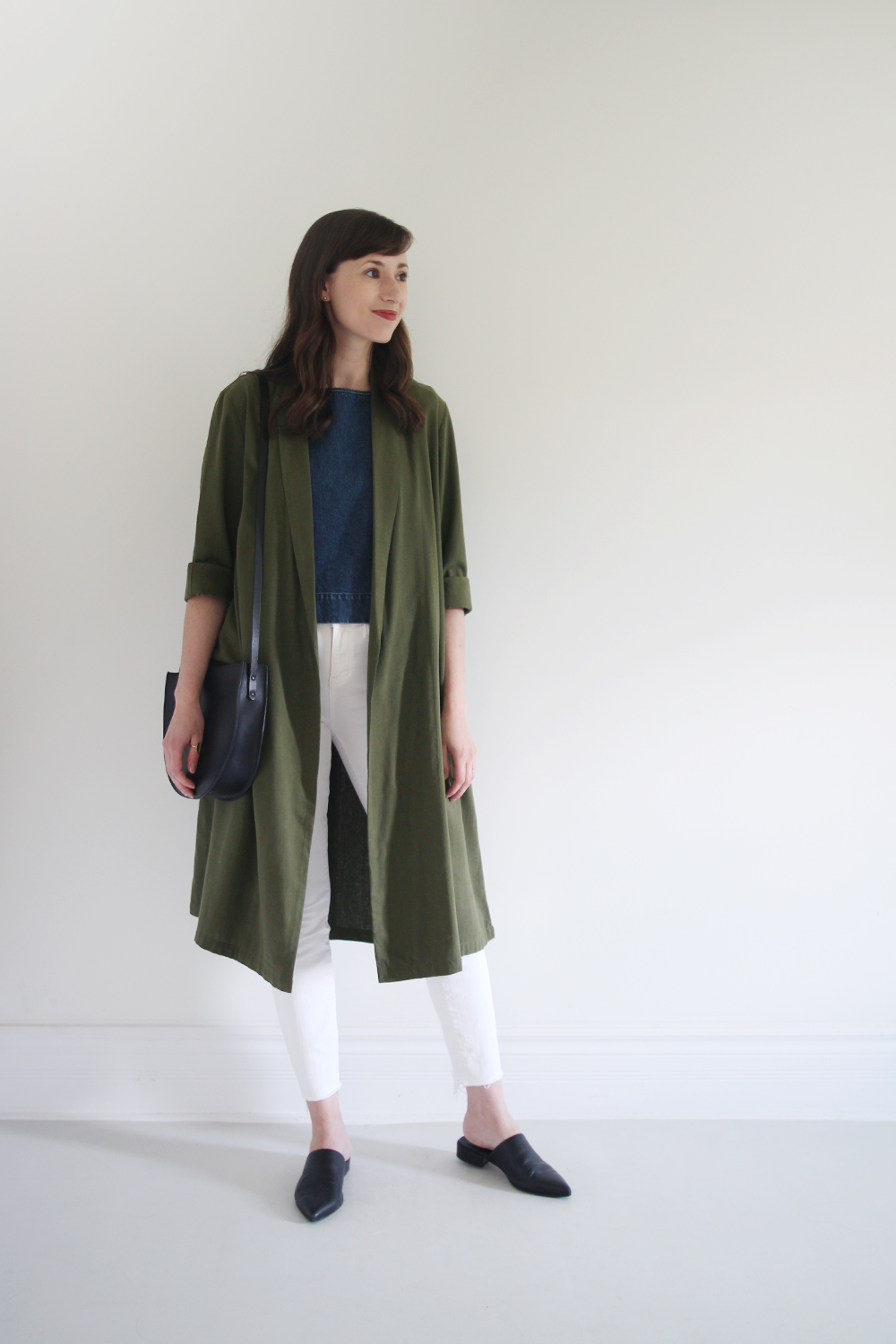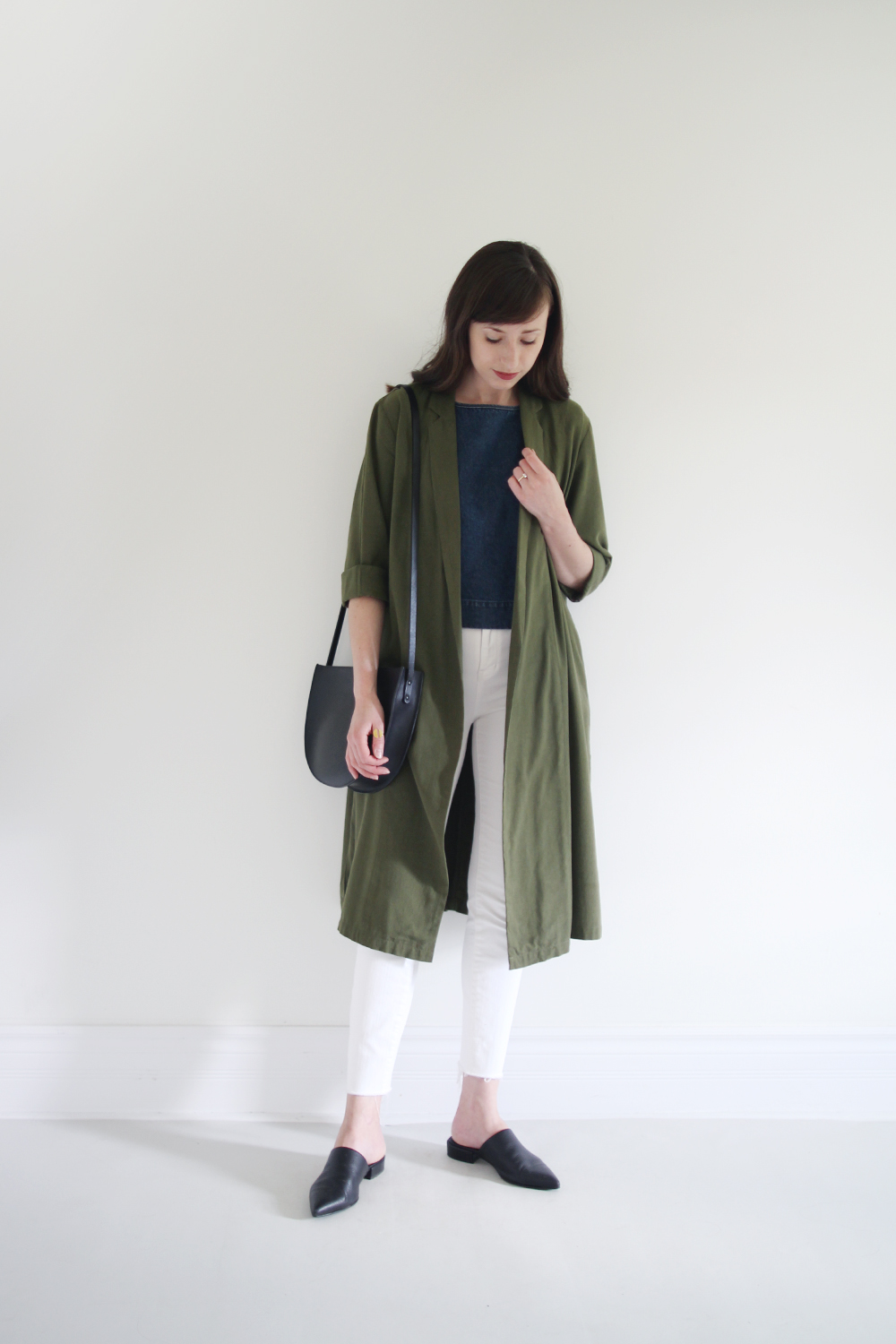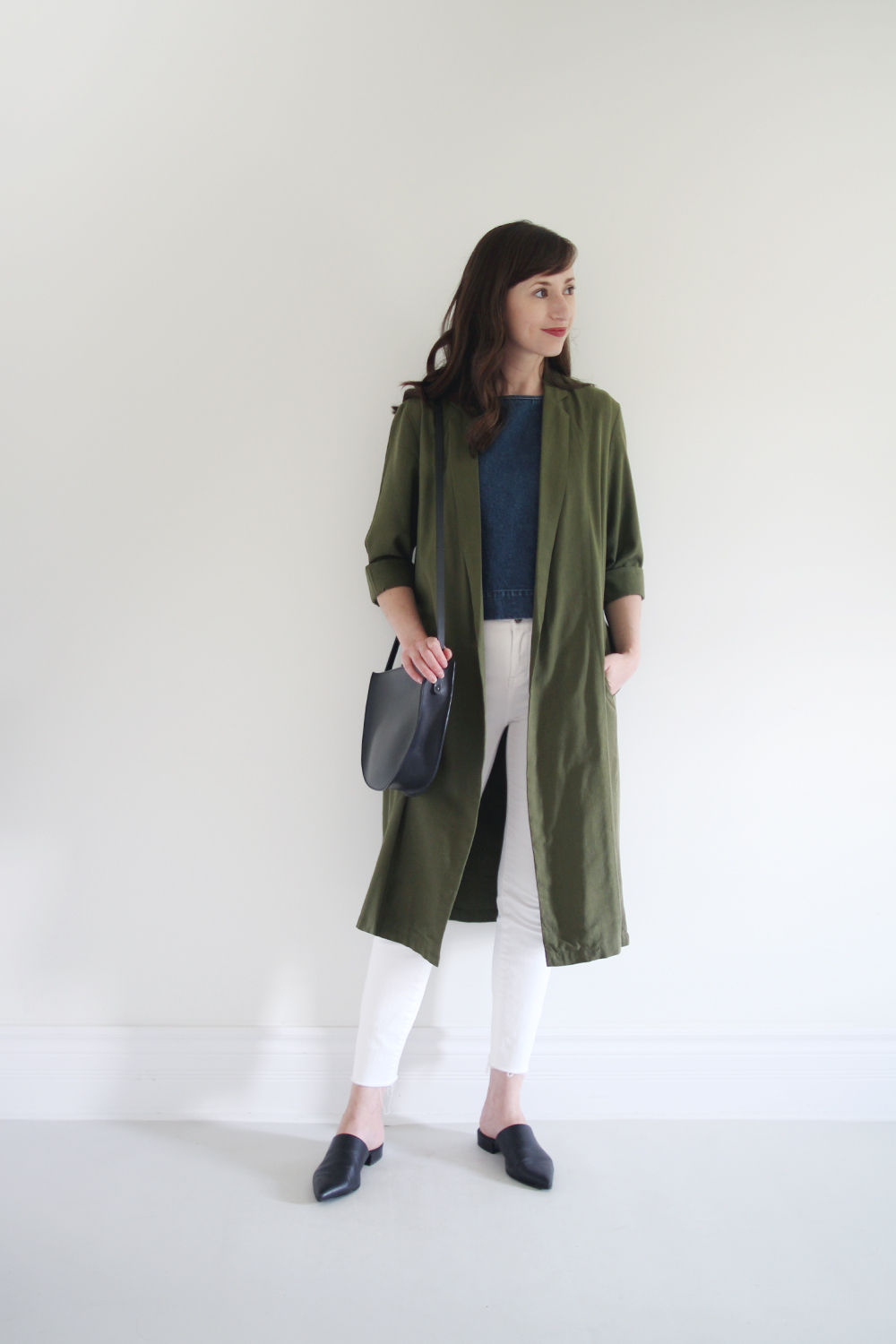 ---
TEMPERATURE – High of 19º C with showers.
ACTIVITIES – Morning meeting, lunch out and an afternoon/evening in the studio.
ITEM PERFORMANCE – I hadn't tried this top and these jeans together before because I just assumed there would be no overlap and I'm not a fan of a visible mid drift for the average day. But as it turns out there is plenty of overlap, so yay!
After I topped the white and denim base with my green duster (my magical, goes with everything layer) I knew I was onto something with this colour palette. It's one of my favourites from the challenge!
Then my failsafe sleek black leather slides and bag were the obvious answer to accessories for this one. This look worked out great for what the day called for.
STYLE TIPS:
Try top and bottom combos on before you rule them out. Sometimes pieces you might not think will work actually do!
Sometimes something as simple as swapping out a top can give an outfit a whole new feel. For instance this whole look is exactly the same as Look 21 except I'm wearing a denim crop instead of a green striped tee.
A pair of black shoes and a black bag will never let you down as far as accessories go. In fact, without realizing it, I paired a black bag and black shoes with almost every look this week!
---
---
LOOK 27 – TUESDAY JUNE 27
---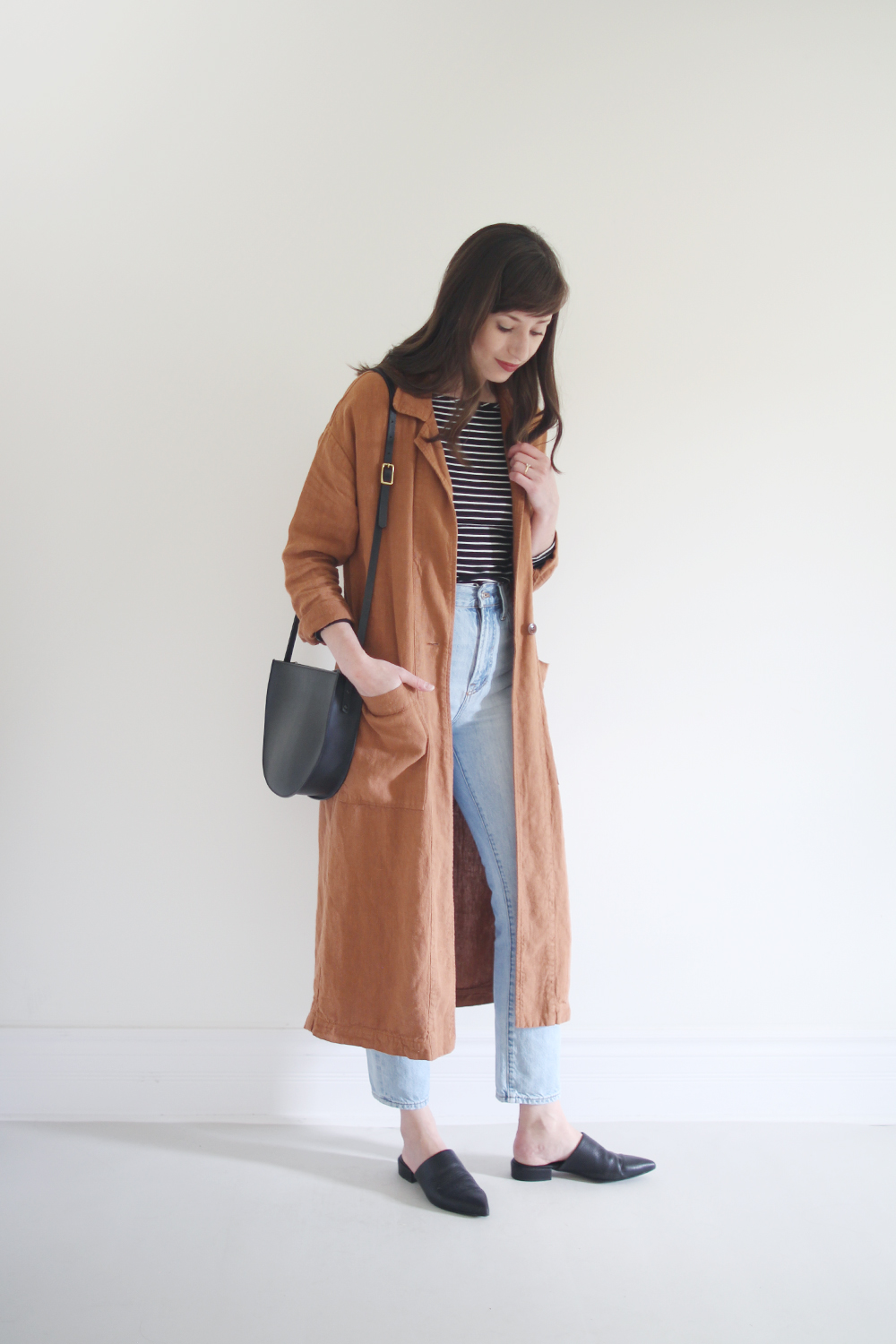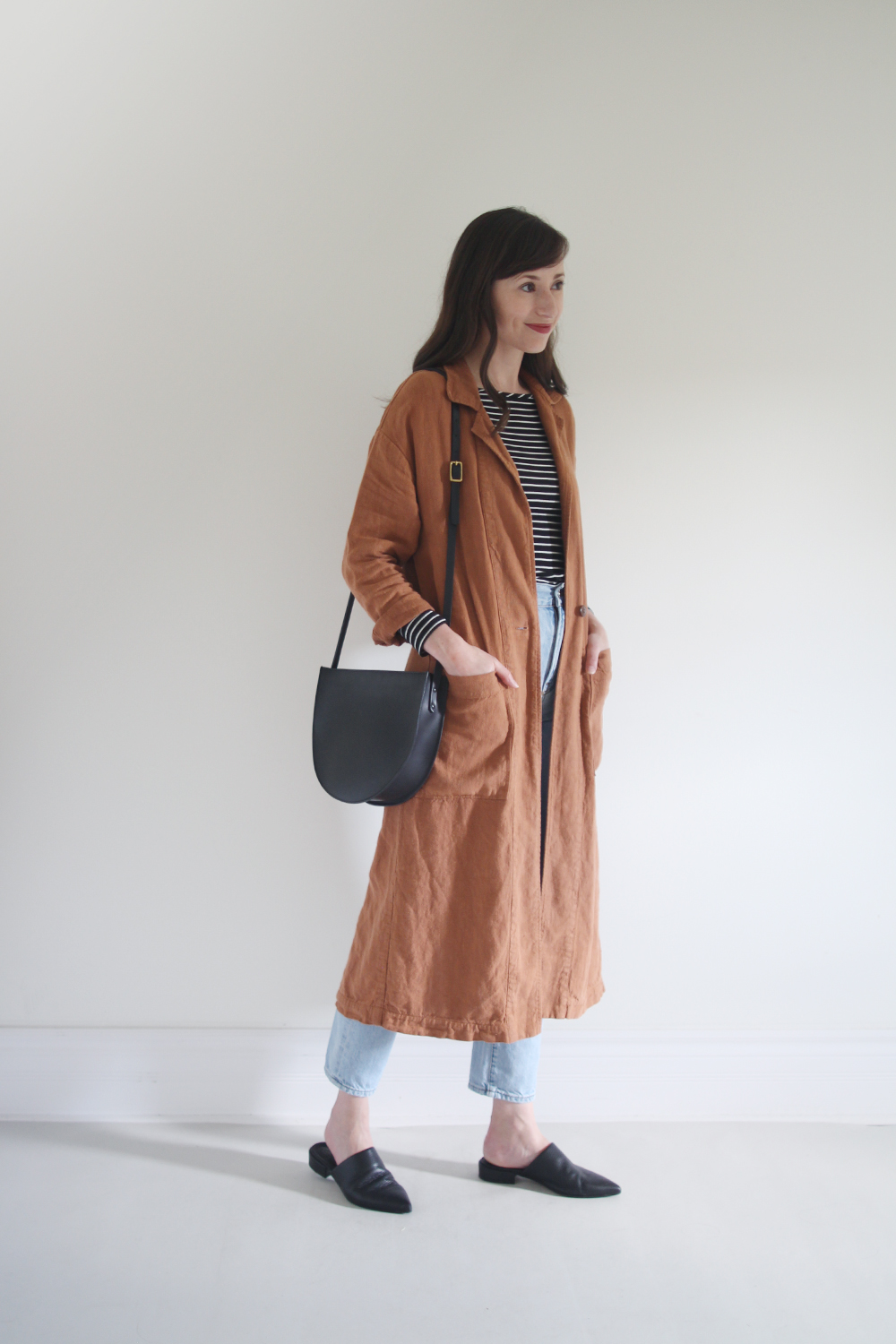 ---
TEMPERATURE – High of 19º C with light showers and lots of clouds until the sky cleared in the afternoon.
ACTIVITIES – I started the day with a little event planning for a shower I'm hosting soon. Then I met my Mum for lunch, ran a few errands and made it back to the office for an afternoon/eve of emails and studio stuff. I switched to workout clothes for a quick session before calling it a day and making dinner with Dave.
ITEM PERFORMANCE – I really wasn't sure if I would love this colour combination but after a full day in it, the palette definitely grew on me. Might not be a forever favourite but I now know I can pair these jeans and this coat no problem. In fact, there is a little bit of rust coloured stitching in the jeans that is almost imperceptible but ties the two pieces together just enough.
Overall the outfit was very comfortable and practical for what the day called for. All these items are long time favourites and I really like how well this striped tee tucks into these jeans. Sharp black shoes and a sleek bag balance out the black top and pair nicely with the other tones in the palette.
STYLE TIPS:
Try colour combos you might not immediately love. After spending some time in a new palette it may turn out to be a good option.
Rolled cuffs and cropped ankles make substantial pieces (like jeans and long coats) feel lighter. Just that little bit of skin makes all the difference.
When trying a new colour combo like this light denim and rust coat with black, keep your accessory colours tied to one of the existing neutrals in the palette. In this instance black works best but white could have also done the trick.
---
---
LOOK 28 – WEDNESDAY JUNE 28
---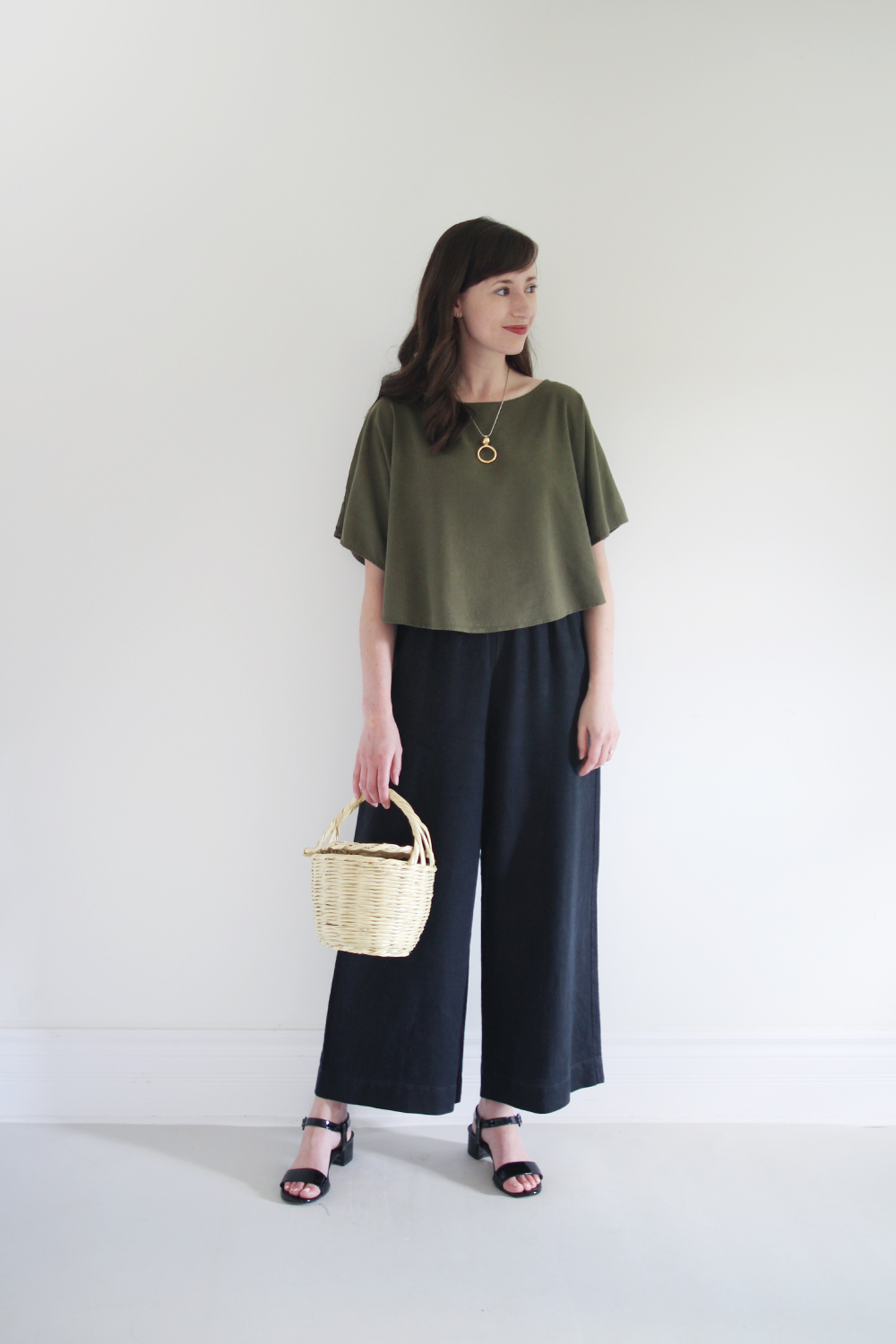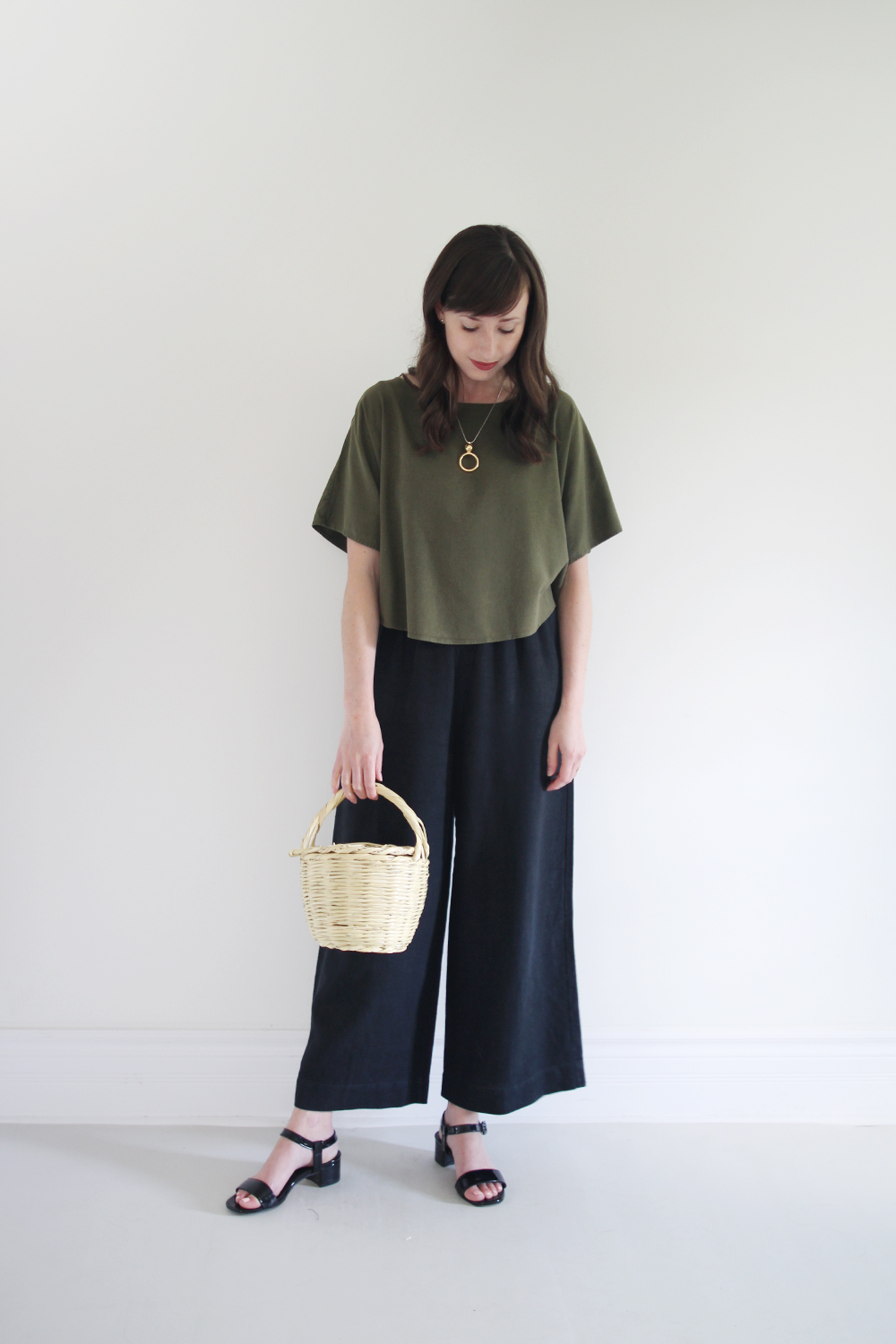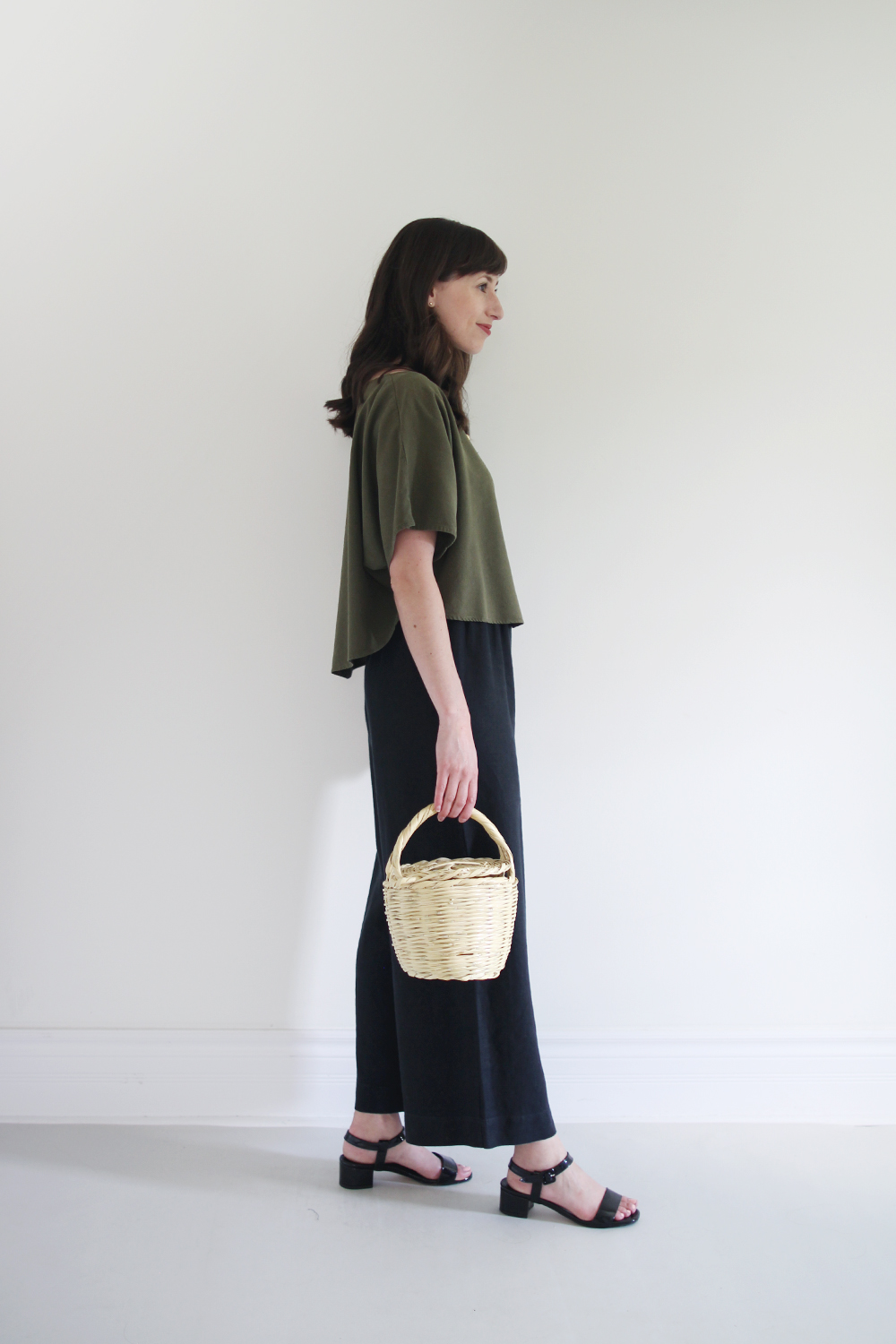 ---
TEMPERATURE – High of 24º C and sunny.
ACTIVITIES – I was buckling down in the studio and fighting off an illness for most of the day so this outfit was the perfect combo to keep me comfy all day.
ITEM PERFORMANCE – This is not the first time I've worn this top and these pants together and it certainly won't be the last! I love these two pieces together. The linen and raw silk are just a match made in heaven and the fits and shapes of both pair very well.
I kept it simple but elevated with my black patent sandals and picked up on the gloss with a bit of shine in my necklace. This little basket bag just seemed like the perfect finishing touch plus it's so easy to throw all my stuff into it when I'm in a rush.
STYLE TIPS:
Repeat curves throughout a look for subtle continuity. In this case my top, necklace and bag all have a curved element.
Double down with black pants and shoes. A really simple way to wear colour without it wearing you is to pair it with a black base like these linen pants and black sandals.
When in doubt, add a basket. Woven basket bags are a timeless summer staple (and having a major moment) and pair easily with just about any palette.
---
---
LOOK 29 – THURSDAY JUNE 29
---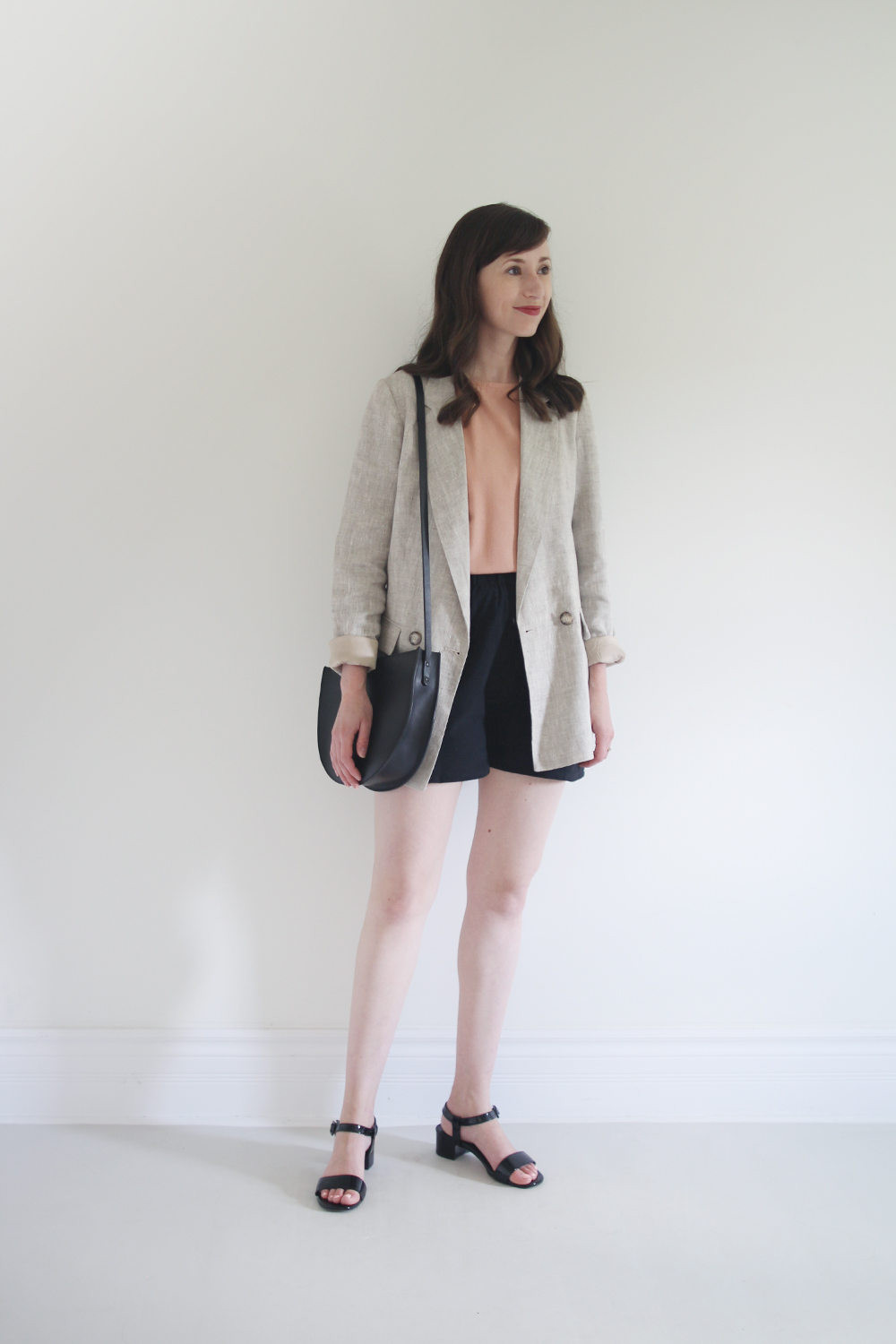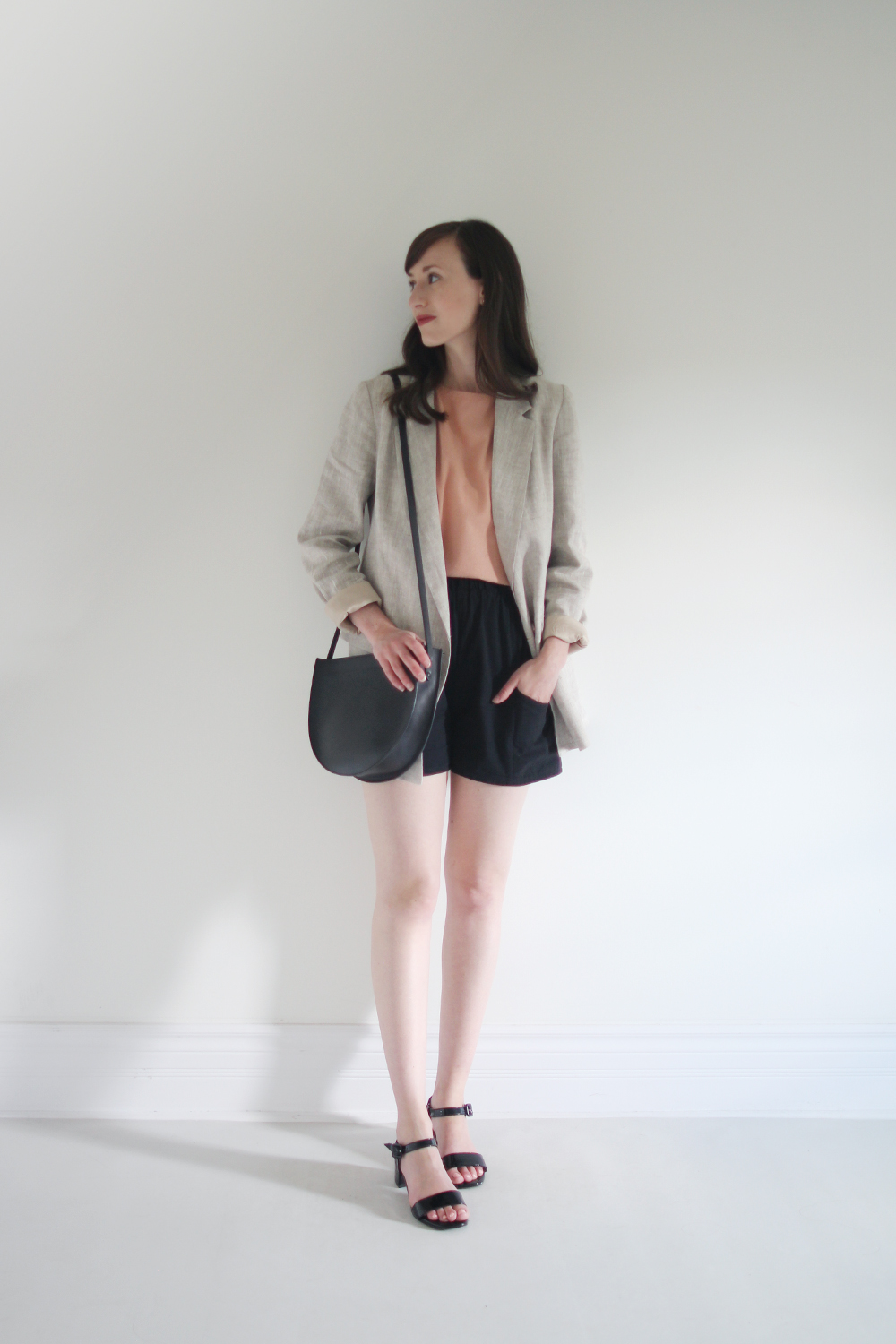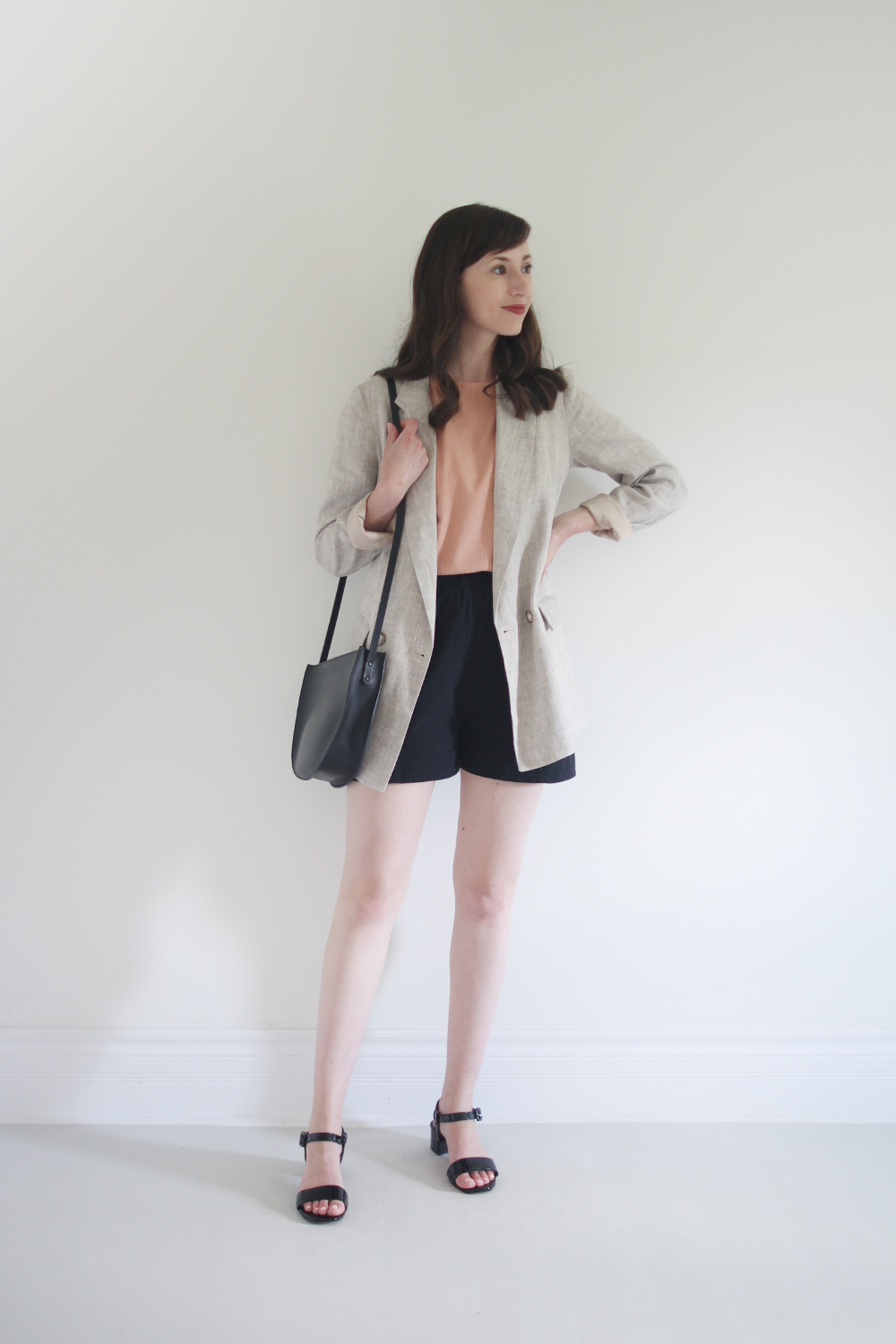 ---
TEMPERATURE – High of 25º C and humid with thunderstorms.
ACTIVITIES – A day in the office writing 1 zillion emails and trying to get things organized for the long weekend. I zipped out to run errands and walk Dobby between thunderstorms and this outfit was great.
ITEM PERFORMANCE – After weekend #1 I just had to try this formula out again. I love how these wide leg shorts pair with my boyfriend blazer and my black block heeled sandals. It's such a simple combo, but I feel fabulous in it, and I almost never feel great in shorts.
It's safe to say that this is not the last time you'll see this combo!
STYLE TIPS:
A bit of heel goes a long way. You get the extra height, your legs get some added tone and you need not risk a broken ankle for either benefit. I've said it already but, I'm all for the block heel trend that's having a major moment.
Add some continuity by repeating one colour. In this case my black shorts, sandals and bag work nicely to give the look a cohesive feel.
When your base (top and bottom) is casual, amp it up with some elevated elements like a patent leather sandal, sleek bag and sharp blazer.
---
---
LOOK 30 – FRIDAY JUNE 30
---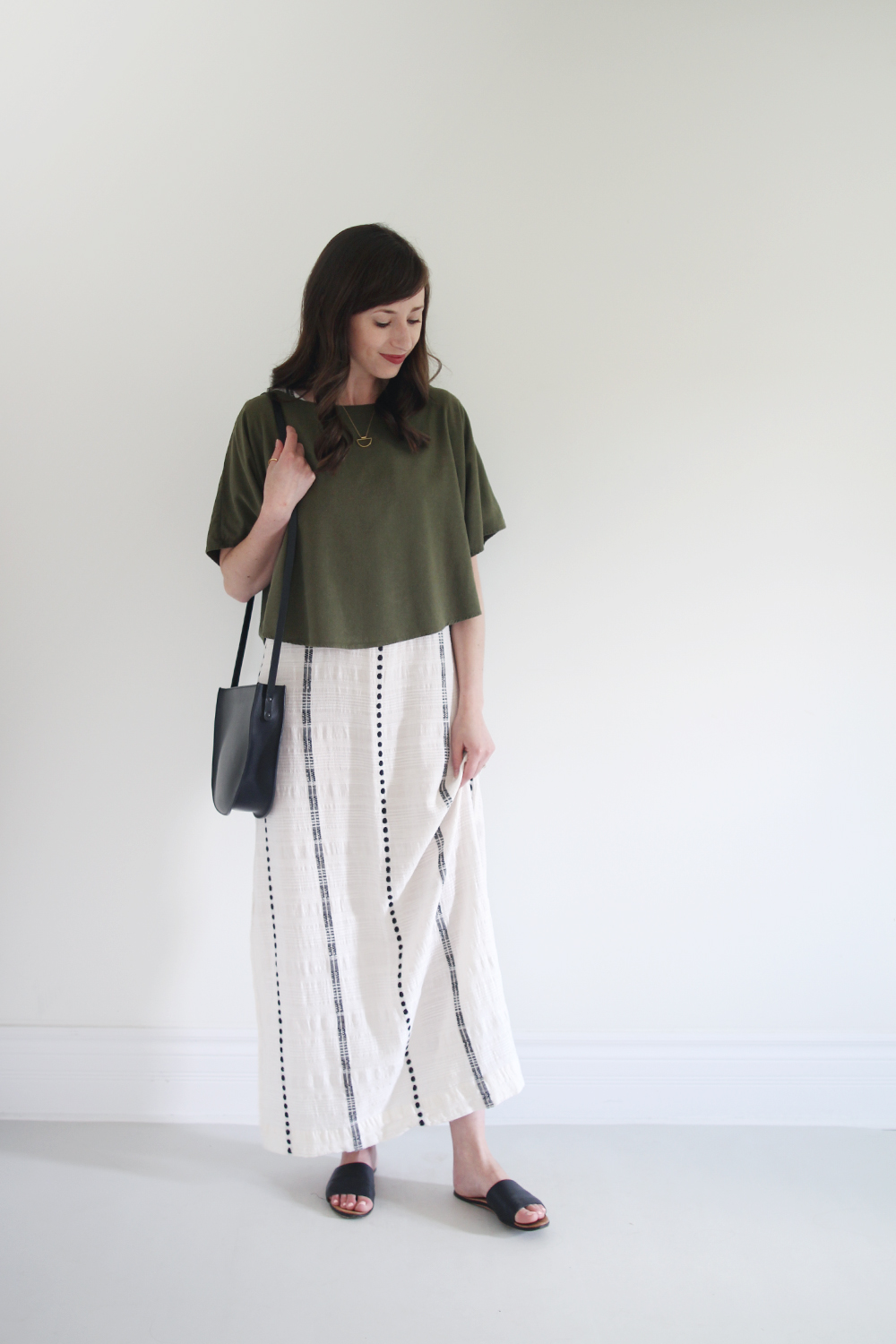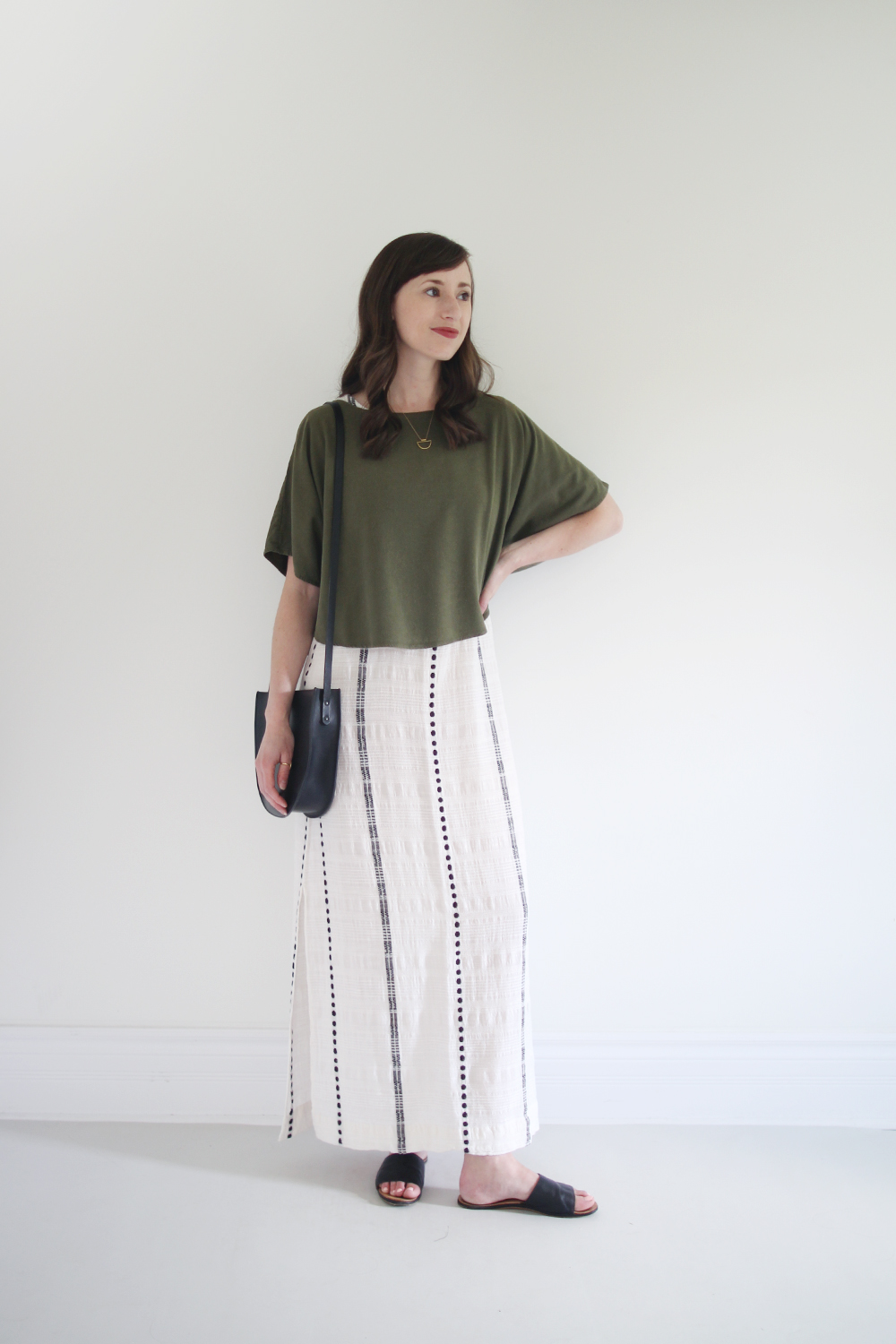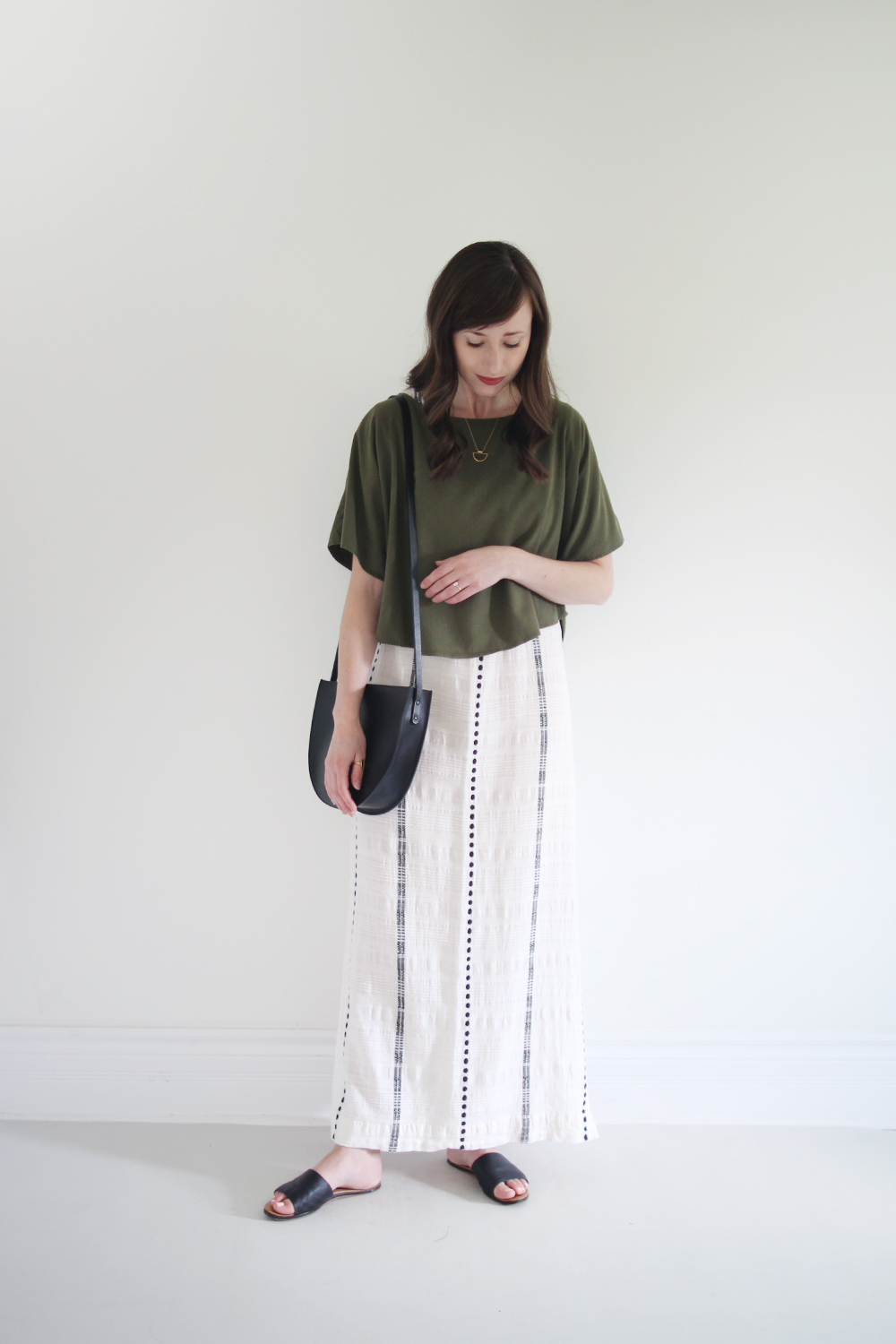 ---
TEMPERATURE – High of 27º C with thunderstorms.
ACTIVITIES – As you're reading this we're actually on our way into Algonquin Park for our yearly camping escape. So it's safe to say I'm not wearing a pretty dress and a silk top. That said, I wanted to try this outfit and I really like the result.
ITEM PERFORMANCE – These pieces layer really easily and having a bit of extra insulation on a mild day or in an office with a/c is definitely a bonus. When it gets too hot I can simply ditch the top and carry on in just my dress. This is also a great trick if you're travelling and you get a stain on the front of your dress, just cover it up!
STYLE TIPS:
Pair a loose cropped top over a slightly fitted dress for a totally different feel. Suddenly it becomes a skirt and serves a whole new purpose in your closet.
To create the illusion of height pick a maxi dress or skirt with sparse, vertical lines as a pattern. This draws the eye up and down for a flattering effect.
---
---
ALL 30 ITEMS
---
In case you need a quick refresher, here are the 30 pieces I chose to wear and style into 30 looks over the last 30 days!
---

---
---
ALL 30 LOOKS
---
Now here are all 30 of the looks I put together with those 30 pieces! + 3 Bonus Looks
---

---
PERSONAL TAKEAWAYS
---
WHAT DID I WEAR MOST?
My classic fit jeans were probably my most reached for pants with my white skinnies and black Florence pants close behind.
I got lots of use across the board from my tops but I would have to say my Olive Crop and Cotton Tee were reached for a lot and my Graphic Box Top was the most fun to wear.
I wore my linen blazer a TON and found myself throwing on my green duster or black shirt dress to wear as a sweater in the office quite often.
There was a pretty close tie between my Pointed Mules and my MNZ Sandals throughout this month. Both went with just about every look and were a pleasure to wear. Overall I was impressed by how content I was with my limited shoe options.
WHAT DID I WEAR LEAST?
I thought I'd wear my bodysuit(s) a lot more but it wasn't as hot as I'd expected.
I found I had to actively compel myself to wear my skirt and dress. They're just not styles I reach for most naturally.
My flax linen pants are awesome but compared to the black pair I just don't reach for them as much.
DID YOU SWAP ANYTHING OUT?
HOW WAS LAUNDRY?
Laundry was a breeze for the most part. I did a couple of loads each week on Thursdays and everything was refreshed and ready to go for the following weekend and week.
It did feel as though I was spending more time than usual on laundry but I think it probably average out to be the same as usual, just in smaller more frequent sessions.
DID THIS CLOSET WORK FOR MY LIFESTYLE?
Definitely! I always felt like I had great options to put together stylish looks while still being dressed for the occasion and very comfortable at the same time.
DID I CHEAT AND WEAR OTHER PIECES?
I did, but not nearly as much as I thought I would! I wore my Birkenstocks quite often around the house and on some walks with Dobby. Simply because they were convenient. I wore my duster vest one day because it was just the perfect top layer.
This wasn't technically cheating but I wore my loungewear in the evening some nights and quite a few mornings were spent in my workout wear.
5 FAVOURITE OUTFITS:
Any of the ones with my linen blazer: 1, 3, 15, 20, 23, 24, 29
I loved wearing my graphic print box top: 2 + 16
Looks 7, 8, 13, 21 + 26 all follow the same formula, which I'm really into.
Basically, this was the first challenge where I would gladly wear any outfit again!
---
TOP FINDINGS
---
30 well-chosen items is more than enough for 30 days. I could have definitely put together another 30 looks.
Taking 30 days off from shopping was a huge anxiety reliever, distraction eliminator and bank account booster. Plus when a couple of things I bought in May arrived I was extra excited about them.
Establishing a uniform makes getting ready and outfit planning a breeze. Mine was: Easy Top + High Rise Bottoms + Simple Shoe + Relaxed but Structured Jacket
My closet could use a couple more fun/bold pieces to liven up my basics and staples. I was surprised by how the fun vibe of my boxy print top positively effected my mood. Not to mention all the compliments!
Simplify, simplify, simplify. I come away from every challenge thinking this and yet each time I'm somehow reminded of how well this theory applies to my closet and style.
Stay in your own style lane while pulling inspiration from others. There are countless women with impeccable style out there but copying looks item for item won't satisfy your own personal style. Wear what you feel great in, embrace your own closet and add pieces slowly or switch up styling elements that help keep it fresh.
One statement piece of jewelry is all you need. I know this is true and yet, I'm always tempted to add one more thing. After this challenge I know one bold piece does the trick!
Neutral accessories in clean shapes will never let your outfit down.
When you're dressed for the weather the day will be much better.
Closet contentment doesn't come from loving everything you have to wear. It comes from appreciating that what you have is enough and by giving each piece a chance to tell a part of your personal style story. The more of life that you experience in your clothes, the more connected you'll feel to them. On that note:
Don't force what isn't working. Many times I felt like I should wear certain pieces more but if they didn't feel as good or fit as well as another option I didn't force it. Now I know what pieces are ready for new homes and what I should focus on adding in the future.
---
STYLE SHOUT OUTS
---
Before I close this post I need to give a shout out to a few ladies who joined in and totally killed this challenge!
BEV ACHTERHOF – @theotherbevachterhof – Bev has such cute style and I love how she manages to mix more mainstream pieces like skinnies and button downs with unique shapes like duster vests, clyde pants and kimonos.
STEFANIE MURRER – @intentionalconsumerism – Stefanie is a seasoned style challenge pro and as much as I love every outfit she shares, it's her thoughtful insights and reasoning behind her style choices that always gets me.
JAANA – @thismomsgonnasnap – Jaana is another style challenge veteran and man does she kill it every time! I love how she mixes colours and patterns and always looks ready to take on the day with a positive spirit.
Thanks for taking the time to share you rad style and good vibes ladies!
---
There we have it my friends! The end of the #June30x30 Challenge has arrived. Thank you so much to everyone who joined in.
If you participated I'd love to hear how it went in the comments below!
---
Catch you next week as Caroline of Un-Fancy and I take on a Summer 10×10 Challenge! We're sharing our 10 pieces next Friday, July 7th and starting our outfits on Monday, July 10th. Mark your calendars and start picking your 10 pieces — we'd love for you to join us!
Wishing you all a wonderful long weekend!
---
This post is not sponsored but contains affiliate links. When you shop via the links above I may make a small commission from a sale. This income helps limit the amount of sponsored content that appears on Style Bee. Thanks a lot for your support!