It seems like everyone has come into this #Summer10x10 Challenge with guns blazing, ready to rock their best summer style and I love it! I've already got some new ideas kicking around for next week thanks to a few great looks on the feed and my co-host Caroline of UnFancy has pretty well convinced me that I need some sort of light linen tunic in my life. It's so great to get this boost of style inspiration and a perfect reminder of why I love to do this challenge every season. It can feel like a lot of work up front and the restriction of a two-week commitment is non-trivial but it has yet to prove anything but totally worthwhile!
In case you're just tuning in, we're at that start of another 10 x 10 Challenge where we take 10 items from our closet and styling them into 10 looks over the next 10 days! Intrigued? If so, we'd love to have you join us and hundreds of other style minded folks from around the globe! You can get all the info you need right here and it's all about having fun, playing around and not taking ourselves or our style too seriously. Plus, it's a great way to pack for a trip, taste test a capsule closet and engage with an awesome little community!
Outfit #2 is coming right up! Let's dive in and take a closer look at these sandals, which lots of you have been asking about. 
---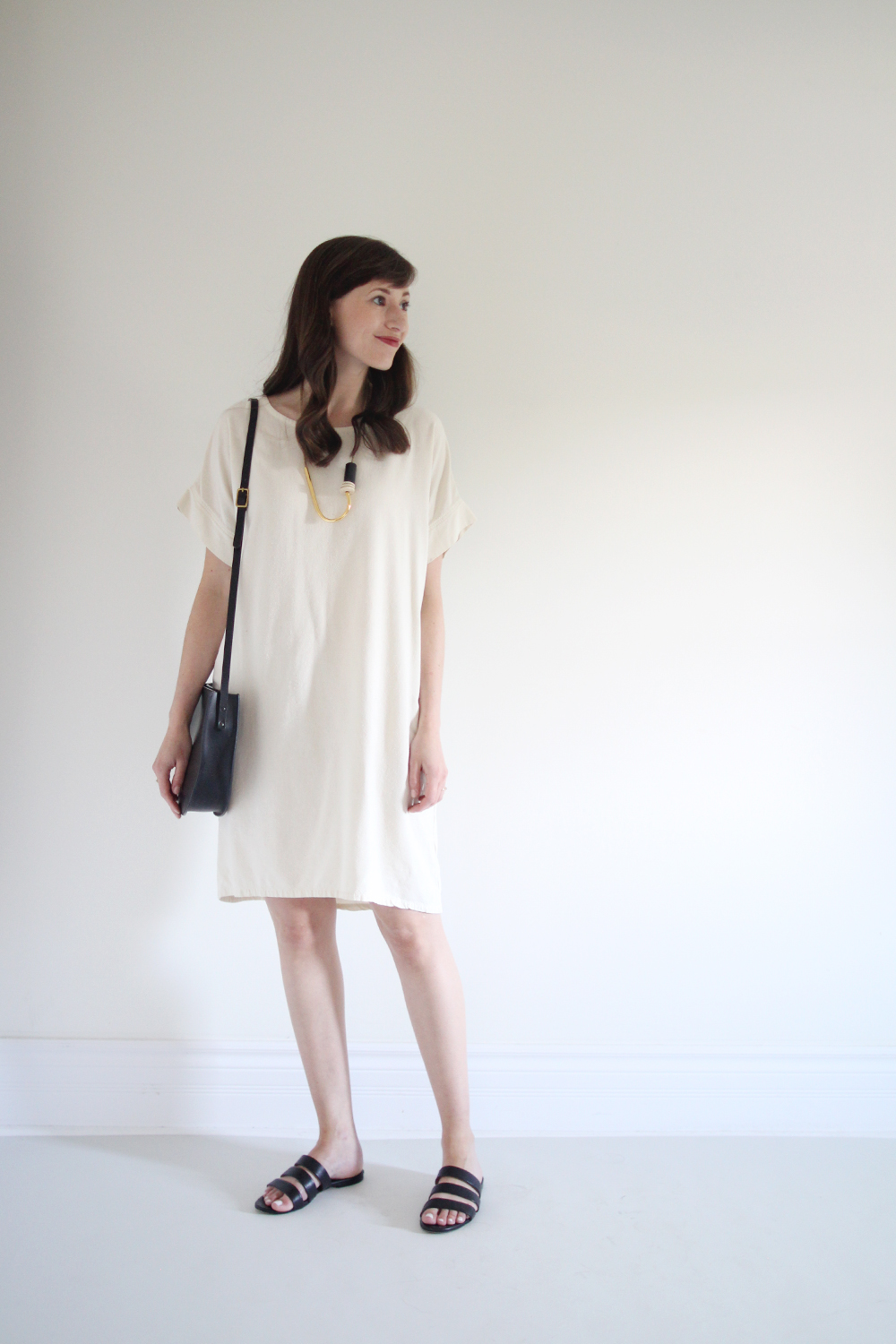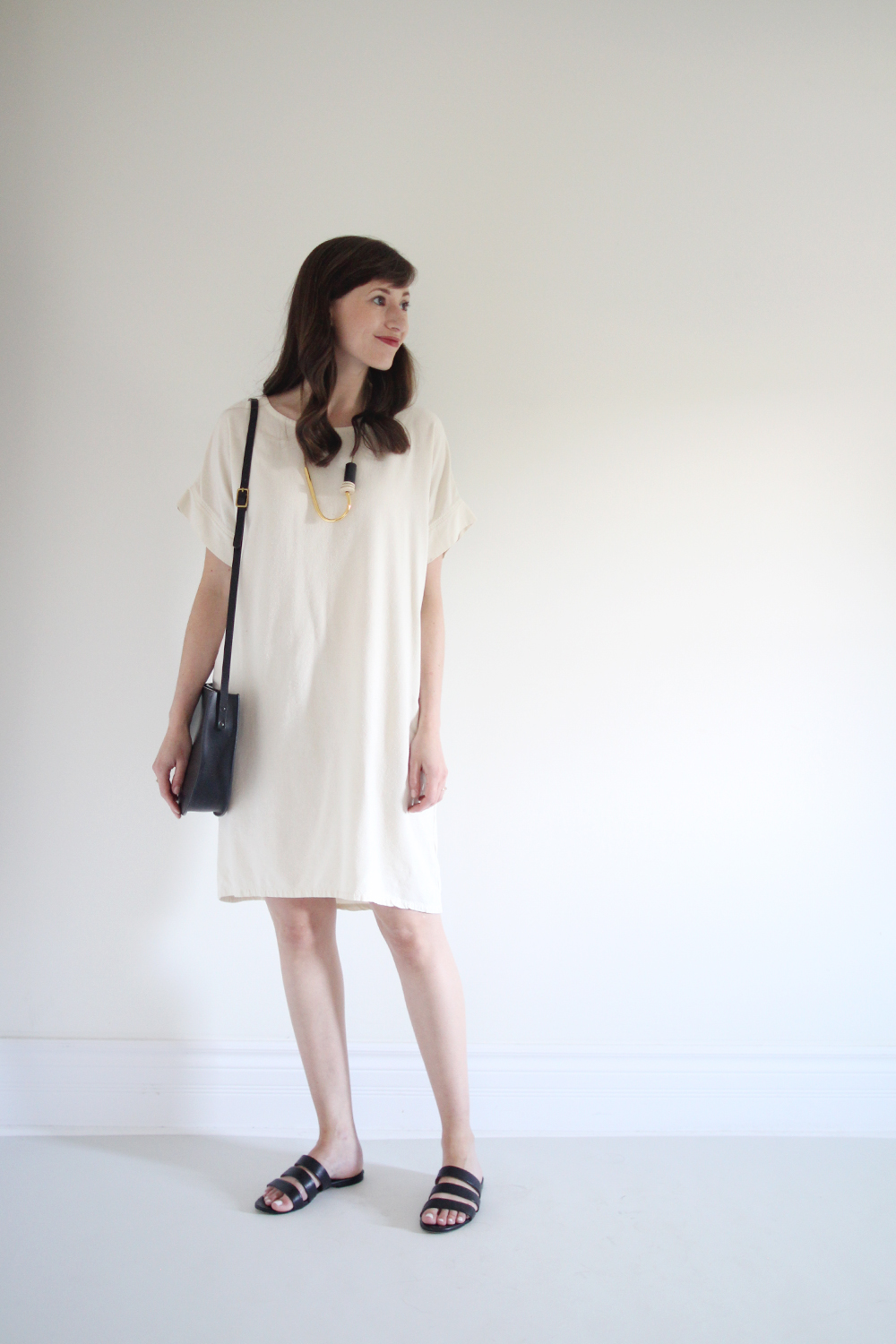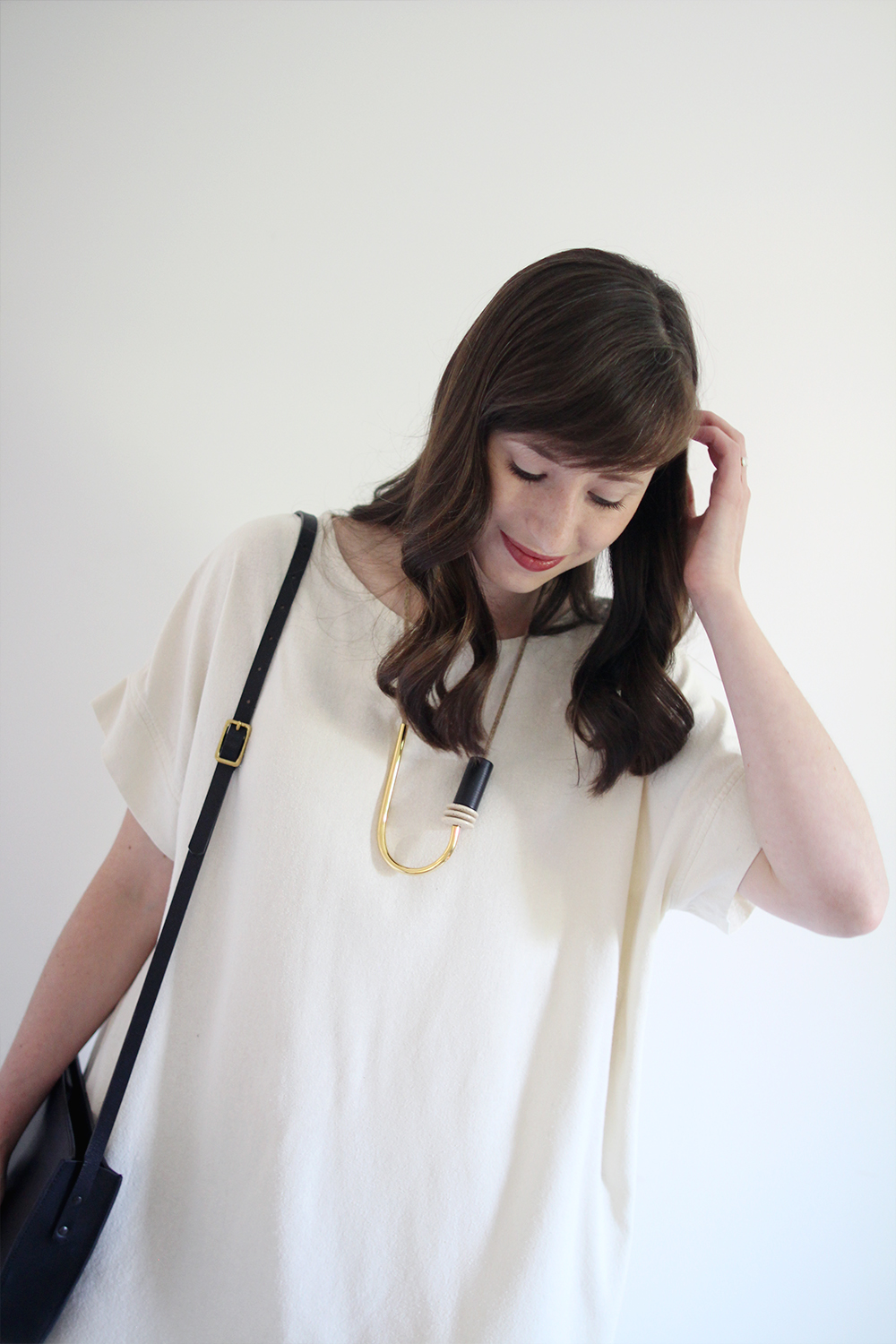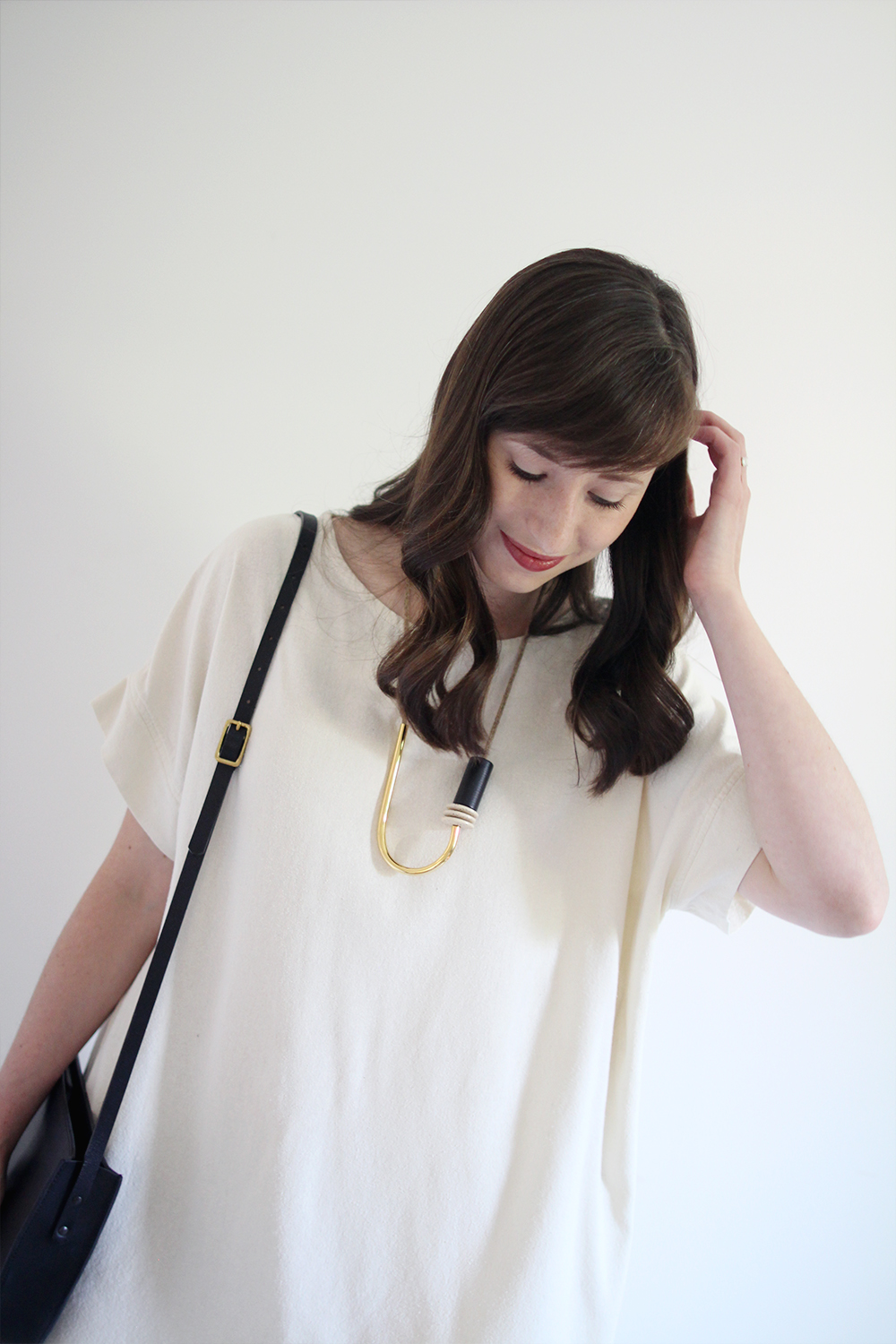 ---
INITIAL THOUGHTS
---
TEMPERATURE – High of 27º C with a mix of sun, clouds and humidity. So basically super hot.
ACTIVITIES – Office for most of the day. Errands. Dinner out.
INITIAL THOUGHTS – This dress was the last item I chose to include in my 10×10 pieces. Not because I don't love wearing it but because I wasn't sure how well it would lend itself in terms of different styling. I included it in a 10×10 Challenge I did last Spring and it looked great but I had totally over estimated the weather and it was too cold to really wear it at the time. But after looking closer at the two-week forecast and knew I'd really want to have access to it on hot, humid days like today. It just feels so light, soft and airy. Nothing clings or hugs anywhere and the air can just flow.
I usually wear this dress with some sort of statement necklace and this case is no different. I really like pairing it with this one from Maslo because it has some light, flecked beads that mimic the fabric of the dress and I love that subtle tie in. Then I just played up the big black bead on the necklace by grabbing my go-to black bag and sliding into my minimal black sandals (more details on those below!).
Now I'm all set for an easy breezy day of office work, errand running and hopefully I won't have melted by the time dinner rolls around!
---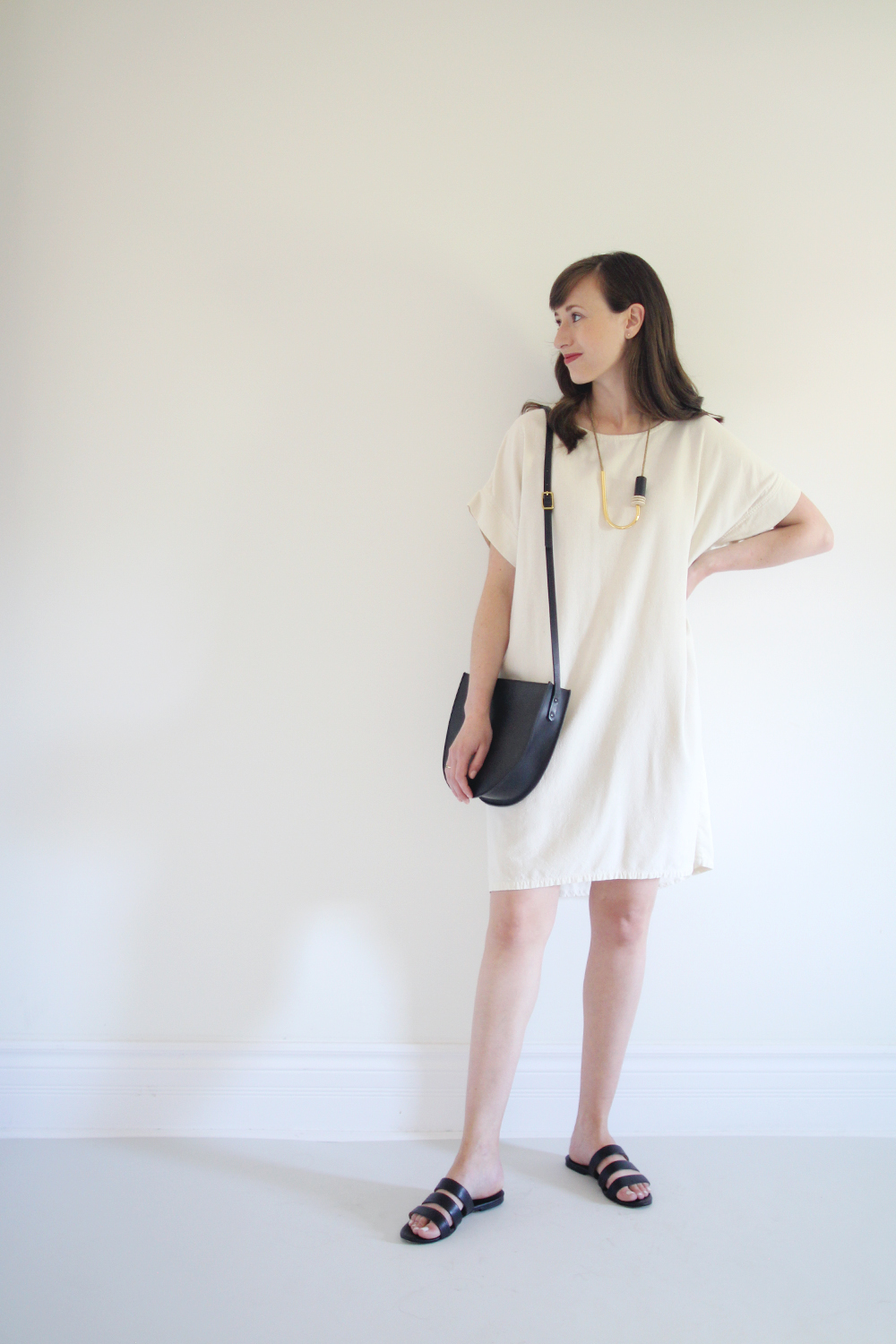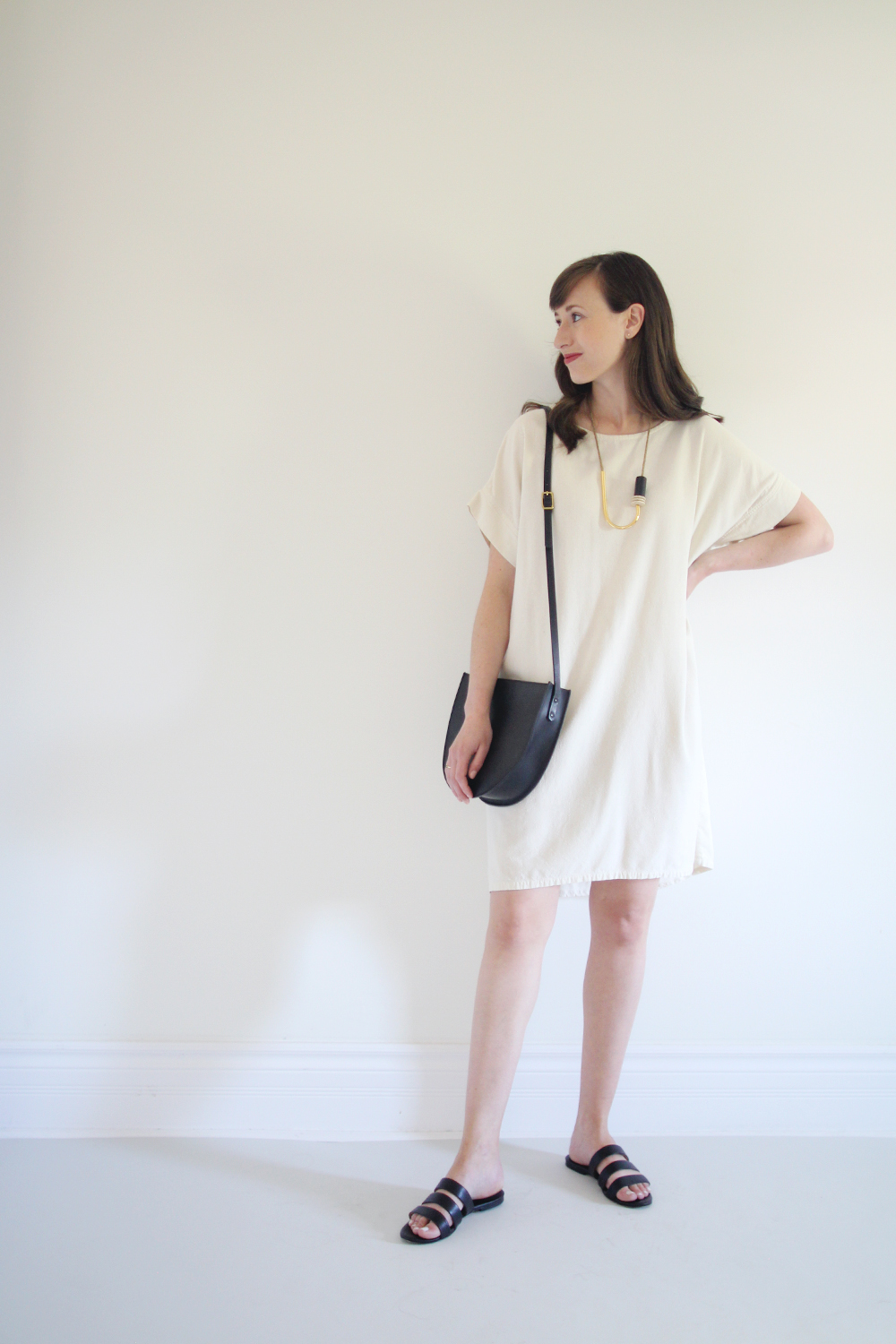 ---
STYLE TIPS
---
1 | BLANK CANVAS | That's what I feel like this dress is. A clean blank canvas. At first I wasn't quite sure what to do with it in terms of styling but now I've come to realize that it's best kept simple. Most of the time a statement necklace and some strong but sleek accessories do just the trick! When it's cool enough I love wearing a kimono style coat over top, especially in another cream tone or light neutral.
When you're styling a shift dress or a tee dress, keep your additions simple and purposeful for a sophisticated, clean look that's contemporary and unfussy. 
2 | ON REPEAT | I know, I know, I won't shut up about the importance of subtle continuity. But it just works! For instance in this look there are three instances where this trick is coming into play. The first is the light, flecked beads which mirror the nubbly texture and colour of the dress. Then there are three doses of black evenly spaced out throughout the outfit via my necklace, bag and shoes. Then there's a curve along the hem of my dress, my bag and the main gold bead on my necklace. Finally, if I'm getting crazy, which you know I am, there are three beads stacked in the necklace and three straps on my sandals. Sure, that's probably pushing it but still!
Once you get the hang of this trick you'll start doing it subconsciously. Or you may already be doing it! Take a closer look at the pieces you pair together often. Are there similar elements of colour, shape, texture or geometry in them? Maybe that's why they work so well!
3 | SOFT + STRONG | I find with this soft raw silk dress I either like to wear it with lots of light neutrals for a monochrome look like this and this or I like to pair it with dark, rich accessories like I'm wearing it today, or how I styled it last spring. I like both approaches, but when I'm in the mood to toughen the dress up I grab a few strong, often black leather accessories. It's a really easy way to give the look a bit more presence and steer it away from feeling delicate.
If you have a white or very light base to work with and you want to toughen it up just add a few elements in a black or dark, dark neutral to get the job done simply and elegantly. 
---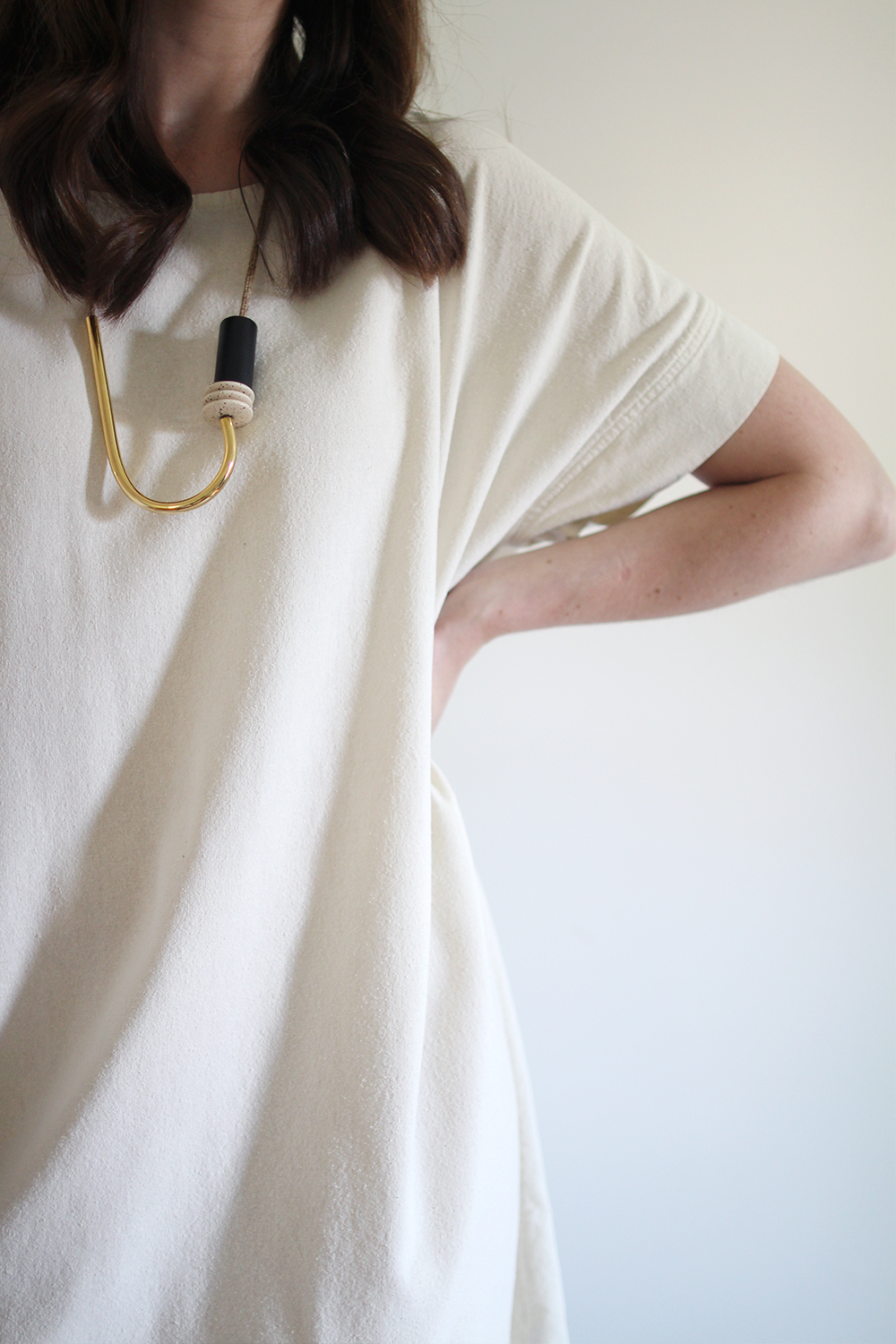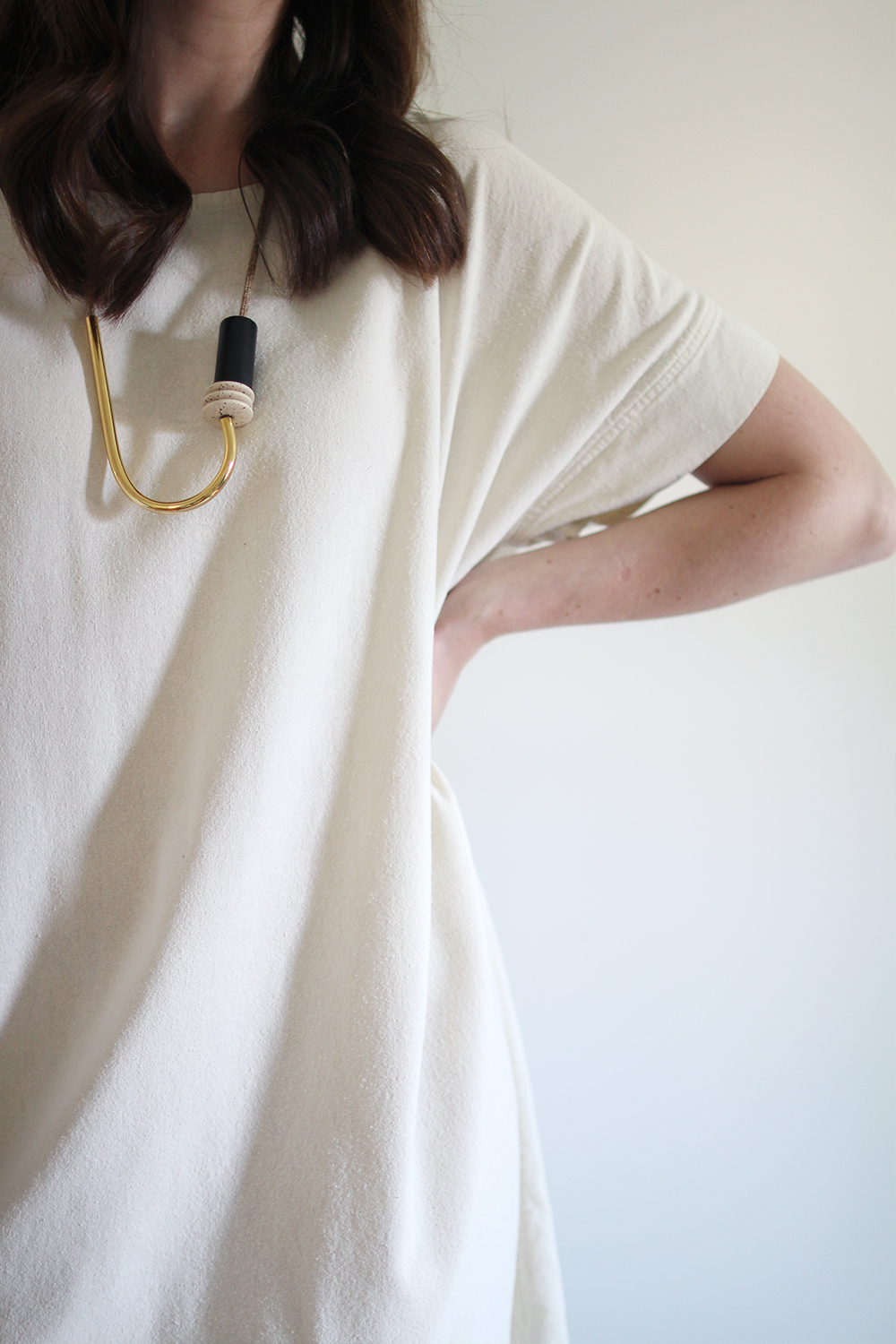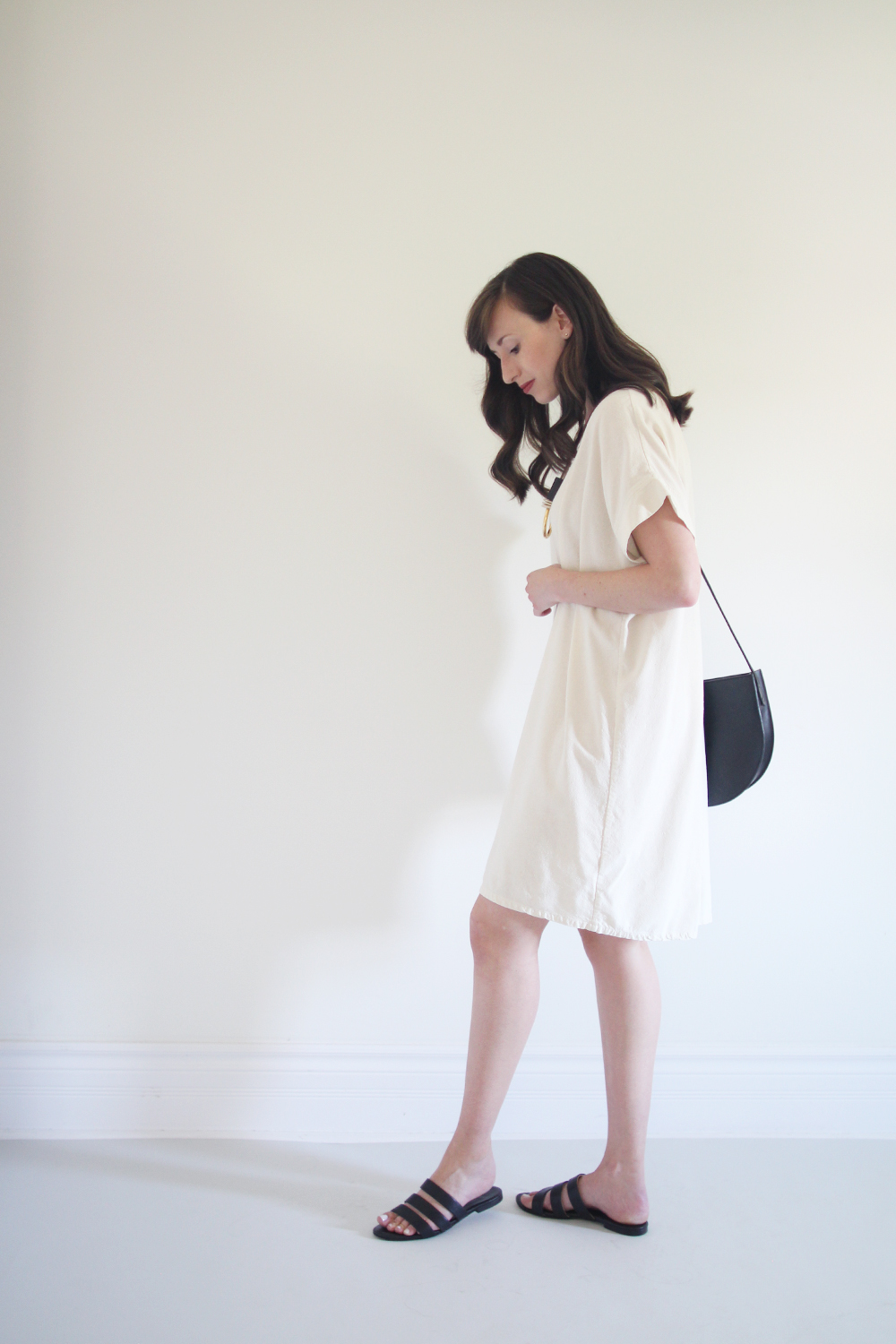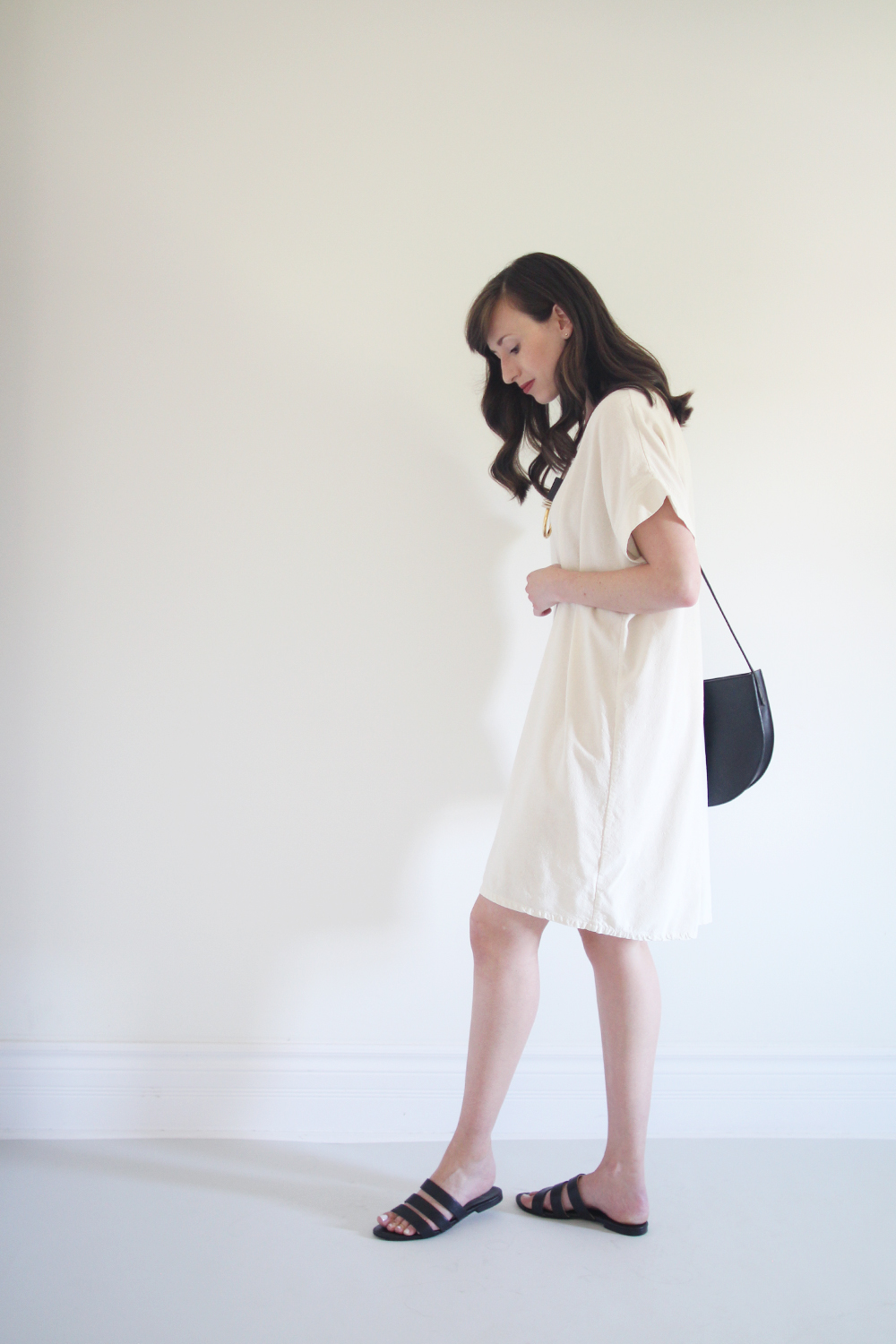 ---
ITEM SPOTLIGHT – CAMILLA SLIDES
---
After these slides made their first appearance in Look 1 I received lots of questions about them so I'm happy to hopefully answer all of those today! They are indeed the Camilla Slide in Noir from Nisolo but I ordered them through Garmentory because free shipping and returns is the best, especially for shoes. A few people have mentioned that these are like a chic, minimal alternative to the Birkenstock and I couldn't agree more! I bought them to essentially serve as my everyday summer sandal and so far they've been awesome.
So let's get into the nitty gritty on these.
FIT: I typically wear a US 7 and have a narrow foot. I bought the 7 which fit pretty much perfect right out of the box. The straps have relaxed a bit with wear and feel great on my feet. In the description on the Nisolo sight they note that they should fit snug at first and will give and mold to your foot after some use.
COLOURS: These are available in NOIR and BEIGE.
PRICE: $88 USD – You can save $20 Off your Garmentory order when you sign up here.
MATERIALS: 
Leather upper
.5 in. stacked leather heel with rubber heel cap
Leather sole
Leather lining
COMFORT: These slides are seriously so comfortable and perfect for hot weather. They have what seems to be a super slim layer of padding between the footbed and leather sole which gives just a bit of cushion but man does that make a difference compared to hard flat leather slides I've worn before. These have officially become my go-to dog walking shoes and that's saying a lot!
At first I was a bit worried because my feet were sliding around on the footbed. But after the weather warmed up and my feet had more grip from the humidity that problem went away and now the footbed has begun to soften and mold to the shape of my foot which keeps them in place no matter the temperature.
The straps were a bit stiff over the top of my feet when I first started wearing them but have softened right up. The leather lining the straps is super supple and soft which feels great on the foot and holds them in place. The spacing of the straps is also well designed because they don't pinch when you bend your foot (another bad sandal experience of yore).
MADE IN: An ethical factory in León, Mexico. These are my second pair of Nisolo shoes and both pairs are made impeccably well. These shoes both look and feel incredibly well made.
CARE + DURABILITY: I haven't sprayed these yet but I have walked through wet grass in them and they still look exactly like new. However, if you go for the lighter colour you may want to protect them. I'll give them a wipe down as needed, then deep clean and condition them before they go back into my closet for the Fall/Winter.
I've been wearing them on sidewalks, streets and gravel and while the leather sole is getting scuffed and worn in it seems to be holding up really well and getting less slippery on smooth surfaces. The leather stacked heel with rubber cap (replaceable) is basically like new even after I've dragged my feet a bunch. We live up a steep hill okay!
I have bumped the very front toe tip on curbs a couple of times so the leather got a bit scuffed. Luckily they stick out just far enough to save my toes from getting stubbed!
DETAILS: One of the reasons I liked these off the bat, besides the beautiful, minimal design, was the fact that the footbed is black. This means no matter how much I wear them, the footbed won't look gross and sweat stained like other sandals I've had in the past.
I also felt that the nearly imperceptible stacked leather heels gives these just a touch of refinement too.
---
So yep, I'd say these are a great summer sandal option! Any other questions about these? Feel free to ask away in the comments.
---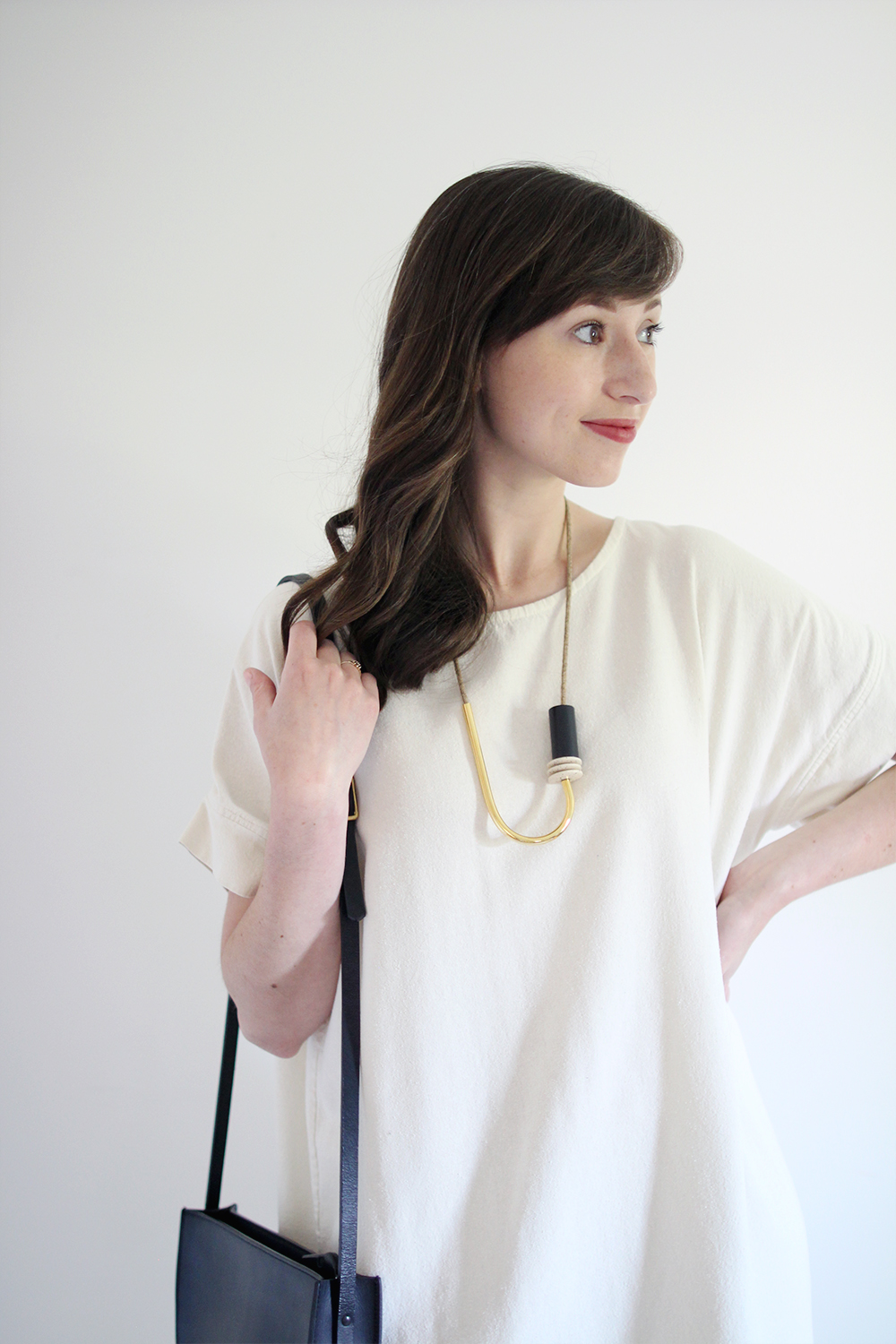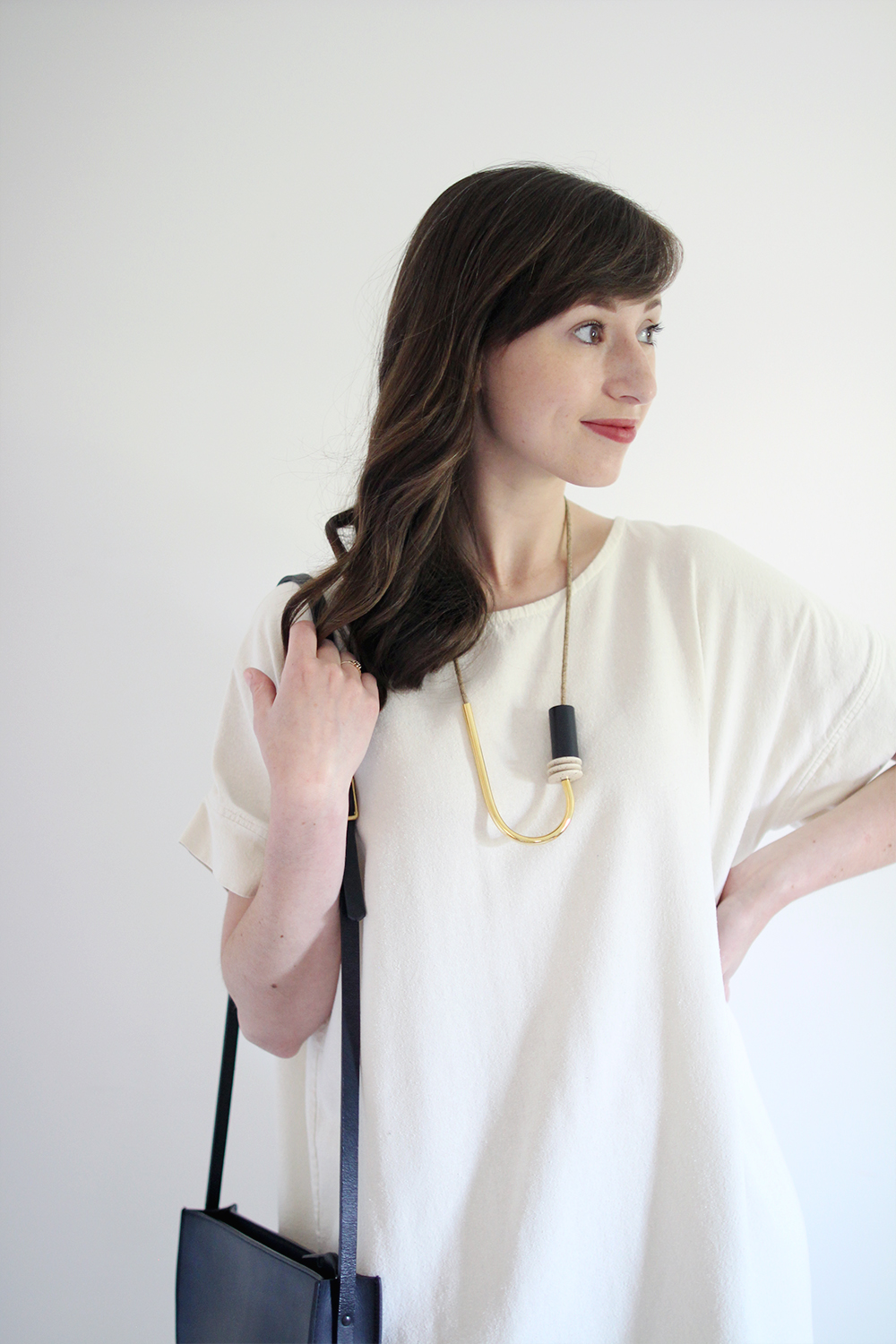 ---
SHOP THE POST
---
1 | GEORGIA DRESS | c/o Elizabeth Suzann | Wearing OS | $215 USD | Made Responsibly in Nashville.
2 | CAMILLA SLIDE | NISOLO via GARMENTORY |  $88 USD | I wear a 7 | Made responsibly in Mexico | Save $20 OFF your first order when you sign up here. 
3 | CHOCK A BLOCK NECKLACE | c/o Maslo | $58 USD | Made in USA
4 | ELOISE BAG | The Stowe | $387 USD | Made in Canada
---

---
SEE YOU TOMORROW WITH LOOK #3 BUT DON'T FORGET TO CHECK OUT CAROLINE'S LATEST LOOK TODAY TOO!
Tune into my Insta Stories for a look at this outfit in action later today.
---
This post is not sponsored but contains affiliate links. When you shop via the links above I may make a small commission from a sale. This income helps limit the amount of sponsored content that appears on Style Bee. Thanks a lot for your support!