Holy smokes! Where did the time go? The dust has finally settled after some end of summer excitement (Dave and I got married!) and I'm so happy to start getting back into the swing of things here on the blog. To kick things off, I thought I'd share what we did for our honeymoon! We spent two weeks touring around England and Scotland and needless to say, it was AMAZING. It was also the longest trip either of us has been on and our first adventure in the U.K. together. We spent lots of time researching, plotting and planning and received some great leads and tips from our well-travelled friends. It turned out to be a wonderful trip, so I'm excited to share what we did in case you're thinking of heading the England or Scotland in the future.
Today's travel post will cover:
An overview of where we went, stayed, ate and explored for 14 days in England and Scotland.
What I packed in my carry-on baggage for 14 days.
A round-up of the looks I wore throughout the trip. 
This one is a big fella so grab your favourite beverage and a comfy seat. Now let's get to it!
---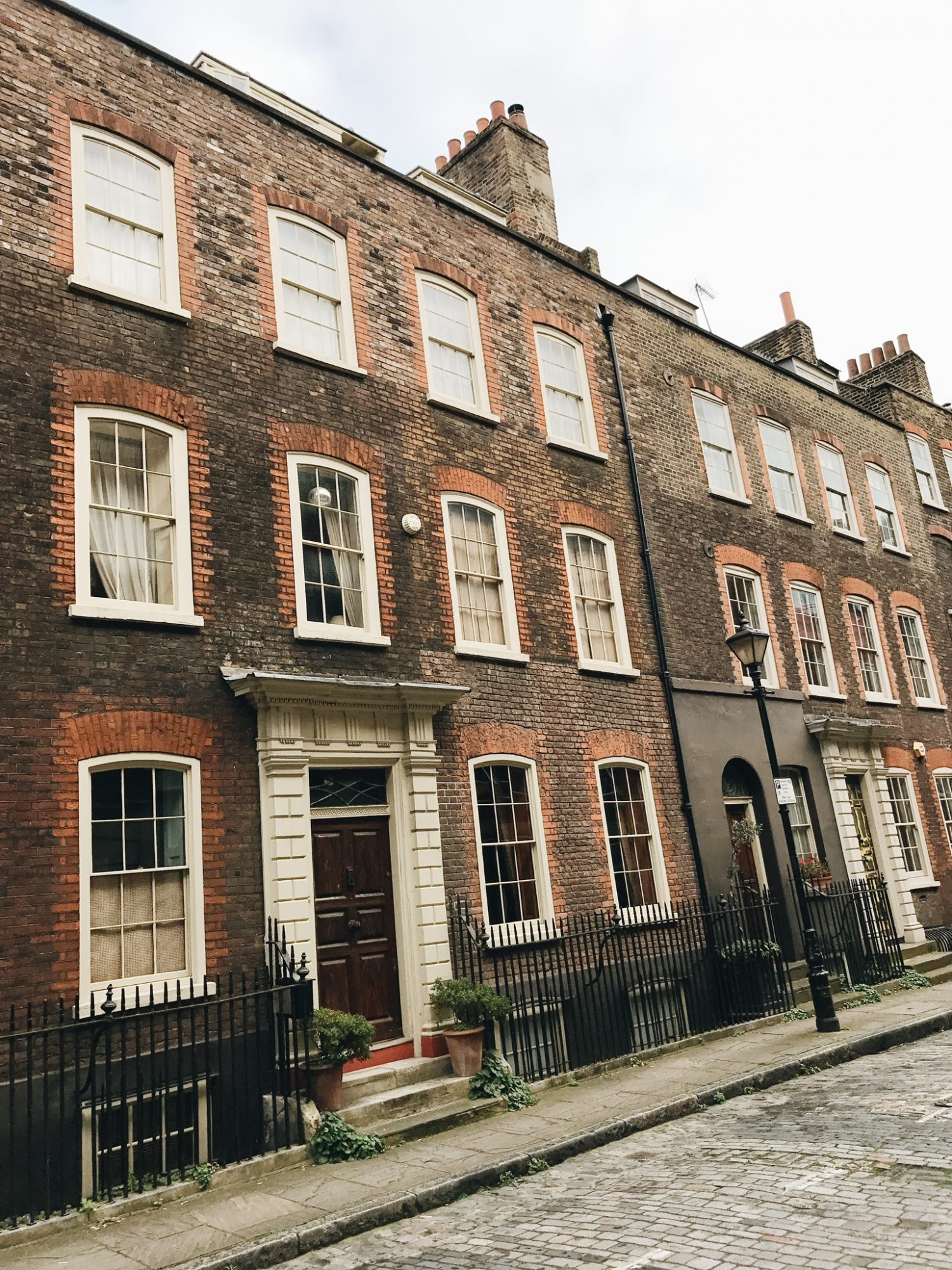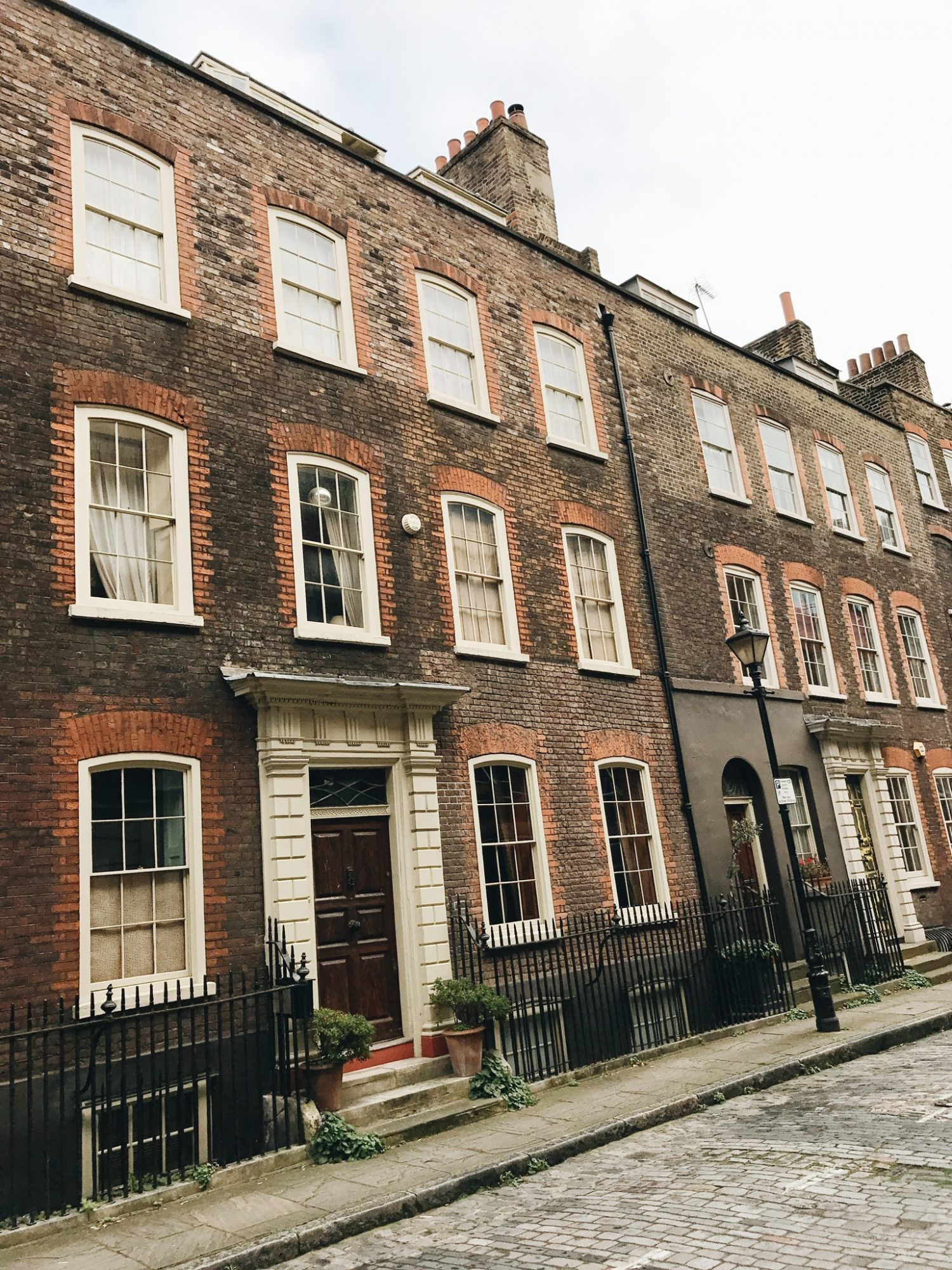 ---
ENGLAND
---
DAY 1 & 2 
LONDON – KENSINGTON
---
STAYED: The Pelham Hotel was the perfect spot to kick off our honeymoon. The hotel is in the heart of South Kensington and a great launch point for exploring. It's also ridiculously charming and luxurious without being way over the top about it.
Another great hotel option in the same spot is The Ampersand. It looks awesome but it's definitely on the (even) pricier end of things.
ATE + DRANK: We hit up the local cafes around Queensberry Way for crepes, coffees, pastries & baguette sandwiches. Hoop & Toy was ideal for cask ales and that quintessential British Pub vibe. We had an incredible lunch at Gymkhana. Certainly the best Indian food we've ever had and their cocktail menu is also bonkers. We also had a low-key Italian dinner around the corner from the hotel but there are tons of excellent restaurant options in the area.
EXPLORED: South Kensington (think beautiful brick row houses, front stoops and wrought iron balconies), Victoria & Albert Museum, Hyde Park, Green Park, Buckingham Palace, Mayfair, SOHO (for fabulous mainstream shopping) and the Marble Arch.
We spent our first full day taking in all the sights, sounds and scenes by foot and just walked and walked. The weather was great (for the most part) and it was so nice to simply let the fact that we were actually on our honeymoon sink in.
---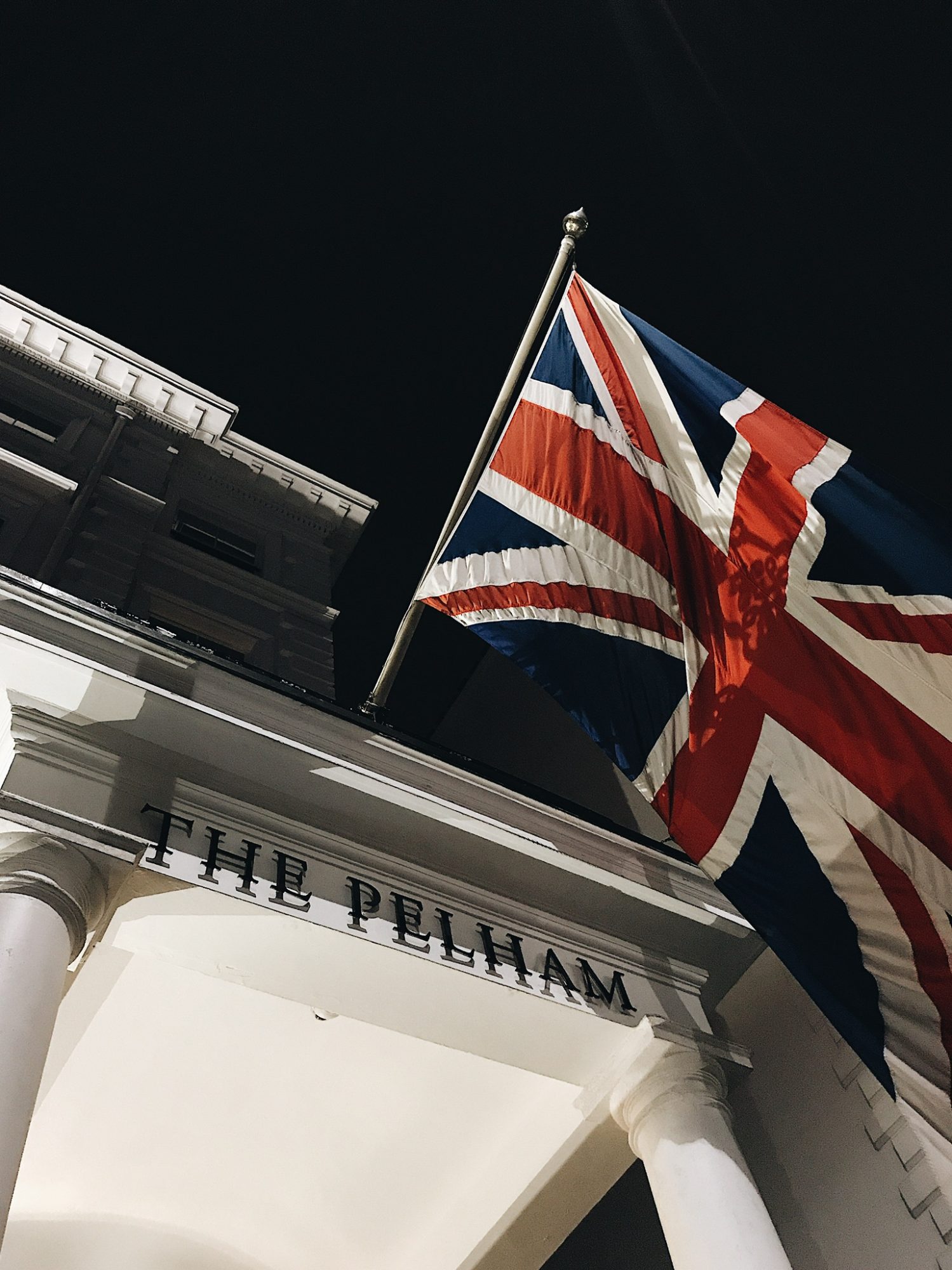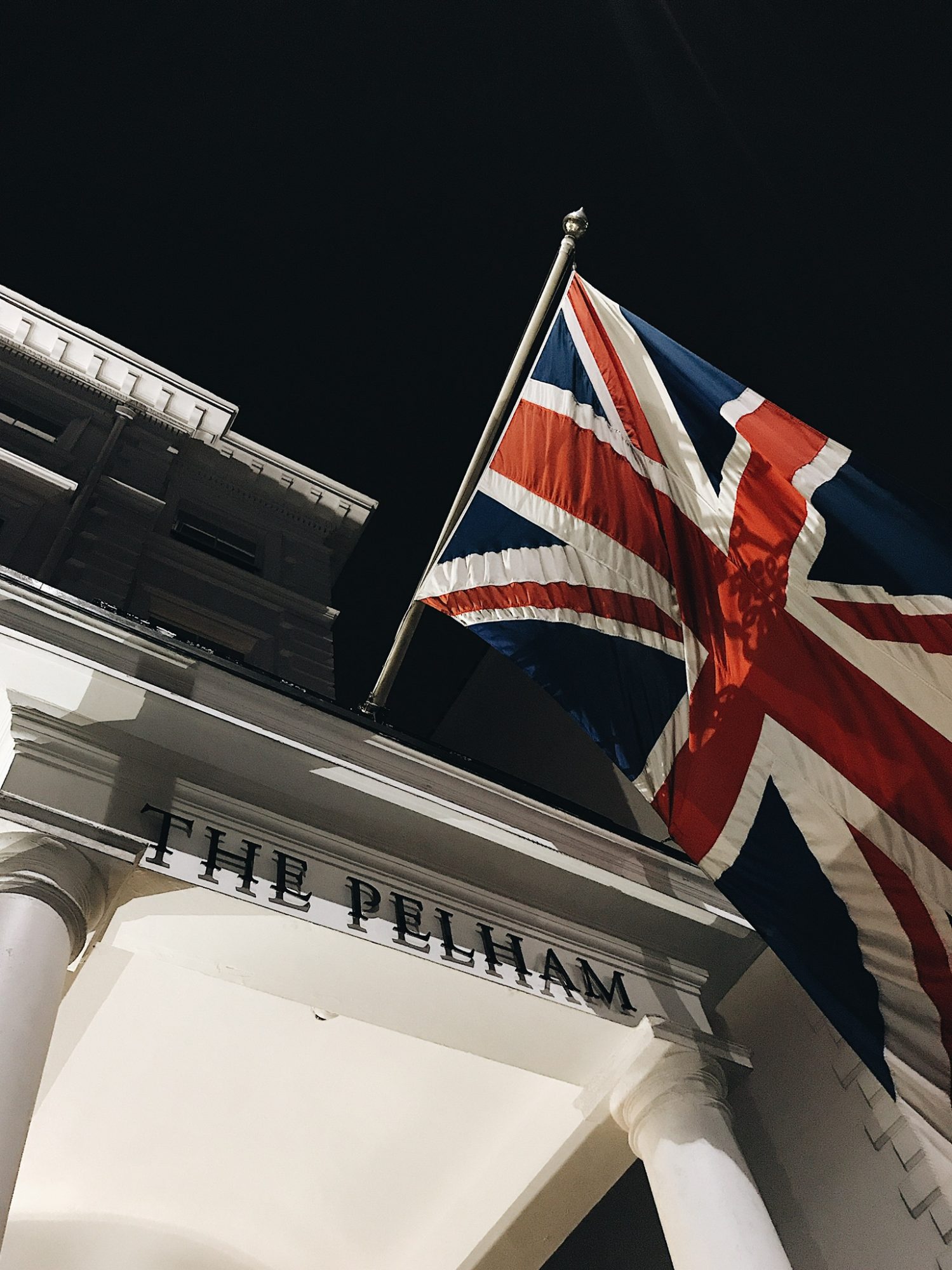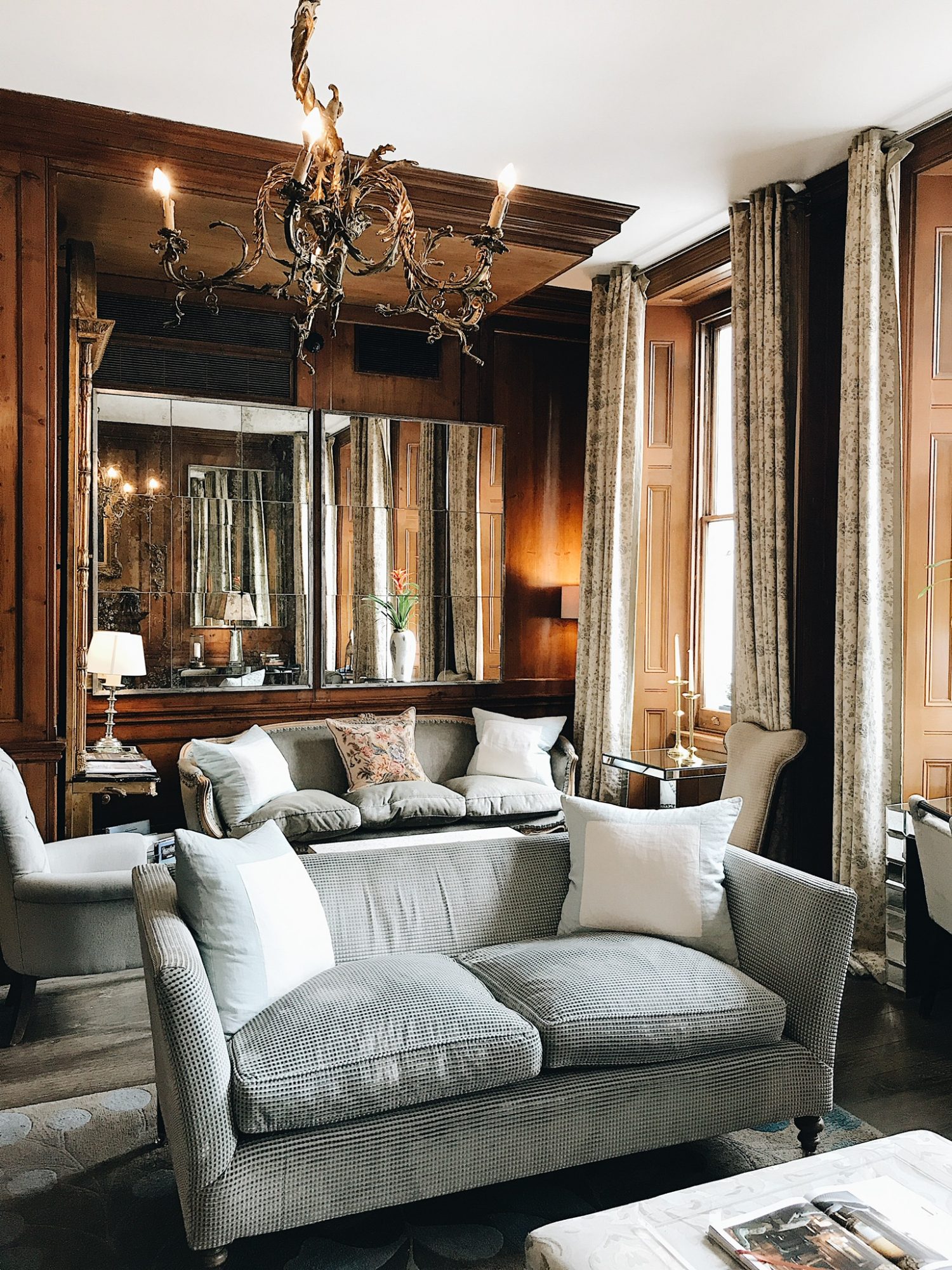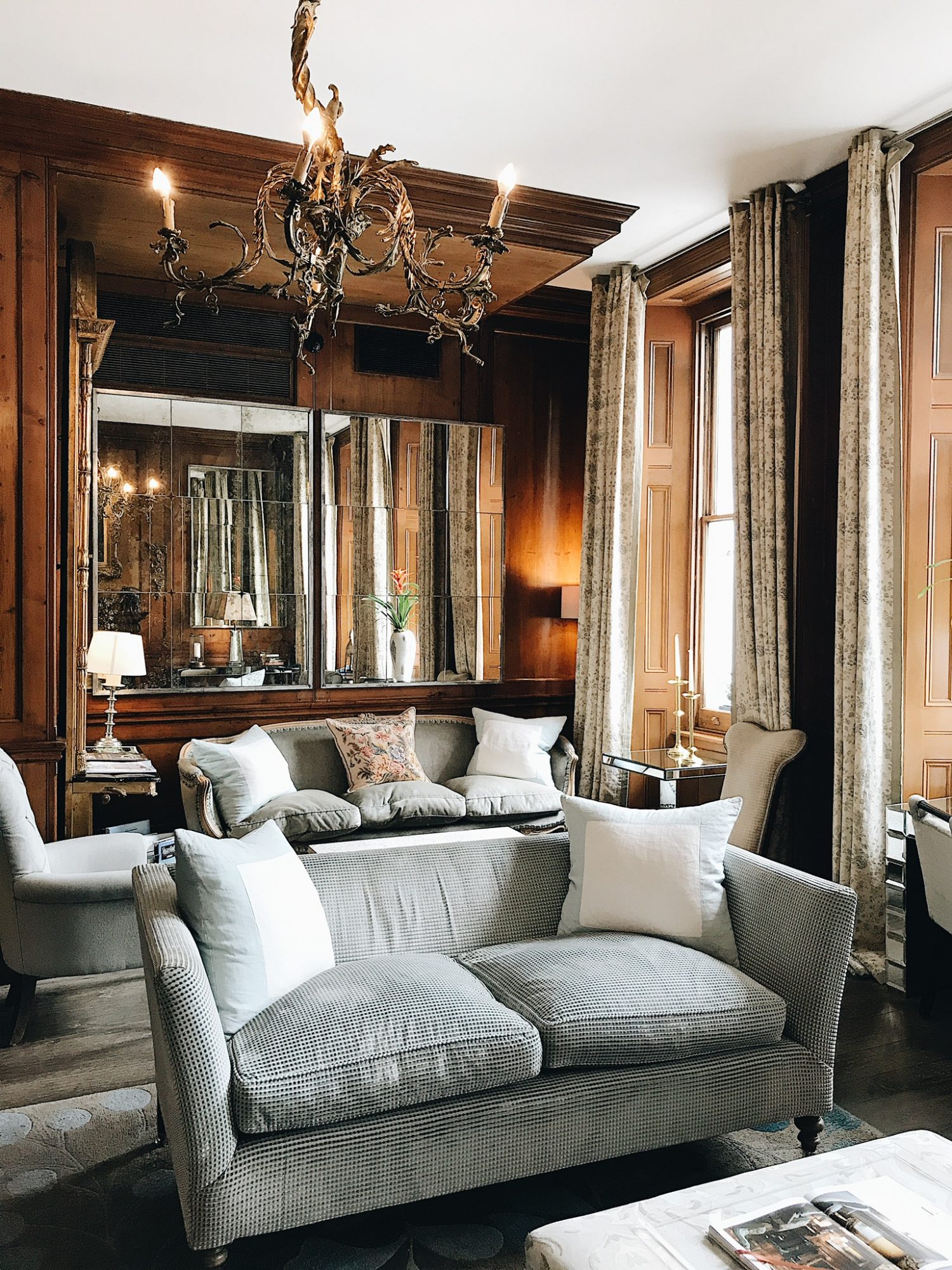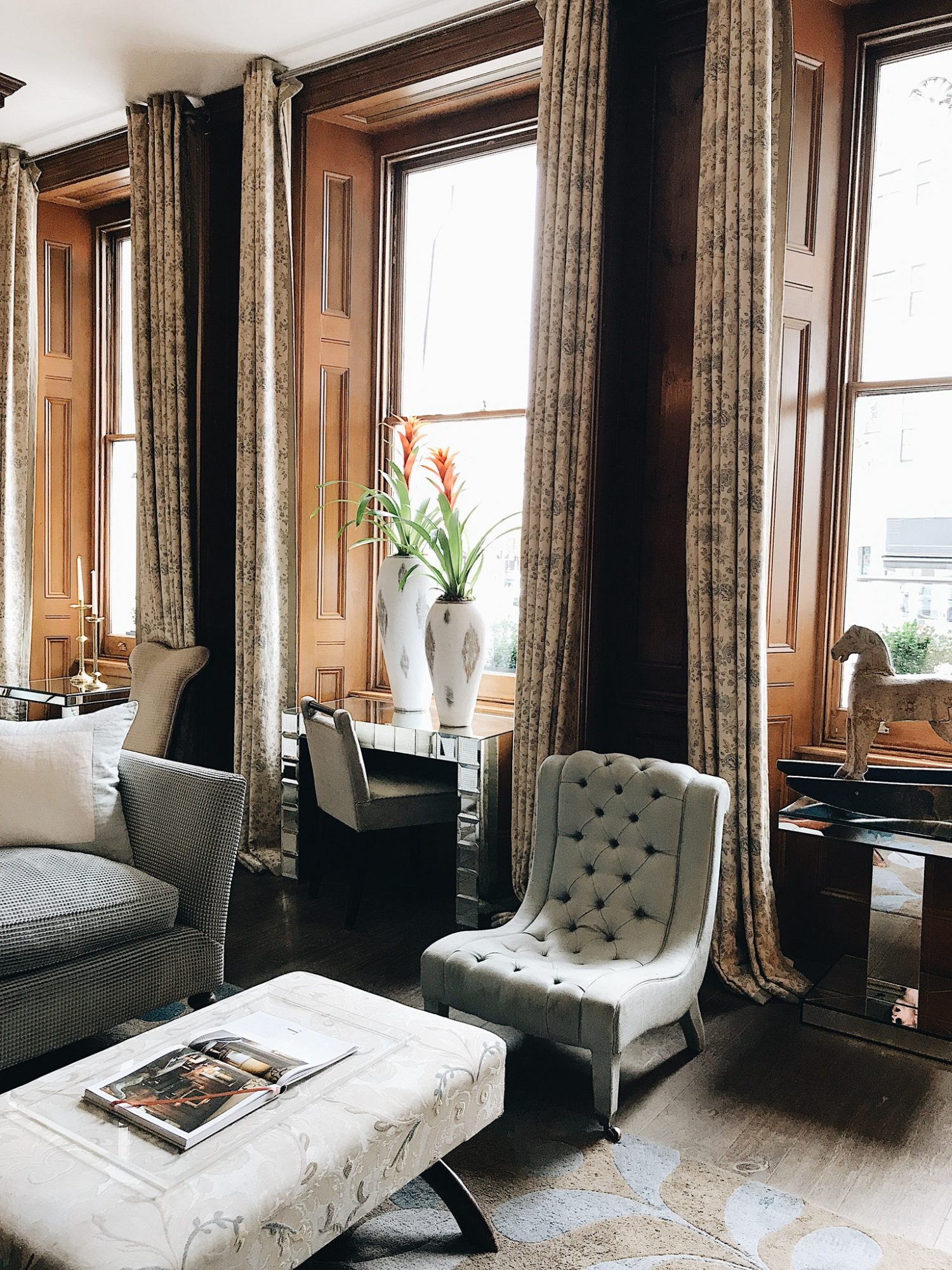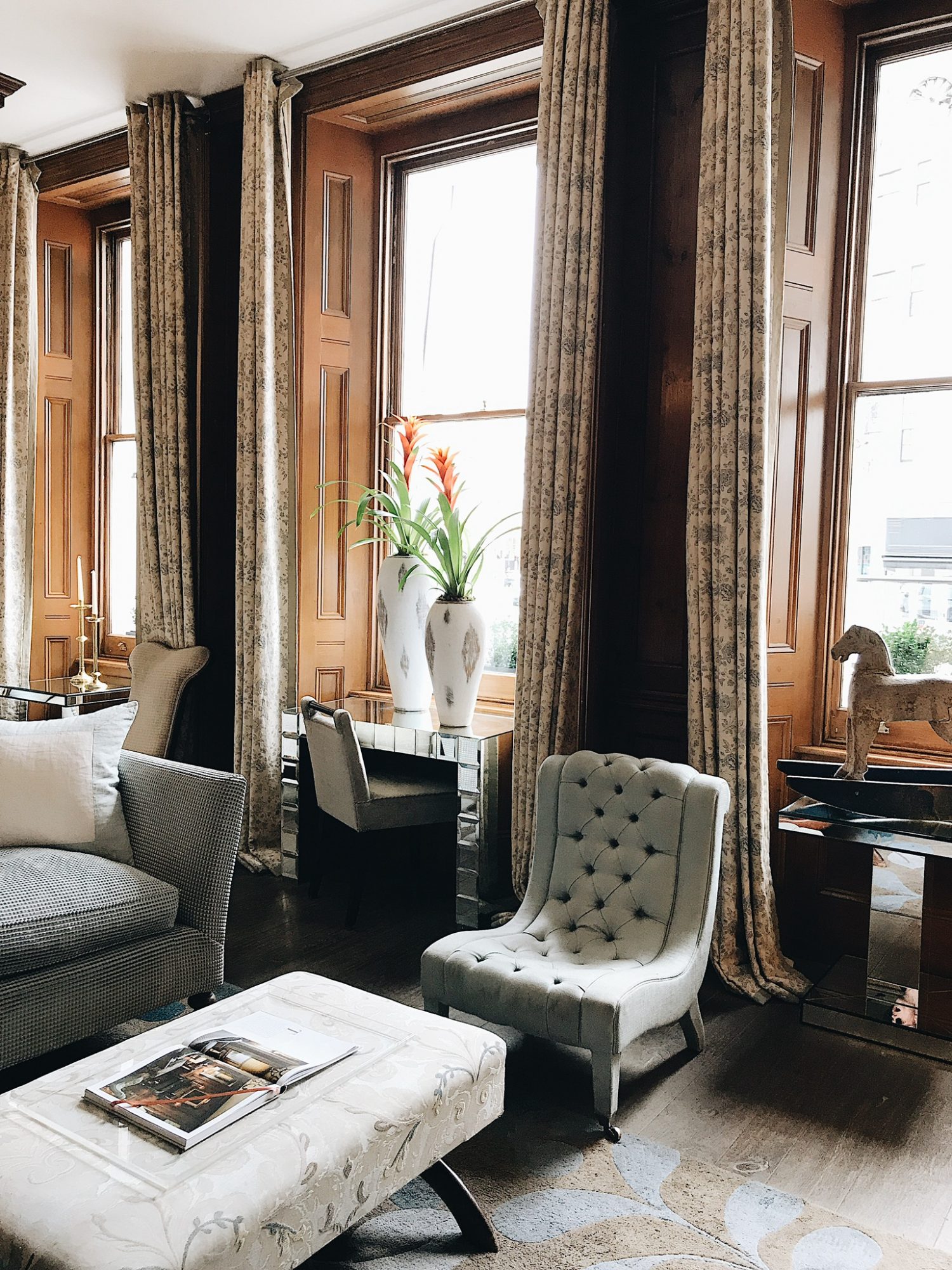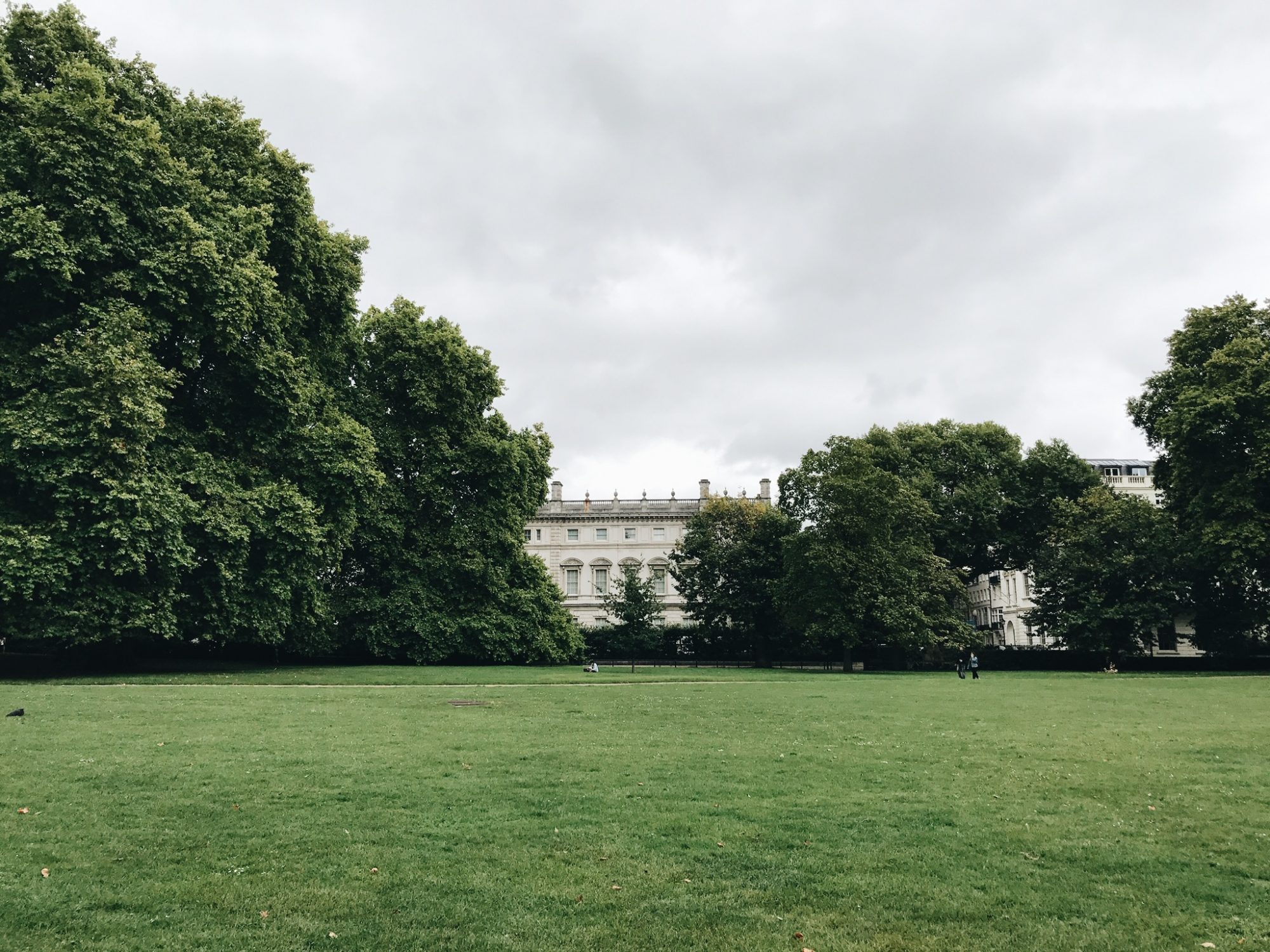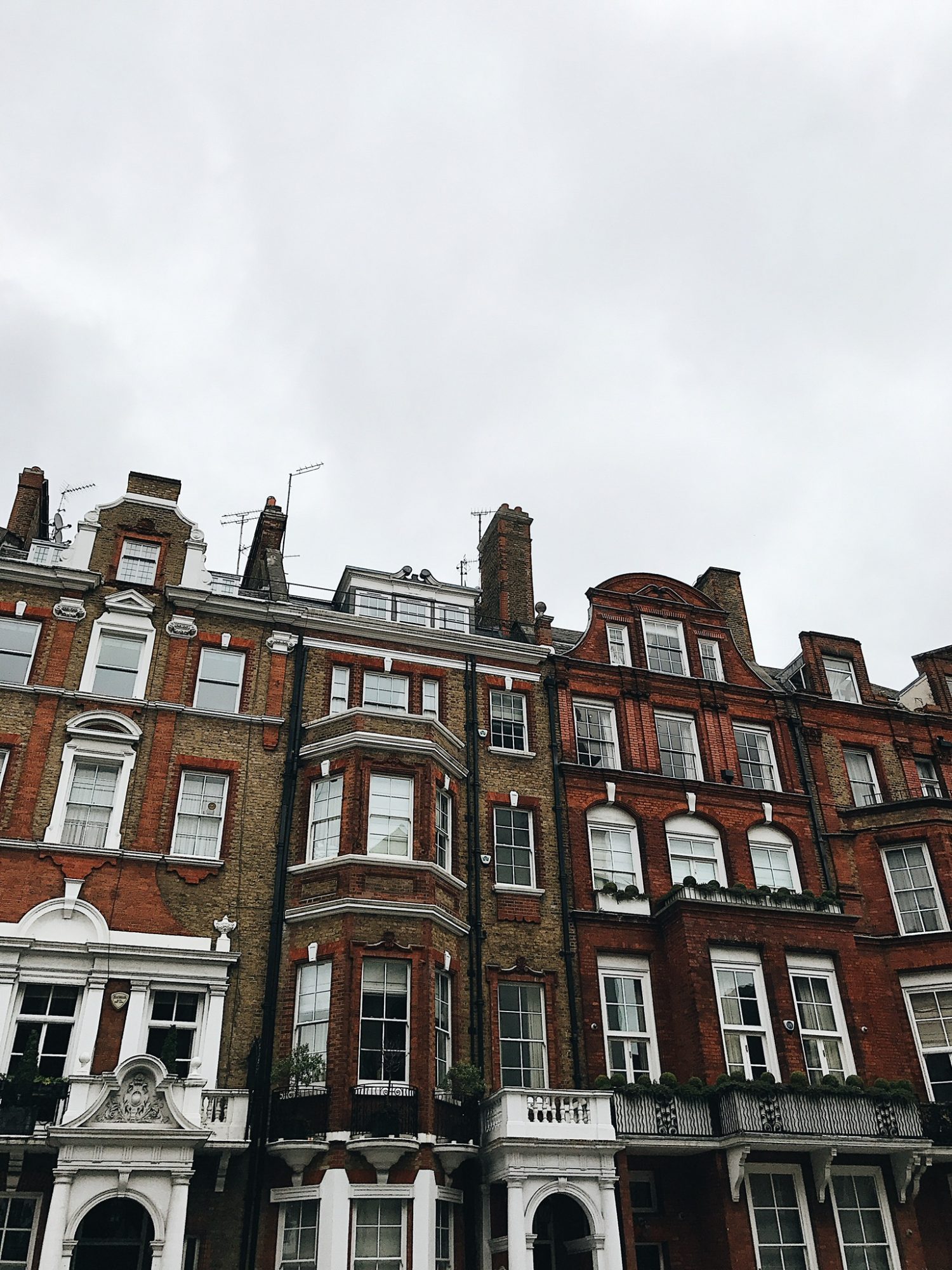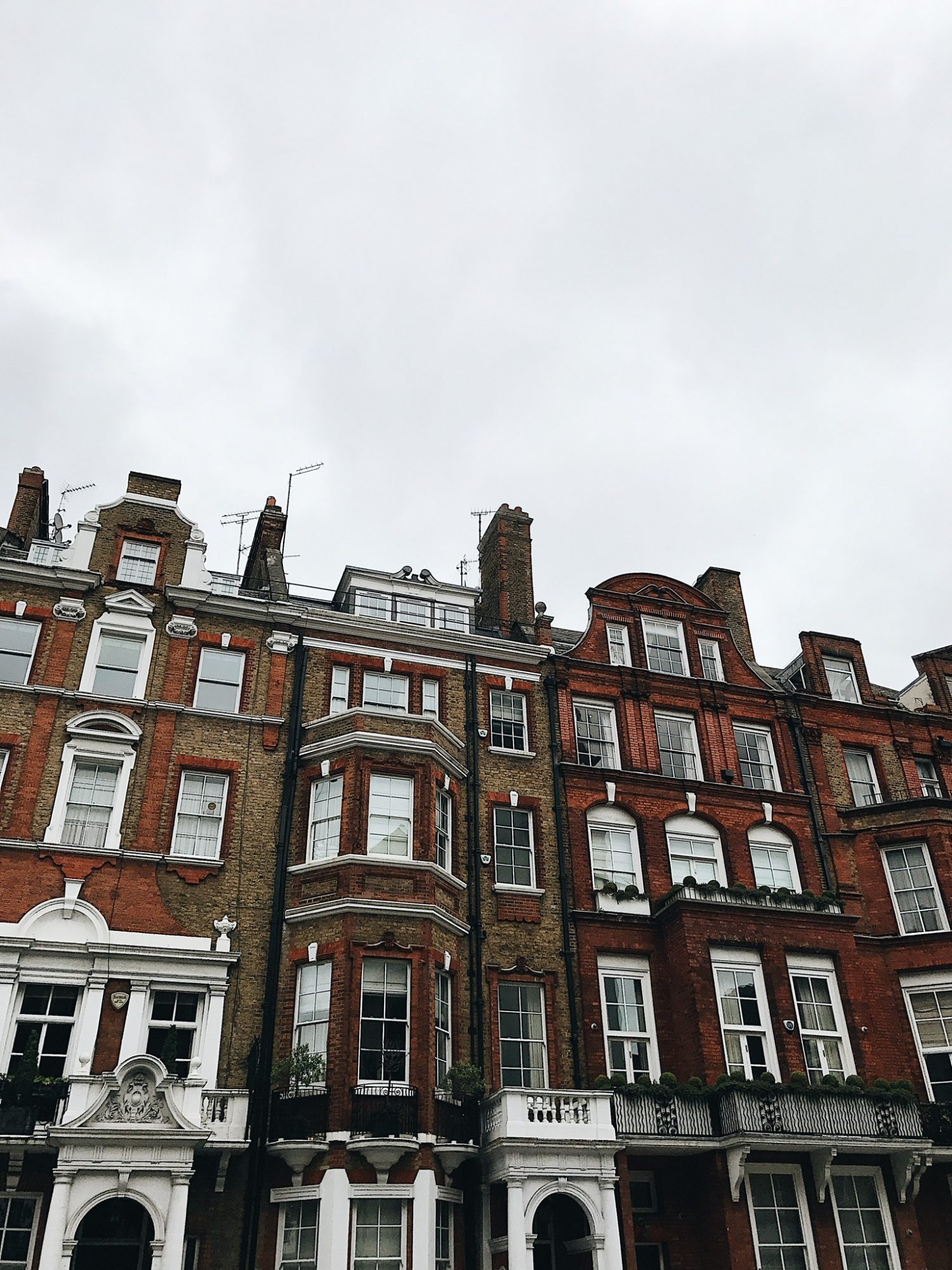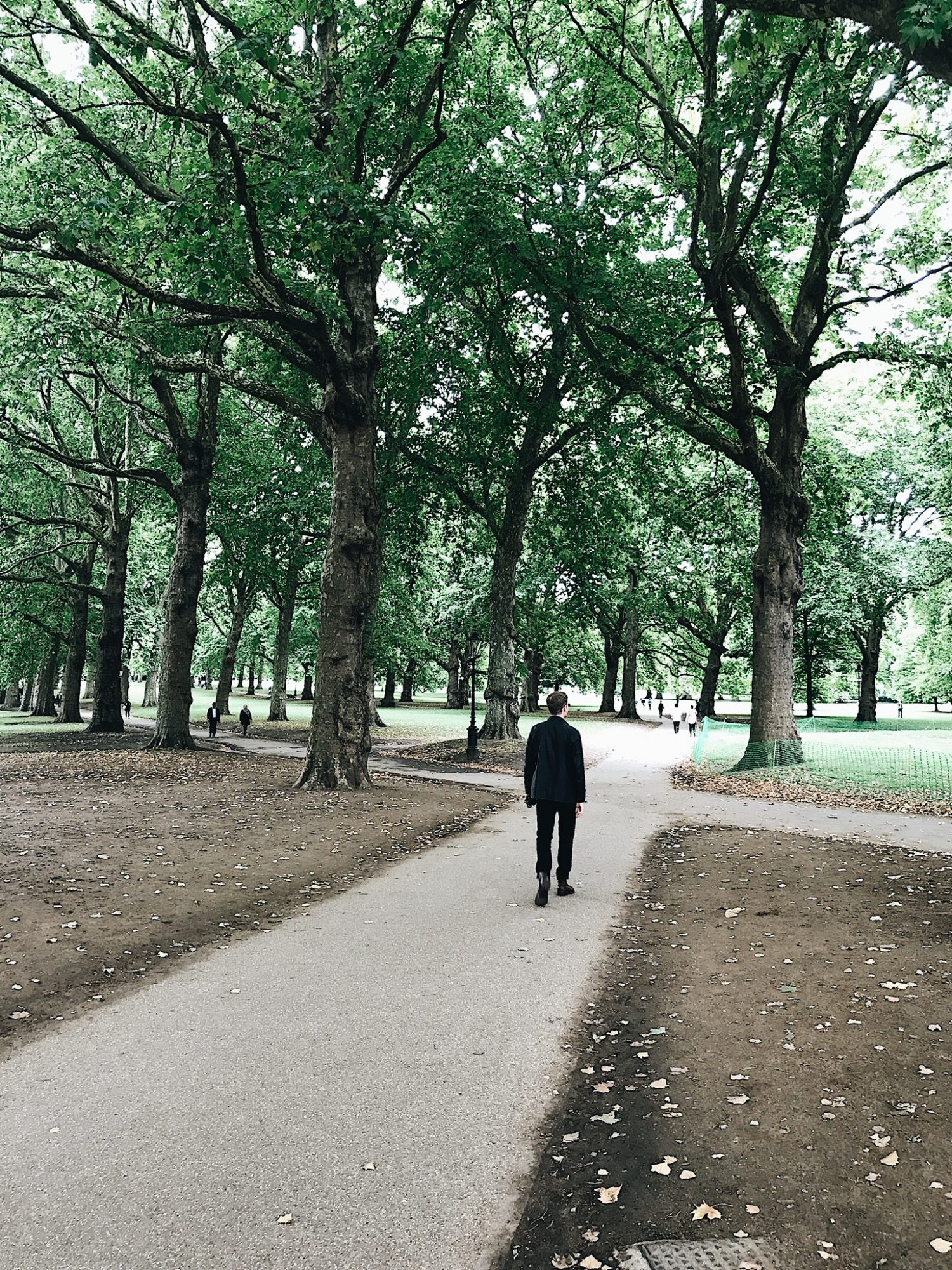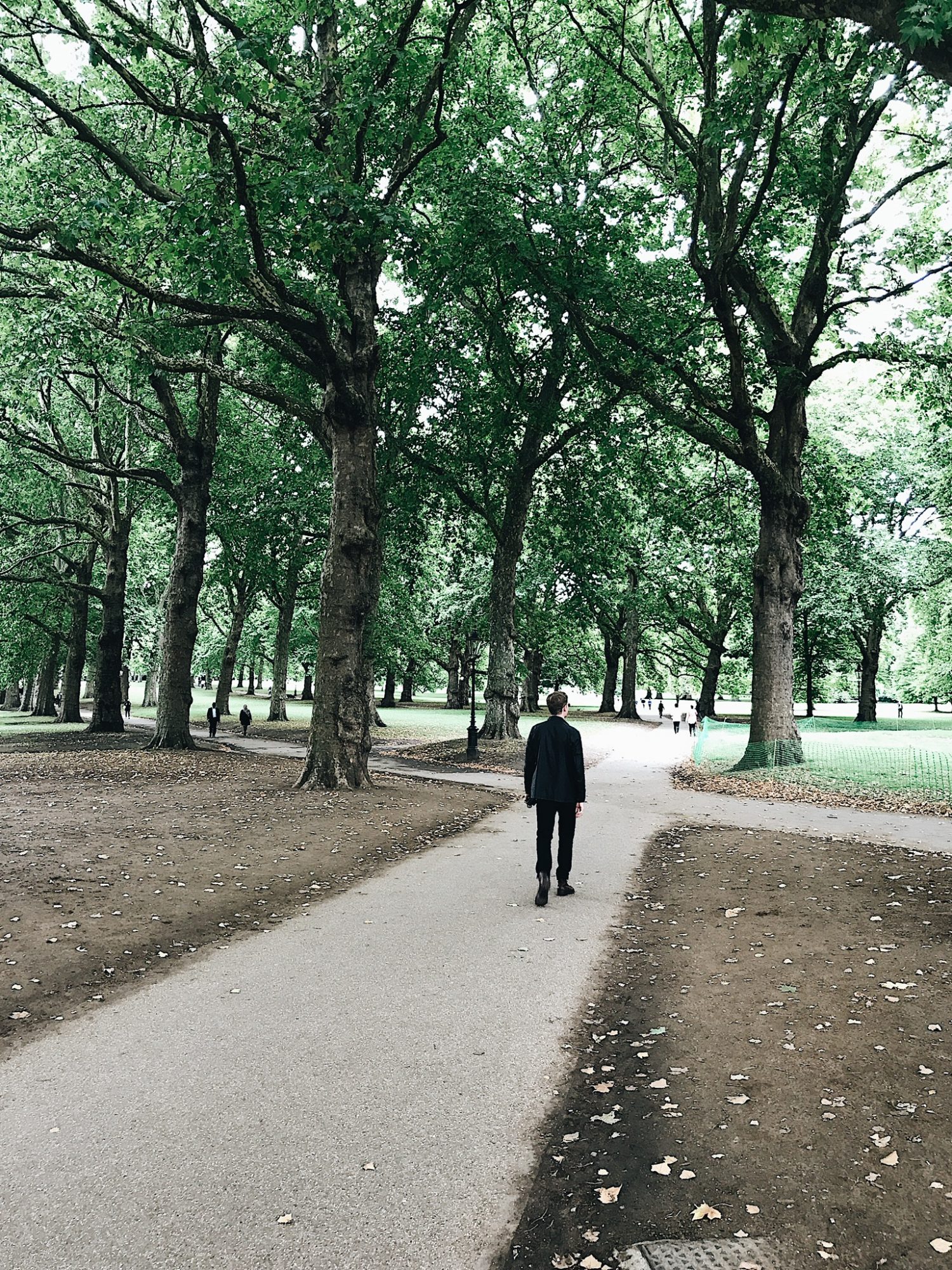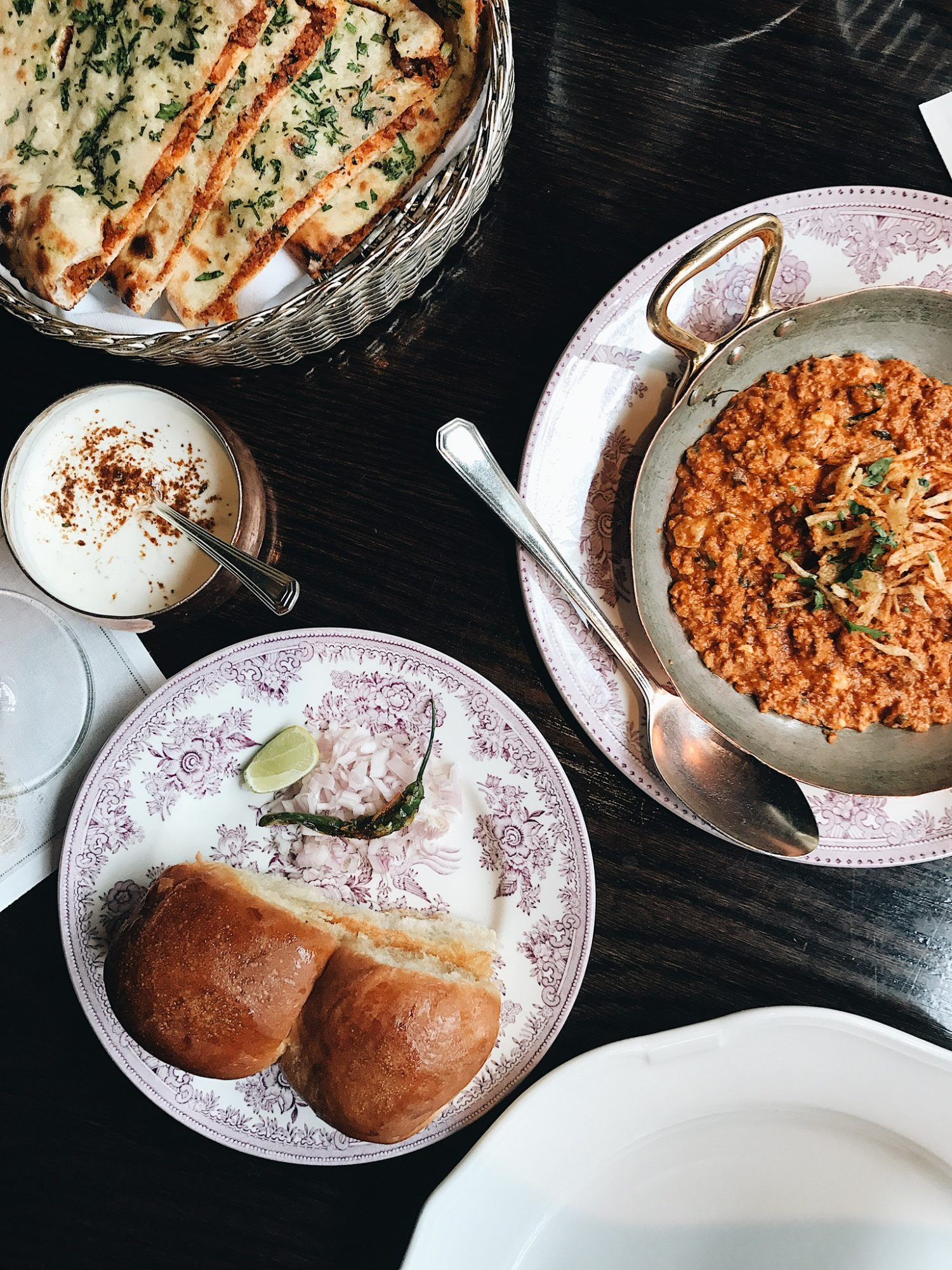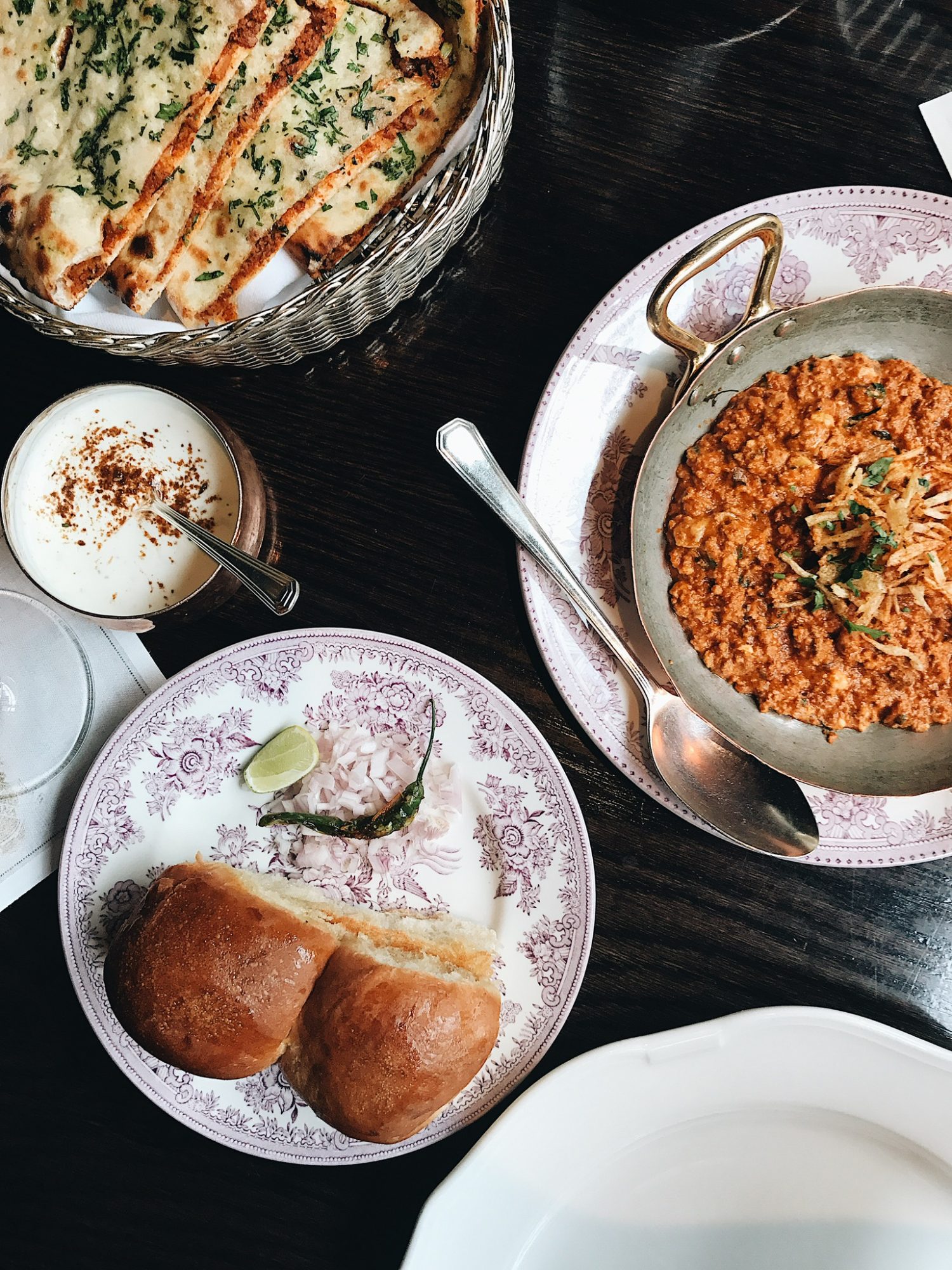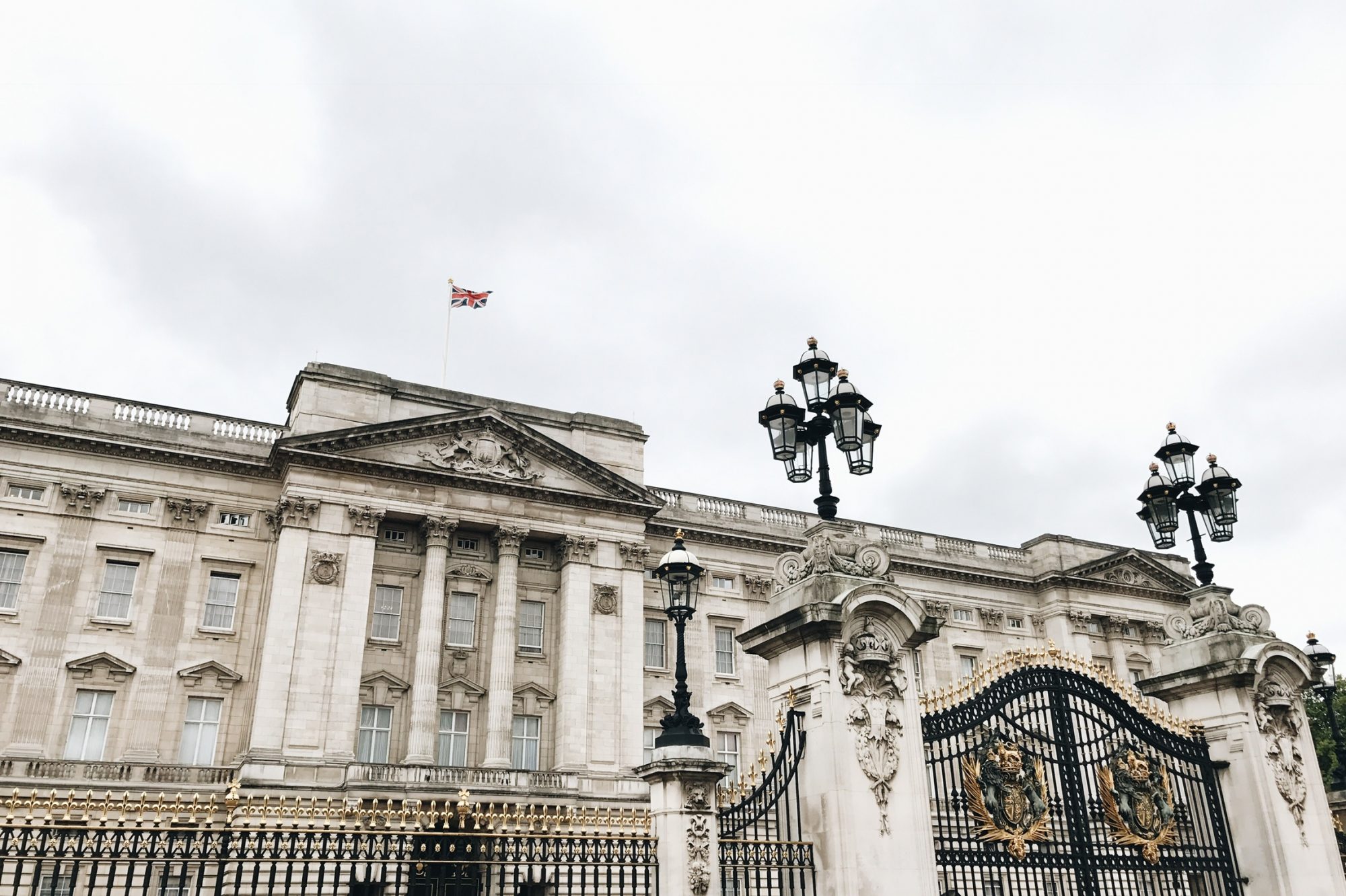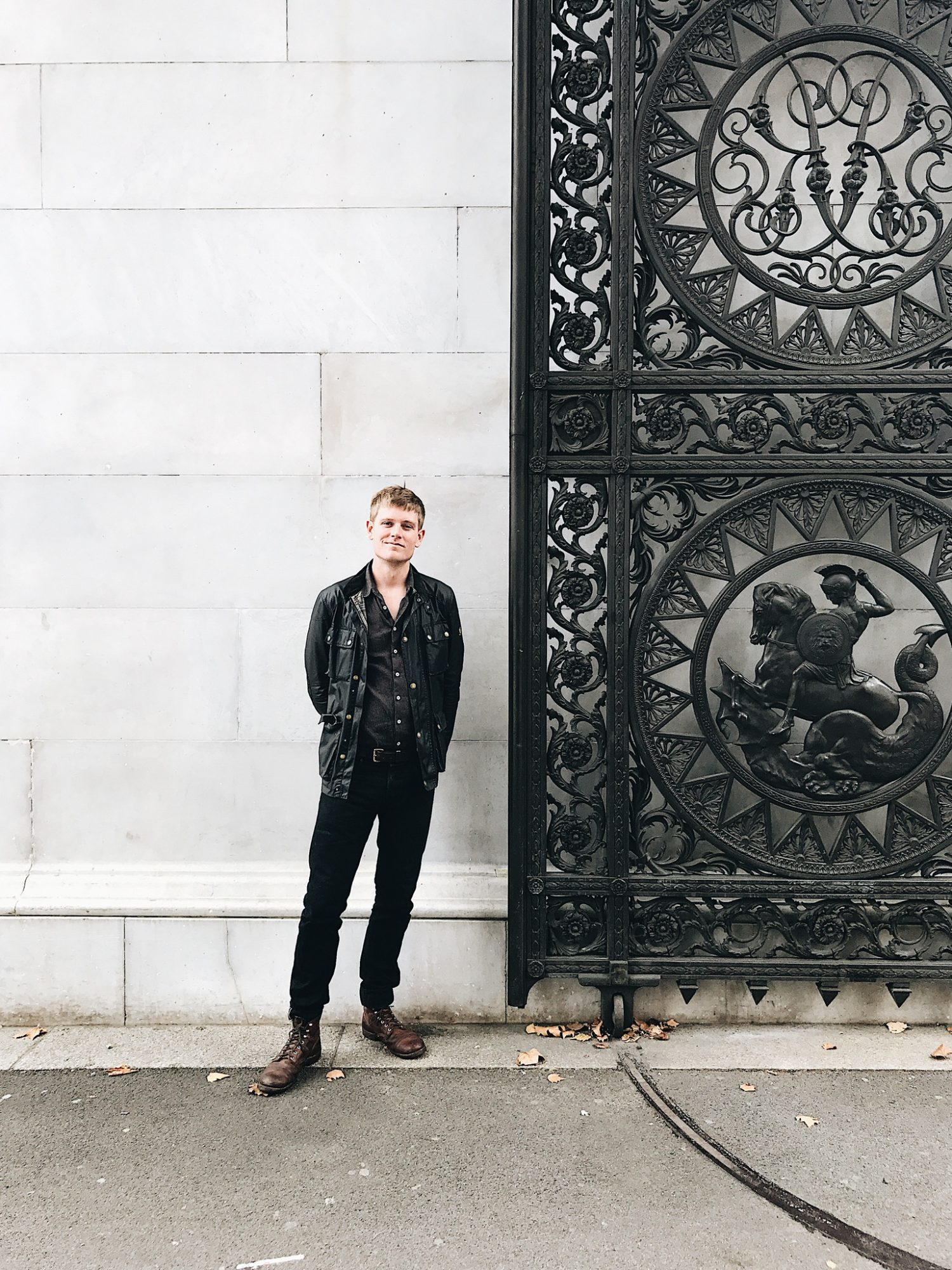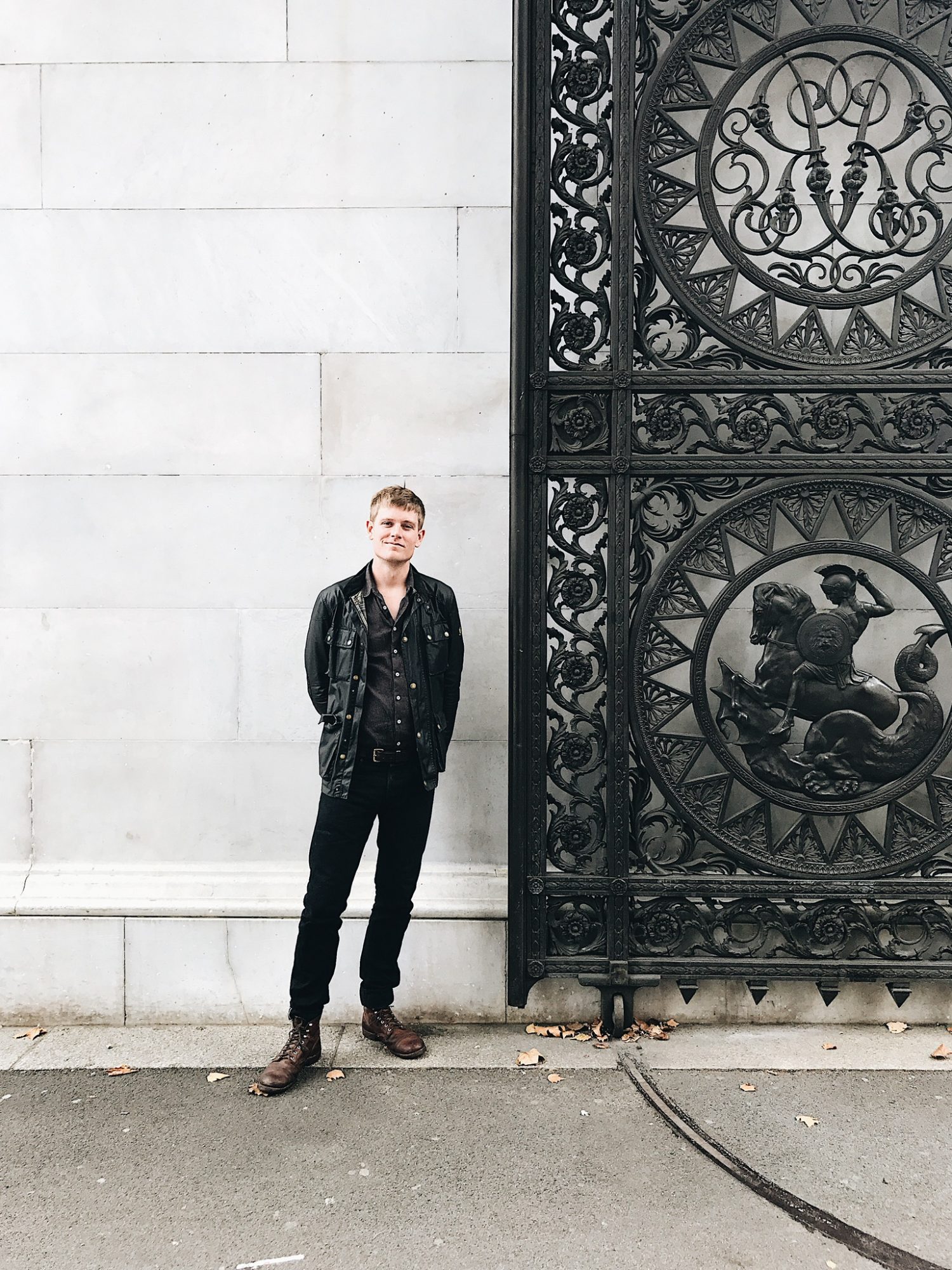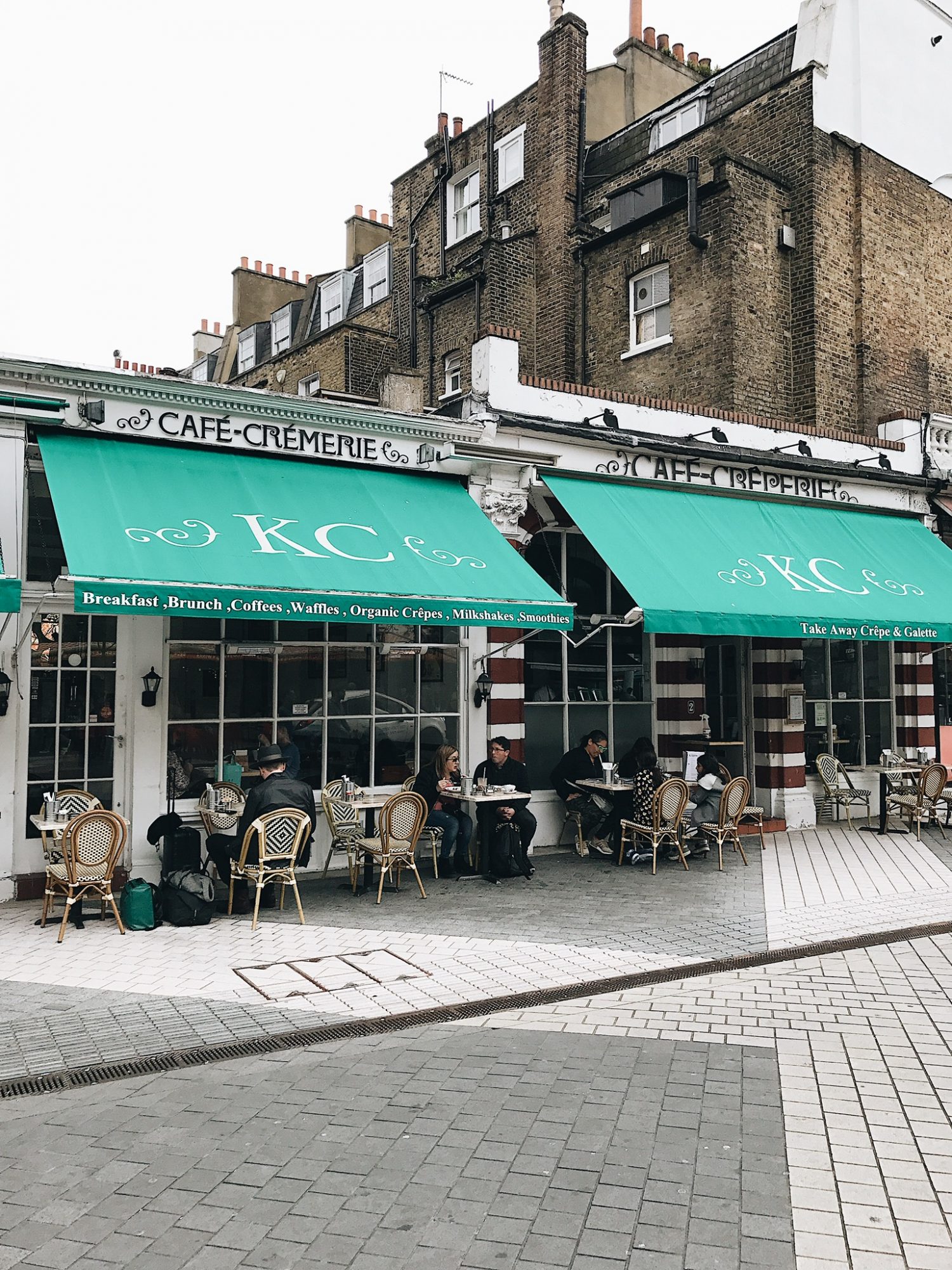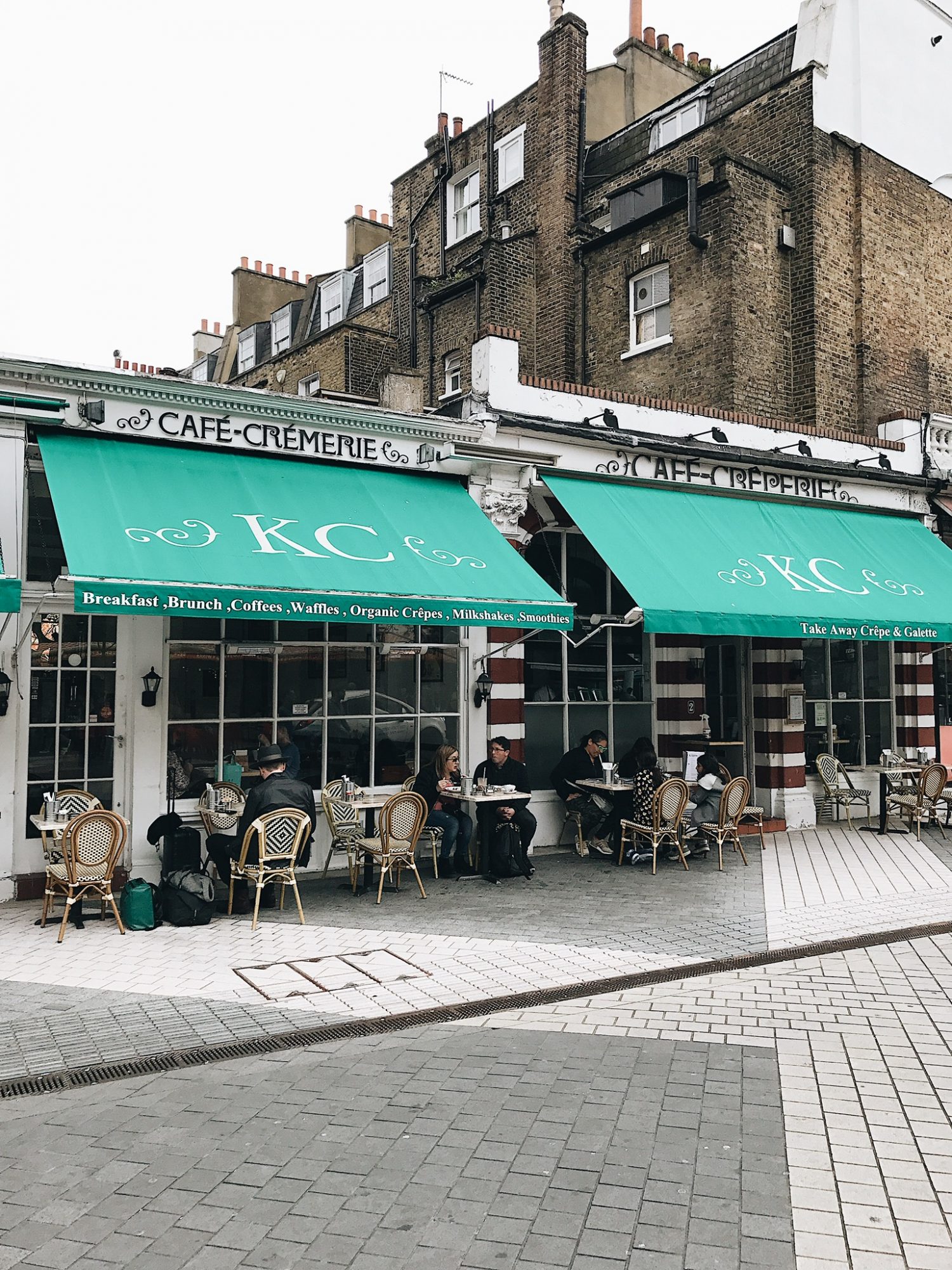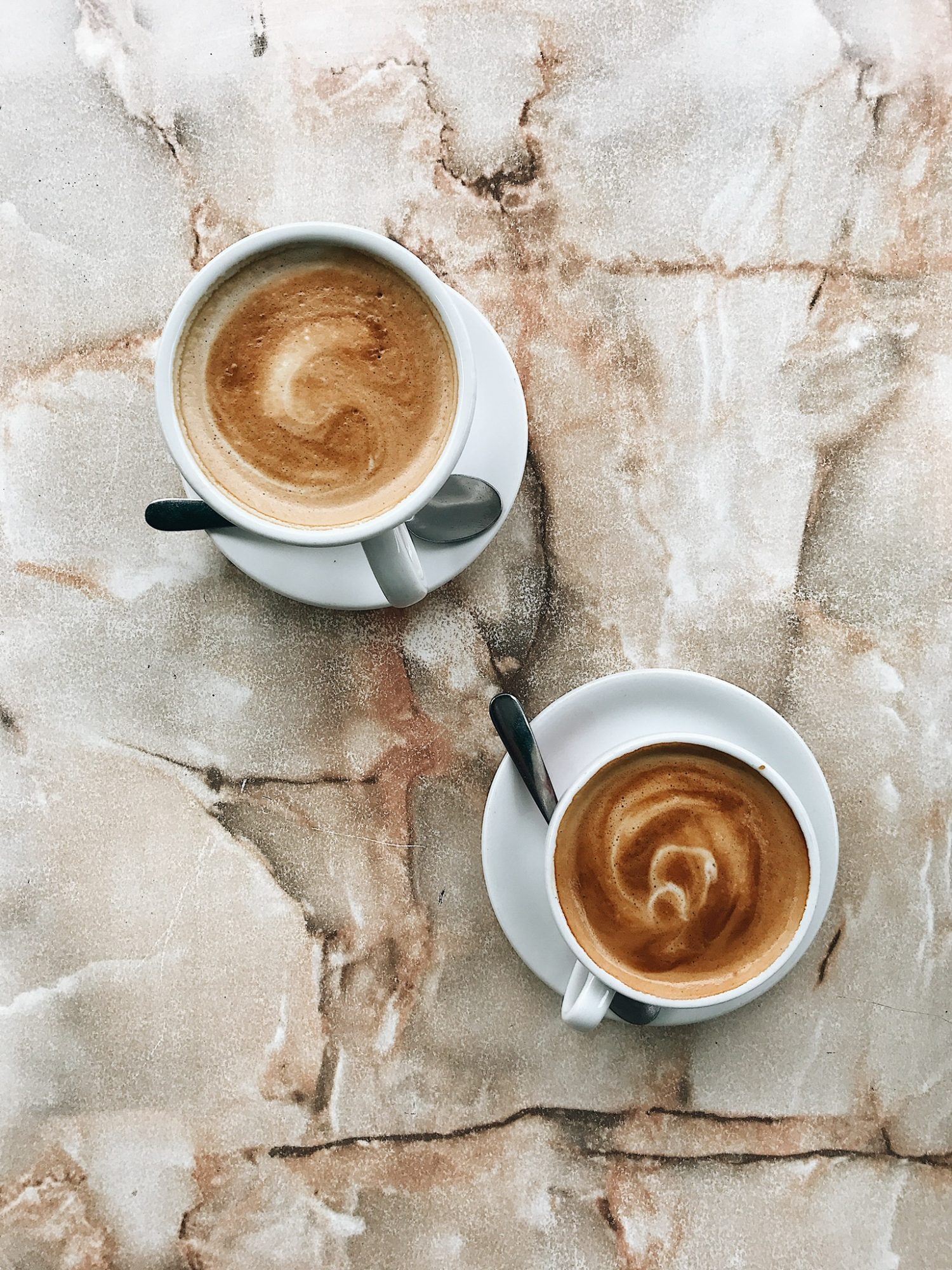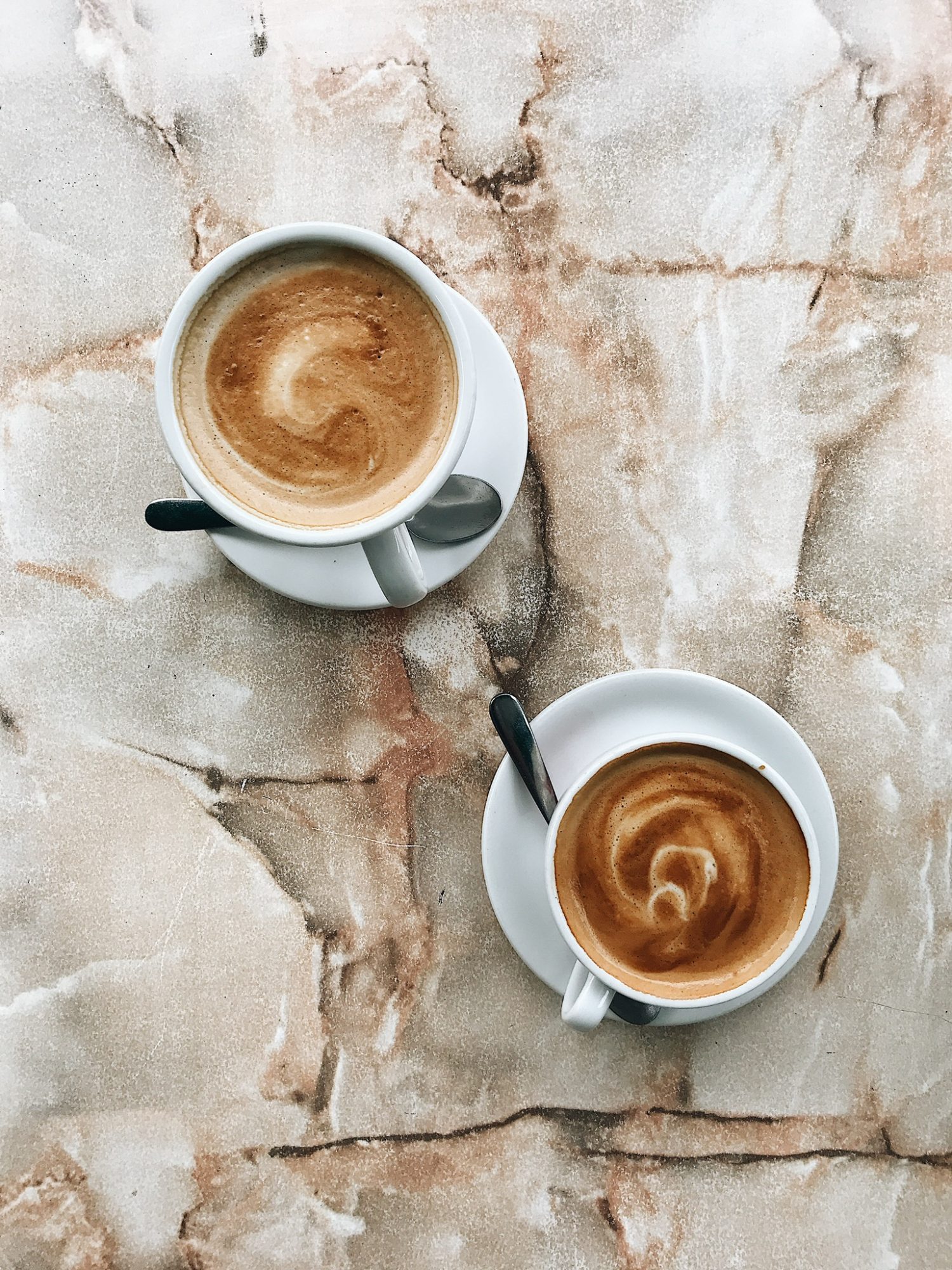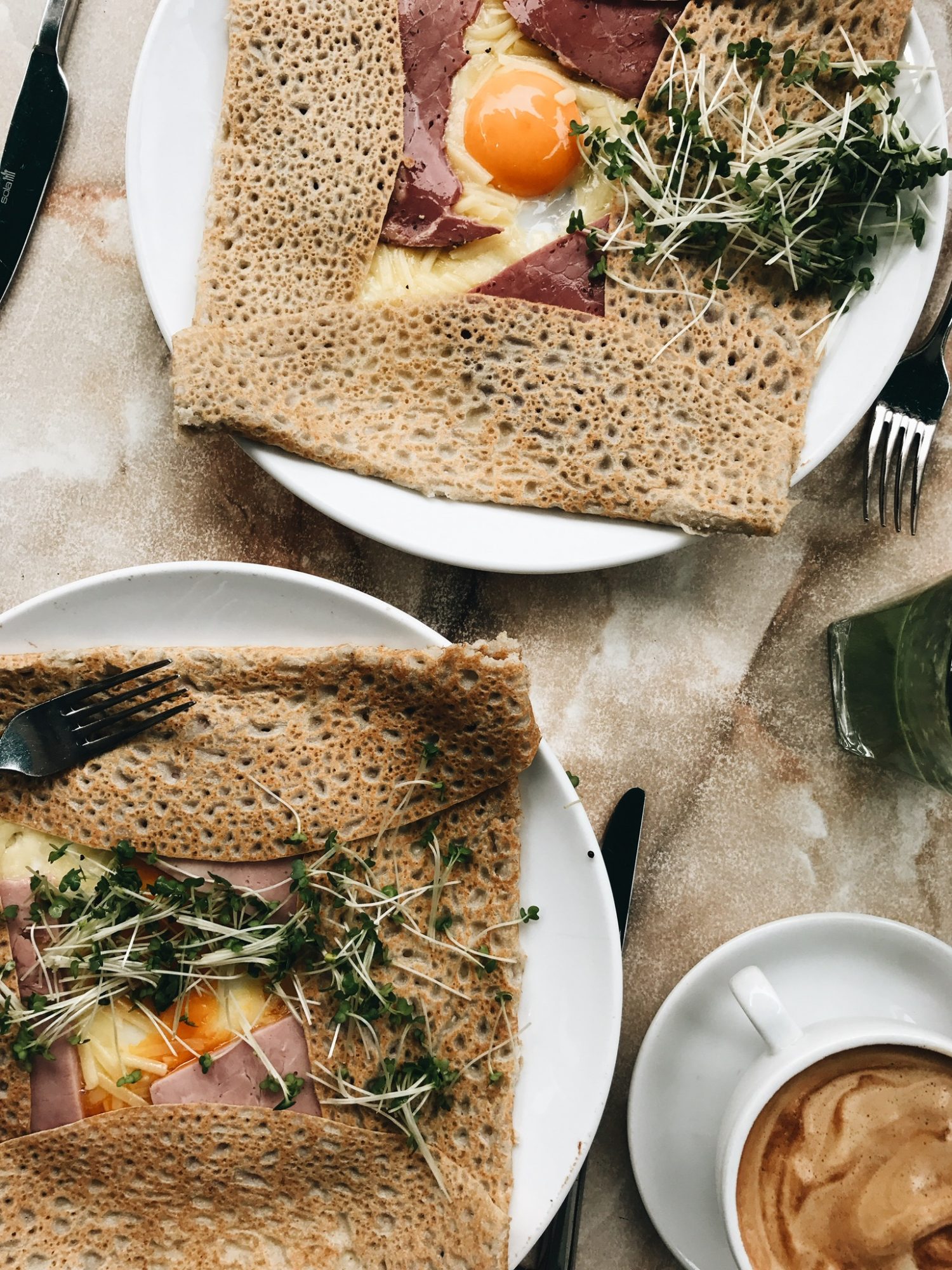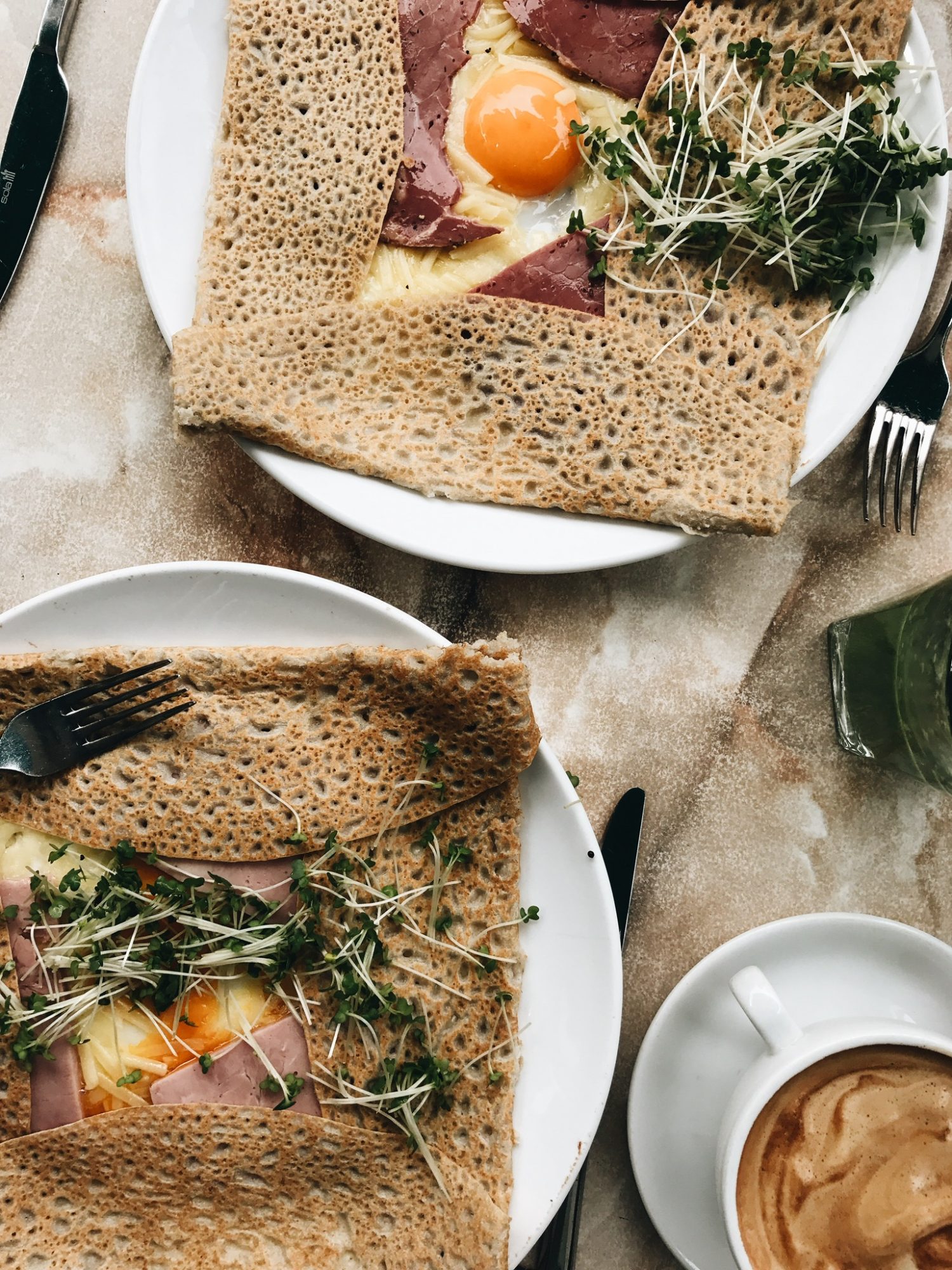 ---
DAY 3 & 4
THE COTSWOLDS
---
STAYED: Kingham – The Wild Rabbit Hotel
After two nights in London (don't worry we went back!) we headed to the Cotswolds (aka: my version of heaven) for a couple of days. The Wild Rabbit was very highly recommend by close friends and we were absolutely smitten with the place and our stay.
ATE + DRANK: This was probably the most delicious 48 hours of my entire life so far. We had one dinner and one breakfast at The Wild Rabbit (both were incredible). We had afternoon snacks and a dinner at The Kingham Plough (local pub, also awesome). While exploring the Cotswolds we got our paws on some tasty pastries, fresh scones, clotted cream, locally made jams and hot tea at Bakery On The Water. We sipped cask ales at different pubs and snacked at The Blue Boar in Chipping Norton. It was all pure bliss!
EXPLORED: On day 3, we took the train from Paddington to Oxford and picked up our rental car. Then took to the road (a little apprehensively) and made our way to Kingham in the Cotswolds. We checked into the Wild Rabbit and I basically lost my mind about how perfect it is. Then we spent the afternoon exploring the local village and swooning over the insane quaintness of it all.
During our second day in the Cotswolds we explored Bourton On The Water, Stow-On-The-Wold, Batsford Arboretum, Chipping Norton and lots of sights and scenes in between.
NEXT TIME: We would have loved to make it to Burford as well but ran out of time. Another place to stay would be The Soho Farmhouse Hotel. We would also love to go back and check out Daylesford in Kingham (not sure how we missed it). It's an upscale food and lifestyle brand formed by a member of the british Aristocracy and apparently it's a great spot to buy food for picnics or eat in their restaurant. 
---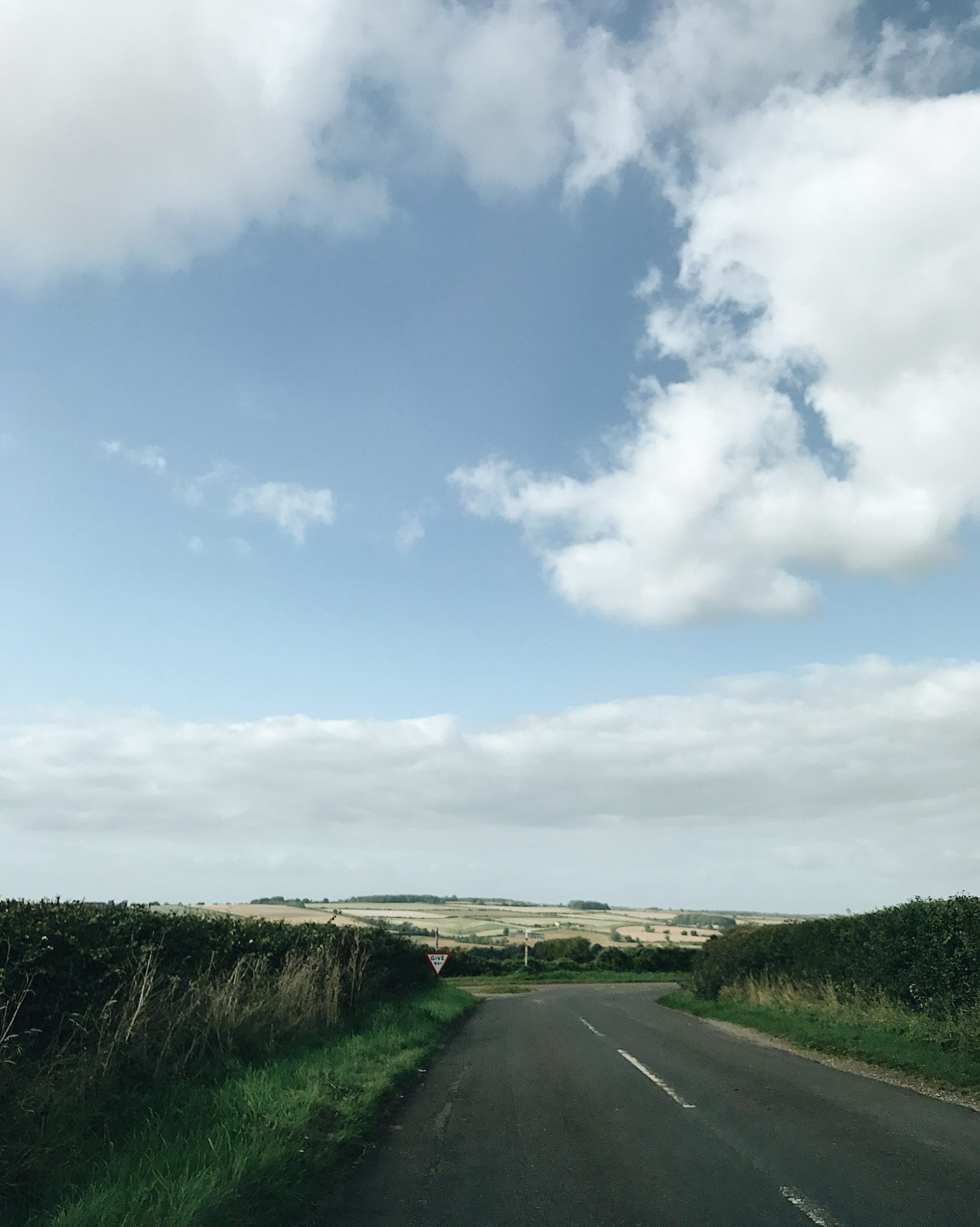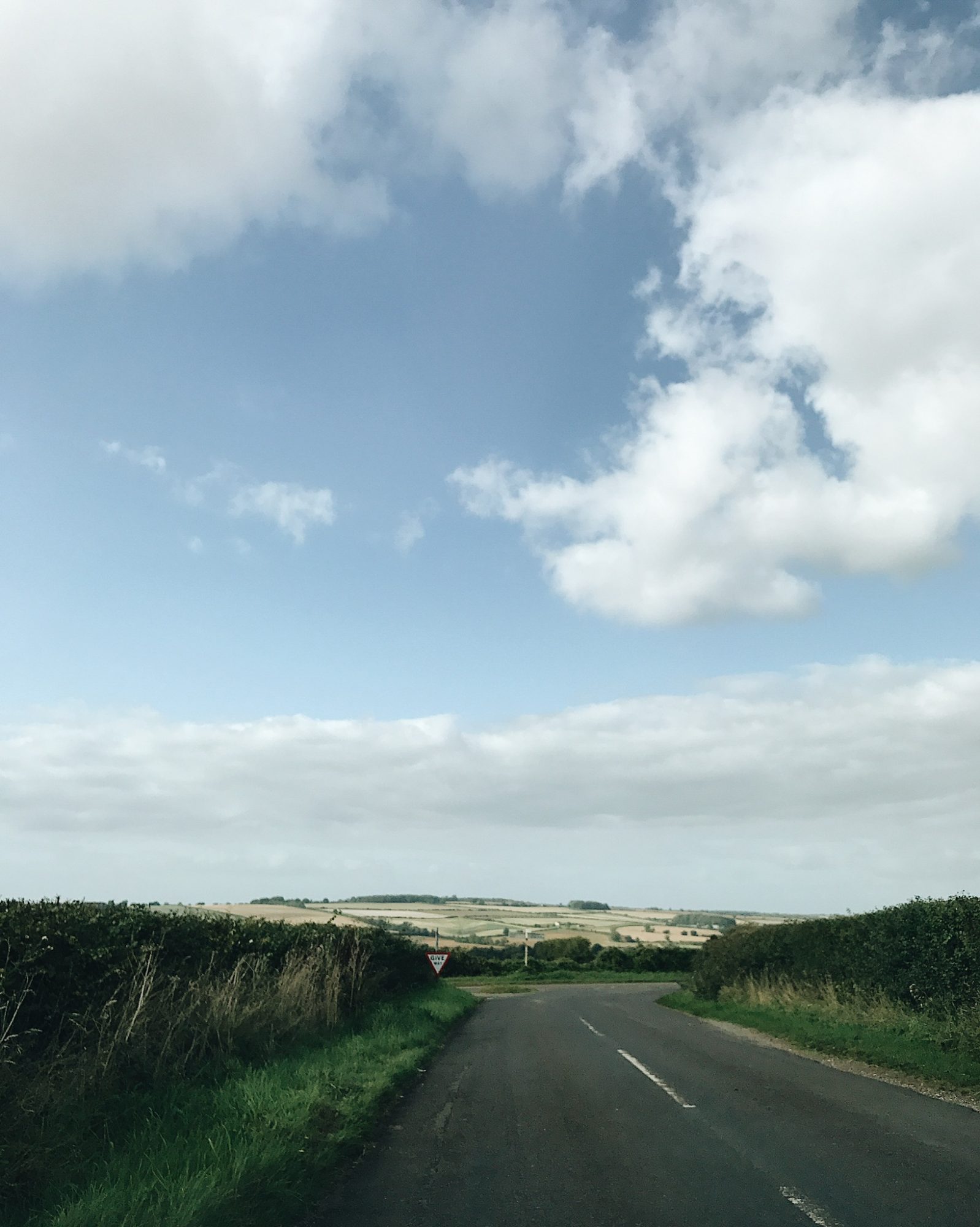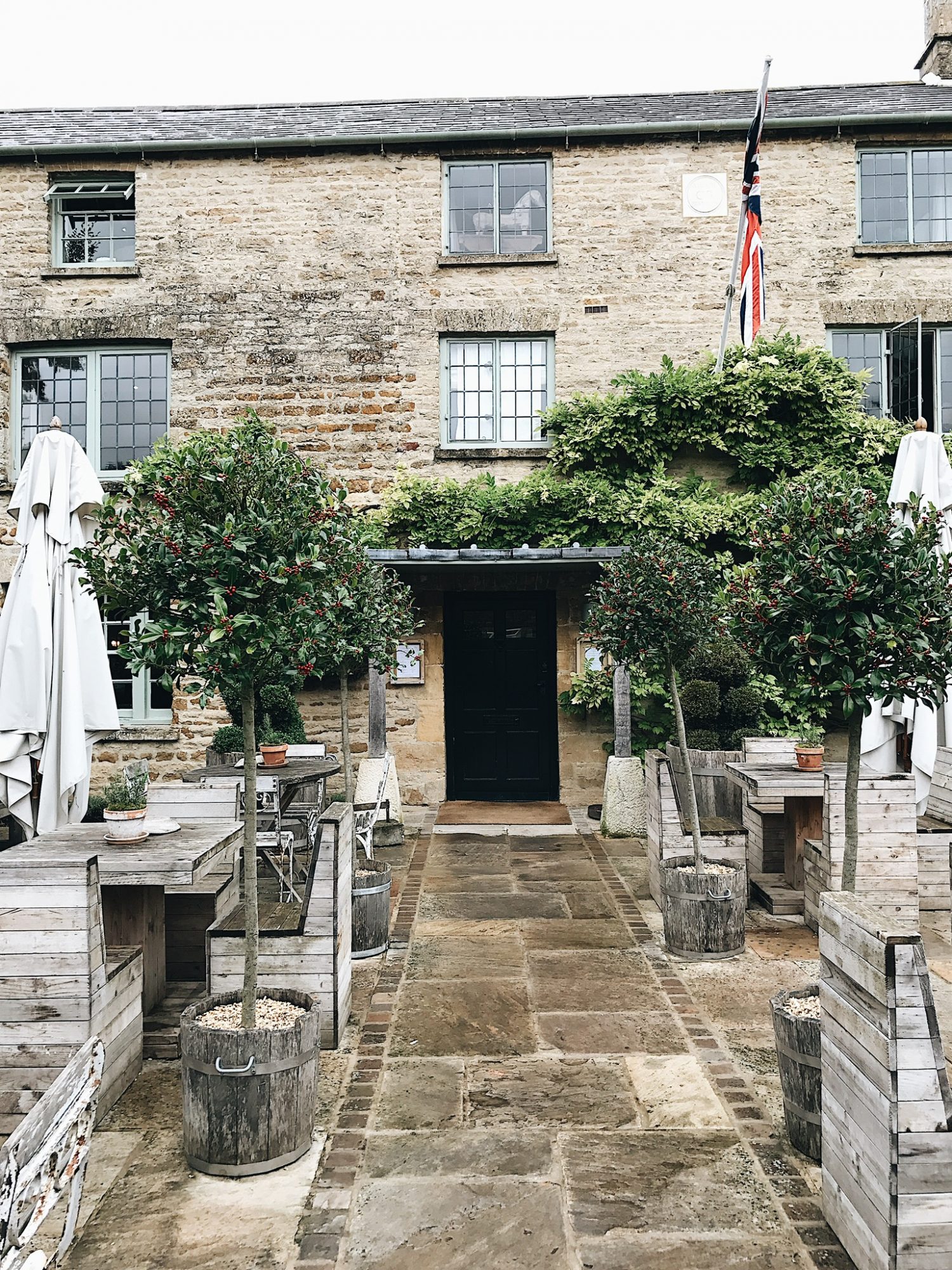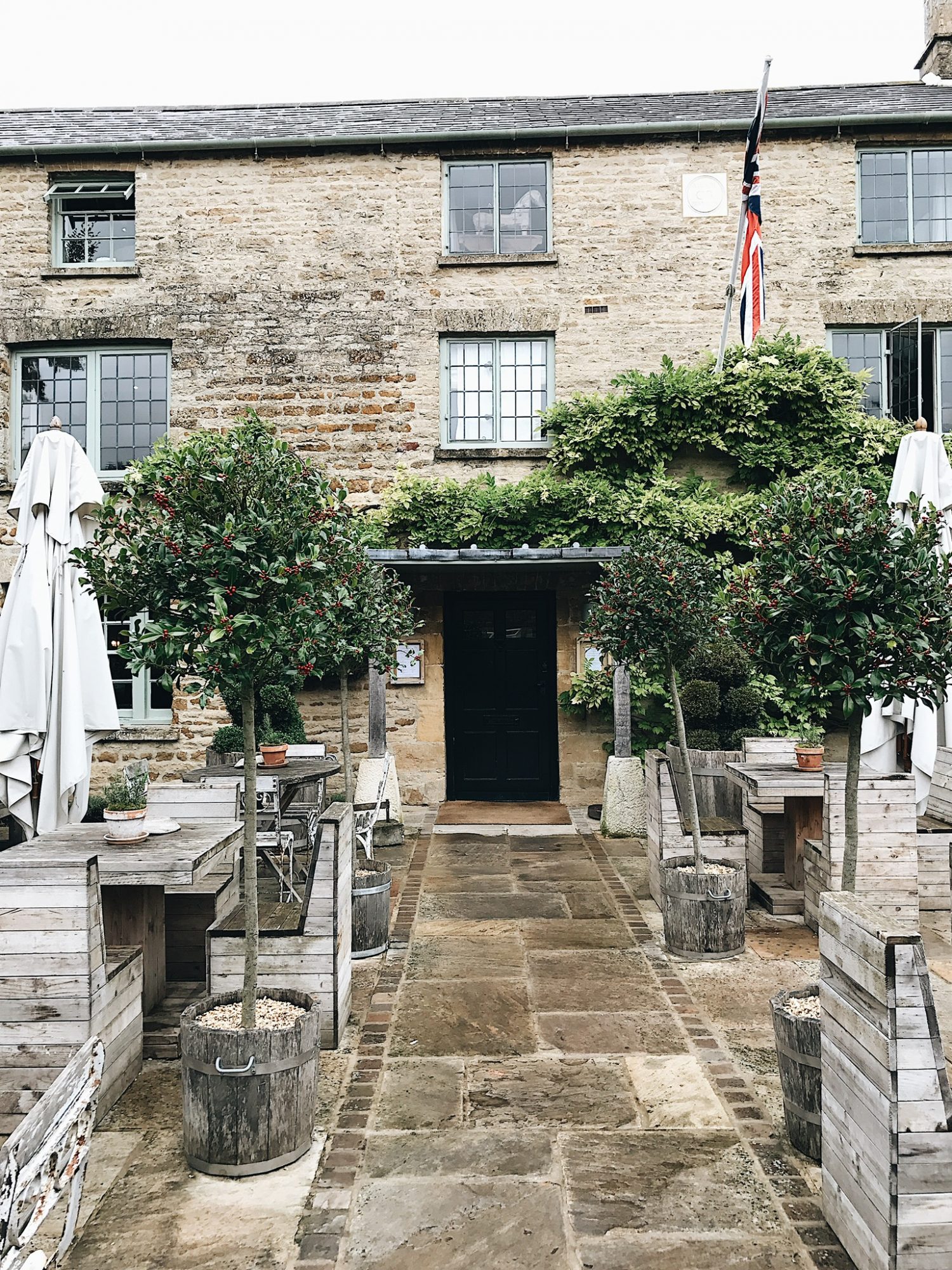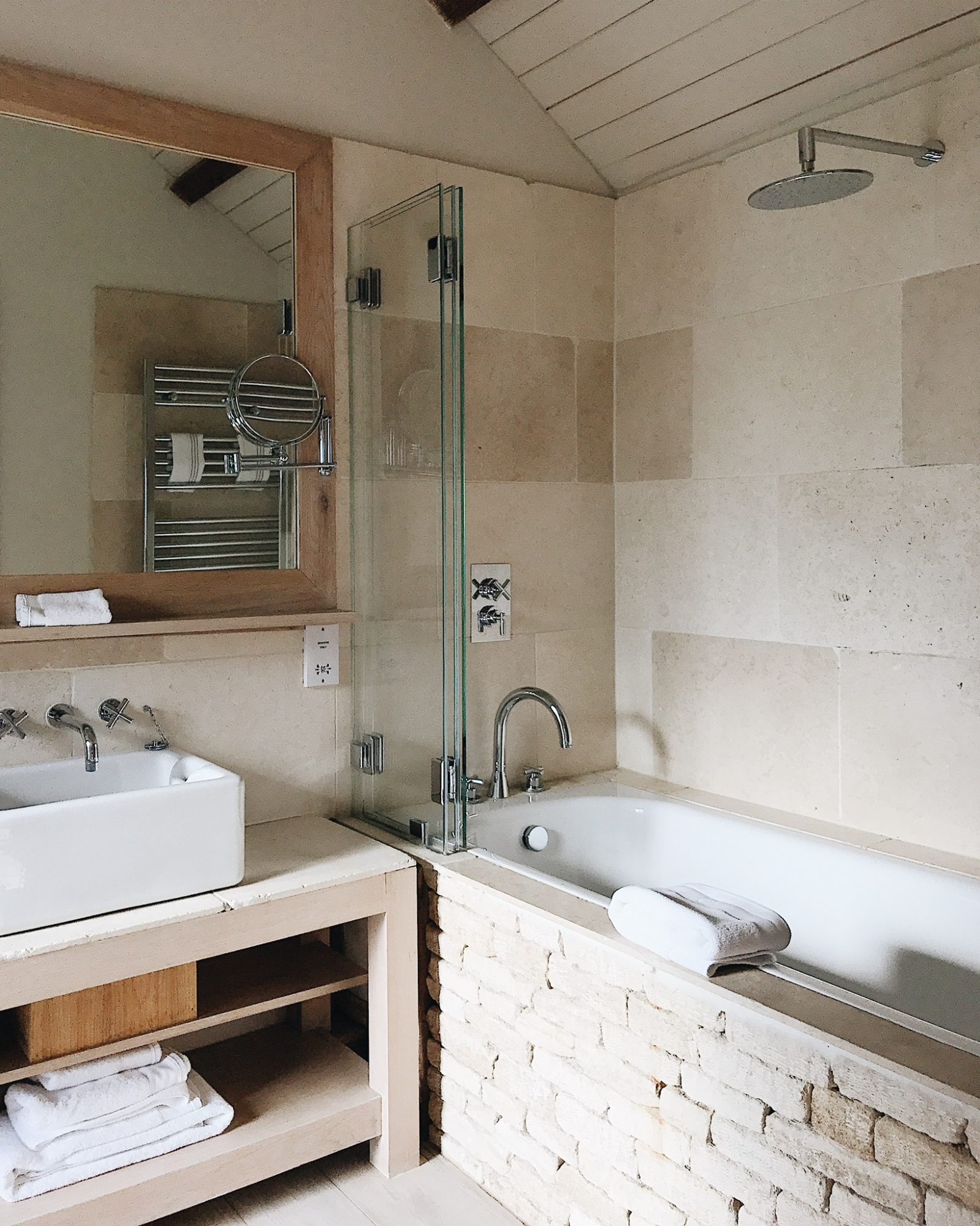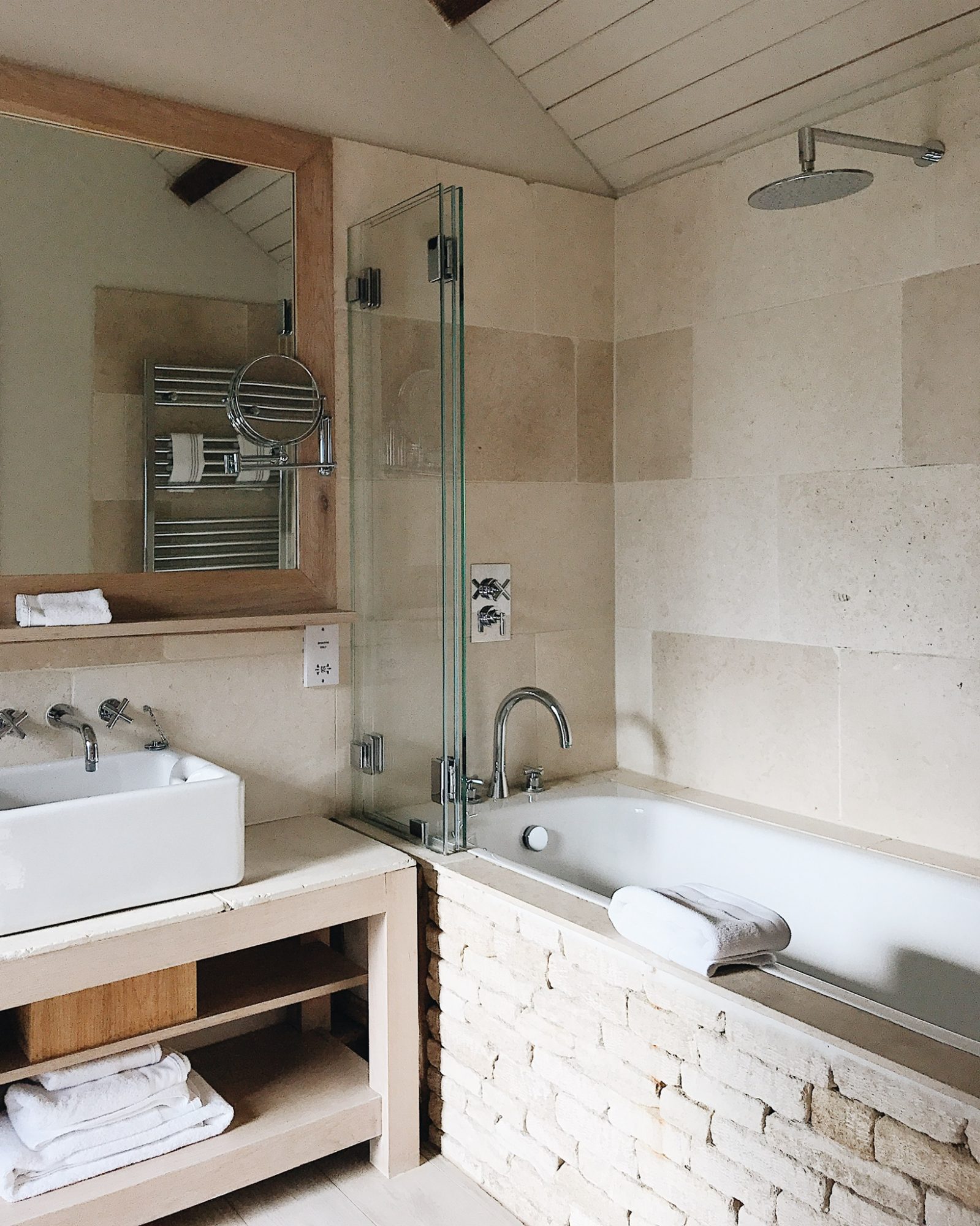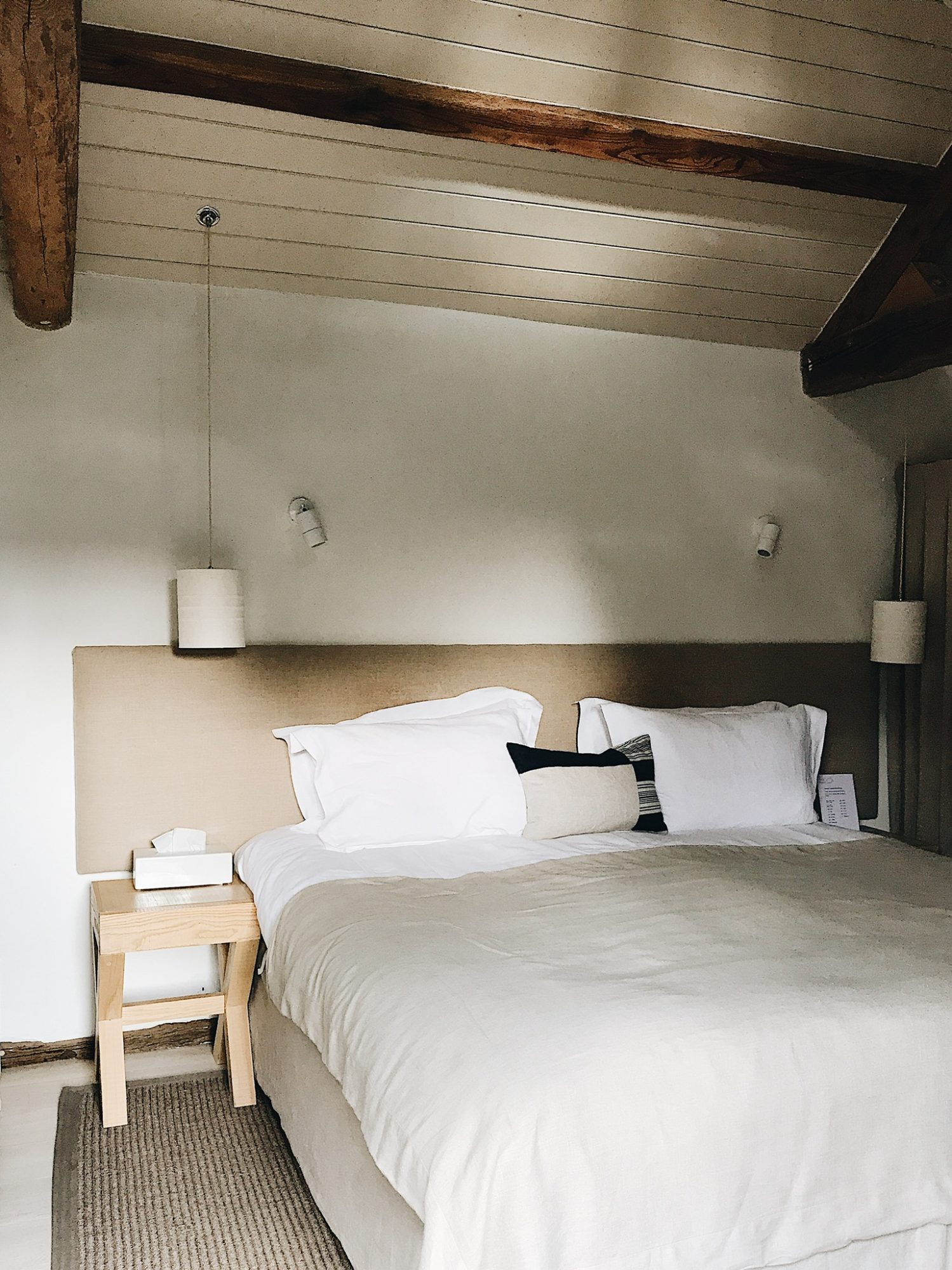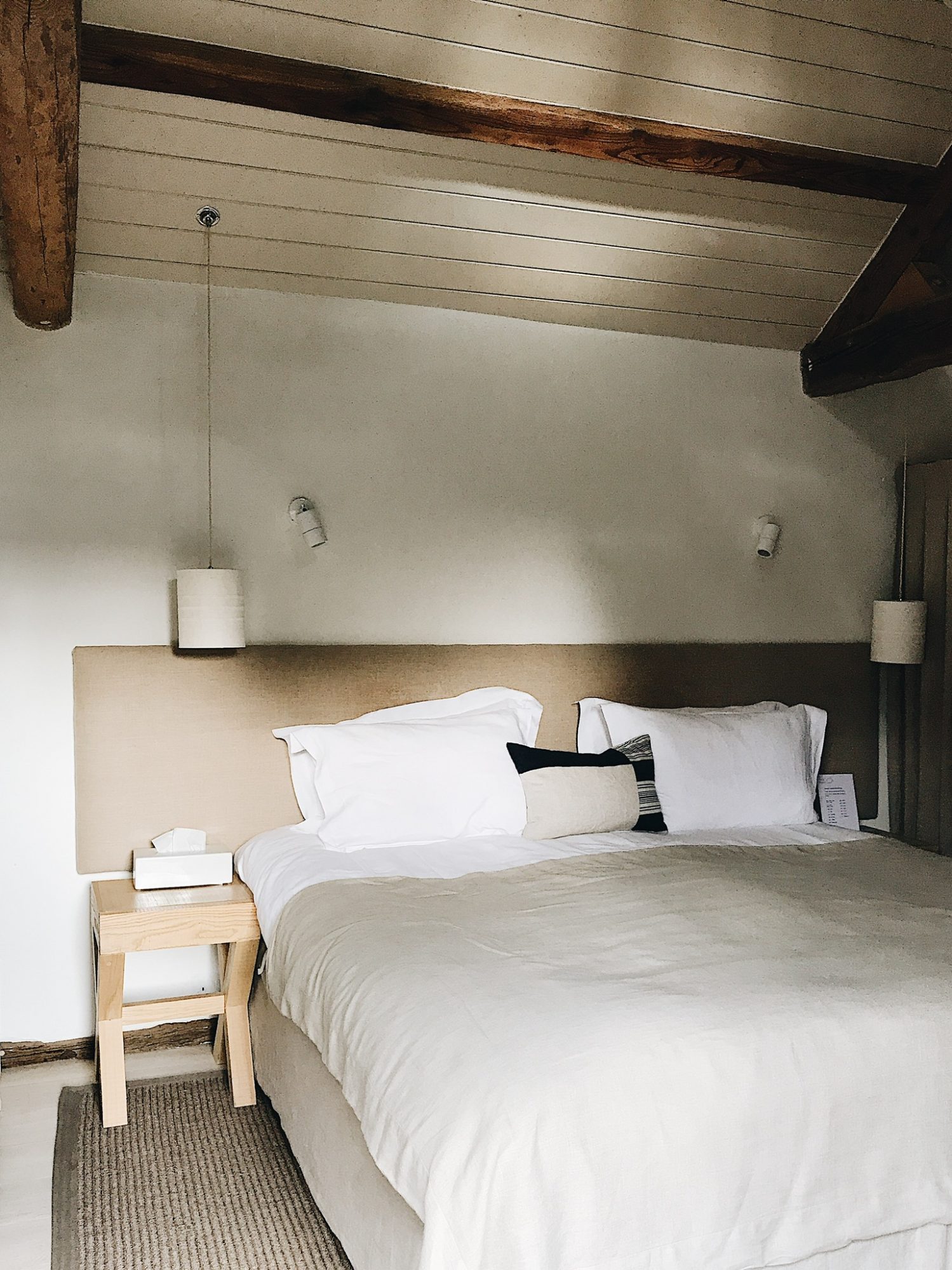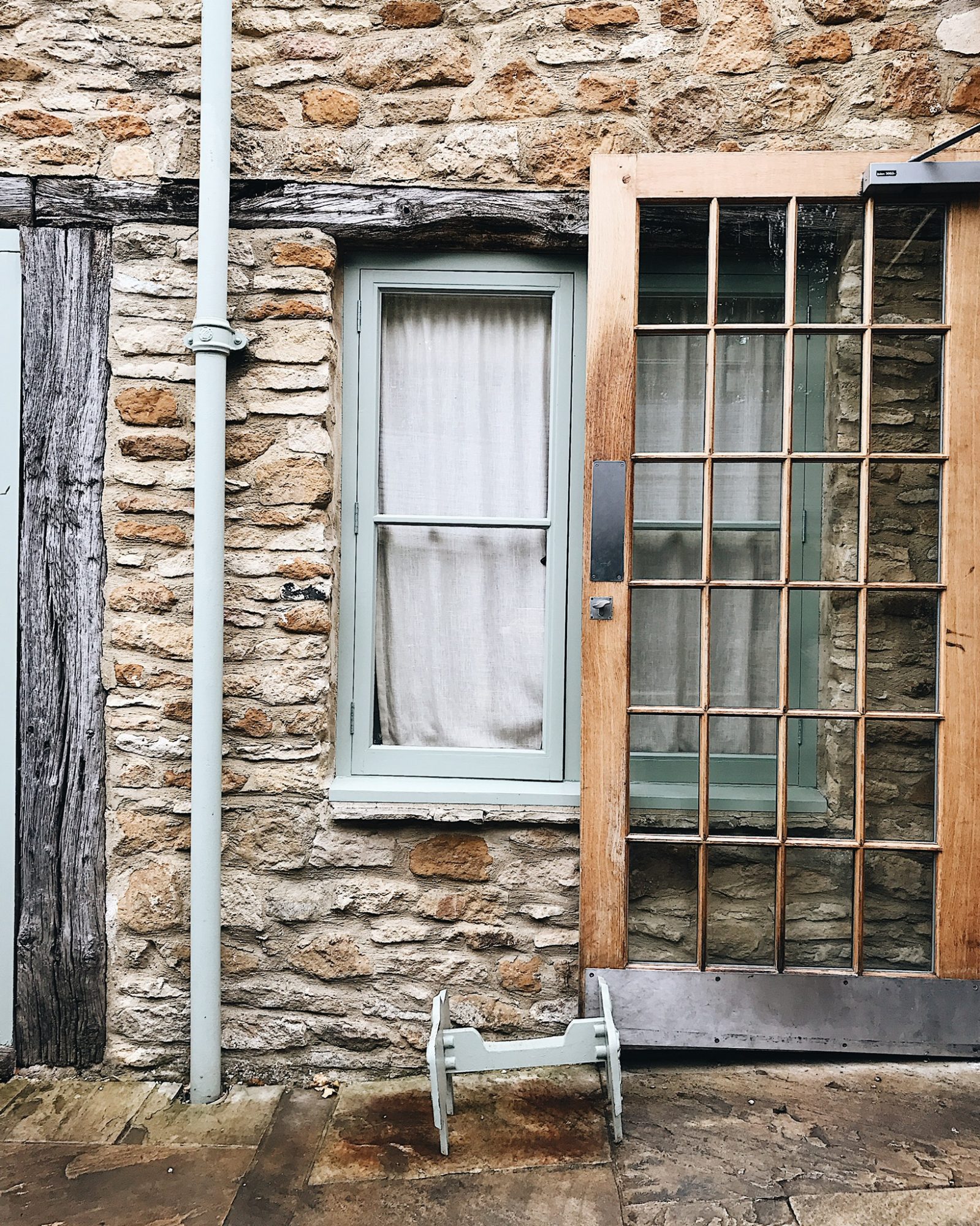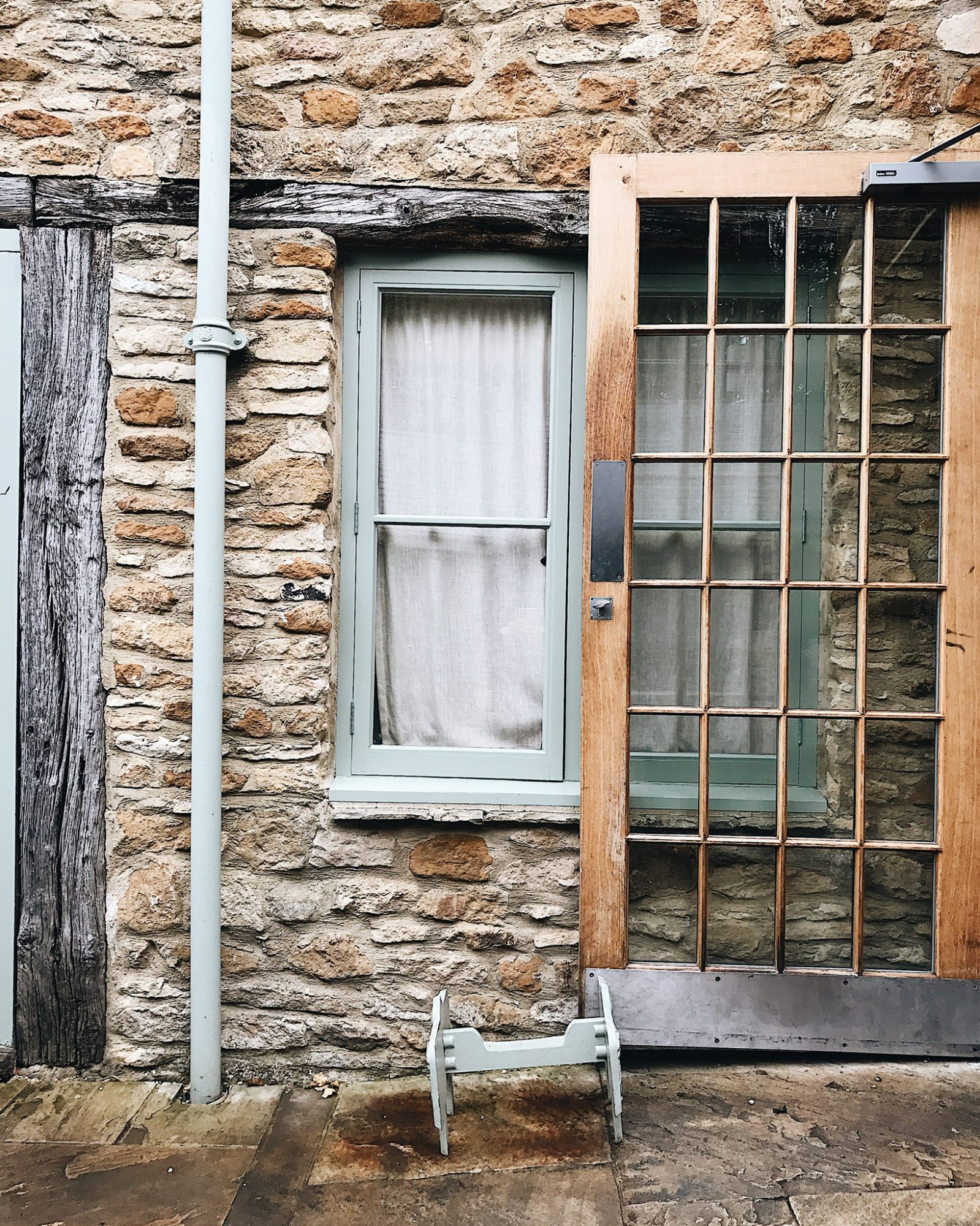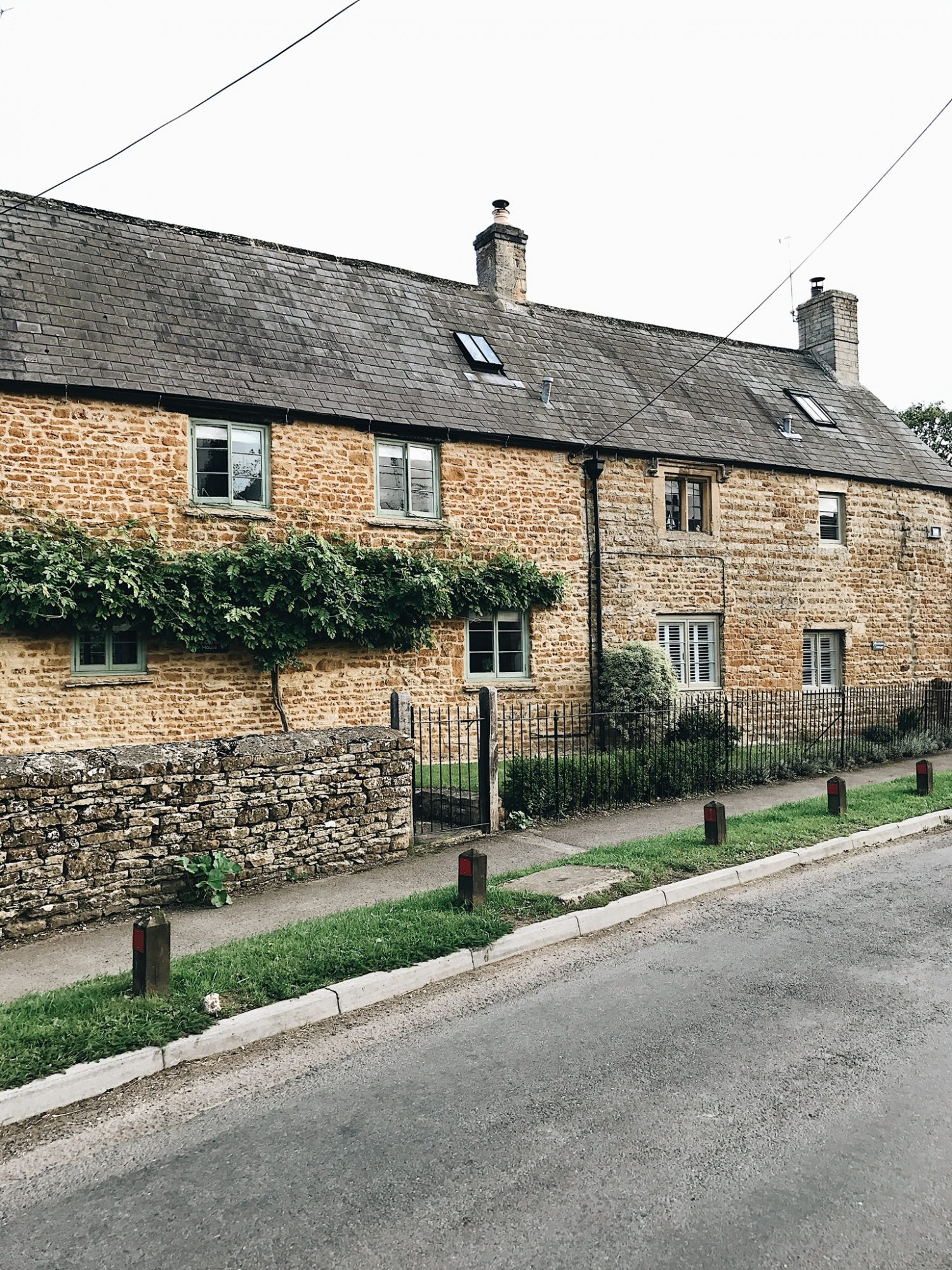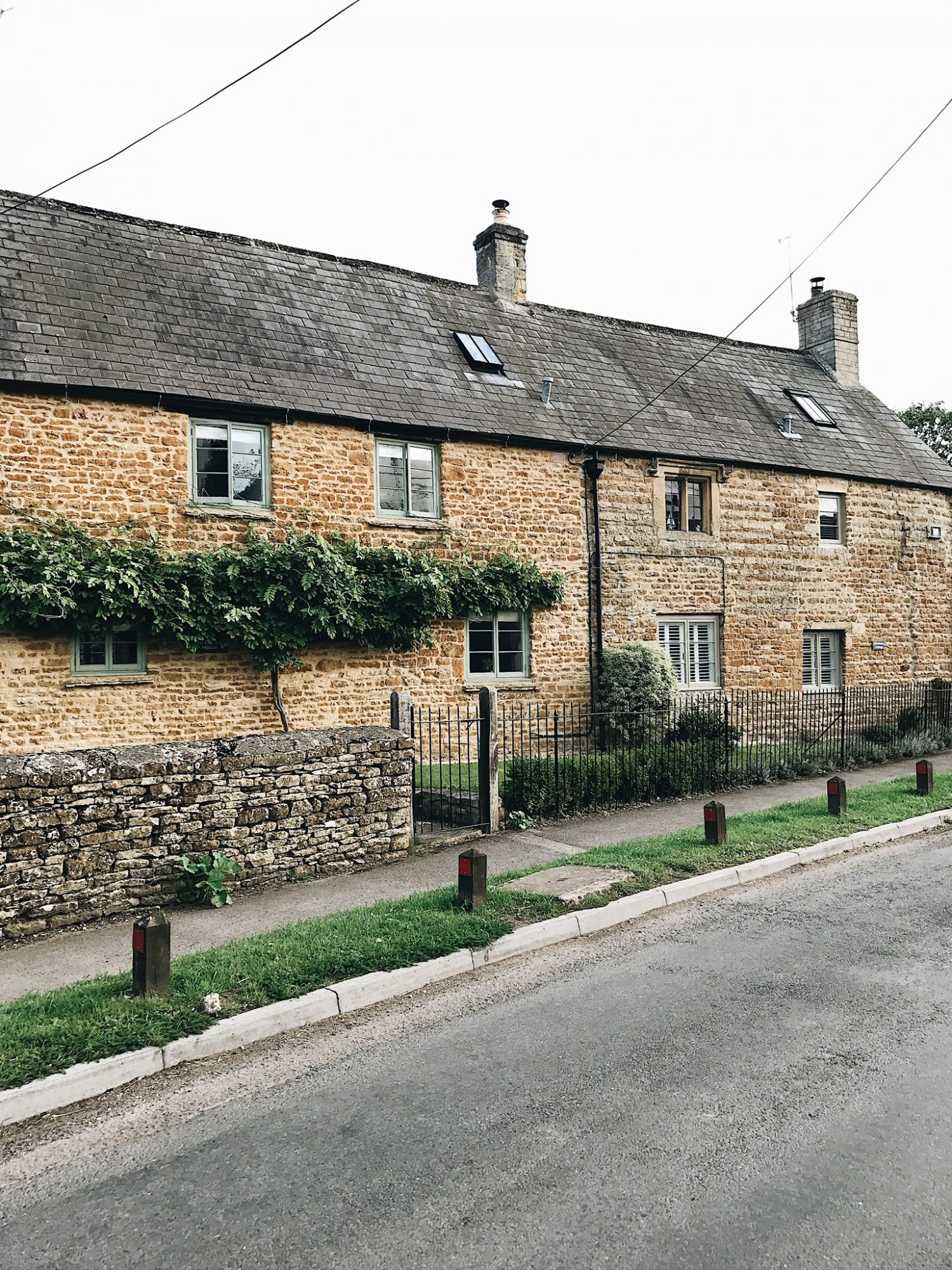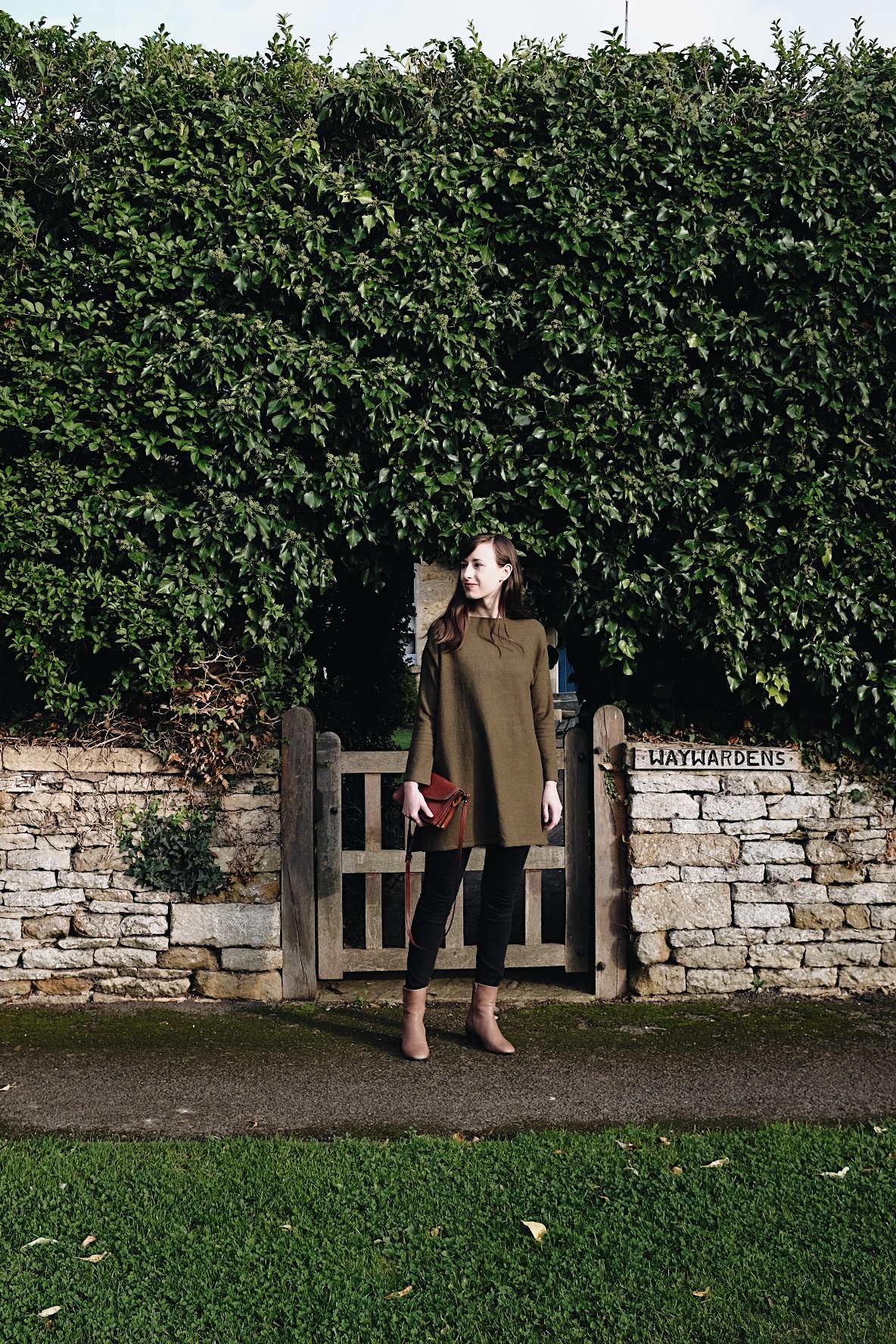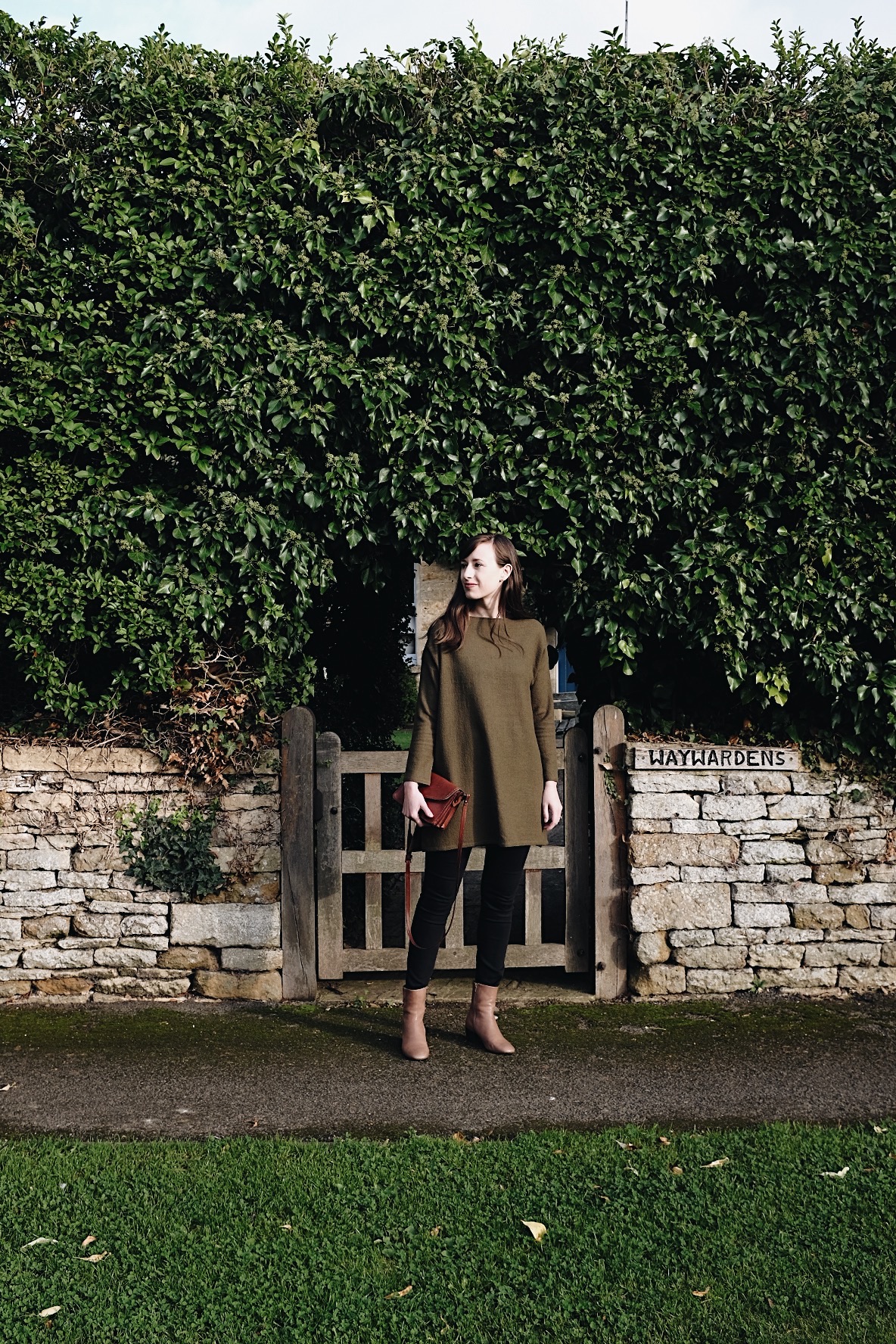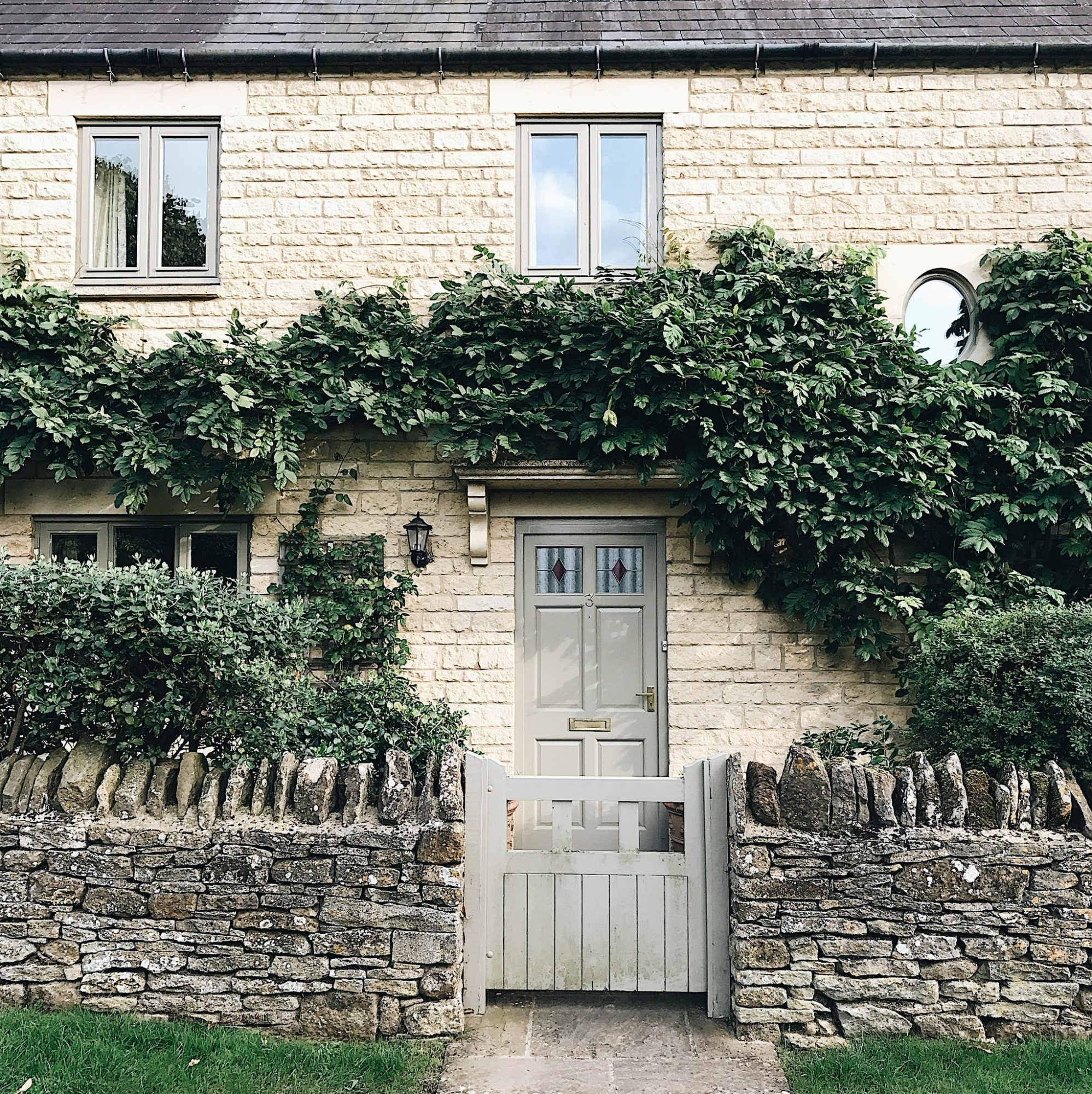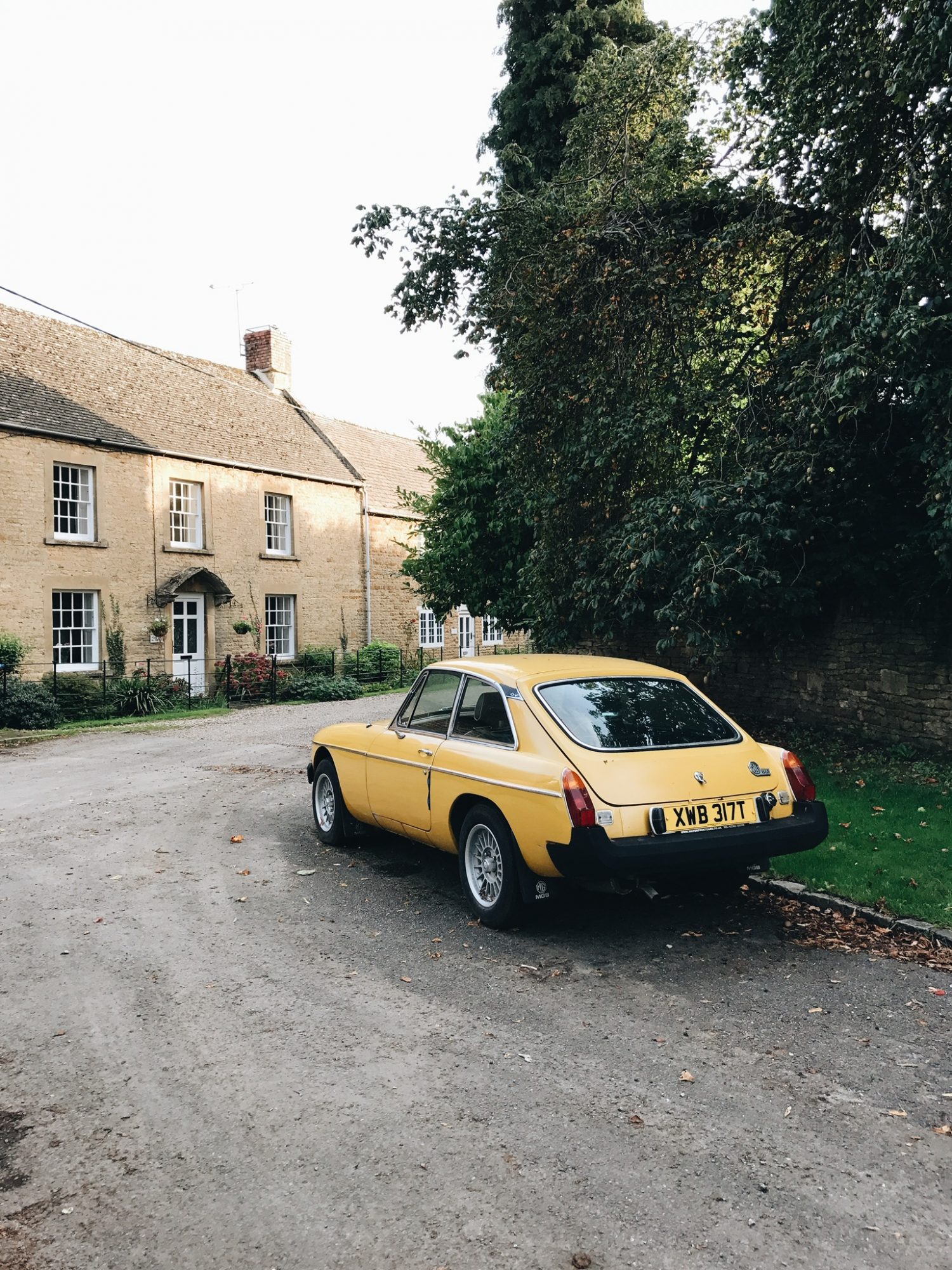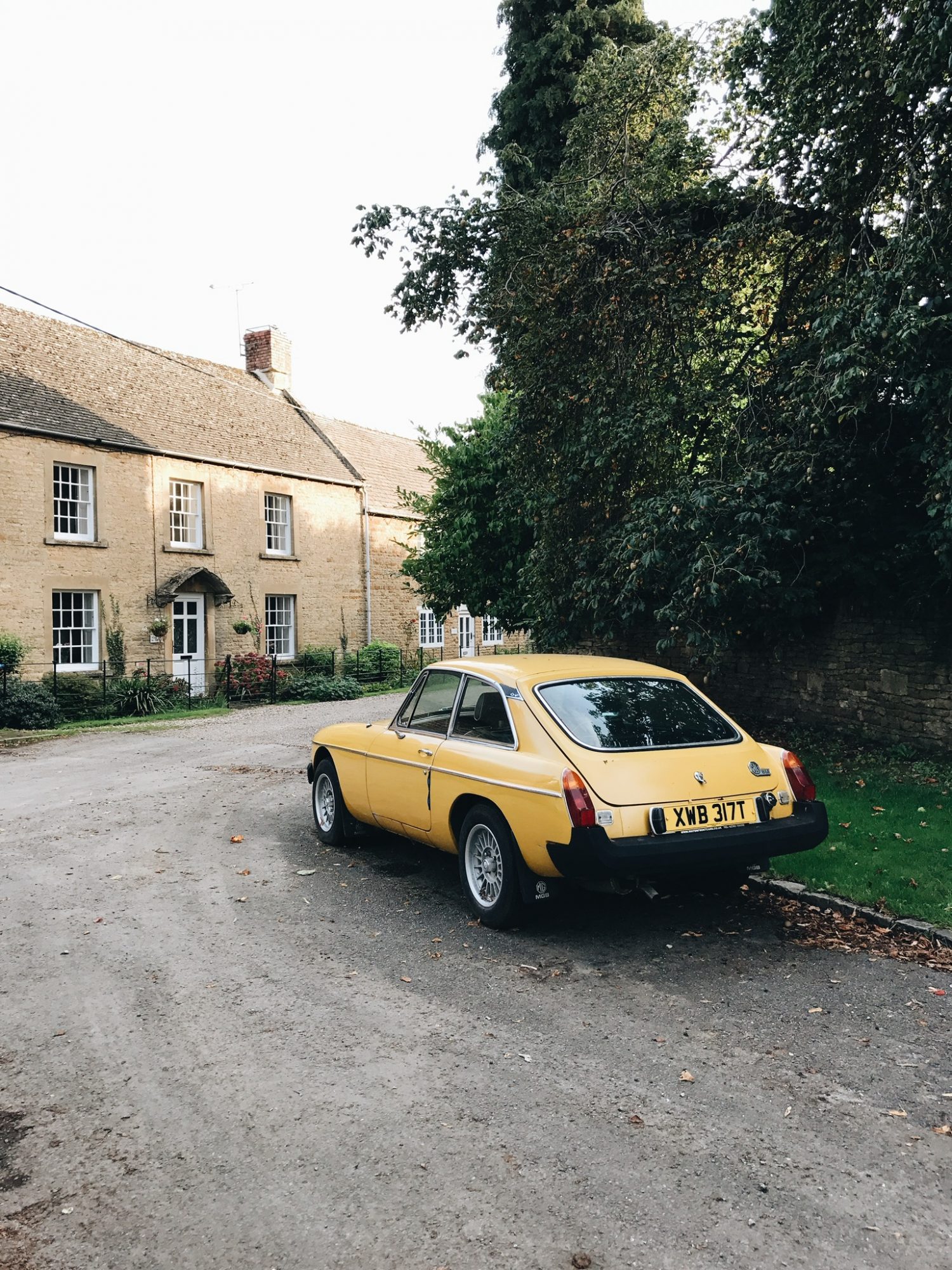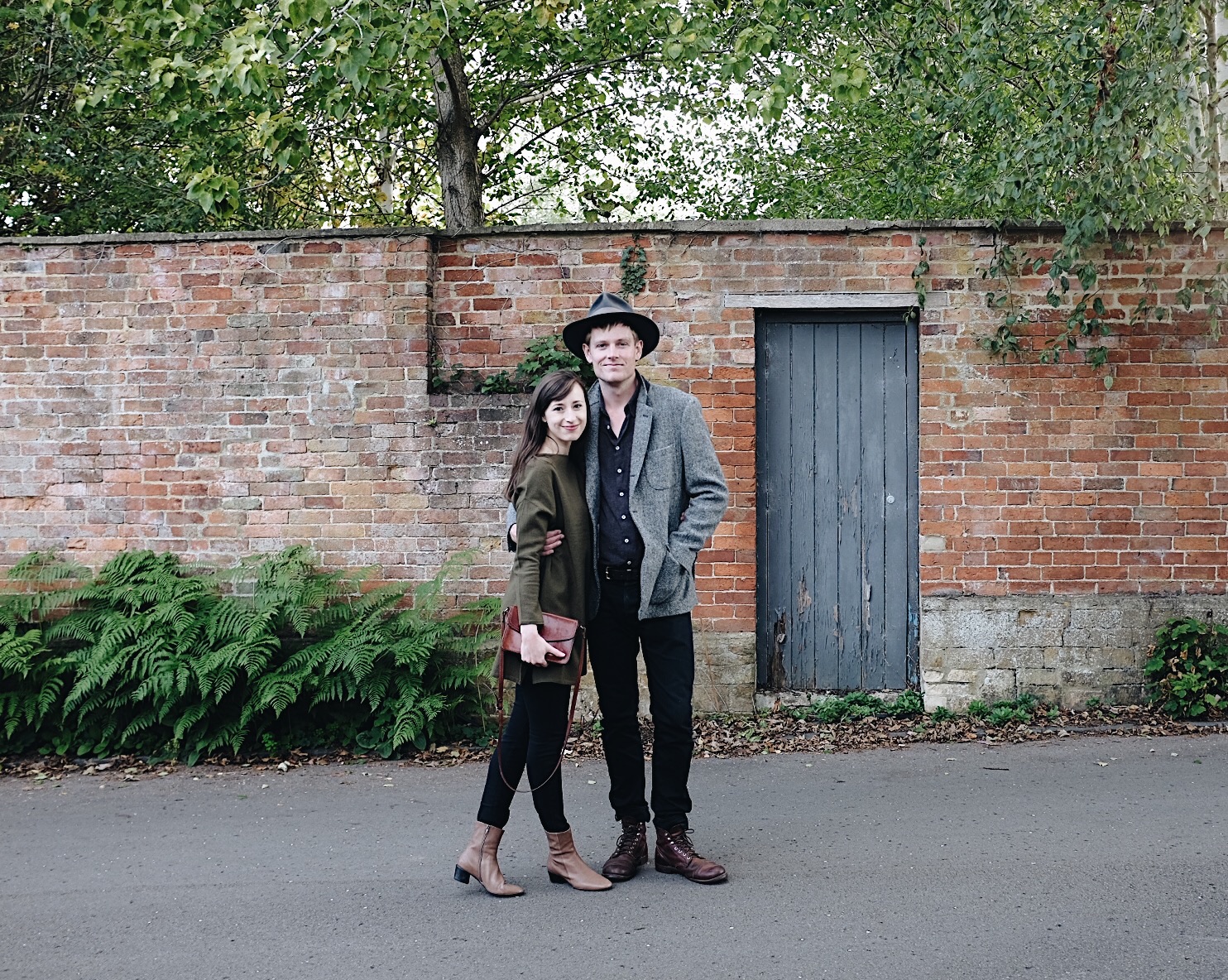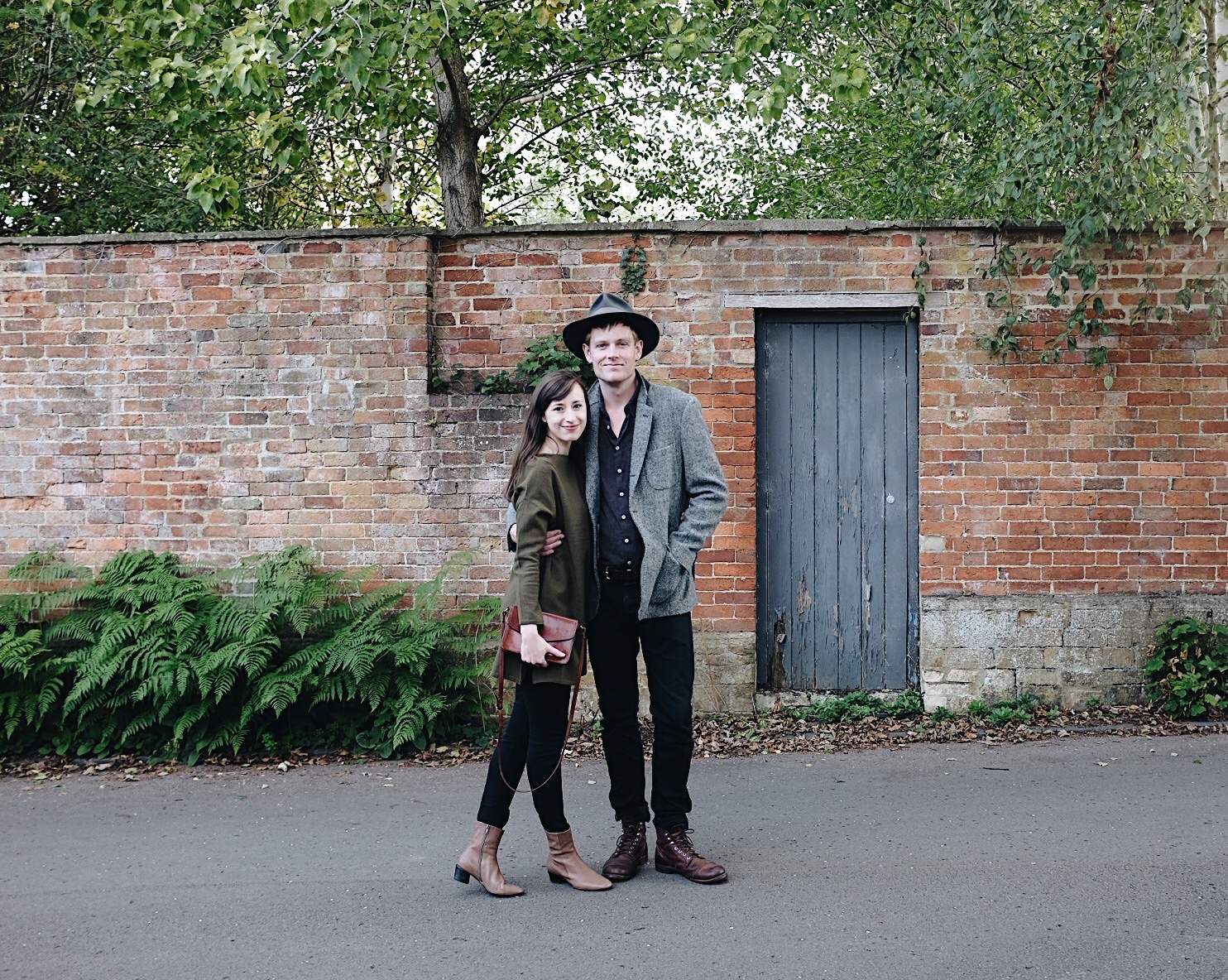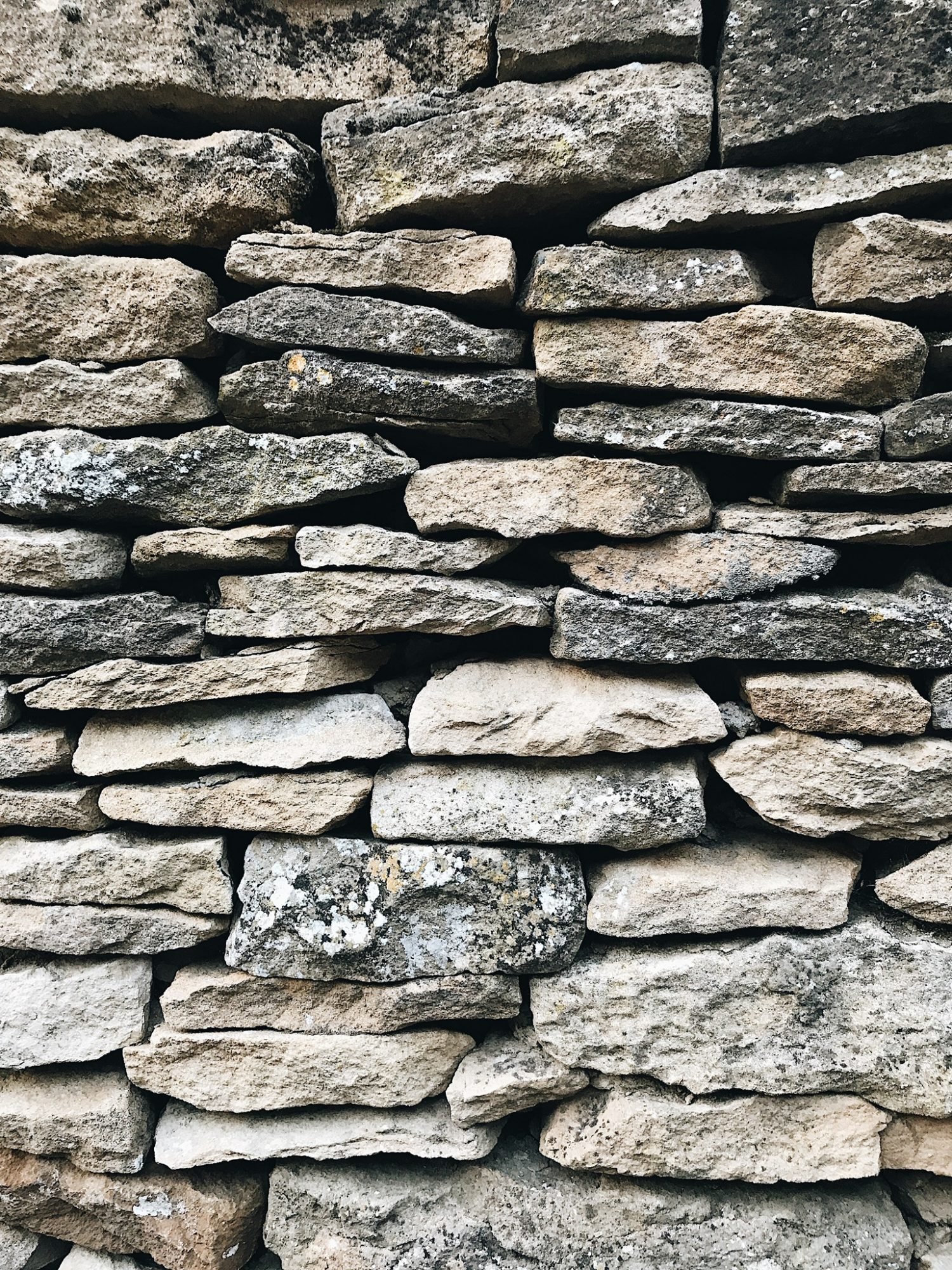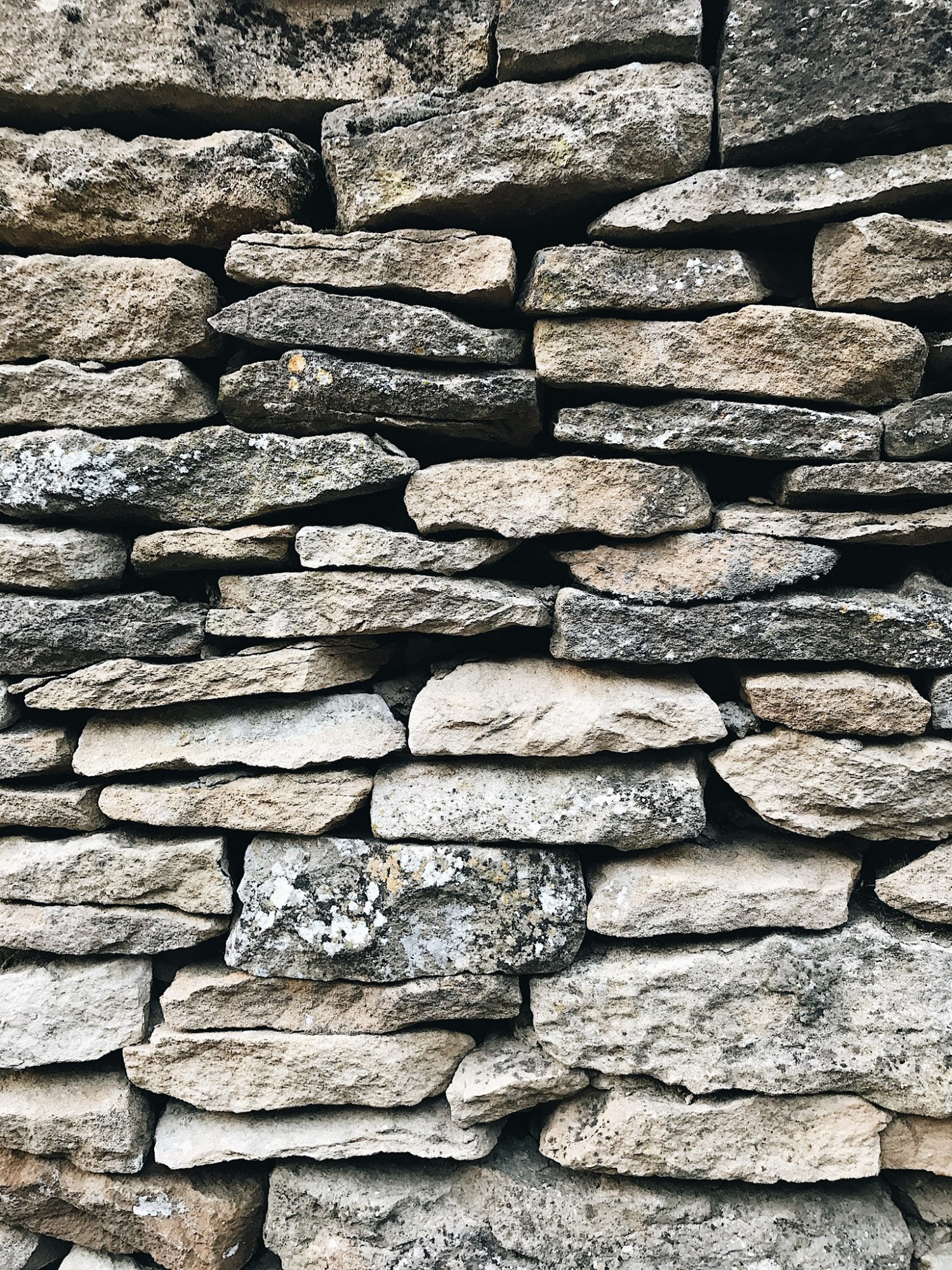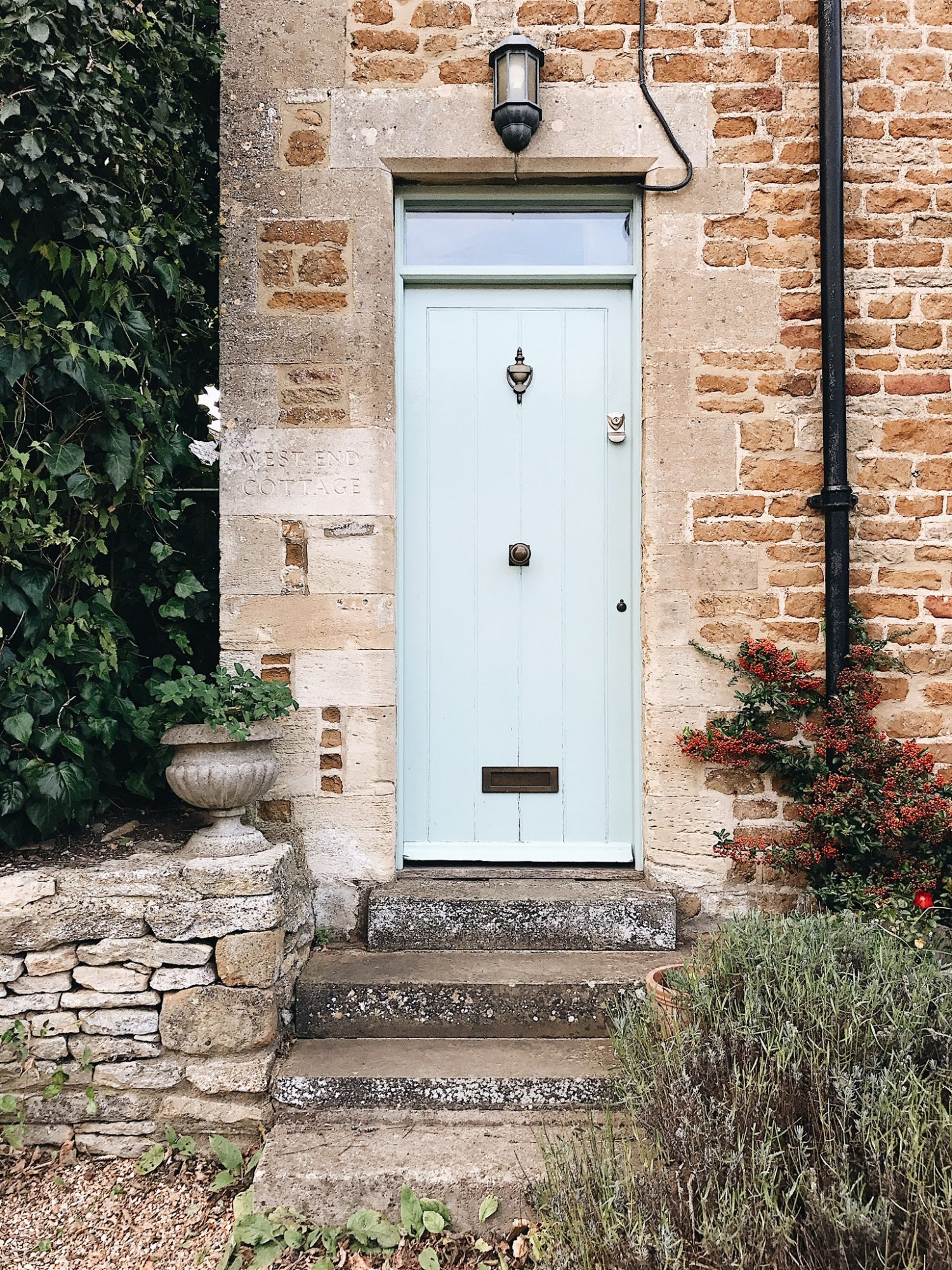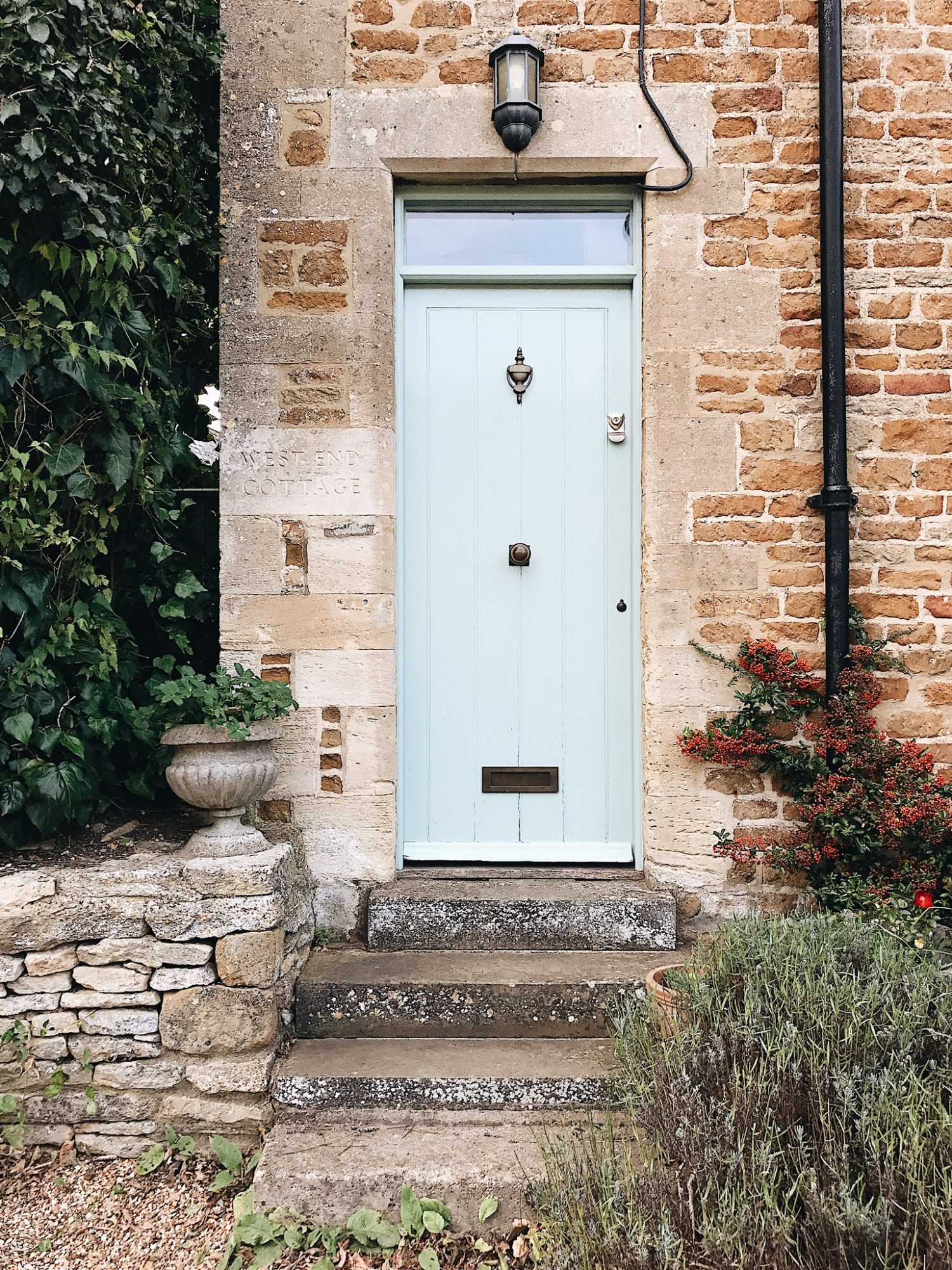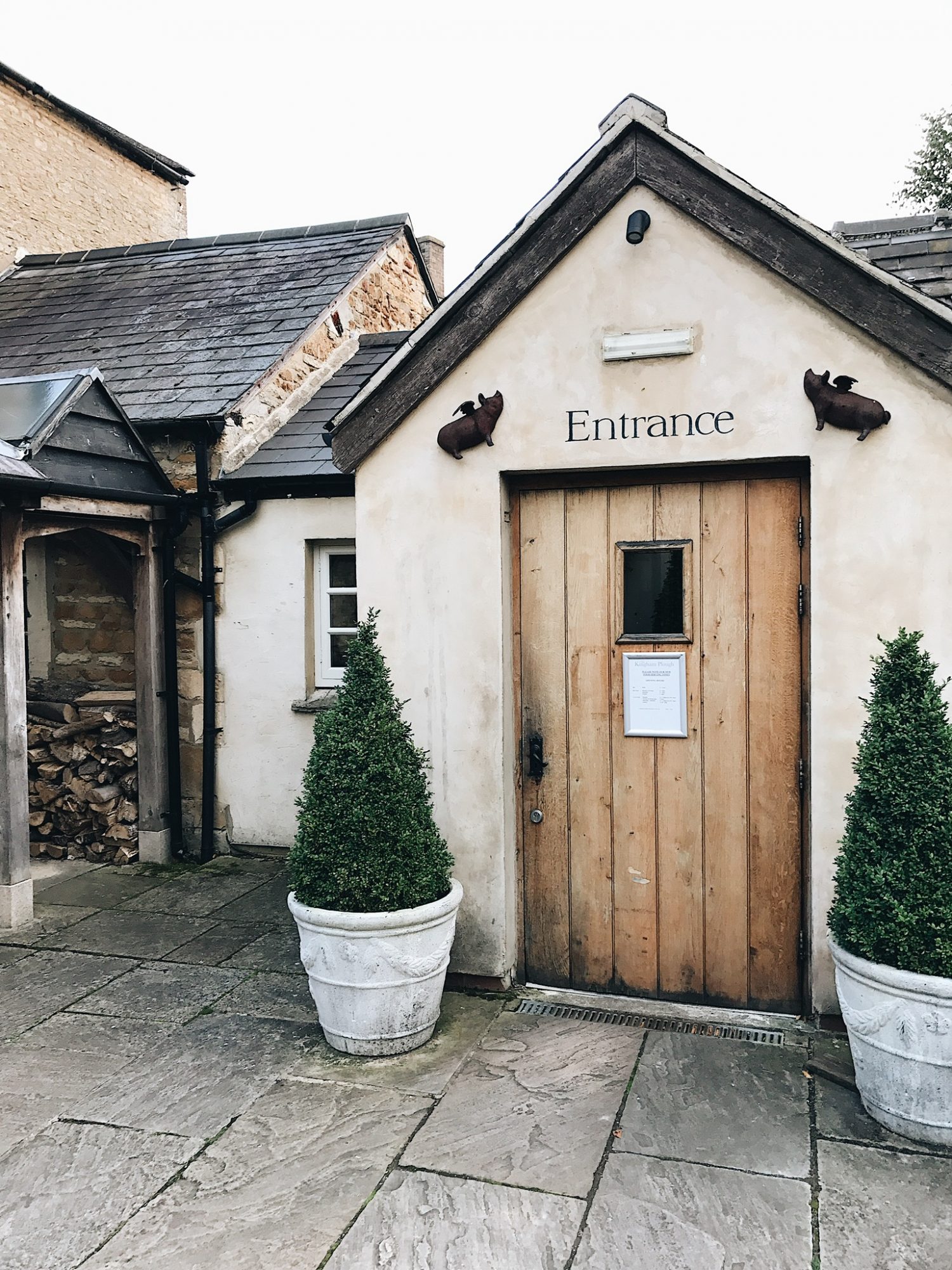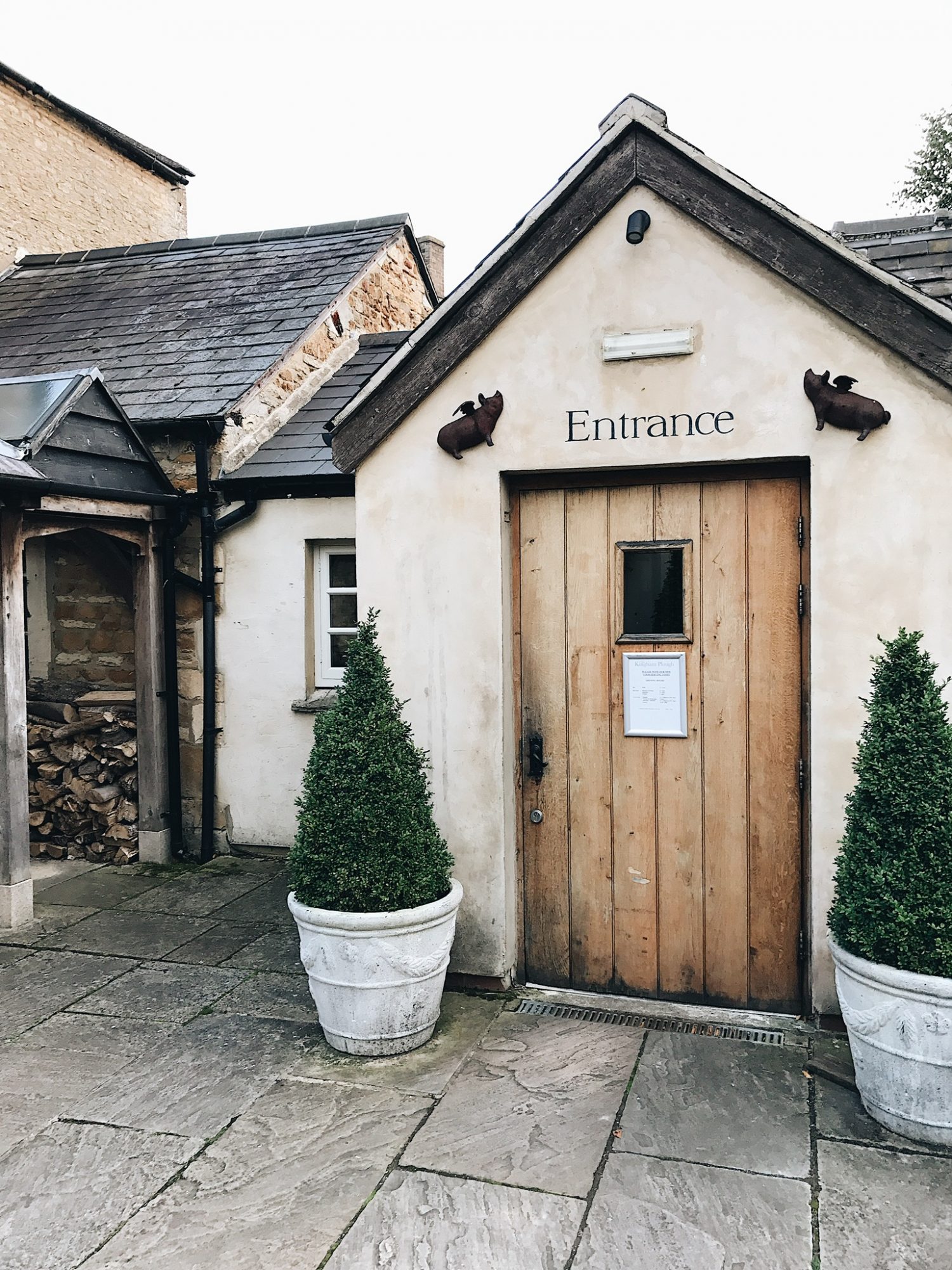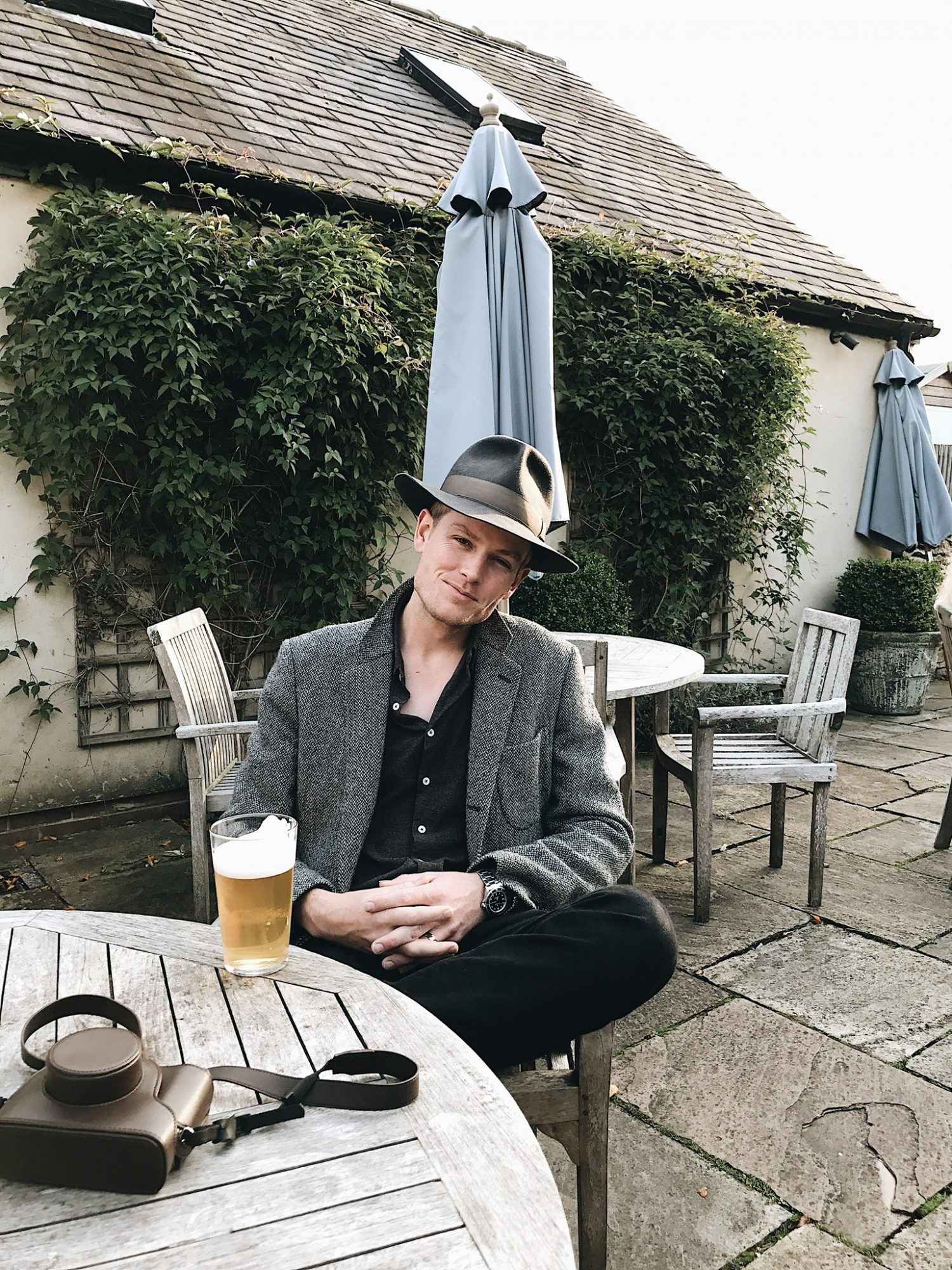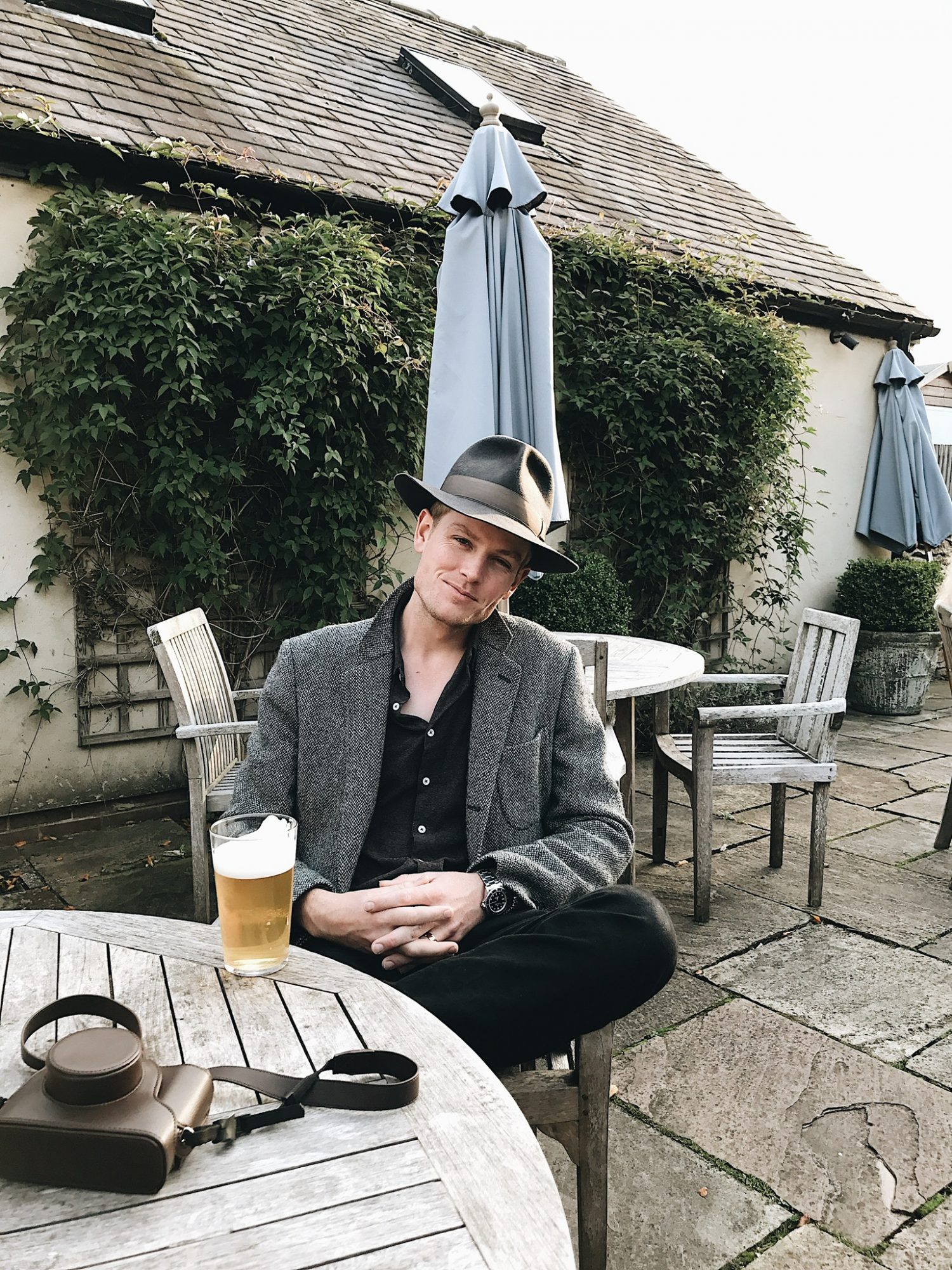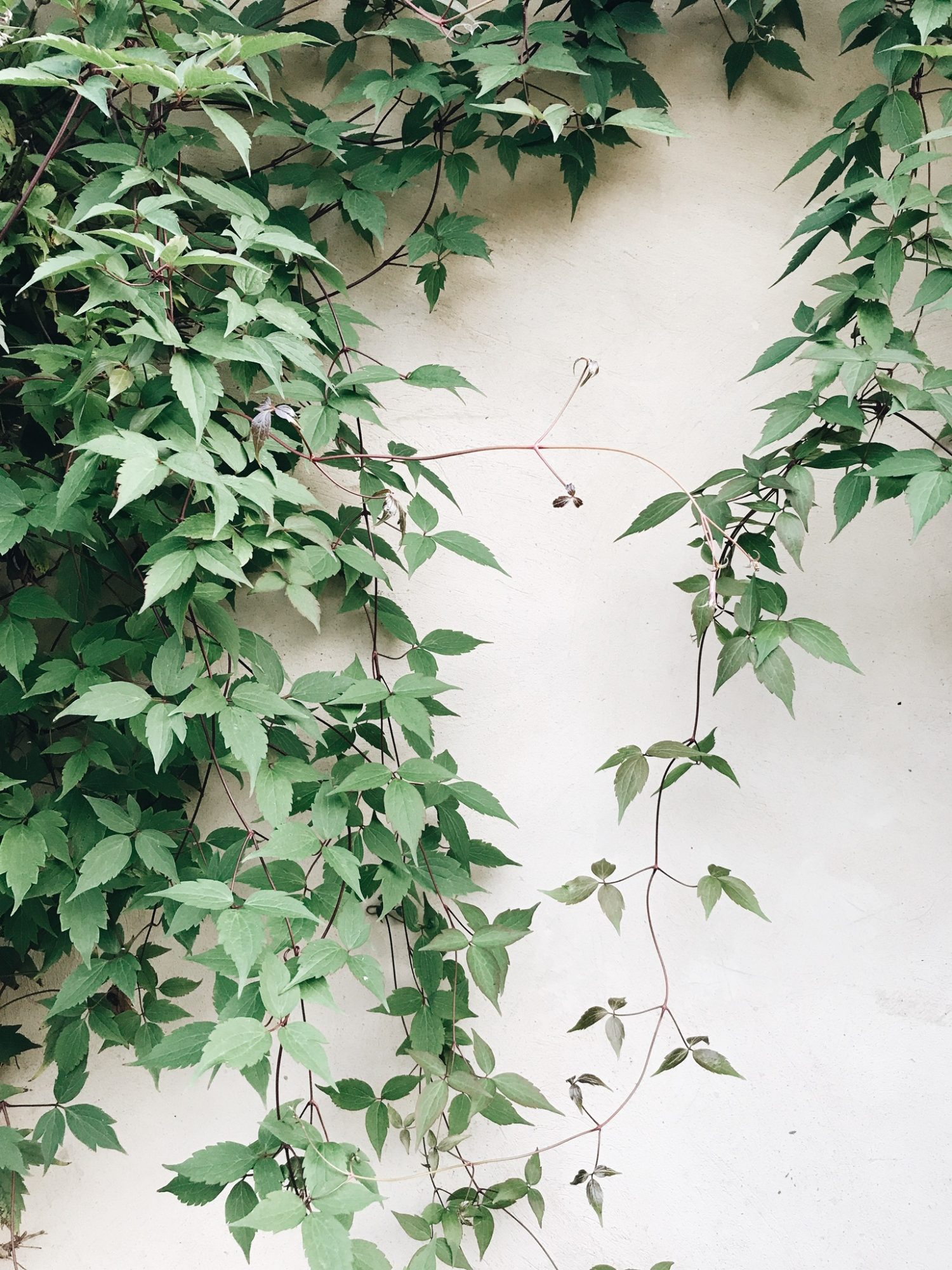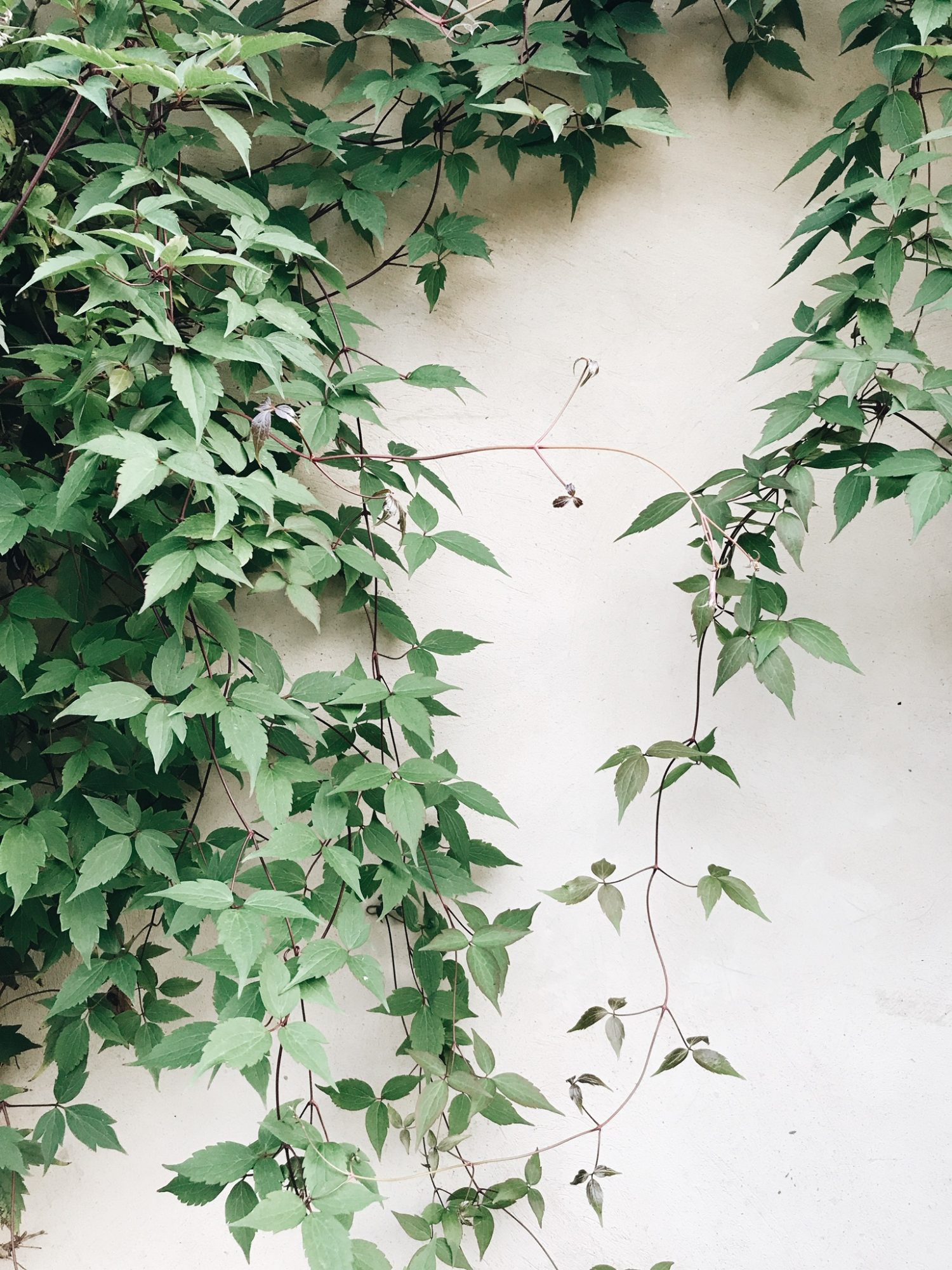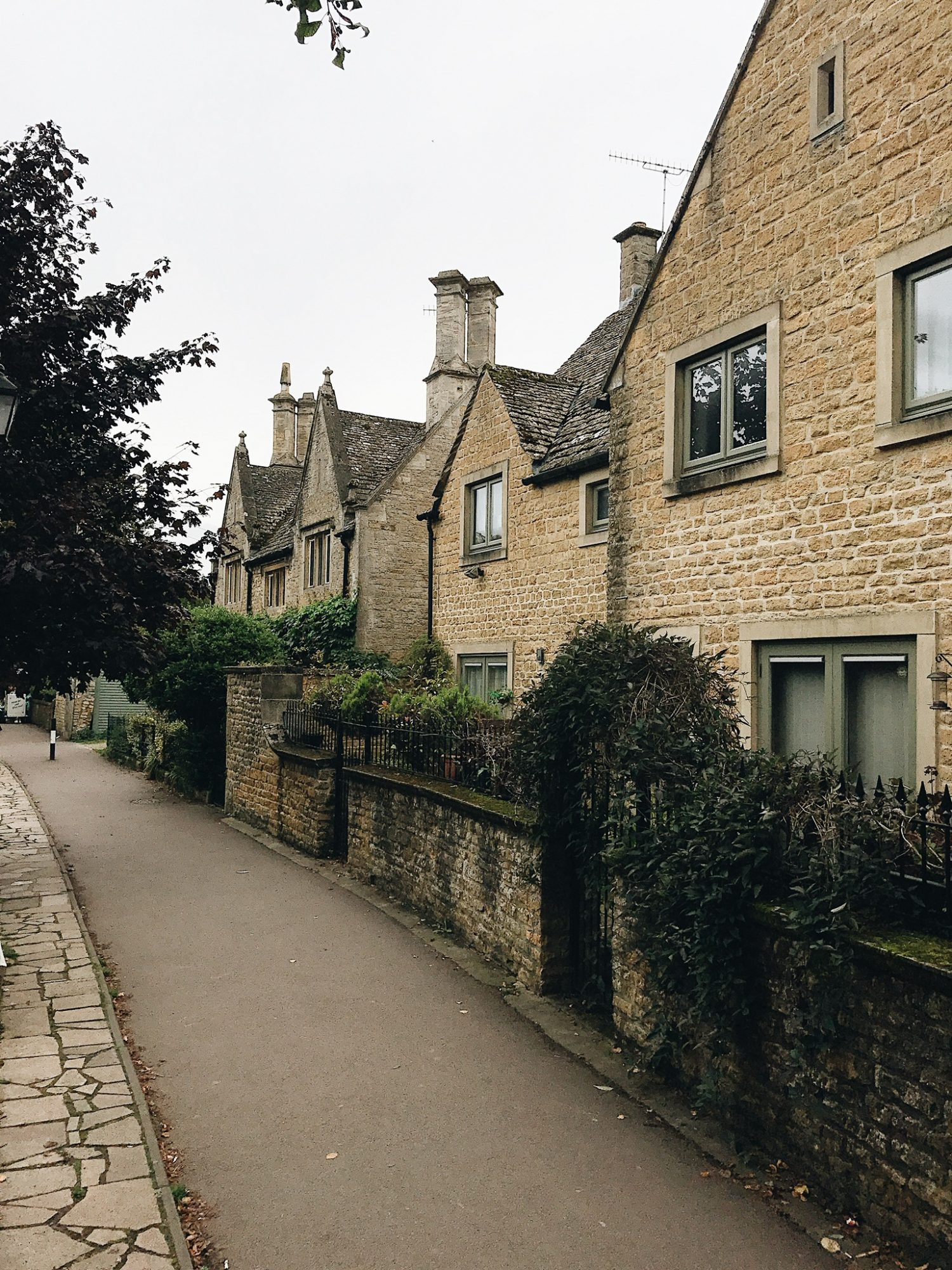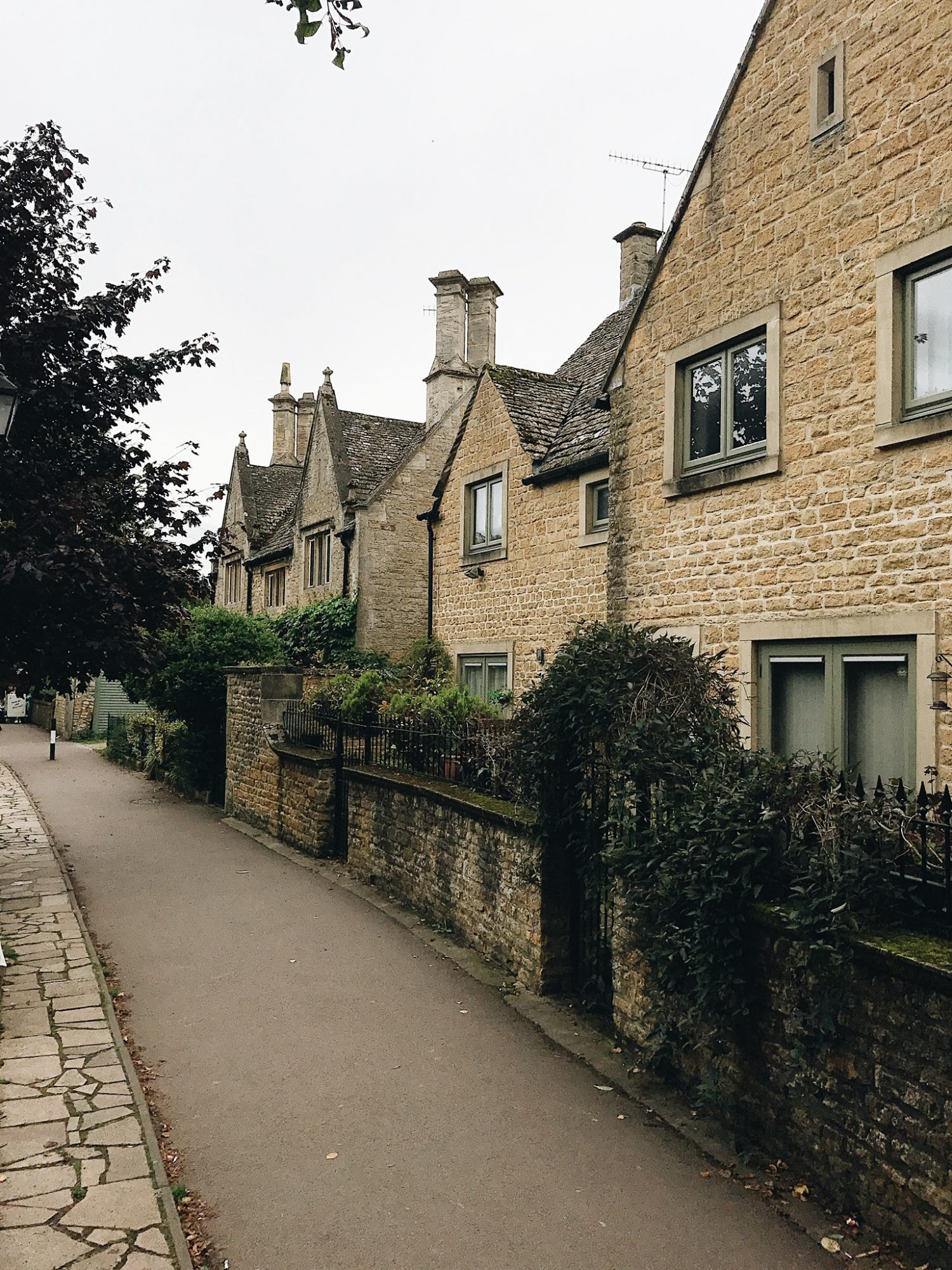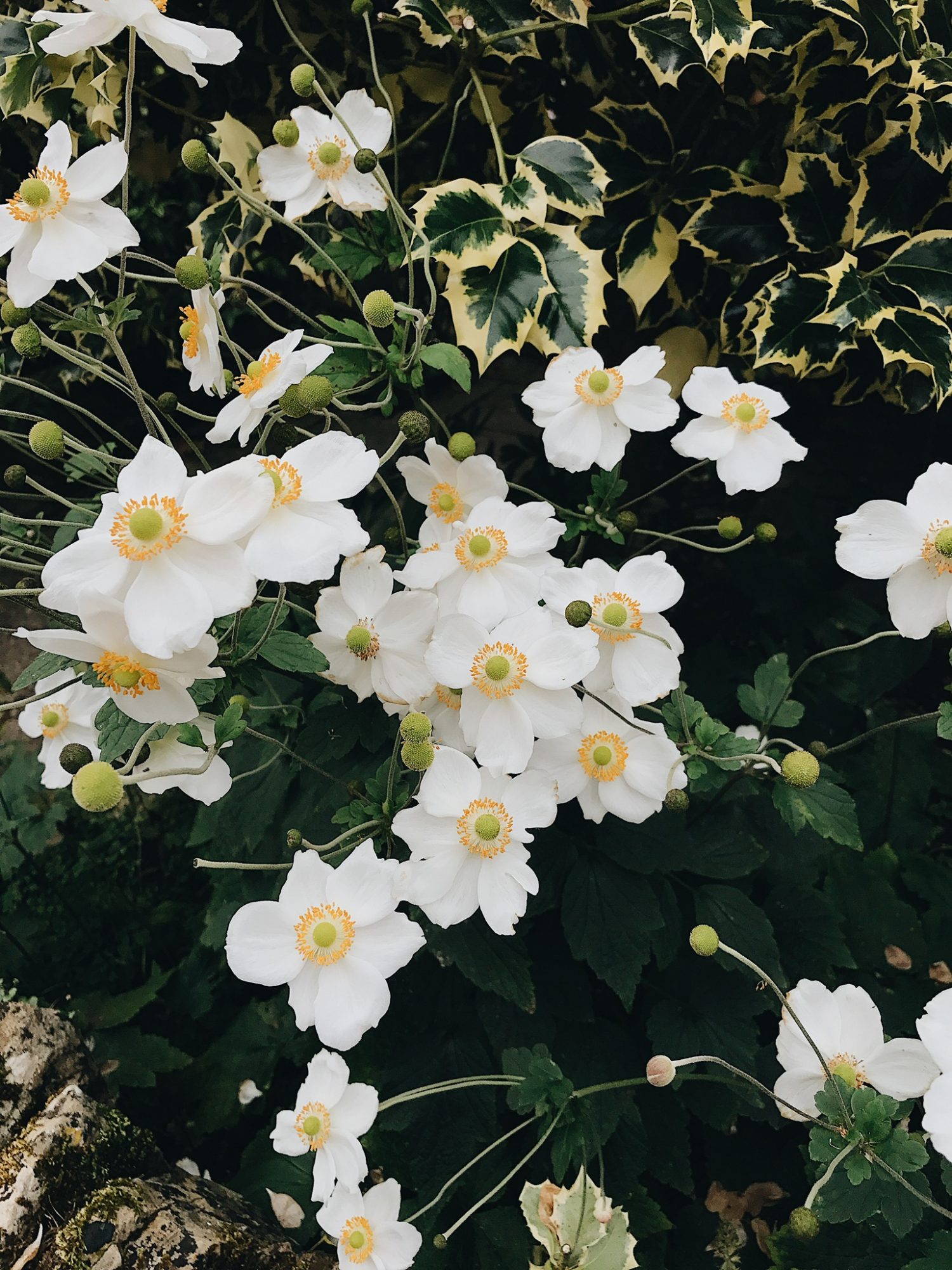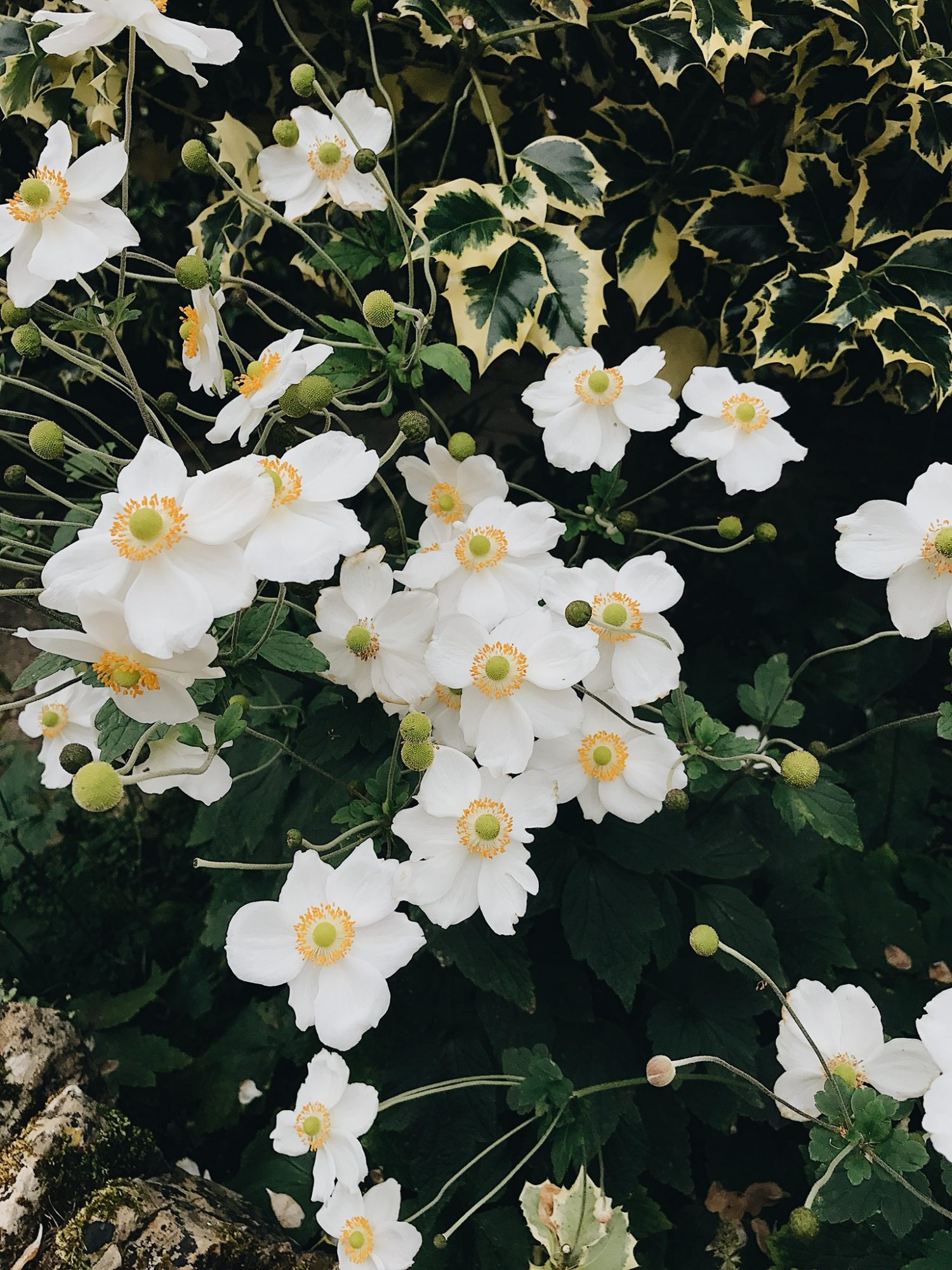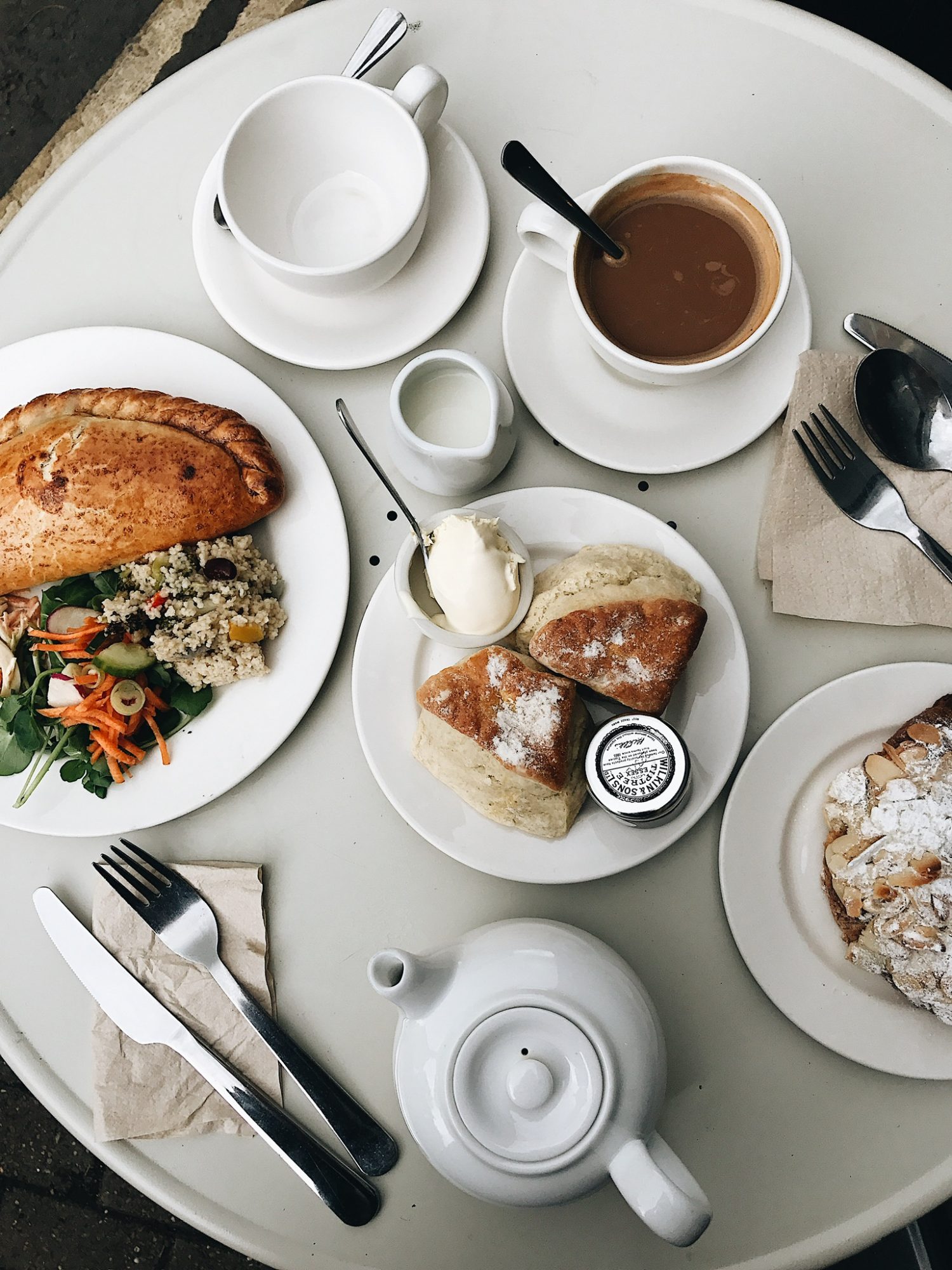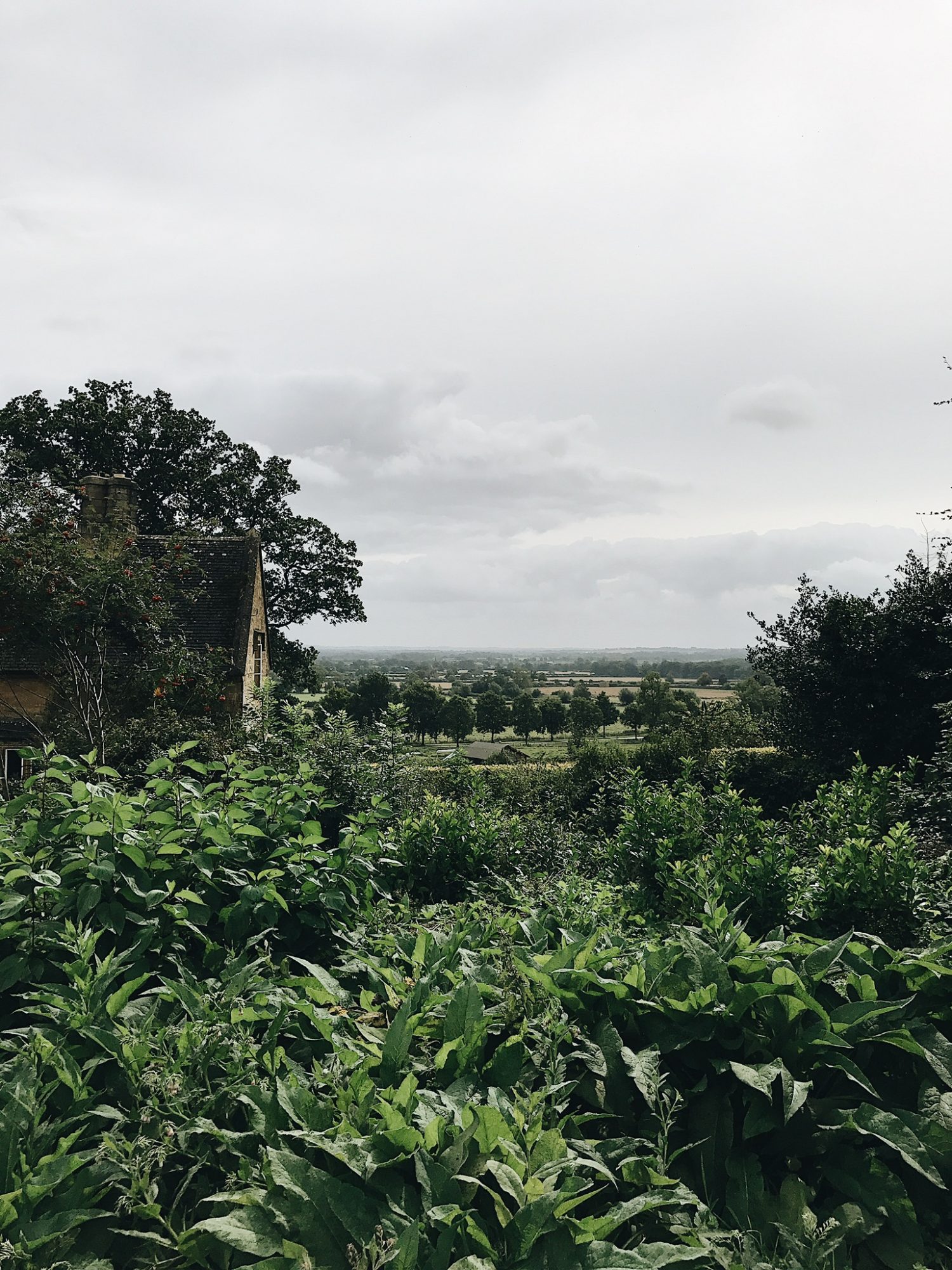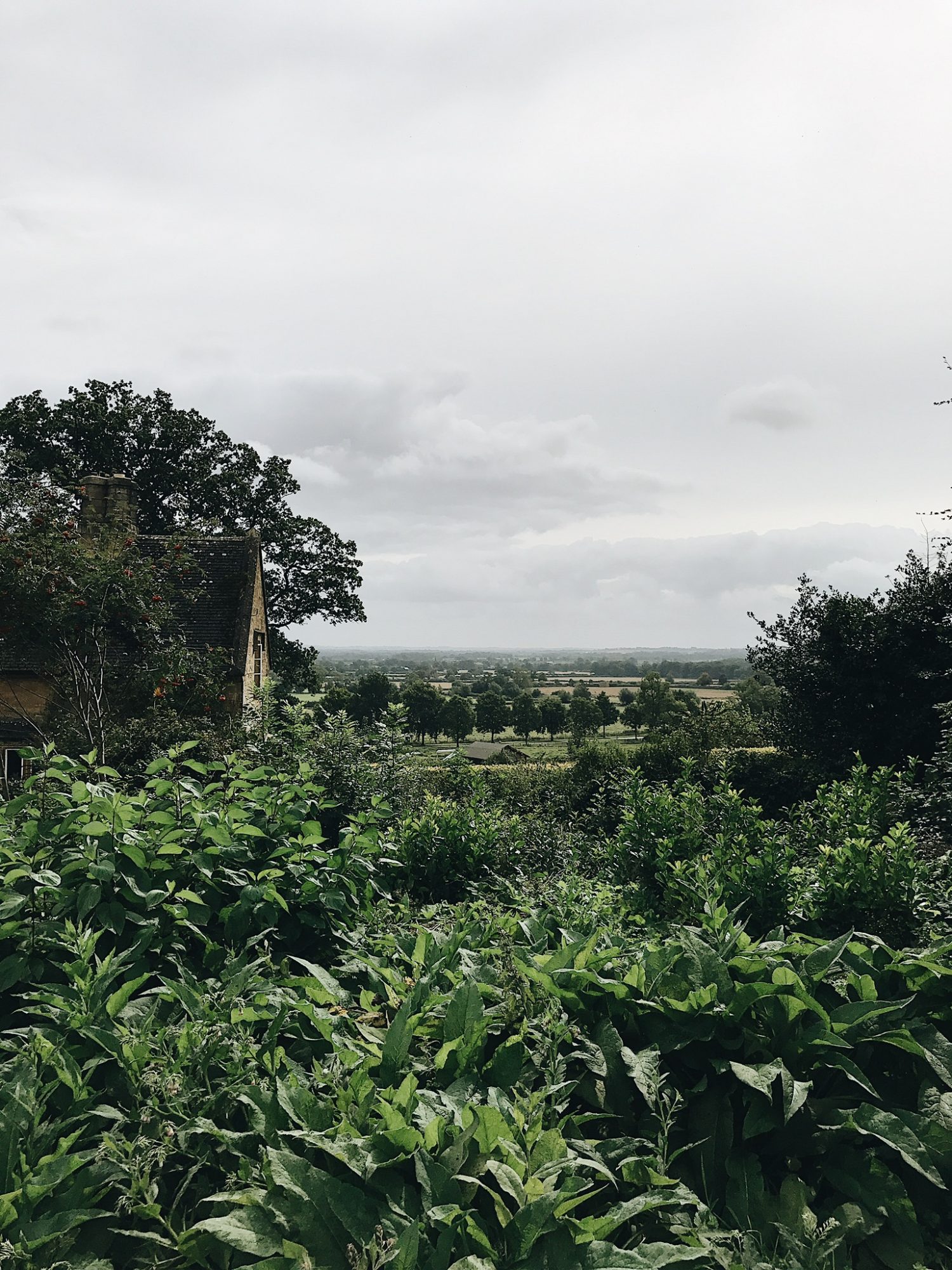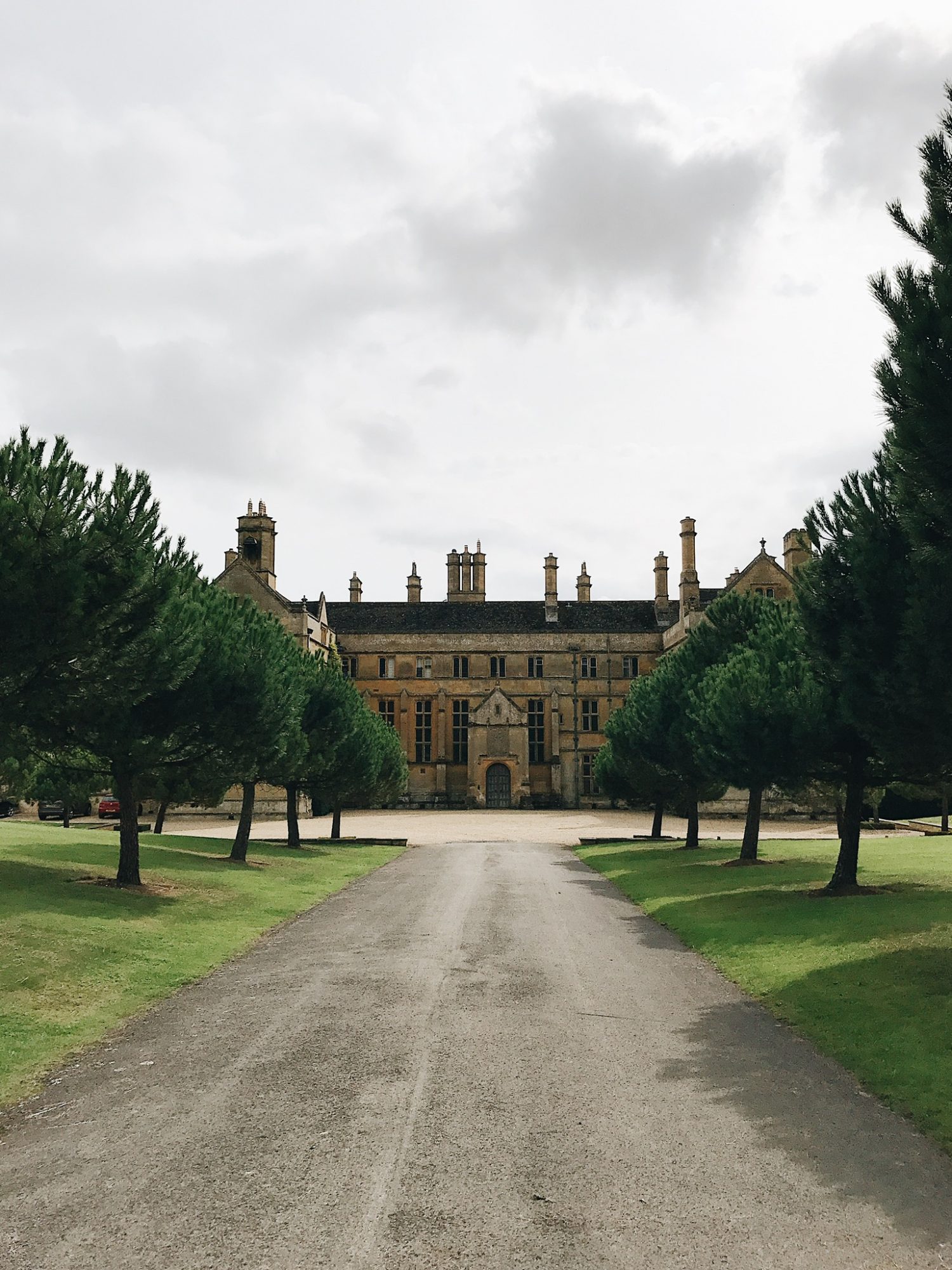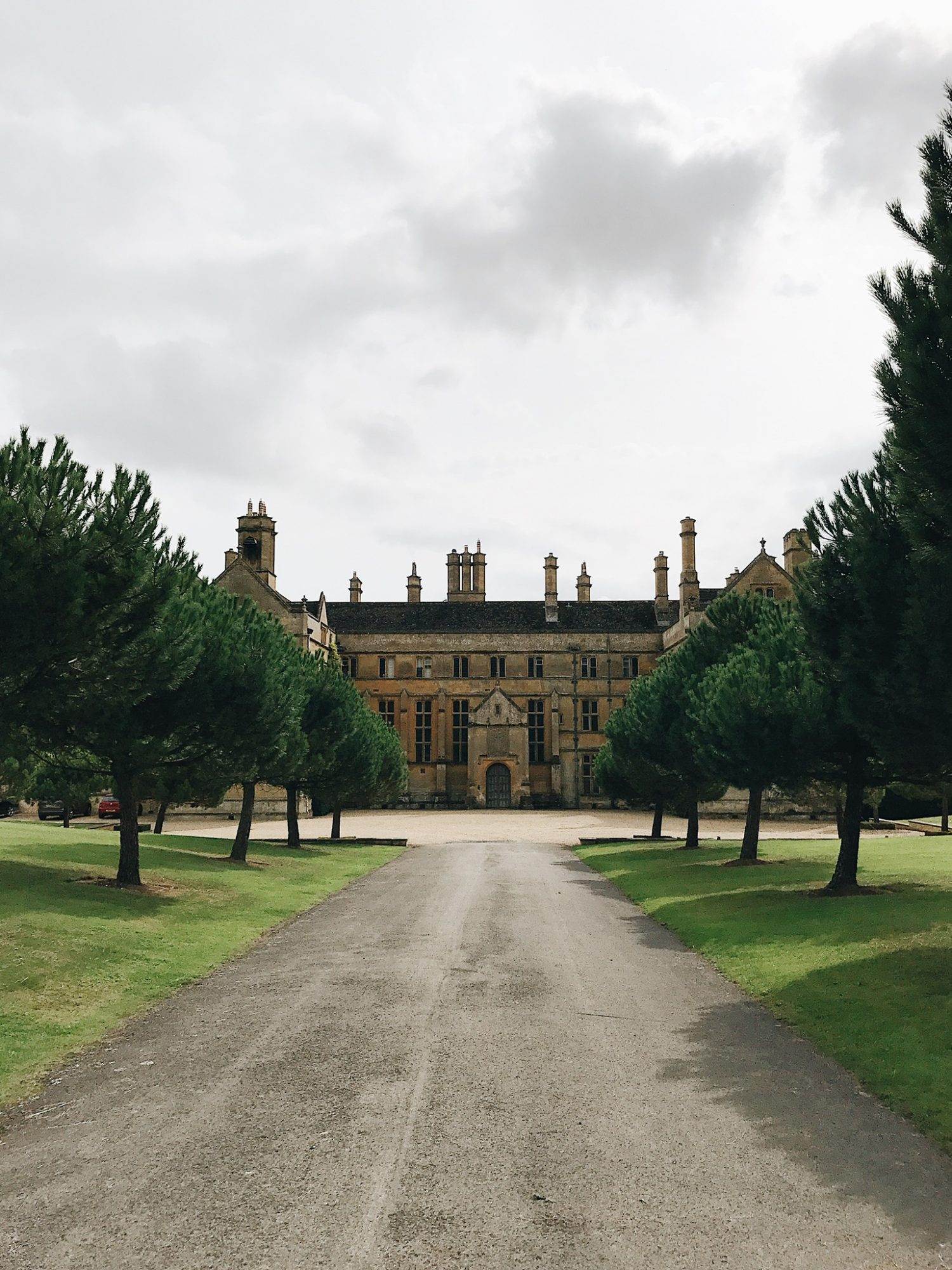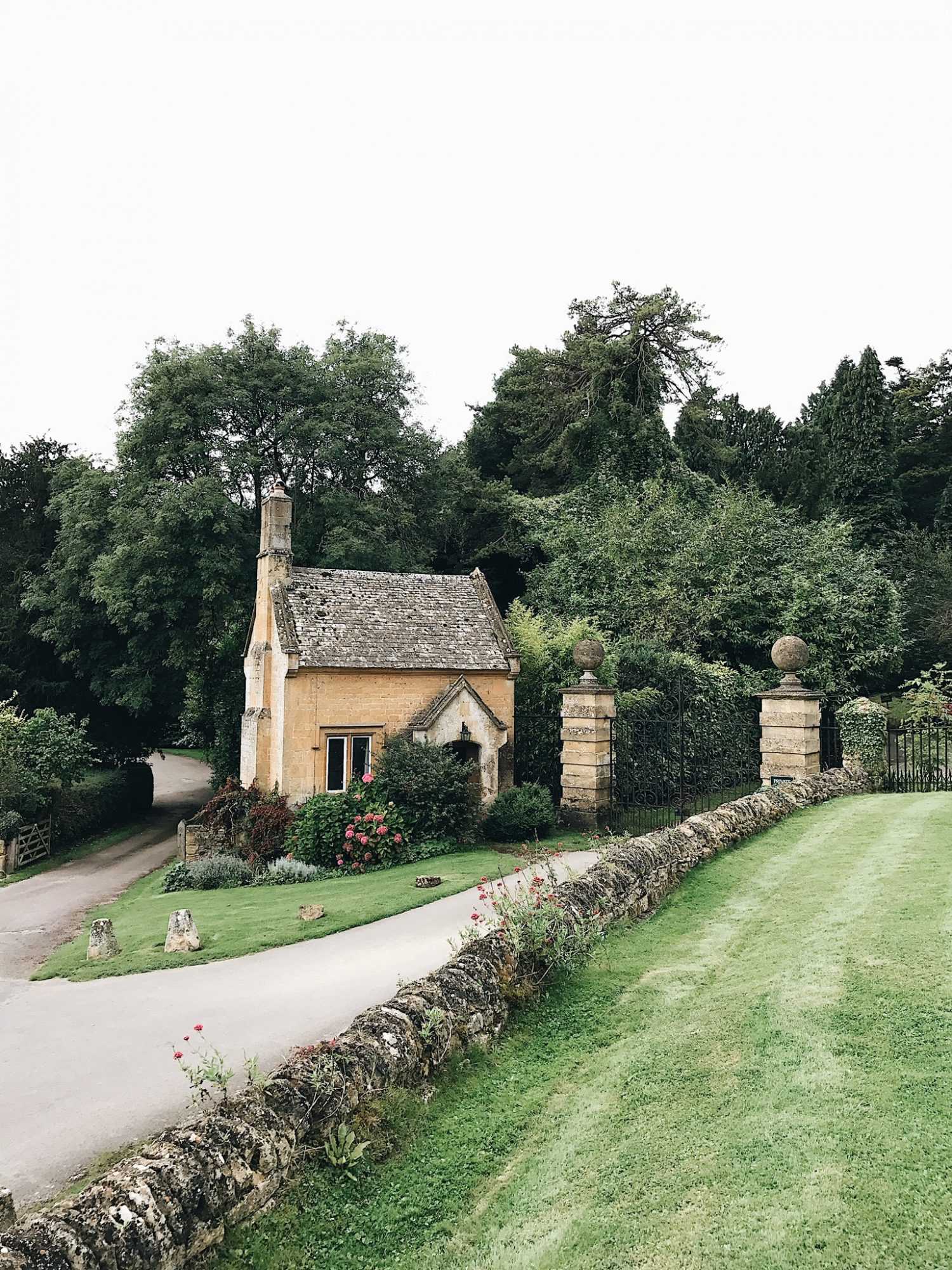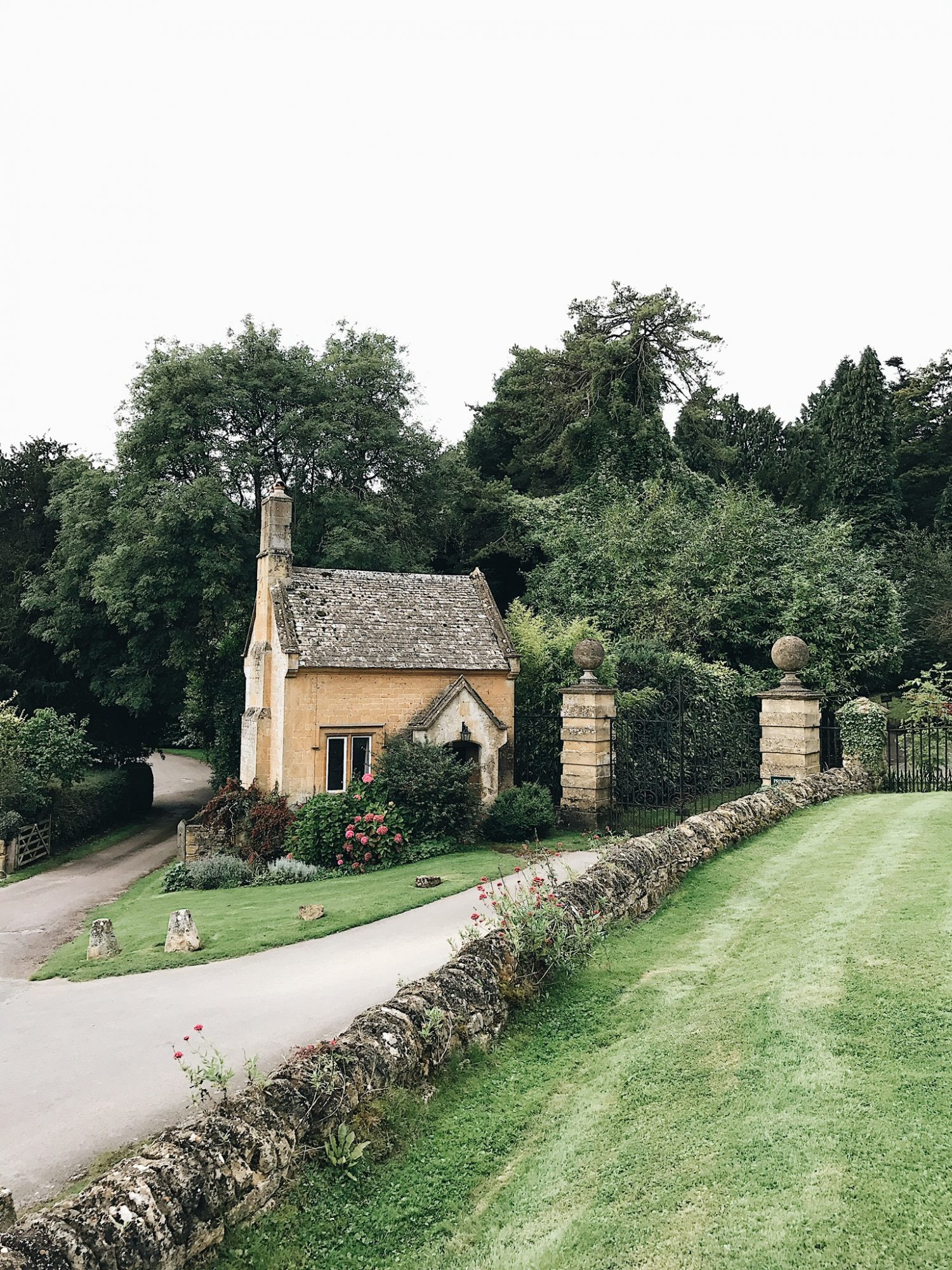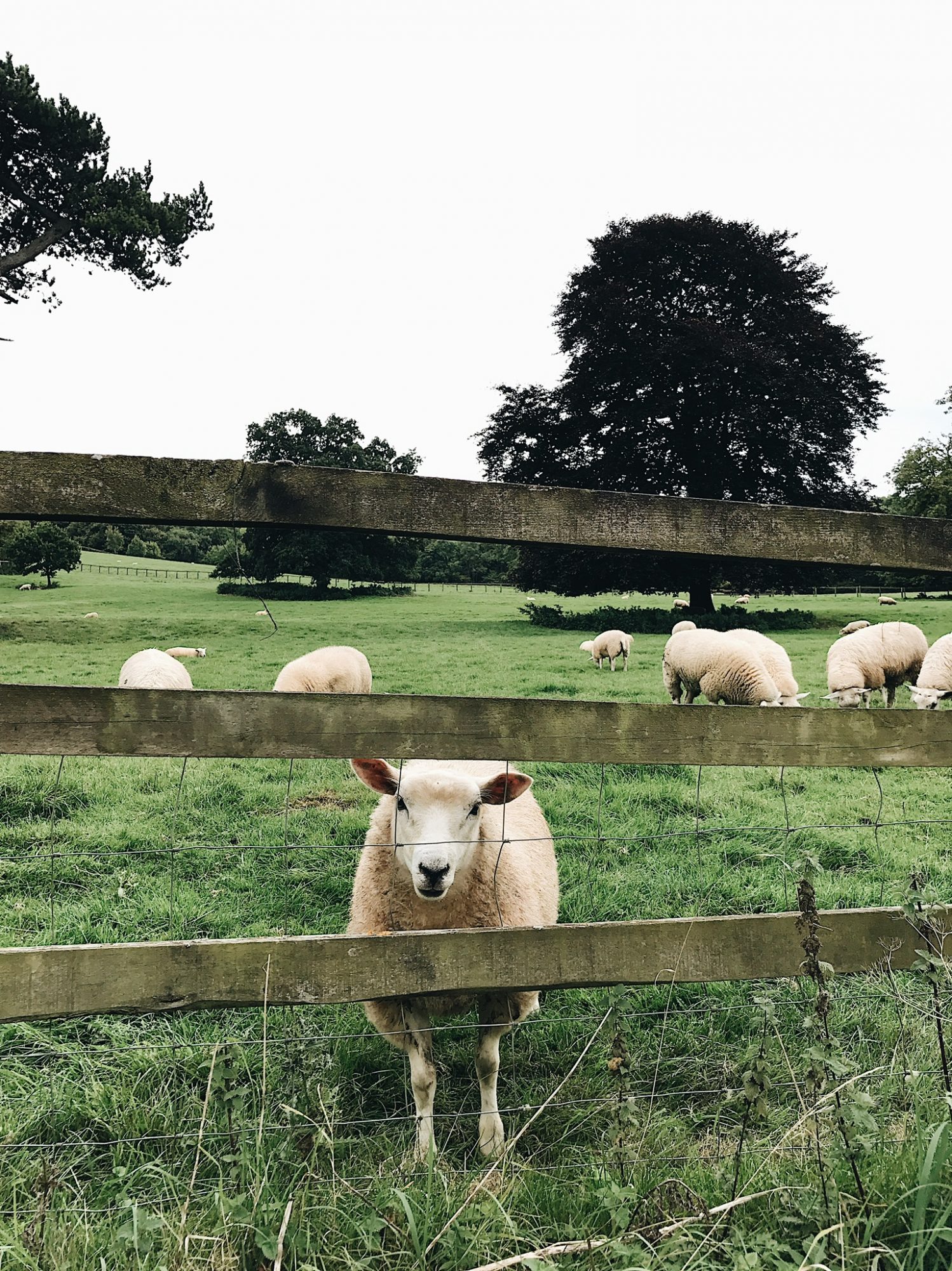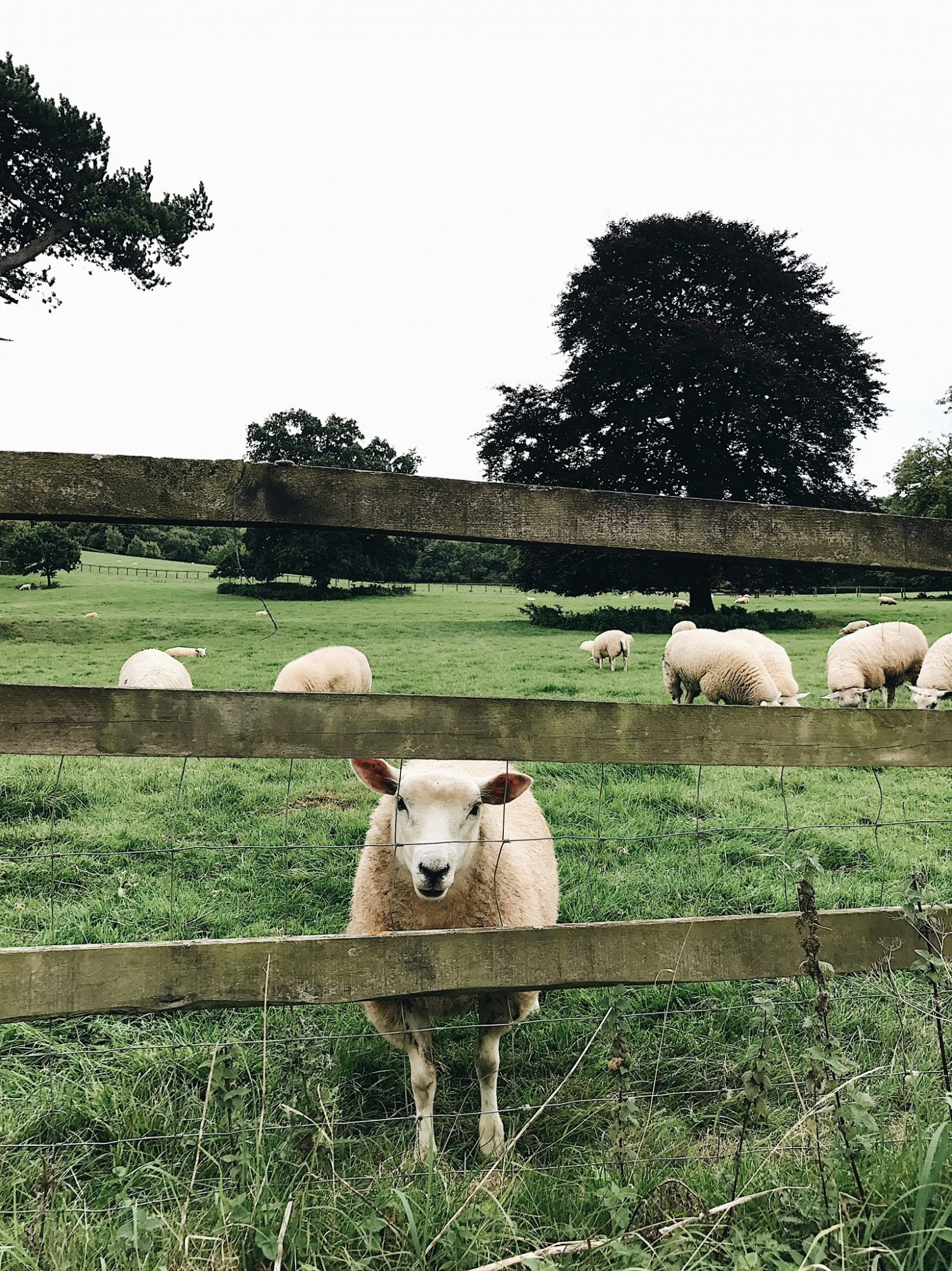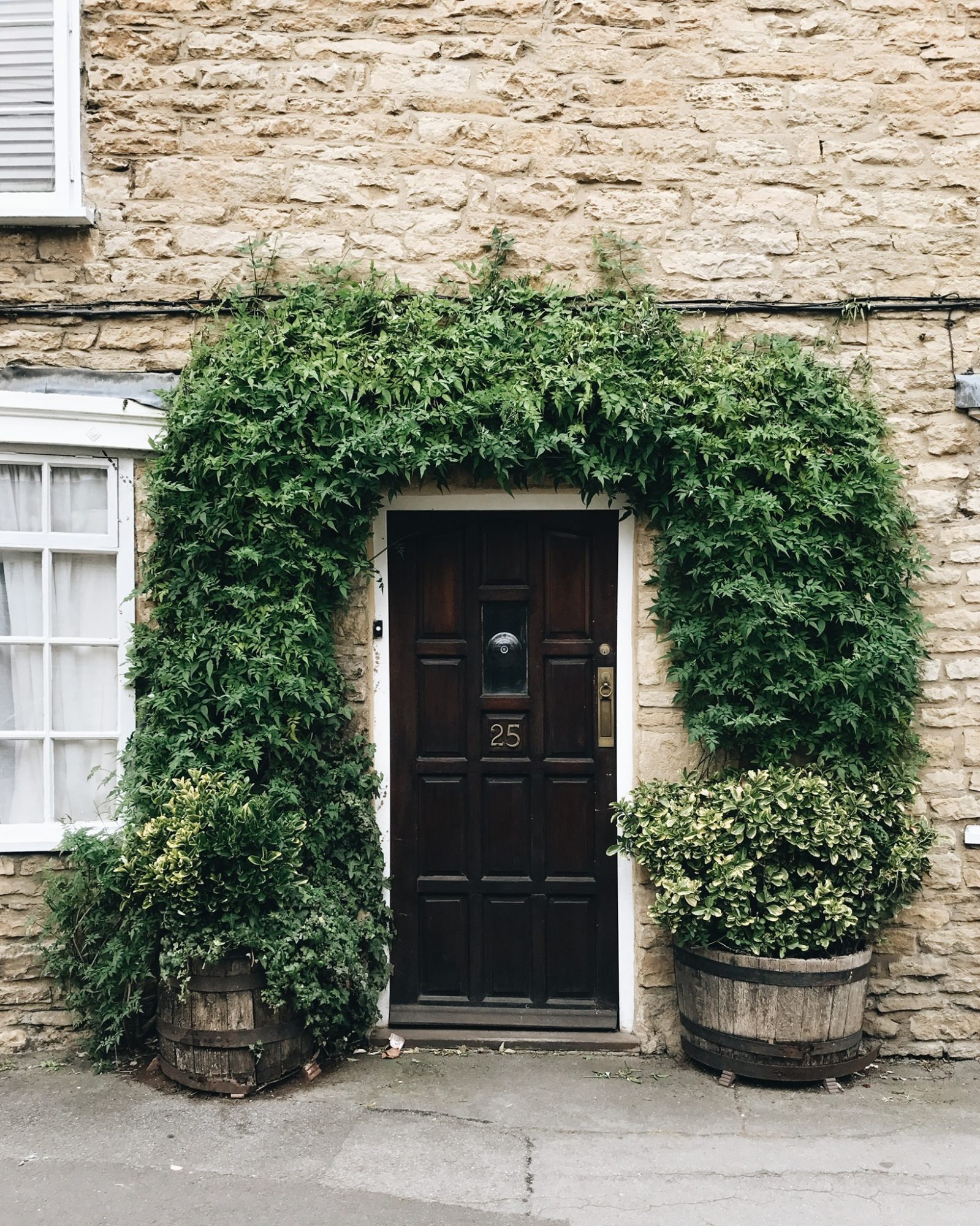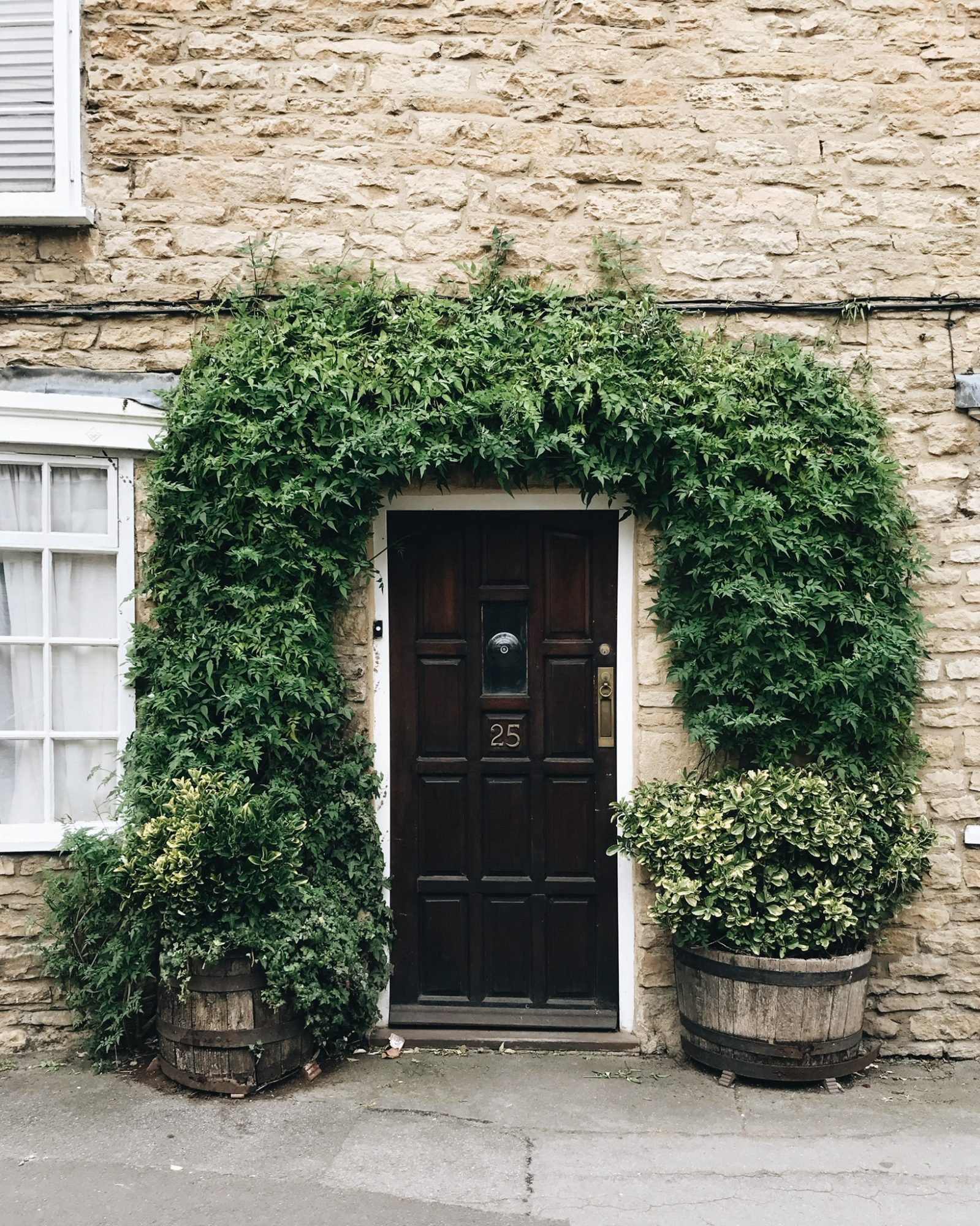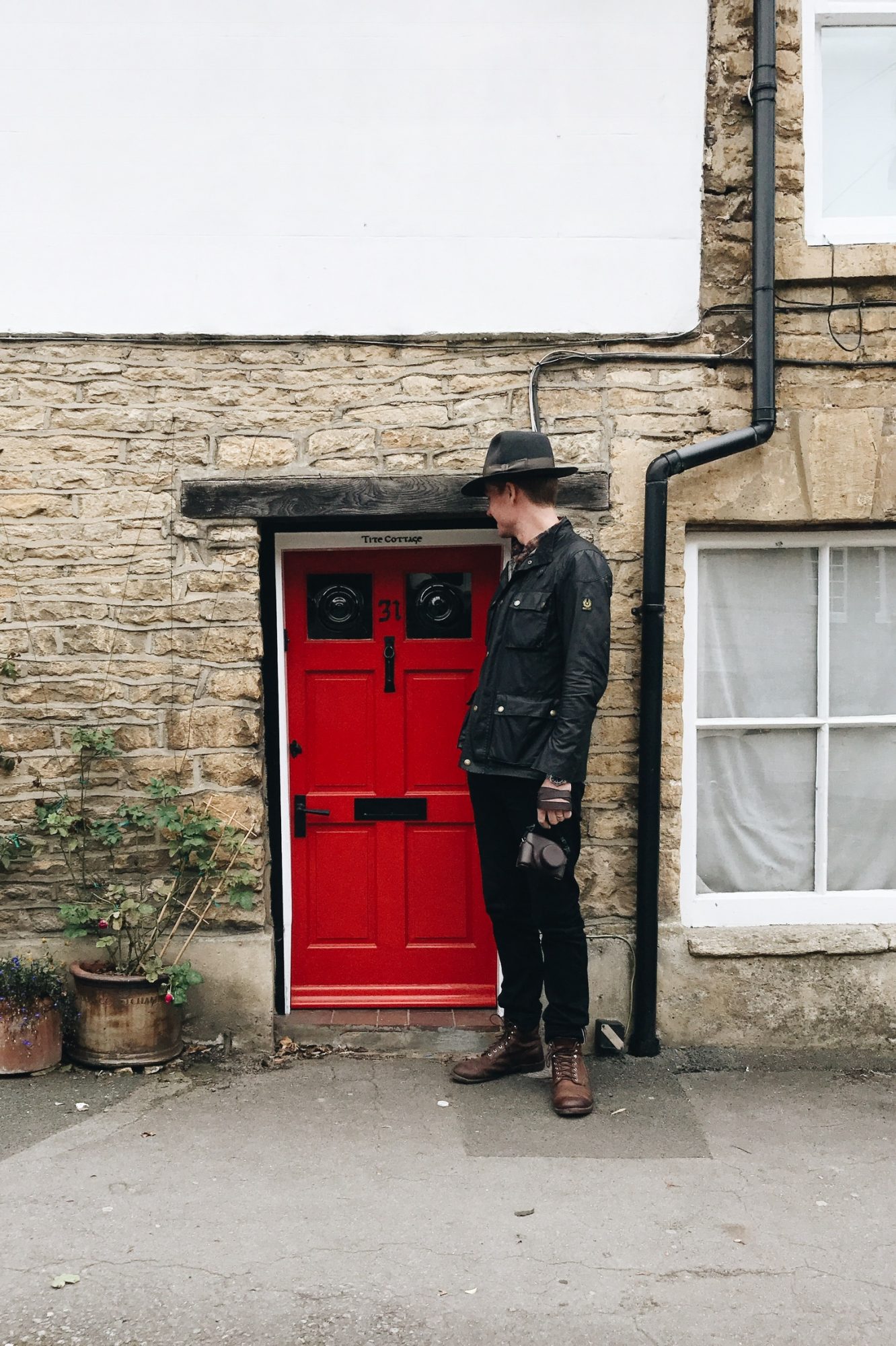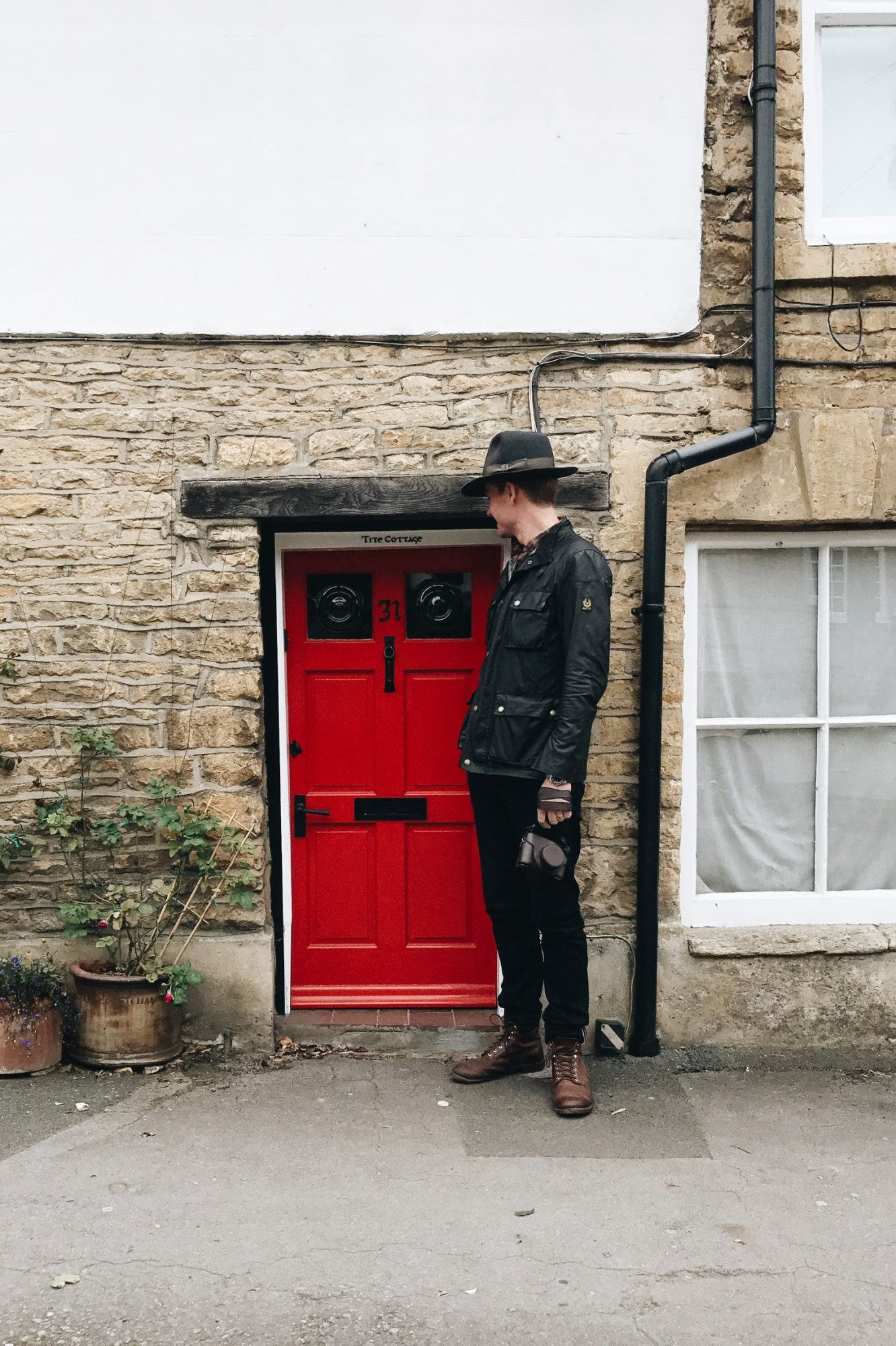 ---
DAY 5 & 6
LAKE DISTRICT
---
STAYED: Windermere – Airbnb – Lickbarrow Lodge
We made our way from the Cotswolds (somewhat reluctantly because we were enthralled) and after a brutal afternoon stuck on the M6 (thanks to an oil tanker accident) we finally made it to the beautiful Lake District. We lost some exploring time because of the delay (and my bladder almost burst waiting for a bathroom!), which was far from ideal but we were really happy to settle into our apartment and head downtown for some grub.
ATE + DRANK: We didn't have any reservations for the Lake District and decided to just pub hop. The first night we caught some live music and mowed down a classic fish & chips dinner at The Albert. The next morning we took to the road and enjoyed some incredible crumpets and tea in Near Sawrey. I wish I knew what the place was but it was essentially someone's . After a long day of hiking we had mad cravings for pasta and 'zza and cured those with dinner at Villa Positano. 
EXPLORED: There are so many great places to hike. You can simply pull over on the road and head out whenever you see a spot. We did this a couple of times and it was so peaceful and serene to look out over all the stunning lakes and pastures. We took the ferry across Windermere Lake to check out the Beatrix Potter estate and cute village of Near Sawrey, then went on to Hawkshead, hiked to Wray Castle and toured around on foot and in our car.
NEXT TIME: There is so much to do and see in the Lake District but with our visit being shortened we couldn't get everywhere we wanted. I'd love to go back and explore more of the northwest lakes like Buttermere. We also heard about a cool spot called the Tebay Service Station on the M6 which is a former truck rest station turned gourmet restaurant, local butcher and food shop. We were a little traumatized by the M6 so we weren't eager to there but it definitely looks cool. Other places to stay would be L'enclume, Howtown Hotel and the Gilpin Hotel and Lake House. All were booked when we tried to reserve.
---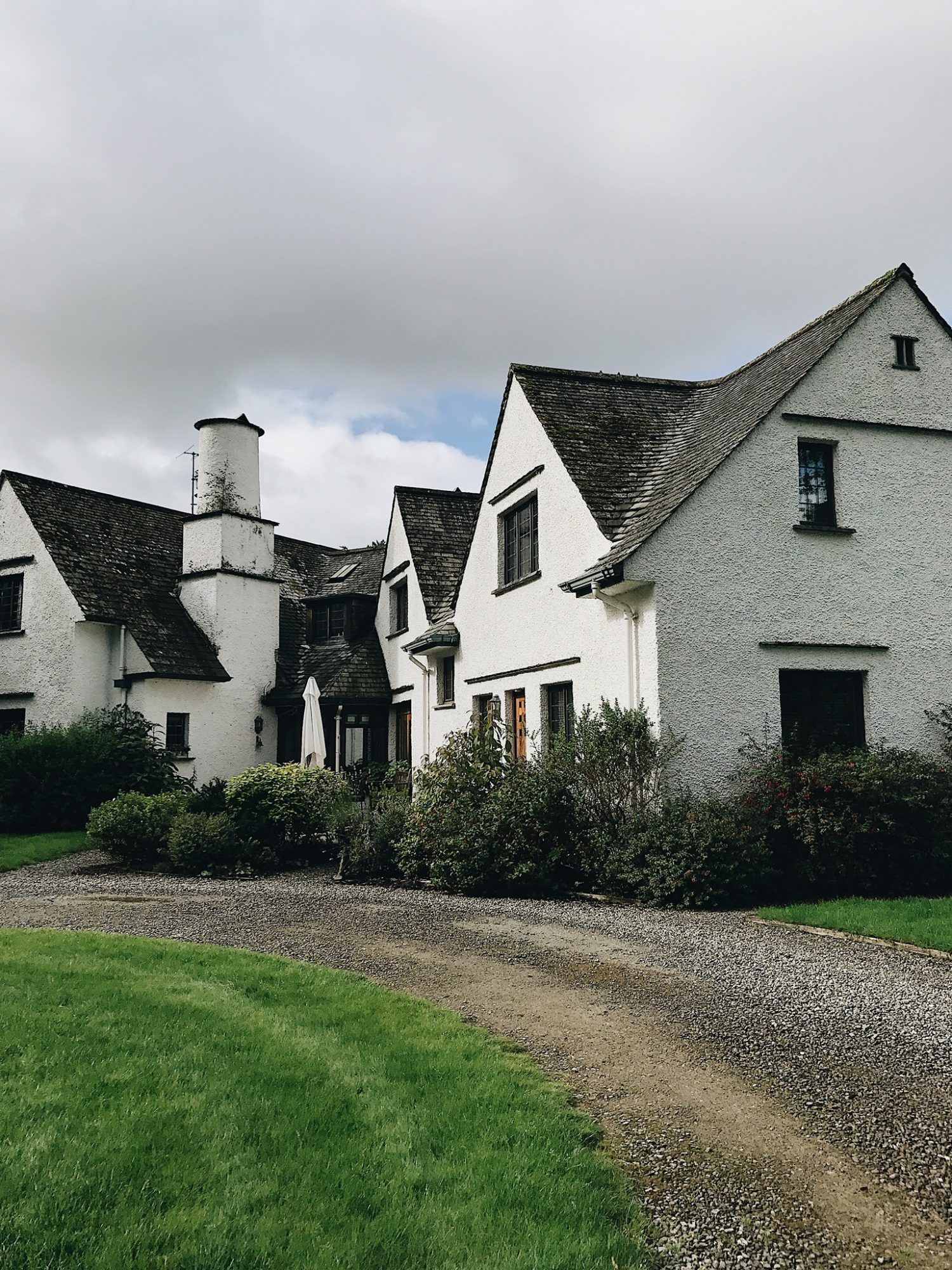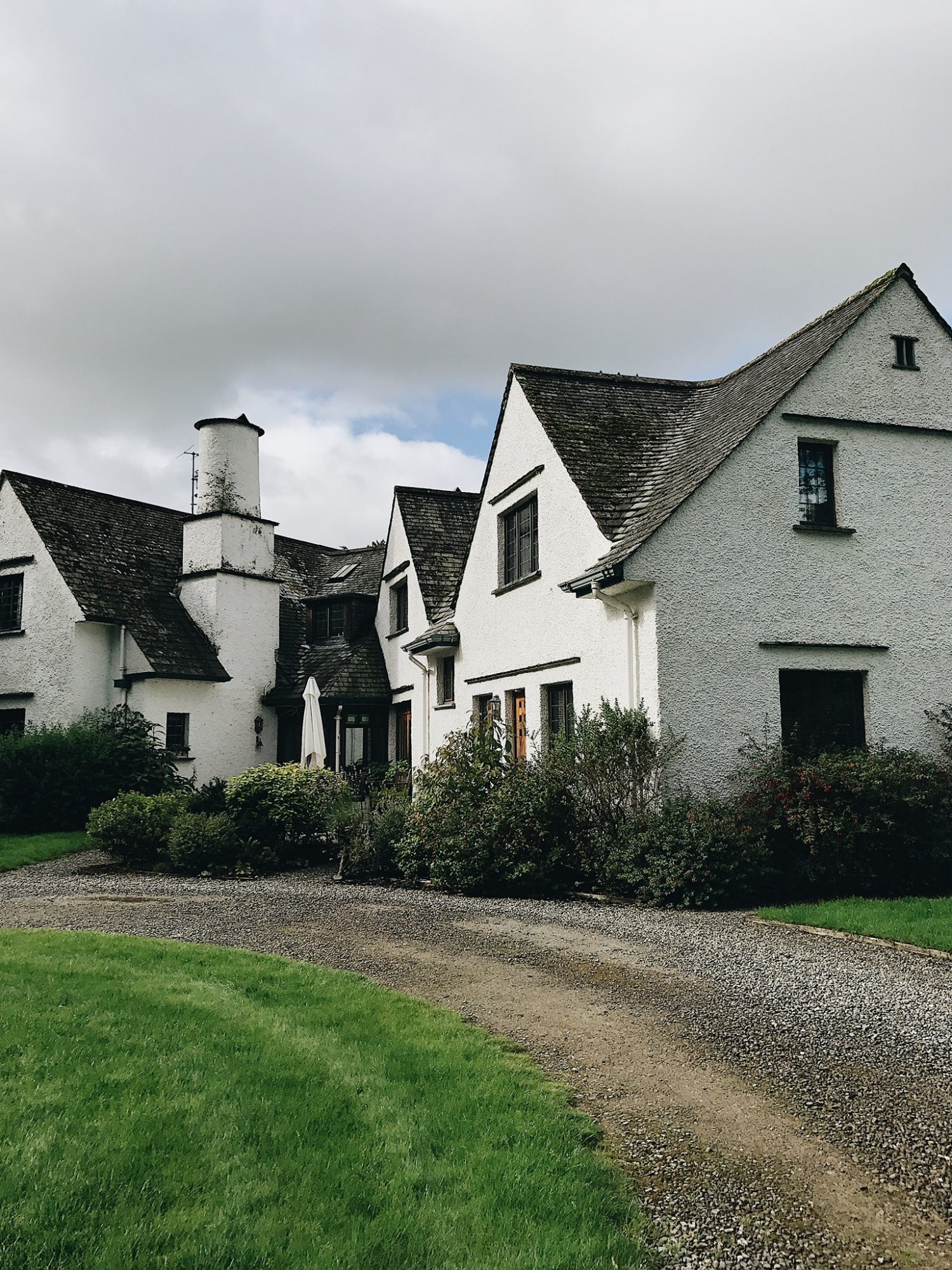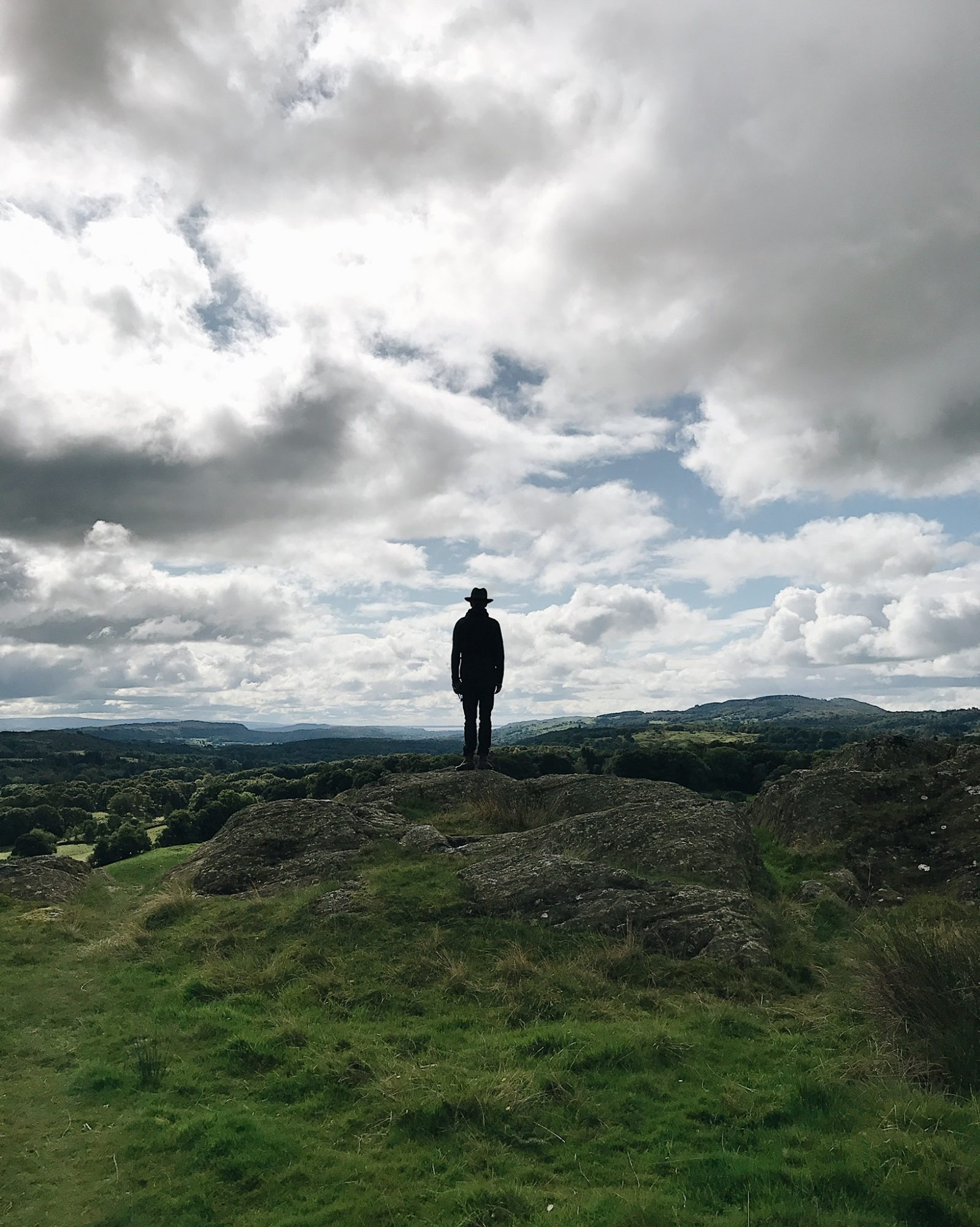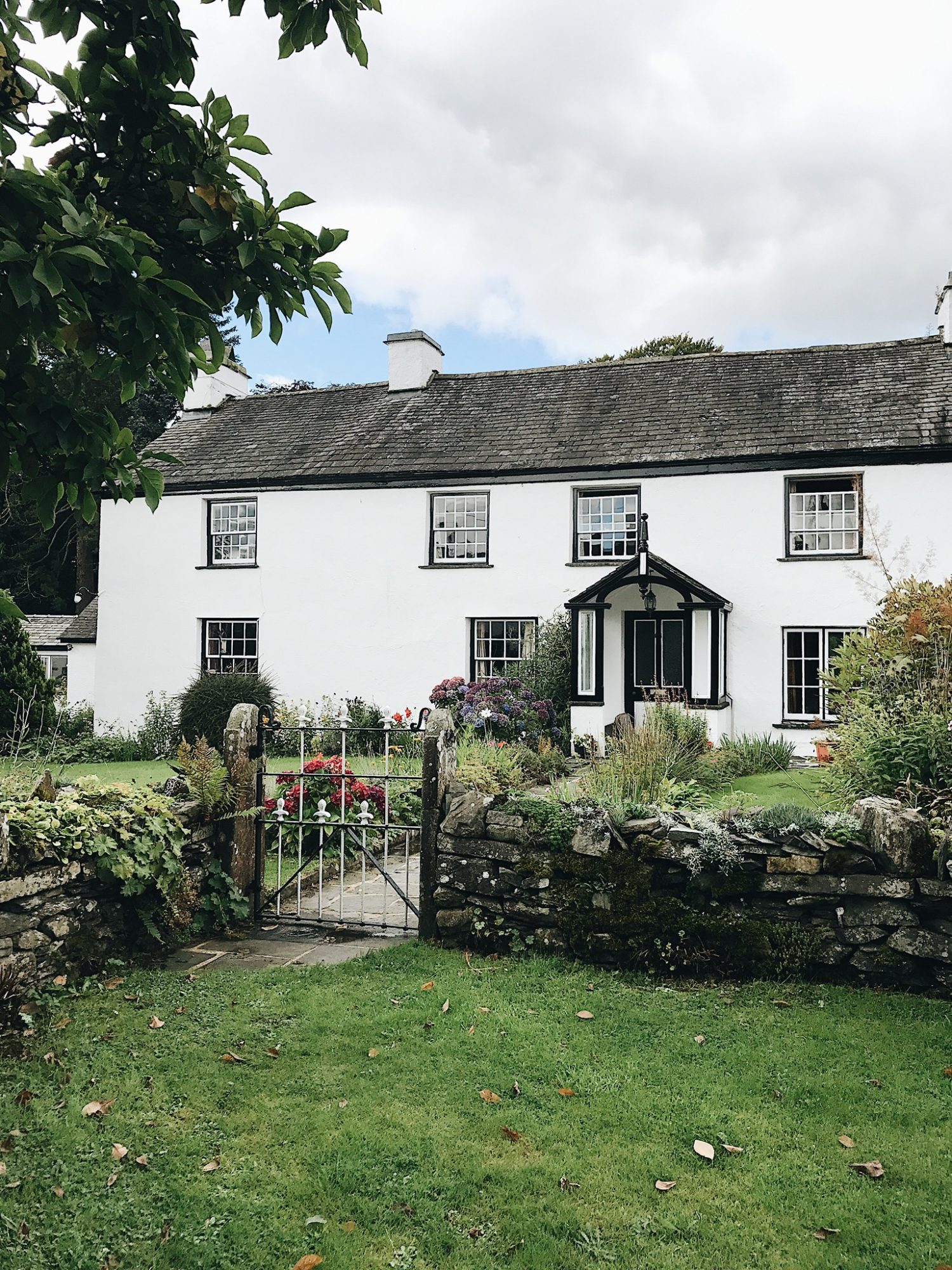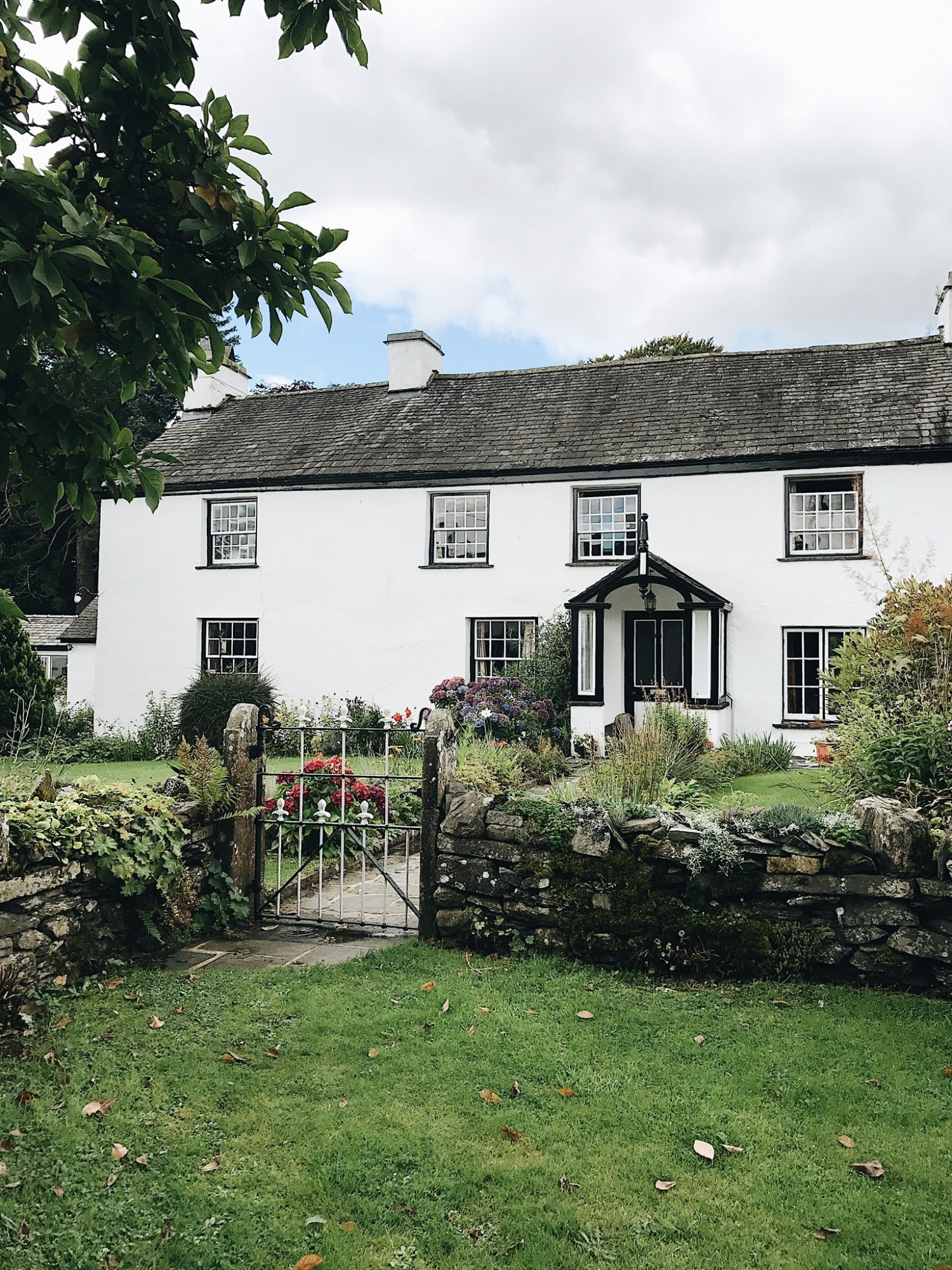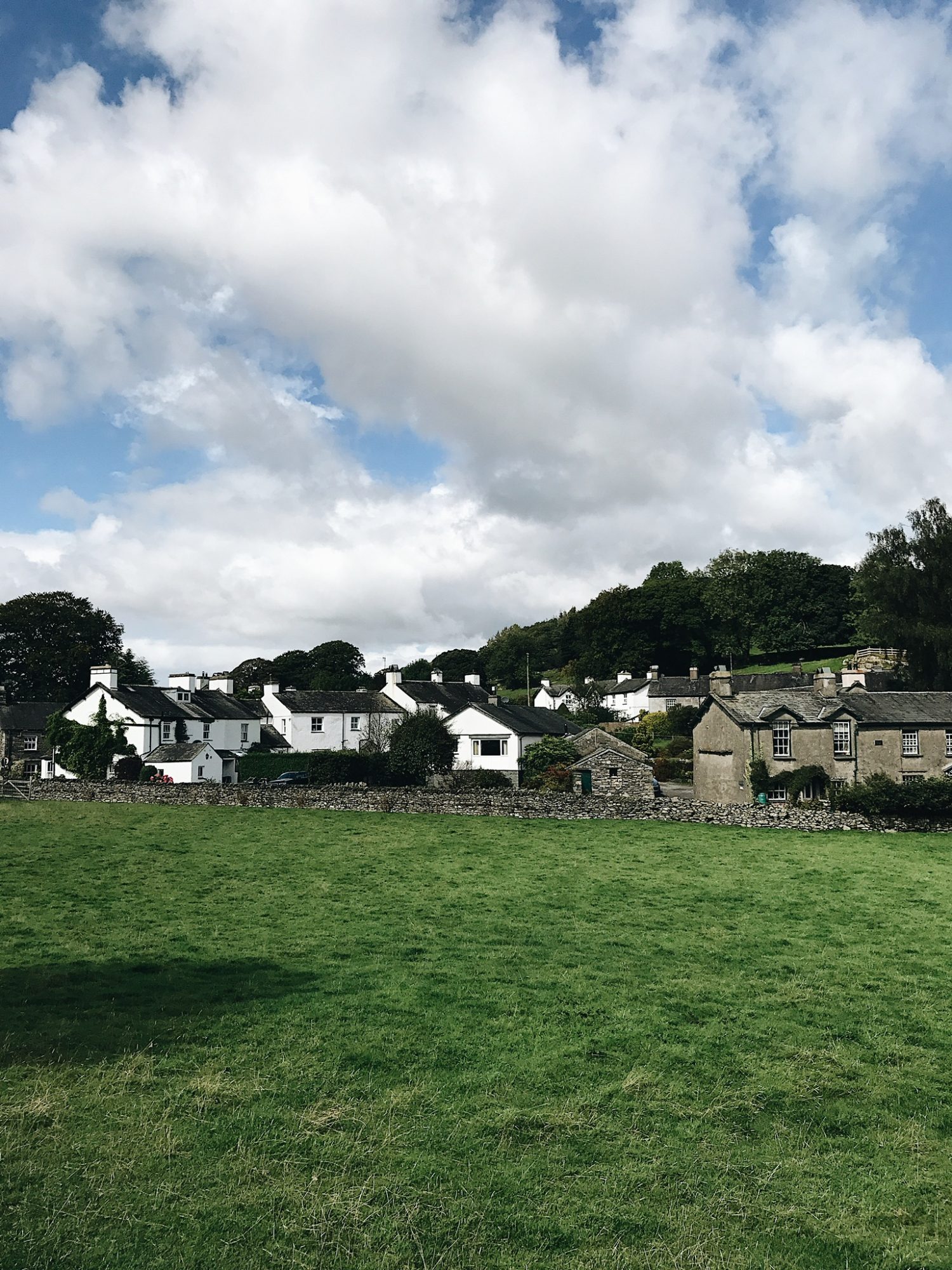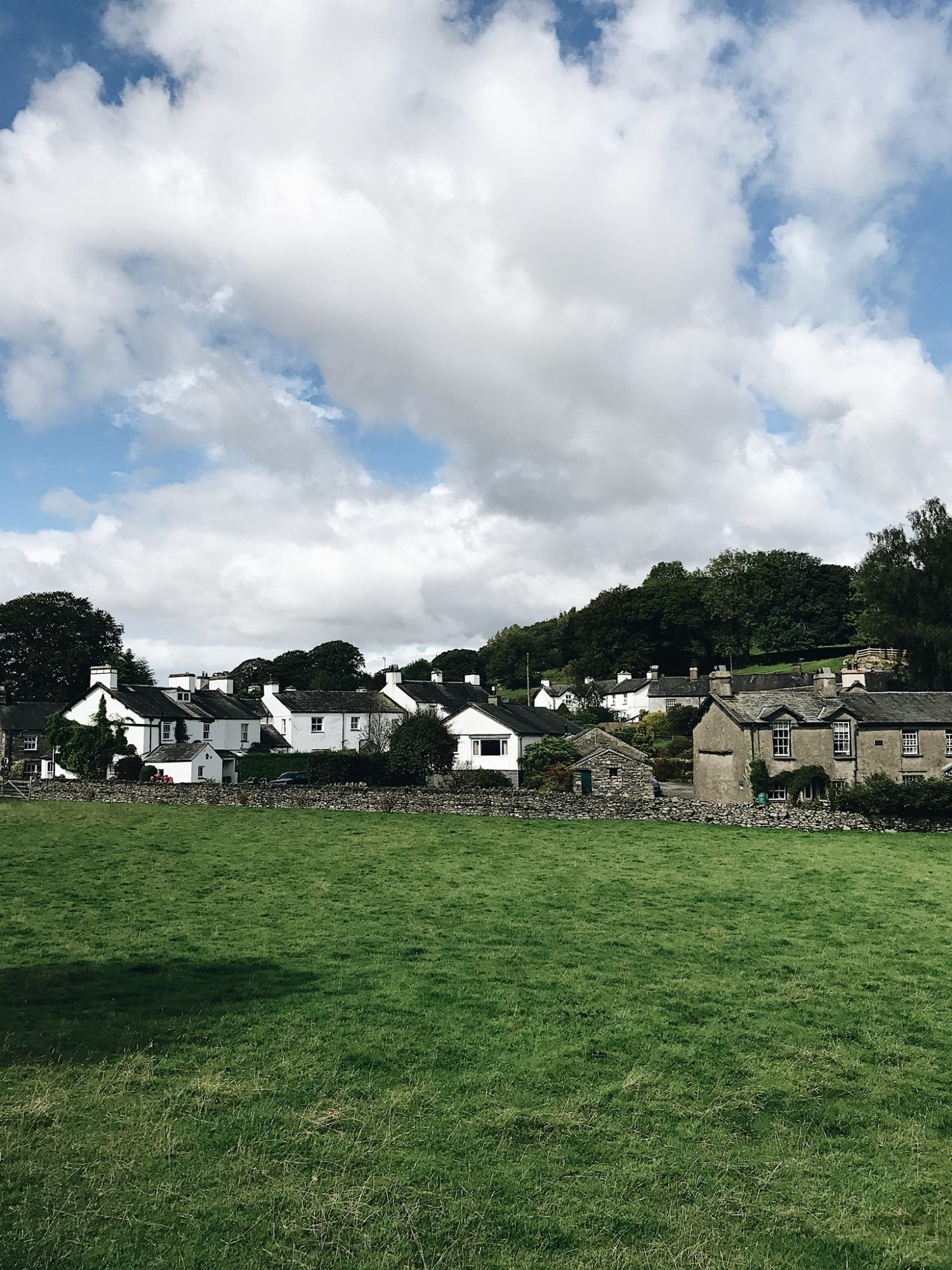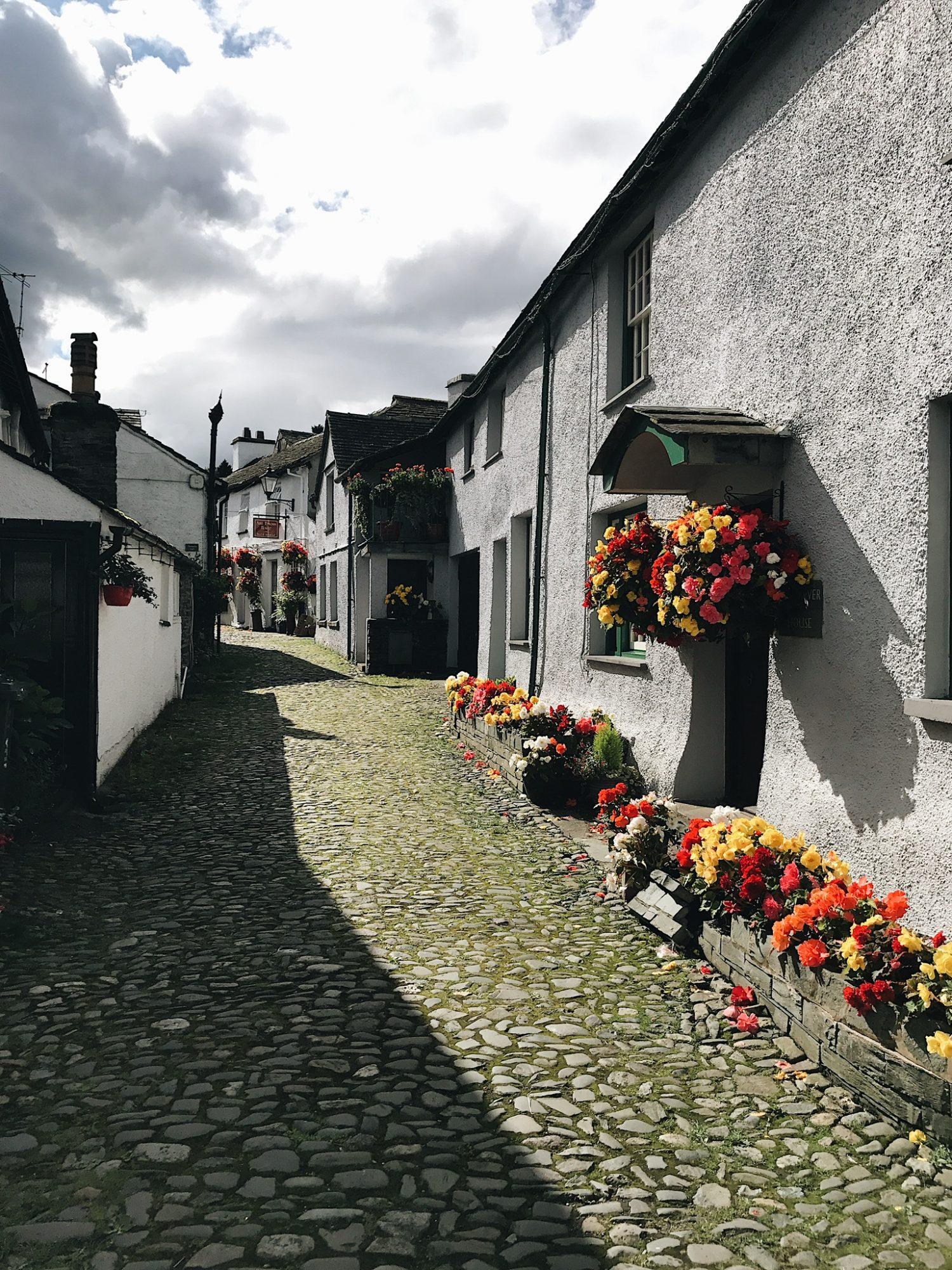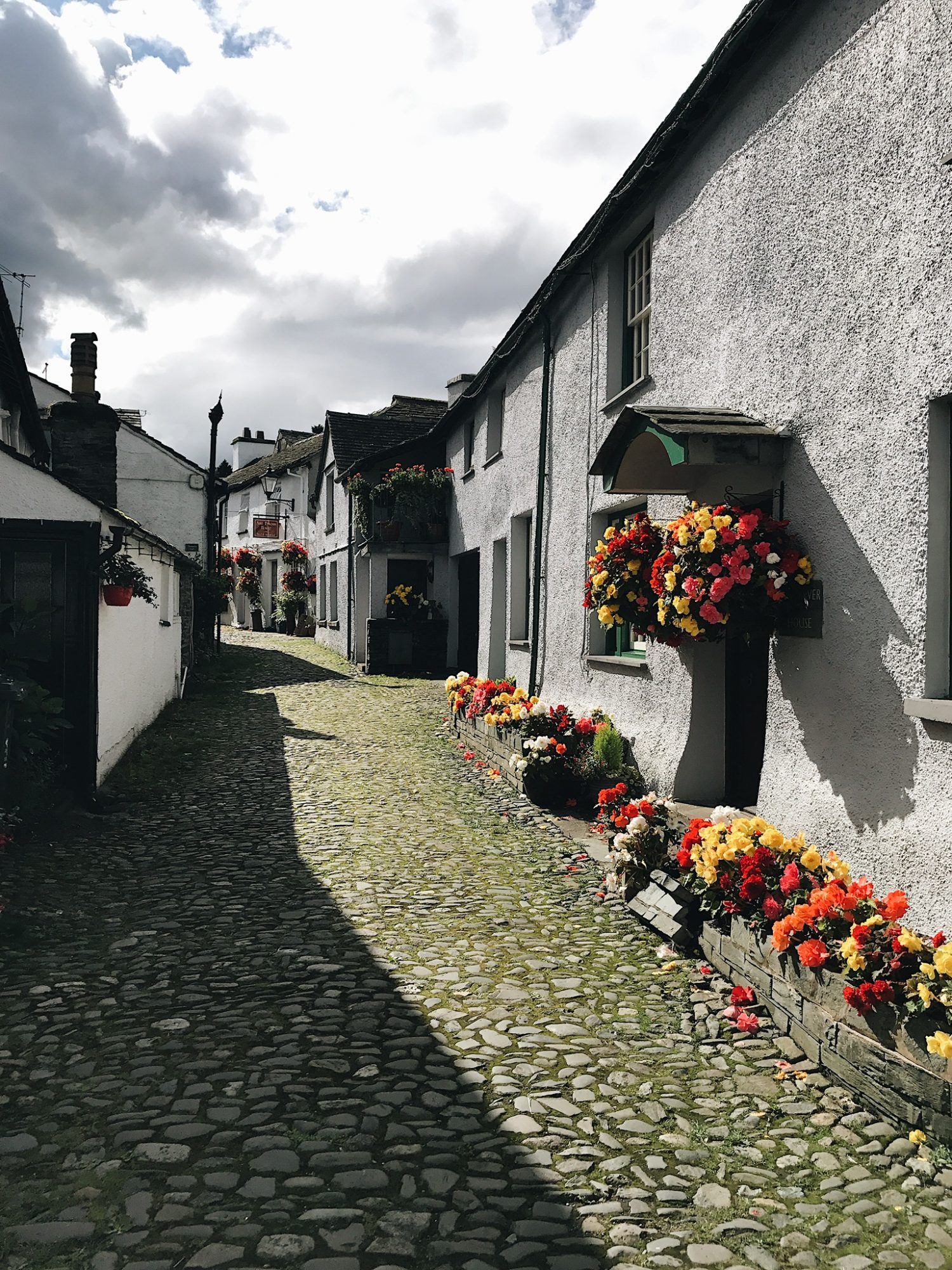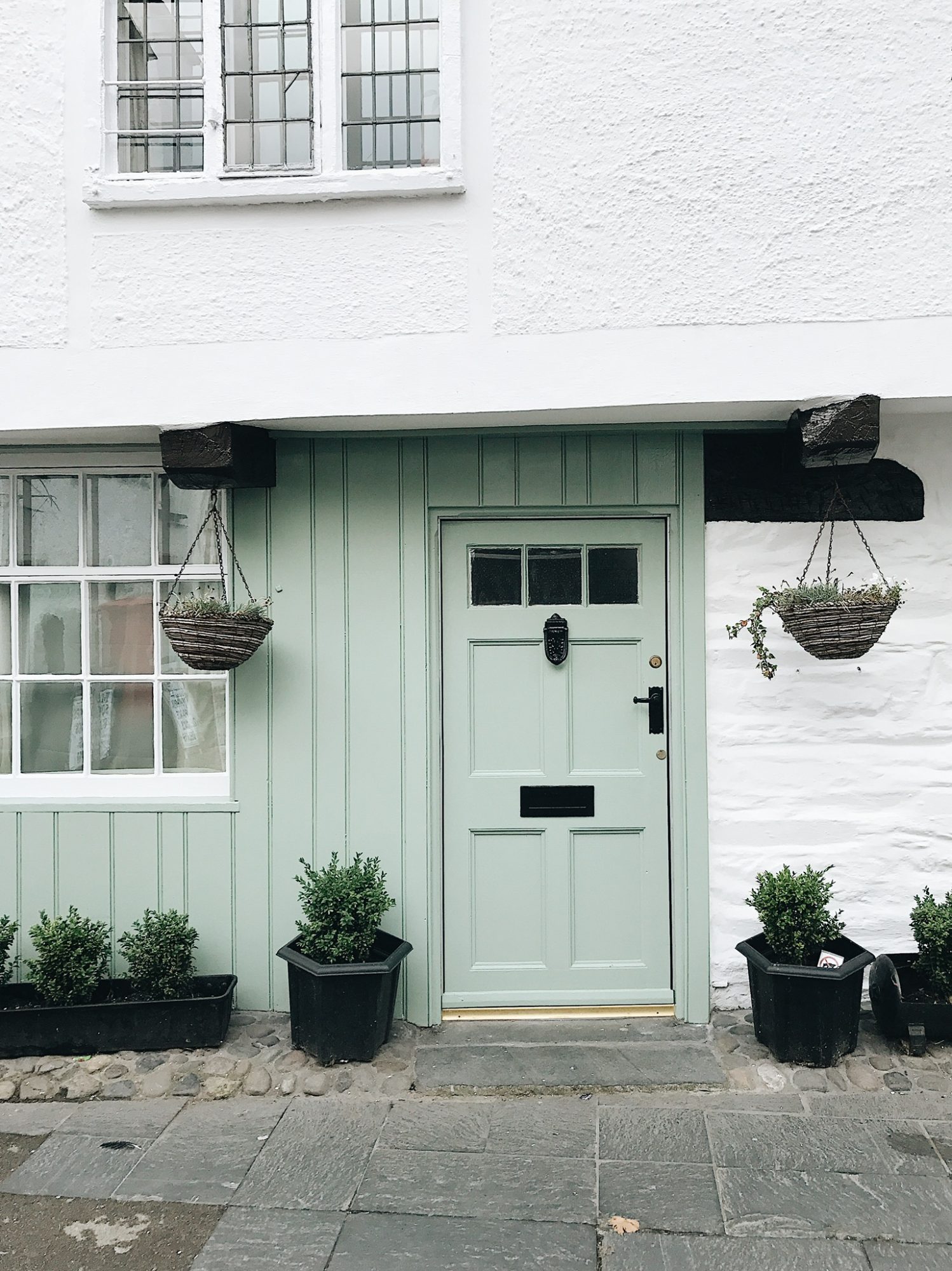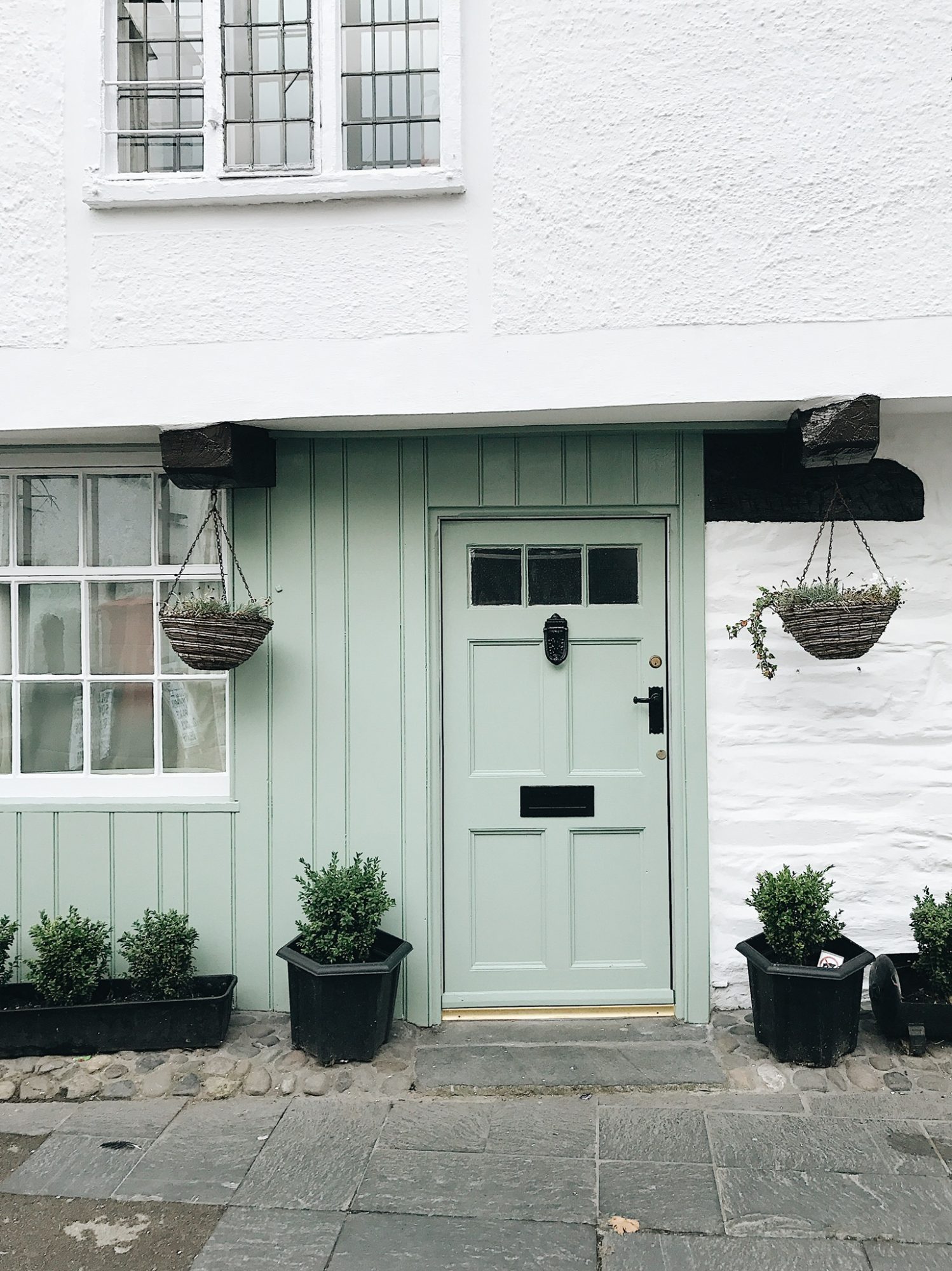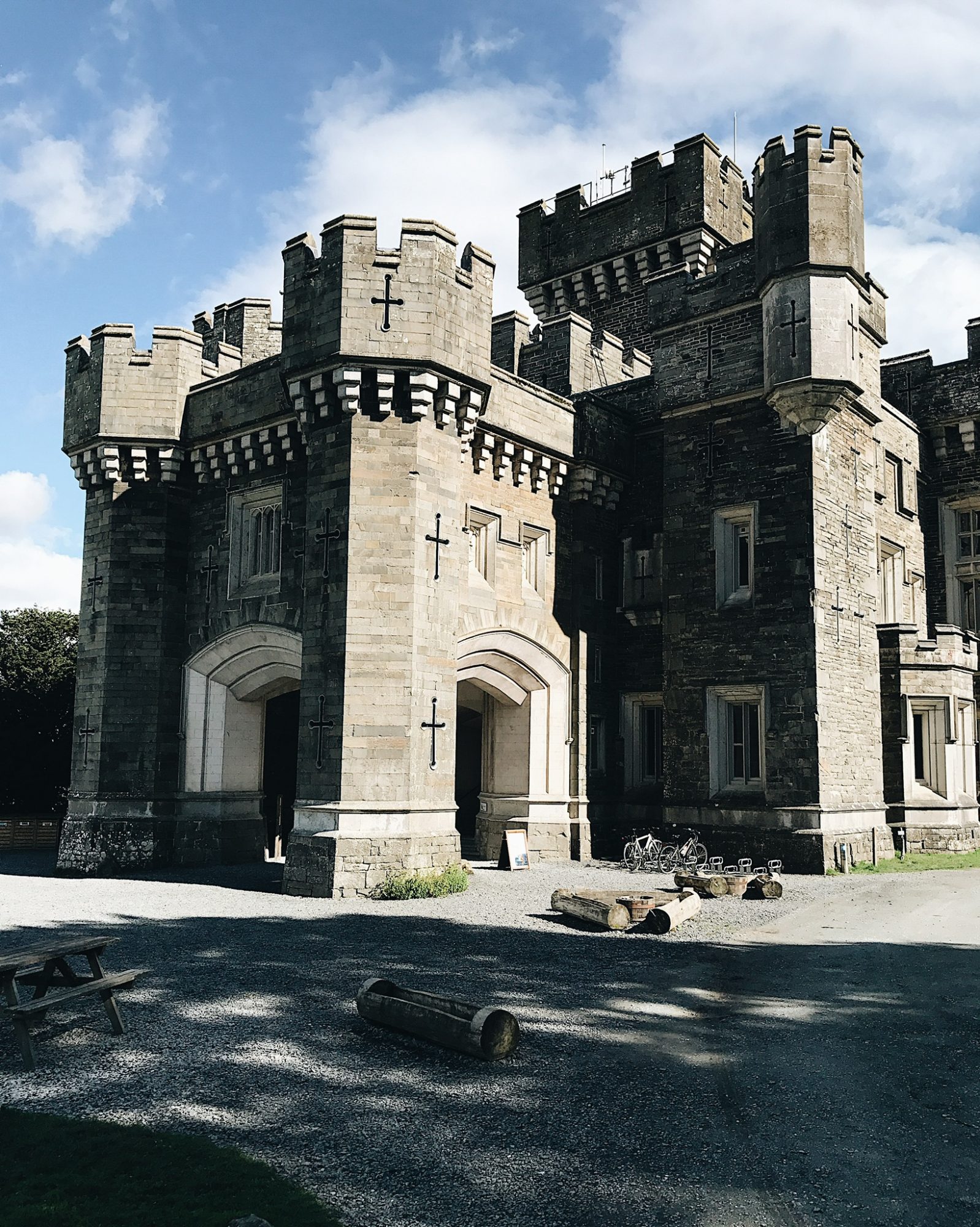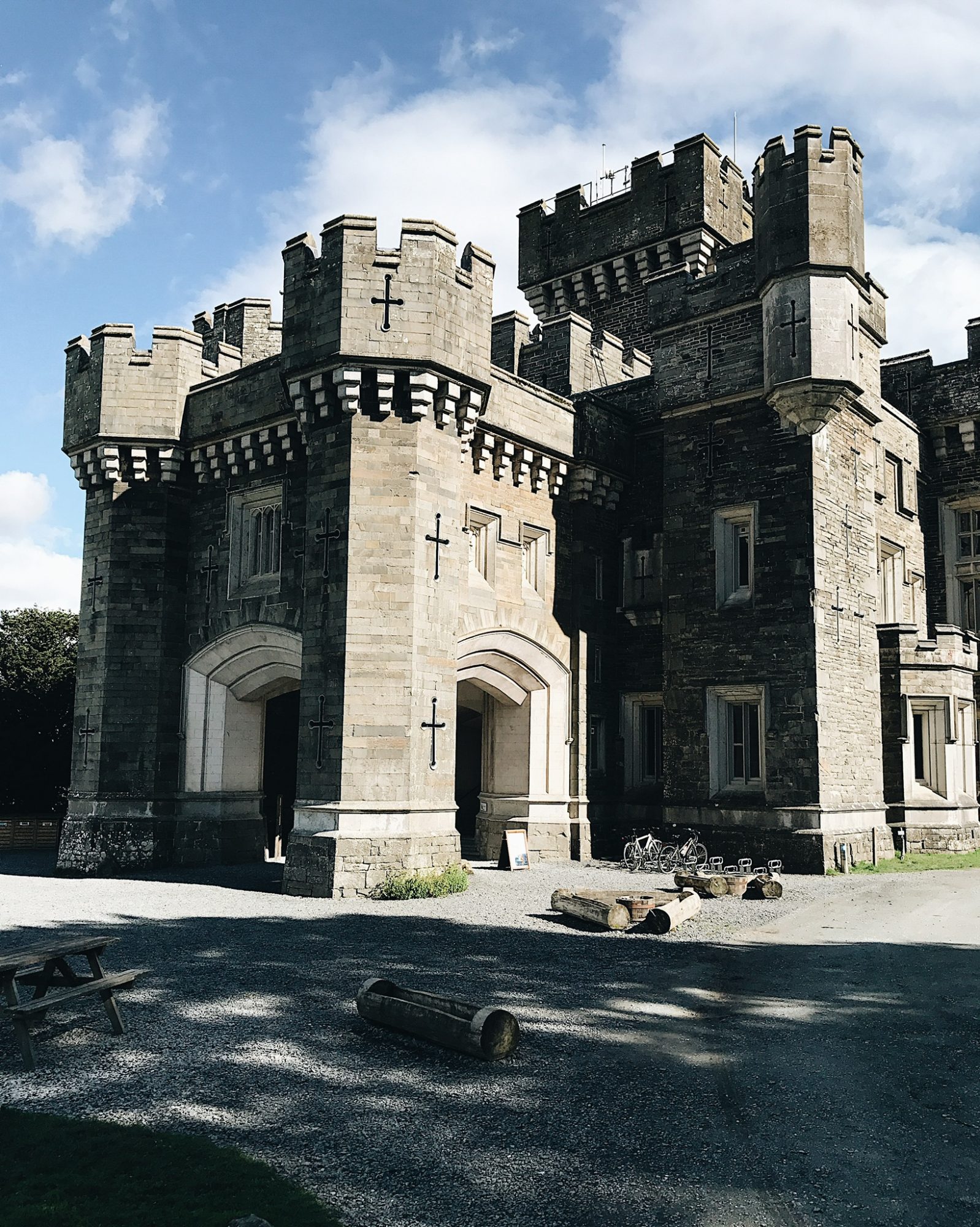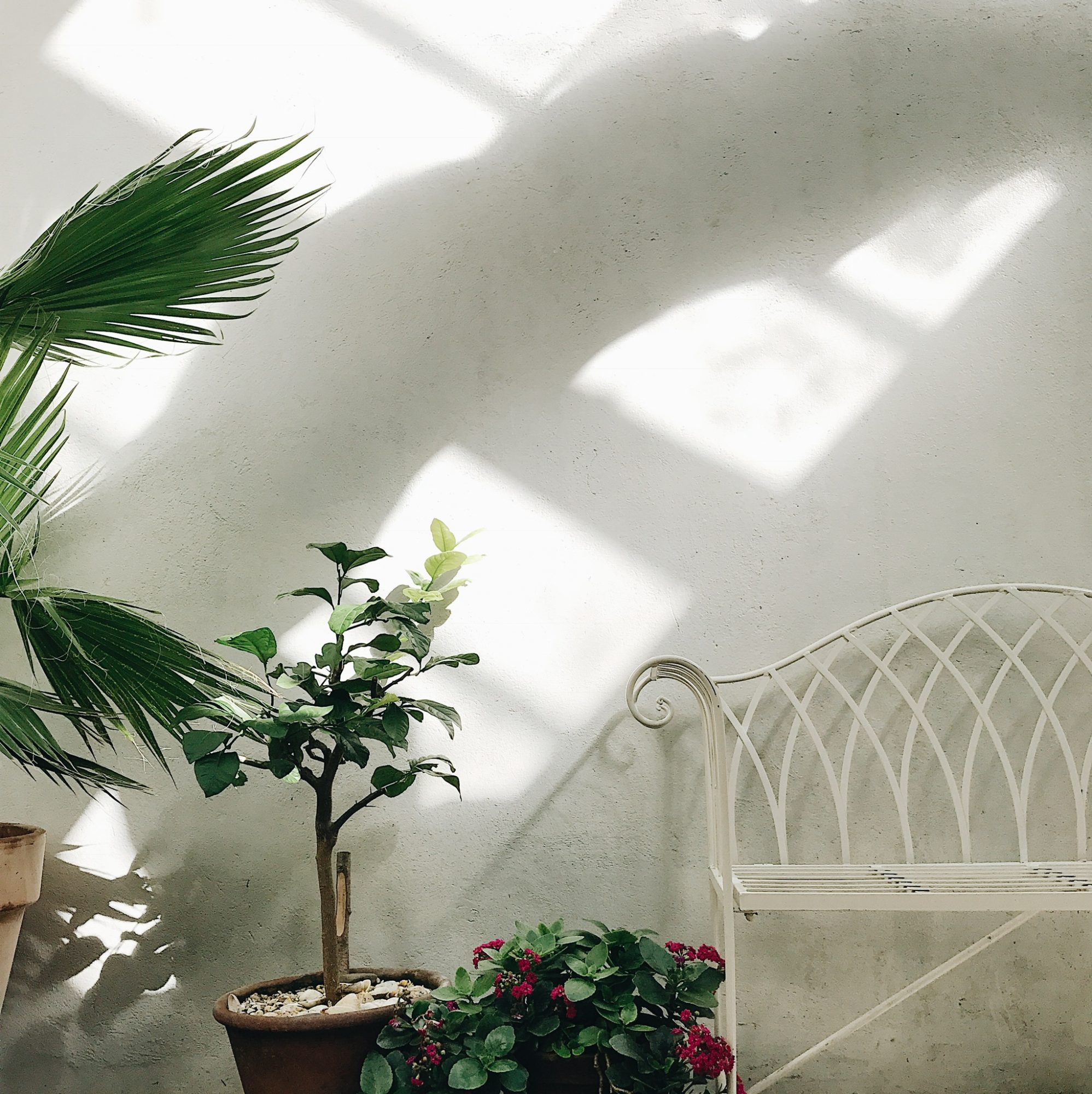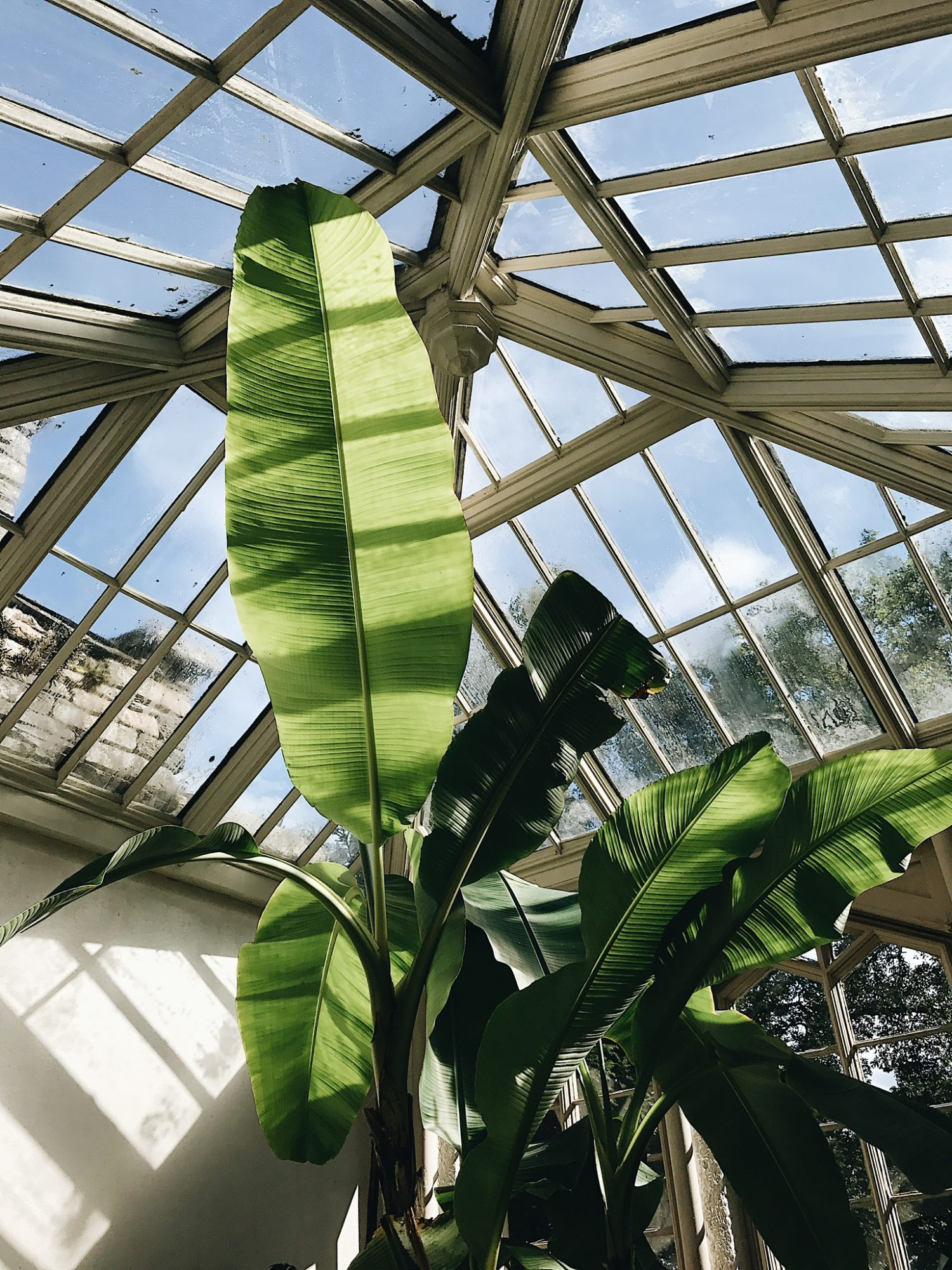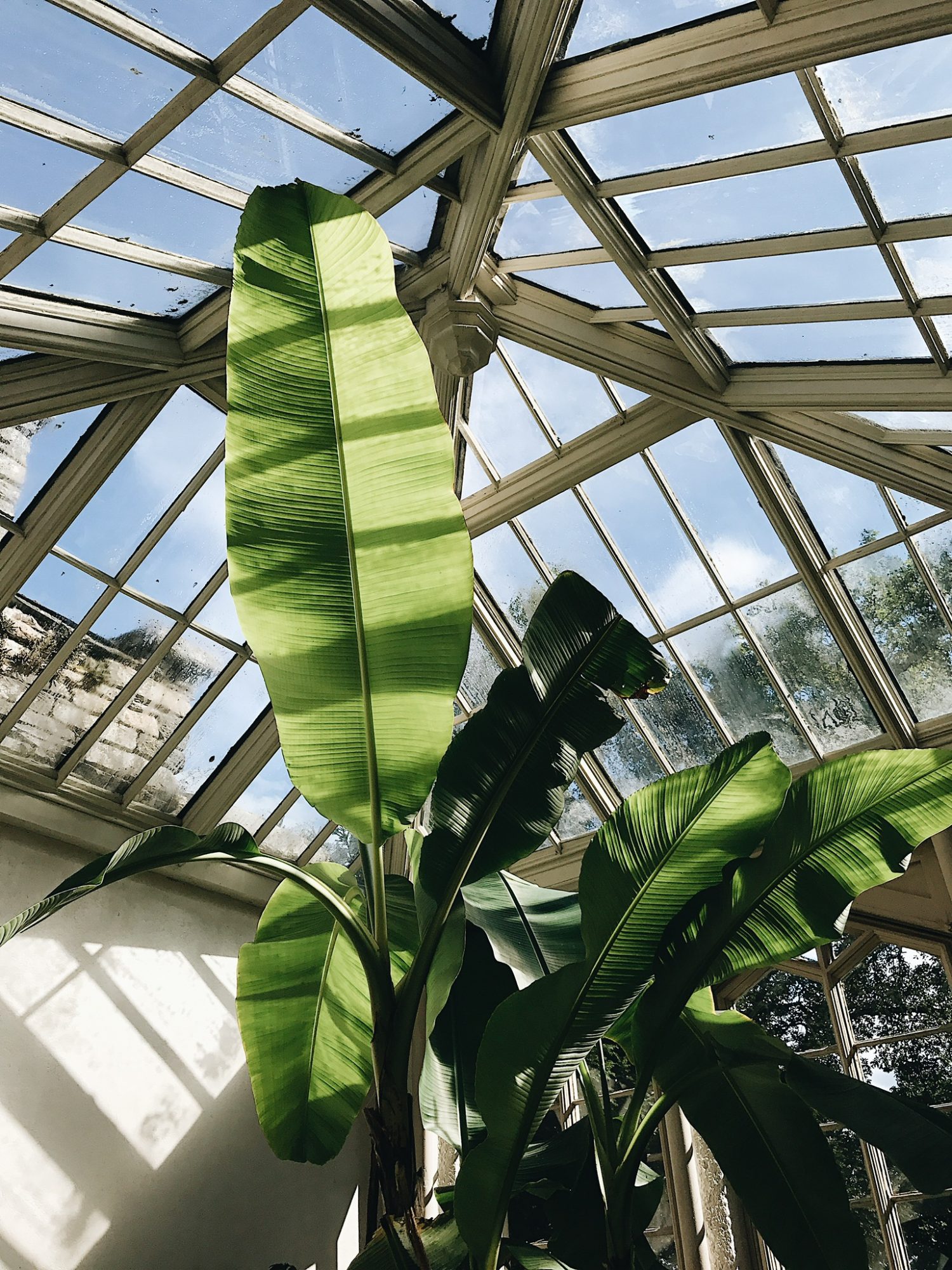 ---
SCOTLAND
---
DAY 7
LOCHEARNHEAD, SCOTLAND
---
STAYED: Lochearnhead – Airbnb – Highland Yurt
We hopped back into our little rental car (the Nissan Micra!) and made our way from the Lake District up to Scotland. We skipped the cities and headed straight for the highlands. Our first night in Scotland was somewhat unexpected but WAY more awesome than we'd planned. We ended up staying in a super groovy Mongolian Yurt on the property of some very gracious and creative Airbnb hosts. They tipped us off to an incredible restaurant for dinner and we fell asleep to the sound of a crackling fire and rain on the roof.
ATE + DRANK: We didn't have any reservations for the first night in Scotland but we ended up making our way to Monachyle Mhor Hotel on our hosts recommendation. The place was at the end of a very long and winding one lane road that had the lochs on one side and luscious farms properties on the other. We crossed our fingers and made our way there hoping they'd have room for us. Luckily they did and it was AMAZING. The food, the venue, the views and the staff were all wonderful. If/when we go back we'll definitely try to stay at the hotel because it was a rare find and beautifully done.
EXPLORED: The drive to Lochearnhead was long but we made a pit stop at Doune Castle on our way in. Doune Castle was probably my favourite of all the castles we visited on the trip. It was super old, built in the 1400s, and has been very well restored and maintained over the centuries. The audio guided tour was insightful and lots of fun to explore with. I would have loved to check out the Town of Doune a little bit but we had to push on.
---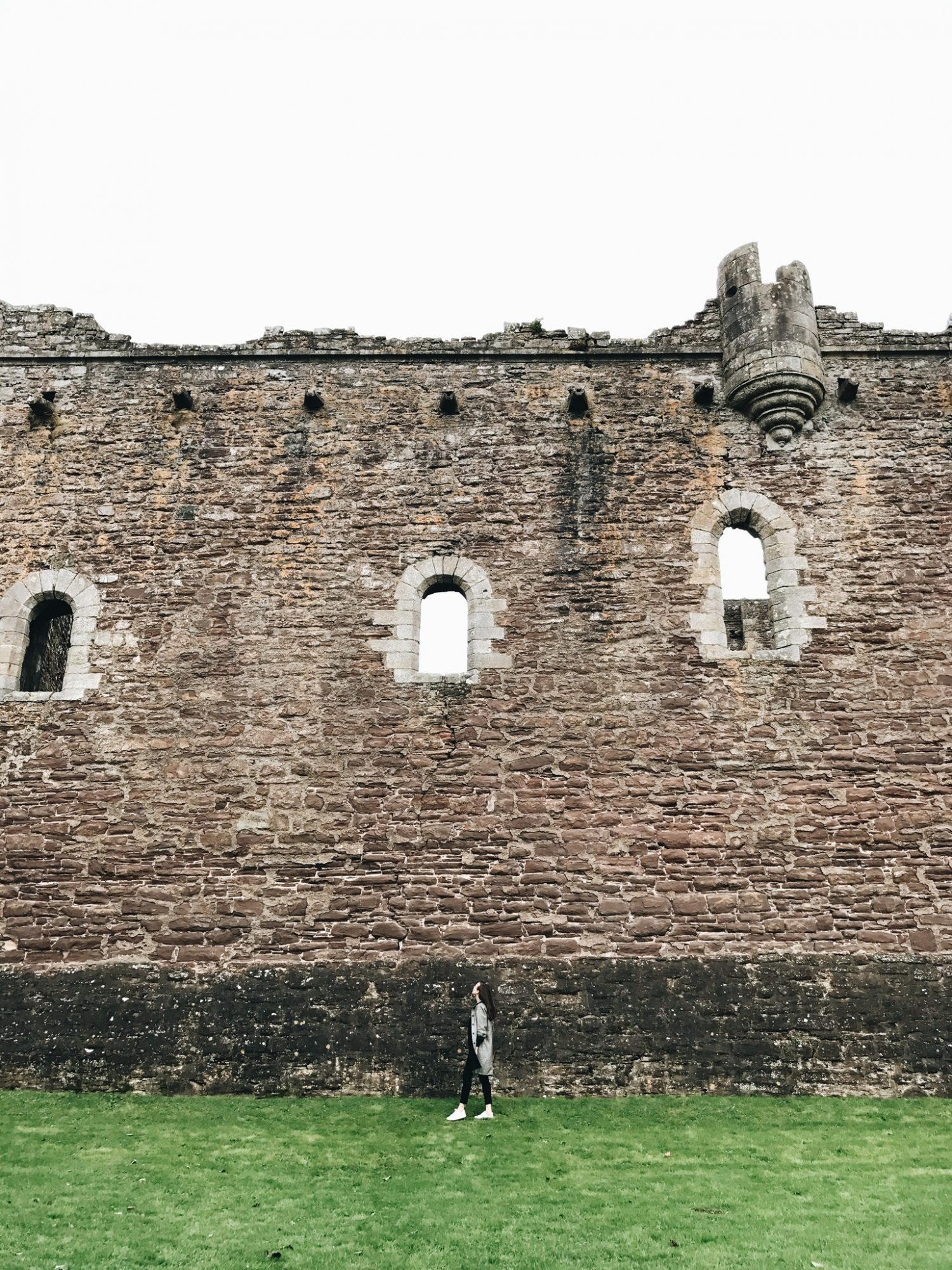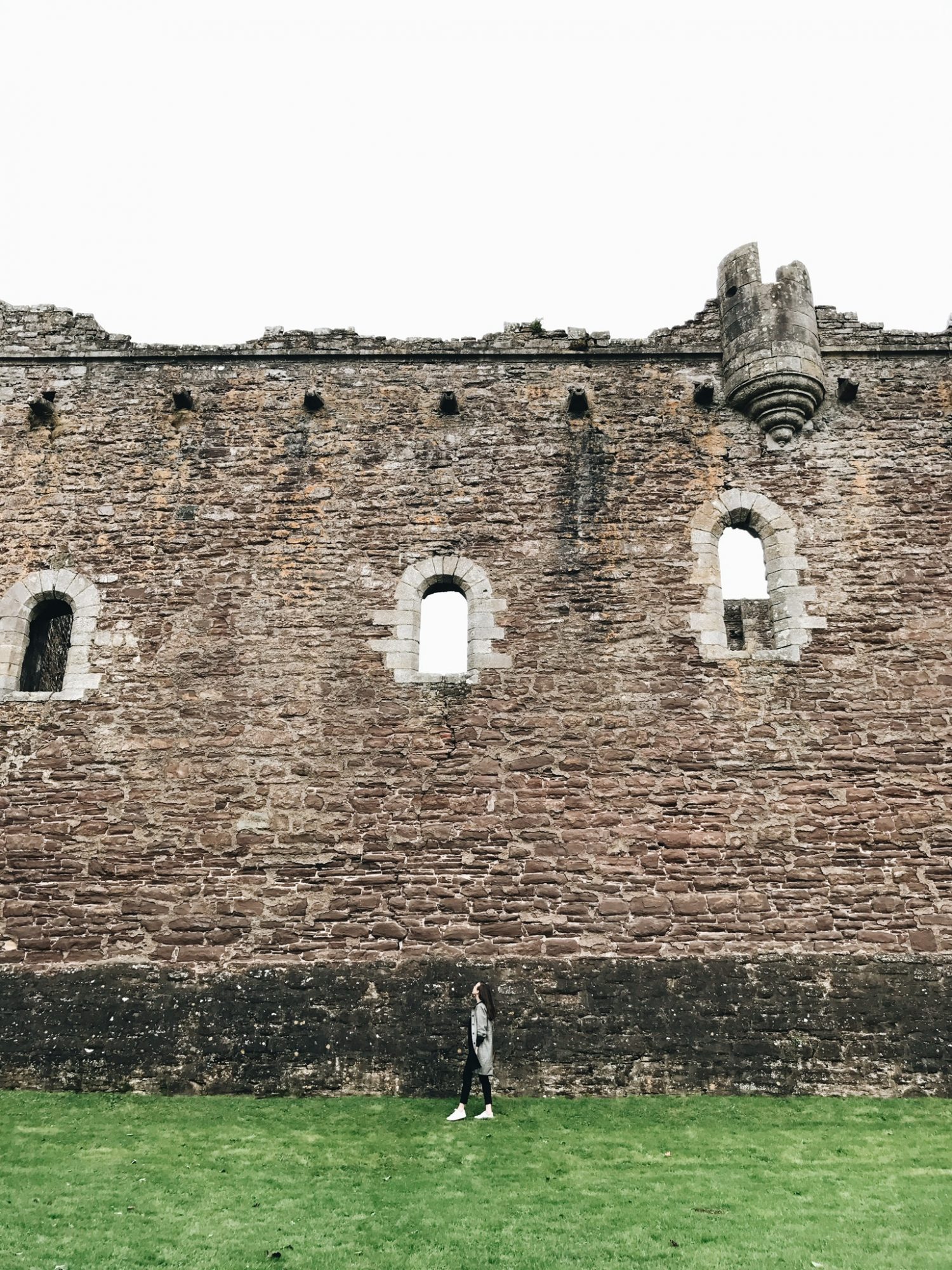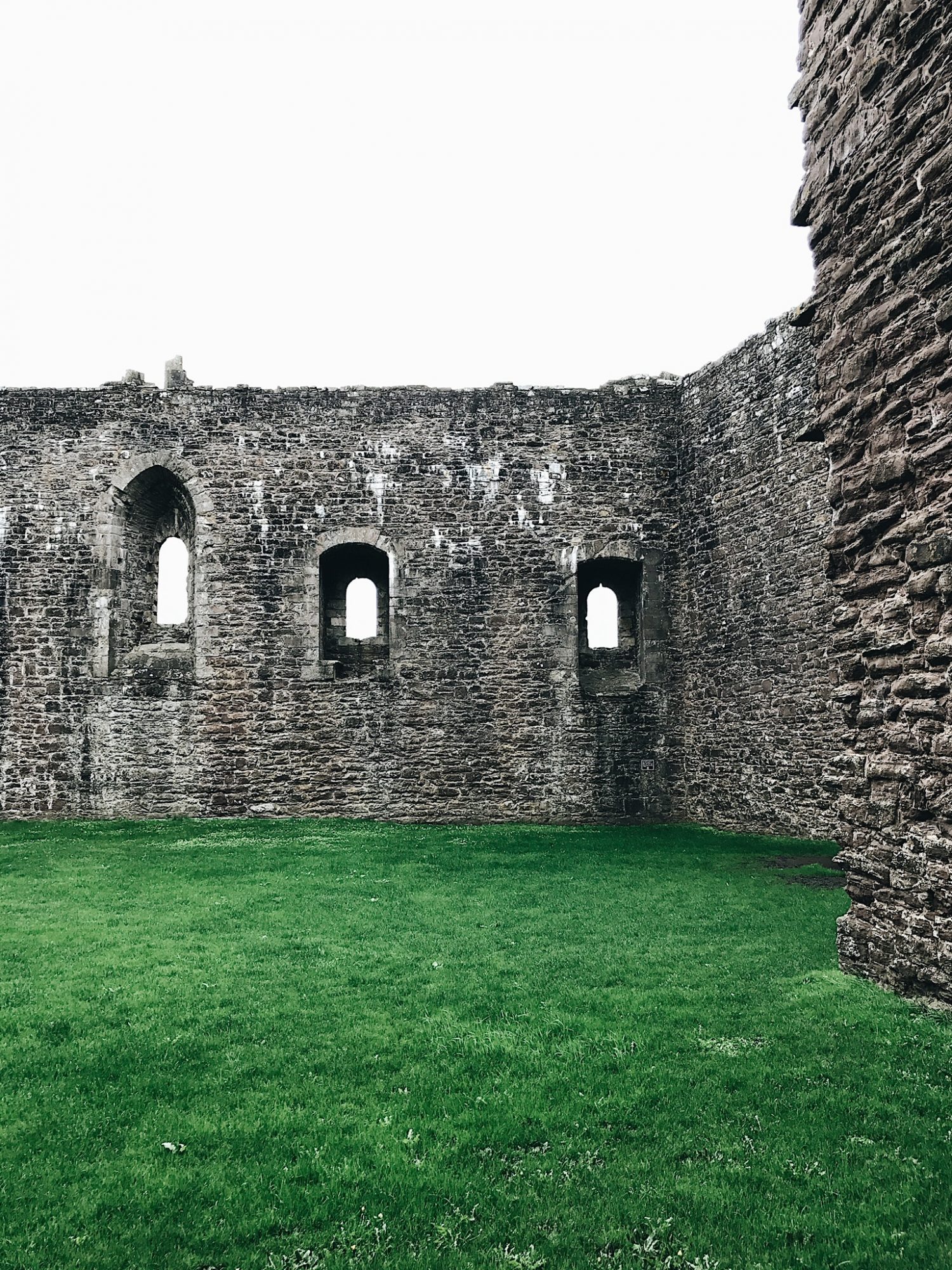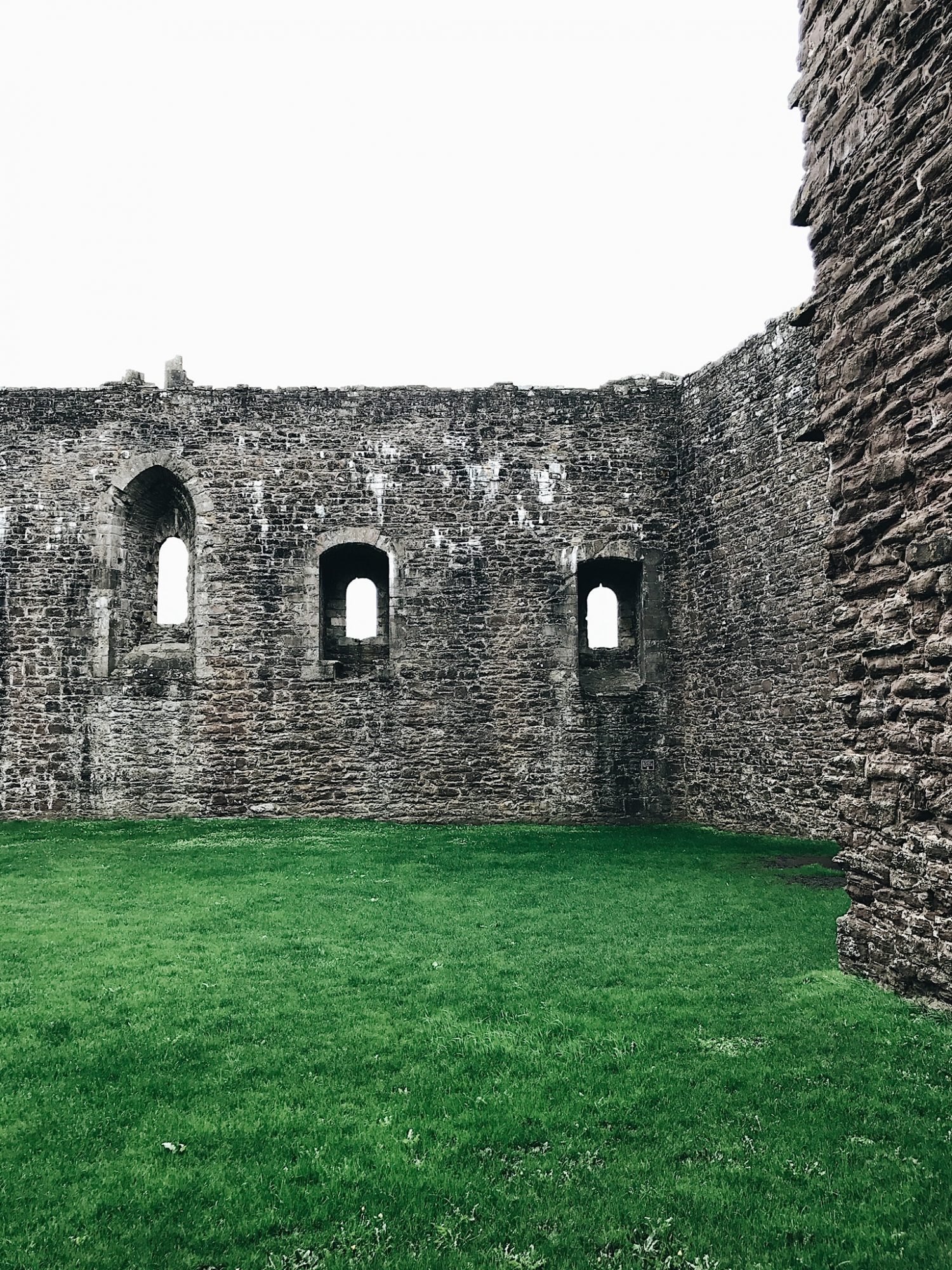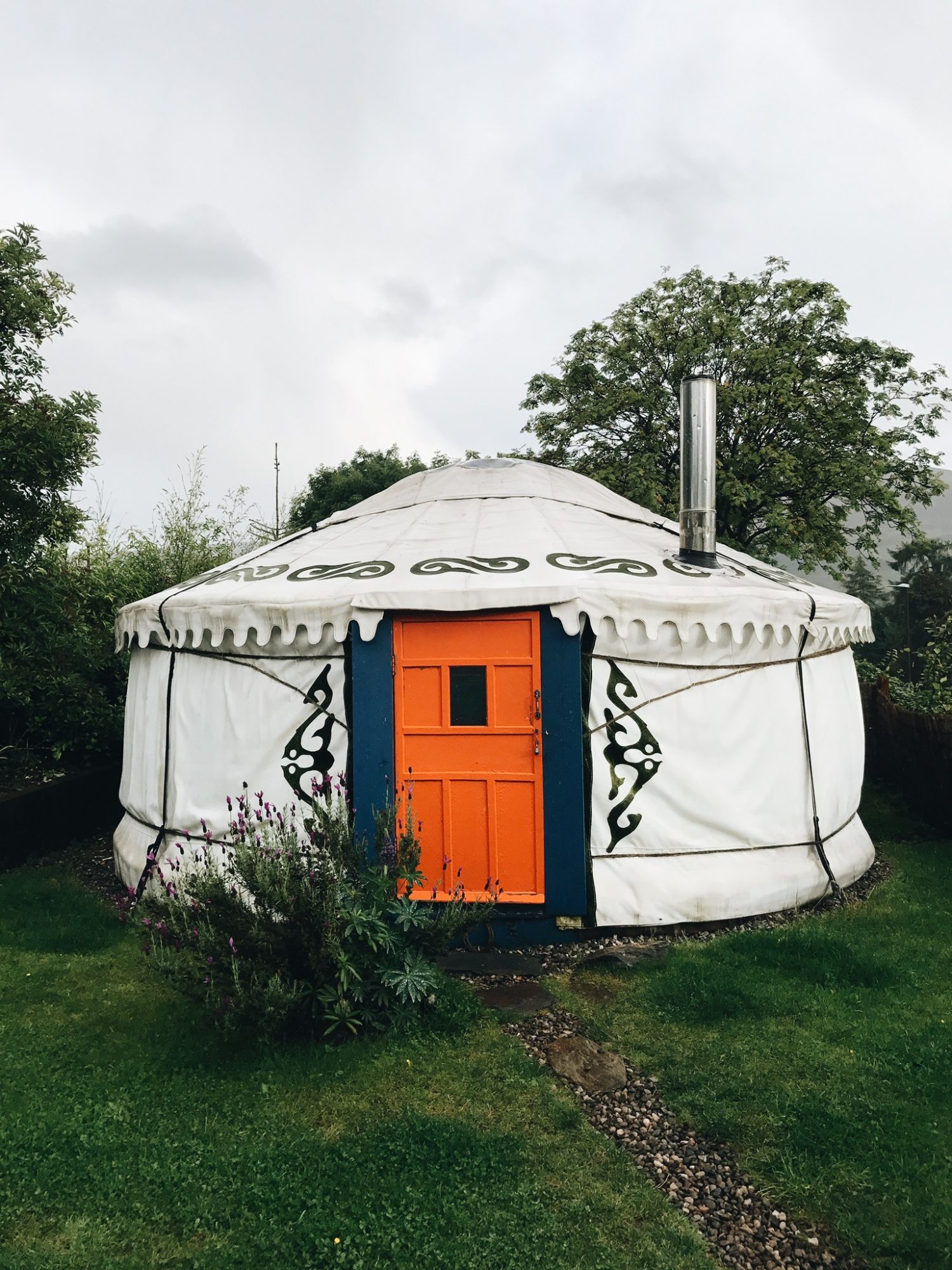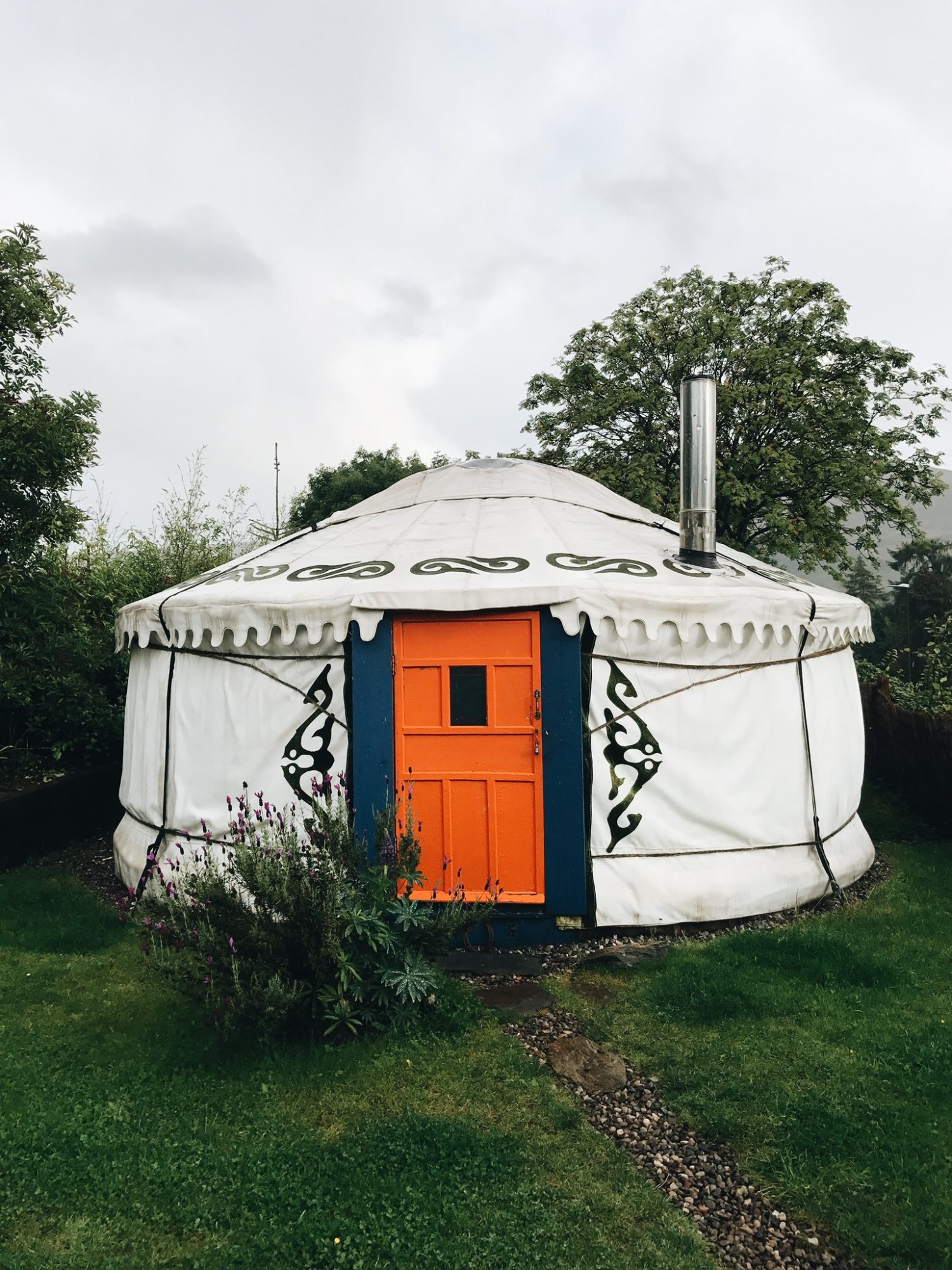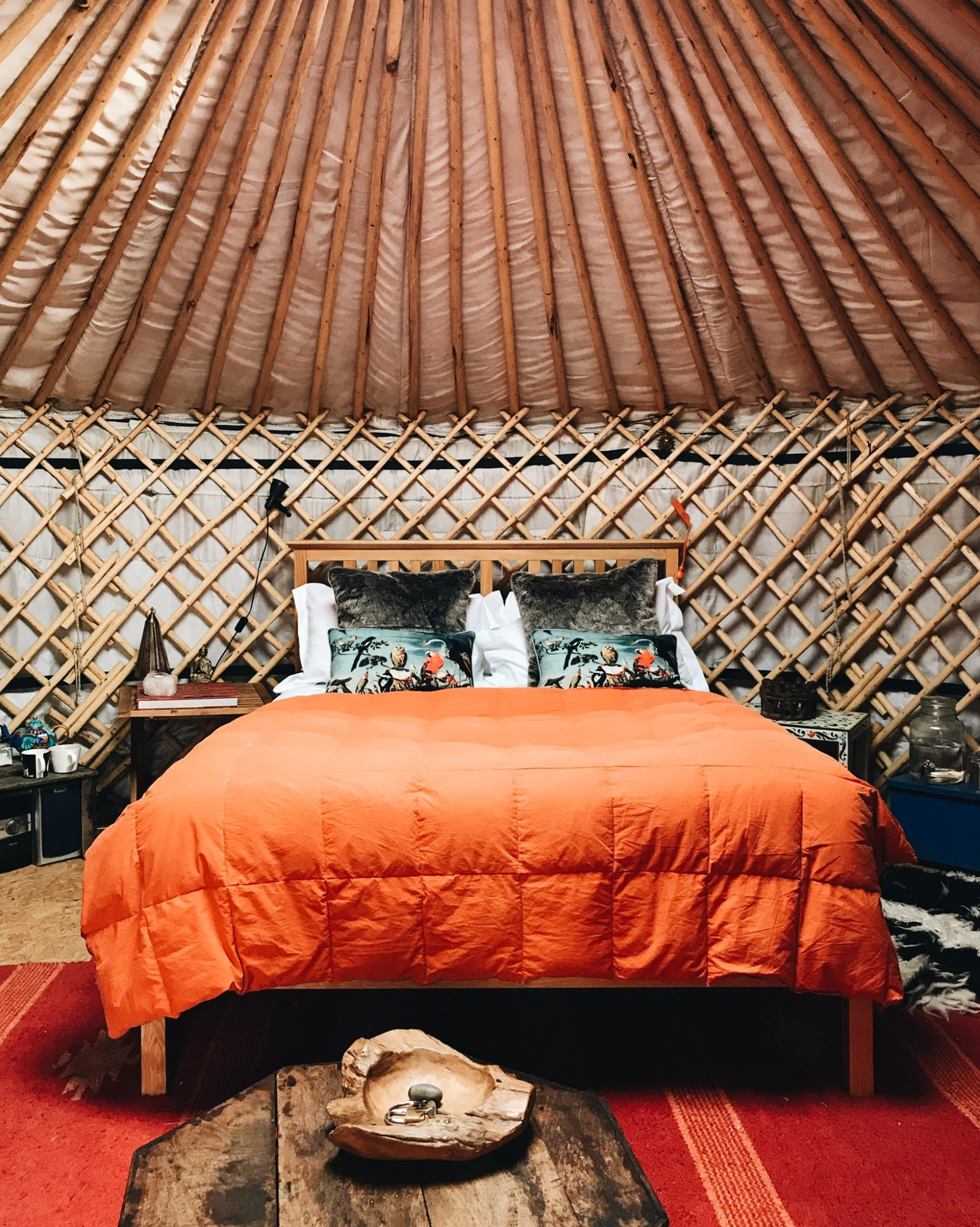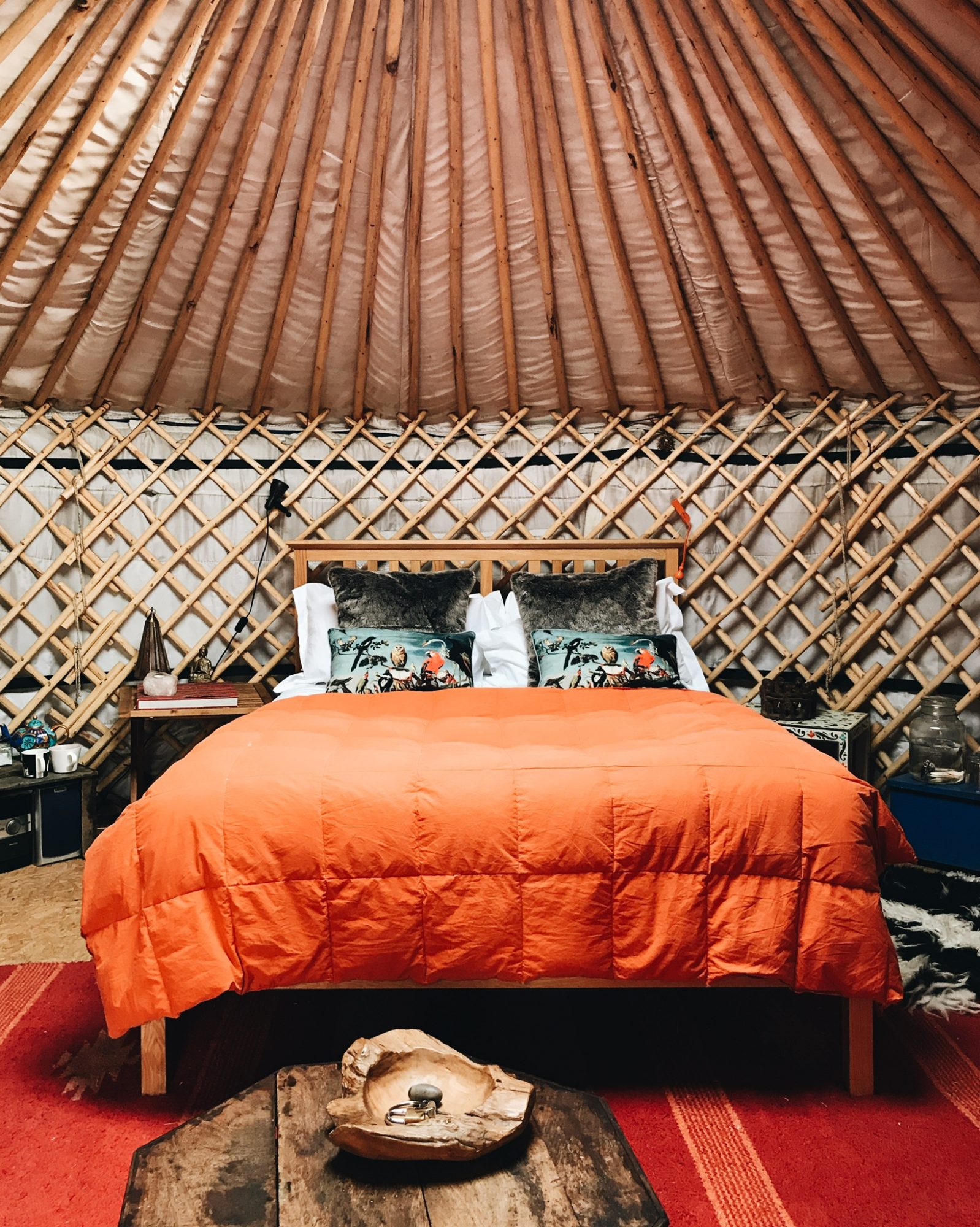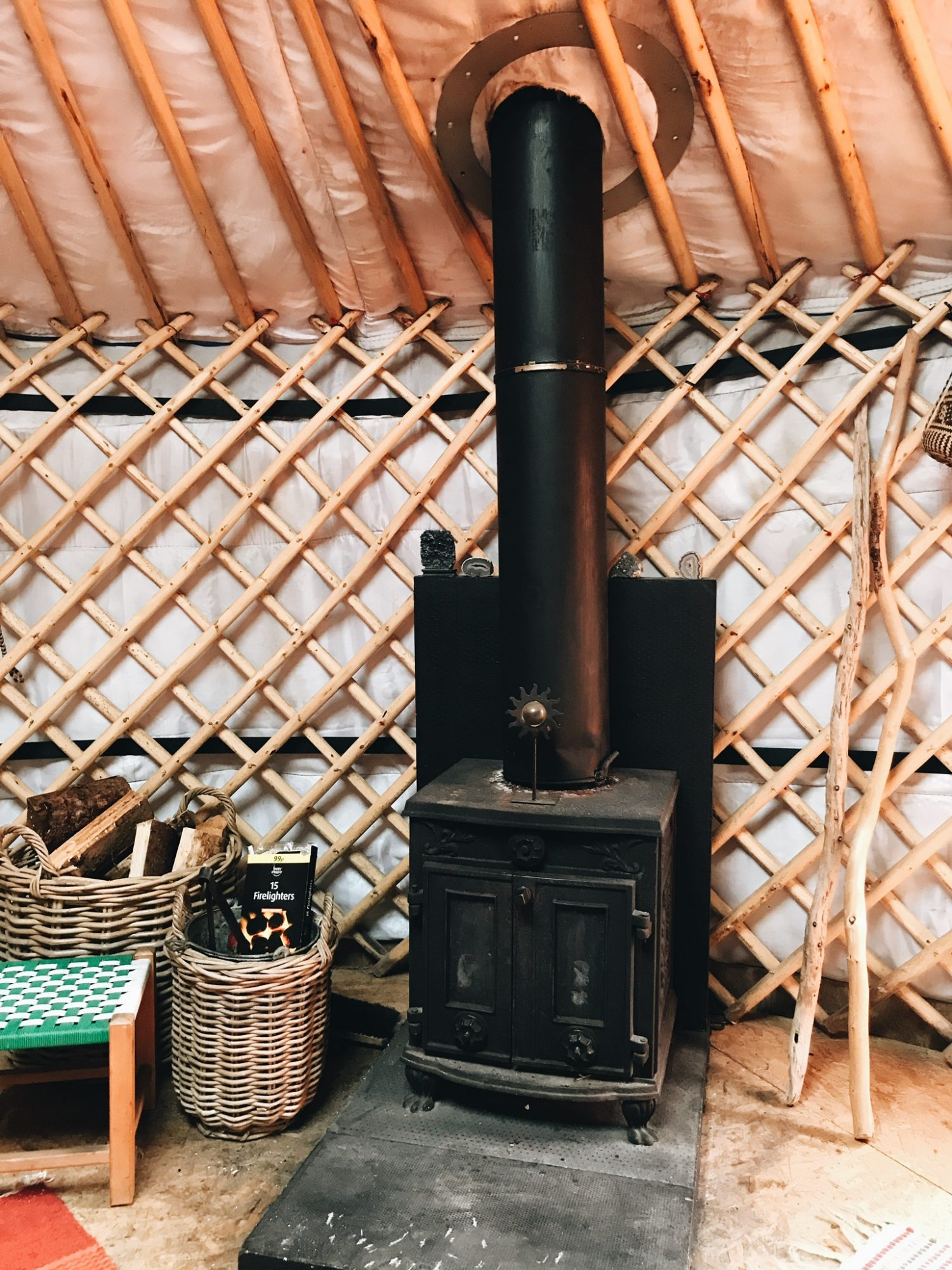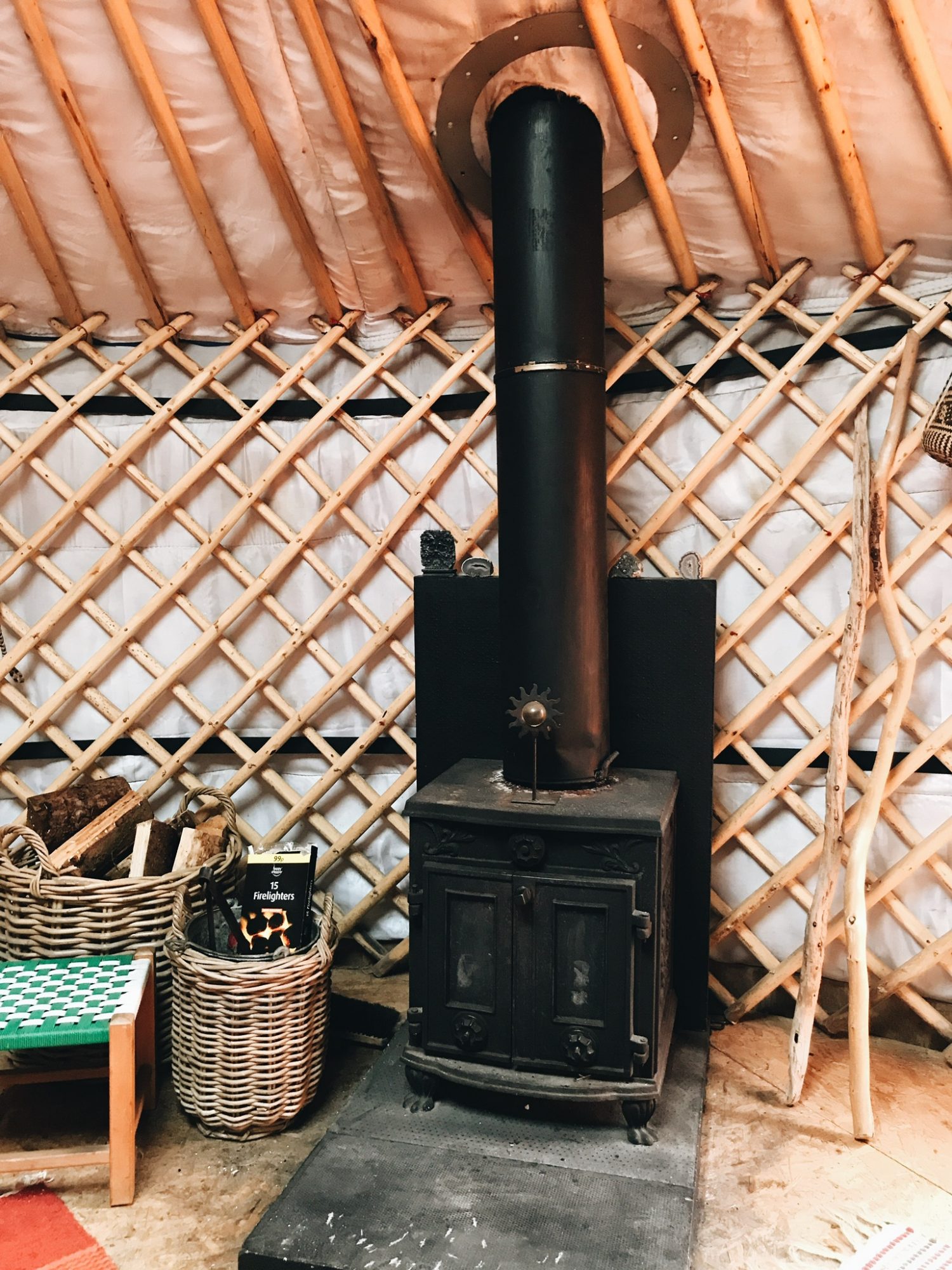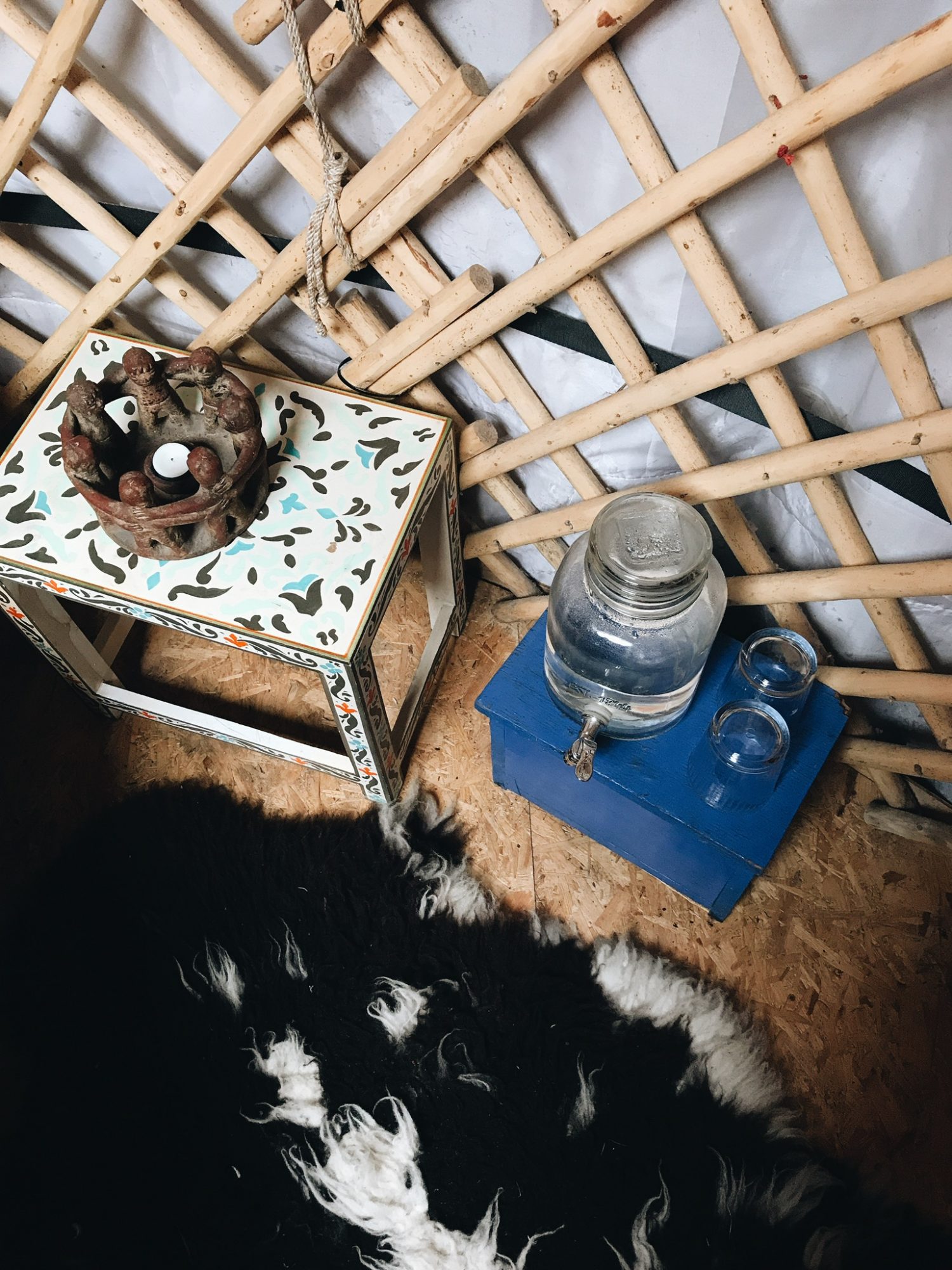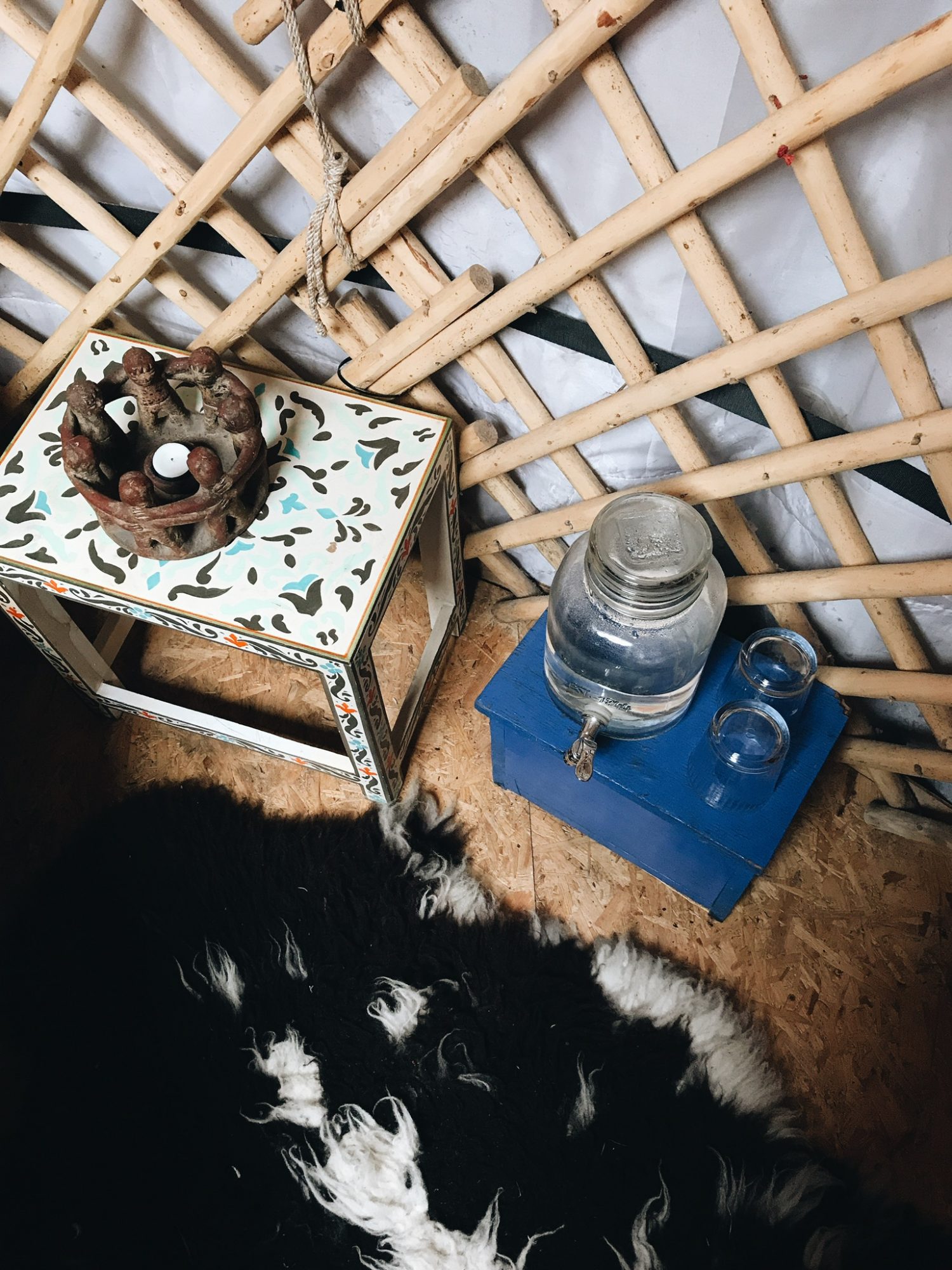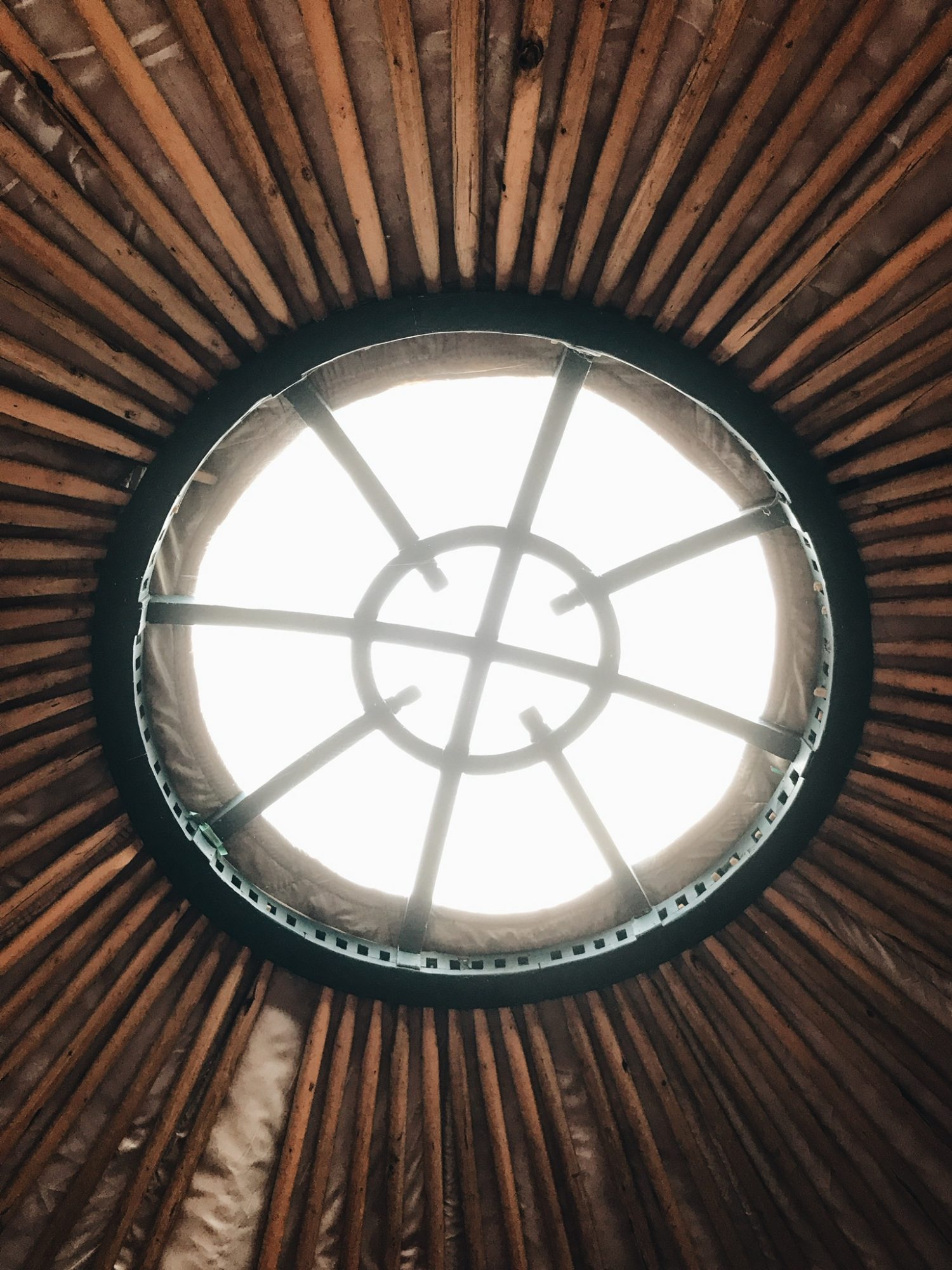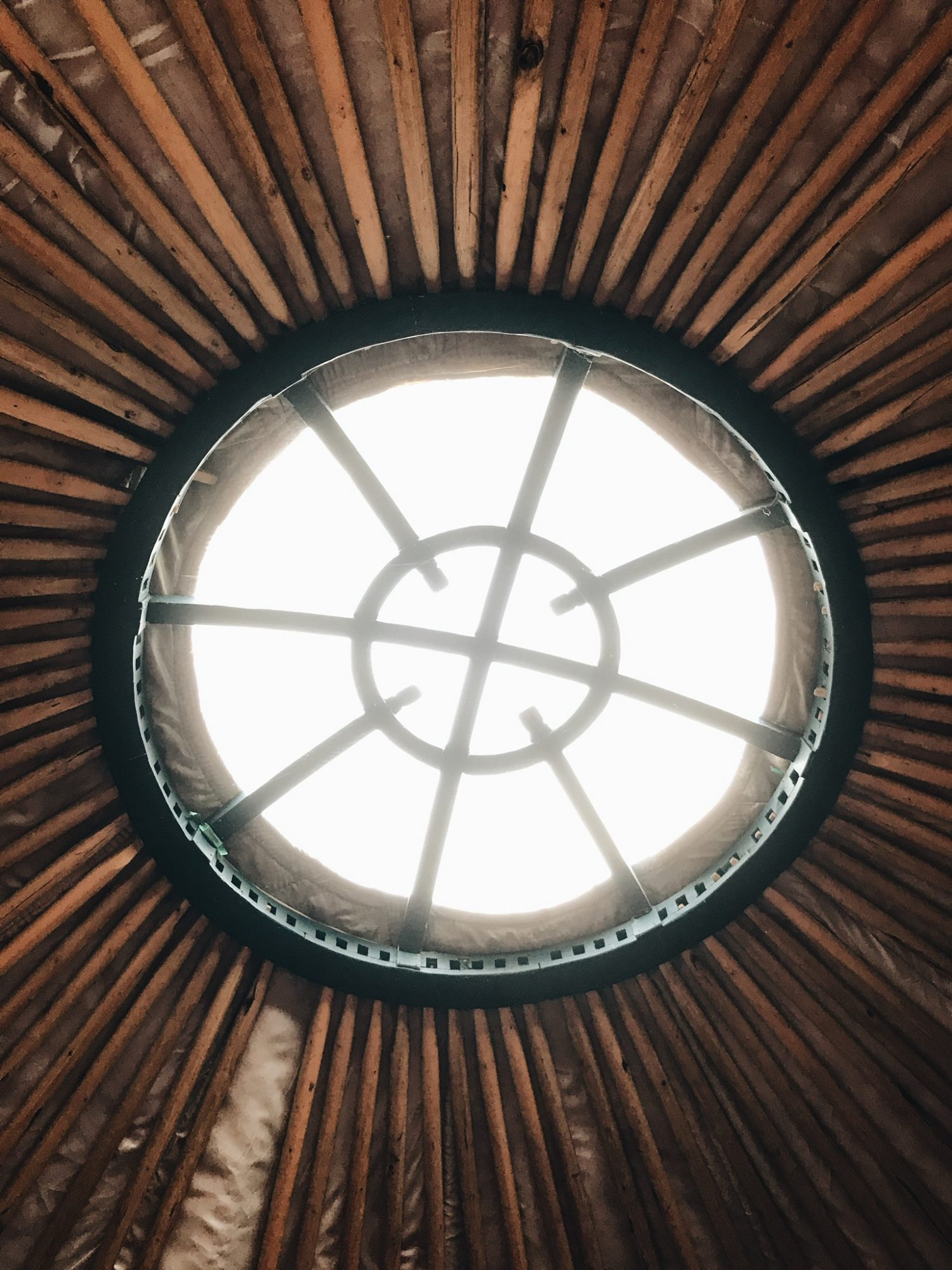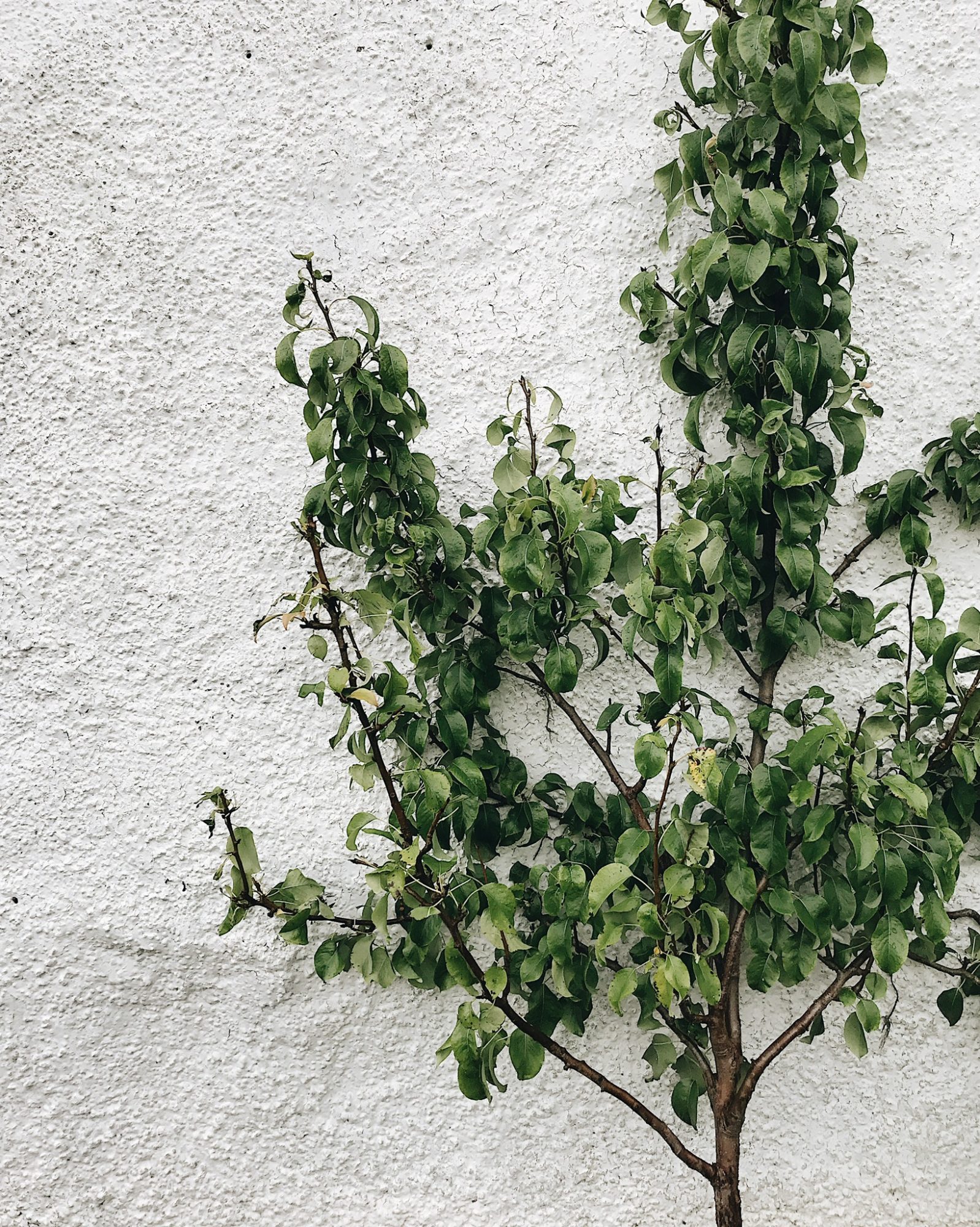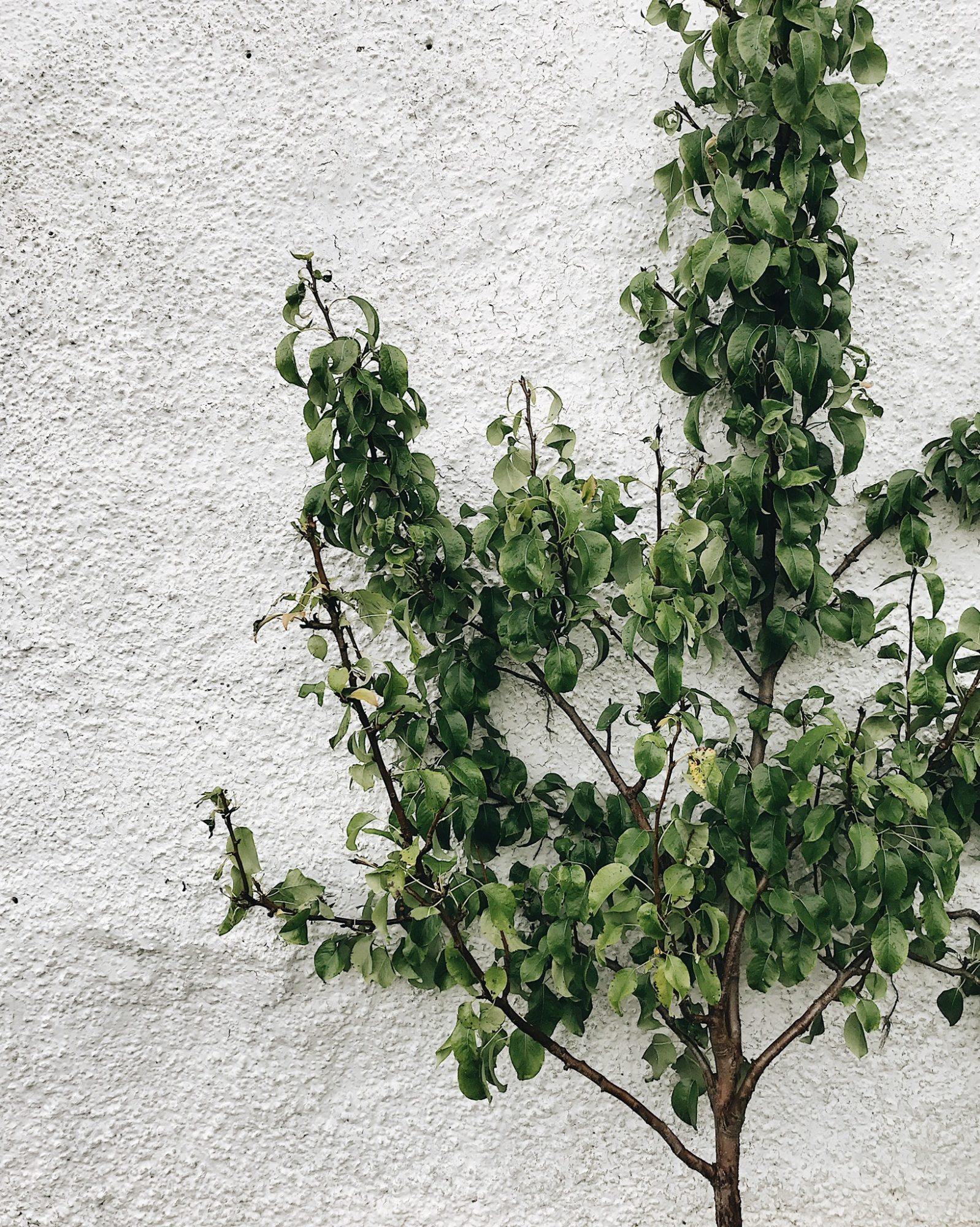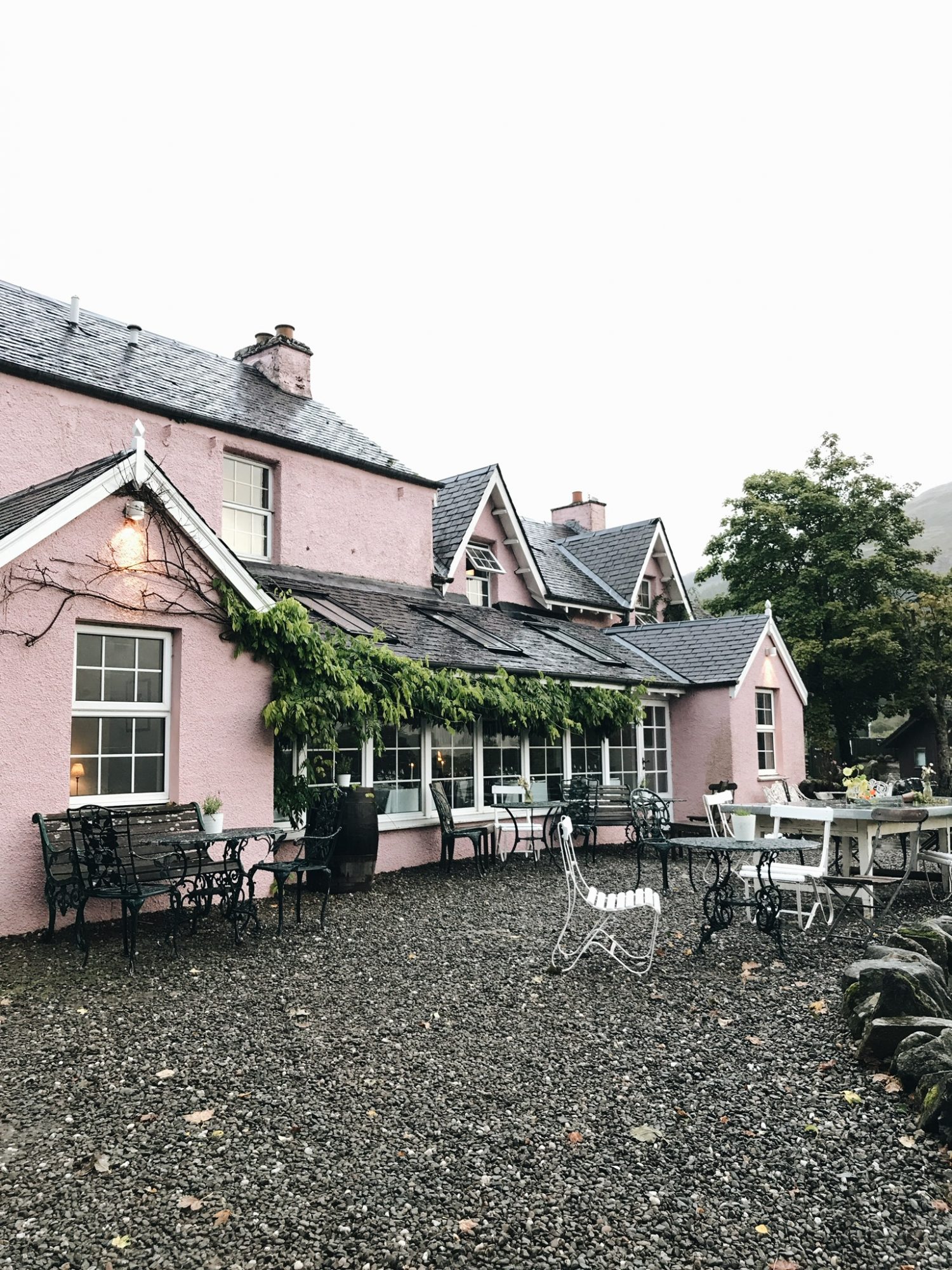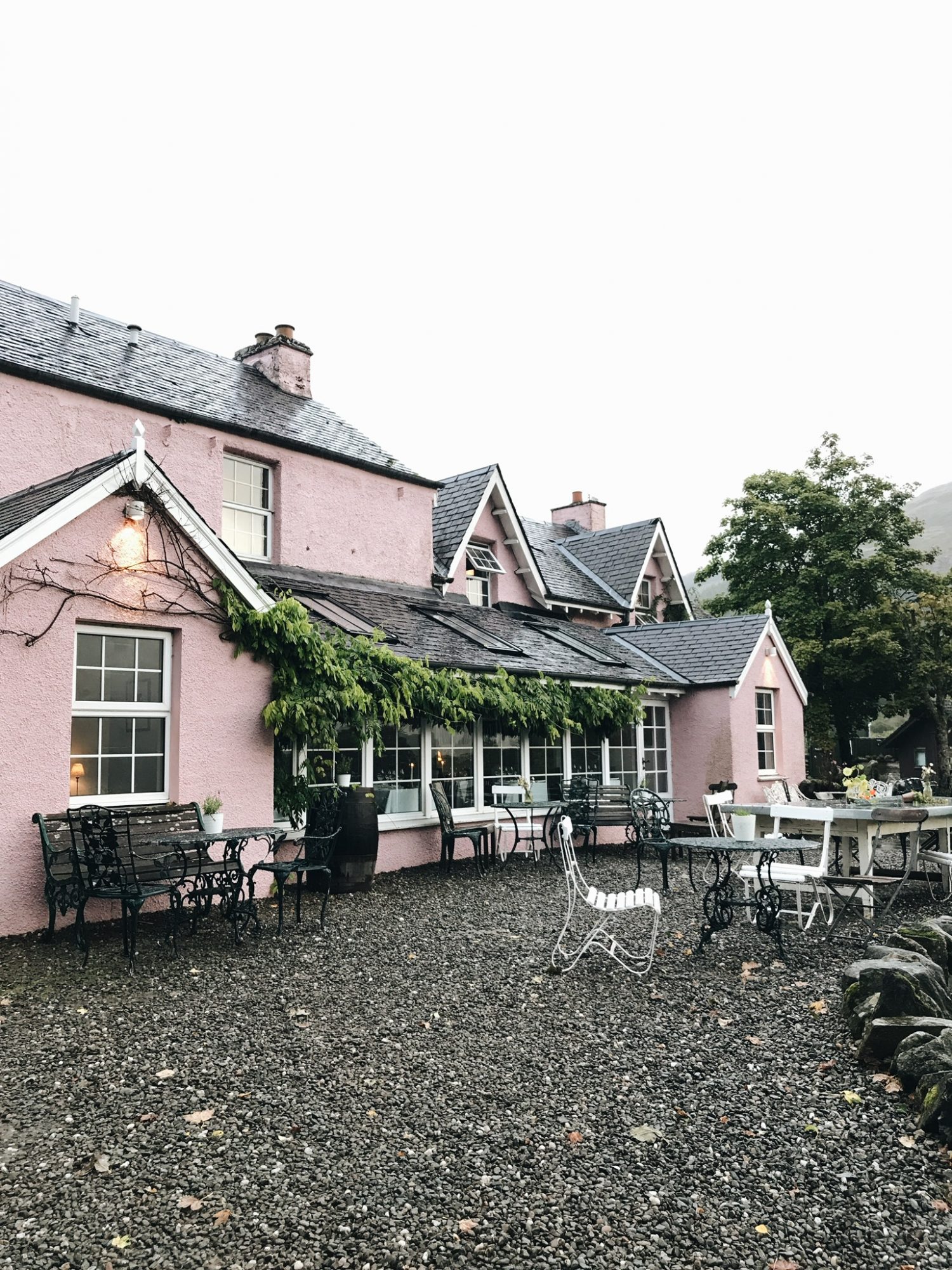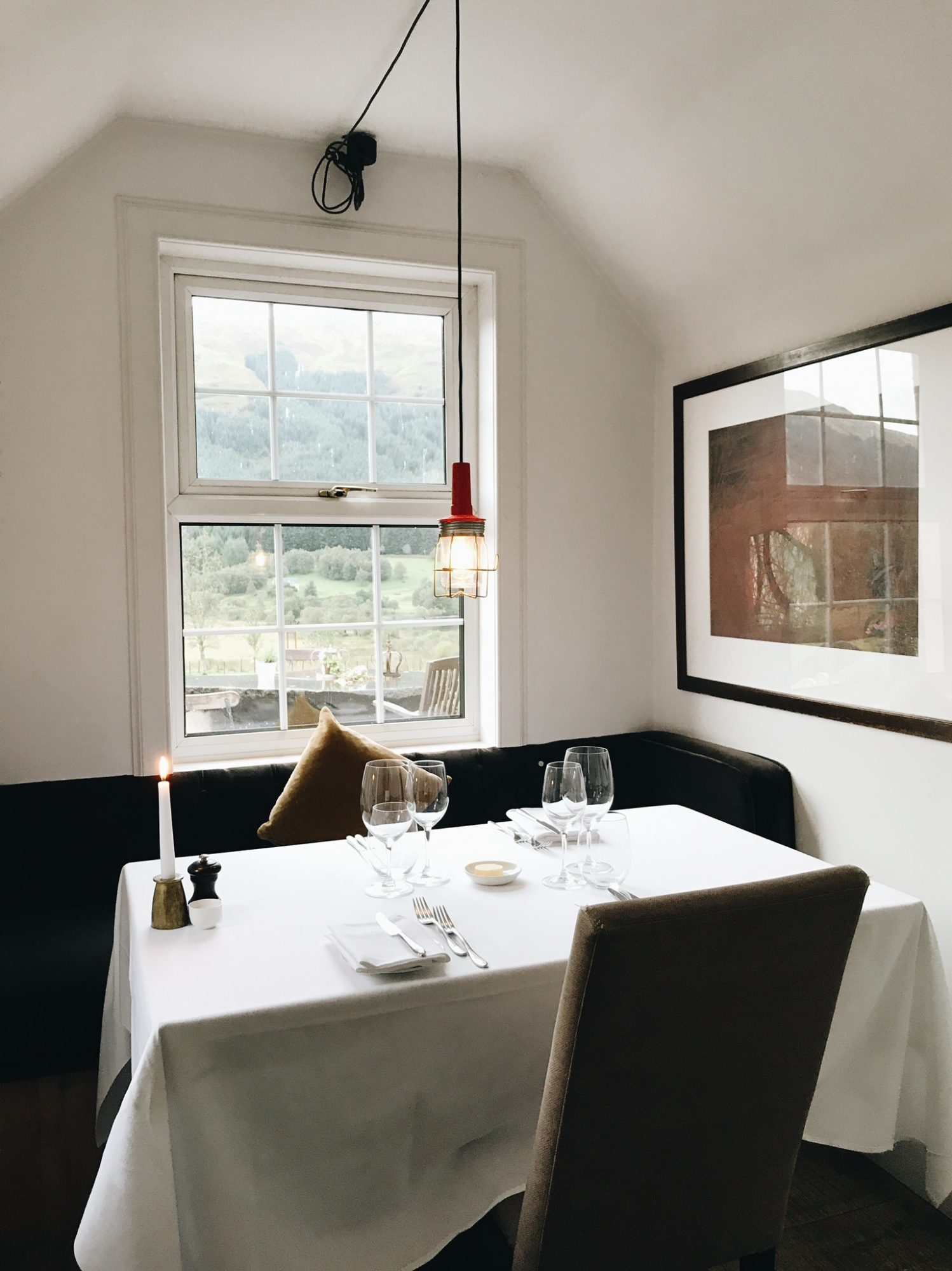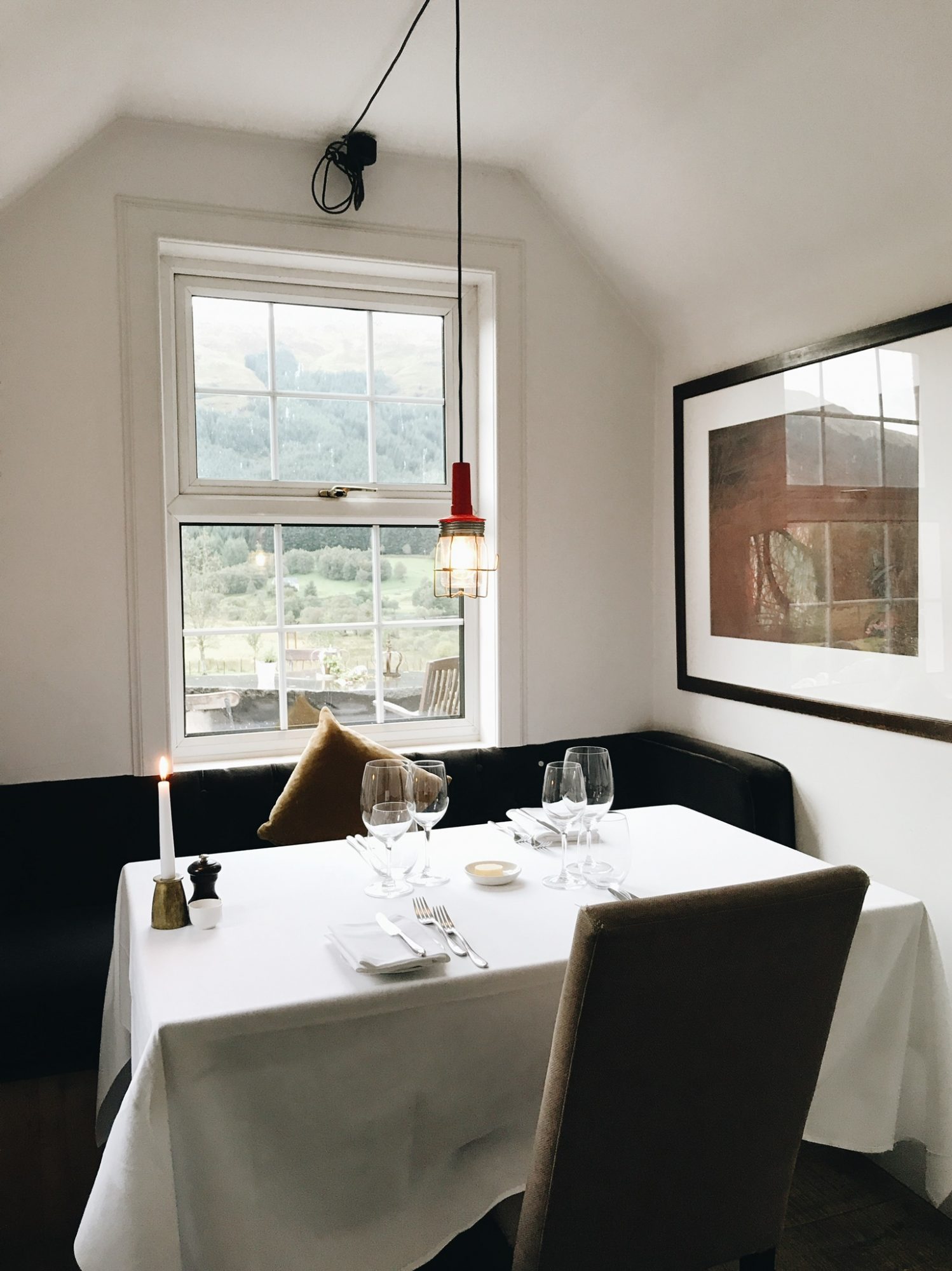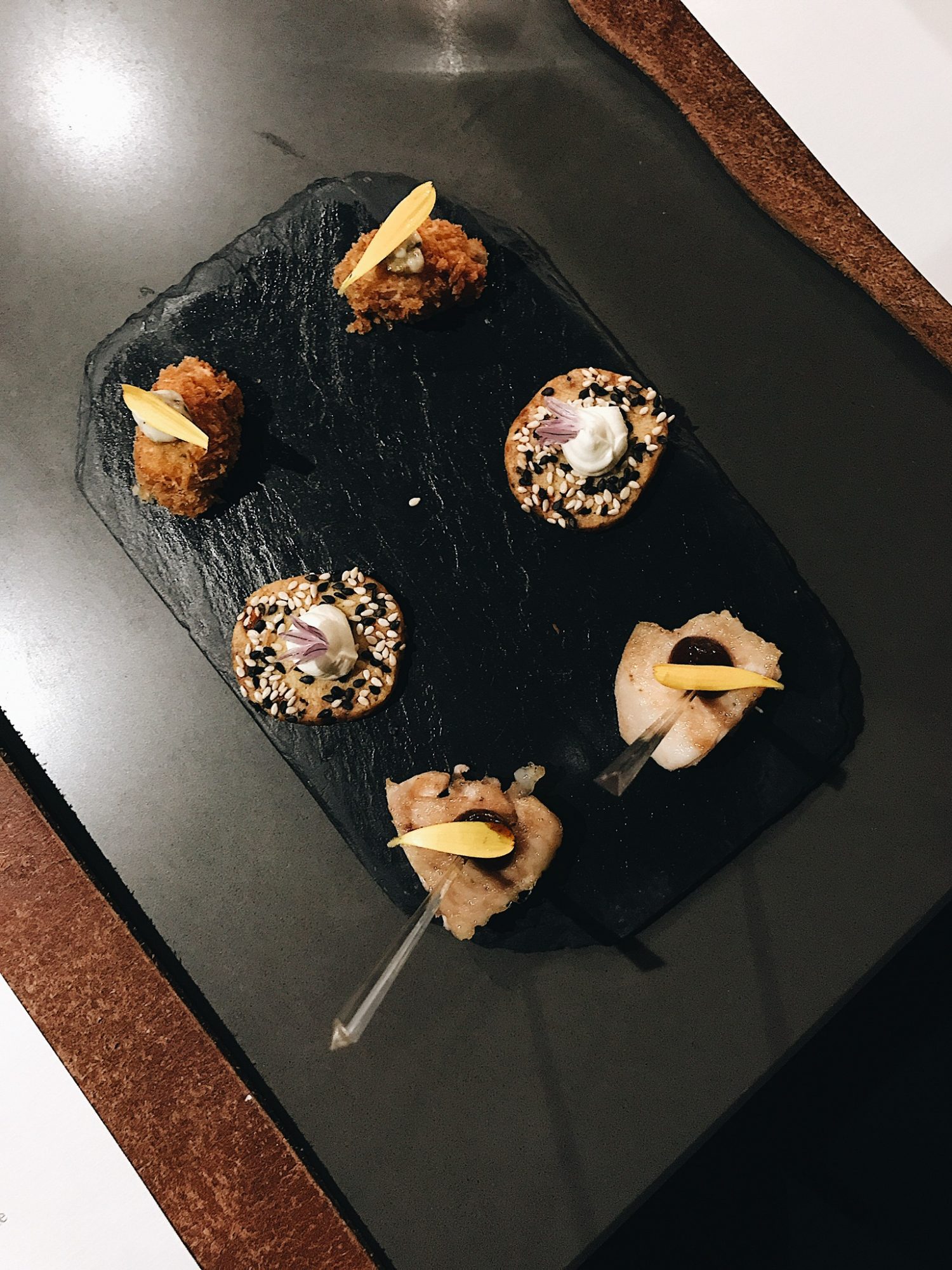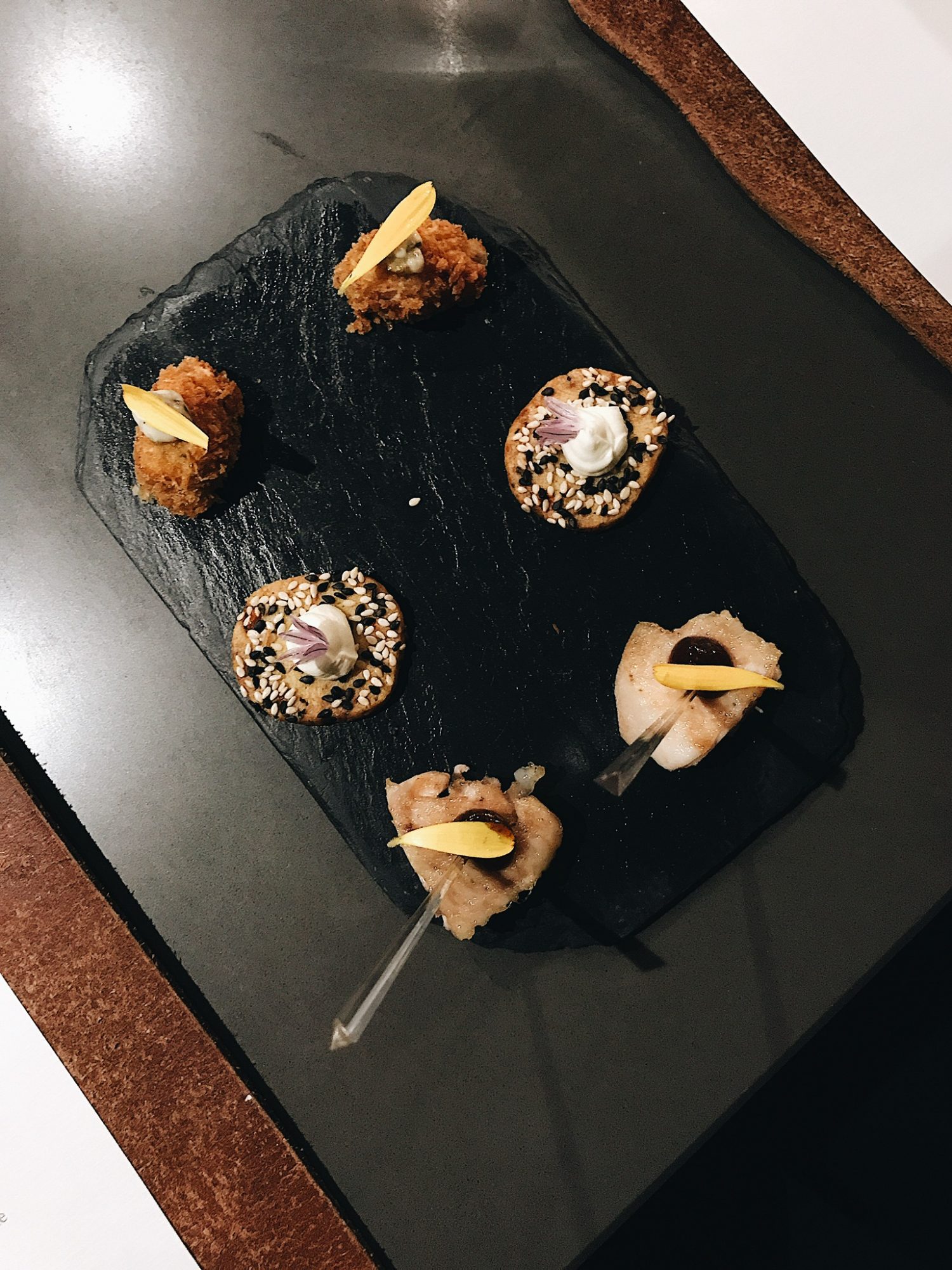 ---
DAY 8
GLENCOE, SCOTLAND
---
STAYED: North Ballachulish – Creag Mhor Lodge – Self Catering Hotel
Continuing to make our way across Scotland we headed for Glencoe an area known for awesome views and being a hiking haven. The drives in the Scottish highlands are every bit as magical, enchanting and breathtaking as everyone claimed. Even though the roads are narrow and the oncoming traffic is constantly approaching head on and very fast, the drive was incredible. We had a tough time finding a good place to stay in Glencoe but we managed to nab a spot at Creag Mhor Lodge for the night. Turned out to be a fine spot with a great whiskey bar and beautiful loch views.
ATE + DRANK: We had a fabulous breakfast courtesy of our previous Airbnb host in the morning which held us over for most of the day but we grabbed a bite in Glencoe at a local cafe and got our bearings. Sadly the meals we had in North Ballachulish (NW of Glencoe) left a lot to be desired but if we were there again we'd try Lochleven Cafe for fresh caught seafood and/or The Grog & Gruel for tasty classic pub fare.
EXPLORED: The hotel was ideally located for exploring. It was situated on the main West Highlands route (which many tourists take), Ben Nevis and Fort William are to the north, the Ardnamurchan Peninsula is to the West, Glencoe is to the East and Oban (the town and distillery) is to the South. We started our short visit with a quick and easy hike in Glencoe then we stepped it up a notch and went to Glencoe Mountain Resort for a significantly more vertical endeavor. We miraculously missed a huge downpour which was lucky because even still the wind was non trivial on the summit.
---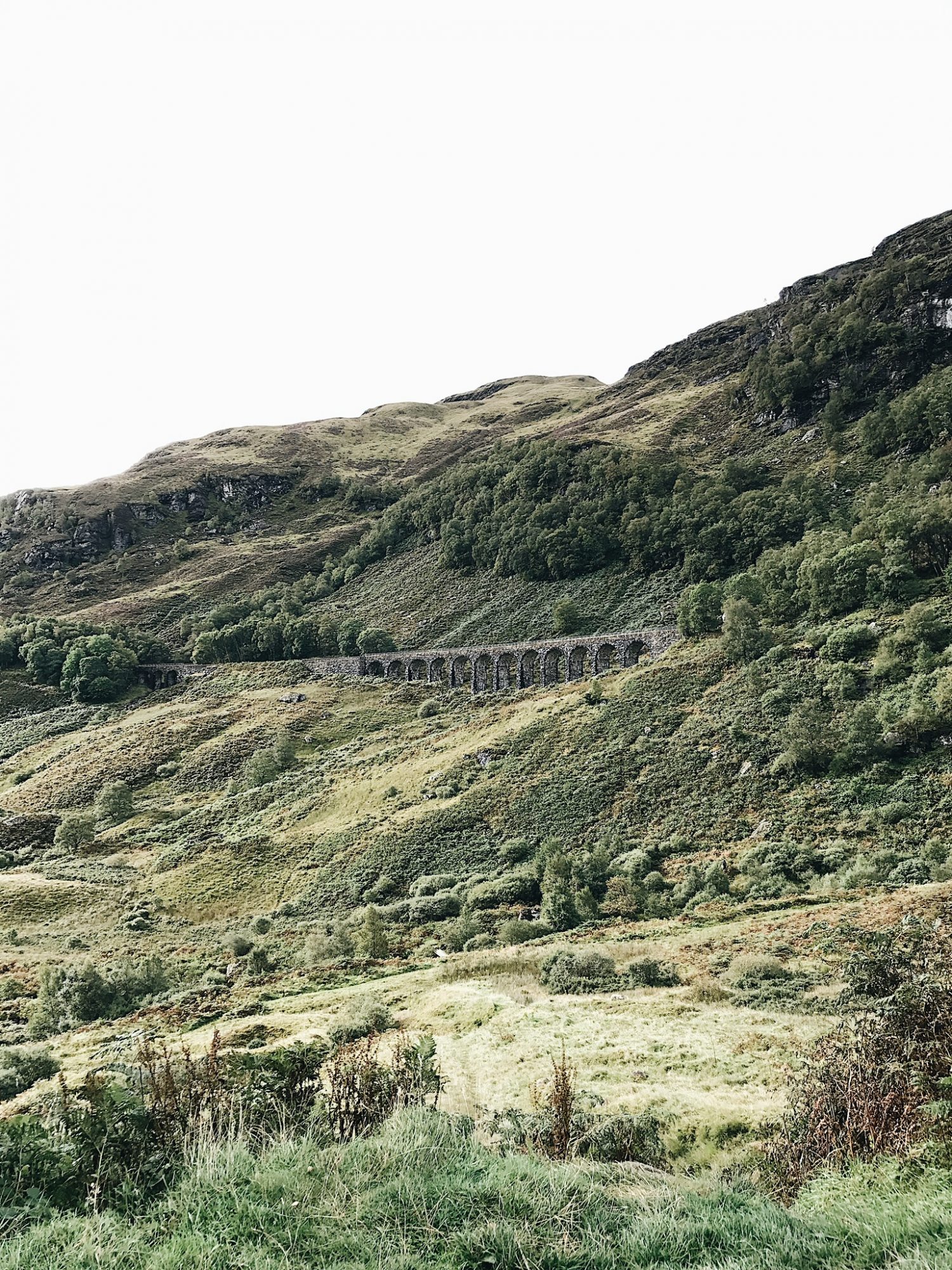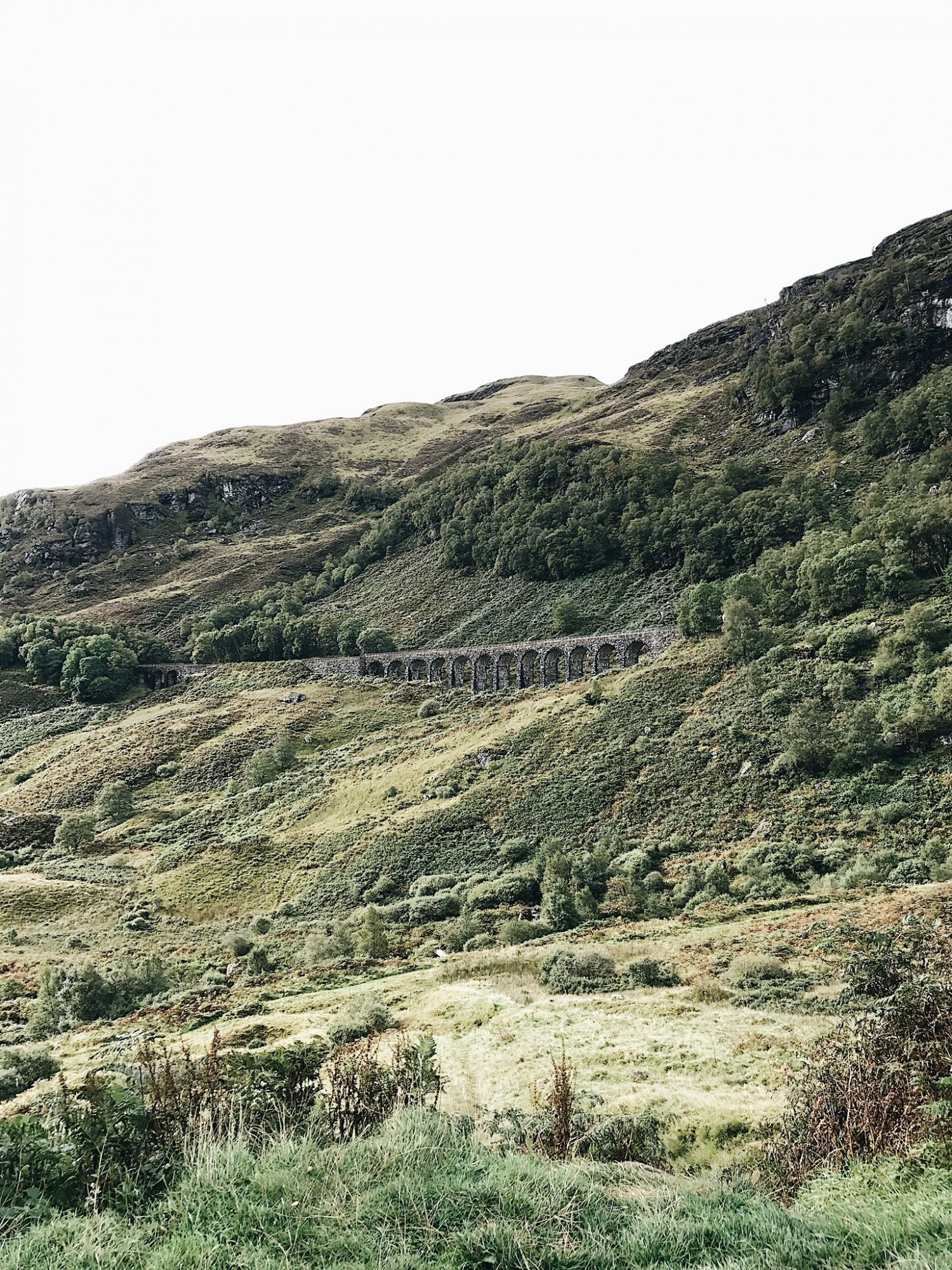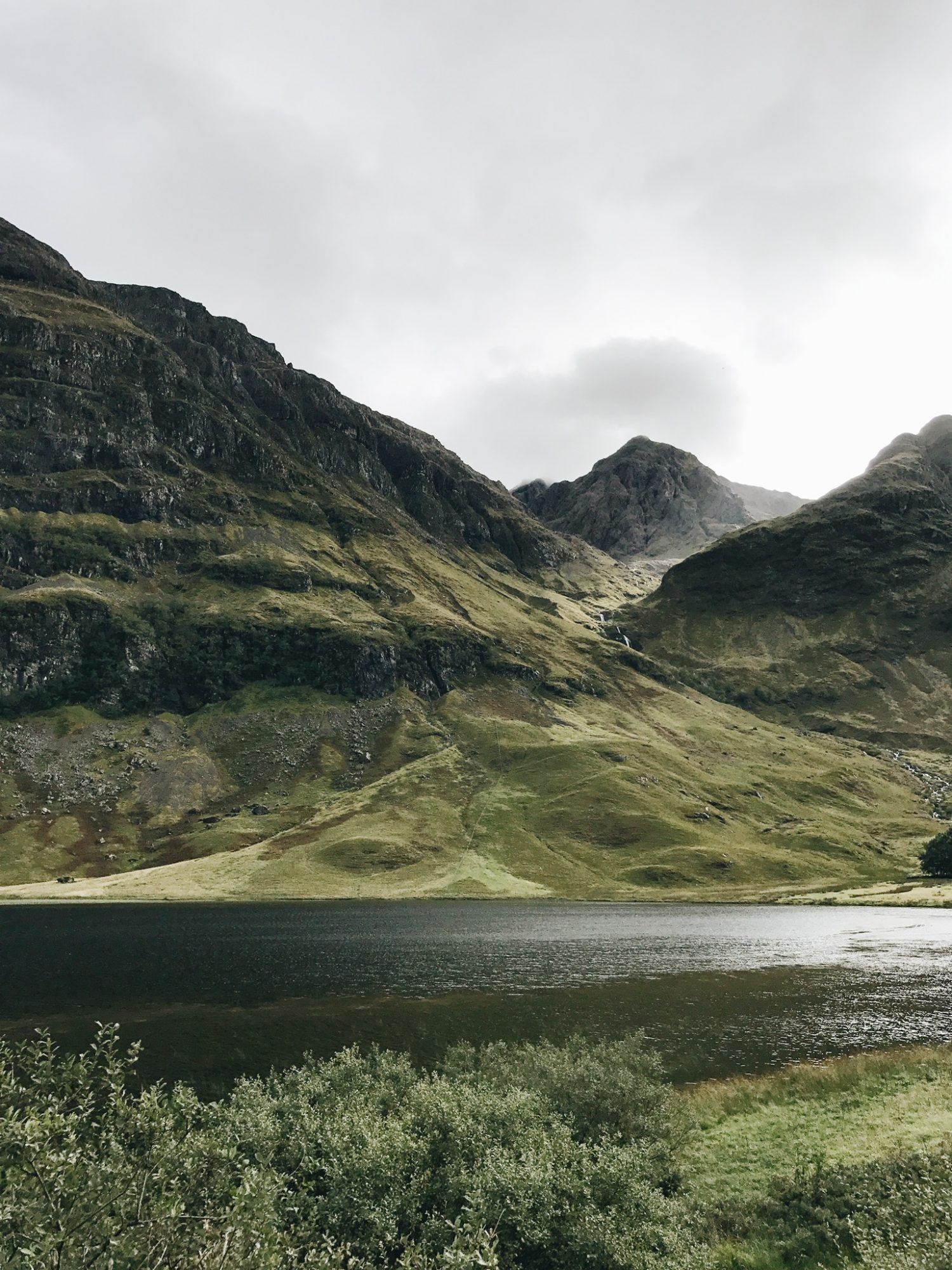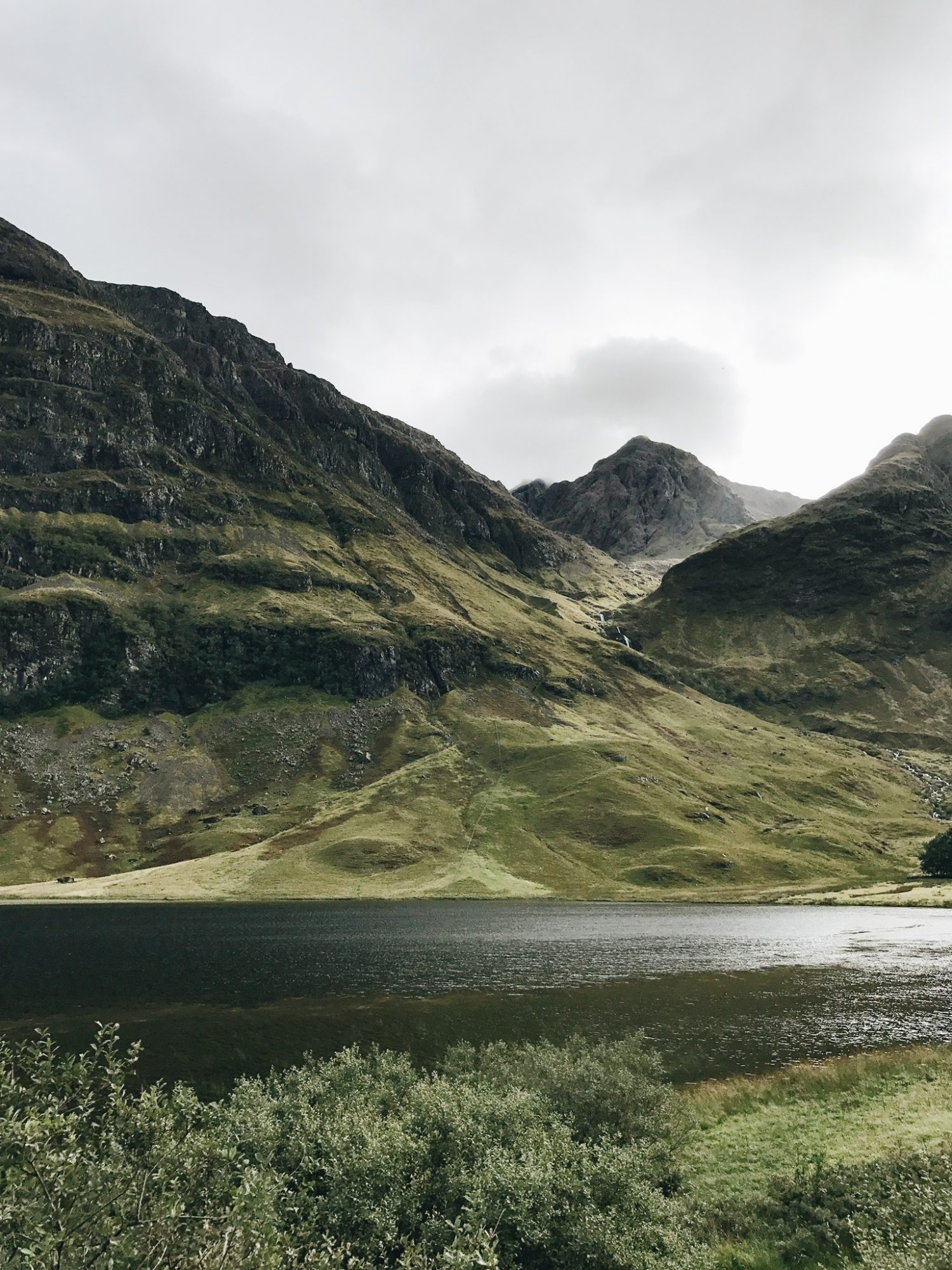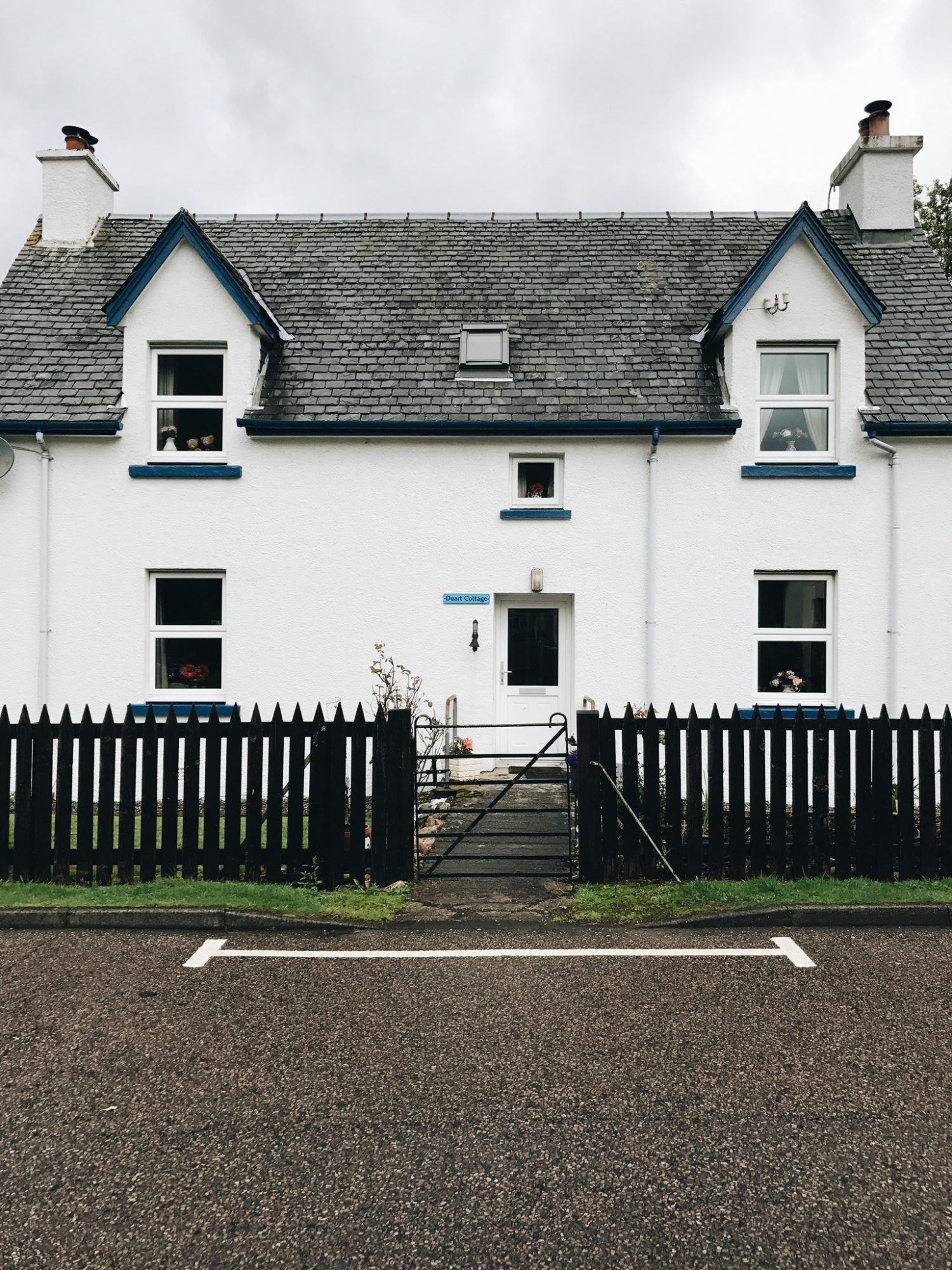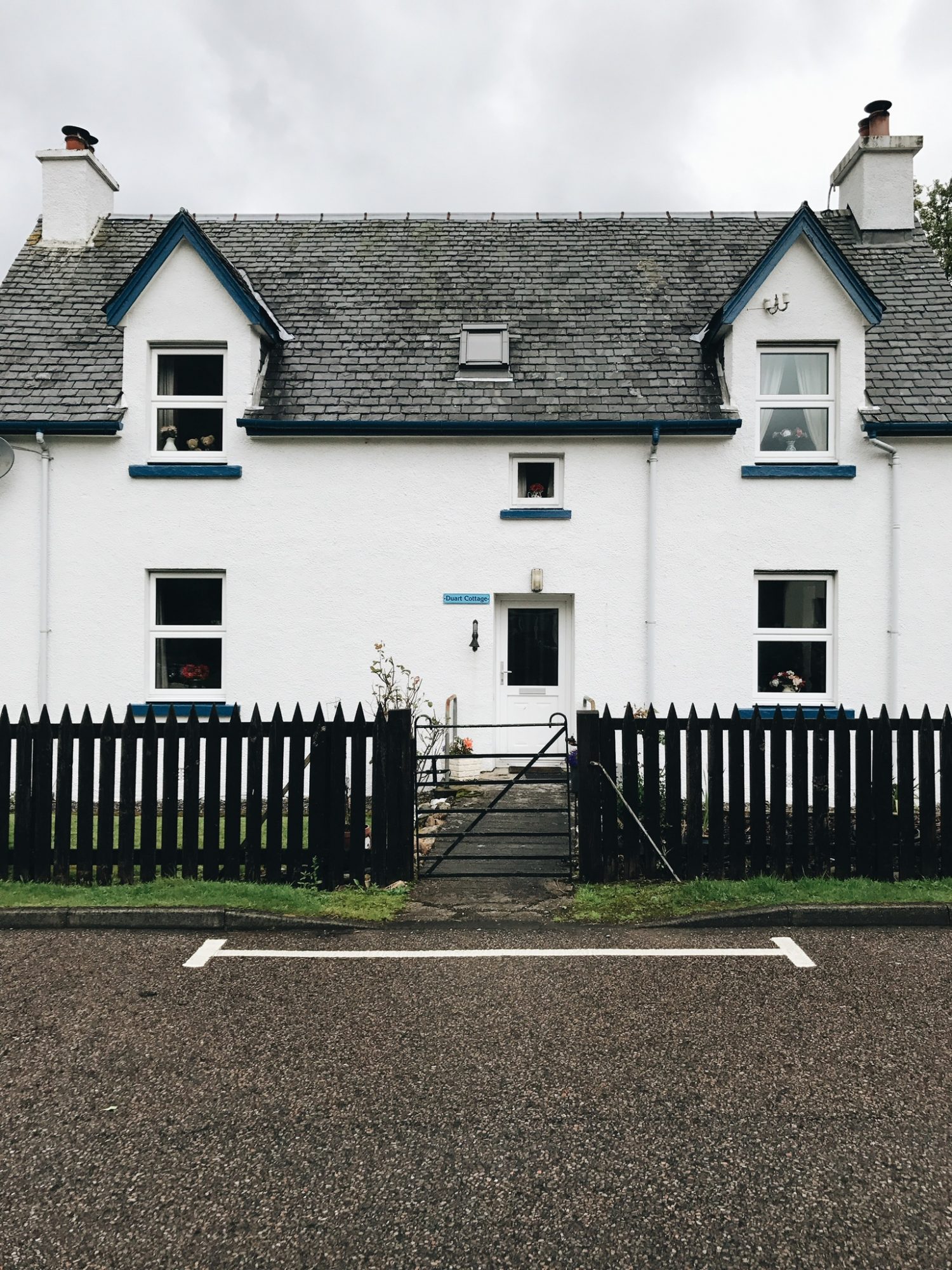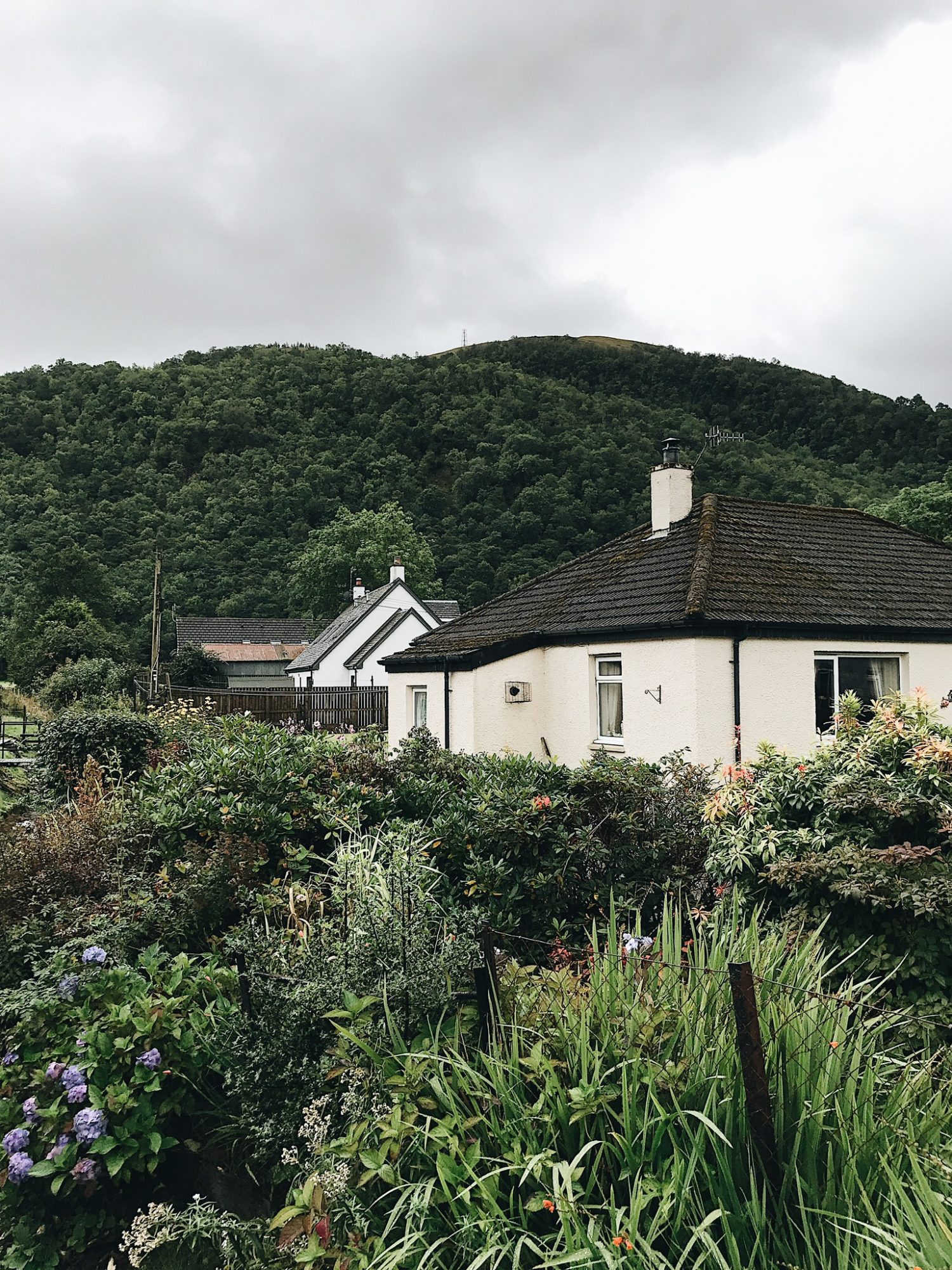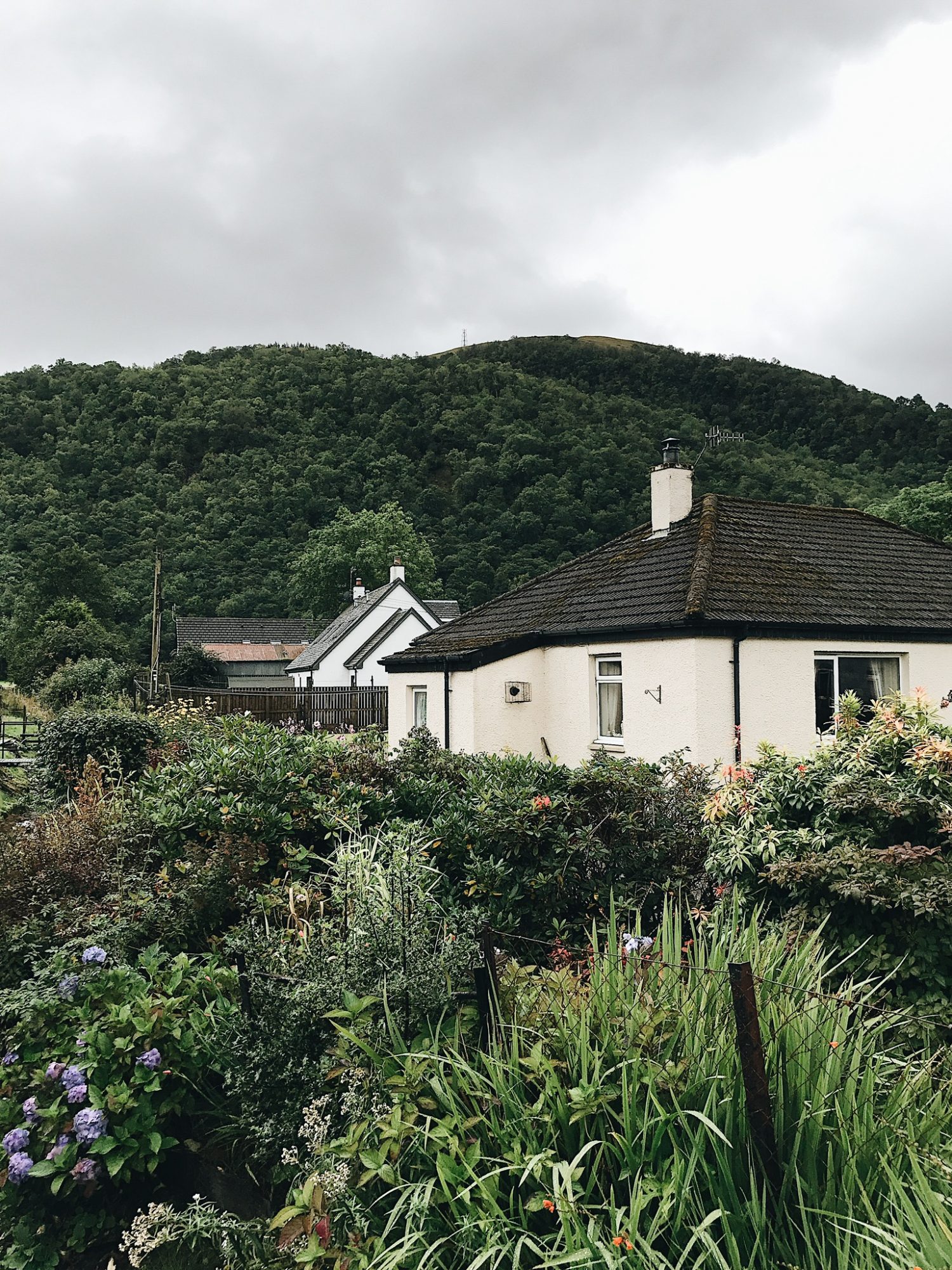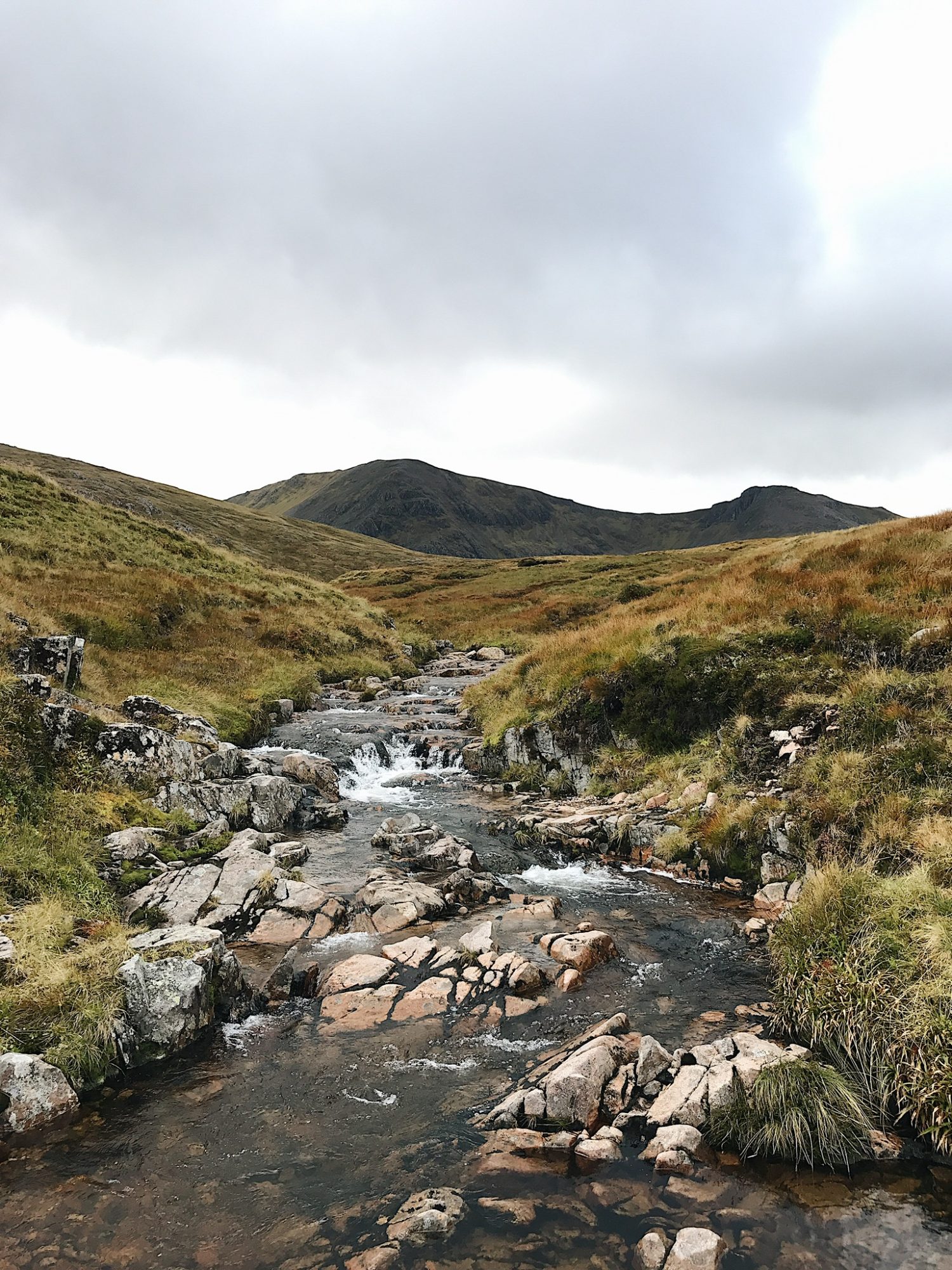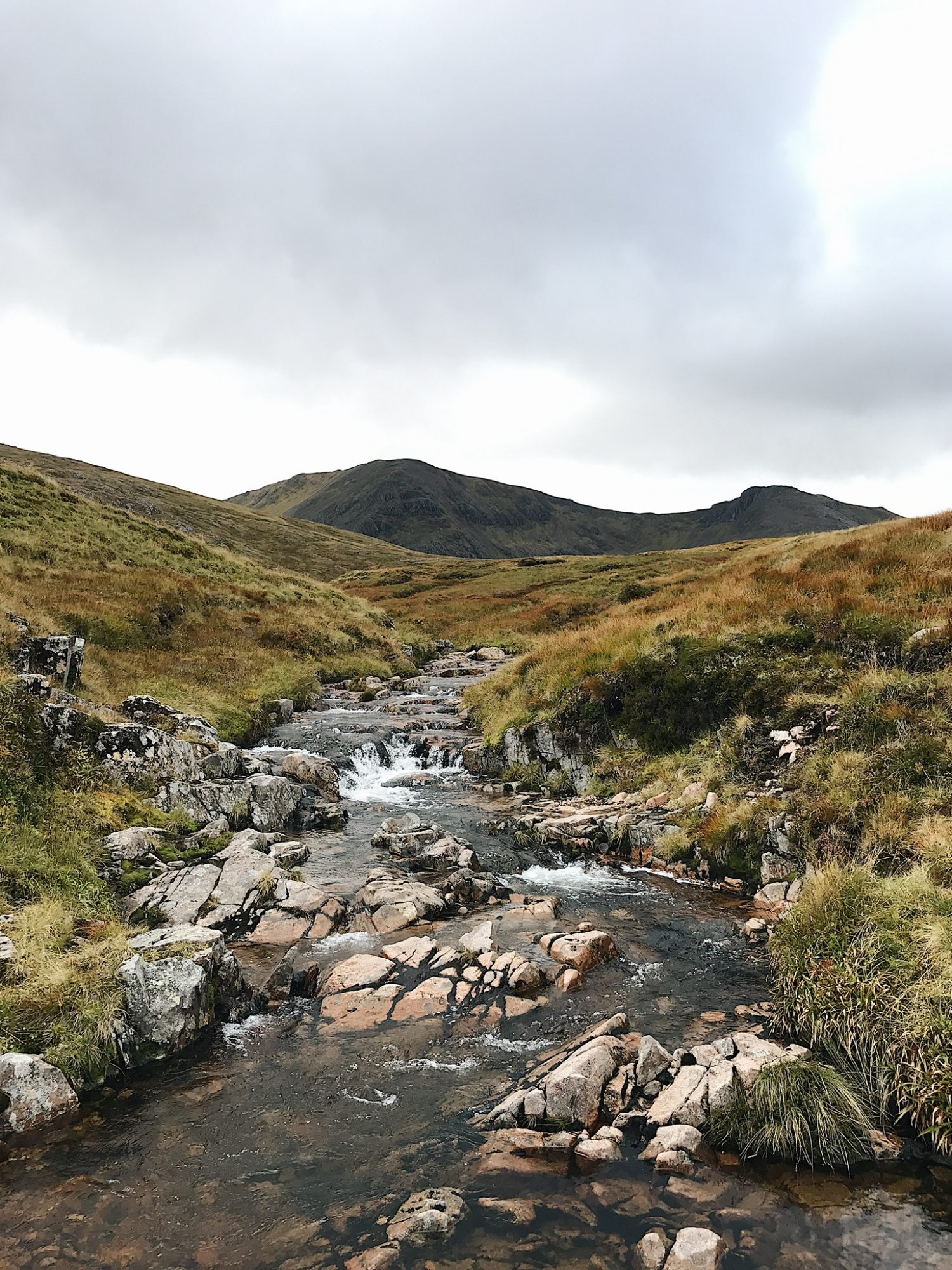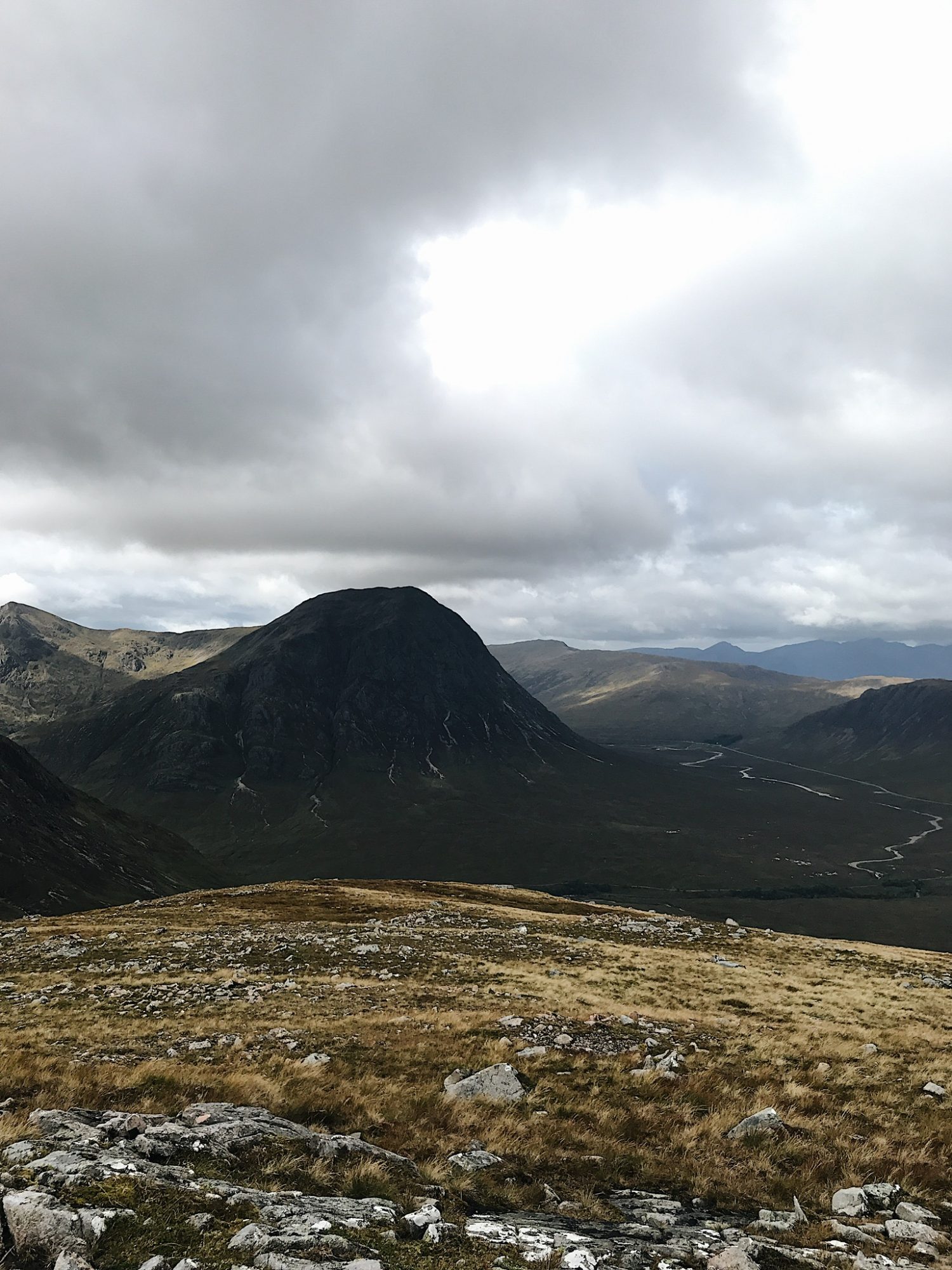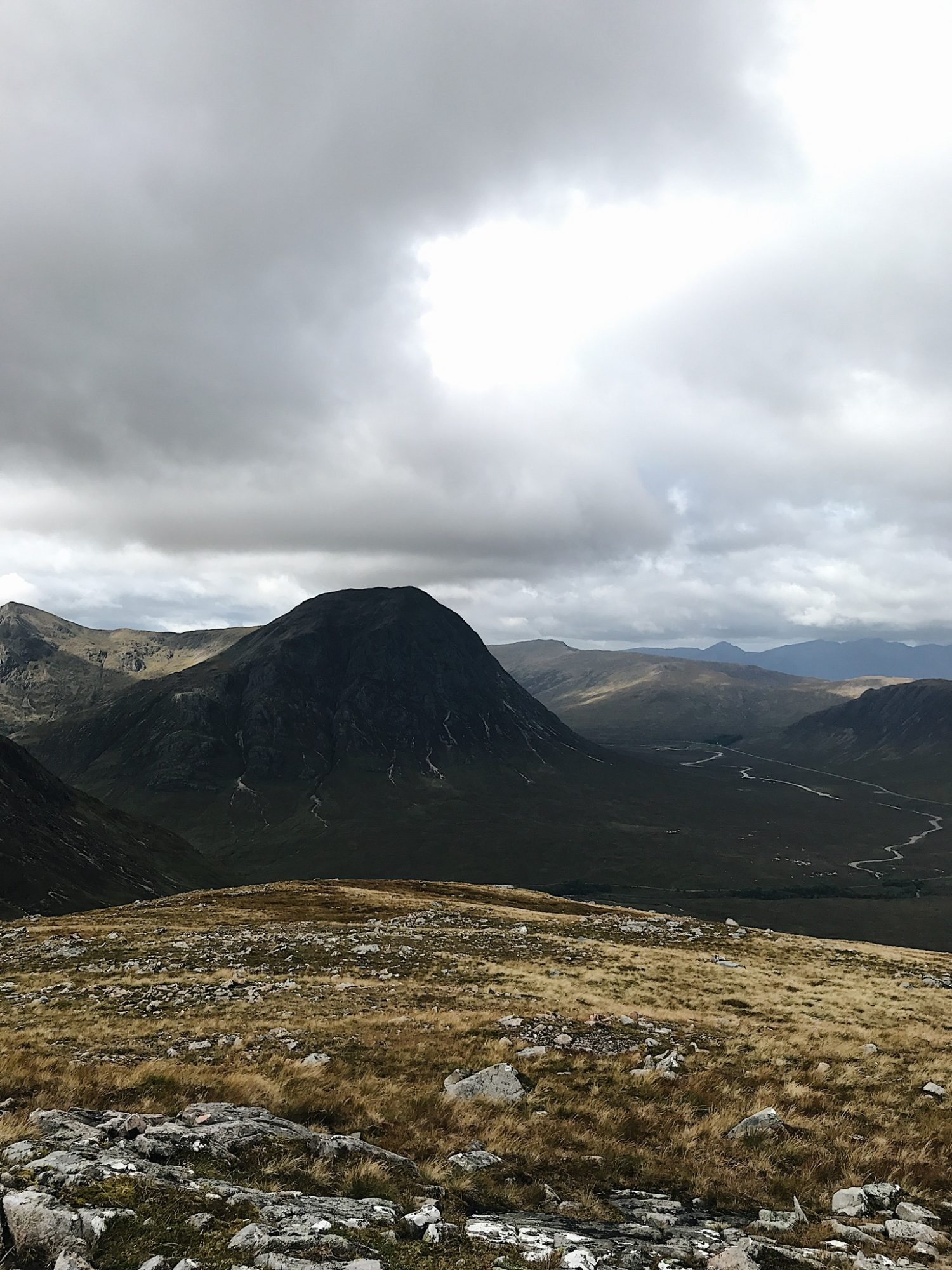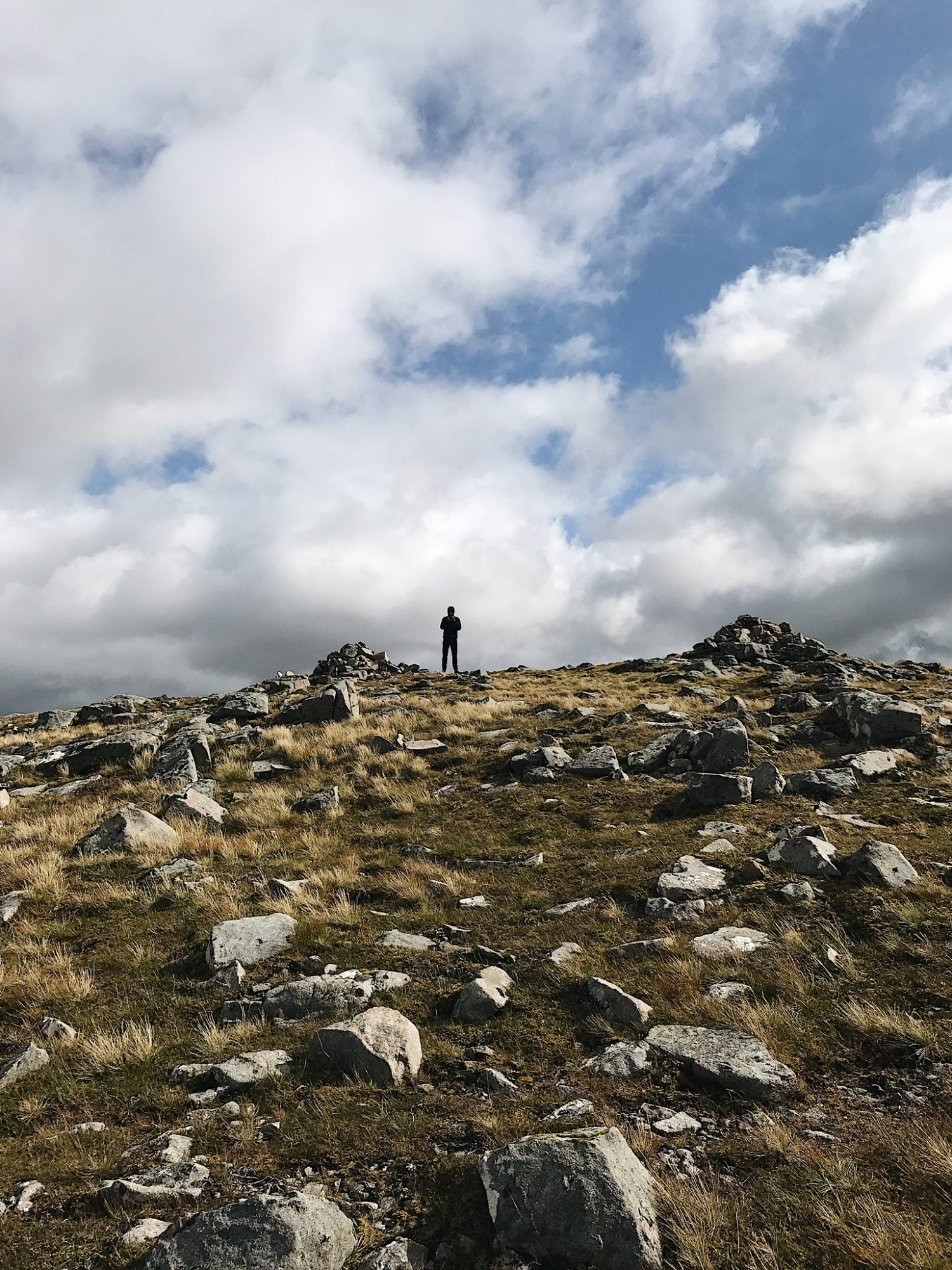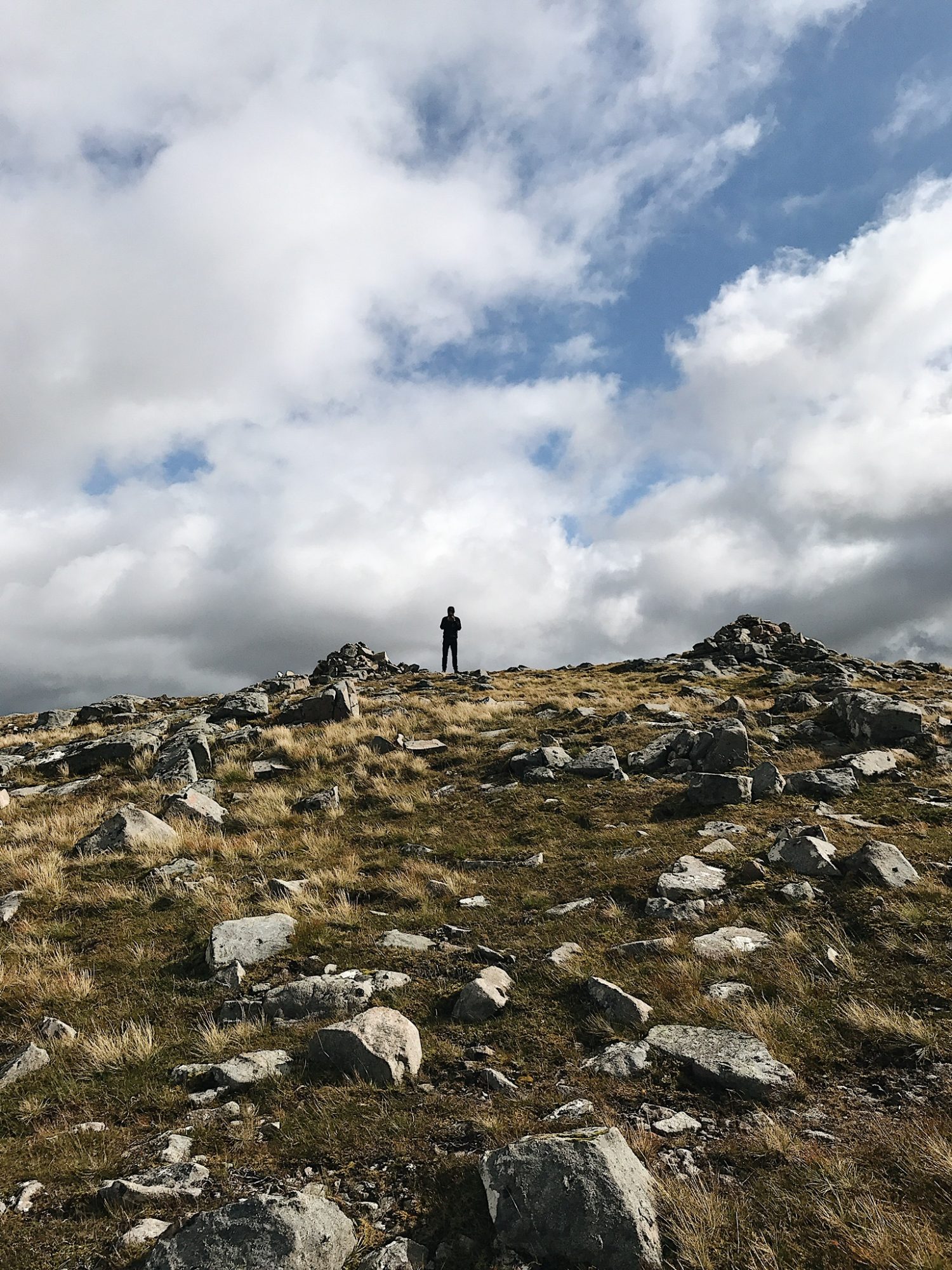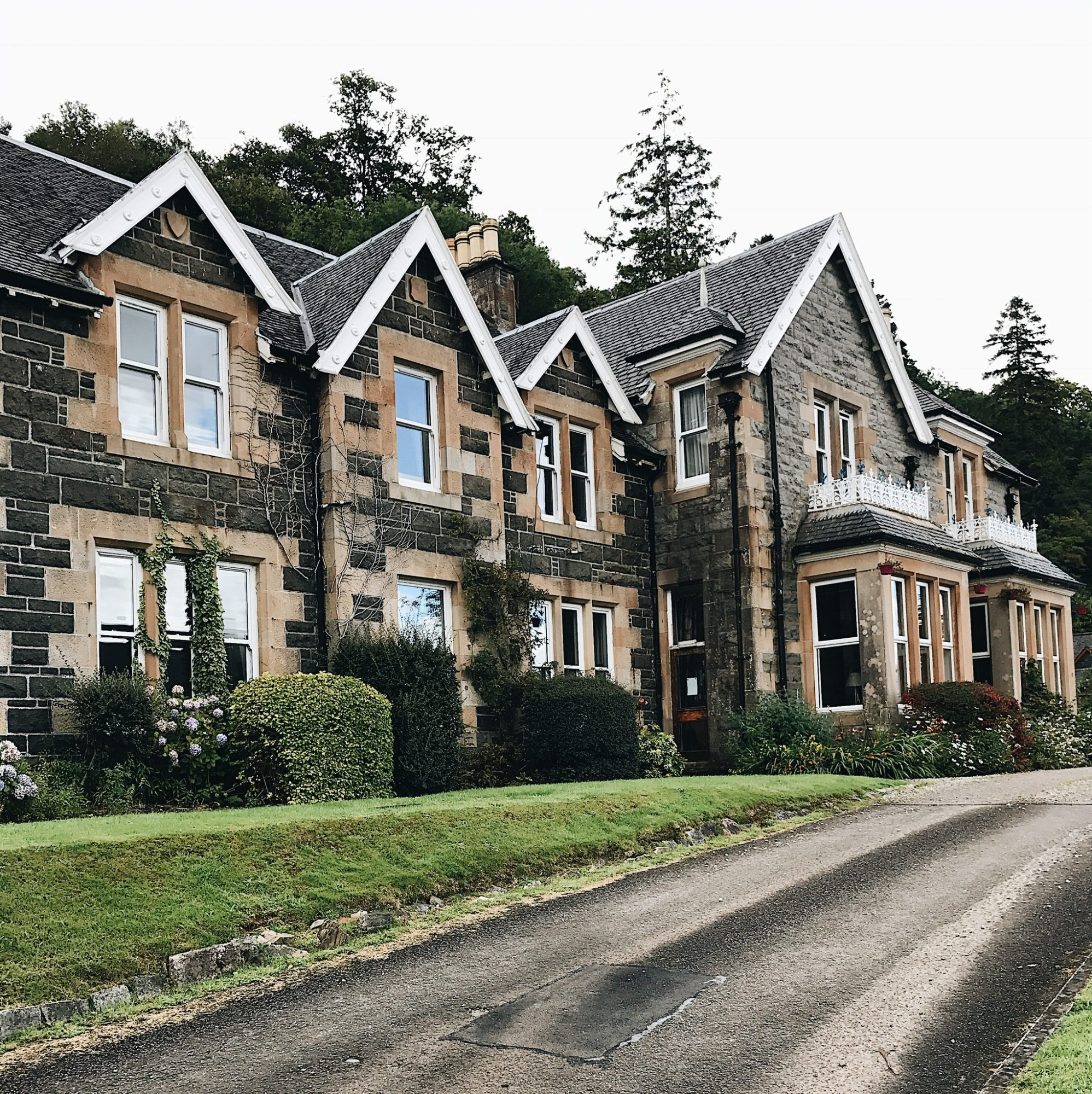 ---
DAY 9 & 10
SKYE, SCOTLAND
---
STAYED: Sligachan – Sligachan Lodge – Self-catering hotel
As the roads got emptier (and narrower) and the towns became fewer and farther between we knew we were well into the heart of the Scottish highlands. The views were beyond scenic and almost other worldly in some cases. With the overcast skies, vivid greens pastures and rolling hills peppered with sheep and dotted with white houses it was like we were driving through a painting. After a short but awe-inspiring drive over to the Isle of Skye we settled ourselves once again into our new home for the next two nights.
ATE + DRANK: Central Café (in Portree) was our launching point the first morning. Scorrybreac was a lucky find for dinner one night and one of our best meals on the trip. Sligachan Hotel was walking distance from our hotel and where all the backpackers and hardcore hikers seemed to congregate. They also had an EPIC selection of whiskey. Café Arriba was recommended as the best breakfast in the area and it didn't disappoint. Sadly we missed a Talisker tour but the distillery was cool to see and the drive up was so beautiful. If we had another day we would have checked out Dulce & Brose for dinner.
EXPLORED: Viaduct (a major engineering feat), Eileen Donan Castle (seriously cool), Skye Skyns (where we learned the step-by-step process of preparing sheepskins), Neist Point Lighthouse (possibly the most stunning views on the island), Dunvegan Castle (very cool spot with 3 different amazing gardens) and we finished our explorations on Skye with a visit to the Fairy Pools which were insanely majestic. The days were jam-packed both physically and visually and it's safe to say we slept really well those nights.
---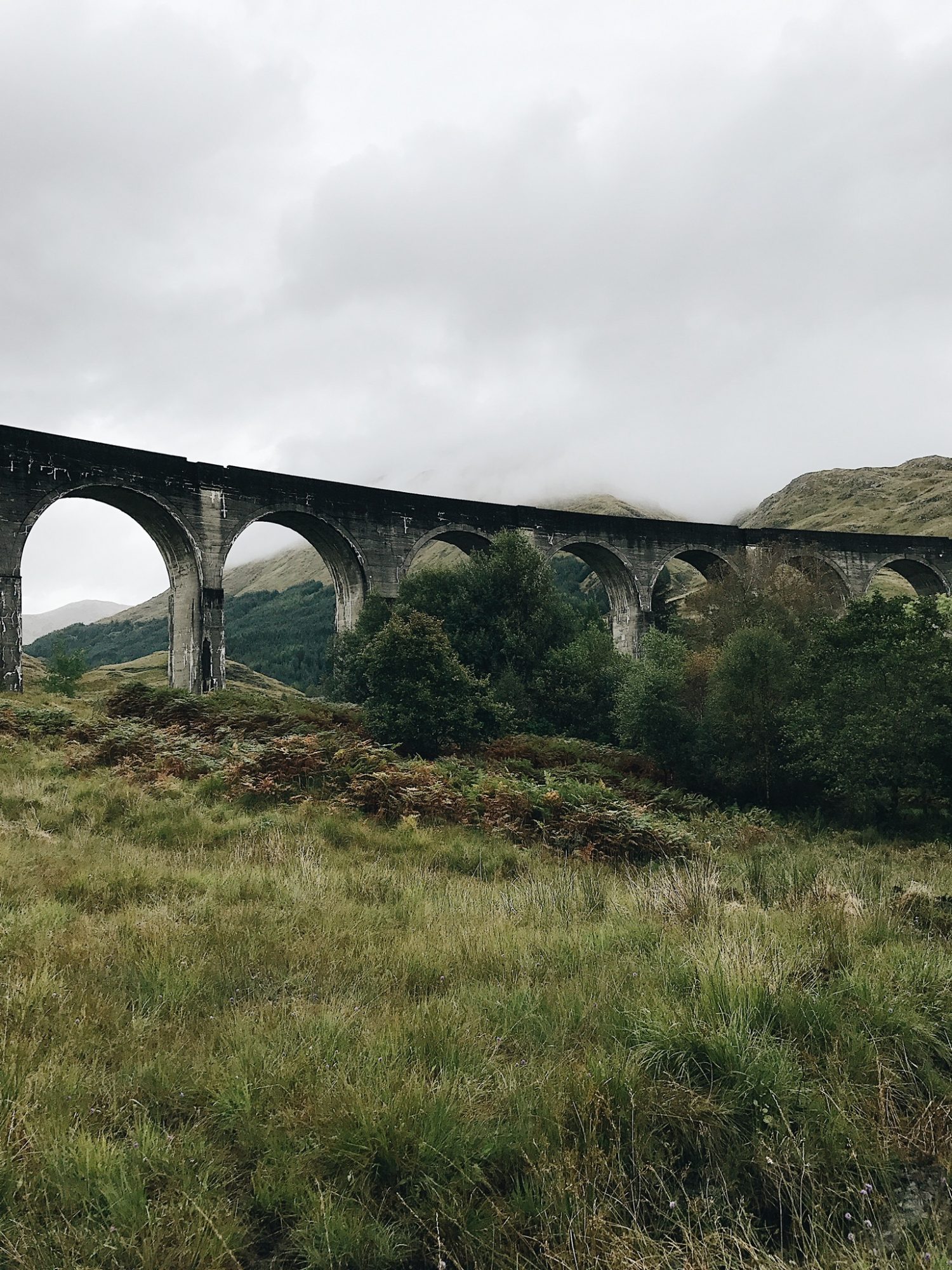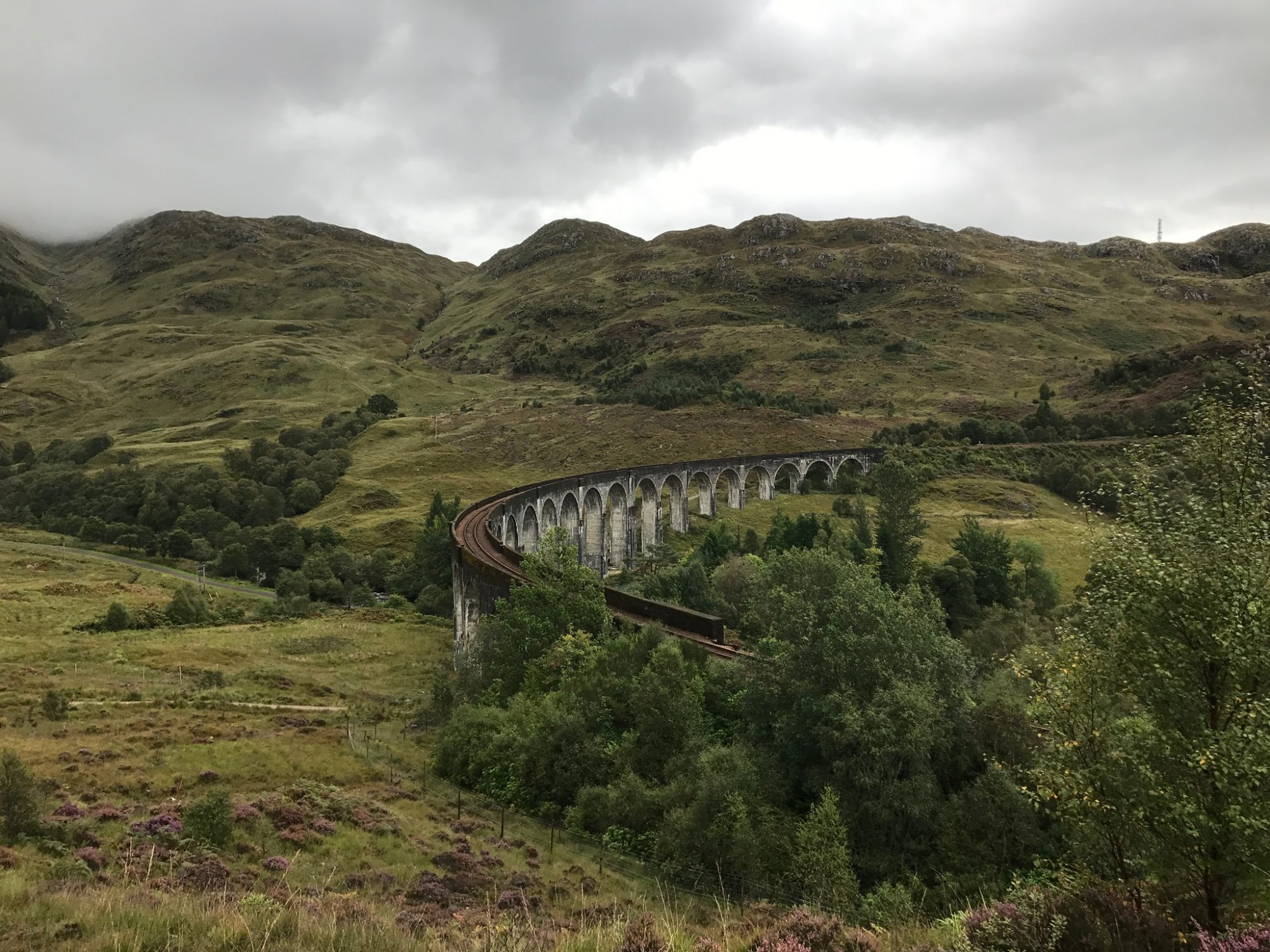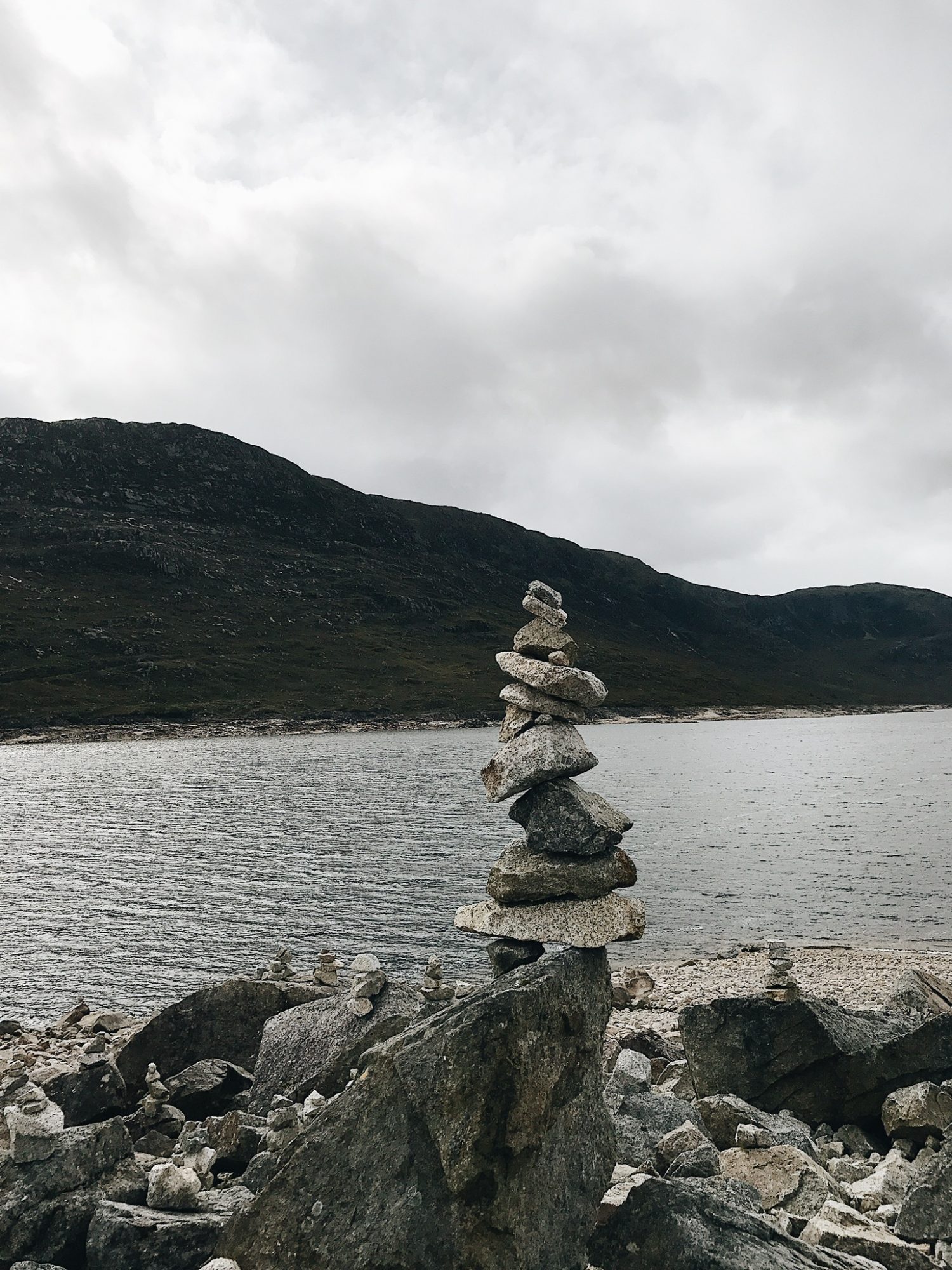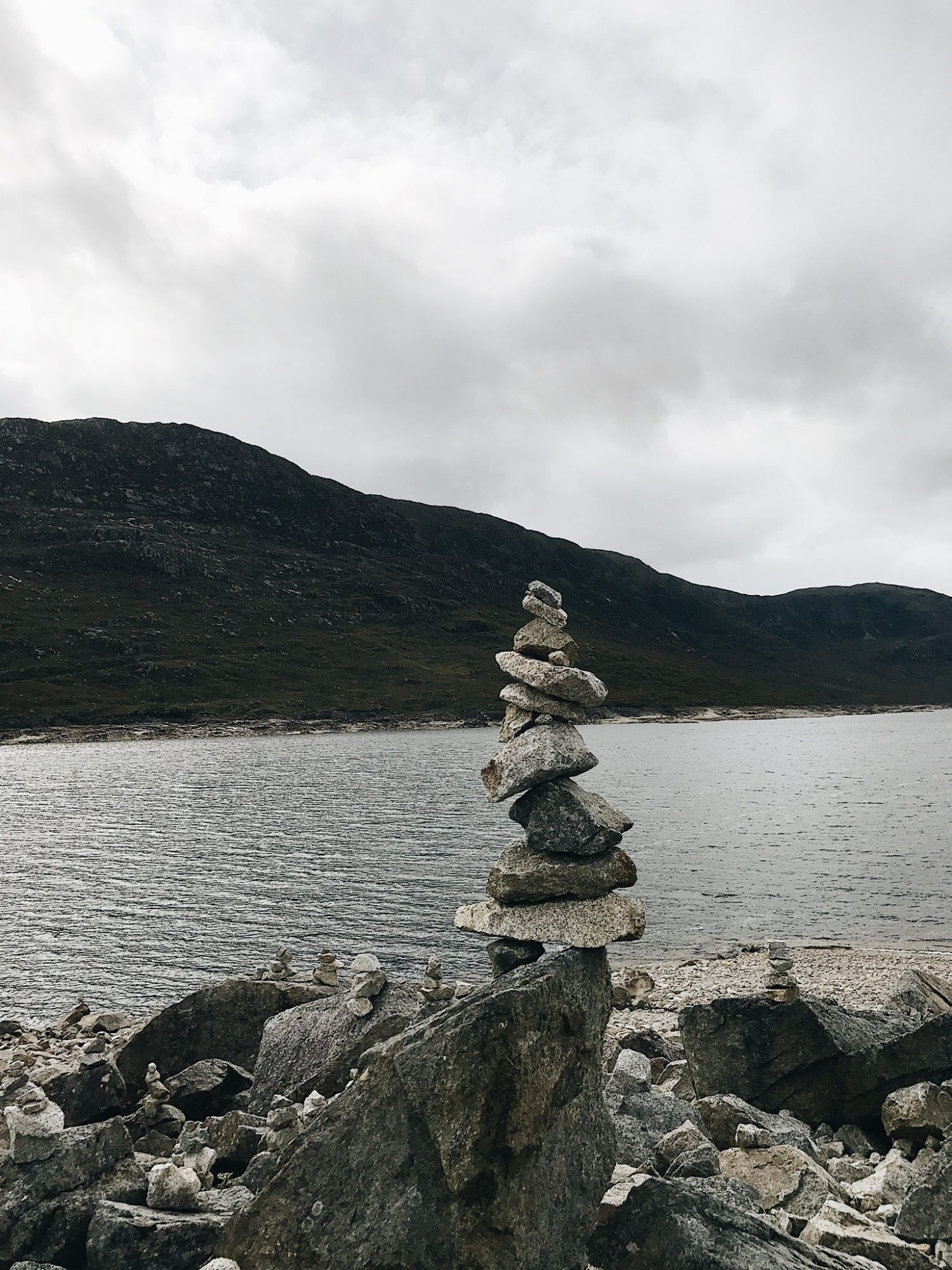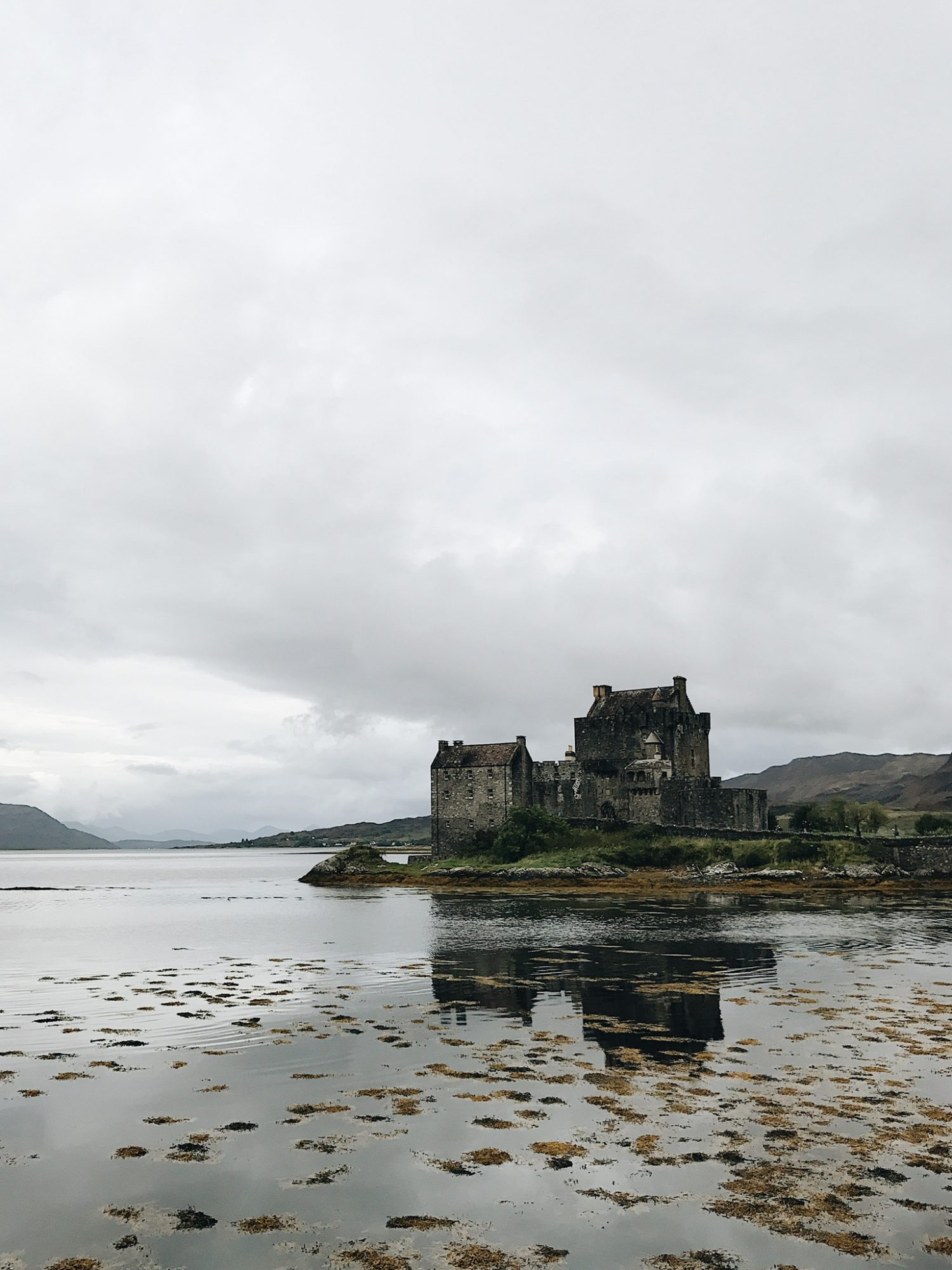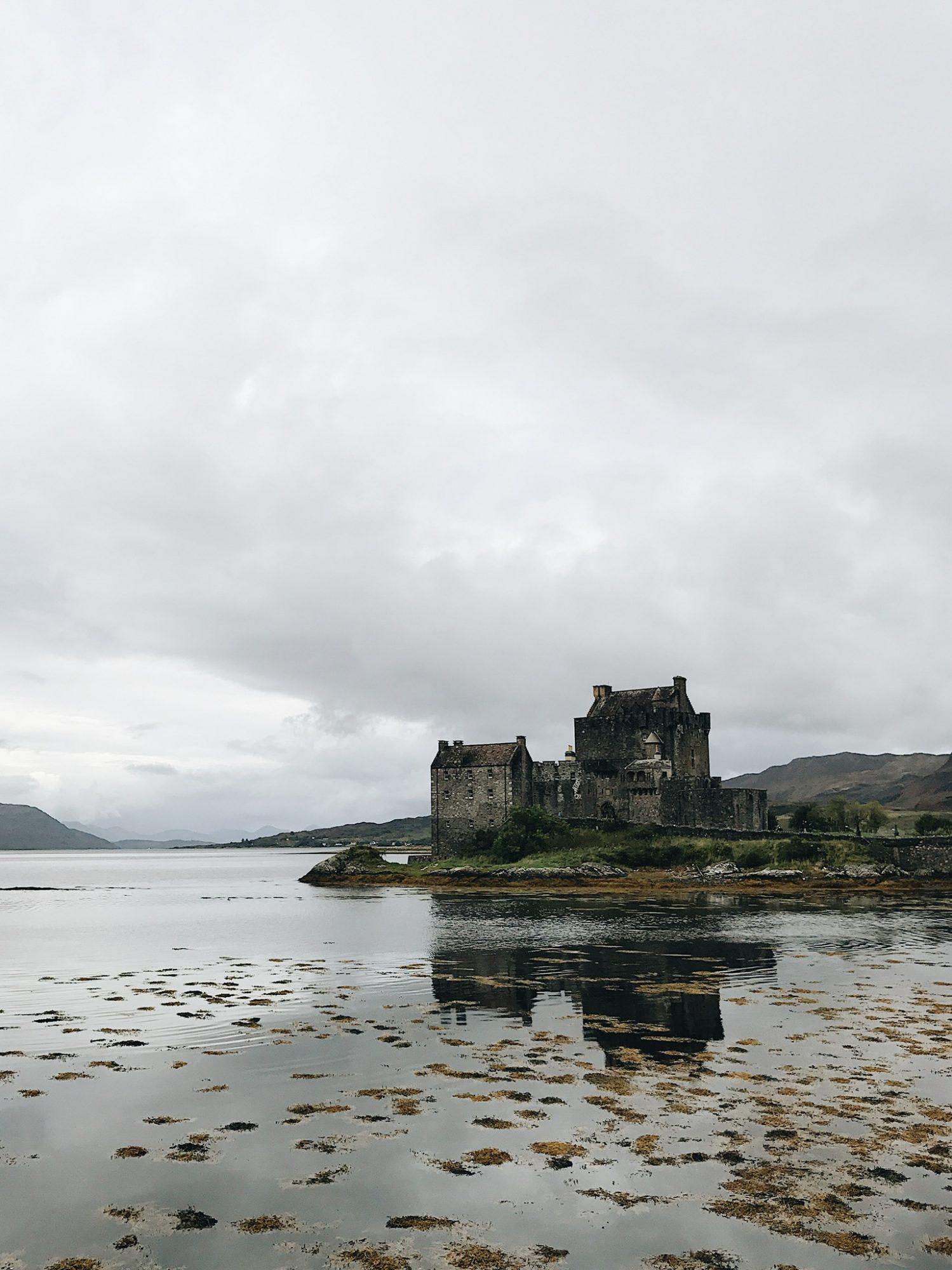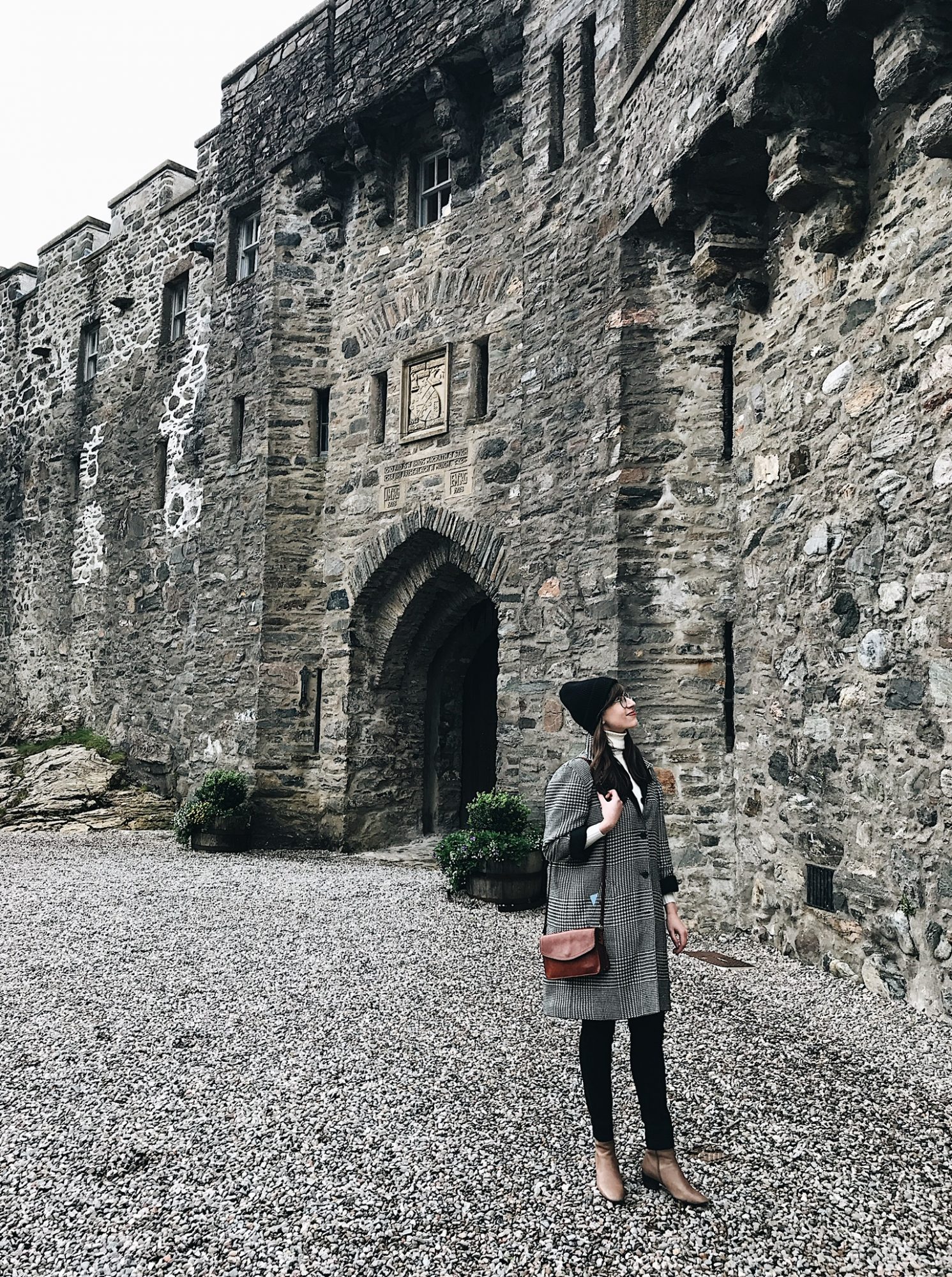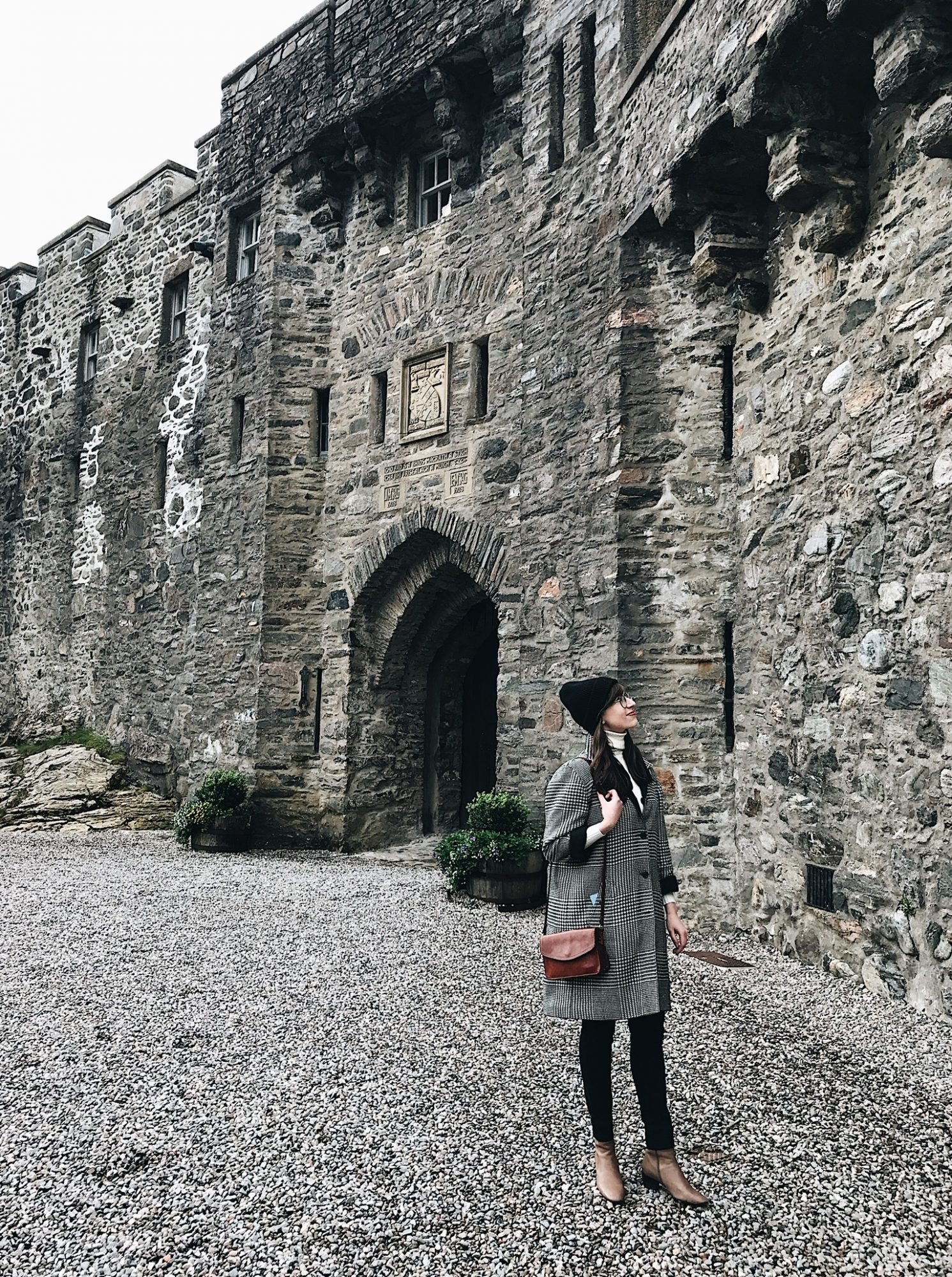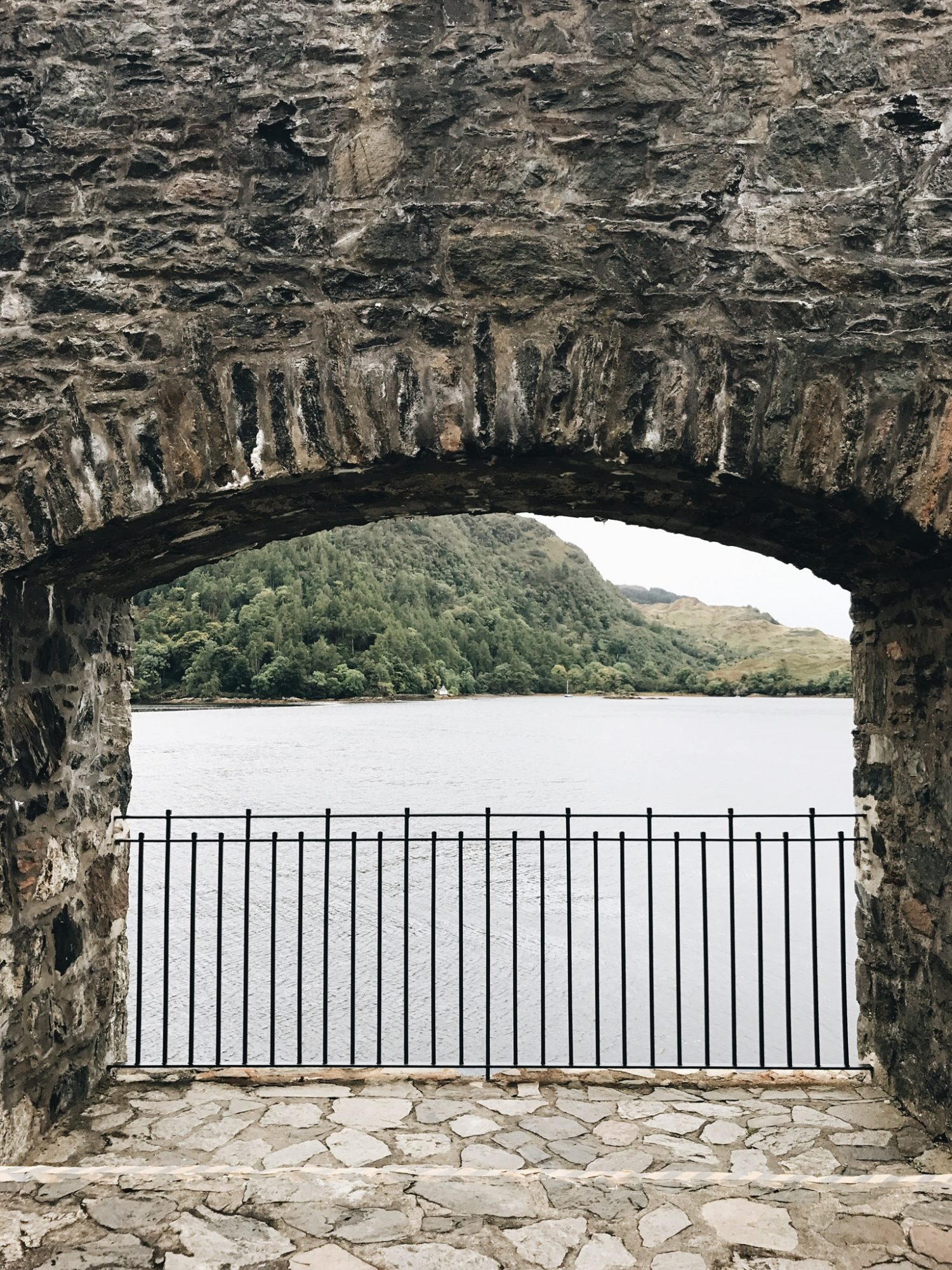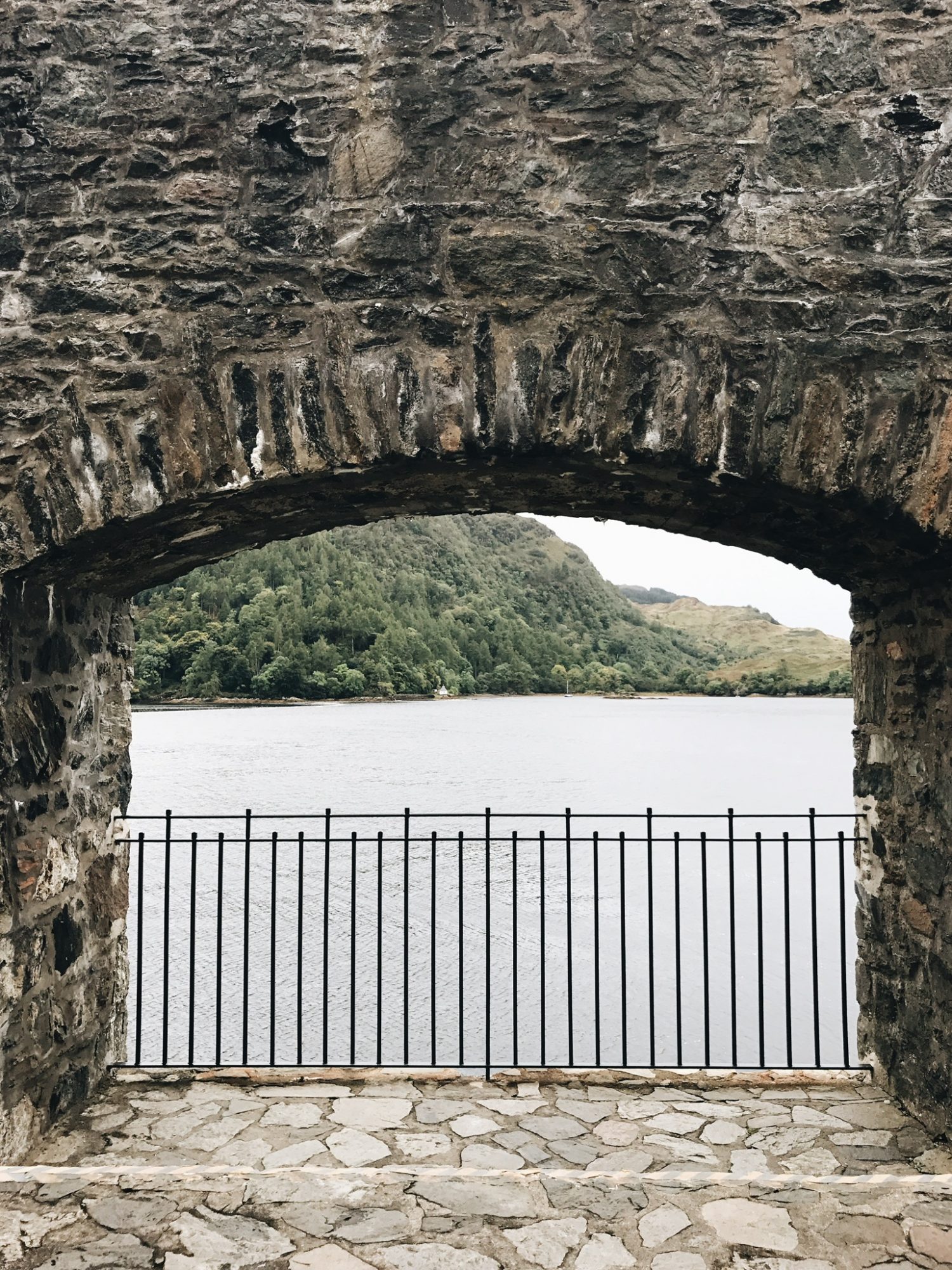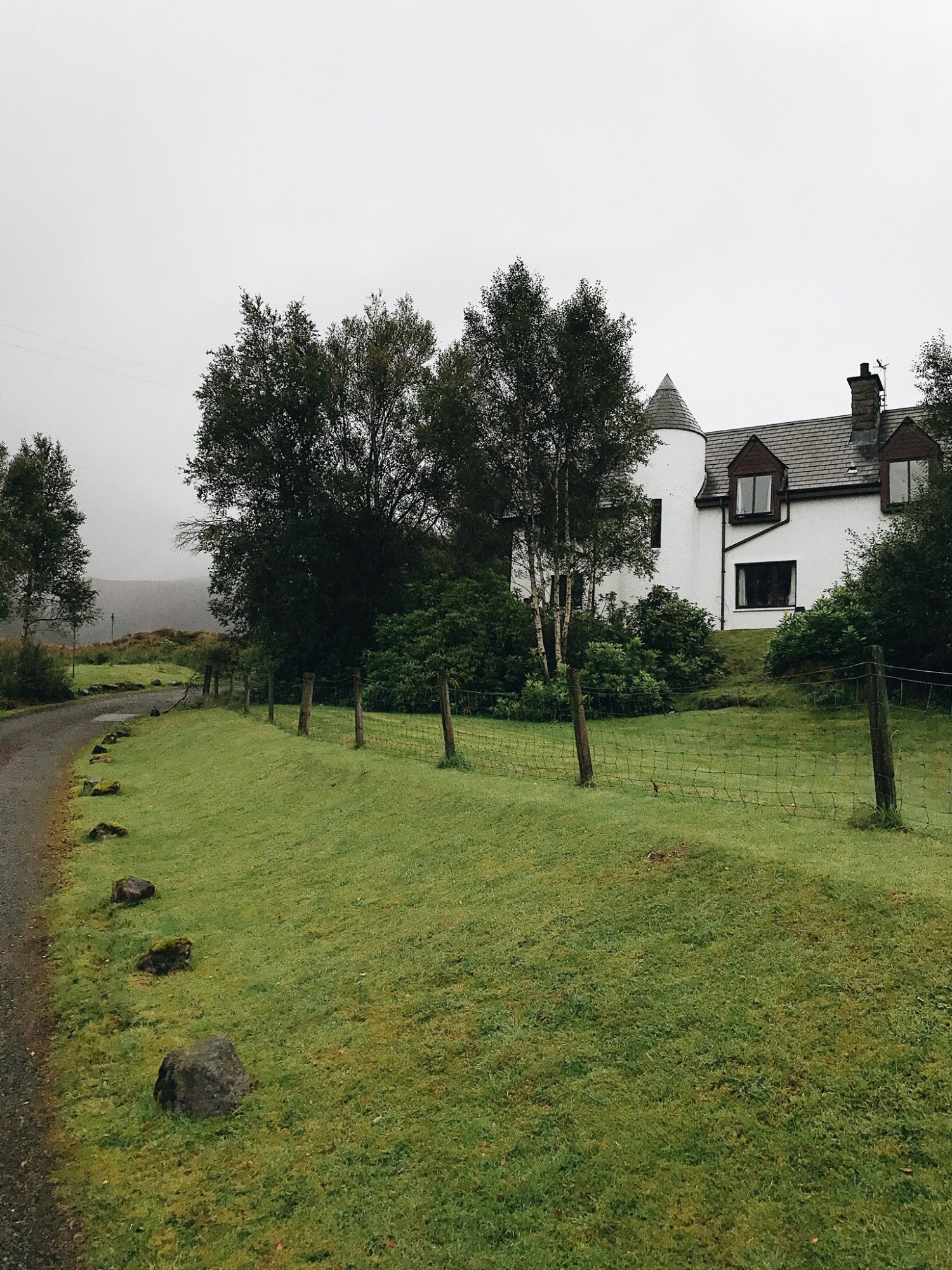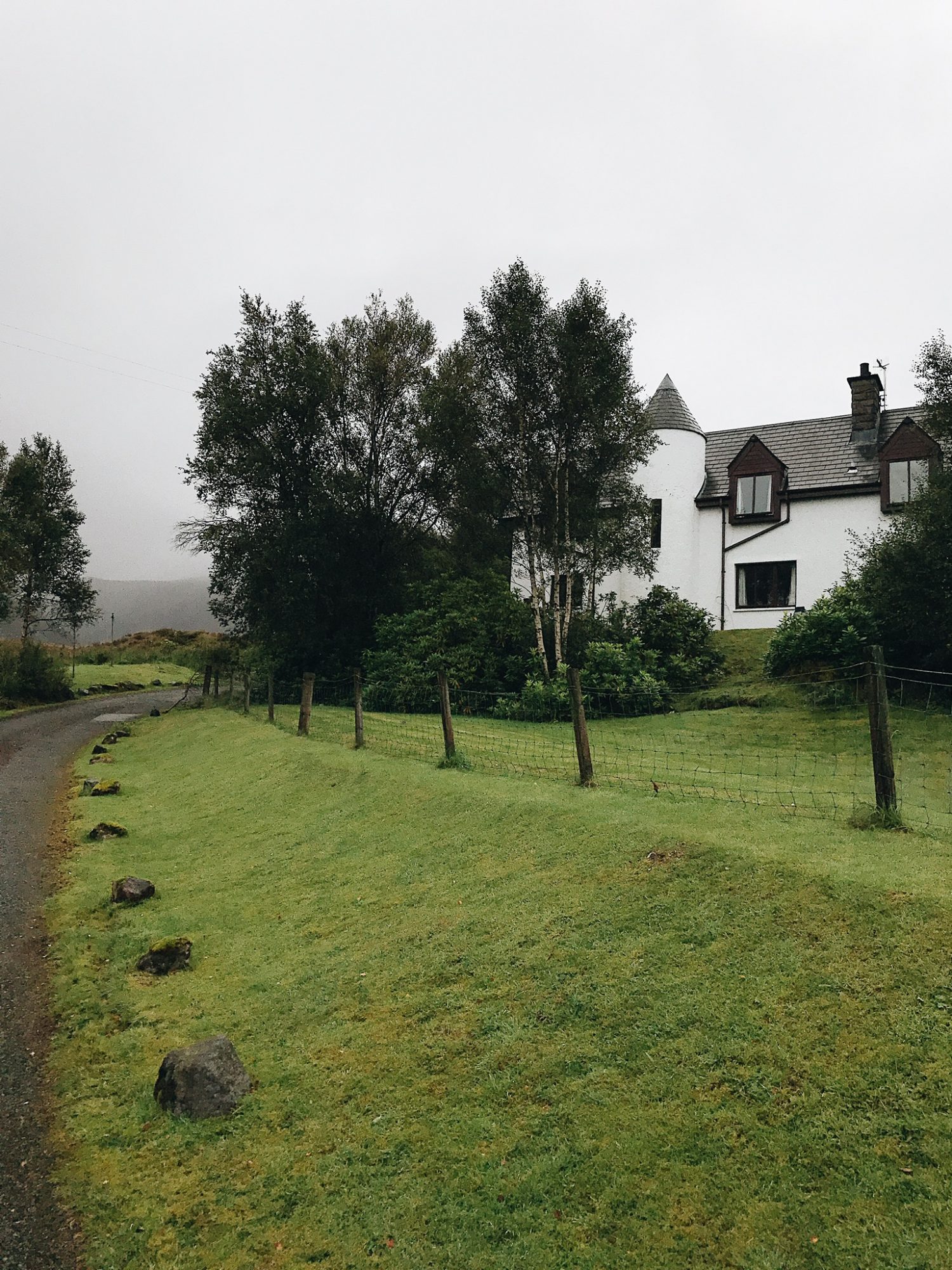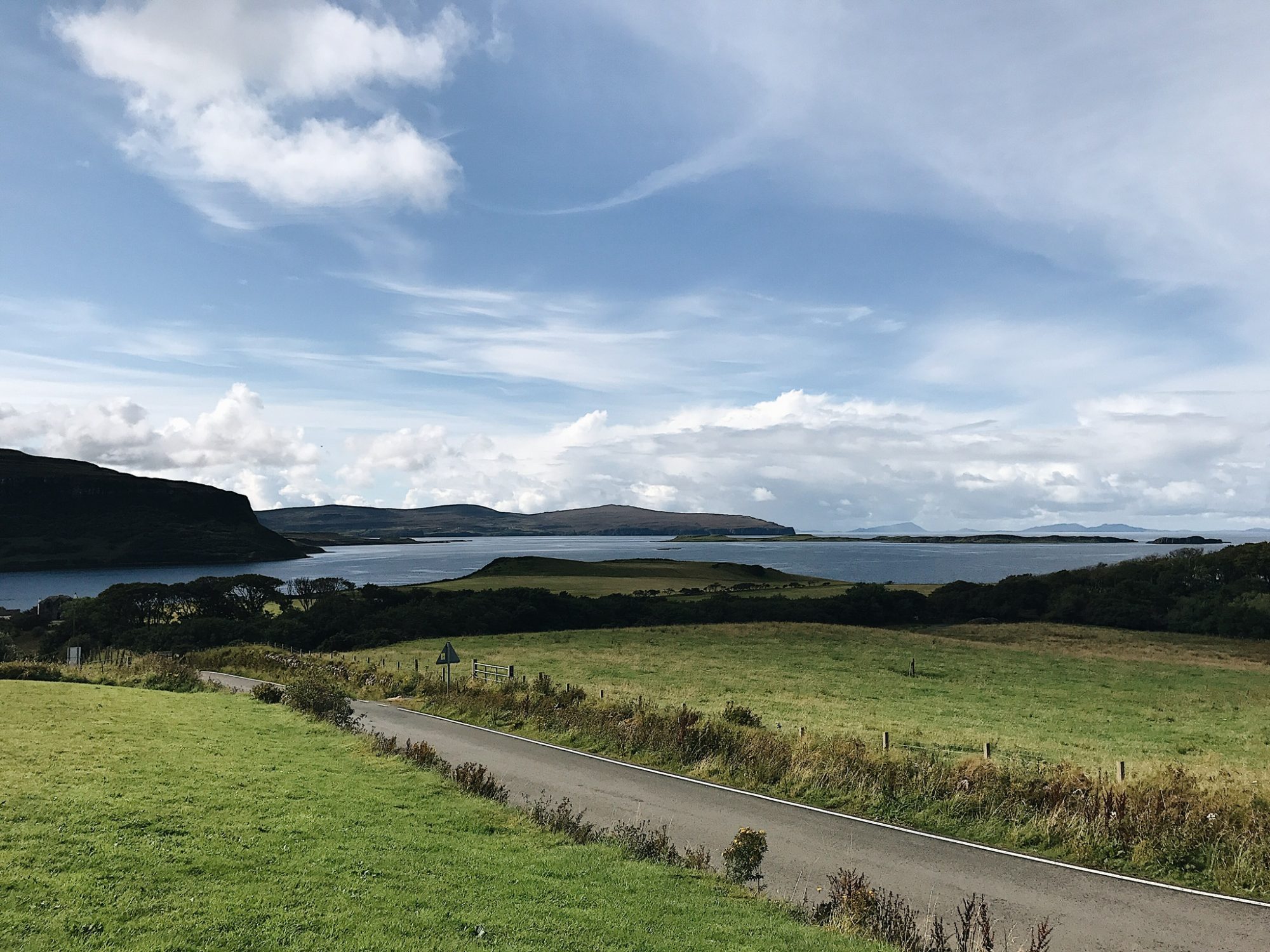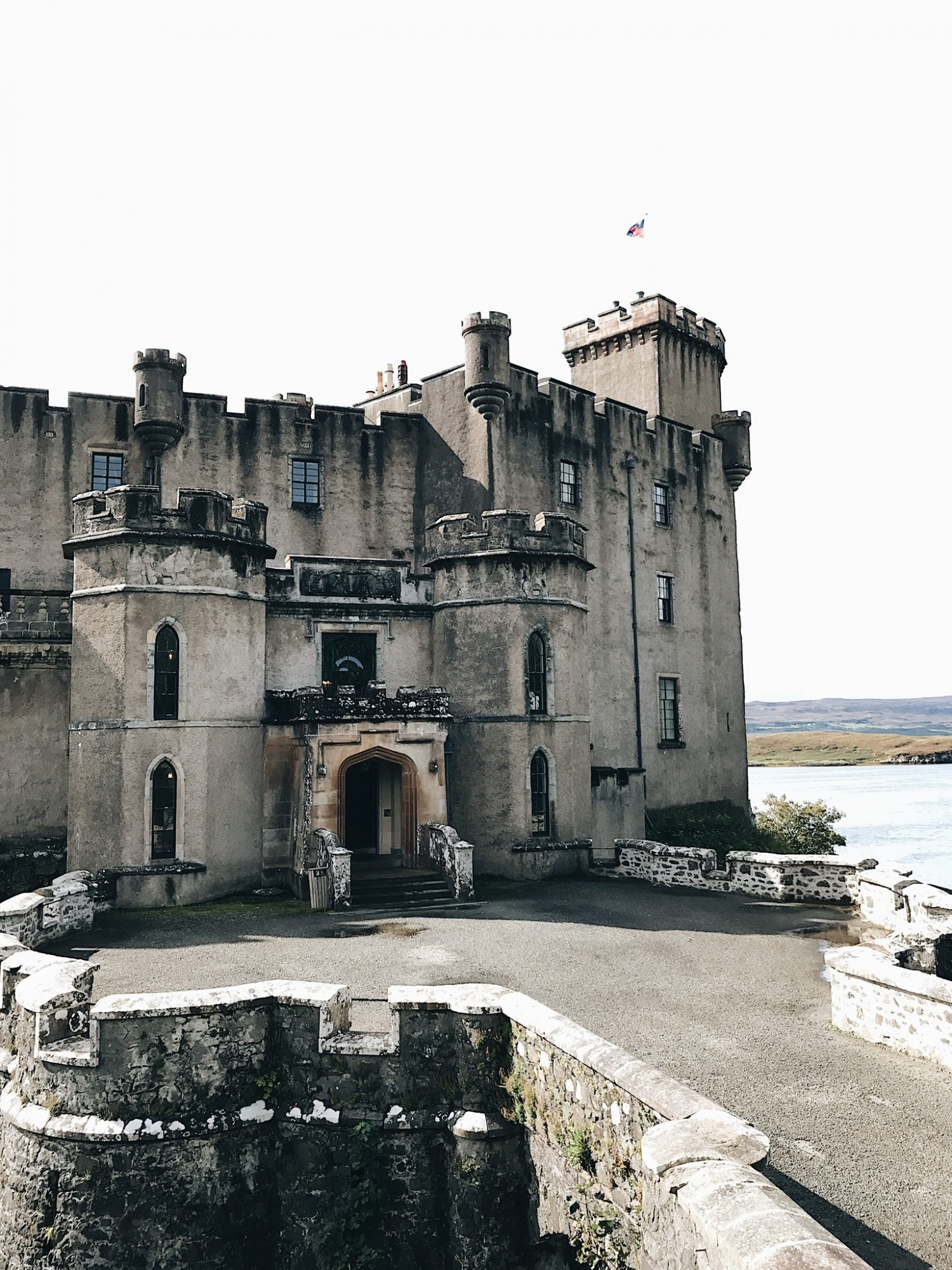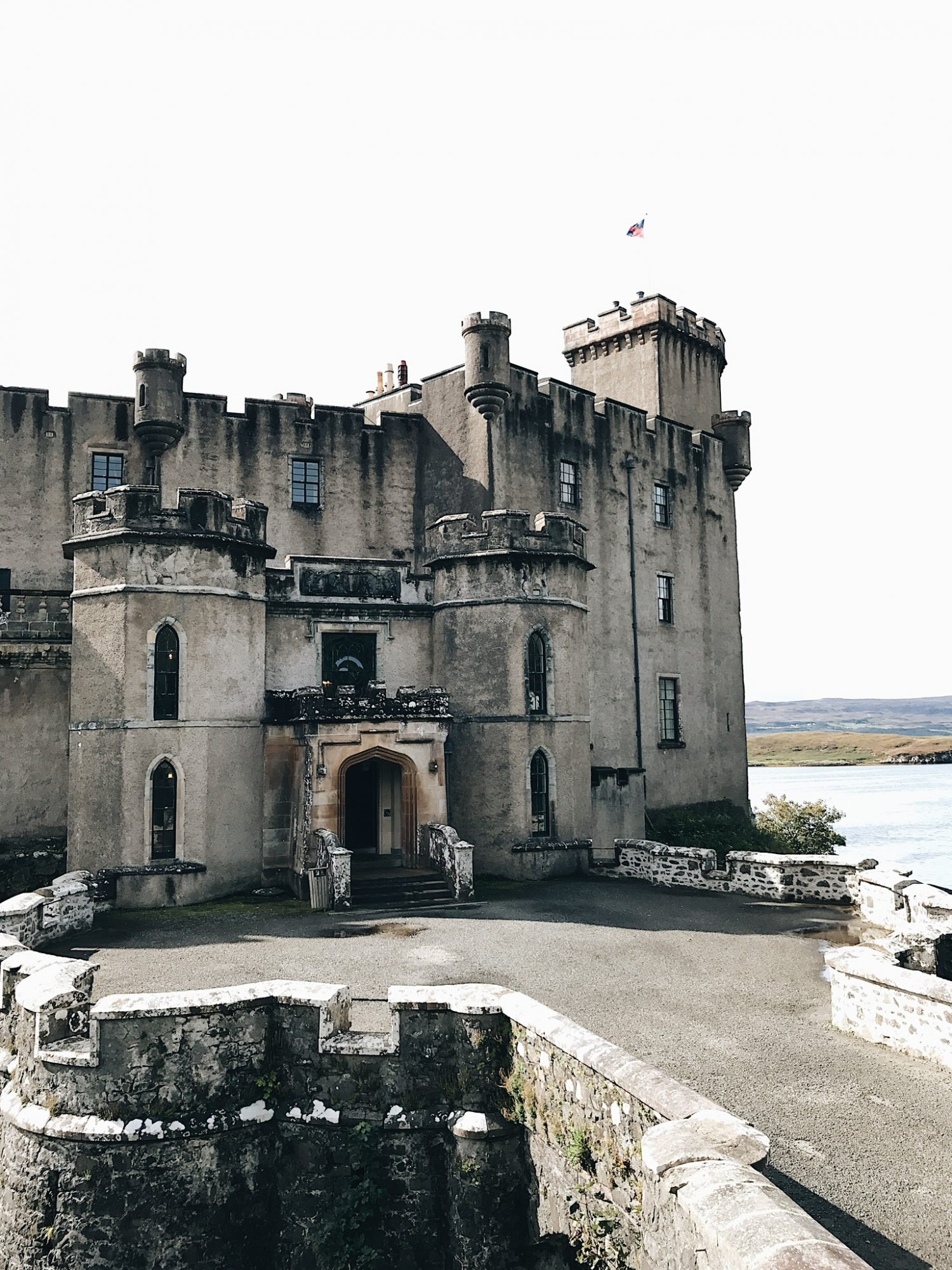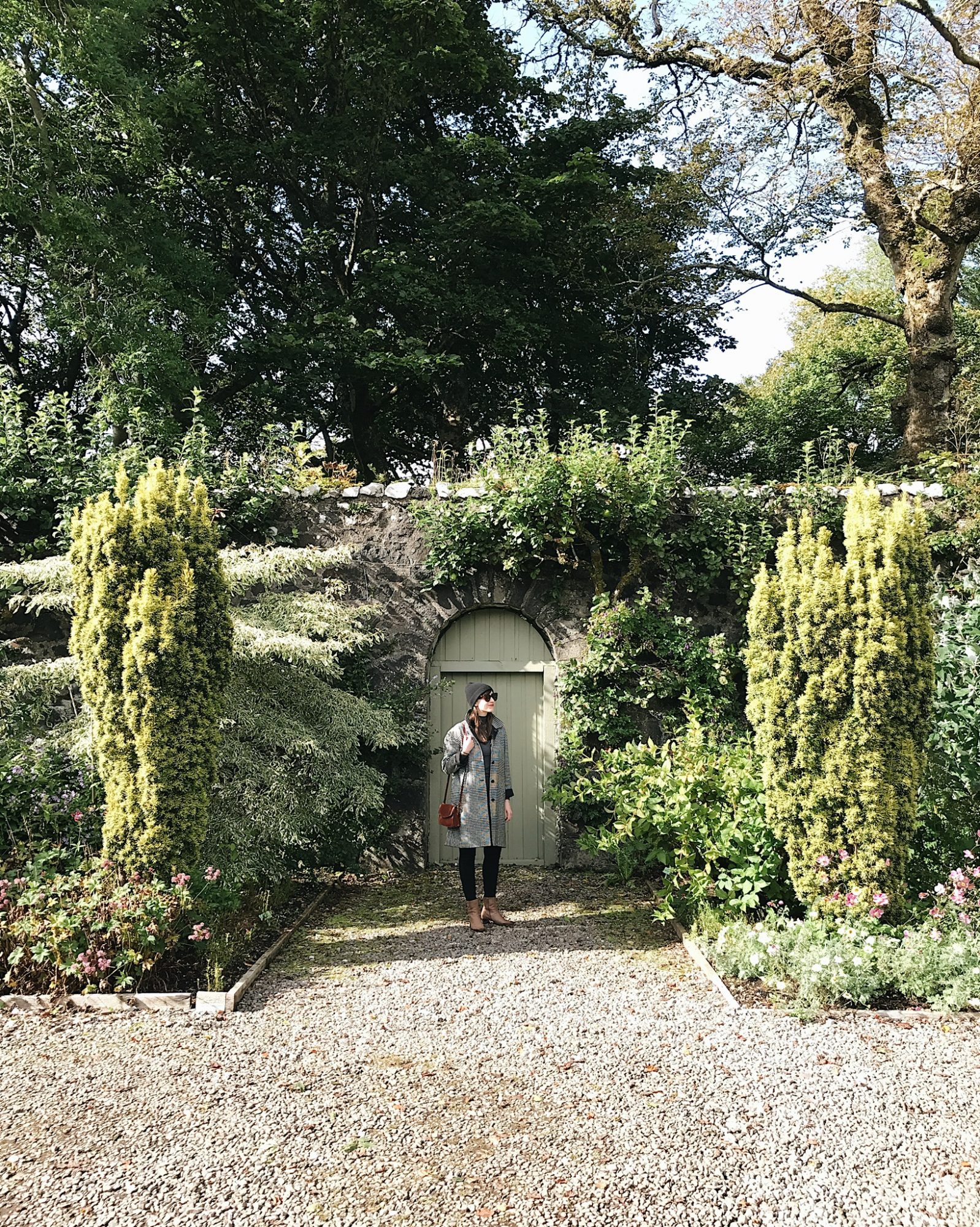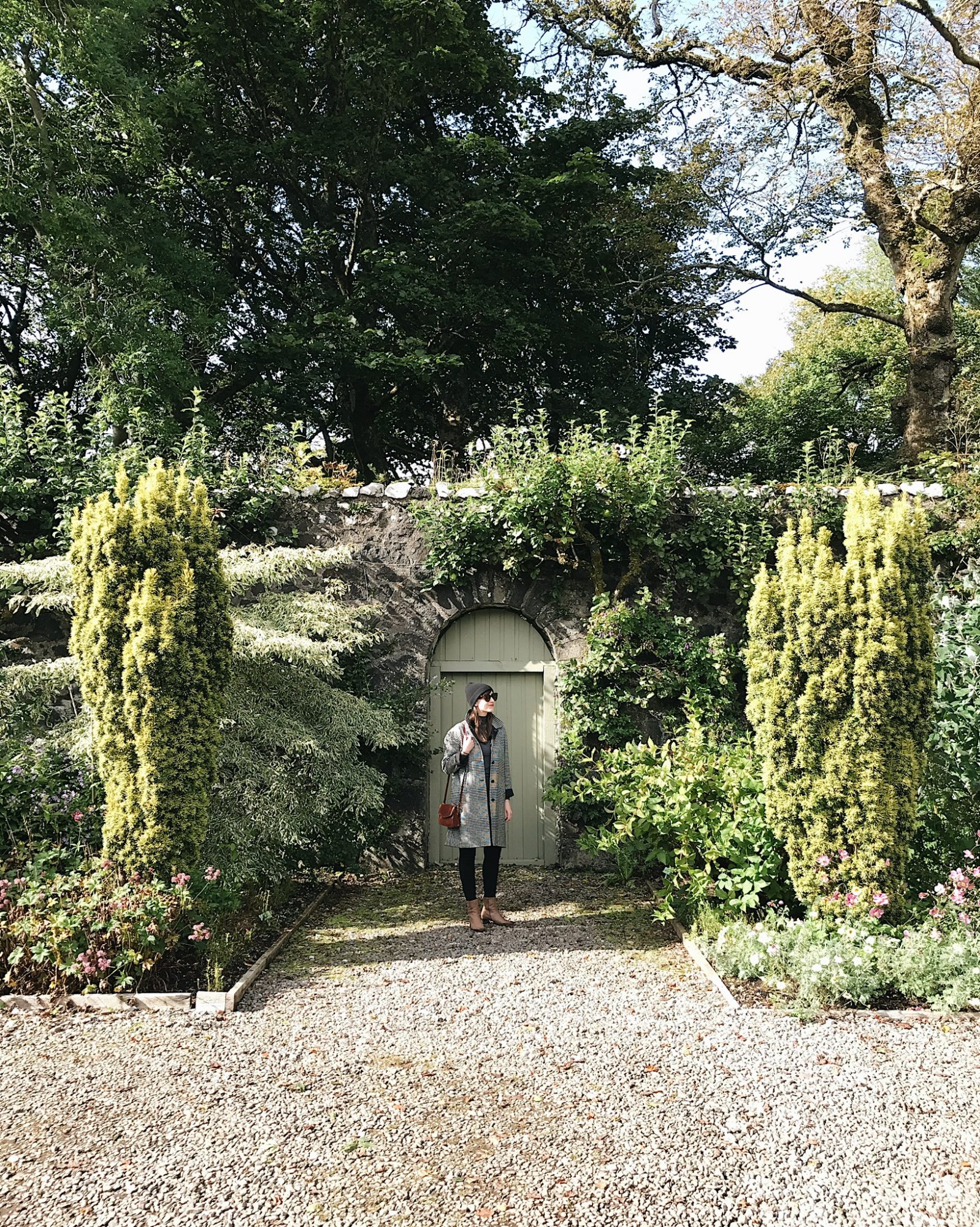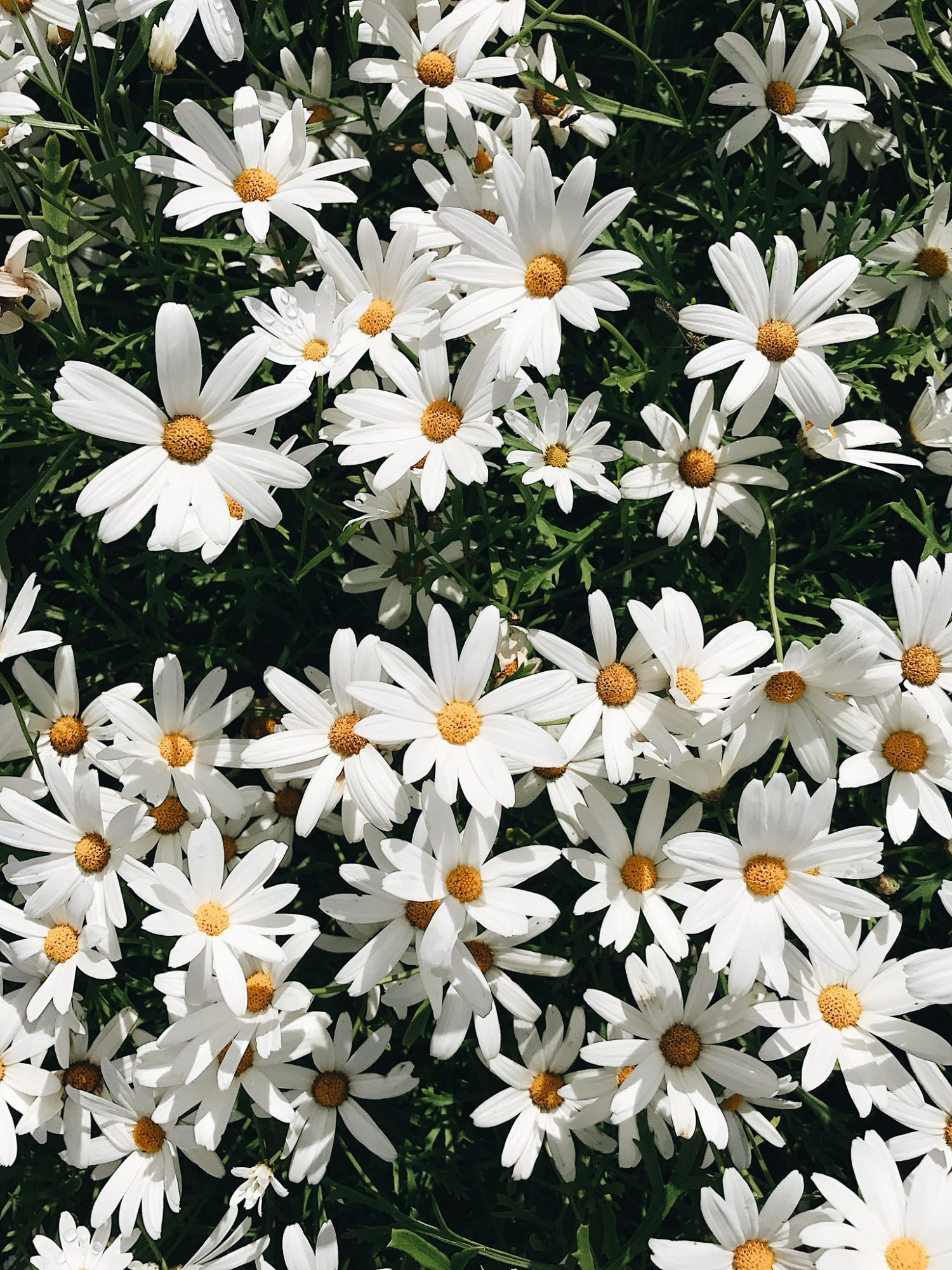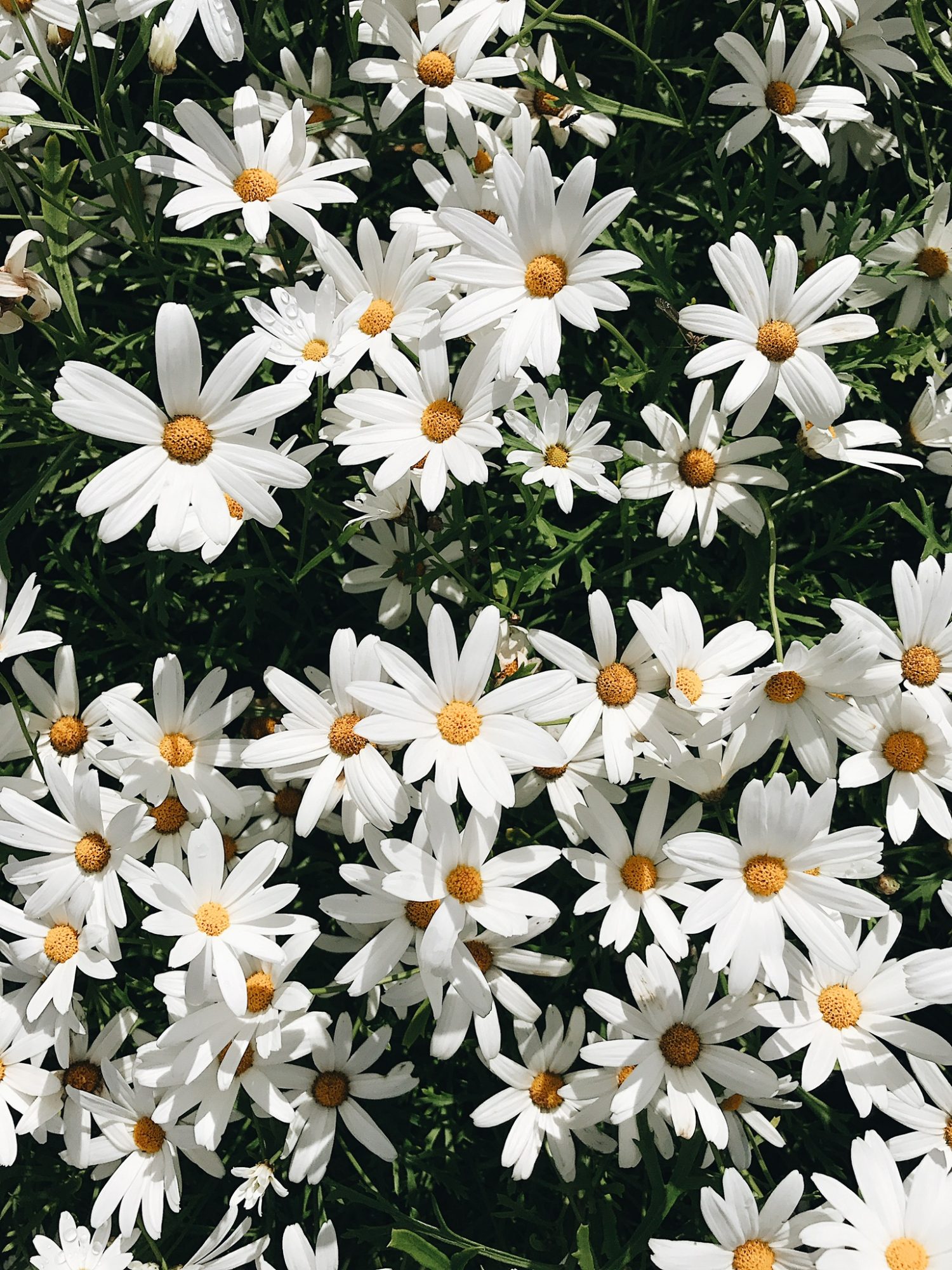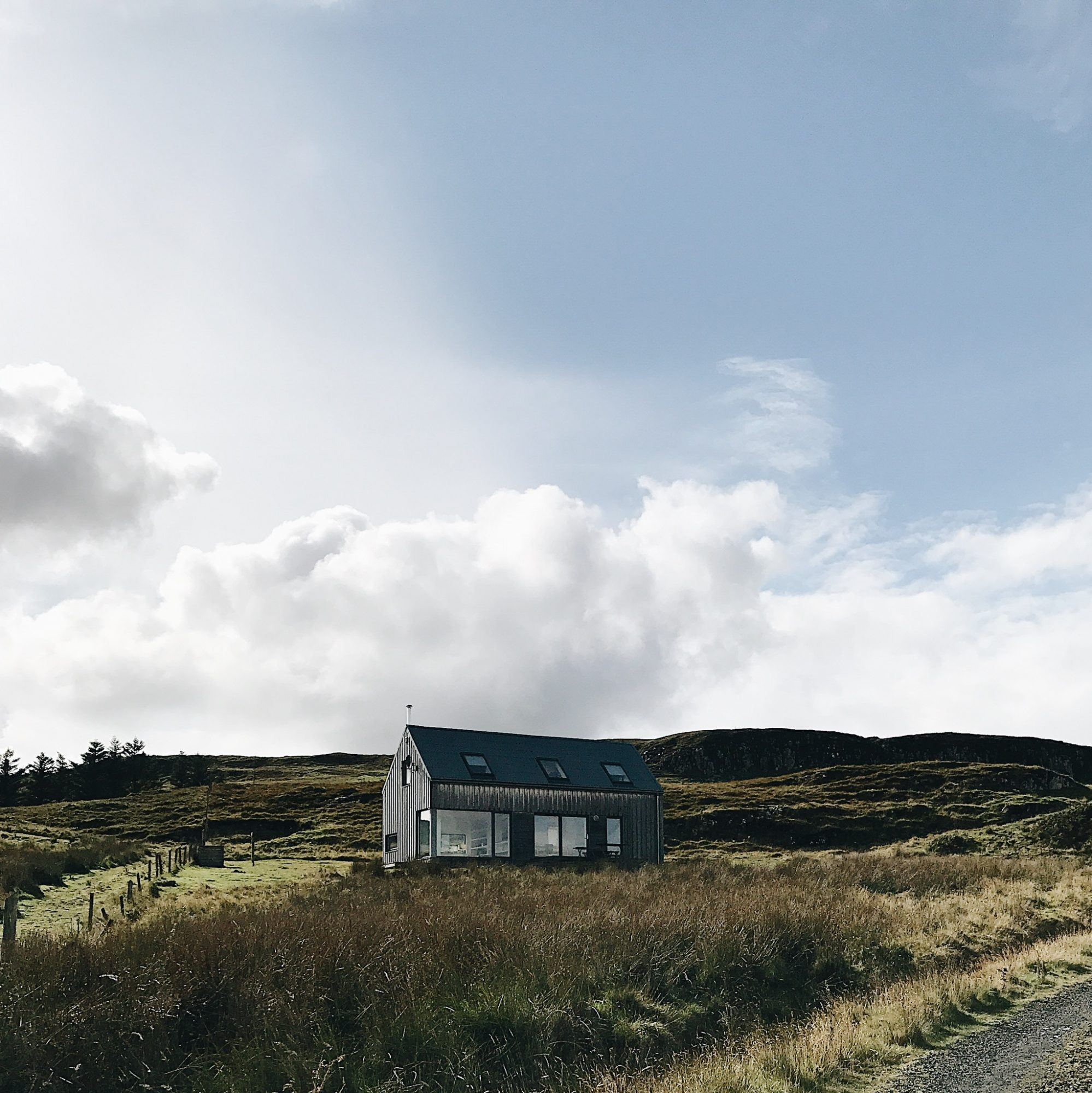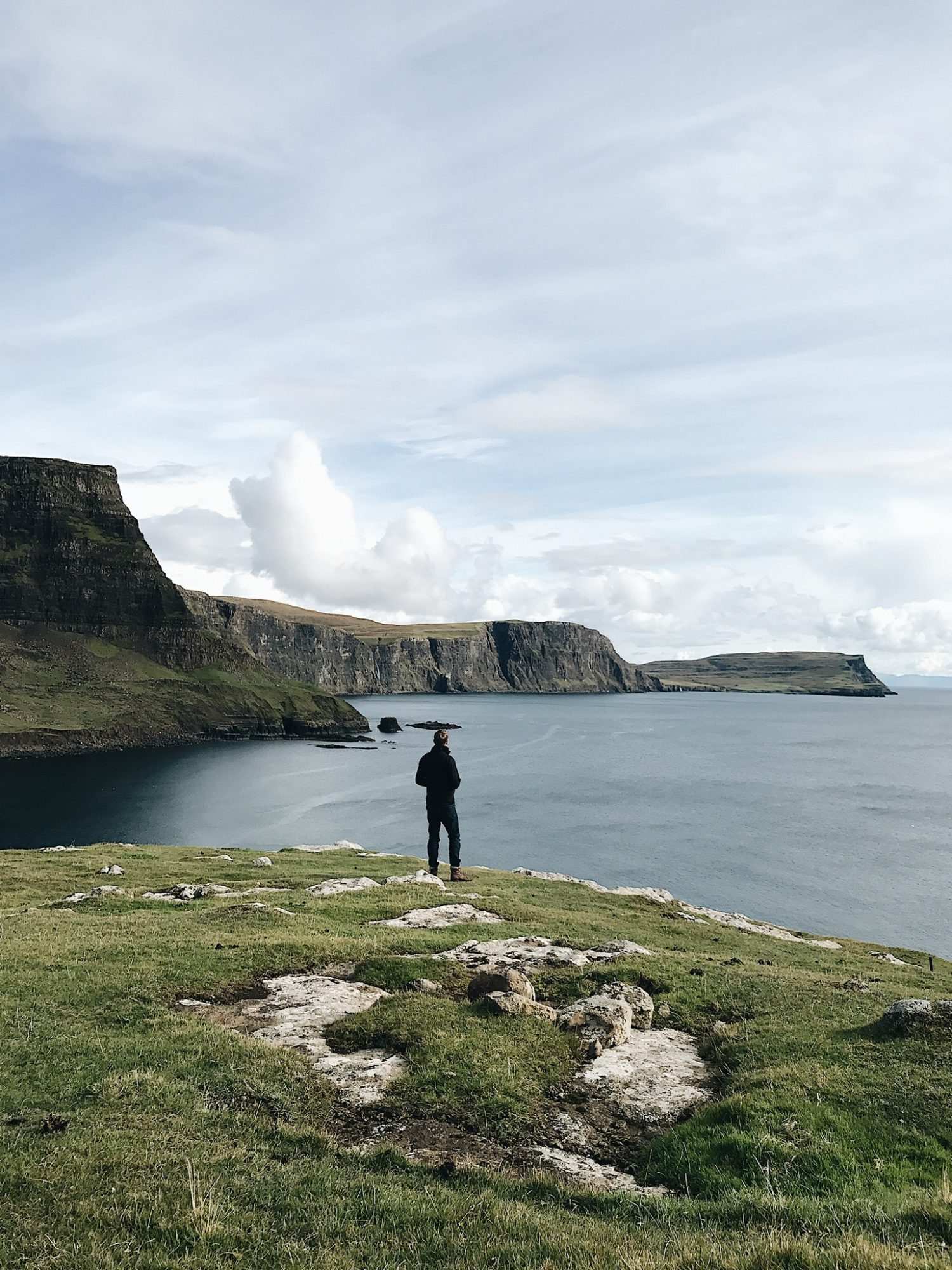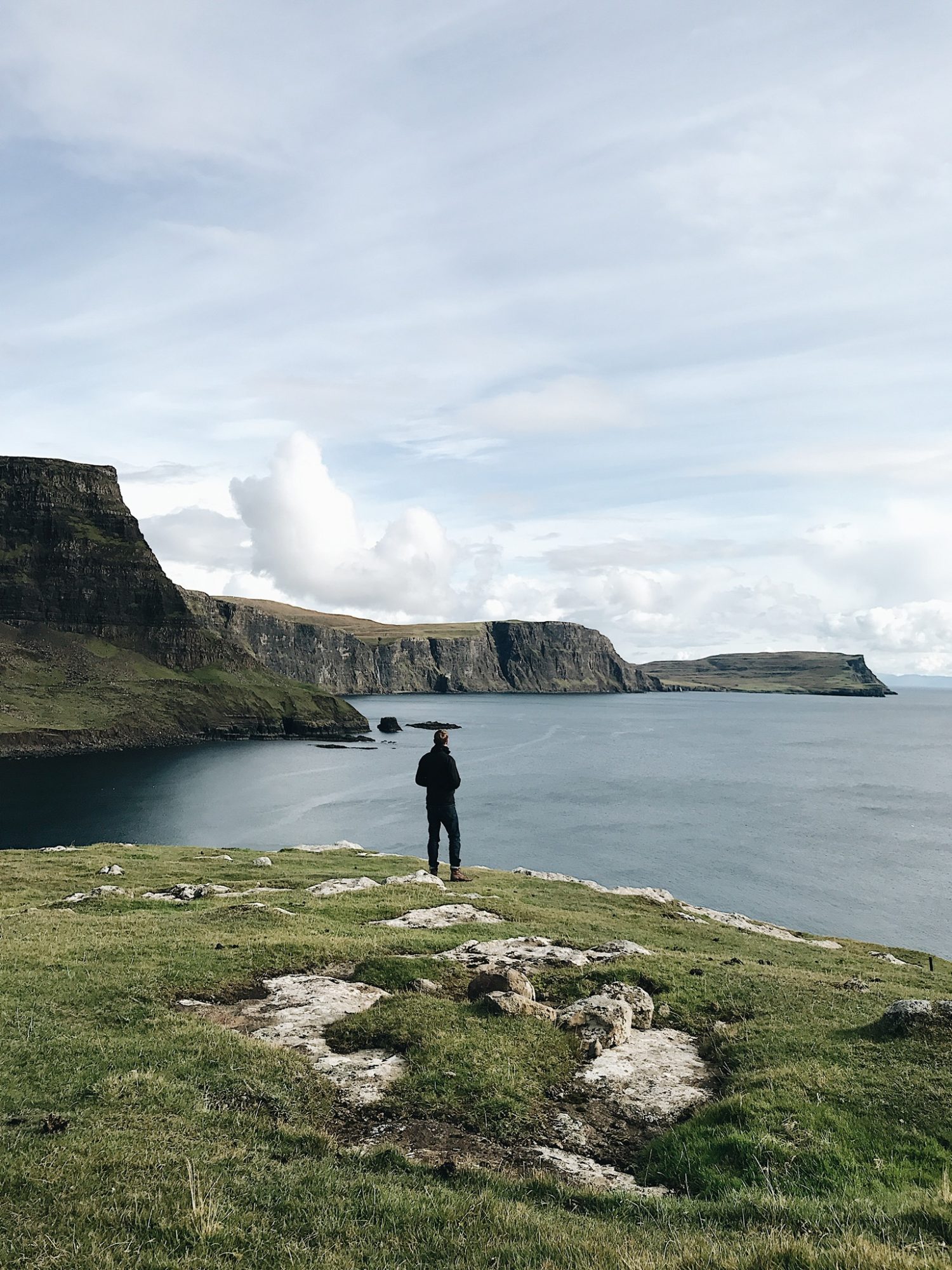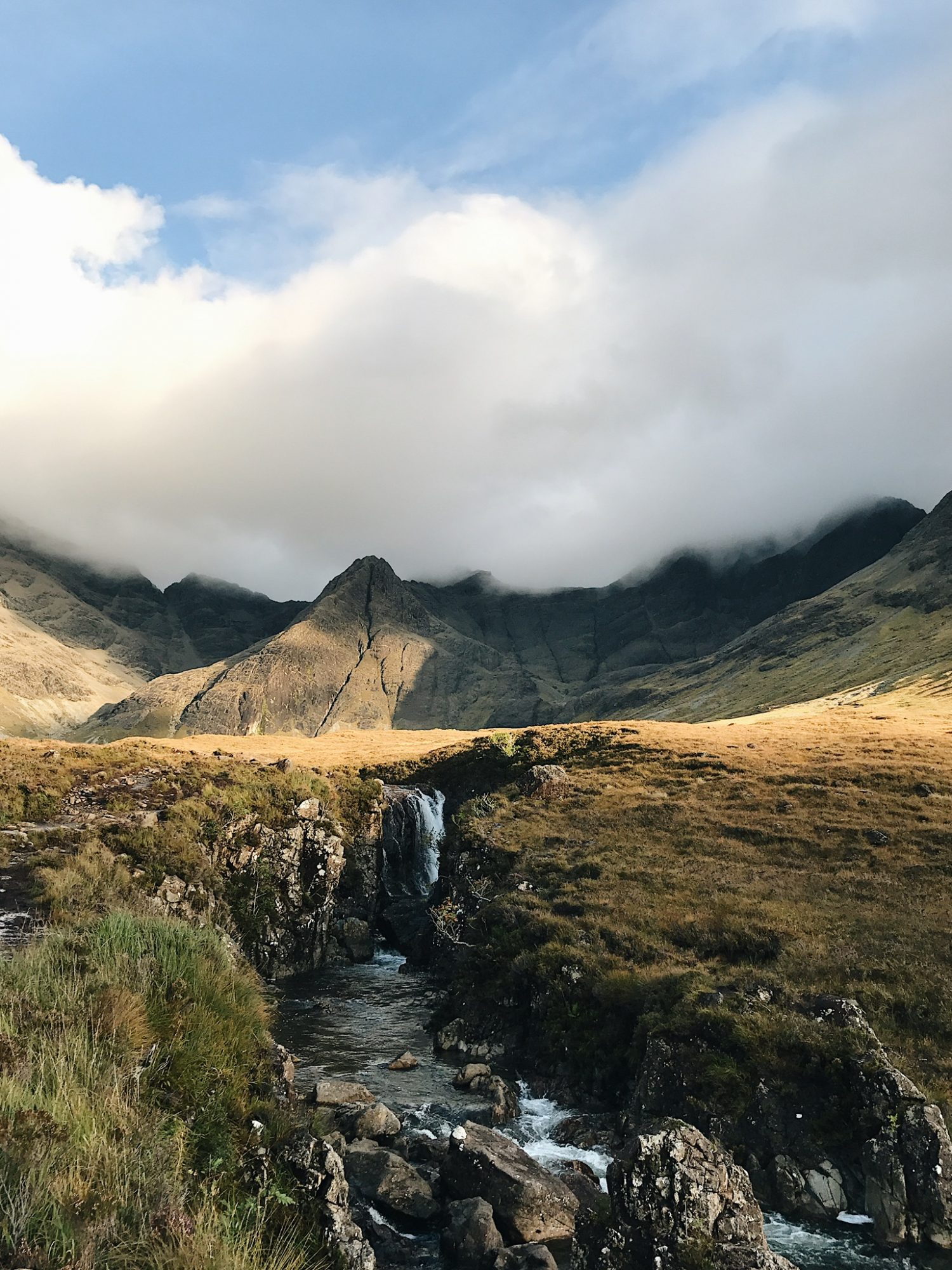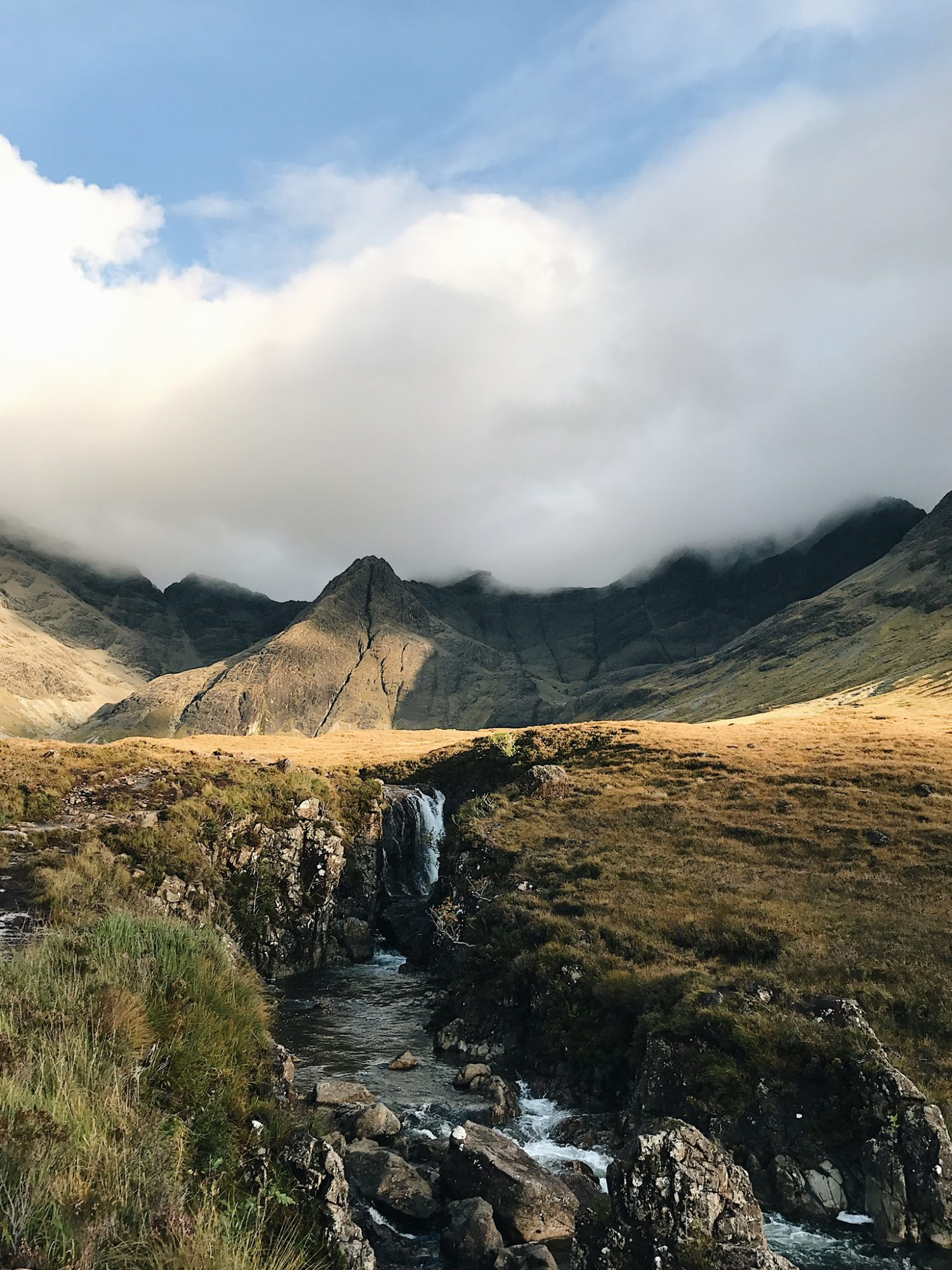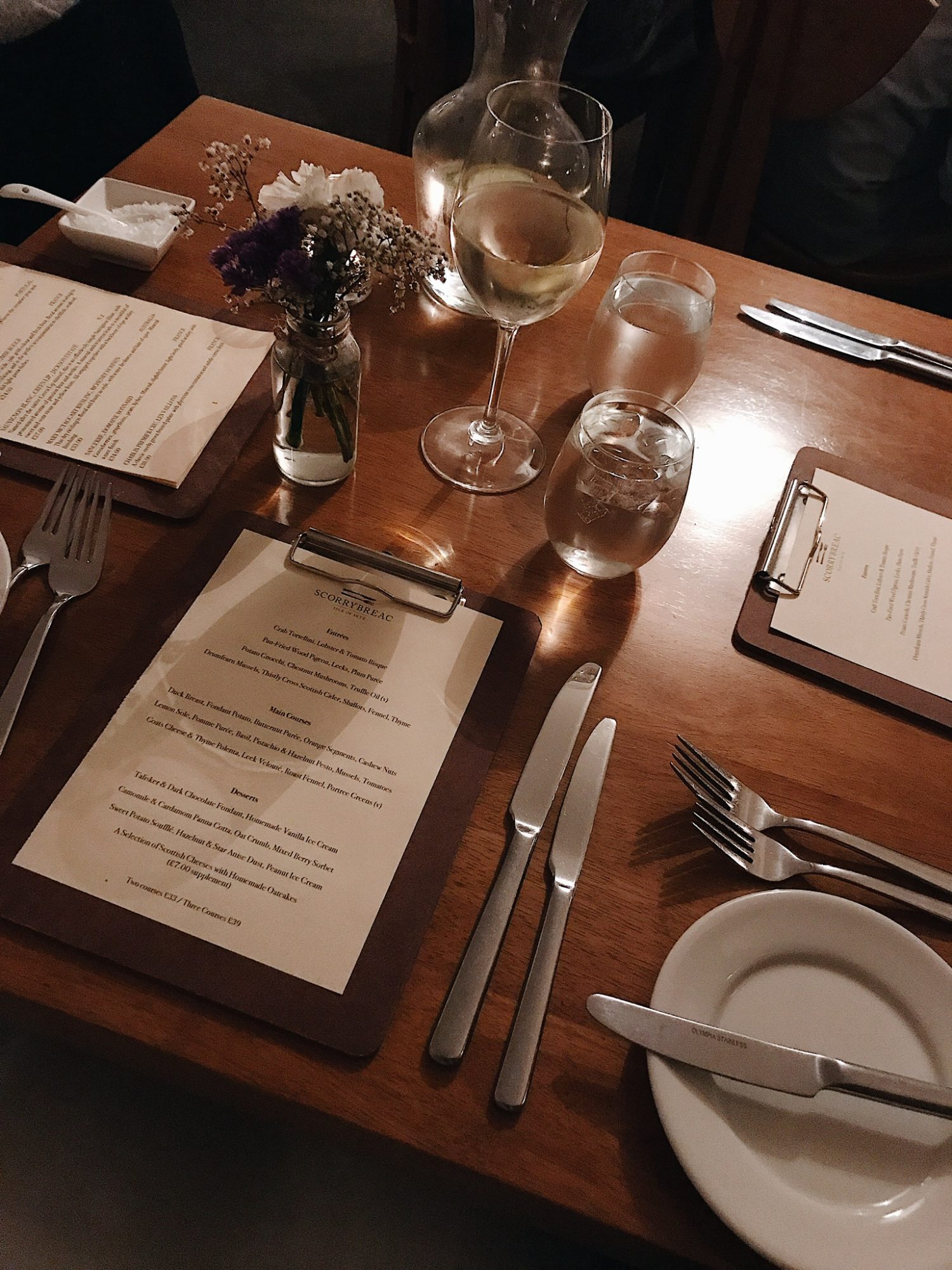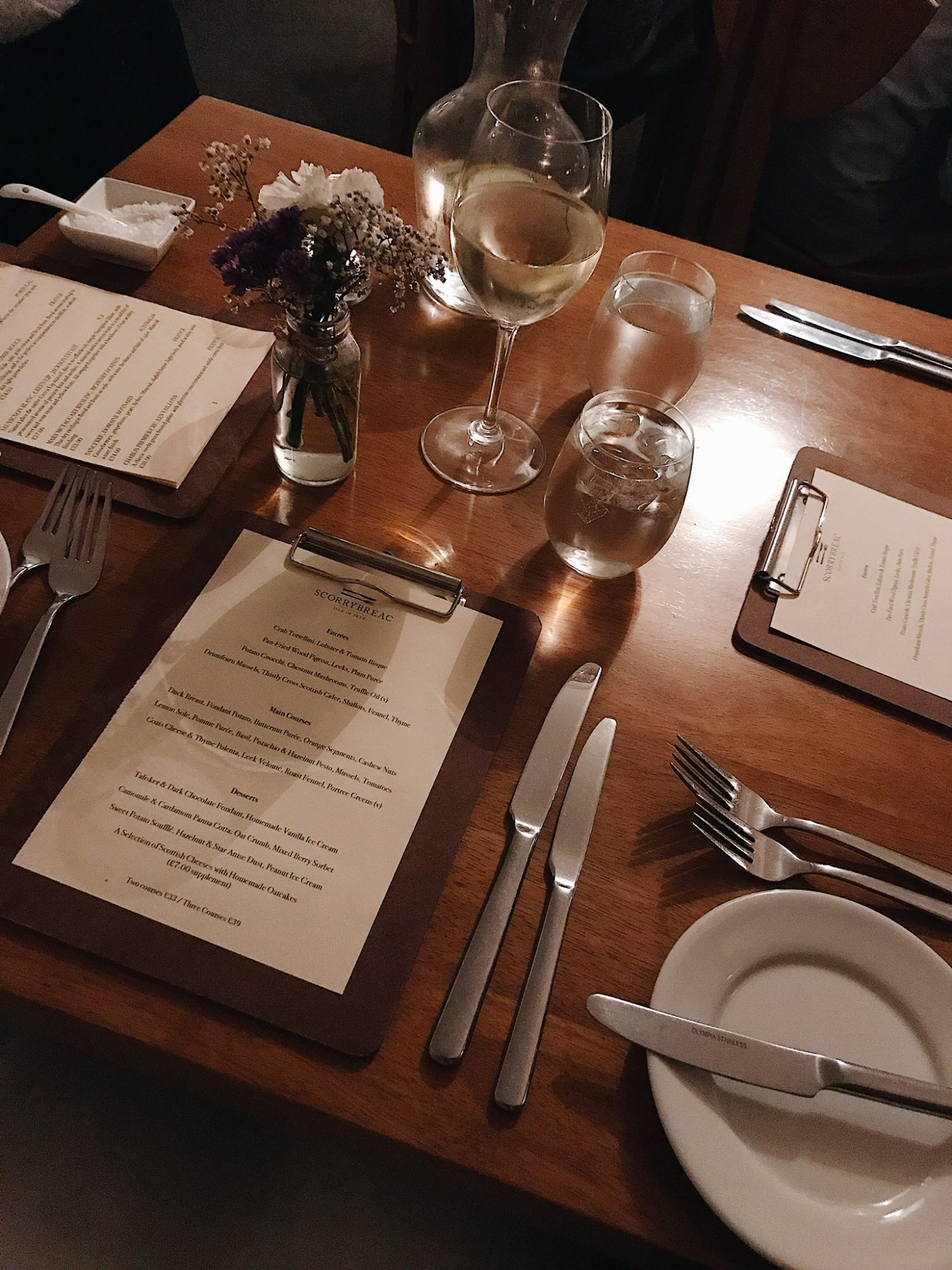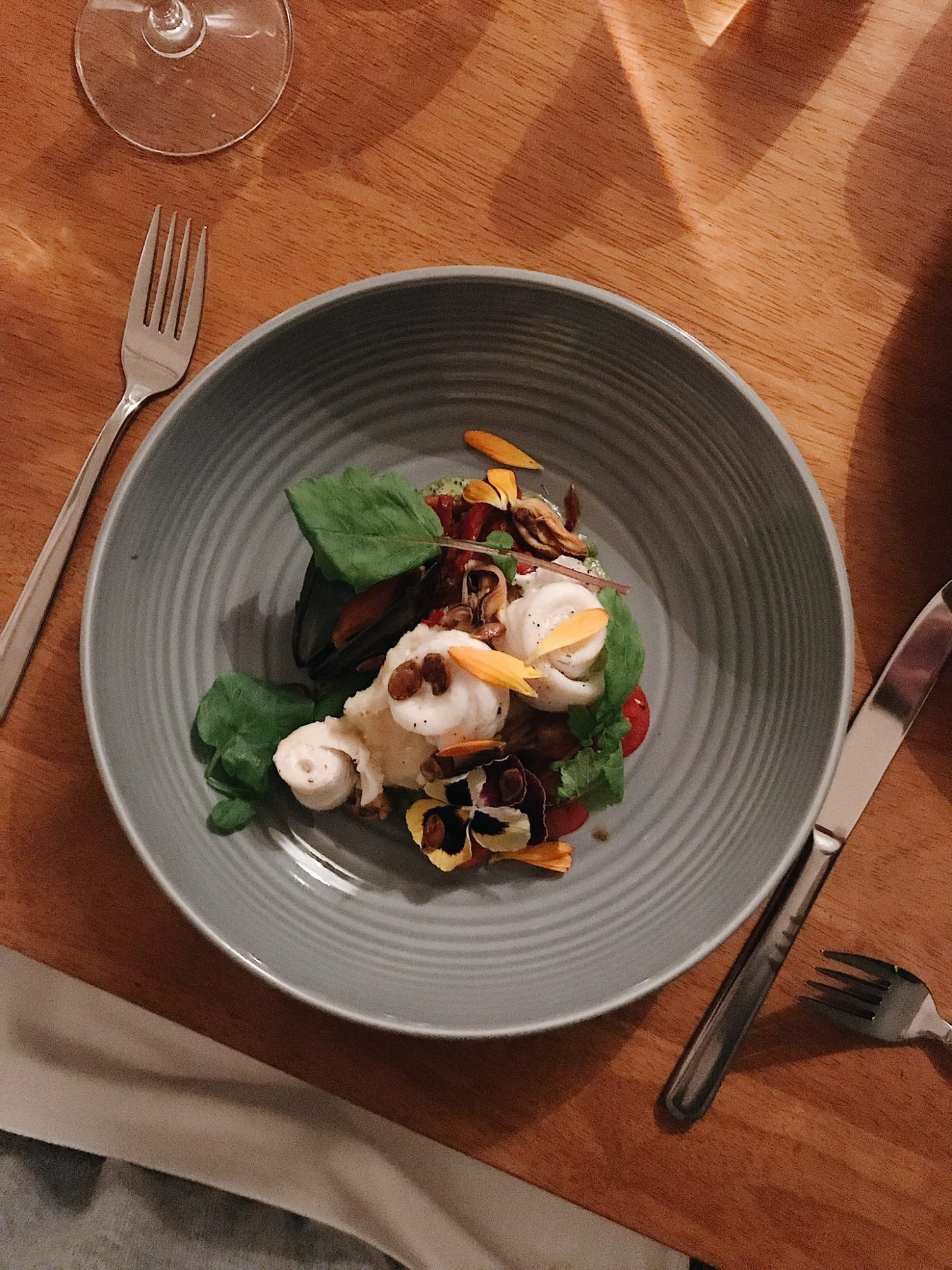 ---
 DAY 11
INVERNESS, SCOTLAND
---
STAYED: Dores – Airbnb – Pottery House 
Our final full day in Scotland was spent driving through the highlands from Skye to Inverness (the city at the top of Loch Ness). It was, of course, a stunning drive, but in an effort to avoid oncoming traffic (locals give zero Fs about who is coming around a corner), we ended up hitting a crazy deep pothole. Honestly, we both thought the tire had blown clean off but luckily it was intact so we carried on. Sure enough, a few miles later we learned (thanks to the dashboard warnings) that the tire was getting super low. We pulled over and saw that indeed was in rough shape. Thankfully we had a tire inflation kit in 'the boot' and Dave's fearless car mechanic persona took over. I'll tell you though, watching your tire deflate into a puddle of rubber in the middle of the Scottish Highlands with zero cell service, an empty road and little more than a few sheep around was just a hair nerve-wracking. Luckily the inflation kit worked brilliantly and we were back on the road to Inverness in no time.
ATE + DRANK: We had cask ales and dinner at Dores Inn after a walk along the beach at Loch Ness. I got the Mac & Cheese and it was the perfect comfort food after a harrowing journey. Our Airbnb host made us a fabulous breakfast on our final morning in Scotland. Fresh coffee, homemade bread, eggs, pancakes and bacon, of course!
EXPLORED: We didn't have much time in Inverness. We stopped into the city briefly for a midday stroll but the rain chased us into our car and back onto the road again. Once we settled into our room for the night and got a proper shower it was getting late so we just walked down to dinner and along Loch Ness before the sun set.
---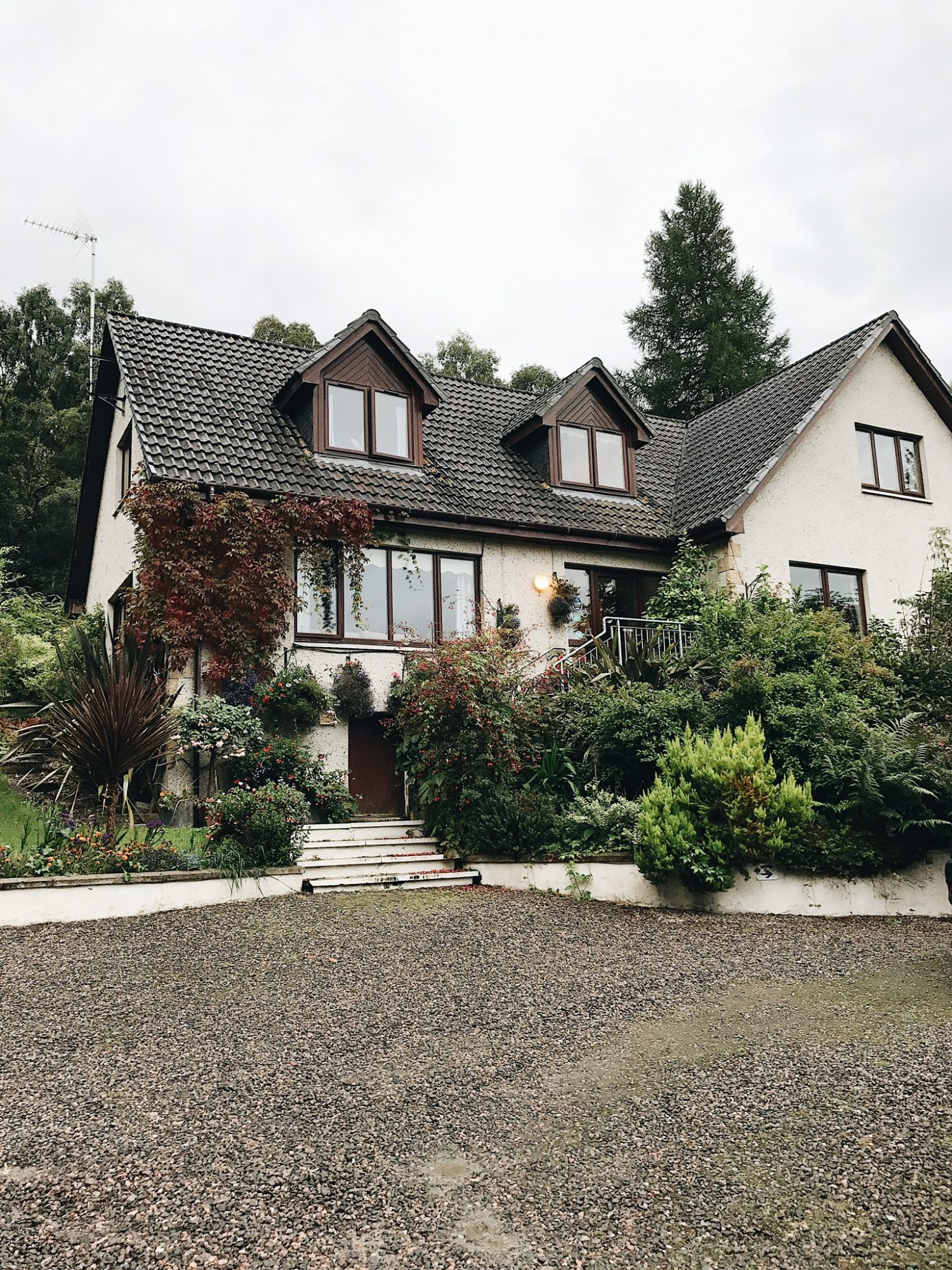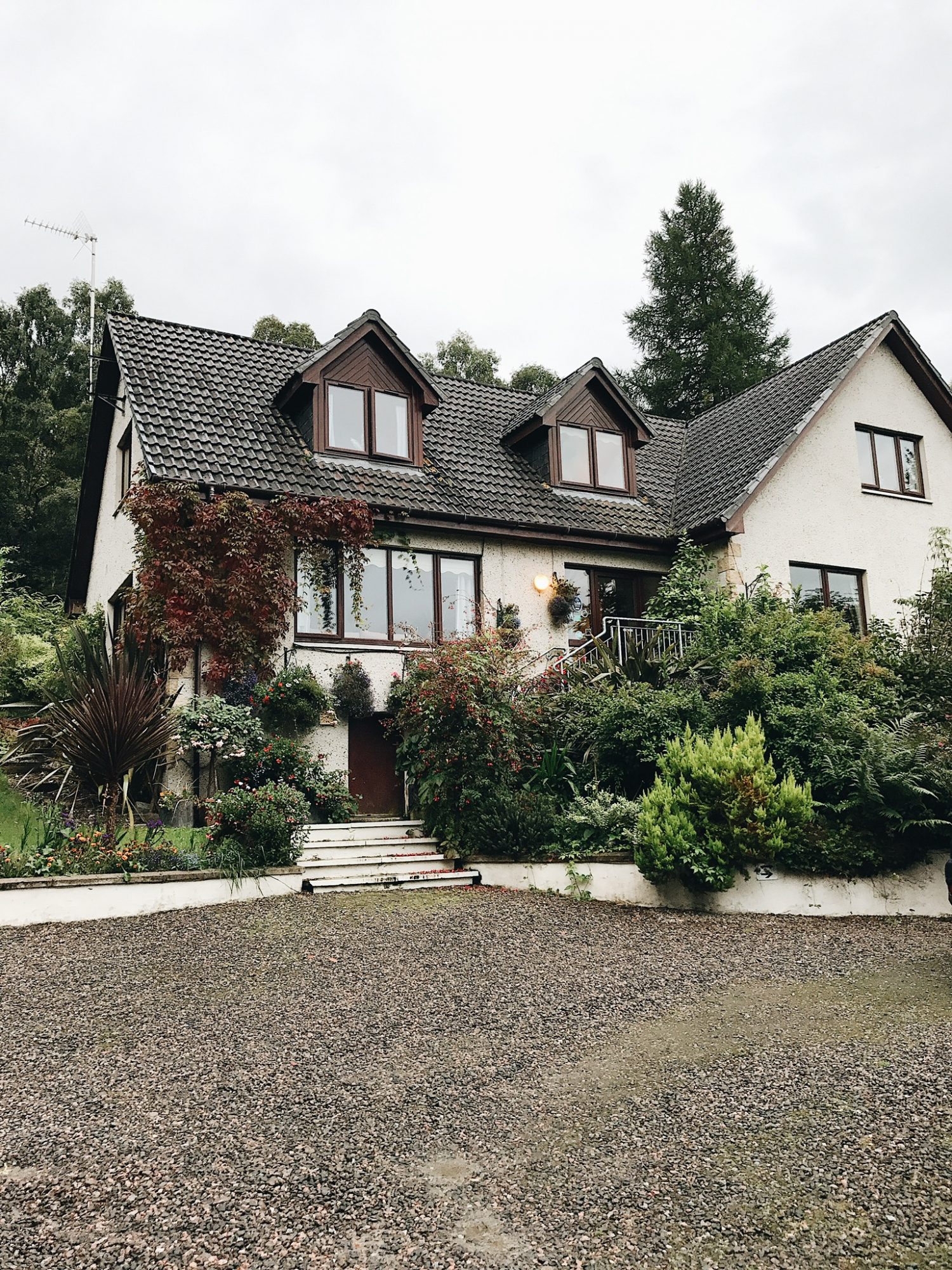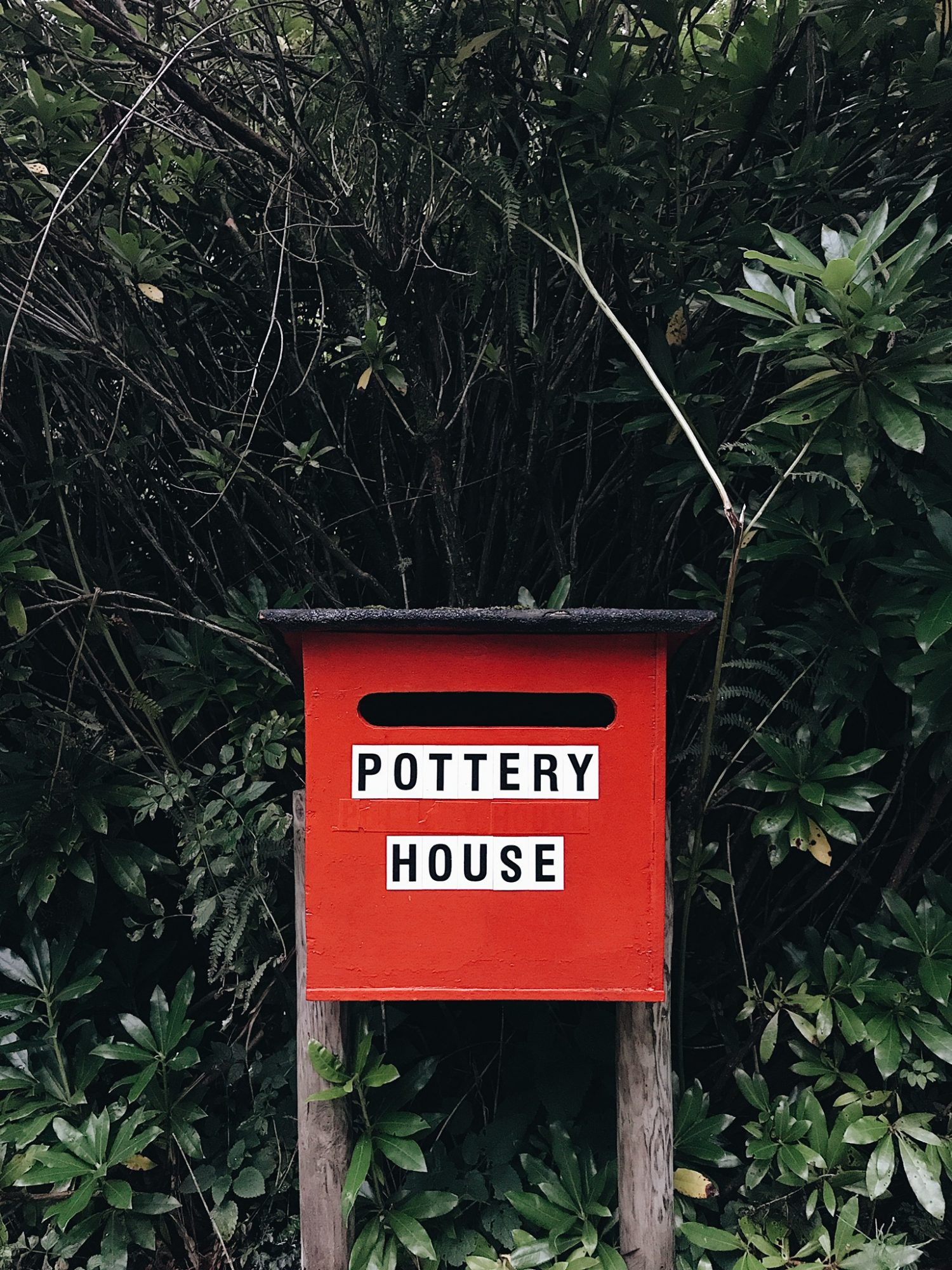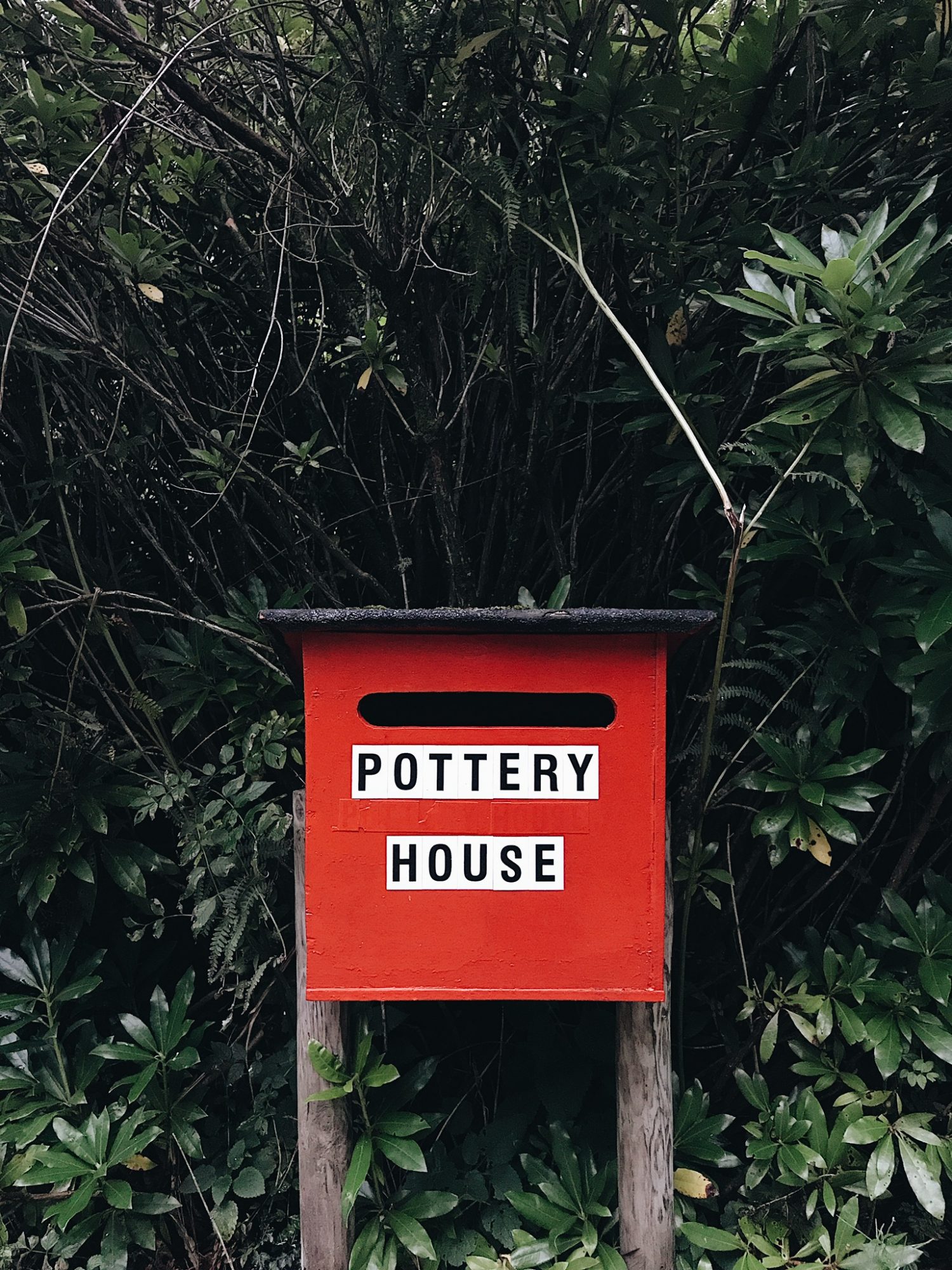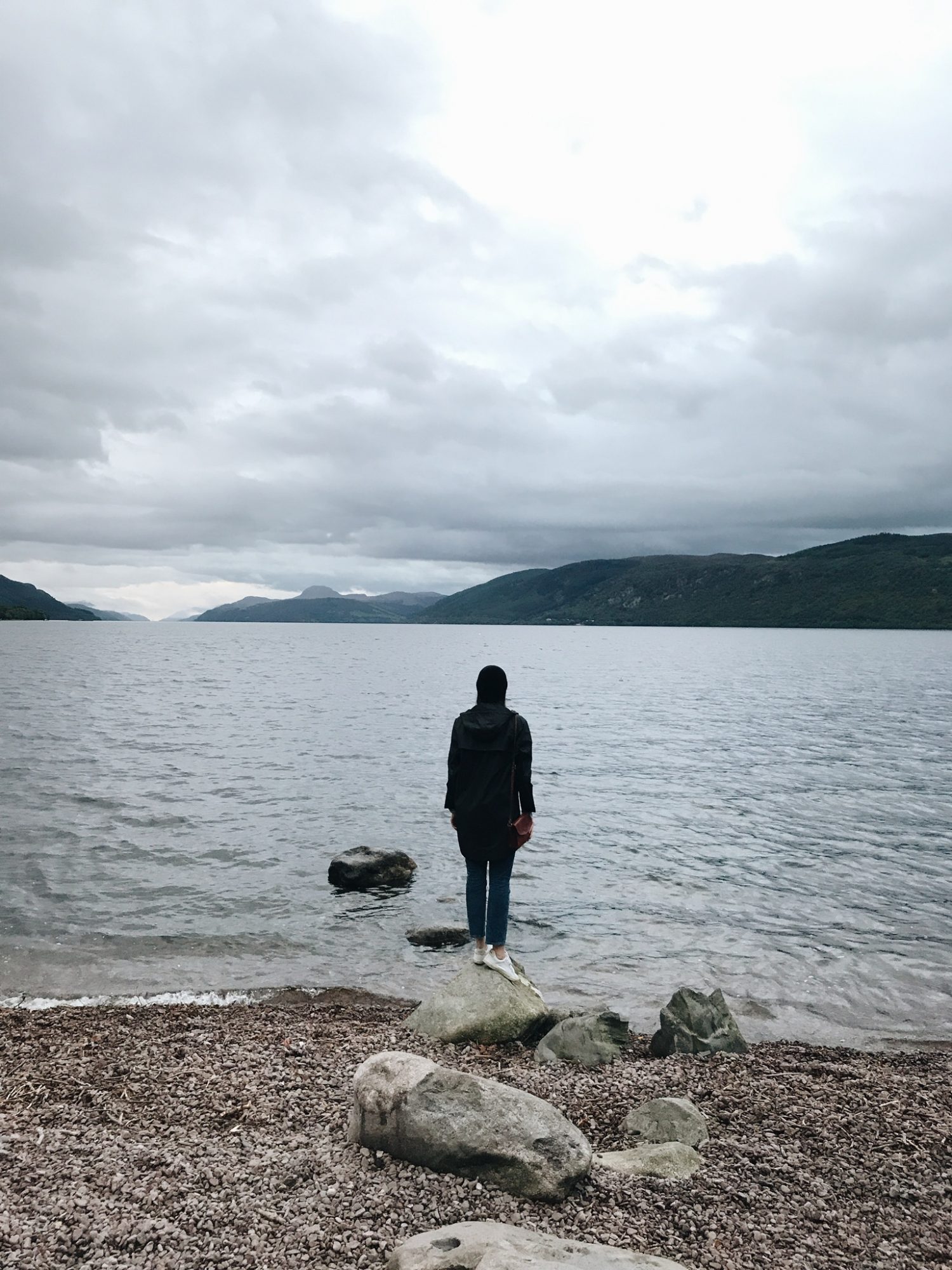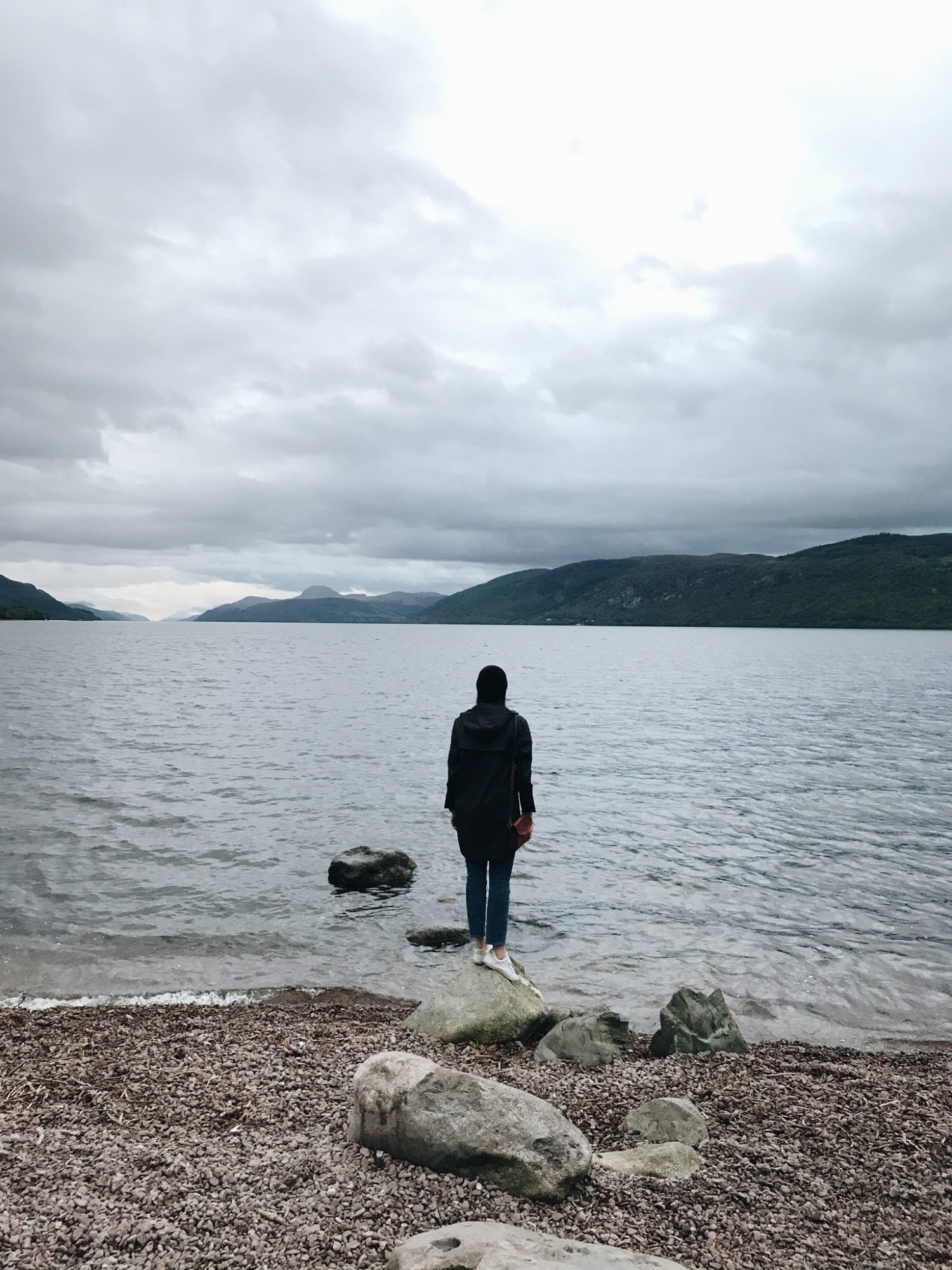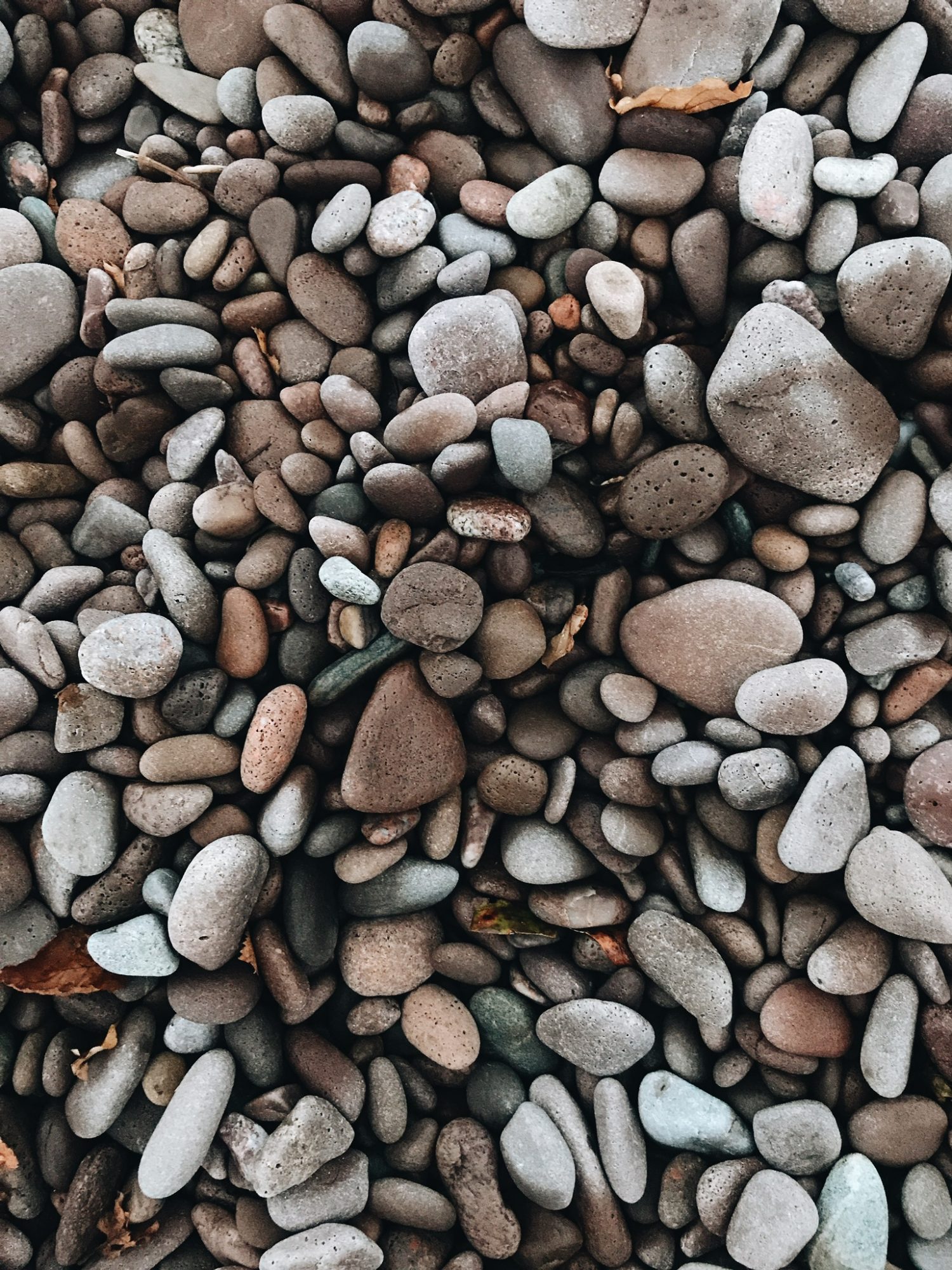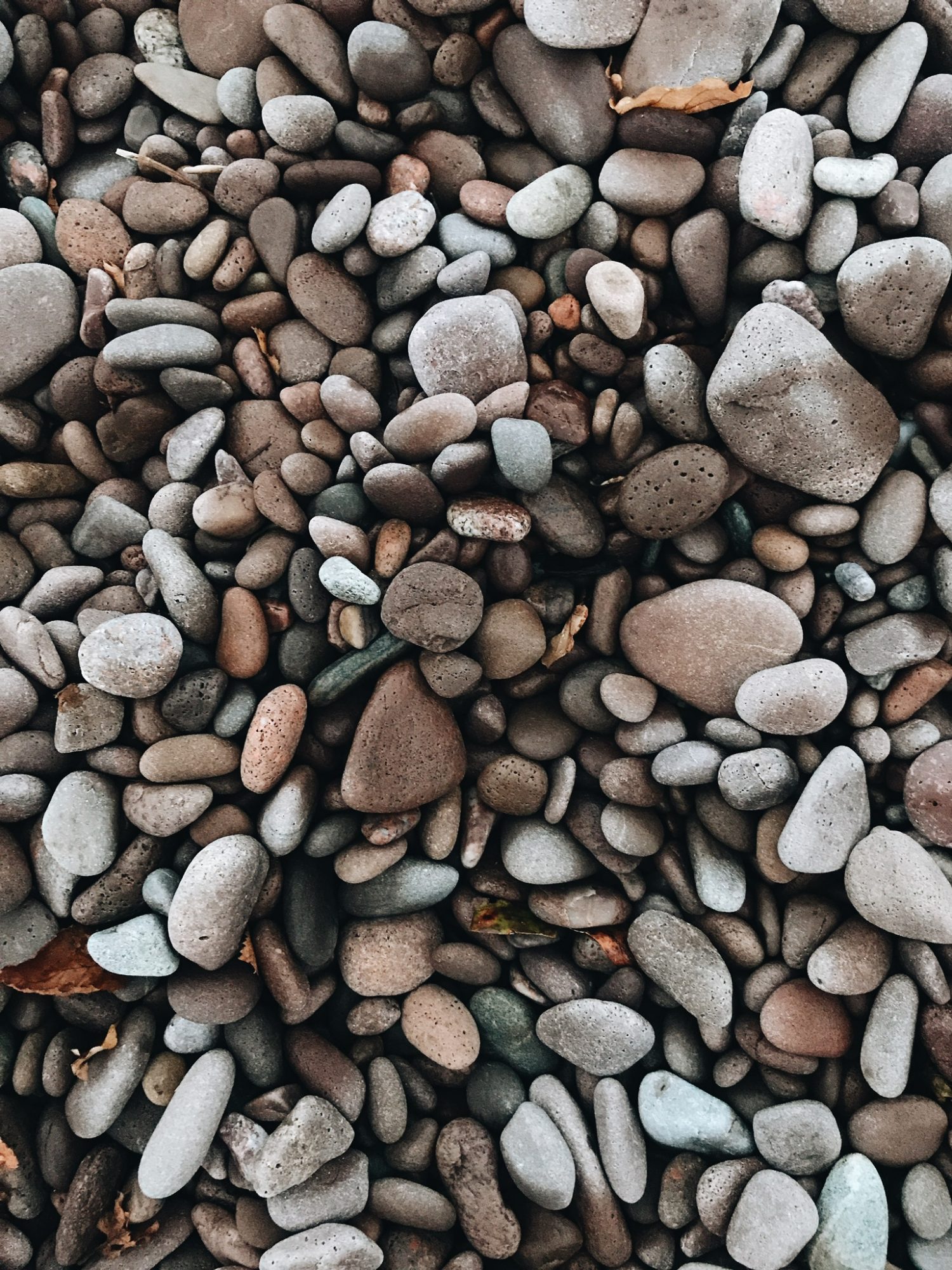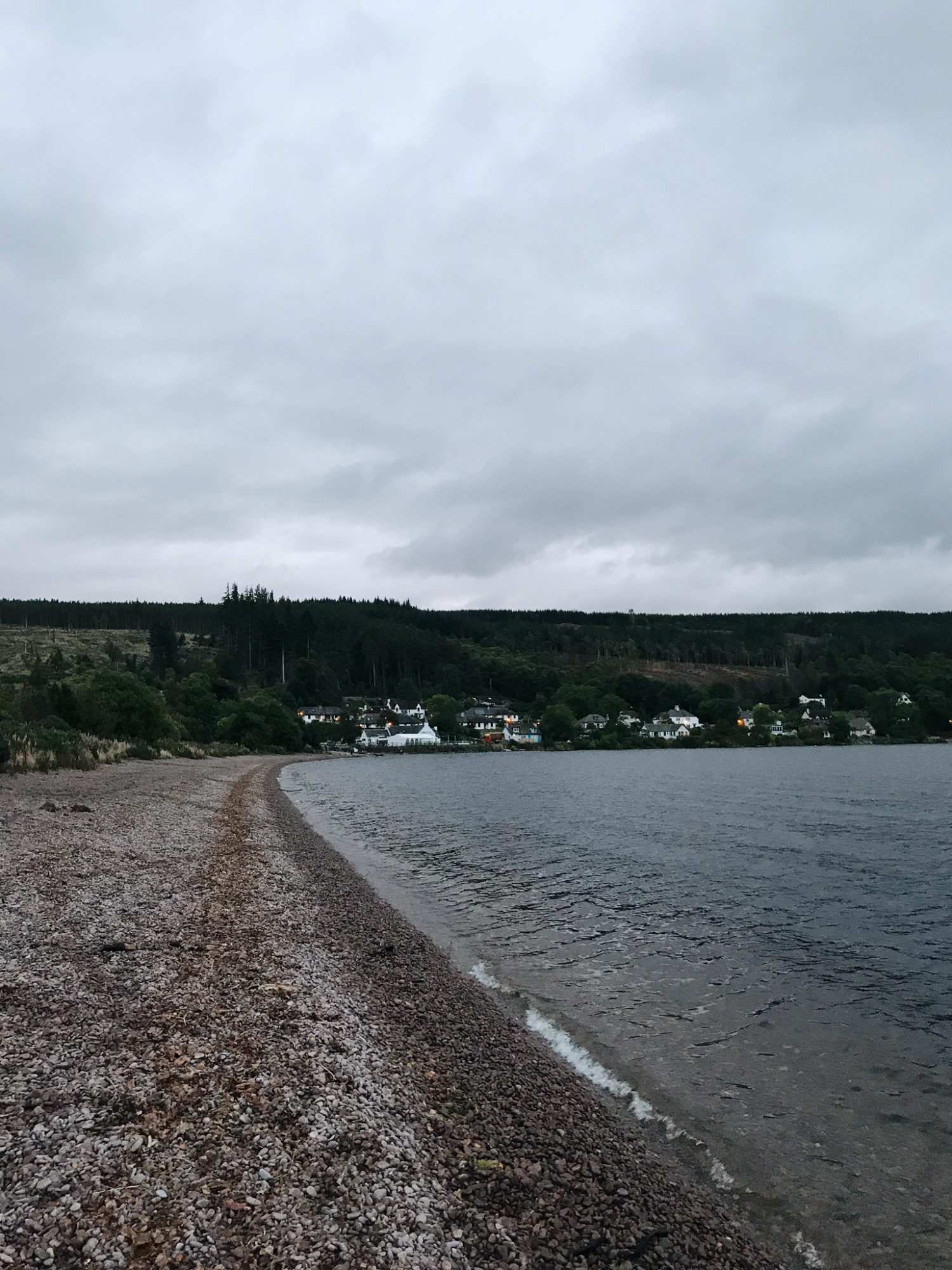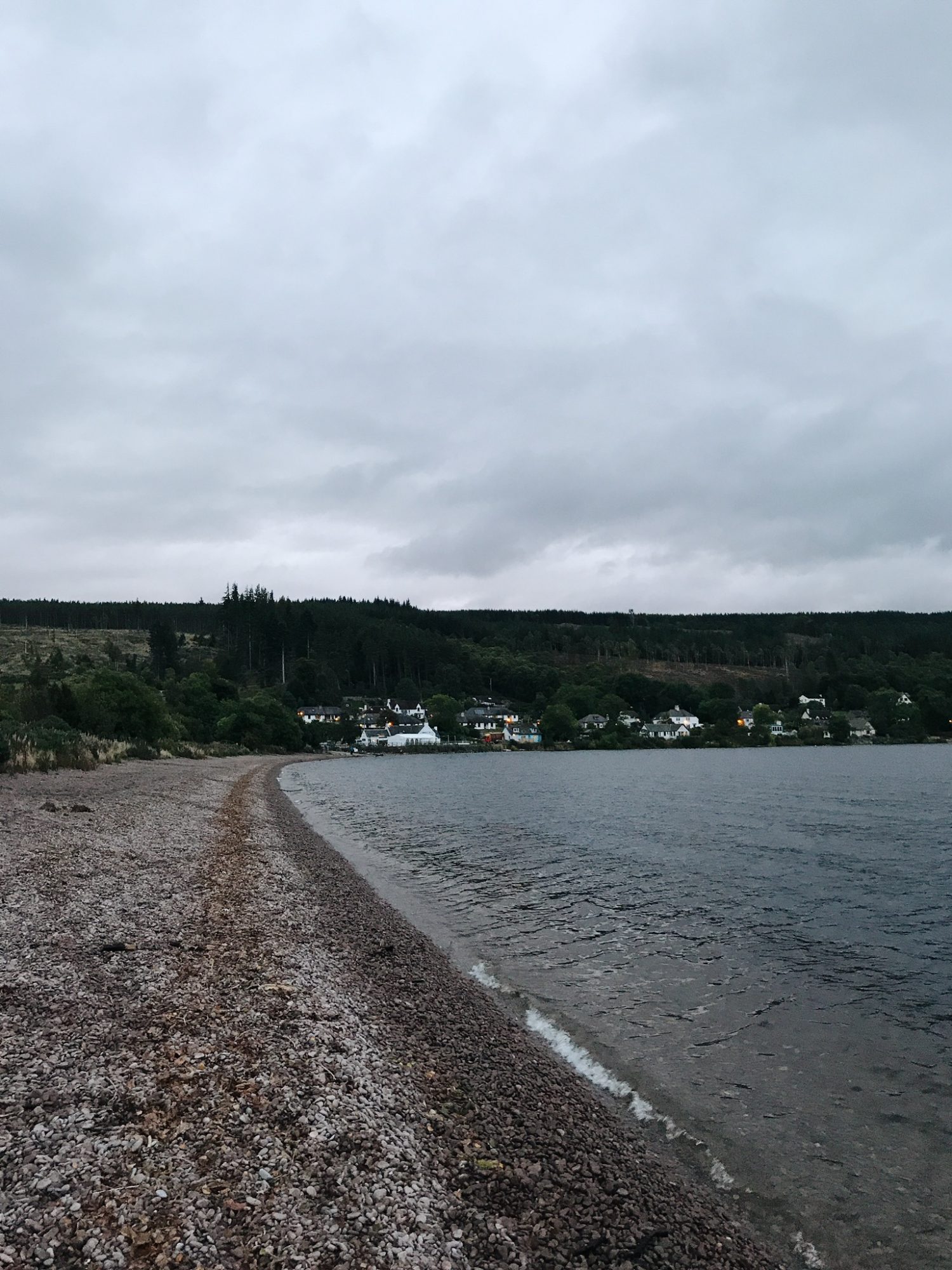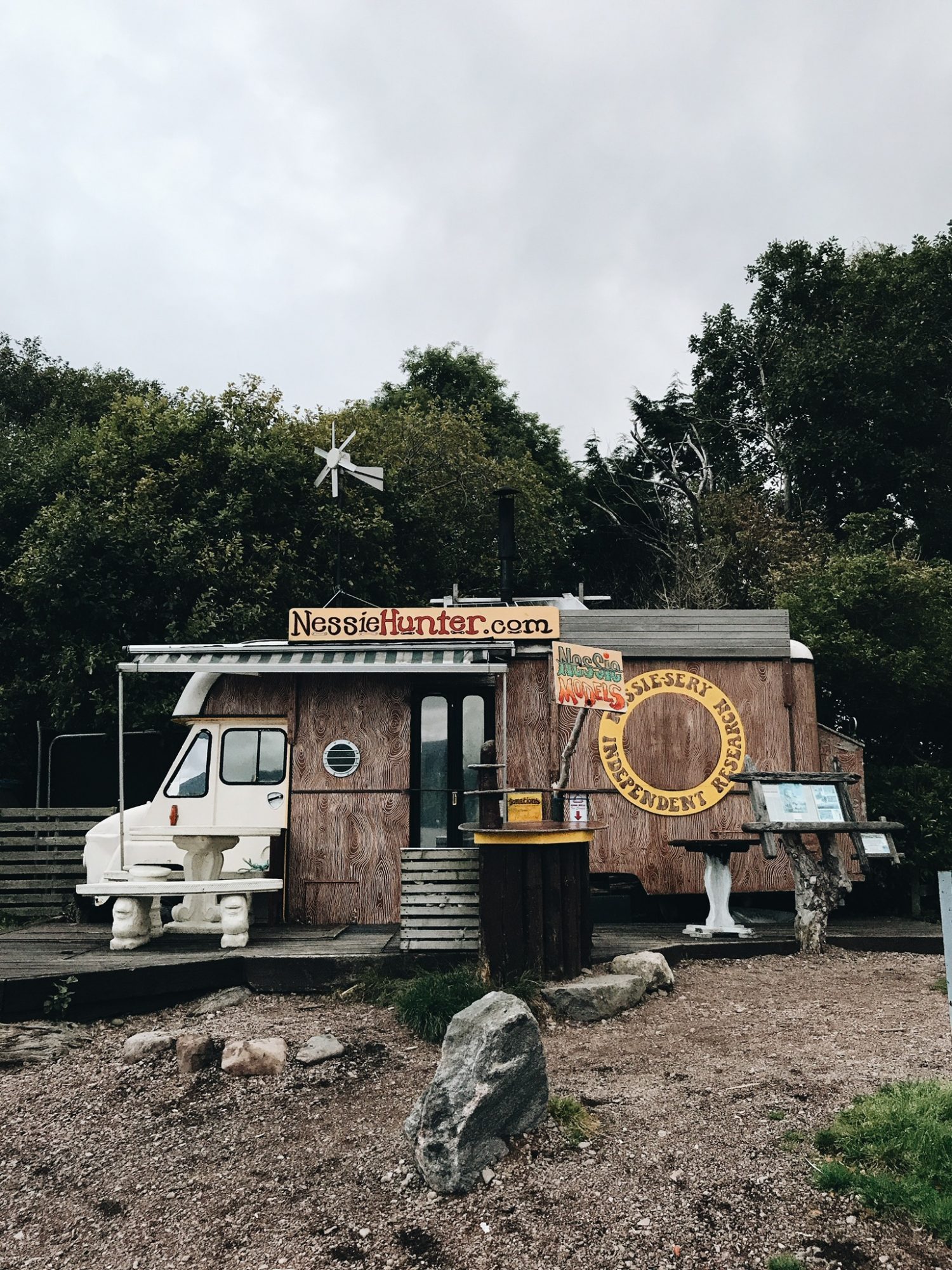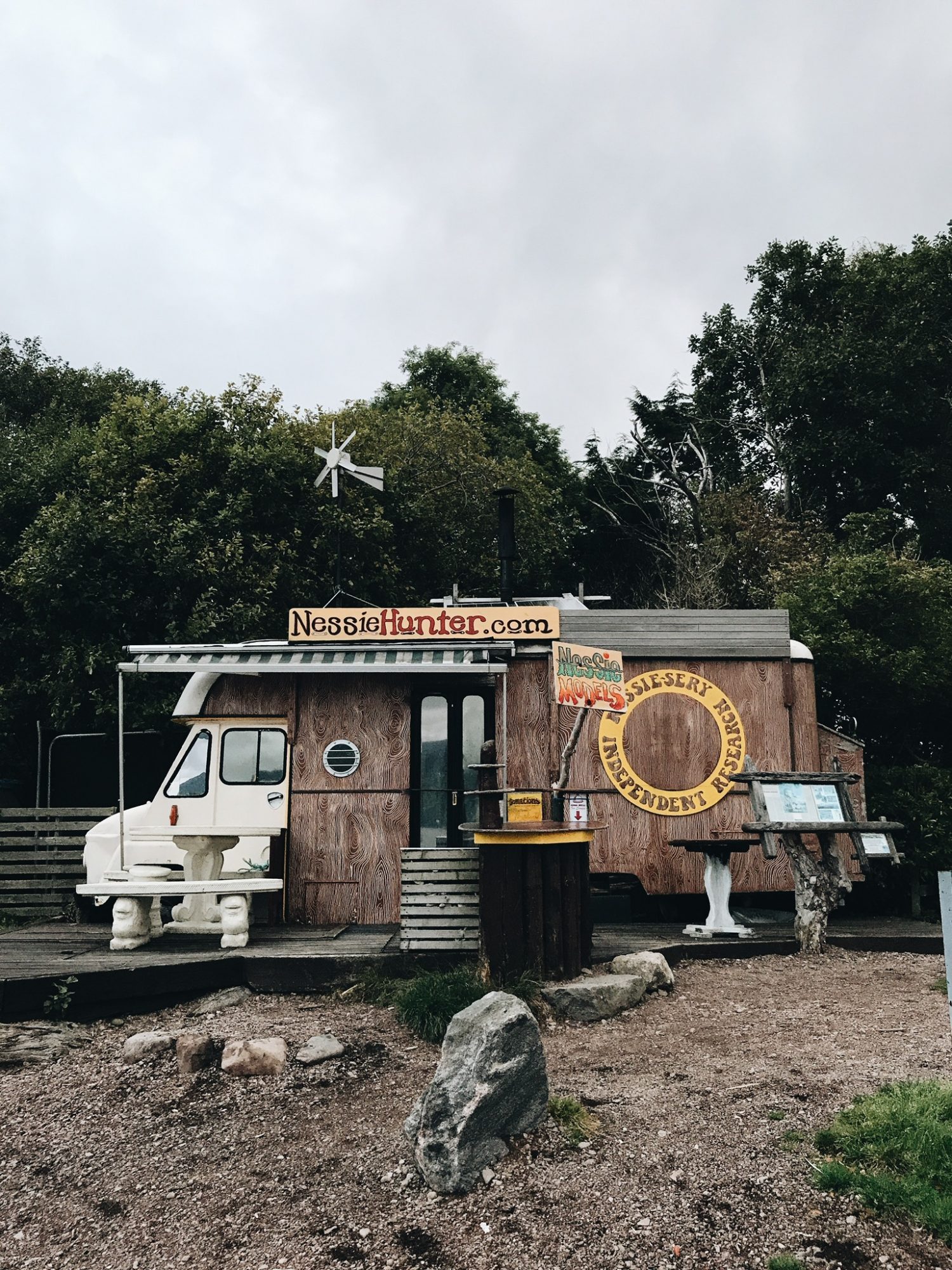 ---
 DAY 12, 13 & 14
BACK TO LONDON
---
STAYED: Bethnal Green – Town Hall Hotel 
We dropped our rental car off in Inverness and flew back to London for our last weekend of the trip. Flying made a lot of sense because it was a super short flight (compared to a super long drive) and extremely reasonable. I think our tickets were around $100 CAD. We were feeling inspired from our time in the wild highland air but excited to return to civilization. We splurged on our final stay at the Town Hall and it was worth every penny. Plus the hotel has a Greyhound named Dizzy who hangs out and says hi every morning. I loved her!
ATE + DRANK: Cittie of Yorke (for more cask ales, can you tell Dave was into those?), Dinner at BRAUN was fabulous, Brunch at The Corner Room (Town Hall) was such a treat, Dinner at ROK was also very Scandinavian and cool. Some of the best eats we had were at the markets and it was so fun to just walk around and pop in and out of pubs and cafes between shops and markets. Our favourite meal was probably our last one. We picked up meats, bread, cheeses, olives and spreads from the market and wine from the grocery to make ourselves a fabulous charcuterie. We enjoyed the feast in our room with the windows open and the telly (as they say) on watching Law & Order UK and it was the perfect way to close out the trip.
EXPLORED: Bethnal Green (neighbourhood), Shoreditch (neighbourhood), Redchurch Street (for shopping and awesome spots like Labor + Wait) Tower Bridge (landmark), Spitalfields Market (so many amazing local vendors and artists selling wares), Shoreditch Vintage & Food Markets (come hungry and eager to hunt through lots of vintage), Columbia Road Flower Market (exactly what is sounds like plus antiques and food), The Tate Modern (museum), Conservatory Archives (plant shop extraordinaire).
NEXT TIME: Honestly, we could have spent two weeks longer and still had a ton left to explore but a few places I'd love to find next time were:
The Rooftop bar at The Boundary hotel. It's a pretty well-kept secret in London.
Borough Market in East London. It was closed by the time we got there.
The Owl and The Pussycat on Redchurch street is also good – more of a pub vibe but chill. 
The Sun Tavern in Bethnal green is a good watering hole.
Satan's Whisker's is a good cocktail bar that's kind of hidden in Bethnal Green.
---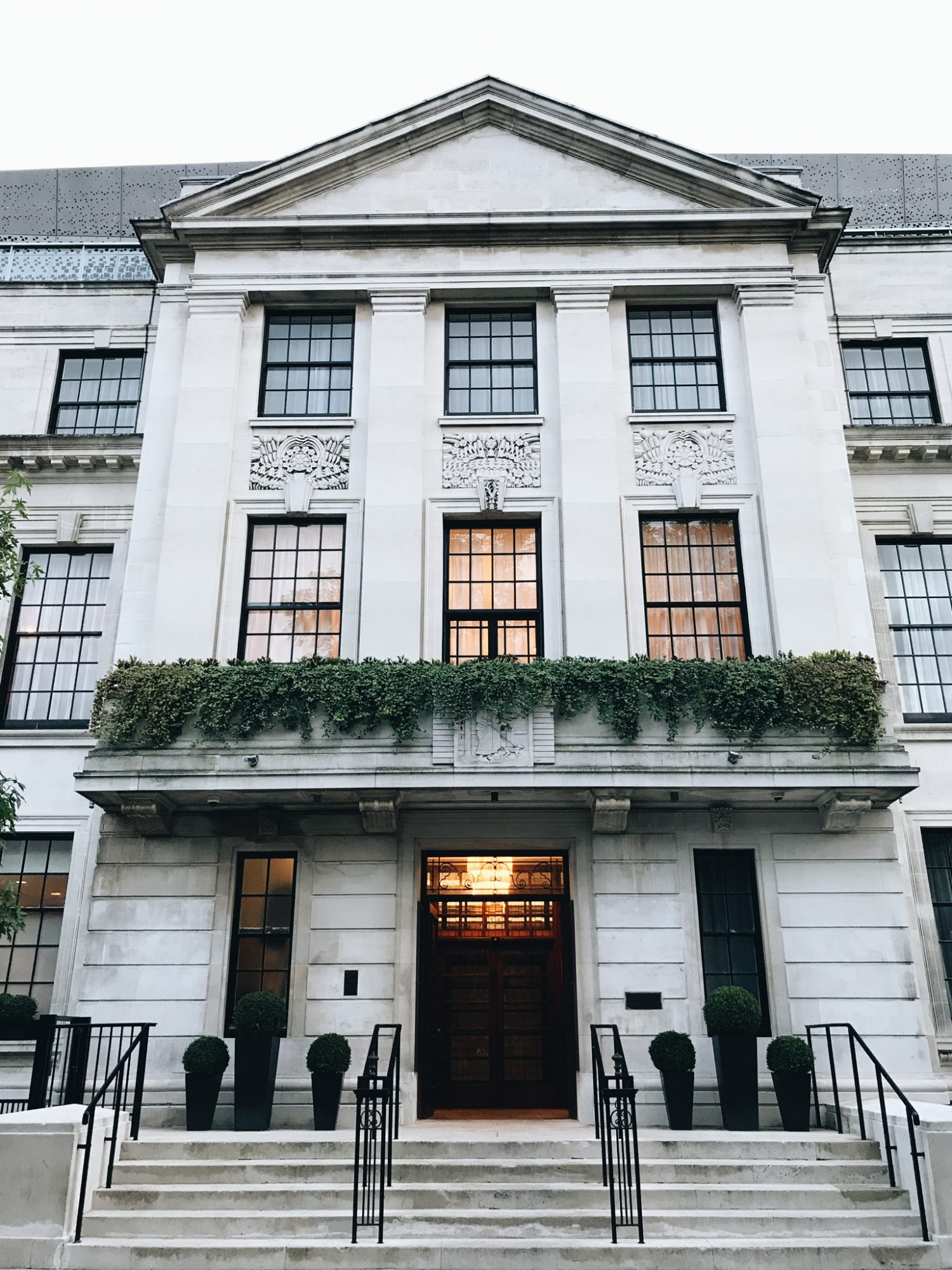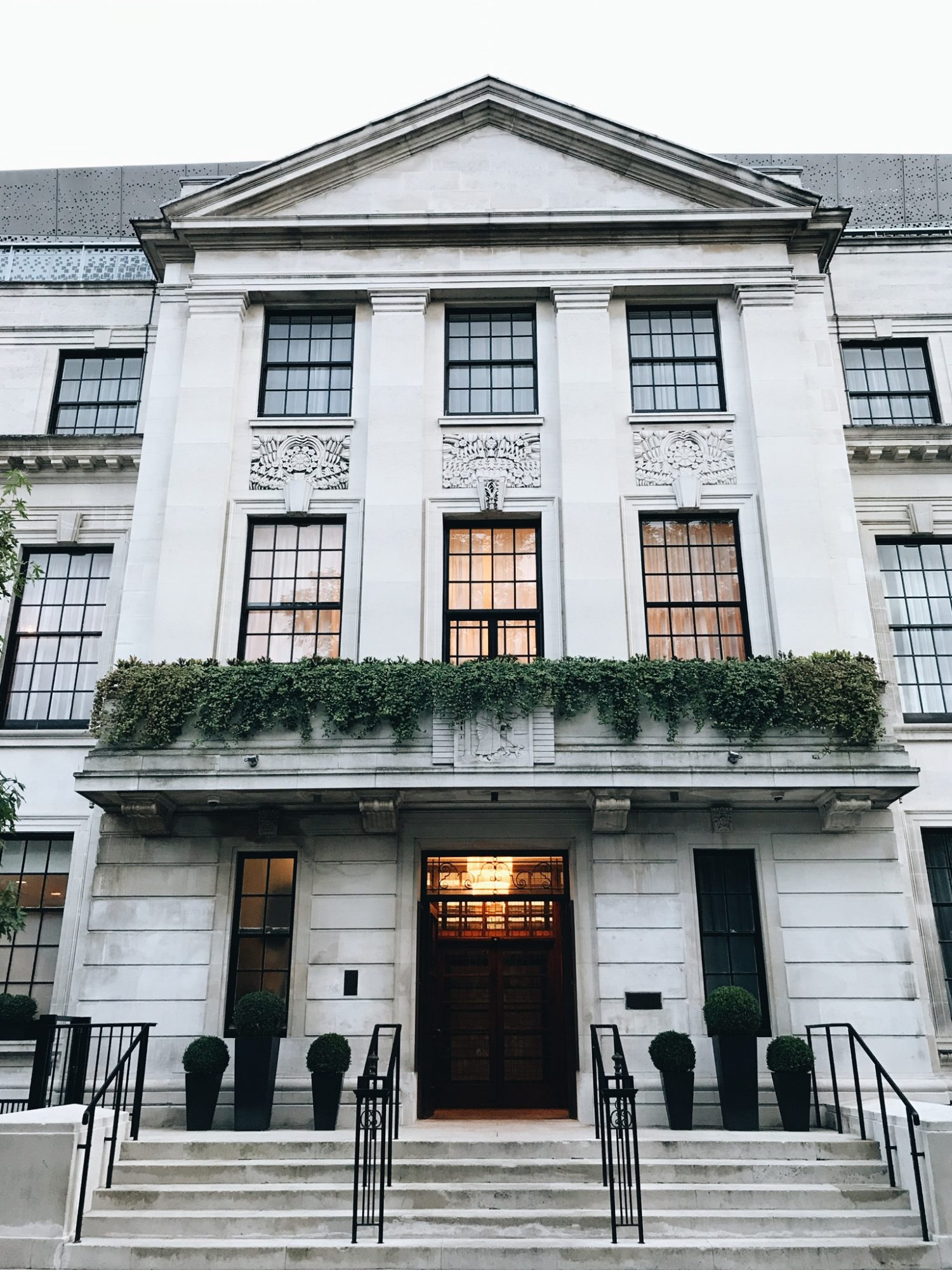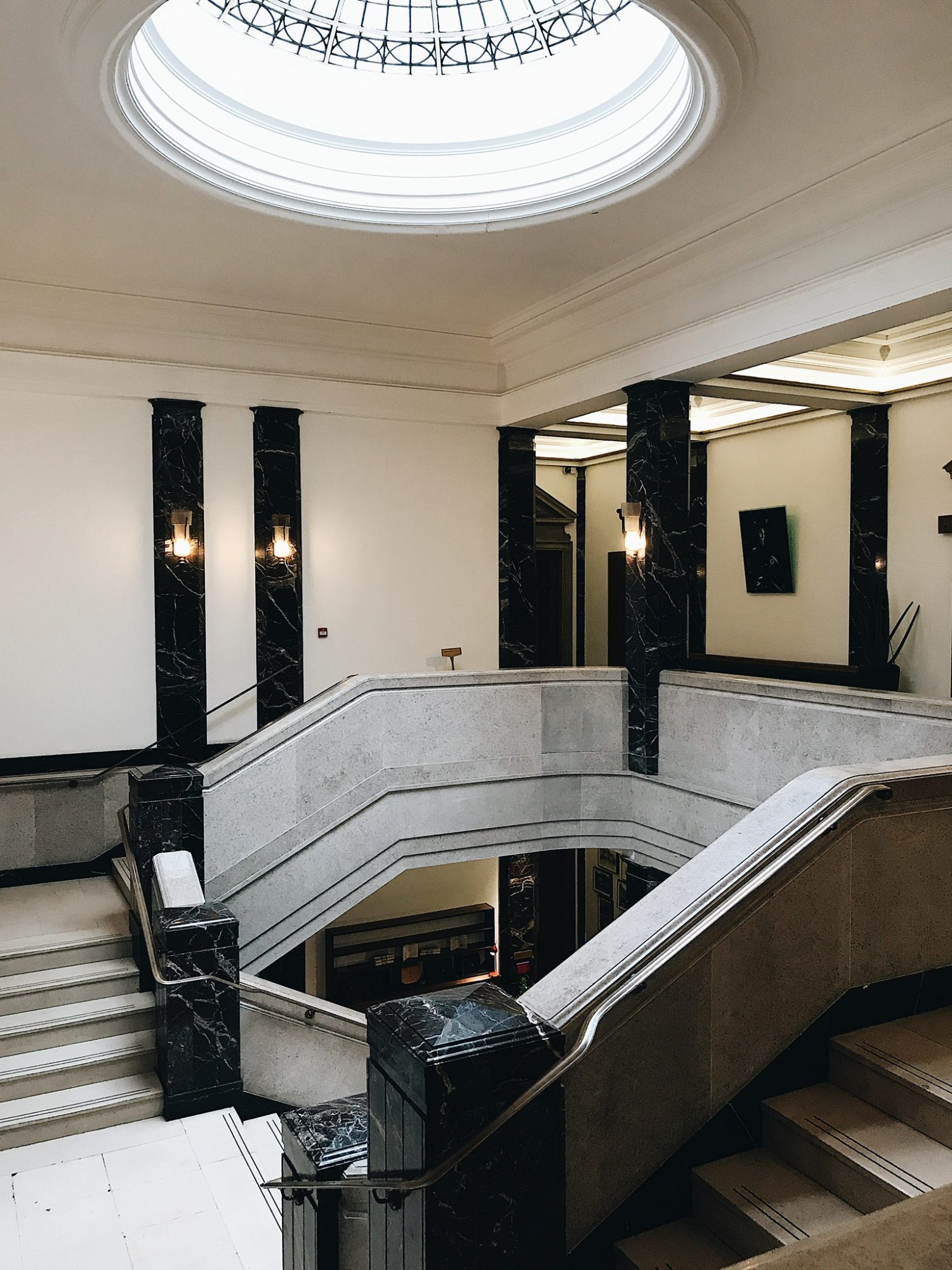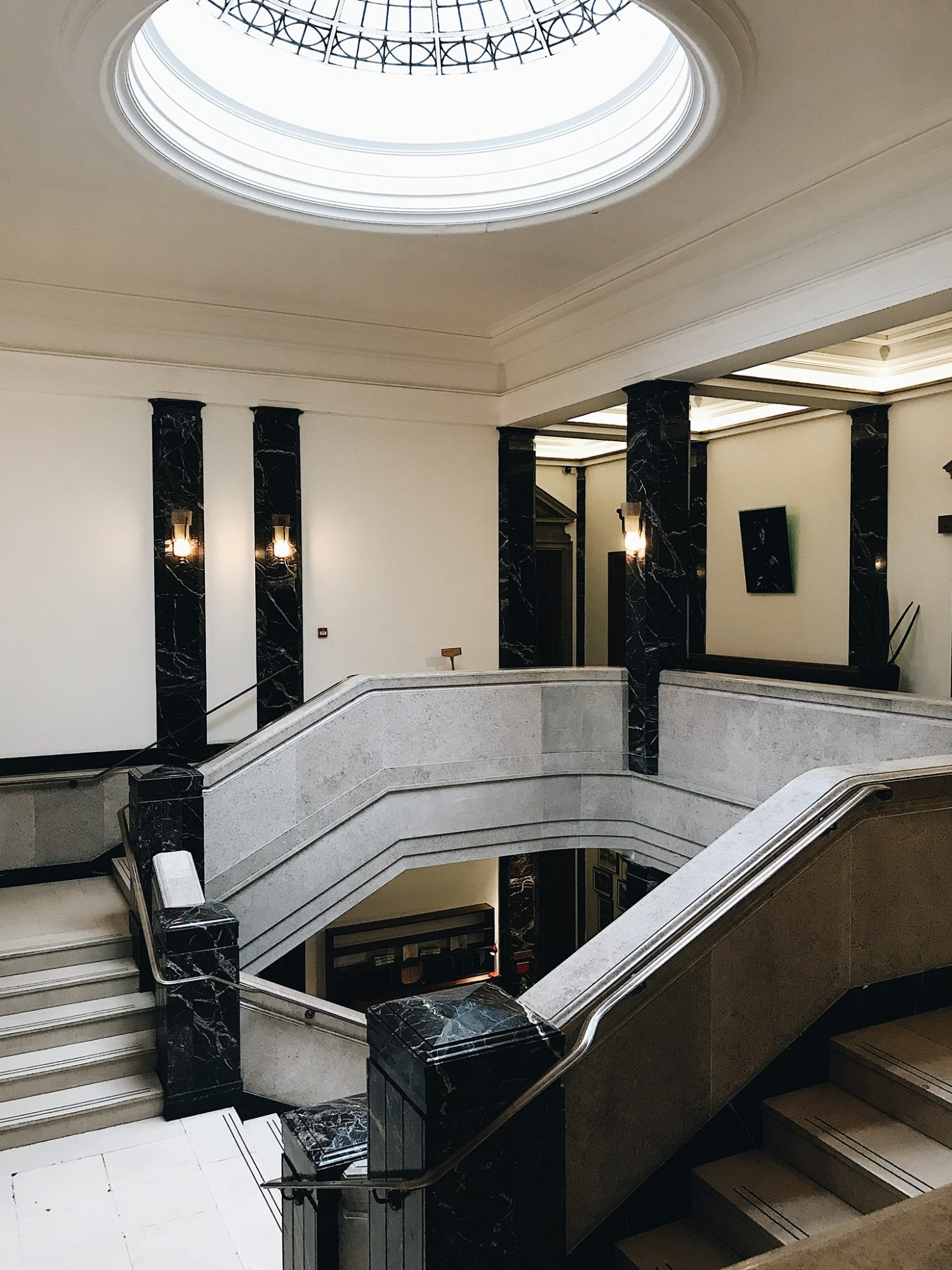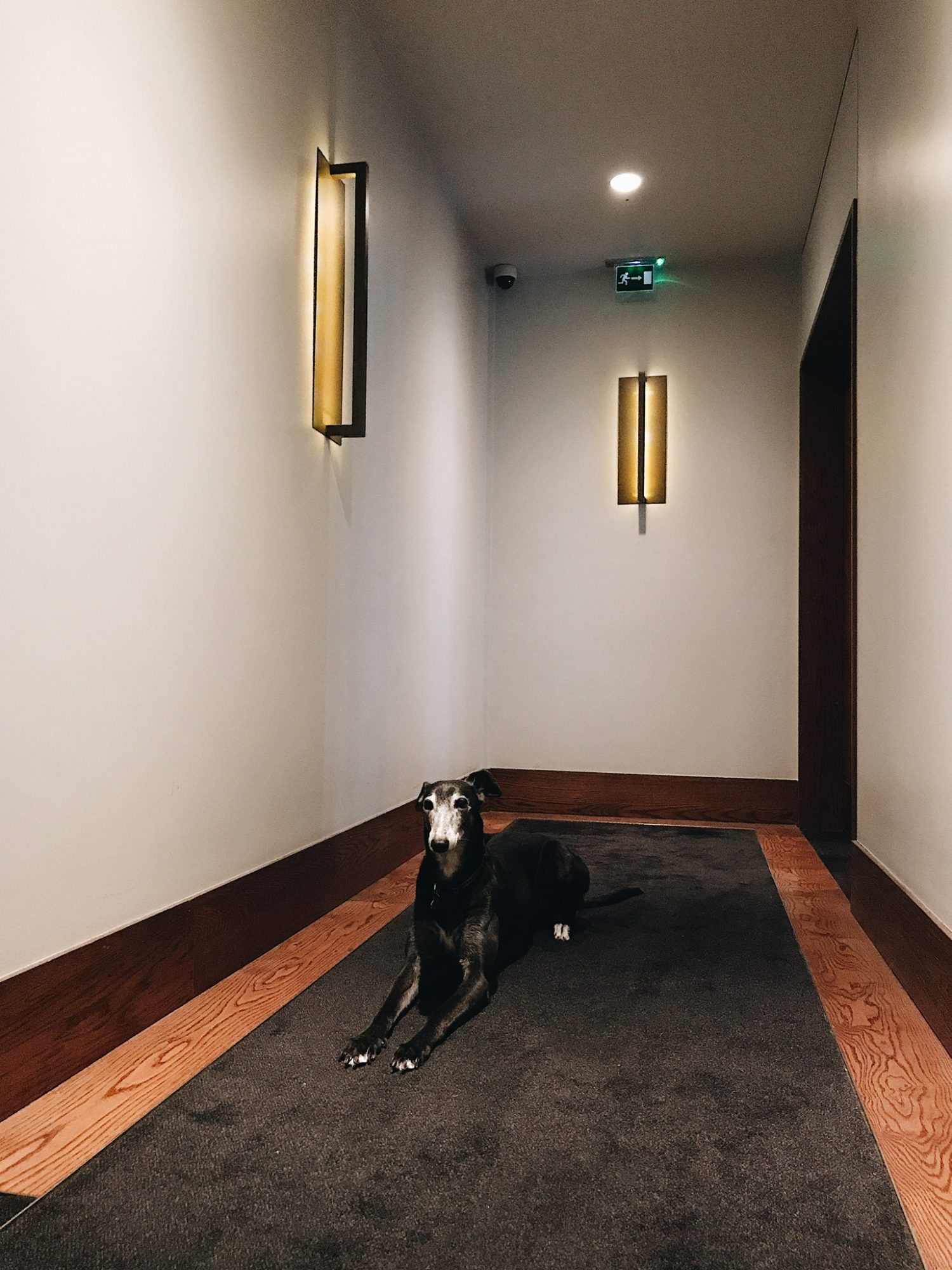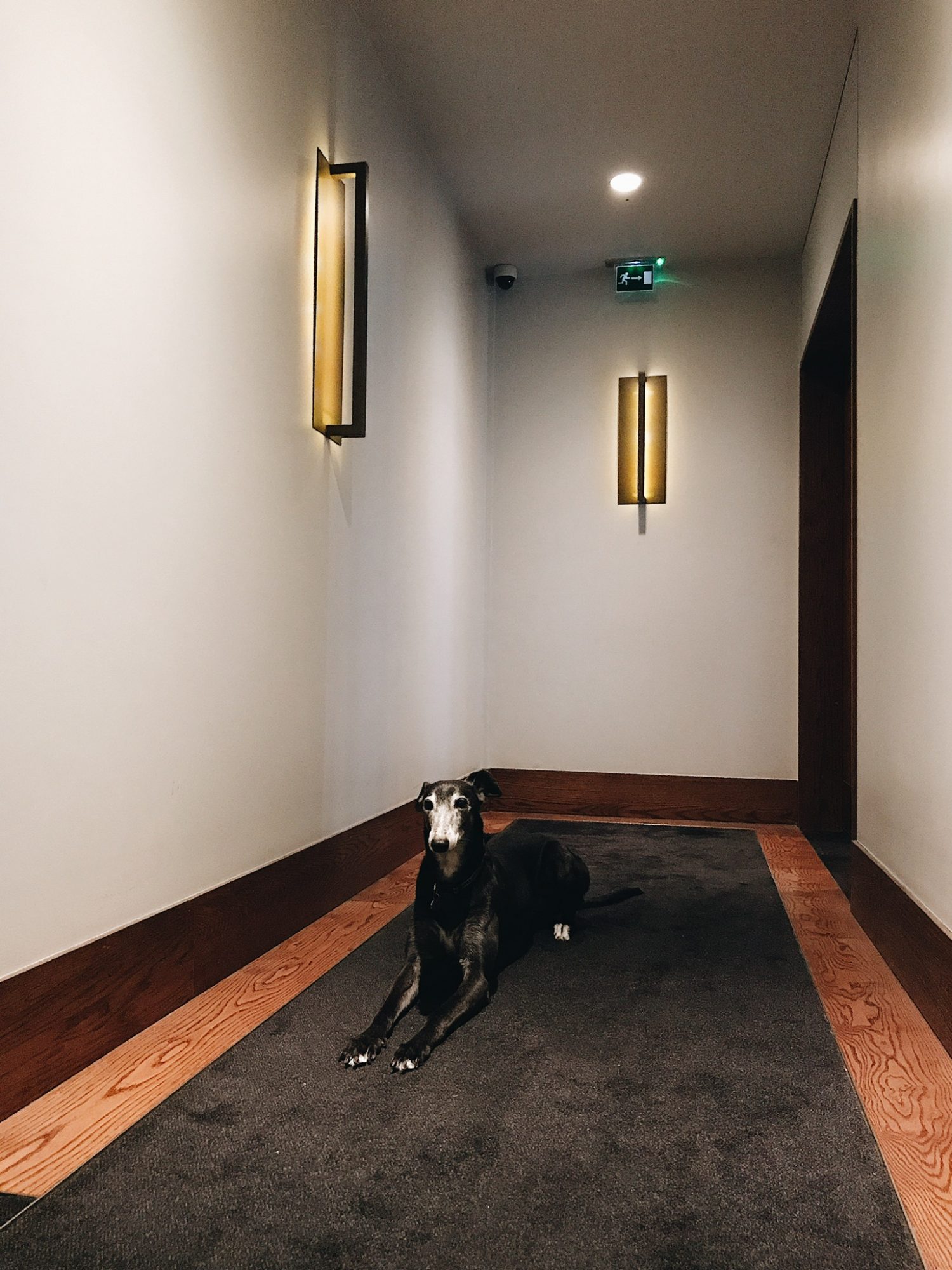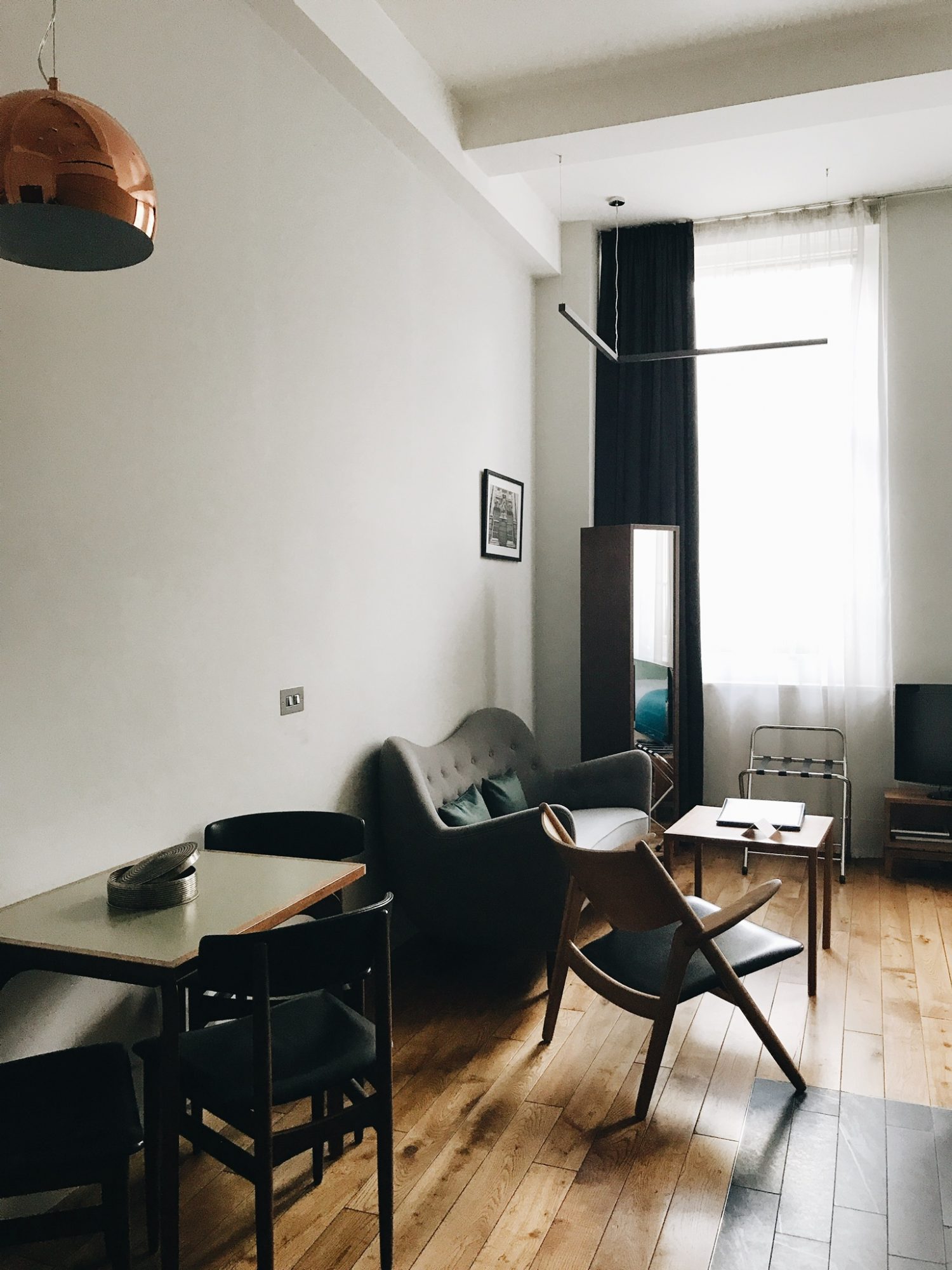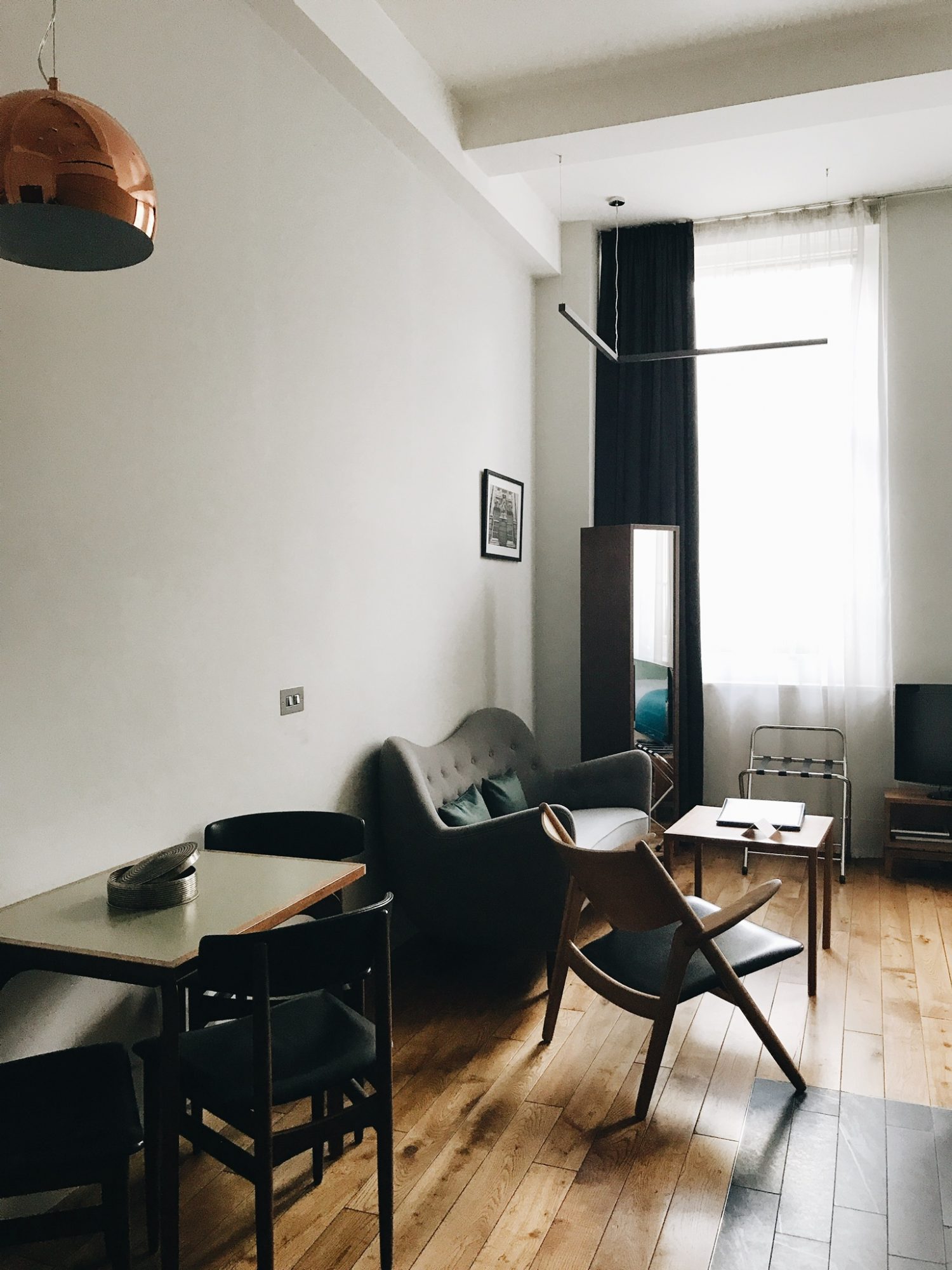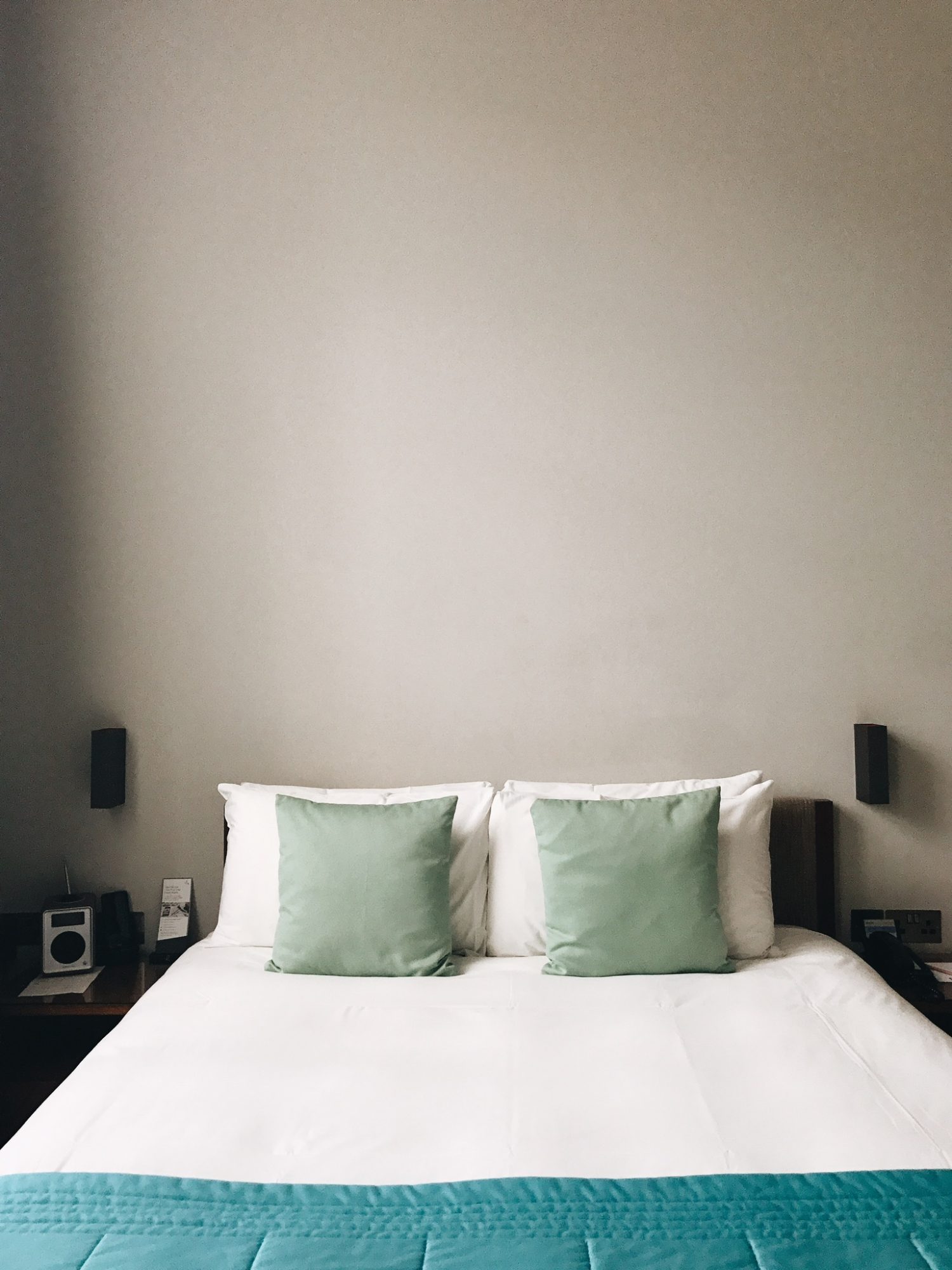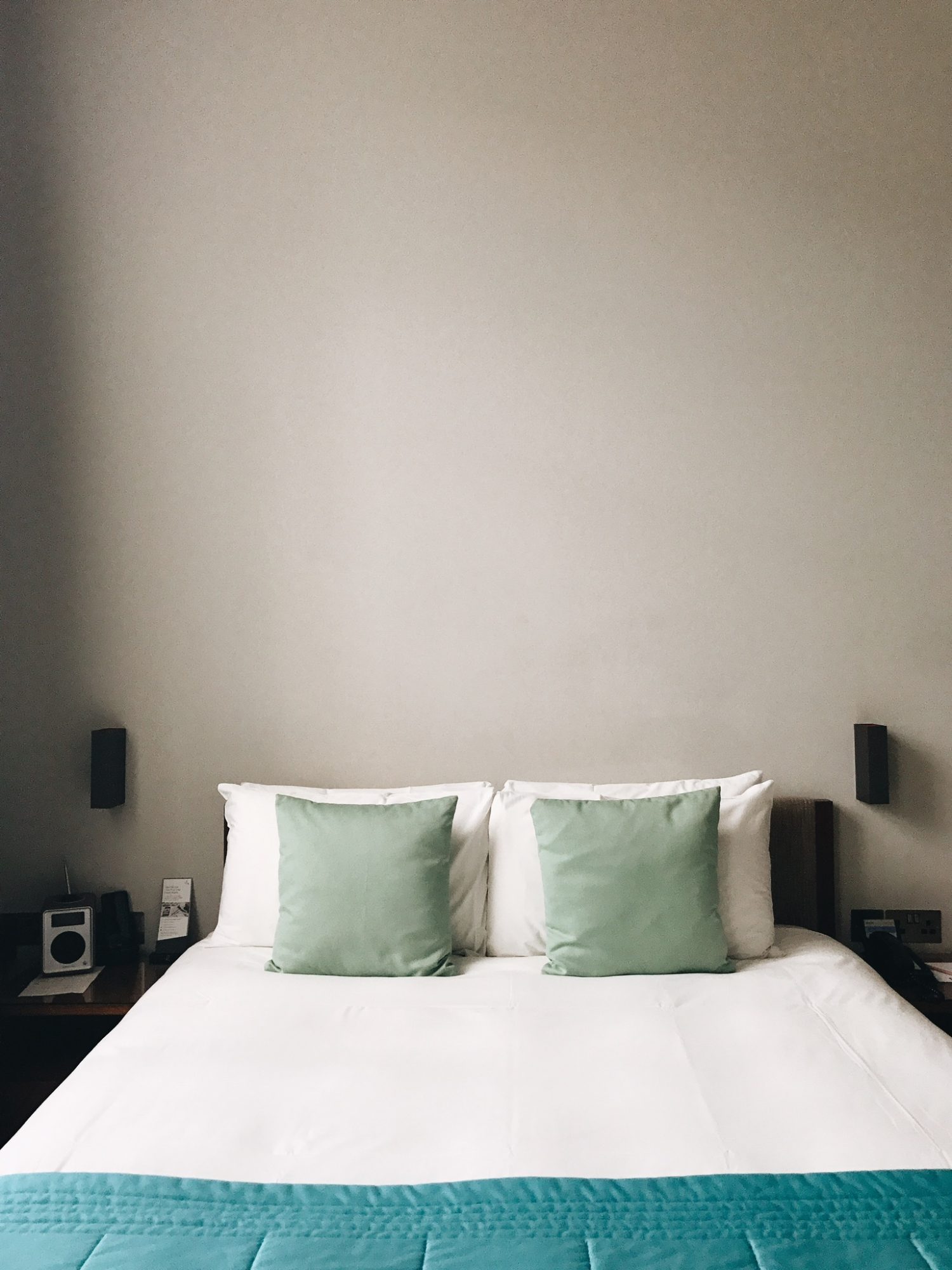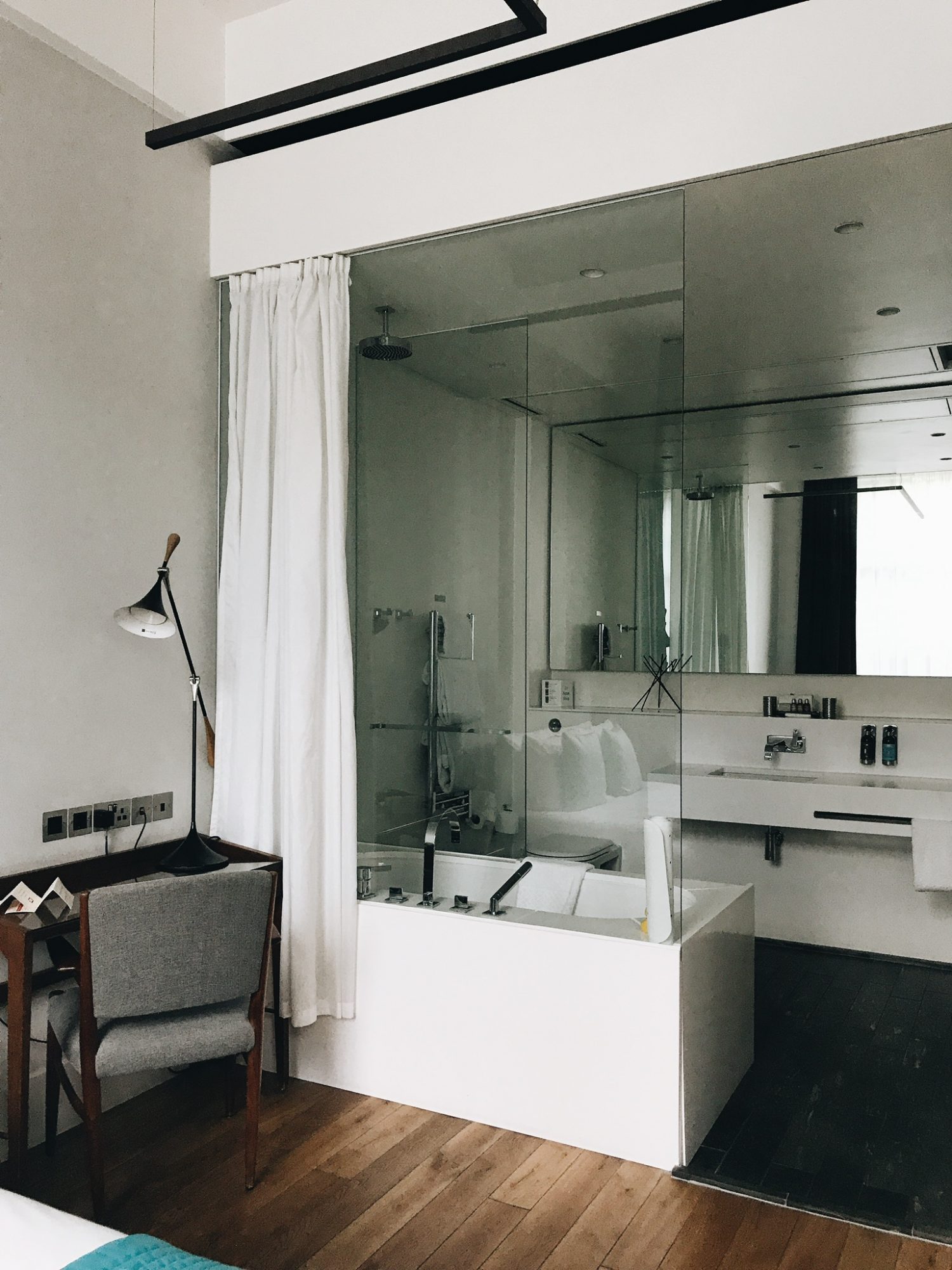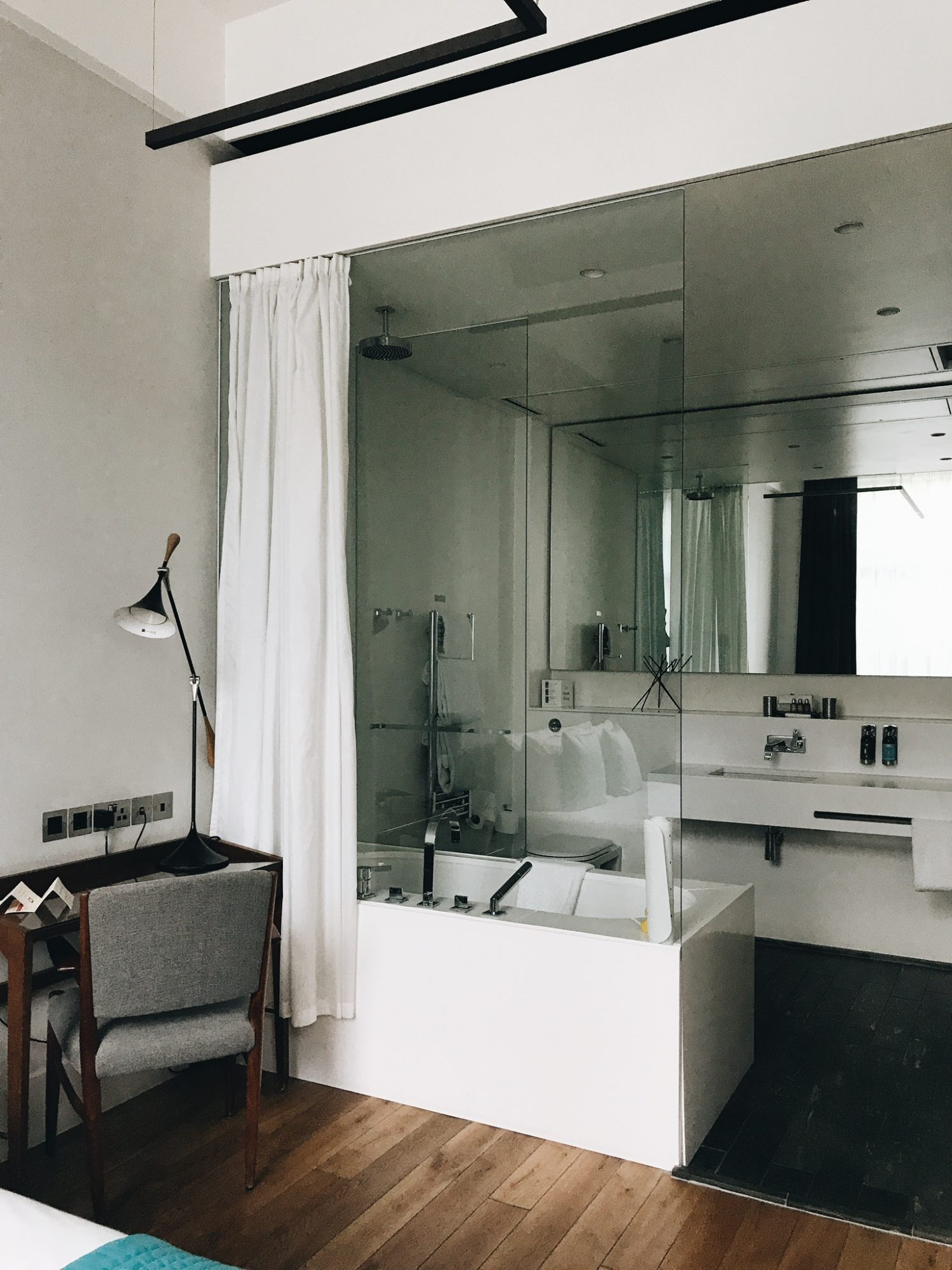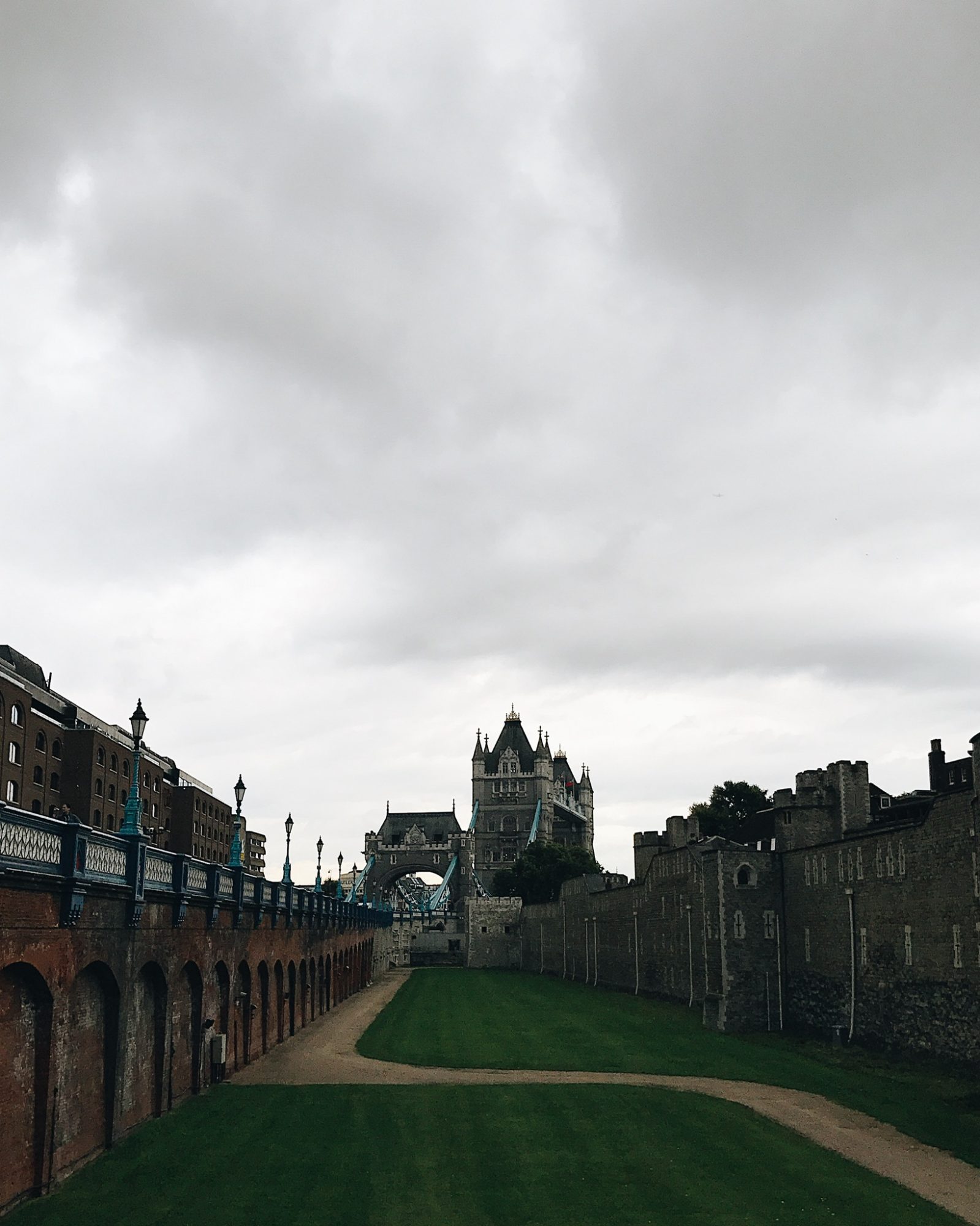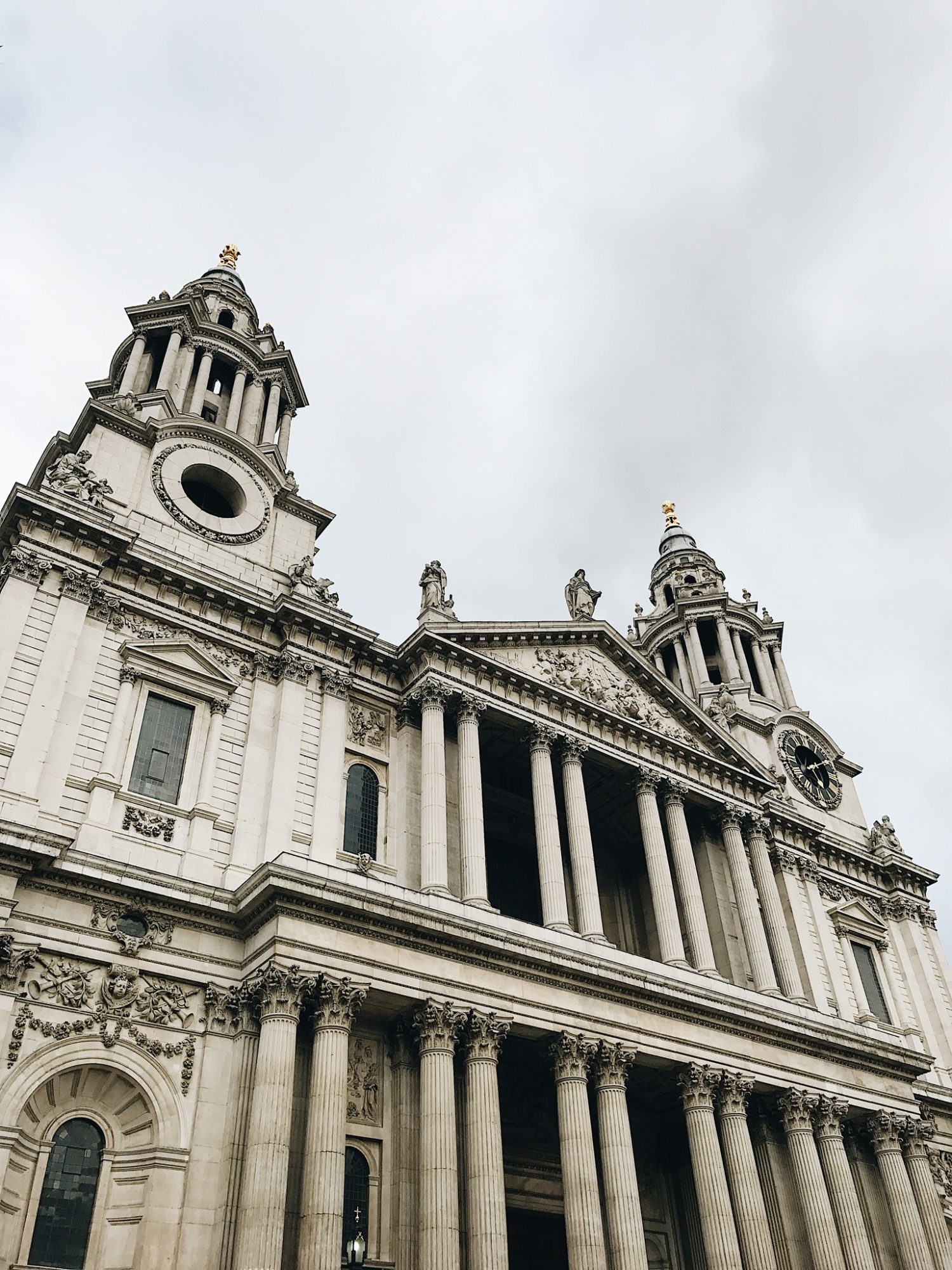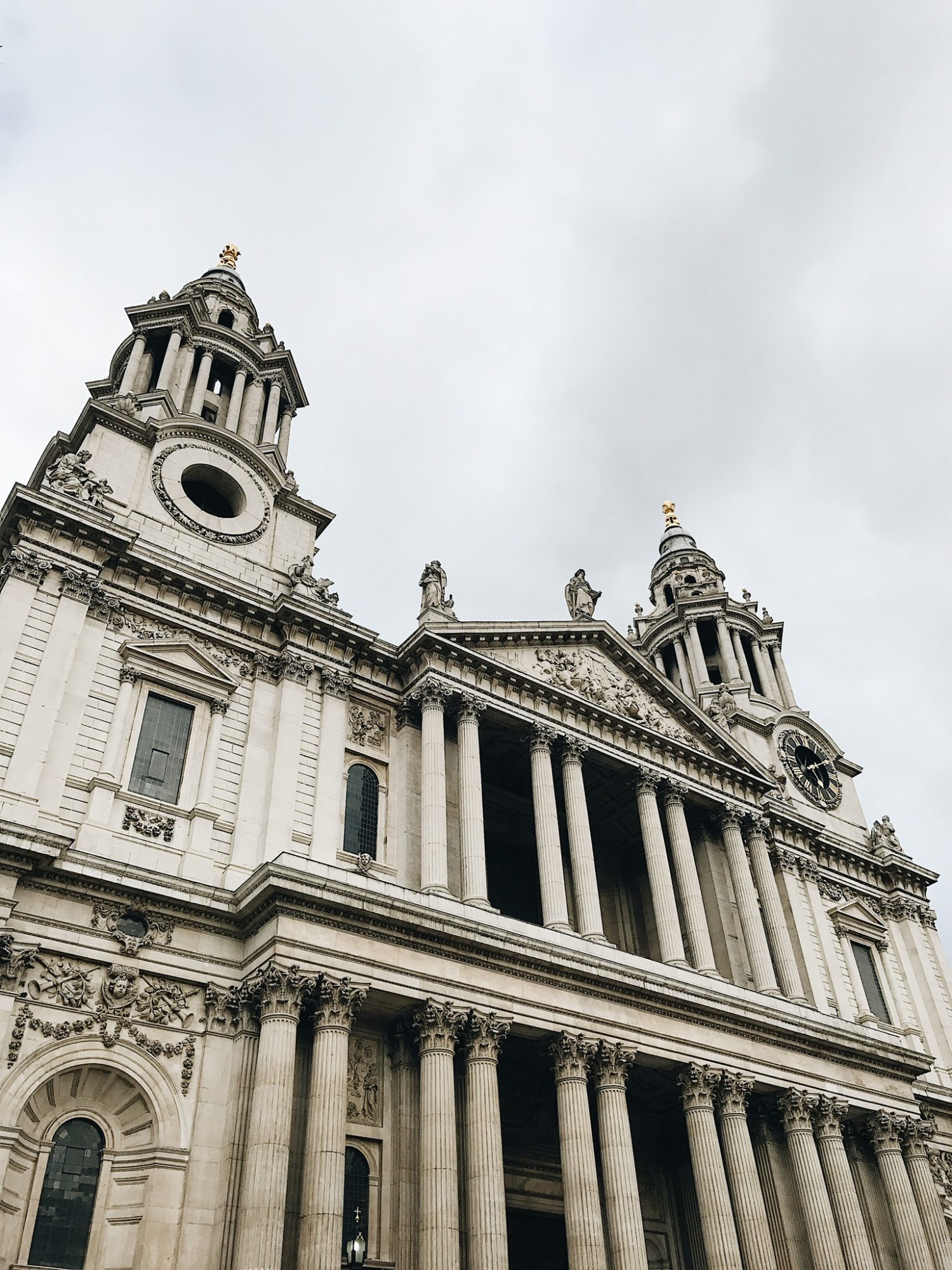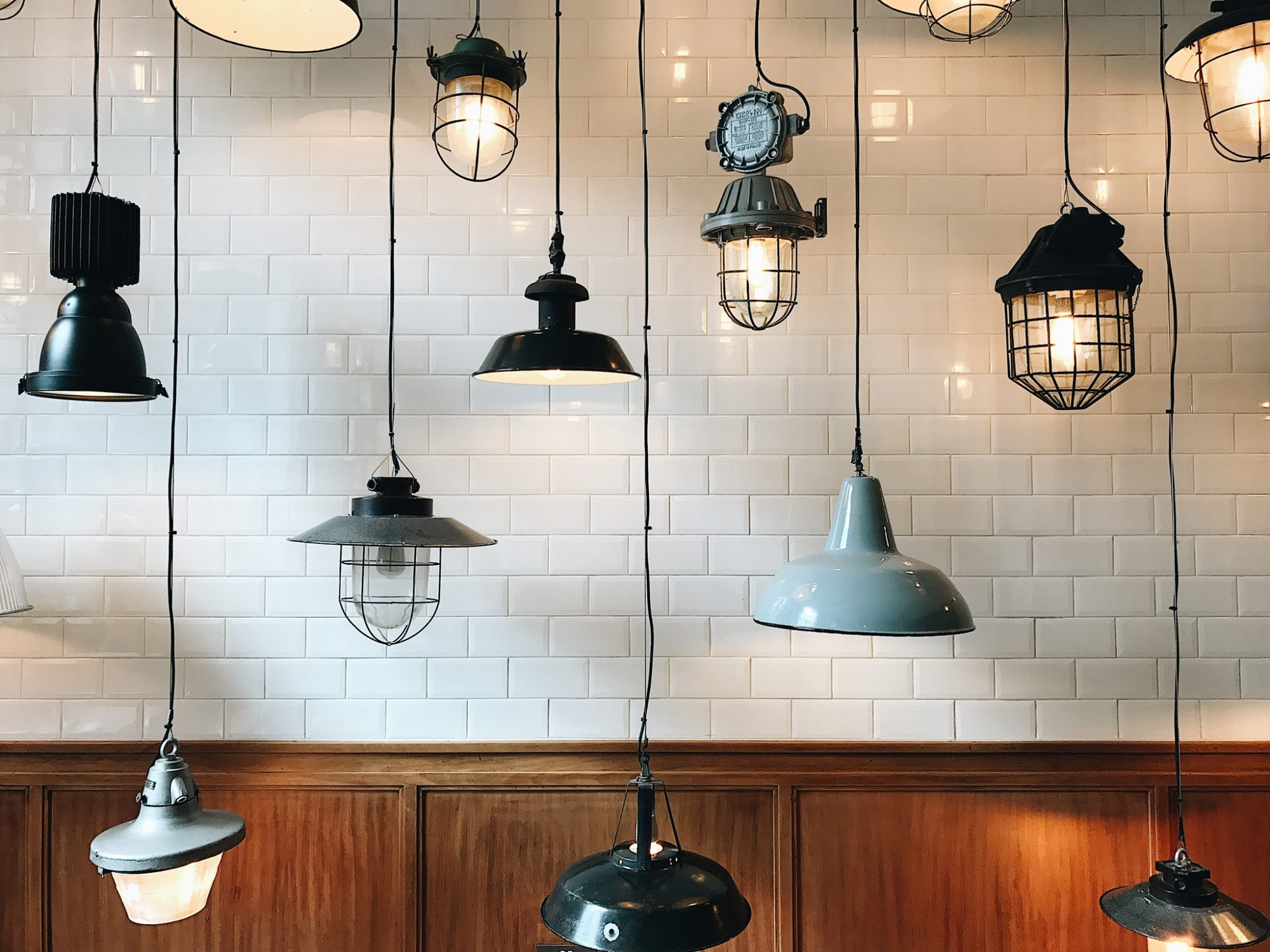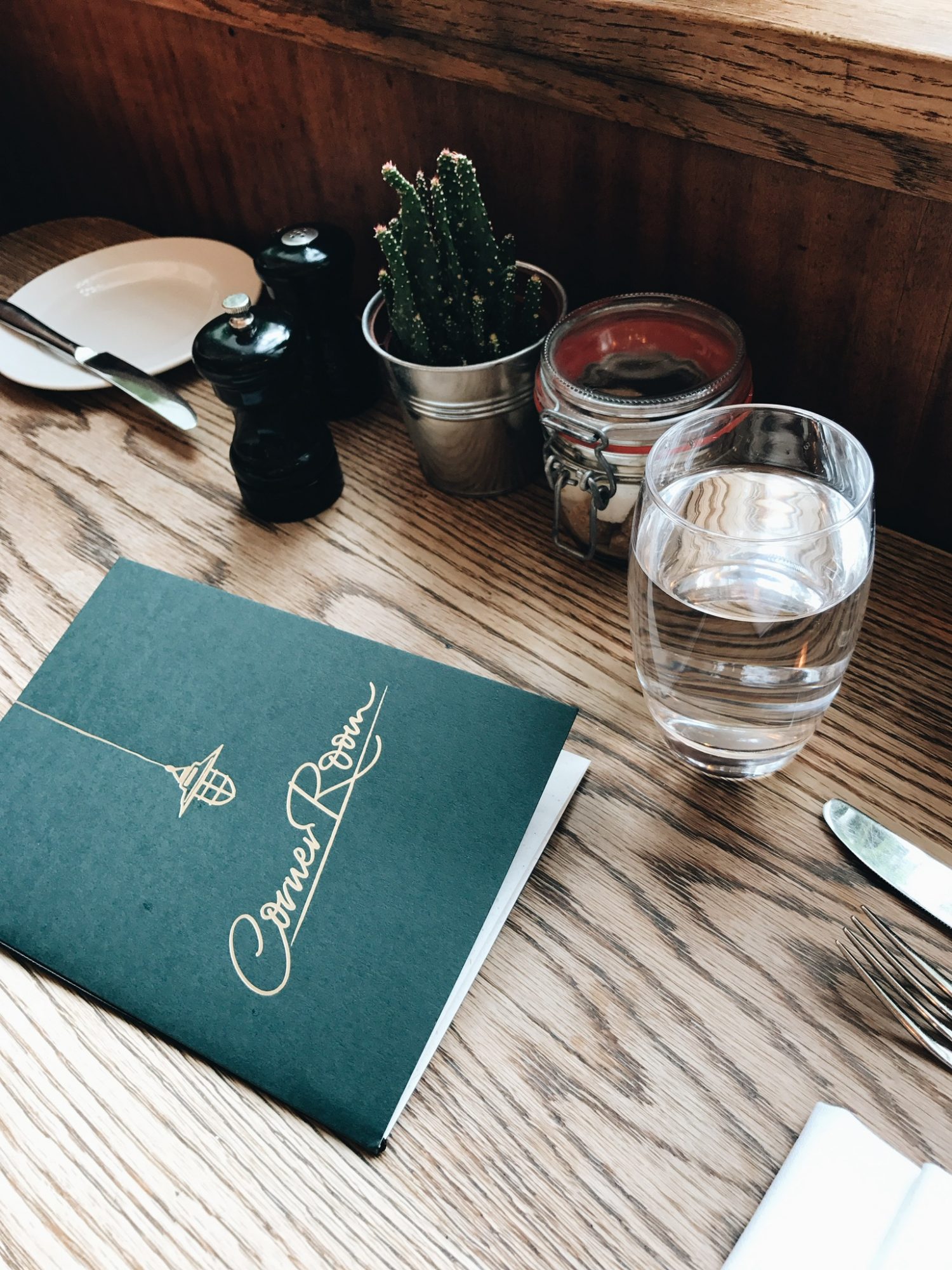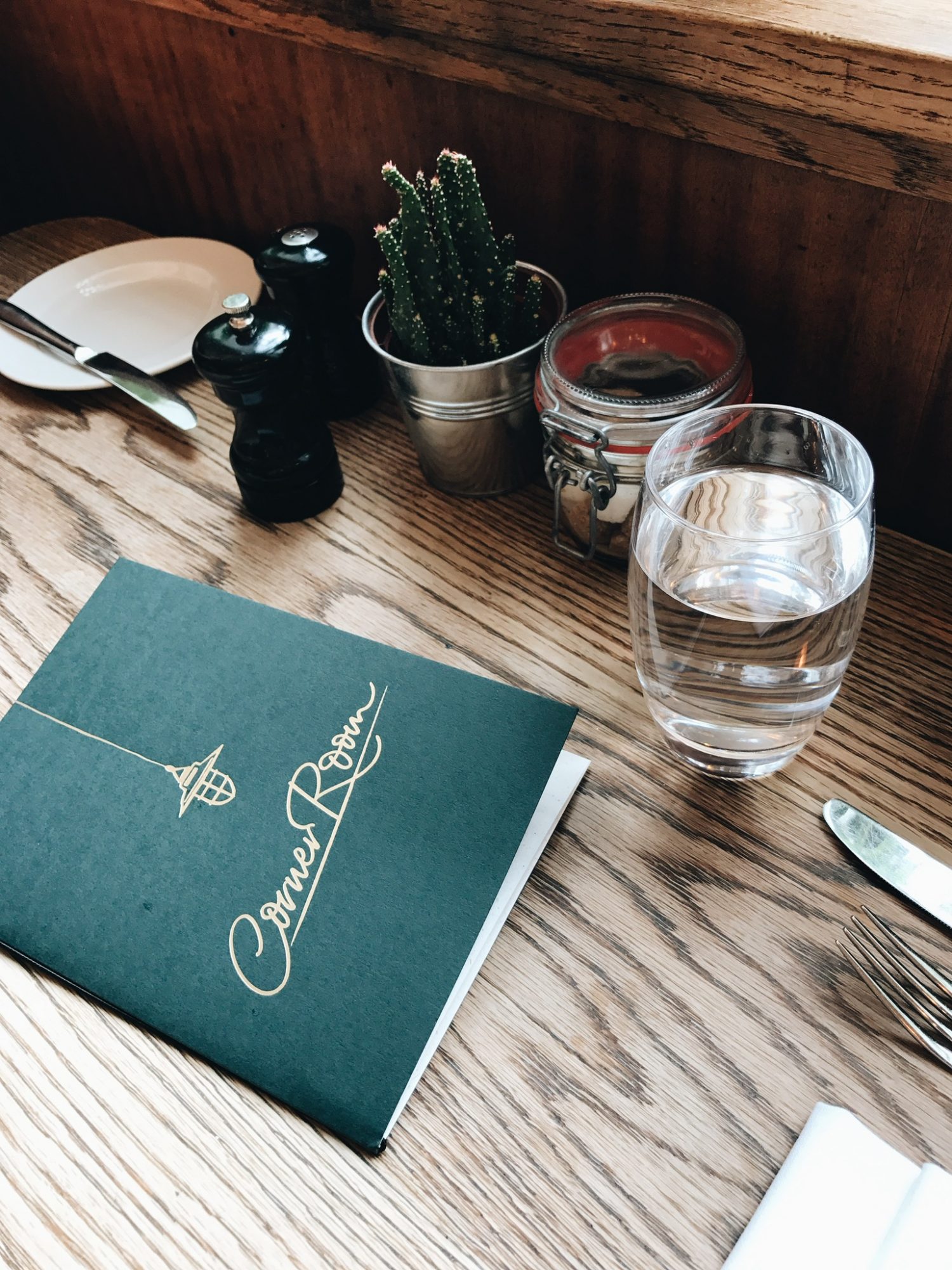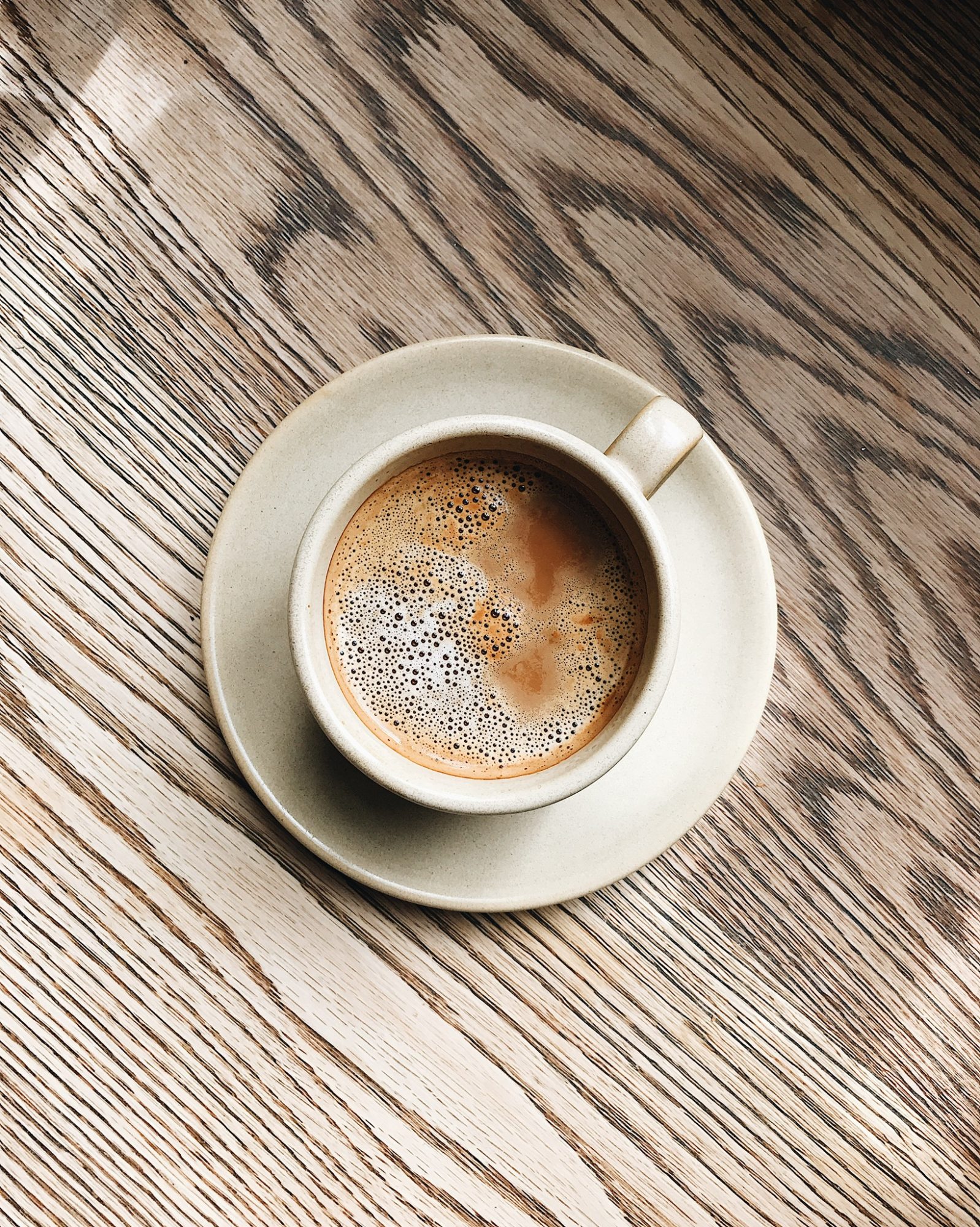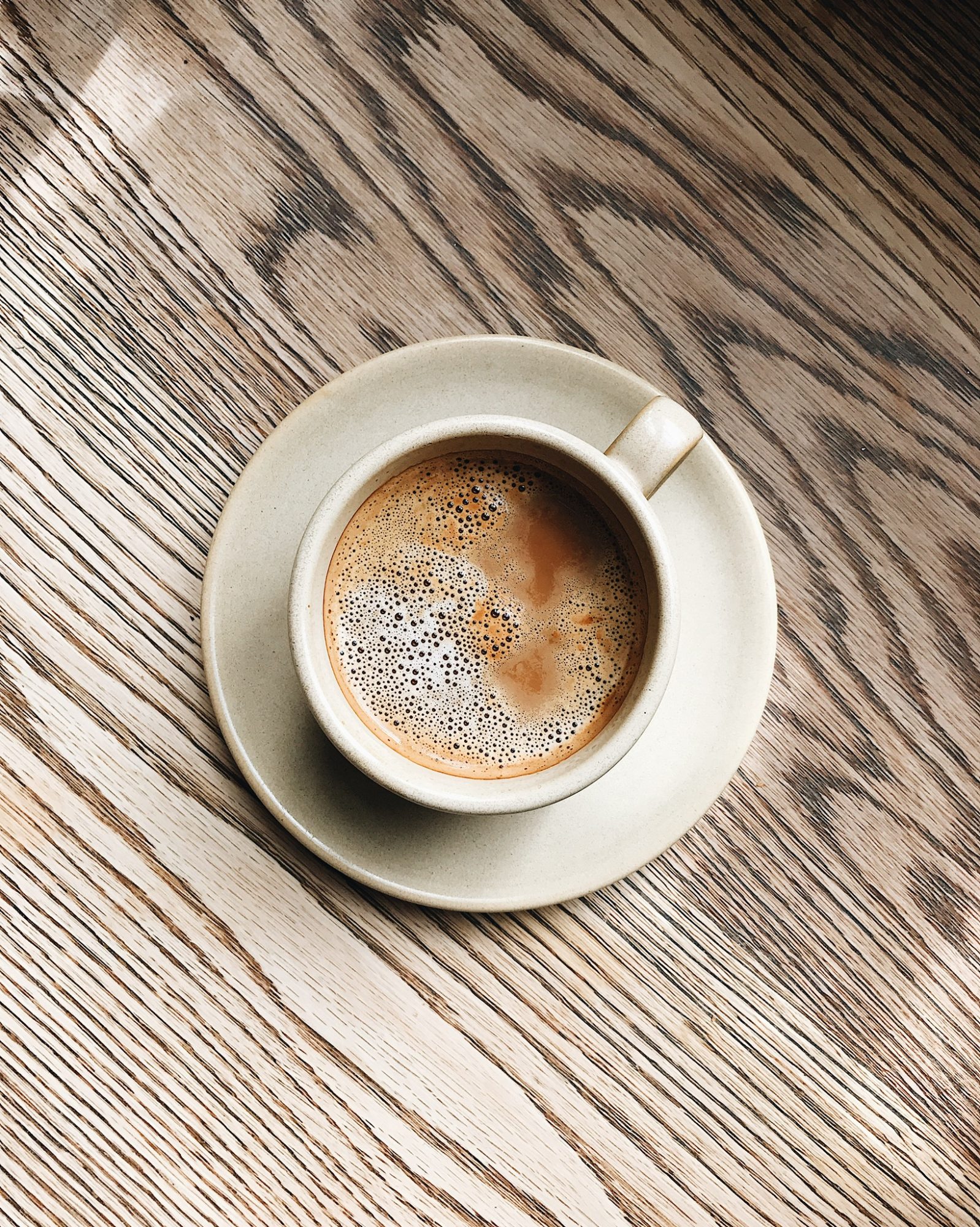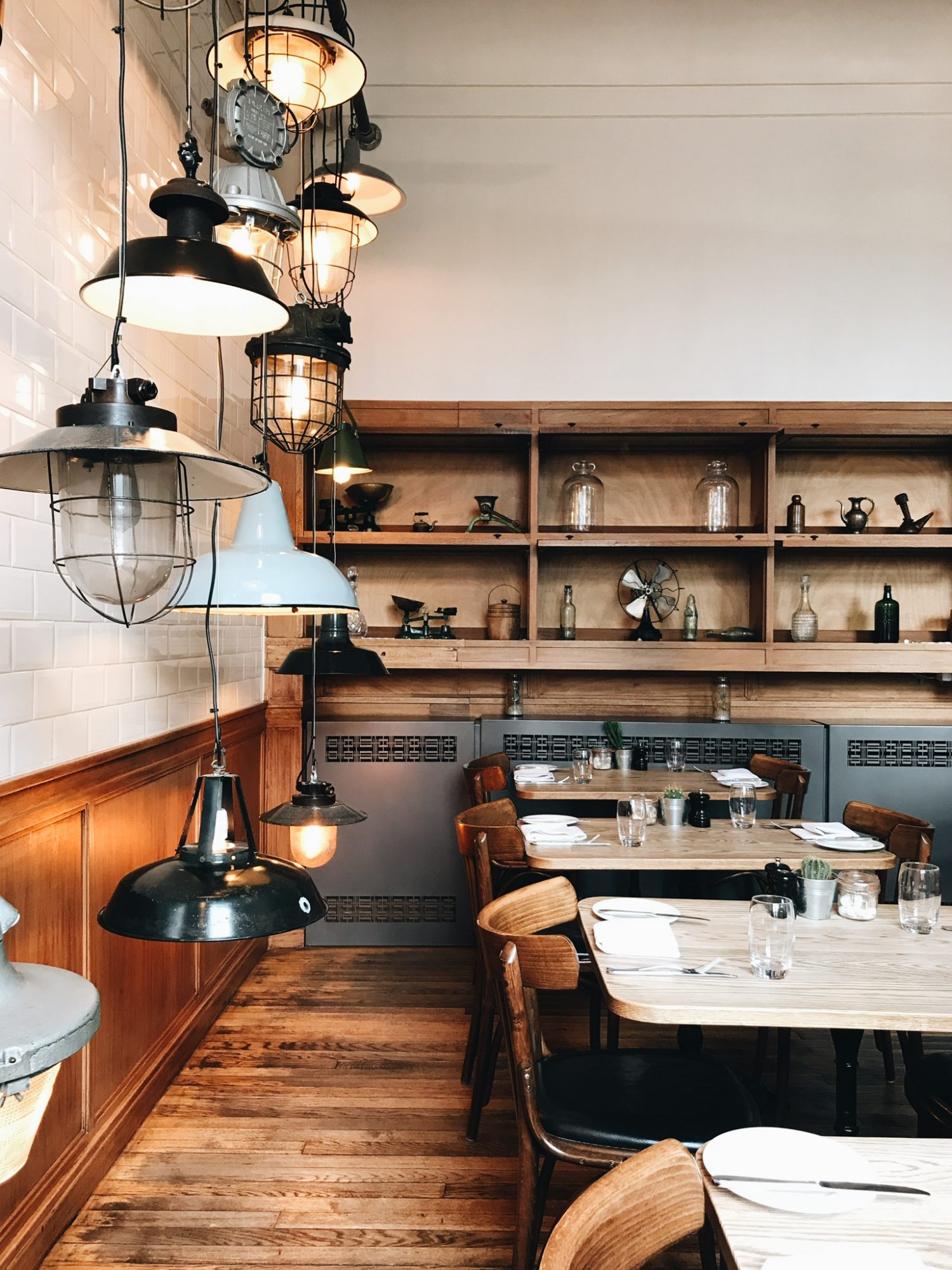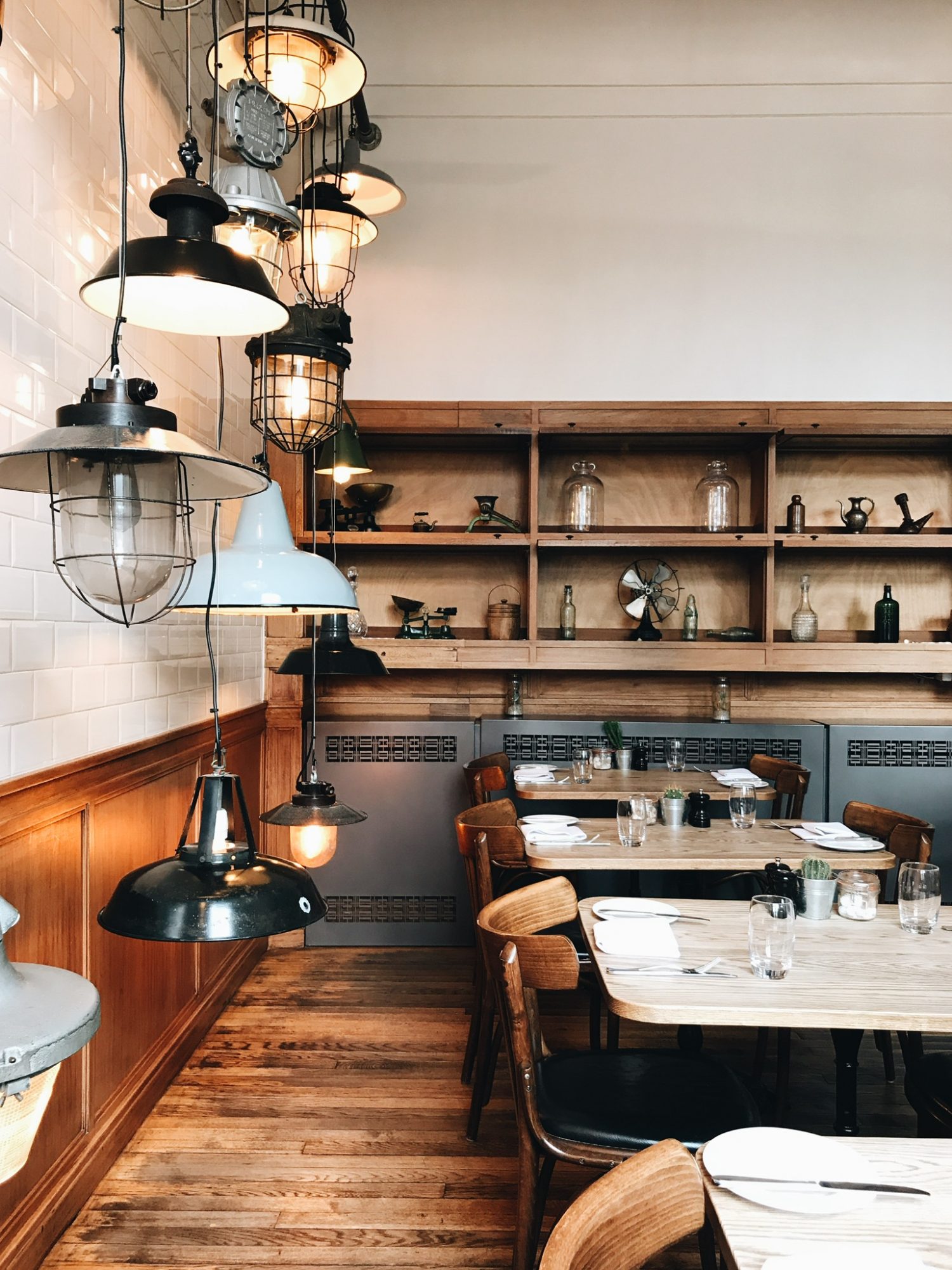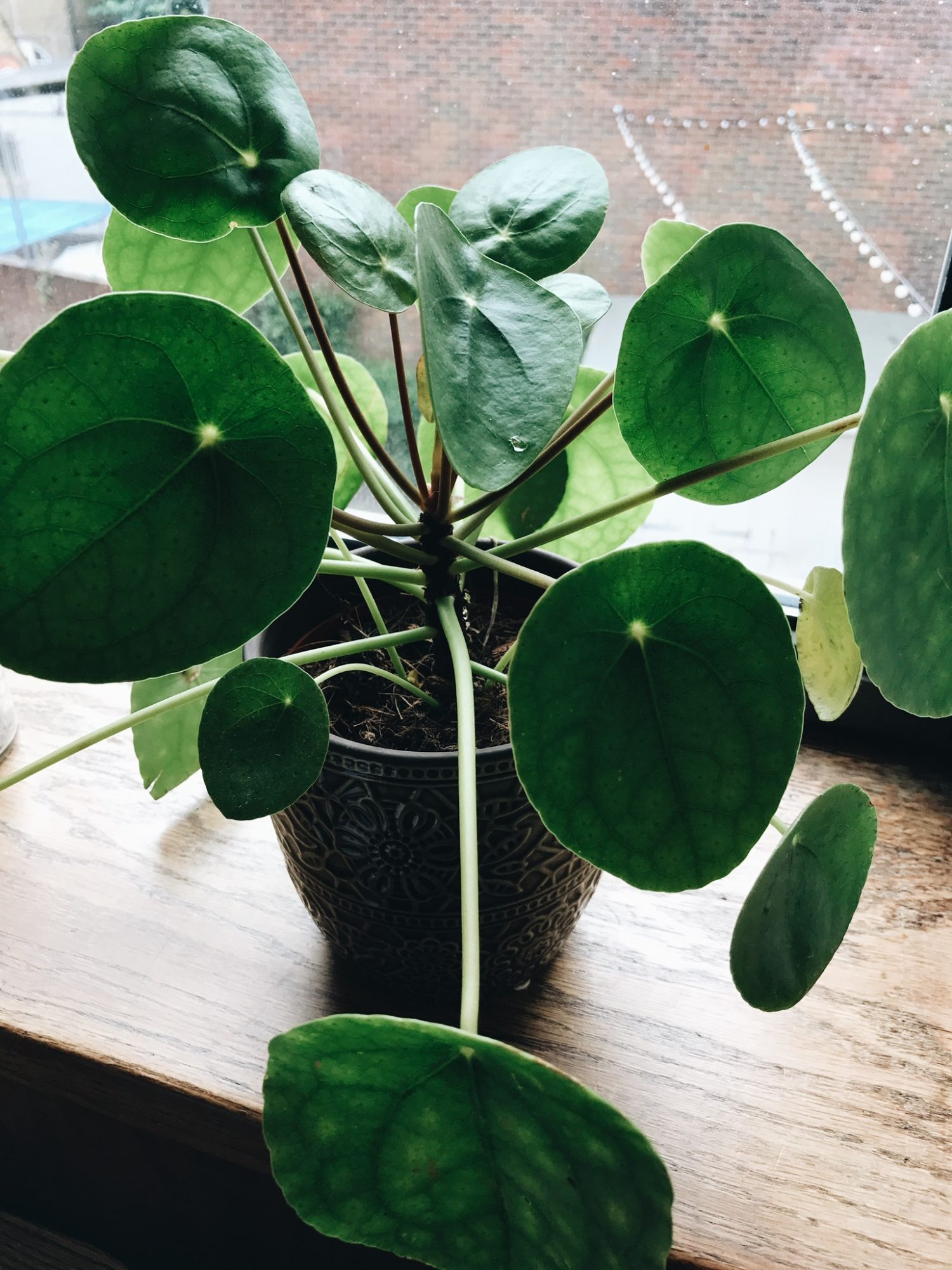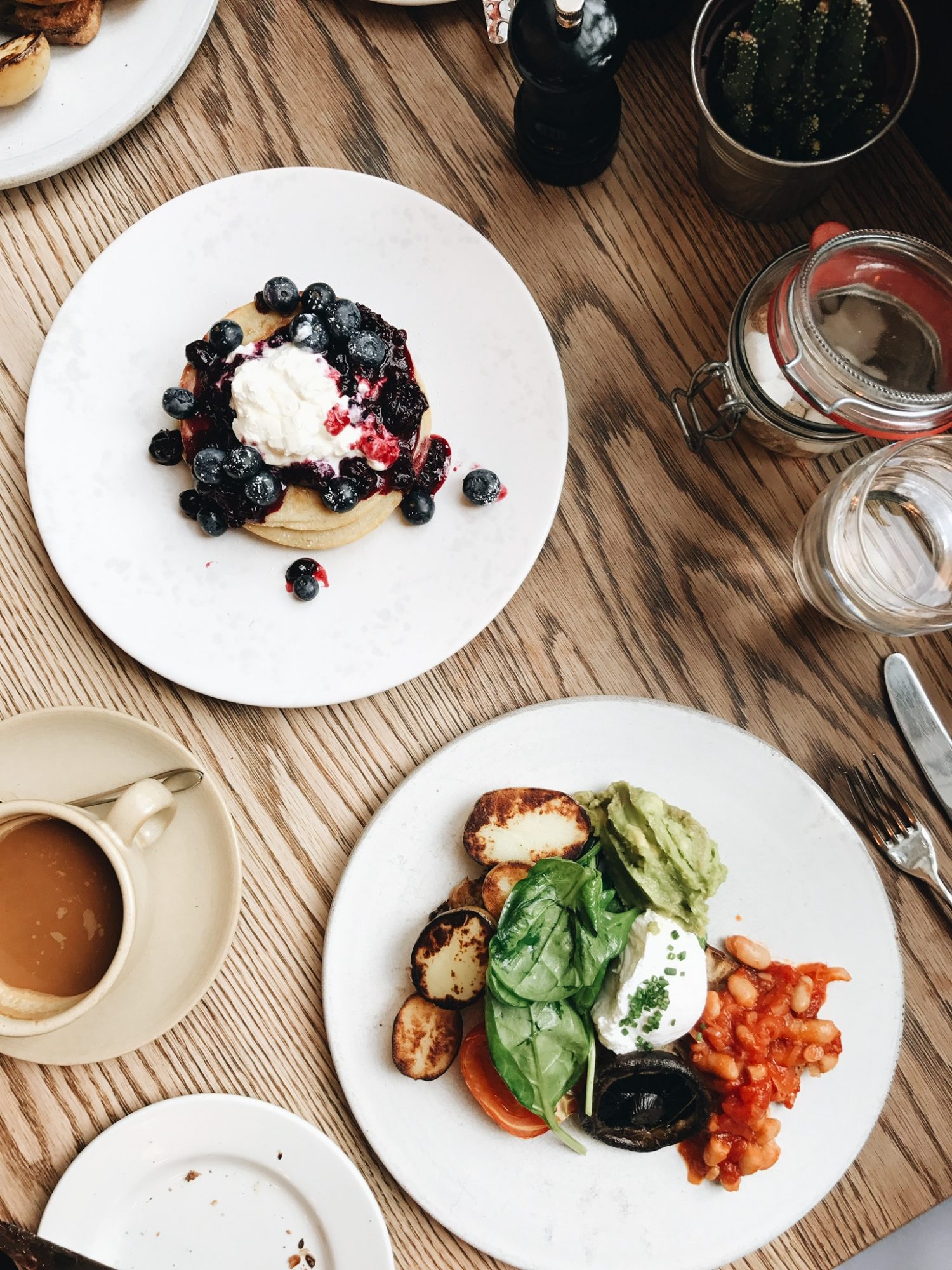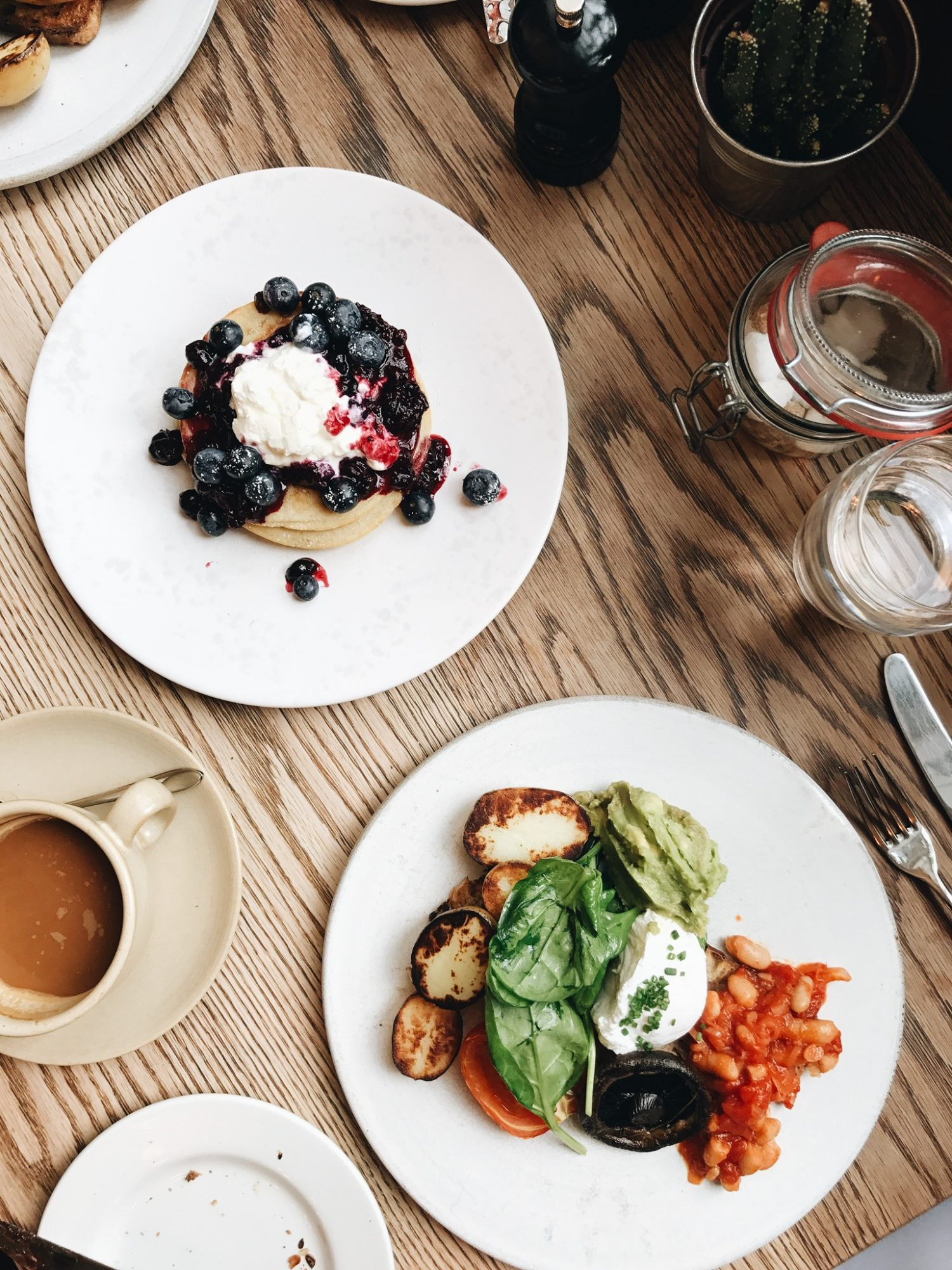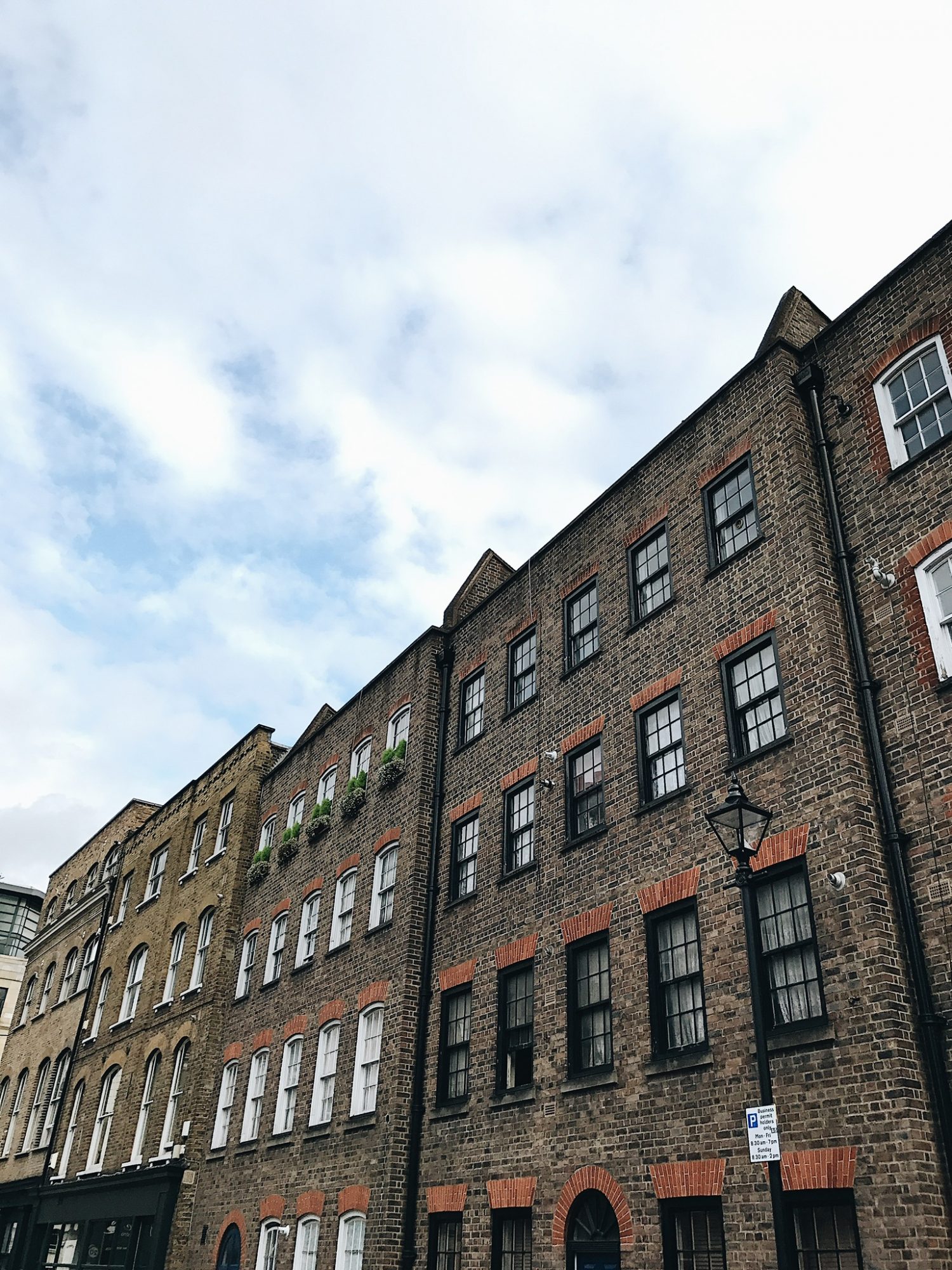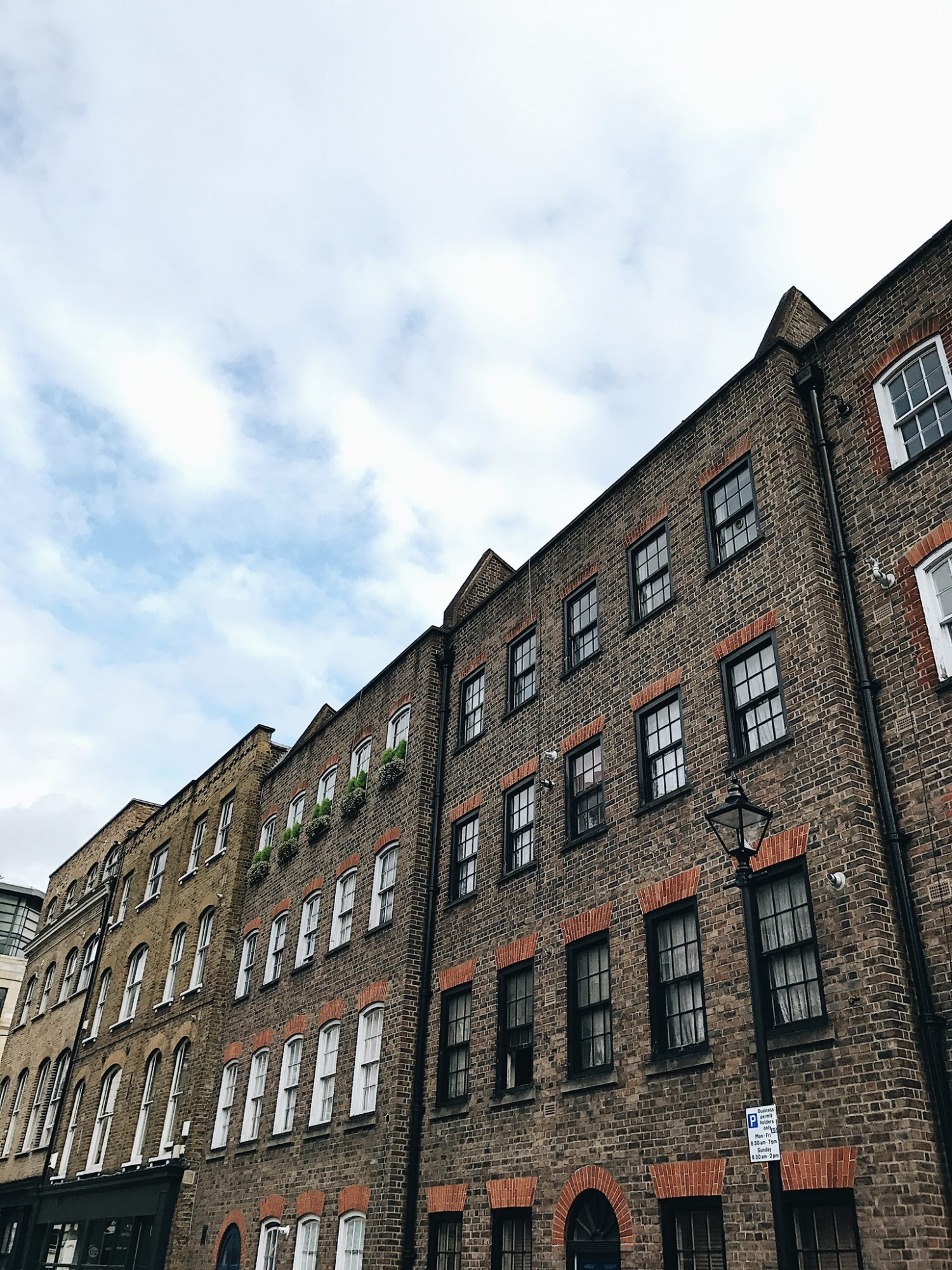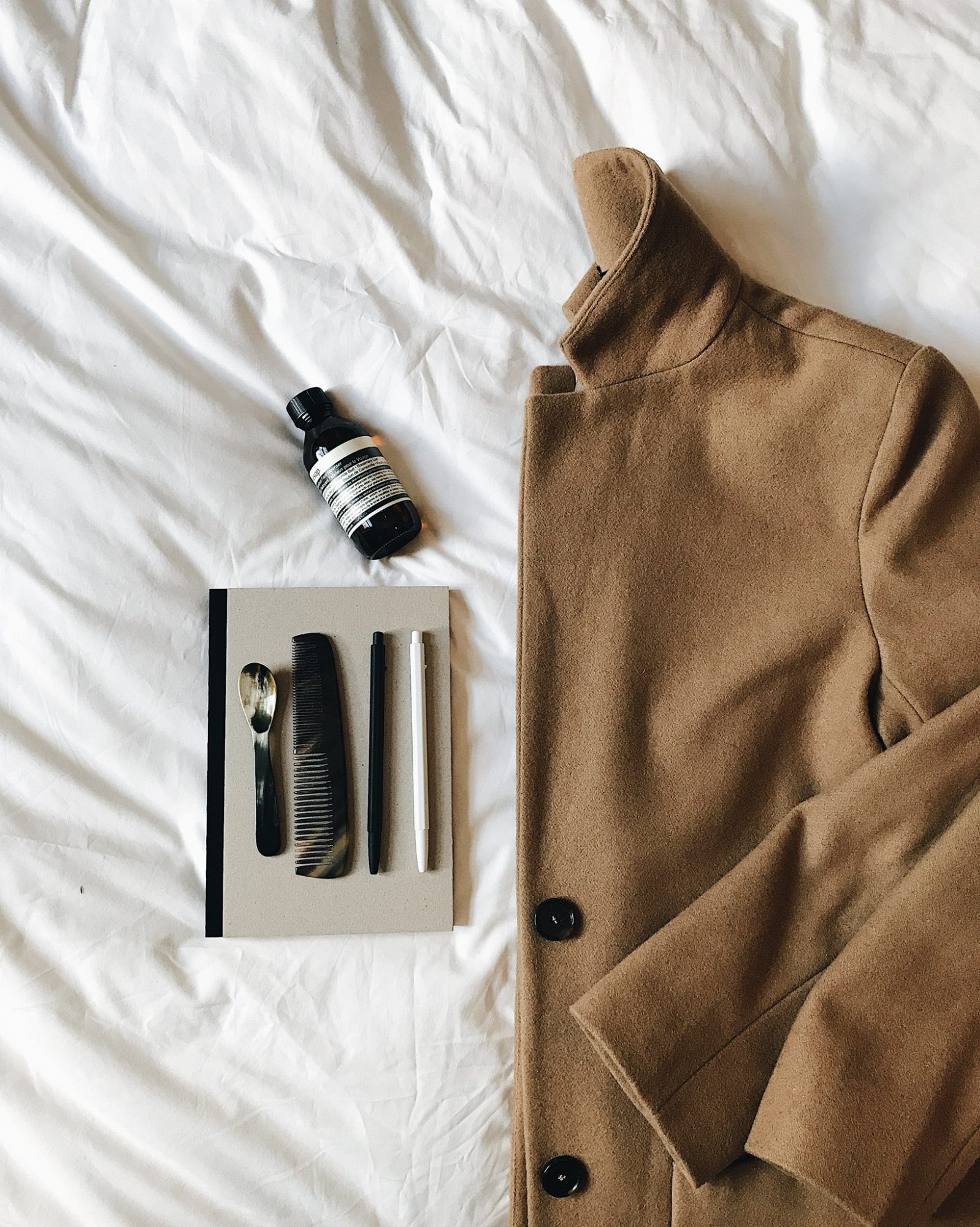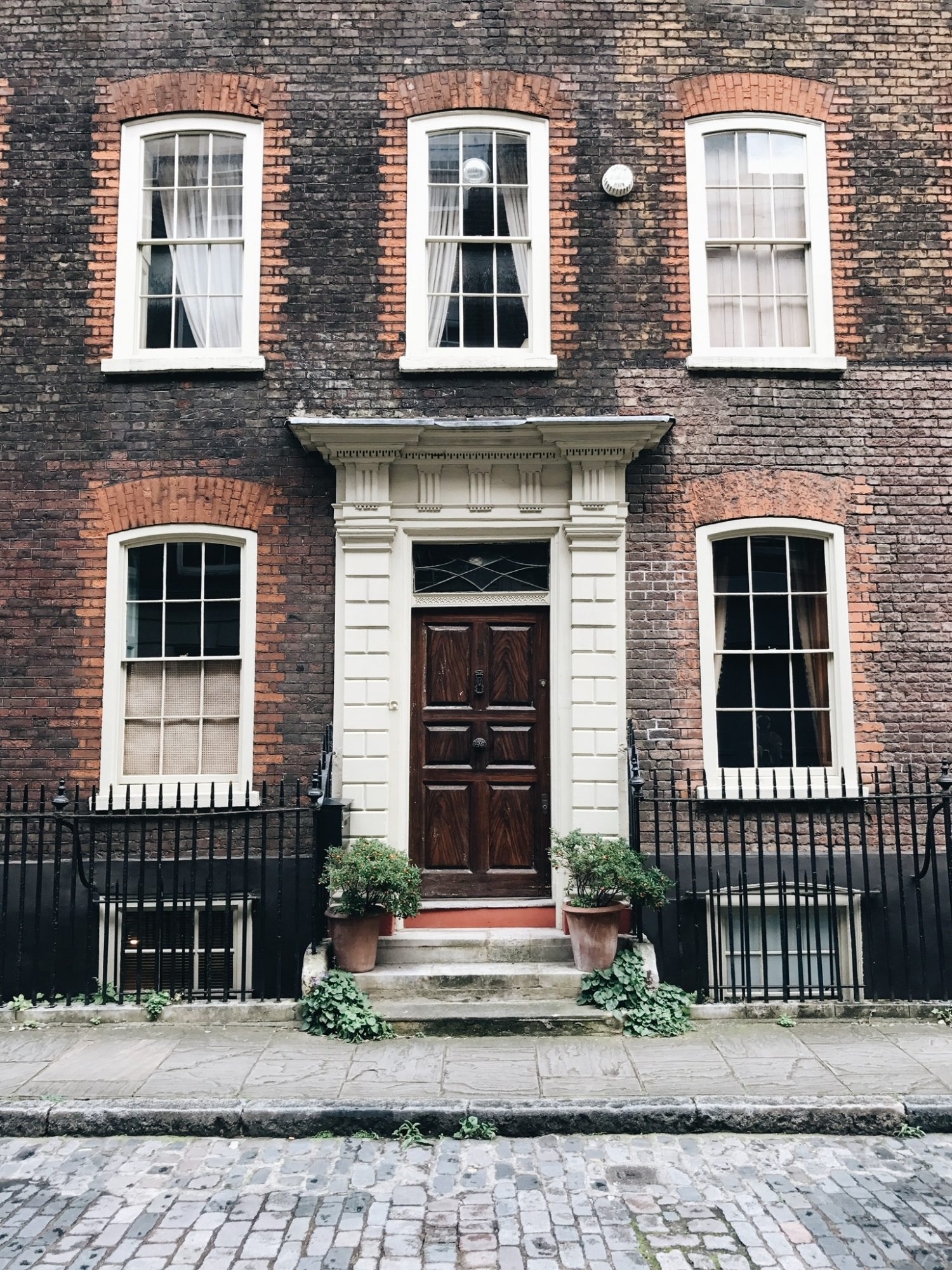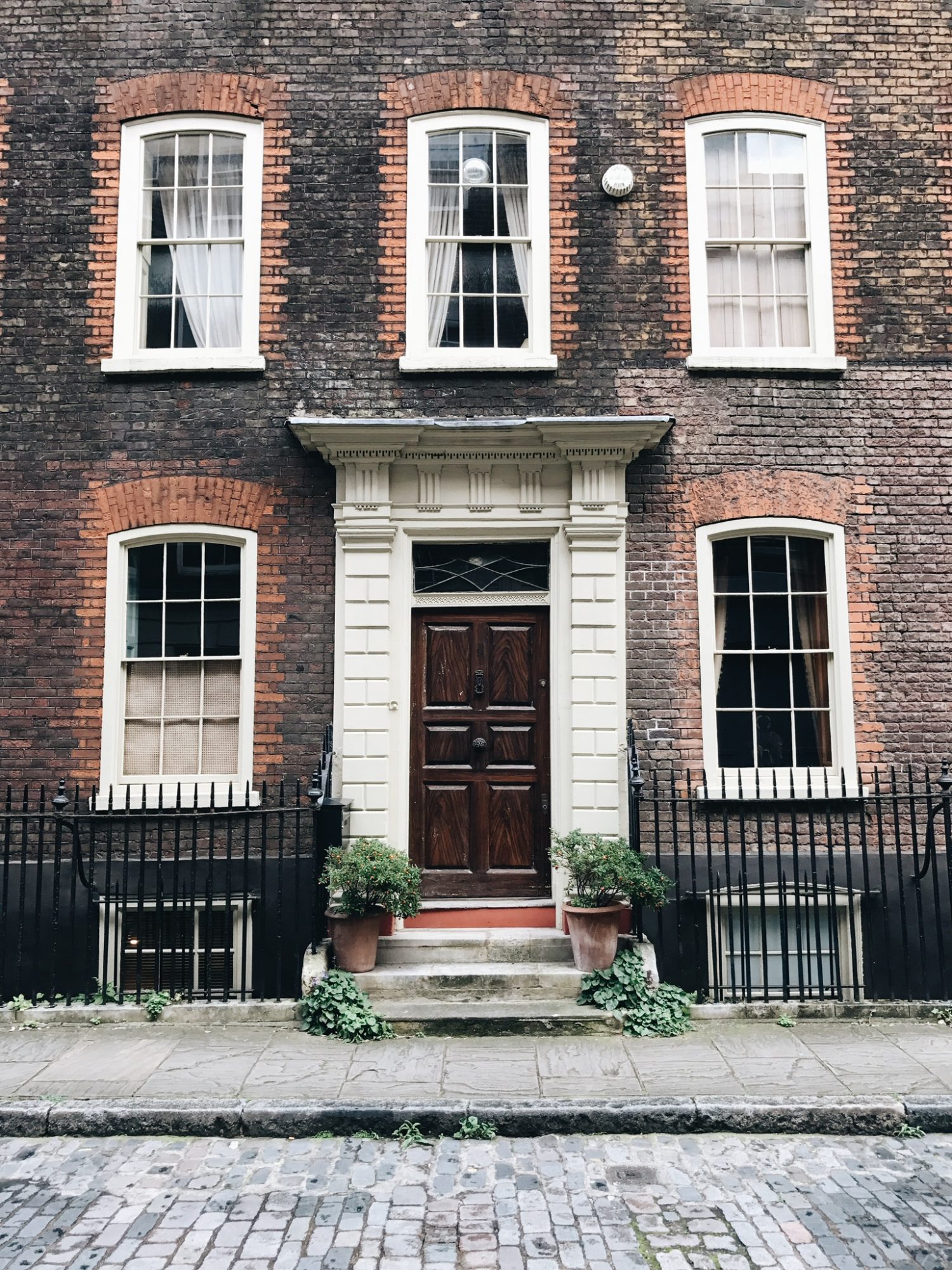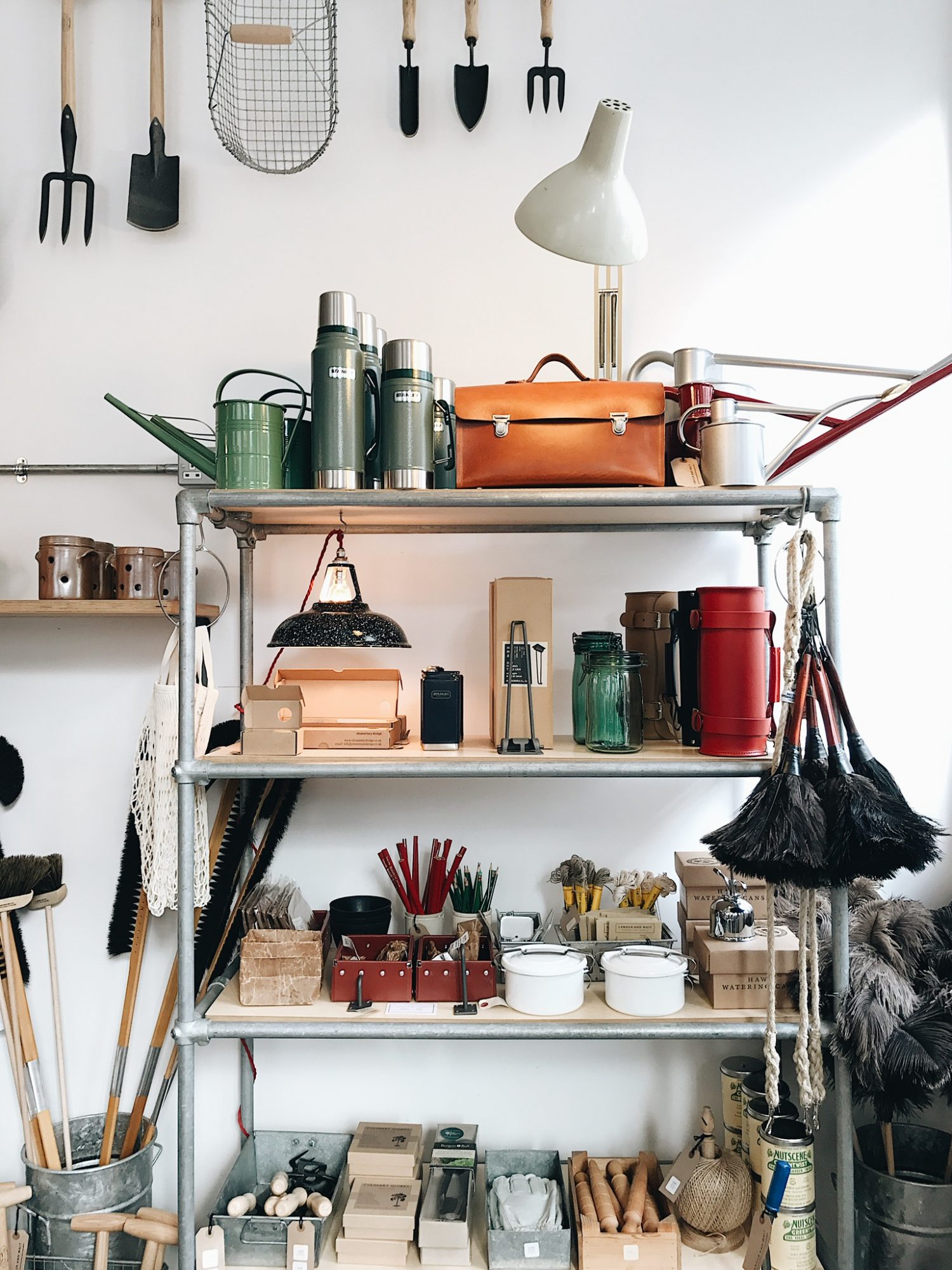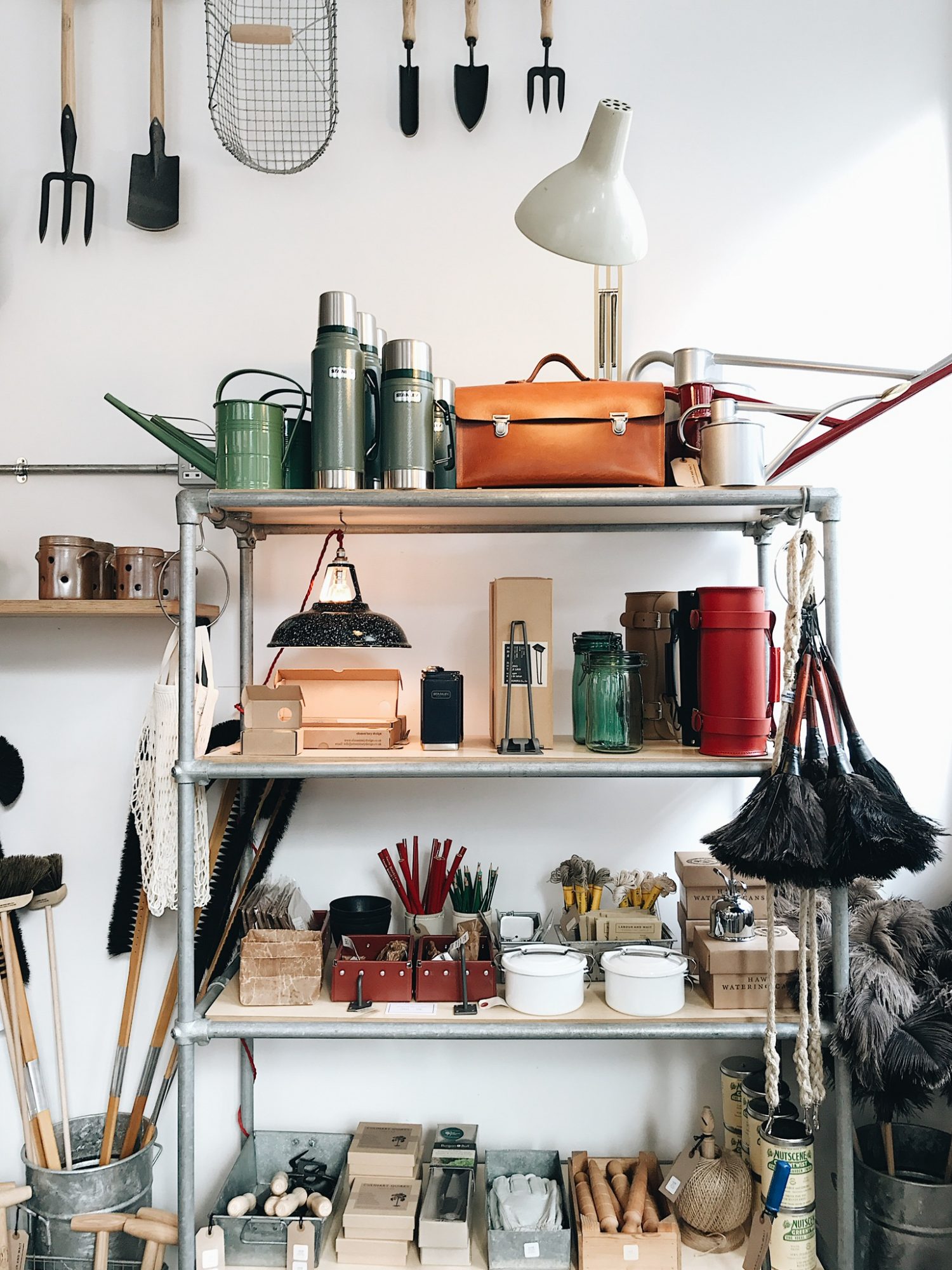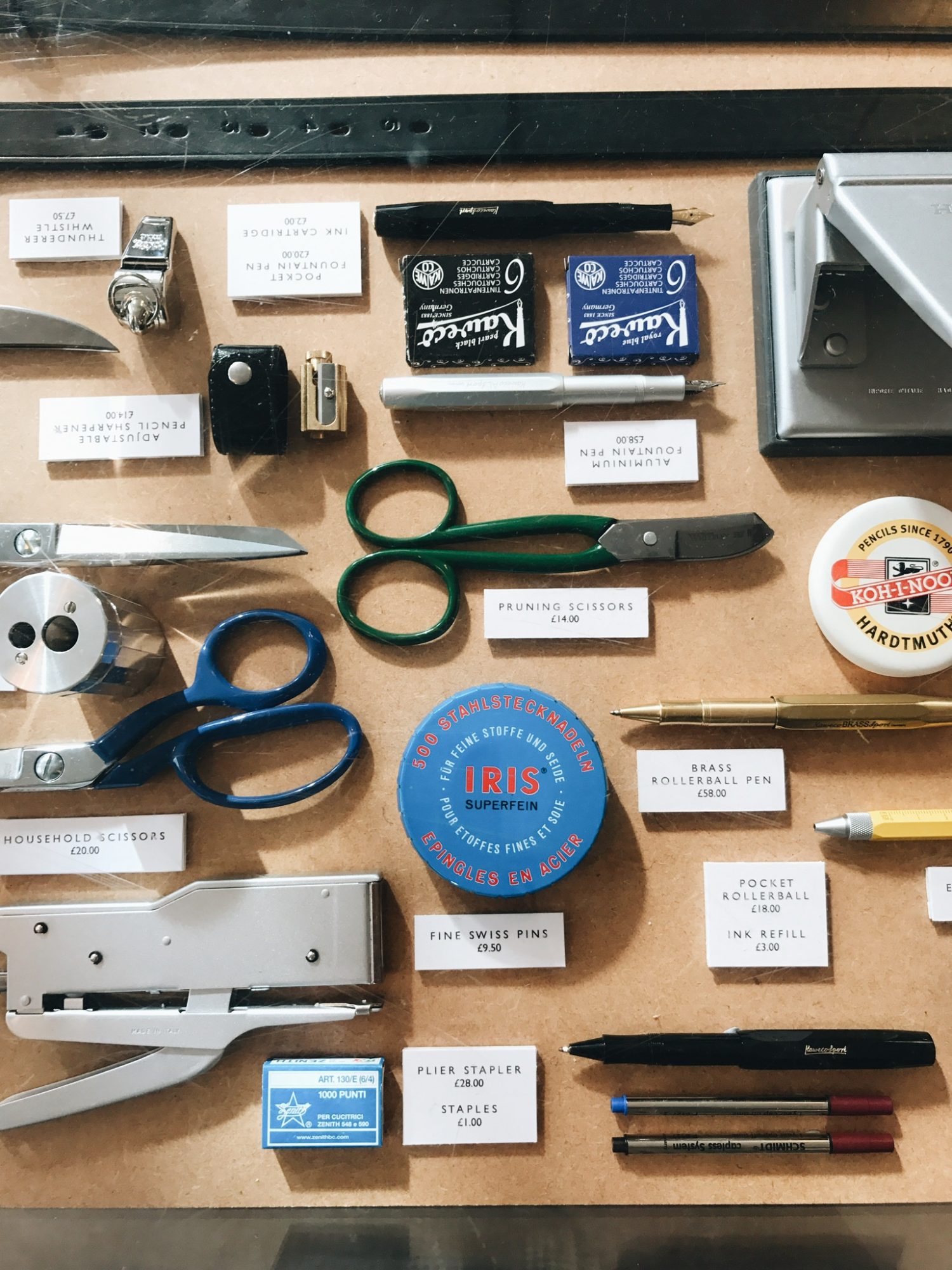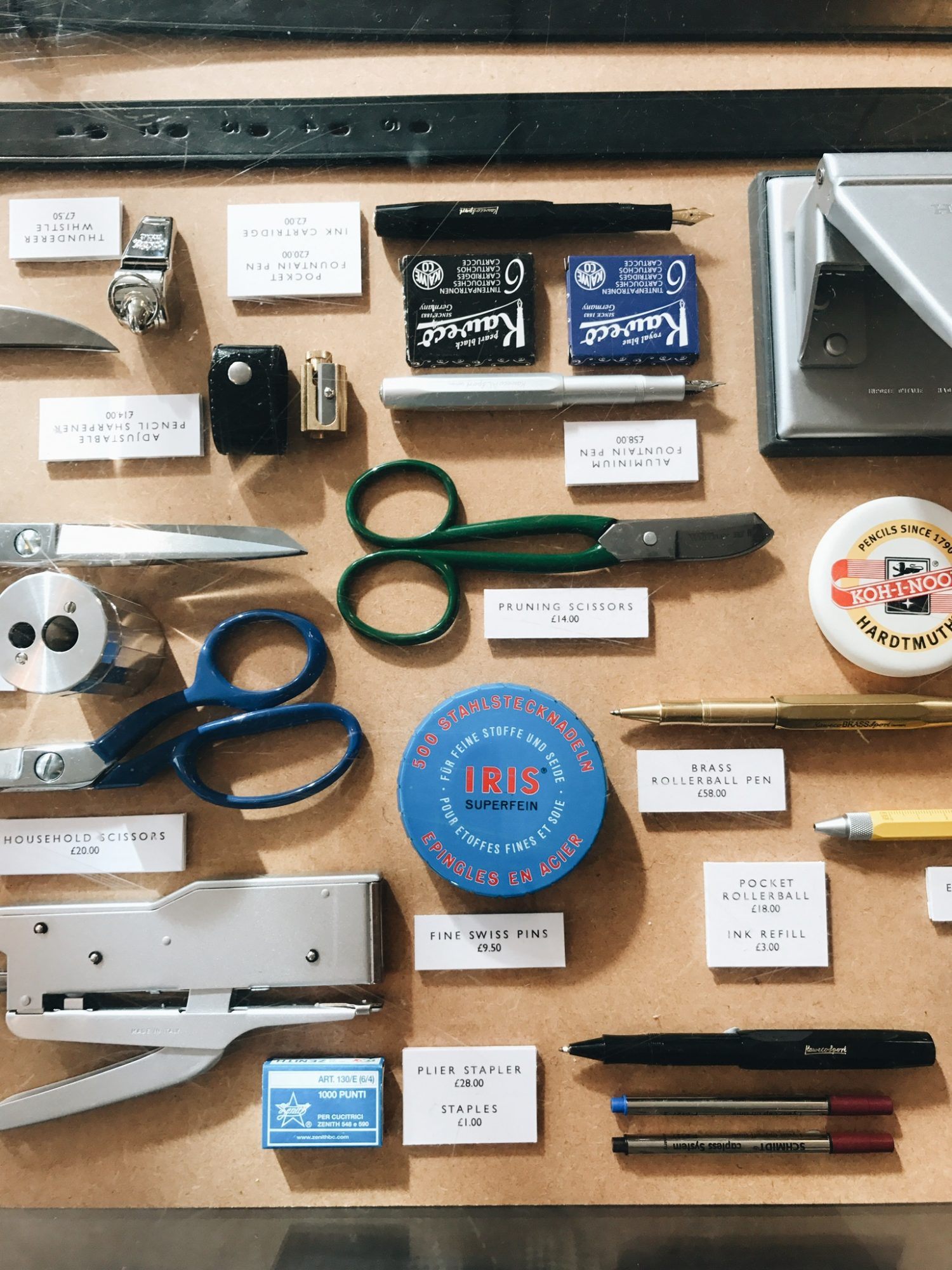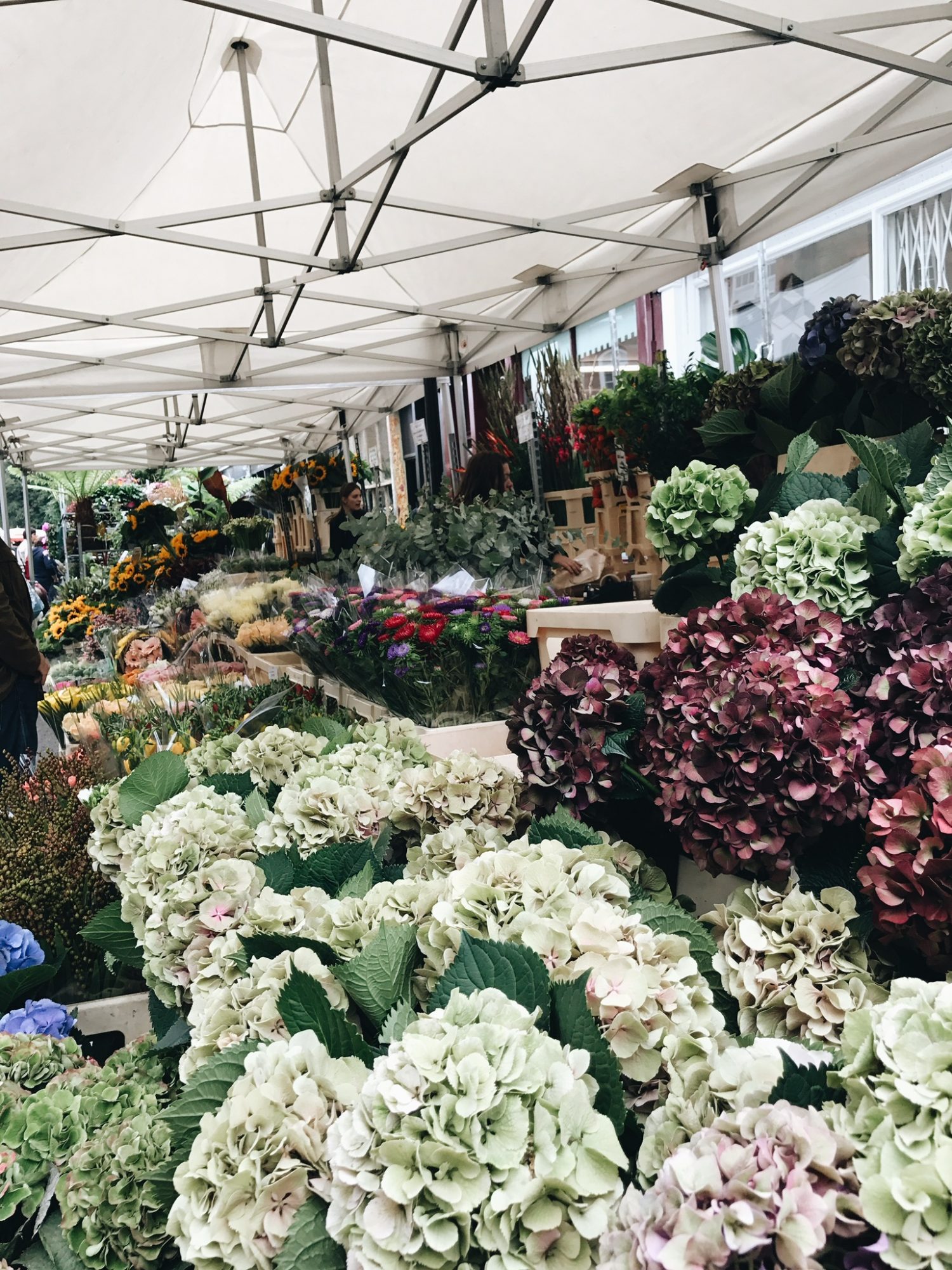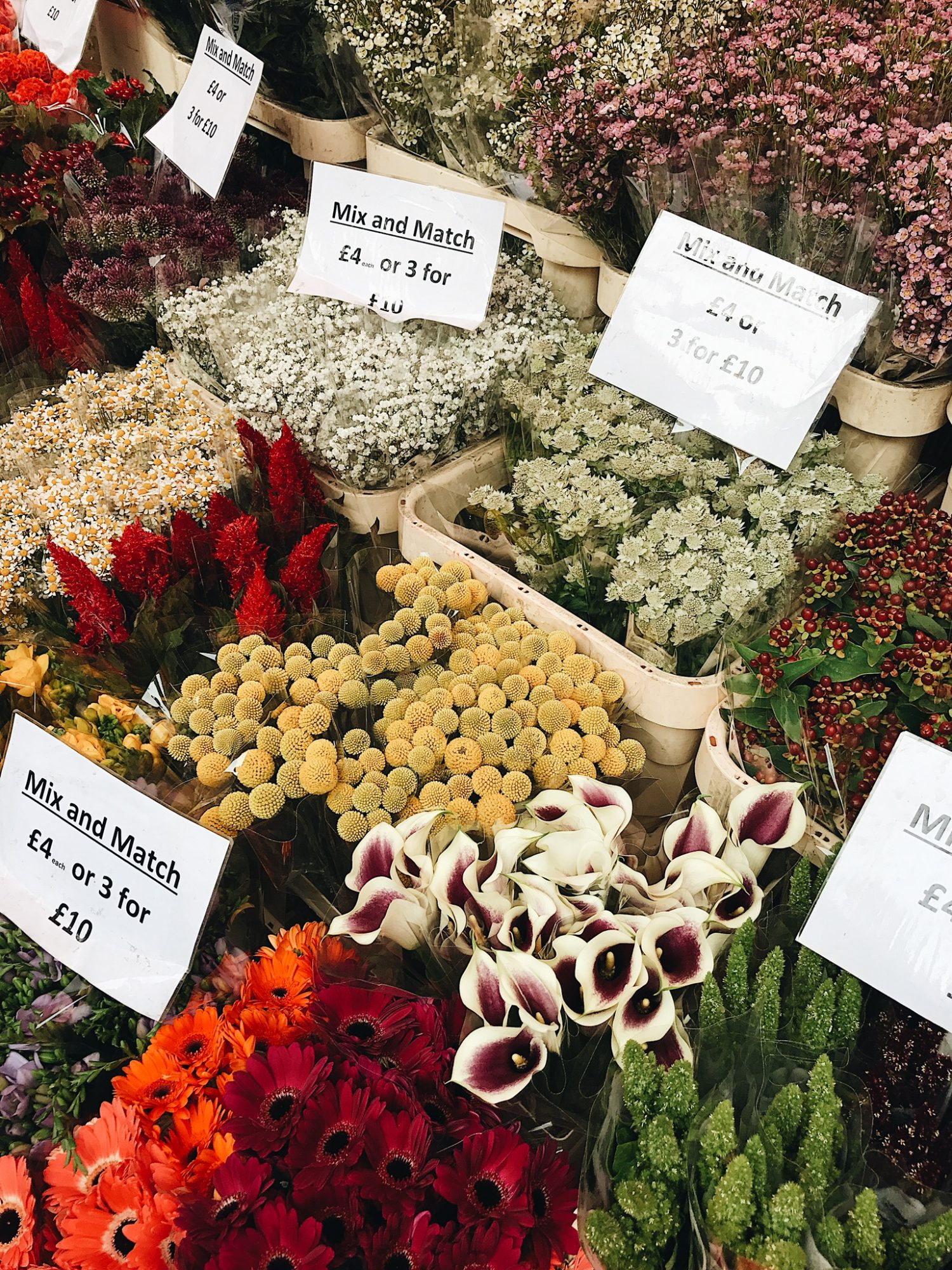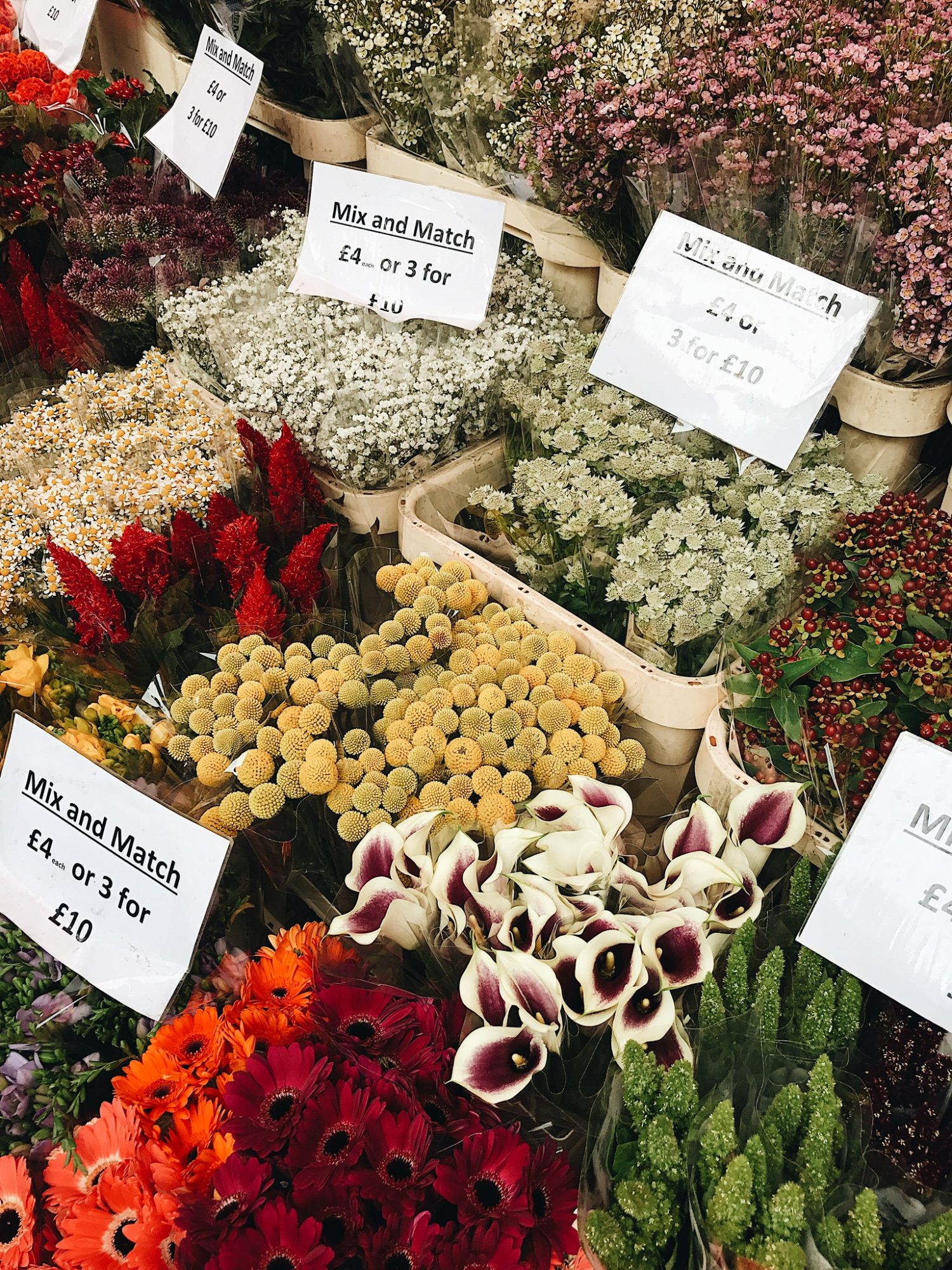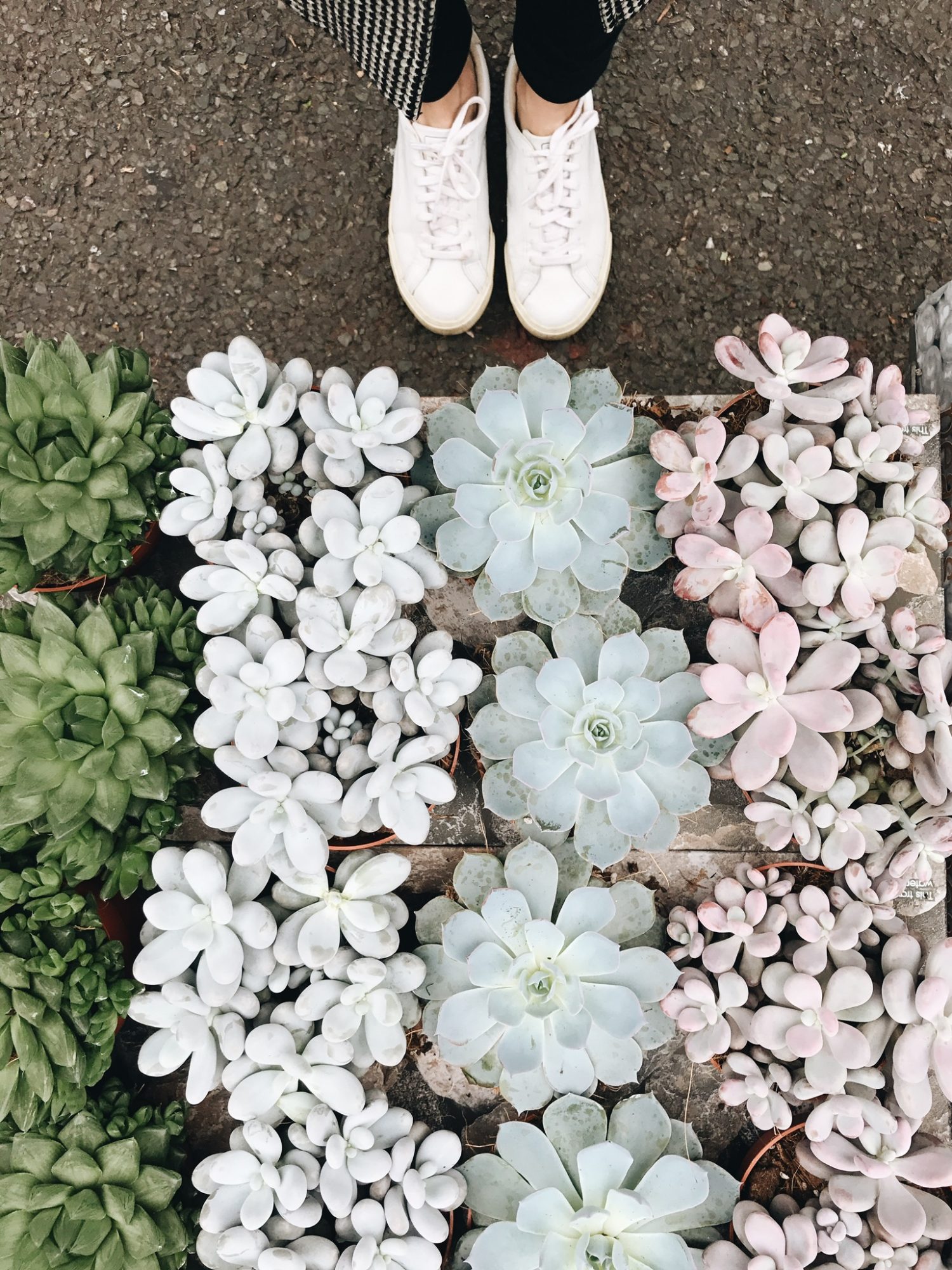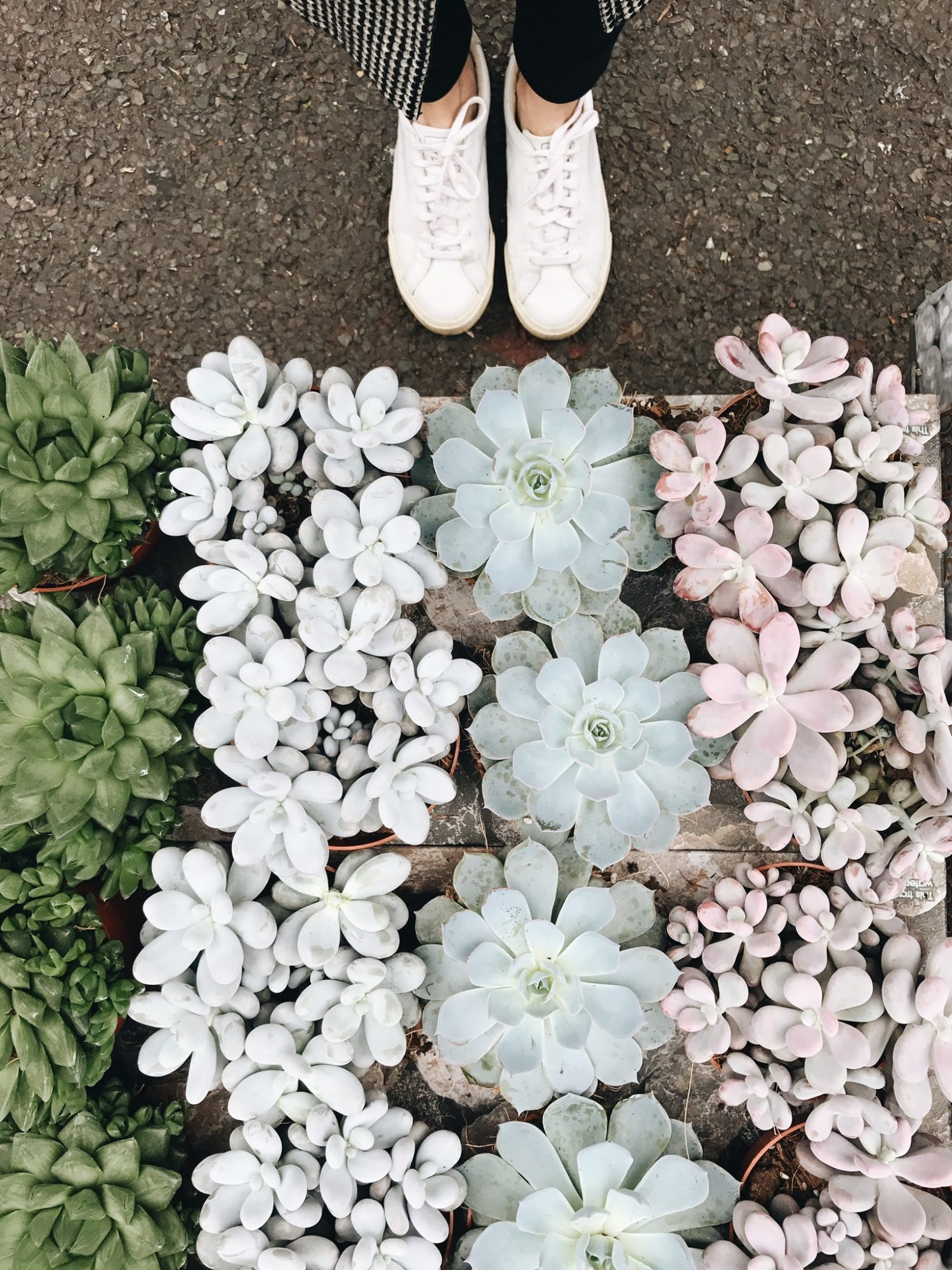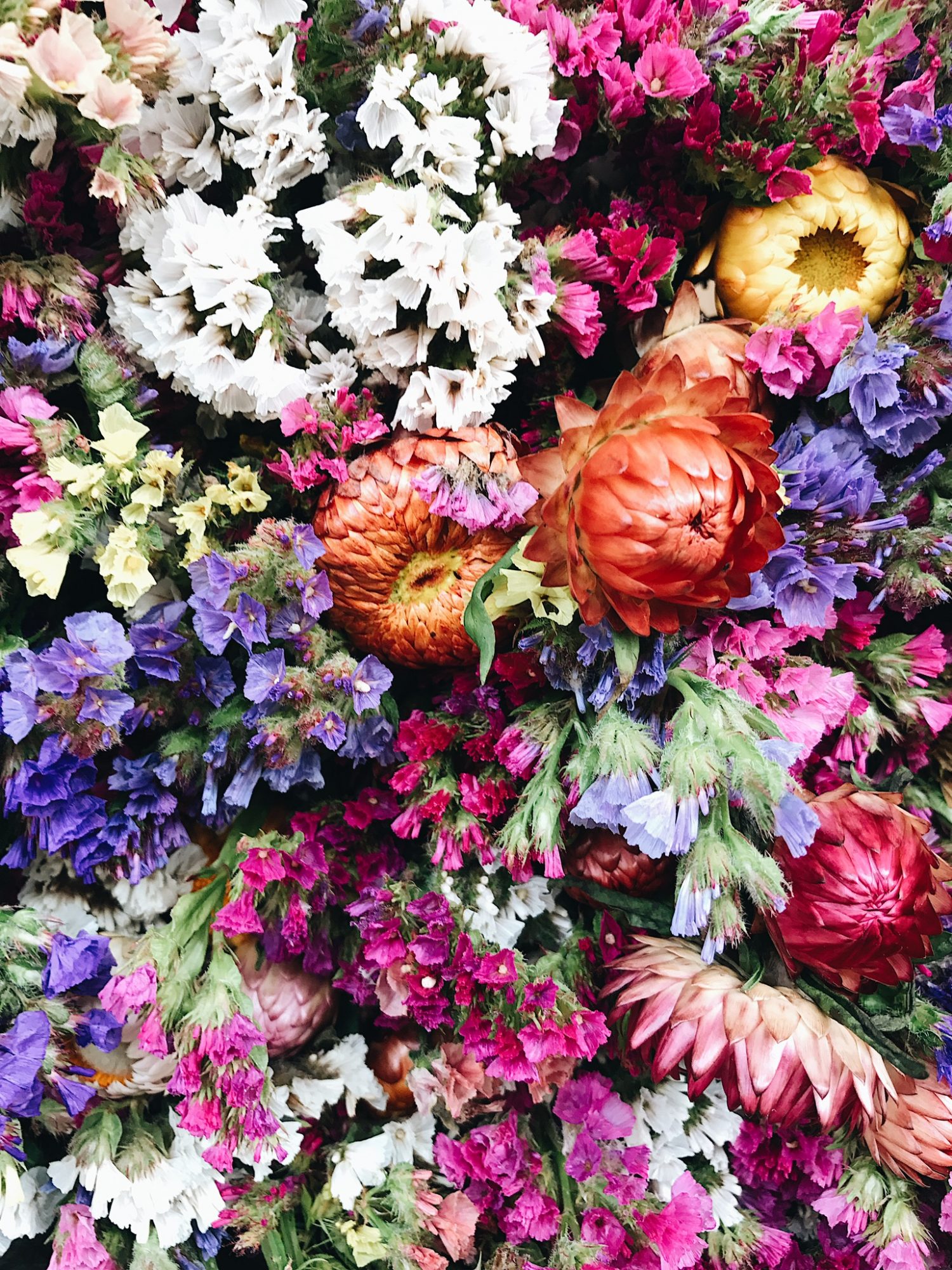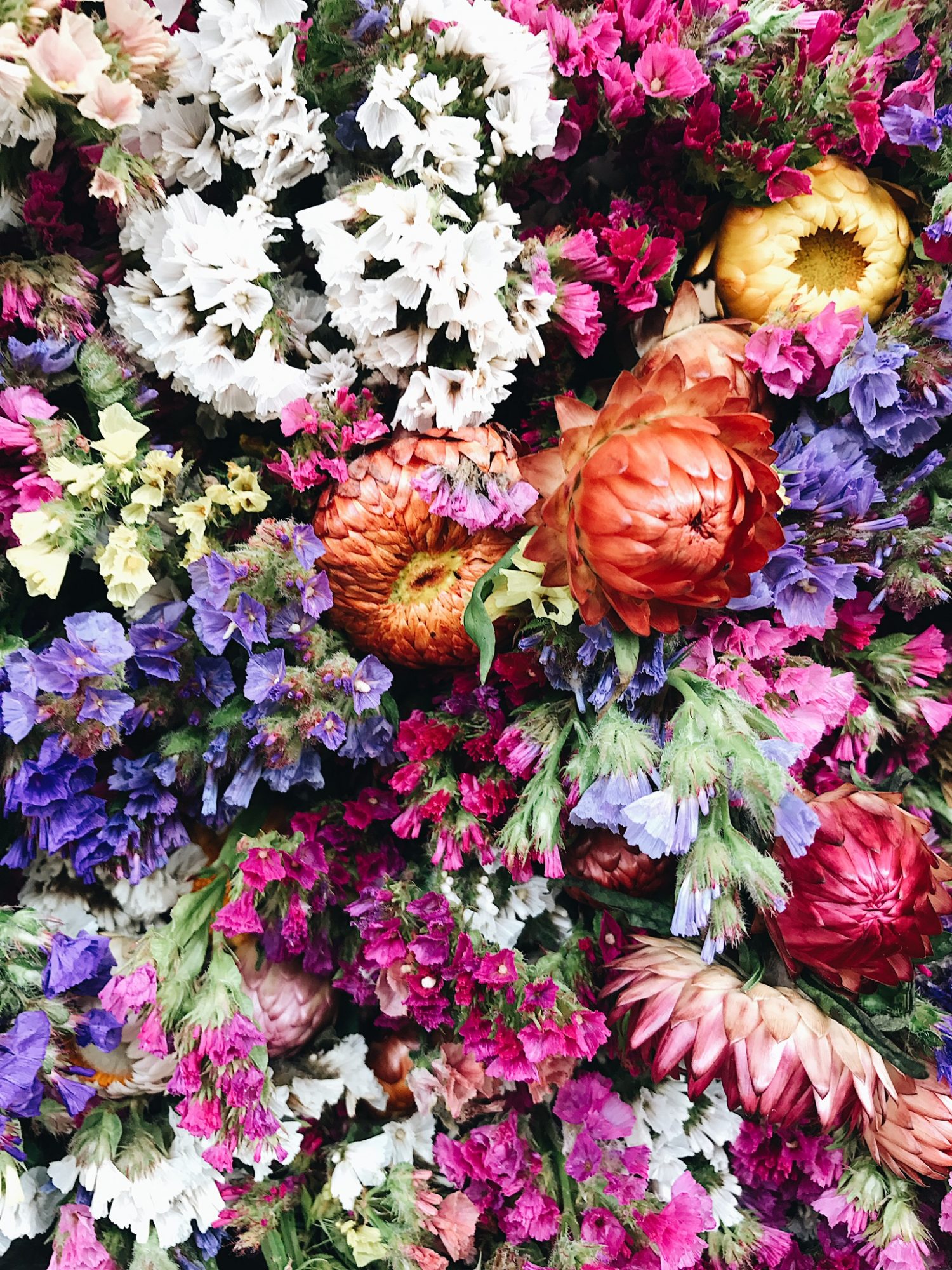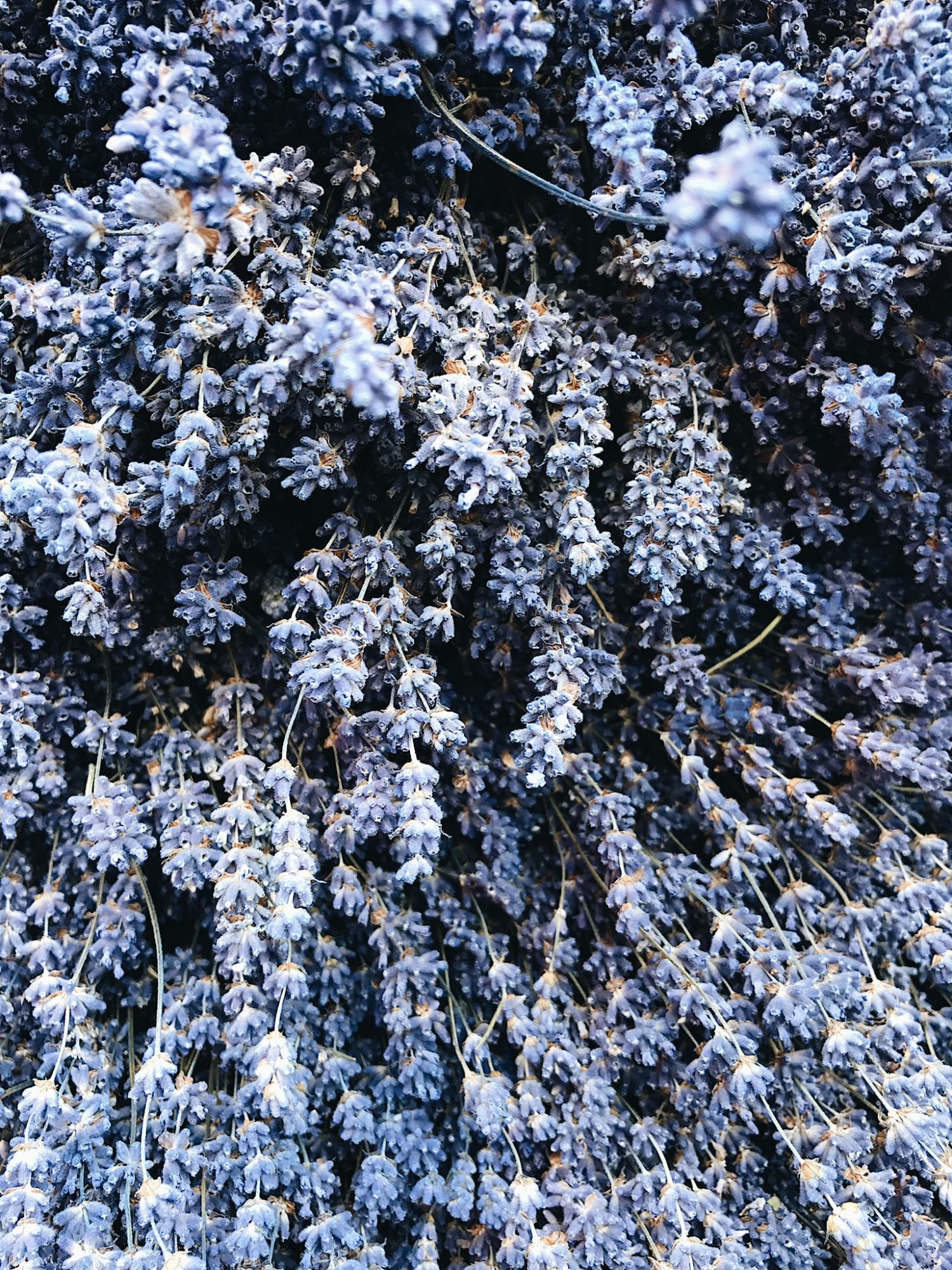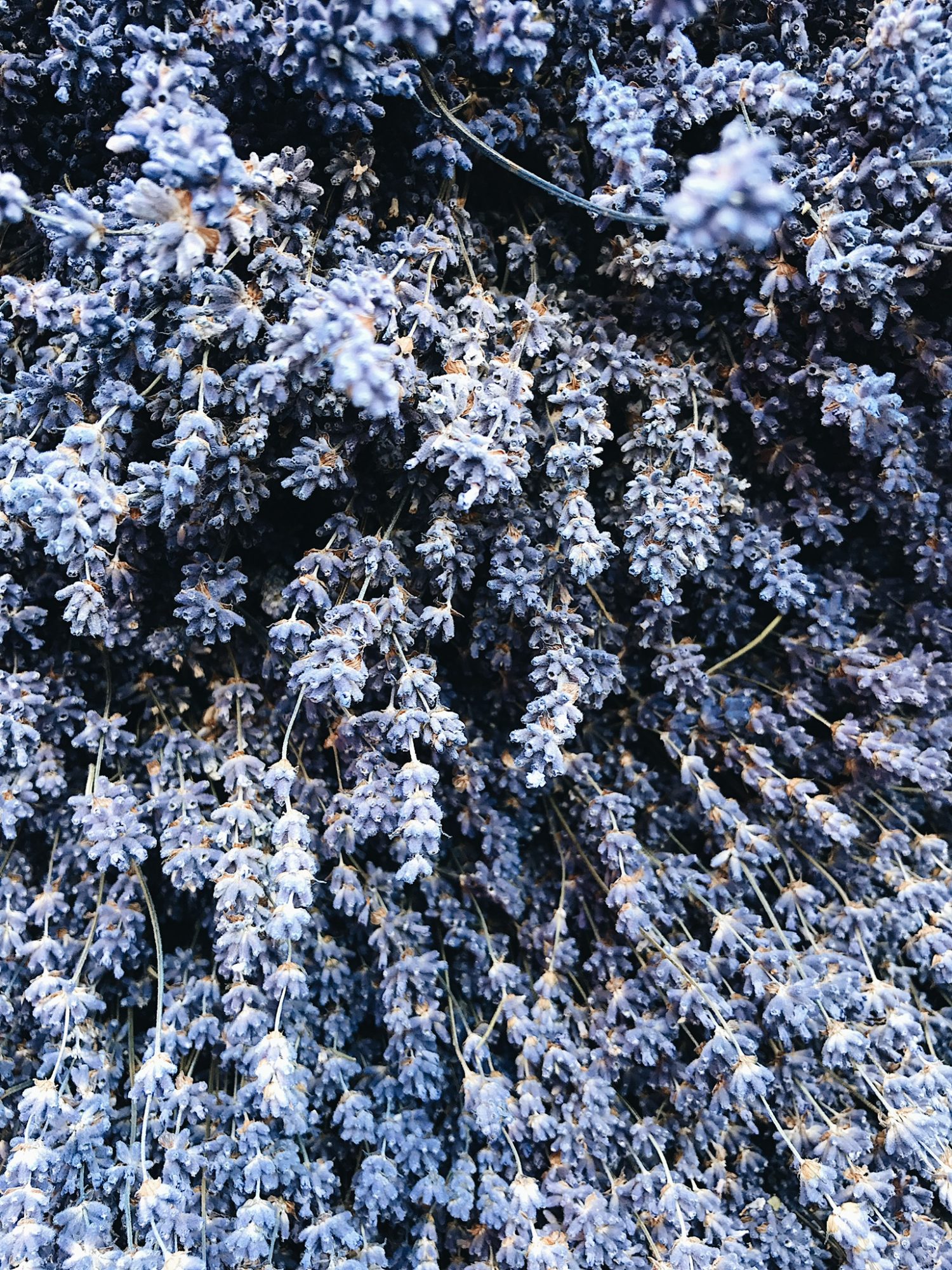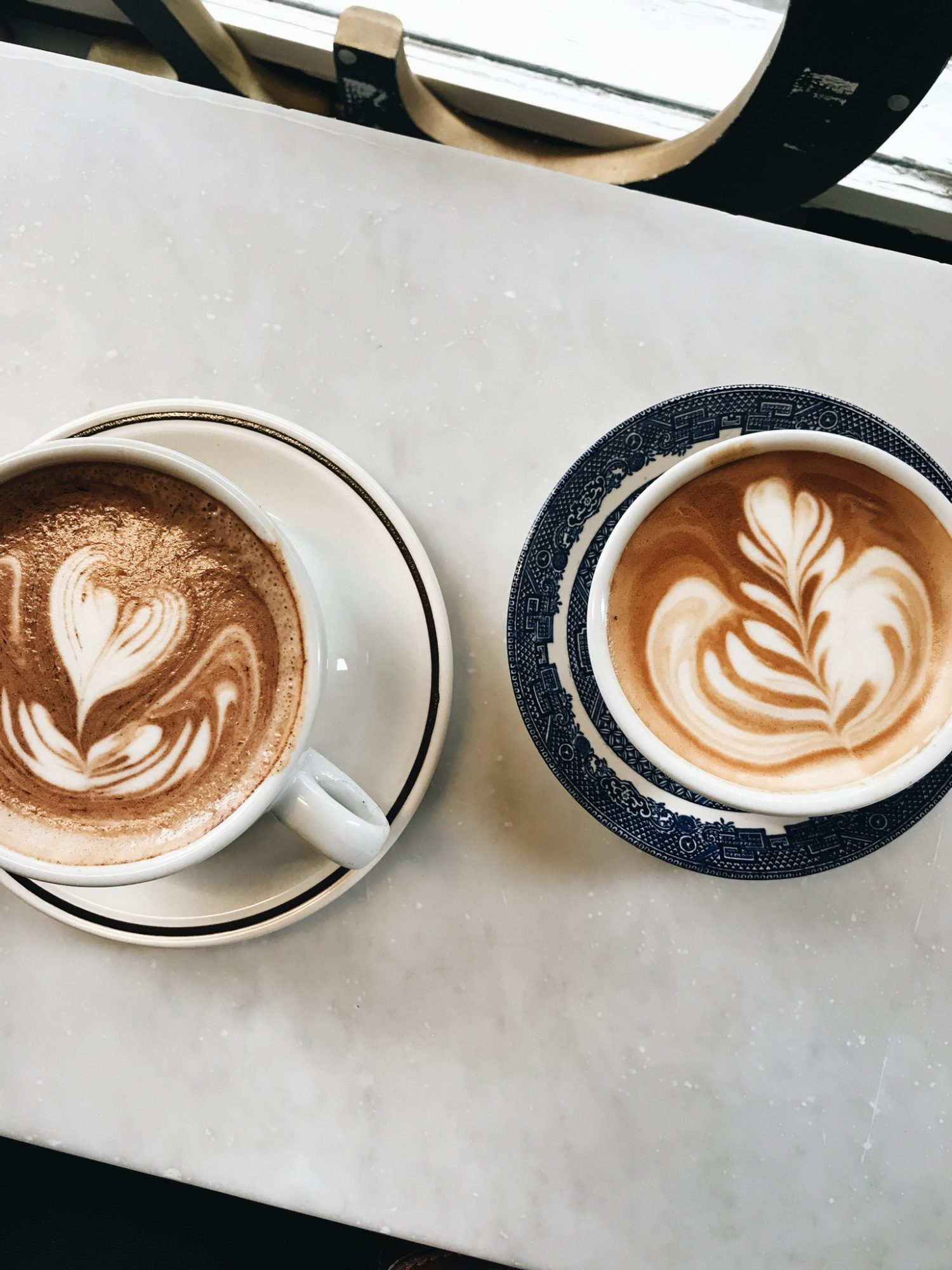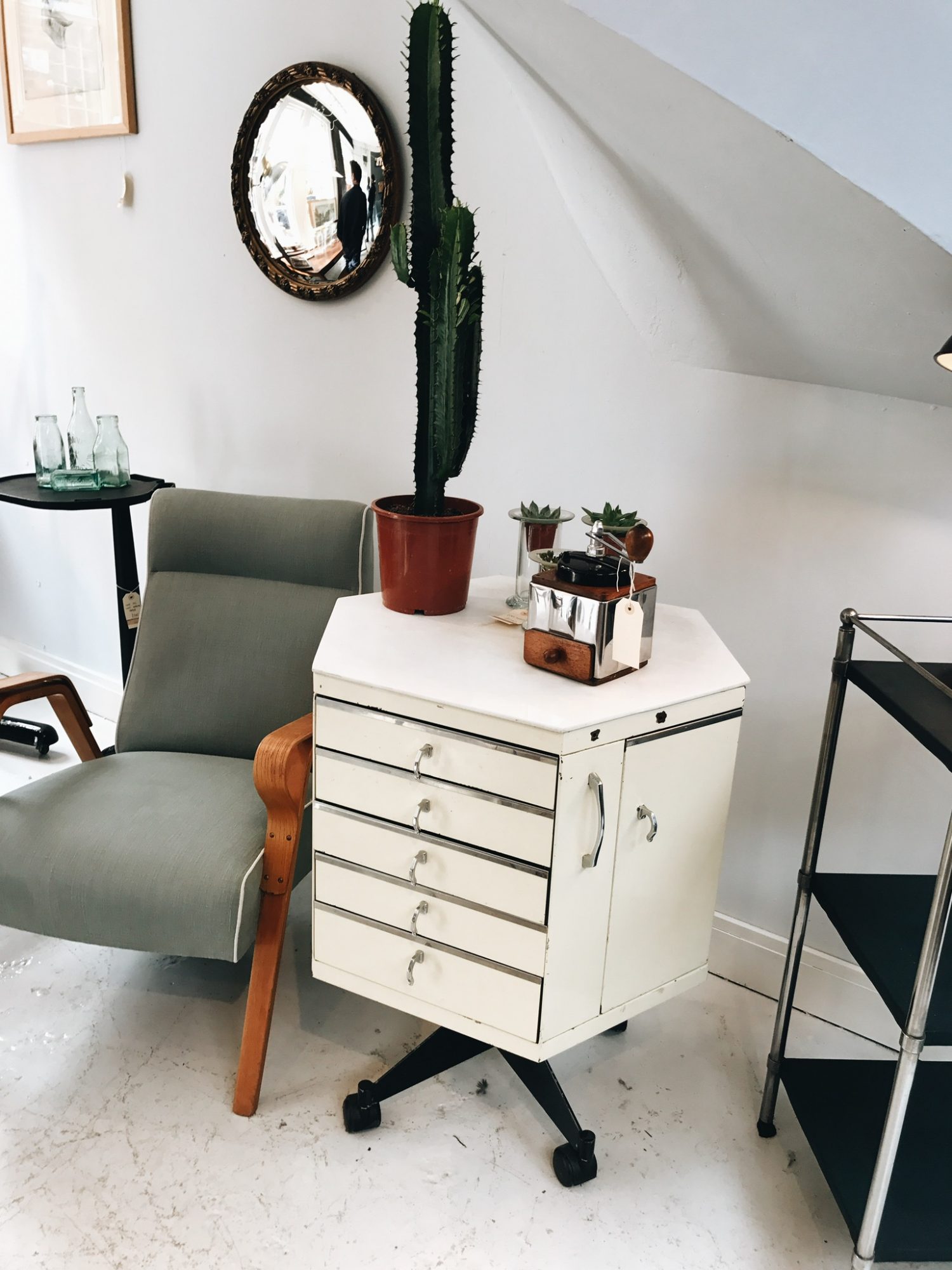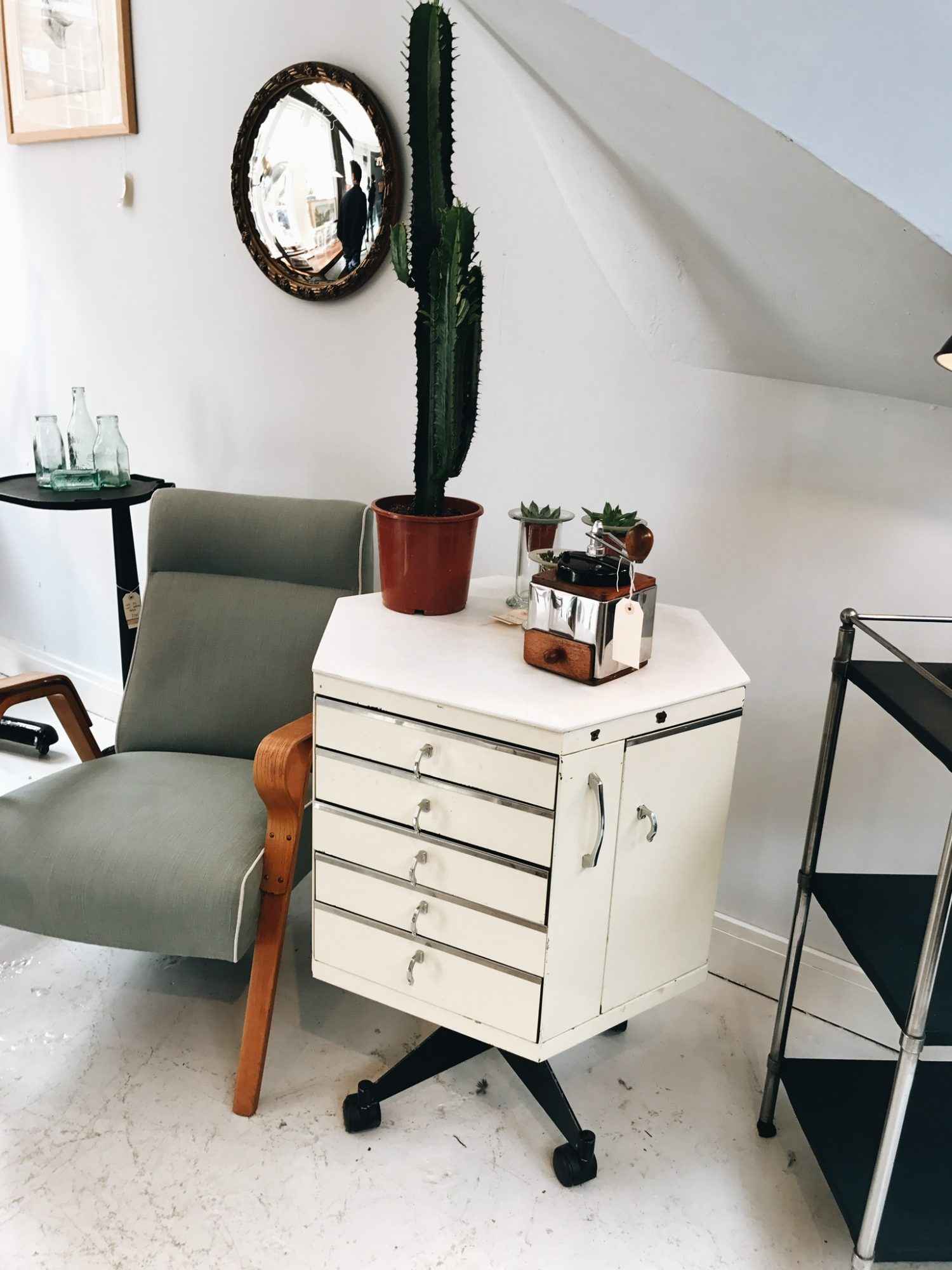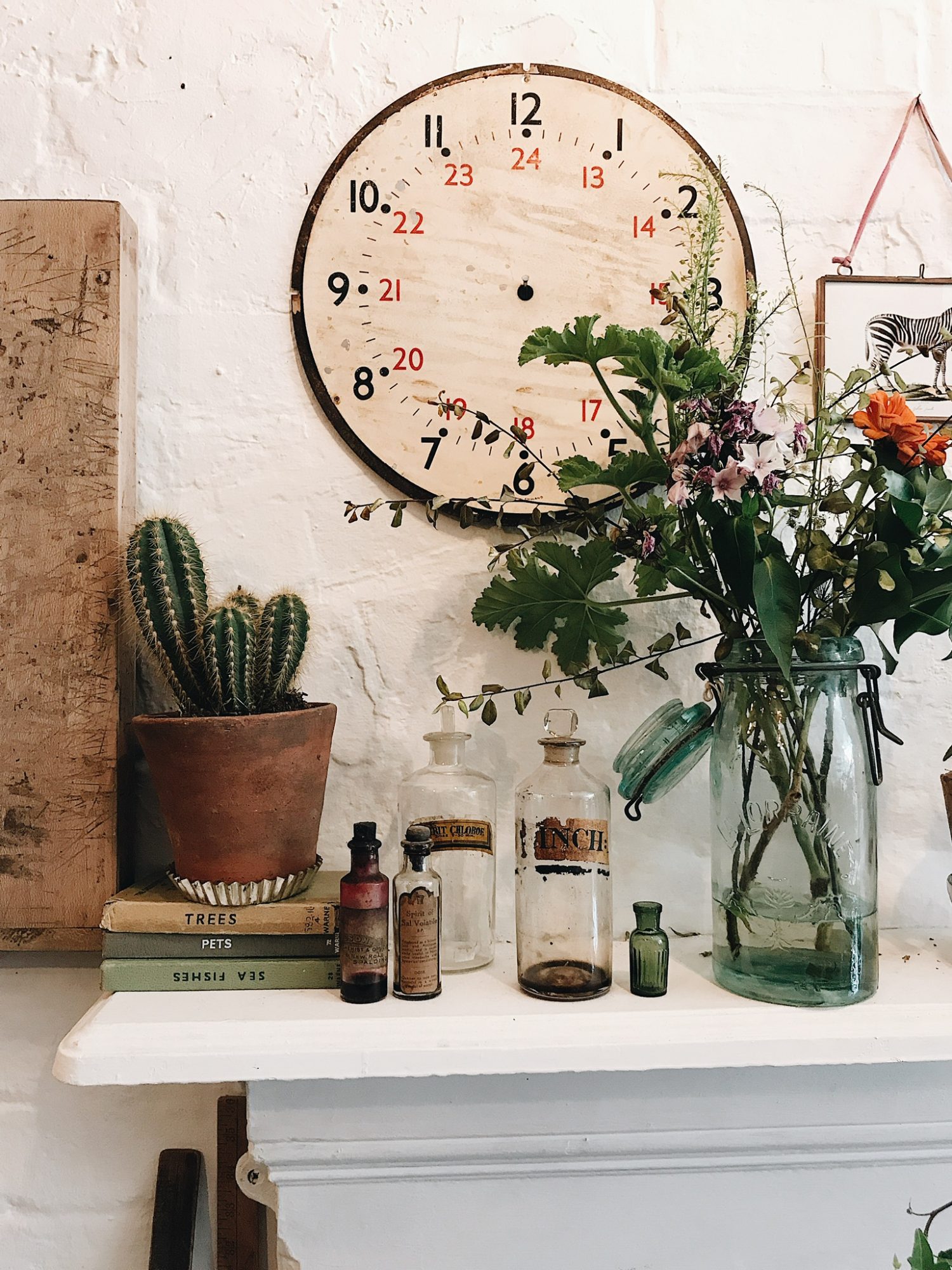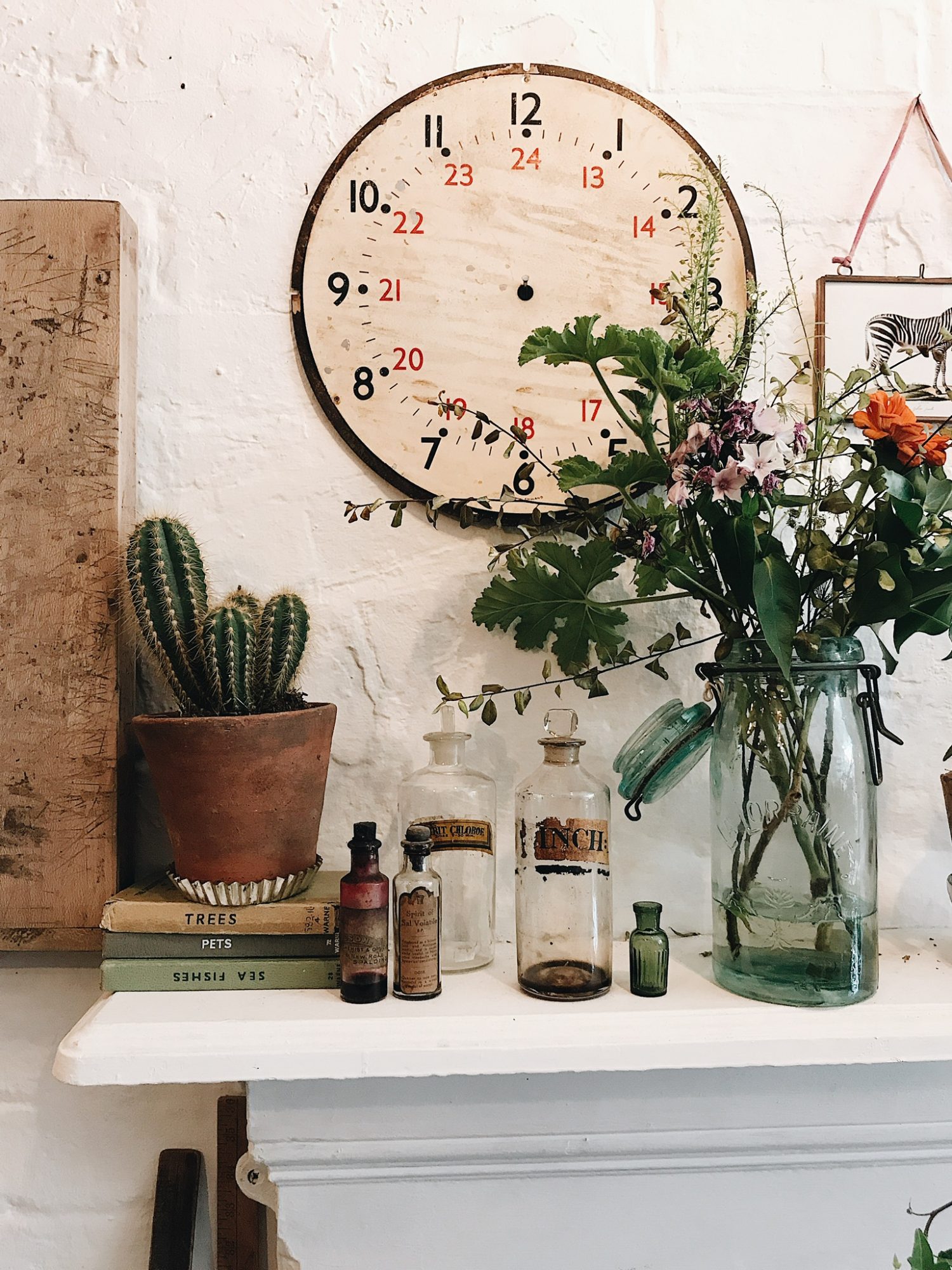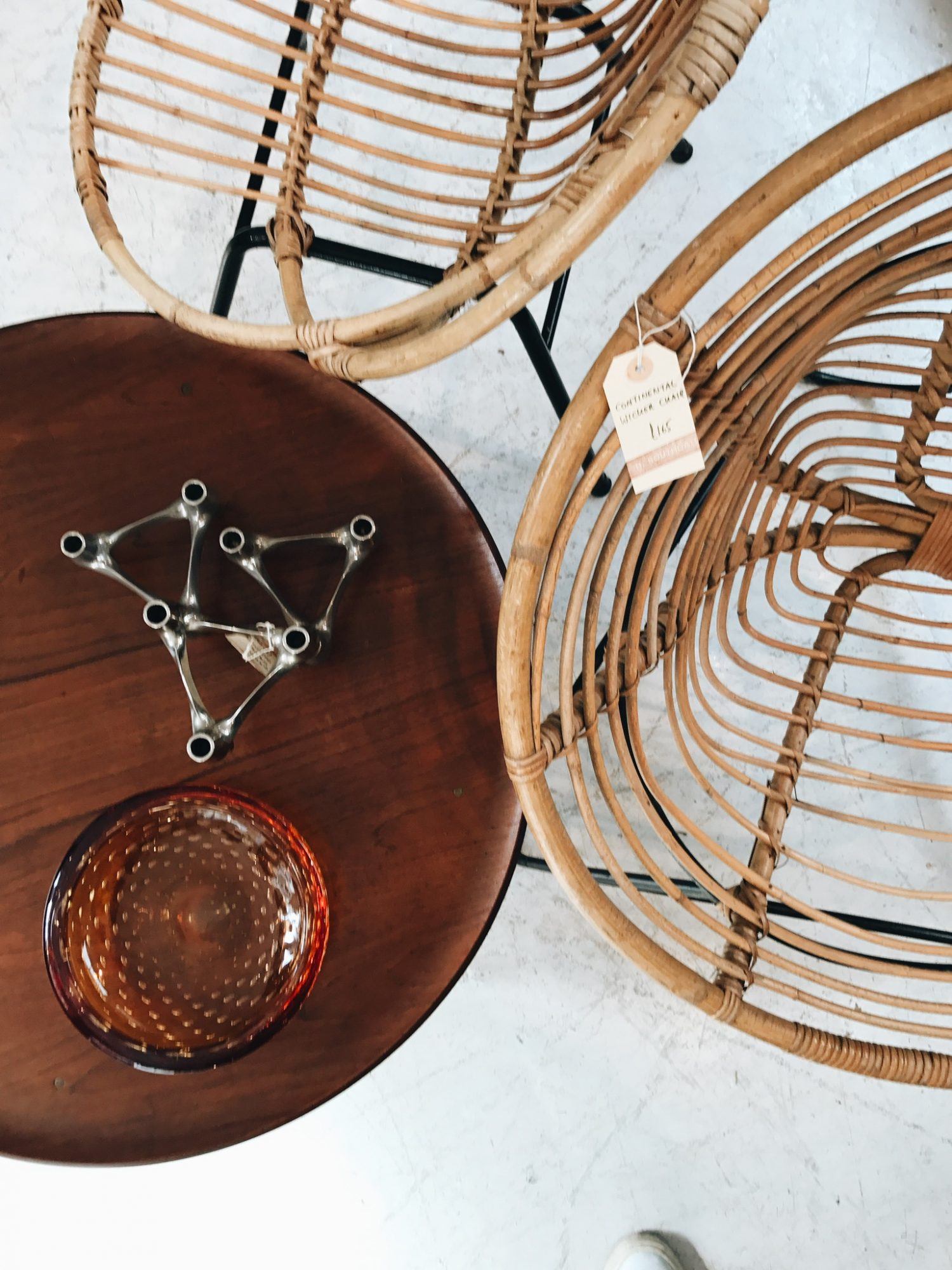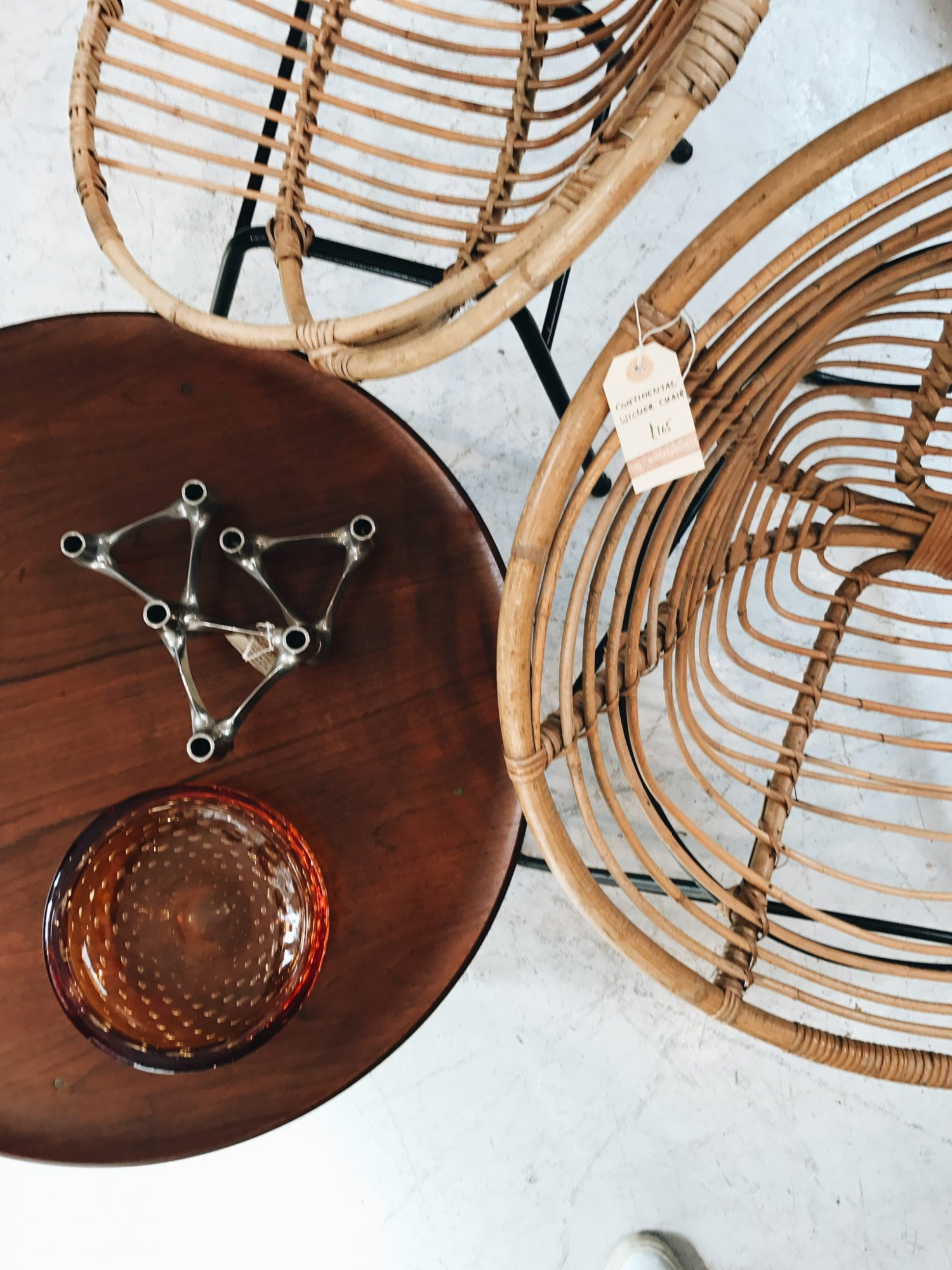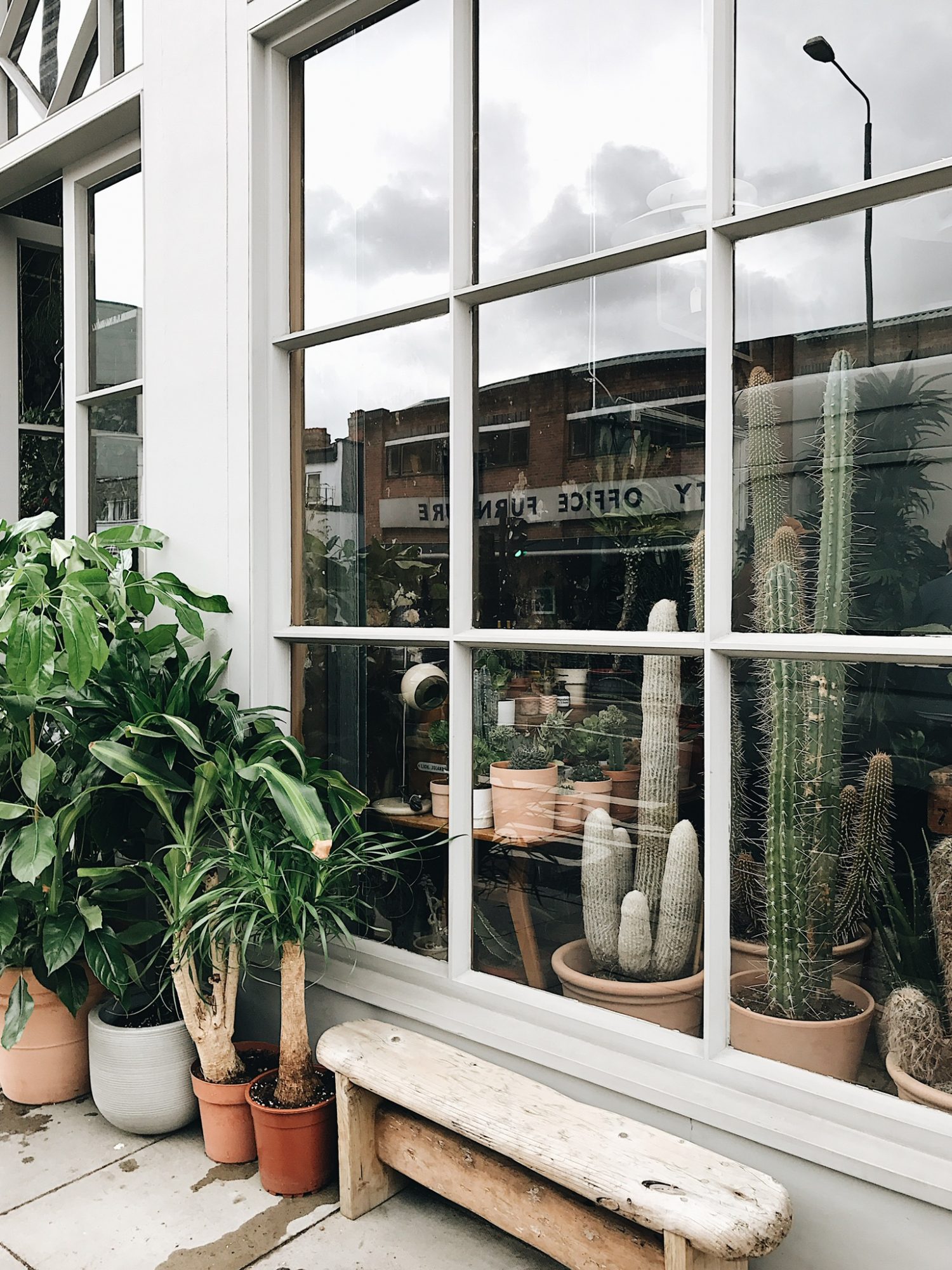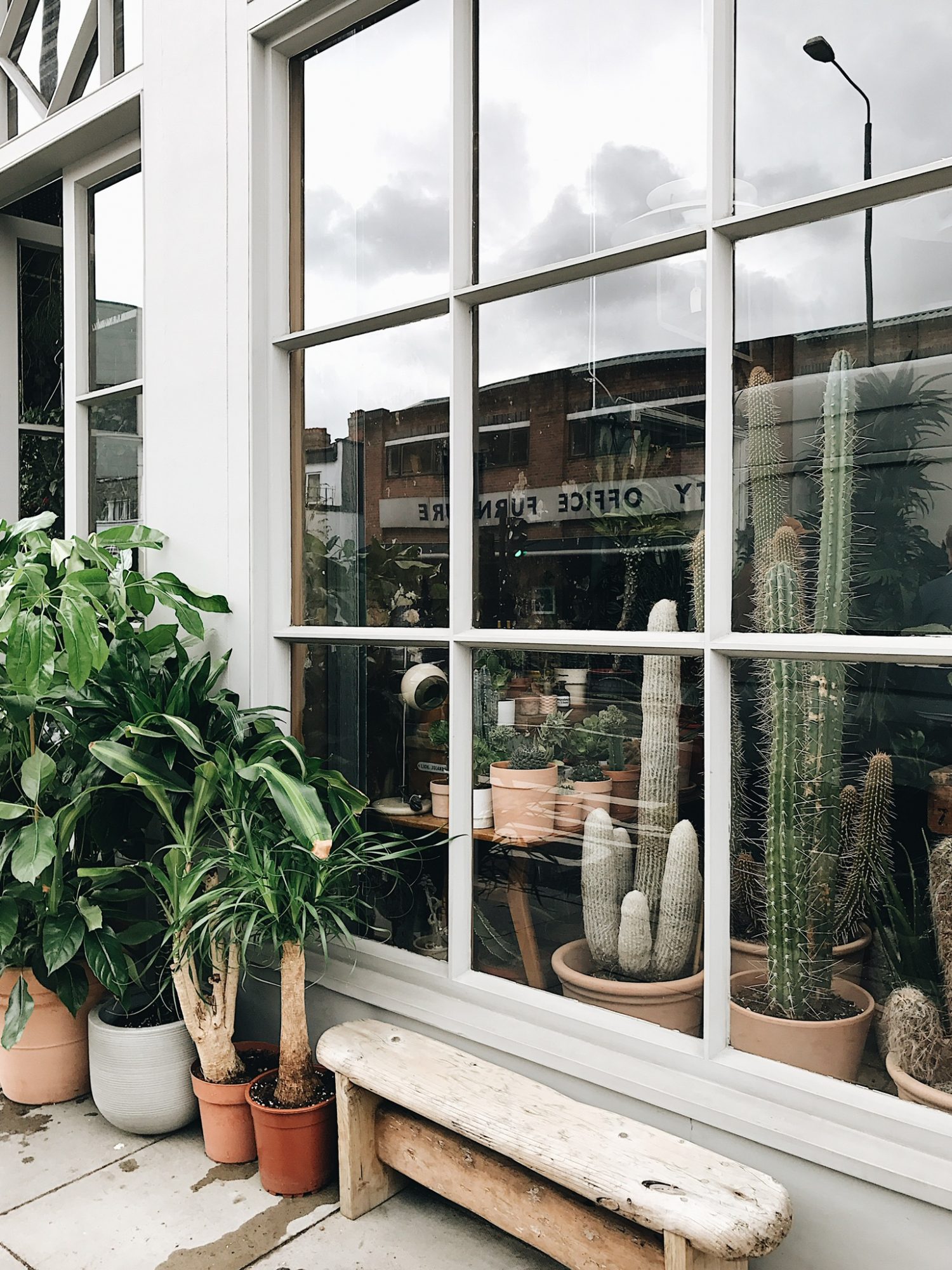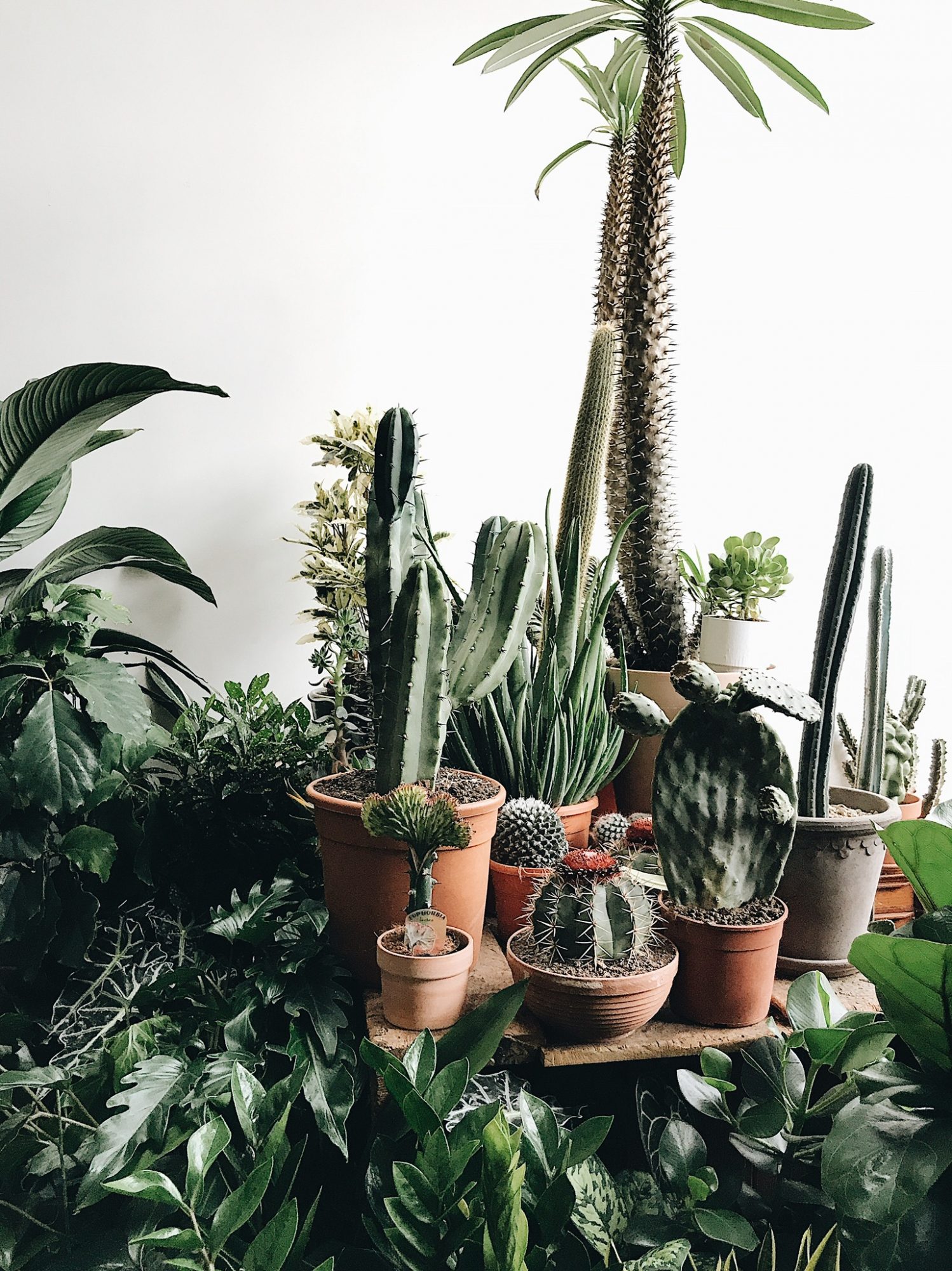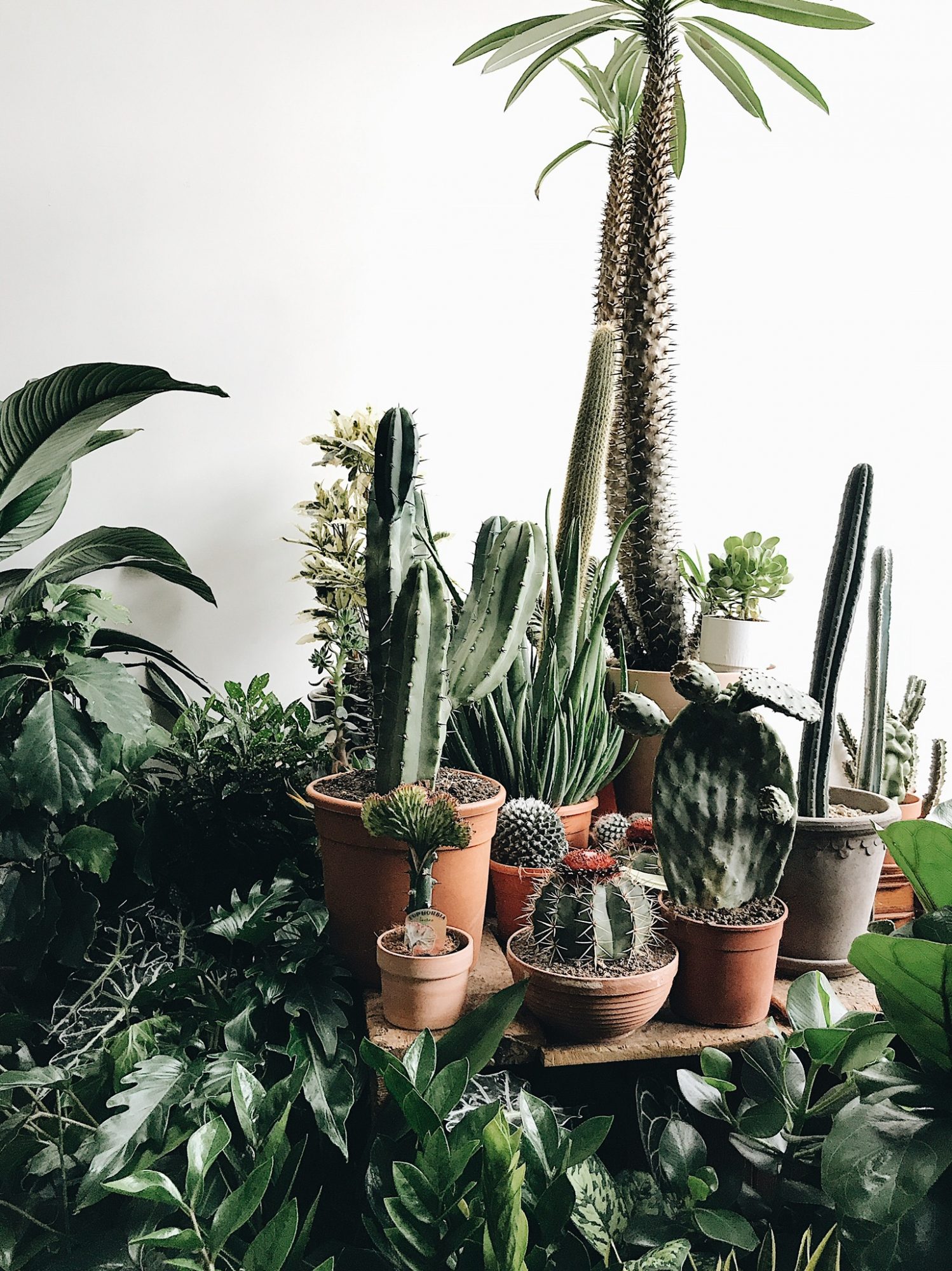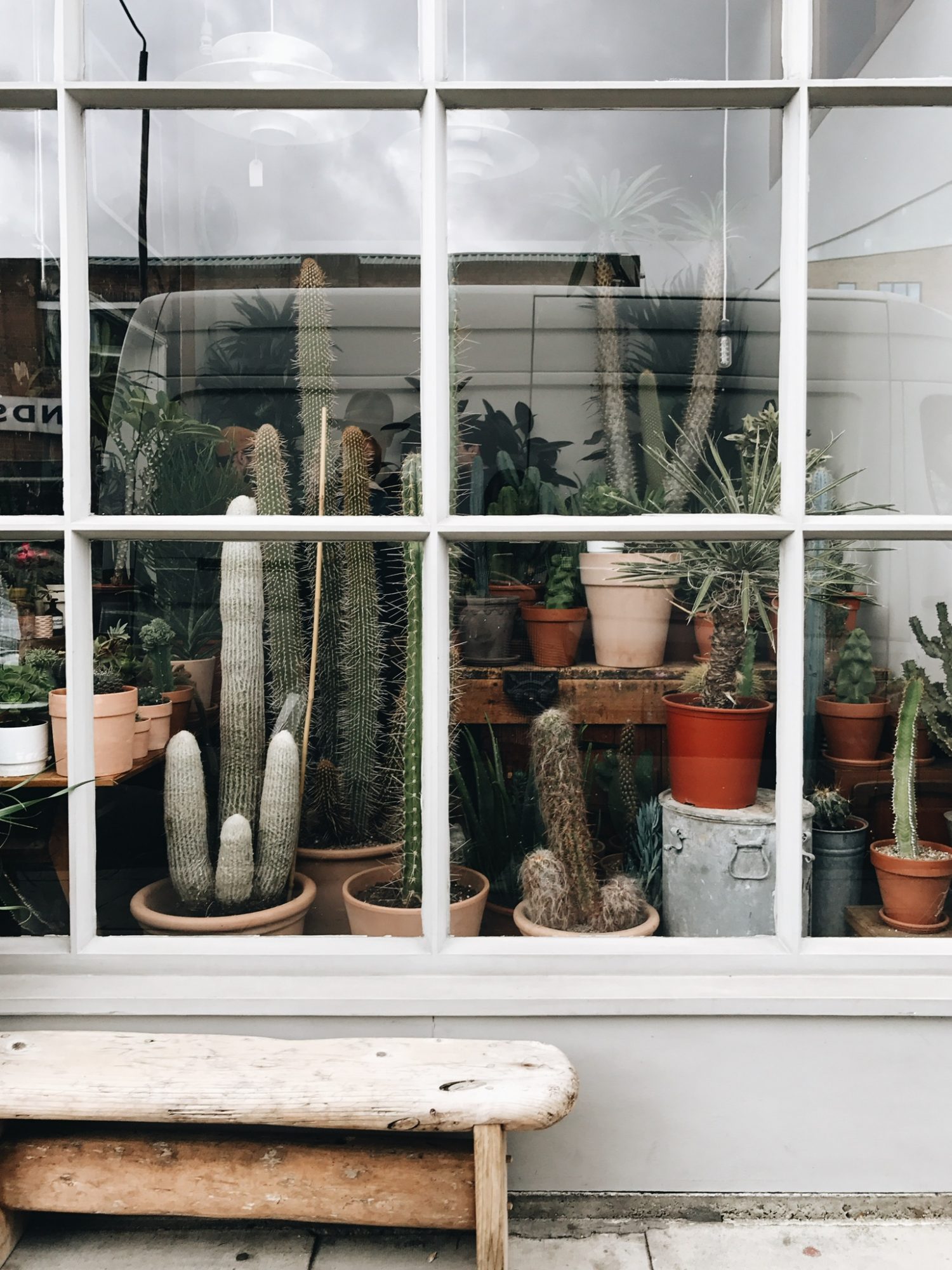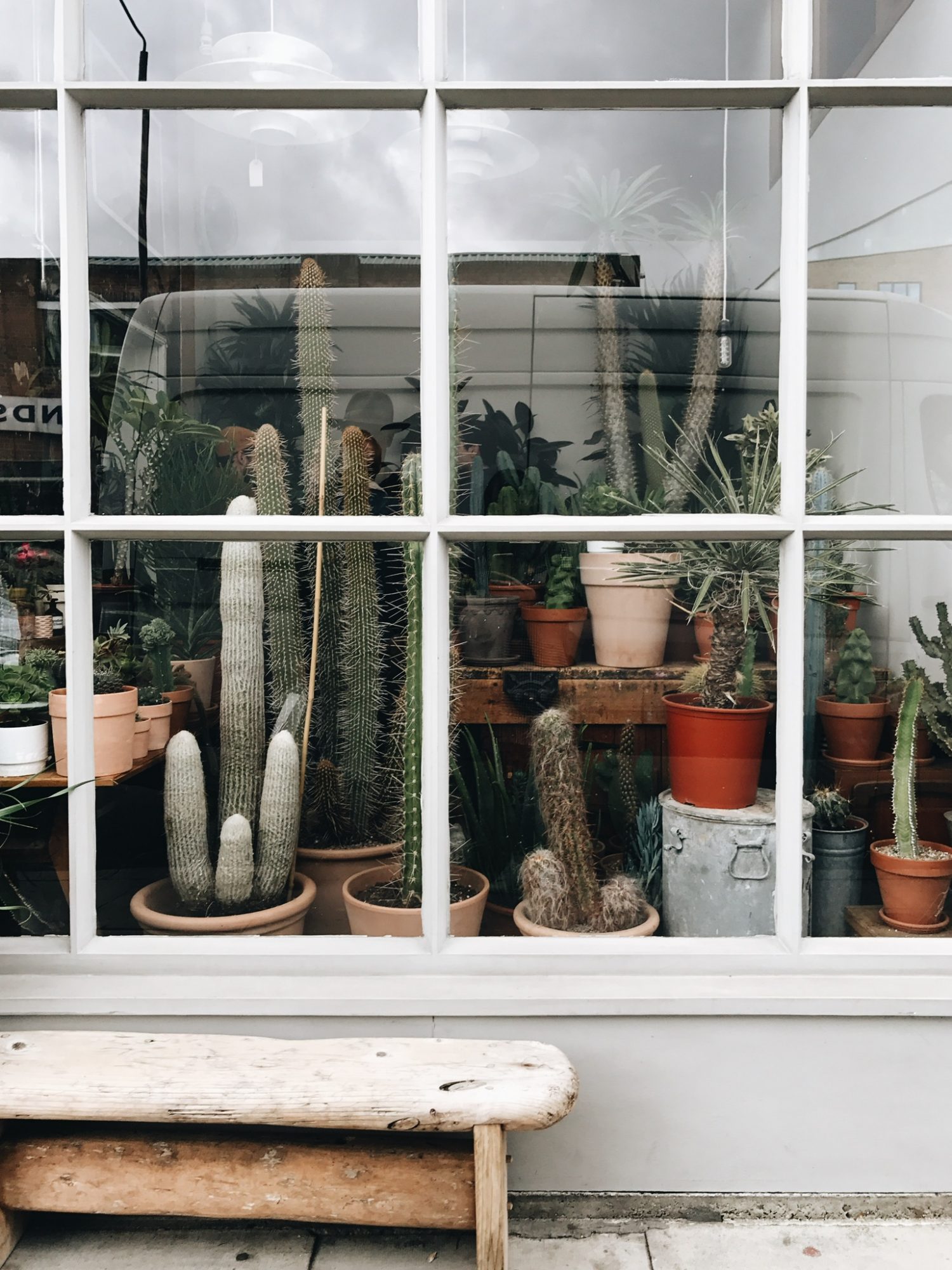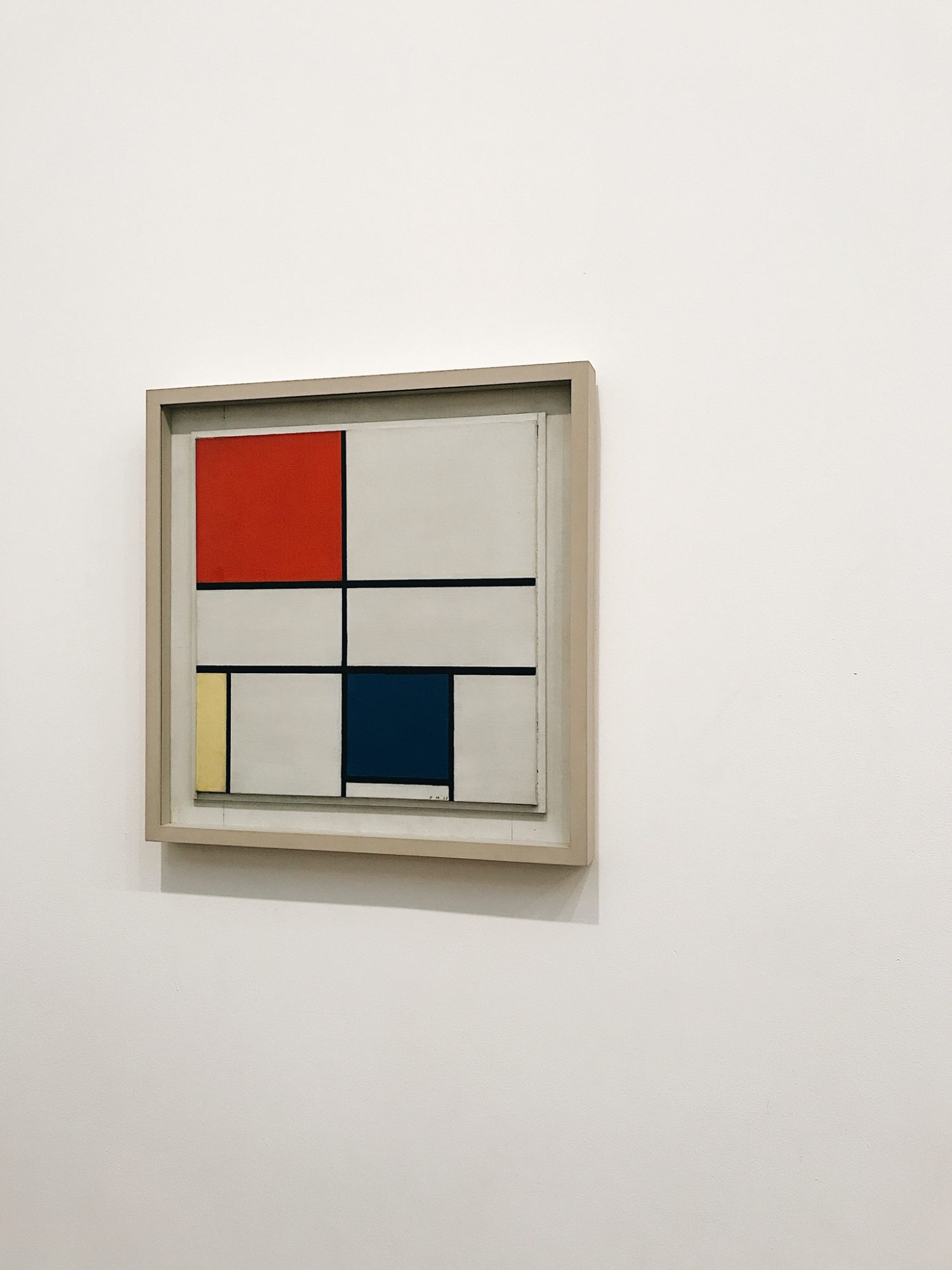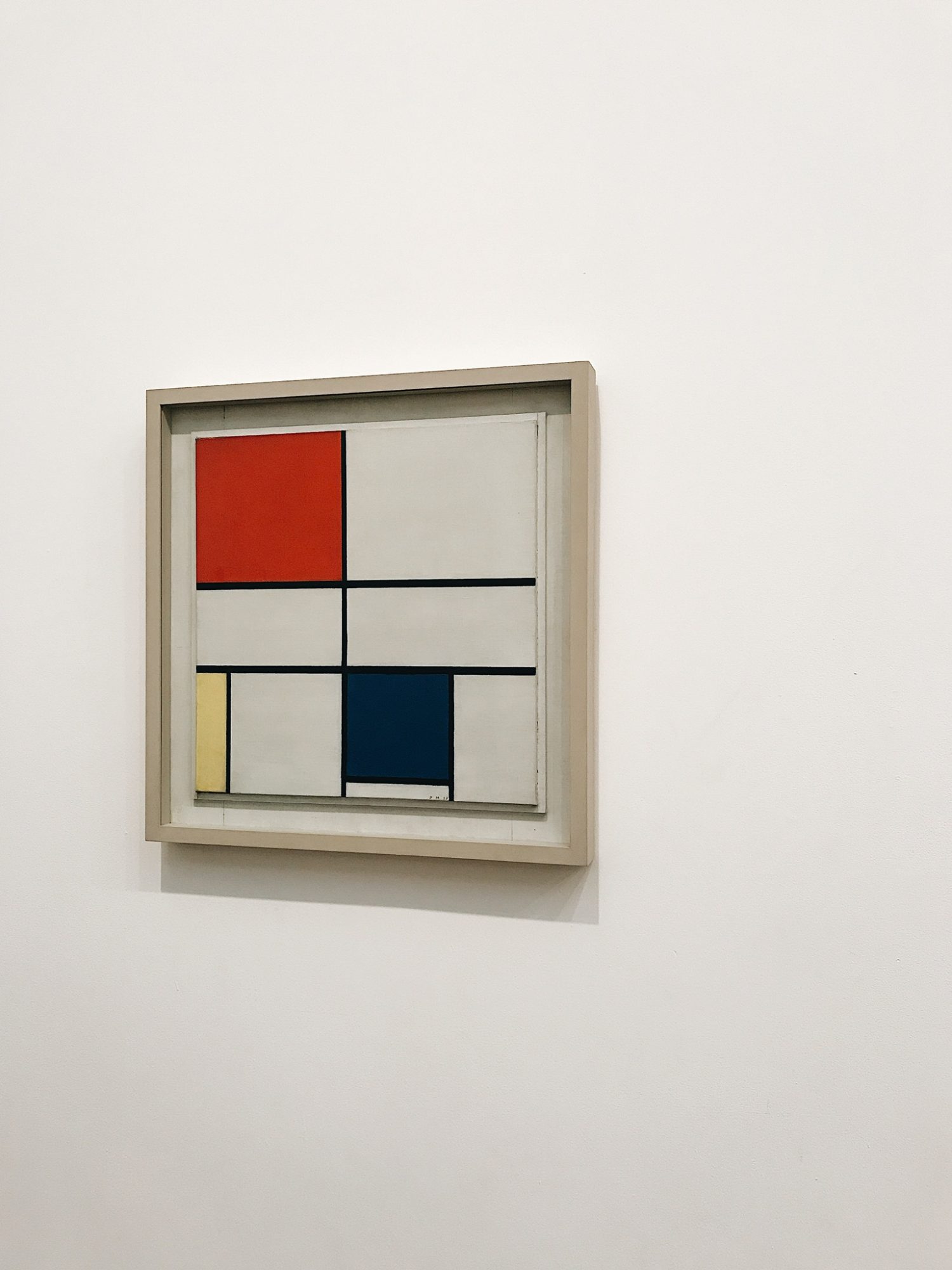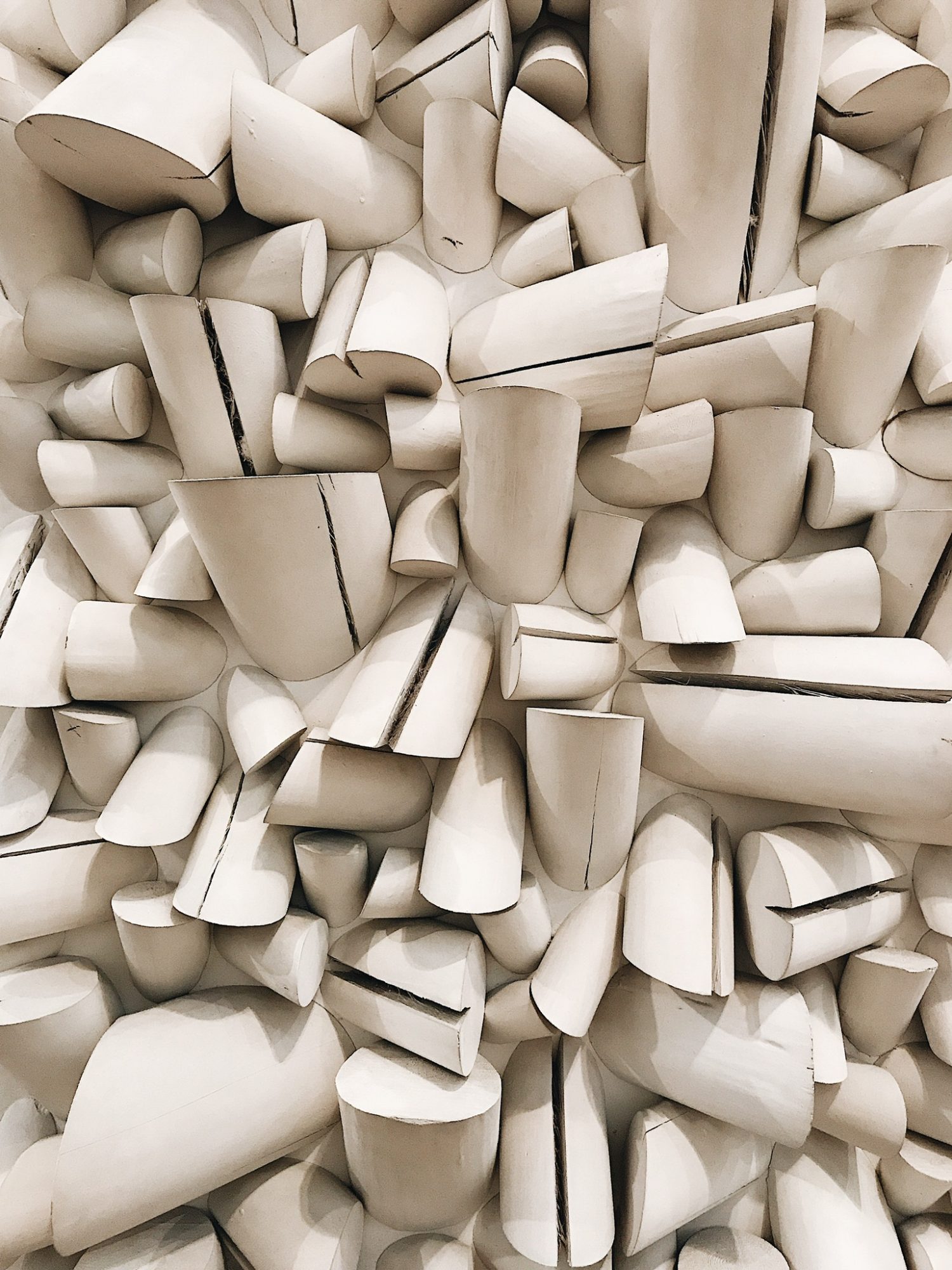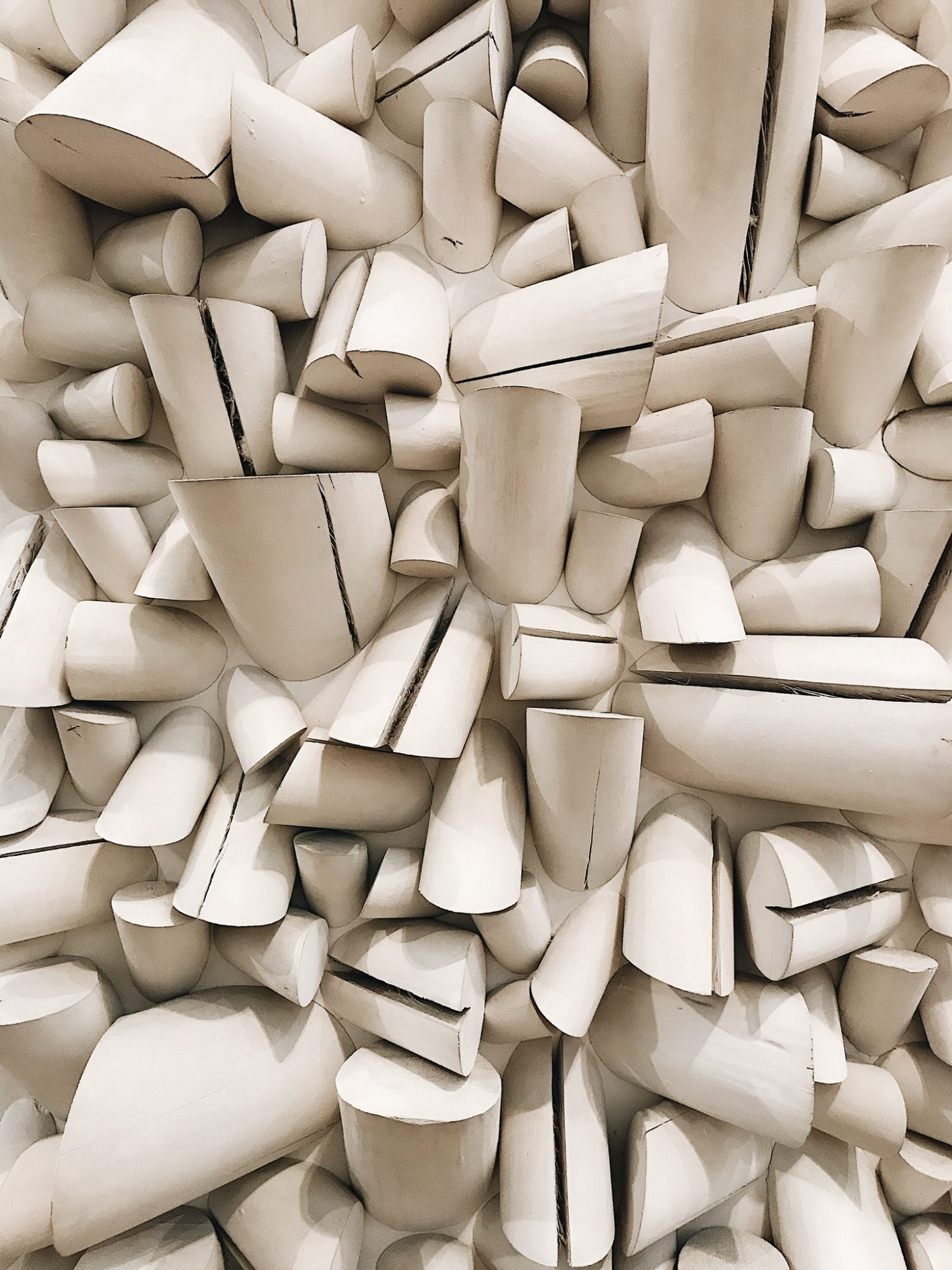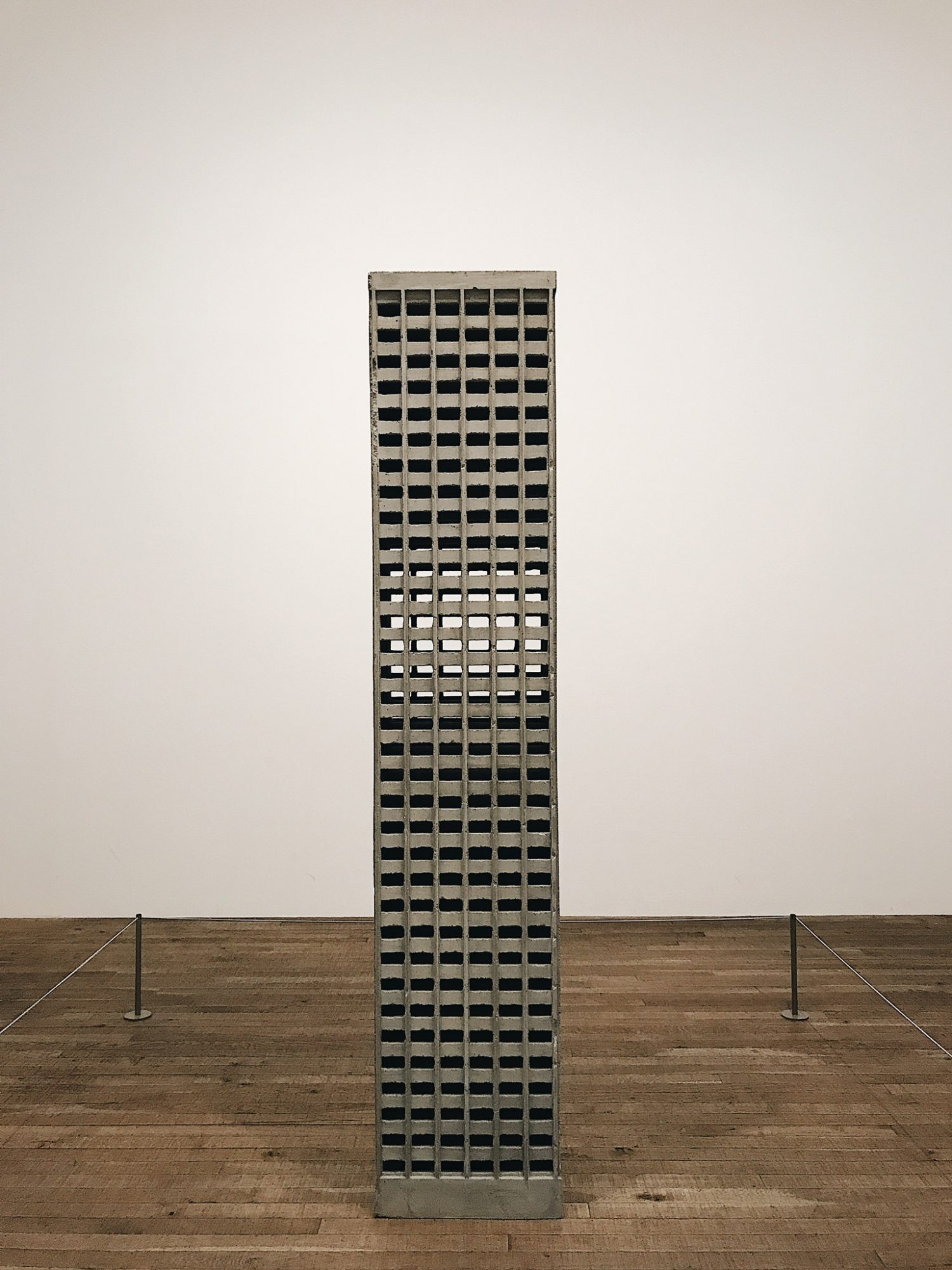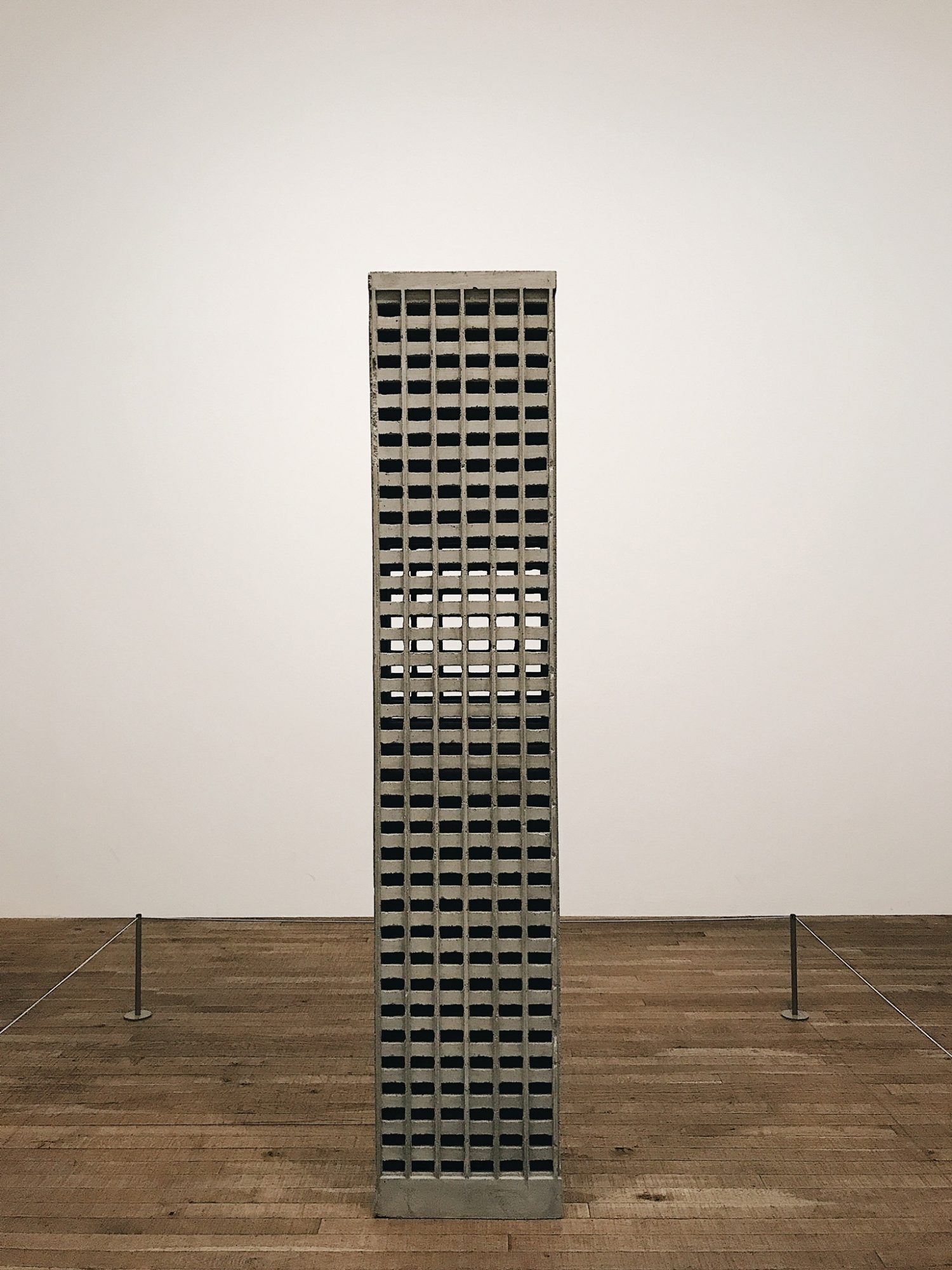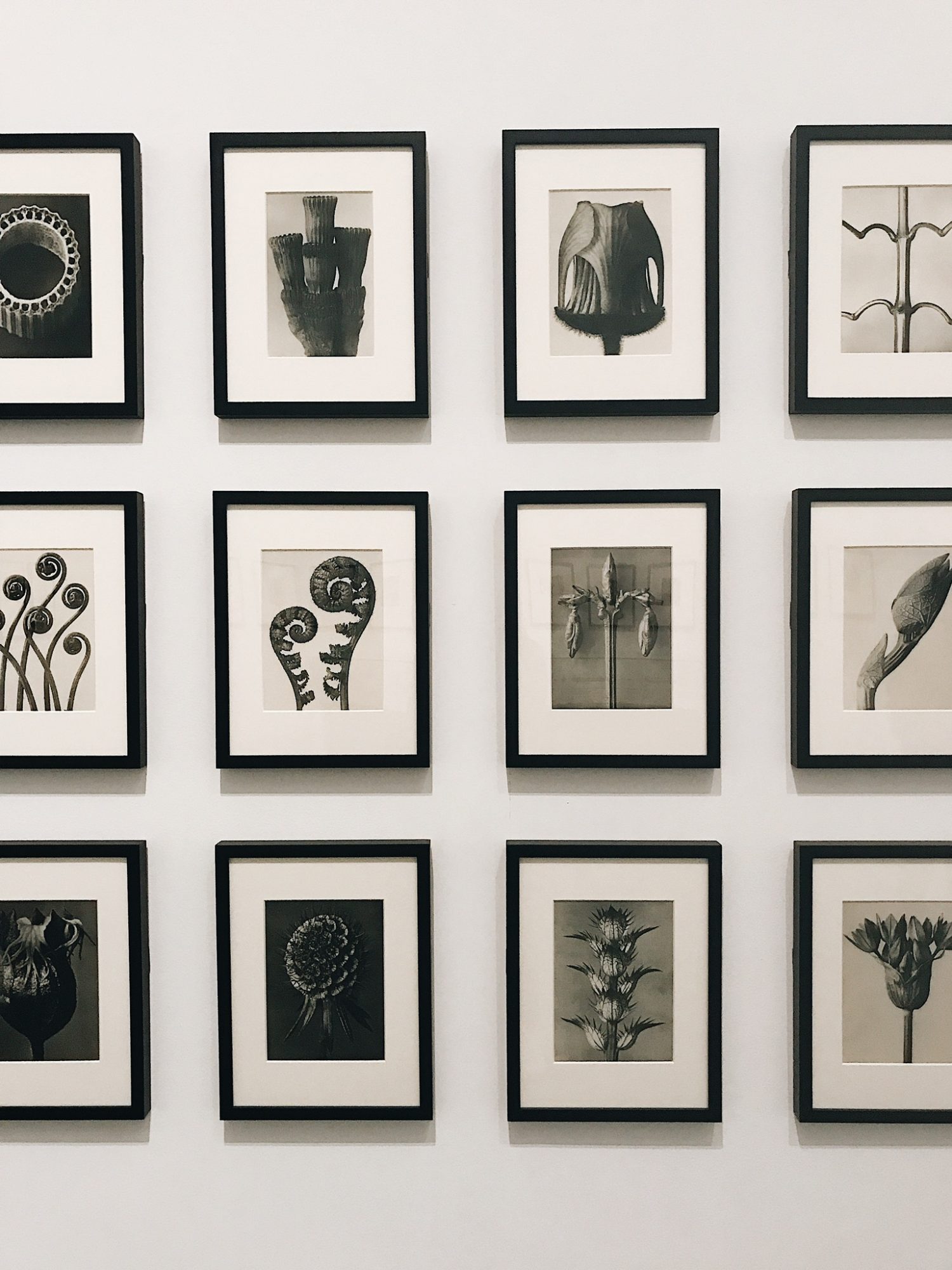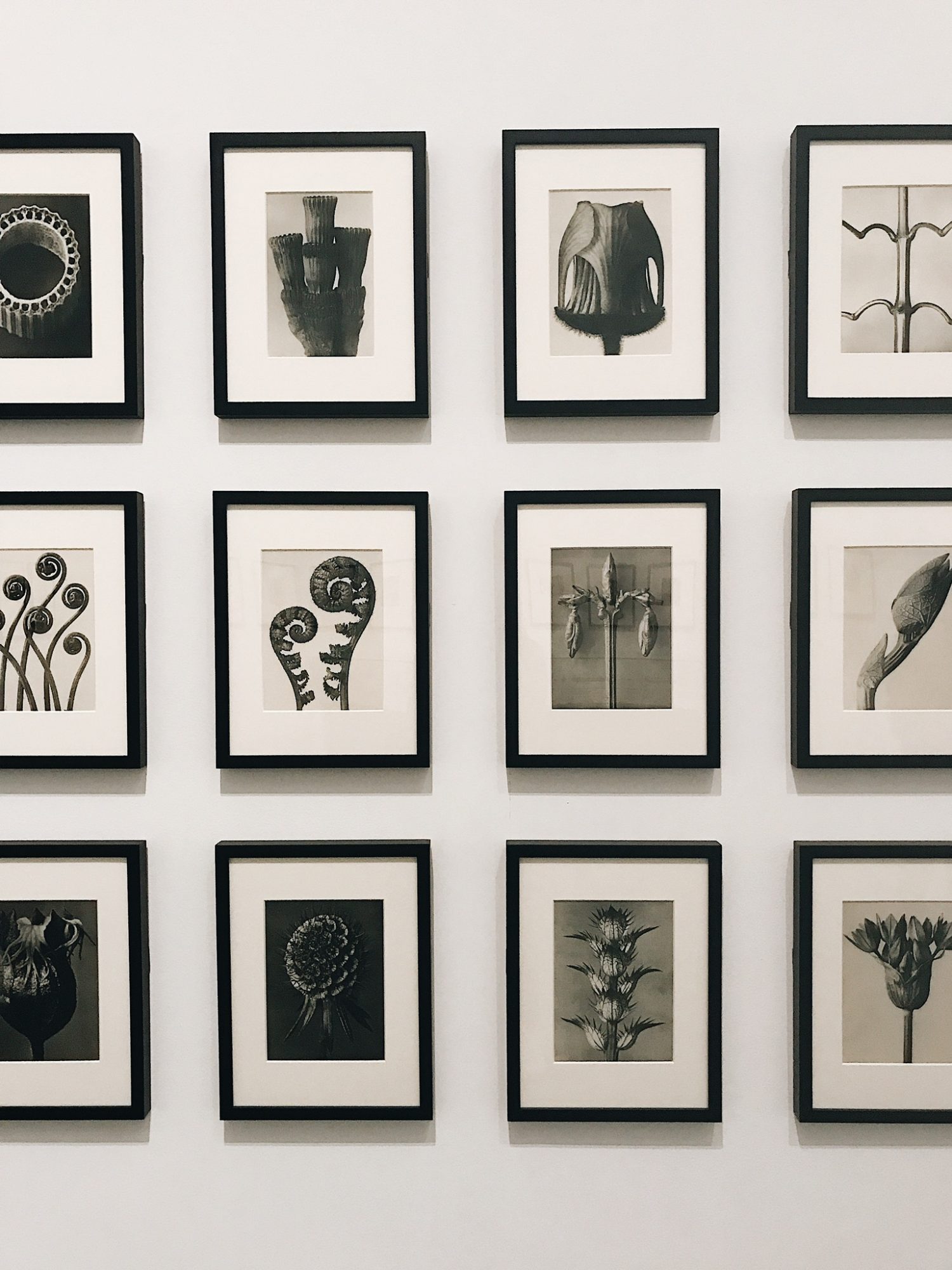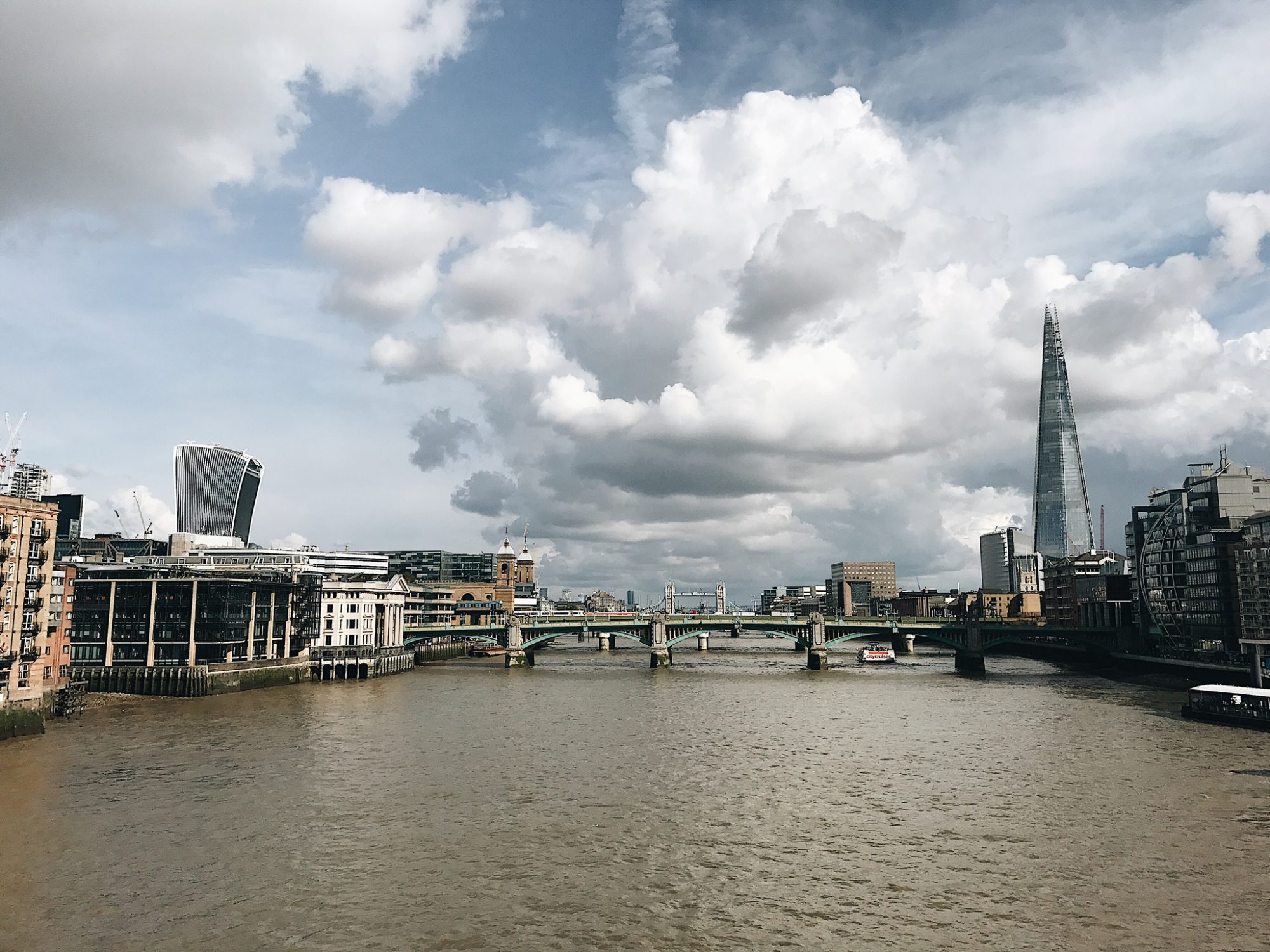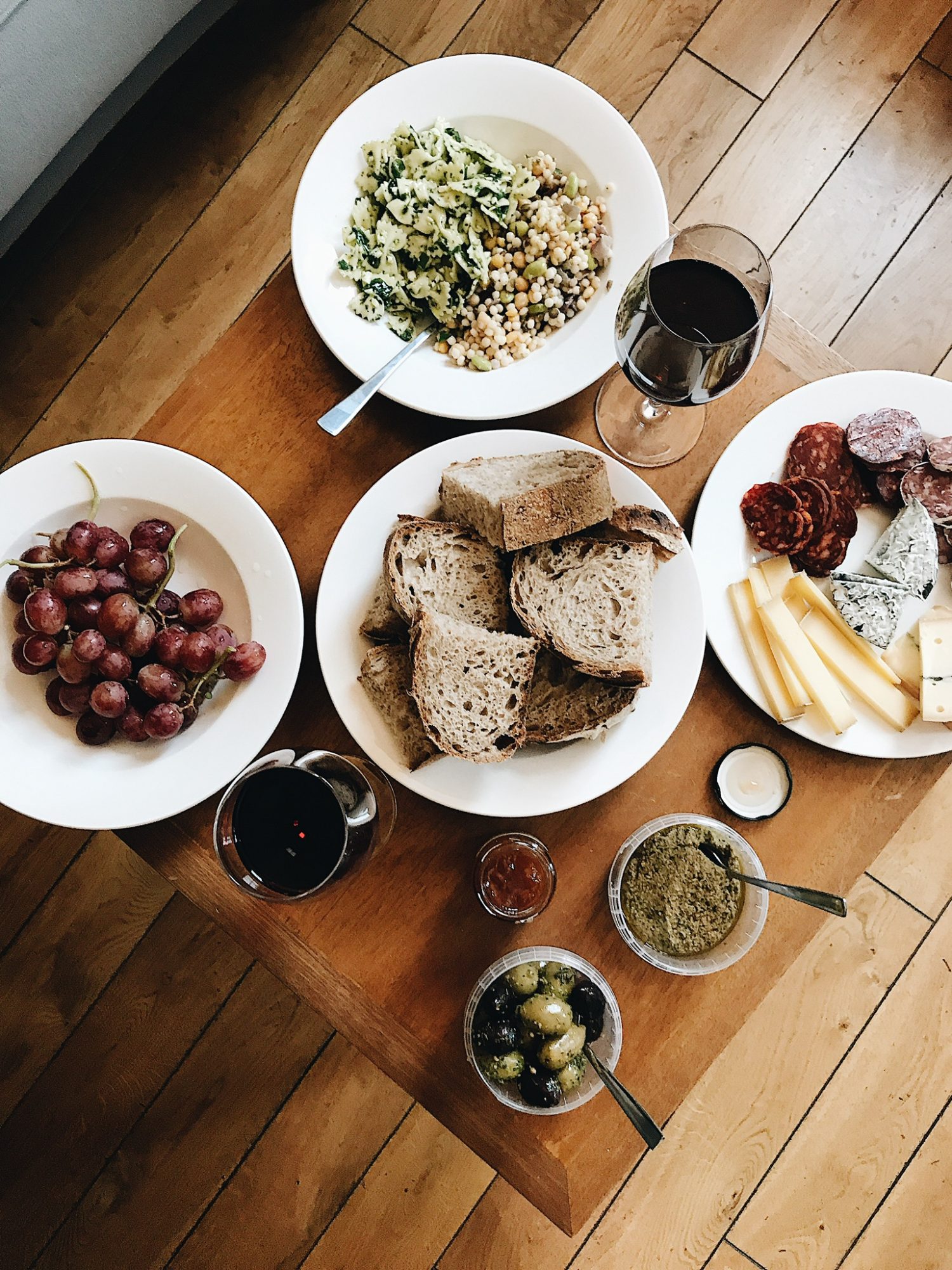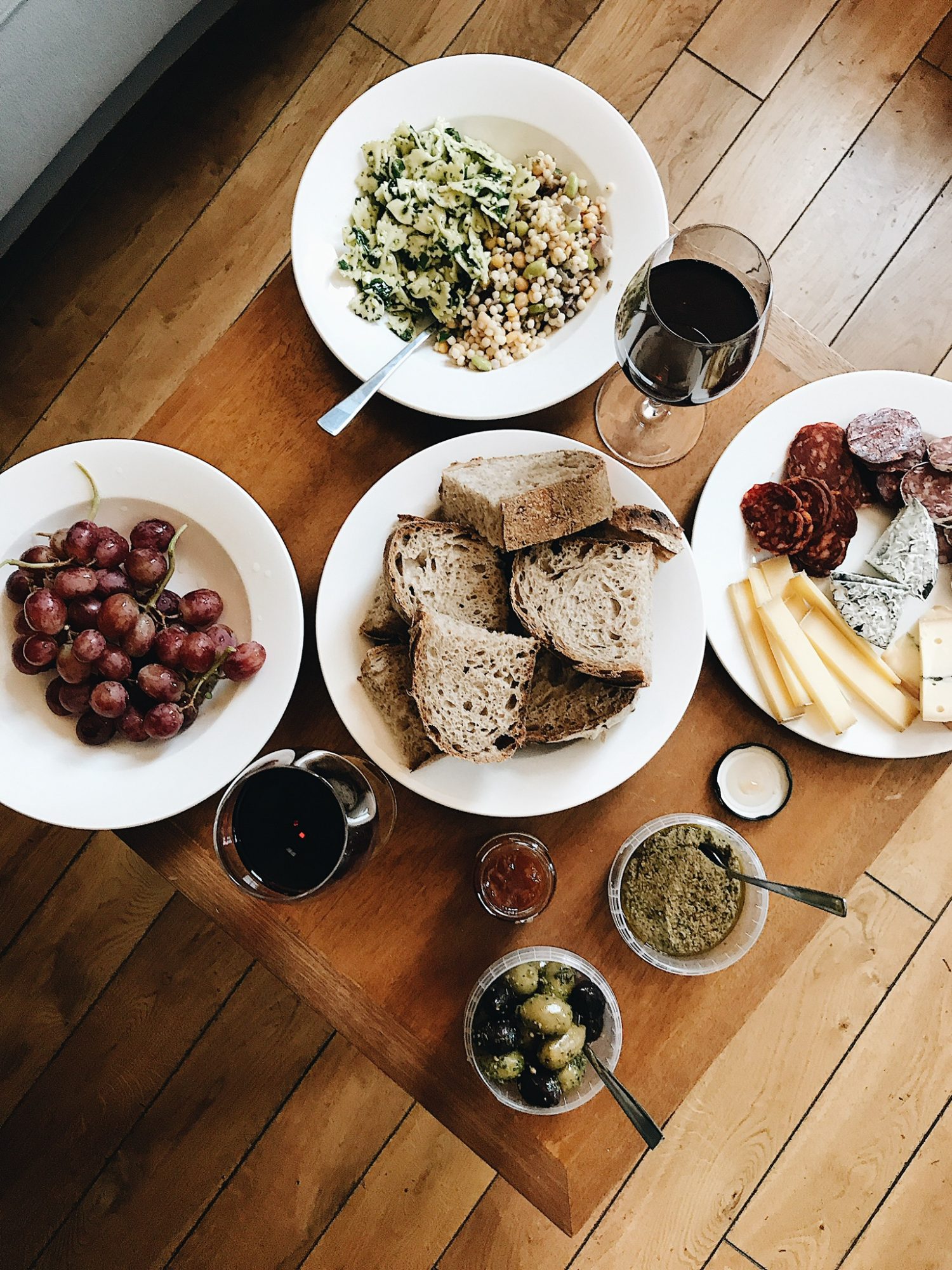 ---
WHAT I PACKED
---
We wanted to keep our baggage as lean as possible so we decided to stick to carry-on luggage for the trip. It took a lot of restraint and some tightly crossed fingers that the forecast was right but it worked out great! I honestly hadn't even thought about what I was going to bring until the night before we left and our shuttle was coming at 5 am. So I simply checked the forecast for the regions we were headed and tried to pack pieces I could layer and interchange easily, wash if needed and feel comfortable in. I thought about what I do for the 10×10 Challenge and what I've found most functional on previous trips. I pulled out everything I wanted to bring and then started eliminating non-essentials until everything would fit.
The Forecast: Highs of about 12 – 22°C over the 2-week period with lots of sun, cloud and bouts of rain mixed in. So perfect for flats, ankle boots or sneakers with jeans, a tees and a jacket or a light sweater. On the colder days and evenings I layered up with a coat and tossed on my wool beanie. Of course my raincoat also came in super handy.
The Activities: Walking, walking and more walking. Light hiking, car riding, pub crawling and a bit of fine dining.
I'll admit that overall this wasn't my most sartorially satisfying trip. That said, I did manage to put together a few stylish looks and I was definitely more than prepared for the weather the entire time. I wore literally every item I brought at least once and didn't feel like anything was a waste of precious storage space. So here's a rundown of what made the cut (excluding underwear and socks) and a few of the skin care saviours that I'll never leave home without. EVER!
---
BAGS
---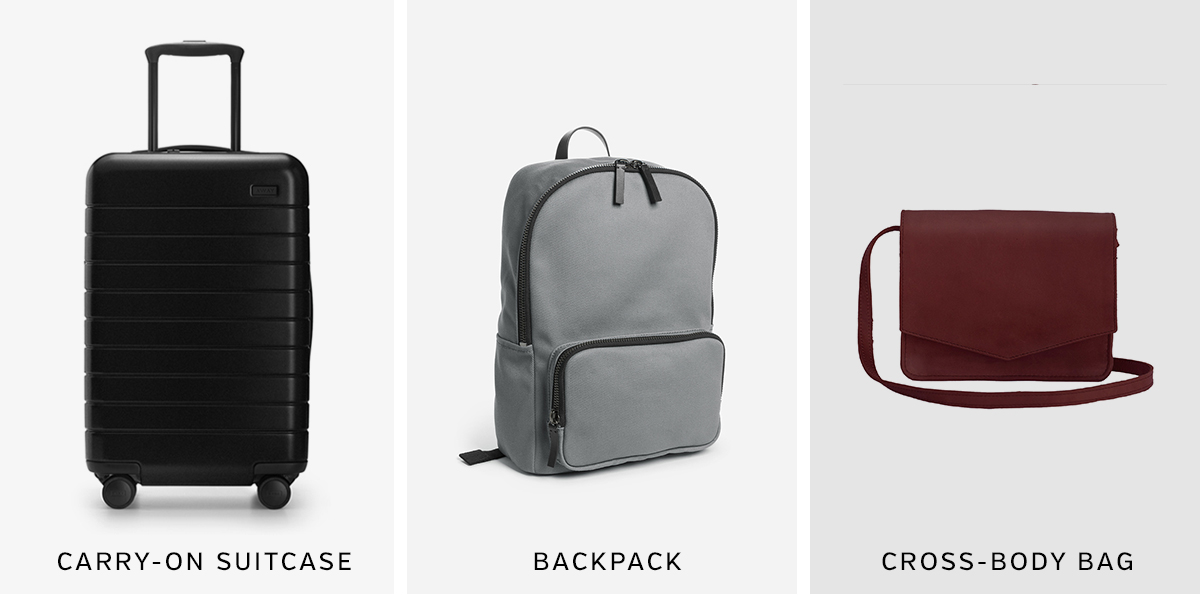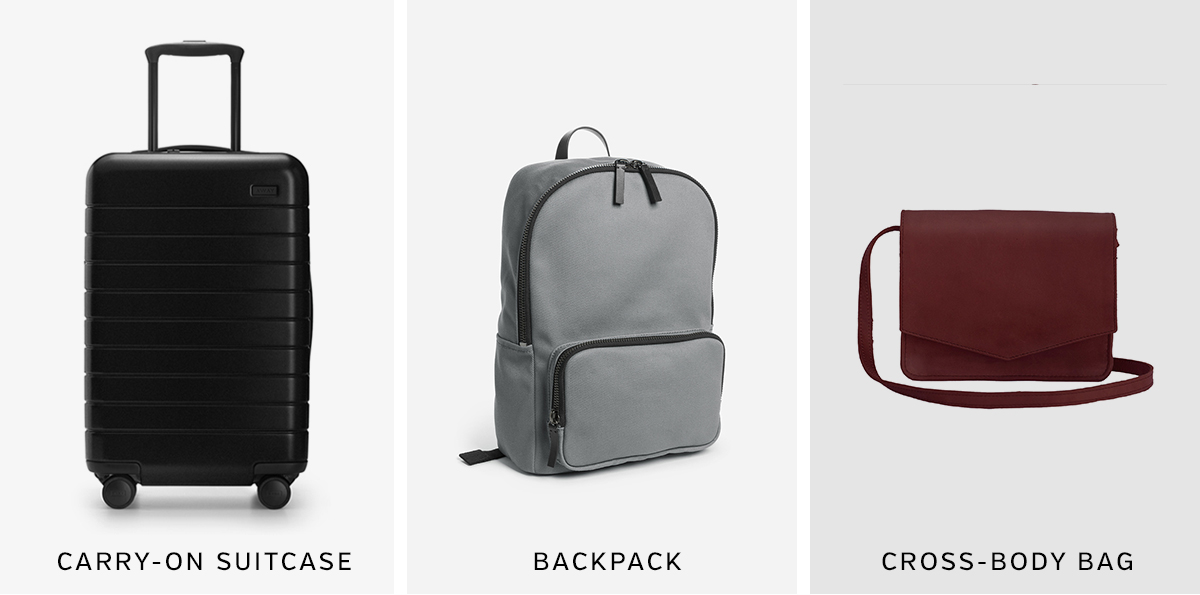 ---
CARRY-ON | BACKPACK | CROSS-BODY BAG
---
TOPS + SWEATERS
---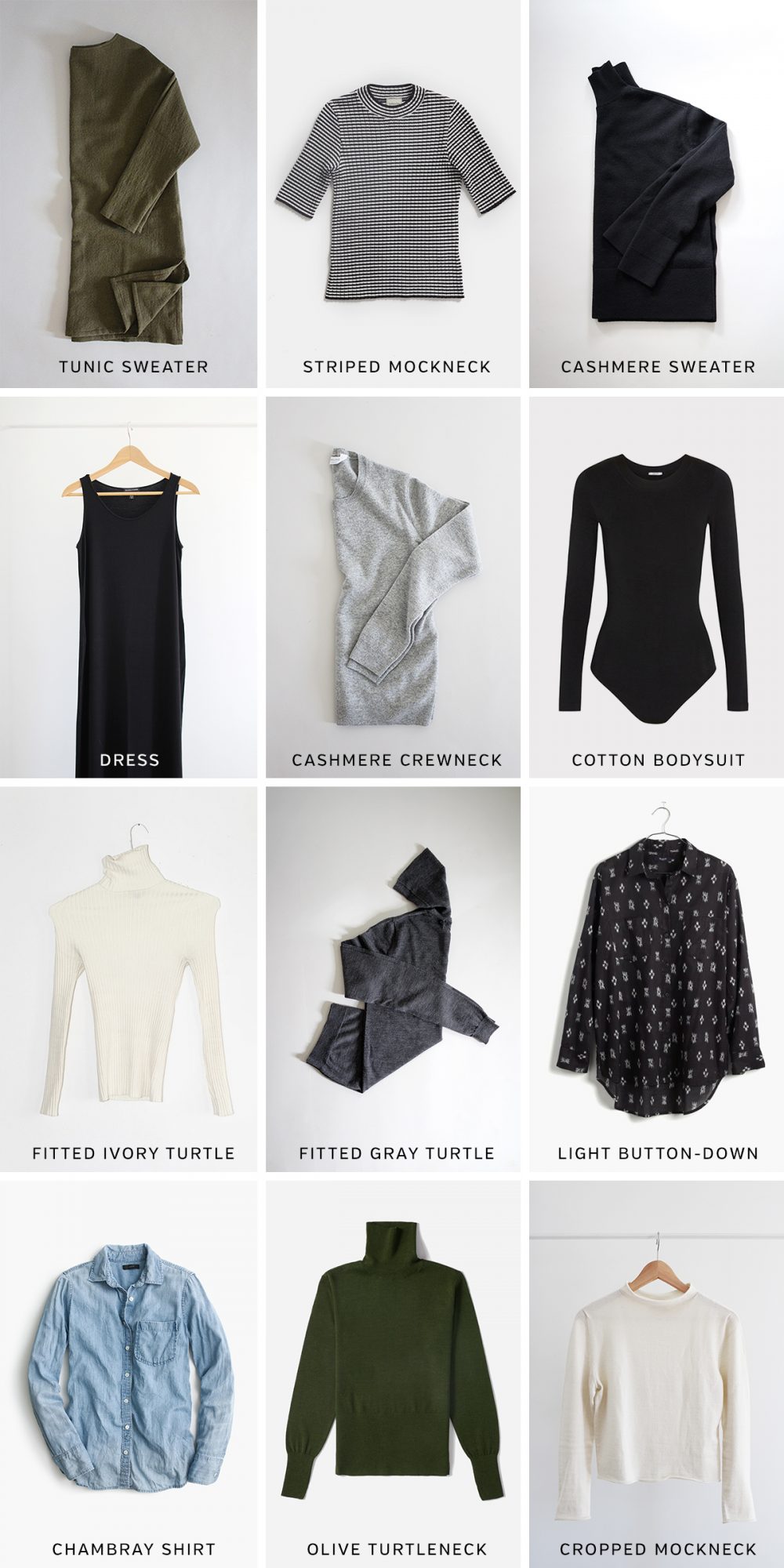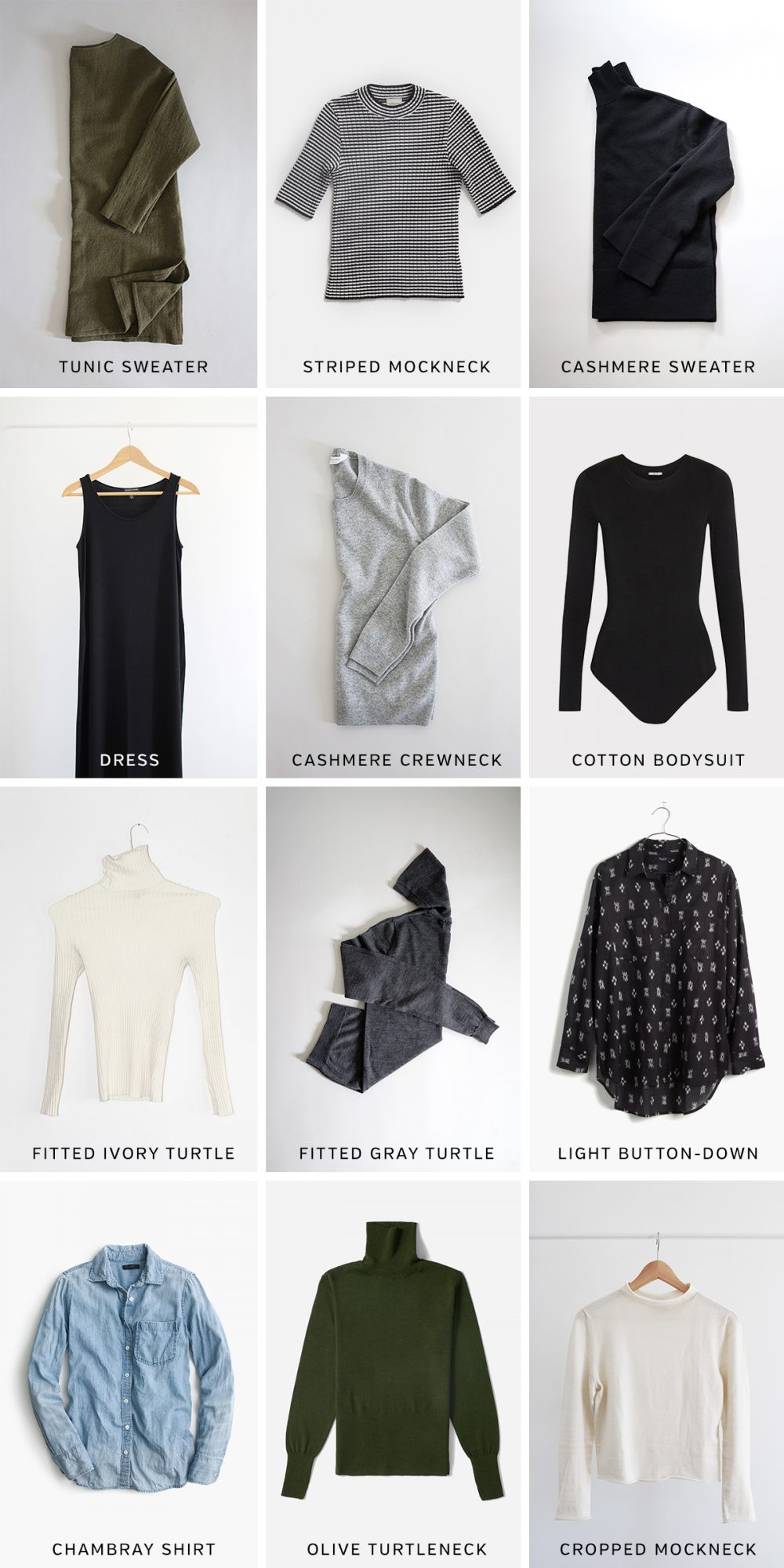 ---
TUNIC SWEATER (old) | STRIPED MOCKNECK | CASHMERE SWEATER
JERSEY DRESS | CASHMERE CREWNECK | BODYSUIT (similar)
FITTED IVORY TURTLENECK | FITTED GREY TURTLENECK | LIGHT BUTTON-DOWN (old)
CHAMBRAY (old) | OLIVE TURTLENECK (similar) | CROPPED MOCKNECK (old)
---

---
JACKETS + PANTS + SHOES
---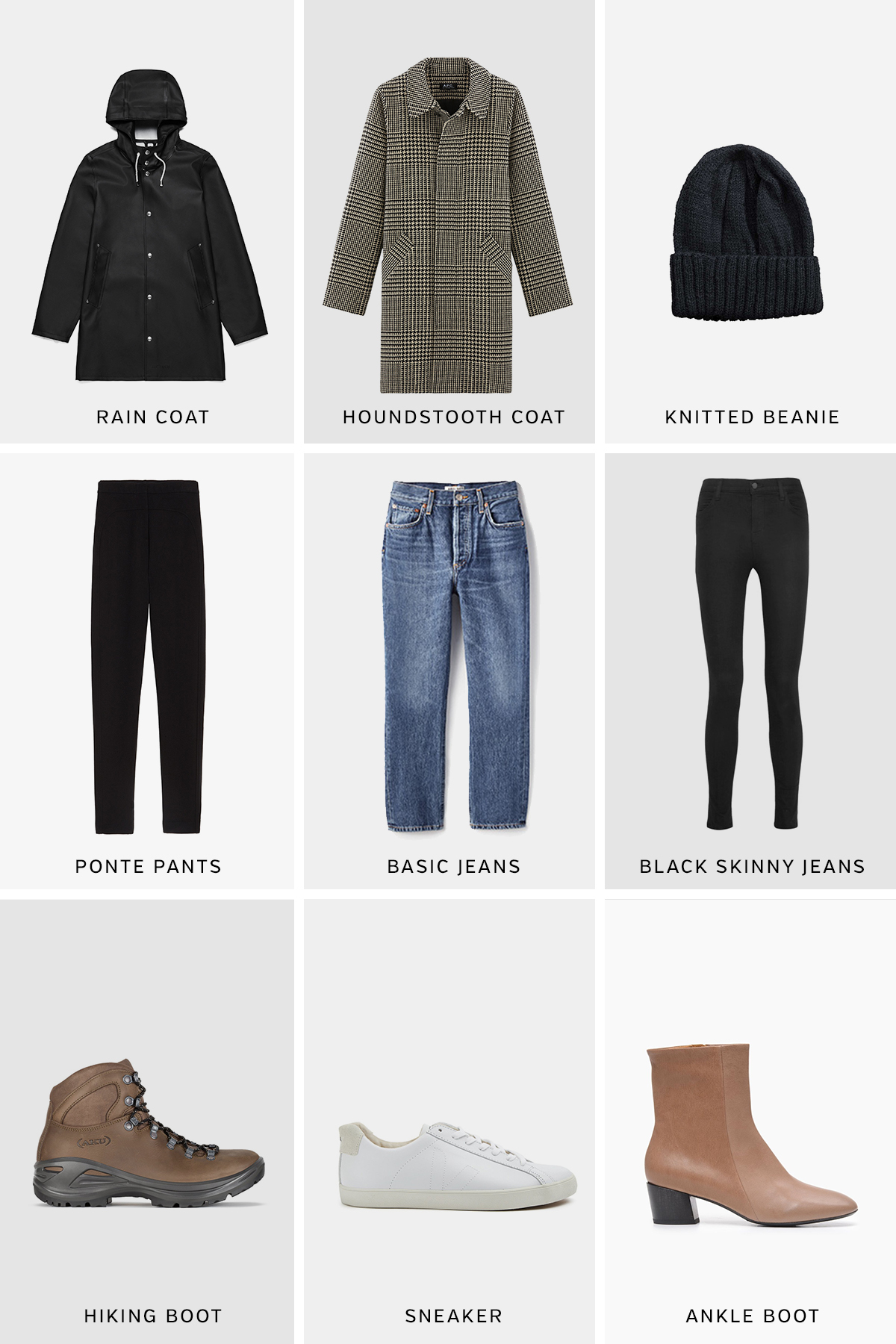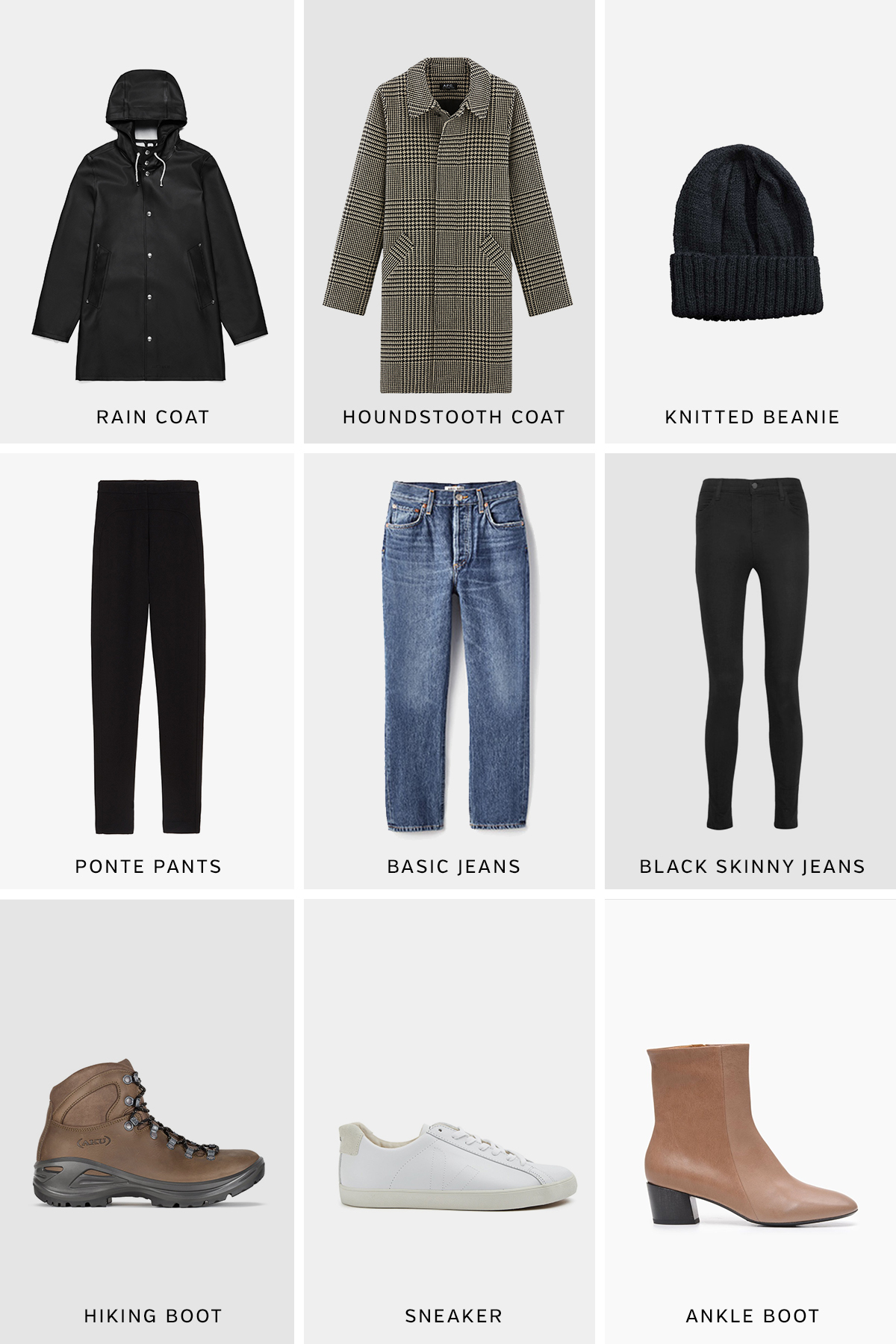 ---
RAINCOAT (similar) | HOUNDSTOOTH COAT (similar) | BEANIE
PONTE PANTS | BASIC JEANS | BLACK SKINNIES
HIKING BOOT | SNEAKER | ANKLE BOOT (Also in Black & Oxblood)
---

---
SKIN CARE ESSENTIALS
---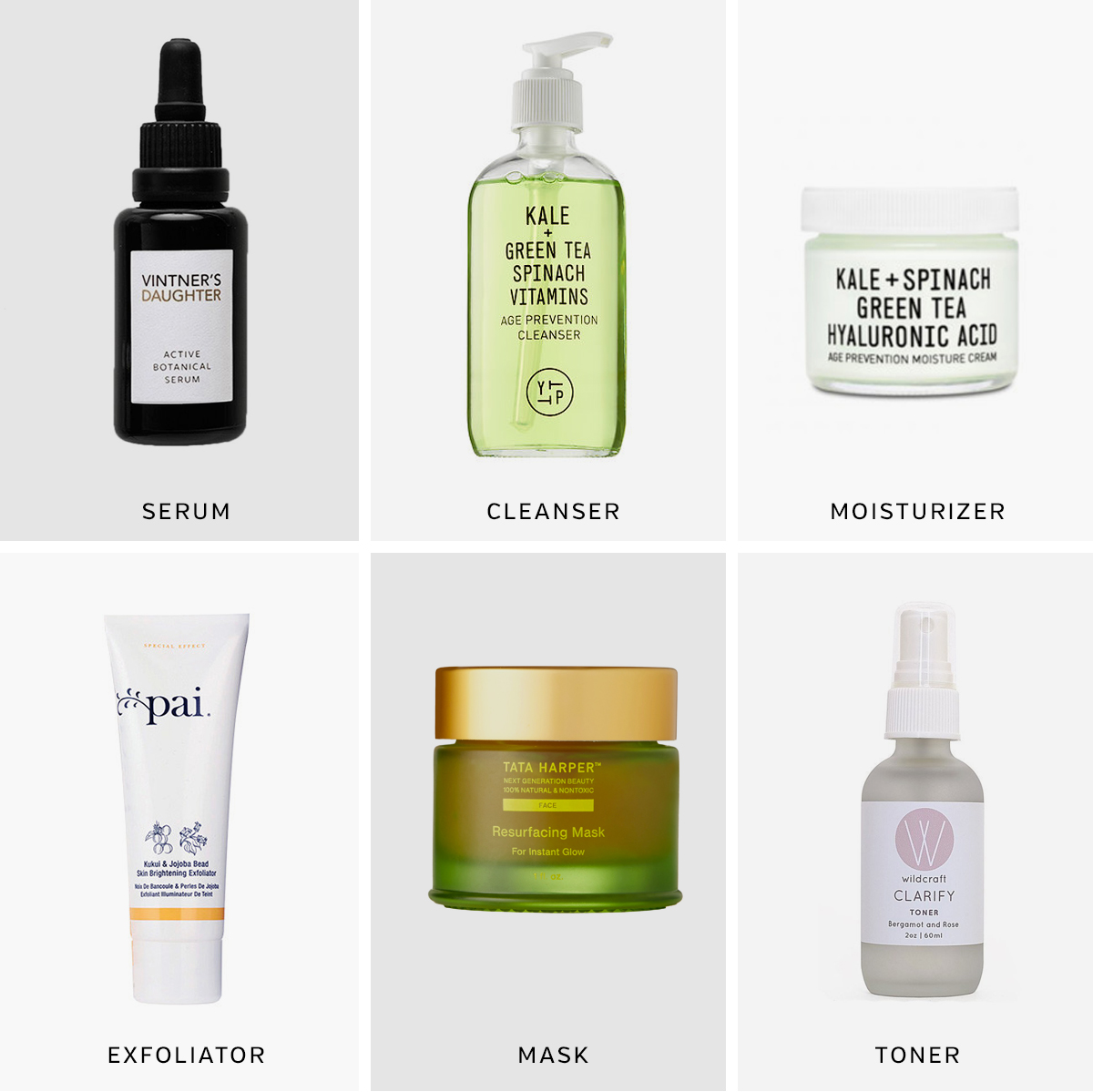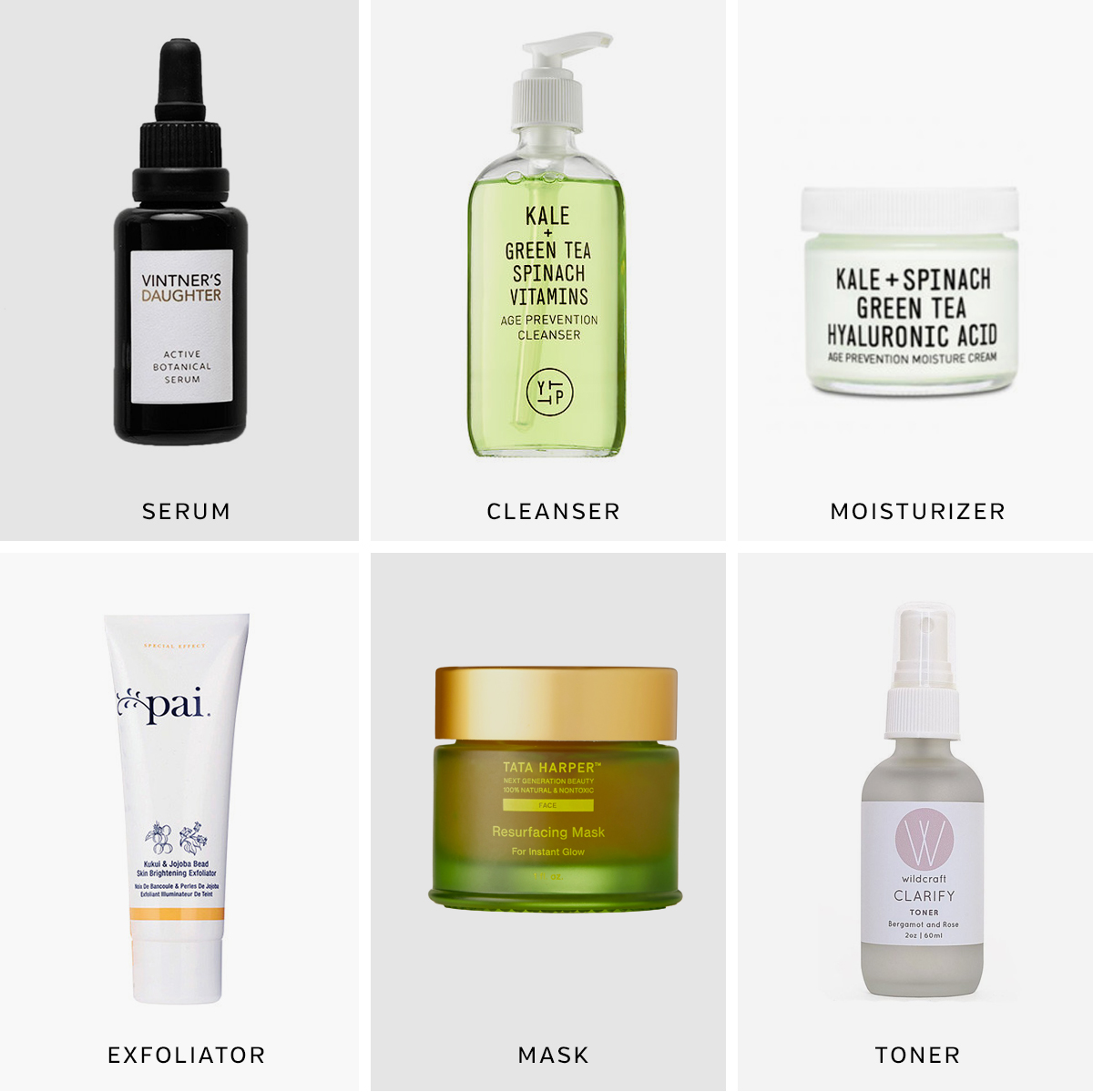 ---
VITNER'S DAUGHTER SERUM | YTTP CLEANSER (travel kit) | YTTP MOISTURIZER (travel kit)
PAI EXFOLIATOR | TATA HARPER RESURFACING MASK | WILDCRAFT CLARIFY TONER
---
OUTFIT ROUNDUP
---
Here are most of the looks I wore throughout the two weeks we were away. As you'll see I kept things super simple with mostly fitted sweaters and skinnies topped by either my raincoat our my houndstooth jacket. I switched it up here and there with my tunic sweater and my jersey dress to add a bit of interest.
---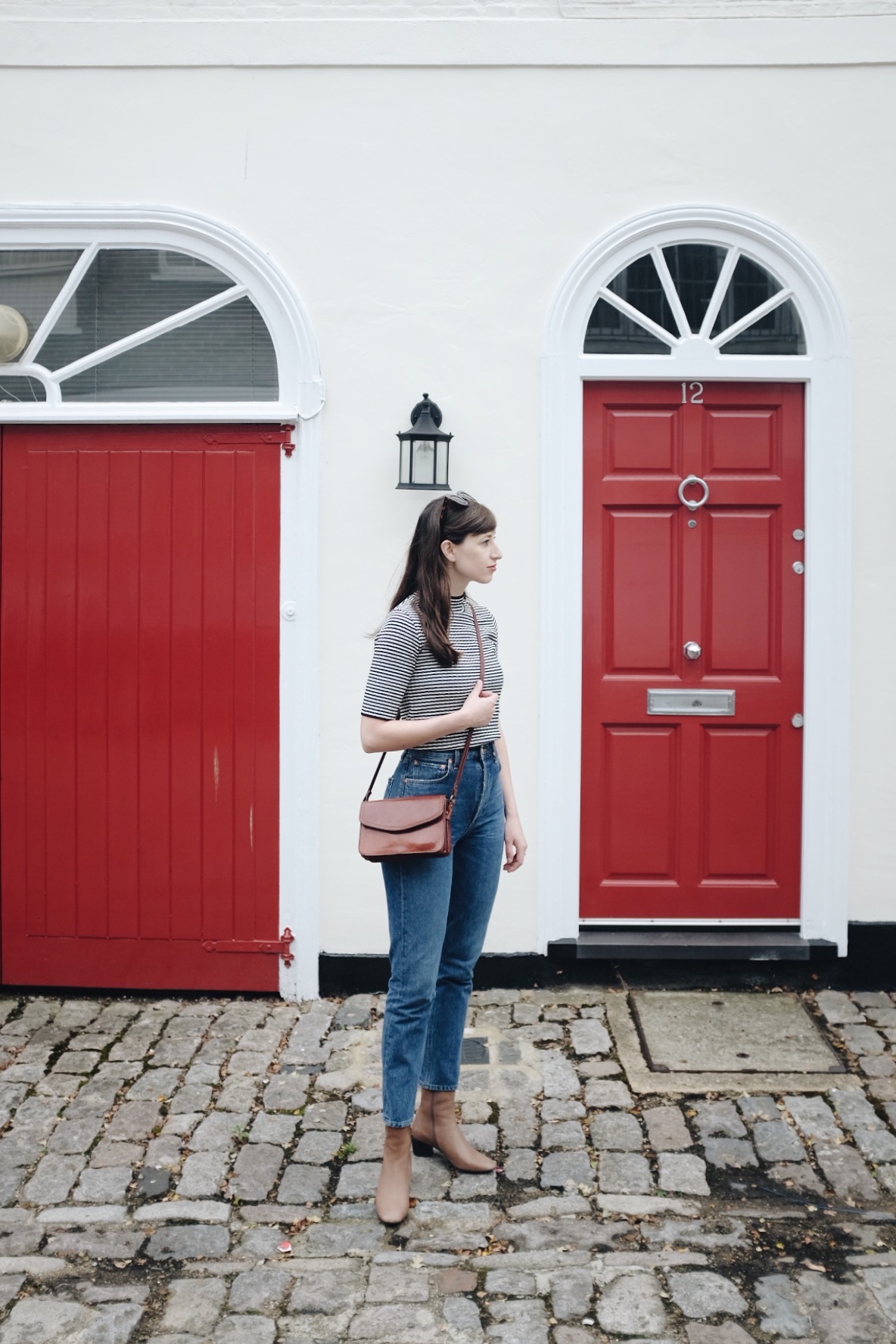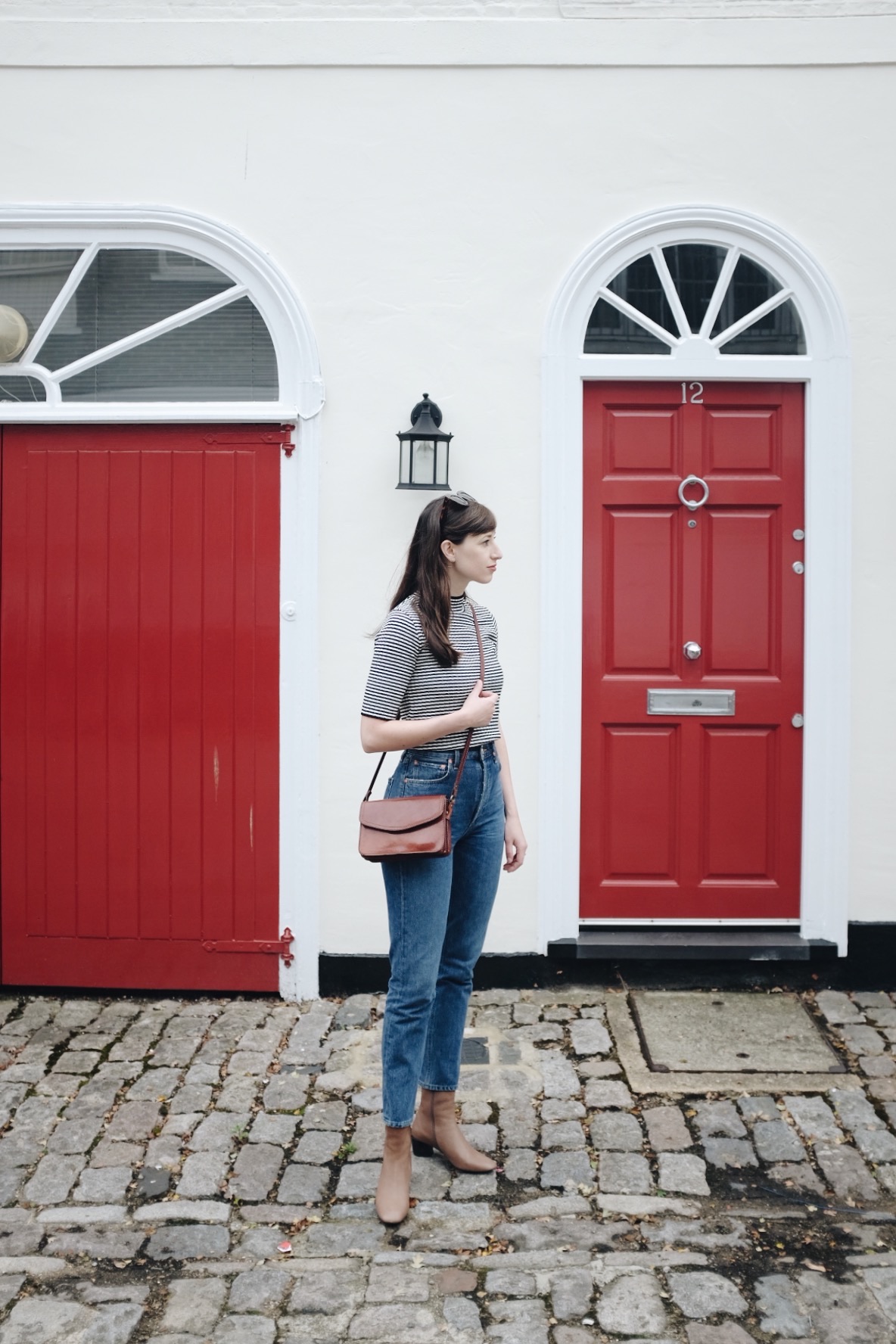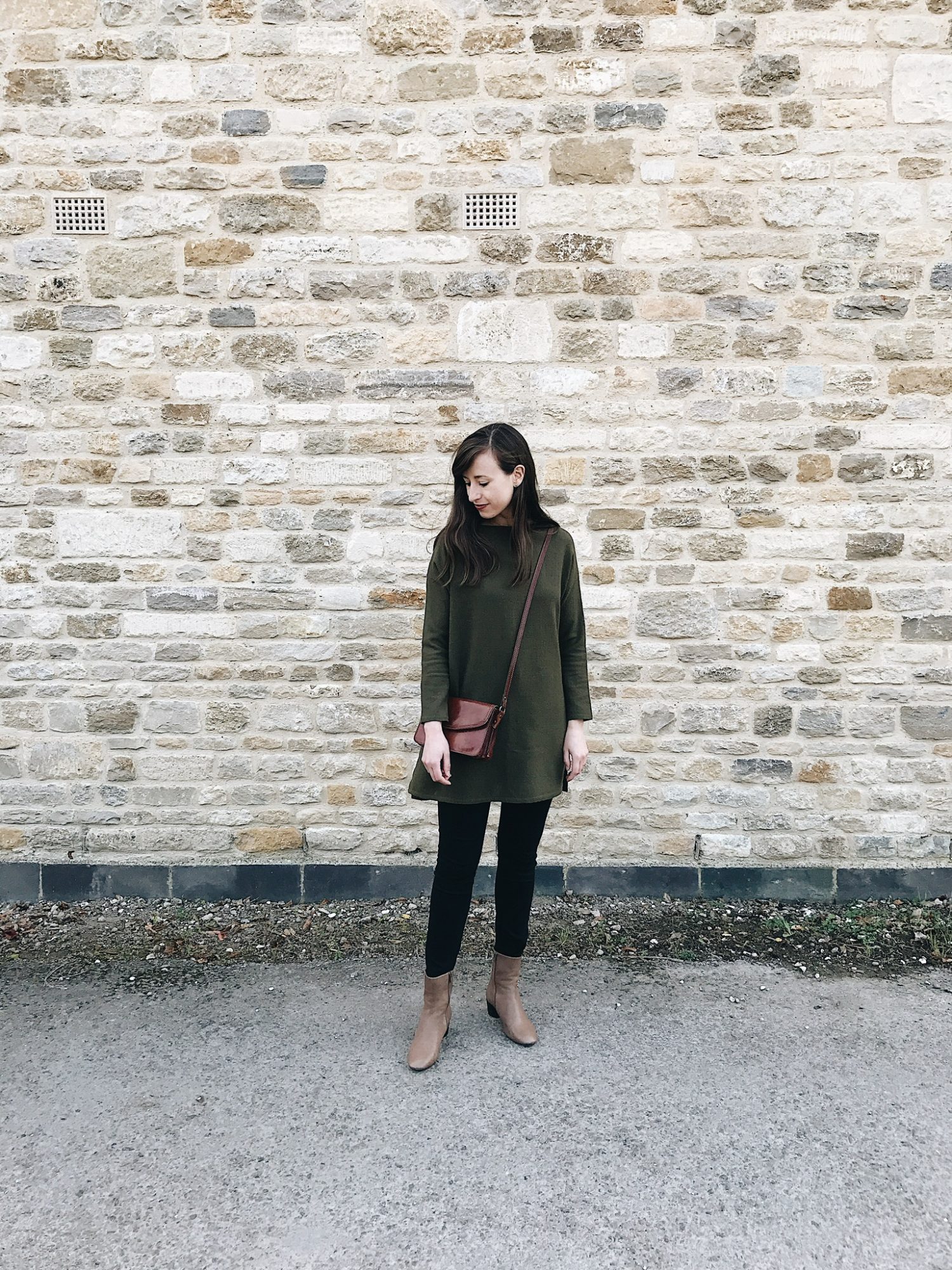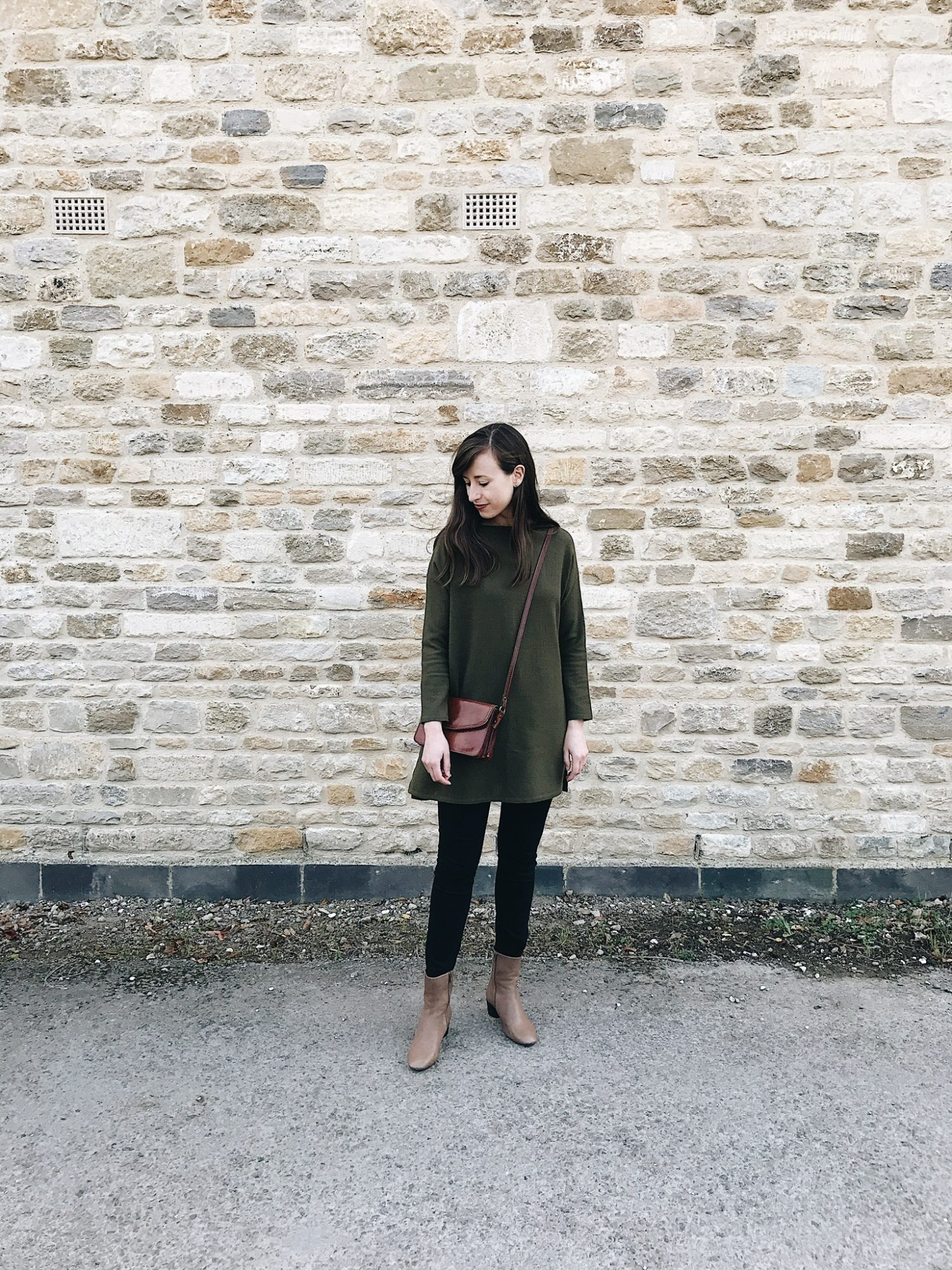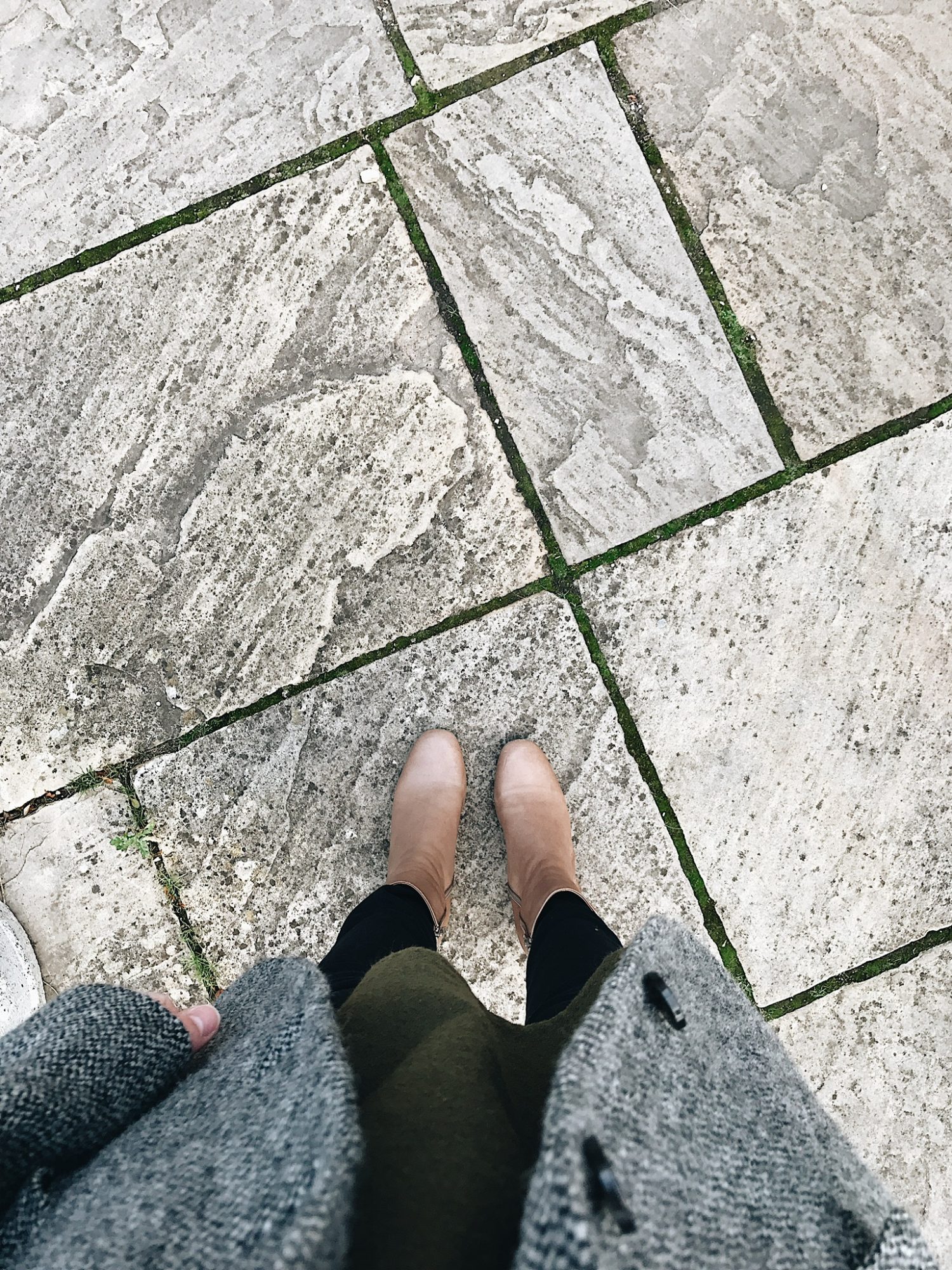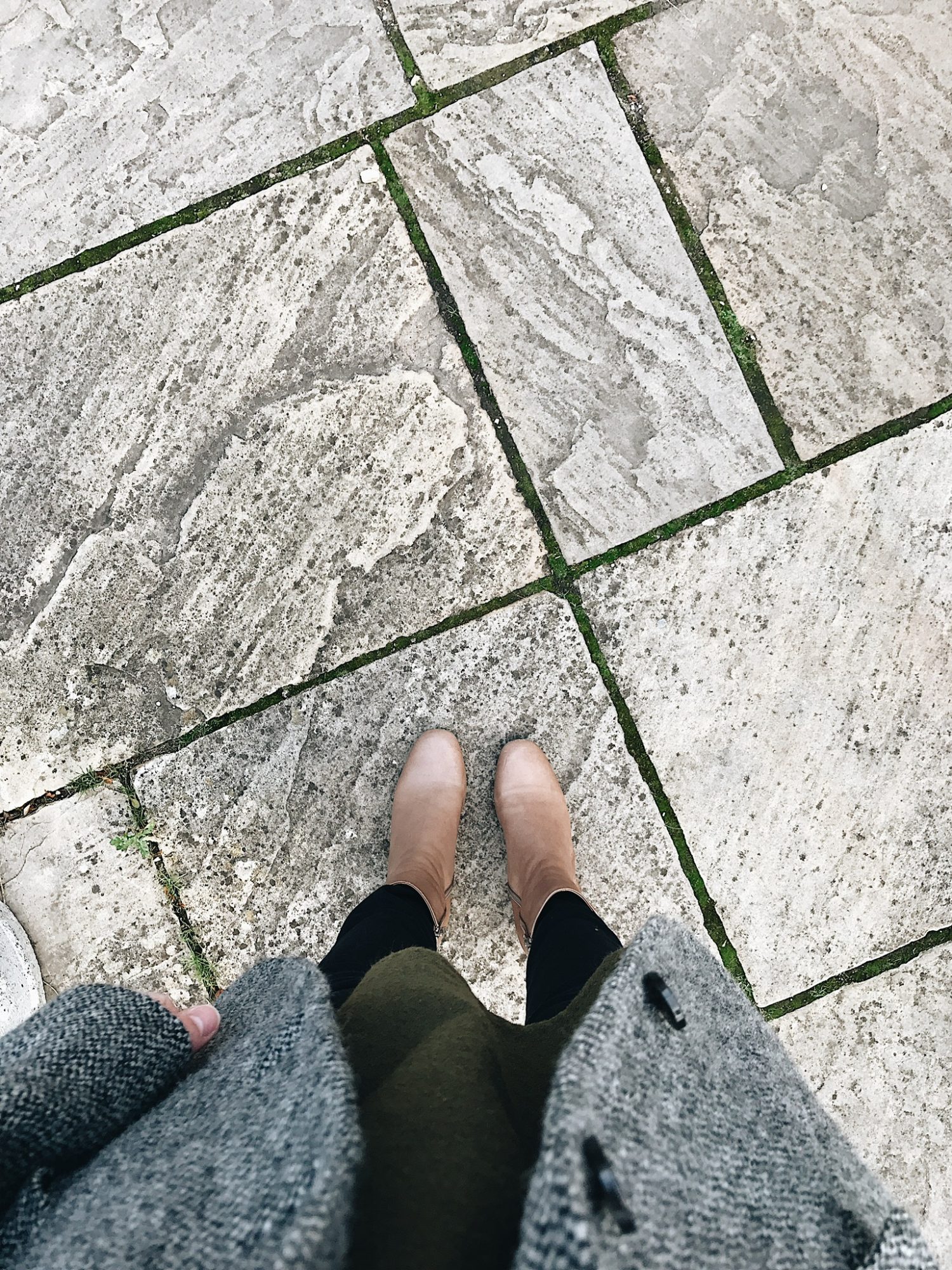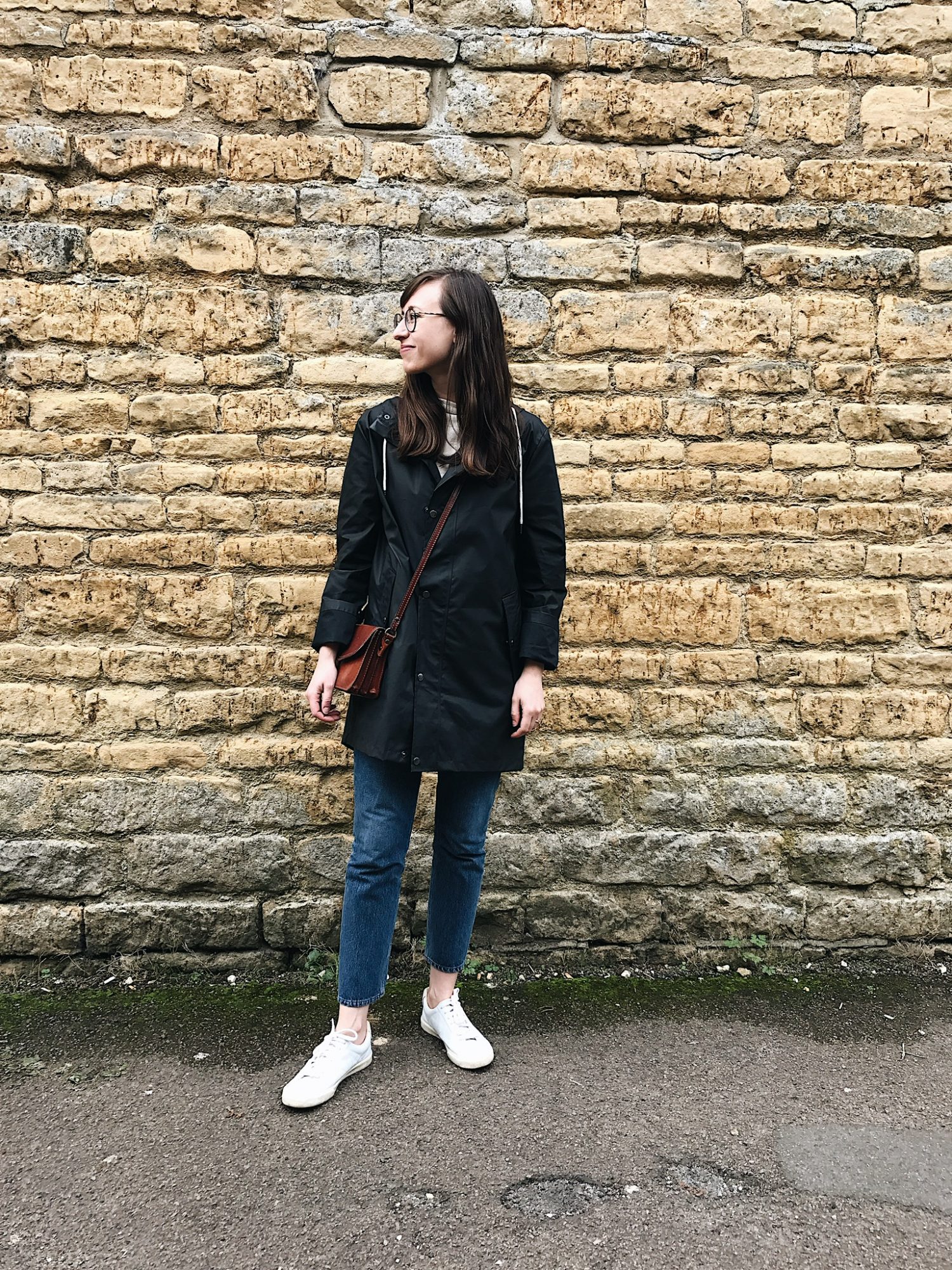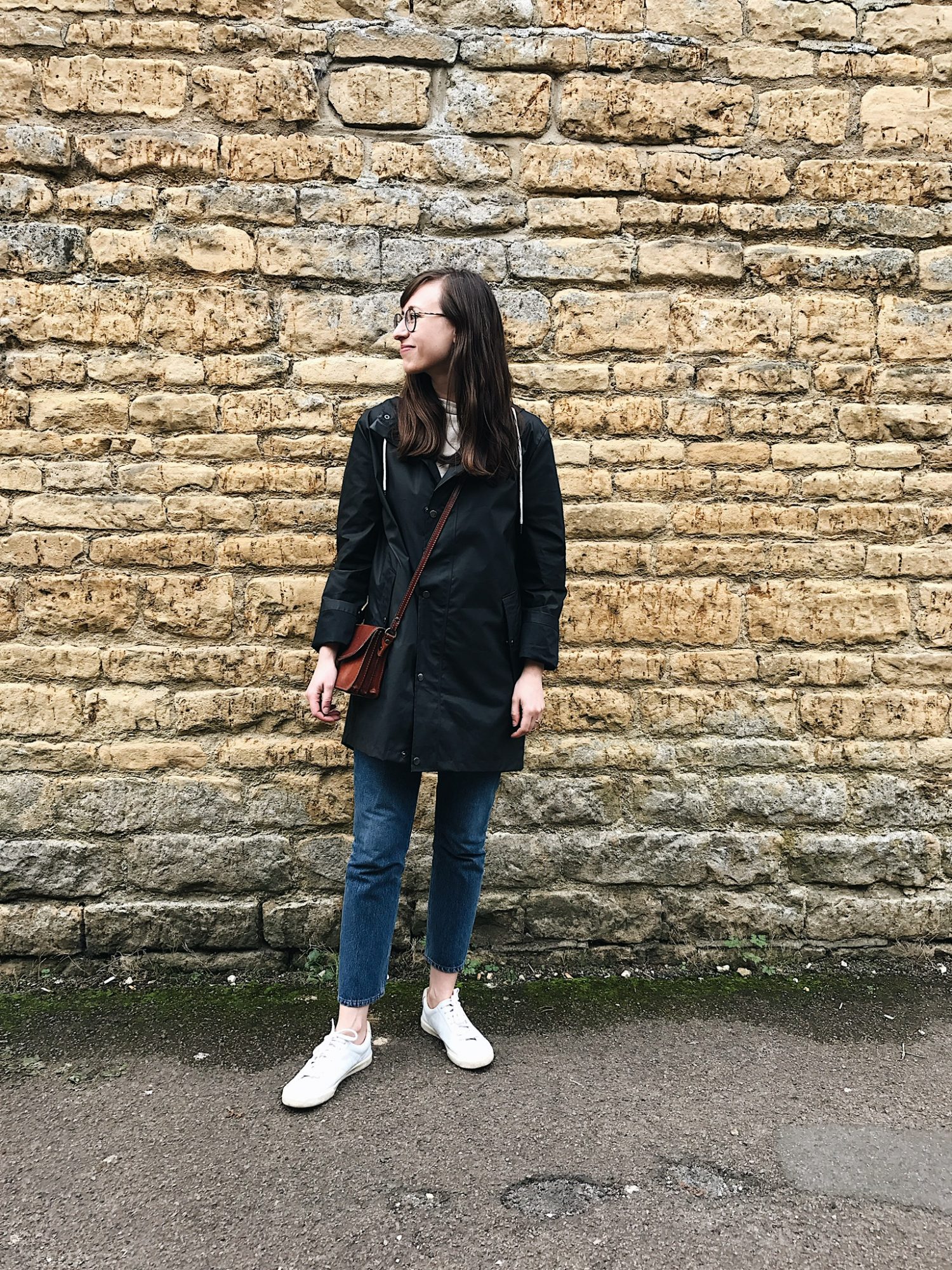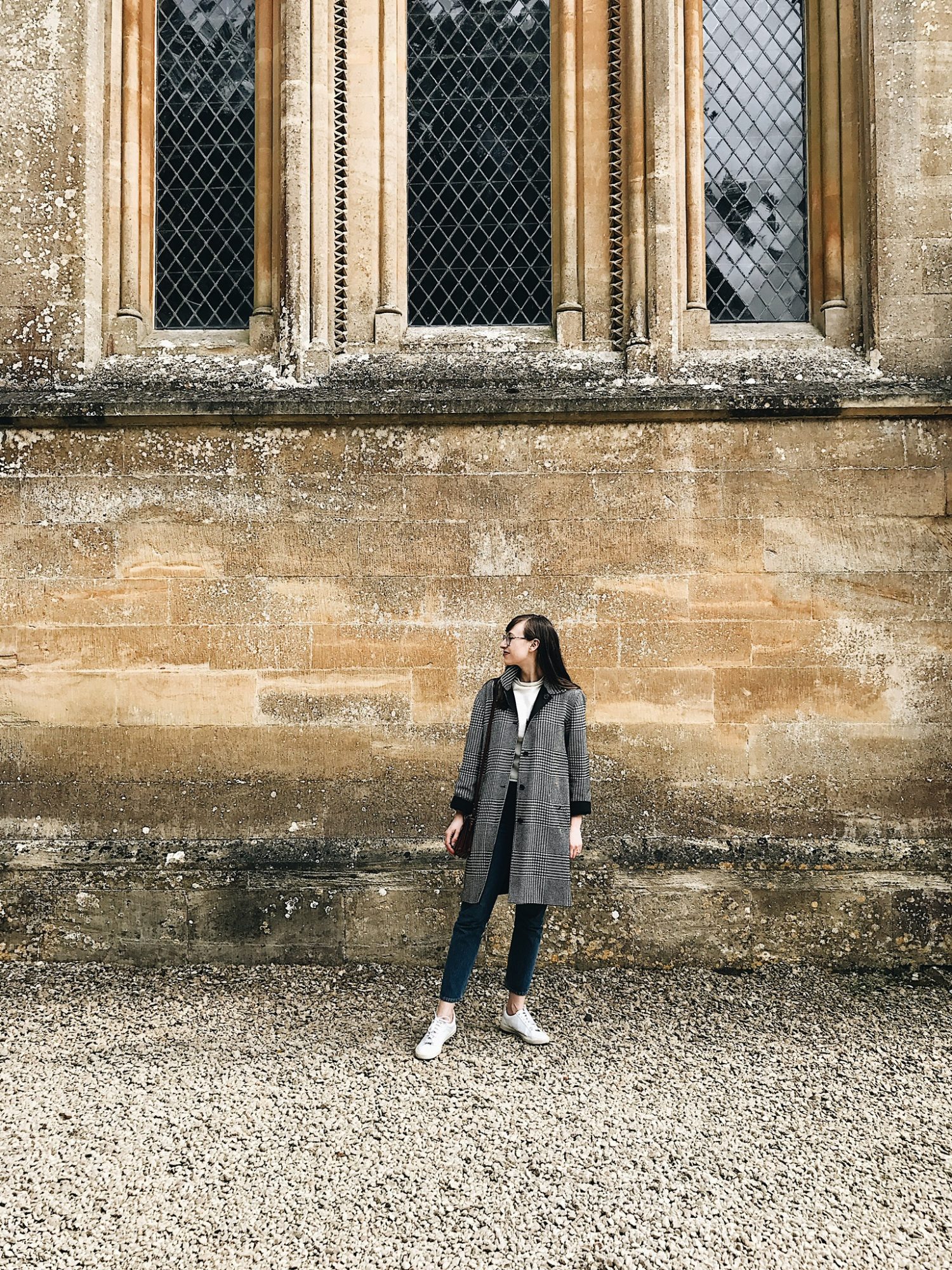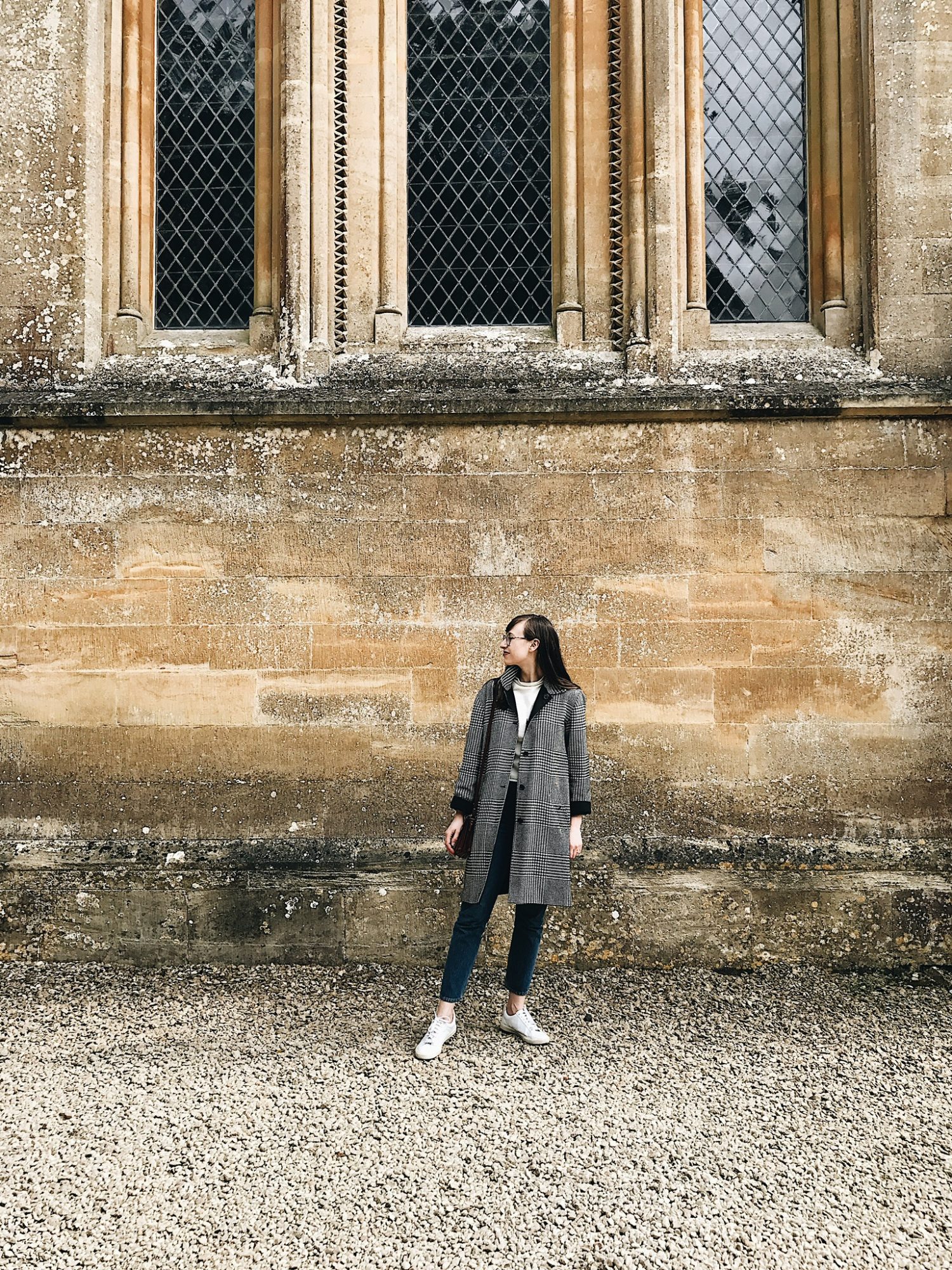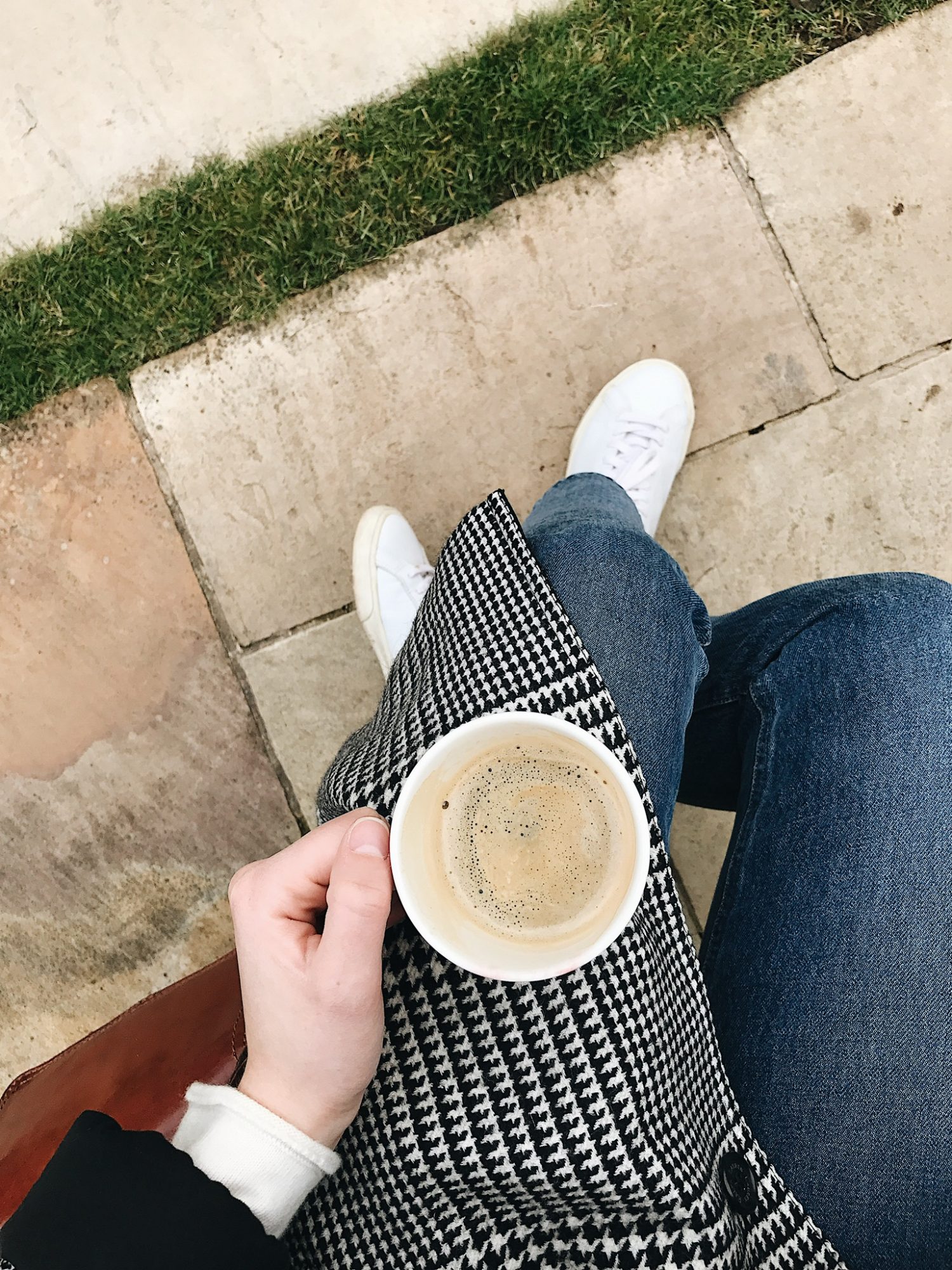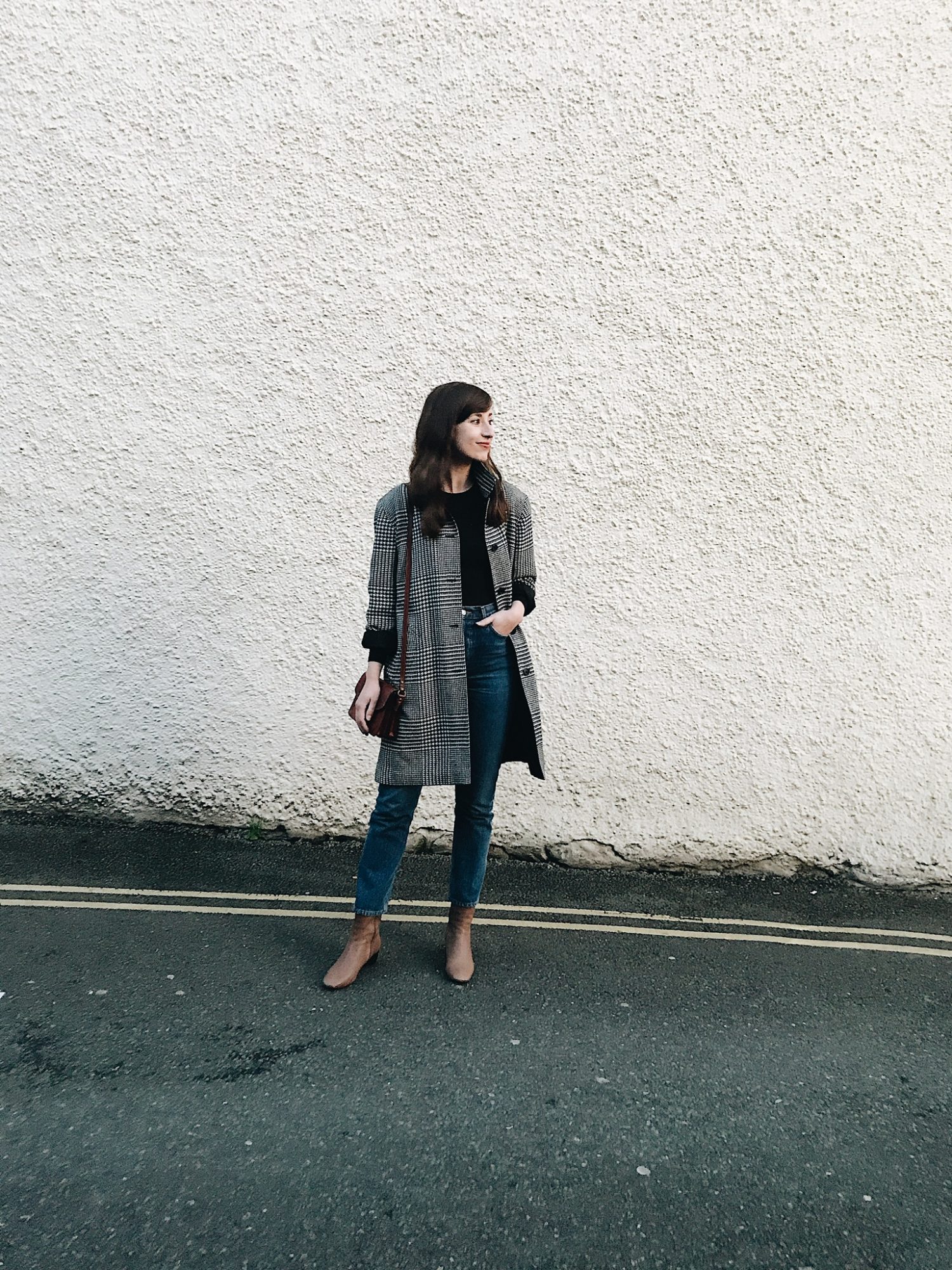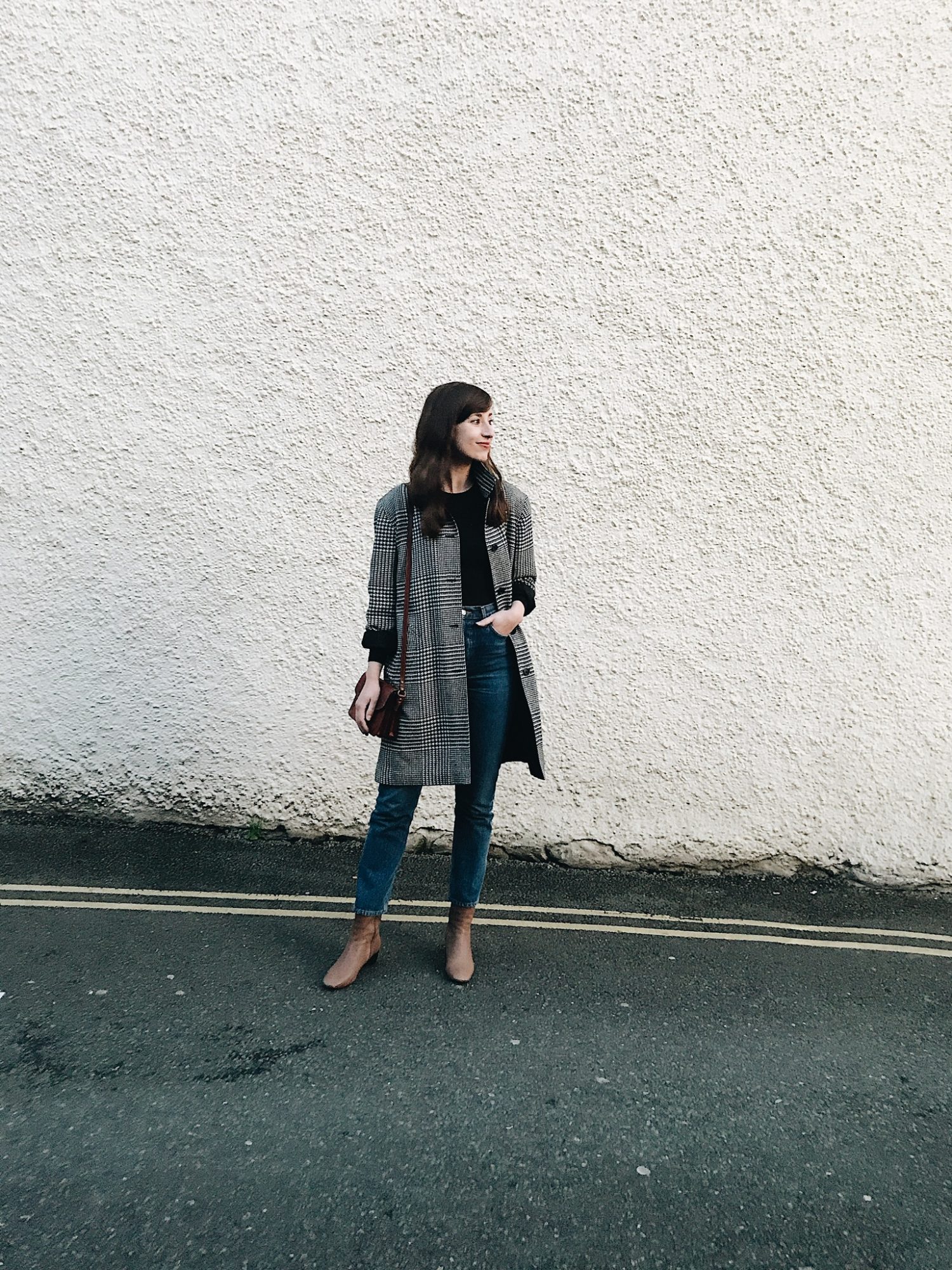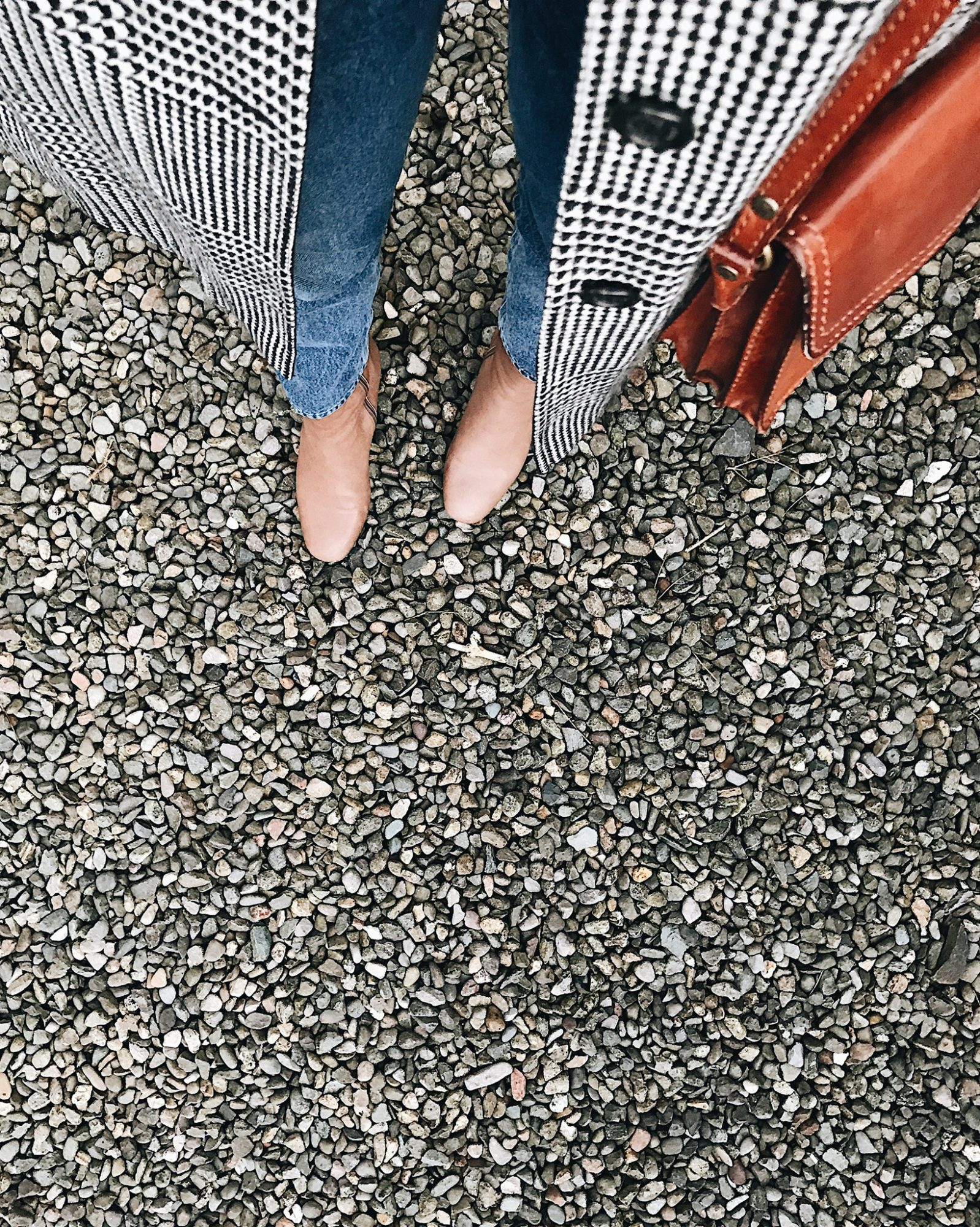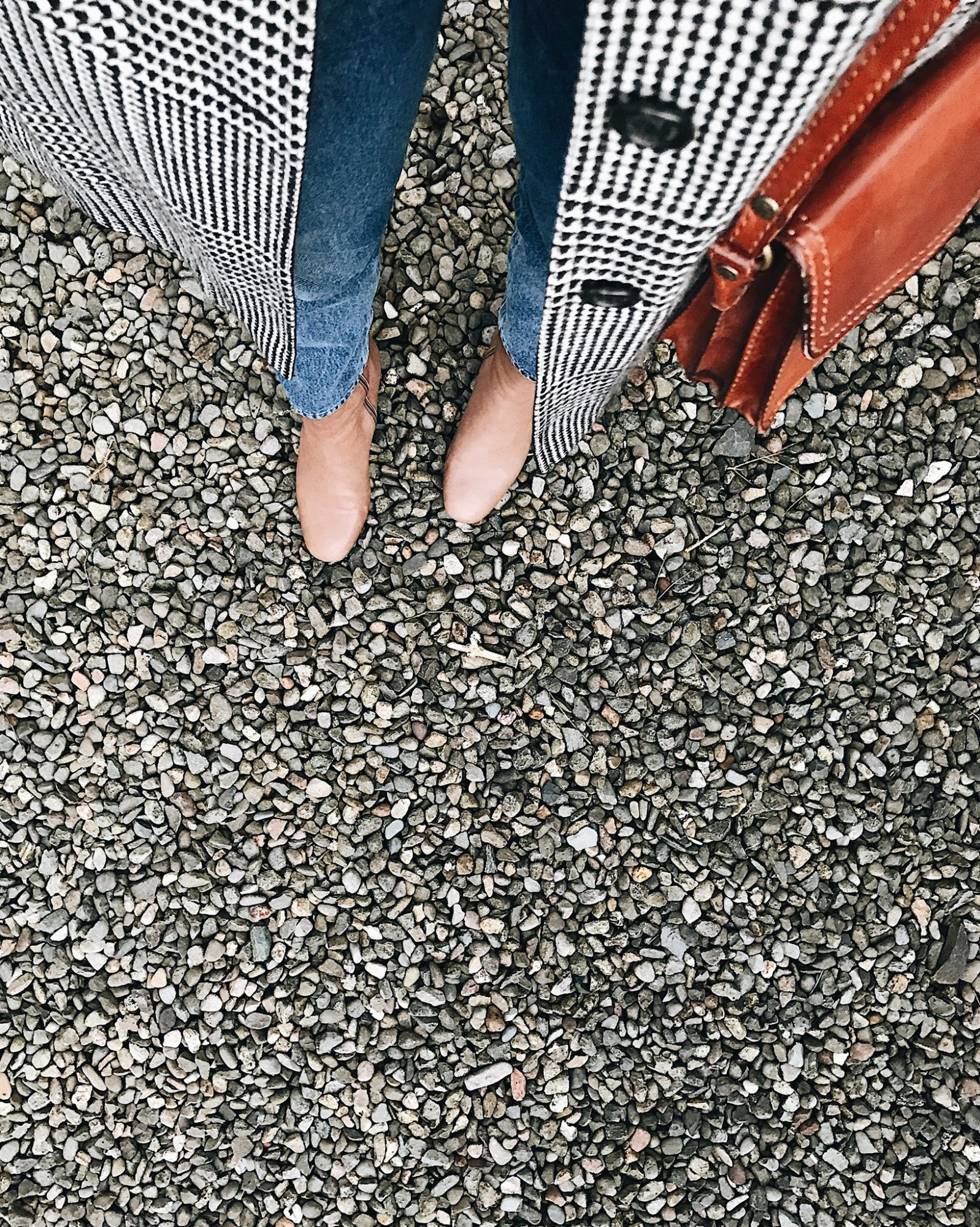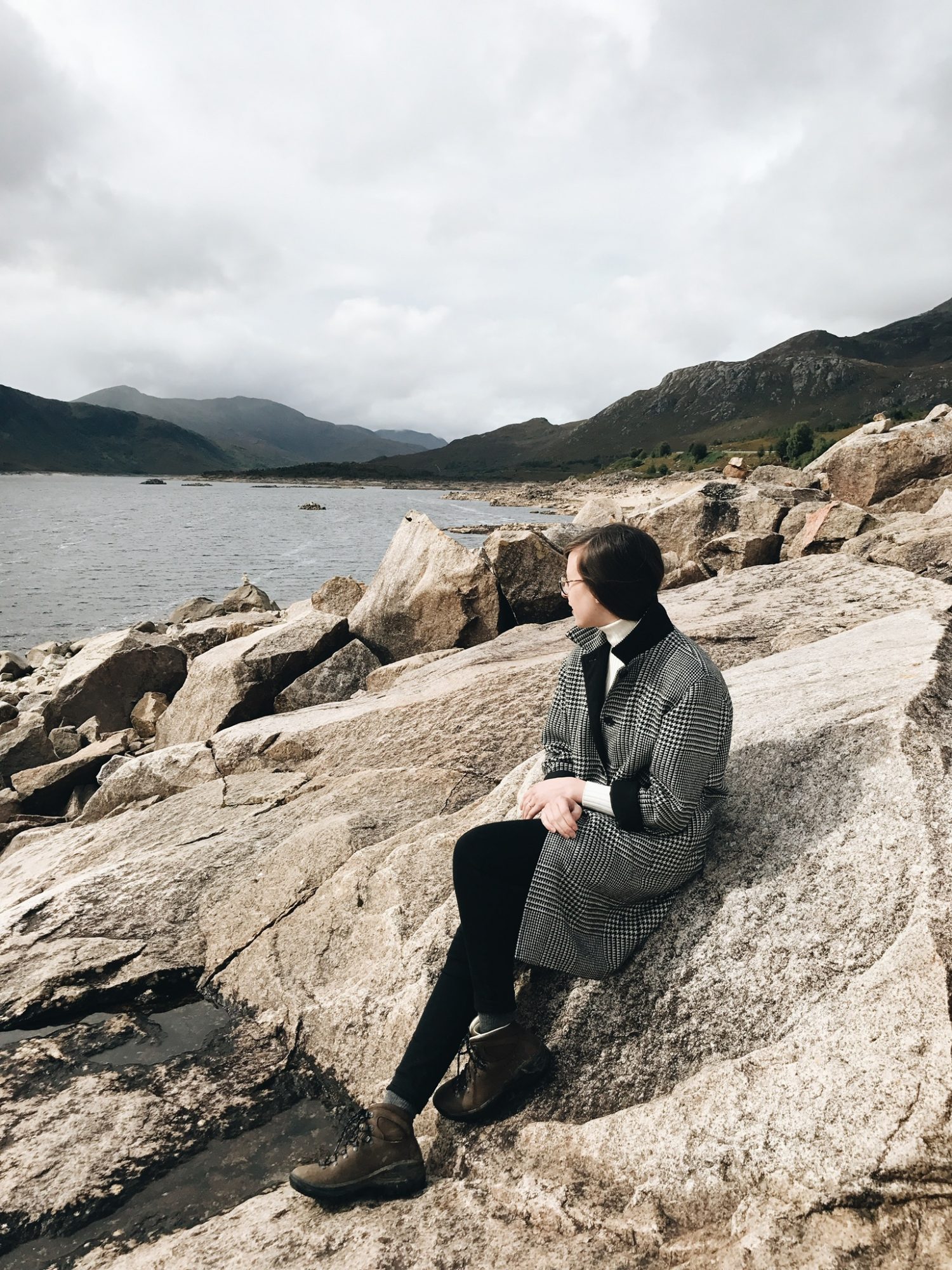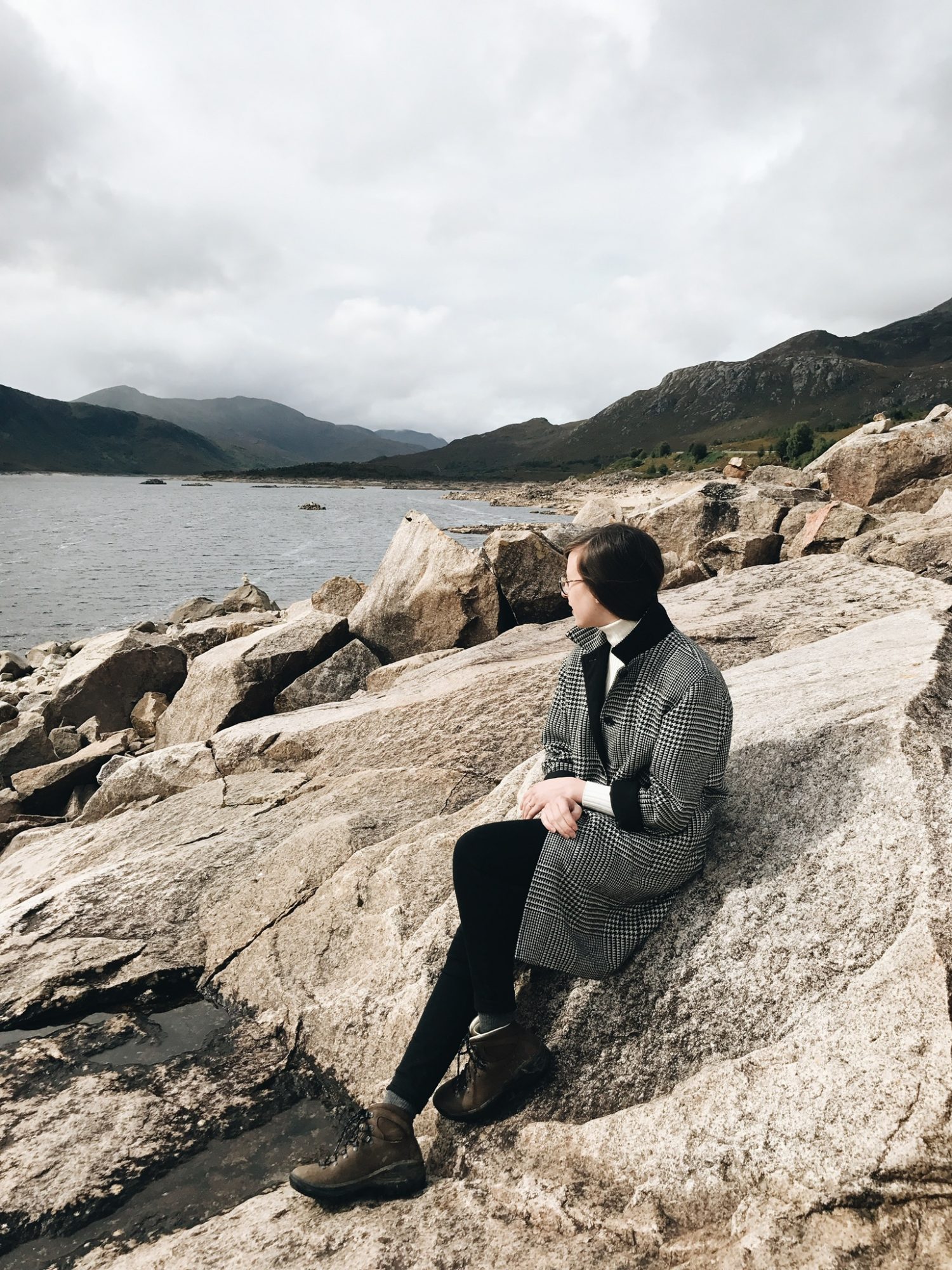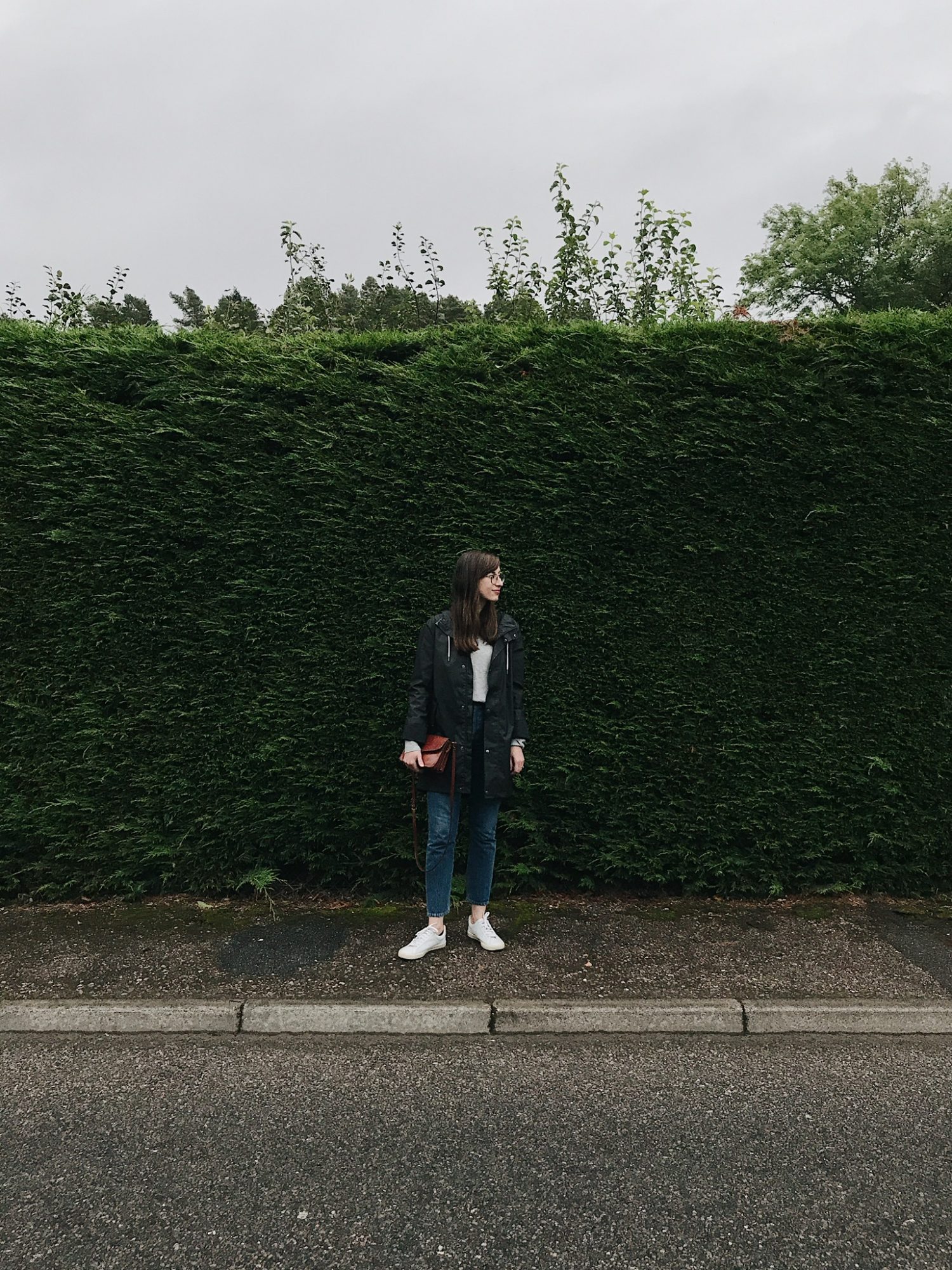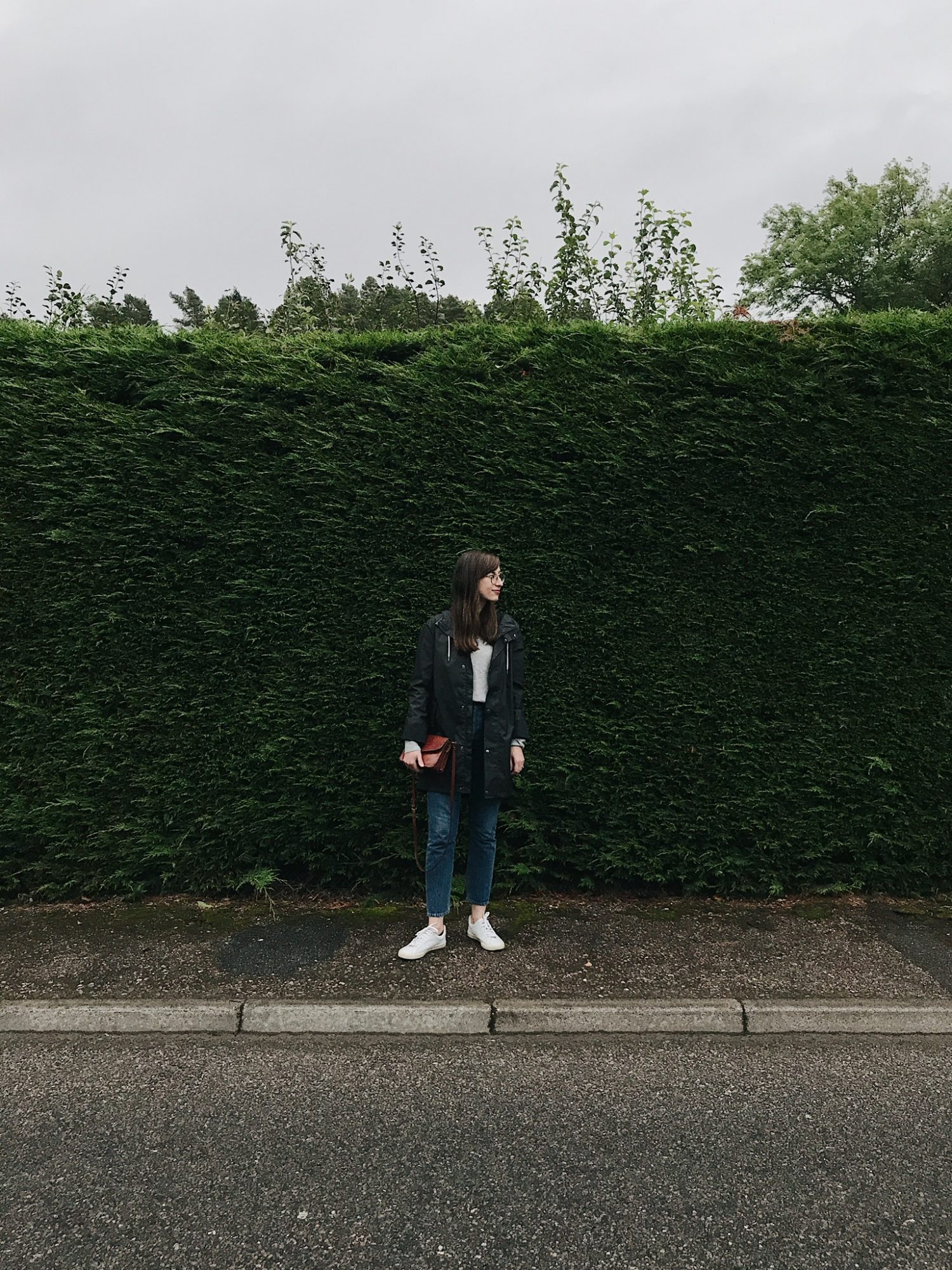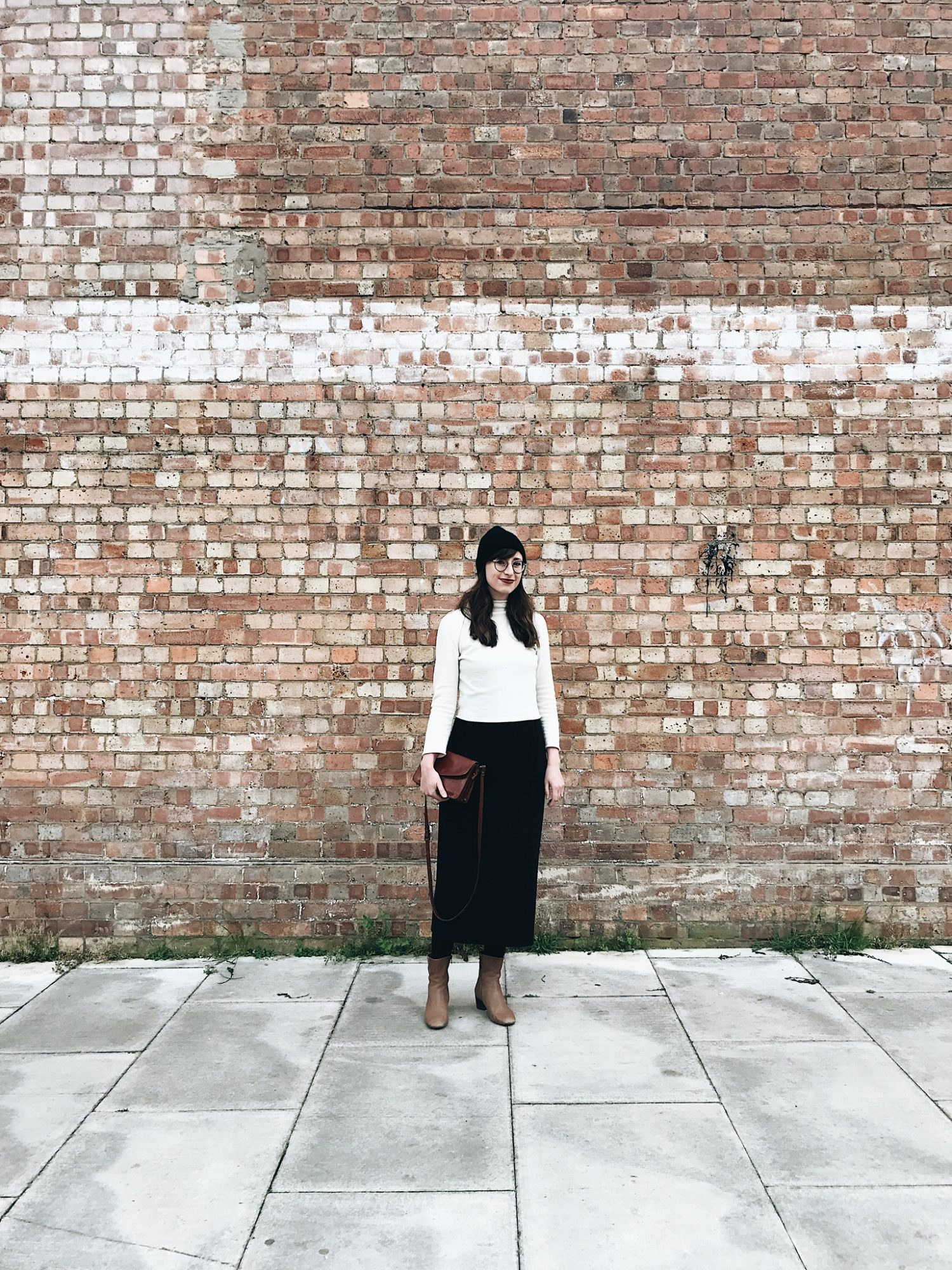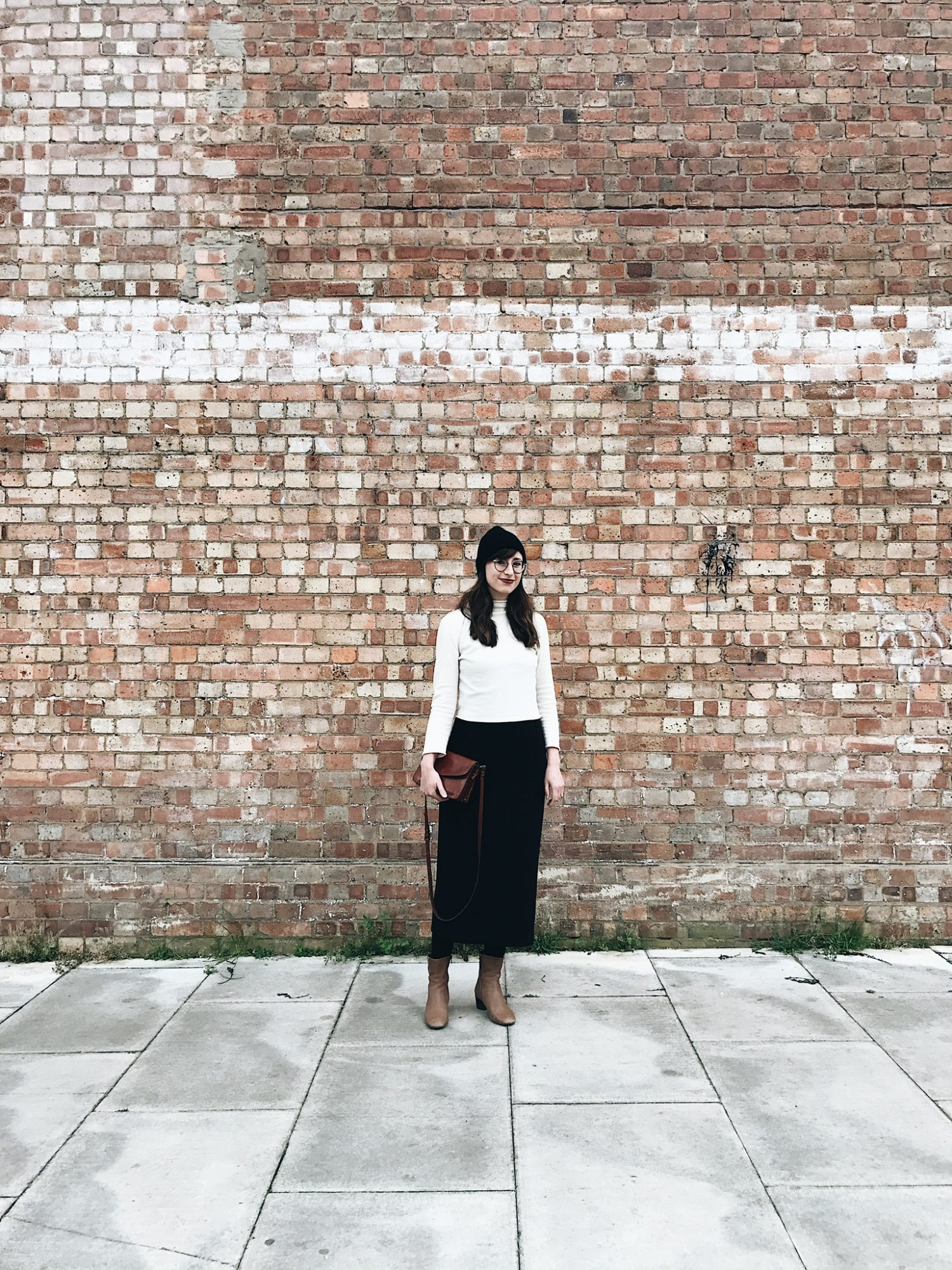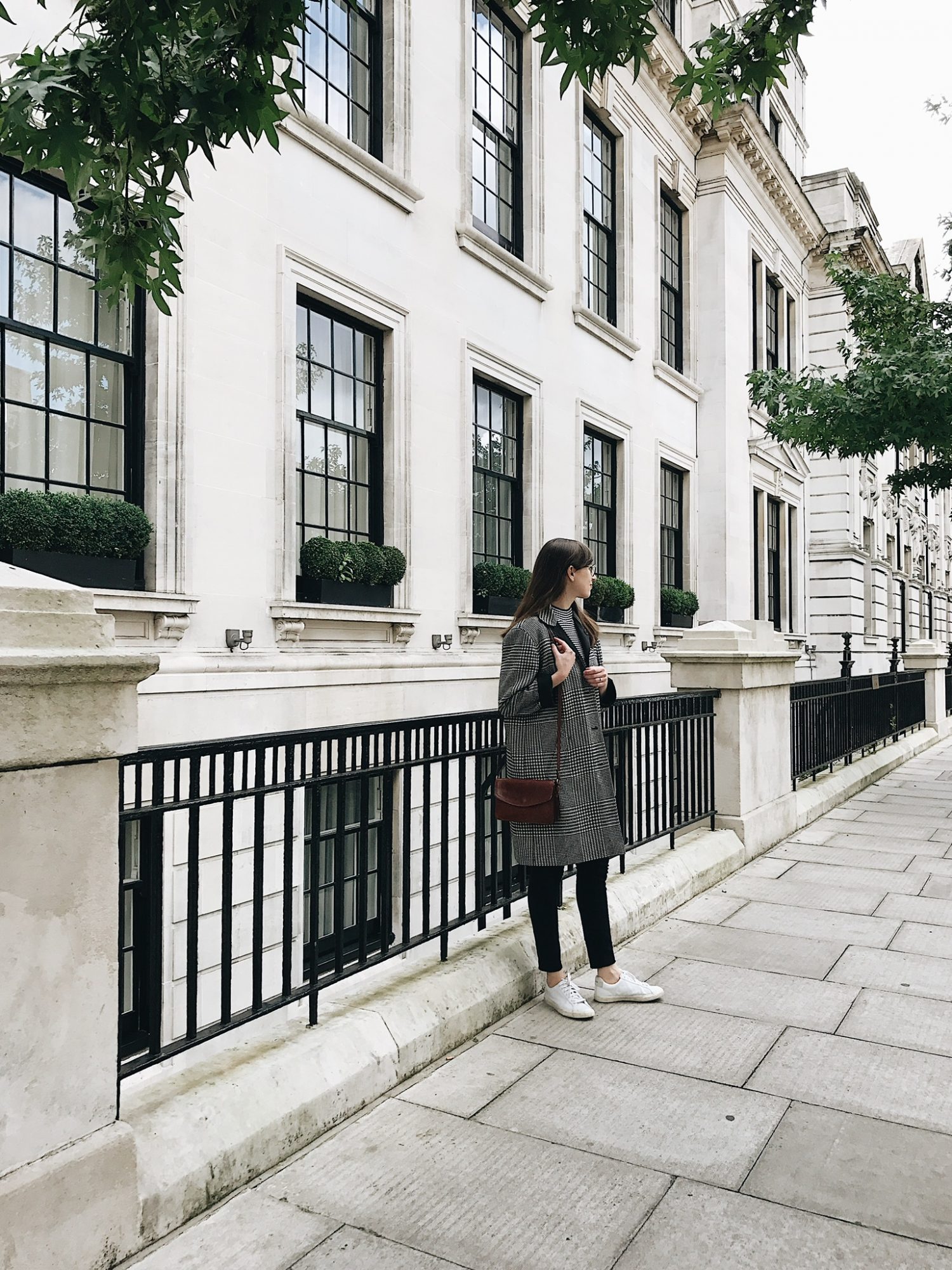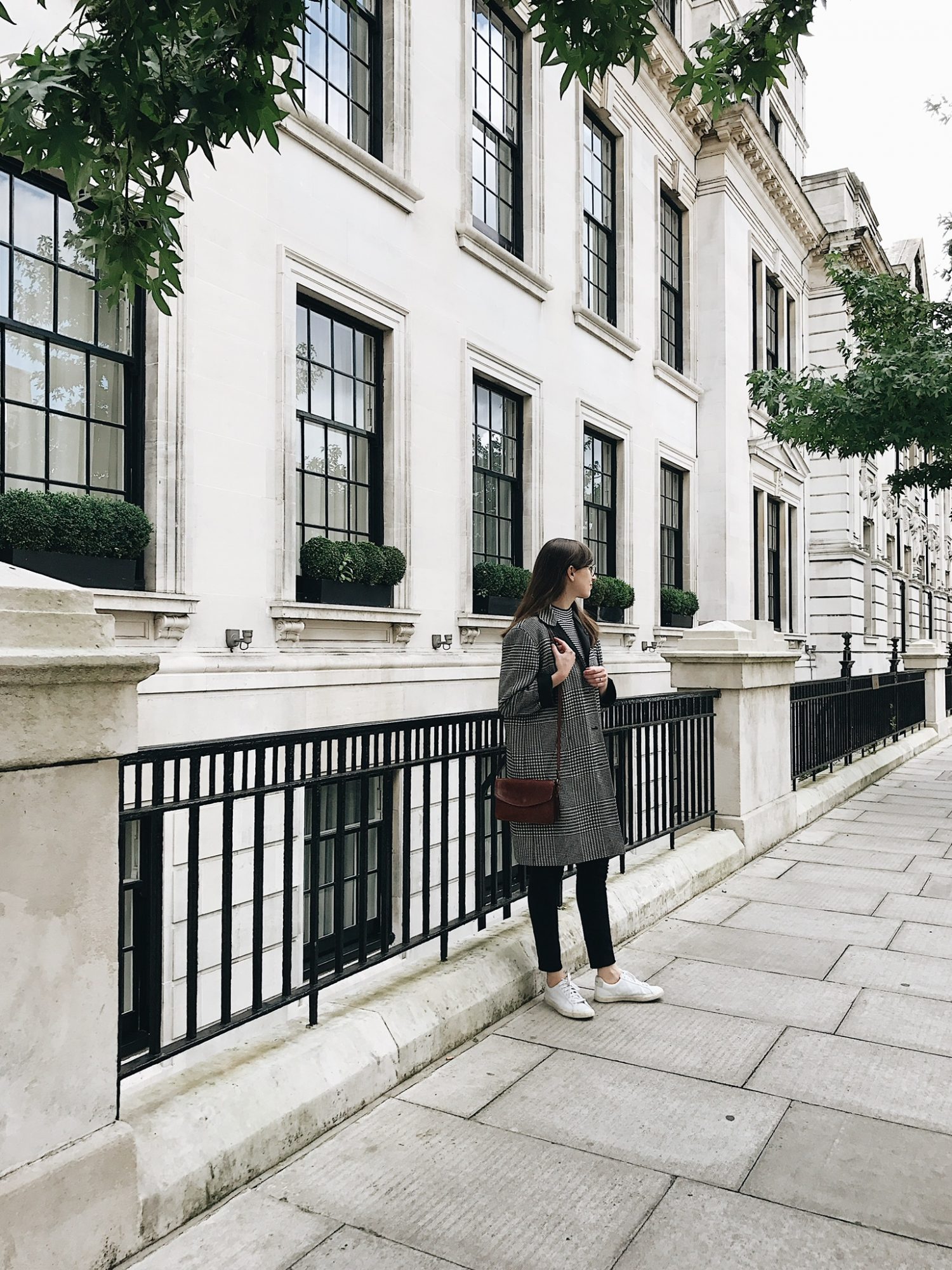 ---
And there you have it! Our honeymoon trip to the UK!
Have you been to England or Scotland? If so, please feel free to share any locations, hotels or restaurants worth checking out! 
---
I hope your Fall season is going well! If you're interested my friend Caroline of UnFancy and I are hosting another 10×10 Challenge and we're kicking it off this Friday, October 6th! If you're wondering what the heck I'm talking about, no worries! You can get all the info you need right here. We hope to see you there!
I'll be back tomorrow with a little style collaboration I did with one of my favourite Canadian knitwear brands. 
---
 This post is not sponsored but contains affiliate links. When you shop via the links above I may make a small commission from a sale. This income helps limit the amount of sponsored content that appears on Style Bee. Thanks a lot for your support!