Well friends, it's that time again! 10×10 Challenge time that is! My blogger pal Caroline of UnFancy (aka. lean closet guru) and I are thrilled to be teaming up for another installment of this fast, fun and furious little style series.
In case you're new or need a recap, the 10×10 Challenge is a super simple exercise that anyone can do. You just need to choose 10 items from your closet, create 10 looks with those items, over 10 days. Easy peasy right? Right!
The 10×10 Challenge is something I first tried out during a shopping fast in 2015 in an effort to get more creative with my closet. From there, with the help of Caroline and so many other style savvy, conscious closet folks, this challenge and the incredible community around it has really taken off. Now people all over the world are joining in and seeing how fun and useful it can be. It's awesome!
Another reason why I think this exercise has been so well received is because it's all about what you learn as you go and take away from it, not so much about how great your looks turn out or how closely you stick to the guidelines. It's also a wonderful way to connect with other folks who are exploring their style too. In fact, the #10x10friends community is probably my favourite part! It's welcoming, supportive, easy-going and full of great insights and style inspiration.
So what do you say, care to join the fun? I sure hope so! Still not sure, no worries, this post has all the info you need! 
Now onto today's Fall 10×10 kick-off post in which I'll be covering:
My challenge goals and plan for the next 10 days
The 10 items I chose for the #Fall10x10 Challenge and why.
10 x 10 Challenge 101 – All the info you need to join in
A few tips on pulling together your 10 items – To help you get started
---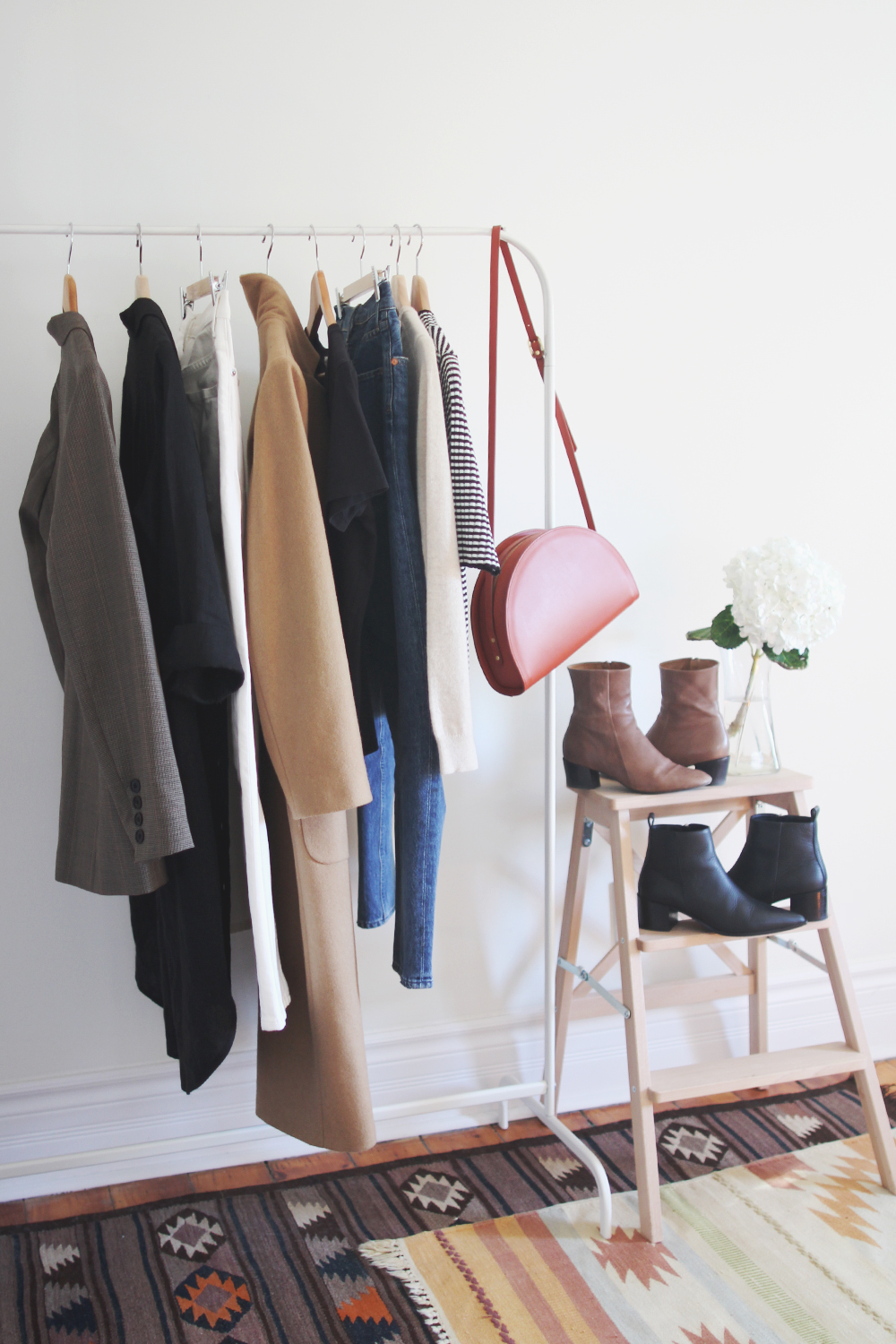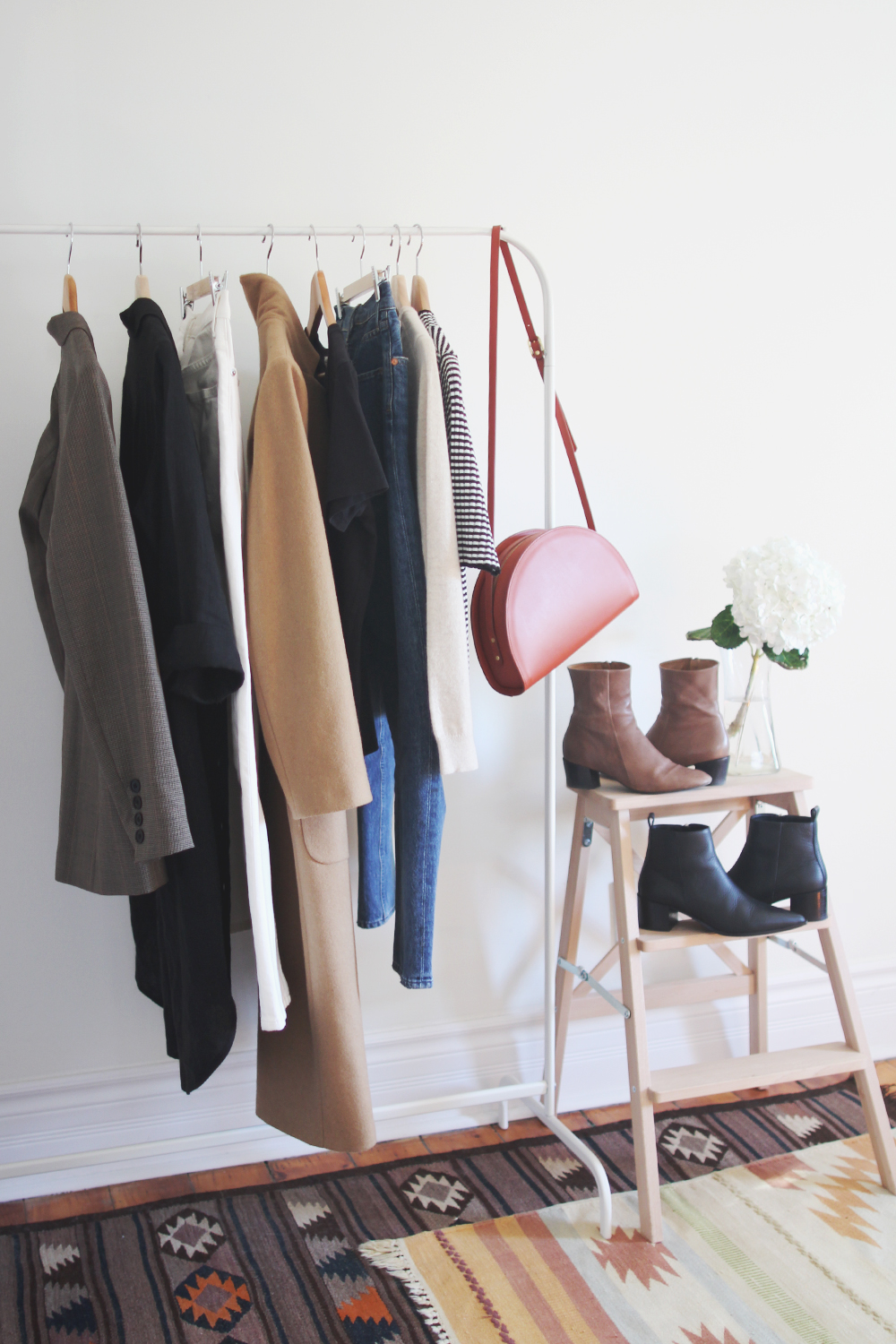 ---
MY 10×10 GOAL(s)
---
MY CHALLENGE GOAL(S): Embrace my love of uniforms and relieve some style anxiety. 
This will be my 9th 10×10 Challenge if you can believe it. I barely can! So one might assume that there's little left to learn from such an exercise. But here's the thing, every time I do it, it's a little different. Plus it's always in a new season of my life (literally and figuratively) so it's a great way to check in with myself and recalibrate my style a bit.
In this latest 'season of life' I've been feeling a lot of anxiety. I've found it difficult to make decisions, balance my time effectively, stay motivated and settle into a routine. I'm accepting that this is where I'm at right now and just trying to implement small, manageable adjustments as I go forward. One of those is to embrace the fact that dressing in a 'uniform' method really helps me start my day with structure and generally infuses a sense of calm to my morning. This means I wear the same 'essential' outfit everyday but switch up the items to keep it fresh. So I'm going with it!
My uniform for the Fall 10×10 Challenge is:
SIMPLE TOP + STRAIGHT LEG DENIM + ANKLE BOOT + OUTER LAYER
Throughout most challenges to date, I've been totally game to try new shapes, combos and layering techniques but when I was pulling pieces for this one I felt so anxious about what I 'should' be styling or that my items were too predictable or not 'exciting' enough. I felt discouraged and irritated and a whole bunch of other feelings that were ultimately wasting my energy and totally regressive. UGH.
So, I stopped thinking about it for a couple of days. Then I asked myself, 'What would I choose if I wasn't blogging about it or sharing outfit photos every day?'. Suddenly, it clicked and I felt much more at ease about my options. Within a half an hour I was standing in front of 10 pieces that I am thoroughly excited to wear for the next ten days. Yay!
Why does this matter? Well, I think I'd lost sight of the fact that this challenge is inherently a very individual exercise. Even though we've got an awesome community to tap into, it really is a personal experience. So it's got to feel right to you, no matter what other people are up to. I simply mean that if you're feeling apprehensive or as though you're out of your comfort zone, I hear you! I'm almost in my 10×10 double digits and I'm still seeing the 'challenge' take new forms each time. Try not to over think it. Simply trust your gut, choose pieces you're excited about and remember it's just a silly style challenge after all! Yes, I'm still talking to myself here too!
---
10×10 CHALLENGE SCHEDULE
---
In the past I've always taken the same approach to my 10×10 schedule here on the blog. I would post every business day for 2 weeks and take the weekends off. This time I'm changing things up and starting my 10×10 tomorrow (October 7th) and going straight through for 10 days (ending on Monday October 16th). Instead of posting an outfit every day on the blog, I'll be posting outfit roundups, so Looks 1-5 and Looks 6-10 with a final recap on October 18th. Similar to my co-host Caroline, I'll be sharing my outfit each day on my Instagram feed and in my stories. The goal is to alleviate the personal logistical stress of posting daily when work is nuts and to keep the coverage concise on here and elaborate more on Instagram. Sound good? I hope so!
Here's to 10 days straight my #10x10friends! 
---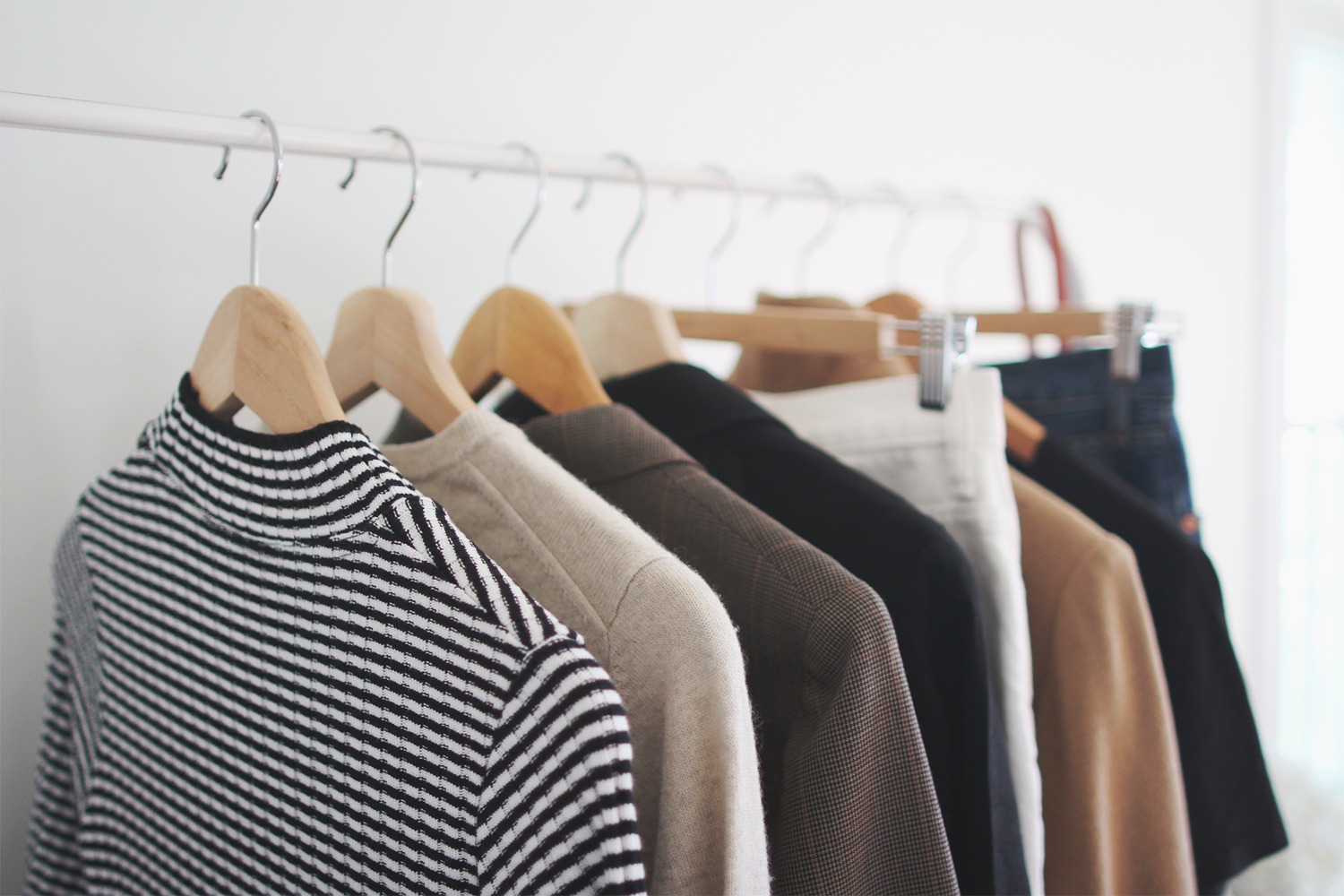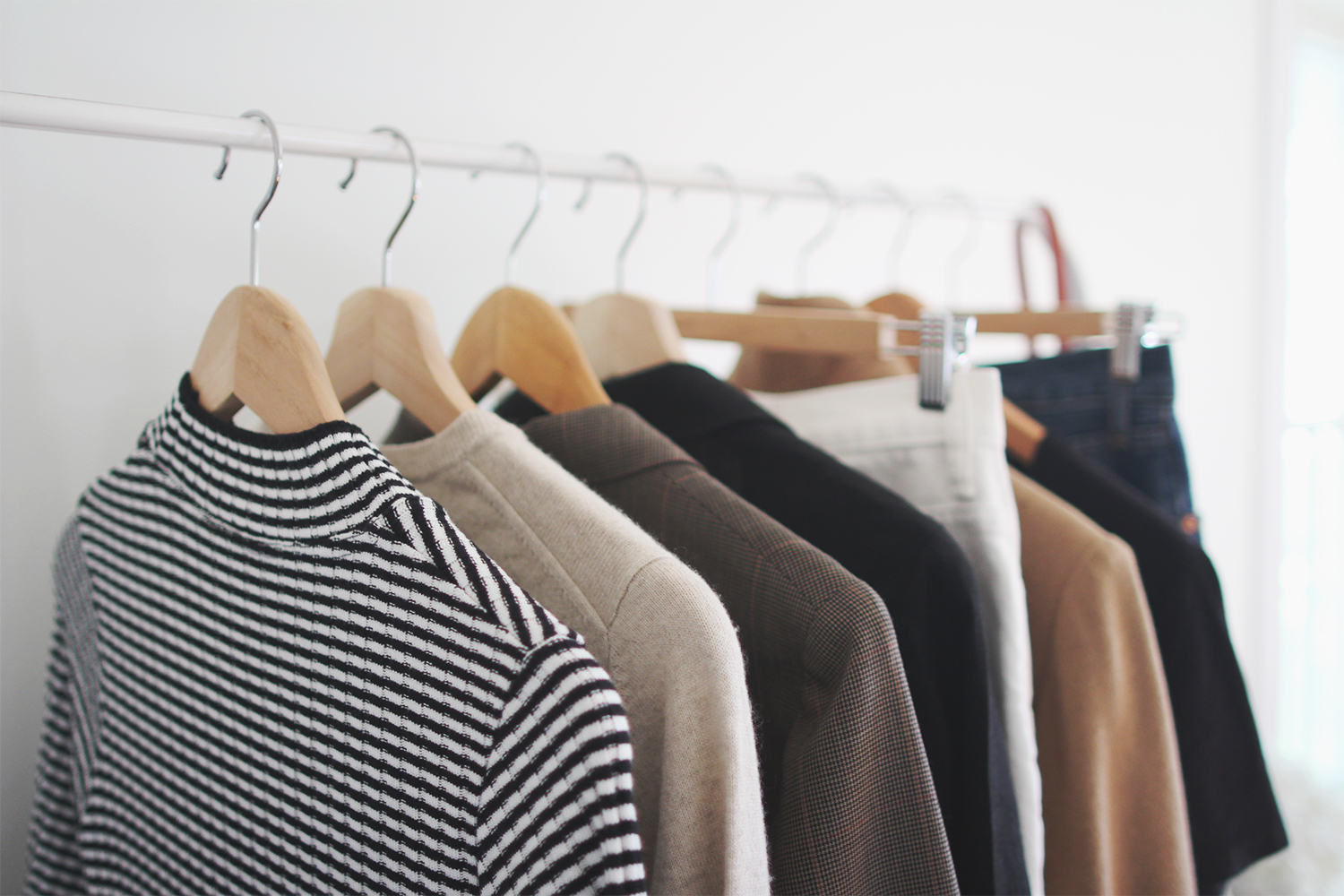 ---
MY 10 ITEMS
---
WEATHER: The weather seems less intent on it being 'Fall' than I would like but I think we'll get a taste of it soon. This weekend will be the warmest two days in the mid 20s and then it starts cooling down all the way to a lowest high of 13°C. Nightly lows are looking mighty chilly too so I've kept that in mind. This is why I have everything in the mix from a cotton tee to a wool coat!
ACTIVITIES: Right off the bat I've got three (Canadian) Thanksgiving dinners this weekend. Then I'll be working from home or locally most days, running my usual errands, grabbing dinner with friends, family and the hubs (that's fun to write!). So pretty consistent across the board. I will want to be comfortable but with an element of polish.
So here's what I'll be rocking for the next 10 days!
2 Pairs of Pants
1 Coat
1 Blazer
1 Cashmere Sweater
1 Cotton Tee
1 Light Sweater
2 Pairs of Ankle Boots
1 Shirt Dress
---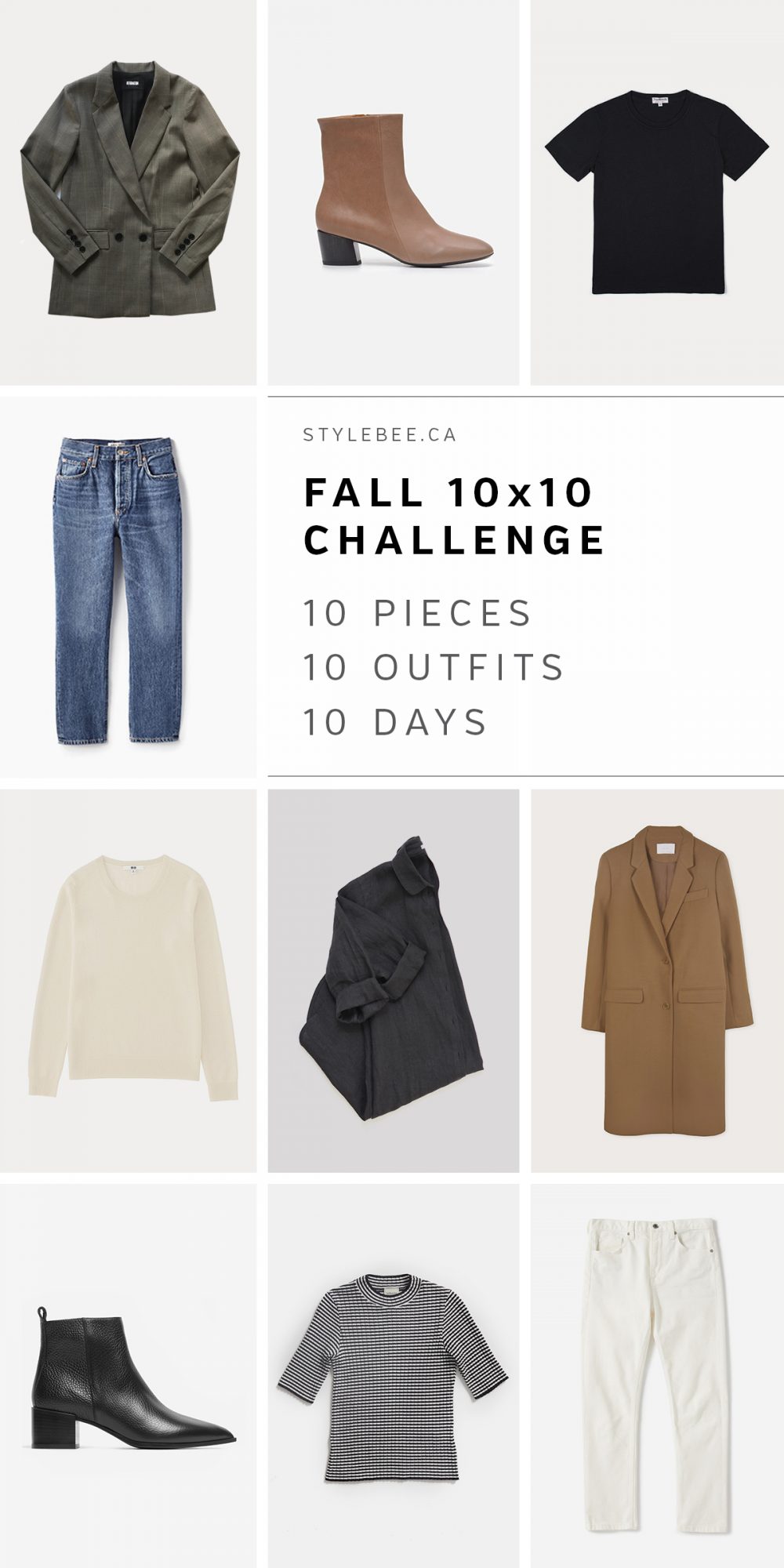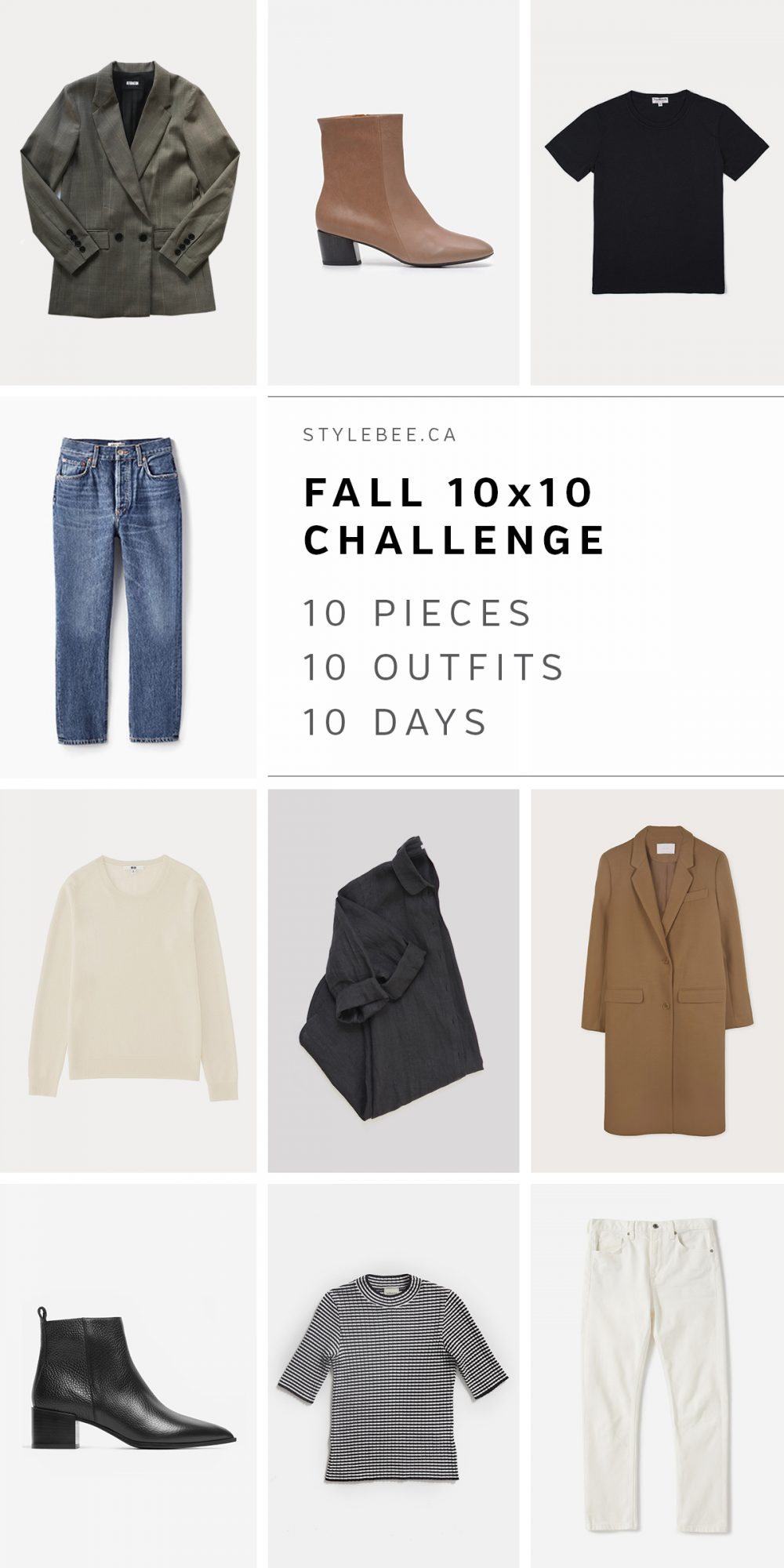 ---
I'm not going to lie, this selection was heavily inspired by my recent time in London where I took some serious style notes. Everyone just seemed to be so effortlessly put-together but still dressed practically for the weather and ready for lots of walking. It was refreshing to see so many simple chic looks on women from all different ages ranges as well. For the most part people had a neutral palette with one statement piece. So other than the weather and my lifestyle, I took these things into consideration too.
PLAID BOYFRIEND BLAZER | Reformation | $248 USD | I wear a size S and it's quite roomy. | Made responsibly in LA.
I bought this blazer in linen this Spring and it was one of the best additions I've made to my closet. It's a recurring style at Reformation and when I saw it in this beautiful muted green plaid I had to snap it up for Fall! Even though this style is everywhere right now I would still consider it more of a timeless item than a trendy one. It's the perfect piece to throw on over jeans and a tee with a leather boot to instantly feel like a boss babe, no matter your size or age! 
BROWN ANKLE BOOT | c/o COCLICO | $435 USD | Made responsibly in Spain | Also in Black & Oxblood | I'm a US 7 and have the 37.5 | Save $20 when you sign up here.
The Cally Boot is easily one of the comfiest pairs of shoes I've ever owned. The leather is so supple and the heel is the perfect height for all day wear. I LOVE the tall shaft with all my cropped pants and it totally staves off any cold breezes. I wore them all over the UK on our honeymoon and they never gave my feet any trouble. These are definitely and investment piece but I cannot recommend them highly enough! 
BLACK TEE | c/o Tradlands | $49 USD | I wear an XS and it's slim but not tight | Made Responsibly in the USA.
I absolutely love the Catt Tee from Tradlands and I'm not shy about it! I have every colour and wear them all the time. They've been getting softer and softer every time I wear and wash them but the black one hasn't faded or lost it's richness at all. It's a nice medium weight cotton for Fall and the perfect length for tucking in. The hardest part was decided which colour to include! 
CLASSIC DENIM | AGOLDE | $158 CAD | Made Responsibly in the USA. | Most sizes sold out. | Try this option for similar fit for less.
These are my favourite jeans right now. I've lost track of how many times I've worn them but they just keeping feeling better and better! I had them in my Summer 10×10 too.
CASHMERE CREW | Everlane | $100 USD | Made responsibly in China.
I absolutely adore all my cashmere pieces from Everlane. The knit is light enough that it's good for warm days and still  cozy enough for cold ones (you might remember it from my Winter 10×10)! I usually order a size up (M) for layering but I have this in a Small and it's perfect for tucking into high waist pants. 
BTW I hand wash it with The Laundress Wool & Cashmere Shampoo.
---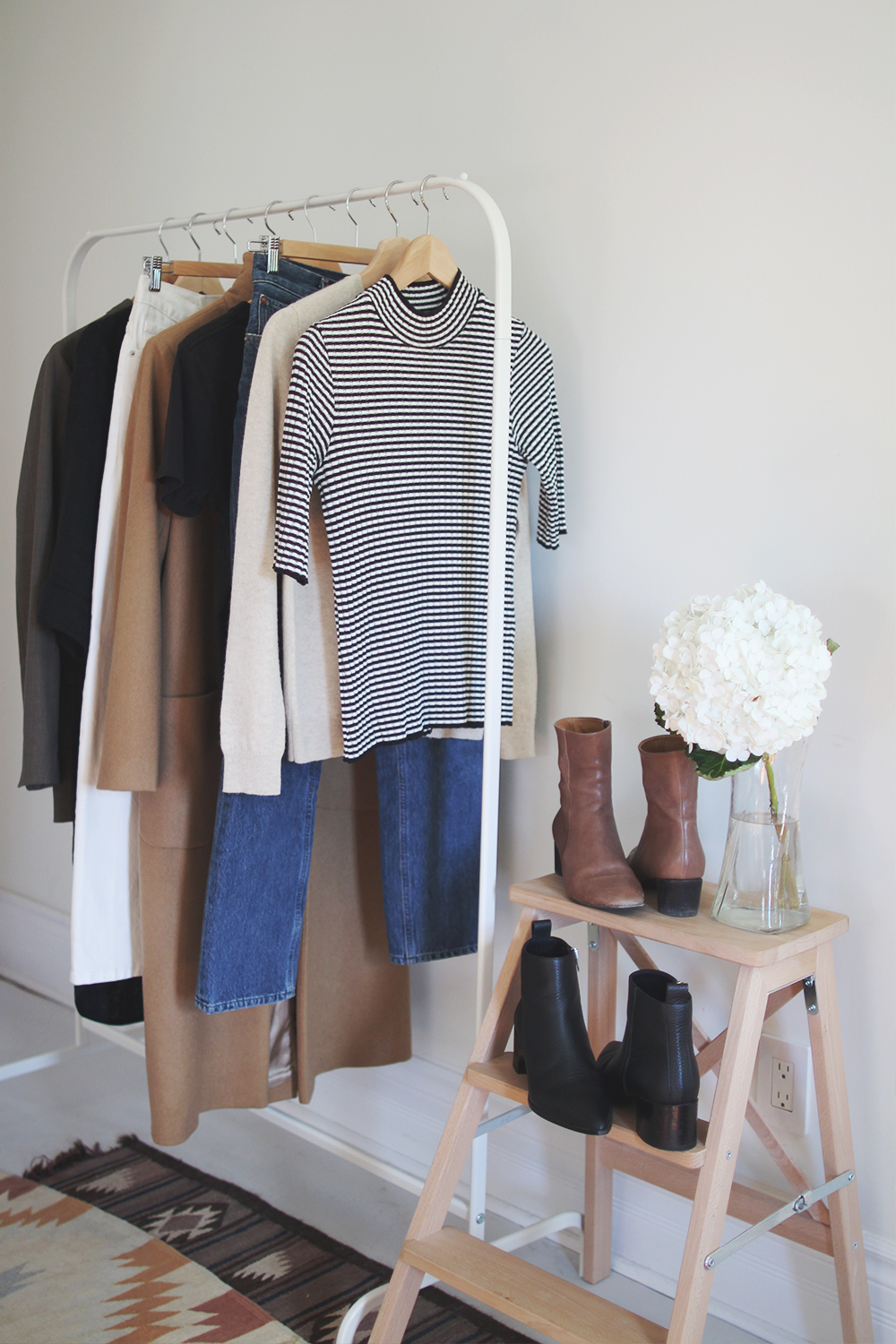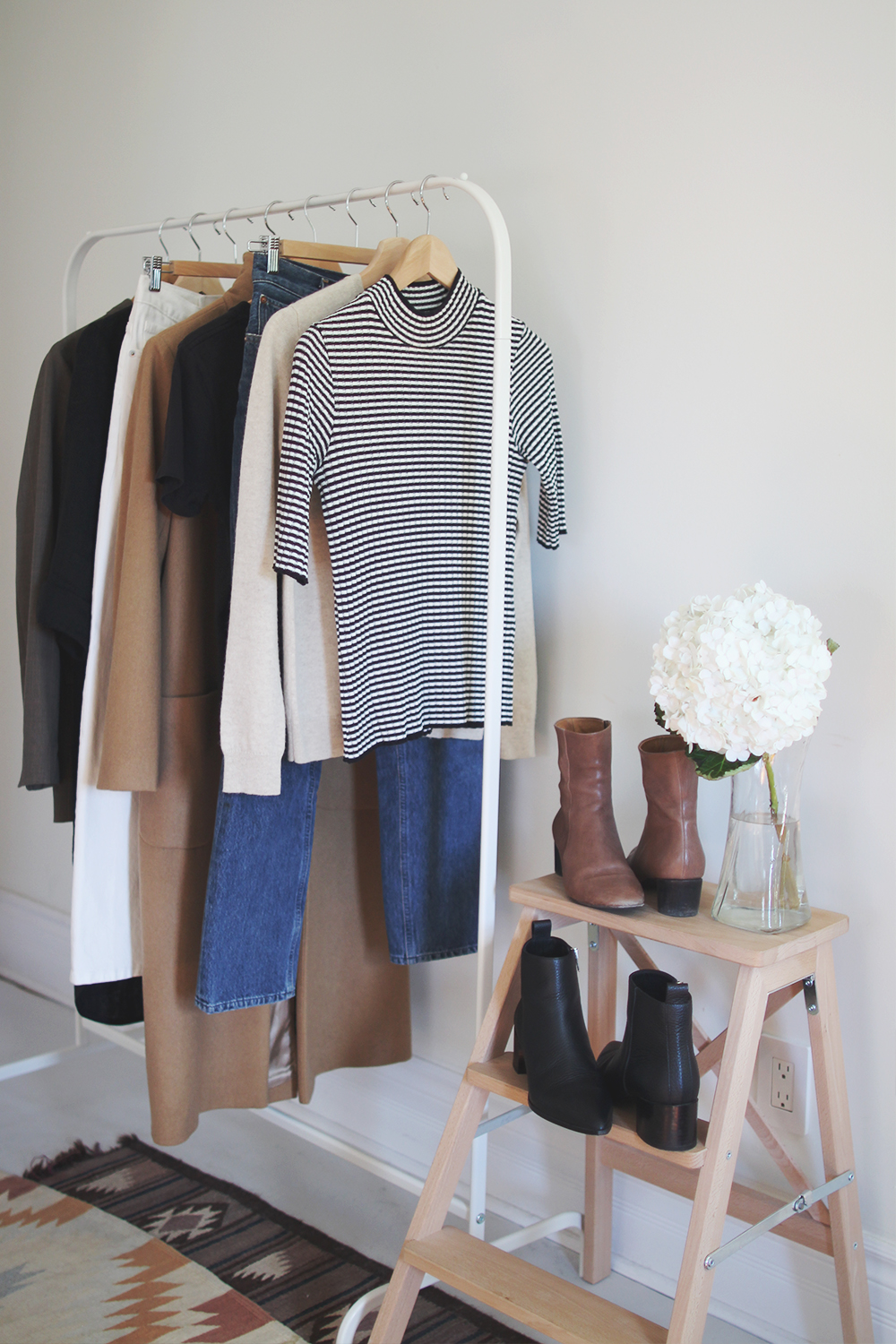 ---
SHIRT DRESS | c/o Ode To Sunday | €220 | Wearing a Size S which is has a relaxed fit. | Made responsibly in Lithuania.
You might remember this dress from the Summer as I featured it in a 1 Item 3 Ways post and my June 30×30. I'm not a big dress person but I honestly reach for this one all the time. I love the cut and the linen has become so soft. I love it sparsely buttoned over jeans, belted over tights or worn open as a light duster.
CAMEL COAT | Marvin Browne | £90 | Made in England. | Similar here (imported), here (investment) and here (imported) or a shorter option here (made responsibly)
I picked this beauty up during a visit to London's Spitalfields Market. I was immediately struck by a collection of beautiful minimal wool coats in all the best neutrals and had to try some on. Turns out that after years on the hunt for a perfect camel coat this one found me! 
BLACK ANKLE BOOT | c/o Everlane | $225 USD | I normally wear a US7 and this 7 fits perfectly. | Made in Italy.
These kick ass stompers landed on my doorstep last Friday and they were the best surprise a boot hoarder like me could ever ask for. I put them on right out of the box and they've been on my feet every day since. They're breaking in beautifully with no blisters or issues to speak of yet! They add the perfect dose of attitude to any look.
STRIPED SWEATER | c/o Betina Lou | $130 CAD | I wear a Small and it's fitted. | Made in Montreal.
How Parisienne can one sweater be? I was dying to get my paws on this beauty and the Betina Lou team kindly sent me one to wear on my honeymoon throughout the UK. I LOVE it and wear it every chance I get. Plus, I find it very hard to go for ten days without wearing stripes.
BOYFRIEND DENIM | Everlane | $68 USD | I wear a 27 and love the fit through the leg but had to have the waist taken in a few inches. | Made responsibly in Vietnam.
Ah yes, the much talked about Everlane Denim! My friend Andrea of Seasons & Salt was about to send these back when I asked her if she'd tried them and as luck would have it, they worked out great for me! We'll see how they hold up over the next 10 days. PS. Andrea's got an awesome 10×10 line up btw! 
*The cream sweater and camel coat pictured above are slightly different from my own.
---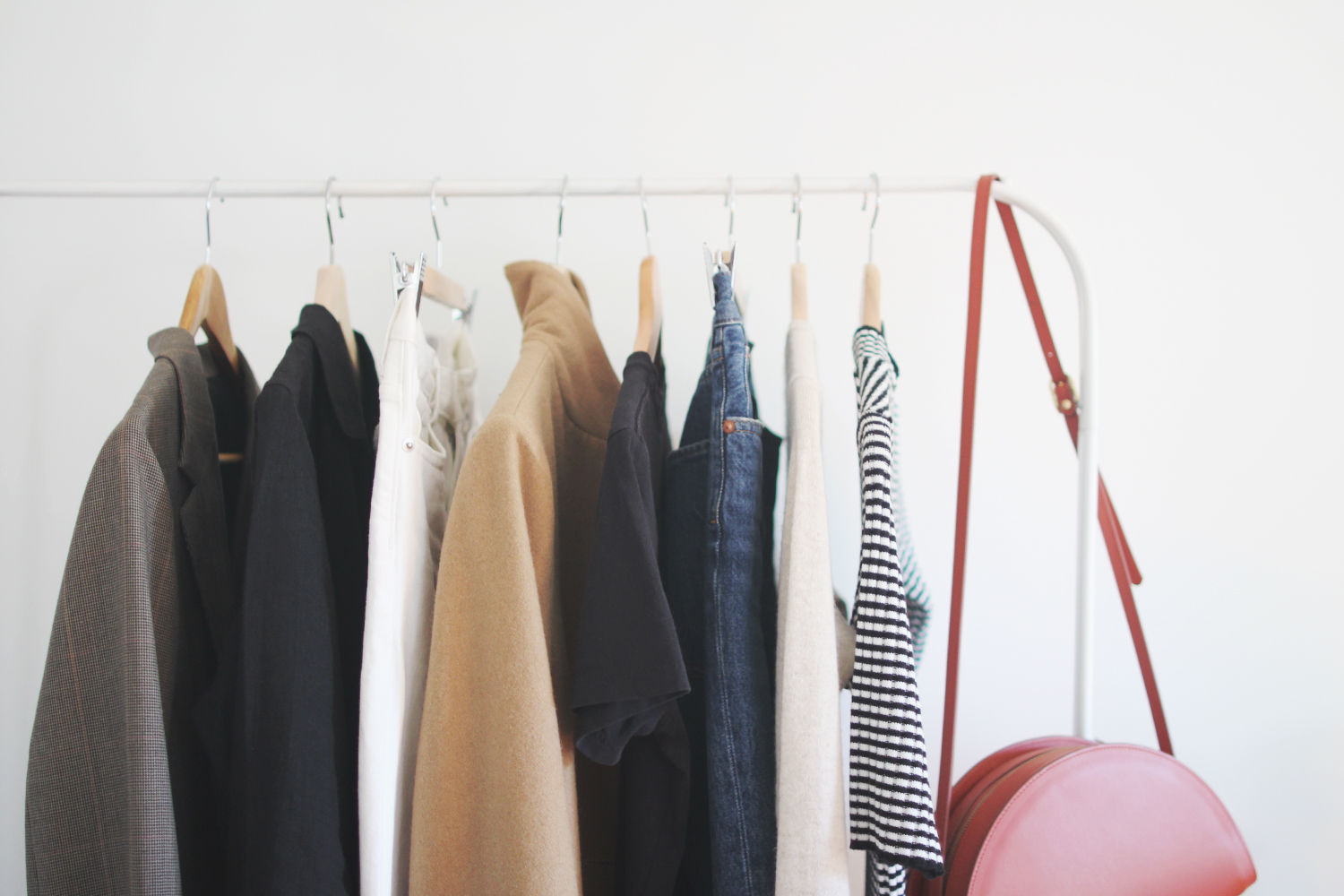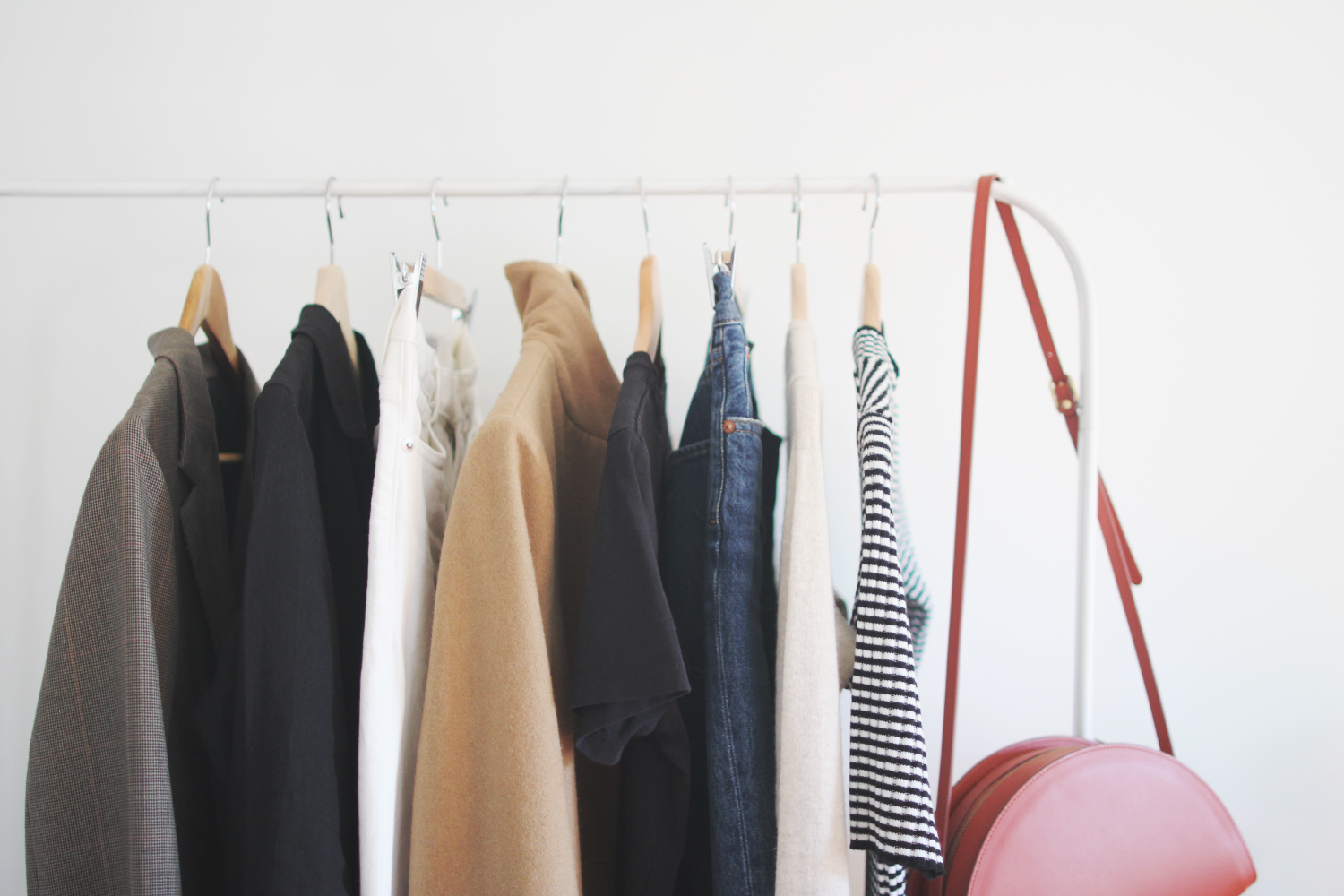 ---
10 X 10 CHALLENGE 101
---
No worries if all this challenge talk has you scratching your head! The 10 x 10 Challenge is an exercise I established in 2015 to help encourage myself to get more creative with my clothes during a 30 Day Shopping Fast. The concept is essentially a micro capsule closet that you work with for 10 days, trying new looks and styling your clothes in ways you might not otherwise consider.
---
WHO IS THE CHALLENGE FOR?
---
ANYONE! But more specifically, anyone looking to:
Take a break from shopping.
Reinvest in their existing closet.
Test their style creativity.
Make their closet work harder.
Find a better sense of personal style.
Test out a capsule closet.
Establish a couple of go-to uniforms.
Pack for a trip. 10 x 10 Challenges are ideal for travellers looking to pack lighter.
---
BASIC GUIDELINES
---
PICK ANY 10 ITEMS FROM YOUR CURRENT CLOSET
STYLE THOSE ITEMS INTO 10 DIFFERENT LOOKS
USE 10 DAYS TO DO IT
HAVE FUN AND DON'T TAKE IT TOO SERIOUSLY!
I say 'guidelines' instead of 'rules' because this is meant to be a fun and helpful exercise, not a daunting or rigid task. It's all about being creative and exploring personal style. If it doesn't go flawlessly, no worries, you're still going to learn something positive from it.
For example:
You can limit yourself to only those 10 items for the full 10 days or just wear those items to work or after work.
Take the weekend off and do 10 business days.
You can try a smaller challenge first if you prefer with only 6 items over 6 days or up the ante and choose a few more items to style over a longer period (I've done 20 pieces over 20 days before).
If you're really not loving one item, just switch it out!
Loungewear and gym gear don't count unless you want it too.
Do whatever makes it feel manageable but still be sure to challenge yourself!
---
HOW TO PARTICIPATE IN THE FALL 10 x 10 CHALLENGE
---
1 | Pick 10 Items from your closet to wear for the next 10 days.
2 | Snap some shots of your 10 pieces and your outfits as you go and post them on Instagram. It can be a flat lay, wardrobe shot or a stack to start then a daily outfit (ask a friend or the fella to snap one), a mirror selfie or you can wait and share a grid of many looks together. Whatever you're comfortable with and if that means no photos that's cool too. 
2 | Use the hashtag #FALL10x10 so we can see what you put together! We'll be sharing our favourites from the feed during our wrap-up posts too!
3 | Feel free to include the existing hashtags #StyleBee10x10 and #UnfancyRemix if you like as well! That way they'll be in the general archive for all future challenges too.
---
CHECK OUT THE 10 X 10 CHALLENGE PAGE WHERE YOU'LL FIND MORE INFO, TONS OF EXAMPLES, STARTER TIPS AND A HELPFUL WORKSHEET TO GET YOU STARTED.
---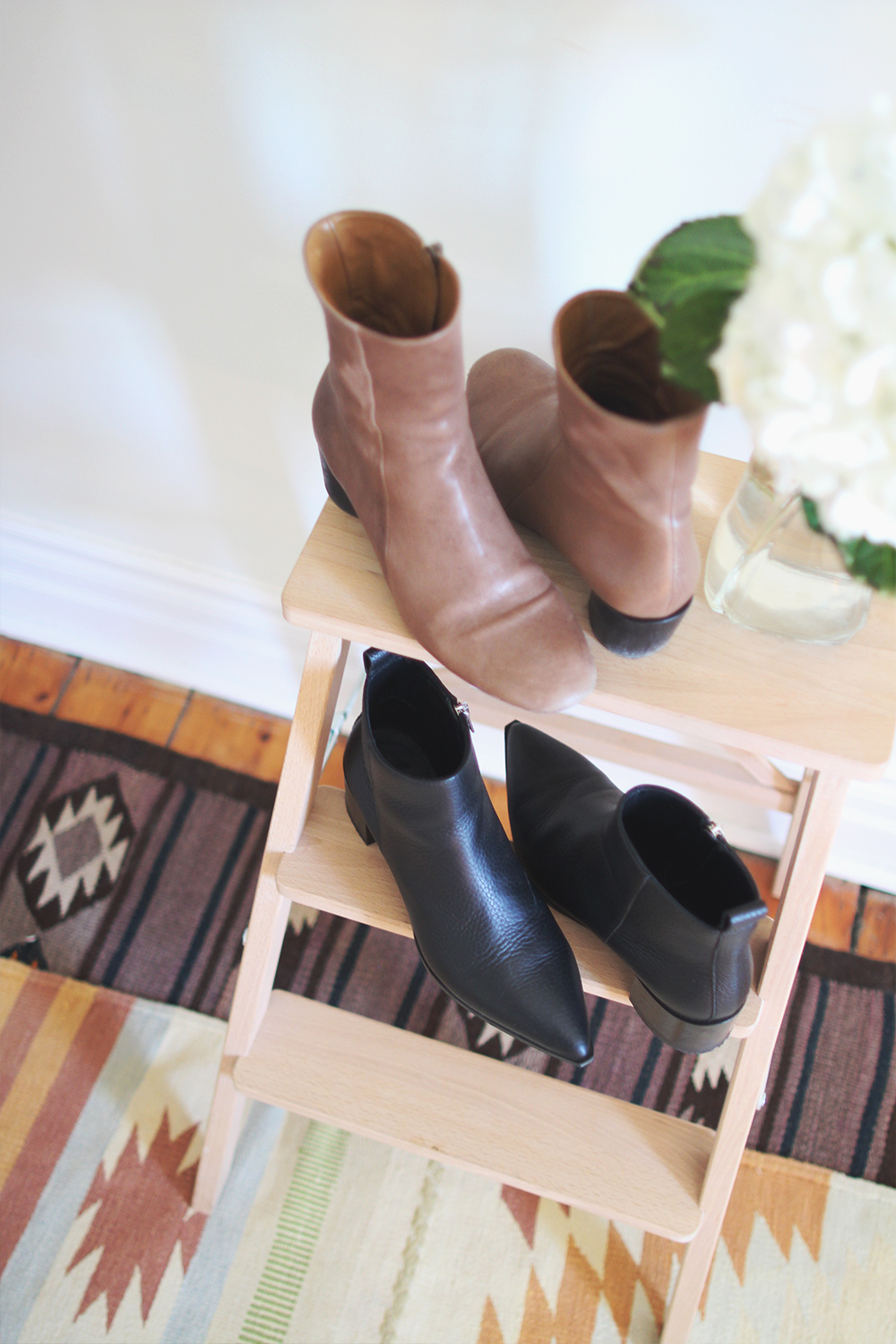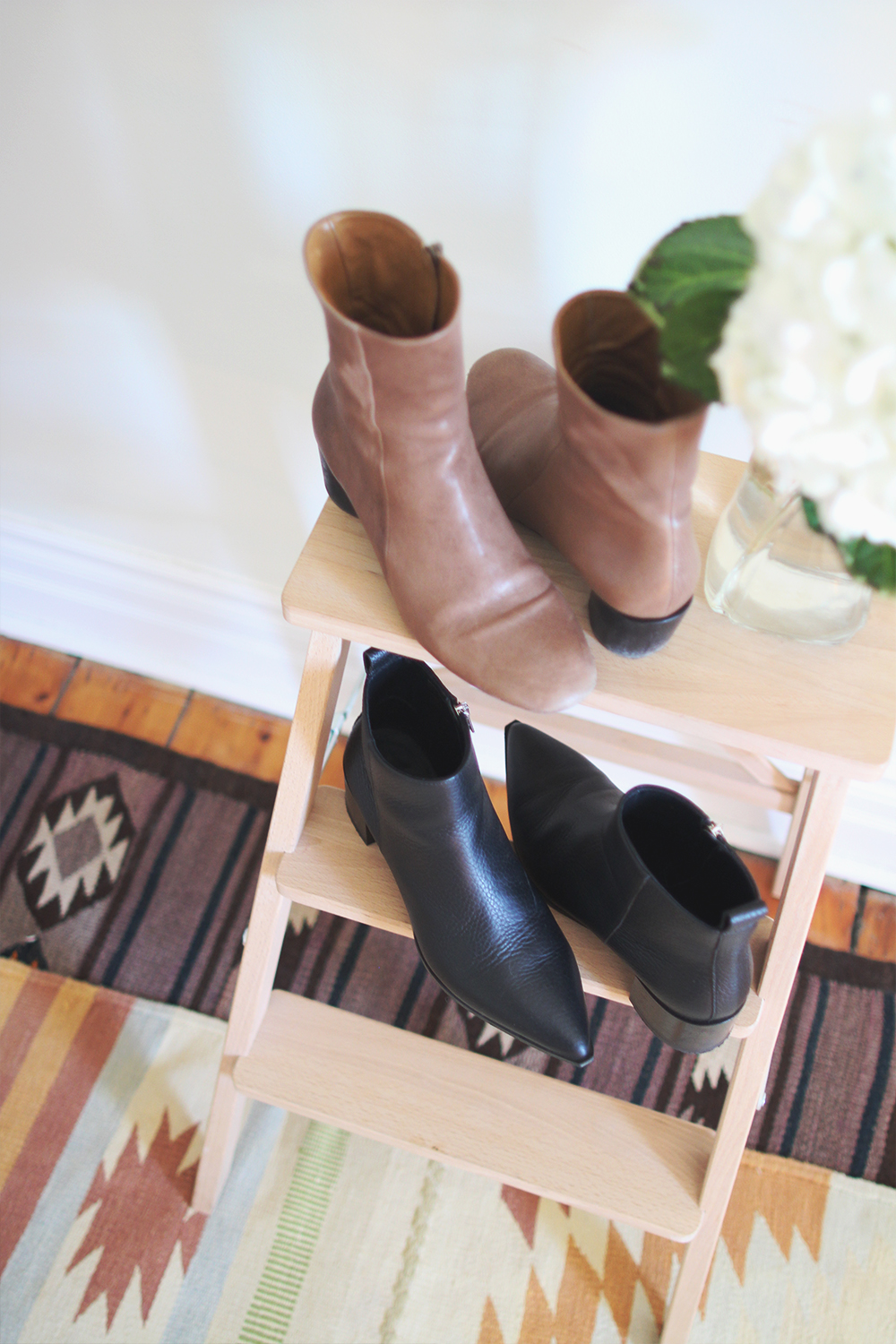 ---
TIPS ON PICKING YOUR ITEMS
---
WHAT IS INCLUDED?
---
Any core closet item you choose counts as a part of your 10 items. For example:
TOPS
SWEATERS
PANTS
DRESSES
SHOES
COATS
Keep in mind these are not hard and fast rules! If you really feel like you need all your shoe options that's OK, don't include shoes this time around and add an extra top or bottom instead. No judgement shall be passed ?
---
WHAT IS NOT INCLUDED?
---
Any accessories or jewelry you add to a look does not count as a part of your 10 items. For example:
Hats
Bags
Scarves
Necklaces
Gloves
Jewelry
Base Layers (ie: underwear, tights, bodysuits, socks etc.)
Workout Gear
PJs and Loungewear
---
BEGINNER'S FORMULA
---
If you're a little bit stumped as to where to start with your items consider this formula:
2 Pairs of Shoes (1 heel + 1 flat)
4 Tops (Consider pieces that layer well like a fitted long-sleeve, a button-down and a cardigan)
1 Dress
2 Bottoms
1 Top Layer
A few other tips for choosing items:
Check the forecast and pick practical items for the weather.
Consider your activities for the next 10 days.
Don't give yourself too much time to choose. Try to make the call in under 30 mins. But if you need more, that's cool too! You've got all weekend to play around with your picks.
Go for an easy, lean colour palette. Think neutrals, denim, white, black and grey with 1 or 2 colours.
Reach for your favourites first and then add one or two pieces you'd like to wear more or aren't sure about.
Avoid Dry Clean Only items or pieces that are a pain to launder so if need be you can refresh them during the 10 days.
---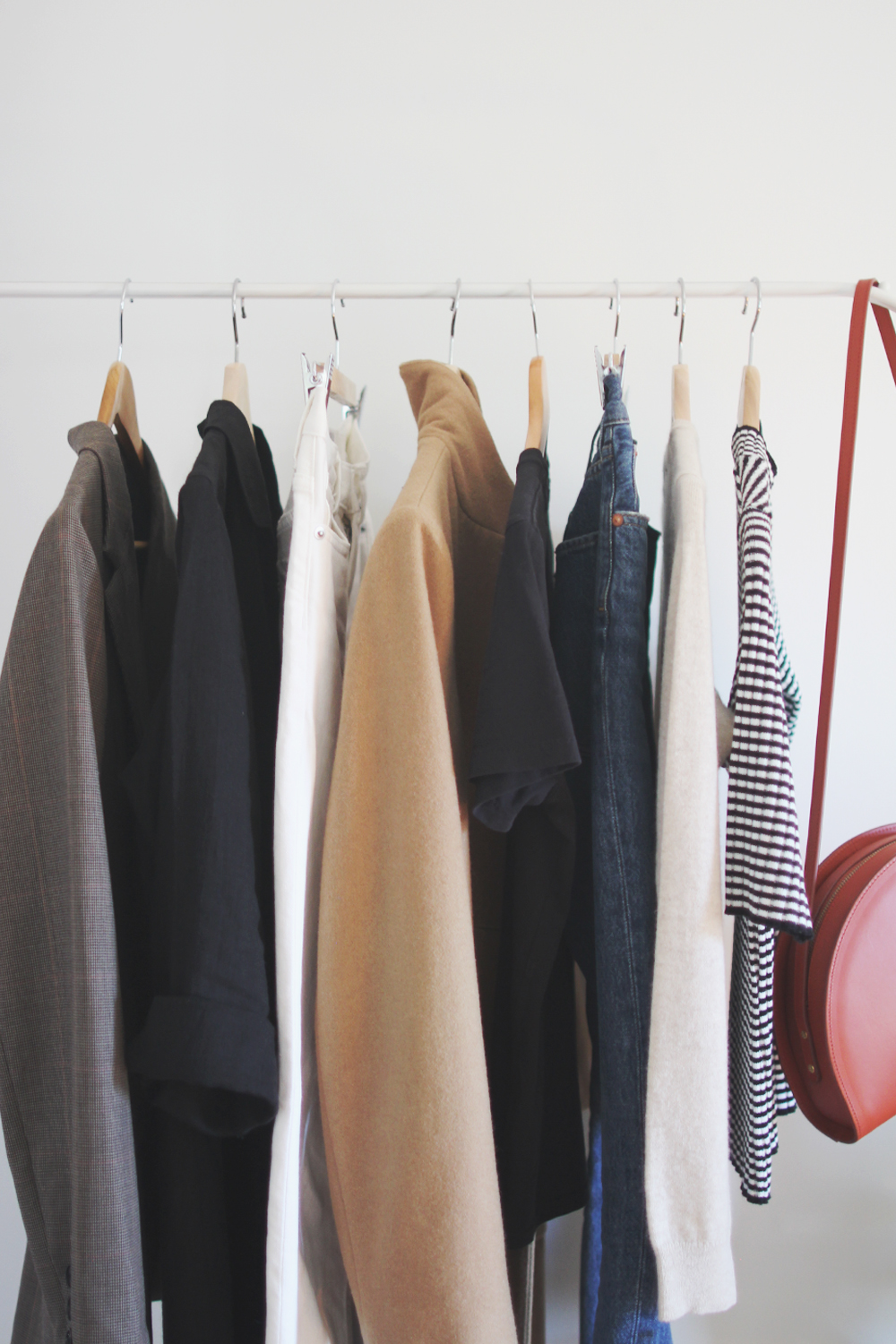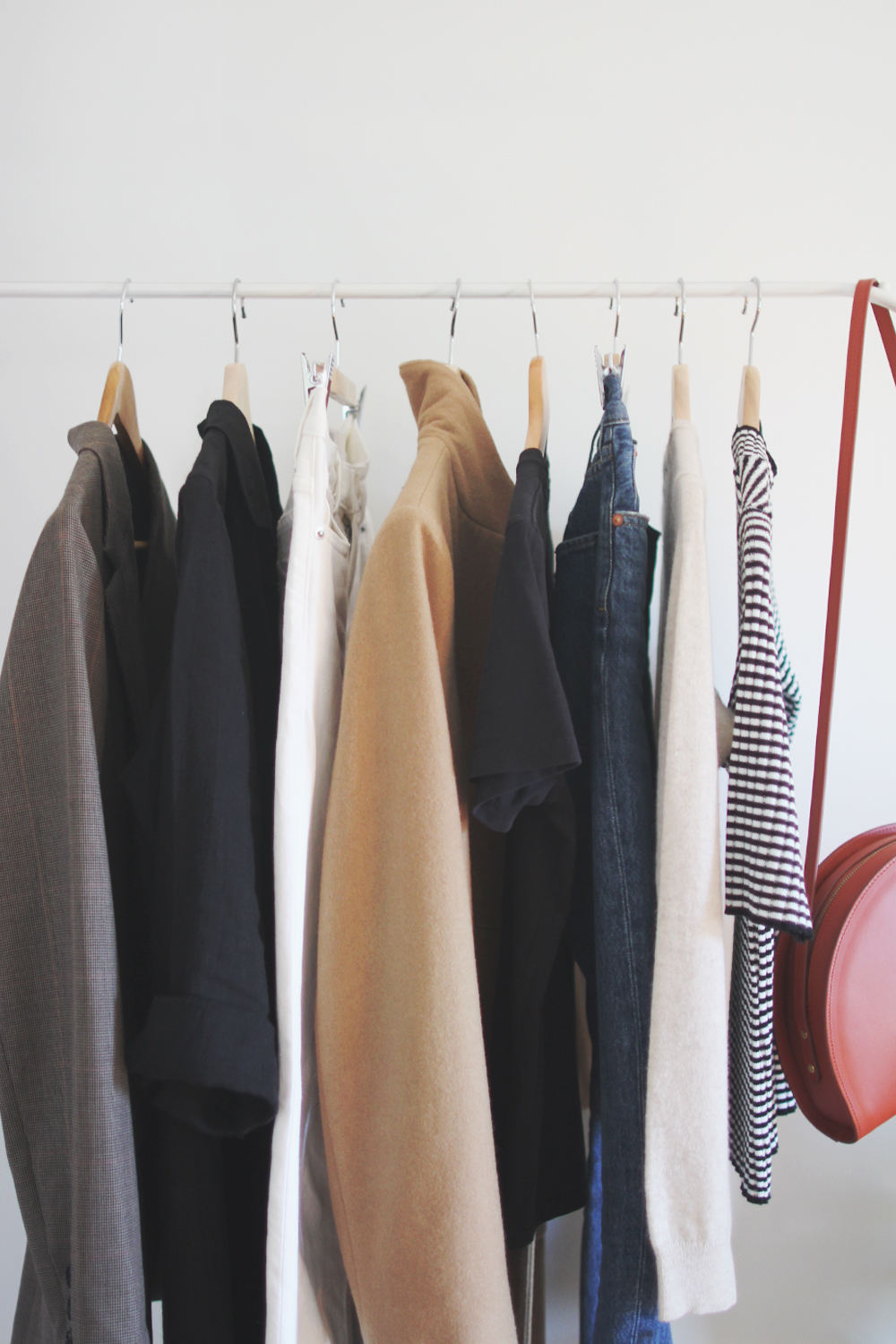 ---
SO WHAT DO YOU SAY? CARE TO JOIN US? 
SURE YOU DO!
FEEL FREE TO DROP ANY QUESTIONS YOU'VE AND I'LL DO MY BEST TO ANSWER THEM TODAY.
---
I'LL SEE YOU TOMORROW ON INSTAGRAM WITH LOOK #1! 
DON'T FORGET TO SEE WHAT MY PAL CAROLINE PICKED FOR HER 10 ITEMS TOO!
---
This post is not sponsored but contains affiliate links. When you shop via the links above I may make a small commission from a sale. Thanks for supporting Style Bee! All opinions are always my own.