I hope everyone had a great weekend! Isn't daylight savings the best when we get to Fall back? Just that one extra hour makes a world of difference on a busy weekend. Somehow this time change always seems to signal the true start of the cold weather season for me. It's as if the leaves have lost their hold overnight and those that are still clinging to branches have turned a vibrant gold or fiery red. It's a beautiful distraction from the fact that winter is indeed, coming.
With these shorter days comes a very natural instinct to hunker down, get cozy and seek out all the soft sweaters. So when my friend Cara, co-founder of VETTA, a sustainable line of capsule ready staples, asked if I'd like to try out some of the new Minimal Capsule sweaters I was very excited! Especially after seeing so many great reviews and styling ideas from my fellow blogger buddies.
For today's post I'm trying something a bit different, which is to play around with a few pieces, discuss the pros and cons of each and then keep only one after trying them all out. My hope for this approach is to give some insight into how I choose pieces for my long-term closet and to show how different options can integrate into my wardrobe. I was immediately drawn to The Long Cardigan in black and The Oversized Sweater in both black and in grey so those are the three sweaters I'm working with. Trust me when I say the final choice was not so easy!
The good news is that all sweaters are being restocked today and you can save 10% on any order with the code 'StyleBee'! Even better, all the sweaters are made sustainably, produced ethically in NYC and under $160 USD! Needless to say, I'm so pleased to be partnering with VETTA and to be able to support a brand that's creating such thoughtful clothing for versatile wardrobes.
So let's have a look and please do let me know which look or sweater is your fave!
---
LOOK 1 – OVERSIZED SWEATER – BLACK 
---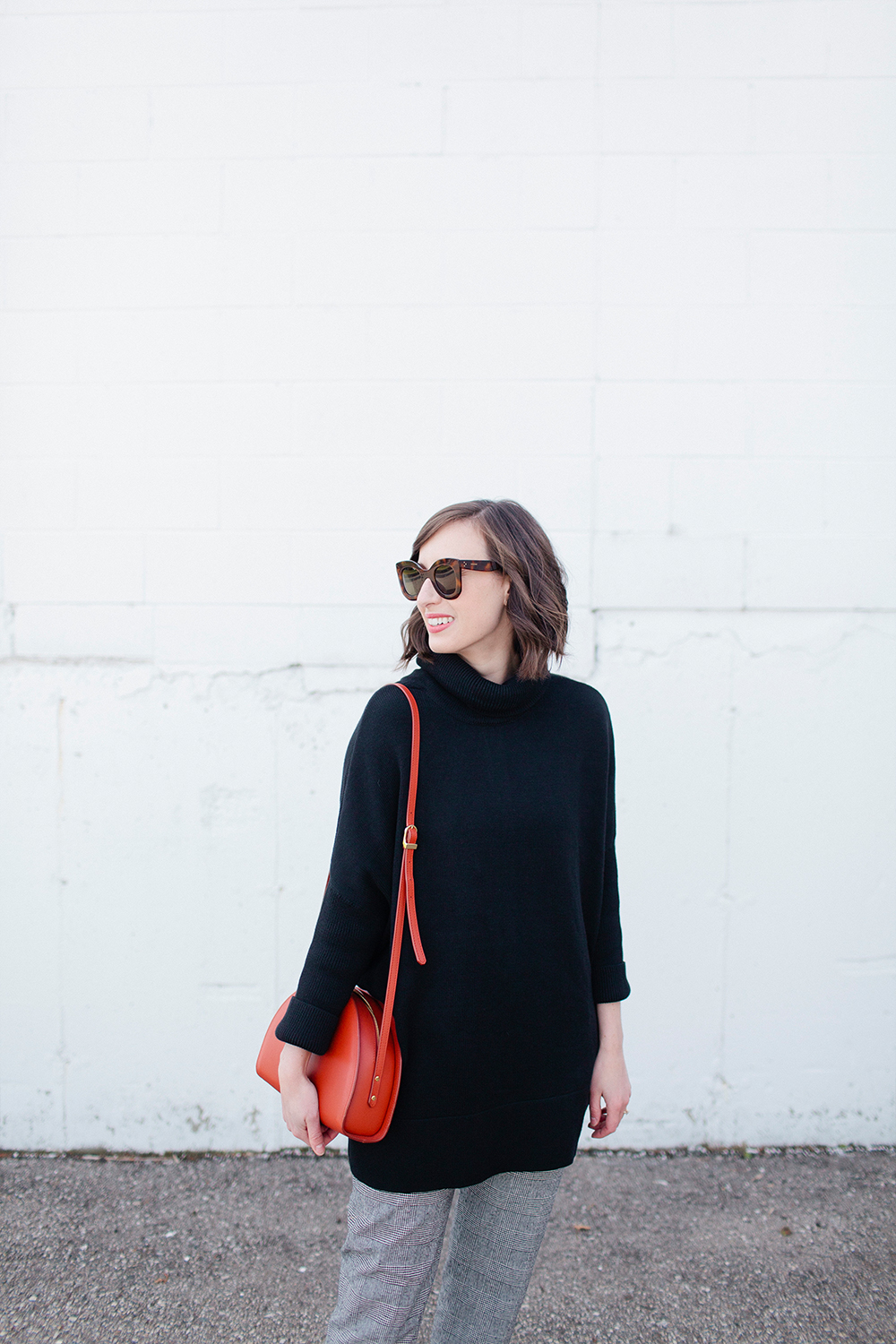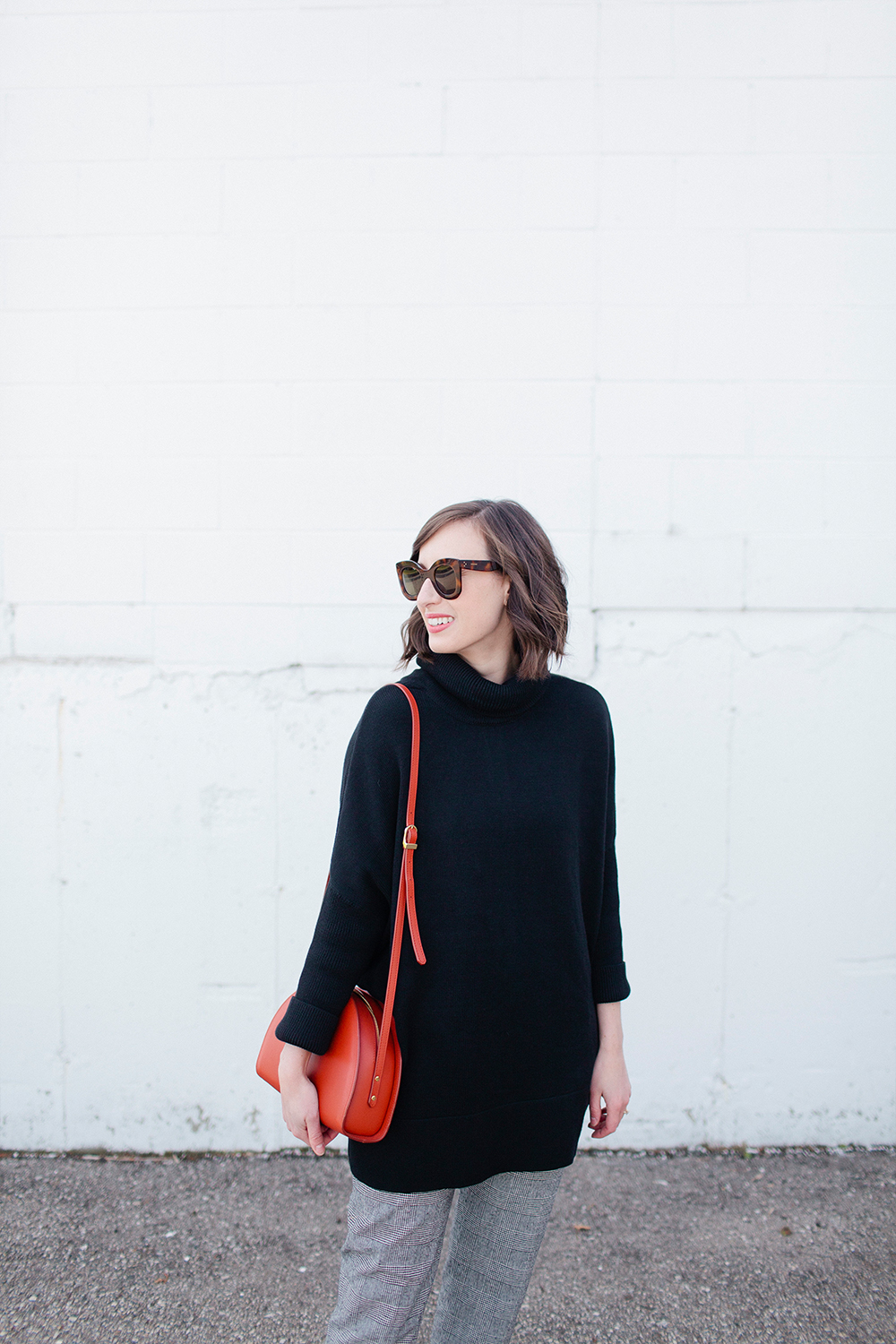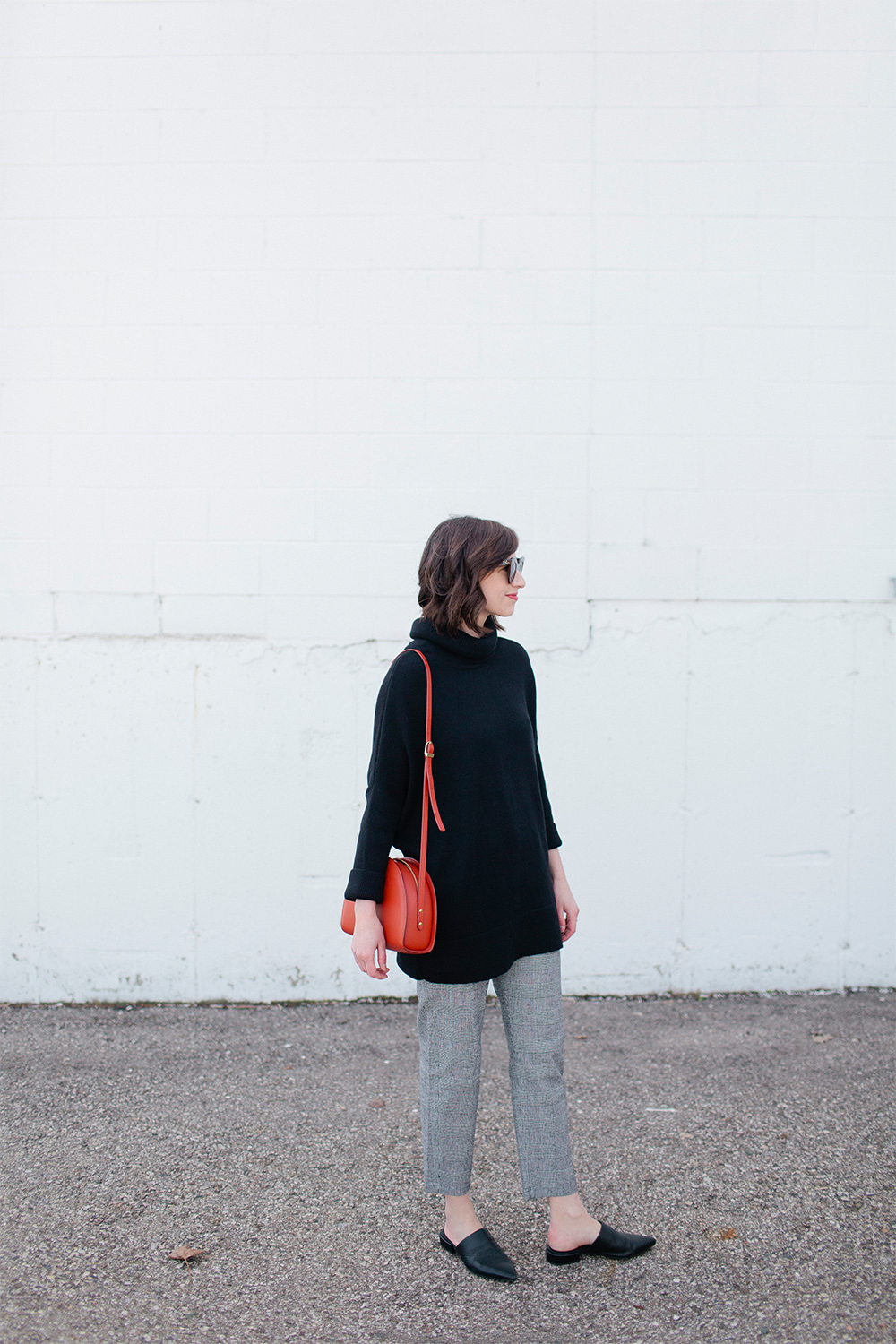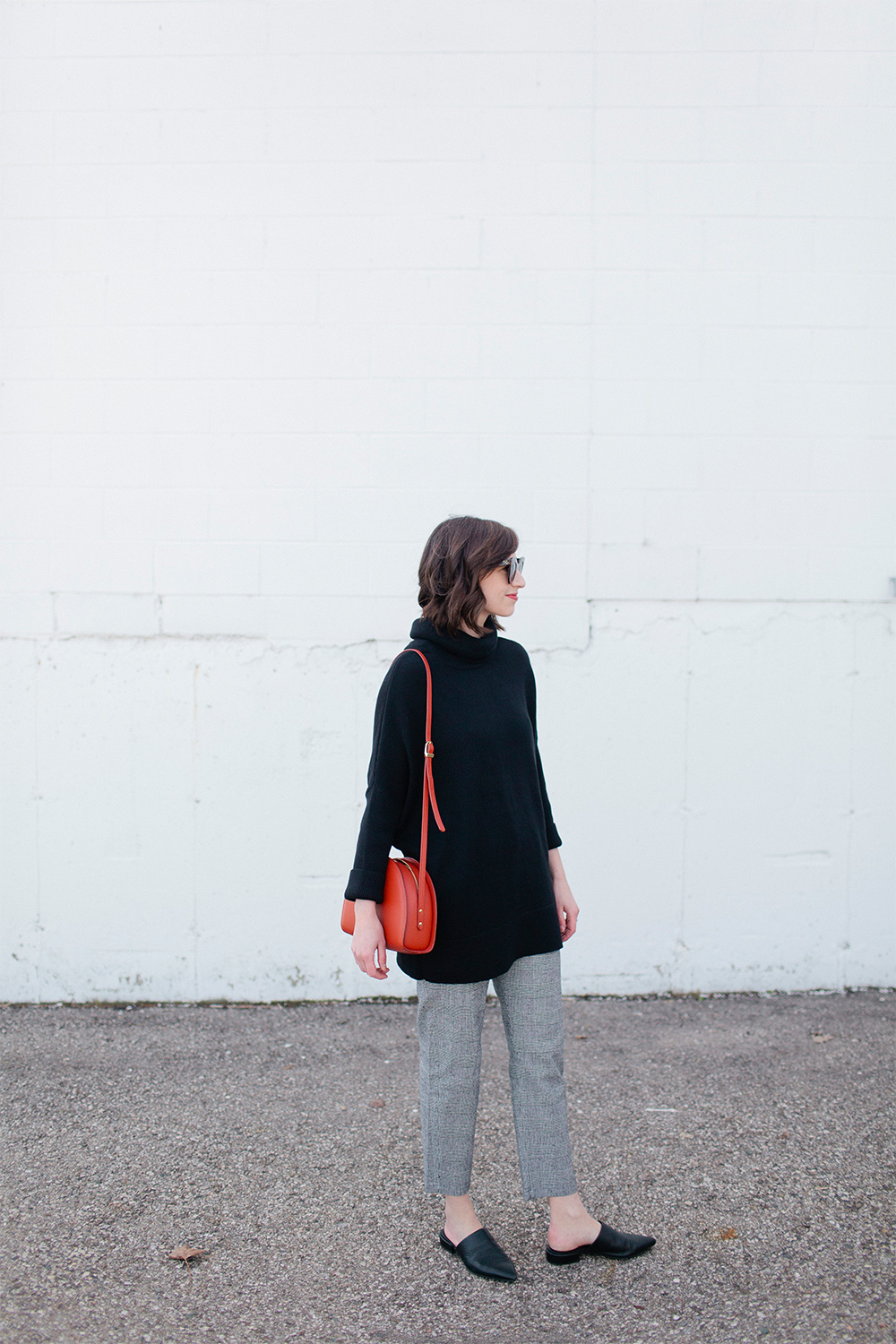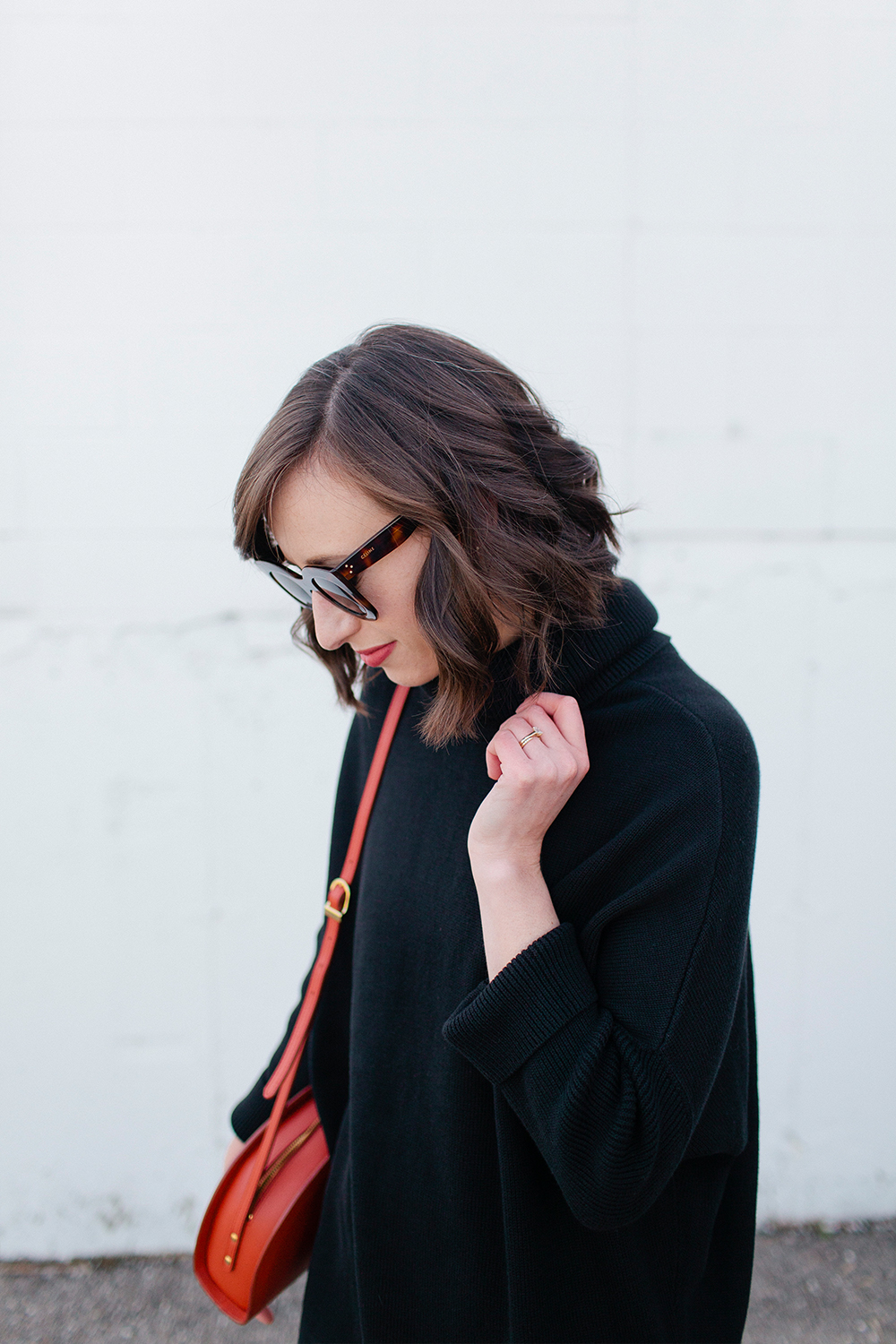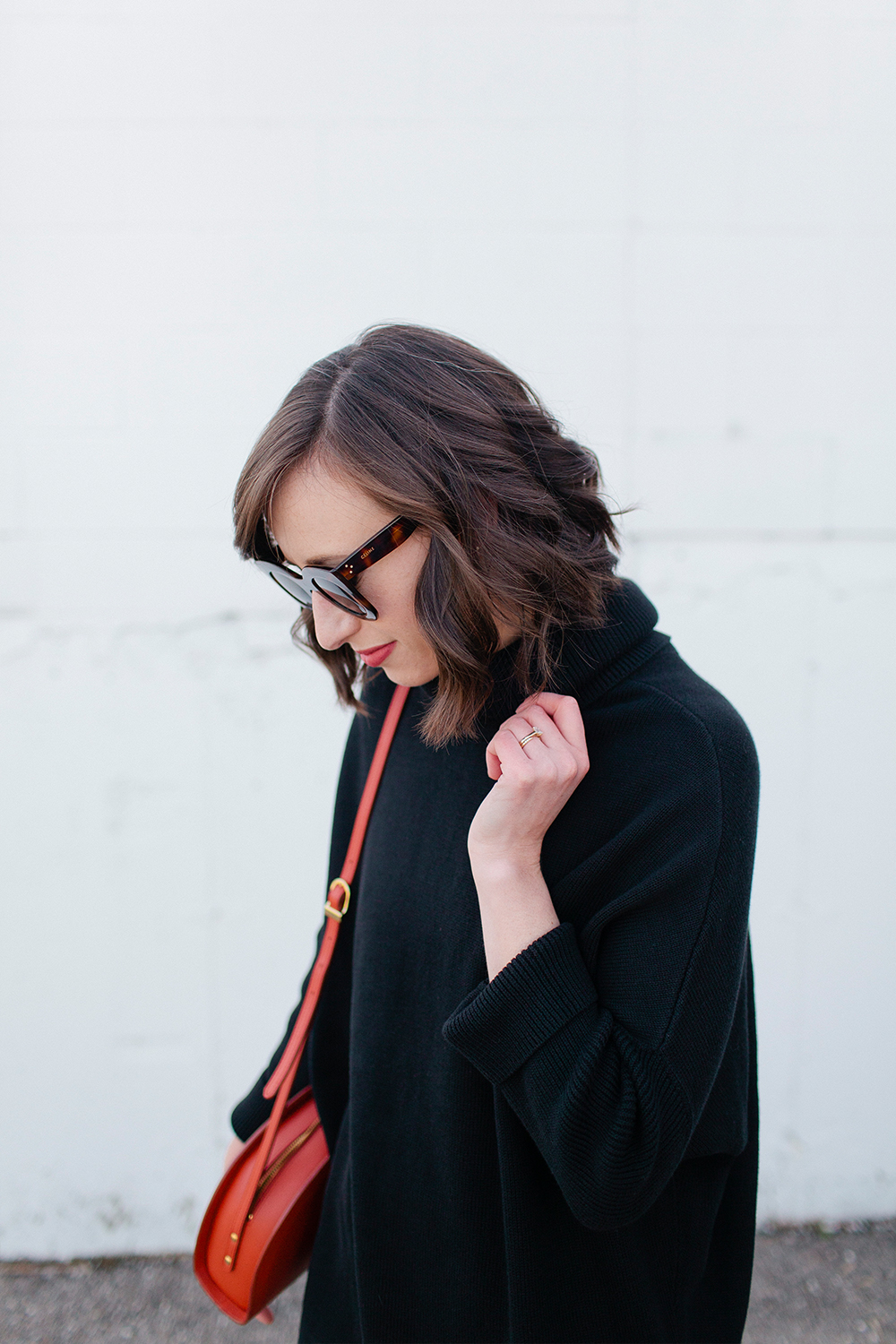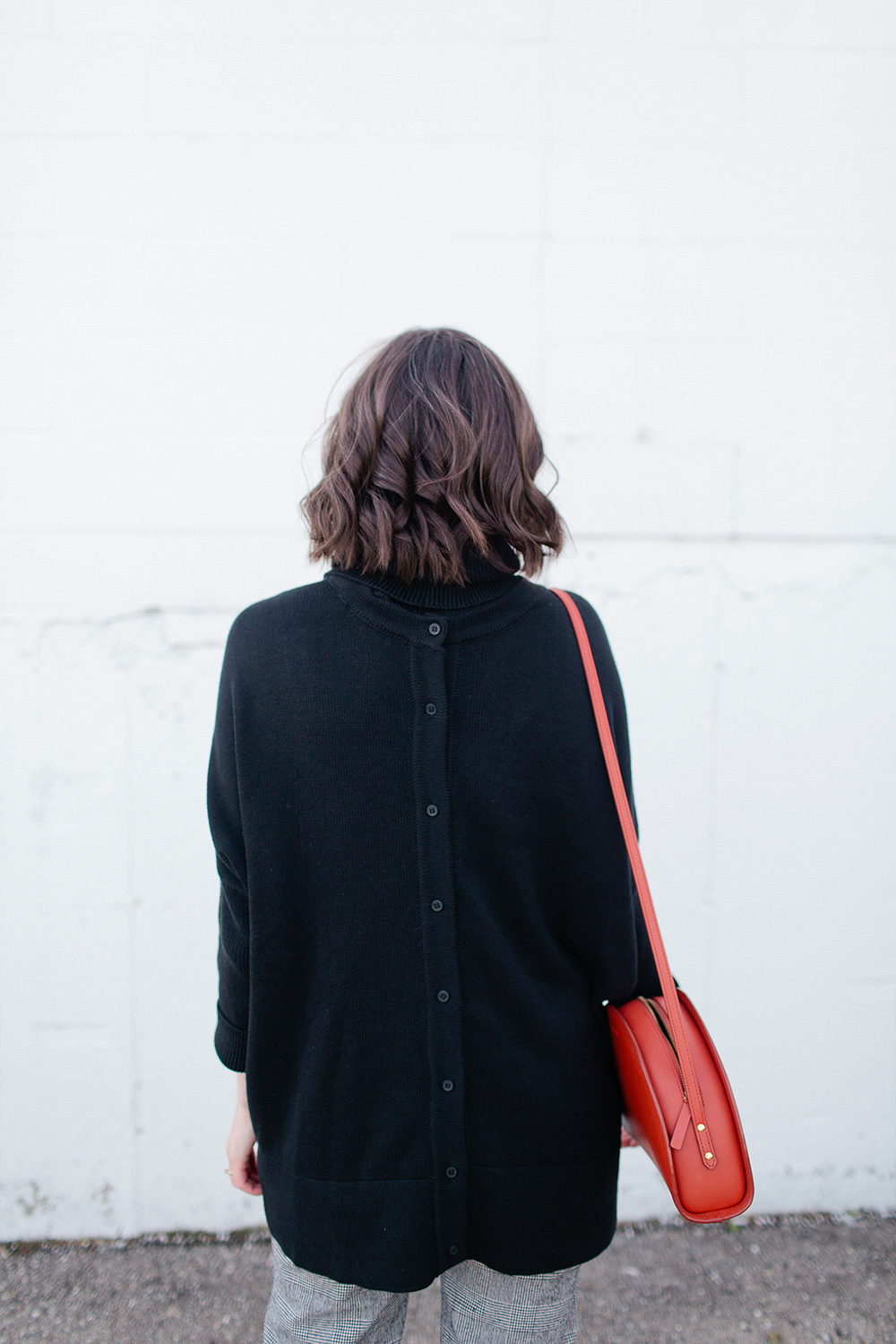 ---
INITIAL THOUGHTS: I really did not want to take this one-off after we shot it last week. But I had to give the other looks a fair chance! The organic cotton yarn this sweater is made of is soft but super thick so it's cozy and entirely wearable on a brisk day over a base layer. I paired it with houndstooth trousers, pointy mules (while the weather would still let me) and added a pop of red with my bag. Dramatic sunglasses instantly gave it a modern Jackie-O vibe, which I'm all for. This look would be great for client meetings, working downtown, traveling, family dinners and just about every occasion in between.
PROS: I LOVE the fit of this sweater and the weight of the cotton gives it a beautiful drape. This means it moves with you and falls near the body, which keeps it from feeling/looking huge.
I like where it hits on the leg, which on me (and most I've seen) is below the butt but not so far down the thigh that it's getting into dress territory. I also appreciate that the hem is straight and not curved or high/low.
The black is a deep, true black, not a washed black as many knits tend to be, especially when they're cotton.
CONS: I found the turtleneck (which is easily removable) a bit overwhelming (especially with my short hair). With a simple fold down it felt a lot better on my neck. That said, if you love a big chunky turtleneck it definitely offers that!
I love black, I really, really, do. But I also love my pets and cuddling them with reckless abandon so I worry that their fur might make this one high maintenance, especially because it's Dry Clean Only. Thinking back on past black sweaters their downfall has always been lint and fur visibility.
---
OVERSIZED SWEATER BLACK – ON LOAN from VETTA – $159 USD – %100 Organic Cotton – Can be worn as a turtleneck, crewneck or cardigan. | Wearing a size S. | Made in NYC. | USE 'STYLEBEE' FOR 10% OFF AT VETTA
HOUNDSTOOTH PANTS – Des Petits Hauts via BLUSH | Made in Italy | $240 CAD | Wearing a size 1
POINTED MULES – s/o L'Intervalle | These look super cozy (on sale). | Made in Spain.
ACCESSORIES | MARTA SUNGLASSES – CÉLINE – Made in Italy | MARGOT BAG – c/o The Stowe  – Made in Spain – $390 USD (Also in Black)
---
LOOK 2 – OVERSIZED SWEATER – BLACK
---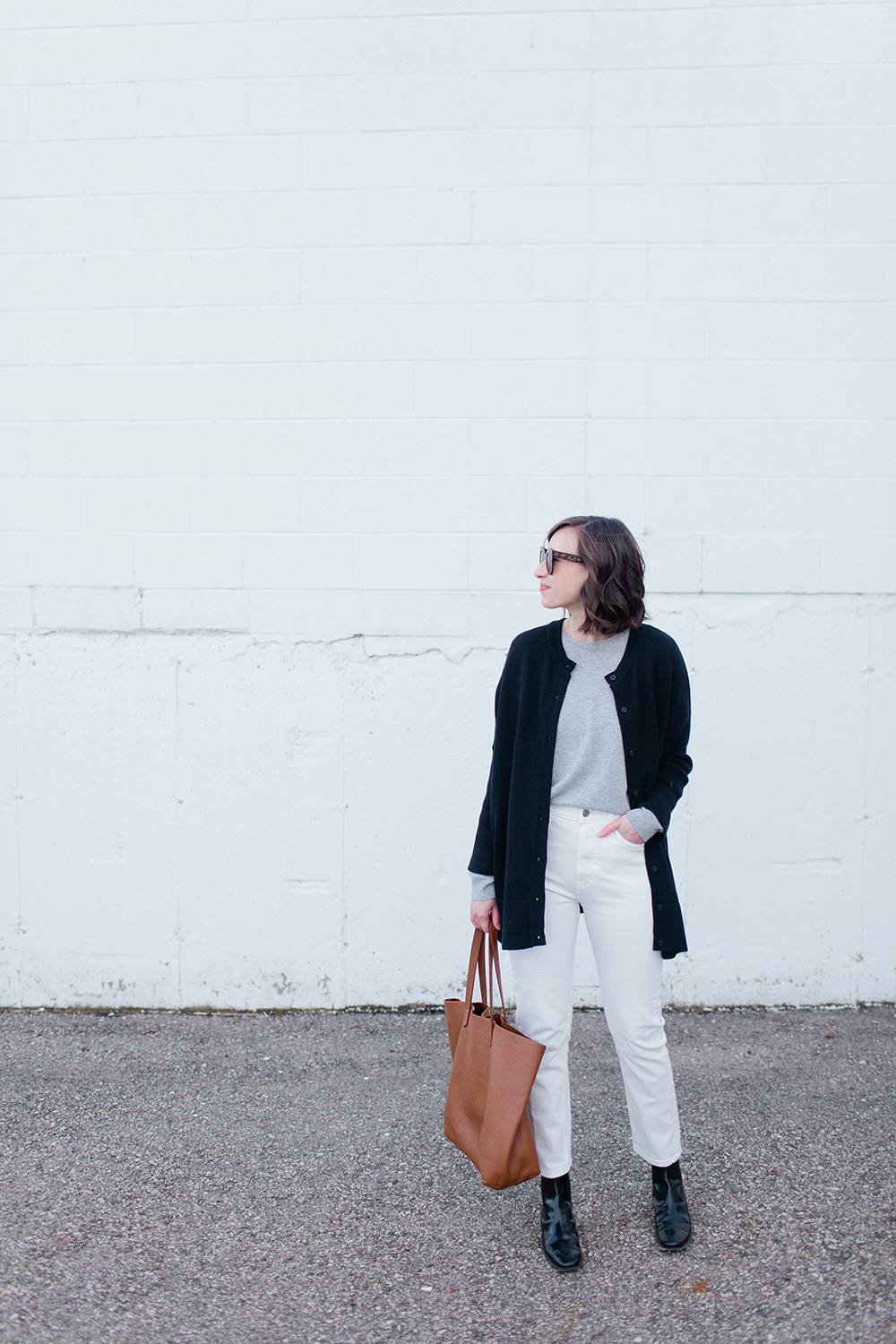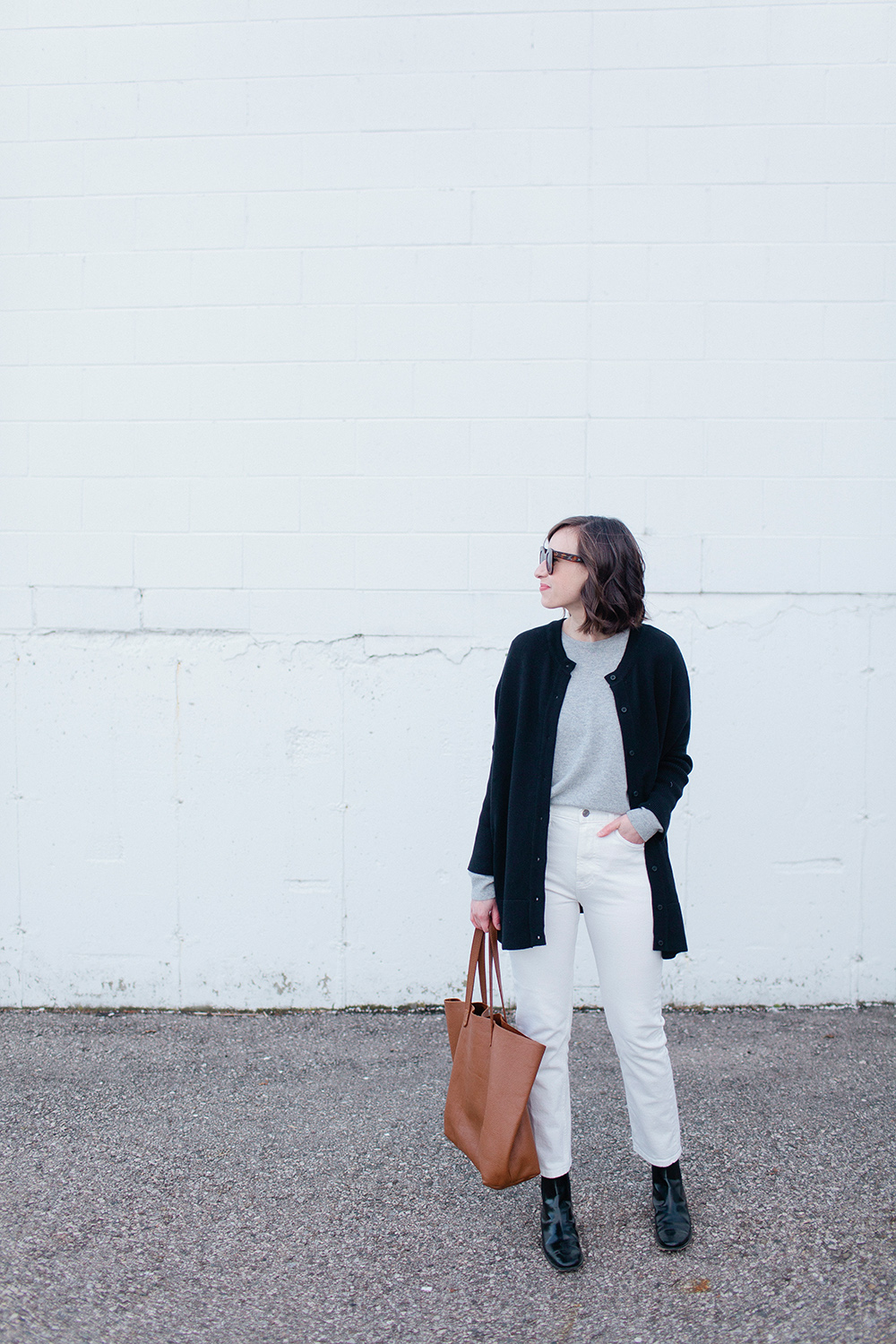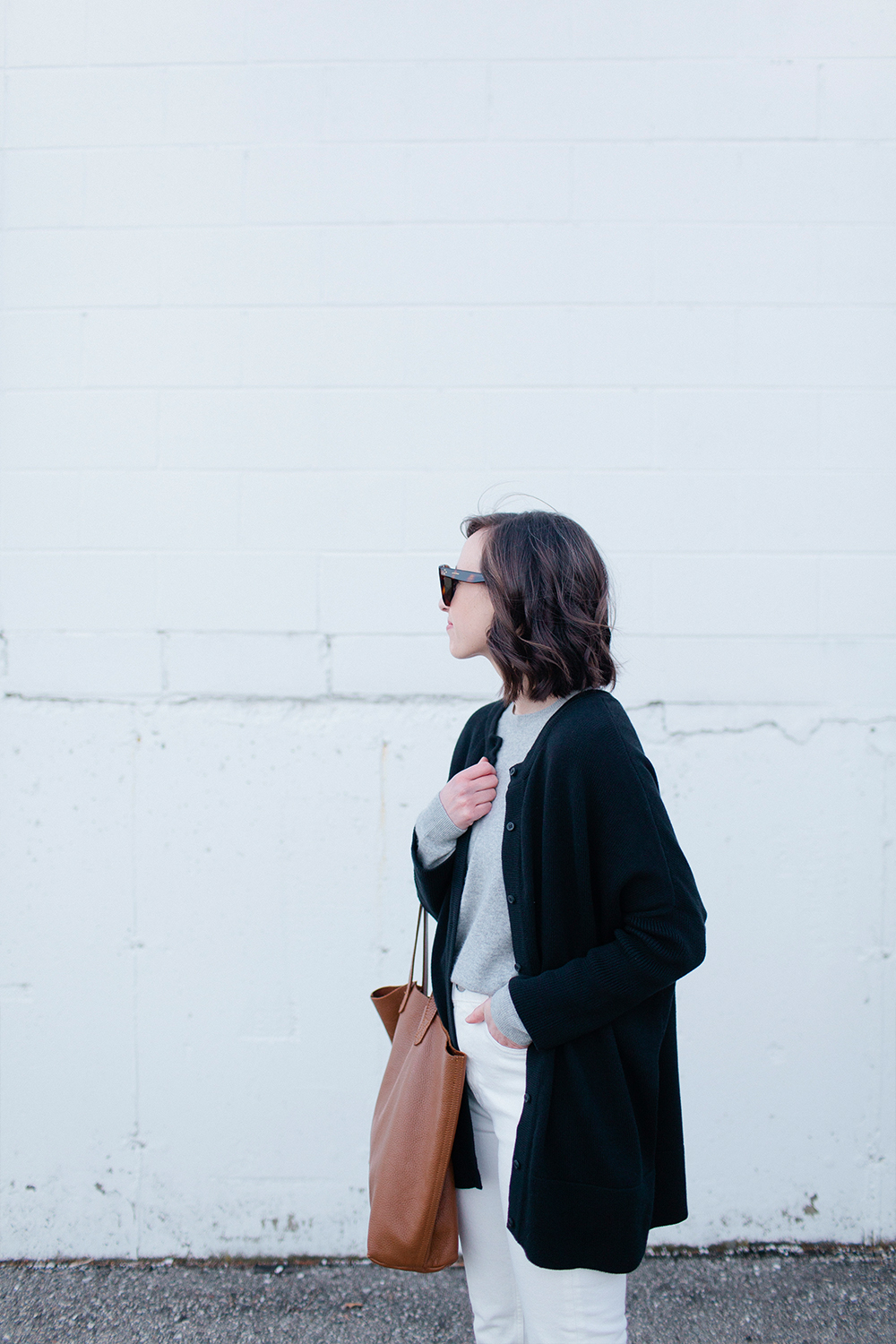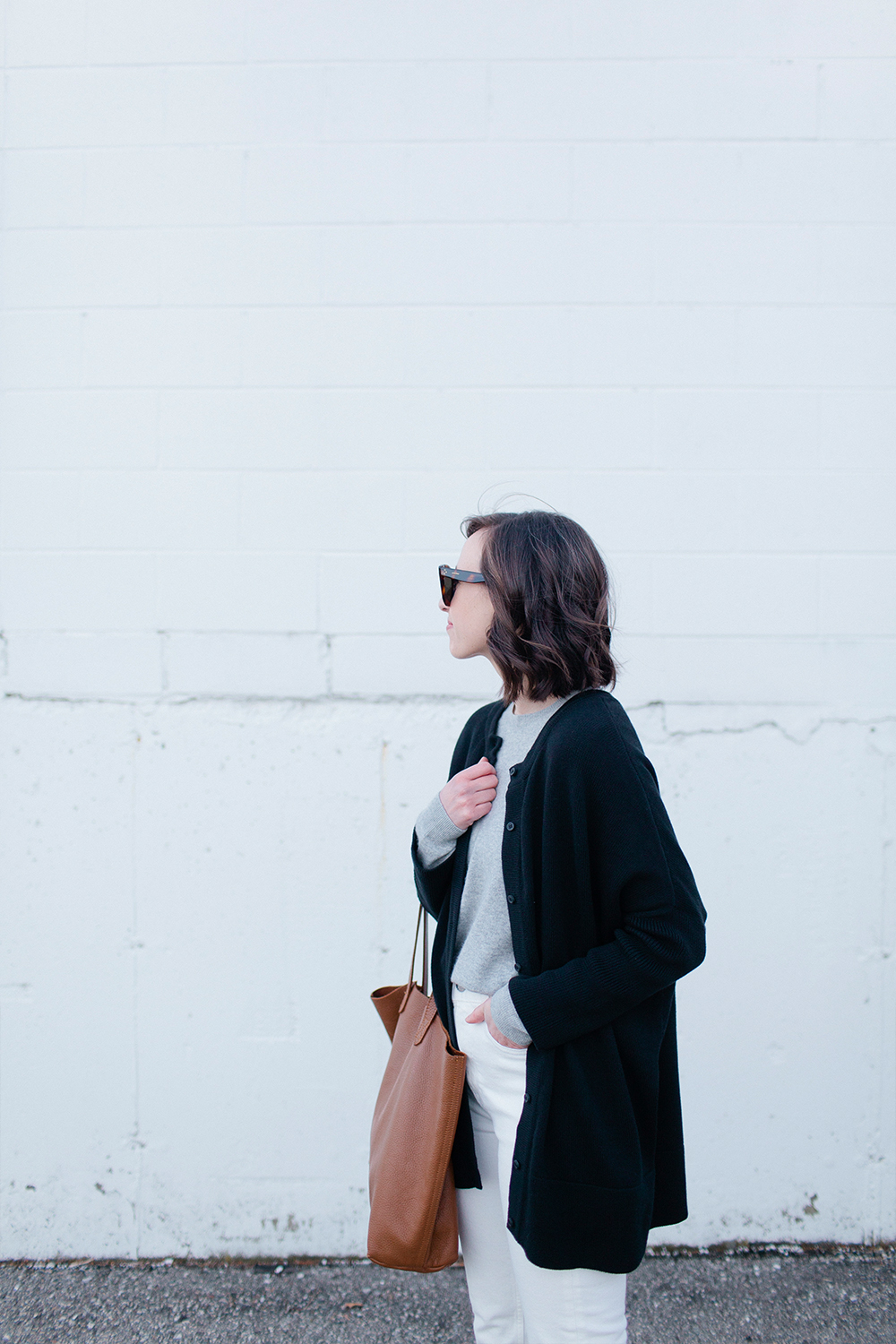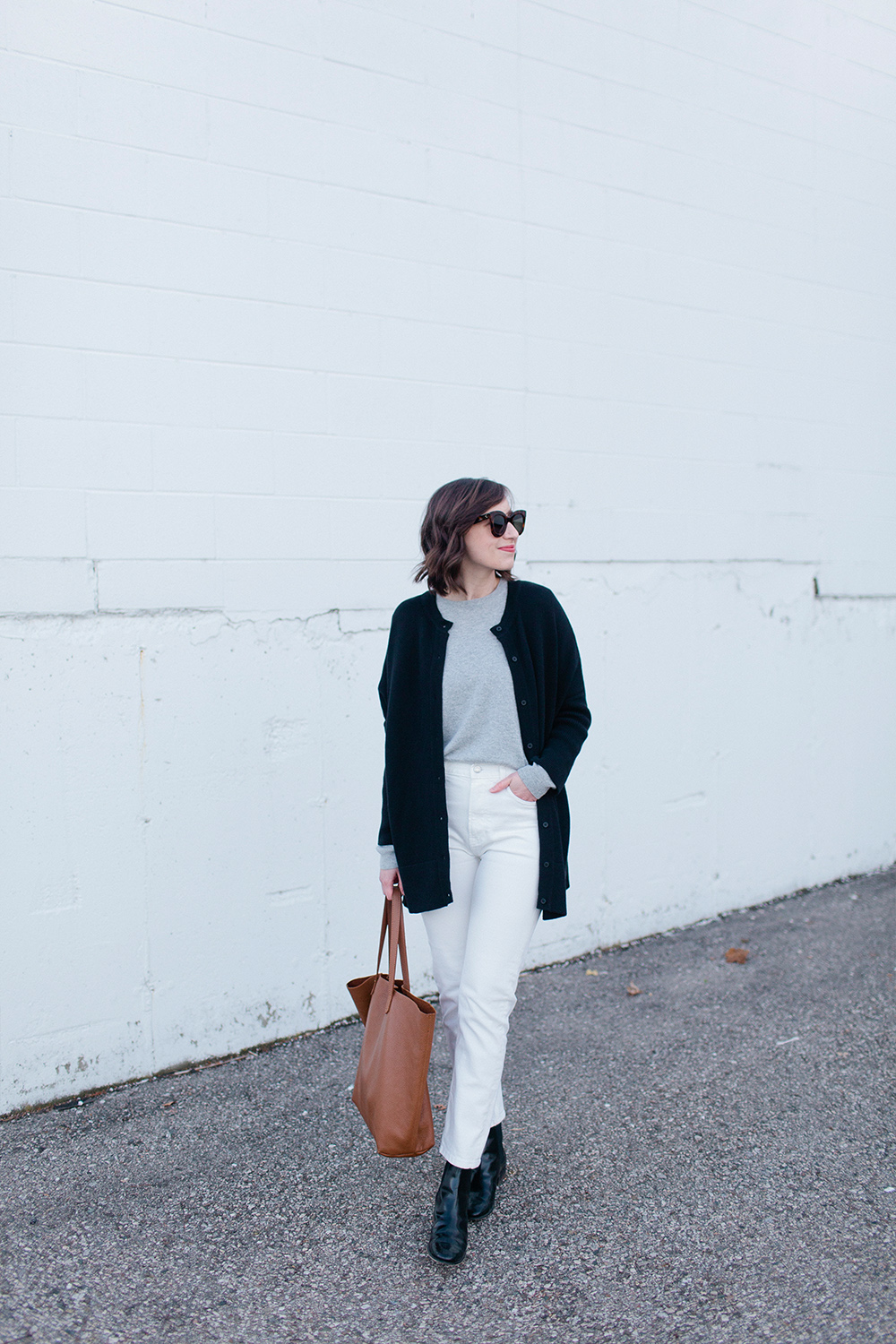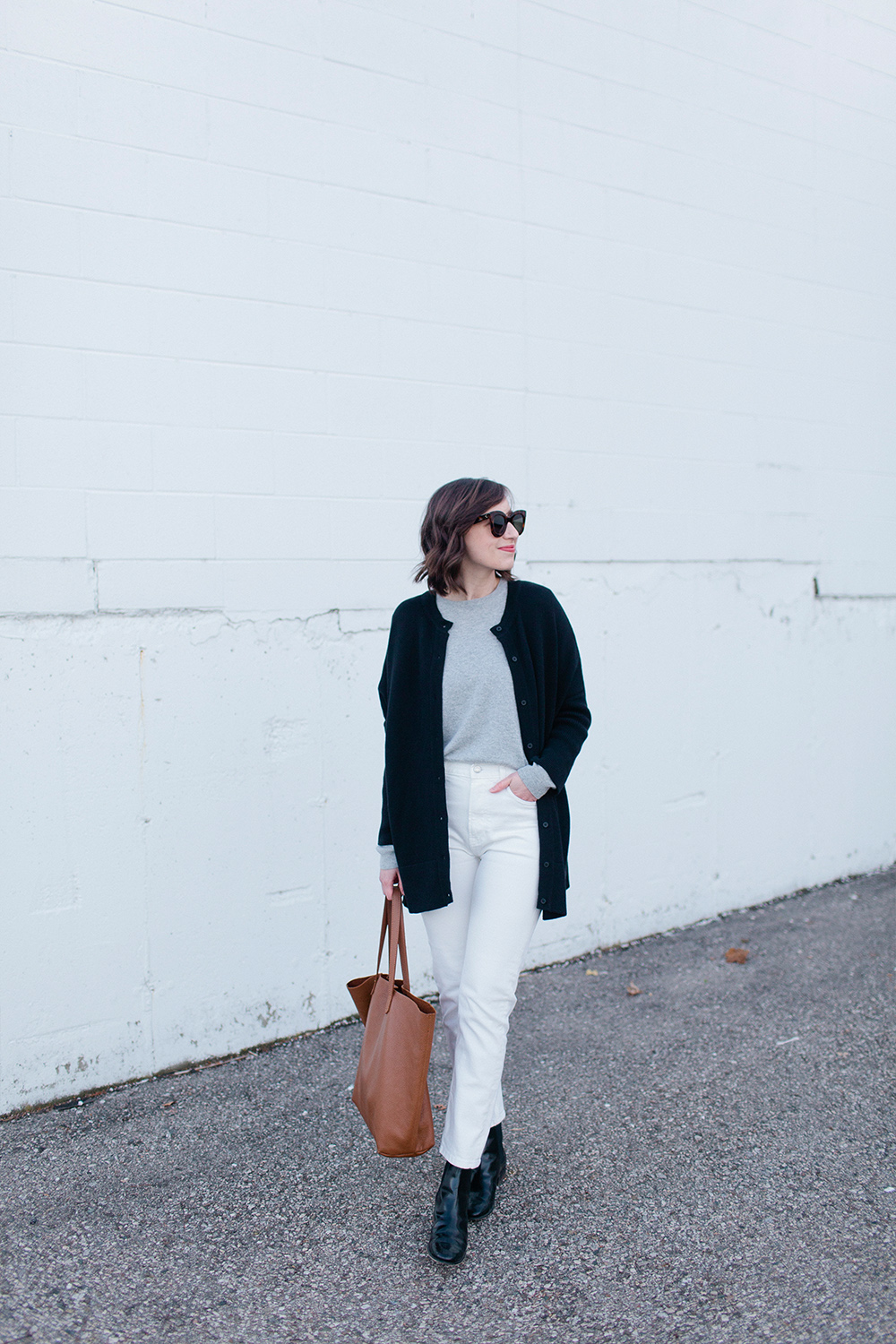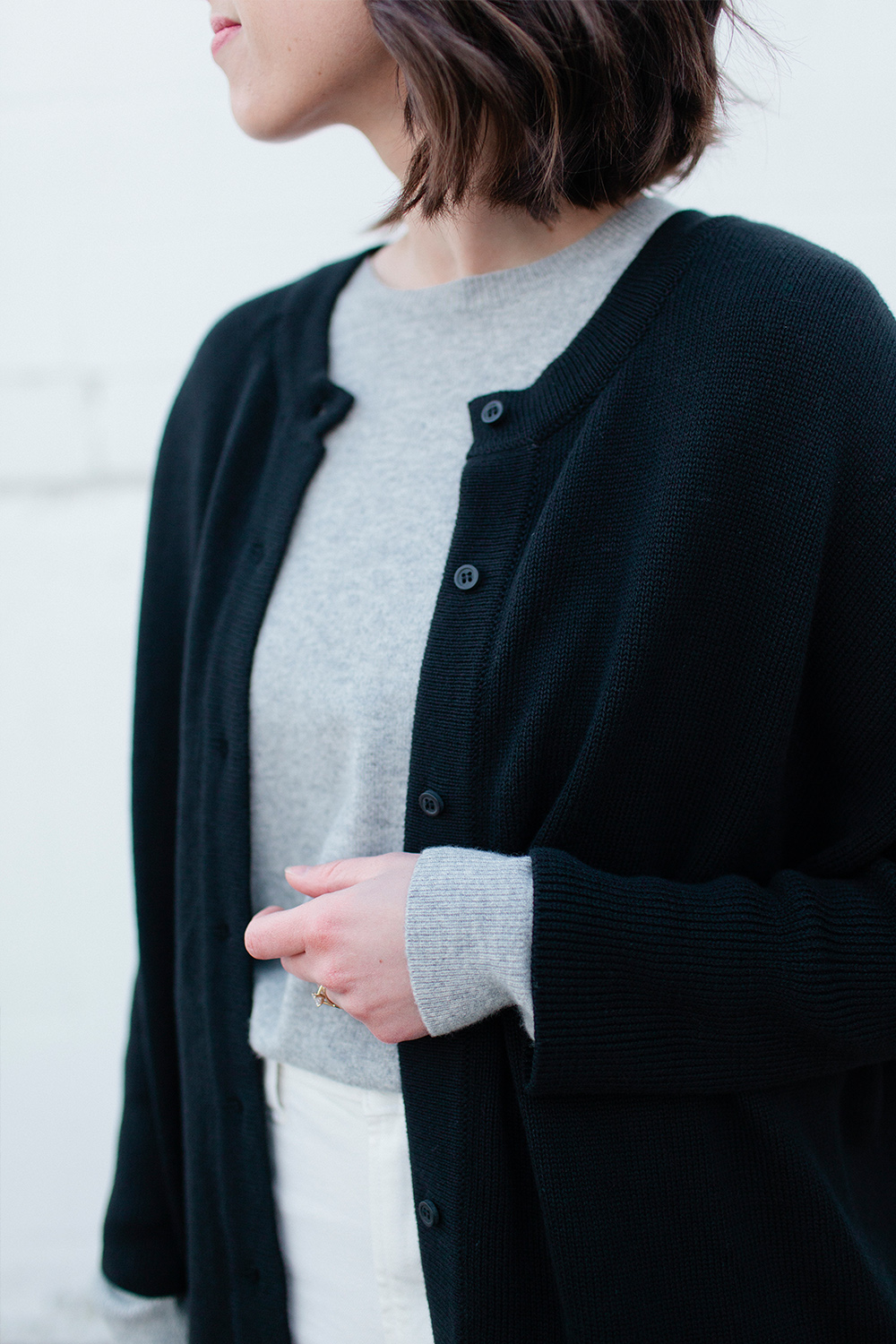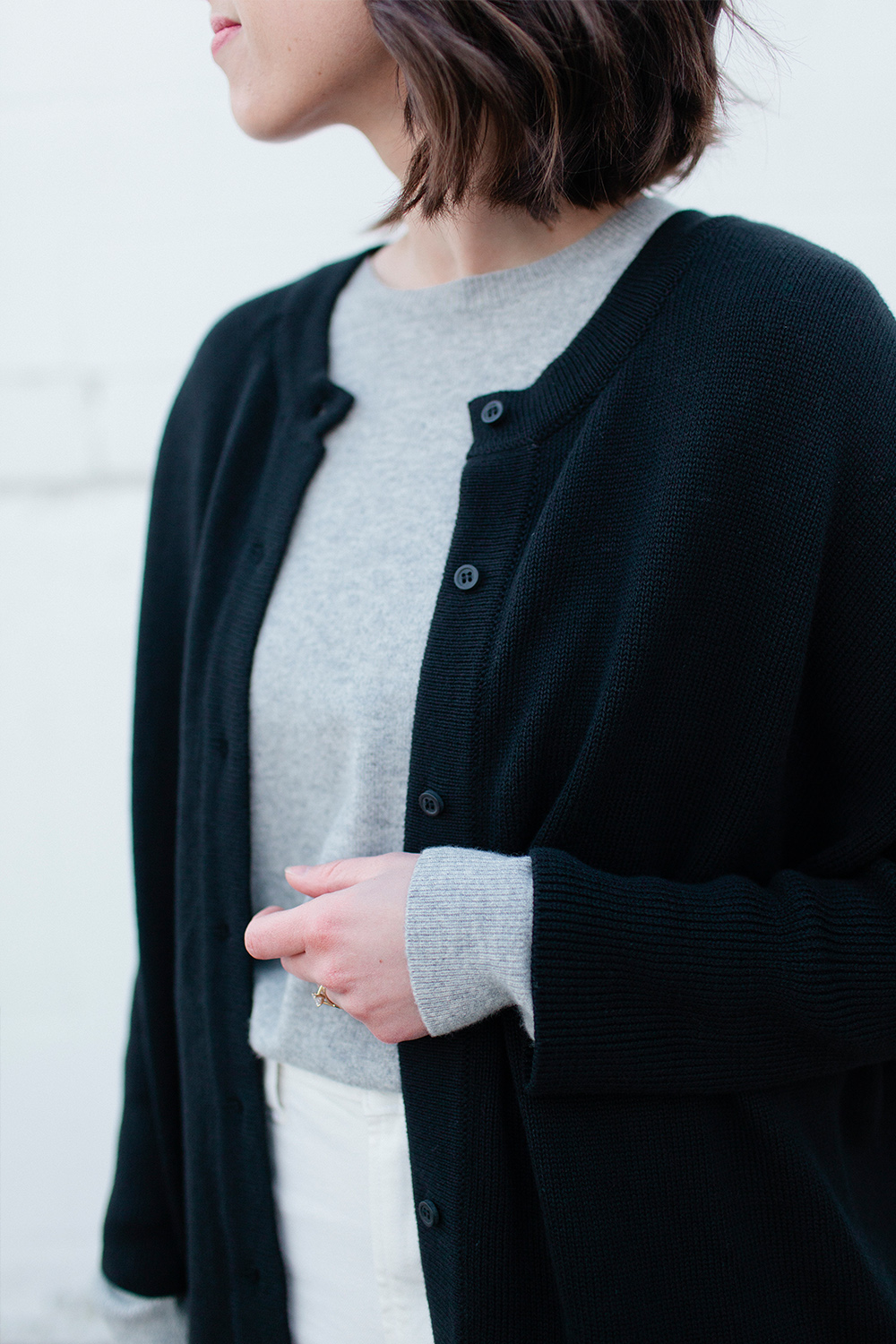 ---
INITIAL THOUGHTS: This is another chic, cozy look for any number of day-to-day activities. I really like the overall colour palette and super casual but polished effect of such a minimal outfit. I can see this one quickly becoming a go-to when I'm in a rush or packing for travel. This one also feels pretty timeless. I could wear it at any age and never feel as though it was out of date.
PROS: The sleeve length is perfect for my favourite sweater layering trick, the cuff peek. I always like to show my bottom layer under my top layer by revealing the cuffs. It's a simple detail but adds dimension and interest to a minimal look. The sleeves on this sweater are slightly short on my wrists so my long sleeves underneath peek out automatically. If you're more petite, no worries, a quick cuff will have the same effect.
Again, I love the length and drape of this sweater, but it's even better when worn as a cardigan. You get a bit of additional room when it's left open which creates an elegant, voluminous effect.
CONS: I'm kind of grasping at straws here because I love this sweater but I found the buttons a little difficult to undo. Not a major issue but we were in a hurry to shoot before the sun set so I noticed. With more buttoning and unbuttoning I'm sure it would get easier.
---
OVERSIZED SWEATER BLACK – ON LOAN from VETTA – $159 USD – %100 Organic Cotton – Can be worn as a turtleneck, crewneck or cardigan. | Wearing a size S. | Made in NYC. | USE 'STYLEBEE' FOR 10% OFF AT VETTA
GREY CREWNECK | Everlane | $100 USD | Wearing a size M for a loose fit | Made responsibly in China.
BOYFRIEND DENIM | Everlane | $68 USD | Wearing a size 27 for a loose fit | Made responsibly in Vietnam.
CHELSEA BOOT | Rachel Comey via Garmentory | s/o | Similar option here. $198 USD. Made in Italy.
CLASSIC TOTE | Cuyana | $175 USD | Made in the USA | 100% Leather
---
LOOK 3 – LONG CARDIGAN – BLACK
---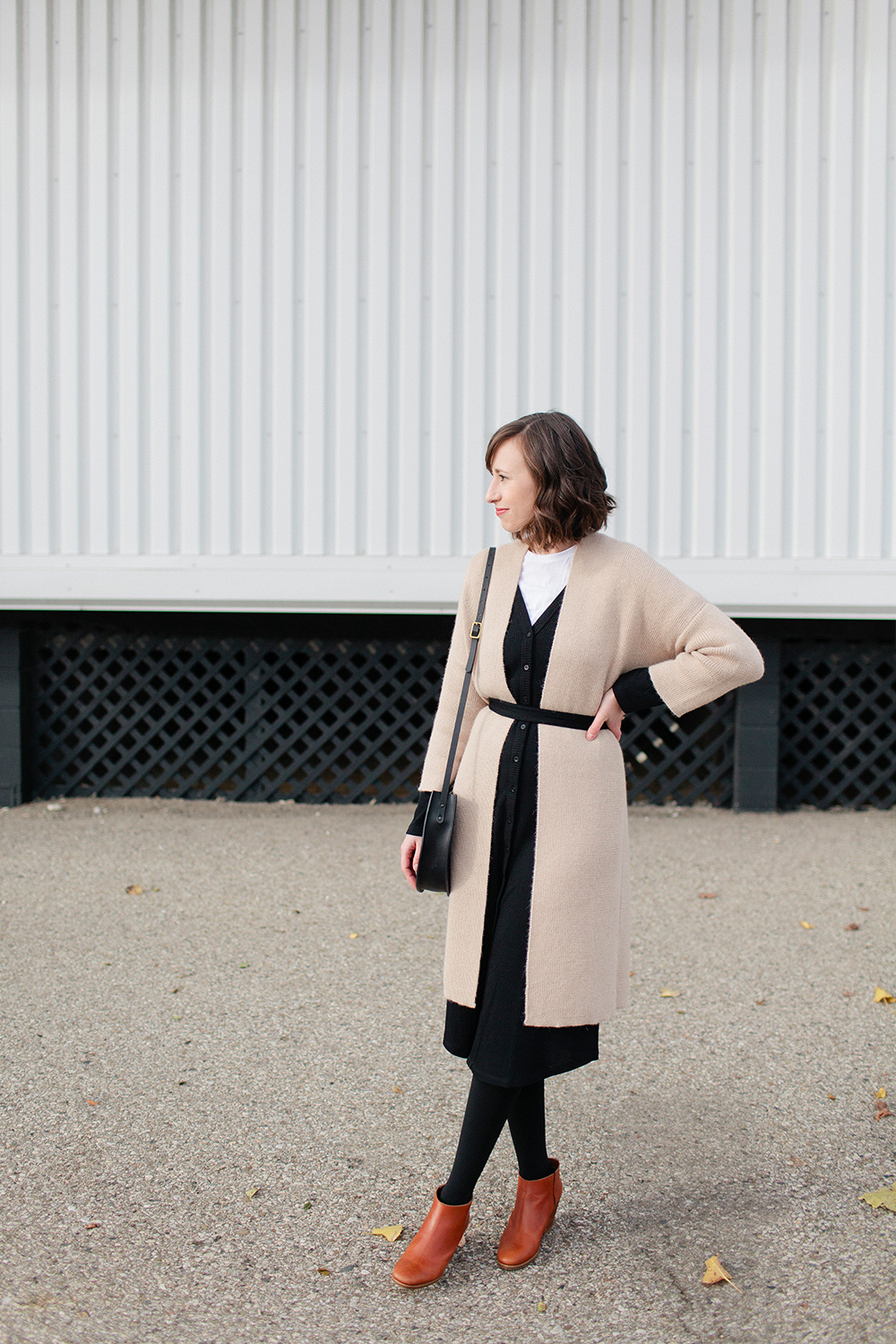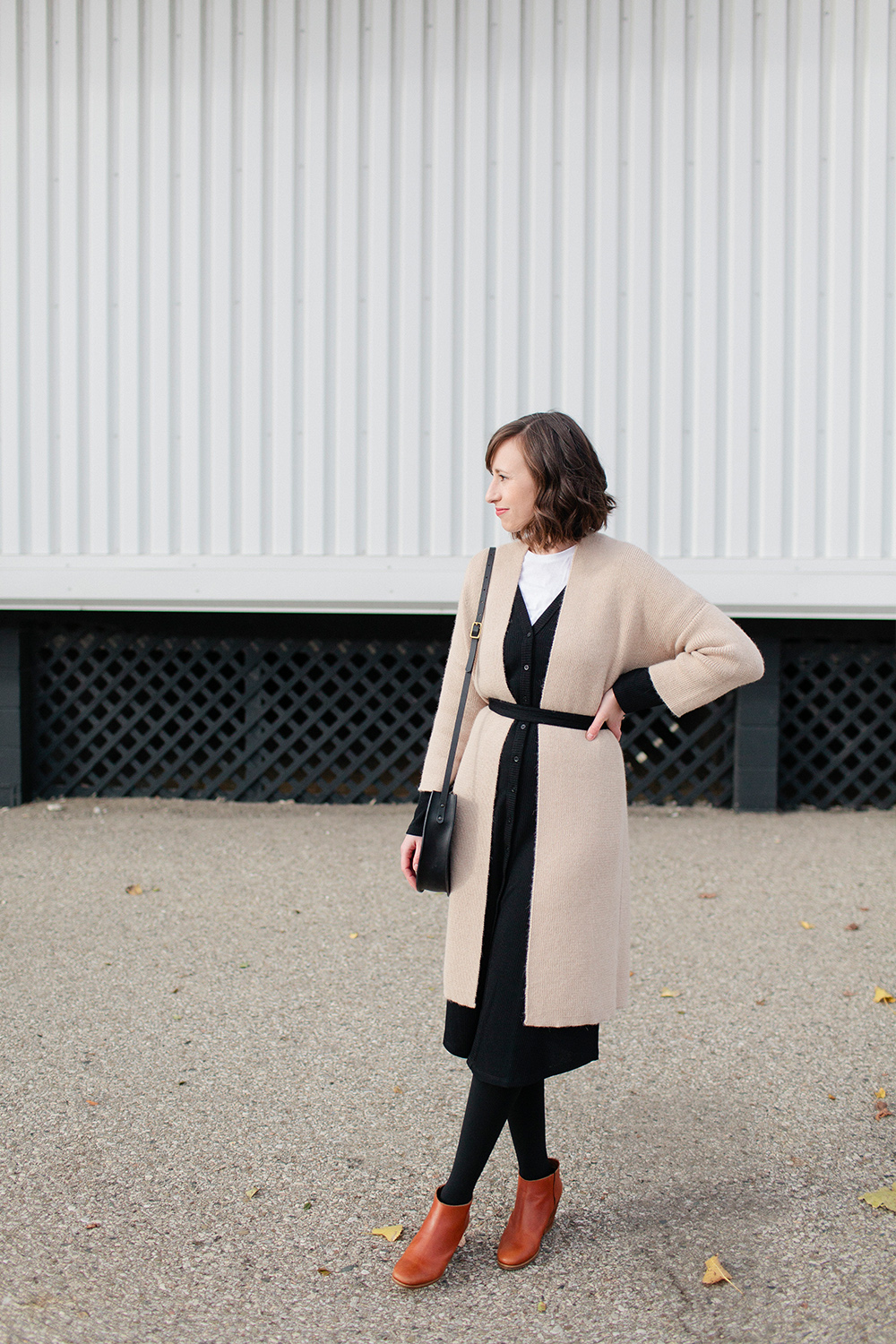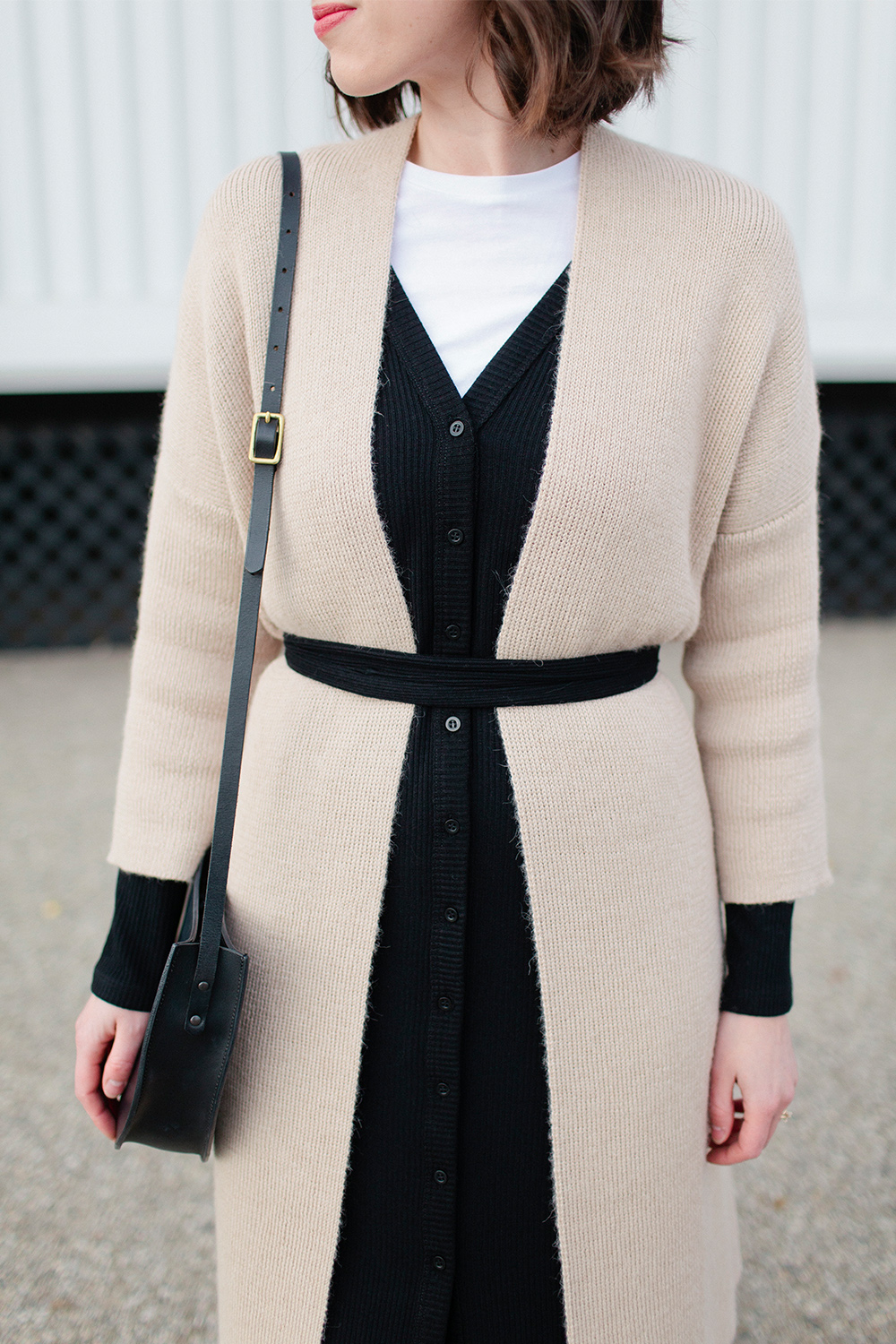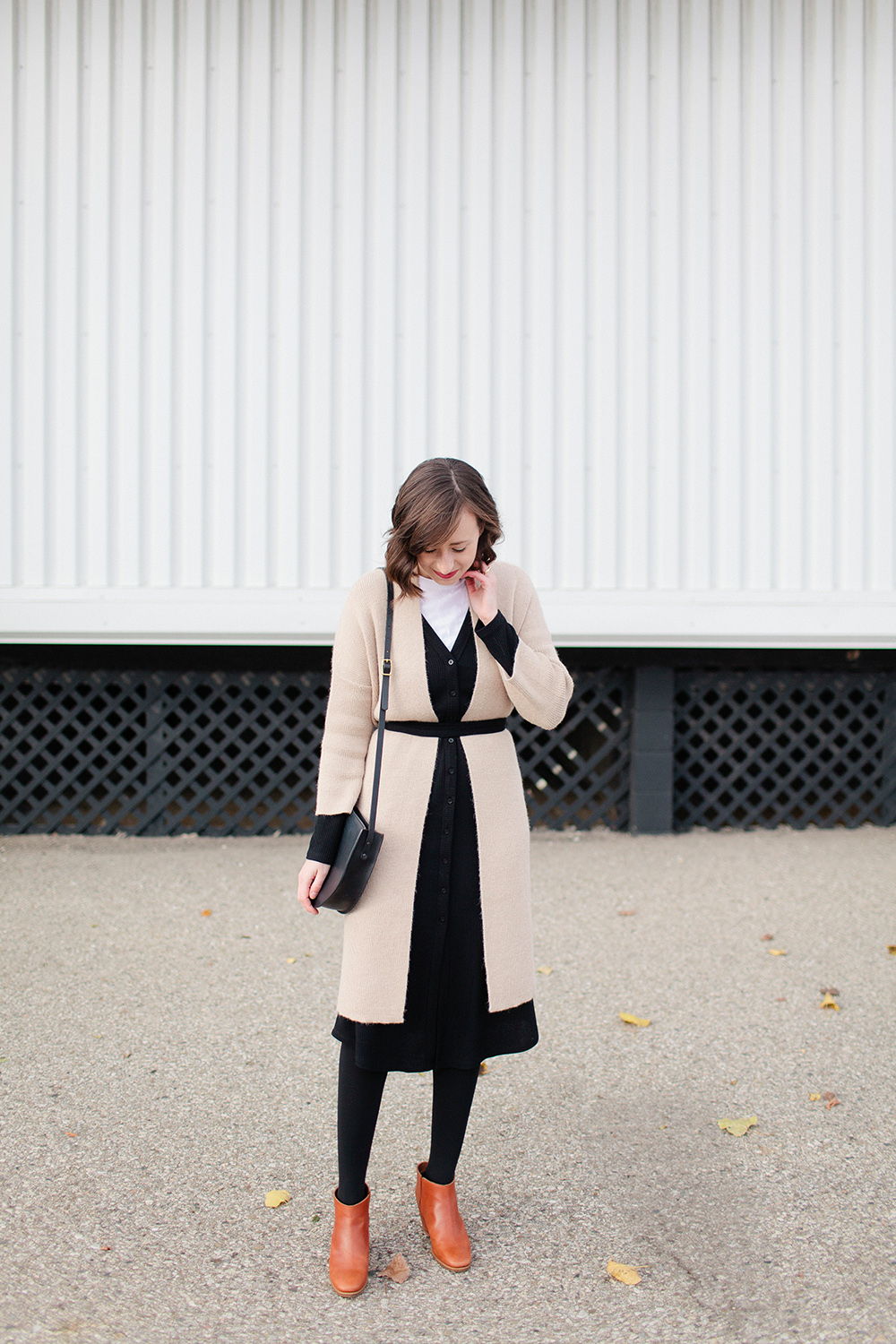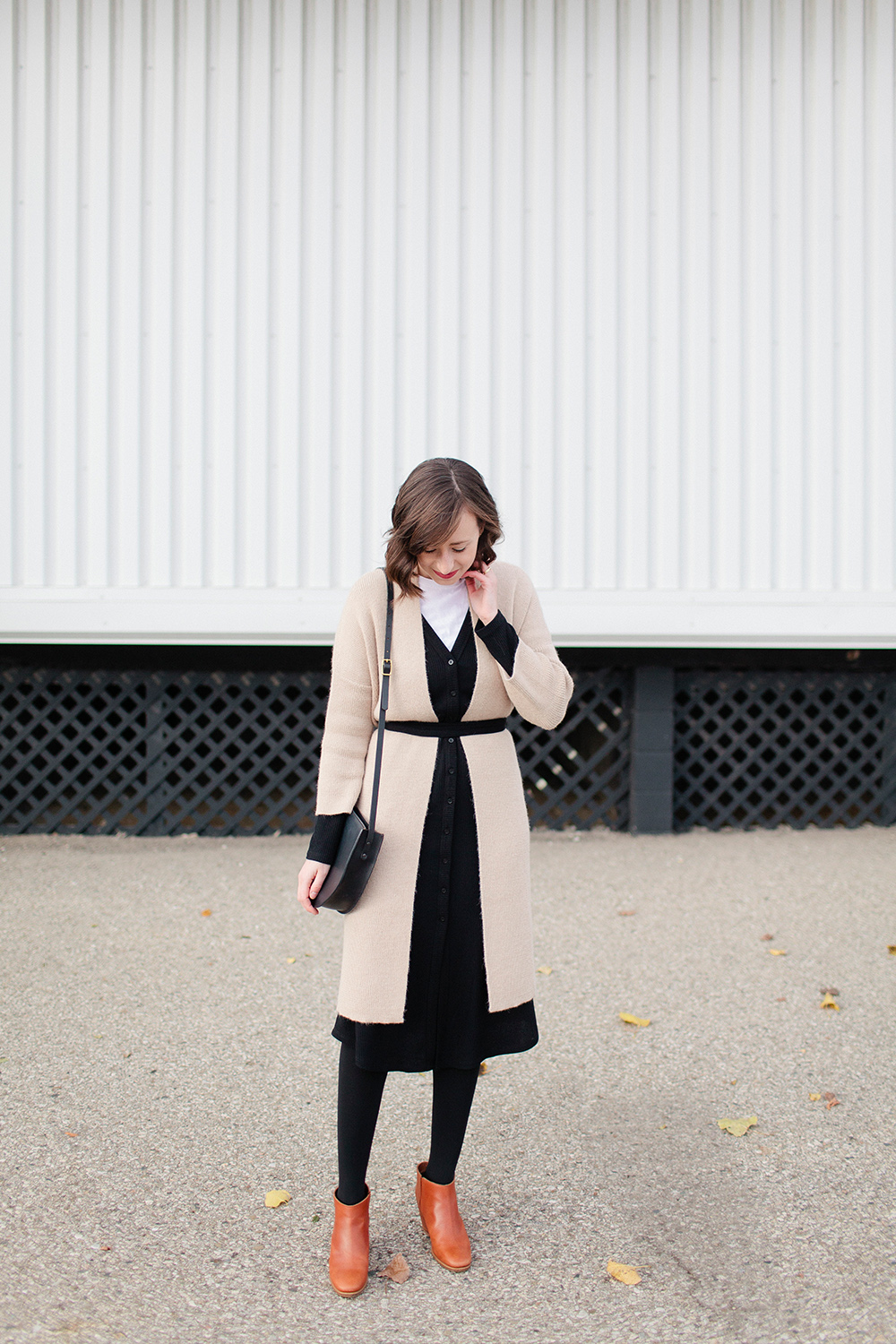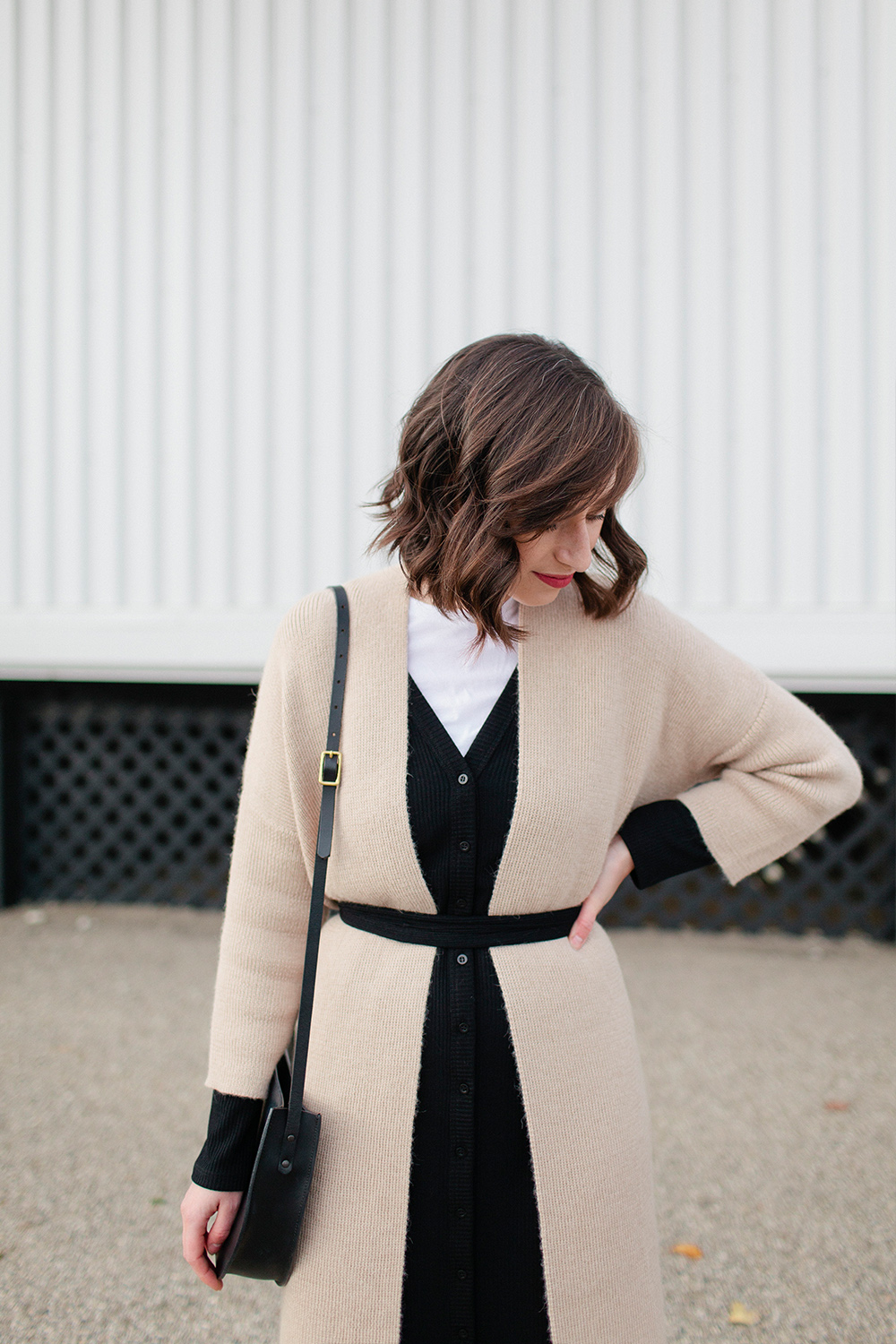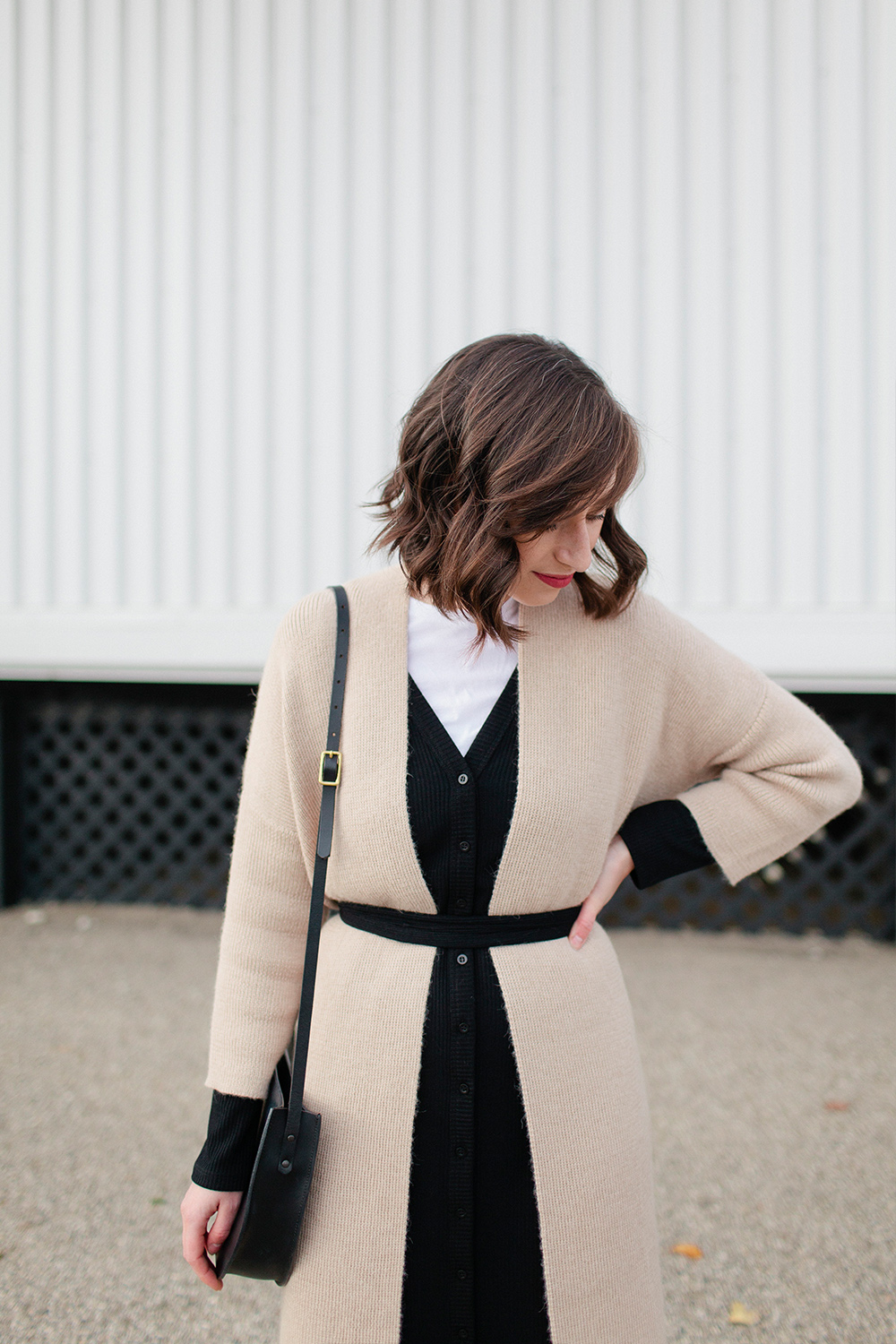 ---
INITIAL THOUGHTS: Next up we've got the long cardigan! As you may know, I'm not usually a dress person but I really wanted to try this one out and push myself a bit. So here we are!
I tried this look without the camel cardigan but the dress wasn't warm enough on its own. I added the belt on a whim, kind of assuming it would be goofy looking but then I really liked the result. Without the belt this look still worked but it felt a little shapeless, especially since the dress is long. The belt was a great way to quite literally tie all the layers together and give the outfit a slimming focal point to offset the volume of the double long layers.
With the base tee, tights, long sleeve dress, boots and heavy top sweater, I was almost overheating when we shot this so I'd probably want to save it for a time when I'd be outside a fair amount or somewhere cool. I could easily add a scarf and I'd be well dressed for a cold November day. Thinking Christmas markets, maple syrup boils (I'm pretty Canadian eh?), hay rides, skating and coffee runs across the river with the pup.
PROS: The fabric that this sweater is made of is a deadstock rayon/poly blend and it's SO SOFT. It feels really nice against the skin. It's warm but not as intense as a natural fibre knit.
I really like the detachable belt on this dress. There are no belt loops to look daft if you choose not to wear it and it's long enough that you can wrap it around twice and tie it off at the back (as I've done here) which creates a really clean visual midpoint. You could also tie it into a bow or a long knot of course.
CONS: The v-neck is a little low for me personally, so I'd feel a bit self-conscious if I were to lean forward without a layer on underneath.
Opposite to the oversize sweater in Look 1 + 2, I found the top button on this one popped open fairly easily even though there was no obvious strain on it. Could be fixed my sewing the button buttonhole a touch tighter but I'd be weary of it popping open without my noticing.
Again, lint and fur would love to make a home on this one. I would have tried the grey option instead but it was out of stock at the time.
---
LONG CARDIGAN – ON LOAN from VETTA – $129 USD – Deadstock Rayon/Poly Blend – Can be worn with buttons on front or back, belted or loose and as a cardigan. Comes with a slip dress. | Wearing a size S. | Made in NYC. | USE 'STYLEBEE' FOR 10% OFF AT VETTA
WHITE TEE | Everlane | $100 USD | Wearing a size S. | Made responsibly in China.
ALPACA CARDIGAN | Han Starnes via Garmentory | $390 USD | Made in Peru | Wearing Size S/M.
TIGHTS | old American Apparel | Similar made responsibly here.
BOOTS | Rachel Comey | colour sold out similar style for less here.
---
LOOK 4 – LONG CARDIGAN – BLACK
---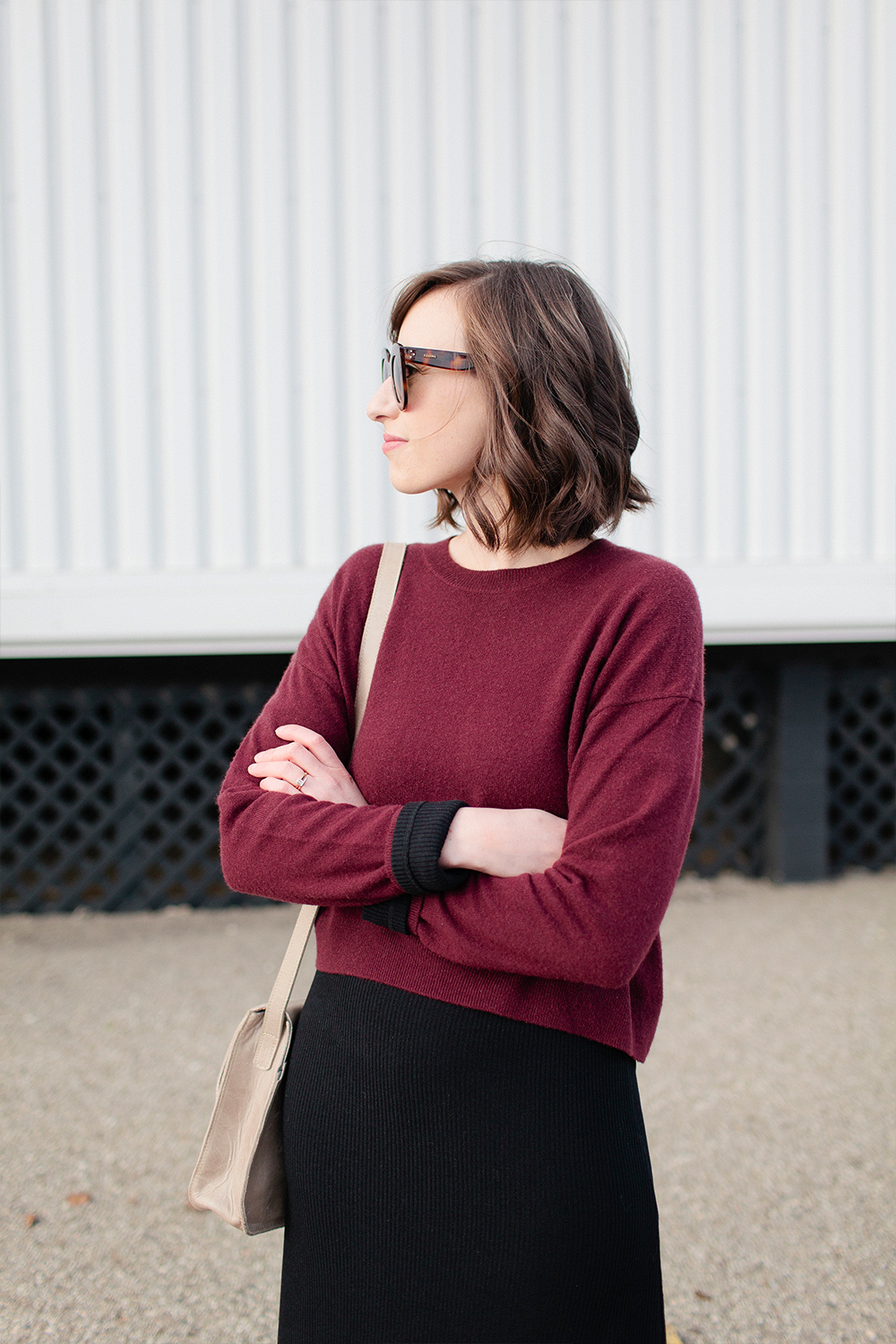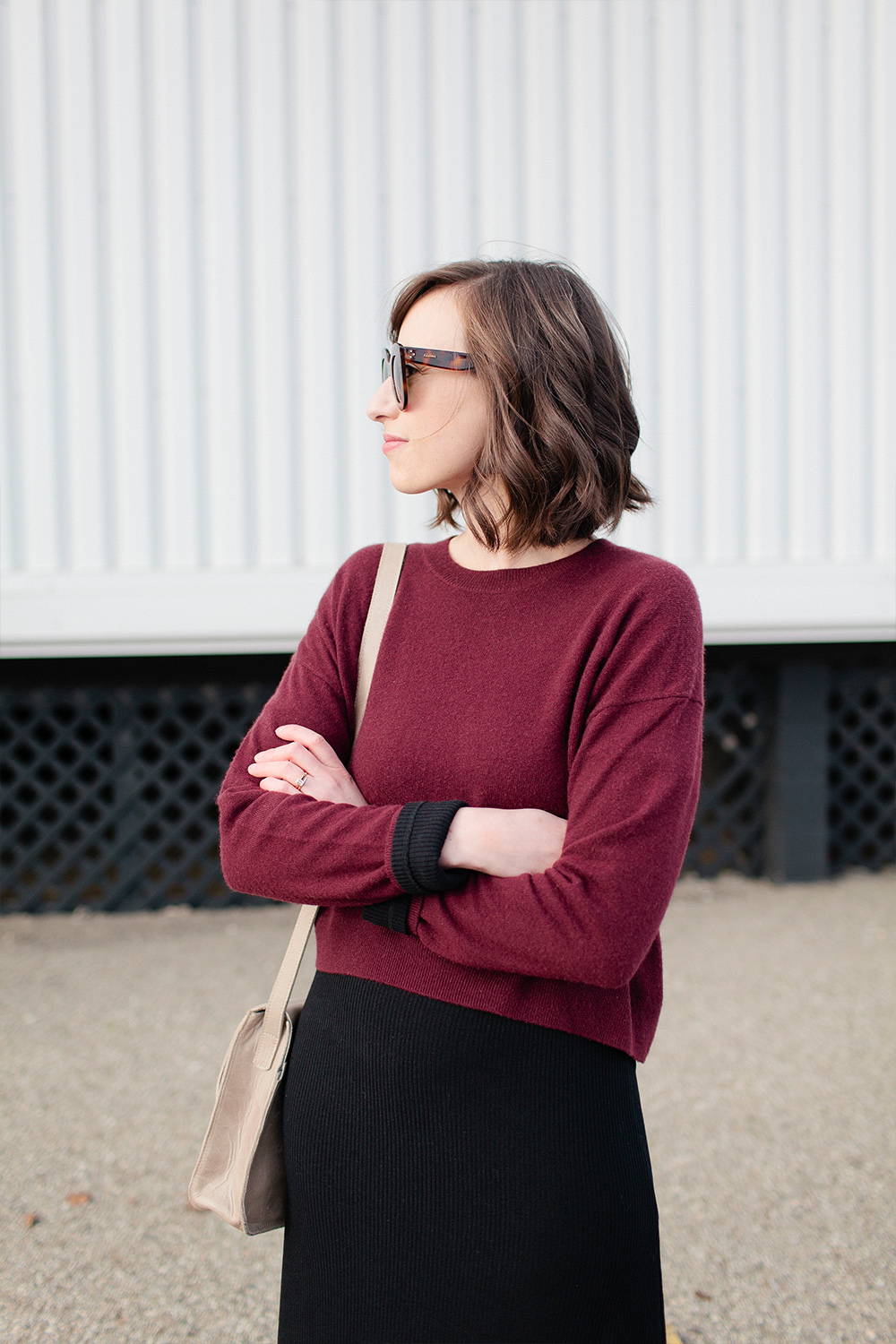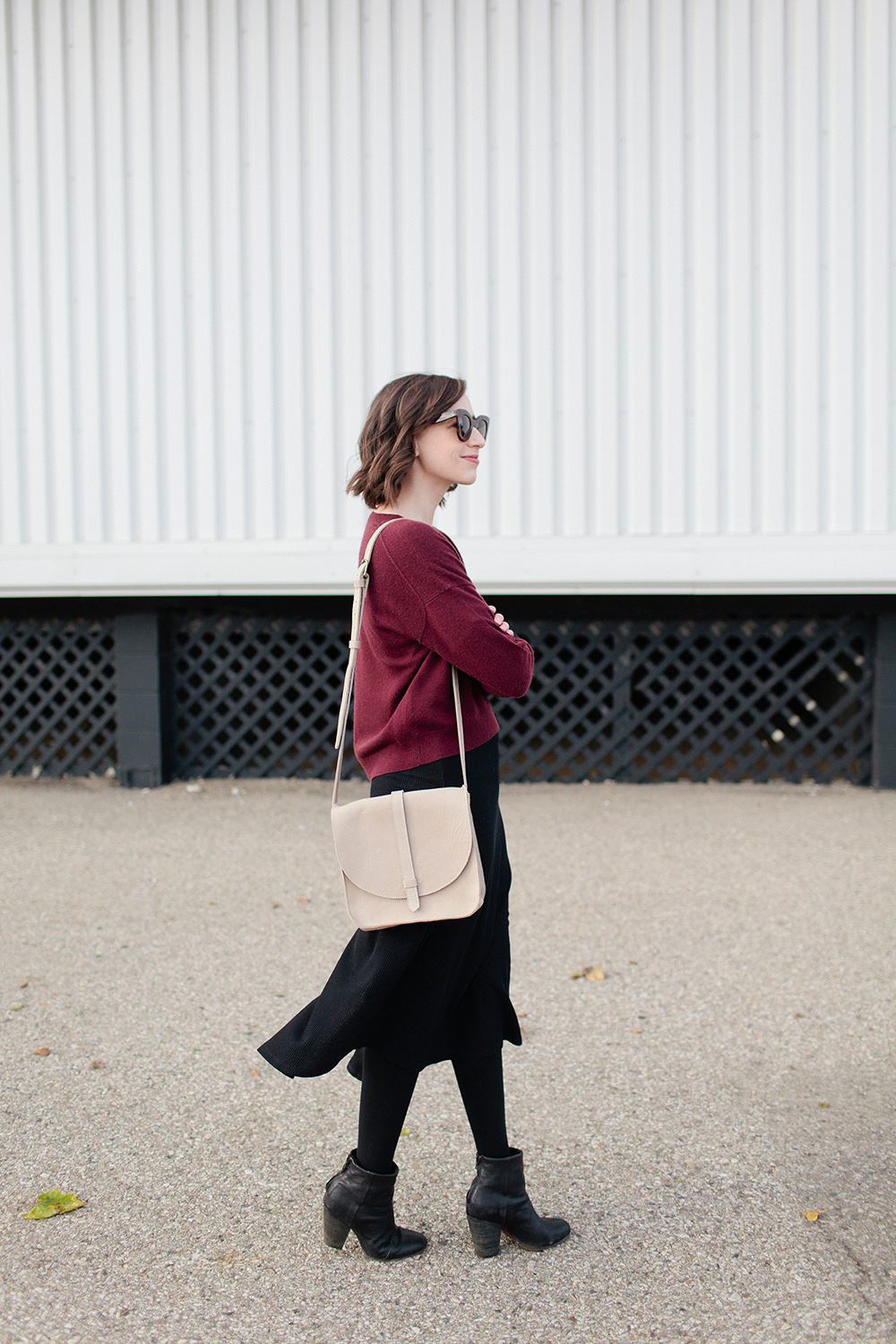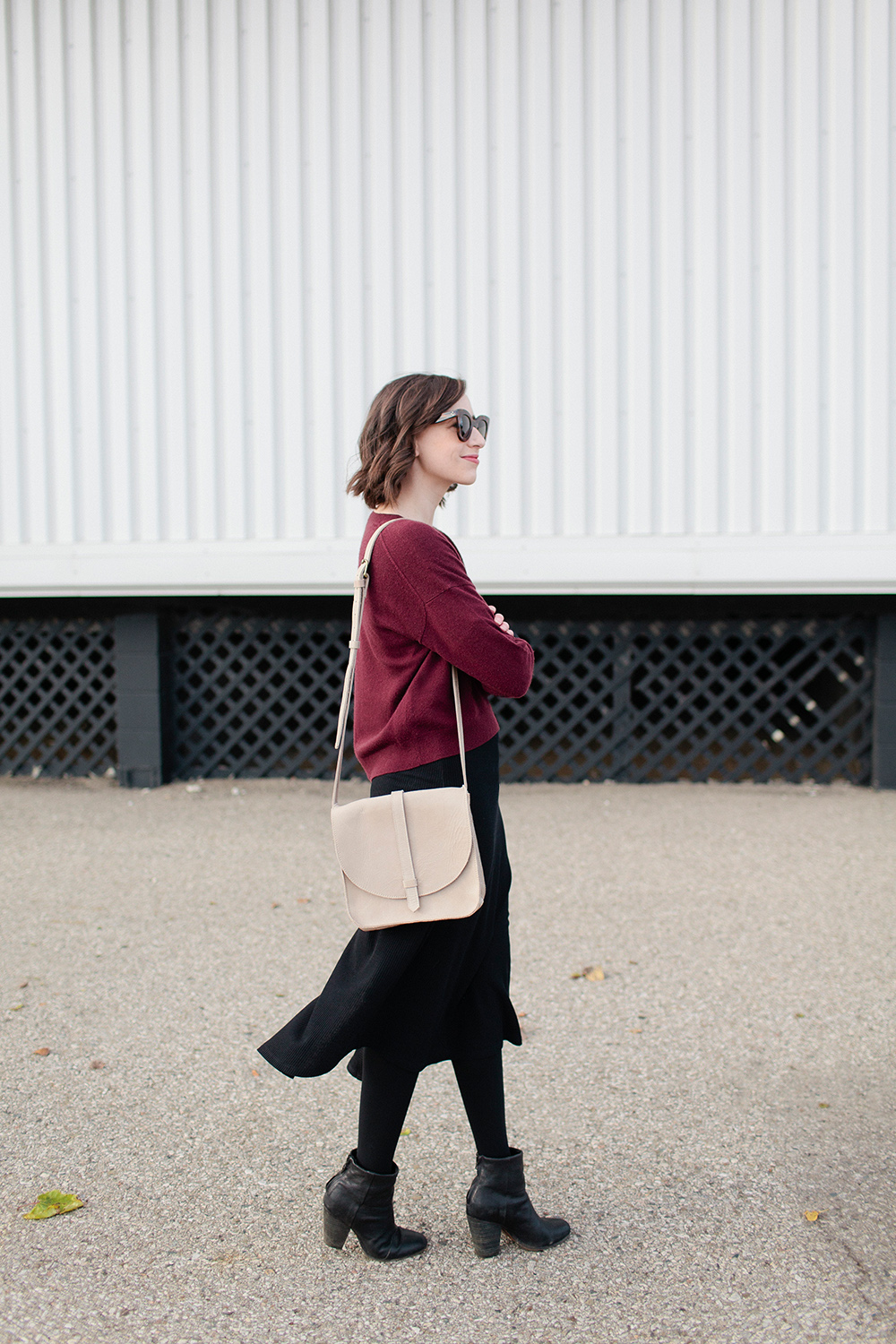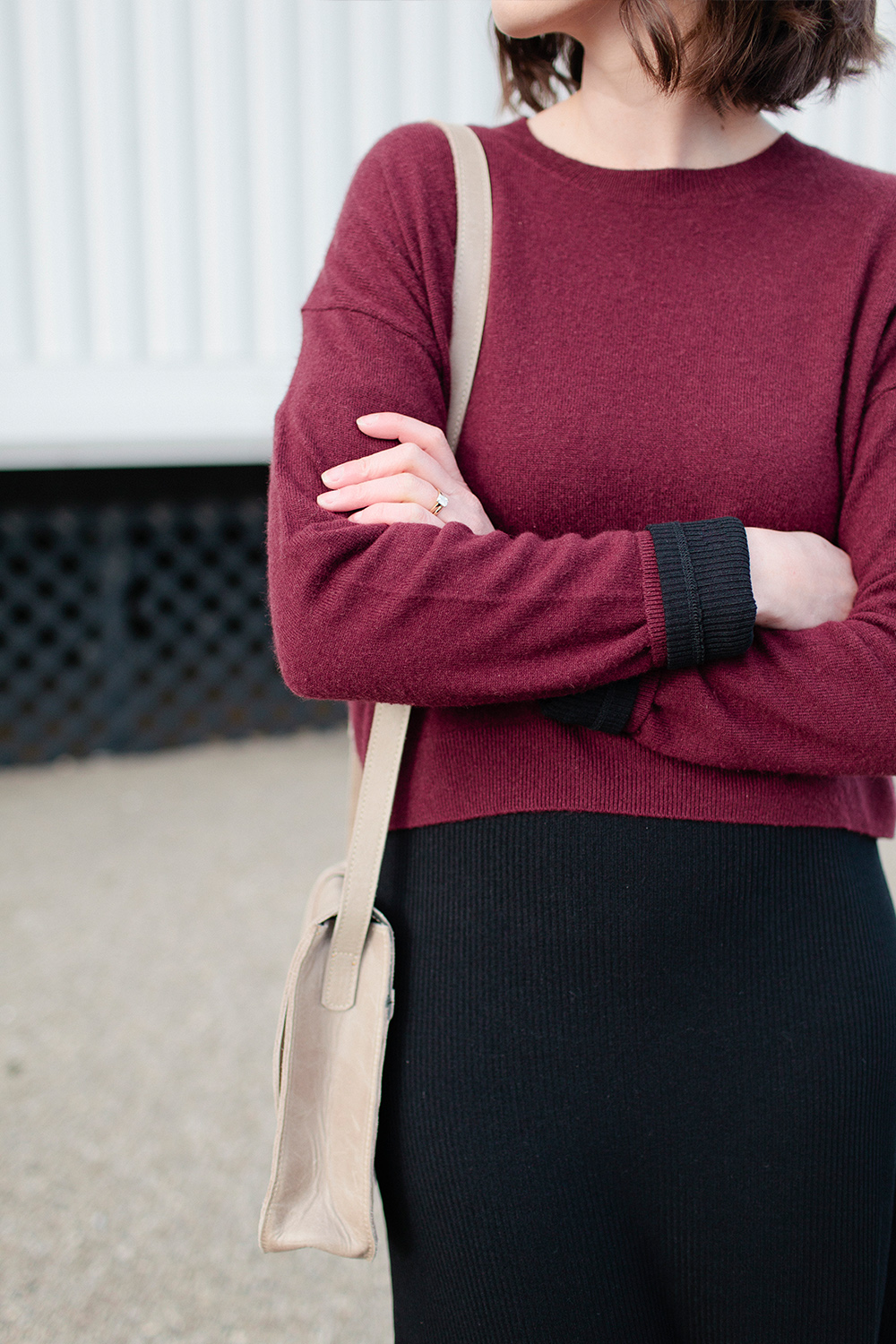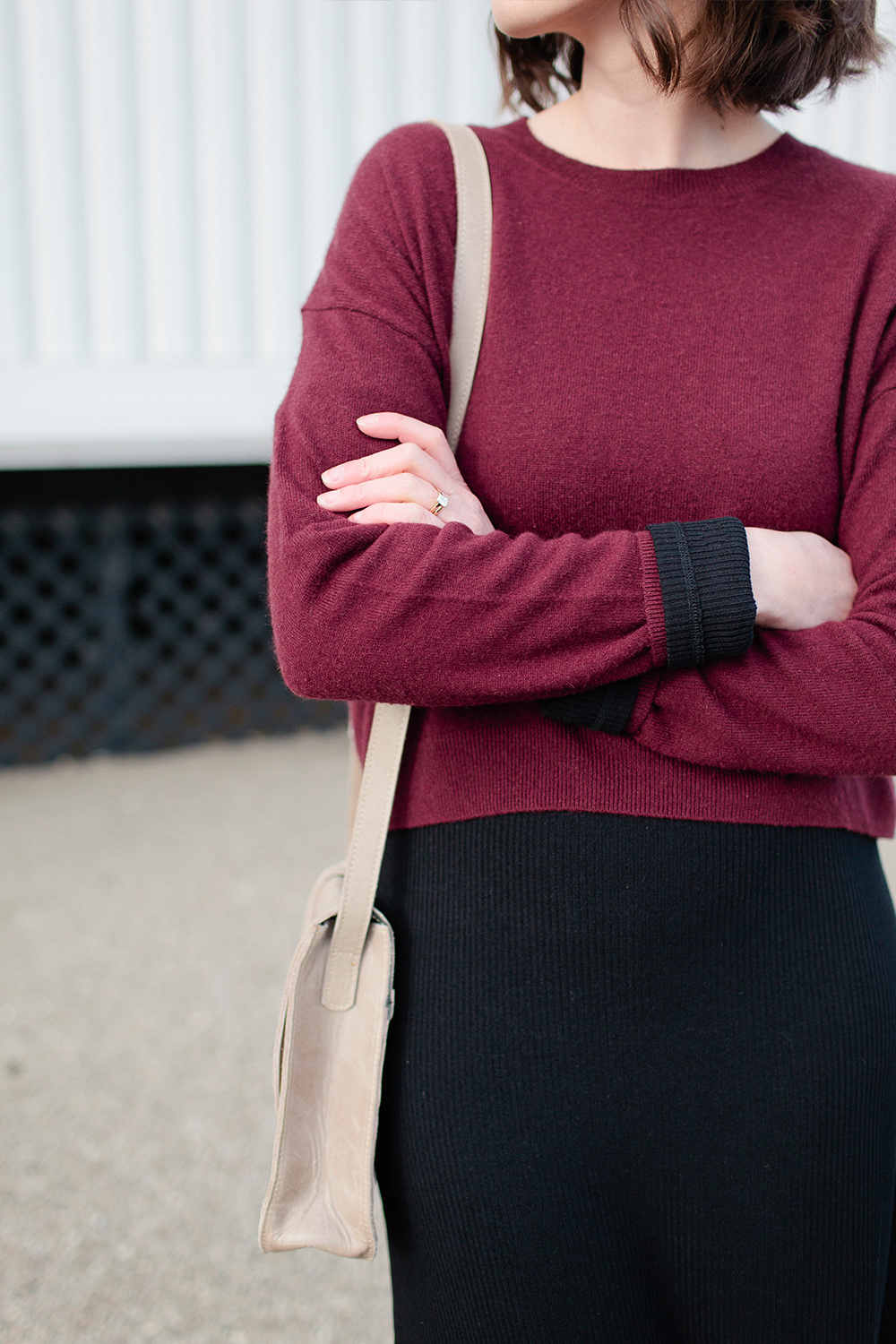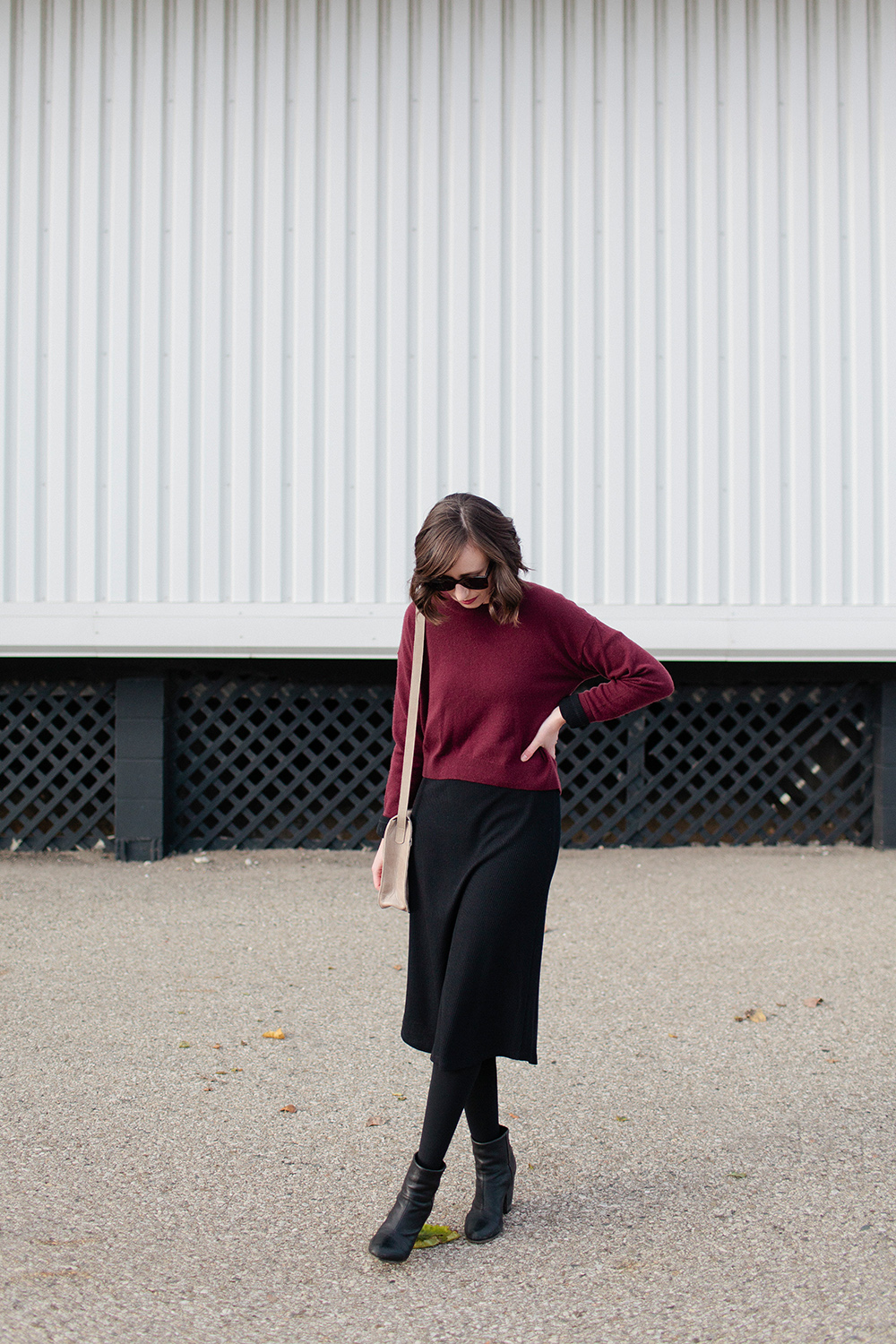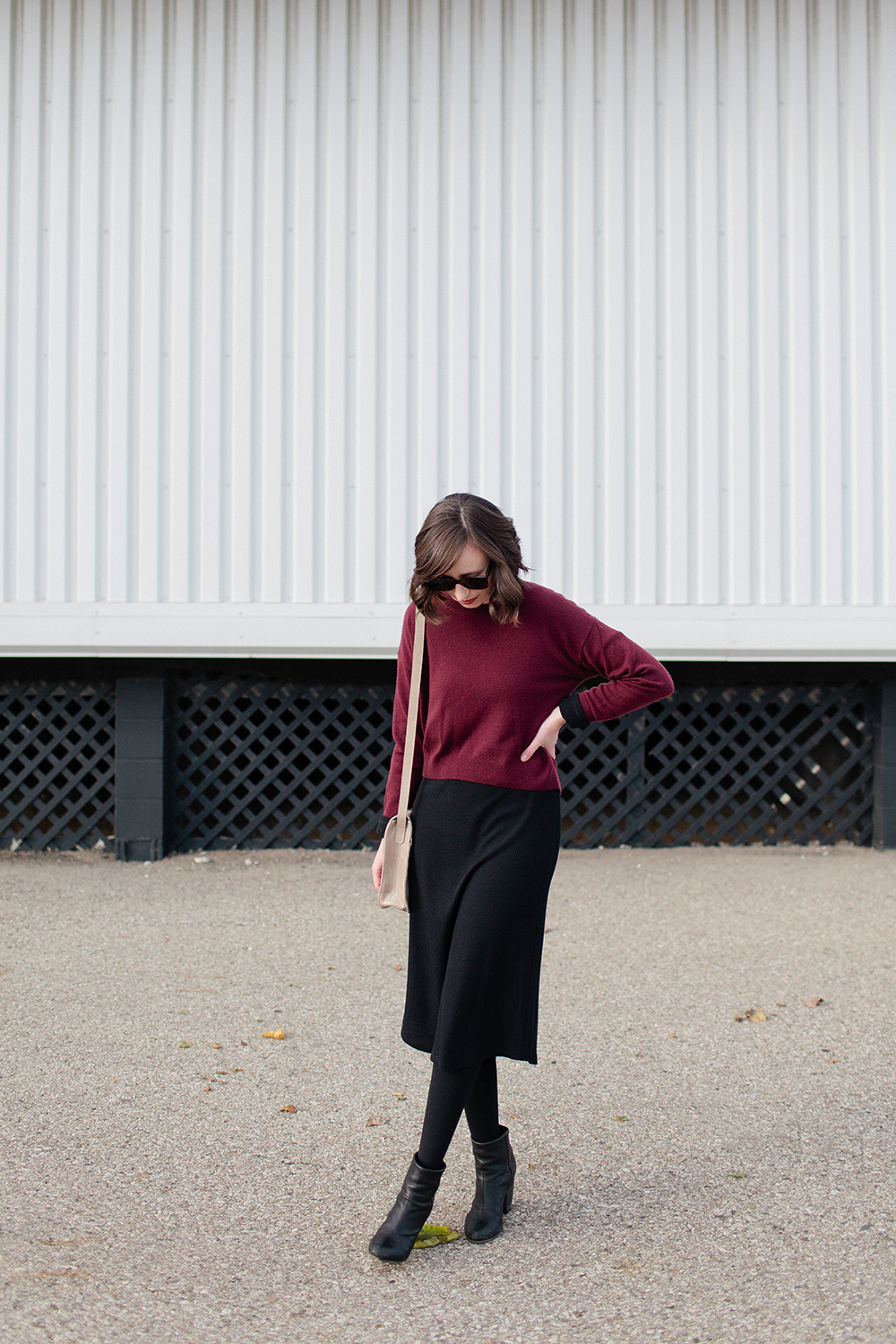 ---
INITIAL THOUGHTS: I love the clean look of this dress when worn reversed. The buttons running down the back is a nice surprise too. This burgundy crop crewneck is one of my all-time favourites to layer over longer pieces and it always pairs great with black. I opted for black heeled boots to help add some height and keep the leg looking long. A warm grey bag was an unexpectedly welcome addition to the palette and helped to soften the rich colour and dense black. I wish the sweater hit a little higher up on my torso for a more flattering midpoint but overall this look is super comfy and totally appropriate for work and casual evenings out.
PROS: The length of this dress is just right. It hits well below the knee which gives the illusion of height and the curved hemline keeps it from cutting off the leg in an unflattering way. *For reference, I'm 5'7 so it may be long on more petite frames. 
This sweater dress is really easy to layer onto. Even though it's not super tight or body hugging the cut of it makes layering a breeze and the sleeves are slim so it doesn't feel bulky.
CONS: As is to be expected with any knit dress, it has a tendency to cling when worn over tights. Without the tights on it feels perfect and moves really well but with them on it didn't want to let go. Sizing up might help but it was less about static and more about friction. The grey version is a different material which I looks like it would be better over tights.
I also tried this piece as an open cardigan but I think I'd need to size up to wear it like that. I found it wanted to fall too far open on the front and ended up feeling more like a cape than a cardigan. Could be personal preference because I've seen other bloggers wear it open and it looks great.
---
---
LOOK 5 – OVERSIZED SWEATER – GREY
---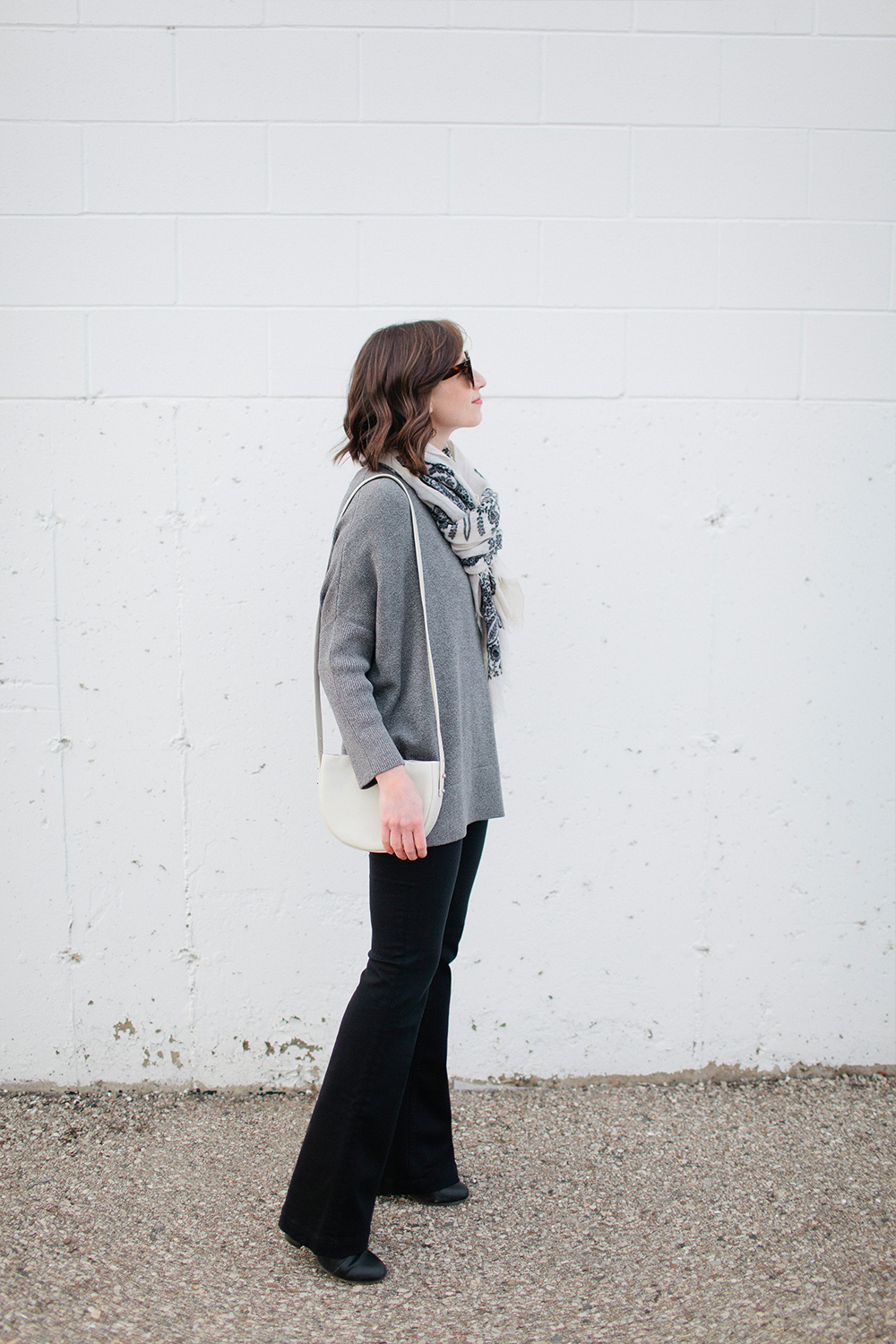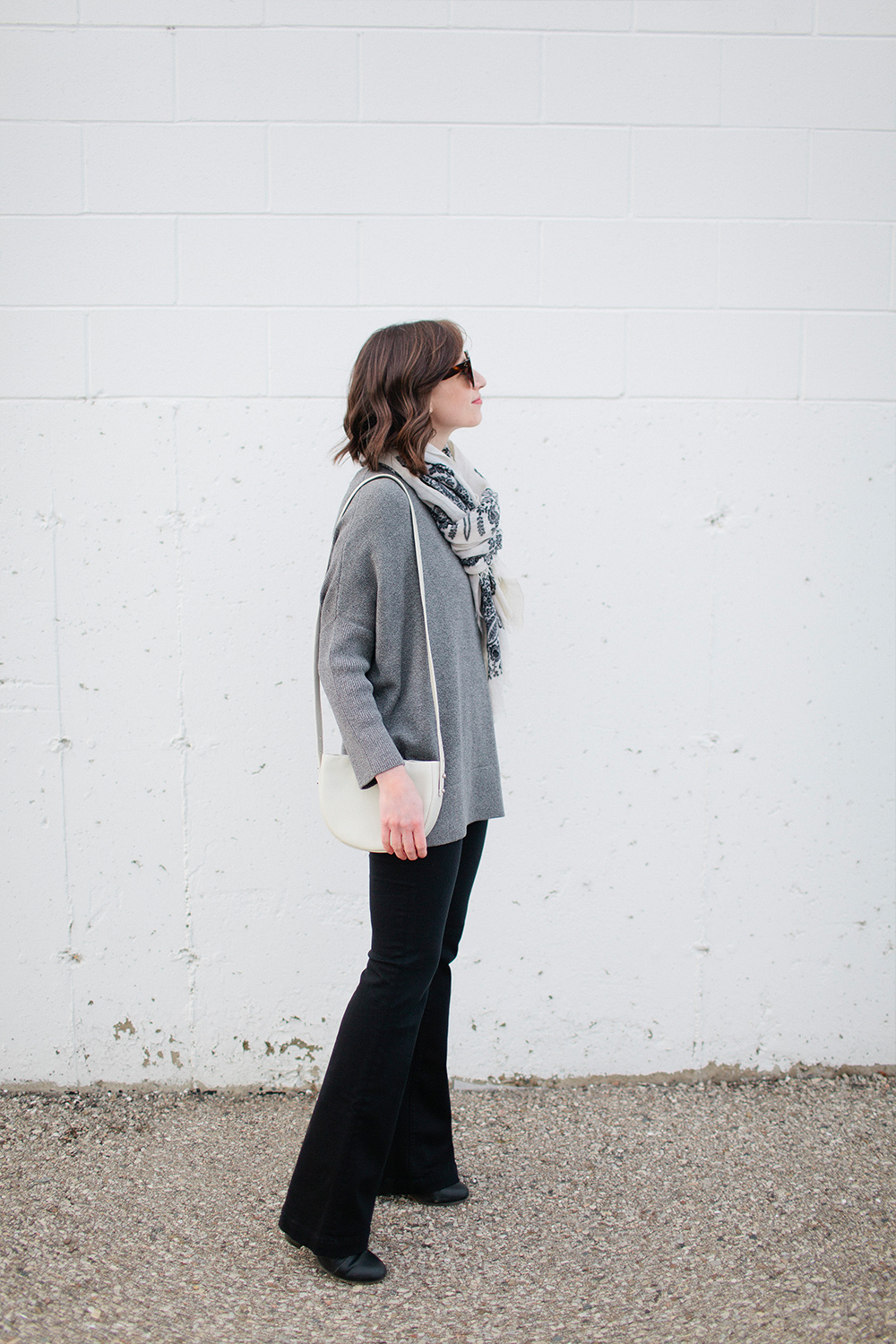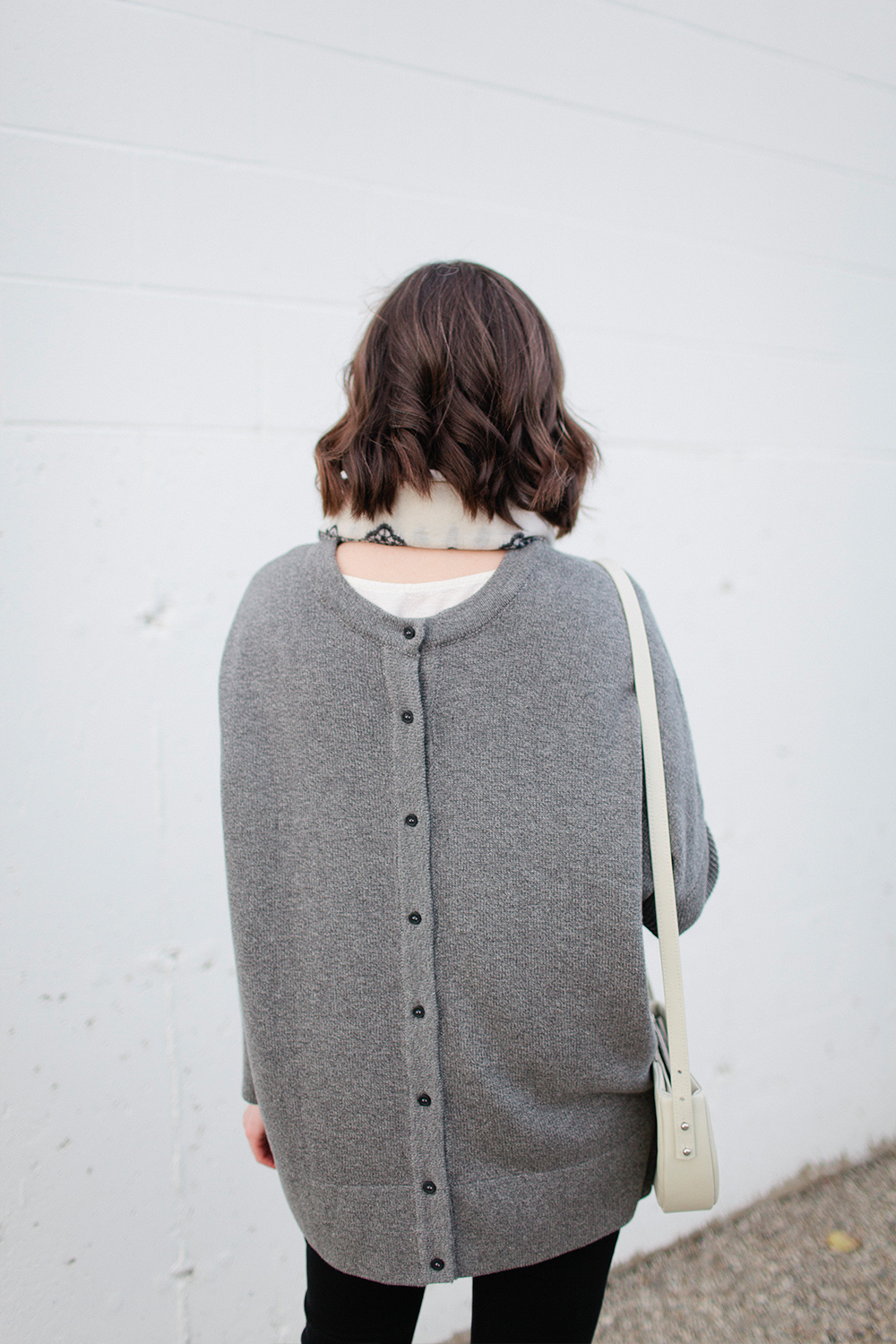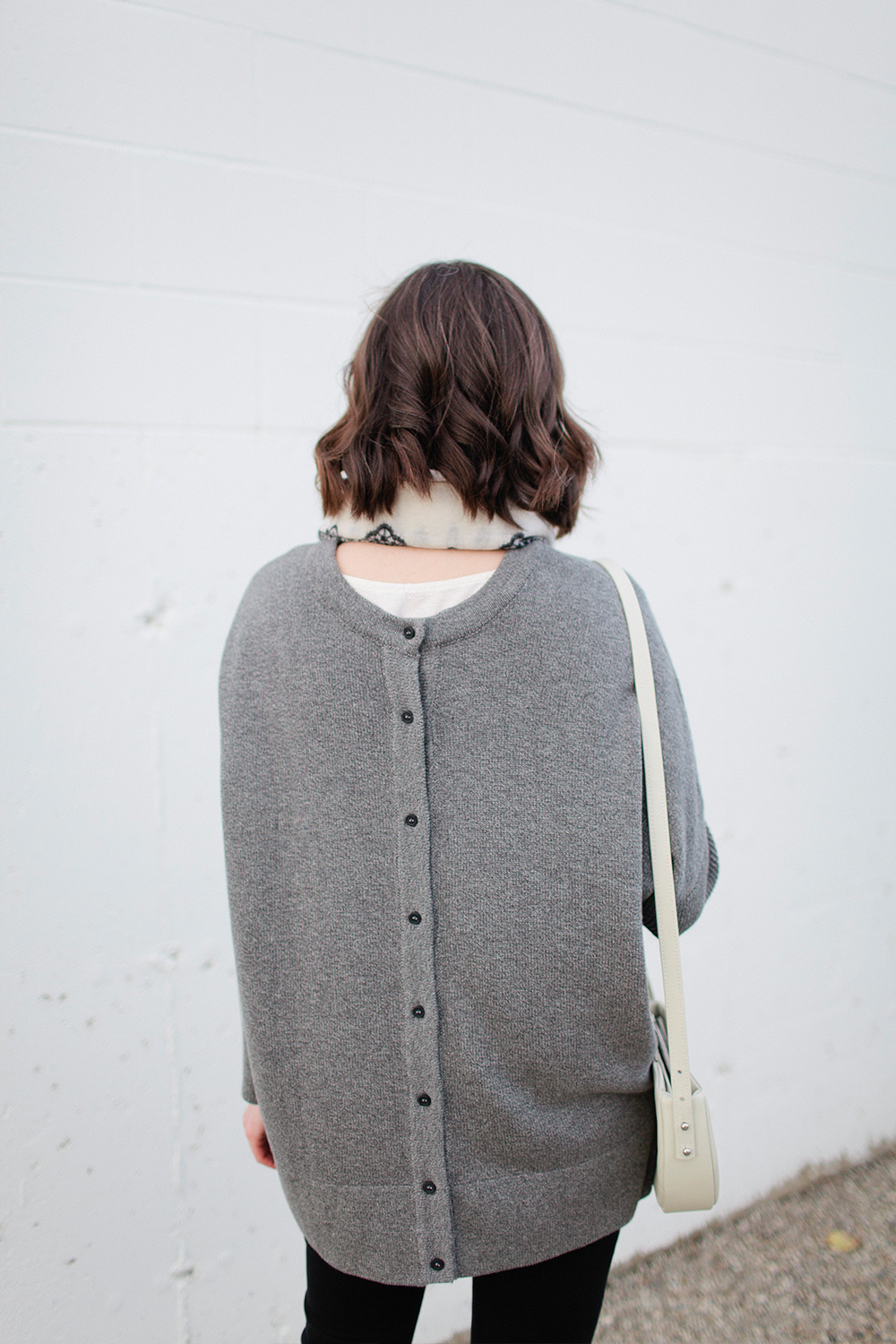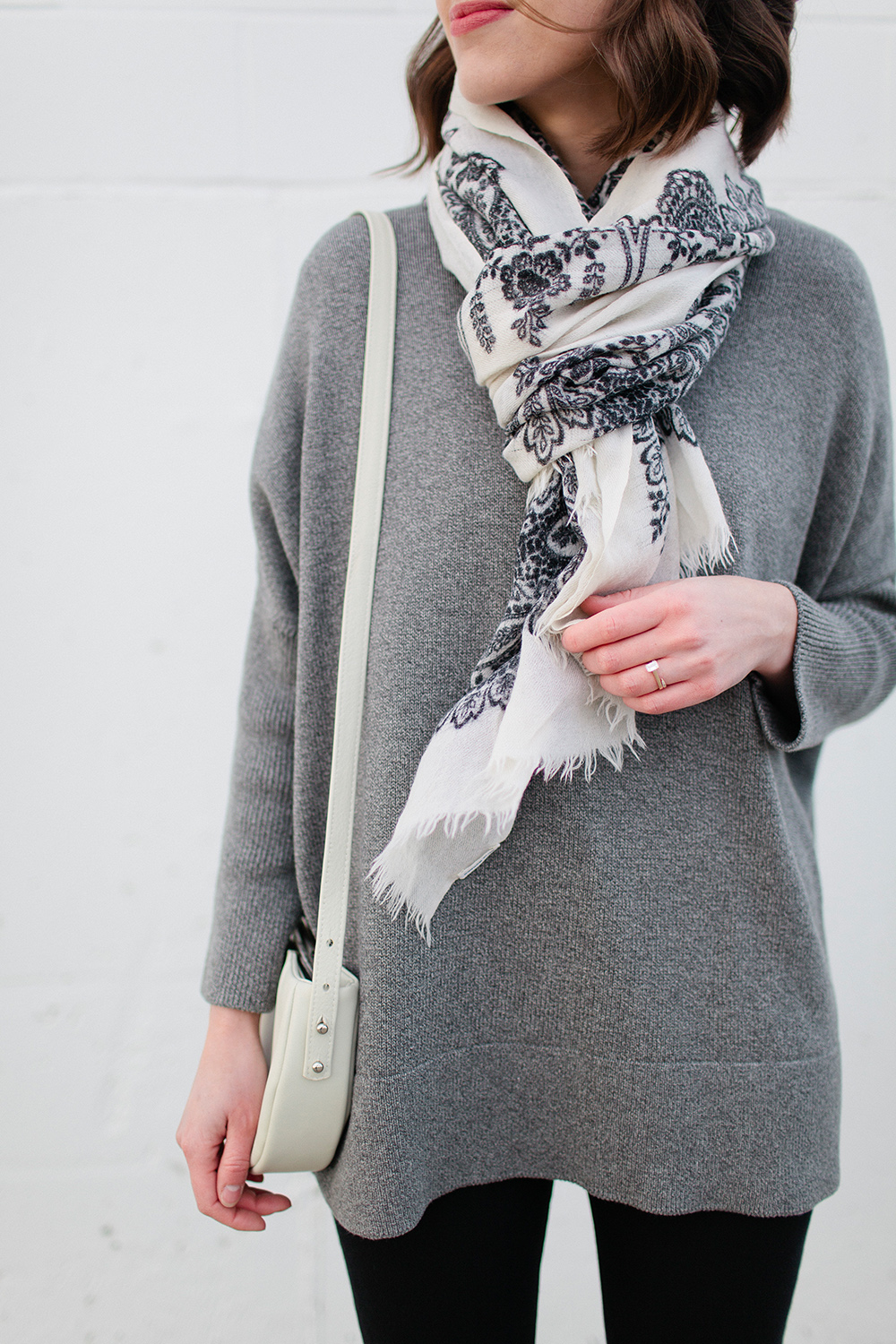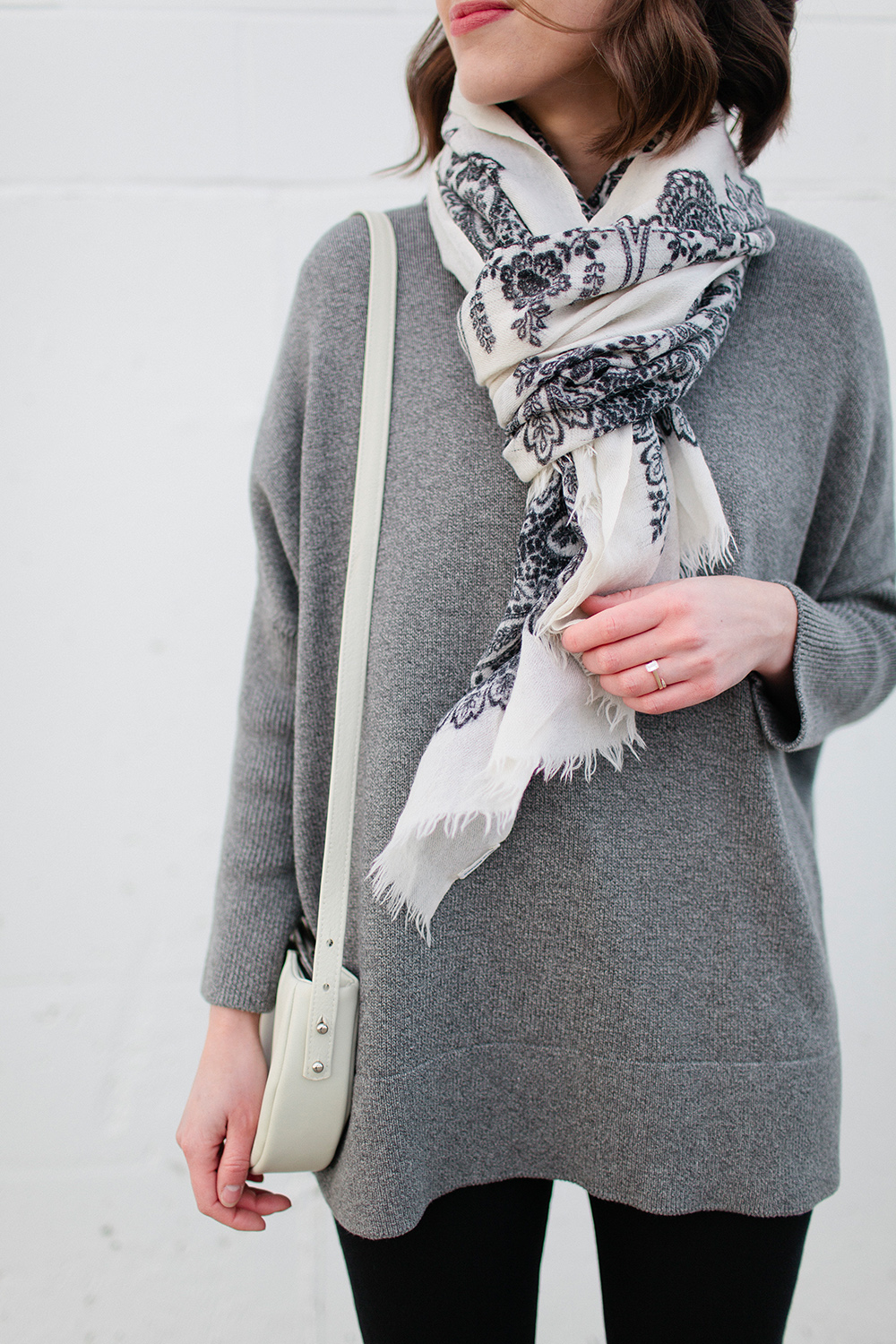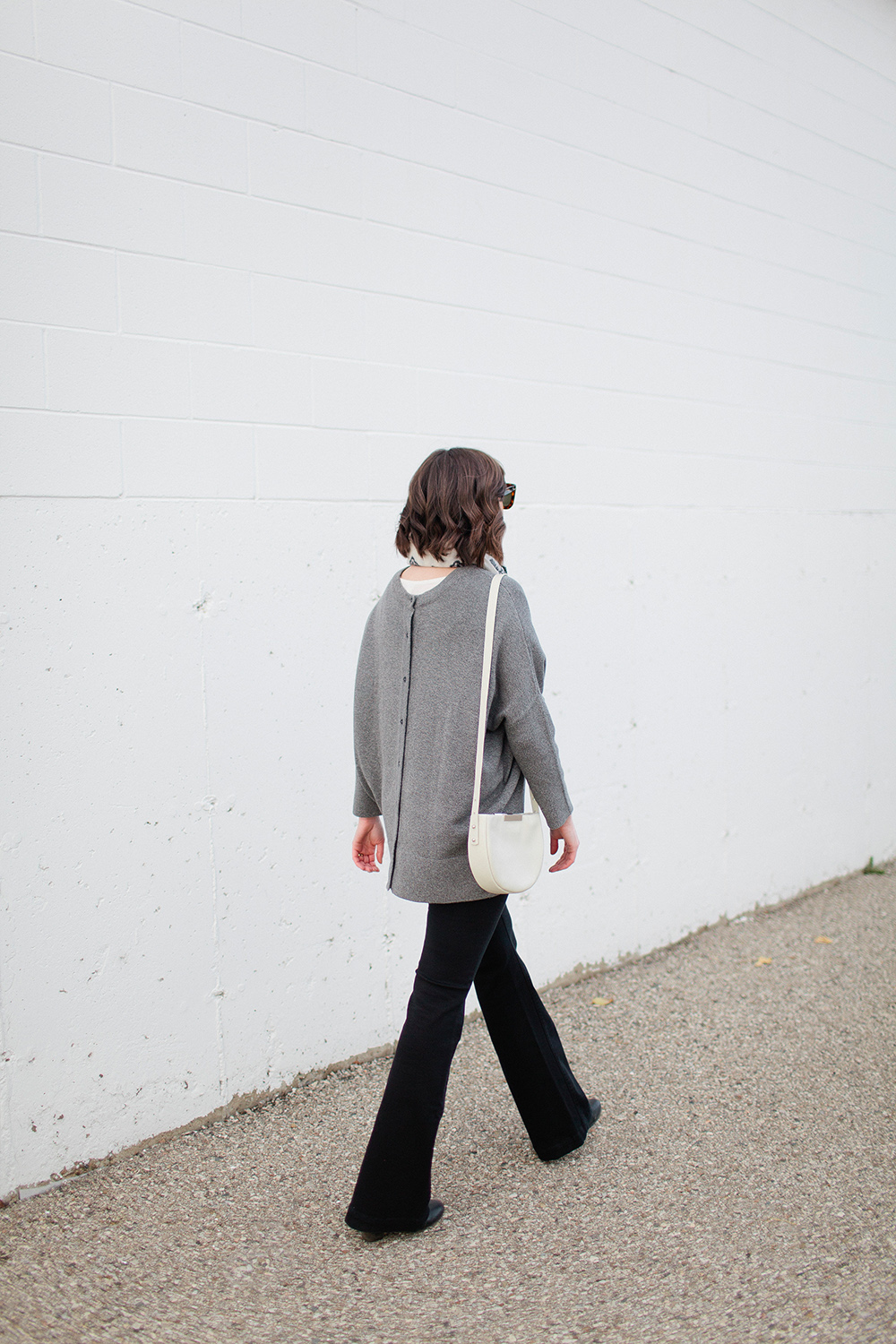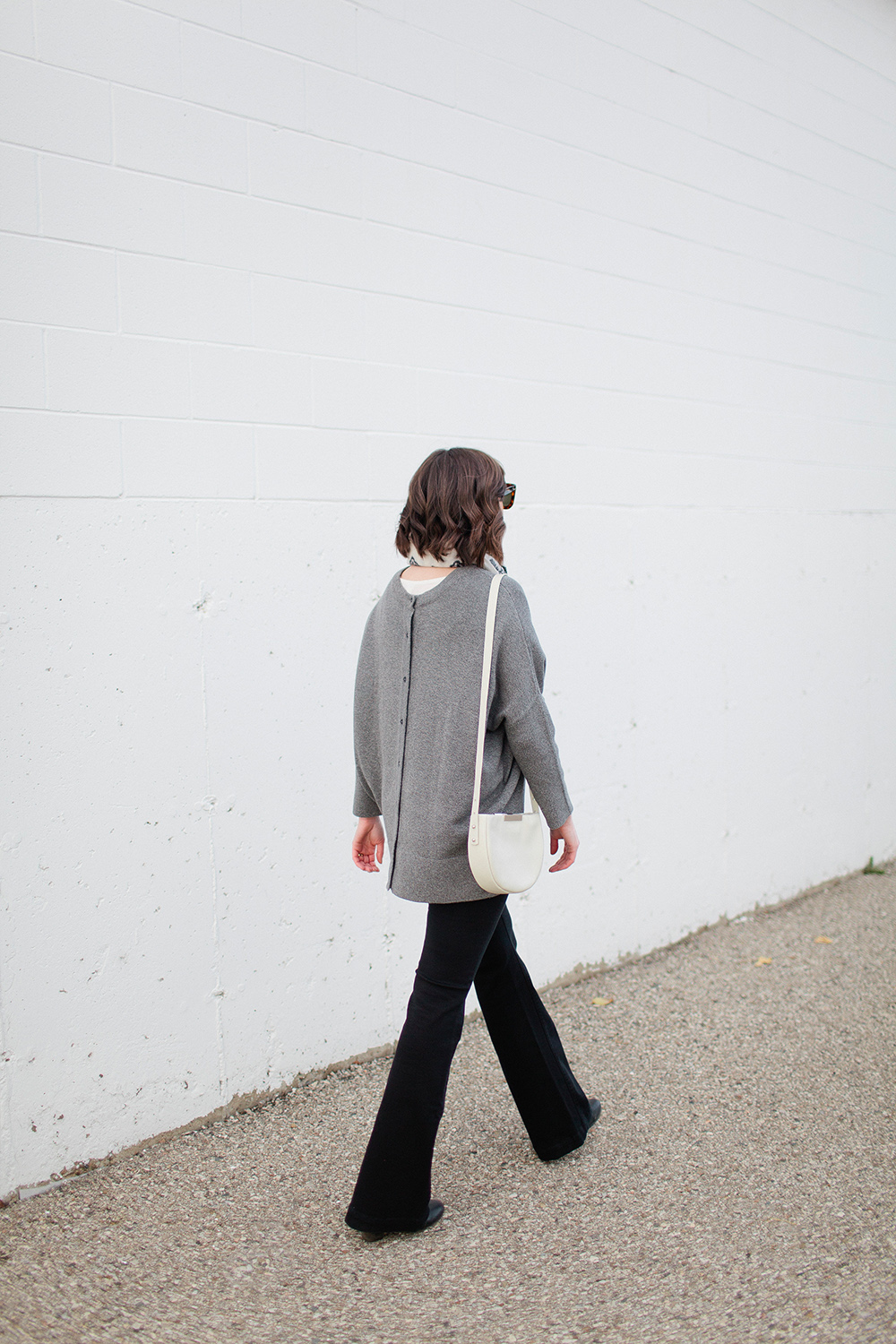 ---
INITIAL THOUGHTS: I just HAD to try both oversize sweaters. It may seem like they're too similar but the colour make a huge difference, especially if you're trying to keep a lean closet and optimize versatility.
I love the silhouette and shapes in this look. A big sweater paired with a sleek black flare over a high-heeled boot is elegant and effortless, especially when kept so simple. I added a bit of warmth and pattern with my paisley scarf. Then this cute, sculptural little bag kept the palette clean and the silver hardware paired nicely with the grey sweater. I felt super tall, super cozy and kinda fabulous in this one!
This is the sort of look I could throw on any day of the week, whether I was working from my home office, headed to meetings or visiting friends in the big city. I also really like how my base tee is peeking out at the back.
PROS: On the grey version of this sweater the details are more visible so you get to see the nice thick hem on the bottom, the contrasting ribbed sleeves and the buttons really pop.
Lint and pet fur won't show up. HOORAY! But is it enough to steer my heart from the black?
I wear a lot of black bottoms (mostly these flares and skinnies) in the cold months so it's nice to have an immediate element of contrast.
CONS: That said, I have a lot of grey base layers in my closet so I worry that I'll end up in monochrome outfits all winter, which wouldn't be so bad, but it's something to consider. My favourite winter scarf is the same mid-grey so I wondered if it would clash. I also worry about how well it will pair with the brown and earth tones in my closet. All of these concerns are tested in Look #6!
---
OVERSIZED SWEATER GREY – ON LOAN from VETTA – $159 USD – %100 Organic Cotton – Can be worn as a turtleneck, crewneck or cardigan. | Wearing a size S. | Made in NYC. | USE 'STYLEBEE' FOR 10% OFF
FLARES | old JBRAND via SHOPBOP | Made in USA.
NEWBURY BOOT | old Rag & Bone | $495 USD | Purchased when made in USA, now made in China.
SCARF | old Club Monaco
MARTA SUNGLASSES | old CÉLINE | Made in Italy
MICRO MEENA SADDLE | c/o OPELLE | $295 CAD | Made in Toronto
---
LOOK 6 – OVERSIZED SWEATER – GREY
---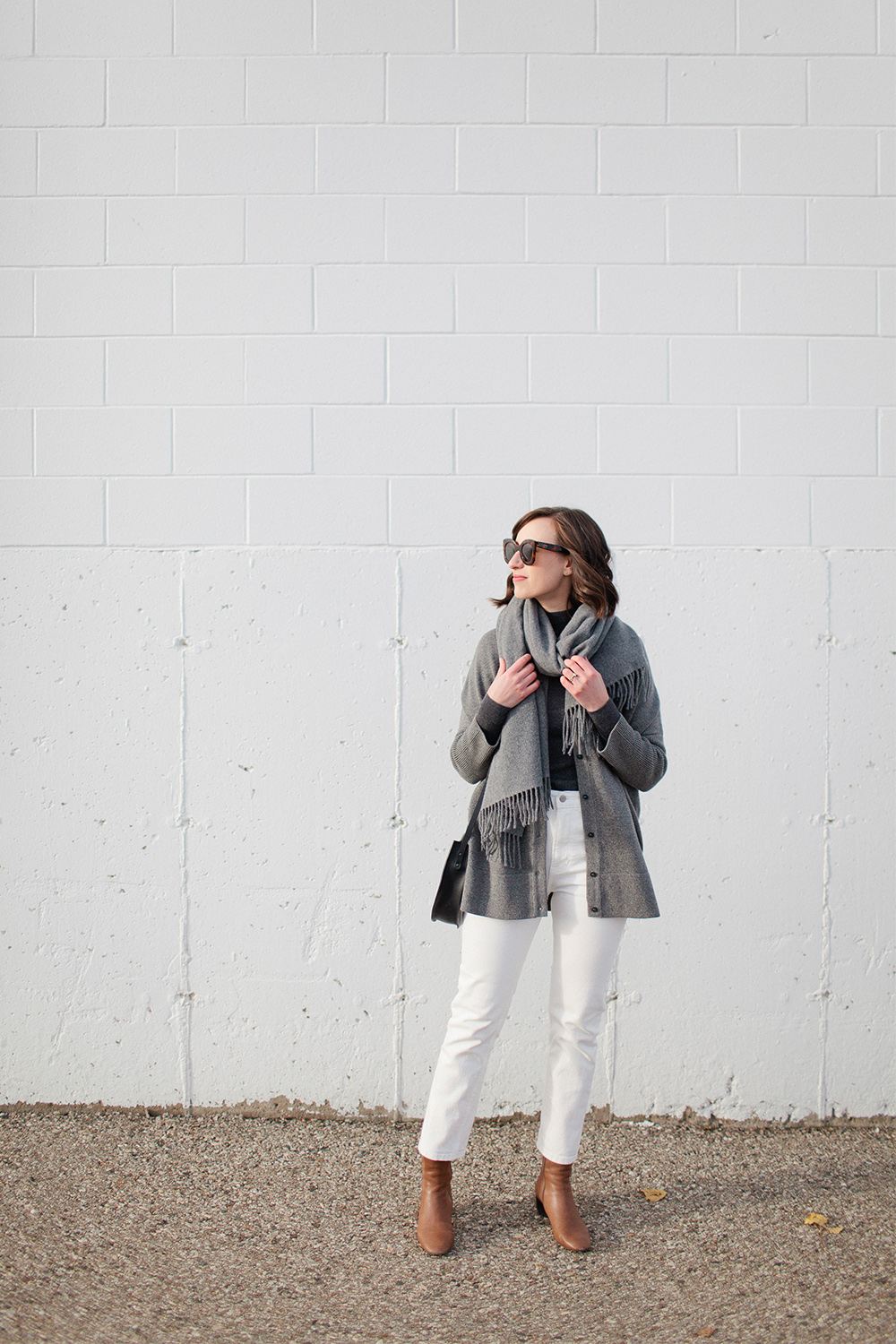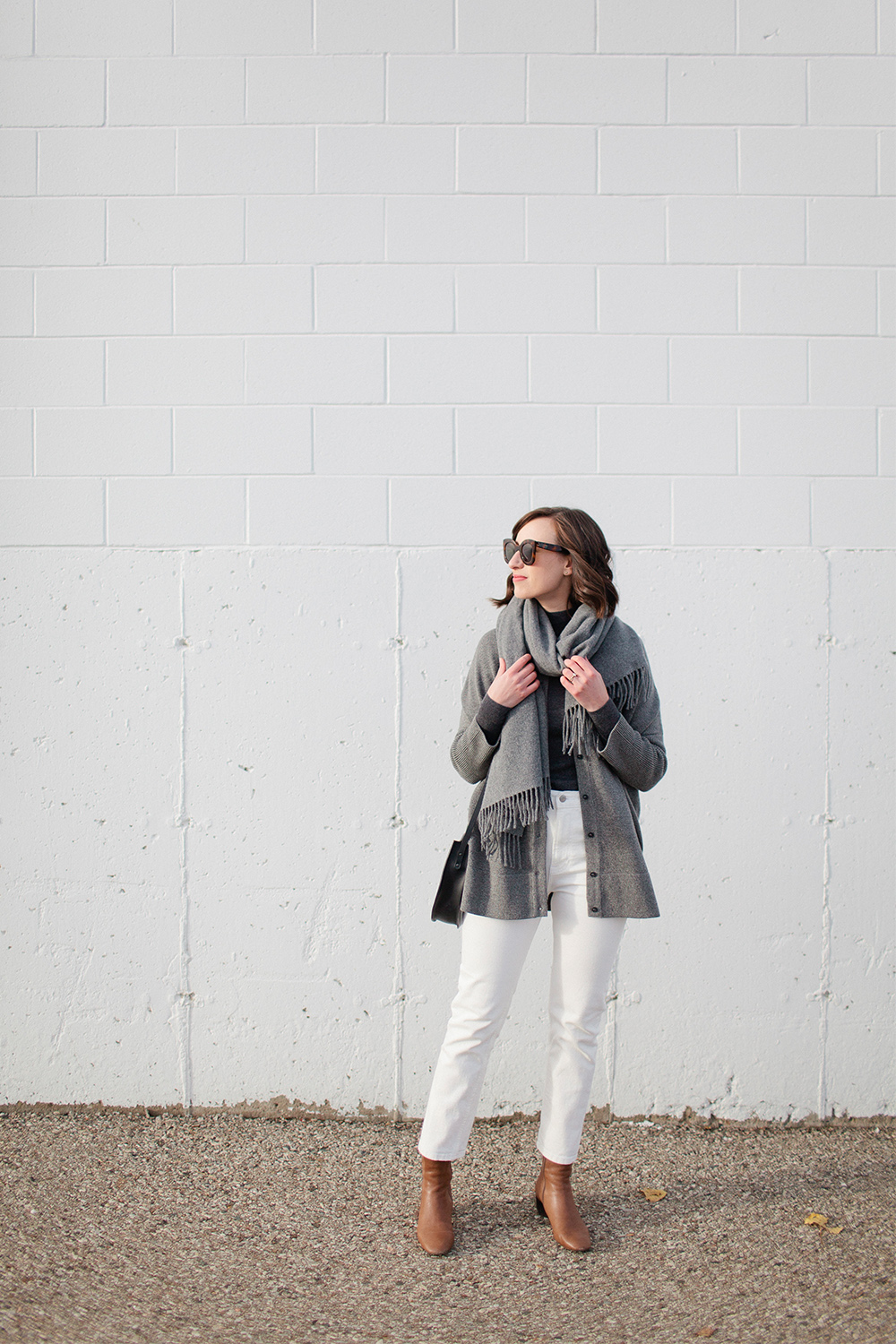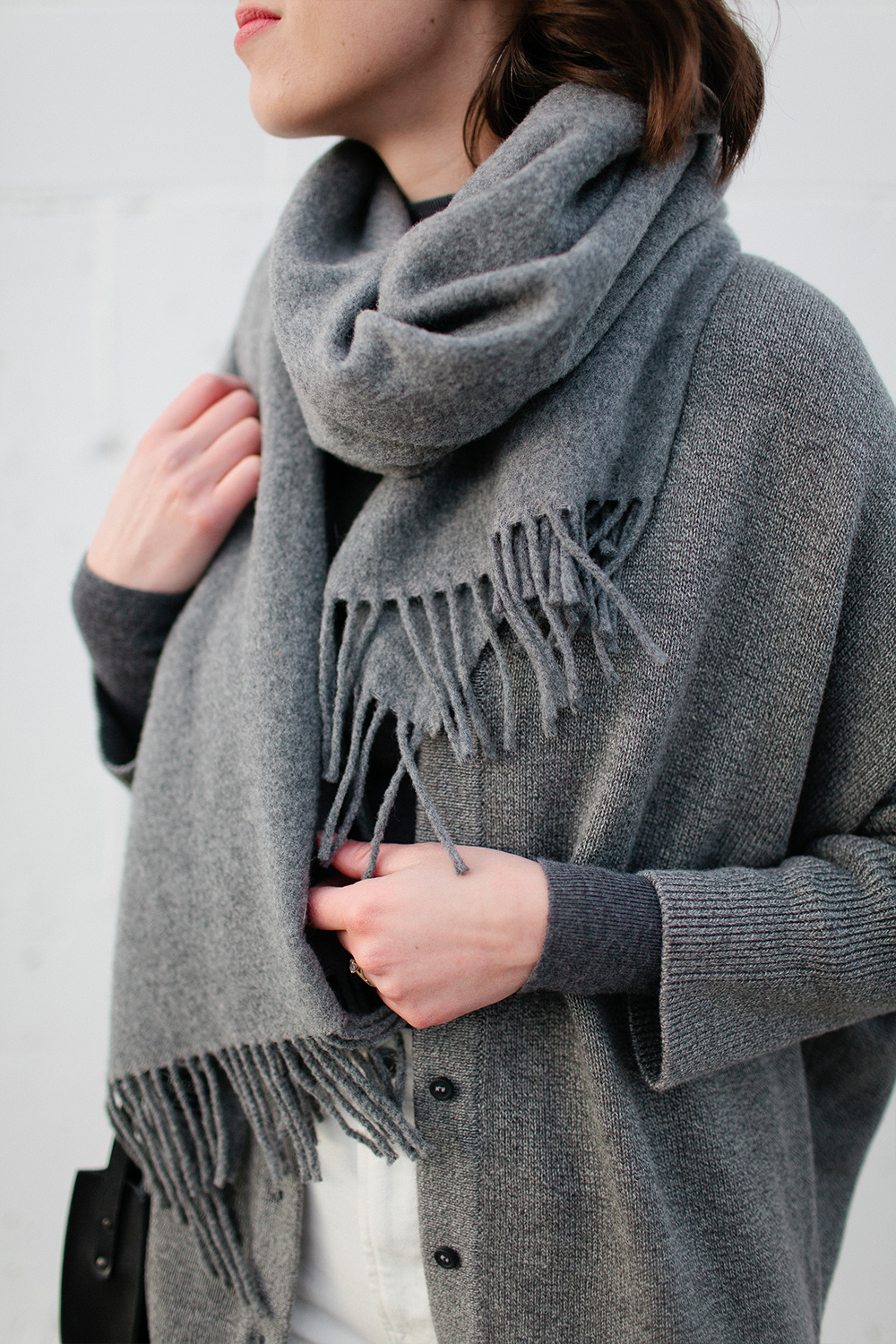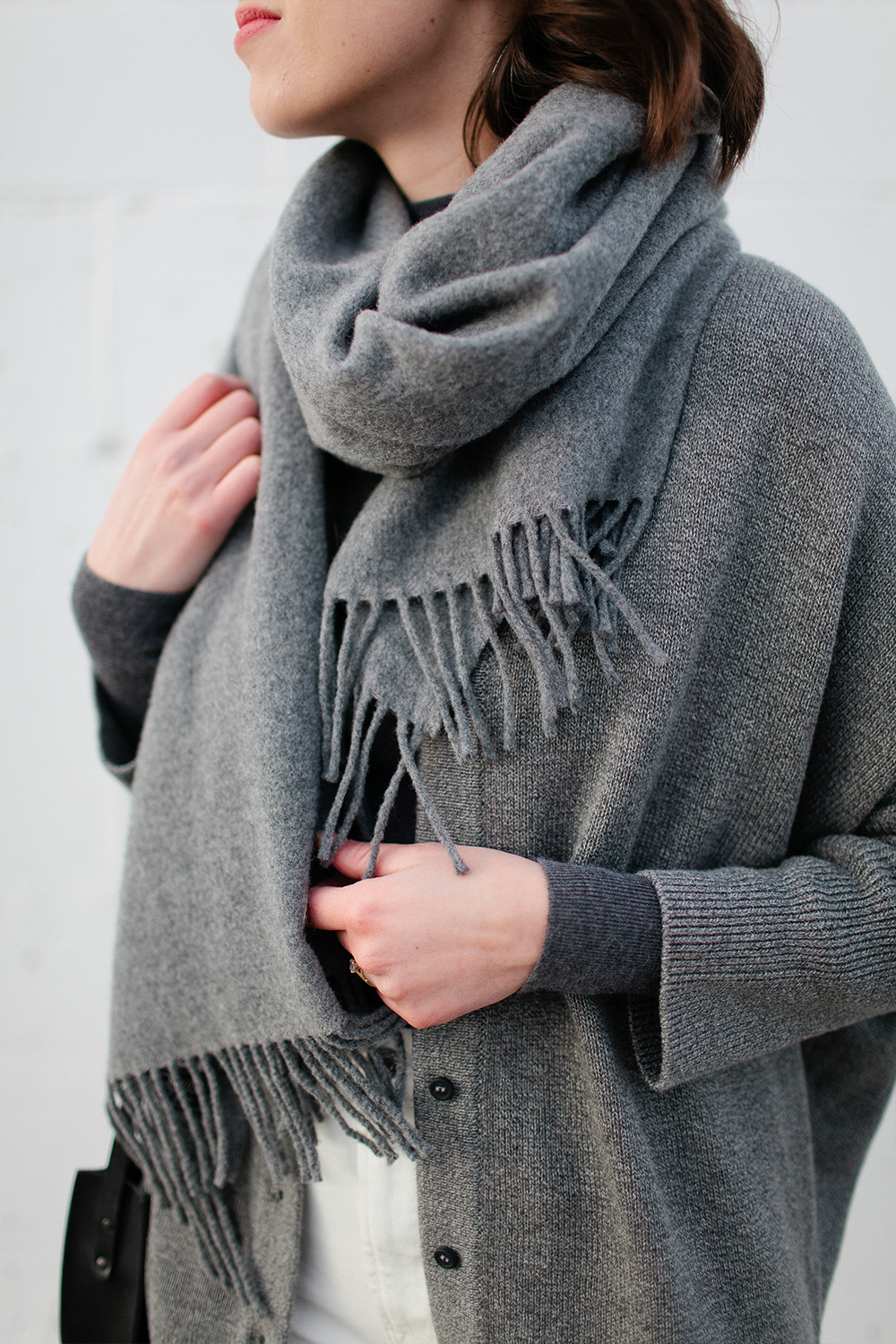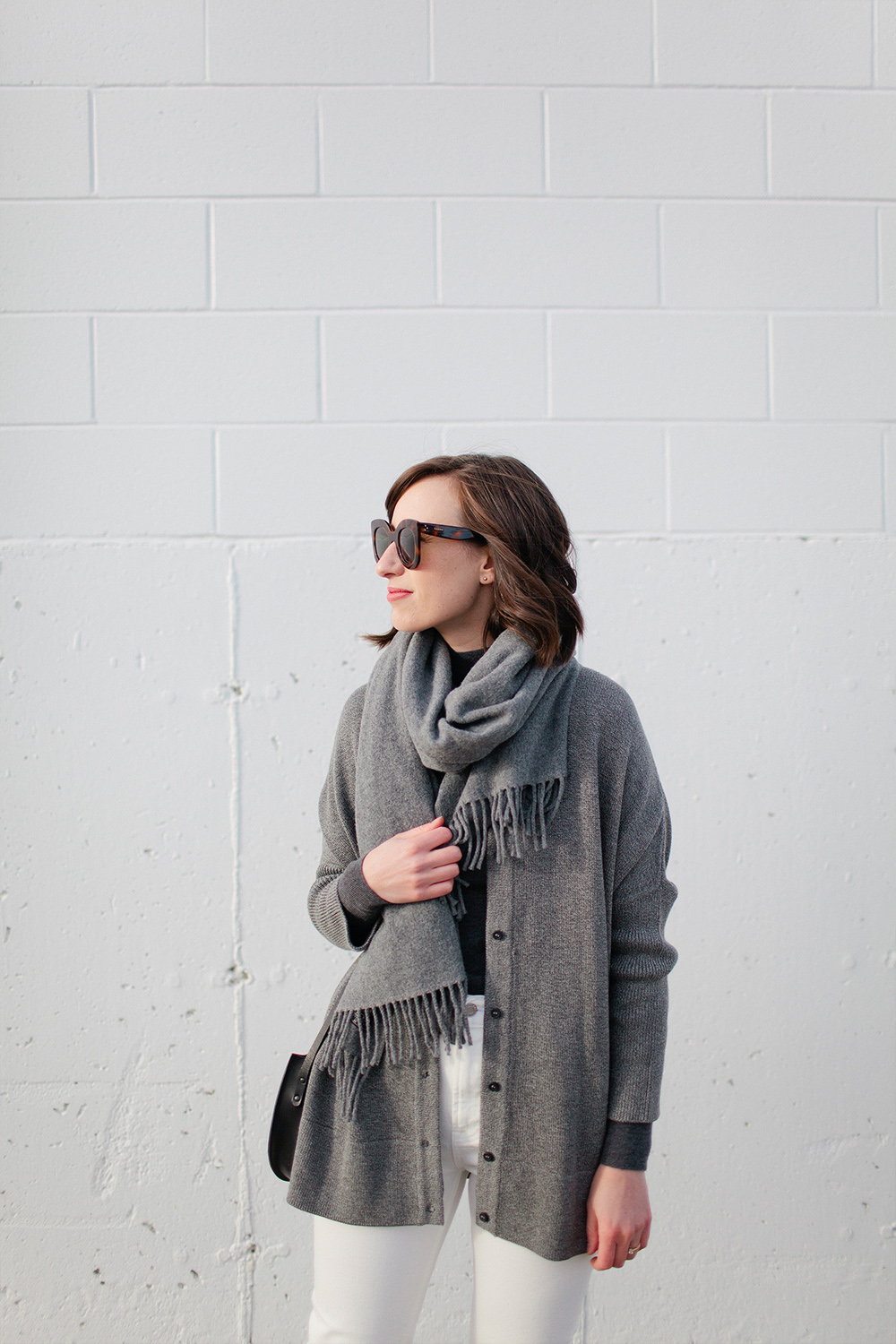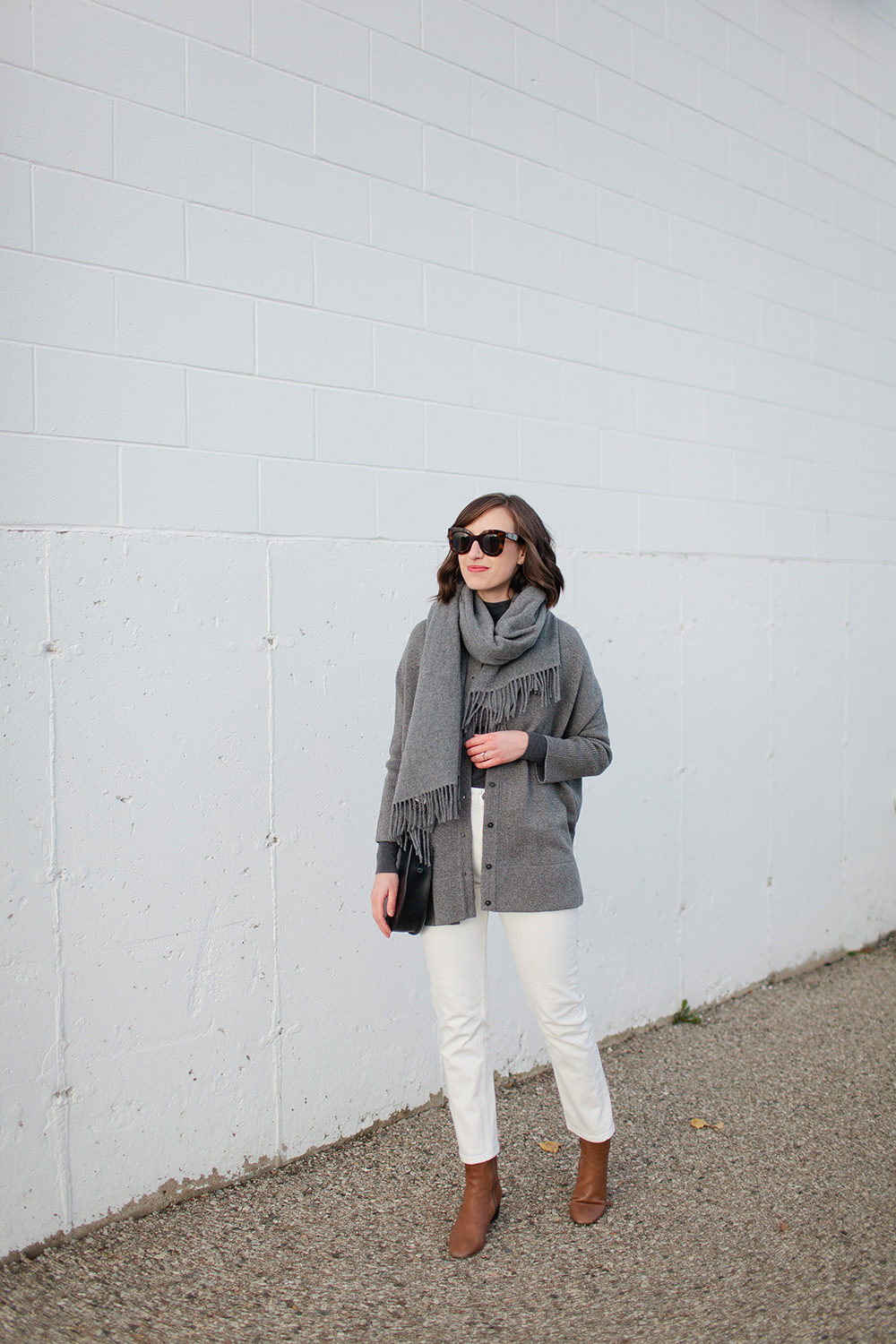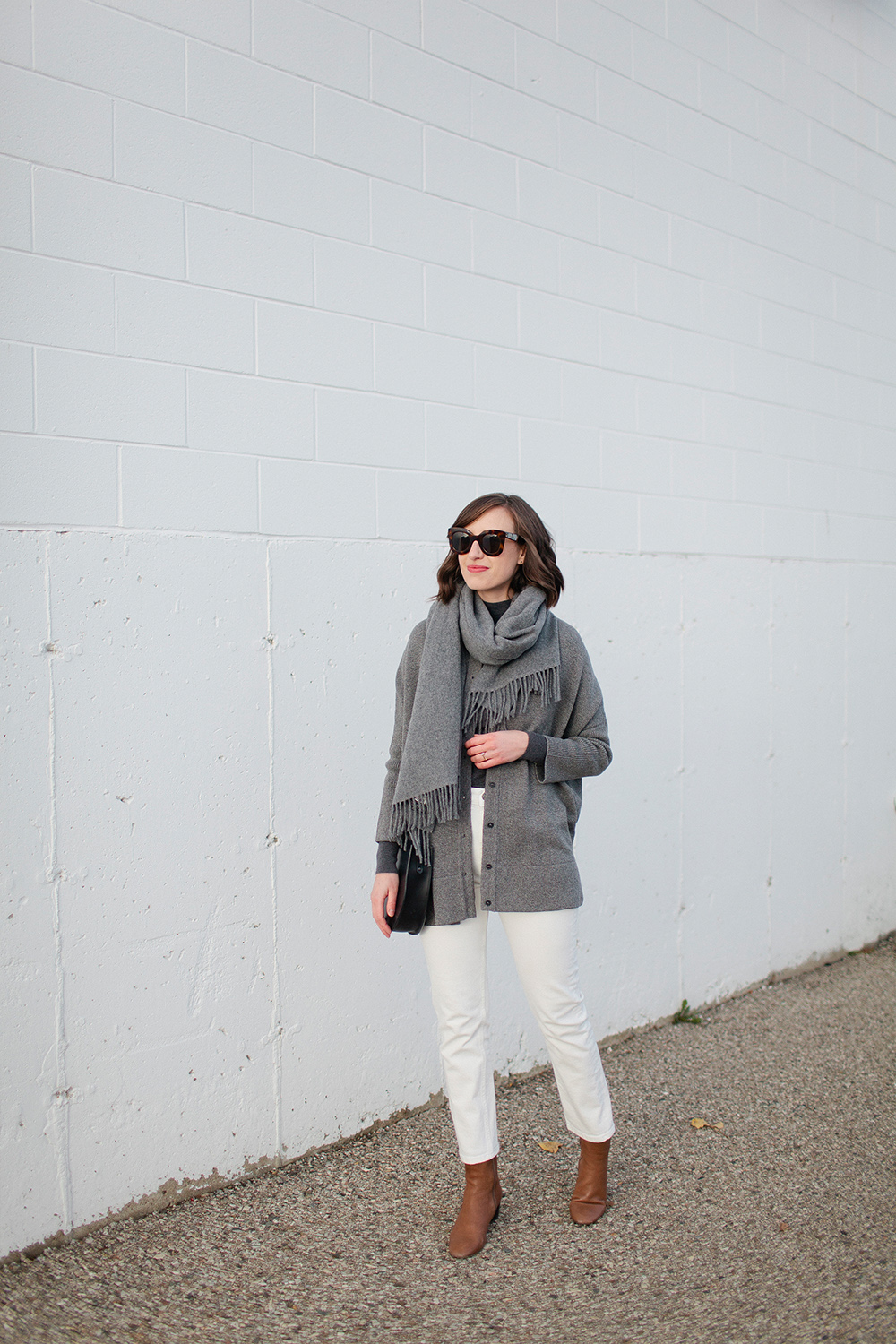 ---
INITIAL THOUGHTS: I decided to test my theory on the concerns noted in Look #5 and went for a monochrome pairing up top with a brown boot AND my giant grey scarf. Turns out my 'fears' were for nothing because I totally like how this one came together. The bone white jeans really help it feel fresh and the dark grey base turtleneck adds just enough contrast to give it some dimension.
This was the last look we shot and the sun was going down so it started getting chilly quick but I was entirely toasty thanks to all these layers.
PROS: Cara, VETTA's co-founder, picked the perfect mid-grey for this sweater. It contrasts nicely with charcoal and with light heather greys and it's neither warm nor cool in its undertones so lots of neutrals can work with it. I think it works best over white or black bottoms but a dark wash denim would be great too!
CONS: The drop shoulder sleeves on this sweater make it a dream to layer over things, but not so much when it comes to coats layering on top. Luckily this ain't my first drop shoulder rodeo! Cocoon style coats work very nicely over this and the majority of the sleeve is slim enough that they don't feel bunchy. If you don't have an oversize wool coat (and you live where it's necessary) that might be something to consider.
I guess it's decision time now! Can you guess which sweater I've decided to keep?
---
OVERSIZED SWEATER GREY – ON LOAN from VETTA – $159 USD – %100 Organic Cotton – Can be worn as a turtleneck, crewneck or cardigan. | Wearing a size S. | Made in NYC. | USE 'STYLEBEE' FOR 10% OFF AT VETTA
WOOL MOCKNECK | old from Everlane | $85 USD | Wearing a size S. | Made responsibly in China.
BOYFRIEND DENIM | Everlane | $68 USD | Wearing a size 27 for a loose fit | Made responsibly in Vietnam.
CALLY BOOT | c/o Coclico | Available via Garmentory | $435 USD | Save $20 OFF your first order when you sign up here. Free Shipping and Returns. | Made responsibly in Spain. | Runs slim, order a 1/2 or full size up depending on your foot width. I have a narrow instep and wear the 37.5.
MARTA SUNGLASSES | old CÉLINE | Made in Italy
CANADA SCARF | Acne Studios | $190 CAD | Made in Italy
---
---
Drumroll please… 
The GREY Oversize Sweater!
I still think the black one is more chic but ultimately for my lifestyle it would be too high maintenance. I hope Dobby and Evie appreciate the sacrifices I make for them! 😛
---
GOT A FAVOURITE PIECE FROM VETTA? I'd love to know which one it is.
USE CODE 'STYLEBEE' FOR 10% OFF ALL ORDERS!
---
If you have a sec, I'd love to know what do you think about this type of post. Sharing different items, personal pros and cons, and ultimately only 1 piece being kept. I'm always struggling with ways to maintain a lean closet while building my blog business and this seems like a good way to share styling inspiration, thoughts on a variety of items and show how a collection can integrate into your existing wardrobe without over accumulating. Do you find this approach helpful? Or would you prefer to only see the pieces I buy/keep?
---
Photography by Jacklyn Barber.
---
This post was produced in partnership with VETTA and contains affiliate links. When you shop via the links above I may make a small commission from a sale. Thanks for supporting the brands that support Style Bee! As always all opinions are my own.