Happy New Year! I hope 2018 is off to a good start and you had a wonderful holiday season. I'm really excited to be getting back to business here on Style Bee and to be sharing my first post as a full-time blogger, EEP! I really appreciate your patience over the holidays while I took some time to be with friends and family and finish up at my previous job. It feels so great to finally be able to put 100% of my focus into this space! While I've got lots of ideas in the queue for 2018 I wanted to begin with a wrap up of 2017 before we dive into a new year and closet mission.
Today I'll be looking back at:
My general feelings on 2017 and my mindset going into 2018.
Where I ended up with my 2017 Closet Mission goals.
My favourite looks from 2017 and personal style themes.
The most worn additions to my closet (and those that didn't see much daylight).
So grab hot drink, a comfy seat and get cozy for a long one!
---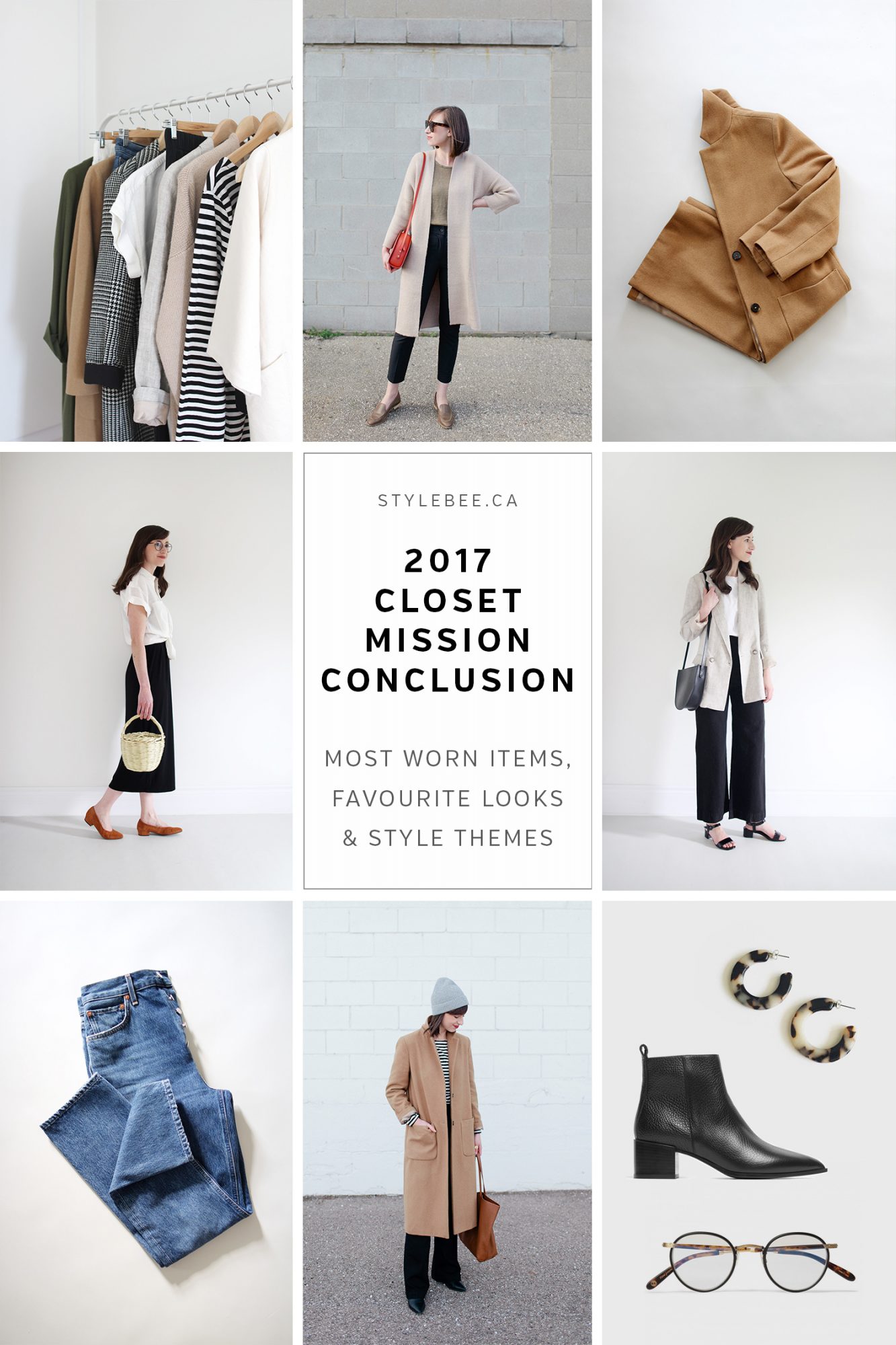 ---
GENERAL FEELINGS ON 2017
---
Overall 2017 was a wonderful year. Dave and I got married and went on the most wonderful trip together. My nephew Owen was born. We finally finished work on our home. My blog reached the point of becoming a viable business and means of employment. I built on some incredible friendships with my longtime girlfriends and met some amazing new women. The 10×10 community expanded and I connected with a ton of fabulous folks and discovered new makers from all over the globe. All-in-all it was definitely my best year yet!
That being said, if I had to assign one word to the entirety of 2017 it would be 'distracted'. I felt like my focus was constantly being pulled in several directions and I was never able to give any one thing my full attention. I have always prided myself on being a multi-tasker and while I usually find it invigorating to juggle projects, I must admit that by the end of this year I was just completely drained. I'd spent too long feeling as though I wasn't doing anything all that well and as a perfectionist to the core, it was really weighing on me.
Bottom-line being that, in general, I was burned out. Hence, the lengthy break from the blog and the near radio-silence on social media. But instead of beating myself up about it (or forcing myself to engage) I chose to embrace the quiet time and spend the holidays tuned-in to my friends and family instead of trying to 'share' what I was doing. It was so nice to just be present and not feel any sort of unnecessary distraction.
The result of this down-time was that I was able to reboot and get my head on straight again. In doing so I also realized that I truly missed my online community, building content for the blog and being creative in general. I was worried I would have to force it more than I wanted but the truth is I just needed a break to be able to return to it with renewed excitement and energy.
Going into 2018 I'm making an effort to be more cognizant of when I'm feeling drained and unfocused and to do something about it before it takes over! I've also carved out some time in my routine for proper self-care (something I scoffed at for years), which I'll expand on more soon.
---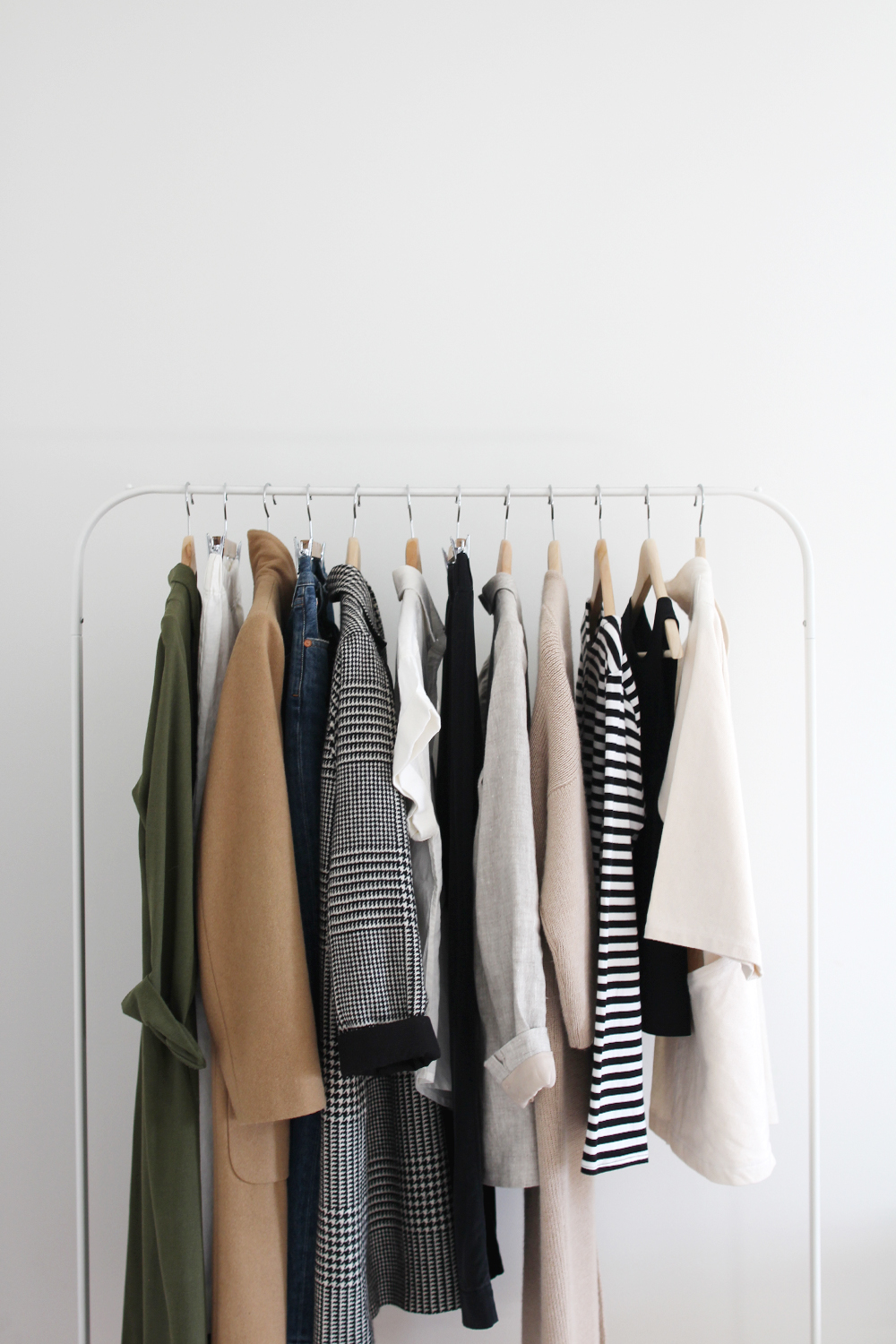 ---
2017 CLOSET MISSION RESULTS
---
I started preparing this post by re-reading my 2017 Closet Mission, which was a much-needed reminder of where I was at this time last year. I was feeling lost and somewhat directionless in the blogging world and while there are still unknowns I feel a lot clearer about where I'm heading this year. PHEW!
One of the key observations I made in my 2017 Closet Mission still rings 100% true now, which was that I love:
Exploring personal style and how fashion can have a purpose in our lives other than just stylish outfits.

Connecting to people through this space whether it's readers, fellow bloggers or designers.

Imparting the things I've learned, discovered and enjoy in meaningful and visually inspiring ways.
Those three 'loves' are still at the core of why I've decided to give this space my full attention. I'm so glad I chose to push ahead and trust my instincts at the beginning of last year or I might not even be writing this post! For me this was a reminder that just because the path might not be crystal clear, doesn't mean you're on the wrong one.
---
But back to assessing my 2017 Closet Mission. Here are the 5 goals I set a year ago and a letter grade I've assigned based on how I feel I delivered on each one.
1 | WORRY LESS ABOUT THE NUMBERS | Grade: B- | In 2016 I was really fixated on total numbers in my wardrobe. While that was a good approach to keep my closet lean it was also a stressor and led to my letting go of things to get to a number rather than trying to make them work. In 2017 I definitely didn't do that as much but I still got bogged down by the idea of having a double-digit closet count (rather than a triple digit one, which I still have). Generally, it felt much better to curate (and clean out) my closet more organically and less restrictively but I do need to remember that responsible style is less about the numbers and more about thoughtful choices and appreciating what you already have.
2 | SUPPORT CANADIAN BRANDS | Grade: A- | I was thrilled to discover, collaborate with and test out some new (to me) Canadian brands throughout 2017. That said, 'A-' felt fair because I do feel as though I could make a better effort to showcase Canadian talent even more on Style Bee. I'll endeavor to do just that in 2018! Some of my favourites are listed below and I look forward to re-connecting with them and discovering more designers this year. If you've got a favourite that's not on the list, please share them!
POWER OF MY PEOPLE
LLOYD
L'INTERVALLE
ENCIRCLED
EVE GRAVEL
FREE LABEL
KORINNE VADER
MILDRED HANDMADE
THE STOWE
OPELLE
HOIBO
MARY YOUNG
ODEYALO
ELIZA FAULKNER
BETINA LOU
ETSY CA
IRIS DENIM
3 | CONTINUE TO SHOP RESPONSIBLY | Grade: A+ | Since making the switch to responsible style, independent brands and slow fashion in general, I've never looked back! Of course, I appreciate the fact that I'm in a unique position when it comes to adding responsibly made items to my closet, in that I'm able to add more than I would were I not a style blogger. That said, this platform has really helped me connect my readers with responsible options because I can be the guinea pig, for lack of a better term. I've received countless messages from people who've found brands and pieces they adore and would never have considered otherwise, which feels awesome! Going forward I plan to share more affordable options and branch out into more categories (like activewear and home goods etc.) and I can't wait to keep making waves in the world of responsible style!
4 | REMIX / REMIX / REMIX | Grade: B+ | I feel like I remixed my closet more than ever before but I could definitely push myself further. I LOVE styling pieces lots of different ways, even if I wouldn't necessarily wear something so many ways, it gives people ideas that they can apply to their own closet. So I'll definitely be continuing to remix more and more this year.
5 | SHOP EVEN LESS | Grade: C | I've definitely shopped a lot less, but again, I'm a fashion blogger so I'm in a position to add pieces via partnerships etc. that I might have otherwise wanted to buy but couldn't necessarily afford to purchase were I not an influencer. Balancing a lean closet with a growing blog is no easy feat and sometimes I let it slide too far to the 'more' end of the spectrum. That said, I've been working on ways in which I can collaborate with brands and share new collections without necessarily always adding lots of new pieces.
Taking my blog business on full-time will mean tightening my budget considerably and I'm excited to share the process with you as I deliberate over additions and make even more carefully considered choices. I'm also looking for ways to get responsible style into the hands of more of my readers, so stay tuned!
All in all, I feel pretty good about how my 2017 Closet Mission went. I would have liked to blog more consistently and share more remixed looks, styling tips and closet building posts etc. but it came down to time, which was always scarce. Now that I'm all-in, I'll be able to follow through on my plans better and share more consistently but I'll save the rest of my thoughts for my 2018 Closet Mission, which goes live on Friday!
---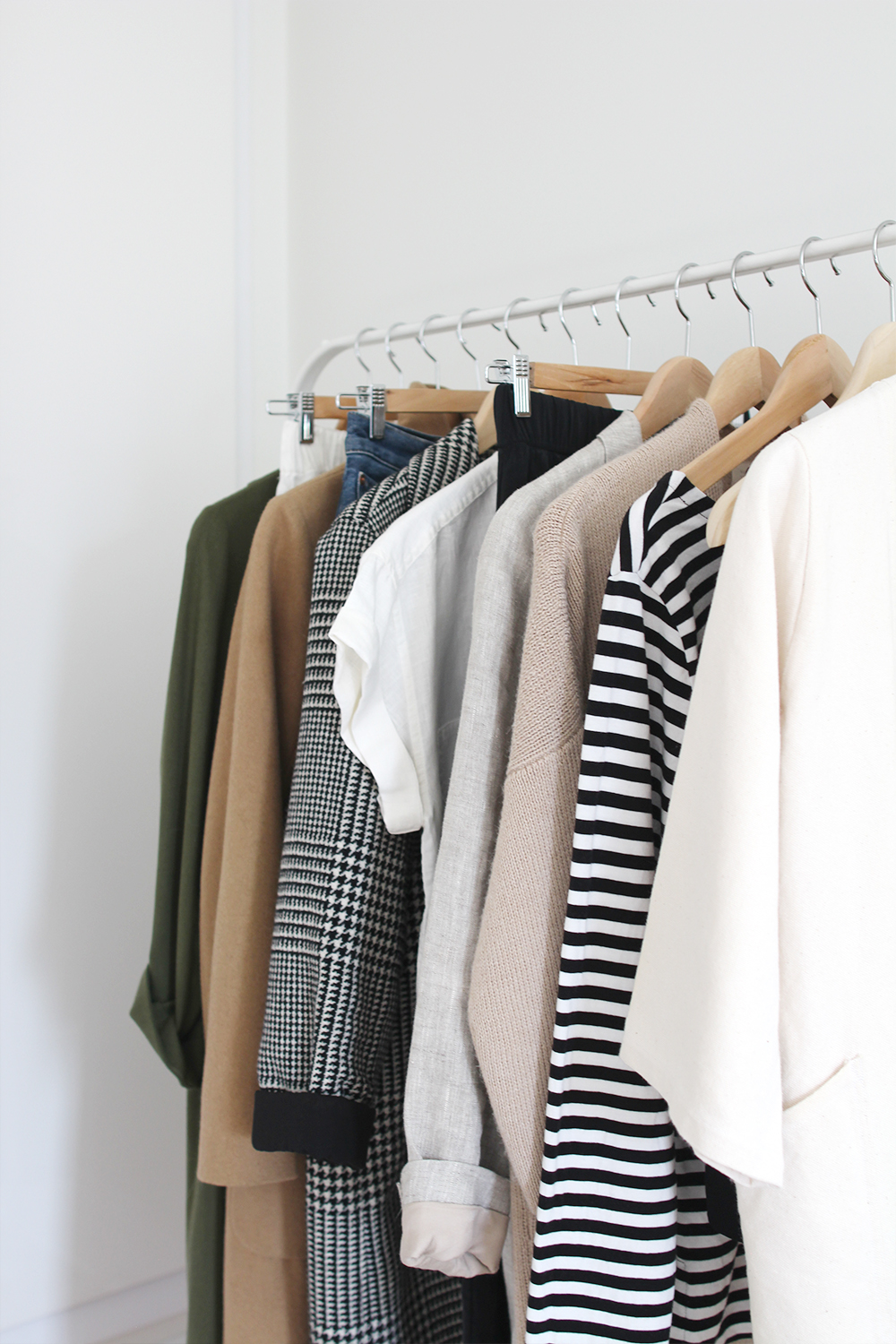 ---
MY FAVOURITE LOOKS FROM 2017
---
Here's a quick round-up of some of my favourite looks from 2017 (in no particular order). I chose these ones not just based on sartorial merit but on real-life wearability and whether or not I see myself repeating them again this year. The cool thing about putting them together like this is that I can identify the common personal style themes throughout. This helps me make a checklist of sorts to keep in mind going into a new year and see specific style elements that work for me, which are:
Neutrals (lots of black, white and earthy tones)
High-waist bottoms (whether it's a skinny pant, wide leg or boyfriend denim)
Simple but contemporary shapes (balancing oversize with fitted and cropped elements)
Menswear vibes (the blazer addiction is real)
Restrained use of colour and accessories (to add interest without taking over)
Layers (it's rare that I really love a look that doesn't involve at least one element of layering)
Not a lot of style risks (but that's ok!)
Going into the 2017 my personal style definition was CLEAN, CONSIDERED & VERSATILE and I think that applies pretty well to all these looks. It's fun to see how the definition I set out with manifested in so many different ways. If you are interested in creating your own, feel free to check out my 5 STEP STYLE DEFINITION process!
Honestly though, the most important takeaway for me is recalling how I felt in these looks. In fact, this might be the first year ever that I felt entirely true to myself in every single one of these outfits. I was also physically very comfortable and emotionally confident about how I was presenting myself to the world. It's really reassuring to see that every year my closet mission brings me closer to reaching my ultimate goal of closet contentment. Finally, I'll say that 2017 was the year I felt more at ease when it came to personal style than ever before. WOOHOO!
---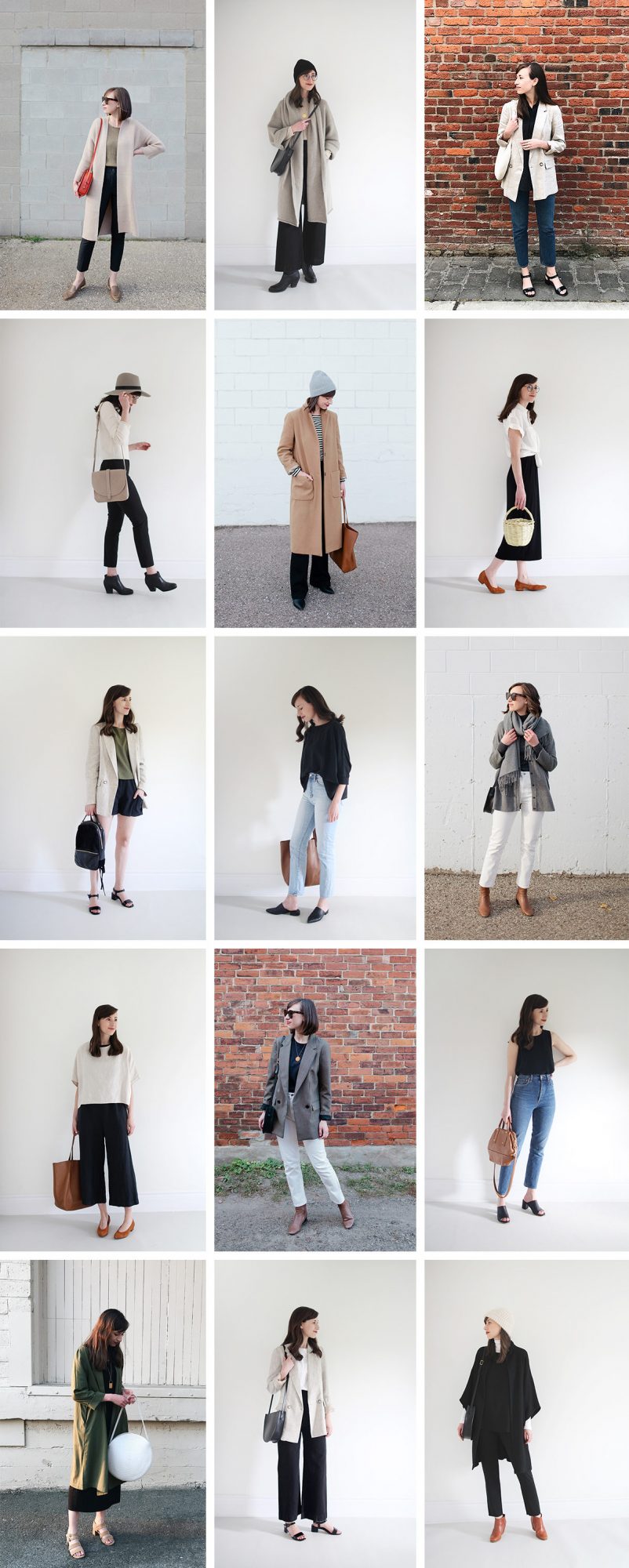 ---
2017 COLOUR PALETTE
---
Based on those looks here's a basic breakdown of my overall colour palette.
MOST WORN = BLACK
CORE COLOURS = CAMEL | FLAX | WHITE | DENIM
ACCENT COLOURS = WHISKEY | STRIPES (they count as a colour to me!) | OLIVE | PAPRIKA (also my favourite spice!) | GREY
I'll be keeping this palette in mind going forward when I'm considering any new pieces.
---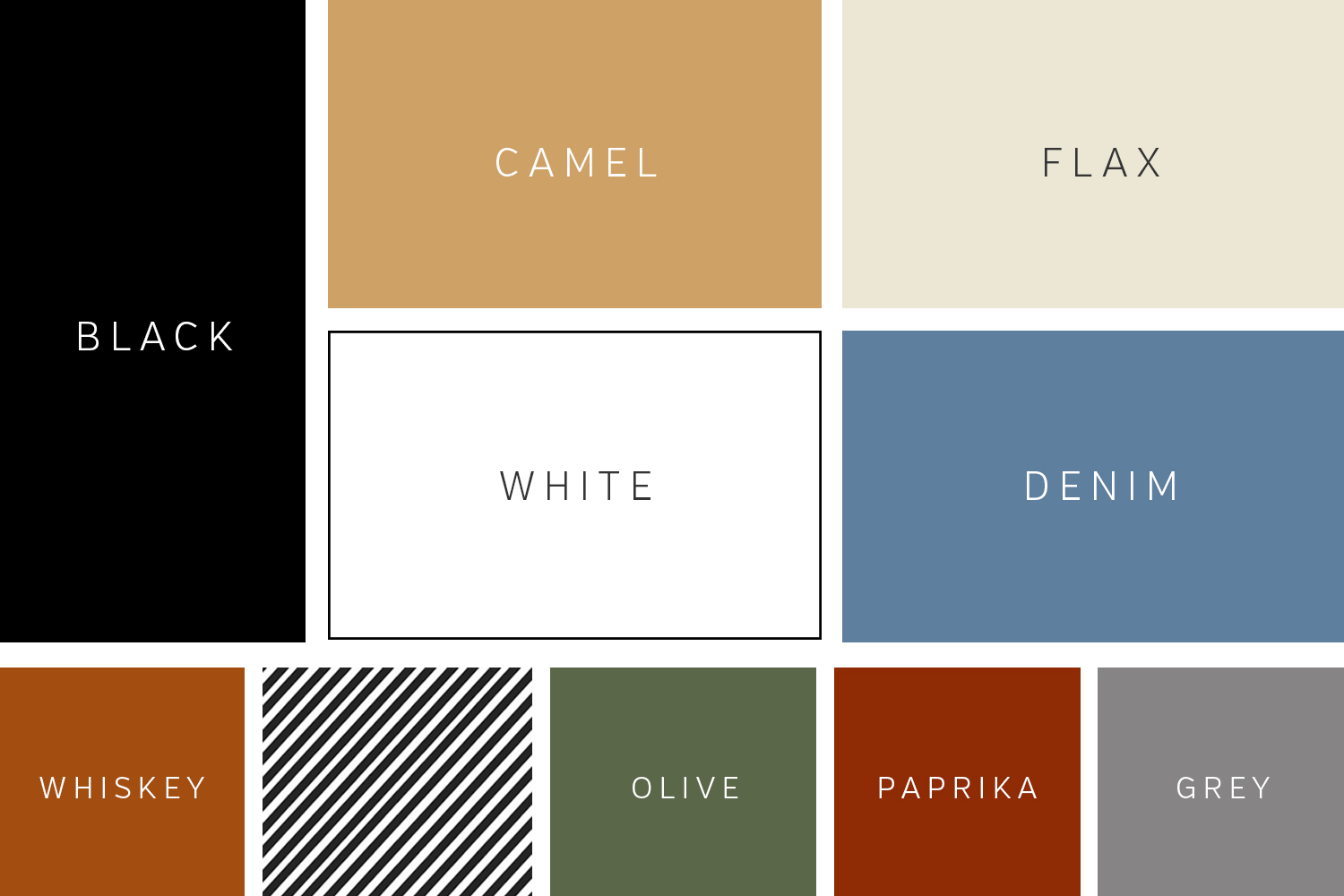 ---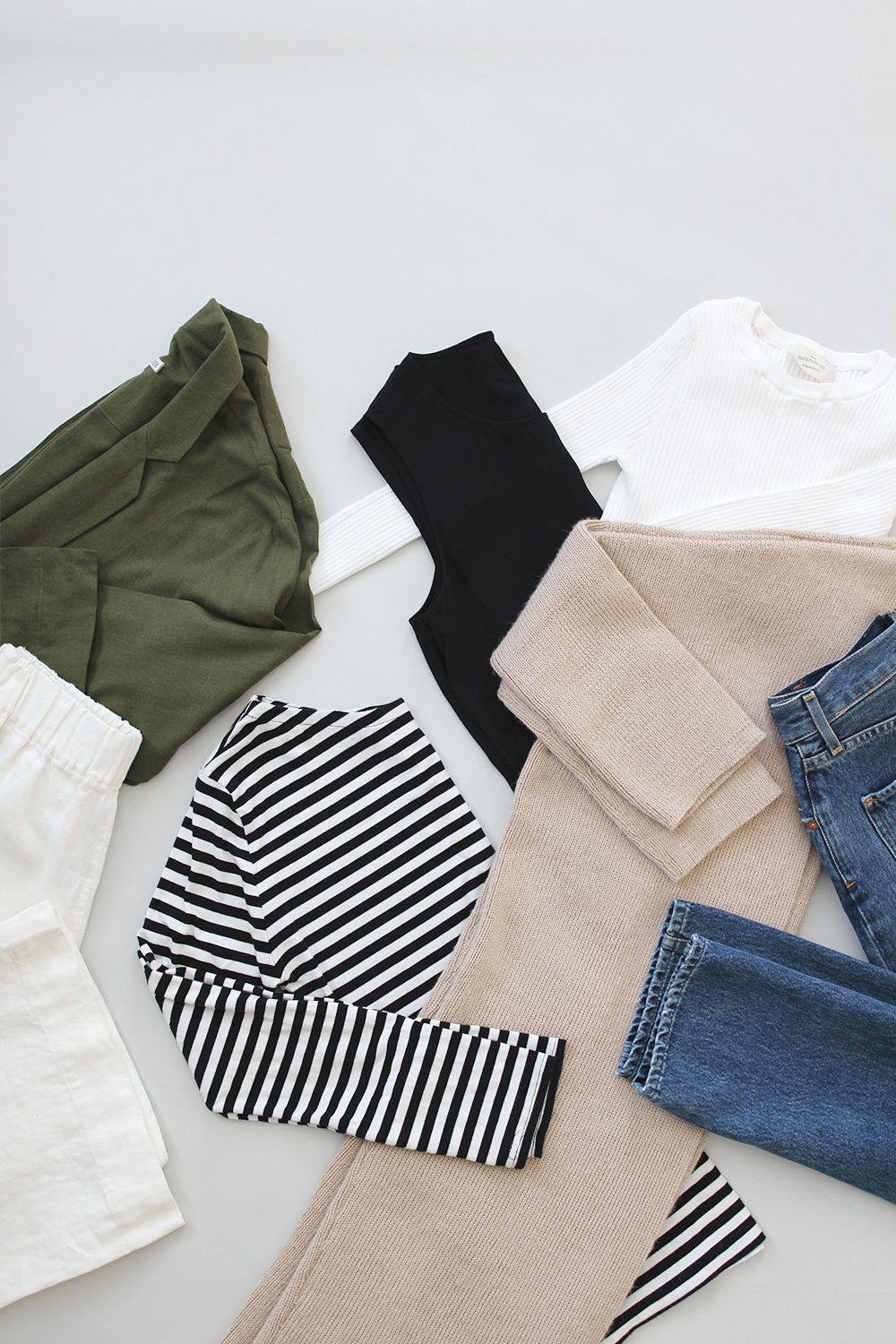 ---
MOST WORN ADDITIONS IN 2017
---
This section is not intended to read as a closet 'haul' but rather as an indicator of what I successfully added to my wardrobe. I've had several requests for an amalgamated list of my 2017 closet additions and after compiling these I can see that it's a very useful exercise. It really helps to identify the pieces that have earned their place (and those that haven't). Plus, seeing all my 'new' favourites together gives me lots of new outfit ideas!
I could have easily added more items to this list but I felt like I should only mention the ones that instantly came to mind when I was recalling my go-tos. Of course, the weather had a lot to do with what I could wear, hence the lack of very summery pieces and prominence of outer layers. I might also note that no dresses made the 'most worn' cut this year but the Ida Shirt Dress was a close contender.
Most of these clothes were bought personally while a few were gifted so perhaps that's an indicator that when I personally invest in items I tend to wear them more often. Or maybe it's just a coincidence because the opposite seems to be true for accessories and shoes. Either way, these are the pieces I added and wore A LOT this year.
I've shared links to shop and a brief note on each piece below.
---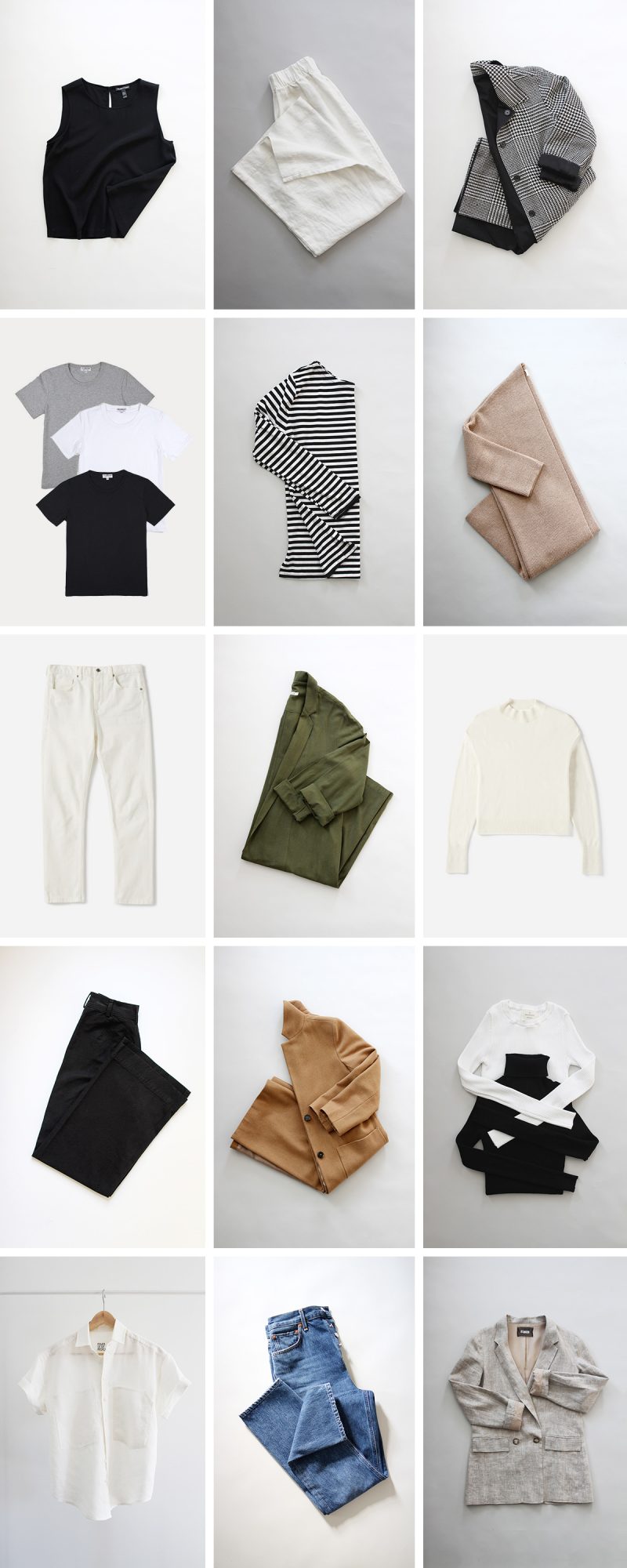 ---
1 | BOXY SHELL TANK | c/o EILEEN FISHER | This is hands down my favourite simple base layer for whenever I go out. It's slinky and relaxed but tucks in and layers so easily under blazers, sweaters and coats. I love the high neckline, straight hem and cropped length.
2 | LINEN FLORENCE PANT | ELIZABETH SUZANN | I have been a Florence Pant addict for years now and bought the ivory linen version (with a matching Petra crop) for my city hall signing with Dave. They ended up being my go-to pants all throughout July and August.
3 | VINTAGE HOUNDSTOOTH COAT* | FRANCES MAY | I was on the lookout for an oversize houndstooth coat last winter and when I saw this one pop up I had to grab it. It was perfect for our UK honeymoon and I wore it all the time this Fall. It's one of those timeless styles that can make jeans and a t-shirt look totally chic.
4 | CATT TEE | c/o TRADLANDS | Judge all you want but I have this tee in every colour and LOVE it! It's basically the only cotton tee I reach for anymore. It's thick enough that I don't need to worry about which bra I wear and just boxy enough to feel relaxed. It's very well made and the perfect casual base to layer and tuck in.
5 | LONG-SLEEVE STRIPE TEE | EMERSON FRY | I have a few striped tees in my closet but I've got to give this one the top spot because it's the perfect black and white stripe and the rayon/cotton blend is insanely comfortable. It's a bit on the long side but it's drapey and magical and I wear it at least once a week. I look forward to trying more pieces from this zero-waste line.
6 | RIB CARDIGAN | HAN STARNES via GARMENTORY | Get $20 OFF when you sign up here. | Hands down most beautiful knitwear item I own (except for my Capote Coat) but it's also ridiculously functional. So soft, so warm, so easy to pair with any base. I wear it in the office most days and under my oversize coats when I'm going out. It's been my #1 go-to sweater this year.
7 | BOYFRIEND JEANS | EVERLANE | I will say these jeans don't fit 100% right but I still wear them all the time. I should have exchanged them for a 26 but I have the 27 and had the waist taken in. The denim is suuuuper soft and I love the straight leg silhouette and cropped length with boots.
8 | OLIVE DUSTER* | ALI GOLDEN | This is perhaps one of the most bold items in my closet being that it's a long, green, silk coat but despite being such a stand-out piece I find it works with almost everything! I love the length, the functional pockets and the flowy fabric.
PS: The Baronne Duster was a very close contender for this spot. Since I bought this one personally I gave it preference.
9 | CROPPED MOCK-NECK SWEATER | EVERLANE | I treated myself to this ivory little gem last Fall and it's been on major repeat all Winter so far. For some reason I'm drawn to light colours in the Winter too. It is so soft, cozy and simple. The boxy shape is great over skinny jeans and the flouncy cashmere has lovely movement. It's the second sweater I have in this style from Everlane and they are perfect for the winter months.
10 | KAMM PANTS | JESSE KAMM | Technically I got these in late 2016 but they were still one of my most reached for pants this year. Kamms are both iconic and oh-so-fun to wear! Yes, they're a major investment, but none of the imitations I've tried even come close to the real thing. There's definitely a reason Jesse has been making this style for over a decade and that she has developed a devoted cult following.
11 | CAMEL COAT* | MARVIN BROWNE | I picked this coat up on our honeymoon in London and it was an instant favourite. I love the oversize fit because it makes wearing blazers and bulkier sweaters so easy and the minimal design is timelessly chic. It's my secret weapon for taking a simple look and making it special. Plus, I'm gently reminded of my honeymoon with every wear and that's nice.
12 | RIBBED BODYSUITS | BODYSUIT OF BARCELONA | I am a huge bodysuit fan and after lusting over this line for most of the year I ordered two suits during a free shipping sale. They are officially my favourite bodysuits to date and they've been on weekly rotation all winter. They're a perfect base layer thanks to the super stretchy, soft, ribbed knit, which is also very easy to care for!
13 | THE WAYWARD SHIRT | c/o POWER OF MY PEOPLE | Ah, this shirt makes me think of warmer days and I can't wait until I can wear it again! It's one of the most versatile pieces in my closet and I loved it so much that I bought the philosopher version too. Stay tuned for a restock this Spring.
14 | RILEY CROP JEANS | AGOLDE | To say these jeans were game-changers for my closet is an understatement. They're easily my most worn pants of 2017 and I only bought them about half-way through. I feel like a million bucks when I wear them and always get asked where they're from. I love the ultra high waist and straight leg cut, not to mention the thick, vintage style denim. ShopBop has them in all sizes right now.
15 | LINEN BLAZER* | REFORMATION | As you likely know, I'm a bit of a blazer-holic. I went a little (okay a lot) overboard on my blazer additions this year but I wear them all the time. This flax linen one was my first addition and I've got to say Reformation has really nailed the 'boyfriend' fit on these.
*Linked to similar*.
All items made responsibly.
---

---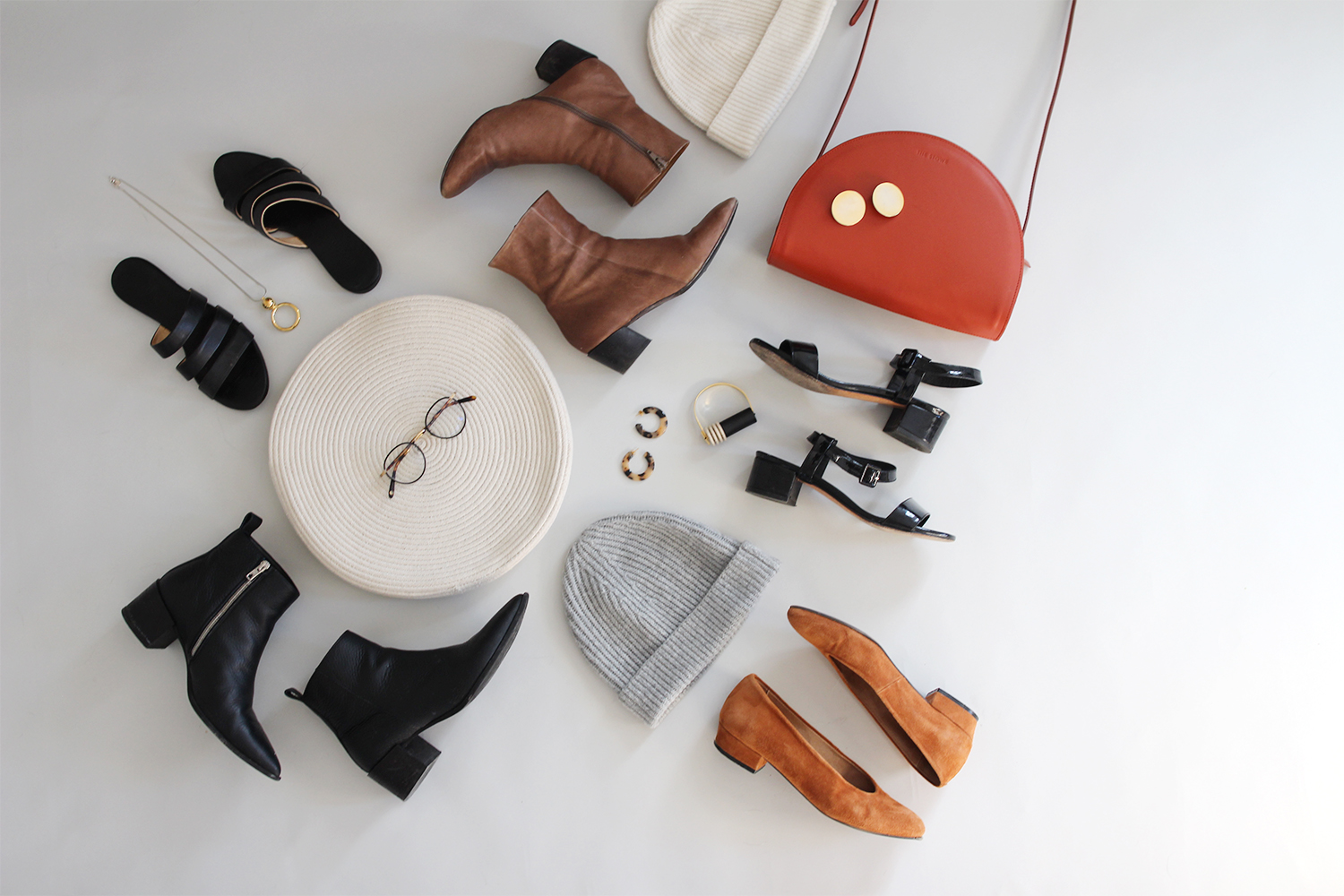 ---
MOST WORN ACCESSORIES ADDITIONS OF 2017
---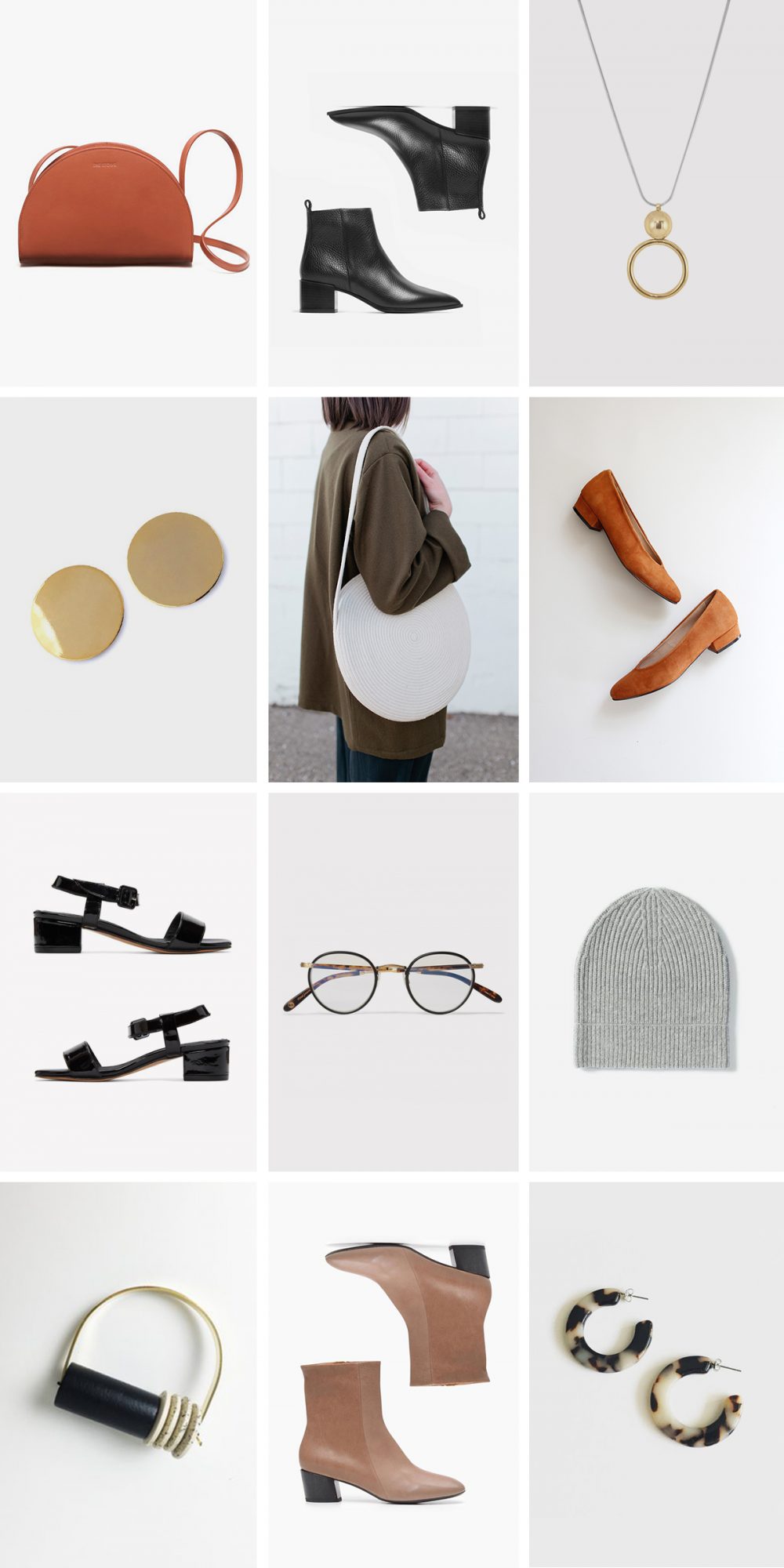 ---
1 | MARGOT BAG | c/o THE STOWE | My friend Molly (The Stowe founder) spoiled me with this beautiful bag and it was the perfect way to add some colour and interest to my Fall closet. I was surprised by how well it works within my colour palette and how functional it's been in terms of carrying all my essentials. The only bag I reach for more is my ELOISE which I've had for a few years now.
2 | THE BOSS BOOT | c/o EVERLANE | I was so pleasantly surprised by these gorgeous boots. Not only are they totally stylish but they're also extremely comfortable and beautifully made. After just a few wears they started to surpass all my other black boot options and I just couldn't stop wearing them this Fall. I've been wearing them this Winter when it's not too snowy as well. If you've been considering them, I highly recommend!
3 | ORB NECKLACE* | YOUNG FRANKK via GARMENTORY | $20 OFF when you sign up here. | Young Frankk has been one of my favourite jewelry lines for years. I find that every piece holds its own in my accessory collection and this one is the perfect minimal statement to add interest to a simple look. It's got a nice weight to it and the length is perfect for over crewnecks and fitted turtlenecks.
4 | LARGE CIRCLE EARRINGS | c/o MASLO JEWELRY | At first I didn't think I'd get involved with the statement earring trend but then I had an opportunity to try these and well, I was all wrong, it's awesome. I've worn these bold beauties so much and I especially love how they look with a cropped hairstyle. These were proof that sometimes a trend you think won't work can turn out to be a personal style booster!
5 | CIRCLE ROPE BAG | c/o APPRVL | Ah, this bag is just so genius! It's so simple but such a great statement piece. It's especially awesome because you can wash it and it holds a deceivingly large amount. I've yet to wear it without someone asking where I got it.
6 | SUEDE BLOCK HEELS* | L'INTERVALLE | I was so happy to discover this stylish (+ reasonable!) Canadian footwear line. These flats were the footwear all-stars of my Spring closet and I wore them basically non-stop. It's safe to say the block heel style is one I won't be giving up on for a while yet either!
7 | SOPHIE SANDAL* | MARYAM NASSIR ZADEH via SSENSE | These were a 30th b-day treat to myself and they became my go-to dressy sandal all summer long. They're such a simple classic style and they go with essentially every imaginable outfit in my closet. They're really beautifully made and super comfortable for walking and wearing all day.
8 | WILSON FRAMES | GARRETT LEIGHT | Closet MVP right here! I wear these glasses every day, without fail. Before this pair I always had an adversarial relationship with my specs and felt like I had to adapt my style to suit the glasses, whereas, this pair works with almost everything in my closet. They're also extremely comfortable and have survived about a zillion falls without a scratch. My advice when it comes to eyewear? Invest in a really well made, classic style you can wear forever.
9 | BEANIES | EVERLANE | As I mentioned in my Winter Accessories post, these beanies are totally essential to my life during the colder months. So comfy, so cozy, so good! I'm actually wearing one as I type this right now. They're sold out (at least on the Canadian site) but I'm sure they'll be back for next year.
10 | BRACELET* | c/o MASLO JEWELRY | This is my grab-and-go bracelet whenever I need to add a jolt of fun to finish a look. It's got some stretch which makes it really comfy and easy to wear over sweater sleeves too.
11 | CALLY BOOTS | c/o COCLICO | Also available via GARMENTORY | $20 OFF when you sign up here. | Okay, so if you've made it this far in the post you're awesome and honestly, so are these boots. They've been on two continents with me already and I'm not exaggerating when I say they've seen daily step counts of 30,000. So well made, so comfortable and the design is perfect for tucking into cropped pants. Can't recommend these enough if you're up for a footwear investment.
12 | KATE TORTOISE HOOPS | MACHETE | Also available via GARMENTORY | $20 OFF when you sign up here. | So the circle hoops were my gateway drug to the statement earring trend and I found myself ordering these on Black Friday. Then I basically wore them non-stop all holiday season and they're so light I've often forgotten they were on. BTW Machete is the newest hottest thing in the indie jewelry market, in case you're on the hunt for some retro tortoise vibes!
13 | CAMILLA SLIDE SANDAL | NISOLO on sale! | Available via GARMENTORY | $20 OFF when you sign up here. | I almost forgot to include these sandals but they were so great this summer! I love the ultra minimal design, the leather is super soft and the sole has a little padding to make them very wearable. Although right now it's hard to believe I'll ever be able to go out without giant socks and boots on ever again.
*Linked to similar.
All items made responsibly.
---

---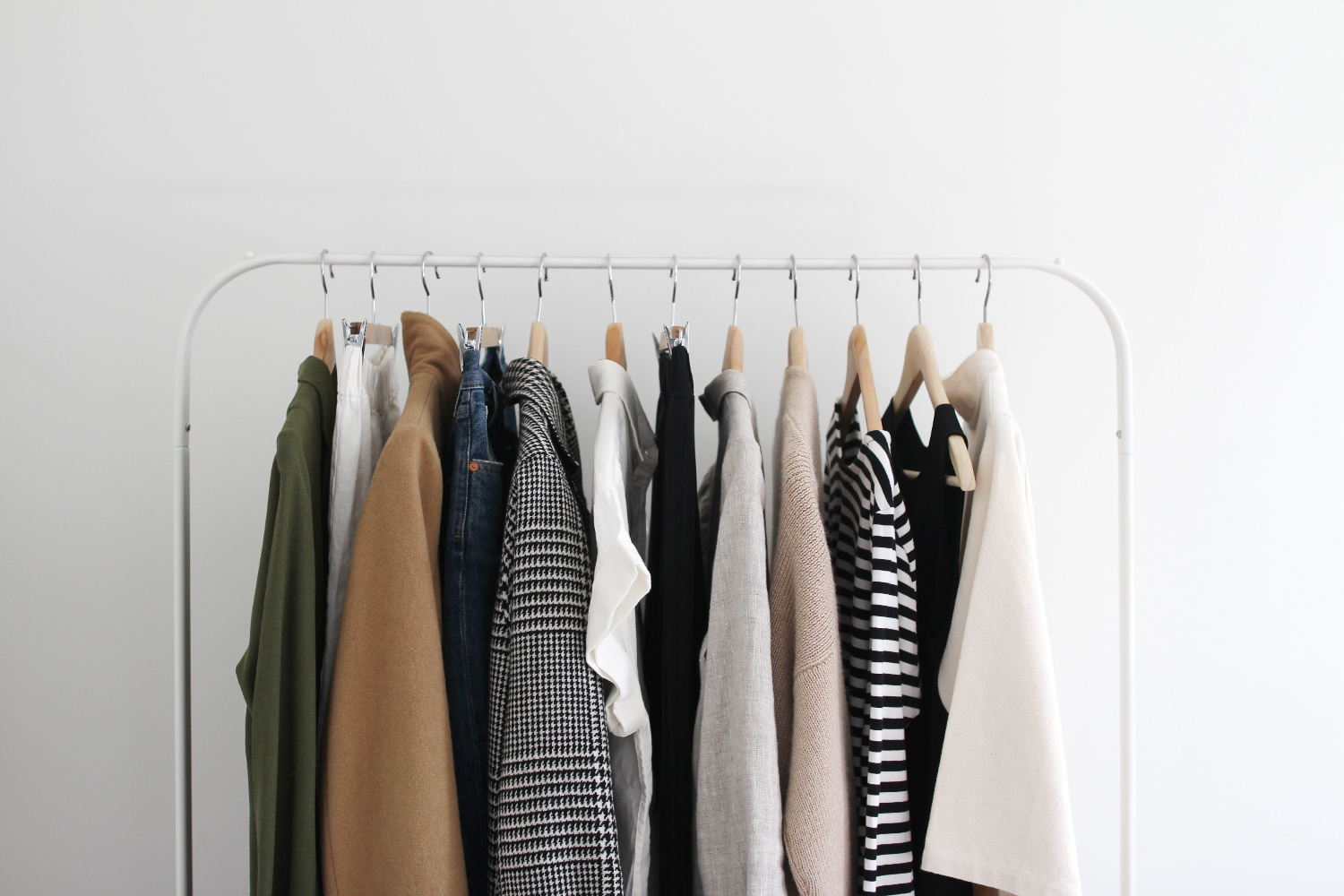 ---
LEAST WORN ITEMS OF 2017
---
Not to throw shade at the lesser worn items in my closet but I think it's worth noting a few items and categories that didn't see the light of day much this year. Those being:
1 | WIDE BRIM HATS | For some reason I just didn't reach for my wide brim hats all that much this year. Beanies just felt more convenient and when it gets super cold or windy they're the only practical option. I still love my hats and haven't let any of them go so I'll see how they do this year.
2 | SHORTS | I have a few pairs of shorts that I like but this summer wasn't very hot here in Ontario so I usually just opted for my linen Florence Pants instead. Plus, no need to shave or apply self-tanner when you're wearing pants!
3 | CLOGS | You guys, I love clogs, but I've found they kind of kill my lower back when I wear them for any real length of time. I still have an old pair by No.6 and they don't hurt me so much but the pairs I got from BRYR had to go to new homes in the end. They're so beautiful but for some reason just not right for me.
4 | SHORT FITTED JACKETS | I have two classic fitted jackets that collected dust this year. One is a leather jacket from Madewell and the other is a washed denim jacket from Rag & Bone. Both are 'closet essentials' but I find I opt for my dusters and oversize coats way more. We'll see if they get more use this year!
5 | COLOURS OUTSIDE THE PALETTE | I gave a few colours I don't normally wear a try this year like Lavender, Floral Prints, Blue-Grey and even though I really like them, if they don't work with a lot of options I just don't find I reach for them all that much. I should note that the pieces were part of collaborations so I might not have otherwise bought them myself.
---
Well friends, that's my 2017 Closet Mission and personal style in a nutshell.
I'd love to know what you took away from 2017 in terms of favourite pieces and style themes. What were your favourite looks or items to wear and more importantly, why? What are your style findings from 2017?
Please feel free to let me know in the comments.
---
I'm excited to share my 2018 Closet Mission on the blog this Friday!
---
Thanks for reading and have a great week!
---
This post was not sponsored but contains affiliate links. When you shop via the links above I may make a small commission from a sale. Thanks for supporting the brands that support Style Bee! As always all opinions are my own.