Happy Friday everyone! We're already two weeks into January and I'm just starting to feel the exhaustion from last year and a busy holiday season lifting and making way for creative energy but it feels so good. I'm doing my best to approach my plans for 2018 one day at a time and putting this post together was the perfect way to get back into a blogging mindset and amp up my excitement for things to come.
When I started this closet mission concept four years ago it was mostly about defining my personal style, curating a closet I loved and living better with less. From there it evolved into shopping responsibly, building a community around the 10×10 Challenge and helping to empower others who were interested in achieving their own closet contentment.
It's been fun to look back and see how far this process has taken me. It all began at the end of 2014 when I felt like my personal style and closet had no direction and has led up to today where I'm feeling completely in tune with my style and much more at ease about my closet. Of course, there's still a lot left to explore and I'm both a little nervous and a lot excited to share what's been on my mind for the 2018 Closet Mission, so let's dig in!
---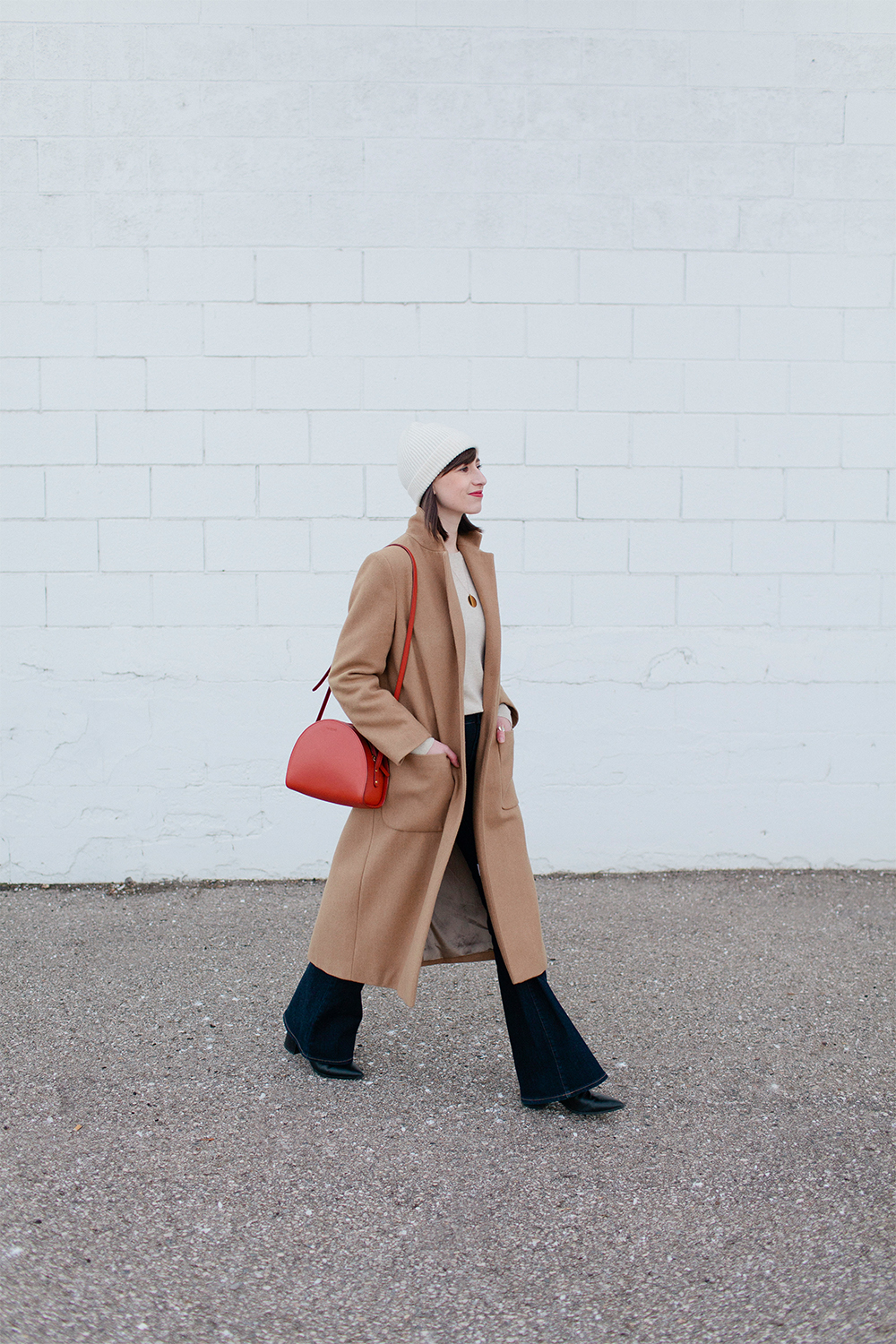 ---
GOING FORWARD FROM 2017
---
I feel really good about how my closet mission has evolved and even though there are always areas to improve I feel like the goals I've set have ultimately become mindset shifts. For instance, shopping responsibly was a goal that started in 2016, which seemed daunting and scary at first but now I can't imagine ever going back. So this year instead of repeating some goals, as I have in the past, I'm simply planning to maintain them. I discussed my 2017 Closet Mission Conclusion in more detail on Monday but essentially I'll be continuing with the following:
1 | Continuing To Shop Responsibly + In Moderation | This might very well be a lifelong endeavour and I'm ok with that. Every year it gets easier as I want for less and find brands that better suit my personal style.
2 | Remix, Remix, Remix | I LOVE styling clothes. I could honestly play dress up all day. For me it is an art form that allows me to express myself and my creativity in a tangible way. I never tire of remixing pieces no matter how simple a look might turn out.
3 | Supporting Canadian Brands | We have so much talent here and I'm excited to share more of what Canadian designers have to offer.
Now let's dig in to the critical point of today's post, my 2018 Closet Mission!
---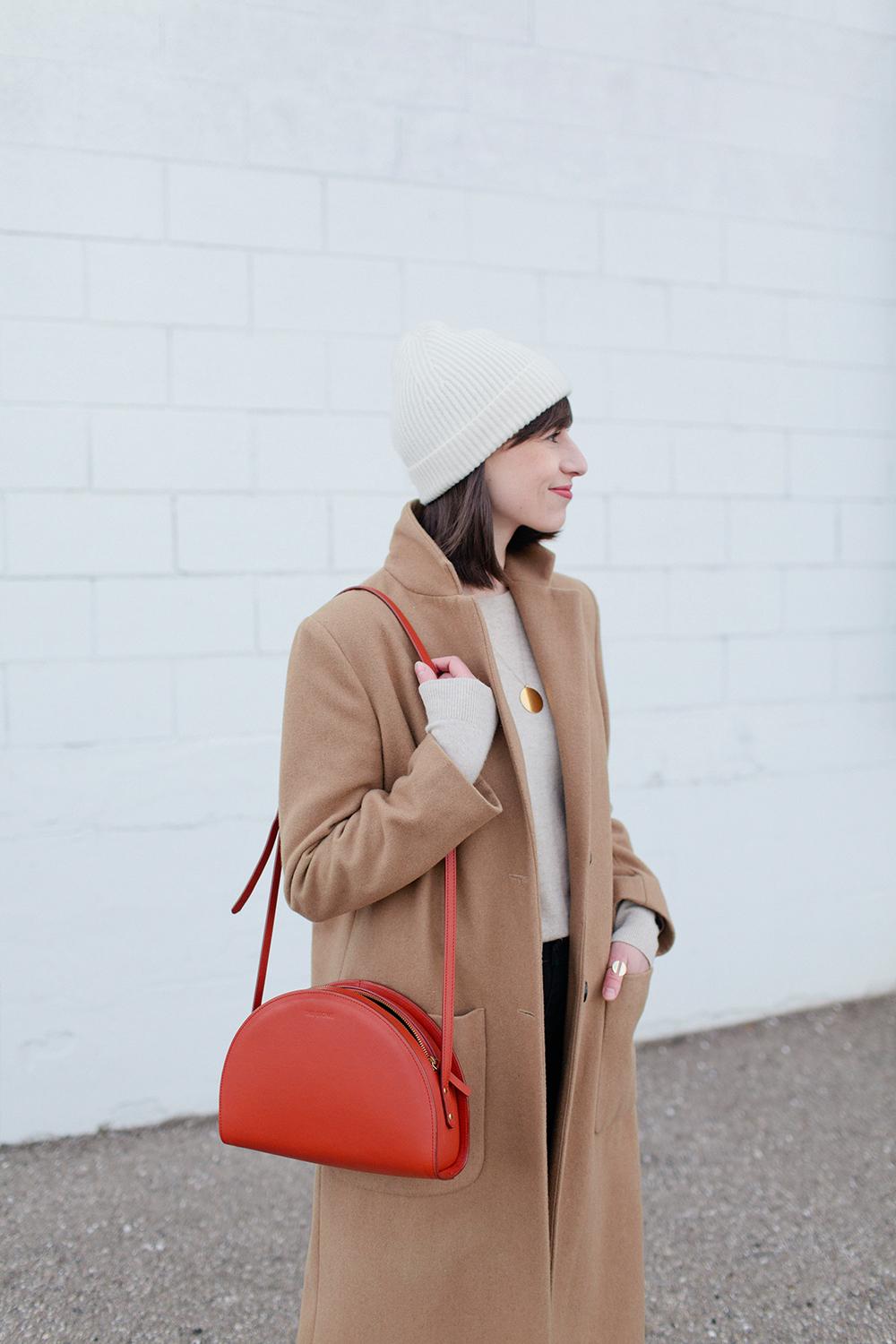 ---
MY 2018 CLOSET MISSION
---
My closet mission used to be all about closet contentment but now that I feel as though I've reached a satisfactory point in terms of personal style, shopping tendencies and embracing a less is more lifestyle, I'm opening the closet mission up to my blog plans as well. The fact of the matter is that my blog and my closet are fairly co-dependent at this point, which is good in some ways and tricky in others. So I'm approaching this closet mission with that in mind and sort of splitting my goals between the two. So here goes!
1 | TRY A REAL CAPSULE CLOSET 
Yep! I'm finally ready to bite the bullet. It's funny how many 'Capsule Closet' blog lists I've found Style Bee on and yet, I've never actually done a capsule closet. In fact, I'd never really felt like I wanted to until this year. That said, the concept is a huge inspiration behind my style philosophy and what I do on Style Bee (hence the 10×10 Challenge). I've just never fully committed to trying a capsule closet proper. But that's going to change this year!
Yes, I might be a little (ok a lot) late to the capsule party but once we'd finalized our plans to spend 3 months in Vancouver this spring (we leave in Feb!) it seemed like the perfect answer to dealing with my closet. So I'm going to have a carry-on suitcase, a medium size suitcase and a few tote bags to house my closet for our 3 month adventure on the west coast. It's safe to say I'm really nervous excited to try it out and share my experience!
2 | DEVELOP A BETTER SYSTEM FOR CLOSET ANALYSIS 
I know, nerd alert!, but hear me out. I did a fair amount of closet analysis last year, with my Winter Wardrobe Assessment being a very popular post on the blog. I really enjoy scrutinizing my style and closet yet, I've found it hard to put real data and numbers to my outfit and wardrobe performance. I was recently intrigued by a concept my friends Andrea (Seasons & Salt) and Paige (Style This Life) were throwing around about conducting an 'item wear count' to keep tabs on how often they reach for certain items in their closet. I think this is a brilliant way to gather some real data on how pieces are performing within our wardrobes. I also think it might push me to wear more of my closet once I see how much or how little certain pieces are getting used.
I'm also interested in keeping better track of what to wear for certain temperatures/weather. Being in southern Ontario means crazy ranges in weather, as in literally 60 degree differences from one season to another. With that in mind I'm planning to keep tabs on the temperature and how it correlates to my clothing choices.
I'm excited to either find a useful app (some of your suggestions below) or create a tool that can be used as either a print out right in my closet (by just ticking off the item each time) or a digital document with editable features (import a photo and jot down a few notes). My goal is to have something in place for our west coast trip so I can collect as much info as possible this year. I'm not sure how I'll evaluate the information just yet but I have a feeling it will be really useful if I can manage to follow through!
APP OPTIONS: StyleBook looks like a great tool to do exactly what I'm looking for. Another option is the Cladwell which creates outfits for you based on similar items in your closet and the weather. I plan to test out one or both of these apps  during my west coast capsule. Honestly though, I've found I have a hard time maintaining my use of an app (that's not instagram) so we'll see how it goes!
More closet mission plans below!
---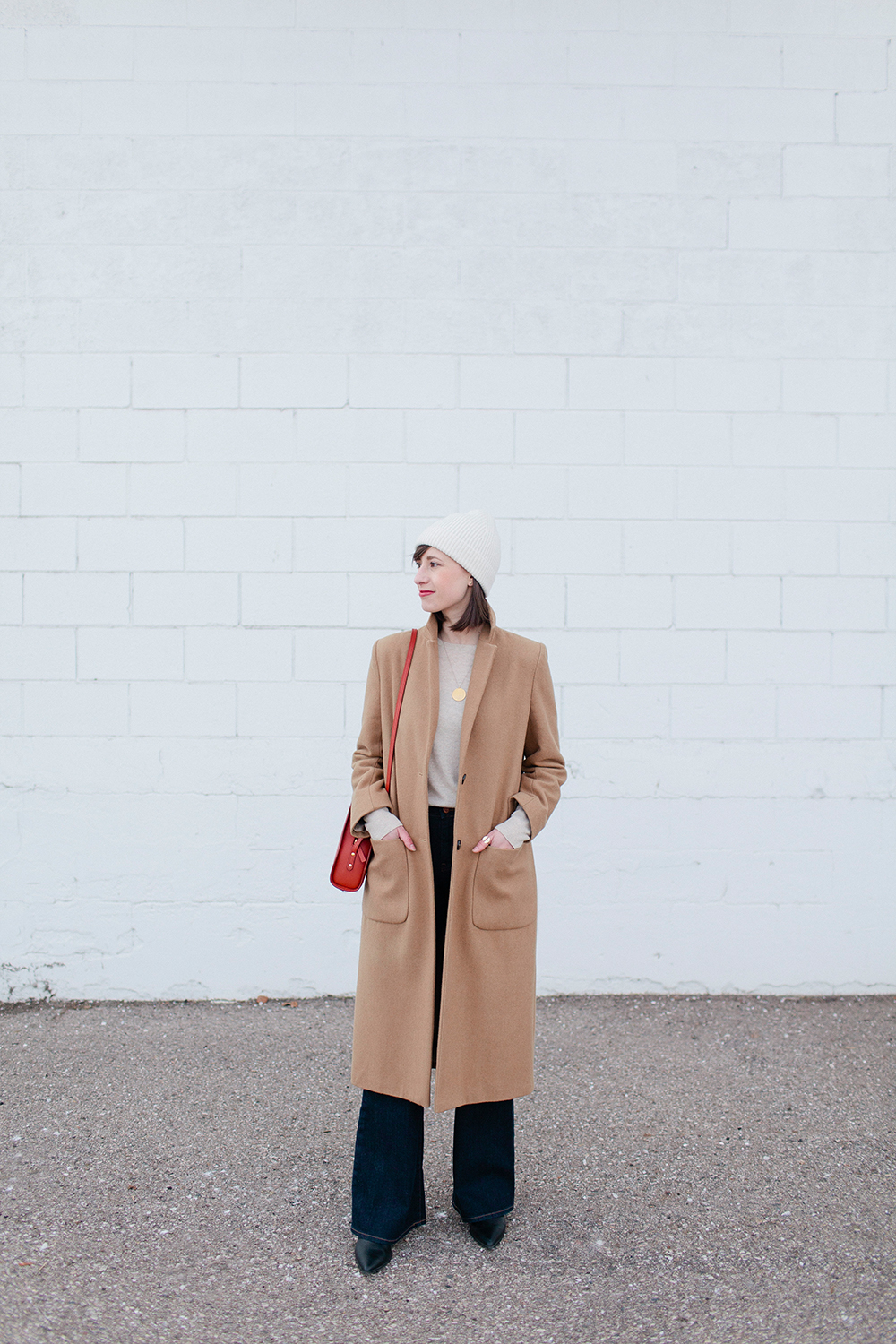 ---
3 | ENFORCE A MORE PRAGMATIC APPROACH TO COLLABORATIONS 
This one has been on my mind since the Fall of last year when I published a collaboration with the brand VETTA. I styled 3 sweaters into 2 different looks (6 total), reviewed each one (with 100% candid pros and cons) and ultimately kept only 1 of them. This approach was met with such an overwhelmingly positive response that I felt I must be onto something.
As such, going forward I'll be applying this candid 'review' approach to collaborations when I feature multiple pieces. This will allow me to share fresh style content (meaning new brands or collections), multiple options (for varying tastes, body-types and lifestyles) and still keep the amount of 'new' pieces I add to my wardrobe to a minimum. I'll also be doing my best to provide Style Bee readers with an exclusive discount to help make shopping responsibly a little easier on the budget! In terms of frequency, it will be similar to 2017 (2-3/month) and they'll be clearly identified as always.
I've given a lot of thought to the concept of collaborations, free product and sponsorships in terms of how they influence the integrity of a blog. It's a precarious balance to say the least, particularly for someone who values conscious consumption. It's also a hot topic, with several arguable perspectives, but my current conclusion, after much internal deliberation, many discussions with fellow bloggers and slow fashion brands, is that I have a unique opportunity to provide my readers and audience with a reliable and broad range of responsible shopping and style options. I also love discovering new collections and designers who are doing work that I feel is worth sharing and supporting.
Seeing product and testing it out in person is a critical part of the process and allows me to share genuine opinions and provide additional details. It also gives readers the opportunity to see how an item looks on someone other than the website model with different styling approaches, personal thoughts, sizing info and to then make better informed purchases. To me this is a fundamental offering of Style Bee as a responsible shopping resource and if done thoughtfully and openly need not take away from my personal style or closet.
Partnerships vary in their monetary value but ultimately doing paid or commission based collaborations allows me to balance my time and be able to put together a post like this one (and Monday's), for free. They also allow me to keep my site clean and free of advertisements. Collaborations are also something I really enjoy because they push me to try new things and hone my styling skills. Not to mention that I've made great friendships and developed relationships with some incredible creatives over the years.
Alas, all things in moderation I say! 
---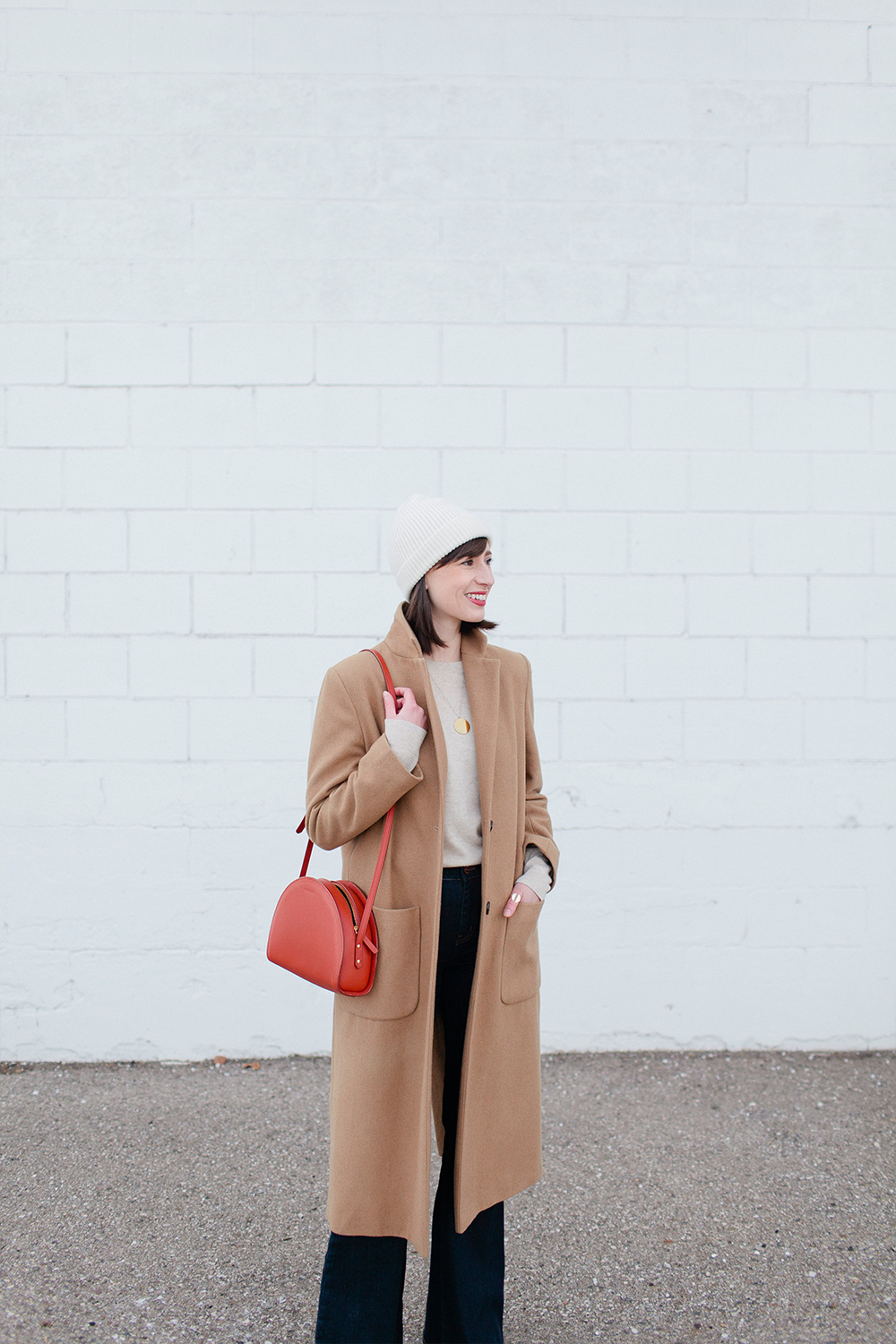 ---
4 | SHARE MORE STYLE PERSPECTIVES 
I really enjoy sharing my perspective on personal style but there are so many women with inspiring style (that's much more interesting mine) and great insights into our connection with fashion and clothing. I started a series in 2016 called Style Profile and I'm planning to resurrect it this year.
I'm also eager to share more from the menswear department by way of my husband's own closet and style. Dave has been such an inspiration to me over the years in how he keeps a super lean closet (it's a fraction of the size of mine), shops responsibly (he started long before me) and embraces the uniform approach with mastery. He's also a hilarious, quirky dude who is not afraid to rock a custom-made hat and a pair of penny loafers on a whim. Fair to say Dave's pumped for this too!
5 | CREATE AN ATHLETIC WEAR CAPSULE 
I saw such a positive change in my closet after creating my Loungewear Capsule that I am now determined to carry the concept over into my athletic wear section. Truth is, until about 2 or so months ago I never really made working out or physical activity a priority in my life. But now that it is, I've got to get this section of my closet outfitted in order to keep my commitment to daily activity from falling to the wayside. I'll share more on all this, including my workout routine(s) and other self-care elements, in the next little while!
---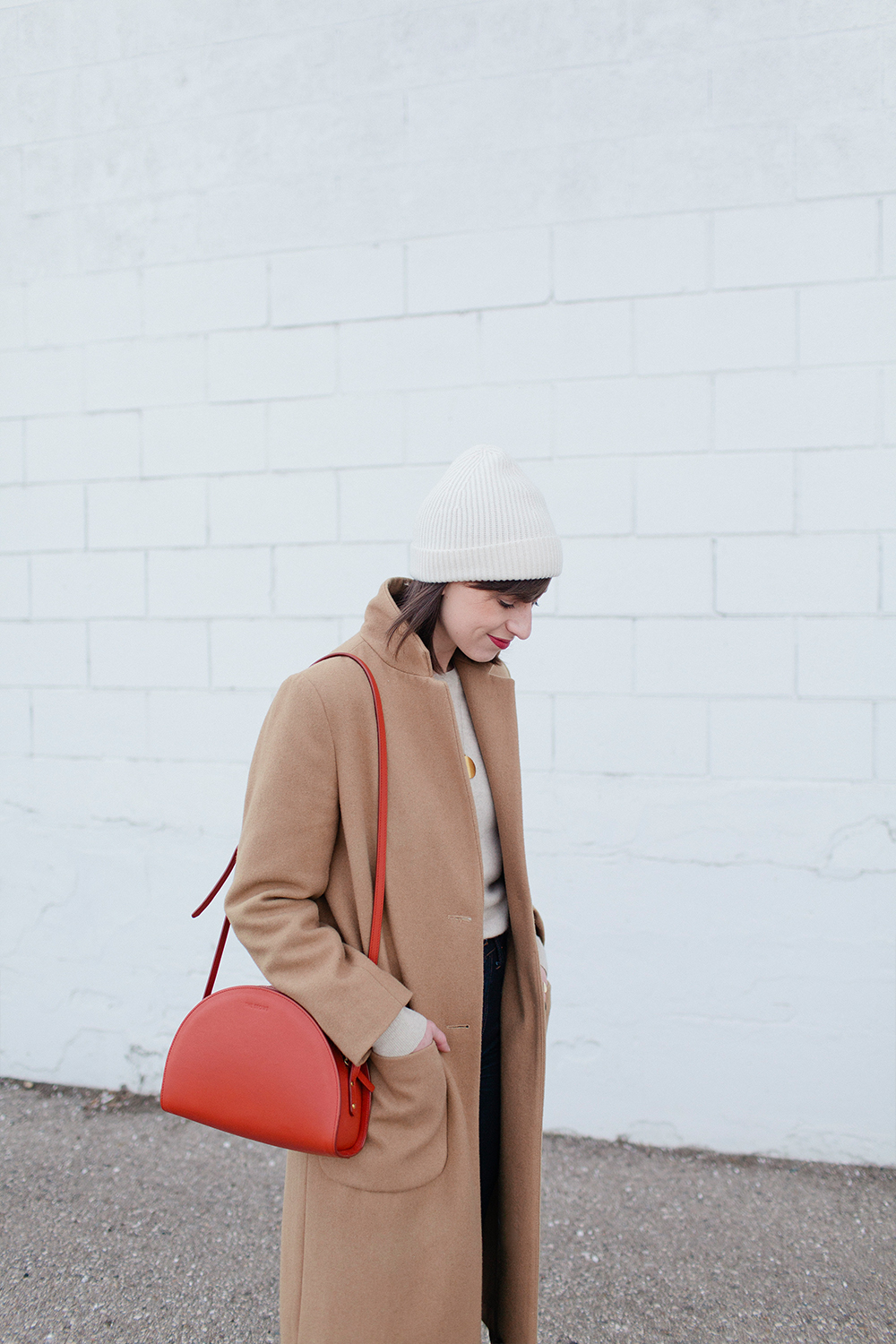 ---
WHERE TO START WITH YOUR OWN CLOSET MISSION
---
Are you considering embarking on your own closet mission or looking for a way to find more closet contentment? That's awesome! Here are a few resources to help you get going:
1 | SHOPPING FAST | Start with a shopping fast. Take a breather, however long or short you'd like, and don't add anything or eliminate anything for a bit.
2 | TAKE THE 10×10 CHALLENGE | While you're on a shopping fast the best way to get to know your personal style and closet favourites is to put them both to work. Join us for the #WINTER10x10 starting next Friday, January 19th!
3 | CONDUCT A CLOSET EDIT | Once you've spent some time with your existing closet and you have a better sense of what's working and what's not, it's time for an edit!
4 | DEFINE YOUR PERSONAL STYLE | Put your personal style into just a few words to keep in mind whenever you're getting ready or shopping or feeling unsatisfied with something in your closet.
5 | CREATE A WISH LIST | Create a concise wish list of items you would really love to add to your closet and style. Refer back to the list every time you're tempted to impulse shop.
---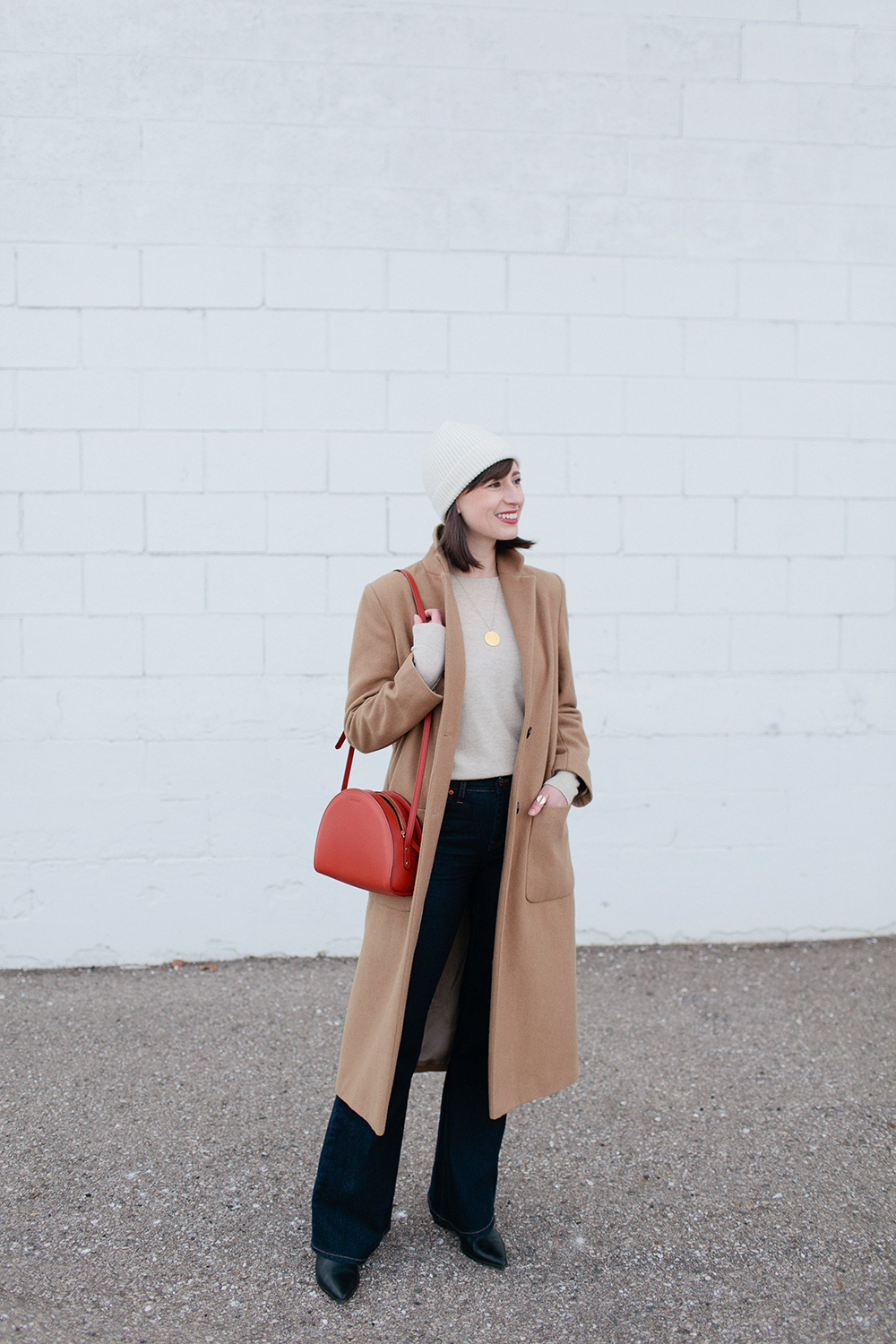 ---
SO THERE YOU HAVE IT, MY 2018 CLOSET MISSION! 
---
Are you setting any goals for your closet this year?
What is one major change you'd like to make in terms of your personal style? 
I love this stuff so feel free to share in the comments as I always read (and try to respond to) them all! 
---
SHOP THE LOOK
---

---
COAT | MARVIN BROWNE | s/o | Made in England. | Similar style here on sale (made in Canada)
SWEATER | EVERLANE | $100 USD | Made responsibly in China | Colour s/o but many others available.
JEANS | MADEWELL | old | Similar style here (made responsibly)
BEANIE | EVERLANE | s/o | Made responsibly in China
BAG | c/o THE STOWE | on sale for $295 USD! | Designed in Montreal and made responsibly in Spain
NECKLACE | old Young Frankk | RING | c/o CLAUS | $90 USD | Made responsibly in Brooklyn
BOOTS | c/o EVERLANE | $225 USD | Made responsibly in Italy | Fit is TTS
---
Photography by Jacklyn Barber.
---
This post was not sponsored but contains affiliate links. When you shop via the links above I may make a small commission from a sale. Thanks for supporting the brands that support Style Bee! As always all opinions are my own.