It's time to talk carry-on packing when it comes to skincare and beauty. I get lots of questions about how I handle this department when it comes to using only carry-on luggage so I'm sharing my approach to packing and the products I never leave home (or the country) without.
I've been on 6+ trips since I stopped checking luggage a couple of years ago and unless absolutely necessary, I'd never consider going back. It just makes the whole travelling experience much more seamless and stress-free! Now that I've got the lean clothes packing down, the tricky part is liquids. As someone with sensitive skin, highly prone to break-outs (especially when traveling), I find that having my trusted wheelhouse of products is crucial to feeling good and maintaining my routine while abroad. But packing them takes a bit of careful consideration and finding options that are travel friendly has been a big part of the process.
Today's post will cover: 
How I organize liquids and toiletries within my carry-on tote.
My most recent development, my red-eye rescue kit.
The Skincare & Beauty products I always pack.
So let's dig in! 
---
LIQUID, SKINCARE & BEAUTY PRODUCT ORGANIZATION
---
I put together this graphic to better demonstrate how I store and organize my liquids and toiletries within my carry-on tote. After a few trips spent digging around and turfing through multiple bags looking for certain products, I've learned that convenience is key. So now, all my beauty, skincare and liquids go in one place, my tote. This leaves my suitcase for clothes and shoes and I never need to open it until we're settling into our room. Once I get where I'm going it's easy to amalgamate the different sections, meaning that items from my red-eye kit get to join skincare products and beauty liquids hop back over with the rest of the gang. But when I'm going through security and in flight I find it's best to know exactly where things are and keep only certain essentials handy. So here's a look at how I organize my products and I'll go into more detail below!
---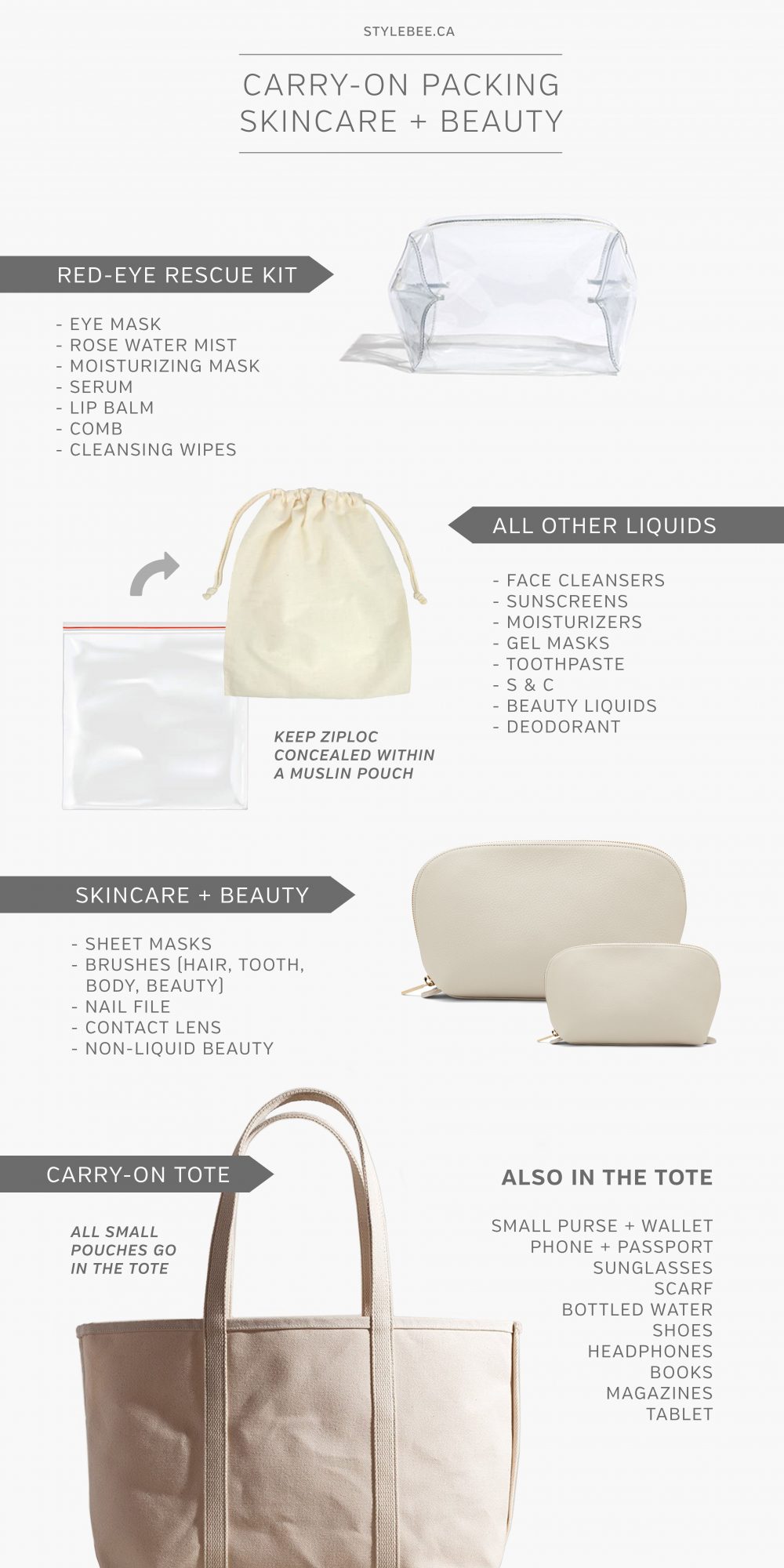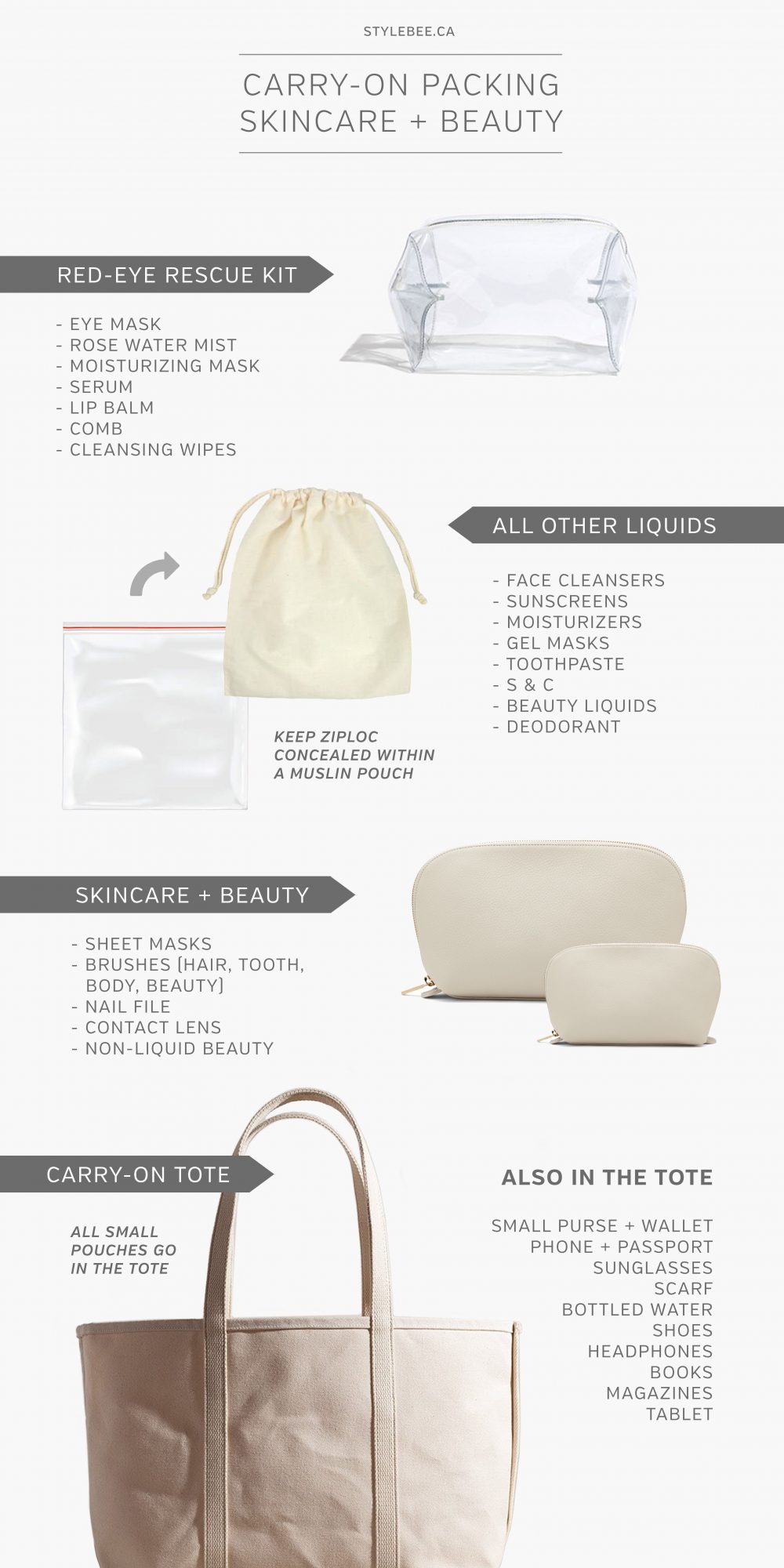 ---
CLEAR POUCH | MUSLIN POUCH | TRAVEL CASE SET | CANVAS TOTE
---
GENERAL CARRY-ON GUIDELINES: I always consult the airline carry-on restrictions before packing but so far I've never had a problem with my Away Carry-On suitcase and my Canvas Beach Tote (medium size) in Canada, US, Costa Rica, UK, Europe or Mexico. Combined weight limits for both are often about 25 lbs and sizes vary but I've never had my bags weighed, only sized. 100 mL is usually the standard maximum for liquids and gels but I try to keep mine around 50 mL each. This way I know I'm safe to bring them and they don't end up weighing too much.
Of course, you can organize in any way that feels right but this is how I approach it! 
1 | MY 'PERSONAL ITEM' THE CANVAS TOTE: This canvas beach tote came into my life through a collab with Joshu + Vela and has been my 'personal item' on several trips now which it works perfectly for. It's a great size to fit everything I need and still slides easily under the seat in front of me. I also love that it's structured so it doesn't get all floppy when you're taking items in and out. The flat bottom keeps it standing and the long handles make it easy to throw over my shoulder. Most of the time I sit it on top of my carry-on and loop the straps over the retractable handle on the suitcase. Then I have one hand free the whole time and everything is in one place. Plus, it's the perfect beach bag obviously! Yes, it gets scuffed up but I don't treat it too preciously and it's machine washable, so all good!
2 | SKINCARE + BEAUTY POUCHES GO IN FIRST: Since I rarely need anything from these while I'm in flight they go into the tote first and sit on the bottom. I could probably eliminate one of these and just use the large pouch but I like to have a specific space for all my beauty products and all my skin care that's separate once I get to where I'm going. I don't yet have the beautiful set that I showed above but they are on my travel wish list for sure!
3 | RED-EYE RESCUE KIT GOES ON TOP: This little pouch sits on top of the large skincare and beauty pouches. Then I can easily pull it out when I'm ready for my nighttime routine. I hadn't used this extra 'essentials' pouch for travel until my last red-eye but it was really great on the way home too, even though I wasn't on a red-eye. Instead of night-time stuff I kept a few daytime essentials like my lip stick, a pack of gum, deodorant, a spare set of contacts, concealer and other items I might need.
4 | ALL OTHER LIQUIDS GO BESIDE THE KIT: I keep all my non-essential liquids, sunscreen, toothpaste, face wash, moisturizer, shampoo & conditioner etc. in a Ziploc bag that's easy for security to pull out and look at if needed (they rarely do though!). Naturally, I hate how that looks, so I put the Ziploc inside a little muslin drawstring bag. I don't know why, but I have so many of these it seems. This way you get the functionality of clear plastic with the class of a natural material! This is often around the same size as my red-eye kit and sits beside it on top of the skincare and beauty pouches too.
5 | OTHER ITEMS TUCK IN WHEREVER THERE IS SPACE: I also keep a small cross-body bag to house my wallet, passport, phone, air buds, cash etc. I usually wear this but if I need to I can easily tuck it into the tote. I'll always pack a large scarf that can be folded fairly small and if I'm going somewhere with a different temperature (ie: a hot climate) then I'll pack a pair of sandals so I can switch when we land. I'll slide my sunglasses case into an open space somewhere then I pick up a big bottle of water for the flight plus a magazine or two and I'm set!
---
RED EYE RESCUE KIT
---
I've taken red-eye flights before but never planned ahead and always felt like a bag of crap when I landed. So before I left for Mexico I put out an instagram SOS for red-eye travel tips and received so many great suggestions from seasoned flyers. So I tried to follow as many as I could! Overall it worked out great and I landed feeling energized and fresh-faced for what was possibly the longest day of my life in a really good way. I think I might actually prefer a red-eye to a regular flight but that could be in part to the fact I was on vacation and I had a whole row to myself!
Here's what made my red-eye rescue kit…
---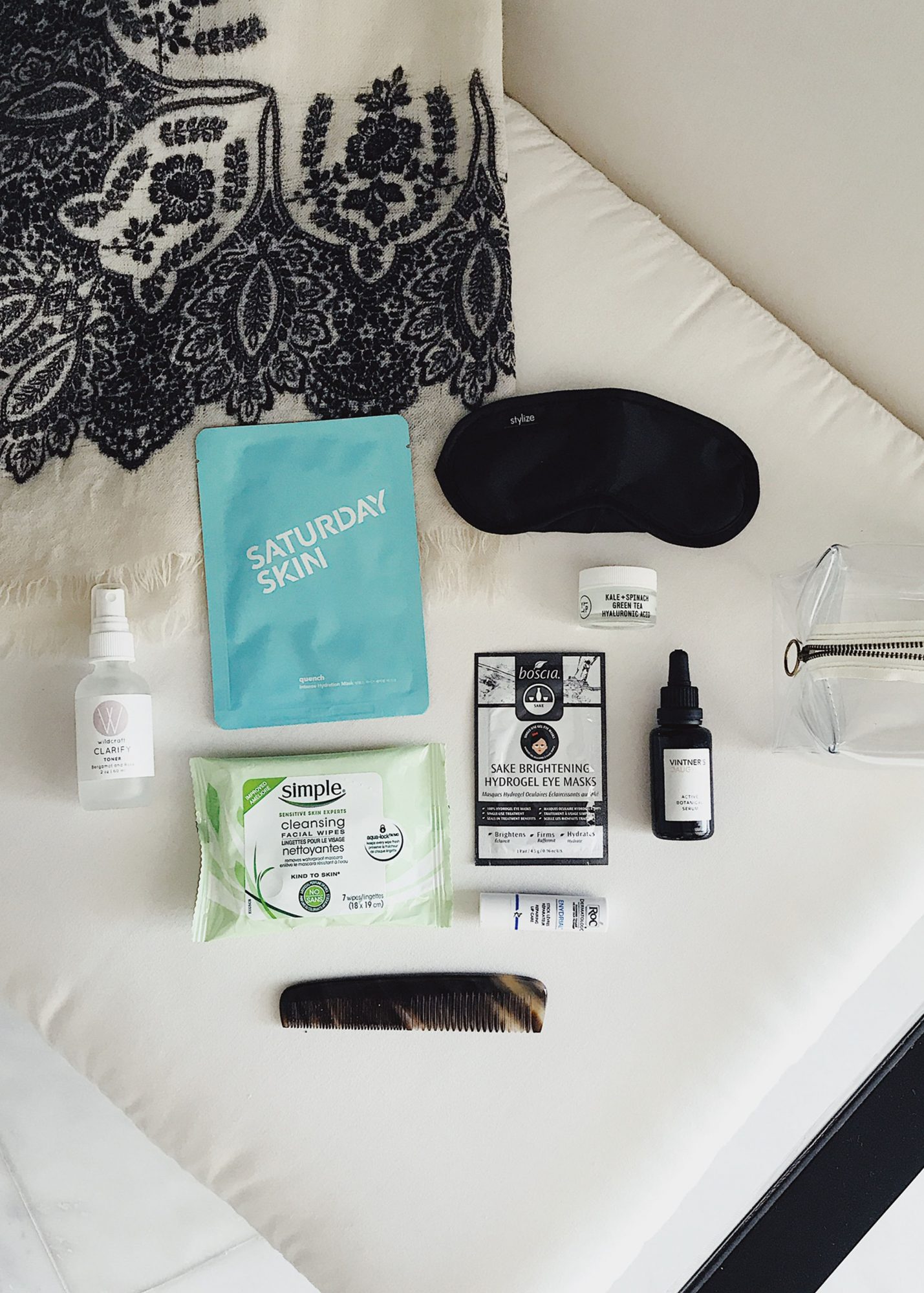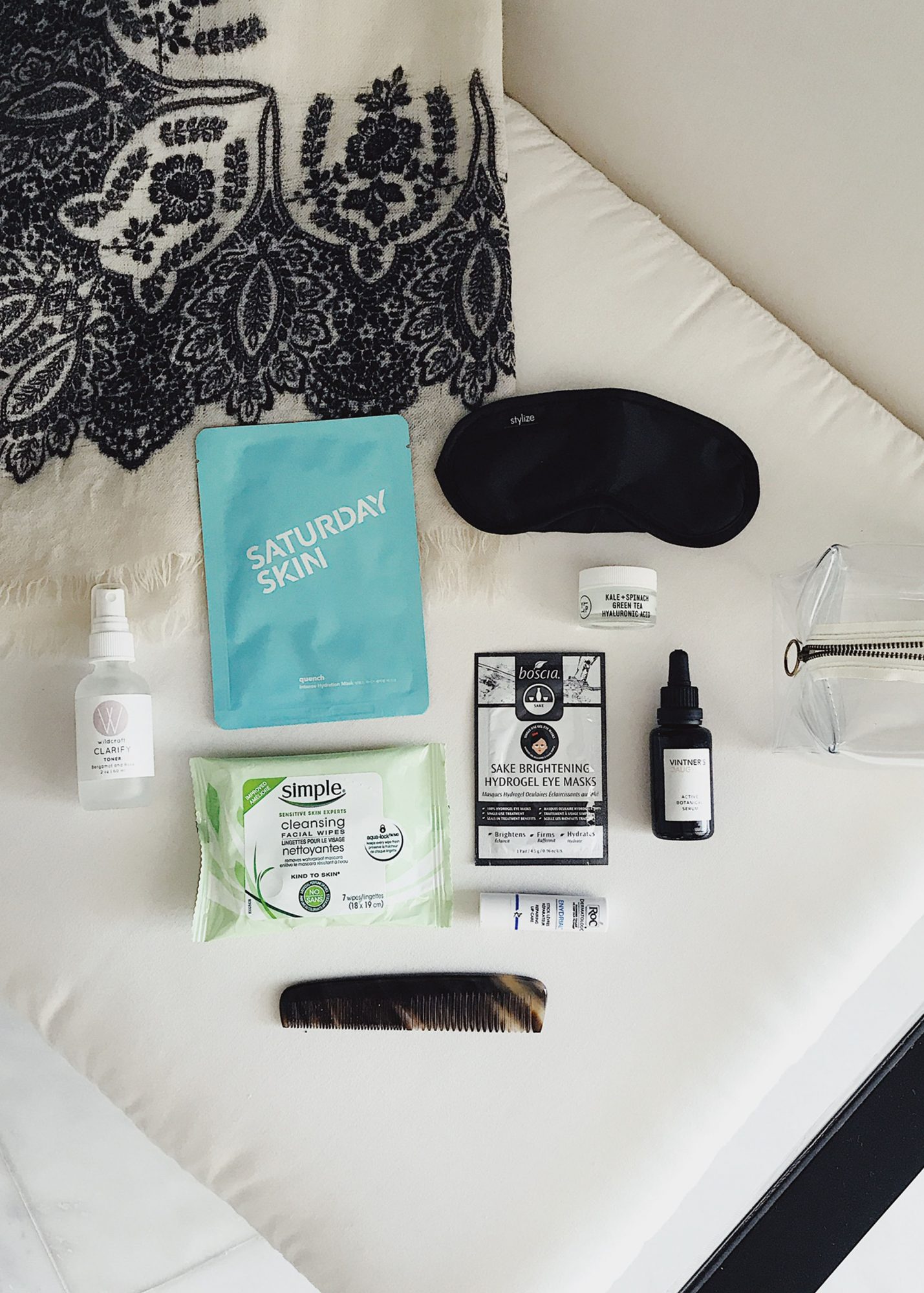 ---
I put everything inside a clear plastic pouch so both airport security and I could easily see what was inside. It was also a great way to make sure I didn't miss any steps in my nighttime routine. Once we were in the air I pulled out my tray table and got started by cleansing my face and removing make-up, toning with the rose water mist, applying serum and a final step of moisturizing. Then I had a big drink of water, popped in my headphones (I kept them in even when I wasn't listening to my audio book), wrapped myself up in my scarf, secured my neck pillow and pulled down my sleep mask.
My Red-Eye Rescue kit included:
A lightweight blanket scarf for a ready-to-use blanket and easy additional layer wherever you're headed.
Sleep mask to block out light and activity when trying to get in some z's. The one I got was not good quality, I'll be looking for something made of a natural fibre with a better fitting band.
Moisturizing Sheet Mask to give your skin a boost because flying is drying! This one was sent for me to try and I found it highly effective.
Cleansing Wipes so you can conduct your nighttime routine as usual.
Rose Water Mist helps to reduce redness, puffiness and offers lots of soothing goodness.
Serum to give your skin lots of nutrients and keep it calm.
Lip Balm to fend off dry lips.
Moisturizer to polish off the routine.
Eye brightening and cooling gel masks for the morning.
Hair Comb to brush out the sexy sleep mask bumps.
Not shown:
Neck pillow
Air Buds (wireless headphones)
TONS of water
Other suggestions I followed:
No caffeine all day before the flight
Fasting on the plane (this helps maintain digestive function, prevents bloating and makes sleeping easier)
Remove your shoes for a more natural sleep state
The flight was about 6 hours gate to gate and I'd say I was asleep for 5 of them. It wasn't my best sleep by a long shot but it was definitely better than nothing! I saved my sheet mask for when I was finally settled in my room but I used the eye masks on the second flight to Cabo after connecting through Mexico City (on which I also fell asleep!).
---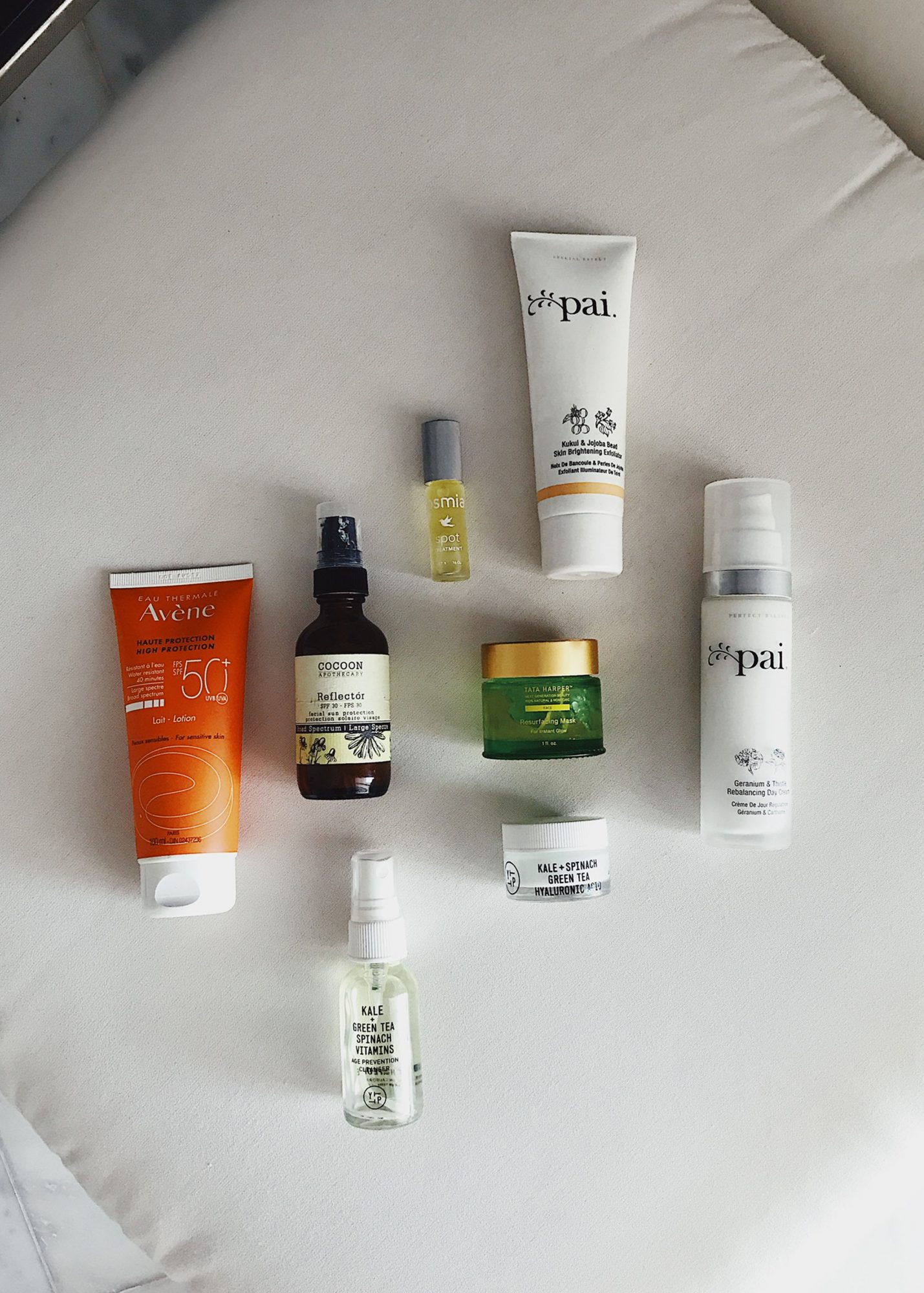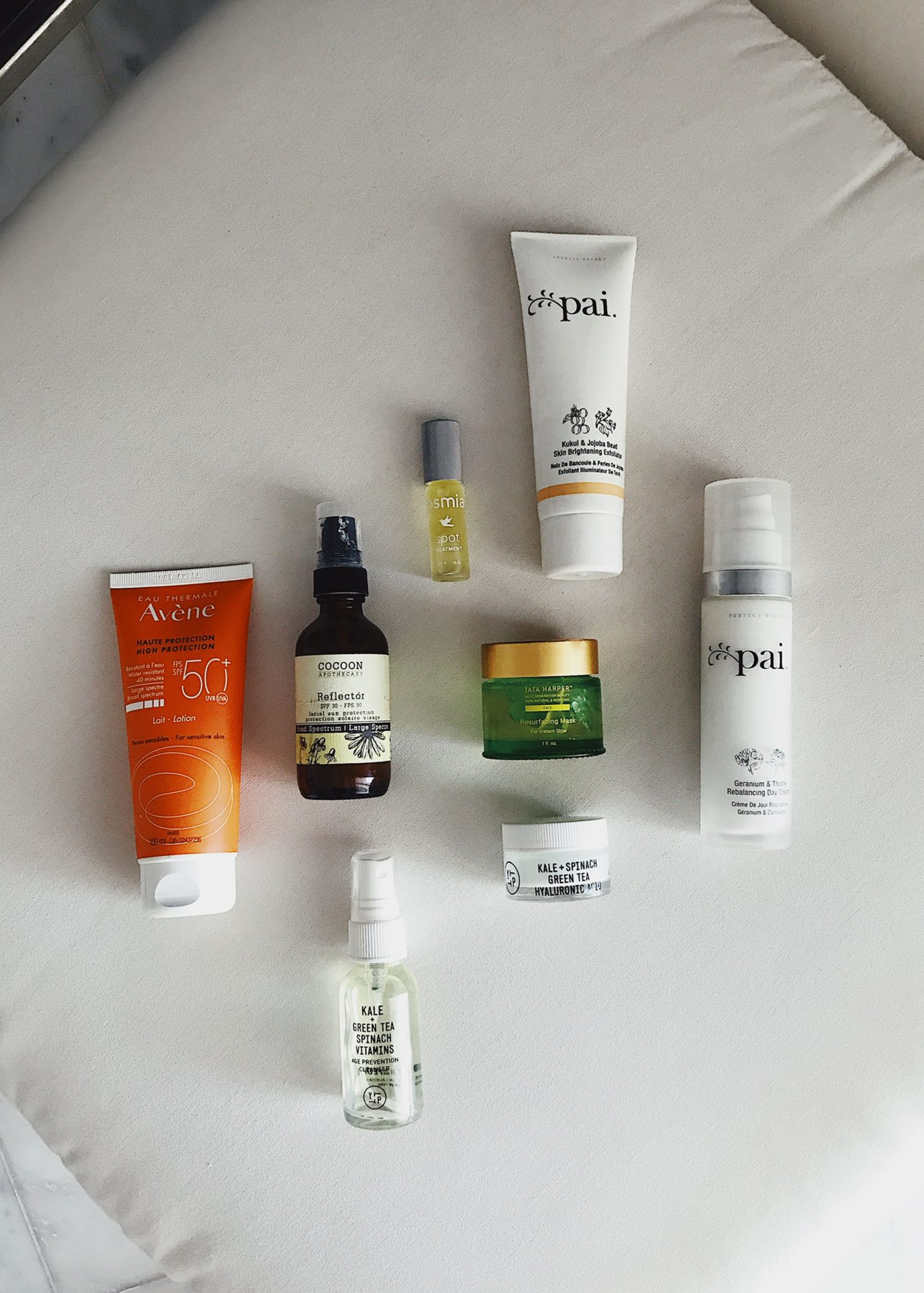 ---
SKIN + SUN CARE
---
I've been using almost all these products for years now and have found them indispensable for travel. So here's an update from my last Skincare Favourites post but many are the same:
---

---
---

---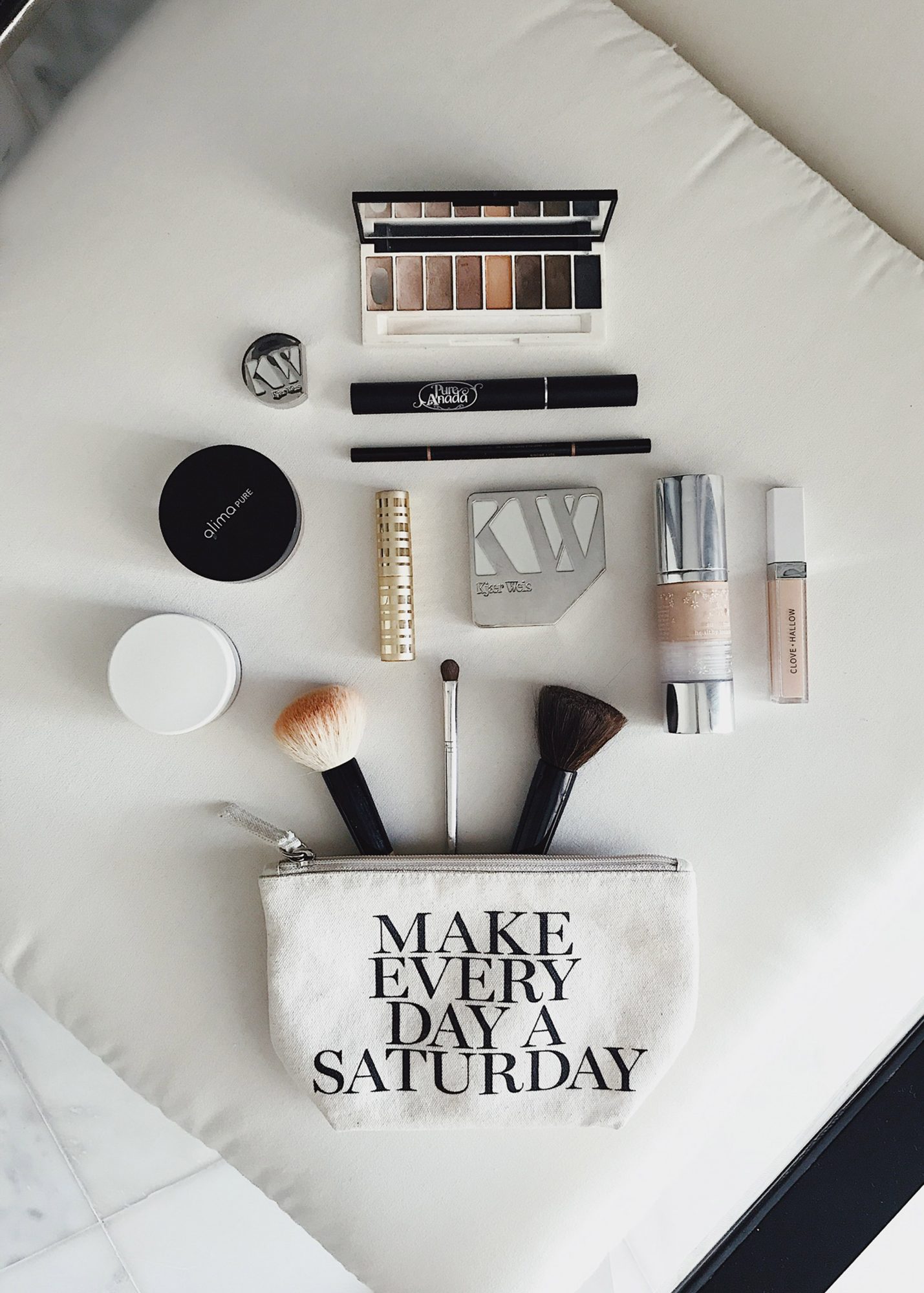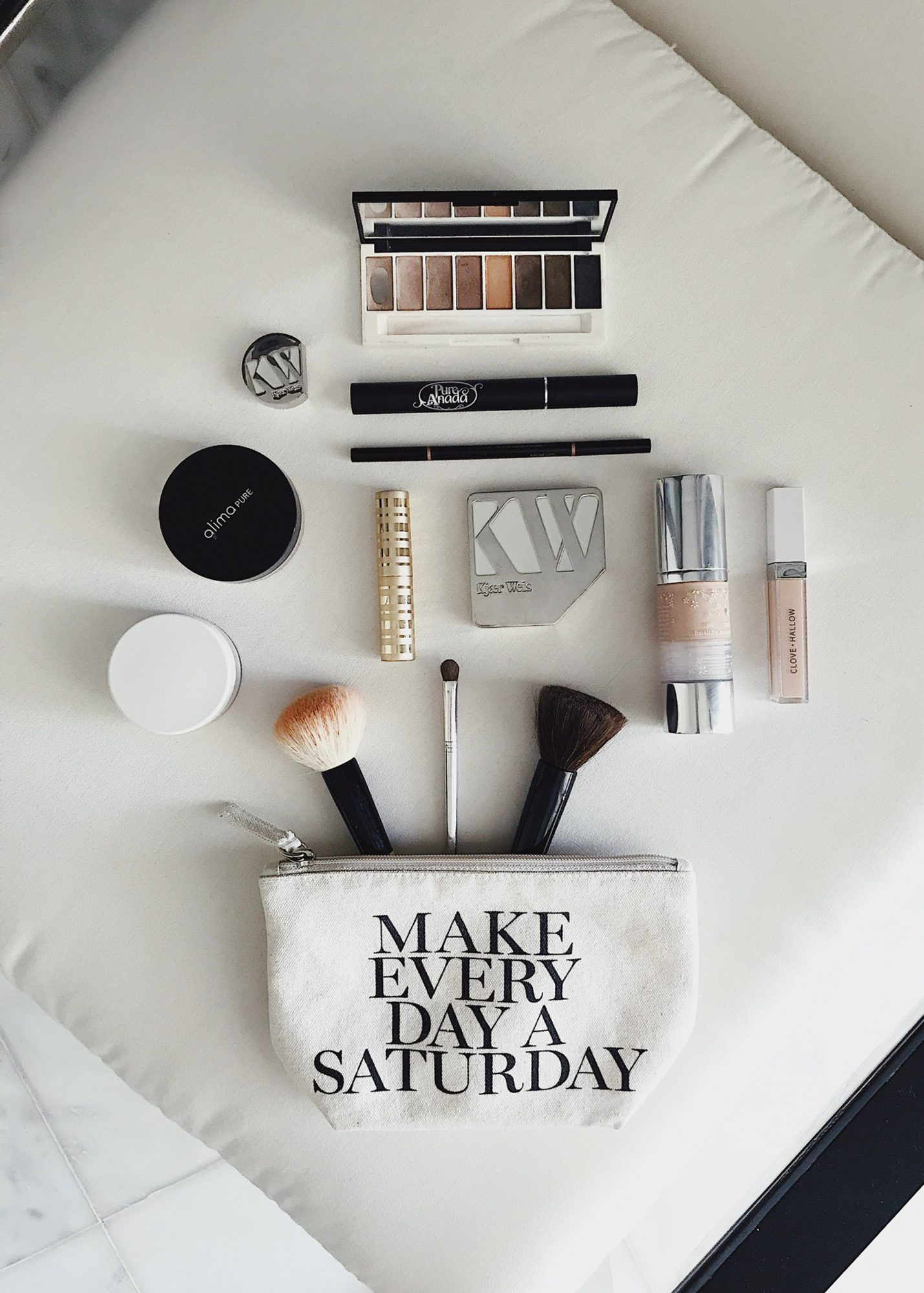 ---
BEAUTY
---
Now for the fun stuff! These are the beauty essentials I pretty much always pack wherever I go. I try to keep my routine as simple as I can (surprise, surprise) but have found all of these products perform well in lots of weather and activities.
Brushes are from Bobbi Brown and the make-up bag was a PR gift.
---

---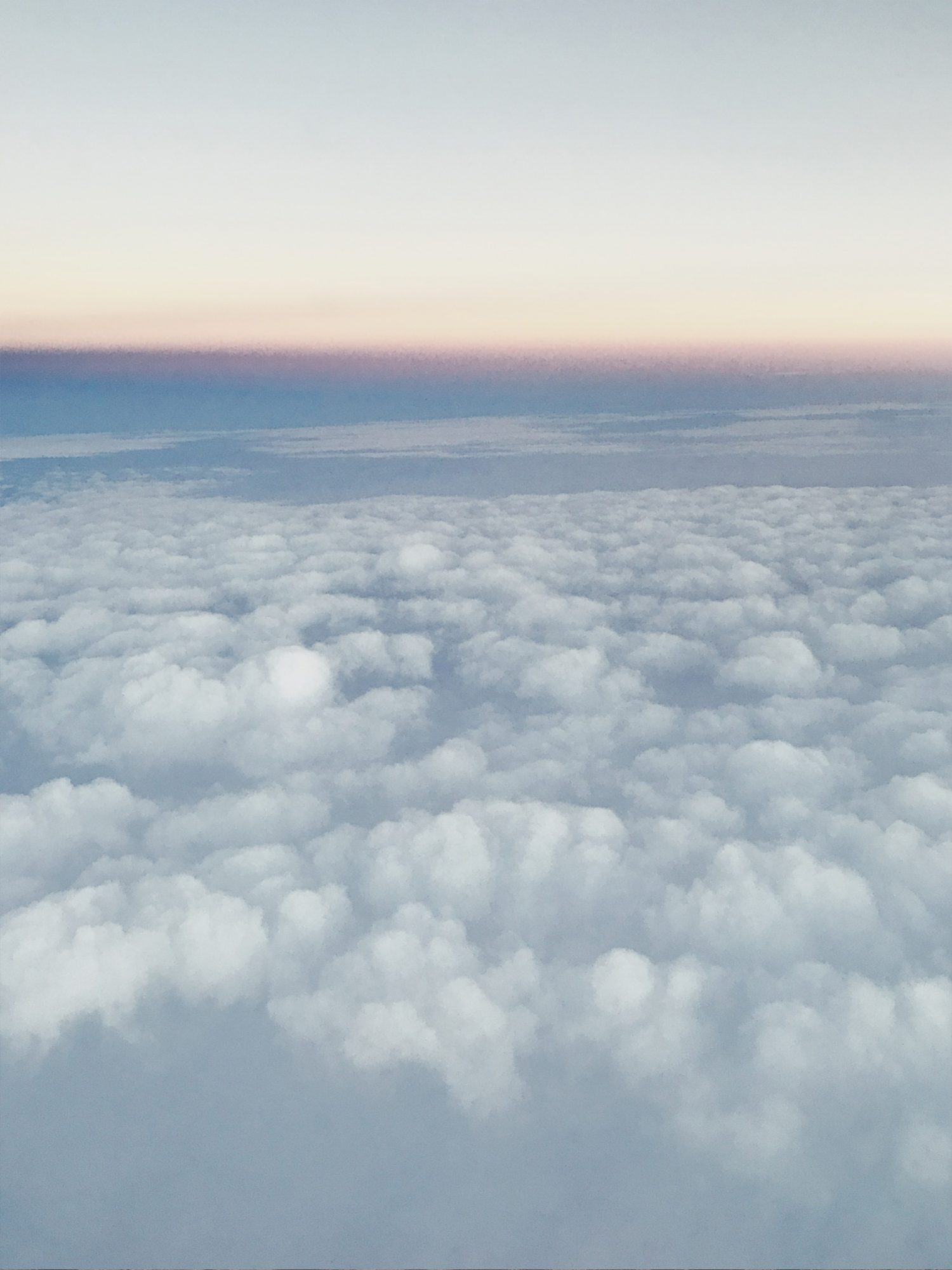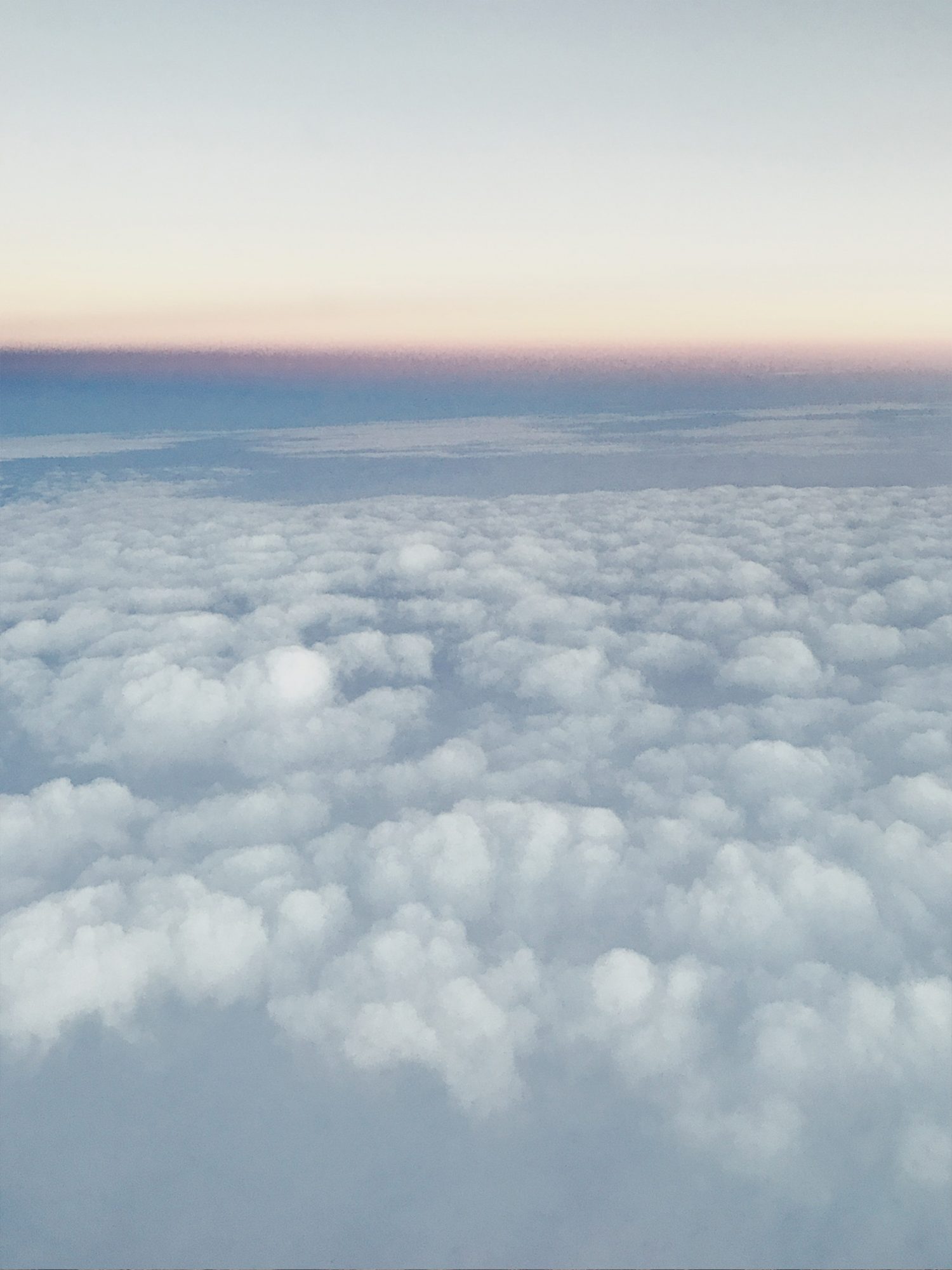 ---
Well, I think that's it for now as far as packing posts go! I hope this one will be helpful for the next time you're packing liquids/gels in your carry-on luggage or for those looking for more natural and clean products to travel with! 
Feel free to ask any questions in the comments below!
---
Thanks for reading! I'm looking forward to a couple of fun posts next week and wishing you all a wonderful weekend! 
---
This post is not sponsored but contains affiliate links. When you shop via the links above I may make a small commission from a sale. Thanks for supporting Style Bee! All opinions are always my own.